By far and away the easiest way to earn a large stash of Qantas Points is through a credit card sign-up bonus deal such as the offer below.
But aside from sign-up bonus offers, if you are planning a big holiday with your Qantas Points but find you don't quite have enough, here are 25 easy ways to make sure you are earning as many Qantas Points as possible.
Note: Some of the options below may be temporarily suspended due to COVID-19-related impacts.
Travelling
1. Flying with Qantas or partner airlines
Flying with Qantas, plus its oneworld and partner airlines, will usually earn you some Qantas points. The amount of points you can earn depends on the airline operating the flight, the distance of the flight, and what fare you have booked.
Flights marketed with a QF code (e.g. QF9 or QF8448) will usually earn the most points. These can be booked through the Qantas website or through travel agents. Silver, Gold and Platinum frequent flyers will also earn up to a 100% bonus on these fares.
Check the Qantas Points Calculator to quickly work out how many Qantas Points your next journey could earn. It takes into account the airline, the fare and your status.

2. Accommodation
Booking your next hotel or Airbnb through Qantas Hotels can add even more Qantas Points from your next adventure.
Qantas Hotels offers 3 Qantas Points per $1 spent, with some promotions increasing that amount further by double or even triple! Luxury Offers include 6 points per dollar.
Luxury Escapes offers elite travel packages at select destinations and offers 1 Qantas Point per $1 spent online or over the phone.

Booking an Airbnb through Qantas offers 1 Qantas Point per $1 spent. Just be sure to log in to your Qantas account before booking so the points can credit.
You can also earn Qantas Points directly at some hotel chains, such as at Marriott, Hilton and Hyatt properties. Most of these chains will let you earn either Qantas Points or hotel points, but not both.
3. Car Hire and Valet Parking
Rent a car from Budget or Avis and earn 4 Qantas Points per $1 spent on time and kilometre charges within Australia, or a flat 700 Qantas Points per booking overseas. There are no booking fees through Qantas.com and they also price match.
For high-flying business travellers or those with a special occasion, dropping off your car at the airport with Qantas Valet will earn you 3 Qantas Points per $1 spent. You just need to have one QF or JQ flight in your itinerary or be a Platinum Frequent Flyer and higher to use Qantas Valet.
[Note that Qantas Valet was temporarily closed as of Feb 2021]

4. Pets
Don't forget about your furry friends when on travel! Petsitting with Mad Paws will earn you 1 Qantas Point per $1 spent and there is a bonus for first-time users too.

5. Cruises
Once cruising is back, add a voyage to your journey with Qantas Cruises and earn 1 Qantas Points for each $2 spent. All major cruise lines are included, such as Royal Caribbean and P&O Cruises.

6. Qantas Travel Money
The back of your Qantas membership card has the Qantas Travel Money facility, where you can preload up to 10 supported international currencies, and spend like a local. You'll earn 1.5 Qantas Points per A$1 spent in foreign currency, and 1 point per A$4 spent in Australian dollars.
For the rest of the world, simply load up your AUD wallet and spend wherever you are, with transactions being converted at the daily rate with no additional exchange fees.
7. Taxis and Uber
Pre-book your taxi ride with Ingogo or airport transfers with Redy2Go, and earn Qantas Points within Australia. Both options offer an easy app to use, with transparent fare pricing. Redy2Go offers 2 points per A$1 in a shuttle and 3 points per A$1 in a private car.
Uber users can earn 1 Qantas Point per $1 spent on eligible rides to and from airports in Australia. Plus, first-time Uber riders can earn 2,000 Qantas Points on their first ride.
8. Qantas Club
Join the Qantas Club to unlock lounges in Australia and worldwide before Qantas, Jetstar and American Airlines flights (with reciprocal access to Admirals Lounges).
You will earn 3 Qantas Points per $1 spent on Qantas Club fees, and they usually run a 40% off sale each year.
[Note that Qantas Club is not accepting new memberships as of Feb 2021]
Spending, banking and daily expenses
9. Spending with Qantas points-earning credit cards
Having a Qantas Points-earning credit card is one of the fastest ways to accumulate Qantas Points throughout a year. You could be earning up to 1.25 Qantas Points per $1 spent on practically any everyday purchases, such as groceries and eating out.
Spending at any Qantas partner which offers bonus points (all in this guide) means you can double-dip and earn Qantas Points twice on the same transaction – once through the partner and once through the card.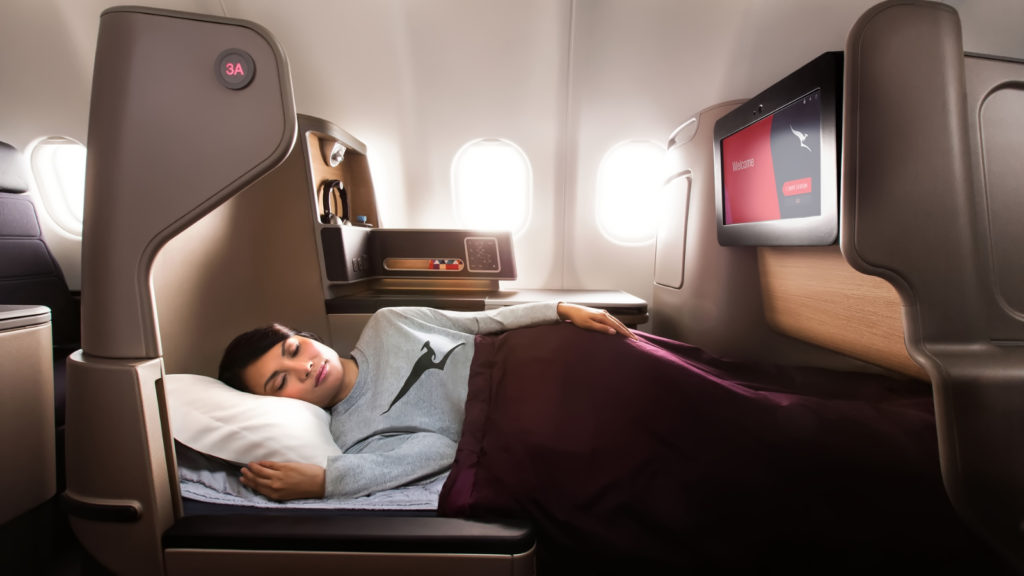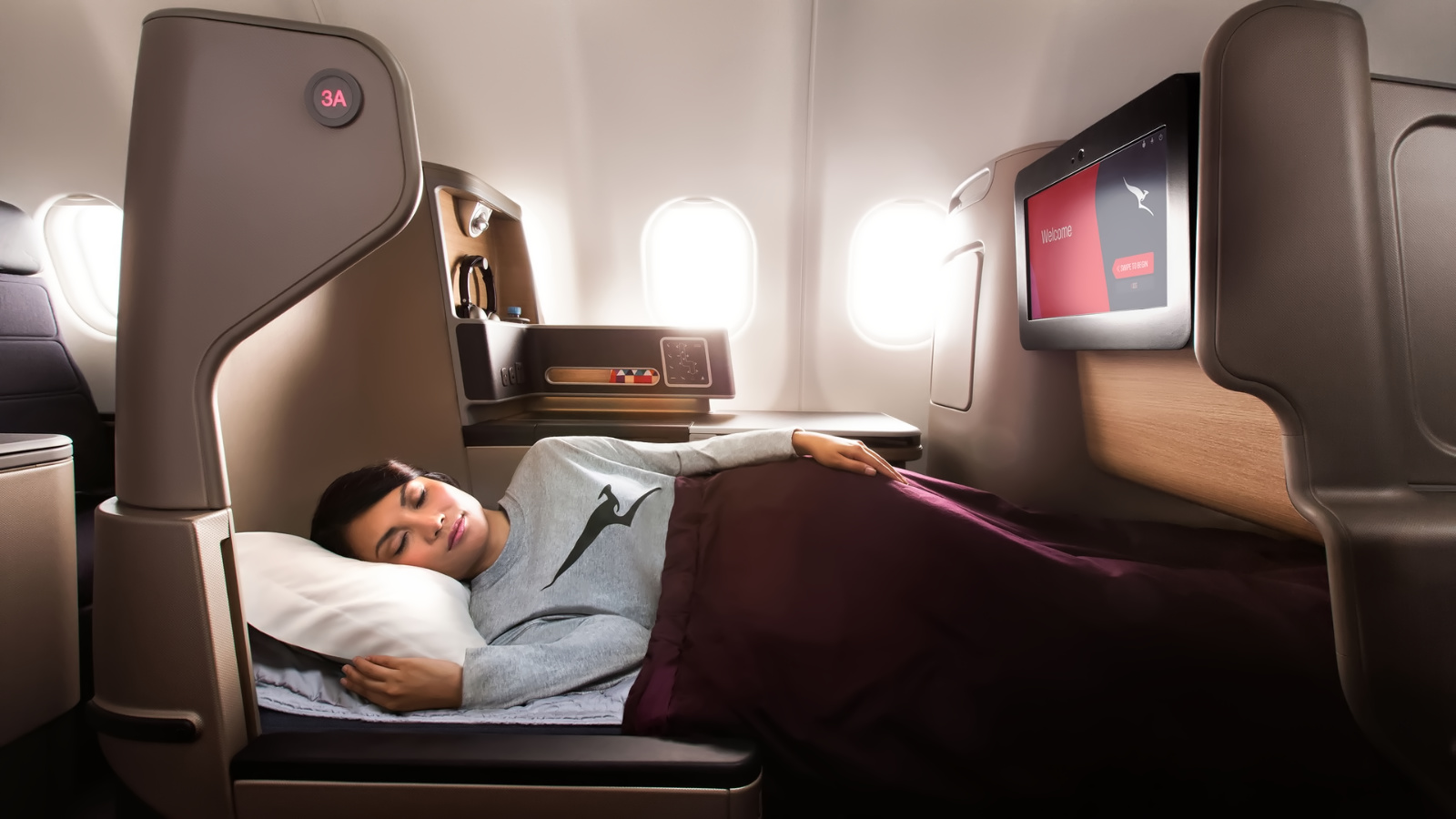 Some credit cards also earn an extra point per dollar spent on selected Qantas products and services.
For new users, credit card signups are the single quickest way to earn a huge chunk of Qantas Points, sometimes more than 100,000 points!
10. Transfer your reward points from American Express
If you are enrolled in the American Express Ascent Premium Membership Rewards program, available on the American Express Platinum or Centurion cards, then Qantas is one of many programs you can transfer to.
When you have accumulated a fair amount, wait for a transfer bonus and could be getting an extra 15% in Qantas Points along with your balance.
11. Transaction and savings accounts that earn Qantas Points
Bankwest and Qantas have partnered together for the Australian-first transactional bank account that earns Qantas Points. There aren't any fees if you deposit $2,000 a month.
The Bankwest Qantas Transaction Account will earn you 0.3 Qantas Points for each $100 in your account each day, 3 Qantas Points for each eligible purchase on the debit Mastercard, and 5 Qantas Points for each overseas ATM cash withdrawal, which is fee-free from Bankwest.
For example, if you start with $2,500 in your bank account, deposit $2,500 from your salary monthly, and spend $3.50 for coffee on your Debit Mastercard over 20 transactions monthly, you could be earning more than 18,000 Qantas Points a year for free with your Bankwest account – enough for a Perth-Sydney one-way flight in Economy.
Qudos Bank has a similar free savings account that earns some interest and 400 Qantas Points per annum for every $1,000 in your balance, credited monthly.
12. Shopping through Qantas Shopping online mall
The Qantas Shopping online mall features hundreds of retailers that you might be already purchasing from. By starting your shopping by clicking on the Qantas Shopping website, you could be earning up to 15 bonus Qantas Points per $1 spent at your favourite retailer.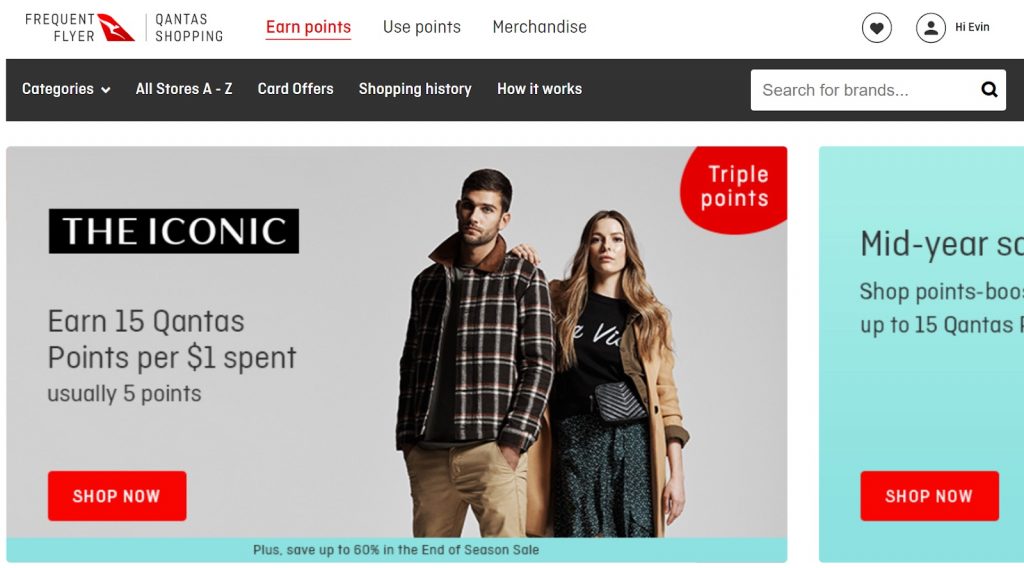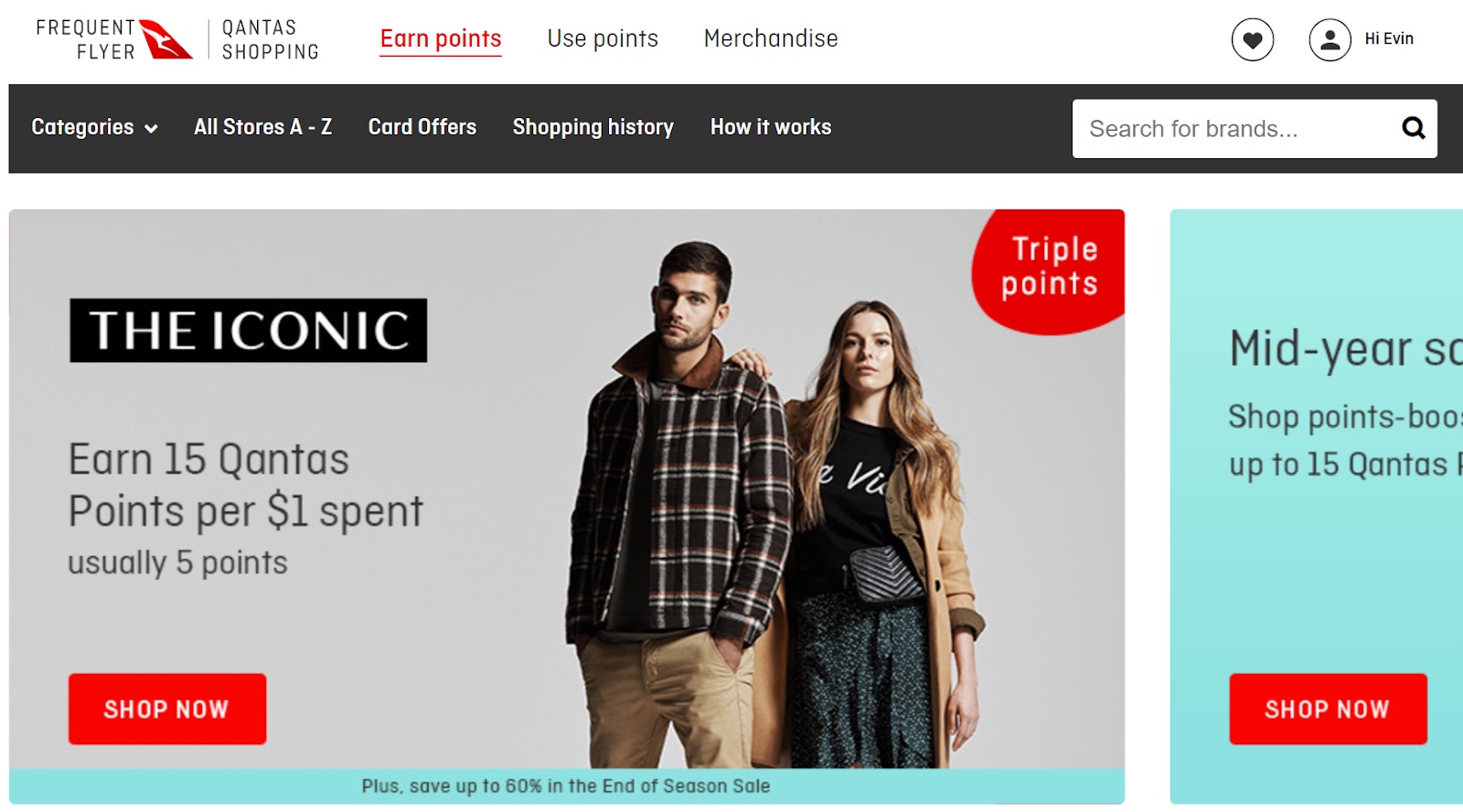 13. Qantas Shopping Card offers
These are weekly offers to bag extra Qantas Points on your favourite shops such as David Jones, Caltex, PETStock and more.
Just link any Mastercard credit card to your Frequent Flyer account and activate the offers you like, for spending online or in-store.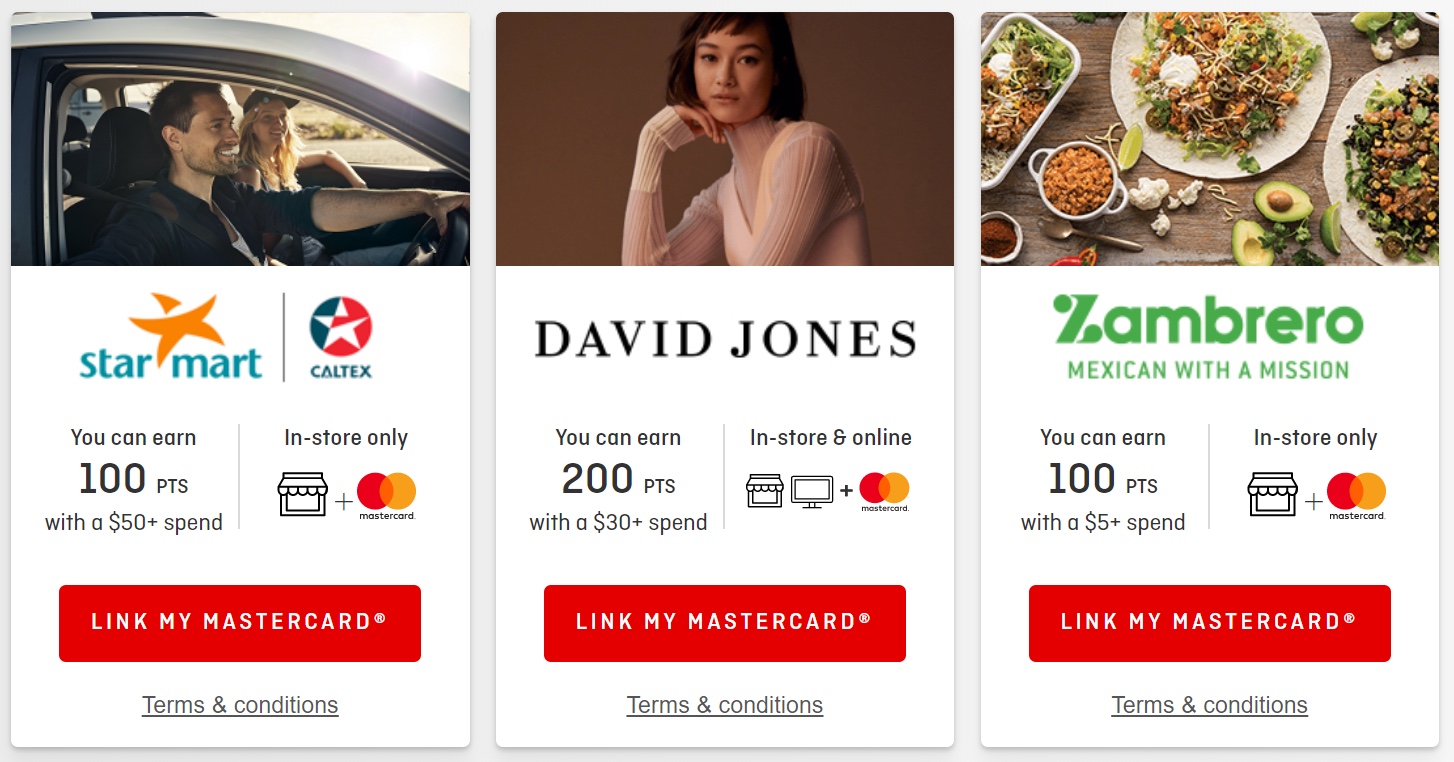 14. Qantas Wines
Qantas Wine is one of the simplest ways to earn Qantas Points if you enjoy drinking wine or champagne. There is also plenty of bonus offers every week, which will definitely make your wine purchases even sweeter.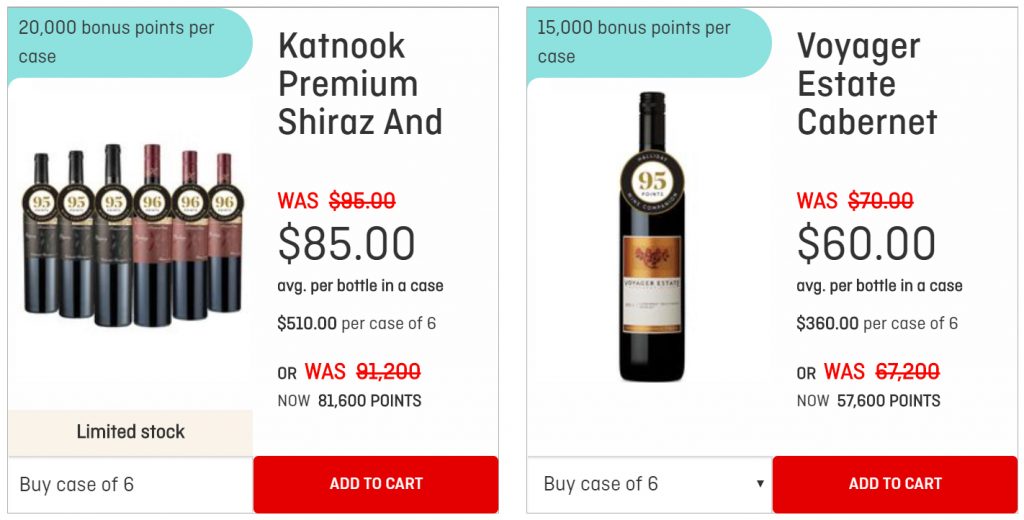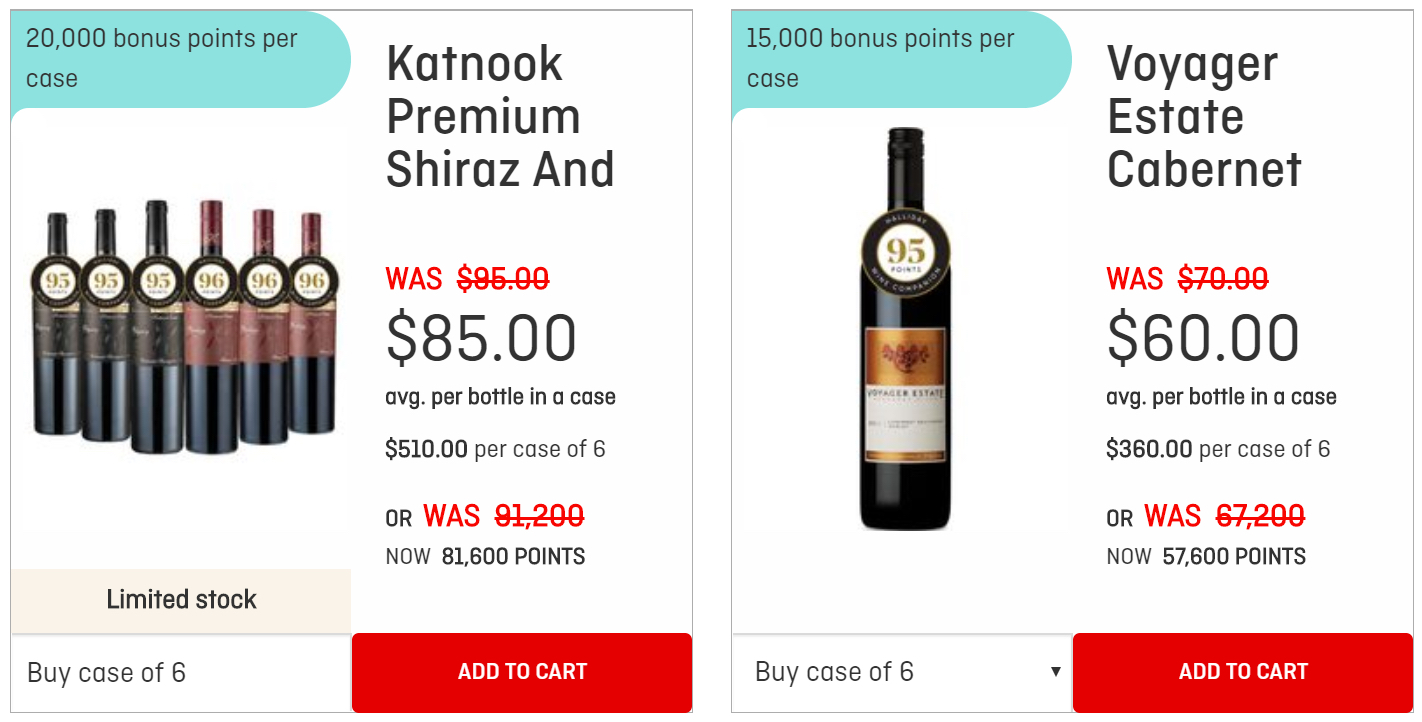 See the latest Qantas Wine deals here, where offers of 15,000 bonus Qantas Points are not unheard of.
15. Woolworths, BWS, Big W and fuelling with Woolworths Caltex/Ampol
While Coles and Flybuys are partnered with Velocity, Woolworths Everyday Rewards teams up with Qantas to provide bonus points on your grocery shop.
You will earn 1 Everyday Rewards Point for every $1 spent on eligible purchases at Woolworths, BWS, BIG W and selected Caltex Woolworths or Ampol co-branded fuel outlets. Every 2,000 Woolworths Points collected will convert to 1,000 Qantas Points.
Ad – Scroll down to continue reading.Minimum spend, terms & conditions apply.
Dining and entertainment
16. HelloFresh
Easily earn Qantas Points when you make life easier with a HelloFresh meal box. HelloFresh delivers quick and easy recipes and fresh pre-portioned ingredients to your door each week so you can create wholesome home-cooked meals without any of the usual hassles.
If you're new to the service, you could take home 2,000 Qantas Points per box, for your first ten boxes.
17. Quandoo
Quandoo makes restaurant reservations easy. Whenever you're tempted to dine out, Quandoo gives you access to over 18,000 restaurants in 12 countries.
You'll earn an extra 100 bonus Qantas Points for every completed reservation, with no additional costs at all.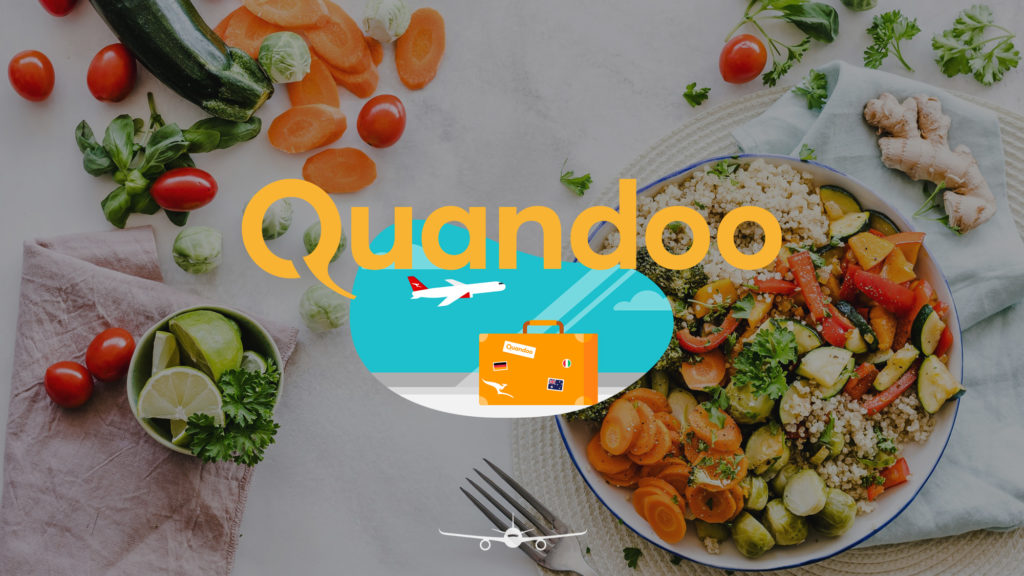 18. Movies – HOYTS
Simply link your Qantas Frequent Flyer account to Hoyts and earn points with every transaction. Standard members get 1 Qantas Points per $2 spent on tickets and the candy bar. Hoyts Silver members get 4 Qantas Points per $2 spent on the same, plus more privileges, for $13 a year.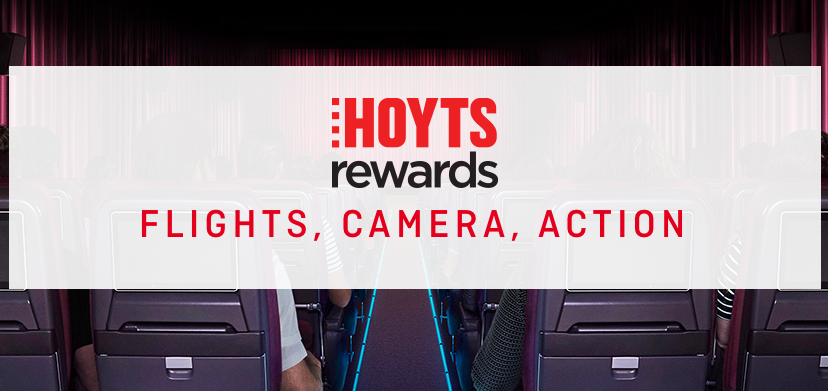 19. Qantas Golf Club
If you are a budding or avid golfer, then Qantas Golf Club has lots of opportunities to earn Qantas Points. Standard members can earn 1 Qantas Point per $1 spent, while Premium Club members can earn 3 Qantas Points per $1 spent.
Paying bills, subscriptions and miscellaneous
20. Home Loans
Home loans are probably one of the biggest financial decisions you will make in your lifetime. Be sure to compare different providers and choose the product that you are most comfortable with. There are two options if you'd like to consider earning Qantas Points:
Qudos Bank offers 150 Qantas Points for every $1,000 on your loan balance per annum, which is credited monthly.
Macquarie Bank offers 10,000 Qantas Points for every $100,000 drawn at settlement, 1,000 Qantas Points every month for the life of the loan, and 25,000 Qantas Points on the 3rd and 5th anniversaries of your loan.

21. Car Loans
Similarly, Qudos Bank and Macquarie Bank also offer Qantas Points with car loans.
With Qudos Bank, earn 1,000 Qantas Points for every $1,000 on your loan balance per annum, but credited monthly.
With Macquarie Bank, earn 1 Qantas Points for every $1 financed up to $100,000, with your Qantas Points crediting as a lump sum.
22. Magazine subscription – The Economist
Sign up for a 1 or 3-year subscription to The Economist and earn up to 25,000 Qantas Points! Bonus points are given as follows:
| | 1-year subscription | 3-year subscription |
| --- | --- | --- |
| Print & Digital | 13,000 Qantas Points | 25,000 Qantas Points |
| Print only | 11,000 Qantas Points | 20,000 Qantas Points |
| Digital only | 9,000 Qantas Points | 15,000 Qantas Points |
Sometimes there are promos that increase the bonus to 32,000 Qantas Points.

23. Insurance
Qantas Insurance has policies for health cover, life insurance, car insurance, home insurance and travel protection.
These insurance policies offer various sign-up bonuses — sometimes more than 100,000 points — plus at least 1 Qantas Point per $1 spent on premiums.

You will also unlock the full potential of the Qantas Wellbeing app, which gives you Qantas Points on a regular basis for staying active, and even sleeping well!
24. Power bills – Red Energy
Switching your household power and gas to Red Energy could see you swing 15,000 Qantas Points in sign-up bonuses, and up to 7 Qantas Points per $1 spent with regular bills, when you pay on time.
25. Kayo Sports
This is a relatively new sports streaming platform. New members can get from 1,000 to 1,500 Qantas Points on sign-up, then an ongoing amount of 100 to 150 Qantas Points per month you remain connected. Read more about Kayo Sports here.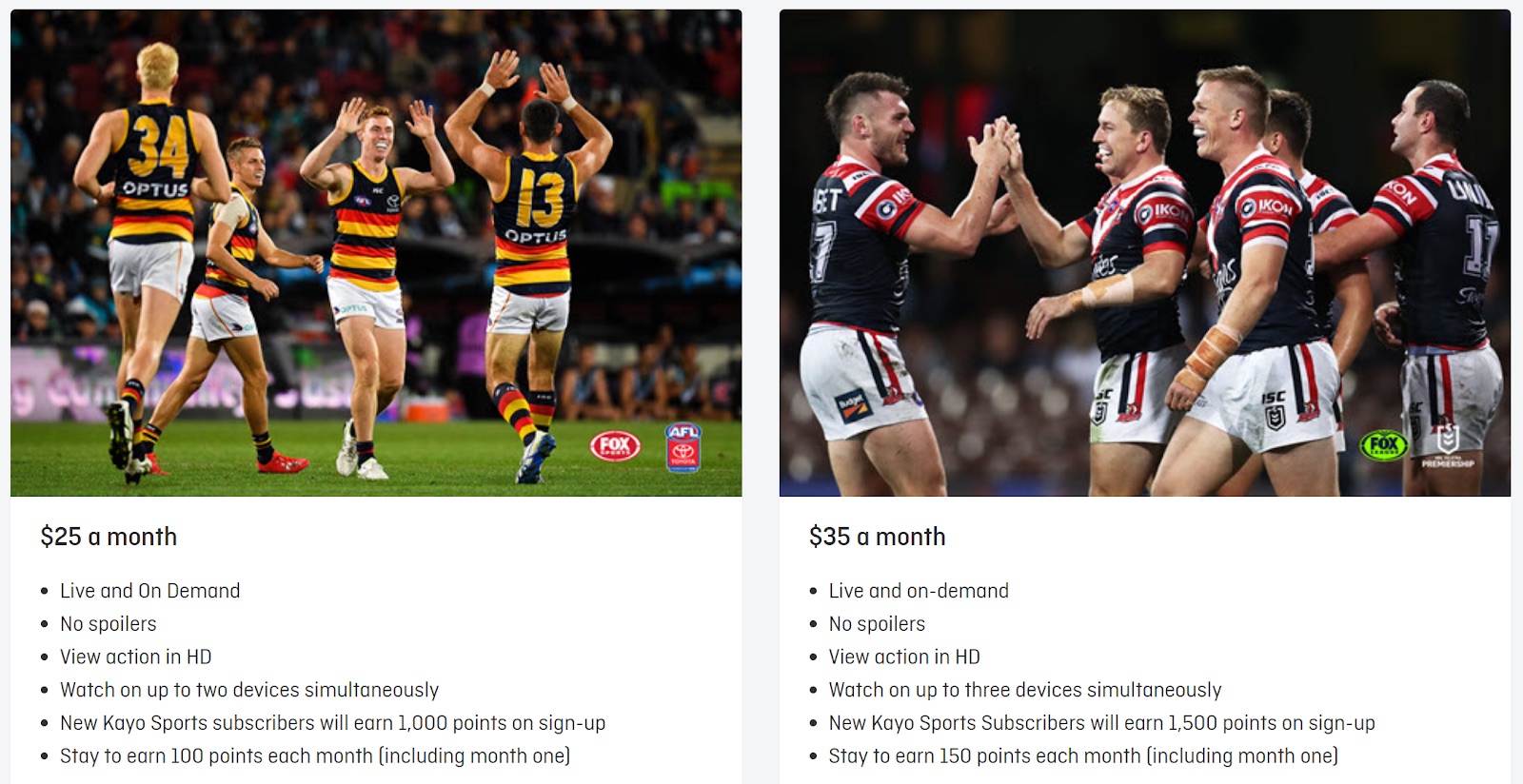 Infographic
This infographic summarises the main ways to earn Qantas Points: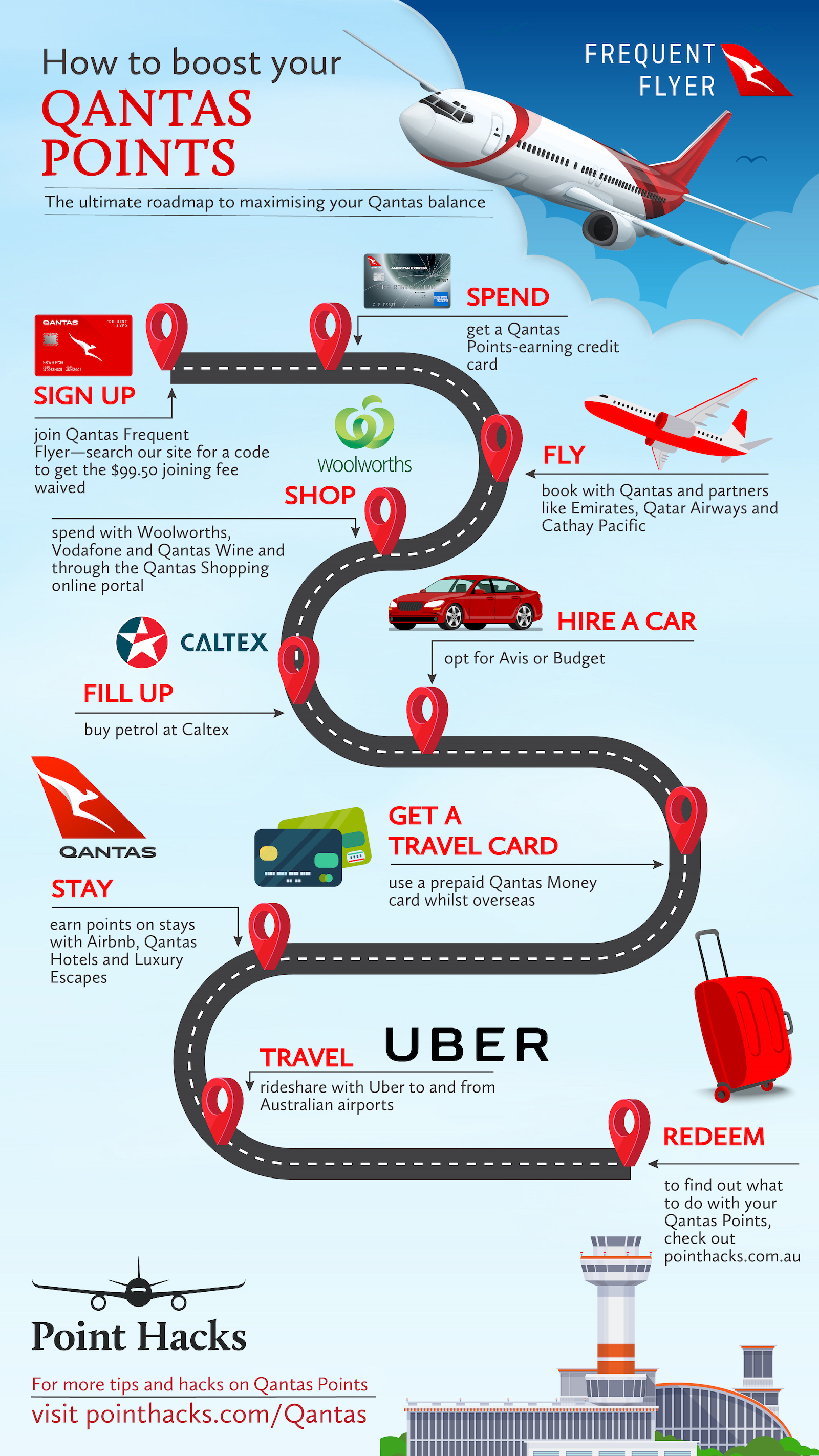 Summing Up
There are so many different ways to earn even more Qantas Points – this is just our top 25 picks to get you started on your Qantas points-earning journey.
For the complete list of ways to earn Qantas Points, browse their dedicated website here.
Frequently Asked Questions
Can you earn Qantas Points with Vodafone plans?
Unfortunately, Qantas Points can no longer be earned on new Vodafone Red or 12-month SIM Only plans, as of Friday 7 June 2019.
How do I earn Qantas points?
Earn Qantas Points through lots of different ways – flying, credit cards, shopping at Woolworths and more. Our guide will show you some of the best ways to earn Qantas Points.
How do I earn Qantas status credits?
Qantas Status Credits, which determine your status activity, can usually only be earned by flying on Qantas and Oneworld partner airlines.
How can I earn Qantas points fast?
The fastest way to earn a significant amount of Qantas Pointsis to successfully open a Qantas-earning credit card and complete the sign-up bonus criteria. We have a list of current Qantas credit card offers here.
Can I buy Qantas points?
The only authorised way to buy Qantas Points is through a Qantas Points Top-Up. We have a guide that explains how it works, here.
How many Qantas points do I need?
That really depends on what your ultimate goal is! The shortest Jetstar flight will set you back from 6,400 Qantas Points per person. A round-the-world in business class, which is the holy grail for a lot of points collectors, will cost 314,000 Qantas Points per person.

You can check how much your next reward flight costs on the Qantas website, even if you don't have enough points yet.
What credit cards earn Qantas points?
All the big banks, plus American Express, offer credit cards which earn Qantas Points. Check out our full list here.
Our complete guide to earning more Qantas Points on everyday purchases
was last modified:
May 27th, 2022
by