Over ten million people in Australia use the Flybuys program to earn points but if your points strategy only involves scanning your card at the register, you may not be maximising your points-earning.
In this guide, I run through the basics of how to maximise the Flybuys points you earn on your everyday shopping, as well as additional ways to earn more Flybuys points.
Not familiar with Flybuys? Watch this video to learn more:
Earning at the shops (in-store)
Scanning your Flybuys card at the register at Coles supermarkets when you make purchases is the first step to earning points.
You're probably aware that you'll earn 1 point per $1 spent at Coles, Kmart and Target, but there are a number of other stores that will also accept Flybuys at the register:
Coles Express: 1 point per $2
First Choice Liquor & Liquorland: 1 point per $1
Of course, shopping at Coles is the primary way in which most people will earn Flybuys points, and they will also let you earn Flybuys when you shop through Coles Online.
Flybuys offers at the supermarket
While earning Flybuys points on your shop is a good steady 'income', much of the fun is found with Flybuys bonus offers. This is the secret to getting thousands of Flybuys points without changing your spending habits too much.
Specific item offers
Each week, certain items might carry bonus Flybuys points. The amounts aren't much (usually between 50 and 500), but it does help. The offers will either appear in-store available for anyone, or in your Flybuys app which is personalised for you.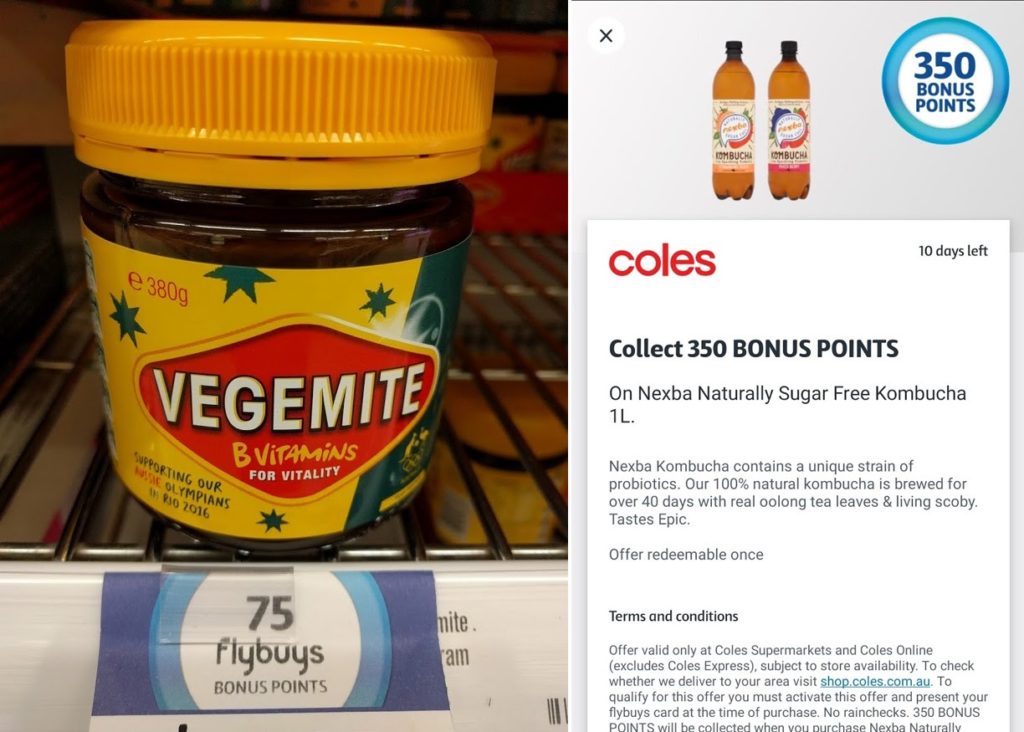 Bonus Flybuys points for reaching a target
Flybuys will usually offer you a number of bonus points to tempt you to spend a little more on your next shop. While this used to appear on the bottom of your receipt, it's more common to see it in your Flybuys app now under 'My Boosters' or 'My Offers'.
The most common varieties are:
Multiplying your points earn at a particular retailer: these will regularly be offered for common retailers, e.g. Coles Express, and can be as high as 40x points.
Giving you bonus points for making a purchase: these will usually be at a higher minimum spend target than you usually do. Try not to spend excessively to reach these targets unless it's things you would normally need, like stocking up on non-perishables.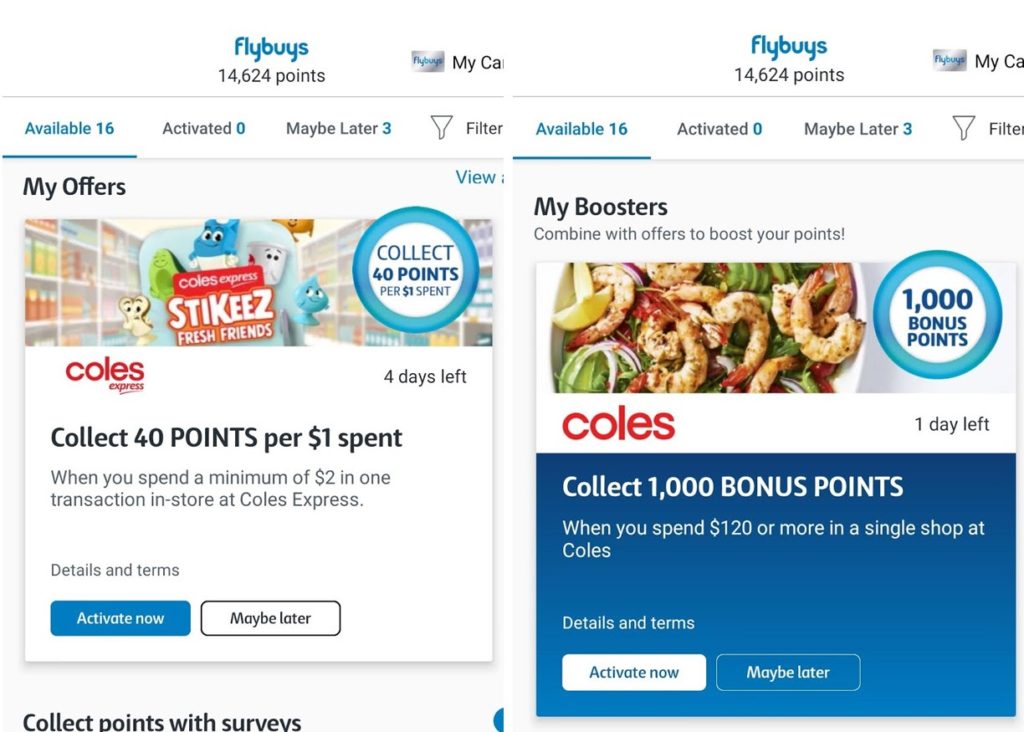 These boosters and offers have a set expiry, which shows in the app. This is usually 10 days or less. Bonus offers are tailored to you based on your spending habits.
Also, make sure you activate these offers in the app before shopping, or you might not get the bonus.
The big four-week challenge
Flybuys tries very hard to keep its members engaged, and one of its most popular deals is the four-week challenge at Coles. This runs a a number of times a year.
Essentially, you will be given a target amount to spend at Coles for four weeks in a row, to earn 10,000 bonus Flybuys points or $50 off your next Coles shop. The target amount usually ranges from $40 to $120 a week, depending on how much you've spent previously.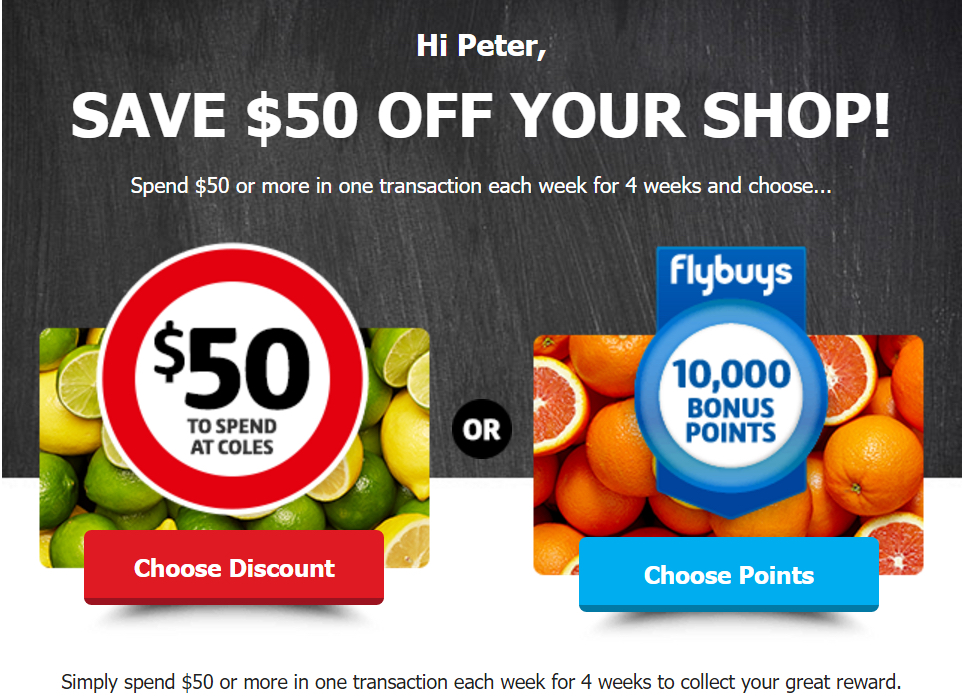 Always choose the bonus points! It's more flexible, you can convert it to Velocity Points (currently suspended until 19 May 2020), or you can still use it to get $50 off Coles shopping down the track if you decide to.
How to maximise Flybuys offers at Coles
Flybuys are known for being very strategic and targeted with the offers they give to different members. They are constantly trying to increase the amount and frequency you spend at Coles, using Flybuys points as a temptation to draw you into the store and to keep spending.
You'll almost certainly find that if you spend more than you usually would for a few weeks running, your Flybuys offer terms will change, with an increase in the minimum spend criteria needed to trigger bonuses.
Ultimately, if Flybuys sees an increase or decrease in spend at Coles in your Flybuys account, their system tailors bonus offers in your account accordingly.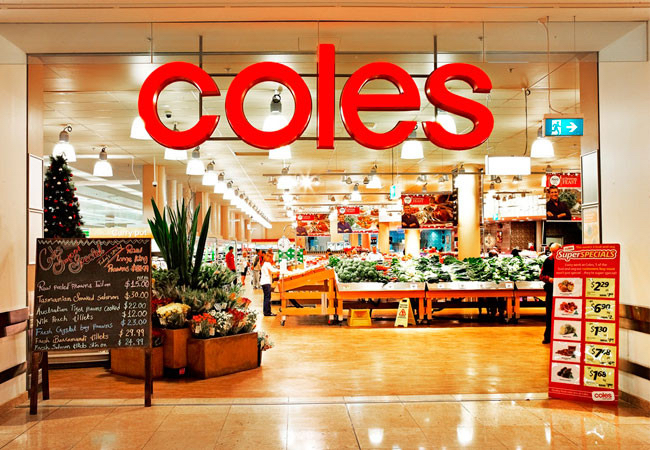 There are two approaches you can use to work within this system, rather than be taken advantage of:
Solution 1: Don't link your family member accounts to one household
Flybuys lets you set up linked account holders within the same account, or run multiple accounts for different cardholders each with their own balance.
The advantage of linked cardholders is that multiple cardholders are able to spend toward account offers. They accumulate a single, combined balance of Flybuys points that can be used or transferred to partners.
However, if you each run separate Flybuys accounts in your household, you'll have multiple points balances. But you also get the flexibility to swap spending around different cards to keep the targeted spend amounts lower.
This works well for the 4 weeks/10,000 bonus points offer, as the Flybuys account you use less often will get a lower spending target. While you're spending on that account, stop using the other account. In time, that second account will also get better offers so switch over again.
Solution 2: Alternate between Coles and other supermarkets
This has the same effect as running multiple accounts. You'll reduce the overall spend on your Flybuys account, which should trigger more achievable points bonus offers.
I don't have any insider knowledge on the Flybuys system and how these offers are generated, so this is all speculation informed by my personal experiences and readers reports on their experiences. Your mileage may vary but it shouldn't hurt to experiment.
Ad – Scroll down to continue reading.Minimum spend, terms & conditions apply.
Flybuys offers with non-supermarket partners
Flybuys has many partners apart from Coles, so you can earn thousands more Flybuys points with other companies.
Surveys
Occasionally, Flybuys will invite you to complete a feedback survey on their own program, which may give you 50 Flybuys points for a few minutes.
They also partner with Peanut Labs which gives you up to 600 Flybuys points on surveys you successfully complete.
Coles Financial Services
One of the best options for increasing your Flybuys earning is using products offered by Coles Financial Services. There are quite a few options here and they are covered in this guide.
In short, depending on the combination of insurance products and/or Coles credit cards you have, you can boost your supermarket earn by six times.
The Coles Rewards Mastercard gives you 2 Flybuys Points per dollar spent on most purchases, making it a very easy way to earn points. It also occasionally has an amazing signup bonus of up to 100,000 Flybuys points for new customers.
(That's worth up to $500 off your shop, or 50,000 Velocity Points during a transfer bonus promotion).
Know the other partners (and where to look for points deals)
Flybuys has 24 other partners right now, such as:
The full list is below and you can also find it here to see more details. A summary of all their recent points deals is next to each brand's icon.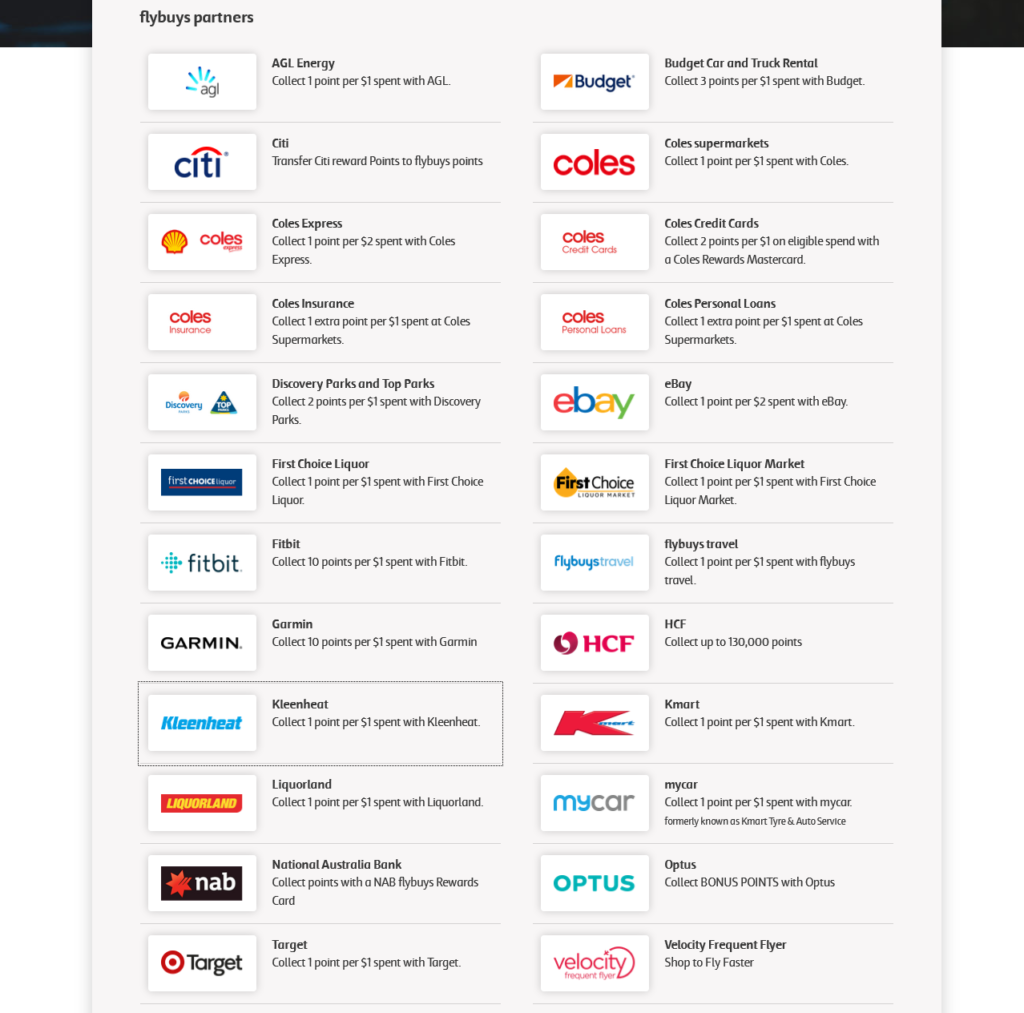 Not only can you earn between 0.5 to 10 Flybuys points per $1 spent on these partners, some even have massive signup bonuses from 15,000 to 130,000 Flybuys points.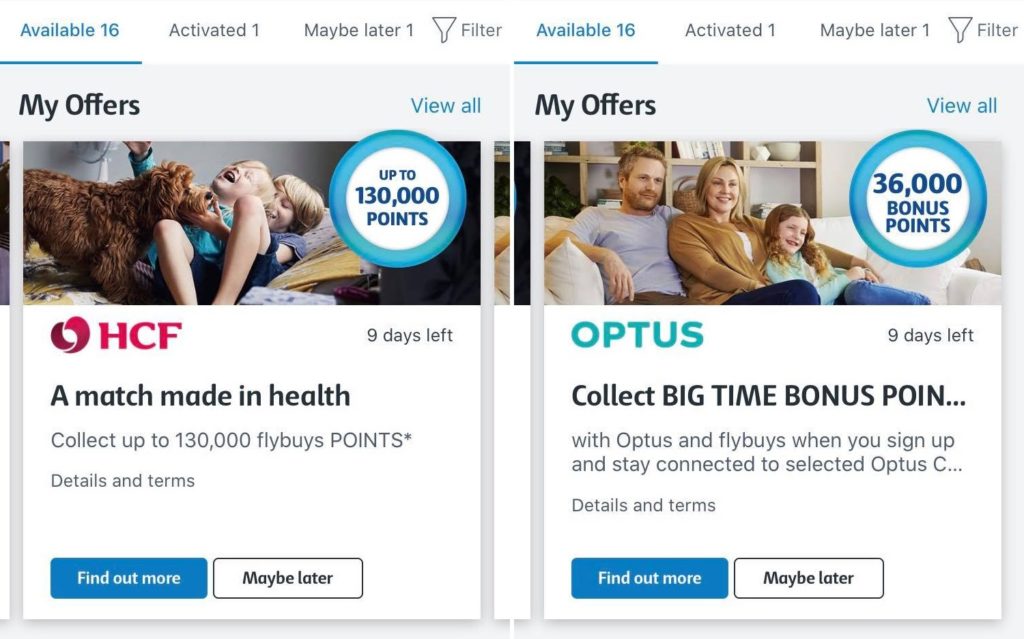 Read our article on Flybuys promotional offers here.
What to do with Flybuys points
There are plenty of different ways to use your Flybuys points once you've got them. Should Virgin Australia emerge from voluntary administration in a similar structure to how it went in, my recommendation is to transfer them to Velocity Frequent Flyer during bonus transfer promotions, which usually occur twice a year. The standard 15% bonus means 2,000 Flybuys Points becomes 1,000 Velocity Points. Otherwise, redeeming your Flybuys points for $10 savings would be the next best option, but far less value than you can get from Velocity.

Summing up
Scanning your card at the checkout is just a starting point. There are plenty of opportunities to maximise your Flybuys points earn through bonus points promotions at the supermarket and with other partners.
One note to keep in mind is that you have to regularly engage with Flybuys to get the most out of it. That means maximising your points by tactical spending and points promotion, so be prepared to sink a little time into this.
But it's all worth it, and it's definitely possible to earn tens of thousands of Flybuys points in a year. Take a look at this yearly round-up: just 16% of the points I earned were from normal spend, whereas the other 84% of points were solely from bonus offers.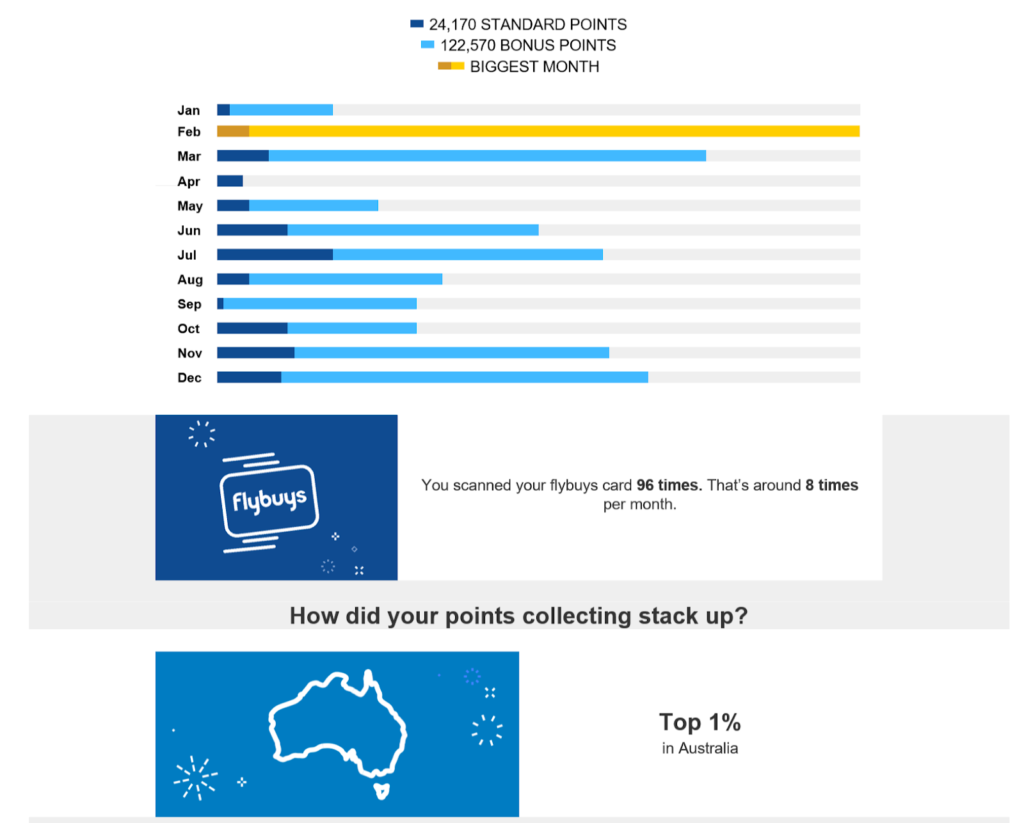 And once you've built up your points? Read more in our guide on how to get the most out of your Flybuys balance.
Frequently asked questions
What happens if I forget my Flybuys card?
If you forgot to swipe your Flybuys card at Coles, you can return to Coles within 7 days of purchase with your receipt and Flybuys card to have the transaction added to your Flybuys account.

For all other retailers, you will have to contact Flybuys at 13 11 16 between 9am to 7pm on Monday to Friday and they will try their best to allocate the points to your account.
How can I get free Flybuys points?
Flybuys doesn't normally just give out points for free. If you're happy to spend a bit of time, one cost-free way to earn points is doing surveys from Peanut Lab, which appears in your Flybuys app.

However, you can earn lots of Flybuys bonus points at minimal extra cost with certain promotions. See the Flybuys partners page or our guide to Flybuys promotions.
Can I get Flybuys points at Officeworks or Myer?
Even though stores such as Officeworks and Myer might appear on Coles/Myers group gift cards, you can't earn Flybuys points from those retailers. The Flybuys partners page clearly shows where you can earn Flybuys points from.
How much are Flybuys points worth?
It's hard to pin down a value for Flybuys points, as that depends on what you use them for. As a base number, 2,000 Flybuys points is equal to $10 off at Coles, so that's 0.5 cents a point.

If you had 16,000 Flybuys points and converted it to 8,000 Velocity Points during a 15% transfer bonus, and then used those points to redeem a short flight normally worth $200, then that is theoretically 1.25 cents per Flybuys point of value, which is much better value!
* Featured image courtesy of Flybuys.
A beginner's guide on how to earn Flybuys points
was last modified:
July 18th, 2023
by