In this guide, we take a look at how Qantas' business loyalty program, Qantas Business Rewards, works and how you can use it to boost your (and your employees') Qantas Points balance.
Who is Qantas Business Rewards for?
Qantas Business Rewards is open to any business entity with an ABN that is registered for GST, from those who operate as a sole trader up to those with multiple employees. Larger ACN entities are not eligible.
The program usually has a one-off $89.50 fee to join.
It is important to note that the membership (and the points earned) belong to your business, not to you personally — but you can choose who to transfer the points to, which includes yourself.
Points can be earned primarily from flying with Qantas, by adding your ABN into the booking on qantas.com, or with the program's 50+ partners.
Members can also get discounts on (some) revenue Qantas fares by booking through the Qantas Business Rewards website.
What are the Qantas Business Rewards membership tiers and benefits?
The program brings the concept of membership tiers, similar to status with a frequent flyer program — but based solely on the number of points earned. Moving up a level means earning a greater amount of points for flying, and enables greater fare discounts.
There are three tiers with Qantas Business Rewards, creatively named Level 1, Level 2 and Level 3.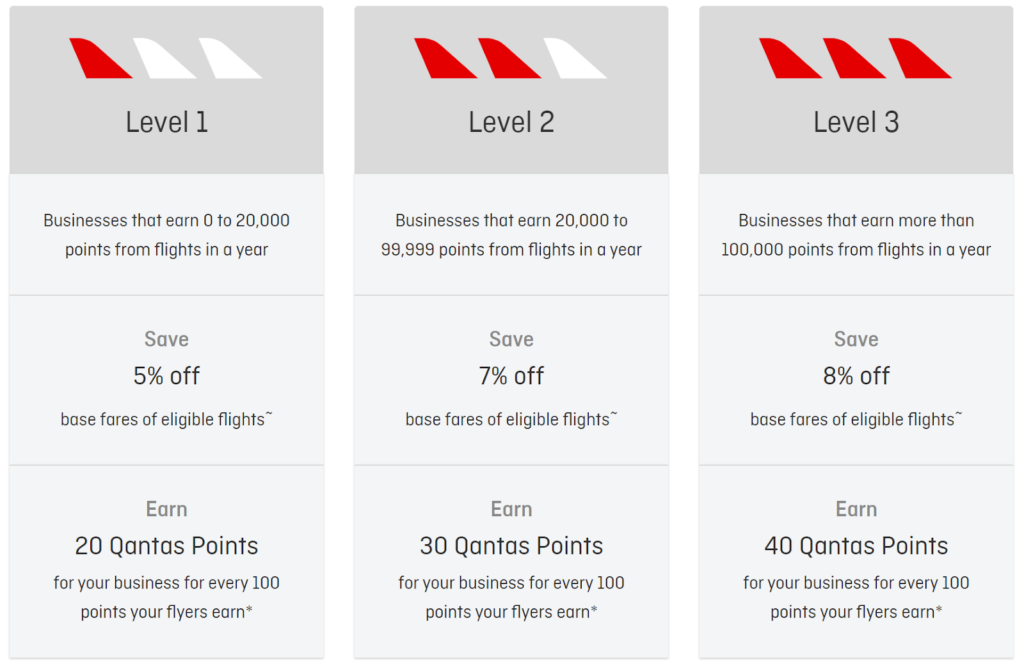 Level 1 is the base tier in the program, and where you will be when you first join. At this level, you earn 20% of the base points from any flights booked with your ABN, and have access to a 5% discount on flight bookings (other than Discount Economy and Discount Business) booked with at least 7 days' notice.
Level 2 is the mid-level tier in the new program, which you can access as soon as you earn 20,000 Business Rewards points within a membership year.
At this level, you earn 30% of the base points for any flights flown, and you can access a 7% discount on revenue fares (with the same restrictions on classes and advance purchase restrictions as at Level 1).
Level 3 is the top tier in the program, and you'll need to earn 100,000 points in a year to access it.
At this level, you'll earn 40% of the base points for flights, and the discount on flight bookings goes up to 8% from the base fare.
Importantly, there are no advance purchase restrictions at this level, so you can book and fly on the same day and still get the discount. Furthermore, domestic Discount Economy (Red e-Deal) fares now attract a 2% discount at Level 3.
If your business books enough travel to hit this level, you could gain a lot of advantages. Note that earning and transferring Business Rewards points to your personal frequent flyer account won't count for the Points Club and Points Club Plus status.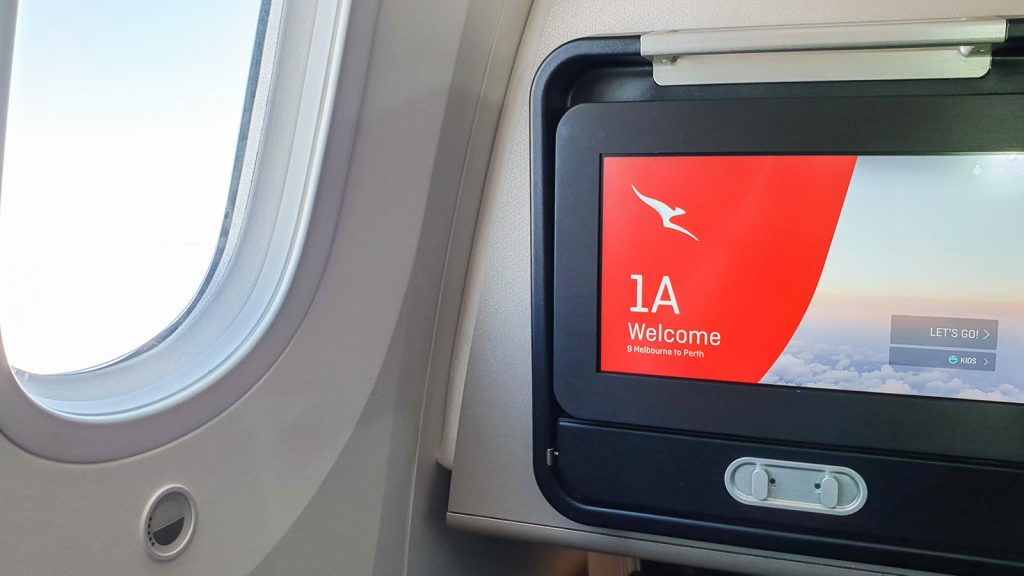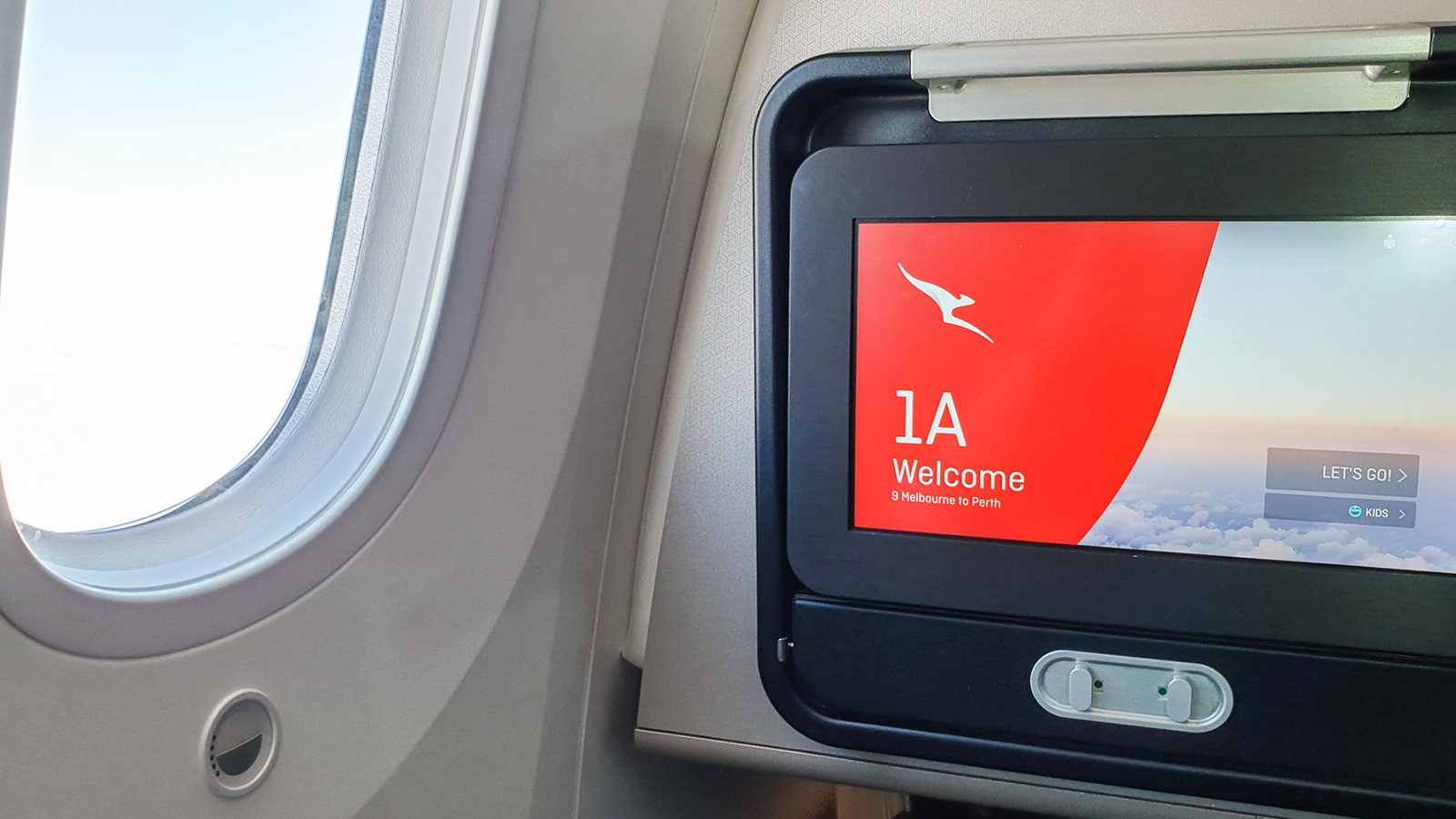 How can I earn points with Qantas Business Rewards
Qantas has a whole gamut of ways to earn points when you are flying, staying at hotels, or even purchasing partner products or services including Avis, Budget, Dell, NRMA and Samsung — see the whole list here. We'll explore all the different ways to earn Business Rewards Points.
Earning points by flying
The primary way to earn points is by flying and having your ABN entered in the booking when you book directly through the Qantas website.
Qantas Business Rewards effectively lets you stack your rewards by double-dipping with Qantas Frequent Flyer: The person flying (be it you or someone else with your ABN in their booking — a business partner or employee, for example) will earn Qantas Points into their personal Qantas Frequent Flyer account, and your business will also earn a percentage of those points into your Business Rewards account.
You will earn 20, 30, or 40 Business Rewards points for every 100 Qantas Points that the eligible passenger would earn for themselves while travelling for business.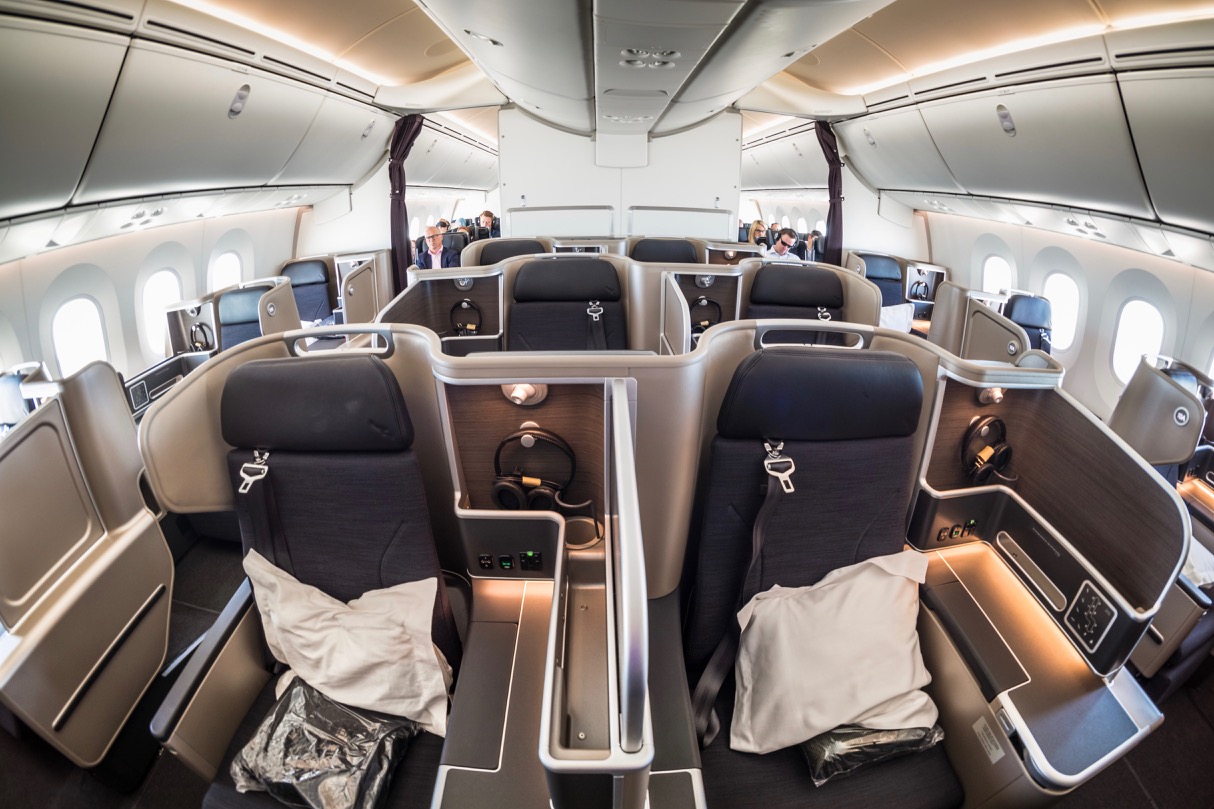 Earning points through accommodation
In addition to the regular rate of 3 Qantas Points per $1 spent when booking at over 200,000 partner hotels through Qantas Hotels, Qantas Business Rewards members are able to earn an extra point per $1 spent by including their ABN on the booking. This excludes Airbnb bookings.
However, one point to keep in mind is that booking through Qantas Hotels, as a wholesaler, often means you won't get hotel status benefits that are usually only offered to people who book directly with them.
Earning points through car hire and fuel
When you need to drive around for business, there are great deals with Avis and Budget. Both places offer 4 Qantas Business Rewards points per $1 spent, on top of the usual 4 Qantas Points earned per $1 as a frequent flyer member.
Earning points with Qantas Business Rewards partners
Qantas Business Rewards has a wide range of partners, ranging from business services to logistics, marketing and office supplies.

Some of these partners would also let you earn Qantas Points into a personal account but if you have access to Business Rewards (and all else is equal with the product and price, etc.) there are advantages to earning Qantas Points into your Business Rewards account instead of directly into your personal Frequent Flyer account.
The points will count towards your business' progression through membership tiers so you can access a higher level of points earning and/or discounts flying; and
The points are more flexible and can be transferred to either your own Qantas Frequent Flyer account or to any of your employees or business associates who you have registered, not just family members, as in the regular program
There are also some partners who allow you to stack Qantas Points earning via Qantas Business Rewards and Qantas Frequent Flyer, such as the car hire examples again.
To use the example of Avis again, if instead of booking via the Qantas Business Rewards portal you booked via Cashrewards, you would collect 4.9% cashback in lieu of 4 points per dollar (and you'd still get the 4 points per dollar directly as the booker of the car). Cash savings may be more important than extra points.
Summing up
The Qantas Business Rewards program makes it simple for your business (and, by extension, you and your employees/associates) to earn Qantas Points, particularly for small or single-person businesses.
You can earn more points for your business, and even discounts off Qantas fares — both of which can increase as you progress through the membership levels. Earned Business Rewards points can be converted to Qantas Points for you or other eligible employees.
Be sure to check out current offers to boost your Qantas Business Rewards balance and then you can use your Qantas Points on one of these great-value redemptions.
A beginner's guide to the Qantas Business Rewards program
was last modified:
June 23rd, 2020
by