Qantas Car Insurance is a product designed to give you peace of mind with your precious automobile, while still potentially giving a healthy boost to your Qantas Points balance.
We take you through everything you need to know, including what cover to choose and how to pocket the biggest sign-up bonus. For more general information, see our guide to Qantas Insurance as a whole.
Note: This is a neutral guide to Qantas Insurance products. You should read the relevant PDS in detail and assess whether the cover and associated costs are appropriate for your personal circumstances.
What is Qantas Car Insurance?
Underwritten by Auto & General, who insure over a million Australians, Qantas Car Insurance offers policies to protect you against the financial strain of unexpected events involving your cars, including accidents, thefts and third-party damage.
The costs arising from these situations can easily move from thousands to tens of thousands of dollars, so holding a good car insurance policy might just save your bacon in case of an unforeseen accident.
Plus, earn bonus sign-up Qantas Points for new eligible policies and for every dollar spent on premiums.

What's covered with Qantas Car Insurance policies
Qantas Car Insurance currently offers three different types of cover, with varying premiums and sign-up bonuses.
Comprehensive Cover: covers for loss or damage to your car due to an accident (even if you're at fault), severe weather, vandalism and theft; as well for your liability for accidental damage your car causes to other people's property.
Third-Party Property, Fire and Theft: covers you for your liability for accidental damage your car causes to other people's property, as well as damage to your car if it's stolen or catches fire.
Third-Party Property only: covers your liability for accidental damage your car causes to other people's property, for example, their car or their home. This is an optional cover, separate from Compulsory Third Party (CTP) insurance, mandated by each state or territory in Australia.
Visit the Qantas Car Insurance page to compare the different policies. A quick summary is below, taken from the PDS.
| | | | |
| --- | --- | --- | --- |
| | Comprehensive | Third-Party + Fire & Theft | Third-Party |
| Choice of Market Value or Agreed Value | ✓ Yes | ✖ | ✖ |
| Damage to other people's property | $20M | $20M | $20M |
| Essential repairs | ✓ Yes | ✖ | ✖ |
| Emergency transport, accommodation | ✓ Yes | ✖ | ✖ |
| Hire car following a no-fault accident | ✓ Yes | ✖ | ✖ |
| Hire car following theft | ✓ Yes | ✓ Yes | ✖ |
| New car replacement | ✓ Yes | ✖ | ✖ |
| Personal effects | ✓ Yes | ✖ | ✖ |
| Child seats or capsules | ✓ Yes | ✖ | ✖ |
| Repair Guarantee | ✓ Yes | ✓ Yes | ✓ Yes |
| Replacement keys | ✓ Yes | ✖ | ✖ |
| Towing costs | ✓ Yes | ✓ Yes | ✖ |
| Trailer and caravan | ✓ Yes | ✖ | ✖ |
| Uninsured motorist damage | N/A | ✓ Yes | ✓ Yes |
| Accident clean up | ✓ Yes | ✓ Yes | ✓ Yes |
| Death benefit | ✓ Yes | ✓ Yes | ✓ Yes |
What are the best things to know when browsing policies?
Here are some questions to consider when you are browsing Qantas Car Insurance policies.
Do I want my own car to be covered? Although it's cheaper, Third Party Property cover only pays for the damage you cause to someone else's car or property. You'll still have to fix your car at your own expense unless you go Comprehensive.
Is my car new? If your new car (under two years of age and 40,000km mileage) is written off, a Comprehensive policy may also offer a new car replacement with registration and CTP covered, instead of getting the agreed or market value payout.
Do I want other optional extras such as car hire, or towing costs covered? If you want anything more than the bare necessities to make your life easier after an incident, then you should consider Comprehensive cover.
Do I want to preserve my no-claim discount? No-claim discounts reward drivers who don't need to claim on their insurance. It's only offered on Comprehensive policies and is usually transferrable between insurers.
If you answered 'yes' to any of the above questions, then Comprehensive Cover might be the solution for you, as it covers your loss or damage to your own vehicle, and includes other minor perks like a hire car after a no-fault accident.
Conversely, Third Party Property Cover might be a more suitable option if you have an older or cheaper vehicle that you don't want to repair or replace in the event of an accident.
Ad – Scroll down to continue reading.Minimum spend, terms & conditions apply.
What is excluded from Qantas Car Insurance?
Qantas Car Insurance has a list of general exclusions that will apply across the board. In these cases, your policy may not provide you with any benefits, so it's very important to know what to avoid.
These policies won't cover any loss, damage or liability arising:
by any household member not listed on your insurance certificate, or any drivers you have specifically excluded
if the driver did not have valid license to drive in Australia, or did not comply with the license restrictions, or was under the influence of alcohol or drugs, or refused to take a legal test for the same
from using your car as a taxi or rideshare (e.g. Uber)
from using your car for parcel or food delivery (e.g. Menulog)
from allowing other people to hire your car
For racing, tests, unlawful purposes, or on unroadworthy conditions
These are just a guide, so be sure to check the PDS for the full list of exclusions and your obligations to ensure your cover remains valid.
How do I earn points with Qantas Car Insurance?
Until 28 Feb 2021, Qantas Car Insurance is offering up to 40,000 Qantas Points for new policies, subject to minimum premium amounts.
How does this work? Essentially, you'll be awarded a set number of Qantas Points depending on what your annual premium is quoted. See the offer page for more details.
$0 to $500: 4,000 Qantas Points
$500 to $850: 10,000 Qantas Points
$850 to $1,250: 20,000 Qantas Points
$1,250 to $1,550: 30,000 Qantas Points
$1,550+: 40,000 Qantas Points
You'll also earn 1 Qantas Points for every dollar spent on the premium and could earn up to 1,600 Qantas Points via the Qantas Wellbeing app for getting a car service and tyre pressure checks.
Bonus sign-up points are awarded for eligible new customers after holding the policy for at least 60 continuous days. If you do cancel your policy before the end of the year and have not made any claims, your premiums will be pro-rata refunded, but with a $40 early cancellation fee.
How do I sign-up for Qantas Car Insurance?
Visit the Qantas Car Insurance website
Choose your preferred cover and click 'Get a Quote'
Enter the required fields, including your name and car details
Choose your level of coverage and preferred start date
Login to your Qantas Frequent Flyer account when prompted to help pre-fill your data, if desired.
Your quote will be displayed, along with how many Qantas Points you could earn.
If you're happy with your quote, click 'Continue' to proceed with further driver details, as requested.
Make payment and receive your policy documents.
Wait at least 60 days to receive the bonus sign-up Qantas Points.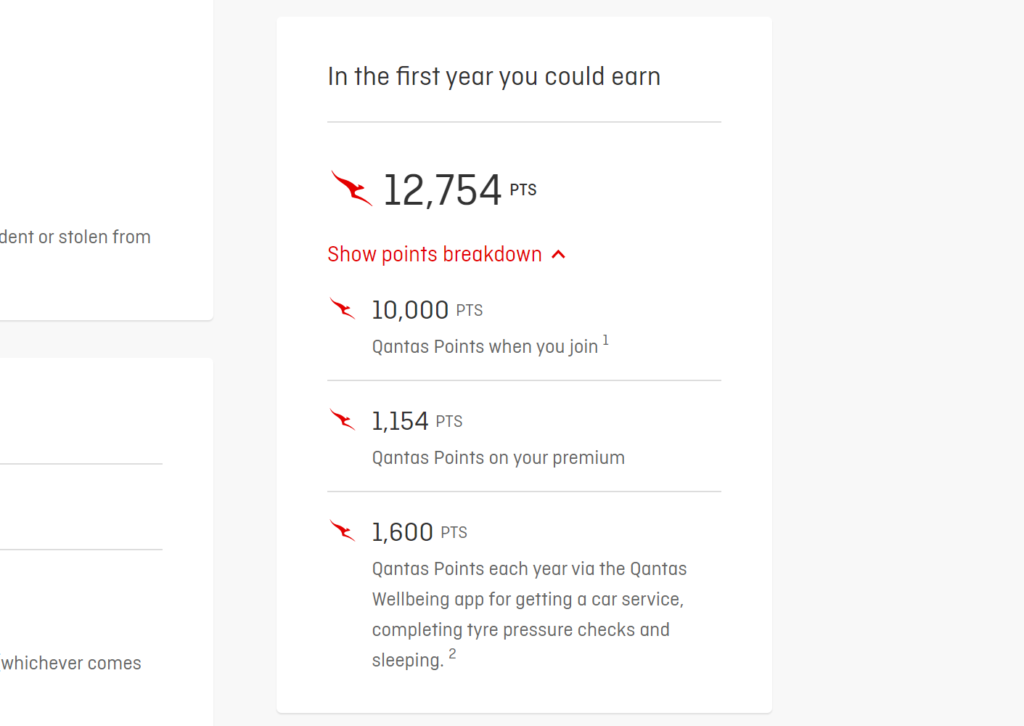 Frequently asked questions
Does Qantas have car insurance?
Yes, Qantas offers a variety of car insurance policies.
Who is Qantas car insurance underwritten by?
Qantas car insurance is underwritten by Auto & General
Which car insurance company is the best in Australia?
Every car insurance company has its own merits and shortfalls. You should see which ones off the policies that suit you the best.
Who has the cheapest car insurance in Australia?
It's hard to answer this question as car insurance premiums will depend on your insurer and your personal circumstances. Be sure to check your policy covers you adequately for your needs.
Your in-depth guide to Qantas Car Insurance
was last modified:
March 8th, 2021
by