The British Airways Lounge in Singapore is worth visiting in its own right, but it's also a great alternative for Qantas passengers. That's because the BA lounge can be significantly quieter than Qantas' own Changi Airport lounges in the evenings – particularly before the Roo's flights to Australia.
After an early check-in at Jewel, I had time to hop between a few lounges. After an obligatory stop at the Qantas Business Lounge, I made my way over to the British Airways Lounge. I hadn't seen this lounge in person since its refurbishment in recent years and I must say, I was pleasantly surprised.
Location
If you're familiar with the Qantas Business Lounge in Singapore, the British Airways Lounge isn't far away. In fact, it's practically next door.
When your journey begins in Singapore, just make a left after passport control in Terminal 1. Head up the escalator, and signs will direct you the rest of the way. If you're in transit instead, get yourself to the centre of Terminal 1, between the C and D piers, where you can then follow the signs upstairs.
British Airways' lounge currently welcomes guests from 4 pm each afternoon until the last BA flight is called for boarding. That aligns with the carrier's usual flights from Singapore to both Sydney and London. It also suits Qantas' flights from Singapore to Australia, but closes around two hours before the flagship QF1 departs for London.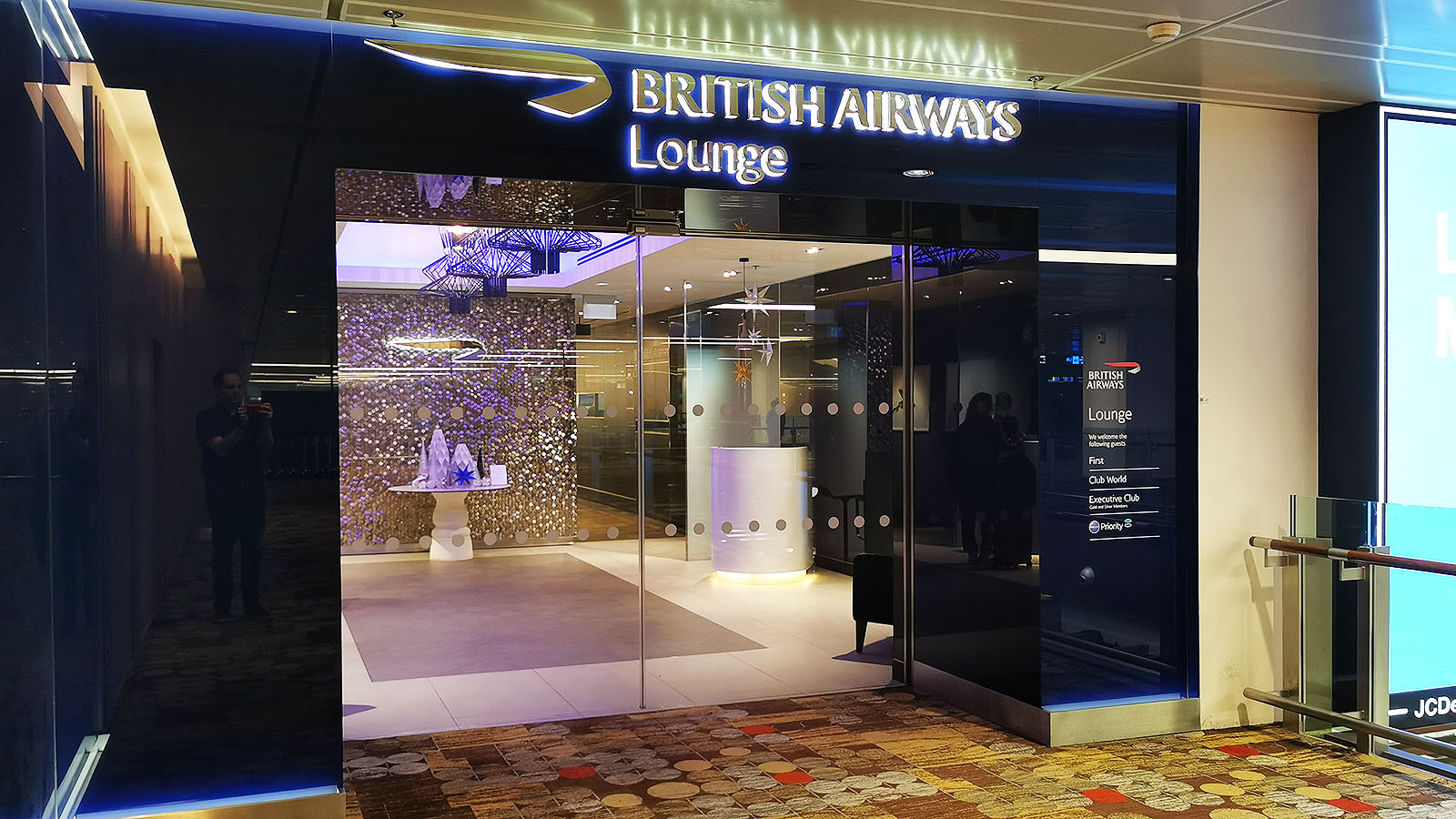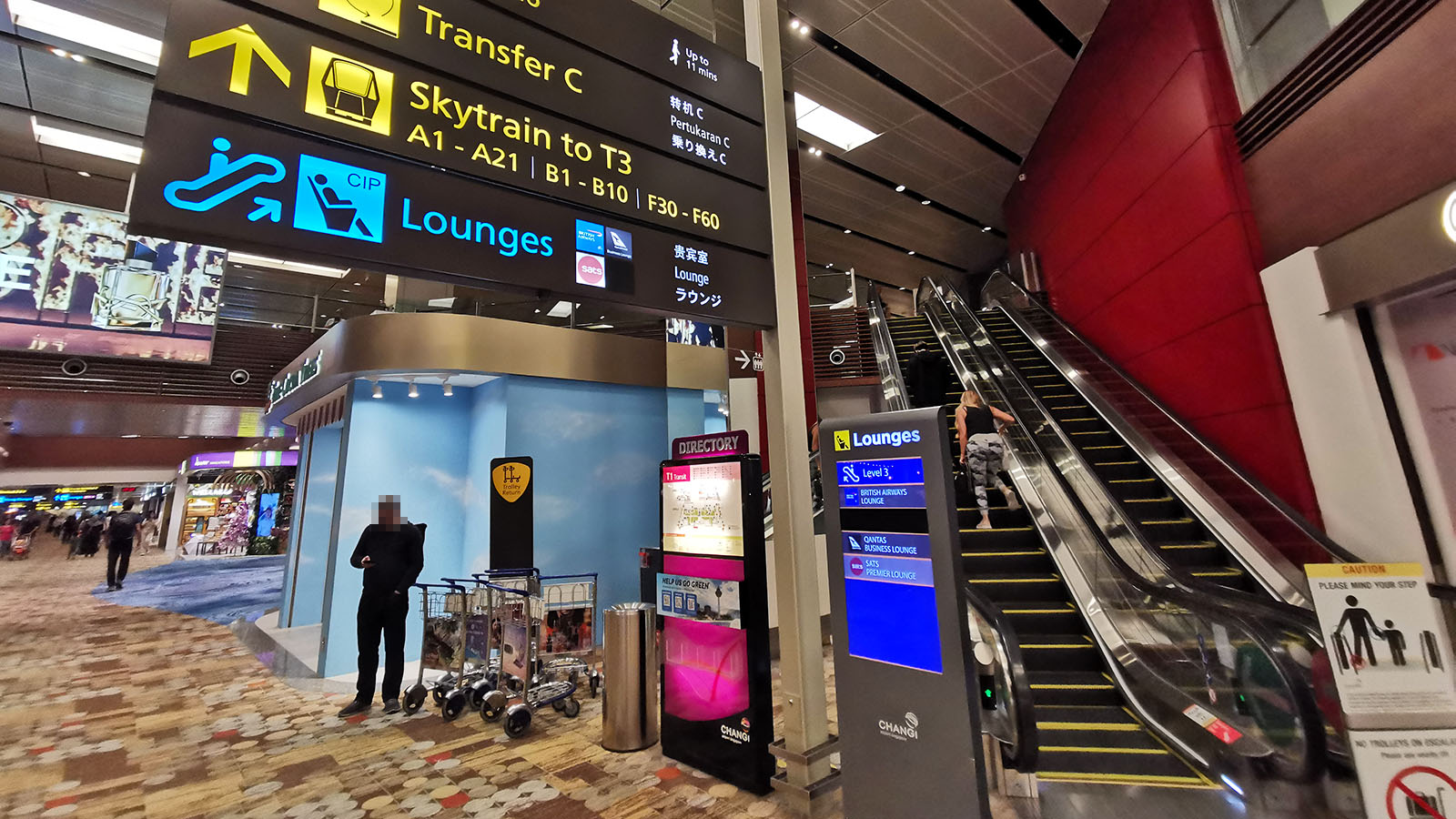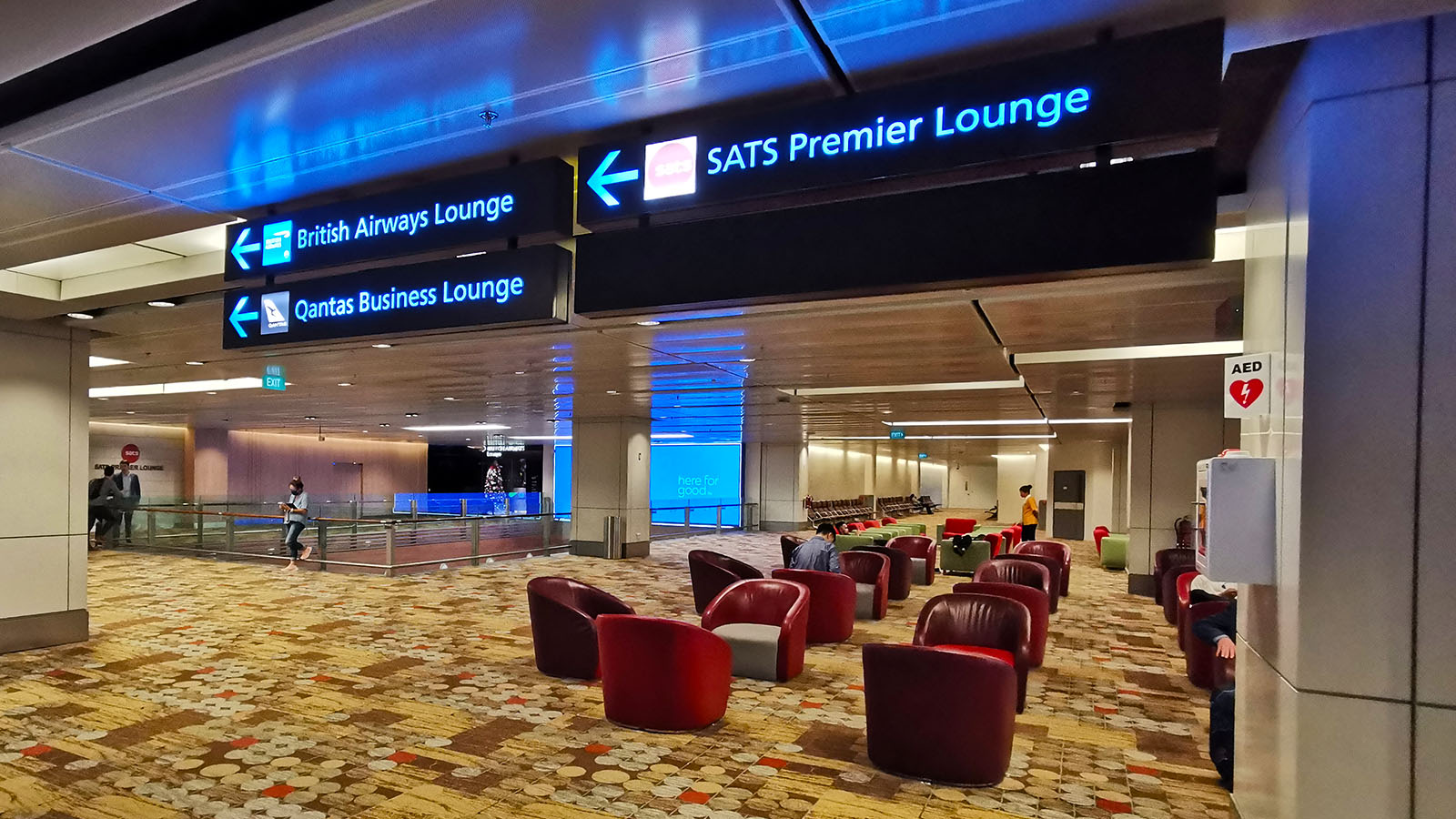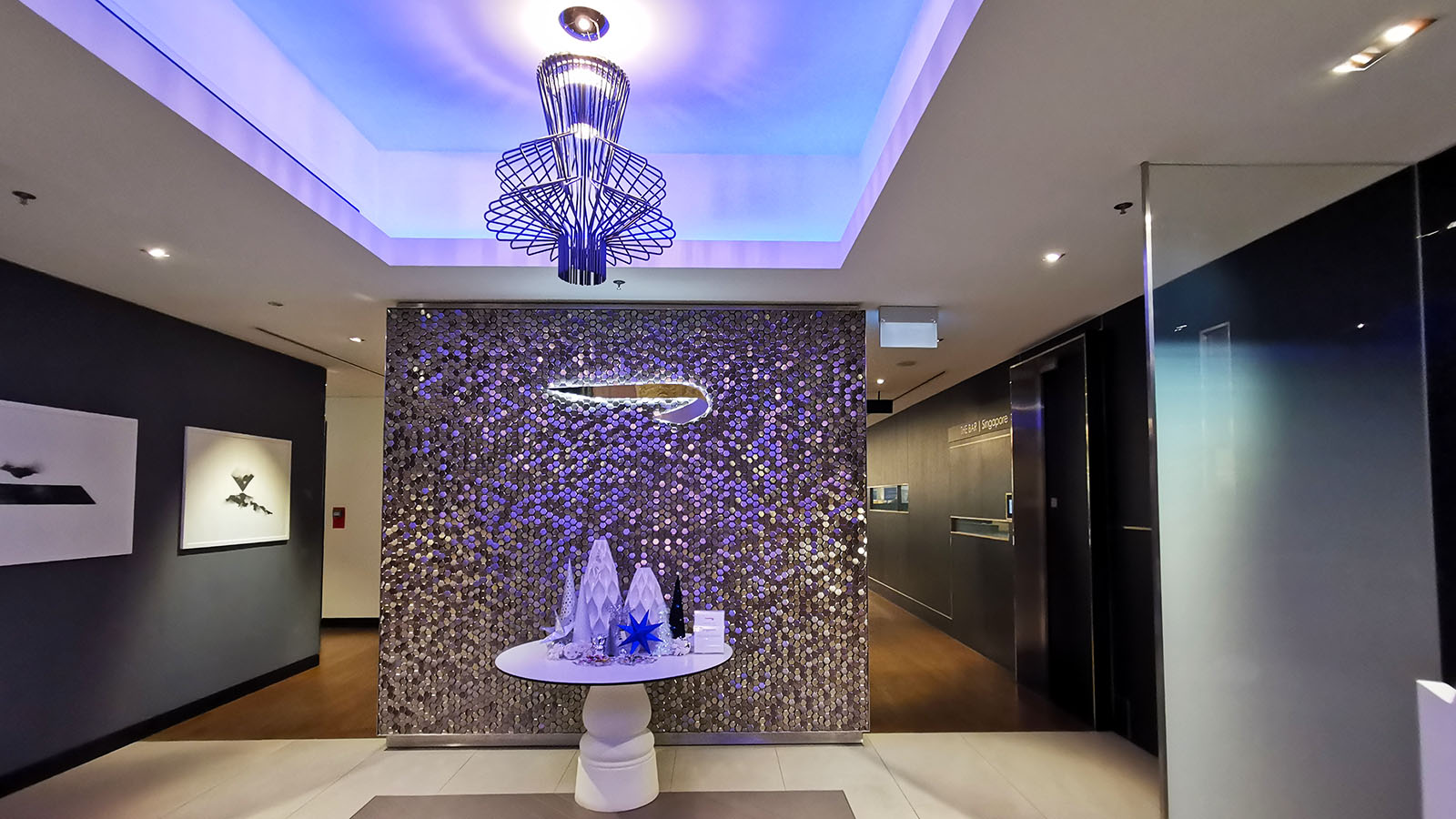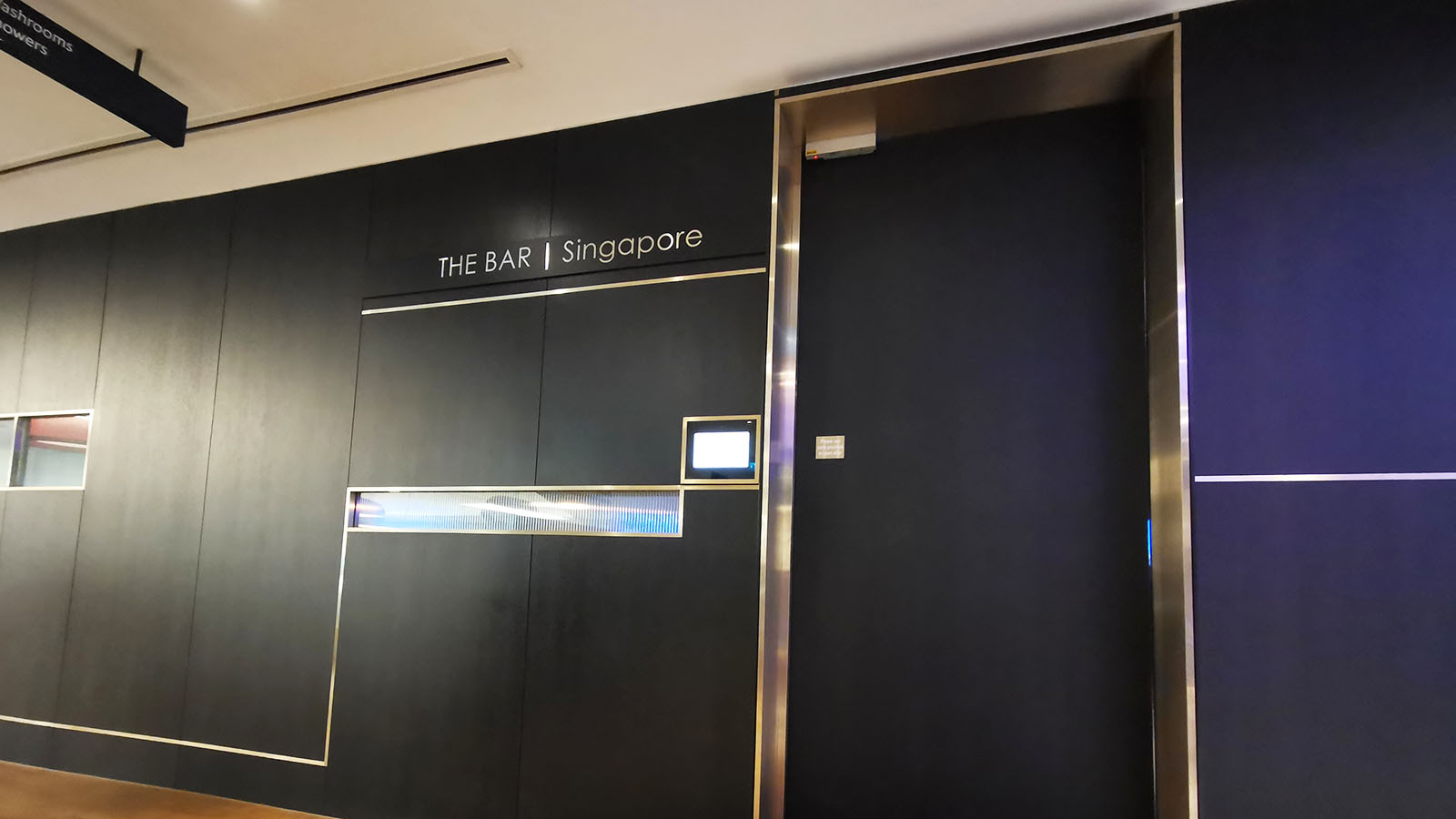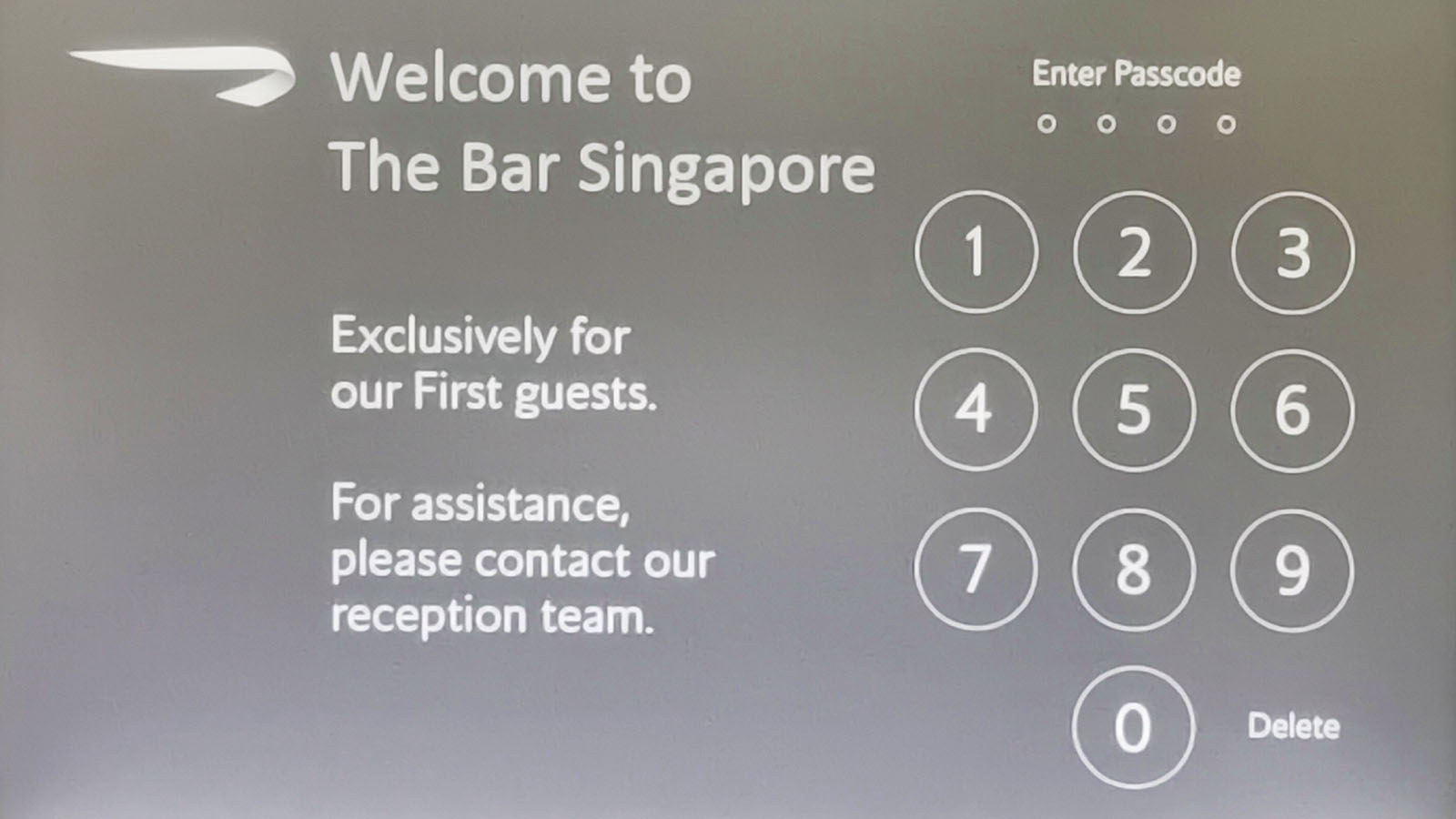 Here's a little trivia for you. This space used to be a co-branded Qantas and British Airways First Class Lounge. But when Qantas shifted its allegiance to Emirates for its flights to Europe, this lounge was turned over to BA, and subsequently refurbished. Qantas instead took the reins of what was the Qantas/BA Business Class Lounge and turned it into the Qantas Business Lounge as we know it today.
Fast-forward to 2019, and Qantas later opened a new-build Qantas First Lounge in Singapore. Under oneworld Alliance rules, eligible British Airways passengers – and other eligible oneworld Emerald and First Class travellers – can still use that lounge.
Speaking of First Class, British Airways has something else tucked away exclusively for BA First guests and members of the airline's invitation-only Premier program. That's The Bar – a separate space within the main BA lounge, locked behind a PIN-coded door. I'm flying Qantas today, so clearly, I'll have to come back!
Lounge layout and seating
The British Airways Lounge in Singapore is largely rectangular in shape. That said, BA has done a great job with the design to make it feel far from cavernous. There are lots of different nooks and zones to be uncovered as you walk from front to back.
Travelling in a large group? Grab one of the 10-seat 'sitting rooms' towards the centre of the space. Prefer to get some work done instead? Head for the high tables close to the entrance, or at the very back of the lounge.
When it's time to dine, you'll find an array of booths and tables handily near the food and drinks.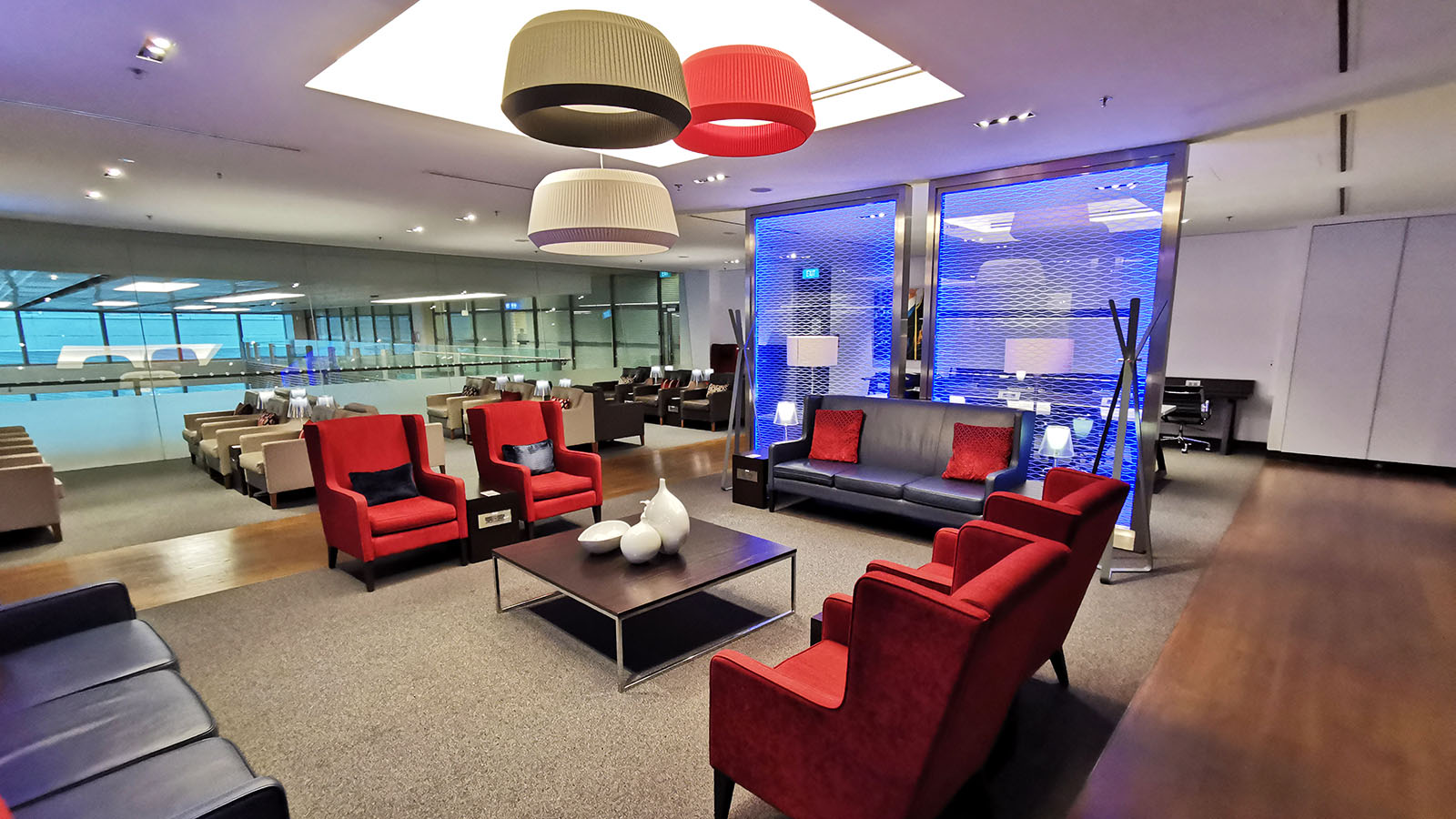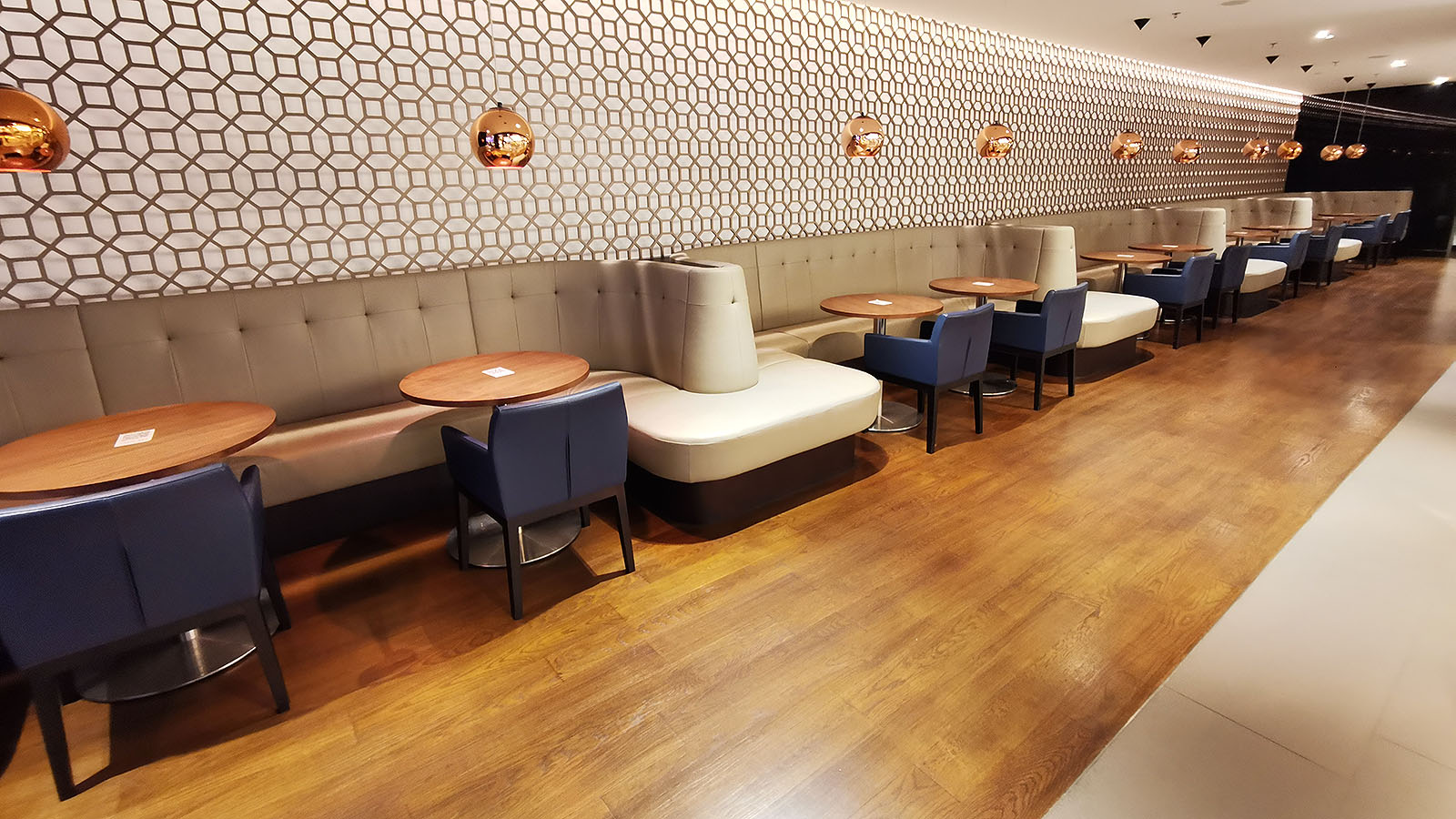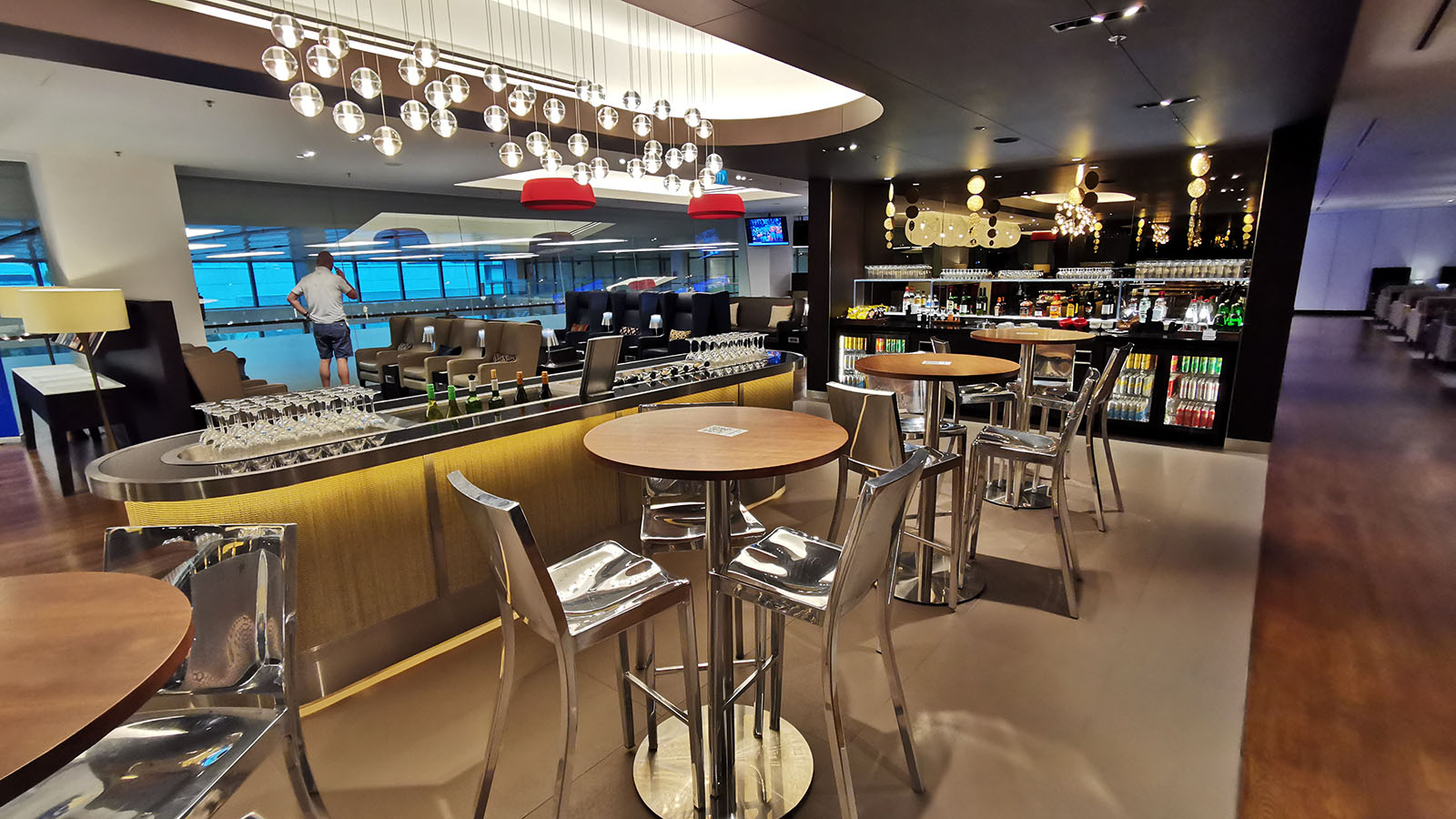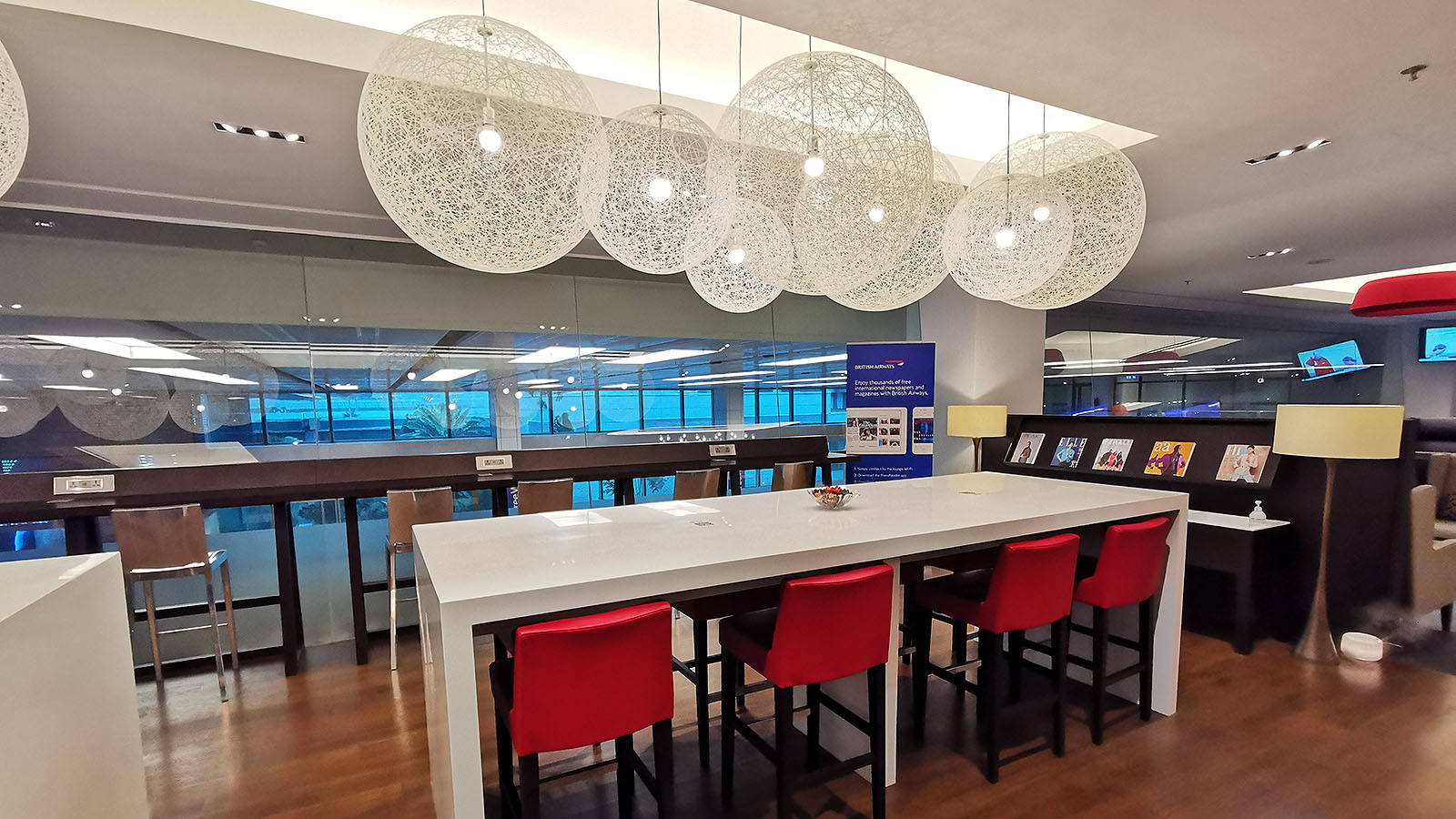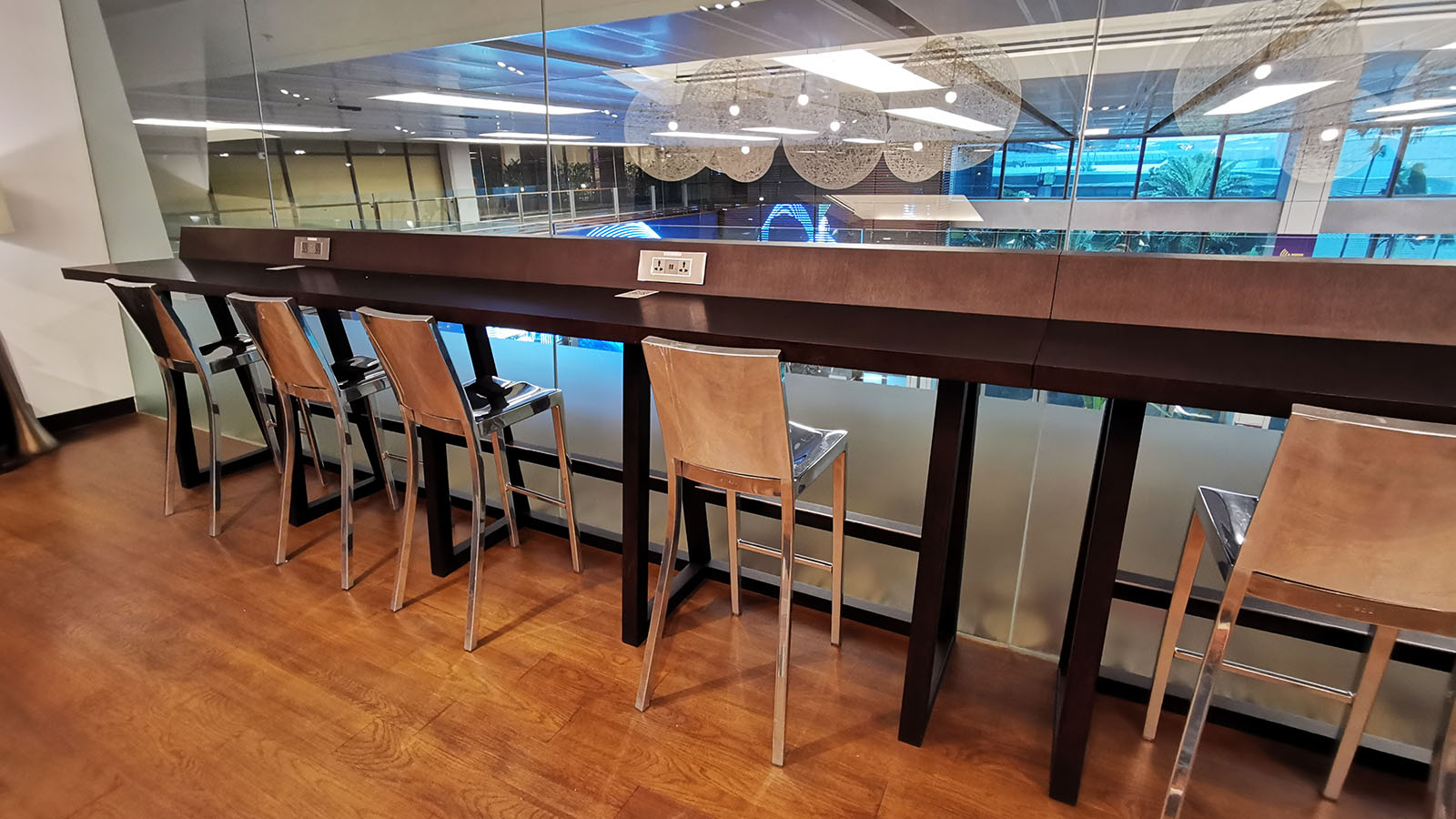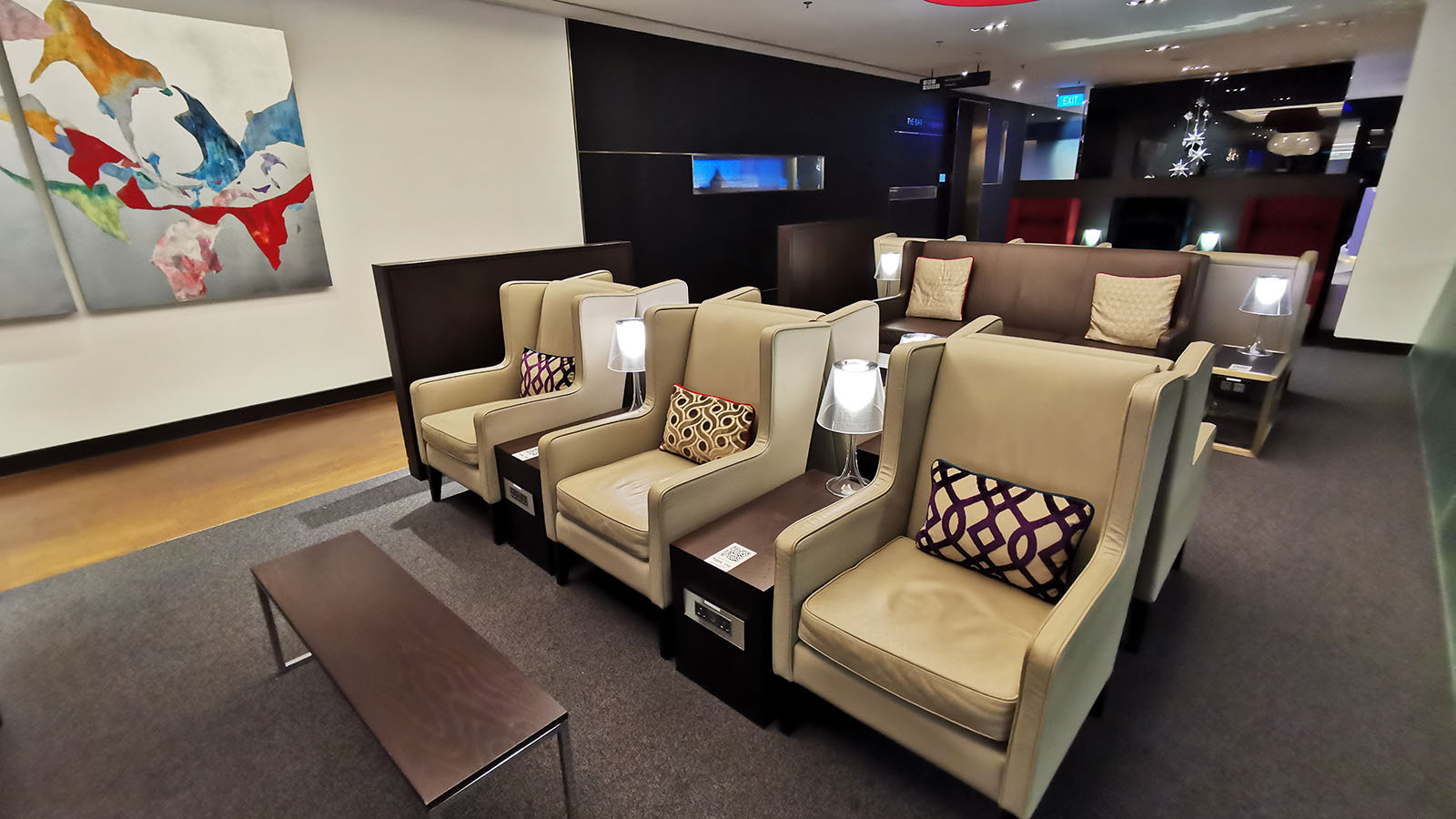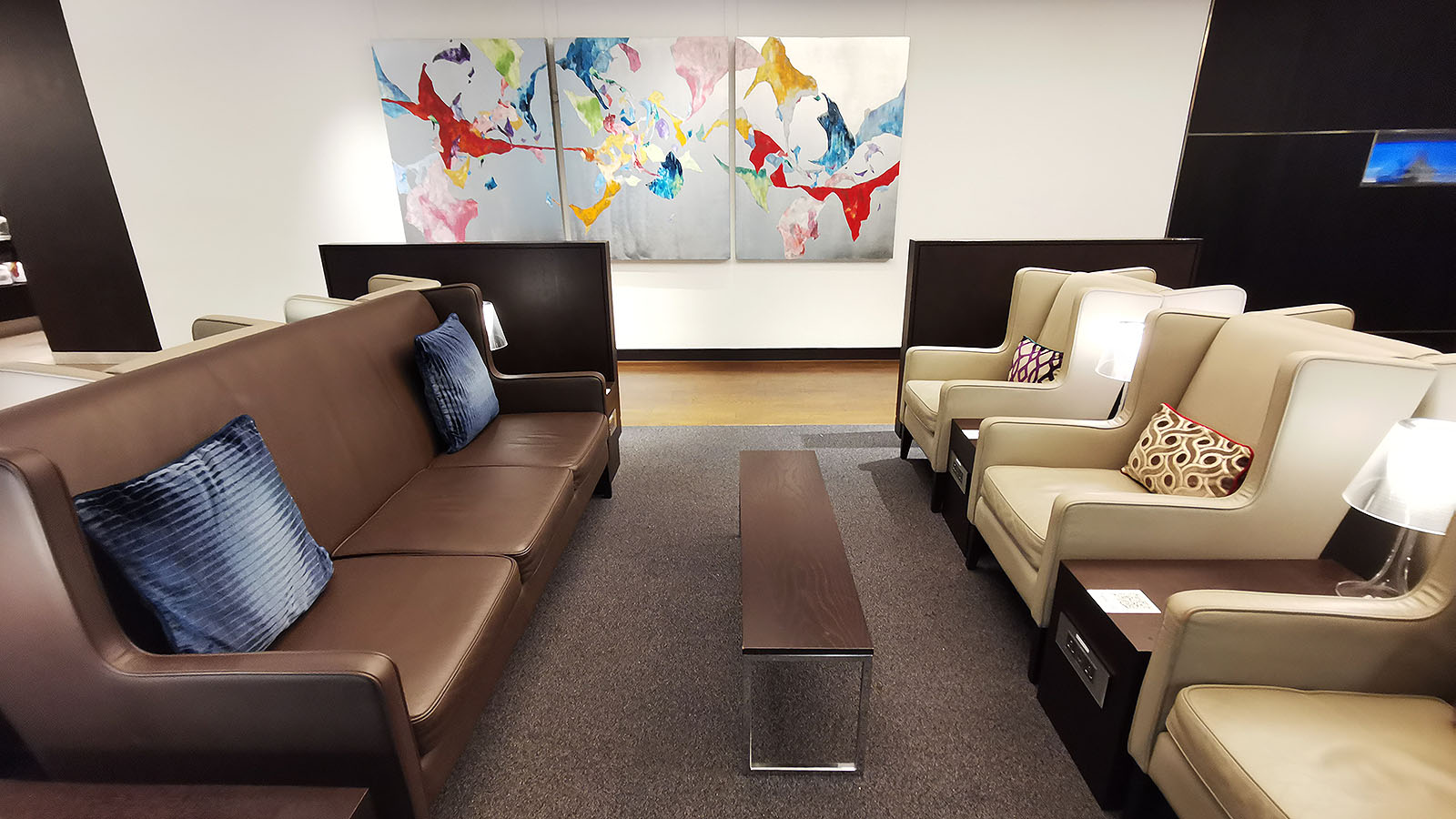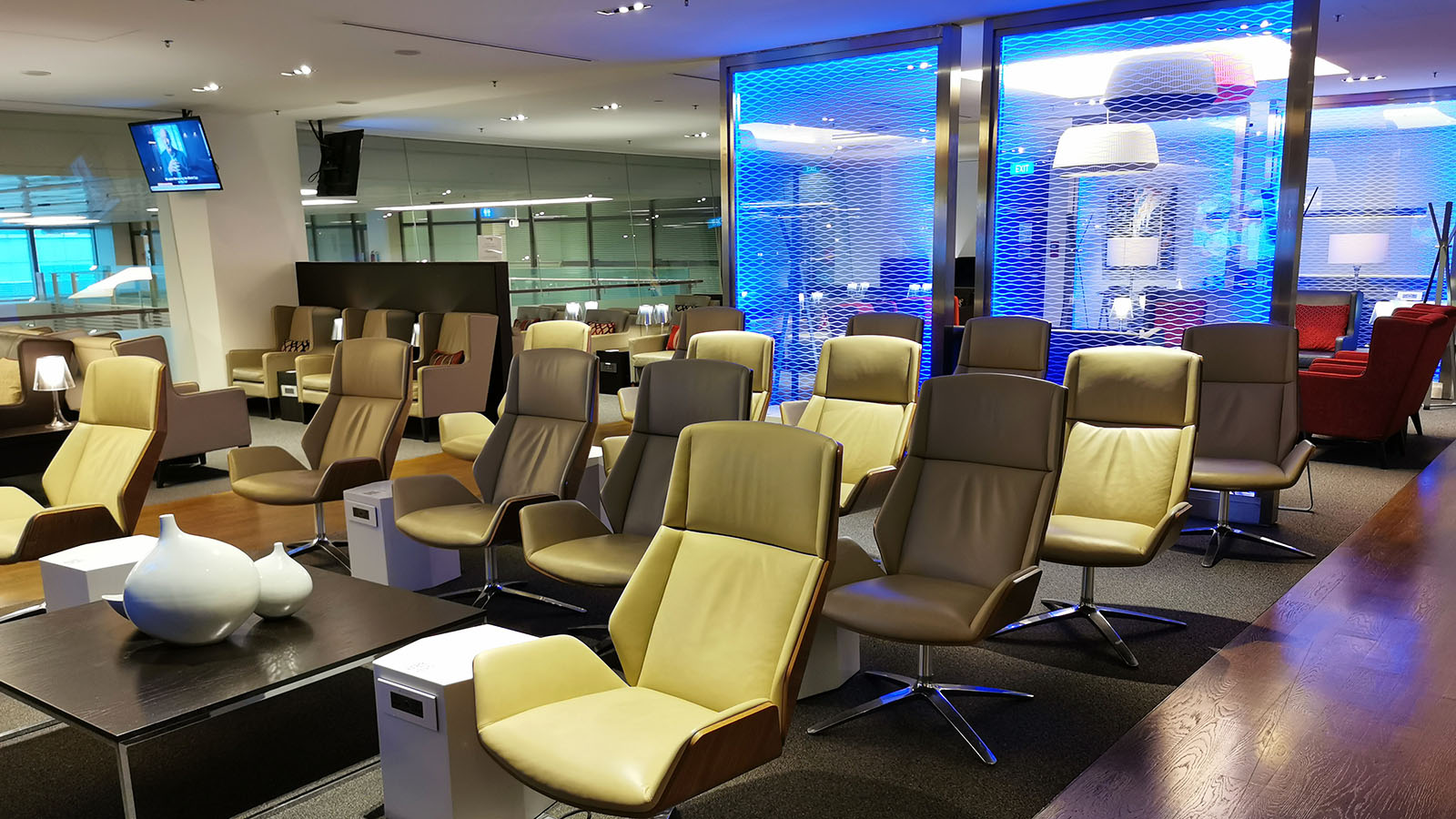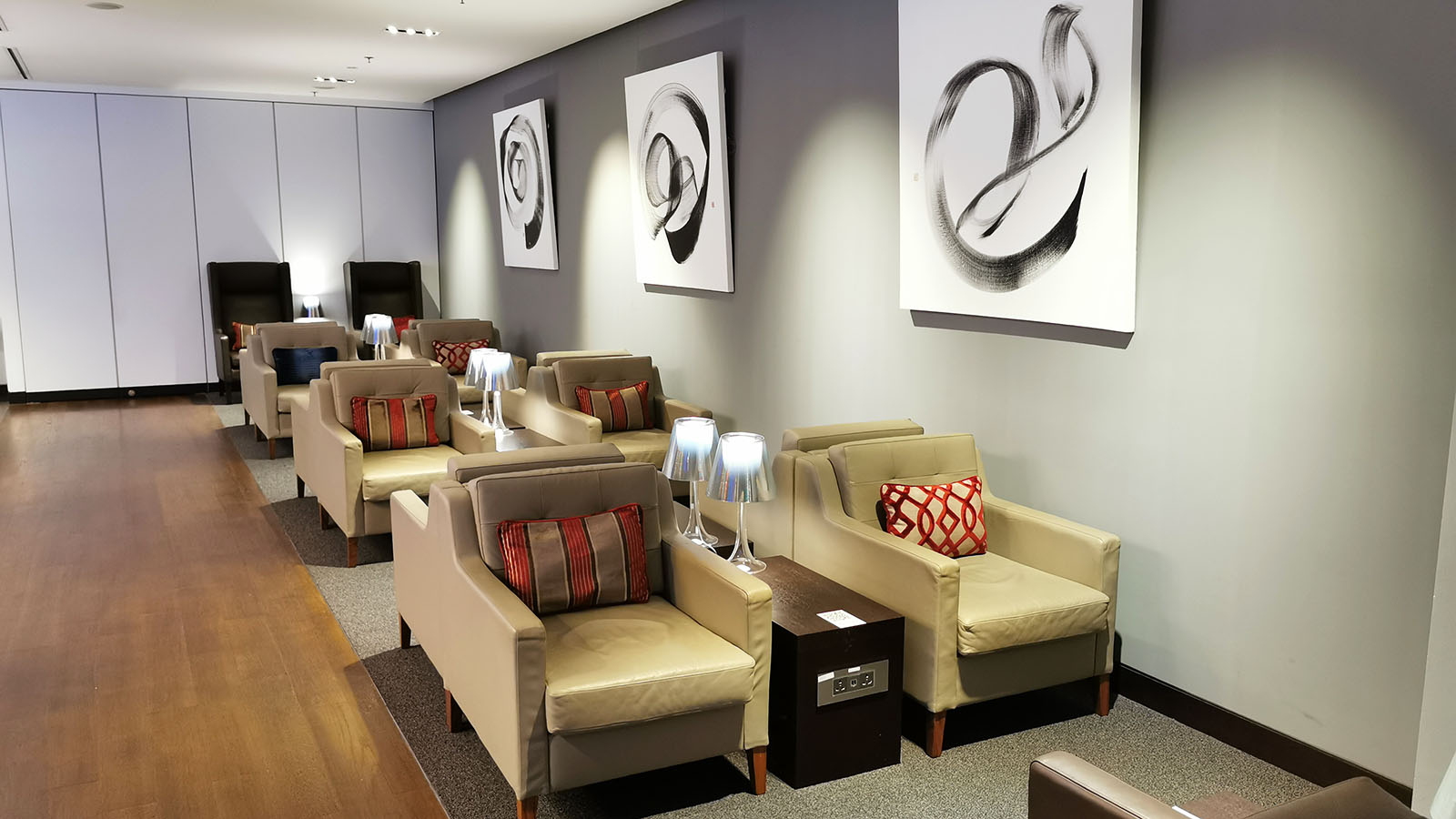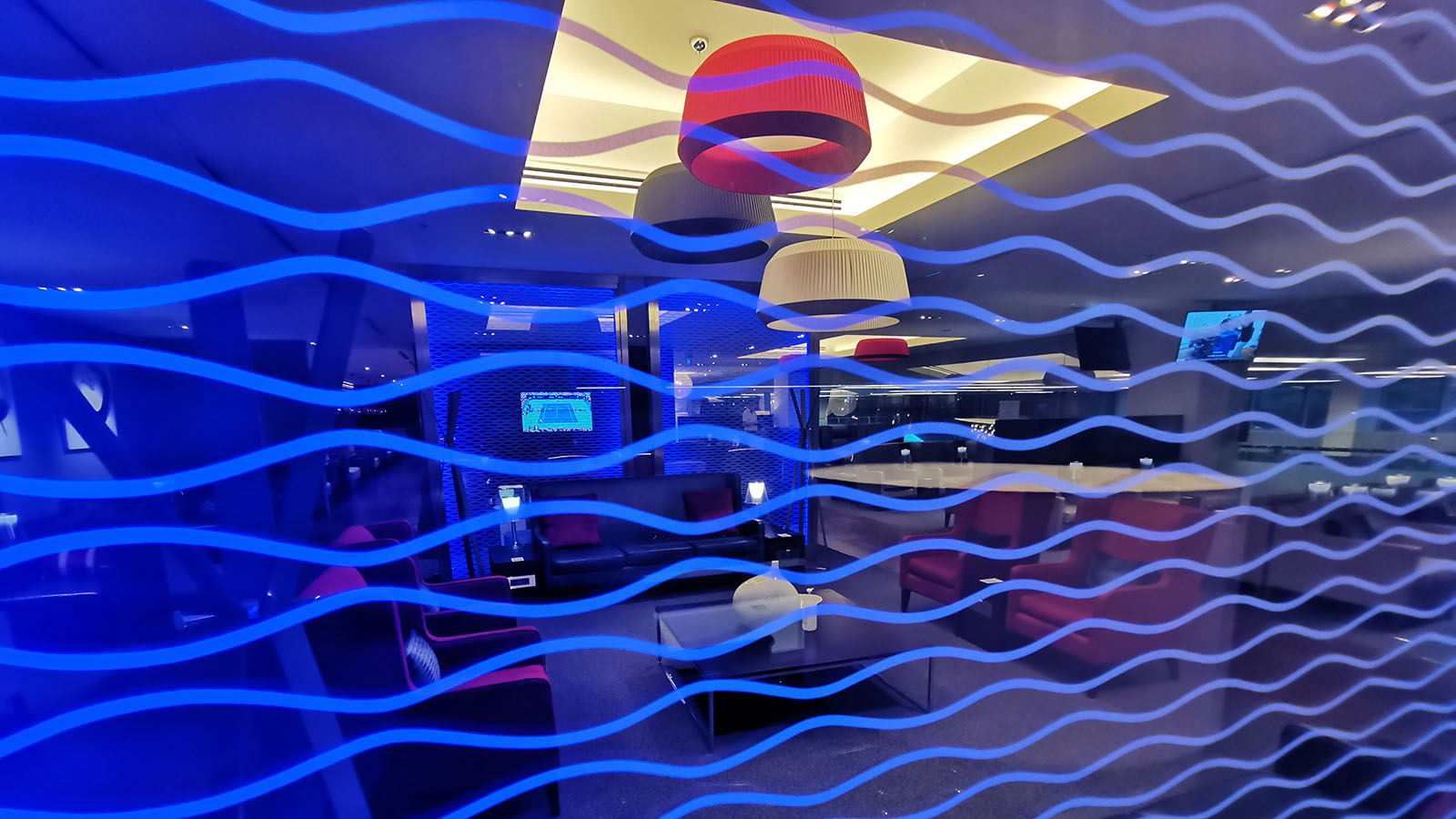 For some relaxation instead, you still have plenty of options. Settle in at one of the comfy seats just past reception, or for something quieter, venture to the far corner of the lounge.
Prefer to detach from the 'airport' vibe? There's a TV viewing zone roughly in the centre of the lounge. During my visit, the screen is tuned to the tennis on beIN Sports. Taking a moment to unwind inside one of the world's busiest airports is certainly a nice break from the norm.
A number of illuminated glass dividers help to give each zone a distinctive feeling. British Airways also uses these in its Galleries Club Lounge at London Heathrow.
Food and beverage in the British Airways Lounge, Singapore
Particularly for an outstation, Singapore's British Airways Lounge is rather comprehensive in its hospitality.
The beverage experience centres on a large self-serve zone. Here, you'll find an array of wine, beer, spirits and non-alcoholic drops. There's also machine-made espresso coffee. Of course, it wouldn't be a British Airways Lounge without tea as well.
But separate from the DIY, there's also a QR code ordering system. Every chair has a code nearby and a 'table number'. I'd settled in to watch the tennis (a replay of Kyrgios/Kokkinakis vs Croatia's Mektic/Pavic, if you're curious!), and it was great being able to secure a refreshment without missing any of the action.
The QR system isn't there to replace the self-serve bar: it instead provides even more options. I take the opportunity to order a refreshing tequila sunrise and it lands at my table within about five minutes.
There's a lot to explore in the food department as well.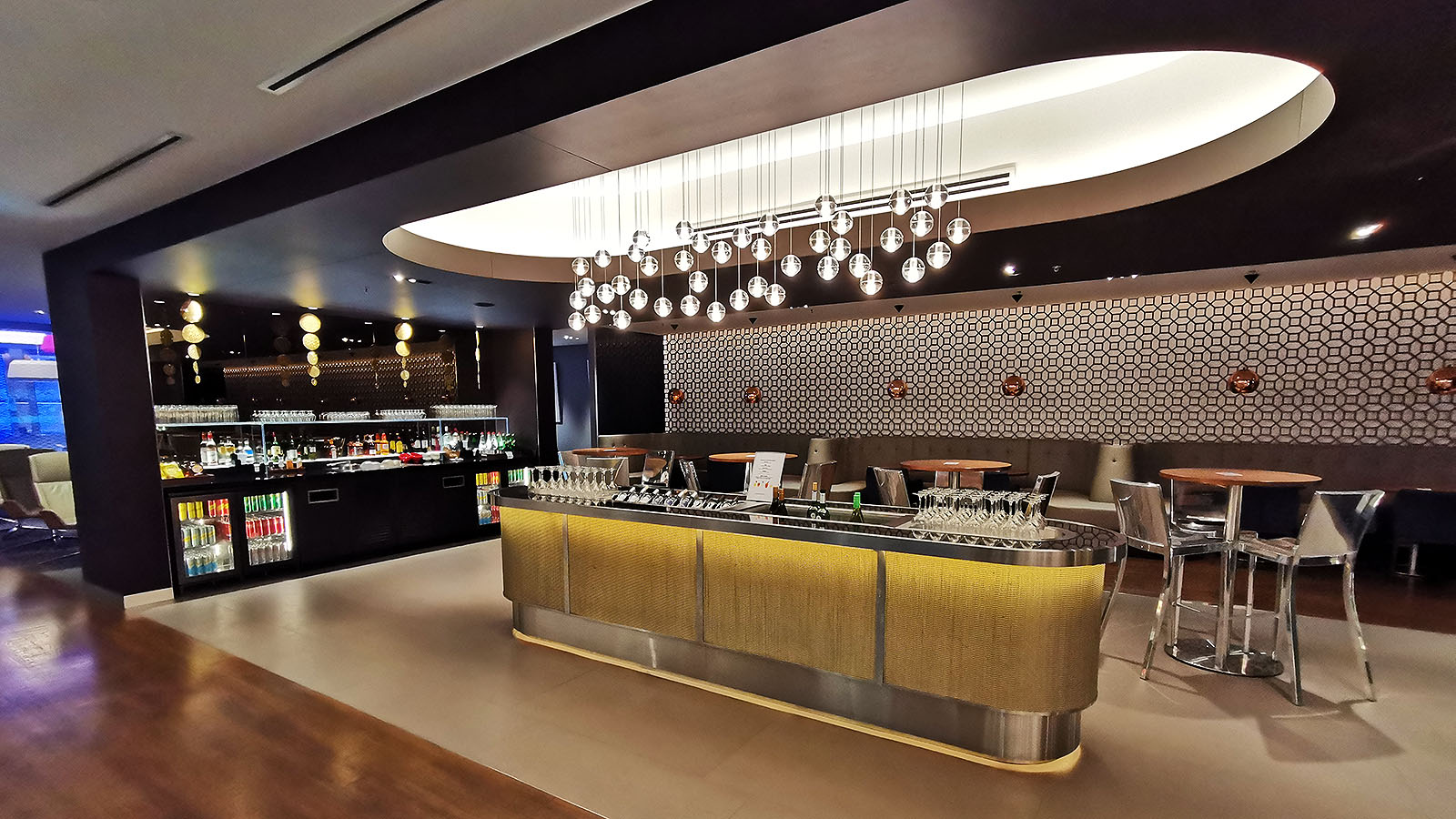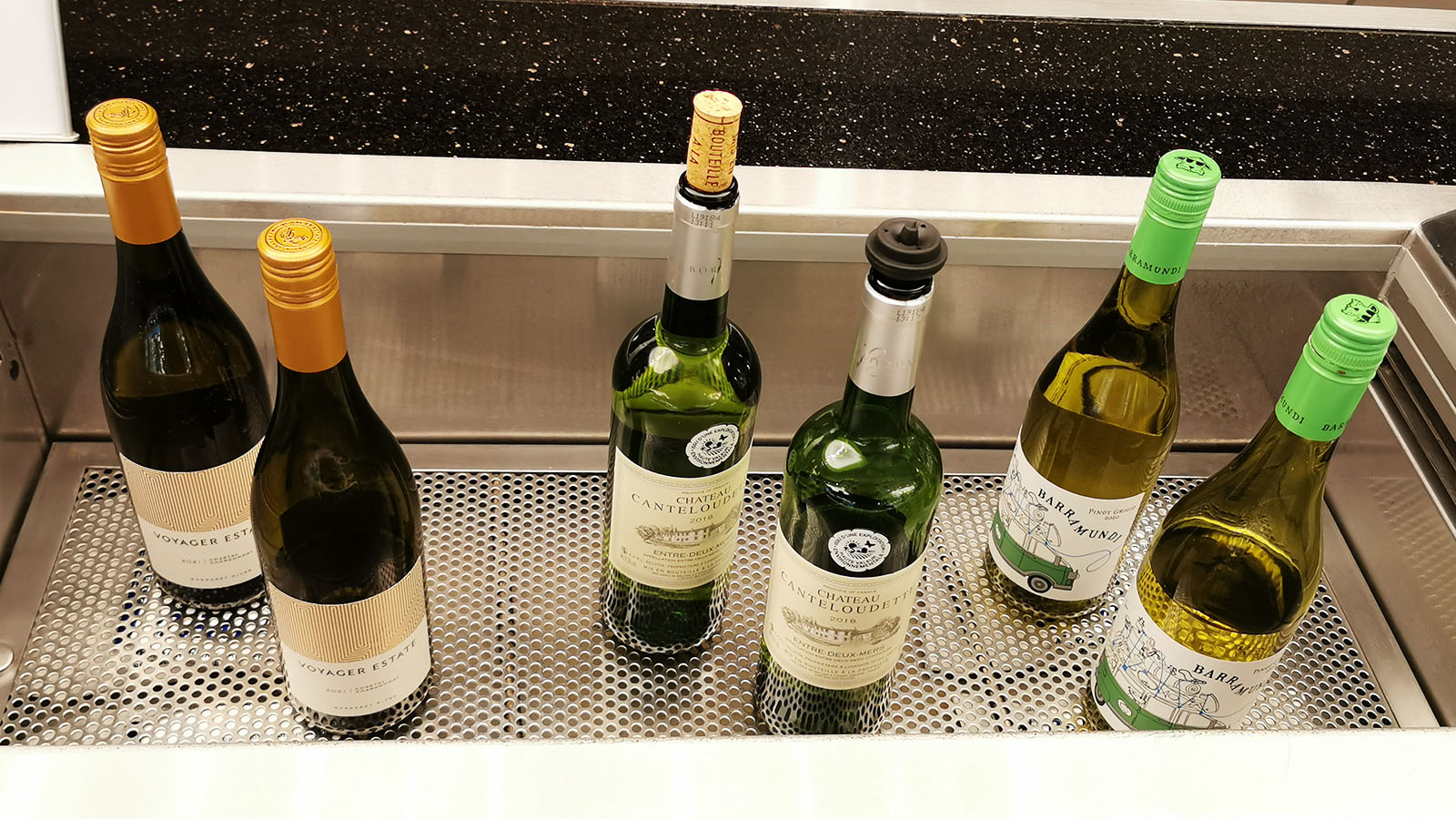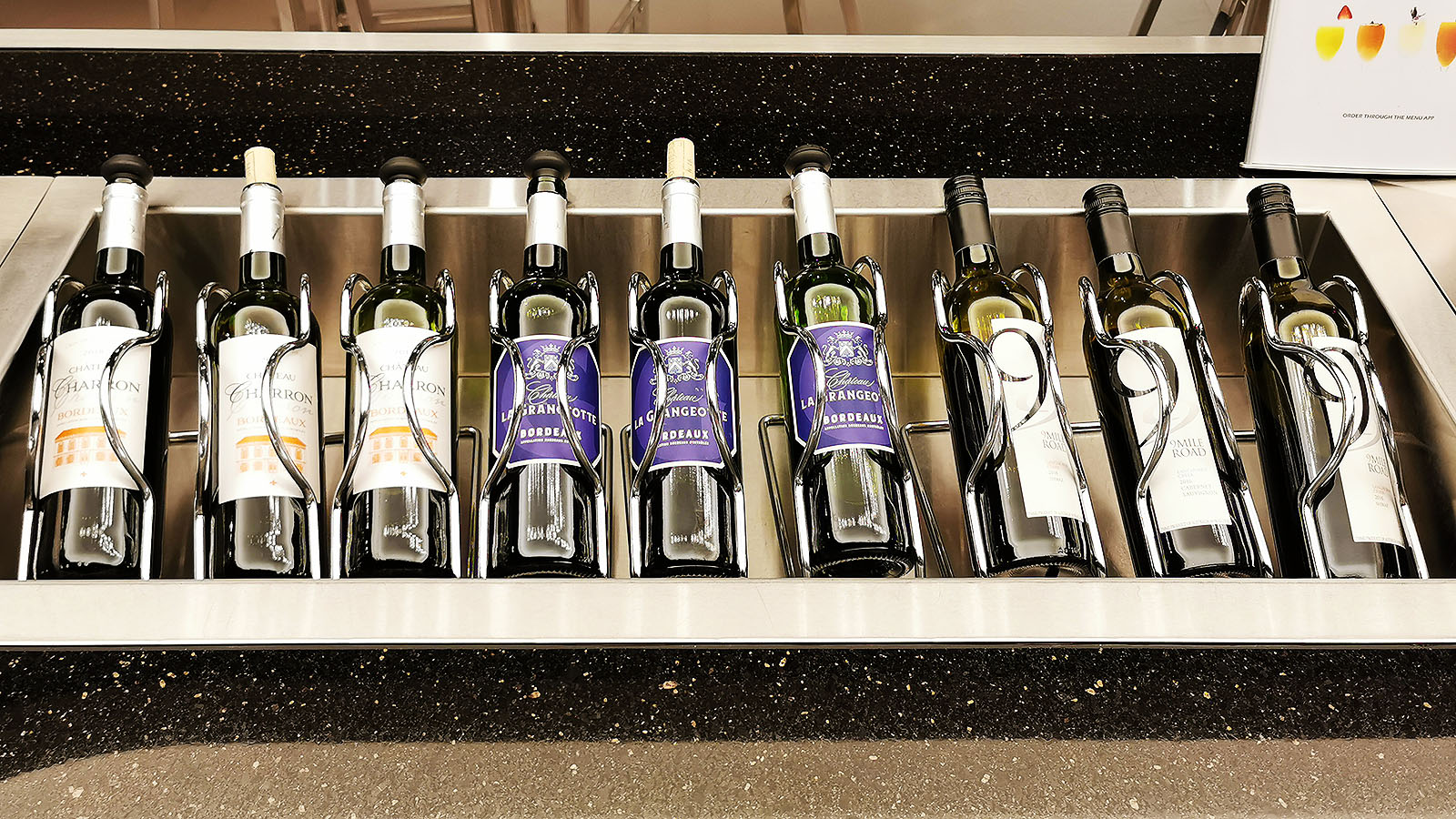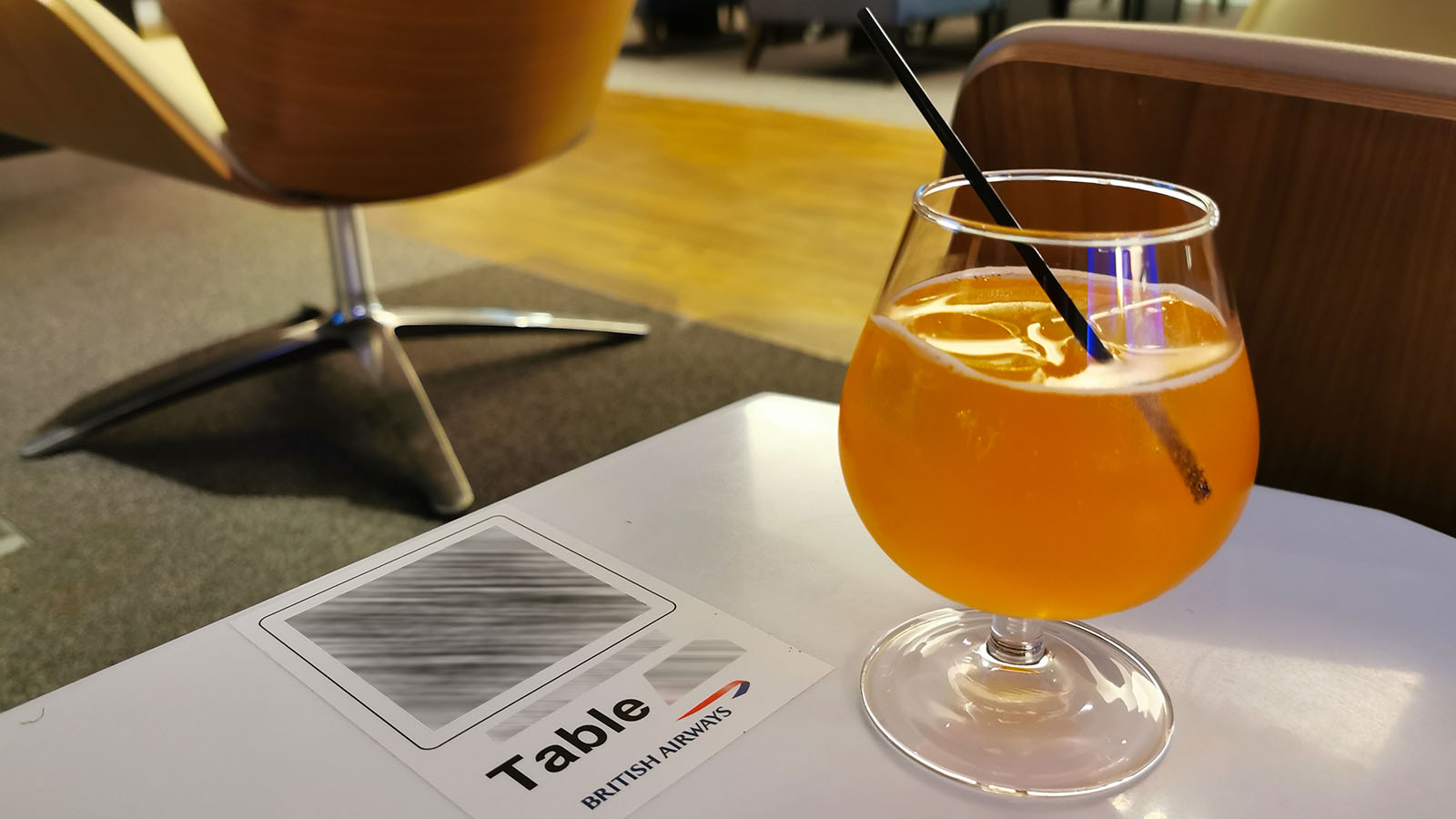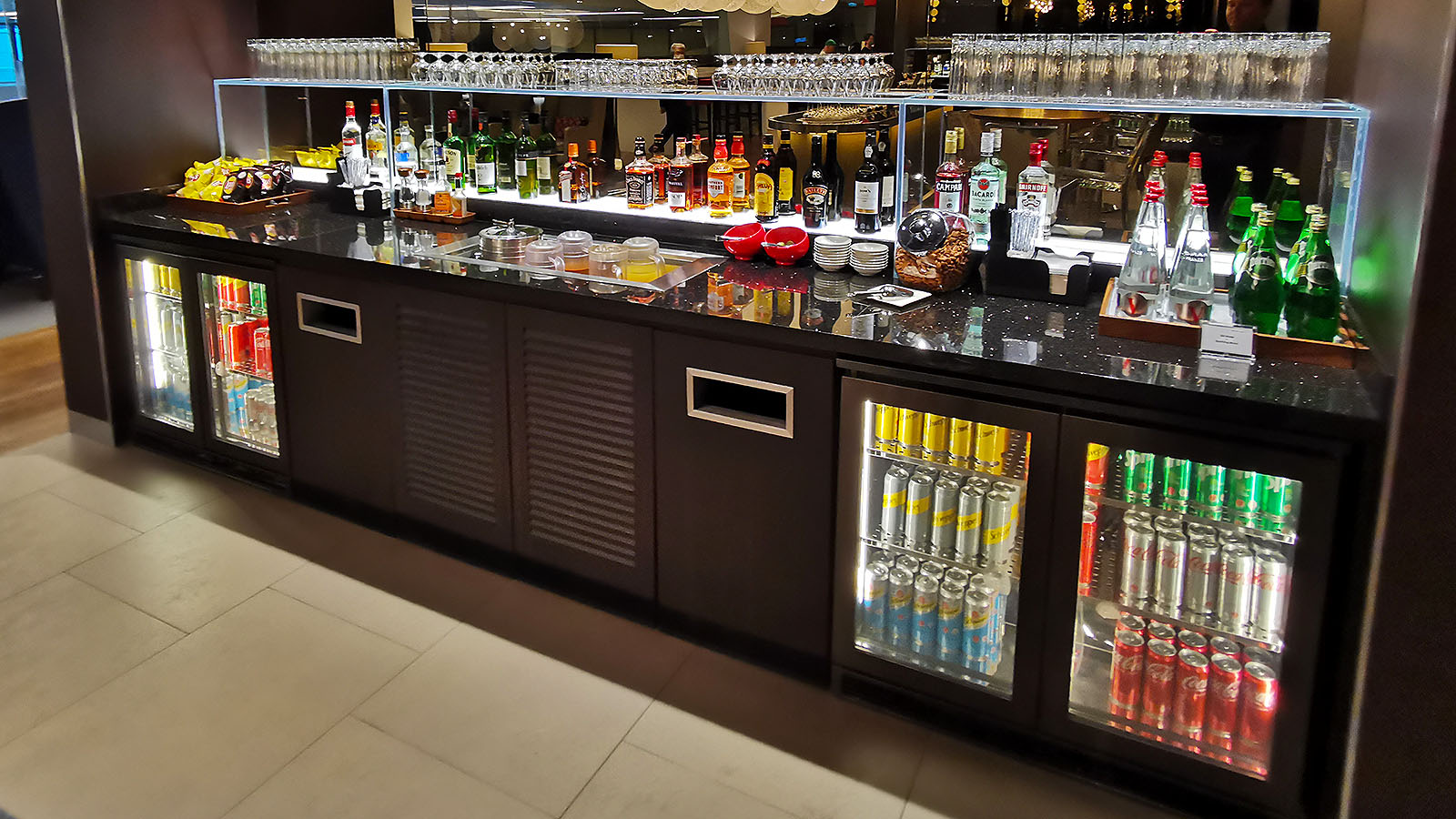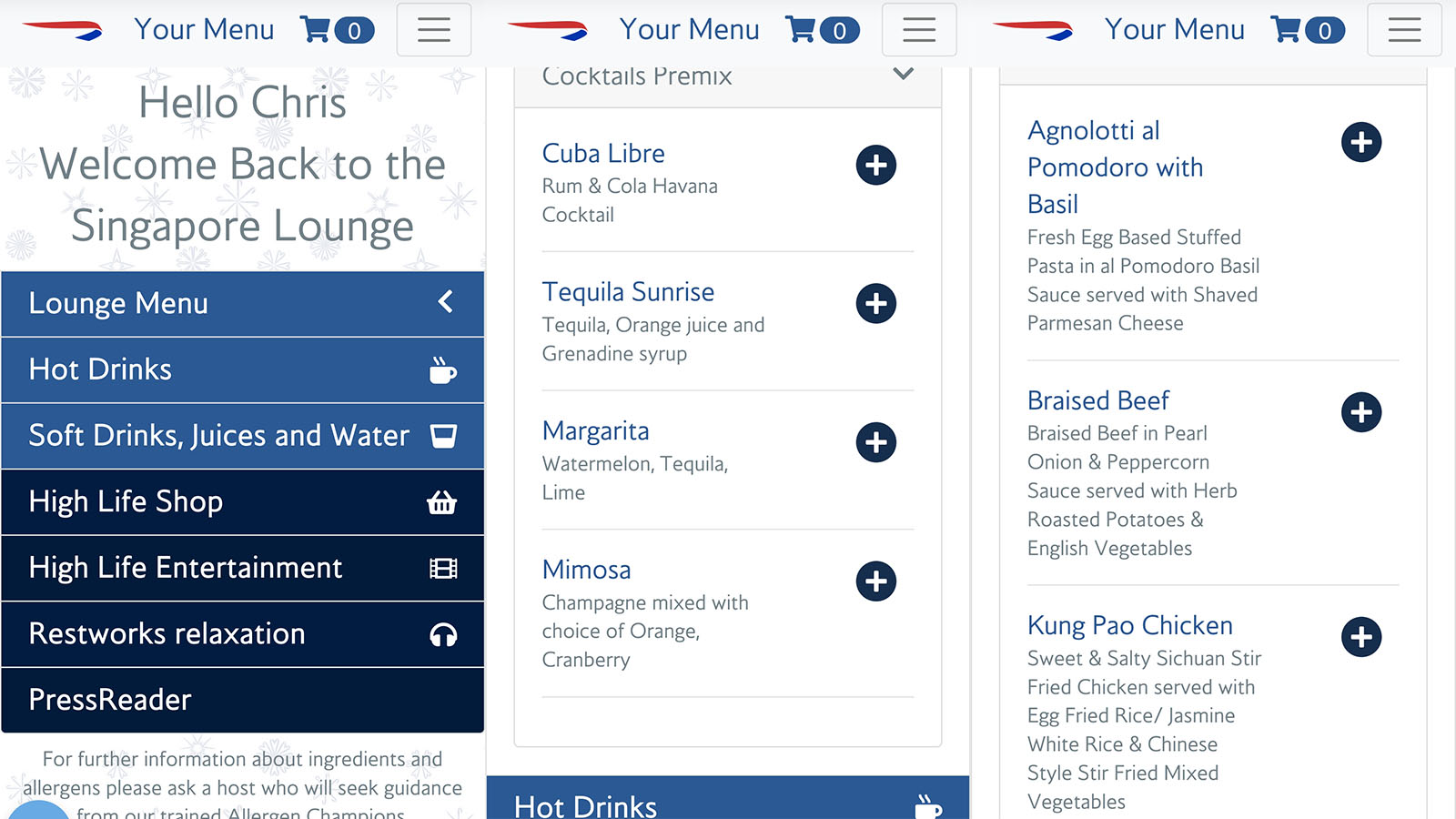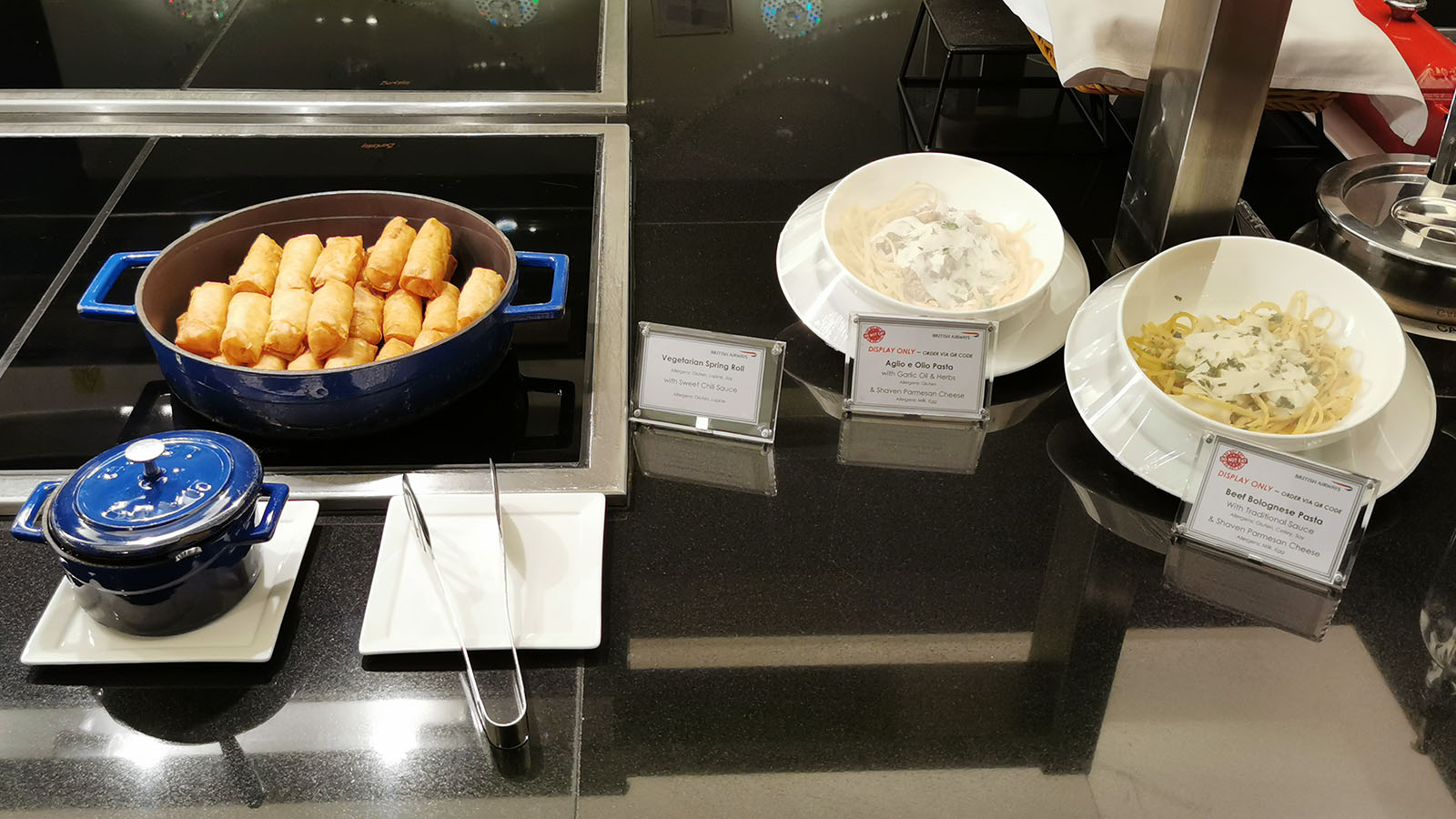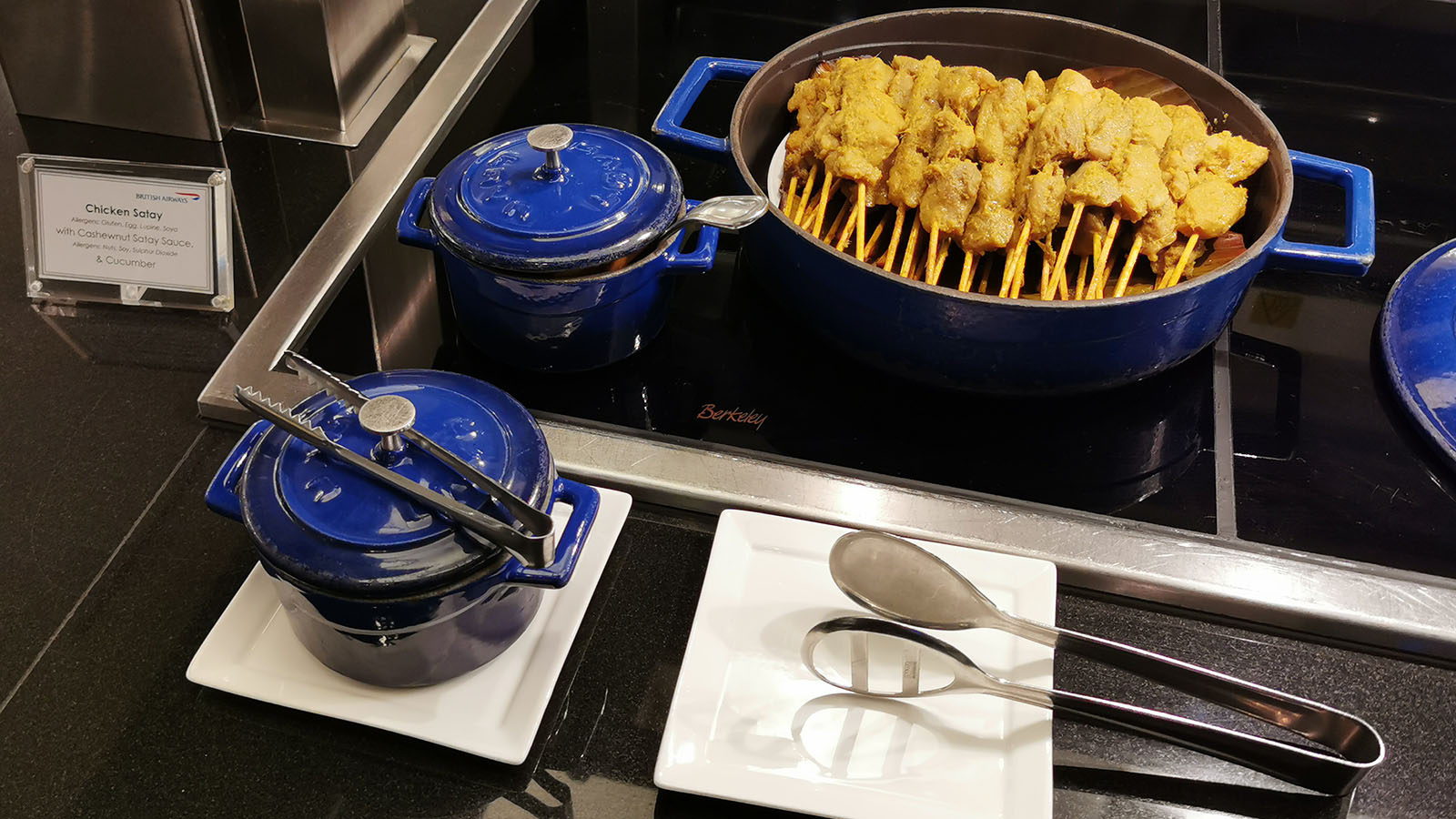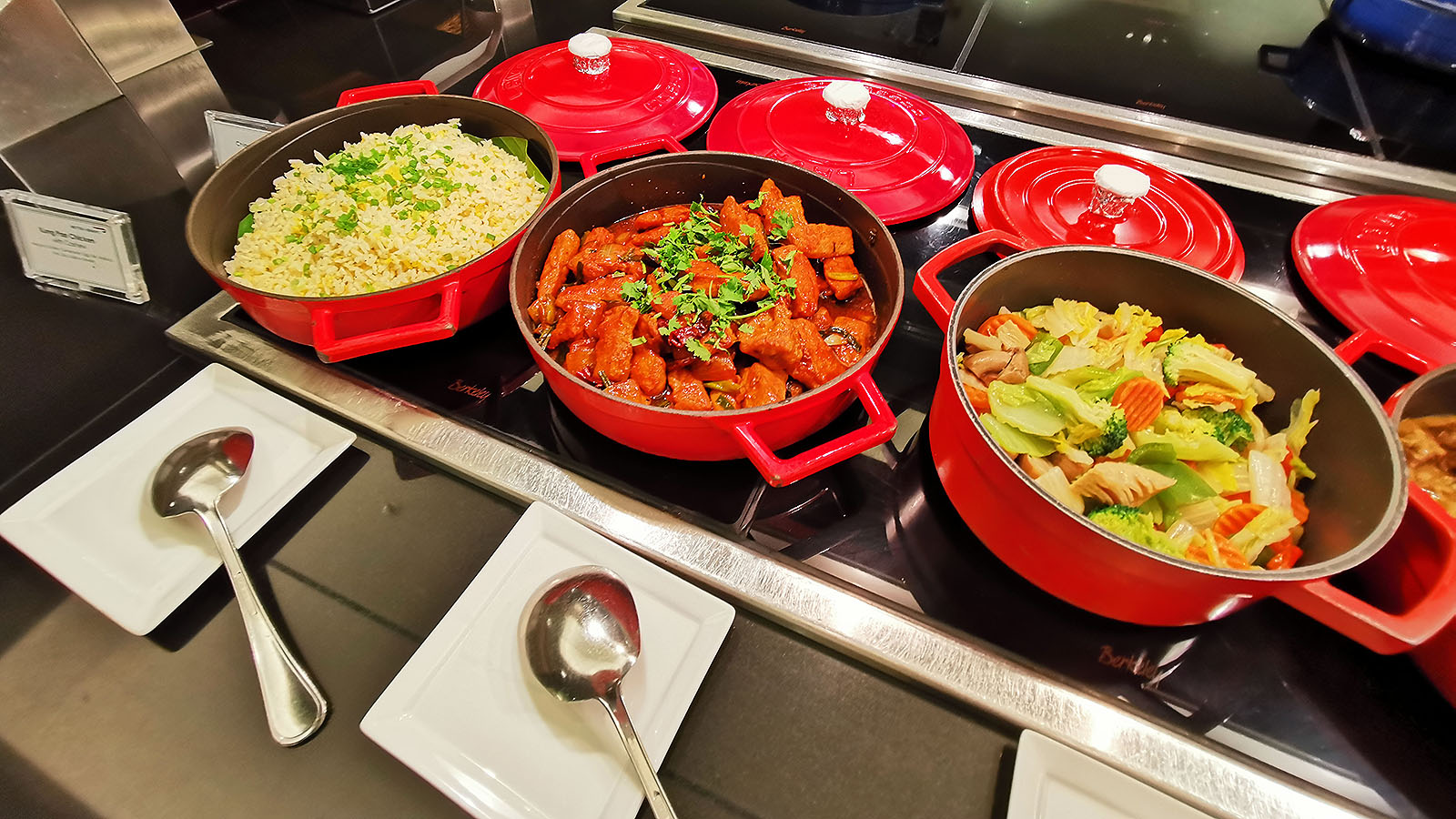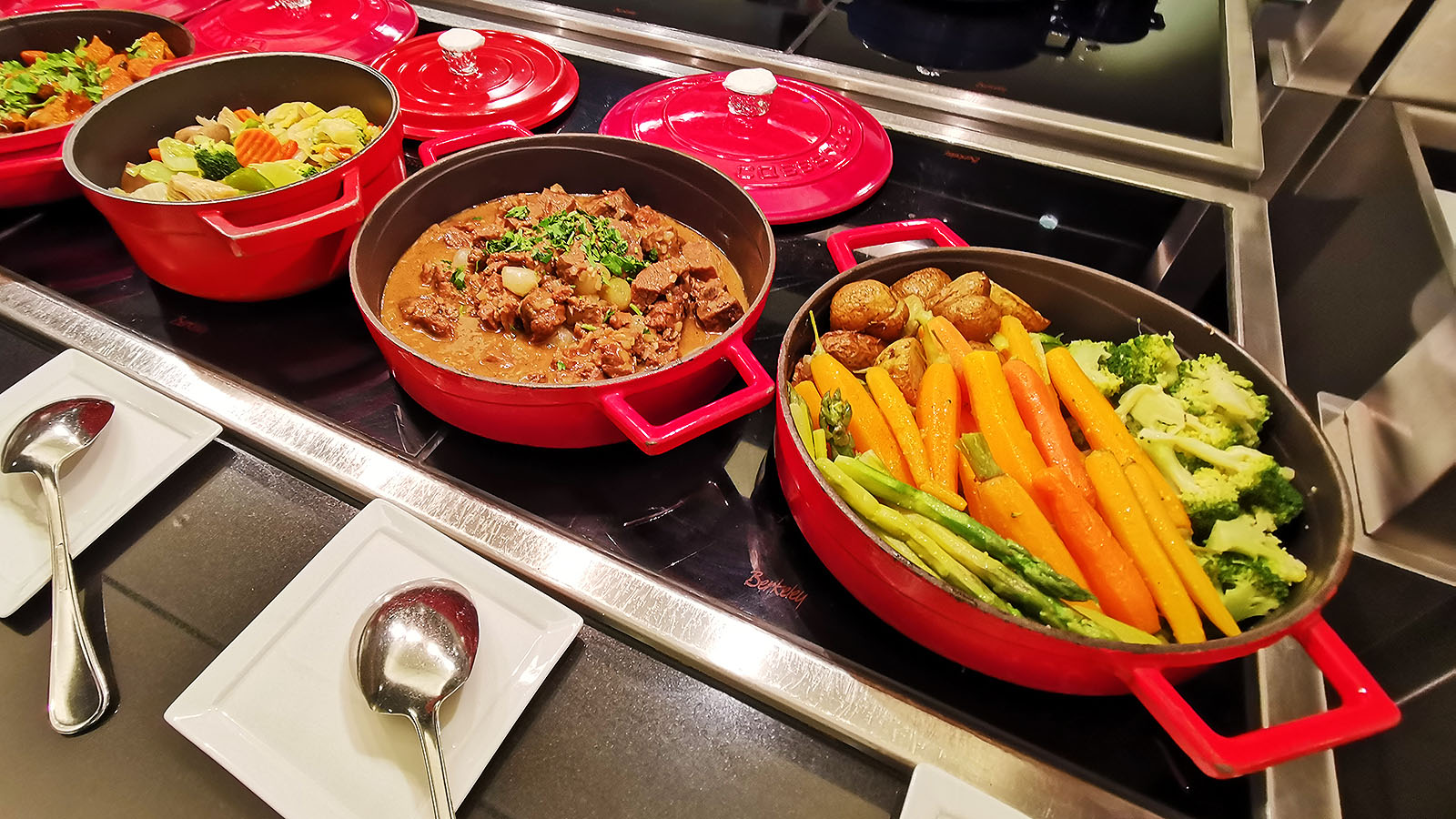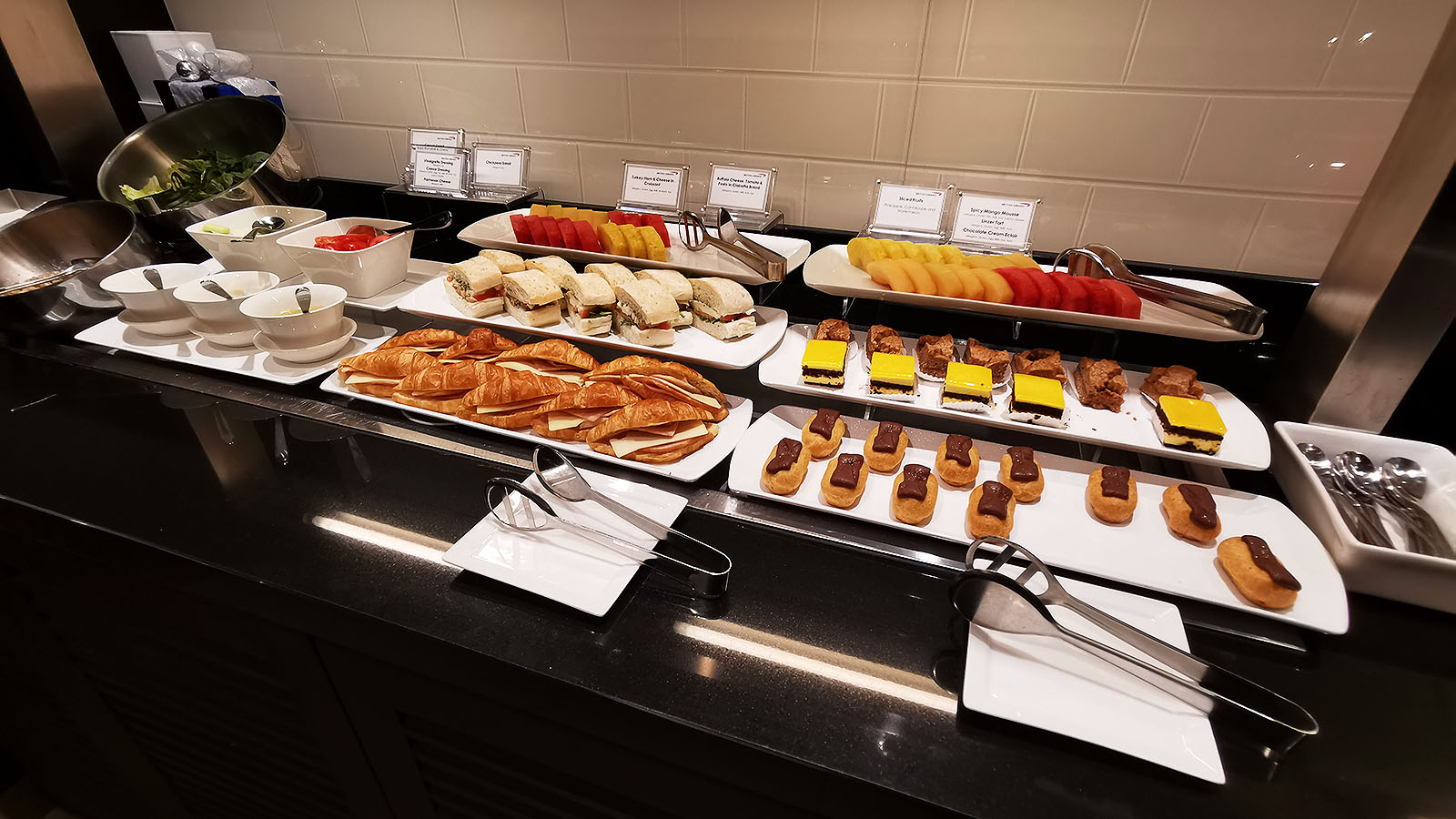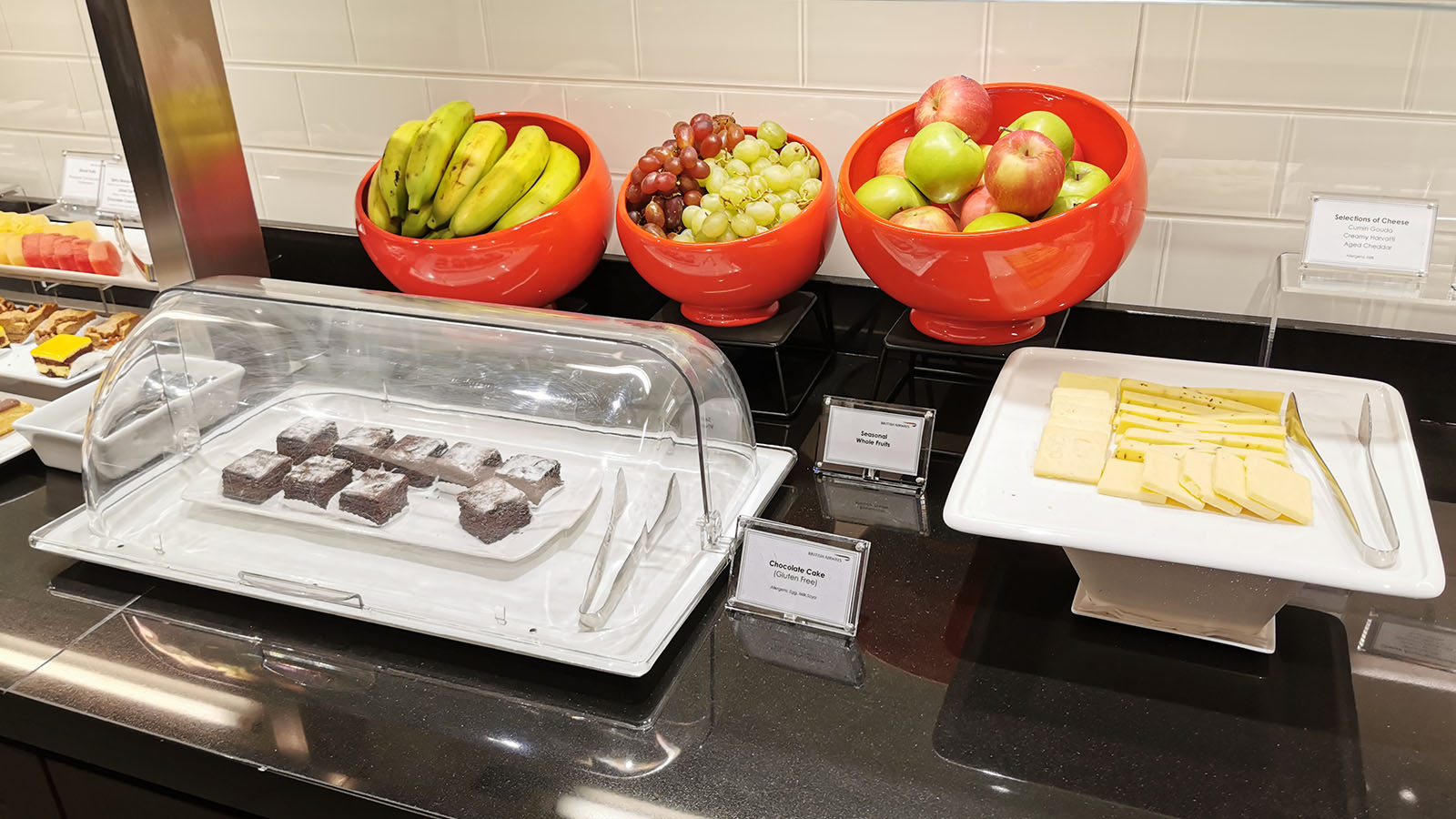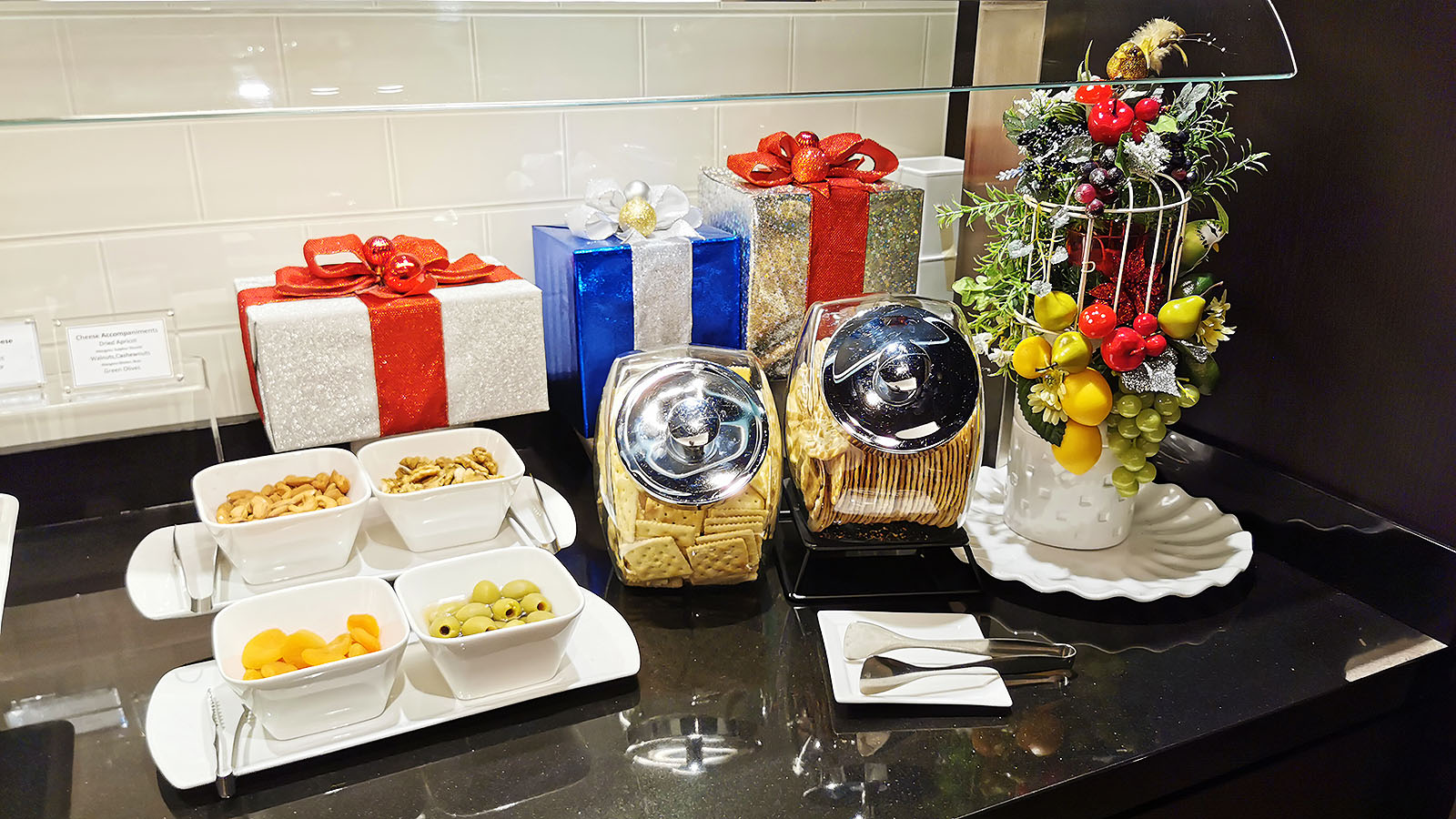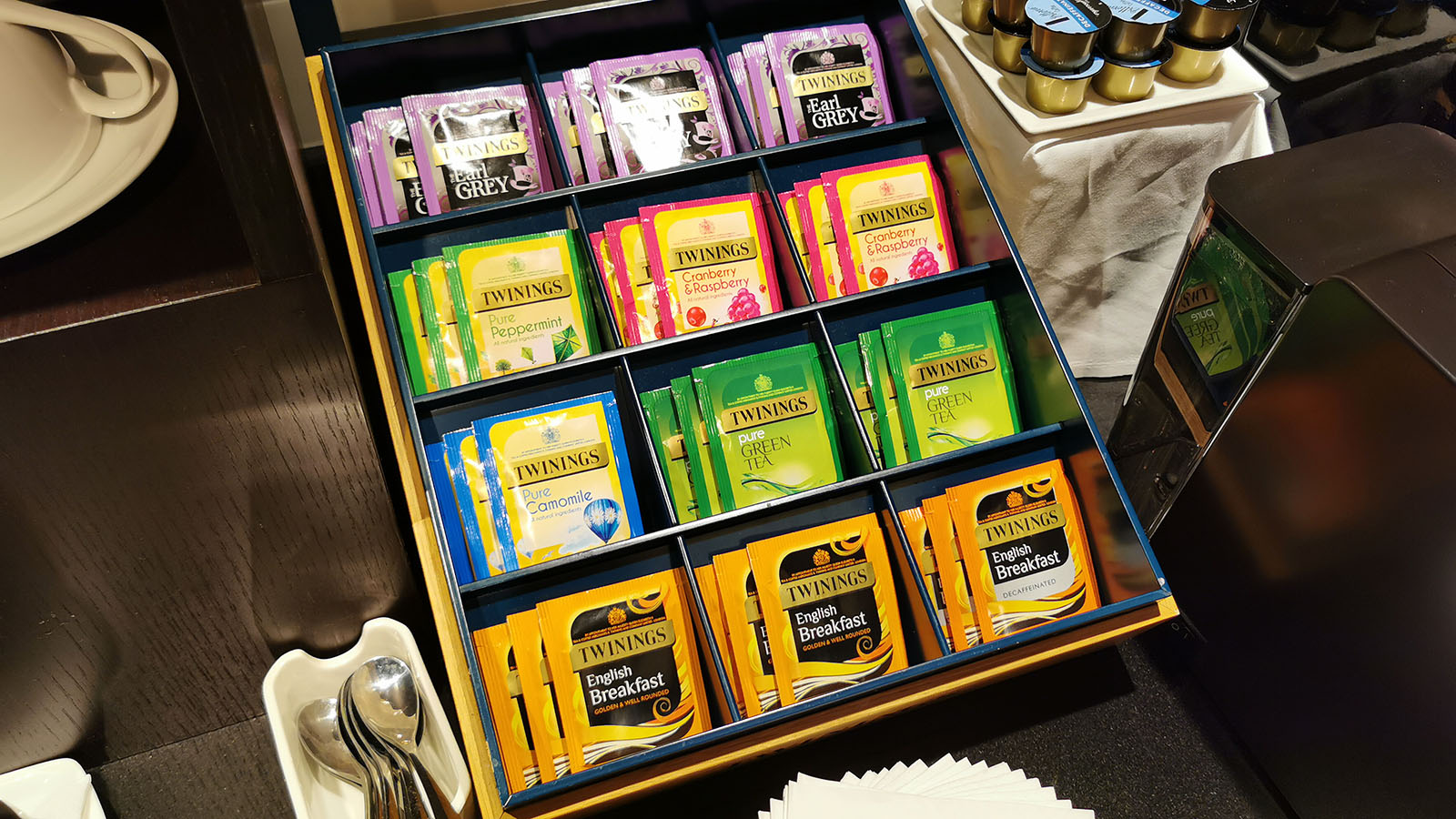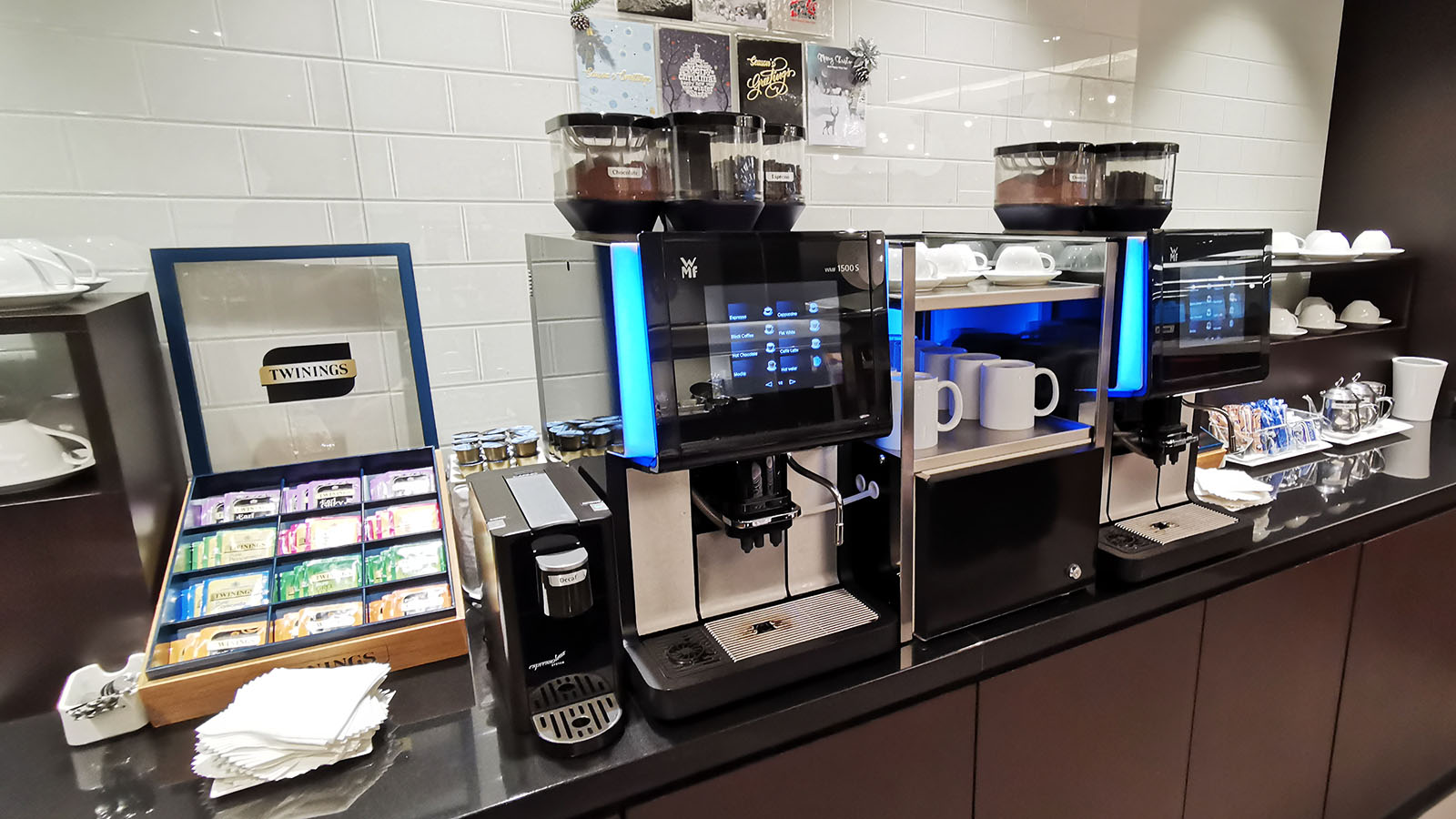 A number of dishes are exclusively available via that QR code. I found several pasta options, as well as Kung Pao chicken and a tasty-sounding braised beef main course. But after a substantial lunch in Singapore itself and with several other lounges to visit before my flight, on which there'd also be dinner, I opted for a few lighter bites from the buffet.
When I first arrived just after 4 pm, there wasn't much in the way of hot food. But spring rolls were abundant, as were satay sticks – lovely with the cashew nut sauce. Before long, a broader range of freshly prepared hot food filled the buffet.
A separate counter serves up fruit, sandwiches, croissants, cheese, brownies and nibbles like olives. You certainly won't go hungry here.
Lounge amenities
Whether you're syncing your email inbox between flights or downloading content for the journey ahead, make use of the lounge's Wi-Fi network. You'll find the password on signs throughout the space… and put it this way, it's easy to remember.
I tested the speed when I practically had the lounge to myself and found uploads quite respectable at 81Mbps. That translates into fast posts of images onto social media, a quick send of any email outbox queue and fast backups to cloud drives.
Downloads were less impressive though, clocking in at 10.5Mbps. That's on par with a very basic NBN plan in Australia. It's still fast enough for things like HD video streaming, but for large downloads, allow more time.
Speaking of downloads, you can use the Pressreader app to stock up on reading material for your flight ahead, saved to your own device. Just connect to the Wi-Fi network first for complimentary access.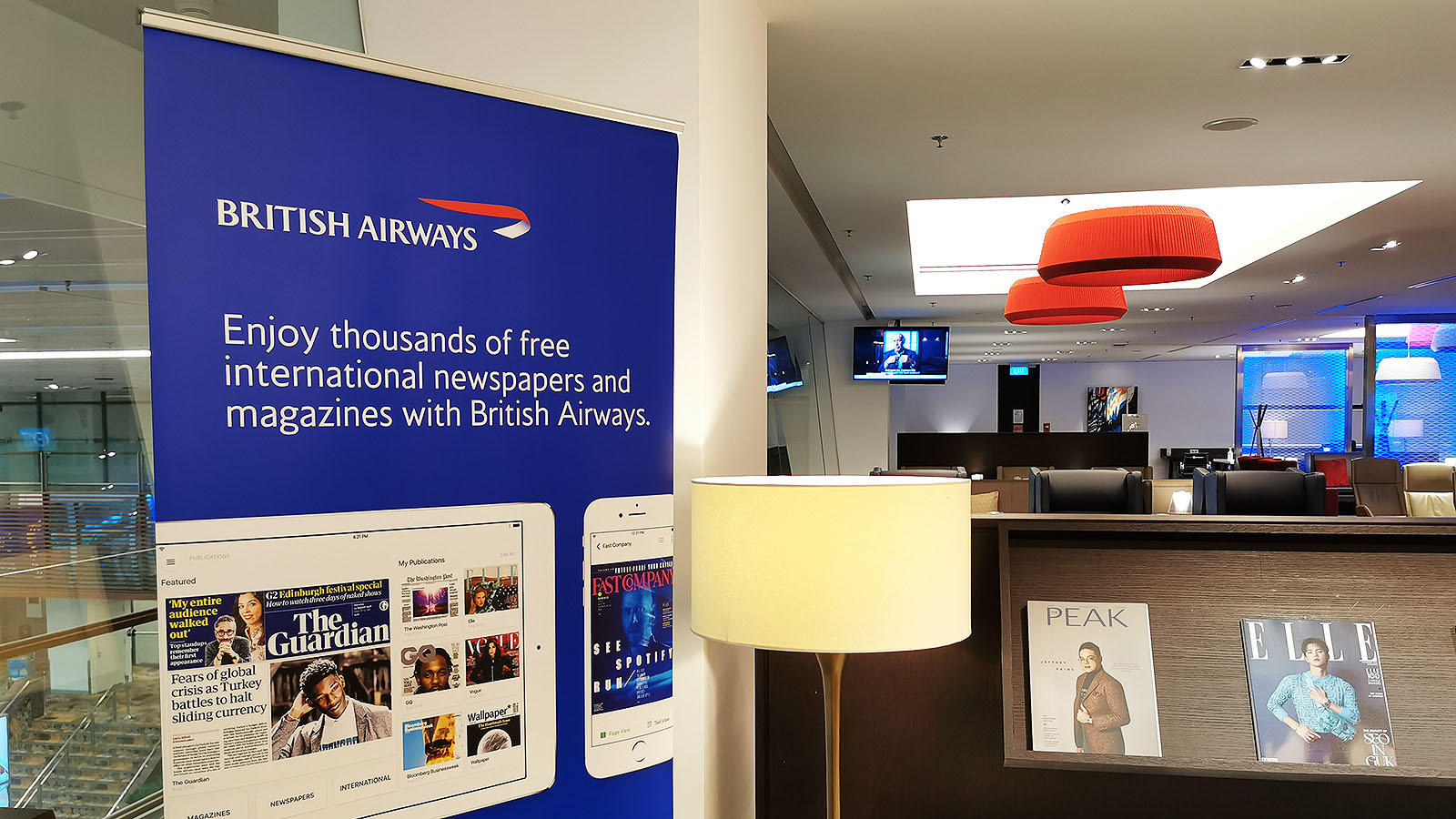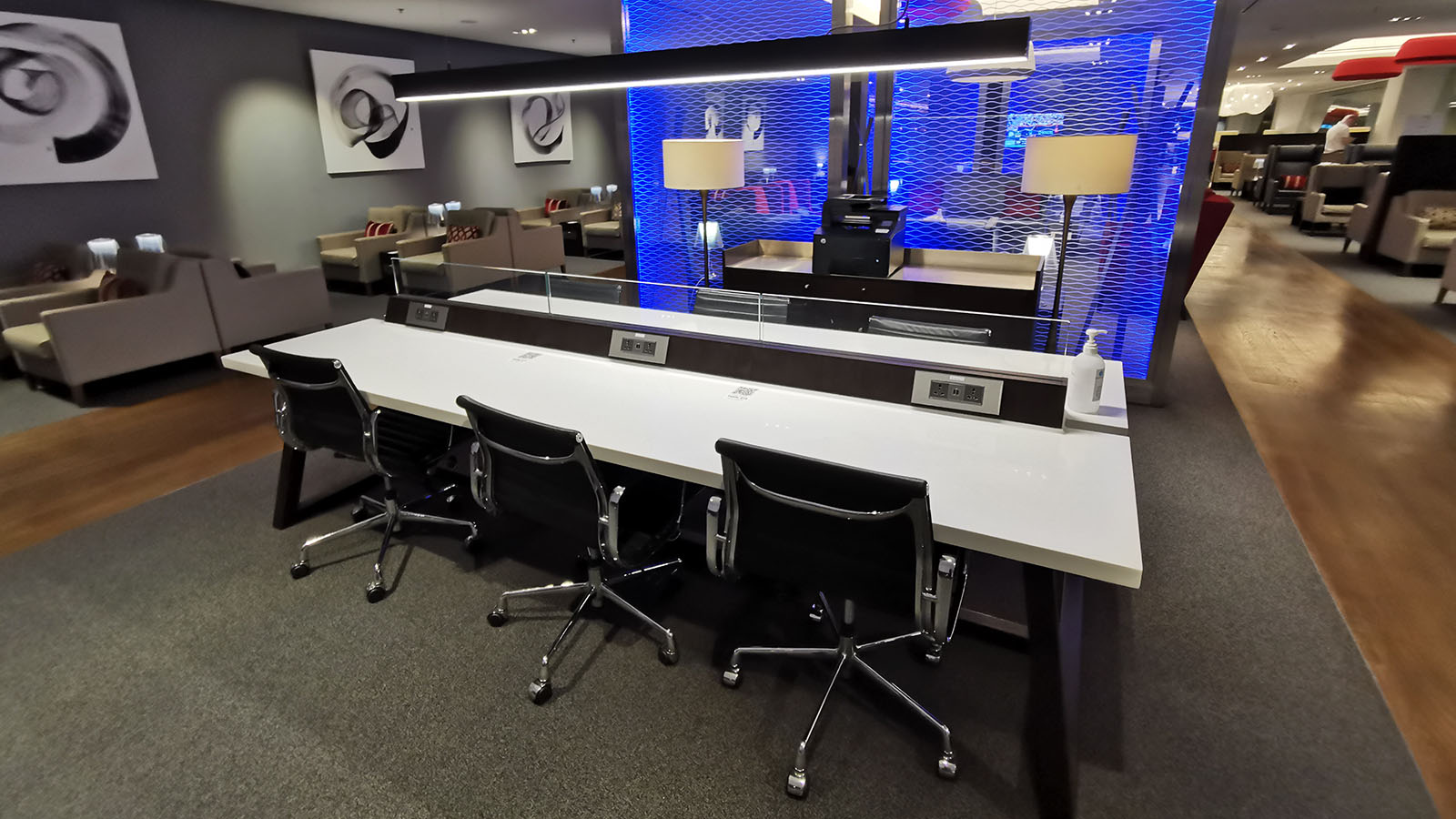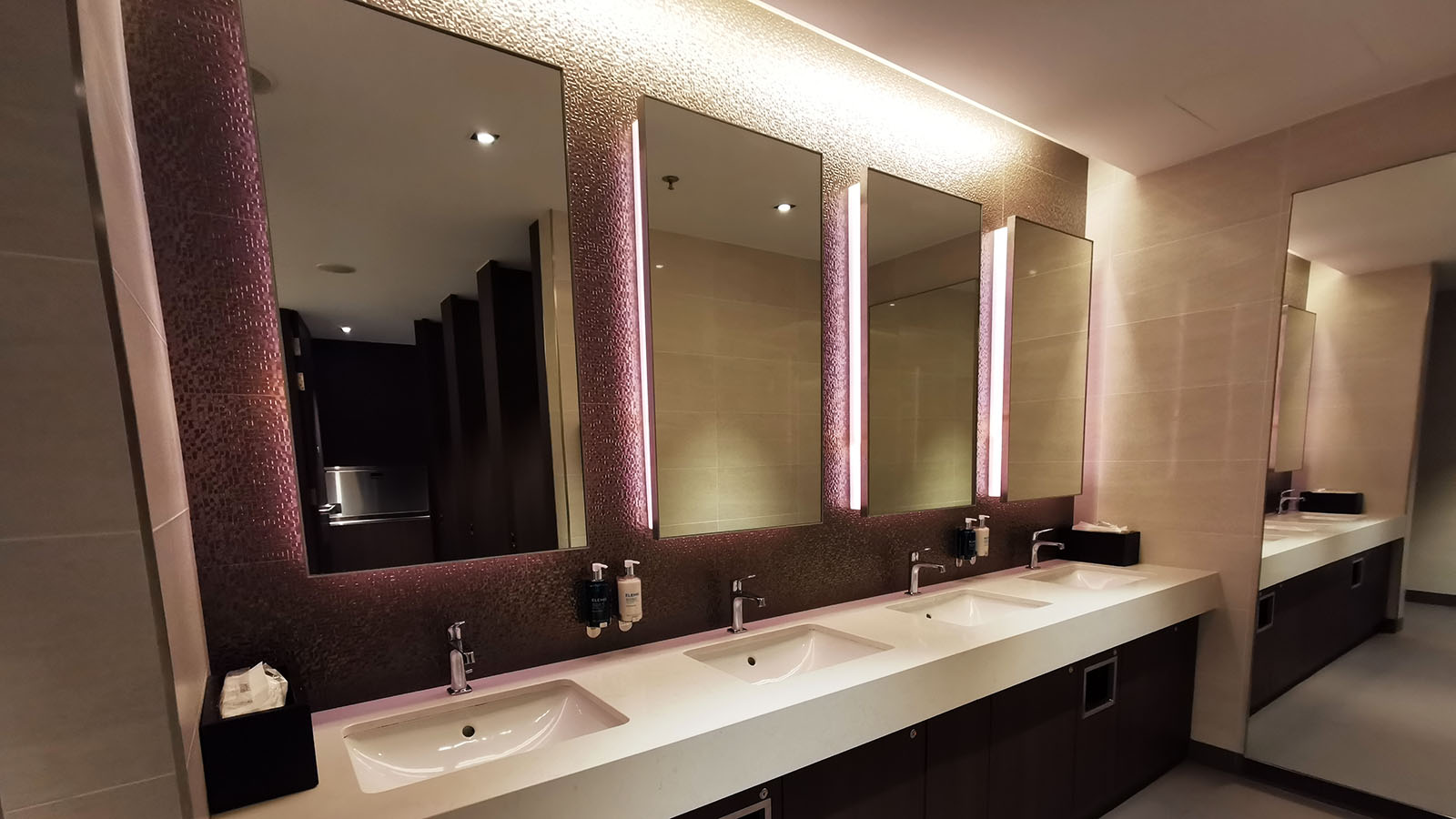 Printed magazines are available too, to read within the lounge. You'll also find AC and USB-A outlets scattered throughout. Pleasingly, these aren't confined only to the 'work' zones: they're just about everywhere.
On-site restrooms and showers are available as well. If you're hoping for the latter, get in early. They're particularly popular before BA's evening flights to London. They're also in demand after BA's inbound service touches down from Sydney, given many passengers take a connecting flight.
Accessing the British Airways Lounge, Singapore
While the sign may read 'British Airways Lounge', passengers of many other airlines are also welcome here in Singapore. That's thanks to BA's membership in the global oneworld Alliance.
For instance, eligible passengers flying Qantas can stop by when departing Singapore. The same is true of Cathay Pacific, Finnair, Japan Airlines, Malaysia Airlines, Qatar Airways and SriLankan Airlines, as below.
Class of travel: passengers flying in British Airways' Club World (Business) and First cabins. Or passengers flying Business Class or First Class on another oneworld airline.
Connecting flights: travellers connecting between a oneworld flight of five hours or more in Business Class or First Class, and a oneworld flight of less than five hours in a lower cabin.
Courtesy of oneworld status, when departing on a oneworld flight:

British Airways' Executive Club Silver, Gold and Premier members (+ guest/s).

Other oneworld Sapphire and Emerald frequent flyers (+1 guest).
I qualified for entry based on Qantas status when travelling on a Qantas flight. I handed over my Qantas boarding pass for departure that same evening and was welcomed inside without a fuss.
Just note, if you're a Qantas Club member, there's no access to this lounge unless you qualify based on oneworld cabin class. For those flying Jetstar and Jetstar Asia, there's no access here regardless of how shiny your card may be, as these carriers aren't affiliated with oneworld.
Jetstar and Jetstar Asia passengers may instead have access to the Qantas Business Lounge or the Qantas First Lounge in Singapore. Access would depend on either Qantas status or Qantas Frequent Flyer membership tier.
Summing up
Why detour to Singapore's British Airways Lounge, you may wonder – especially when flying with Qantas? Well, as you can imagine, Qantas' own lounges get quite full before the evening bank of Qantas flights. But that peak period isn't the same in BA's own lounge.
When I stopped by British Airways' space, the lounge was almost empty. There were only a couple of other guests there, which was the polar opposite of the Qantas Business Lounge I'd just come from.
I wasn't the only traveller with the same idea, recognising a few faces from the Qantas lounge who'd also made the switch. As it happened, one was Paulo Sudibyo of Indonesia's PinterPoin points and miles blog. (Great to meet you, Paulo!)
When you're looking for a quiet place to work – particularly before a Qantas flight – the British Airways Lounge certainly has the edge. That said, the Qantas lounges offer service with a slightly more personal touch… and when you're sleepy as I often am when travelling, Qantas is also a better bet for barista-made coffee.
But when you've arrived early and have time to spare, why not venture to more than one lounge and try them out for yourself? You might just find a new favourite.
Also read: Qantas International First Lounge review, Singapore
All photography by Chris Chamberlin, who accessed the lounge courtesy of frequent flyer status when travelling on a paid ticket.
---
Stay up to date with the latest news, reviews and guides by subscribing to Point Hacks' email newsletter.
British Airways Lounge, Singapore
was last modified:
December 14th, 2022
by