Planning a trip to Tokyo this year? Why pay full price – or fly Economy Class – when you could book Business Class for almost half the normal asking price! If it sounds too good to be true, it's not: it's just one of the many ways you can make savvy use of Air Canada Aeroplan's latest promotion for buying points.
Thanks to Air Canada's Star Alliance partnership, points earned (or bought) in its Aeroplan program can be used on flights right across the world. This includes direct services between Australia and Japan on ANA.
Here's a look at Aeroplan's latest deal, including how you can save over $2,000 on the cost of flying Business Class to Japan.
---
Up to 100% bonus when you buy Aeroplan Points
Expiry: 11:59 pm ET on 22 March 2022 (~3:59 pm on 23 March in Sydney)
The latest offer is up to 100% bonus points when you purchase up to 350,000 Aeroplan Points. This means you could end up with 700,000 Aeroplan Points if purchasing the maximum amount in one go. The offer is tiered:
50% bonus: buy 5,000 to 19,000 points
65% bonus: buy 20,000 to 55,000 points
80% bonus: buy 60,000 to 95,000 points
100% bonus: buy 100,000 to 350,000 points
With a 100% bonus, you're effectively paying 1.75 cents (CAD) per point. While the price isn't quite as competitive as in some previous offers, it can still be a solid deal if it suits your travels. You'll get the best value when you purchase six figures of base points, triggering the highest bonus.
Note that you can only buy in increments of 1,000 points up to 35,000 base points. Above that, the increments broaden to 5,000 points.
Buying a full serve of 700,000 Aeroplan Points (350,000 base points with a 100% bonus) clocks in at CA$12,250. That's about AU$13,081. Sales tax is levied on top when using a Canadian credit card, but not when buying from addresses in Australia or the United States.
---
What can I do with Aeroplan Points?
In a nutshell, you can use Aeroplan Points to book travel on Air Canada, Virgin Australia and Star Alliance partner airlines including Singapore Airlines, Air New Zealand and more.
But here's a tip. One of those lesser-known Star Alliance partners is Japan's All Nippon Airways, better known as ANA. The airline offers direct flights to Tokyo from both Sydney and Melbourne. And you guessed it – these can be booked using Aeroplan Points at the rates below.
| | | | |
| --- | --- | --- | --- |
| Fly to Tokyo using Aeroplan Points | Points for Economy Class | Points for Business Class | Taxes, fees and charges |
| Sydney to Tokyo (Haneda) | 25,000 Aeroplan Points | 45,000 Aeroplan Points | CA$122 (AU$130.27) |
| Tokyo (Haneda) to Sydney | 25,000 Aeroplan Points | 45,000 Aeroplan Points | CA$69 (AU$73.68) |
| Perth to Tokyo (Narita) | 25,000 Aeroplan Points | 45,000 Aeroplan Points | CA$118 (AU$125.98) |
| Tokyo (Narita) to Perth | 25,000 Aeroplan Points | 45,000 Aeroplan Points | CA$59 (AU$63) |
All points costs above are for direct flights — it could be more (or the same) if you transit through other cities, depending on the total distance. And keep in mind, the amount payable in taxes, fees and charges may also vary with different flights factored in.
Ad – Scroll down to continue reading.Minimum spend, terms & conditions apply.
Why is Tokyo such a great deal when buying Aeroplan Points?
We hear you ask: why buy Aeroplan Points to book a flight, rather than just buying a ticket the 'normal' way?
In short, it's because you could pay only half as much for the same itinerary. Or to view it another way, this trick could see you taking two return trips for about the same price as you'd pay for a single journey.
Let's look at a return Business Class journey between Sydney and Tokyo. Buy a ticket the traditional way, and even on the lowest-priced Business Class fares, you're looking at AU$4,220.86 return.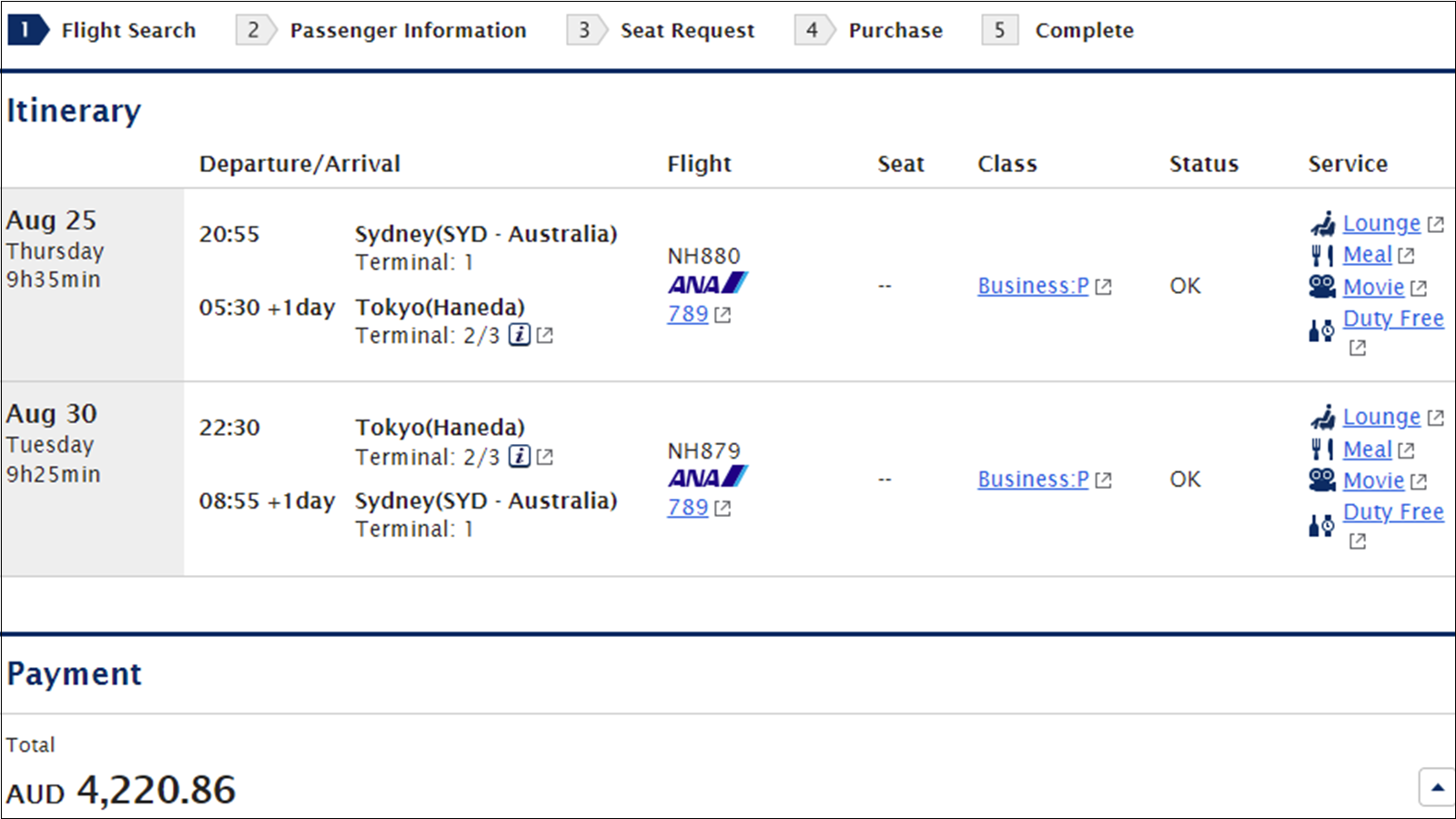 But when you buy Aeroplan Points with a bonus attached, things look very different. Here are the sums based on a single return trip.
Buy 90,750 Aeroplan Points for CA$1,925 (AU$2,054.94). That's 55,000 base Aeroplan Points, plus a 65% bonus (35,750 Aeroplan Points). Although you only need 90,000 Points, it's the lowest number you can buy that gives enough Points from the purchase alone.
Book your return ANA flights using 90,000 of those Aeroplan Points.
Cover the taxes, fees and charges on that Aeroplan booking, which add up to CA$191 (AU$203.85).
The total cost is CA$2,116 for one return trip, inclusive of buying Points and the flight taxes. Based on exchange rates at the time of writing, that's equivalent to about AU$2,312 per person return in Business Class.
That's barely 50% more than the commercial cost of buying the same seats on the same flights.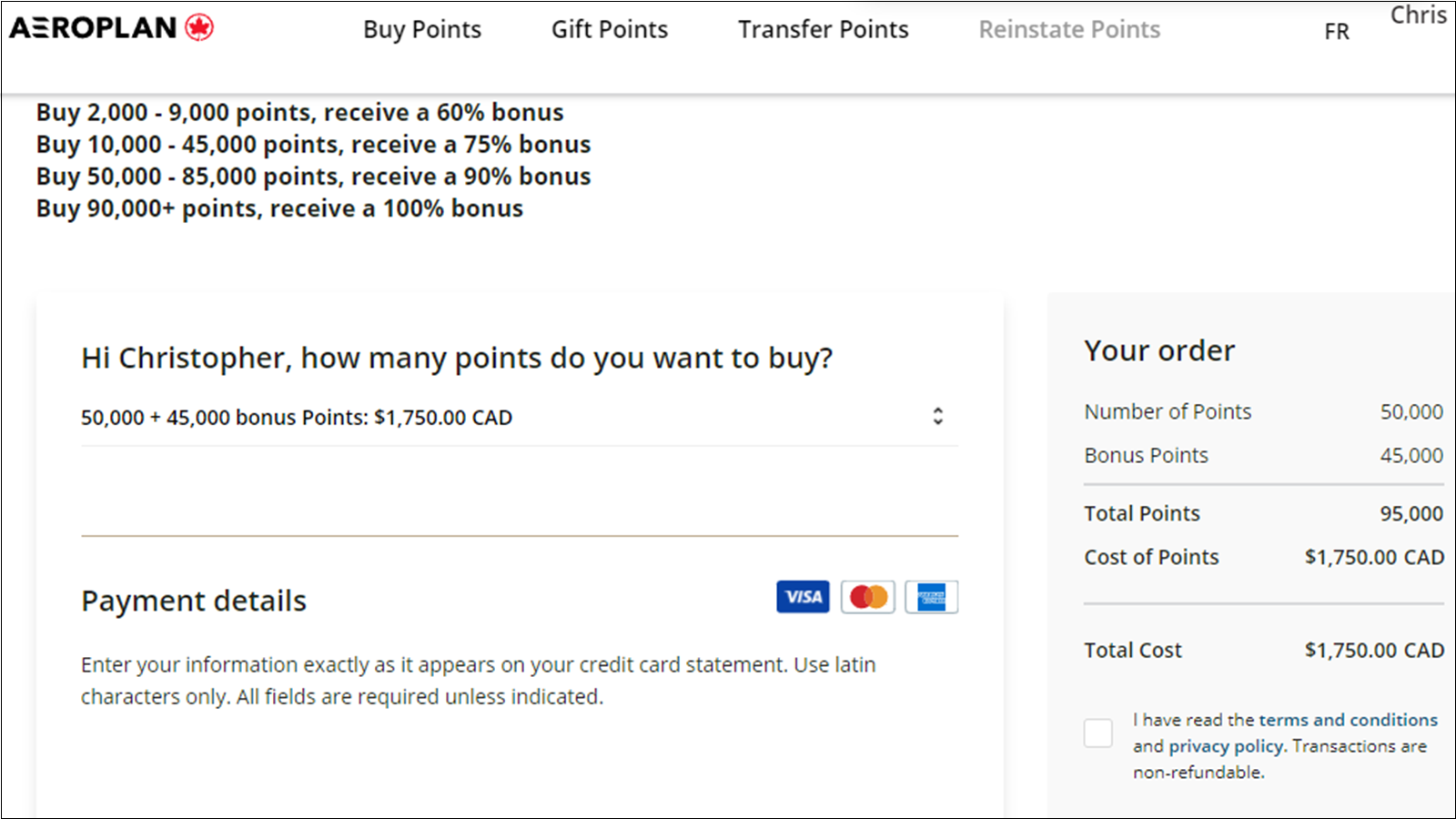 The numbers get even sweeter if you're planning a second trip to Tokyo. That's because you could buy Aeroplan Points in higher quantities, triggering a higher-value bonus.
How can I book flights using Aeroplan Points?
Once you've purchased your Aeroplan Points and they've appeared in your account, your journey starts at the Air Canada website.
Key in the route you'd like to fly, and your travel dates. Be sure to toggle the 'Cash/Points' selector over to Points.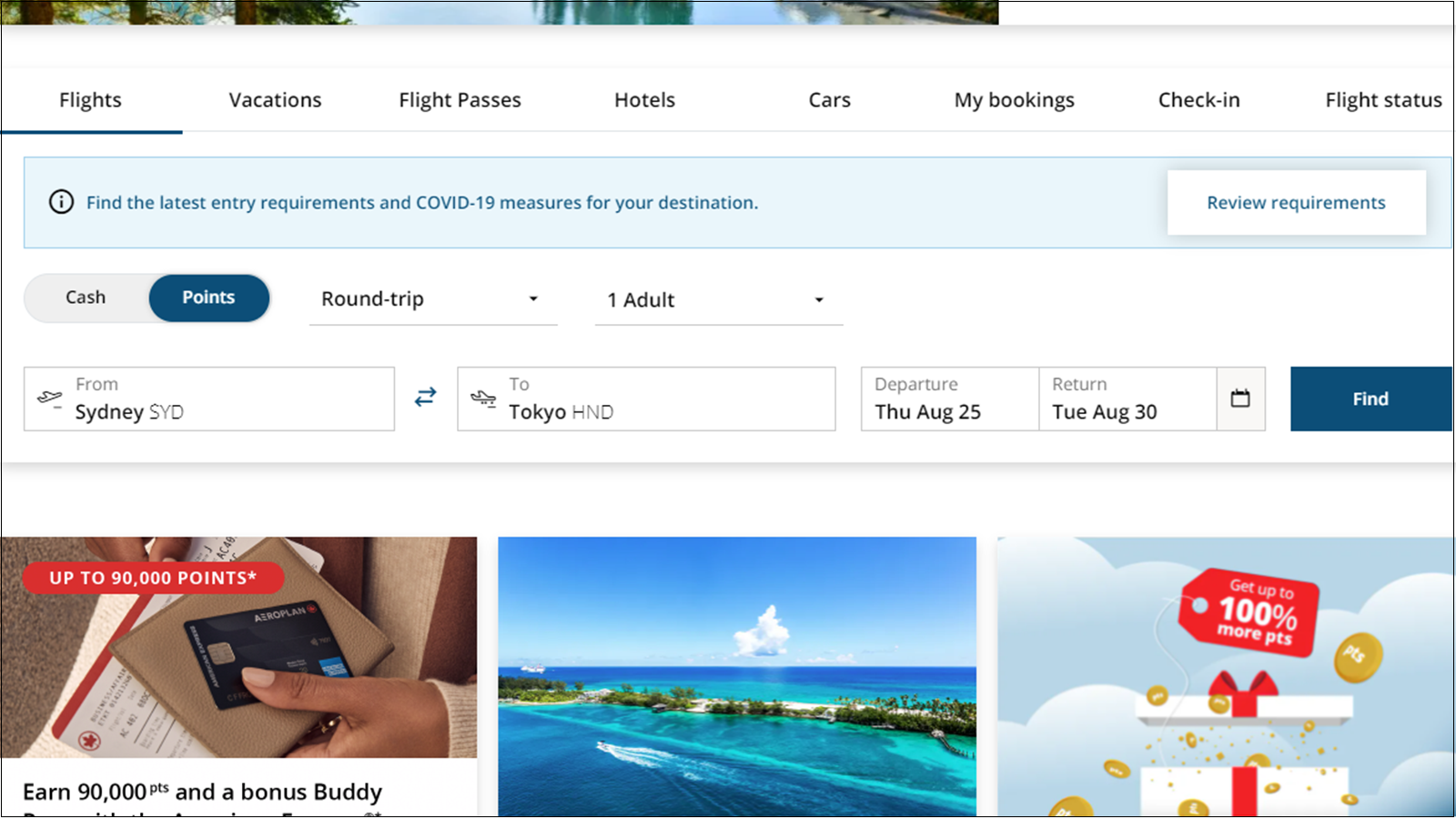 To find flights to Tokyo from Sydney, you'll need to enter 'HND' – the airport code for Haneda Airport. From Perth to Tokyo, you'll instead enter 'NRT' for Narita Airport.
This is because ANA routes its flights from different Australian cities to different airports in Tokyo. Search for the wrong one, such as 'Sydney to Narita Airport', and you won't see these direct ANA flights.
Speaking of seeing ANA flights, here's what to look out for on the results page. You'll see a large '45K' in the Business Class column where a Business Class reward seat is available. You can also double-check that you're booking a non-stop flight with ANA by glancing across to the 'flight results' column.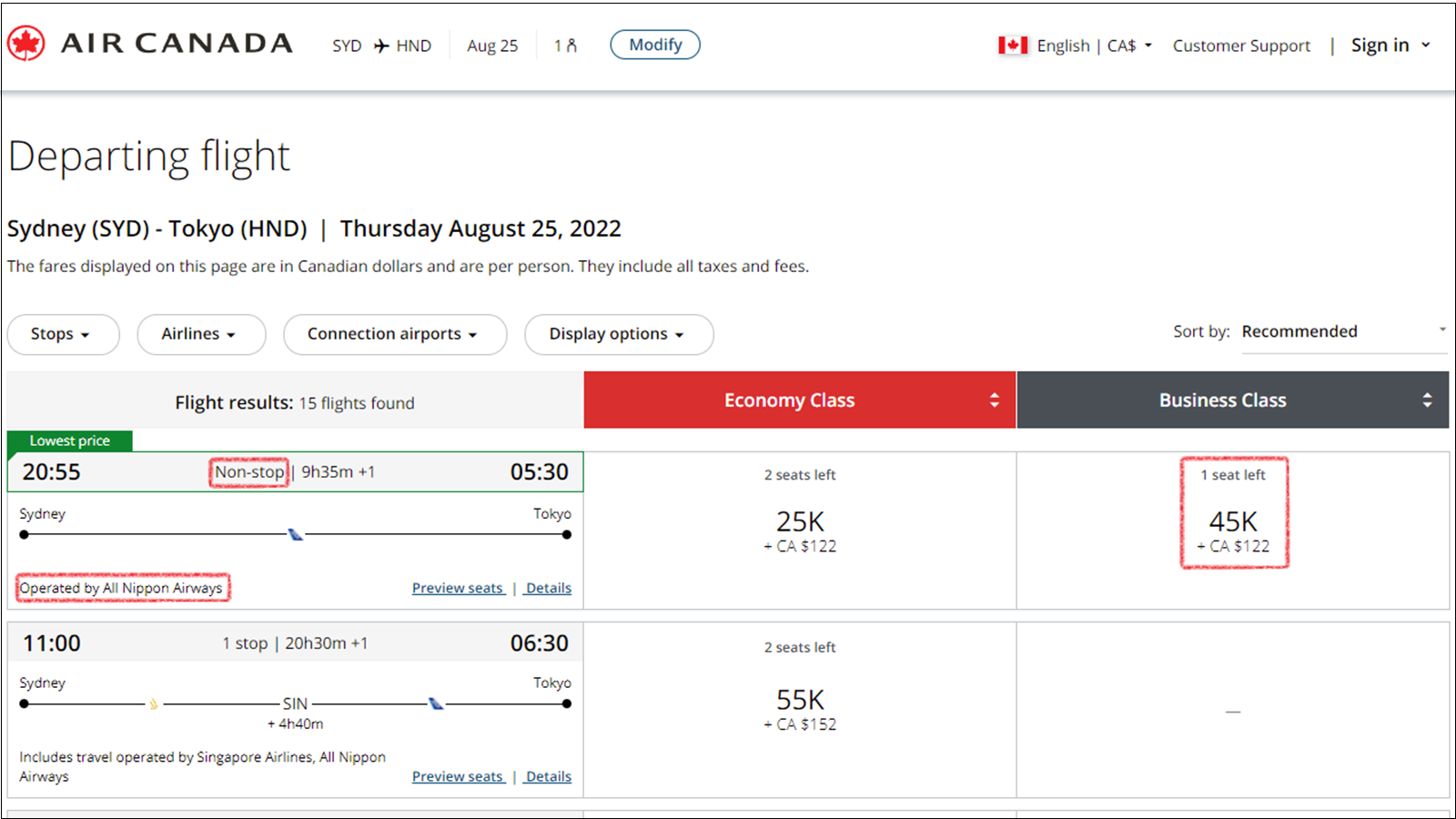 Continue the process until you've selected your return flight, and complete the booking.
If you're unable to find flights on your preferred travel dates, try some alternatives. Or consider taking a connecting flight – but this may require more Aeroplan Points.
That's why it's always a good idea to check that reward seats are available on your preferred flights and dates before buying Aeroplan Points. Nobody wants to spend thousands of dollars on Points, only to discover they can't spend them how they'd hoped!
Summing up
Air Canada's Aeroplan program is surprisingly useful for Australian travellers. Thanks to its Star Alliance membership and separate partnership with Virgin Australia, there are plenty of savvy options for buying and spending Aeroplan Points.
But again, our standard caveats apply. We don't advise you to buy points speculatively in this climate — only if there's an immediate booking you want to make using those points. And don't forget to check for reward seat availability on the Air Canada website before buying points!
Additional reporting by Brandon Loo.
Travel to Tokyo in style with up to 100% bonus Aeroplan Points
was last modified:
March 17th, 2022
by