This has been a while coming – I've never quite managed to write a decent 'about' page, so here we are.
Here's what this site is all about – where we've come from and where we're going.

Point Hacks' mission is to help as many people as possible earn the most points they can, and use them the most effectively for their travel goals.
We do this by:
Showcasing the best deals to earn more points – from banks, airlines, hotels and their loyalty program partners
Working with partners to develop bespoke points offers, where possible
Highlighting the best ways to use your rewards points for maximum value, and to meet the reader's travel goals
Covering non-rewards products, deals and offers that help your travel budget go further.
If you are brand new to the site, and/or to frequent flyer programs in general you should…
I'm Keith, and I started Point Hacks in early 2011 after booking a round the world trip with my then new-born first daughter, and with my long legs really wanting to avoid travelling in Economy.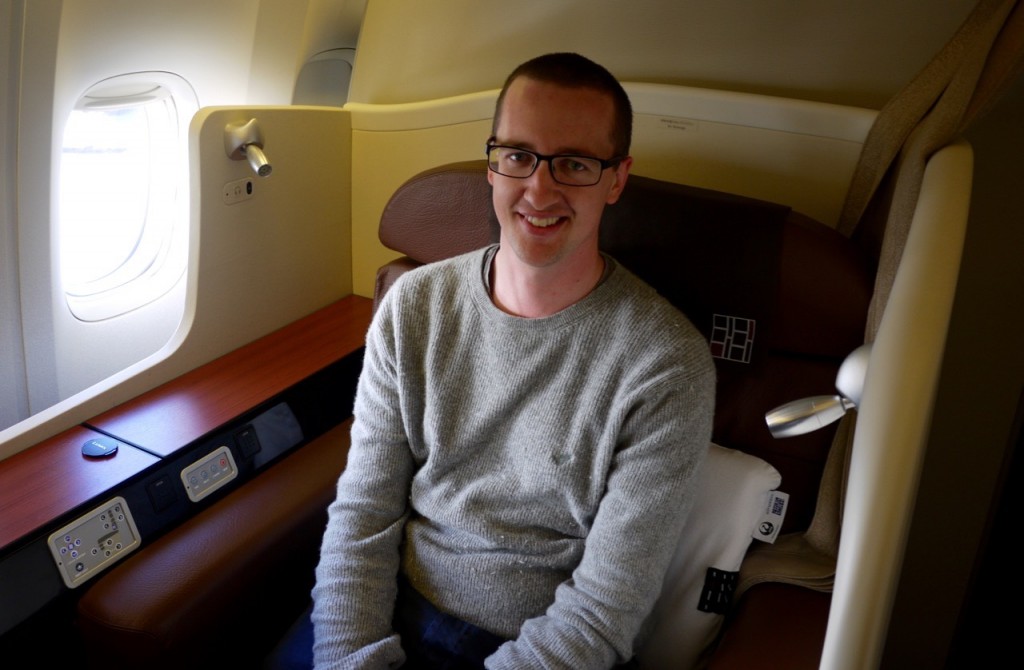 You won't see many pictures of me on the site – they are mostly of my feet up in Business & First Class seats!
I found that all the information out there on earning and using points to travel with more space and comfort was either not too relevant to Australians, or too buried deep in forums, overseas websites or private groups.
After managing to get the three of us around the world in Premium Economy and Business Class for less than the cost of an Economy ticket, I was hooked. There are reviews of all my flight and hotel experiences here.
So I started writing about what I found and condensing it into more easily-consumable chunks, in the hope that it would help me remember what I'd learned, and share it with anyone else.
Over a few years more and more people valued what Point Hacks was doing, and the site now has enough people reading and advertising partners on board to make it work as a business.
I left my day job in mid-2015 to run Point Hacks full time. I've been building and running websites since I was young – in fact that's all I've done professionally, but in many different guises.
So creating Point Hacks – as a site with a range of content targeted to anyone looking to earn or use points – was kind of like second nature, and I'm amazed that it's turned into my full time job.
One thing to understand about Point Hacks content is that we constantly update and republish our guides when relevant deals or frequent flyer program changes update. This allows us to ensure out of date info is minimised, while also avoiding writing about the same product, credit card or frequent flyer program features over and over.

So you might see some guides resurface that you've already read – but the noteworthy changes will always be summarised first, and you can treat the rest as a refresher.
From 2016 onward, the best way to meet Point Hack's objectives is to grow the site beyond a personal blog, whilst still retaining personality – and adding more!
This is why you will have started to see a range of new voices writing content on the site, answering your questions in the Point Hacks Community and on Facebook. I'll be introducing the new Point Hacks editors in due course as they start creating more content for you.
This way we can cover the interests and needs of as many of you as possible, along with guiding you to the most deals, products and loyalty program features.
I'll still be overseeing all content that gets put up online, and continuing to put my fair share in – the site doesn't work without great guides, reviews and explanation of deals, so it's key to keep quality in writing alongside the increase in articles going up.
Every writer will also be up for responding to your questions in the comments of each guide, so please add your thoughts and questions to the site too.
Contacting Point Hacks
You can get in touch by emailing [email protected]au, but I don't have enough time to respond to everyone. If you're looking for personal advice the Questions section is where it's at.
About me, Point Hacks and plans for the site in 2016
was last modified:
August 14th, 2016
by