What's your dream with a big stash of Qantas Points? Is it a short sojourn in Singapore, a tantalising taste of Tokyo or living in the lap of luxury in London? Well, you can do it all. Qantas Frequent Flyer offers you a way to use your points to traverse the globe in any cabin class of your choosing – all at a fixed rate. In fact, it only costs 318,000 Qantas Points + taxes in Business Class on oneworld member airlines!
This is the oneworld Classic Flight Reward. Up to 15 flights and 35,000 miles with Qantas and oneworld partner airlines is all included. Fly in Economy, Premium Economy, Business or First Class. You don't have to circle the globe, but you certainly should if time (and borders) permit. It's one of the best uses of Qantas Points.
What is a Qantas oneworld Classic Flight Reward?
Qantas Frequent Flyer has four separate points tables for different flights. We're focusing on the last one today:
What's special about the oneworld Classic Flight Reward table is that it covers travel up to 35,000 miles. Essentially, you can mix partner airlines, creating a tailored itinerary as you enjoy a journey around the world!
Here are the caps for the oneworld reward. If you meet all the rules, then this is the most you'll have to pay:
Economy: 132,400 Qantas Points per person (+ taxes)
Premium Economy: 249,600 Qantas Points per person (+ taxes)
Business: 318,000 Qantas Points per person (+ taxes)
First: 455,000 Qantas Points per person (+ taxes)
We recommend aiming for the Business Class reward, at 318,000 Qantas Points. You'll have plenty of airlines and flights to choose from, plus lounge access included. Economy and Premium Economy aren't quite as worth it.
On the other hand, First Class is a luxurious way to fly, but reward seats and flights are very limited. And many airlines simply don't fly First Class anymore, which makes it a difficult reward to put together.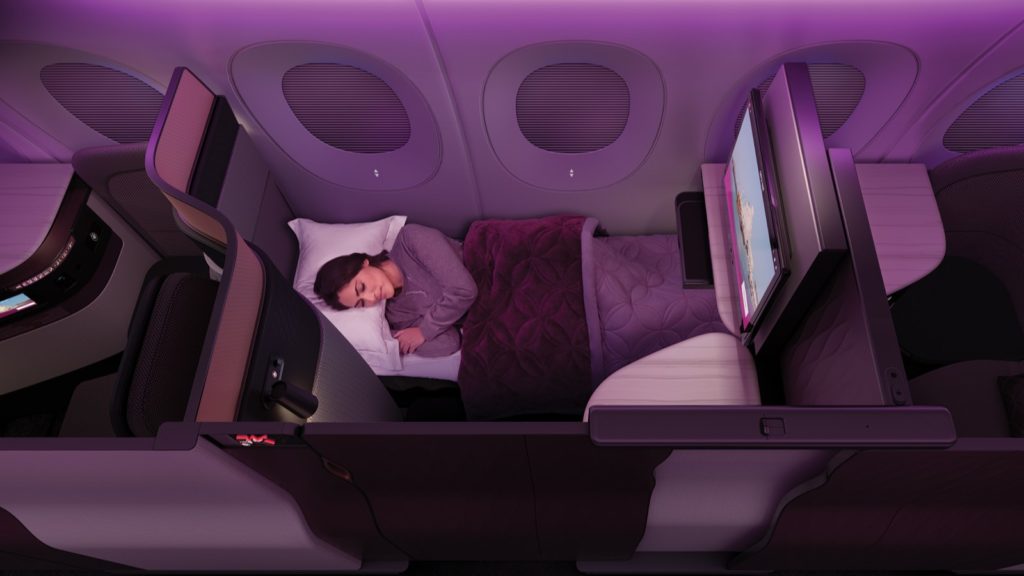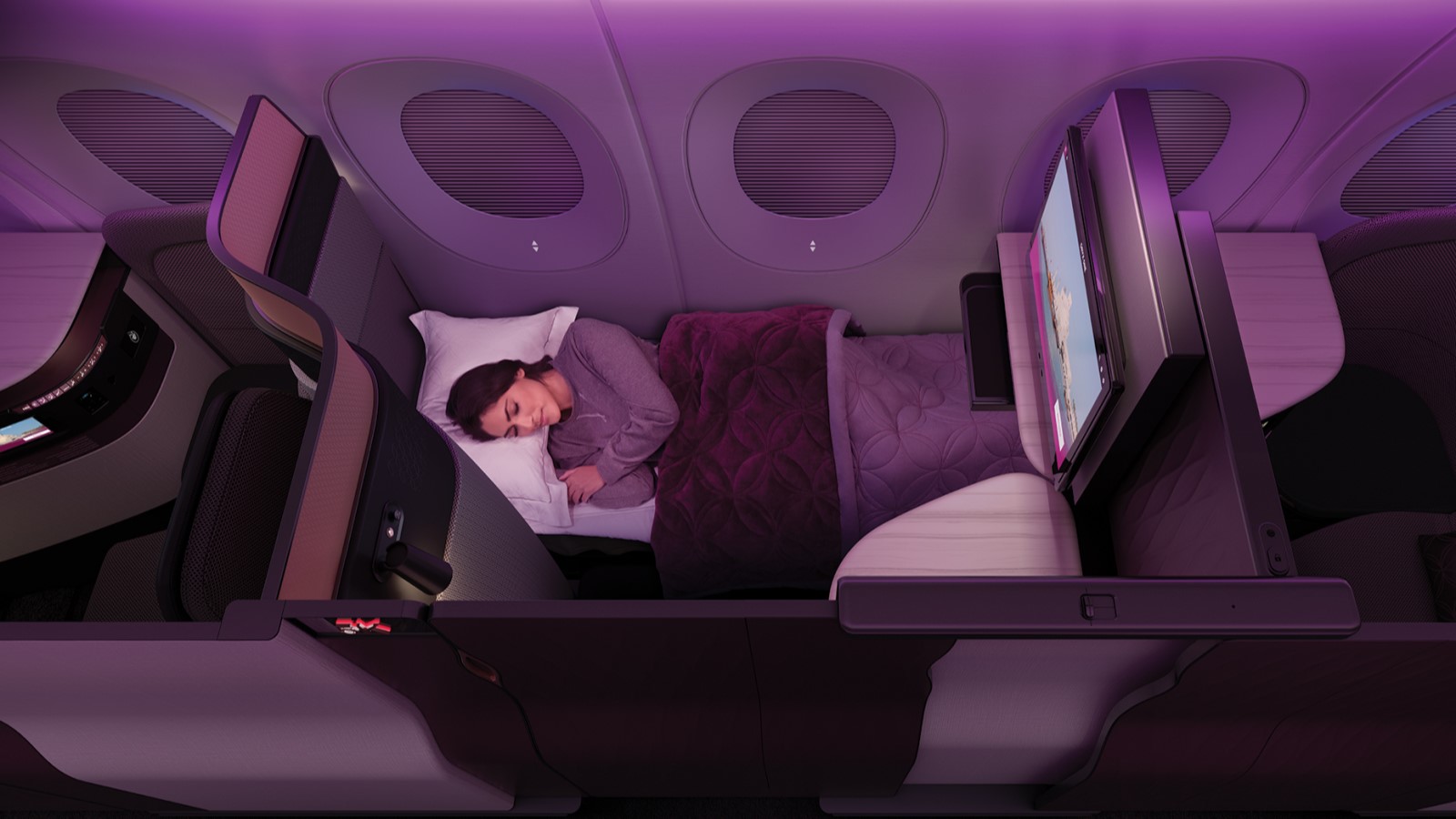 What are the rules of the oneworld Classic Flight Reward?
There are some other rules to take note of:
You must include at least two other oneworld airlines besides Qantas, and not include any non-oneworld airlines.
Up to 16 segments of travel are allowed, including transits under 24 hours and surface segments (where you make your own way between two cities by alternative transport).
You can have up to five stopovers (where you stop for more than 24 hours – these are the main cities you wish to visit).
You can only stopover in each city once and transit through each city twice on one booking.
After your first flight, you have 12 months to complete the whole itinerary.
You can travel up to 35,000 miles all up, including surface sectors and transits.
You may finish your itinerary in a different city to the one you started from, but the distance between the two cities will be taken into account in the final distance calculation (i.e. as a surface sector).
The whole itinerary will be priced based on the highest cabin in the whole itinerary. So if you have 14 Business Class flights and one connection in First Class, your whole booking will reprice to the higher First Class rate. Don't do it!
Explore the world with a oneworld Classic Flight Reward
As we've emphasised before, you don't need to fly around the world with a oneworld reward. But a round-the-world (RTW) itinerary booked as a oneworld reward is one of the best ways to use your Qantas Points.
The RTW reward allows you to explore the world and stopover in up to five cities over a 12-month period, provided there is reward seat availability and the total distance is kept under 35,000 miles.
If you bought a standard RTW ticket with cash, expect to part with $3,000 in Economy, $11,000 in Business and upwards of $20,000 in First. Compare that to 318,000 points for Business Class, plus taxes.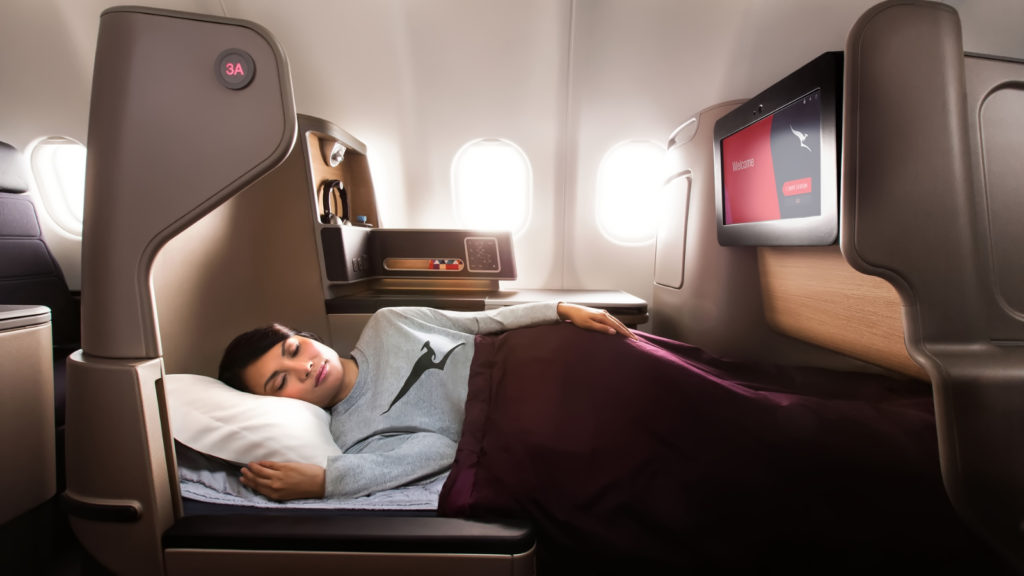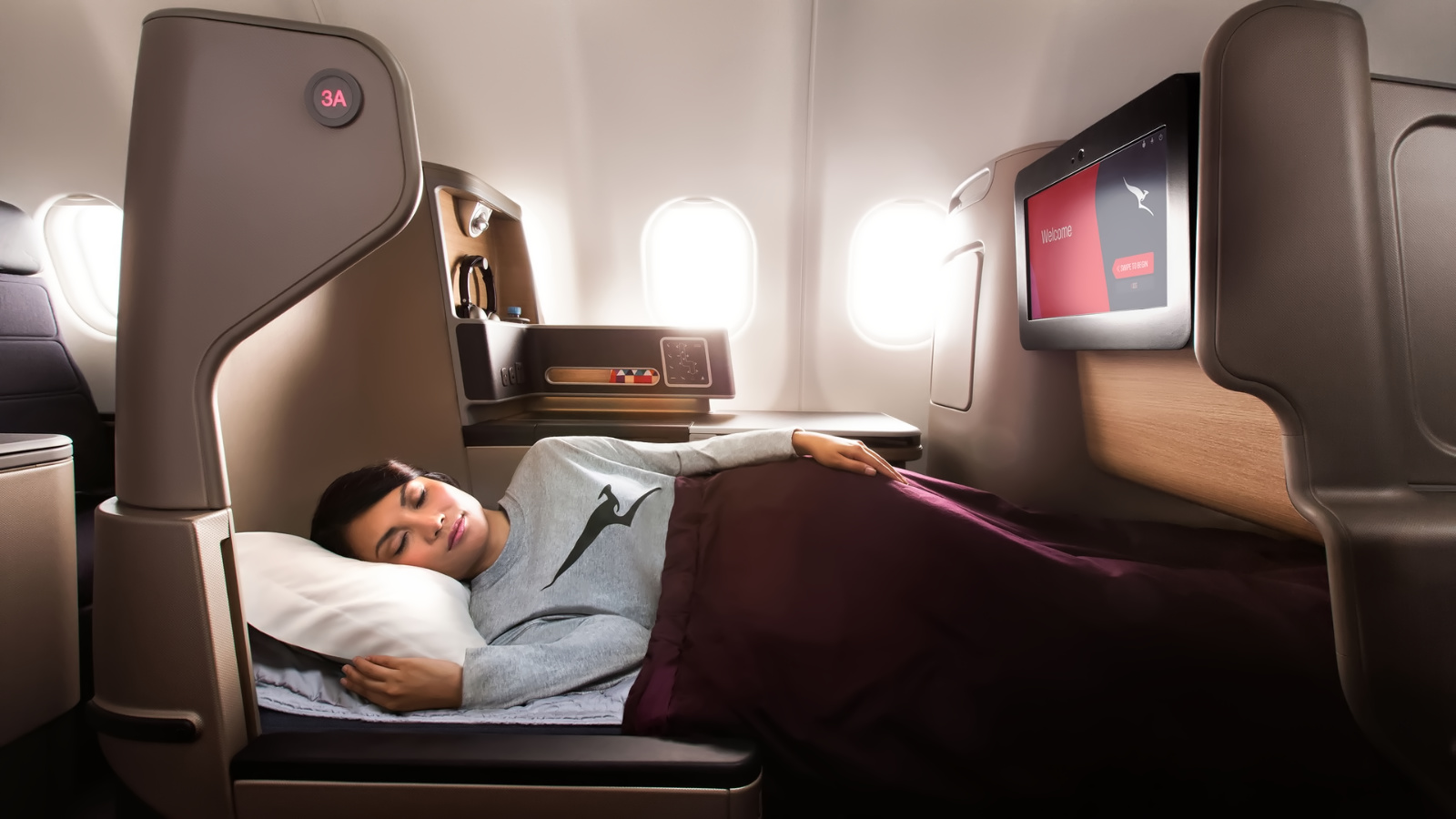 We know that RTW Business Class itineraries are very popular with our readers. Previously, some of our readers have saved between $20,000-$35,000 in out-of-pocket costs. With this reward, you can choose from over 1,000 destinations in more than 150 countries covered by the oneworld alliance:
Alaska Airlines
American Airlines
British Airways
Cathay Pacific
Finnair
Iberia
Japan Airlines
Malaysia Airlines
Qantas
Qatar Airways
Royal Air Maroc
Royal Jordanian
S7 Airlines
Sri Lankan Airlines
Emirates is not part of the oneworld alliance, and so can't be included in this itinerary. The same goes with other Qantas non-oneworld partners and oneworld Connect airlines, such as China Eastern Airlines and Fiji Airways respectively.
Benefits of Alaska Airlines joining oneworld
Alaska Airlines joining oneworld in April 2021 opens up even more possibilities when we're able to travel to the US. Although American Airlines already has a strong presence in the States, Alaska Airlines is more of a niche carrier servicing the west coast.
More destinations: From its base in Seattle, Alaska Airlines has a strong US west coast network including destinations as far as Hawaii, plus numerous towns and cities up north in Canada and Alaska.
More lounges: Alaska Lounges are in Seattle (Concourses C, D and N), Los Angeles, New York JFK, Portland and Anchorage. San Francisco will also be home to an Alaska Airlines lounge soon.
Ad – Scroll down to continue reading.Minimum spend, terms & conditions apply.
The oneworld reward is unmatched in travel power
A oneworld reward is not as expensive as you might think. Were you planning on flying Melbourne to London in Business Class, perhaps? On a partner airline, that would set you back 159,000 Qantas Points each way, or 318,000 points for a return trip.
Yet – and not-so-coincidentally – that's also the exact amount needed to fly around the world in Business Class with a oneworld reward! Both options are:
318,000 Qantas Points return in Business, or
455,000 Qantas Points return in First
| | Melbourne to London return on Qantas | Melbourne to London return on Qatar Airways or Emirates | oneworld Classic Flight Reward (maximum distance) |
| --- | --- | --- | --- |
| Economy | 110,400 | 132,400 | 132,400 |
| Premium Economy | 216,800 | 249,600 | 249,600 |
| Business Class | 289,200 | 318,000 | 318,000 |
| First Class | 433,800 | 455,000 | 455,000 |
| Miles travelled | Around 21,300 | Around 21,300 | Up to 35,000 |
So for the same price as a simple return Business or First Class flight to London, you can fly almost double the distance (up to 35,000 miles) and have stopovers in five cities. No wonder the oneworld reward is one of the best uses of Qantas Points out there!
Where can I fly on a Qantas oneworld Classic Flight Reward?
The possibilities are truly endless. In order to help get your creative juices (or wanderlust) flowing, here are just a few examples of trips you can take with the oneworld reward.
A standard 'big city' round-the-world routing
The following basic itinerary totals 28,576 miles flown – well within the 35,000-mile maximum:
Sydney to Johannesburg with Qantas
Johannesburg to London with British Airways
London to New York with American Airlines or British Airways
New York to Hong Kong with Cathay Pacific
Hong Kong to Sydney with Qantas or Cathay Pacific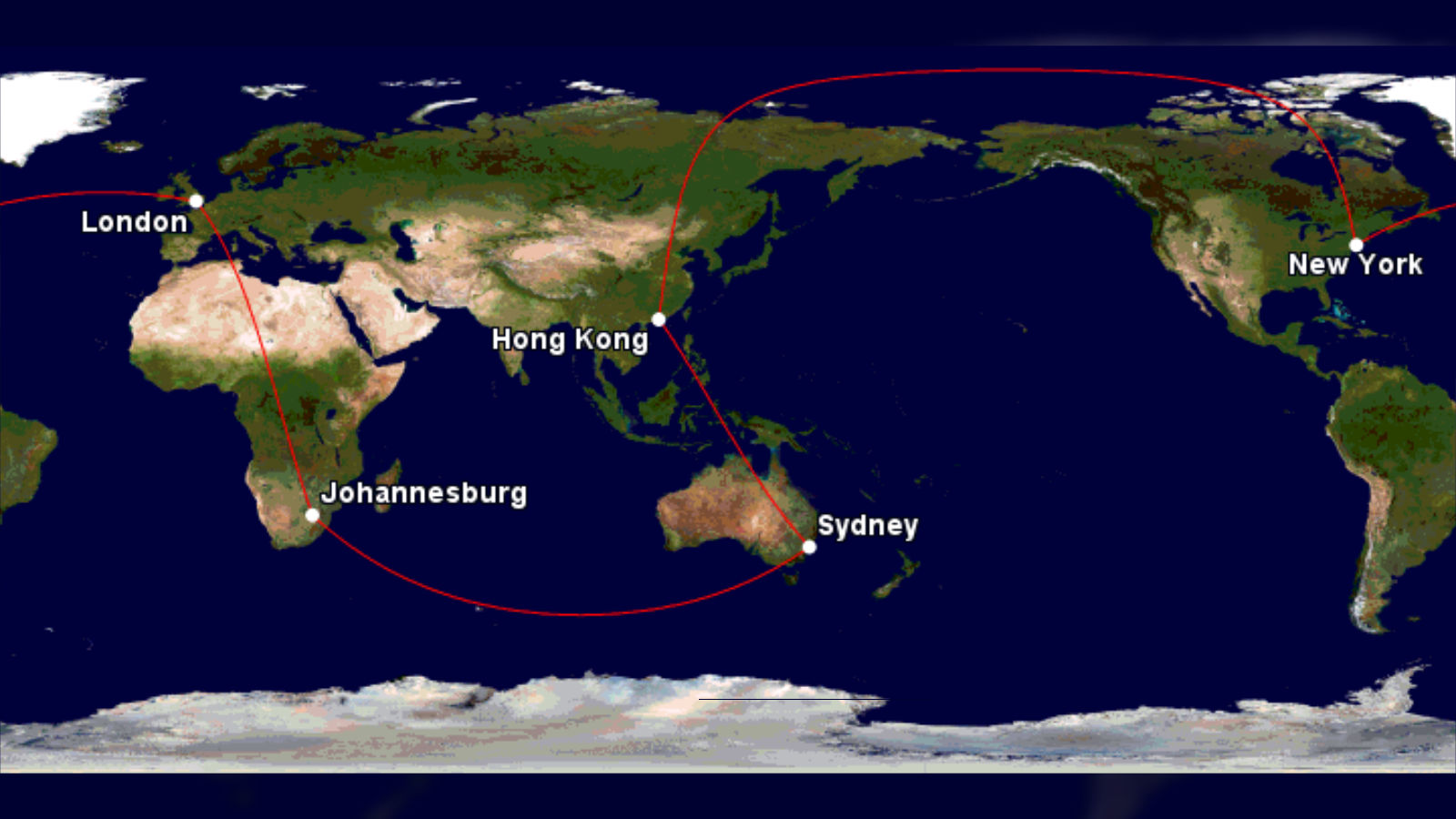 If you want to check the mileage of a range of flights, we recommend inputting the airport codes into Great Circle Mapper to get the total distance, ensuring you are keeping it under the 35,000-mile maximum. However, the sample itinerary above only has five connections. Let's spice things up and add more connections.
Sydney to Johannesburg with Qantas
Johannesburg to London via Doha with Qatar Airways
London to New York with British Airways or American Airlines
New York to Hong Kong via Los Angeles and Tokyo with American Airlines, Japan Airlines and Cathay Pacific
Hong Kong to Sydney with Qantas or Cathay Pacific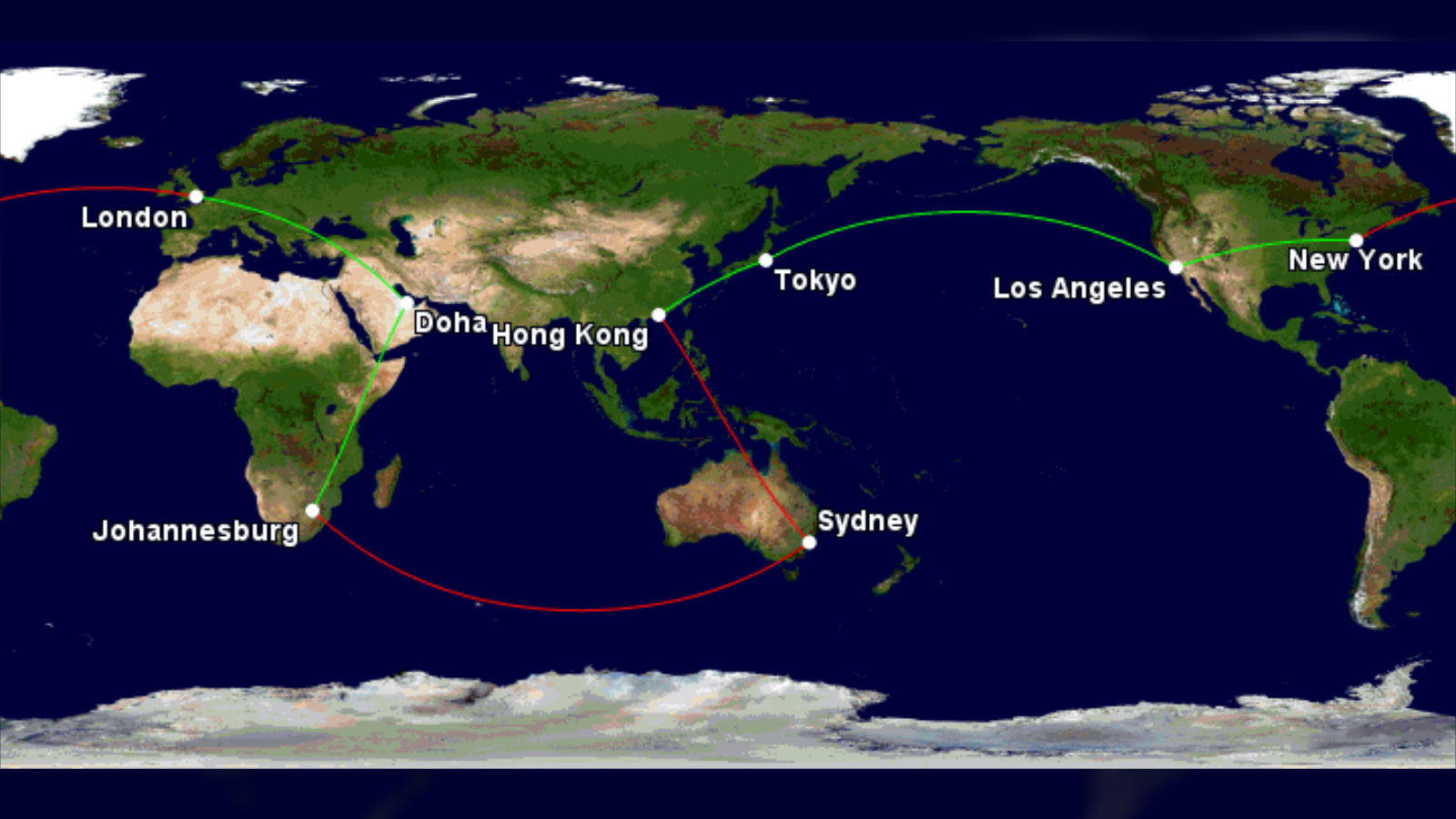 This sample itinerary now comes in at a little under 32,000 miles. Points-wise, it still costs the same as the basic itinerary.
You don't have to tack on long flights, of course. Adding on a number of smaller flights to reach non-hub cities, if that's where you want to go, is also a very useful way to get value from this award.
Round-the-world with extra time in Europe
Point Hacks reader, Mark, shared his round-the-world journey to South America, Europe and South Africa in the comments. His plan goes to show just how much flexibility you have in the oneworld reward.
What's unusual about his trip is that he focused extensively on Europe, making use of the reward for short flights between major European cities. Altogether, he ended up flying 34,343 miles – just within the 35,000-mile limit.
Despite the journey being quite complex, it still ticks all the boxes for the oneworld reward. It's under 35,000 miles and fewer than 16 flight segments. He goes through London twice, but that's allowed since both times he simply transited through the airport.
Since his route met all the rules, the capped oneworld Classic Flight Reward pricing still applies. He flew in Economy, but this trip would still only cost 318,000 points in Business Class. Awesome journey, Mark!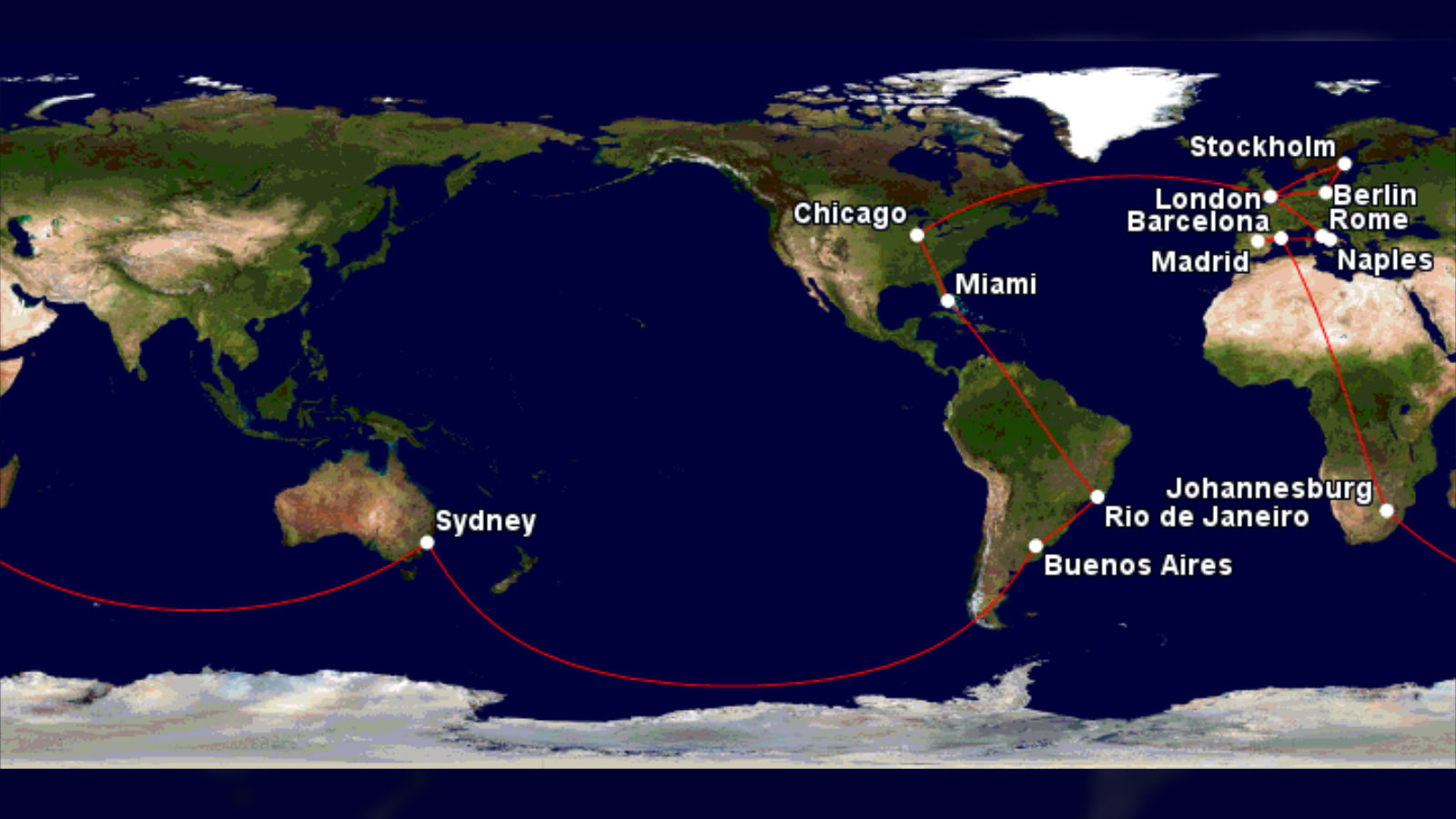 How to research and book a Qantas oneworld Classic Flight Reward
Like other flight rewards, seats are subject to availability. There is a decent chance you won't be able to fly on the date you desire. Try to be flexible with dates and routes (as always when using points to travel).
To kick things off, you can use the Qantas website search engine to find most reward seat availability. Also, consider using the British Airways or American Airlines website for backup results. Learn more about searching for Qantas reward seats.
Once you're ready to book, the simplest way to find reward seats for a RTW itinerary is to search one flight at a time. It can be time-consuming, so have a notepad handy to write down the:
Date of travel (e.g. 4 July 2022)
Departure and arrival cities (Adelaide to Doha)
Flight number (QR 915)
Departure and arrival times (10:25 pm – 5:30 am)
Keep repeating this for each city, bearing in mind that sometimes you might need to connect via an intermediary city.
Then book online through the Qantas website via the multi-city booking tool. If you need help or want to book on a partner that doesn't show up on the Qantas website, then phone Qantas Frequent Flyer.
If your itinerary is particularly long, you might not be able to book everything in one go. That's okay – you can book some of the flights now and add more later. Just keep in mind that every time you change the booking, you may cop a change fee of 5,000 Qantas Points per person.
(This fee is currently waived until 31 December 2022 if you book an international reward seat by 28 February 2022).
What are the common mistakes with booking a Qantas oneworld Classic Flight Reward?
Since Australia's outgoing international travel ban was lifted in November 2021, we've been swamped with questions from people looking to book a oneworld reward. Lots of people have run into issues where they can't get the right pricing. Usually, this is an issue with routing or airline choice.
So here are a few tips:
Don't include Emirates or Fiji Airways flights on a oneworld Classic Flight Reward. In fact, make sure you're only using the 14 full oneworld member airlines. However, subsidiaries of major airlines are usually okay – this includes QantasLink for Australian regional connections.
Check you have no more than five stopovers (or breaks) in your trip. If you're transitting, make sure the connection is shorter than 24 hours.
If you're making your way between two cities through alternative means, be sure to include that distance in your overall calculations. Those ground sectors do count in your distance limit.
Check your cabin class is consistent with each flight. Even if one flight is in a higher cabin than the rest of your itinerary, your booking will re-price at the higher rate.
If you're having trouble with your routing, feel free to post it in the Point Hacks Community for assistance.
Summing up
After reading through all that, I really hope you're as excited to try and book a Qantas oneworld Classic Flight Reward as I am! You'll need to save up quite a few points to do the trip comfortably for two, but it's definitely worth it.
You'll be able to explore at least five cities with proper stopovers. There's nothing stopping you from using that stopover as a base to see more of the surrounding areas on separate tickets. If you're clever, you can also add many more overnight stops in transit cities as well.
Just remember to follow every rule to the letter. The system will automatically re-price everything if you mess up somehow. Try to book as many of the flights as you can at the start, because it might cost more to change things later.
We also have a supplementary guide specifically for travellers in Perth and Adelaide. Have KrisFlyer miles with Singapore Airlines instead? Read our RTW guide to using KrisFlyer miles.
Have you successfully redeemed your Qantas Points for a oneworld Classic Flight Reward around the world? If so, where did you go?
This article was originally written by Matt Moffit.
---
Frequently asked questions
This guide is extremely popular and has a long comments thread below. We've picked out the most common questions to save you some time.
Do I have to go around the world?
No, not necessarily. The oneworld Classic Flight Reward is calculated on total mileage and doesn't have to go in one particular direction.
Is backtracking permitted?
Technically, backtracking is not forbidden. Some phone agents may prevent you from doing so. If so, hang up and call back.
Are transit cities calculated in the total mileage?
Yes. If you're flying from Sydney to Johannesburg via Hong Kong, you will need to include SYD-HKG and HKG-JNB as separate segments.
Are surface sectors counted?
Yes. A surface sector is when you fly into one airport and make your way on to another airport to fly out of. That distance between the two airports will be calculated and included.
Do I need to return to the same airport at the end of the trip?
Not necessarily. But if you finish your trip in a different airport, then the surface sector distance between your origin and final airport will be calculated and added as a surface sector.
Can I travel more than 35,000 miles?
No. Once you go even one mile more, it will recalculate as separate reward flights and be much more expensive.
How do I add segments?
You can add segments for most airline partners online, but note that you may be charged 5,000 points in change fees each time (per person). Try to lock in as many flights as possible from the start. If you have to call Qantas to add flights, additional service fees may apply for bookings in Economy and Premium Economy.
Can I mix cabins, e.g. fly Business Class for most segments and First Class for one or two?
The award is calculated on the rate for the highest cabin, which means that even if you have one First Class flight and the rest are in Business, you will be charged 455,000 points instead of 318,000. This means you're best to stick to the same cabin the whole way.
How are infant and child fares calculated?
If you have a child under two years of age who does not occupy a seat, then you just pay the taxes, no points. If a child is two years of age or older, then they are charged the full adult rate for this reward.
Can I include Emirates in my itinerary?
No, Emirates is not part of the oneworld alliance – so it's not eligible for this award. The same goes for other partners like Fiji Airways and Jetstar.
How to fly around the world in Business Class with Qantas Points
was last modified:
March 25th, 2022
by