One of the newer gems among the WA skyline, the DoubleTree by Hilton Perth Waterfront is one to catch your eye. Pairing a great location with affordable room rates, settle in and relax by the banks of the Swan River.
Mixing in a great rooftop bar, open-air infinity pool, waterside restaurant and a gym with scenic views, here's what to expect on your next Perth adventure.
Hotel location and first impressions
With the better-known Parmelia Hilton Perth more on the 'city side', the DoubleTree resides by the river. But still with a street entrance on Barrack Square.
Perth's iconic Bell Tower is right across the road from DoubleTree, with the Barrack Street Jetty and Port of Perth nearby at the waterfront. Wander just a little further, and you'll have all of Elizabeth Quay to explore. It's well lit, which makes an evening stroll after dinner particularly pleasant.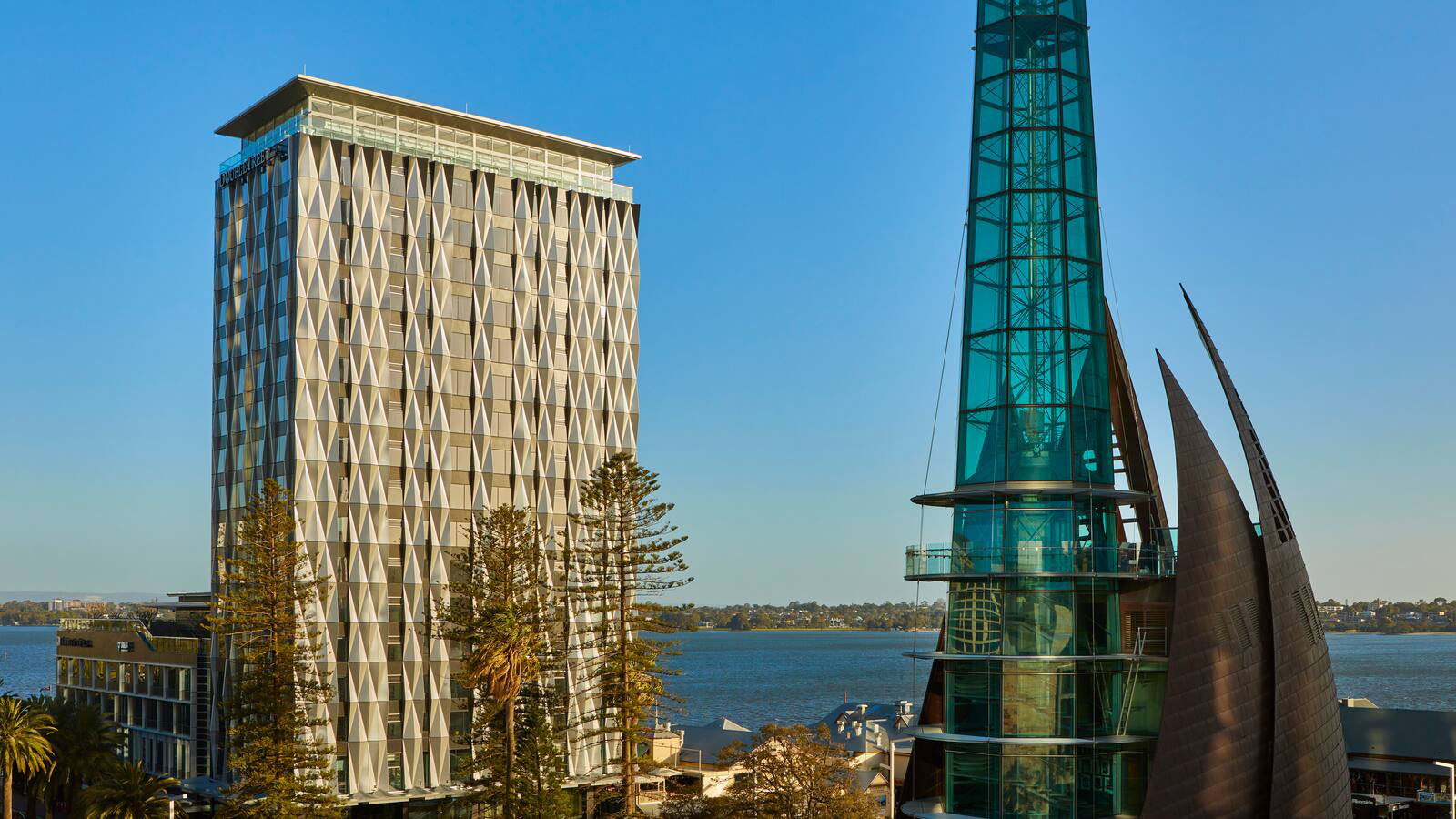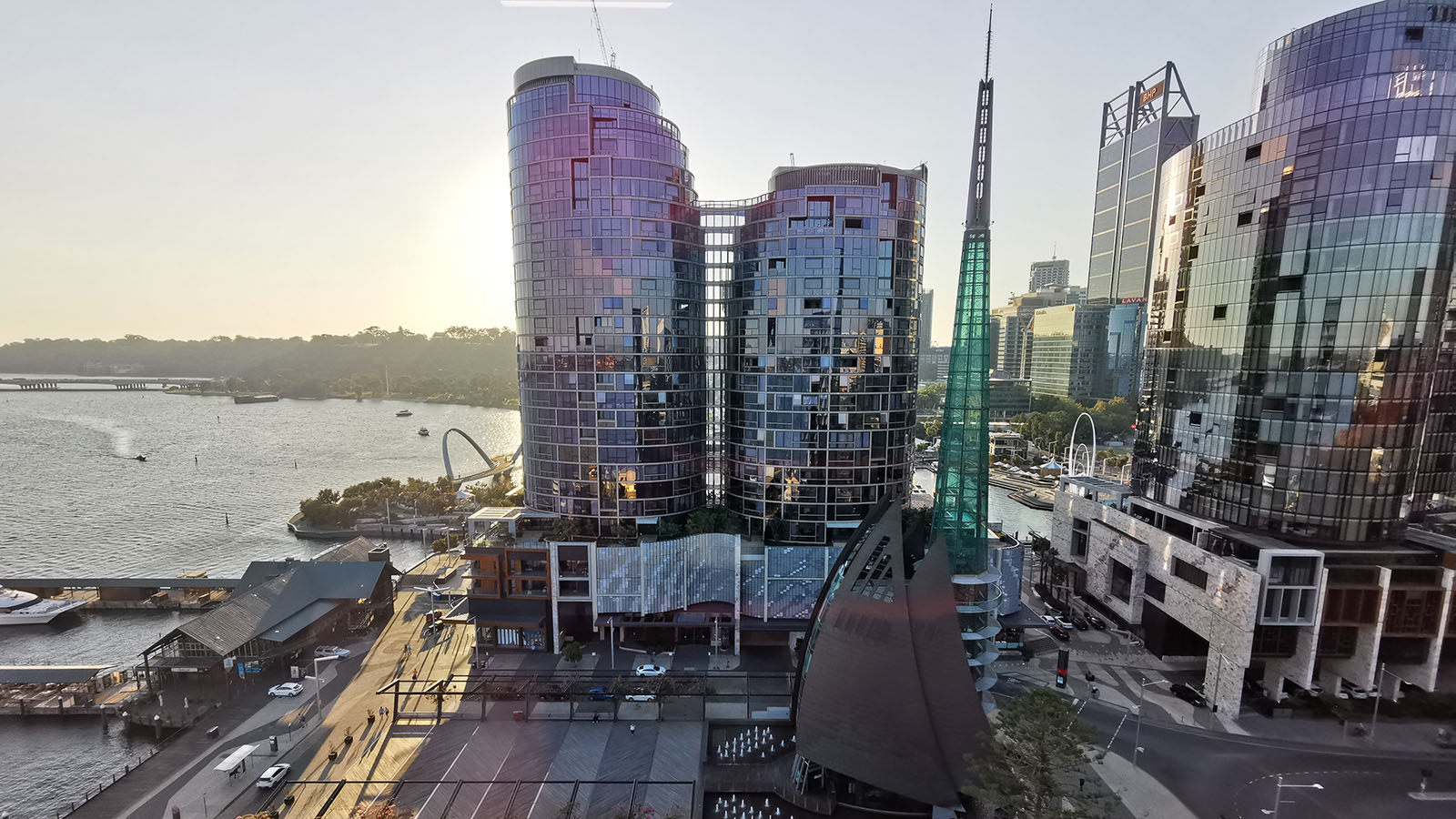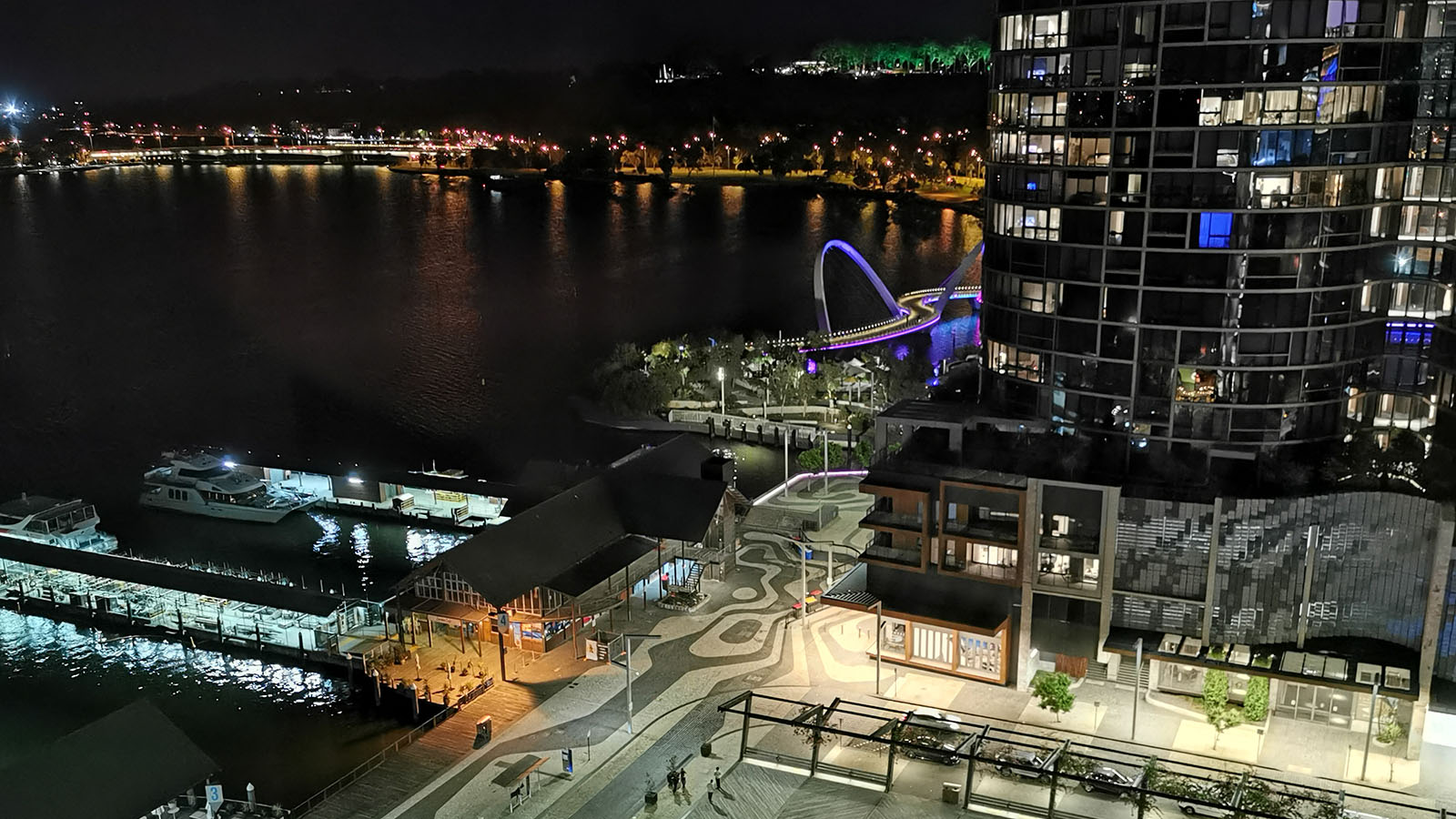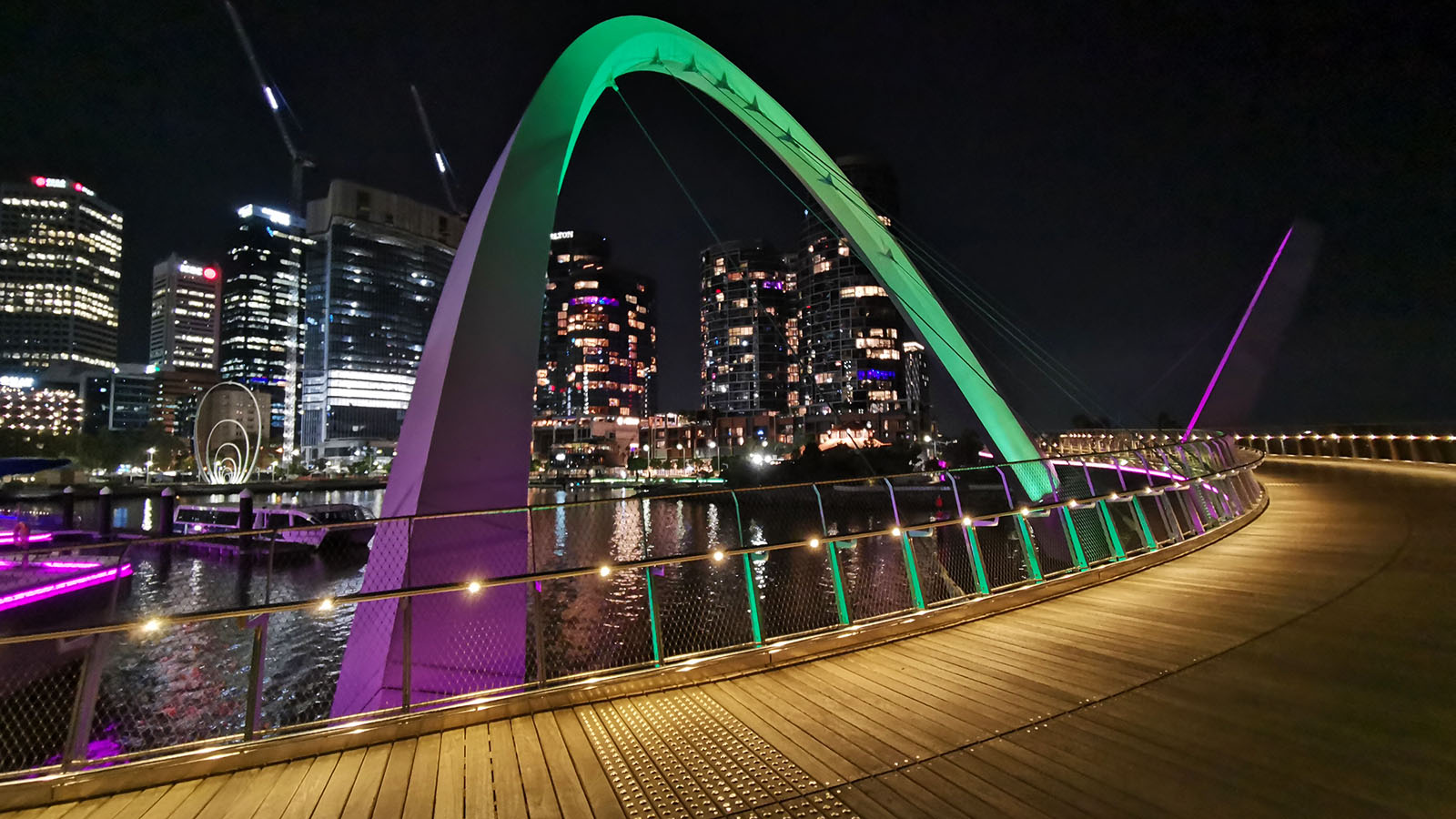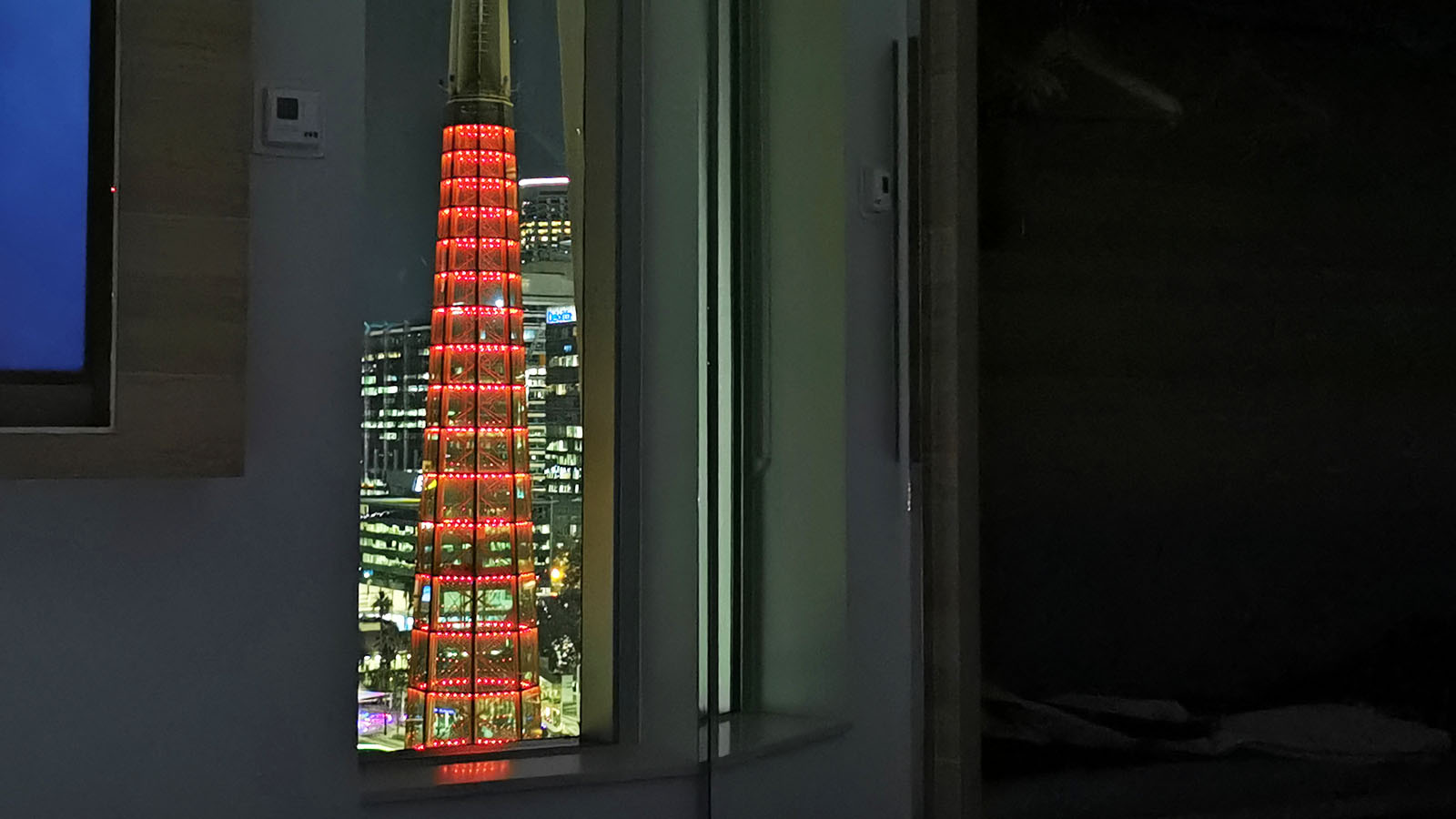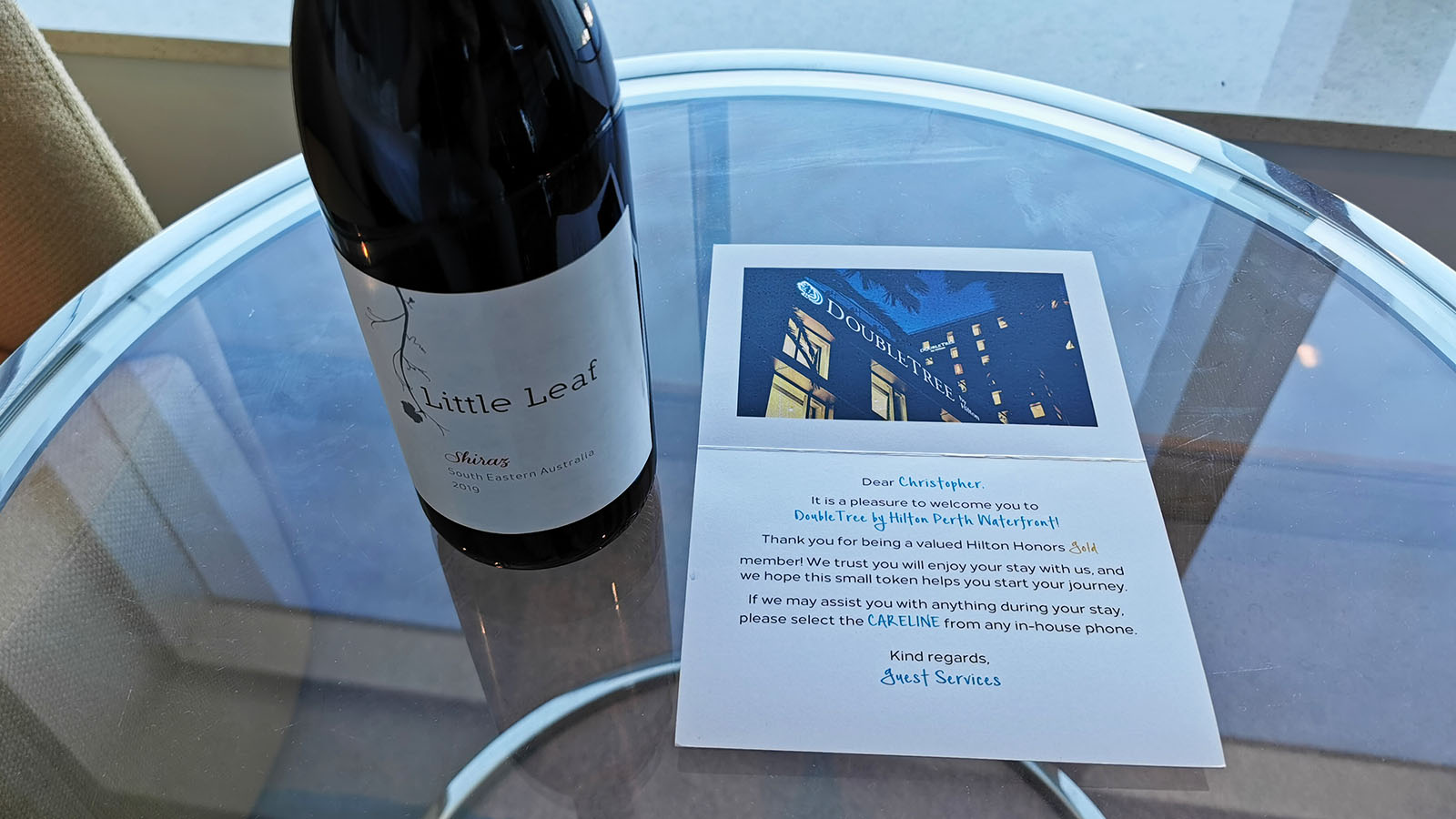 On arrival, a bottle of WA red comes aside a personalised welcome card. That's a common amenity here for guests at the Gold and Diamond ranks of Hilton Honors. Being in a corner room, I also had a perfect view of the Bell Tower from the bed. Lit up at night, it's certainly a step above the typical city view.
DoubleTree by Hilton Perth Waterfront's King Guest Room Panoramic River View
Arriving into a 'King Guest Room Panoramic River View' delivers exactly that. Looking out my windows here at the DoubleTree, Perth's Swan River provides a relaxing waterfront vista.
For me though, this was a business trip – which means there's work to do. The wall-mounted 4K TV catches my eye and serves as a great second screen to my laptop. It even swivels to the perfect angle, with my trusty HDMI cable coming in handy.
But this room is more than a makeshift office. There's an open closet near the entryway, also providing a perfect place to sit as you tie your laces and venture out.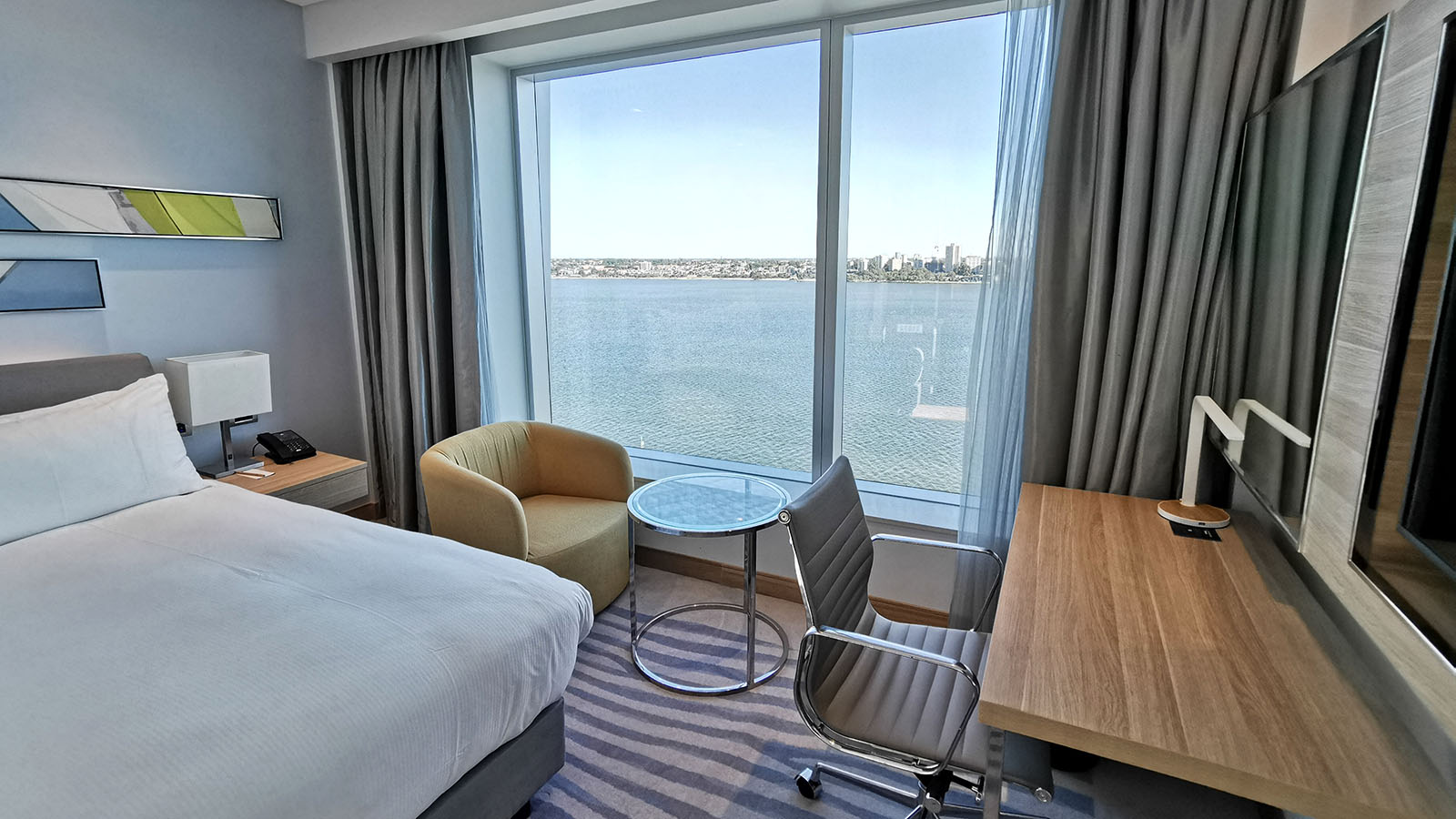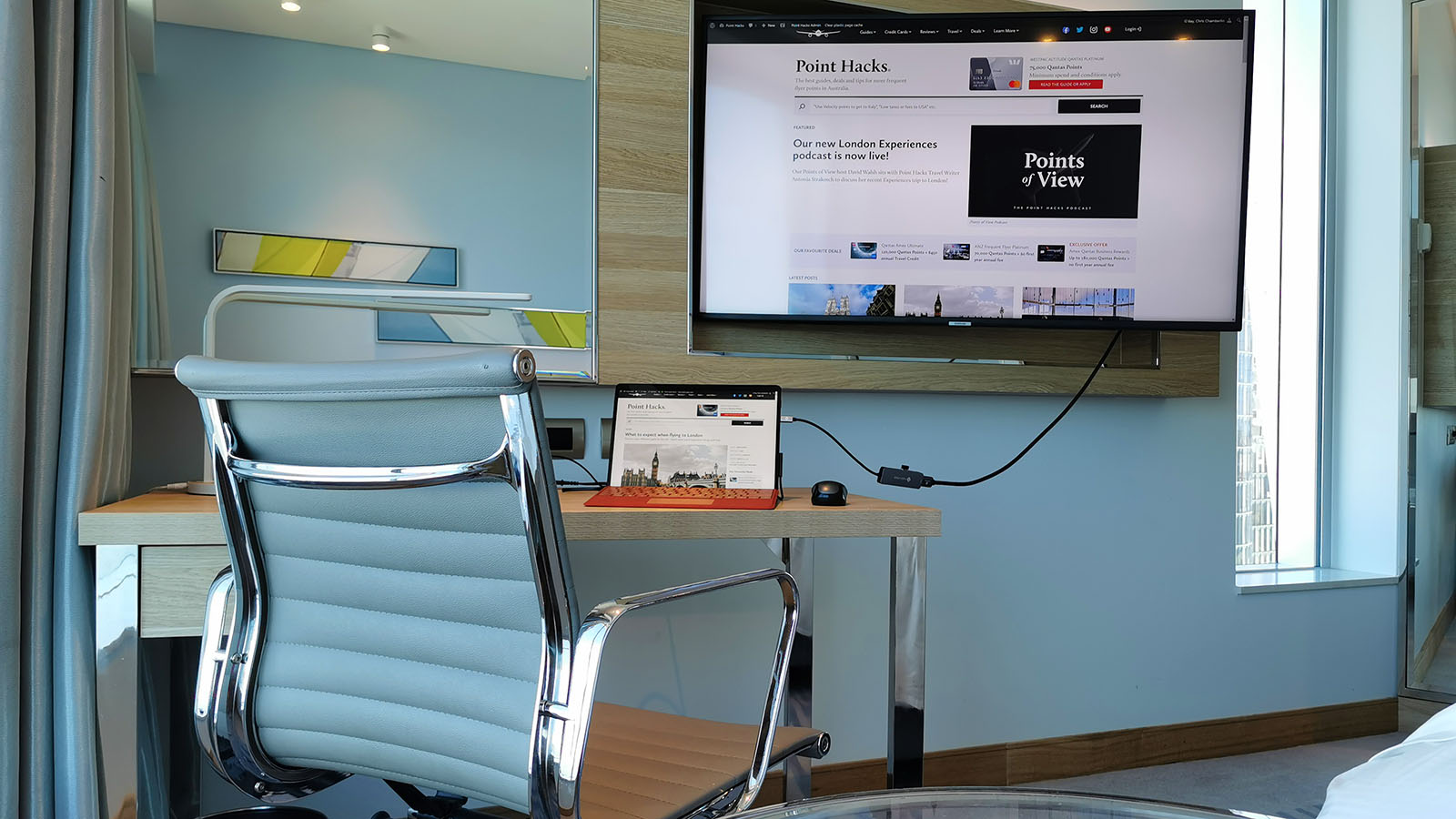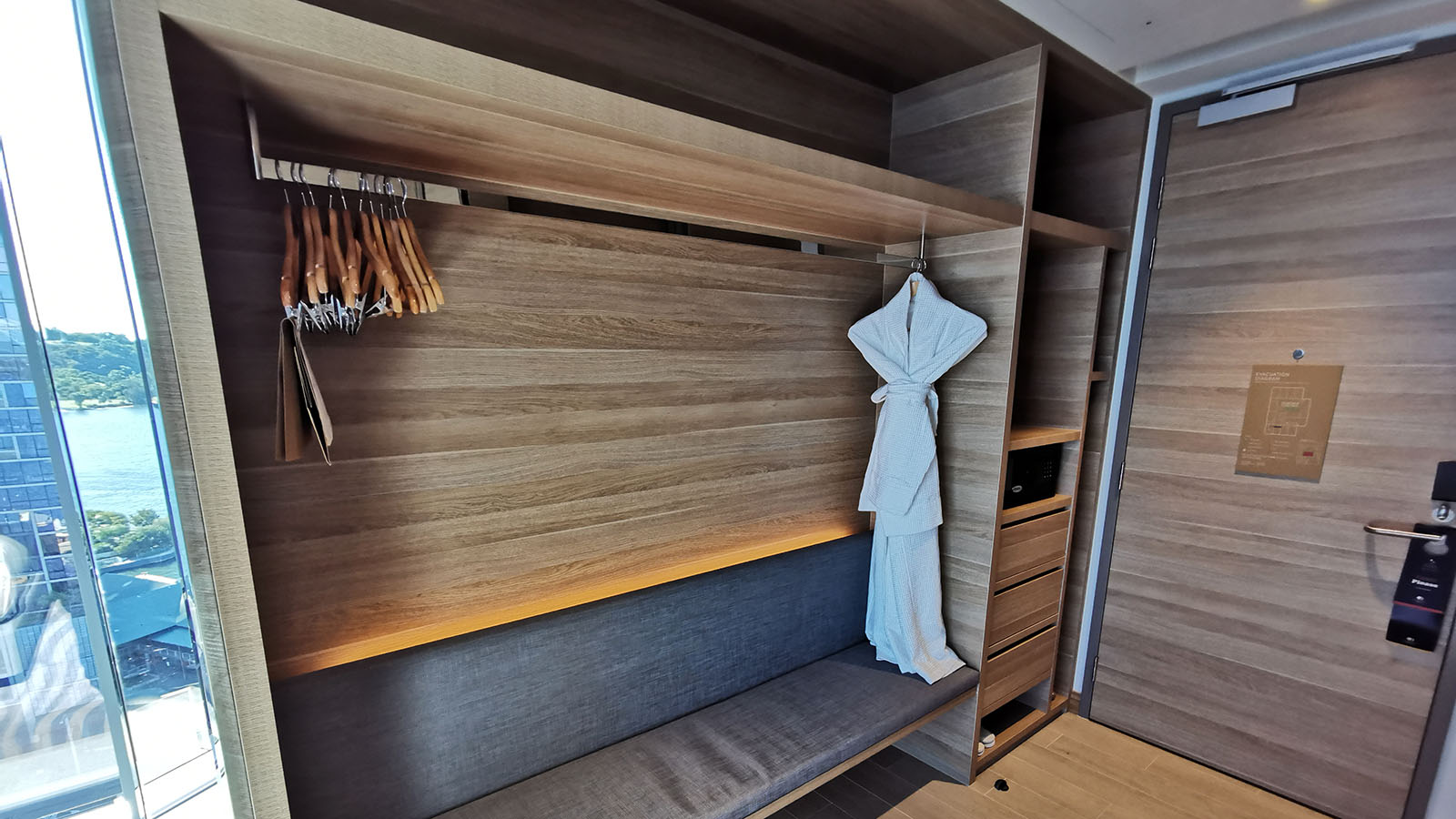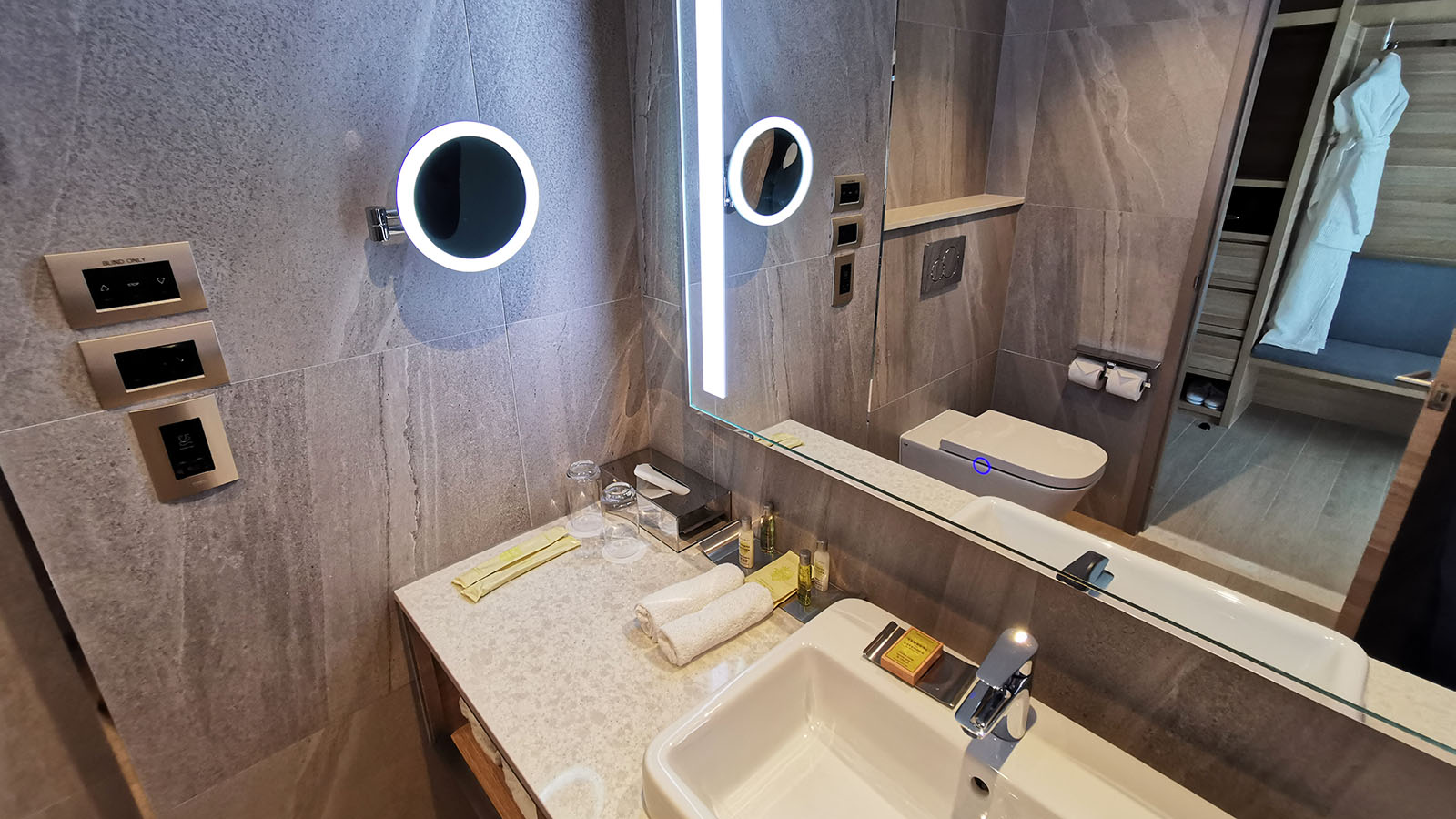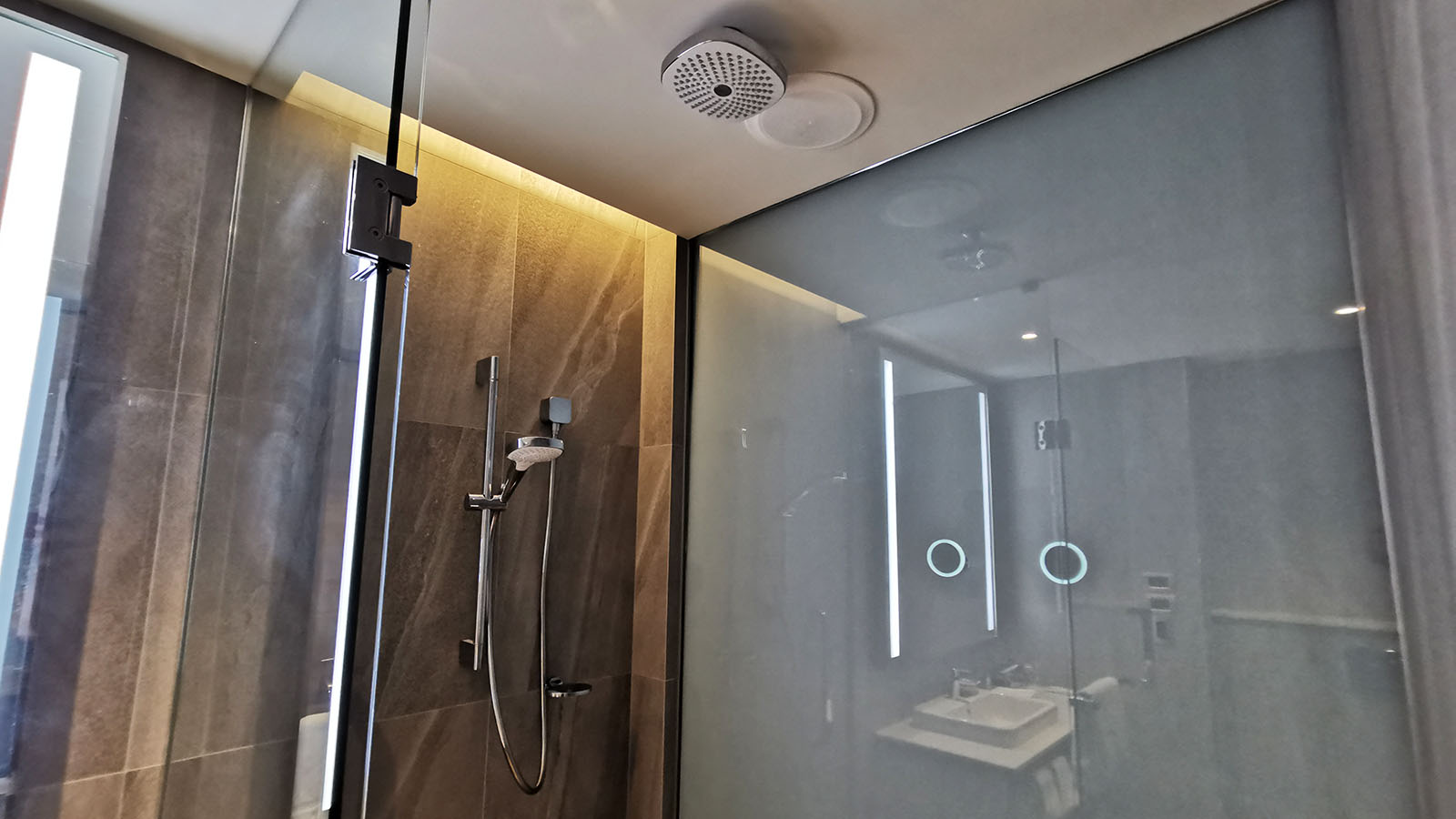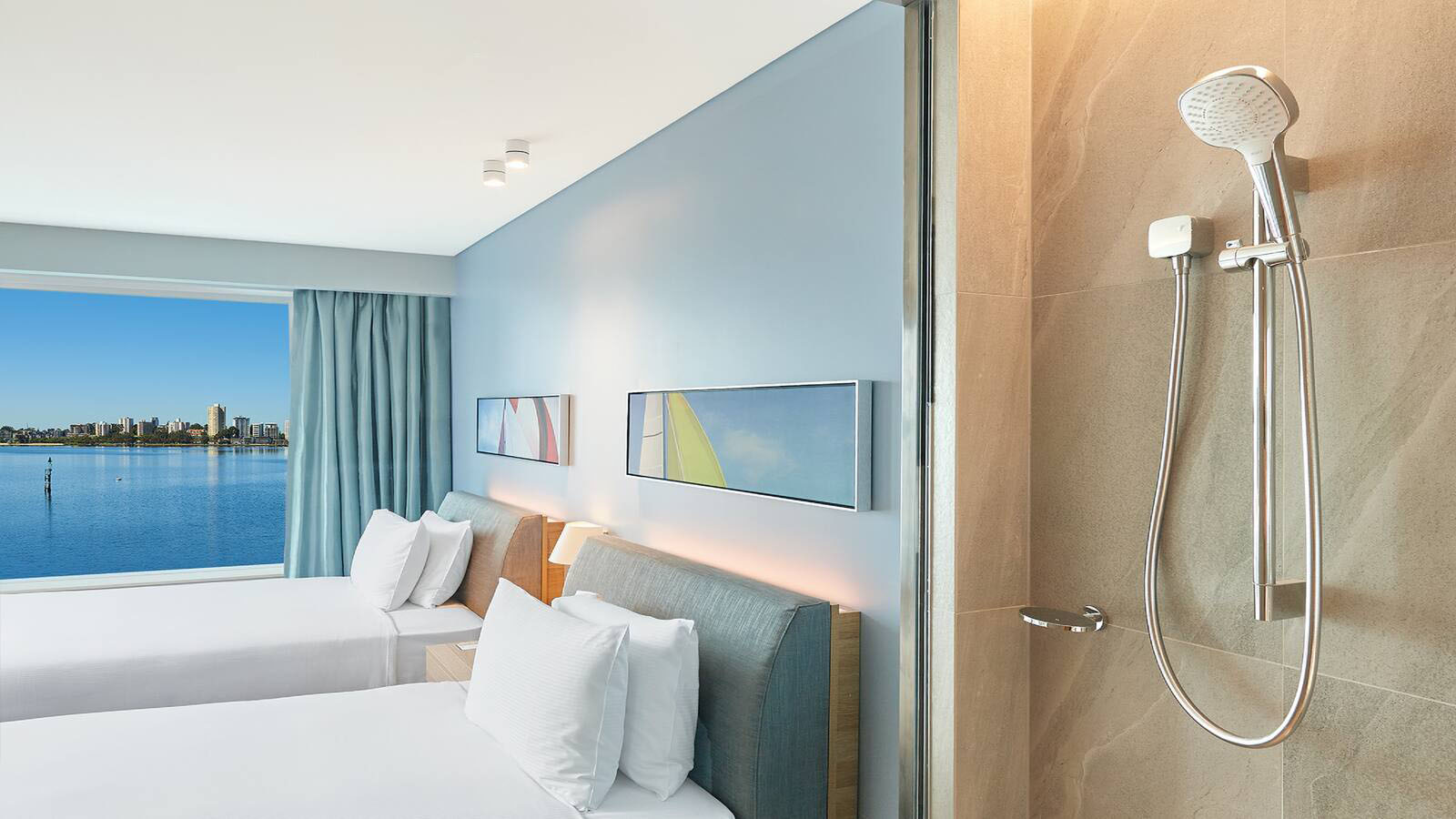 The adjacent bathroom offers a respectably-sized vanity that gives plenty of room for your own items. A lighted mirror and walk-in rainfall shower complete the space. There's also something of a secret switch here to open things up.
That switch controls the blind between the shower and the room itself – although I only figured that out on departure day. You see, the switch is labelled 'blind only'. When I first arrived, I saw that and thought, 'okay, I'm not blind, I shouldn't touch that'. Yes, apparently I was in need of a good coffee…
But when I noticed it again just before check-out, it hit me. There's no Braille above the words, so it must control only the blind. Eureka! (Okay, I'll just step out quietly, perhaps to fetch a double shot…)
Dining at DoubleTree by Hilton Perth Waterfront
DoubleTree's food and beverage venues really take advantage of the hotel's waterfront location here in Perth.
Kicking things off with breakfast, Reel Kitchen overlooks the river. It's a cheeky name too, because the tables here certainly are close enough to reel something in. But at breakfast time, you're more likely to be fishing for cereals, fruits, breads and juice, which are all here.
Machine-made coffee comes included, with barista-made brews at a charge. And speaking of charges, the complimentary breakfast for Hilton Honors Gold covers these continental options only. Grab anything from the hot food stations, and a $4 fee (per person, per day) automagically appears on your hotel account.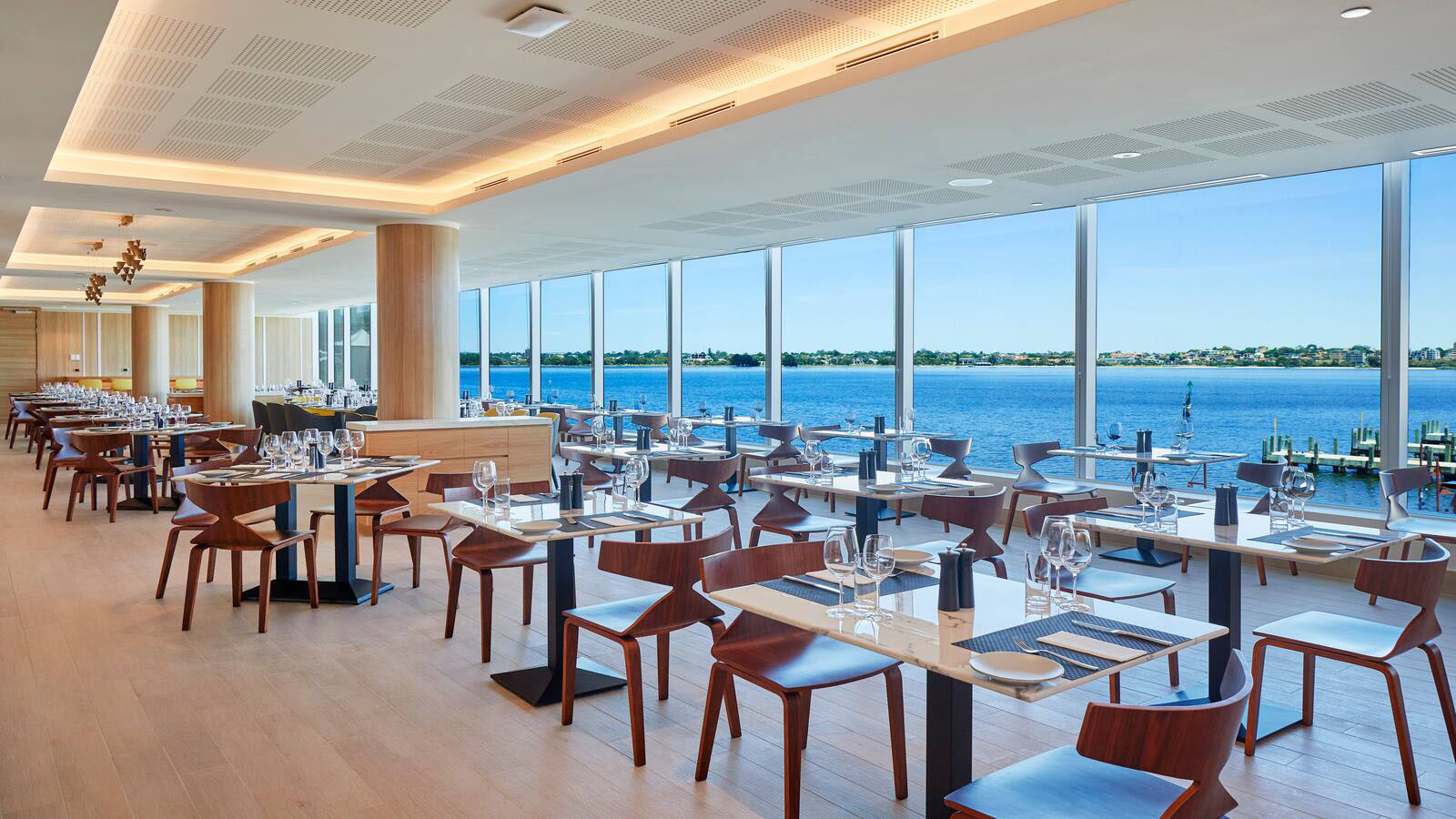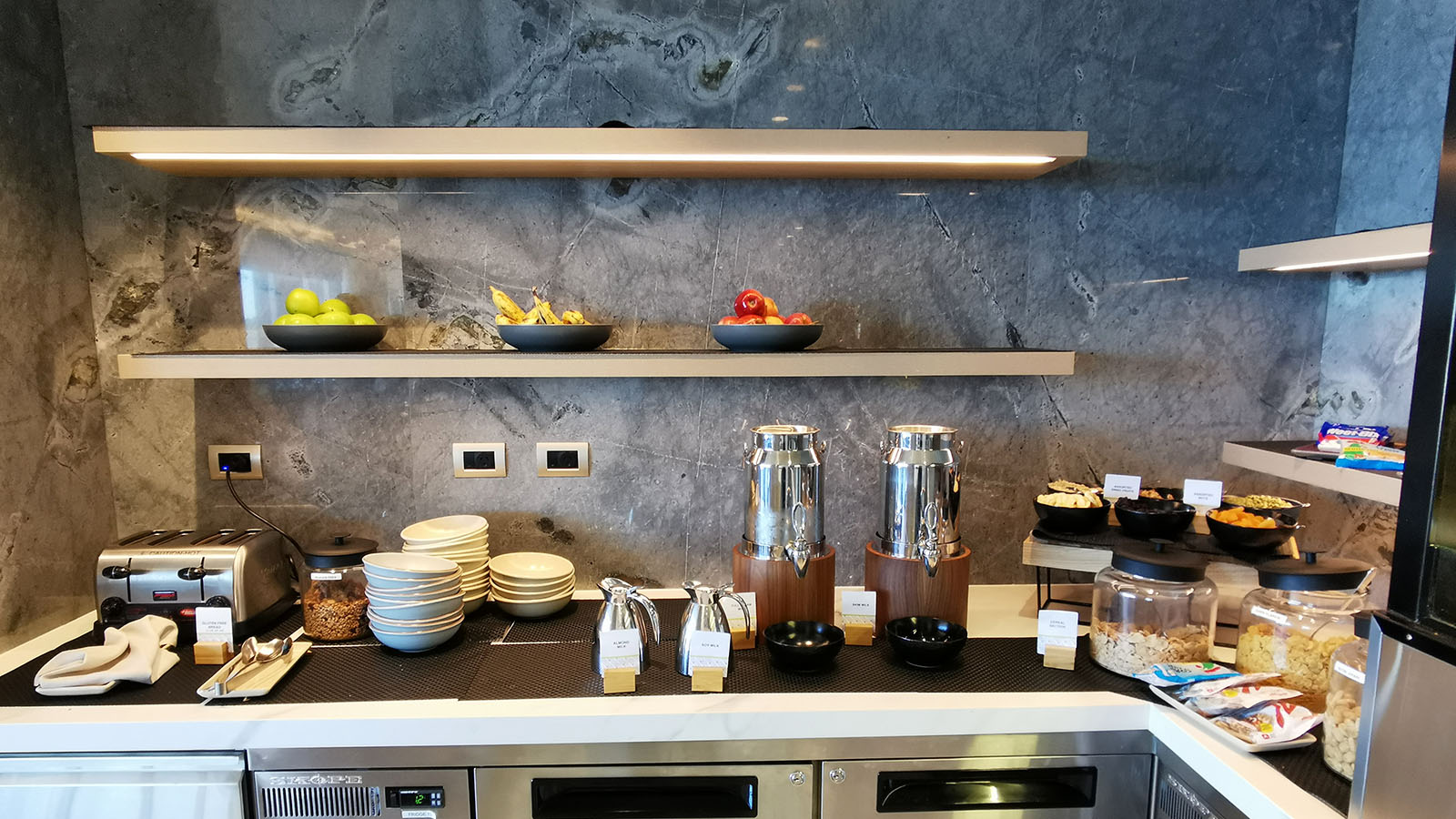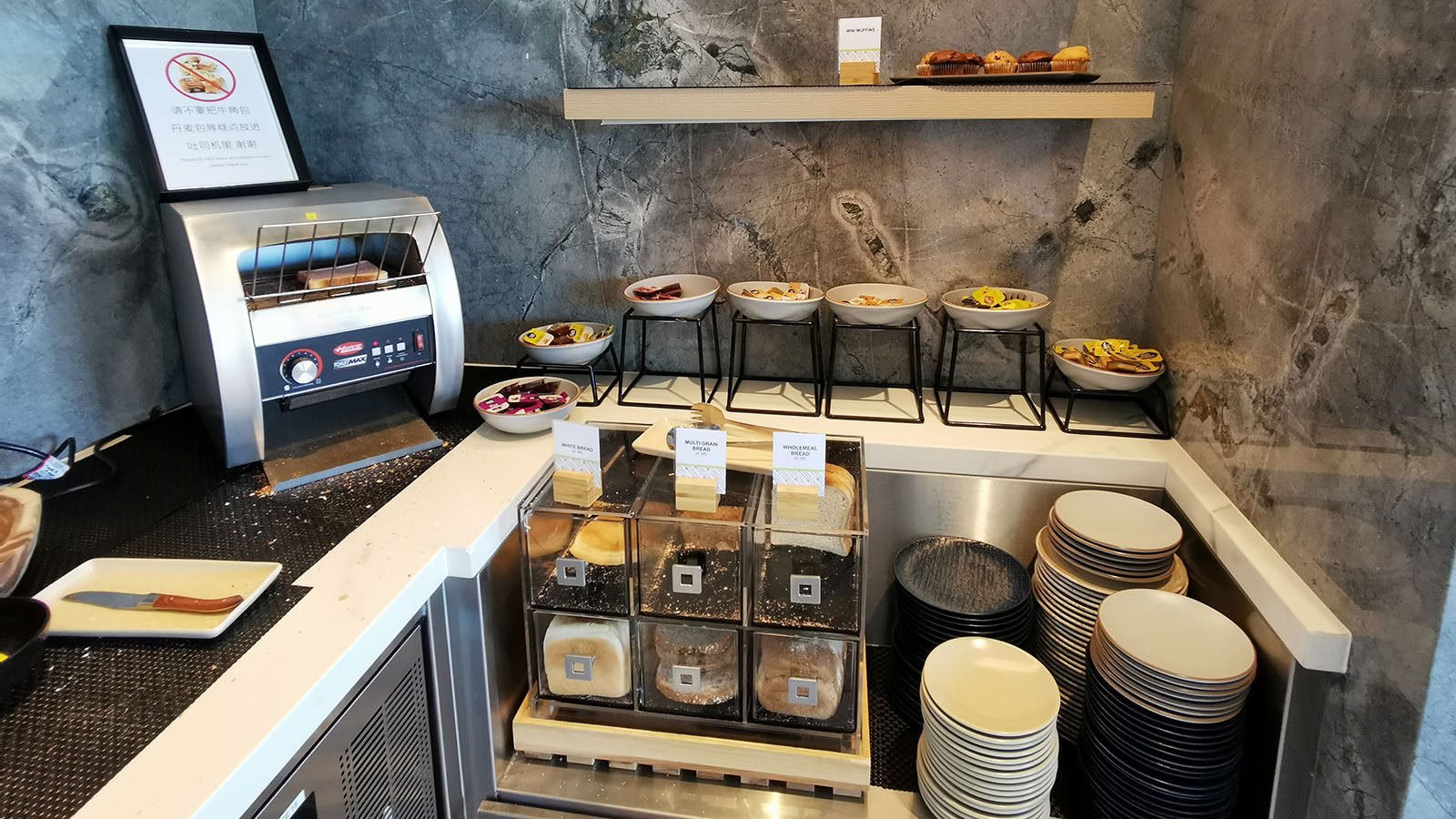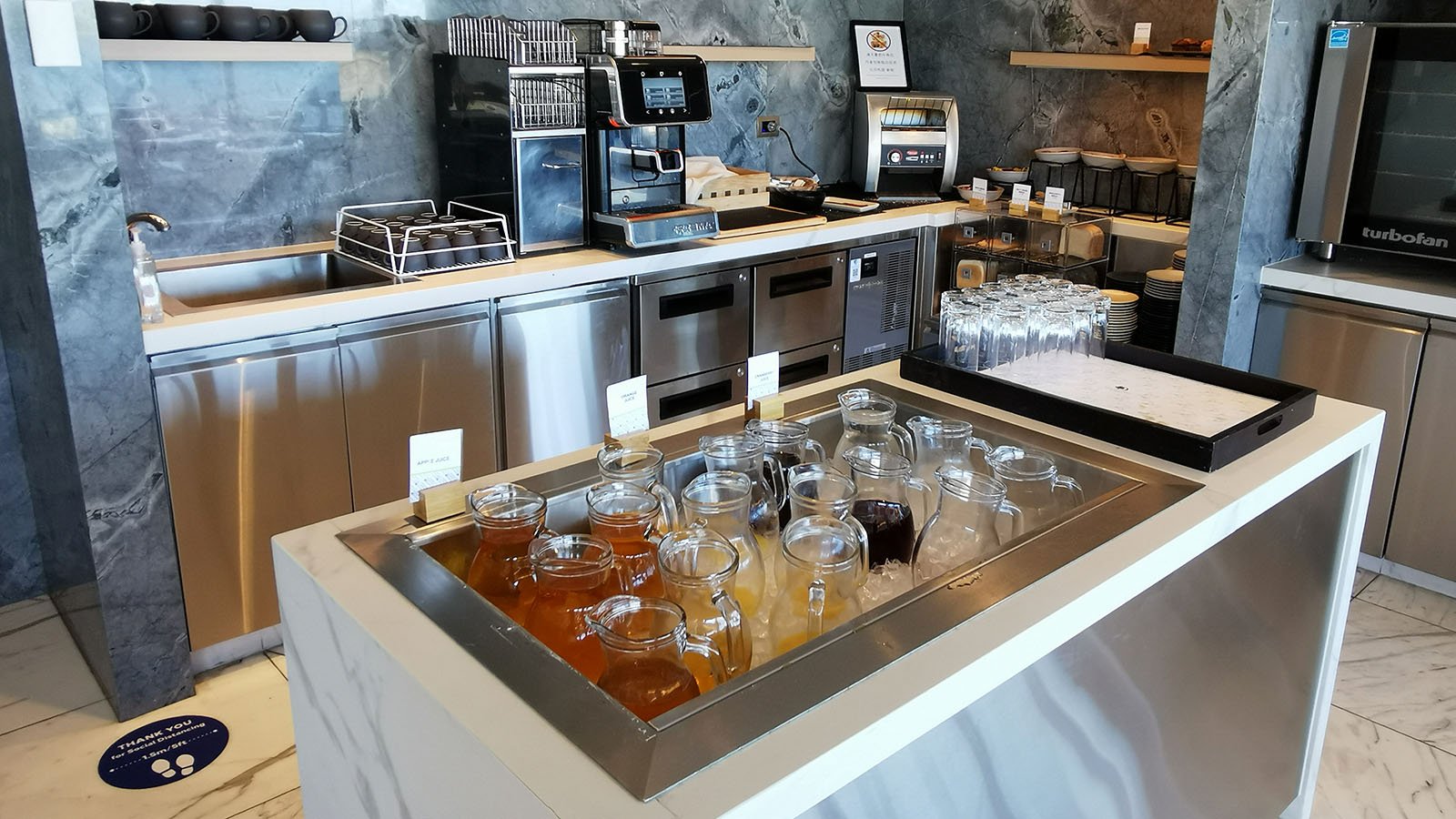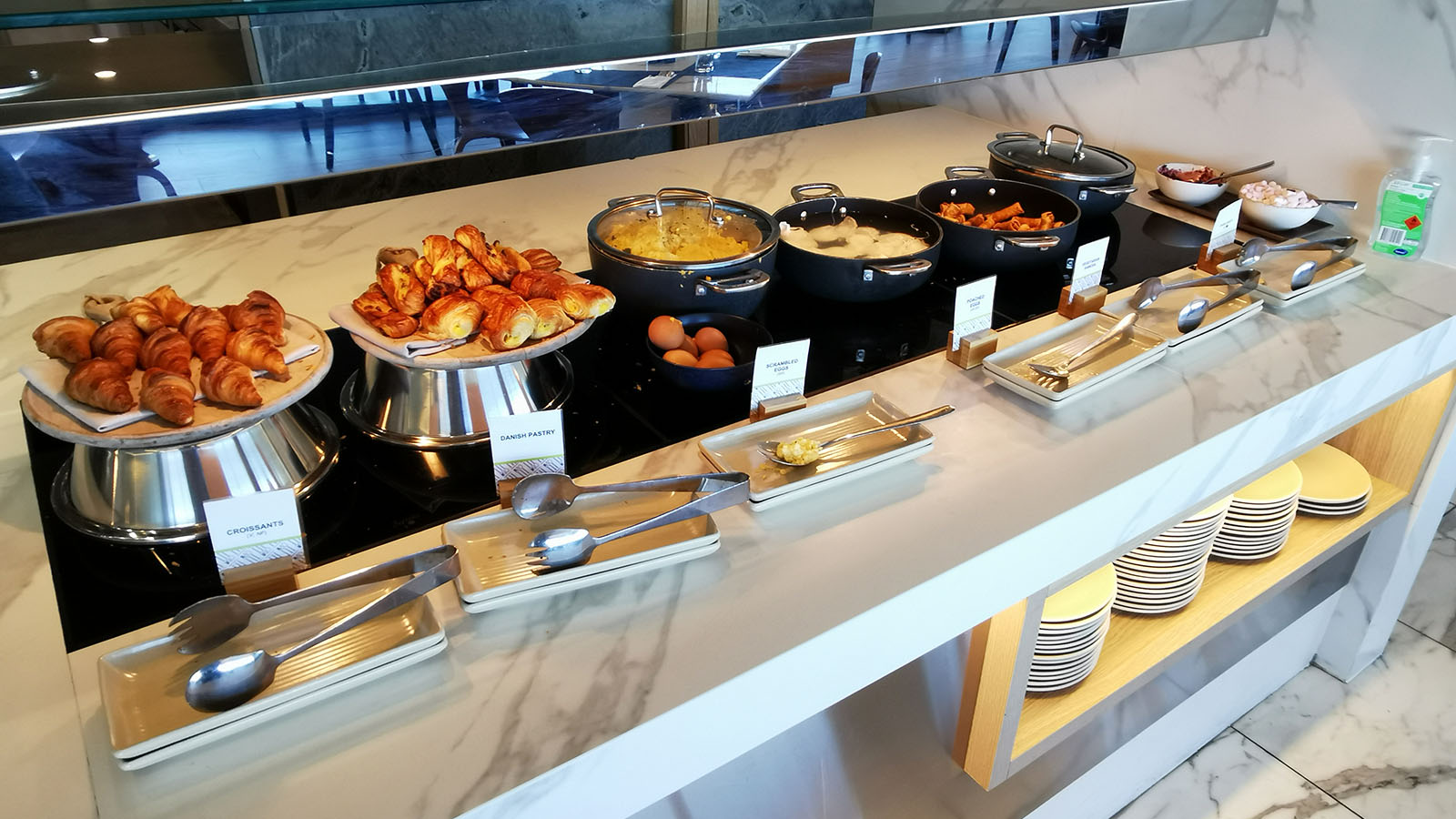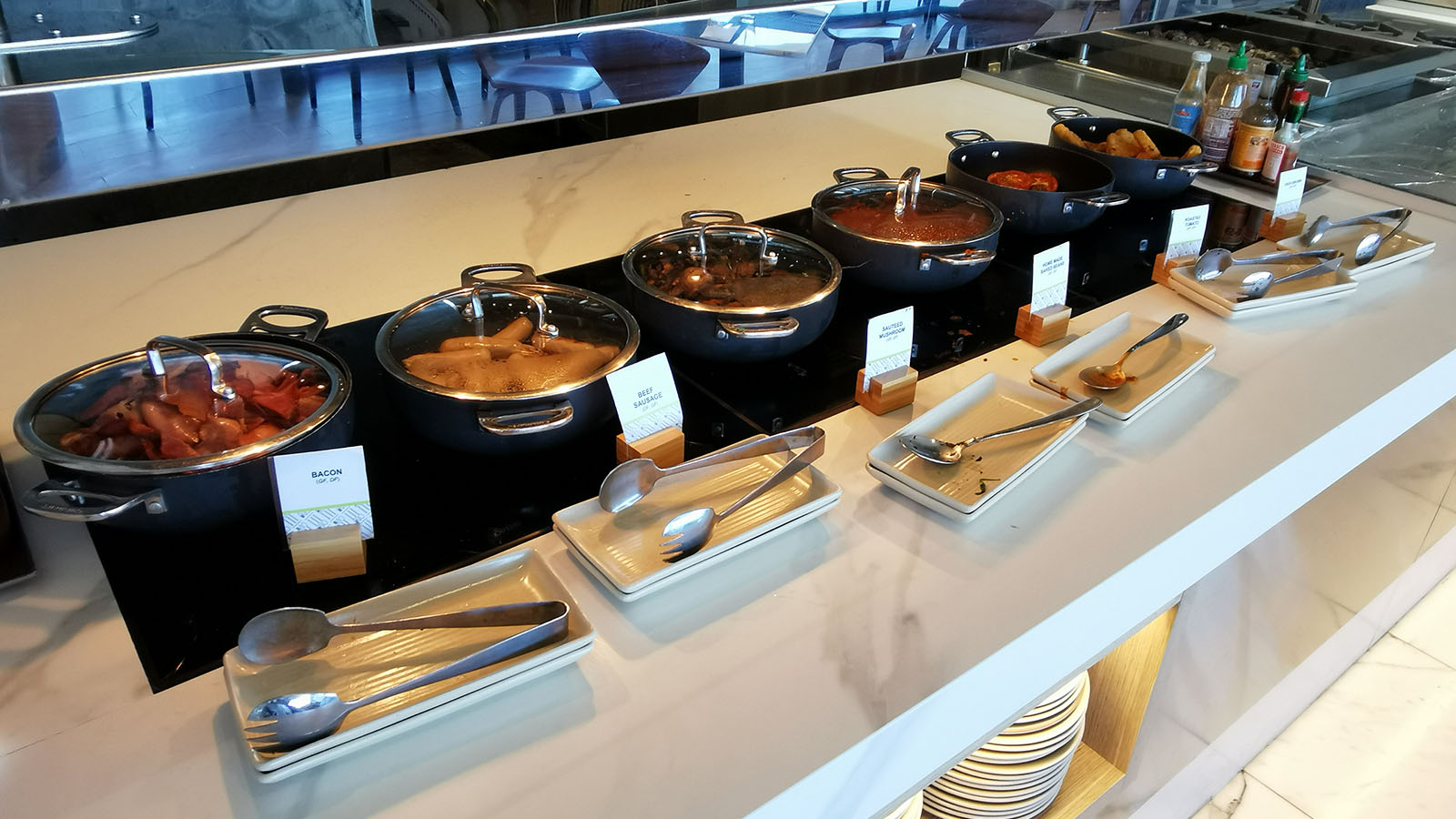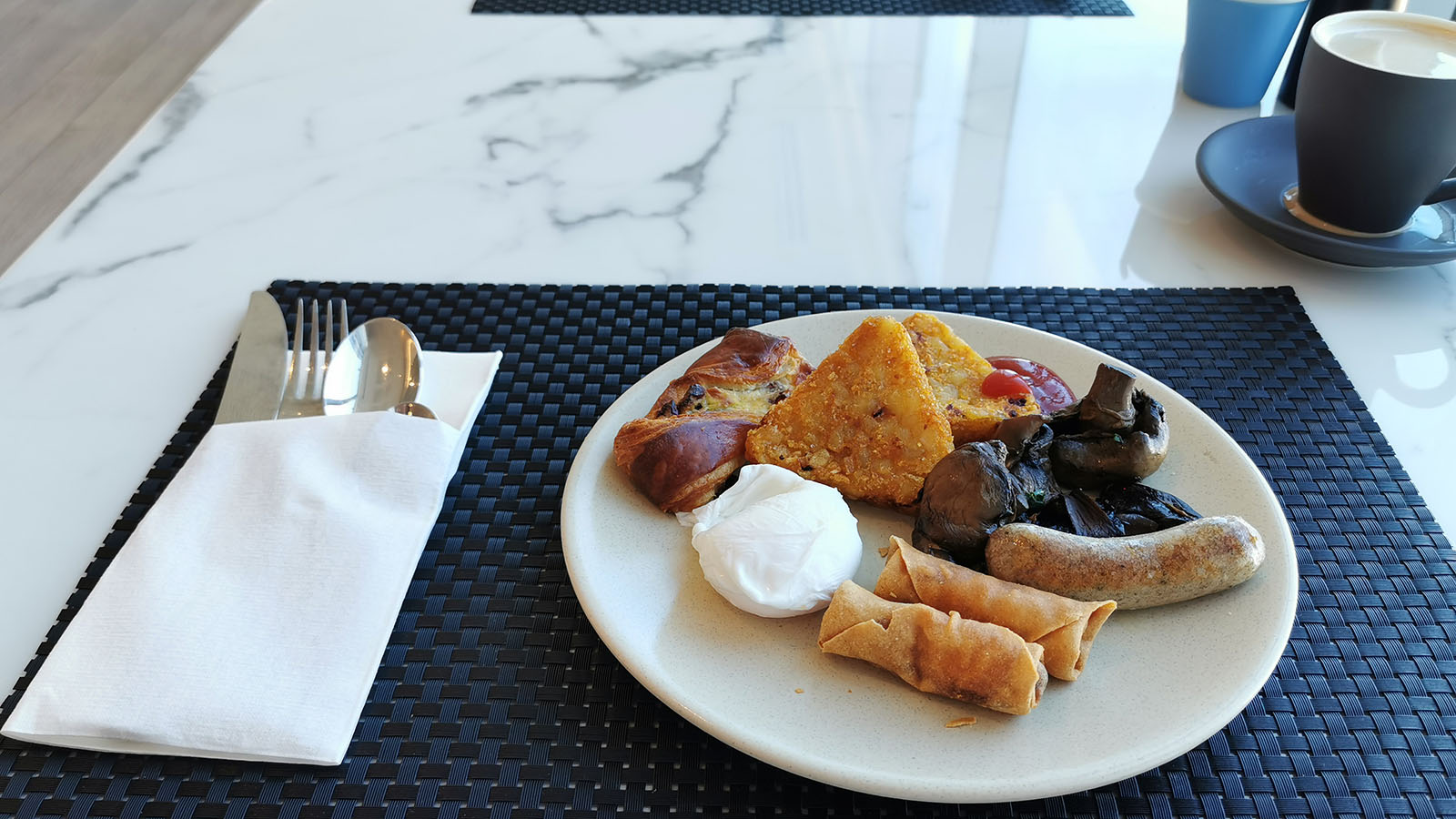 Personally, I quite enjoyed the hot options – and had I known about the $4 charge upfront, I'd have seen it as a great value upsell. But the first I learned about it was at check-out, when reviewing my bill.
To avoid frustration as you're walking out the door, staff really need to make this charge clear. It wasn't mentioned during check-in where breakfast was otherwise explained, or on the A4 page provided at check-in about the hotel (and breakfast). Staff at the restaurant certainly didn't say anything, and I also didn't sign any charge slips.
However, I'm mindful that my check-in was handled by a trainee, at a time when many hospitality businesses are struggling to recruit and retain staff.
As new employees learn the ropes, issues like this are less likely to occur. But now you know, ahead of your own stay. And for what it's worth, the upgrade is certainly worth the $4.
Dinner at Reel Kitchen
Of an evening, Reel Kitchen kicks things up a notch. Never one to go past an Espresso Martini, starting with that caffeine kick was an easy choice. In fact, with a hint of salted caramel added to the mix, it's one of the best Espresso Martinis I've ever had. Top marks.
The varied food menu here covers most bases and tastes. But given the restaurant sits right on Perth's waterfront, seafood is why you'd dine here at DoubleTree. Especially the delicious locally-caught seafood from Western Australia.
I was drawn to the seared Shark Bay half shell scallops to start, served with kombu and white miso. These weren't just juicy but were also beautifully presented. The sounds of the shells moving against the rocks underneath gave an extra level of sensory enjoyment.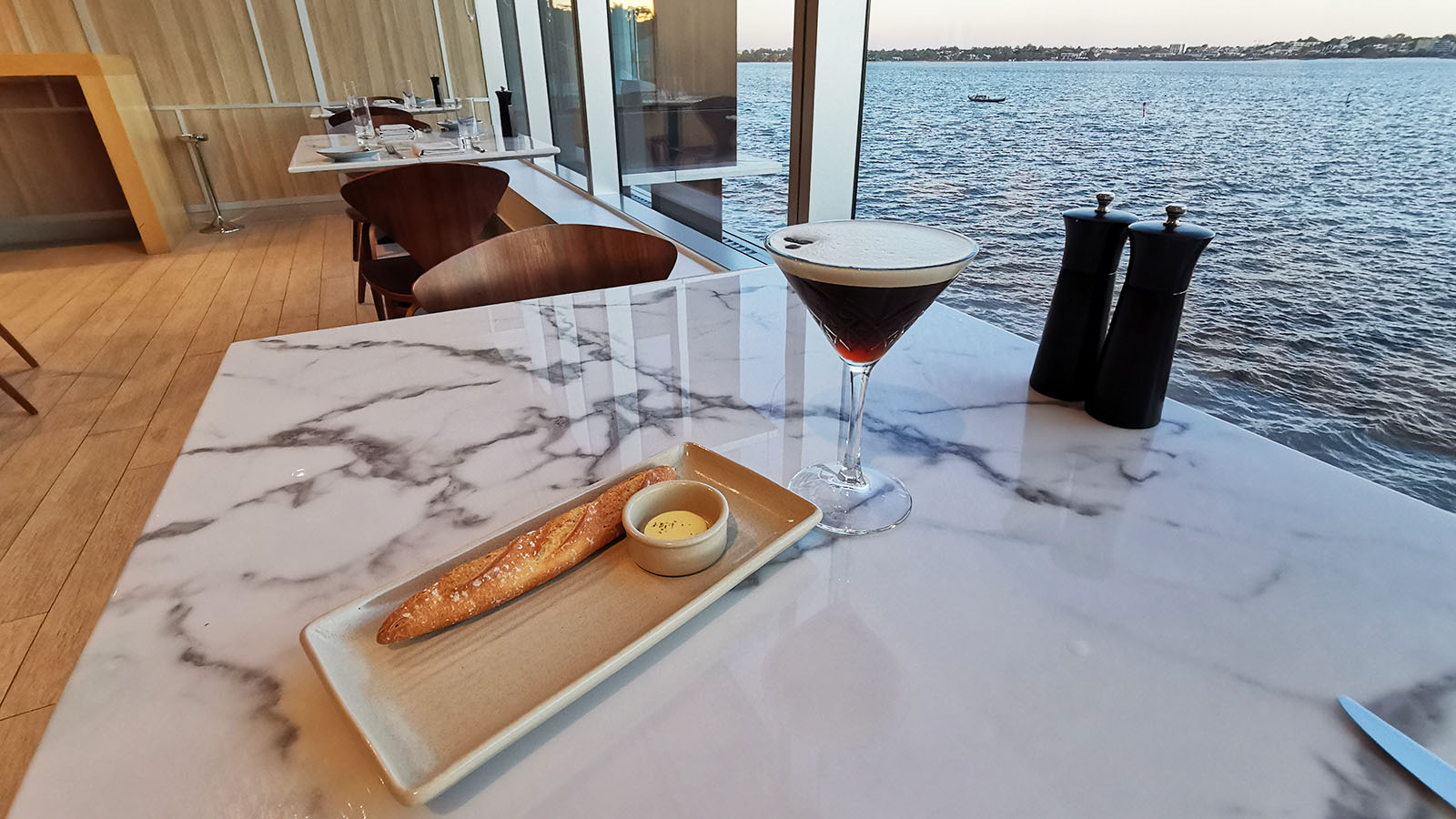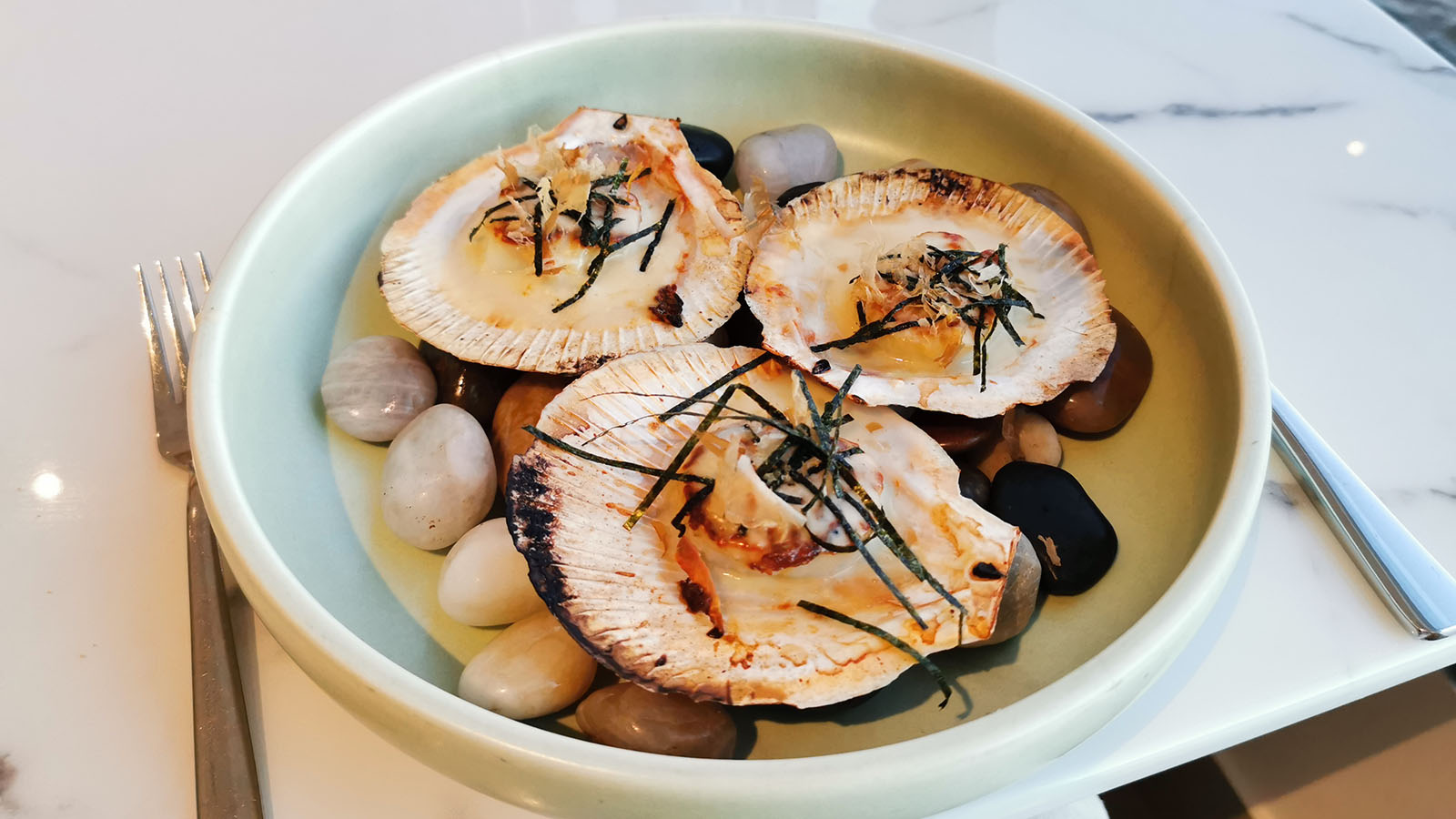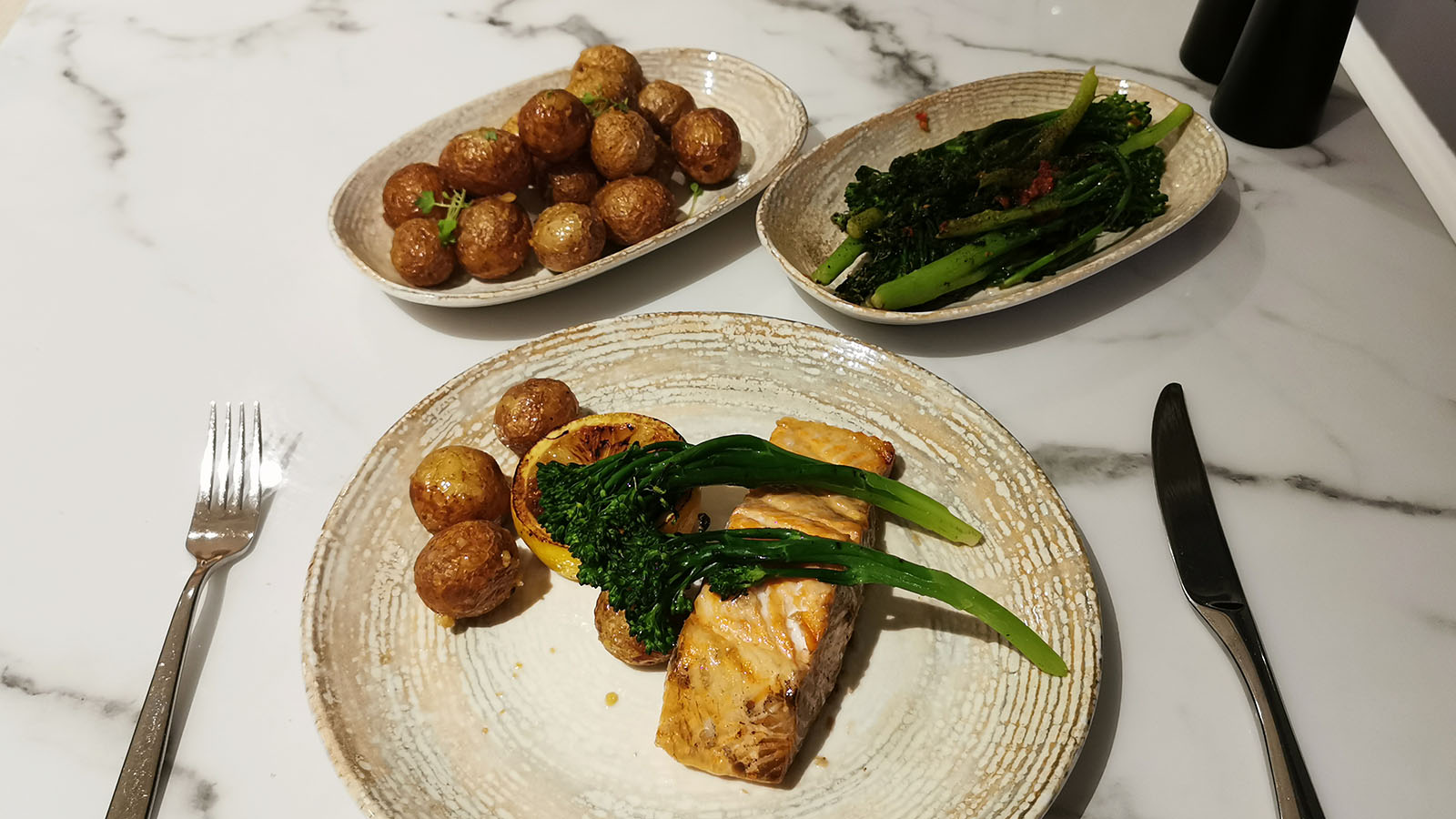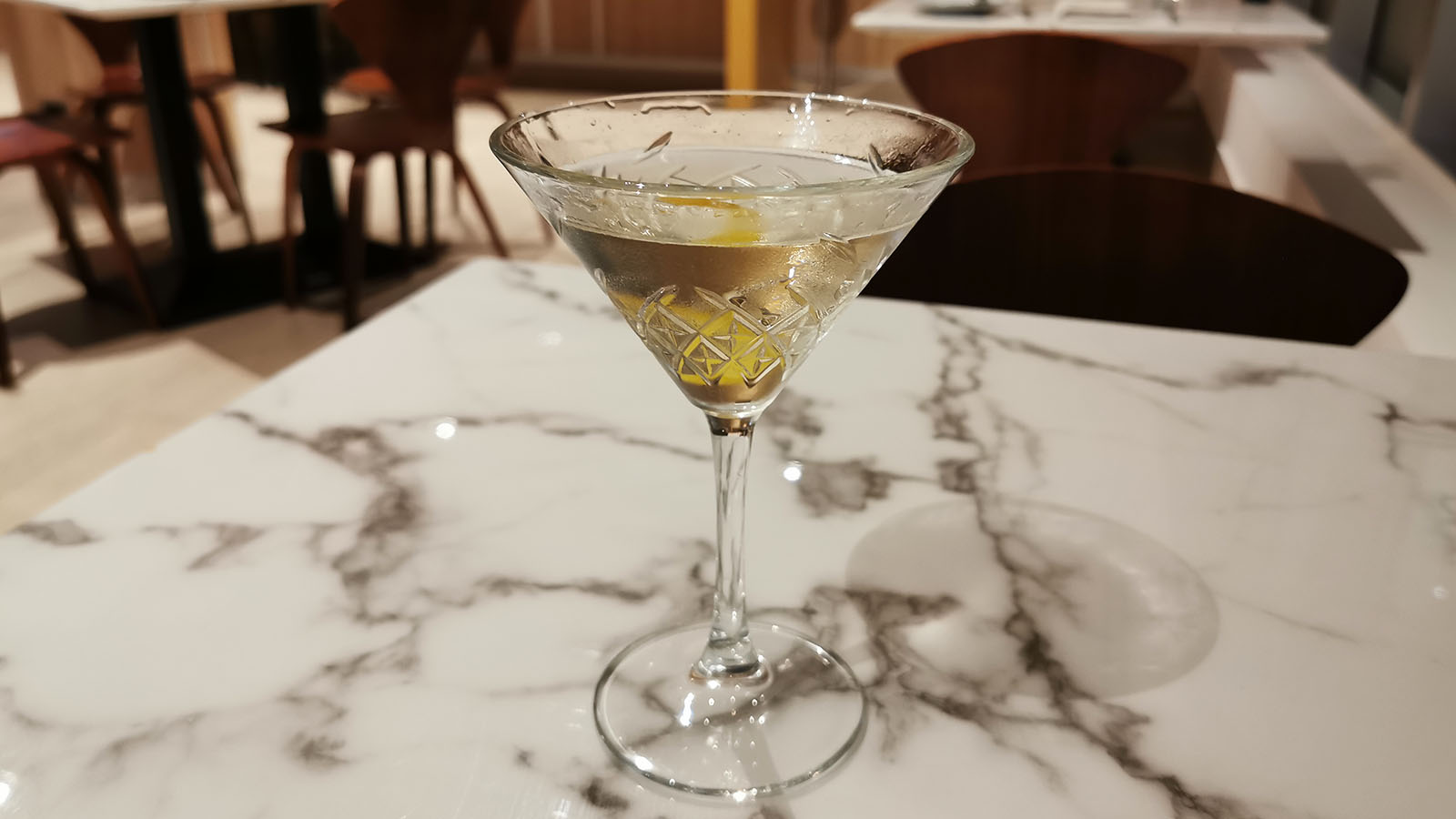 For the main, I moved on to salmon. As the accompaniments weren't listed on the menu, I'd ordered sides – and it seems the chef was thinking along the same lines!
With no room for dessert, I indulged in a classic gin Martini to finish.
Onwards to the rooftop…
Reel Kitchen isn't your only option though. The top floor of the hotel is given over to 18 Knots – a popular spot with locals and hotel guests alike. And after my excellent Espresso Martini down at dinner the night before, it seemed fitting to enjoy another one in the open air.
Food-wise, the dishes here are more bar bites and shared plates rather than larger mains. This means you can try more things, so that worked for me.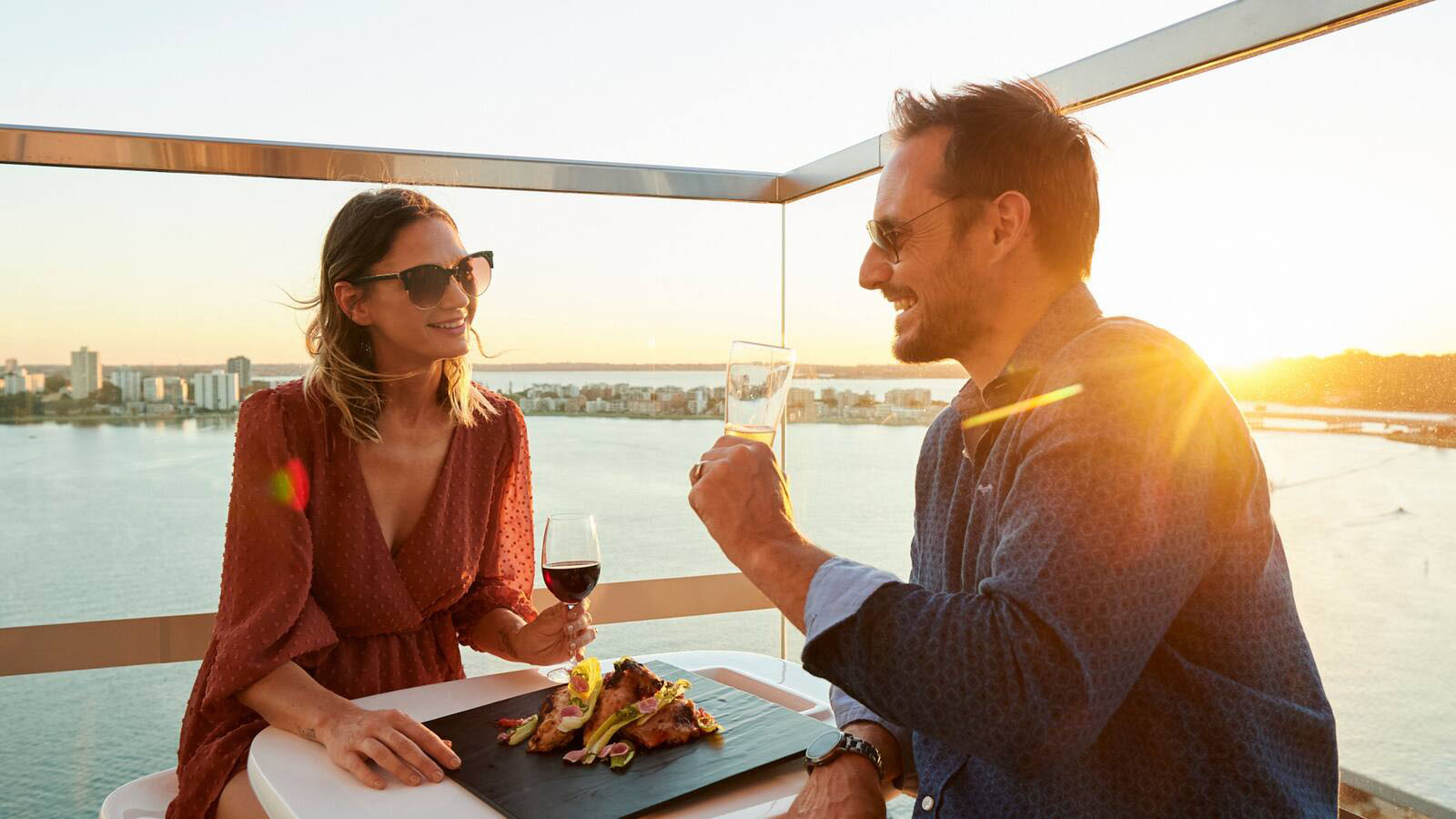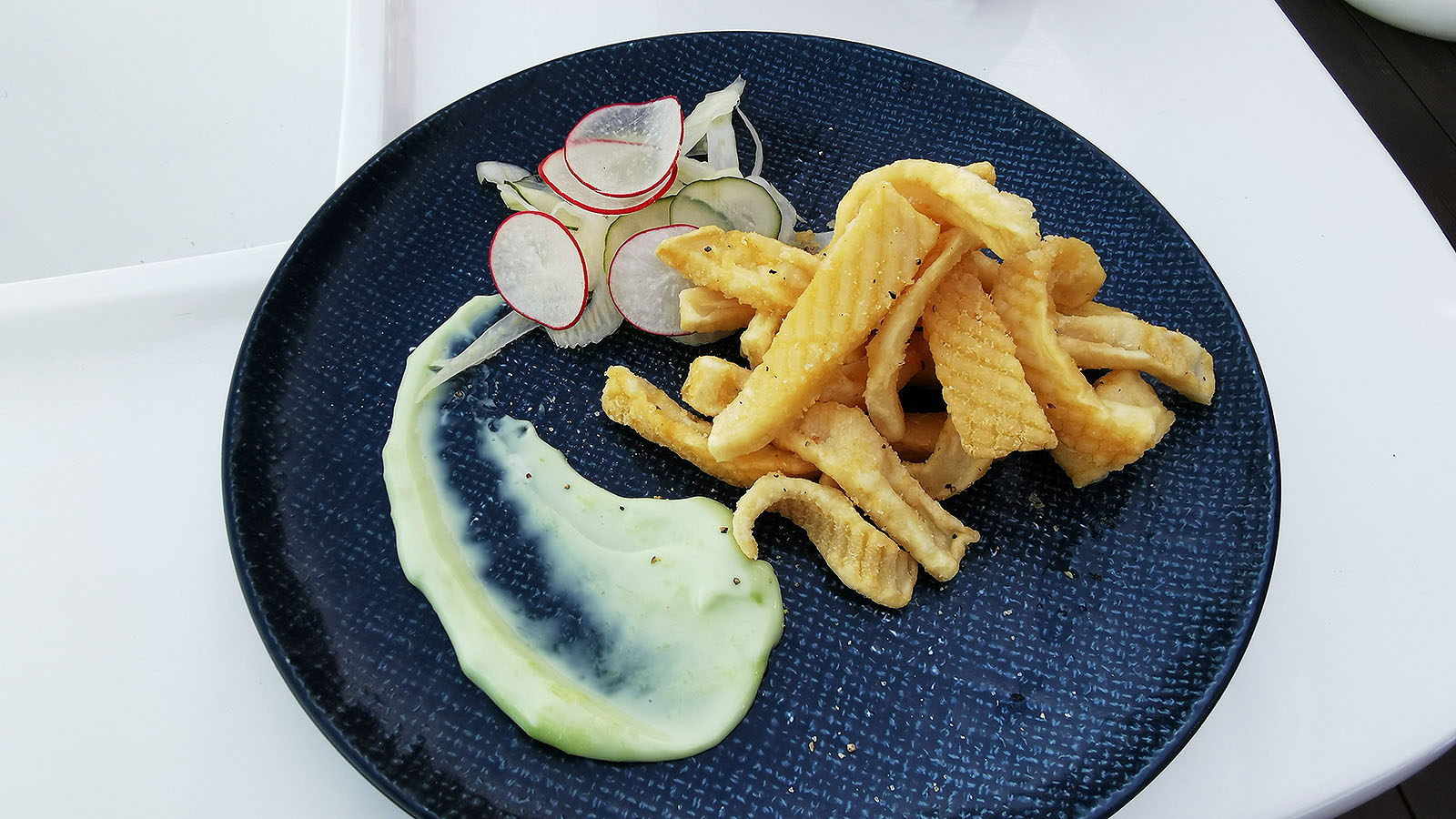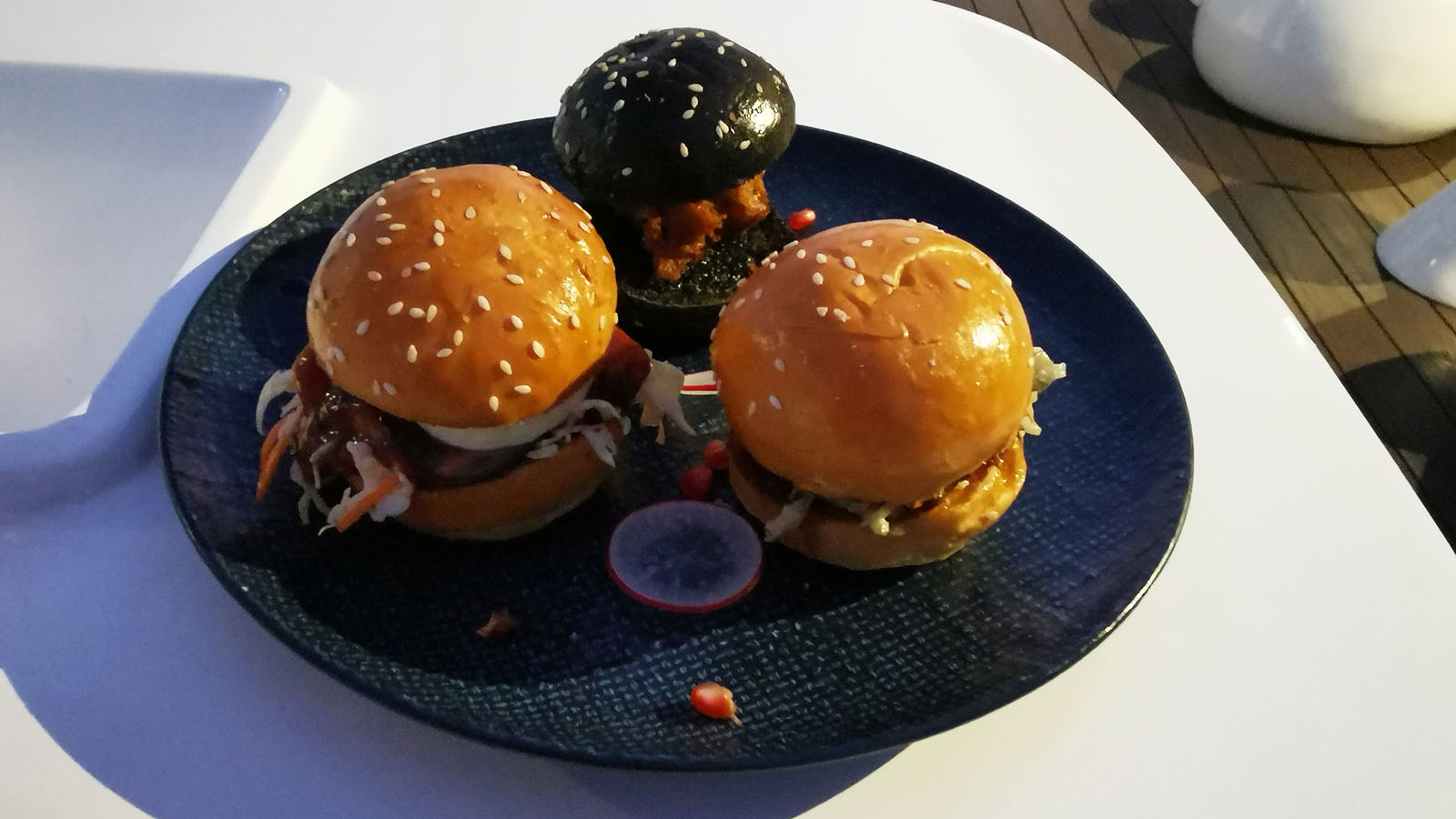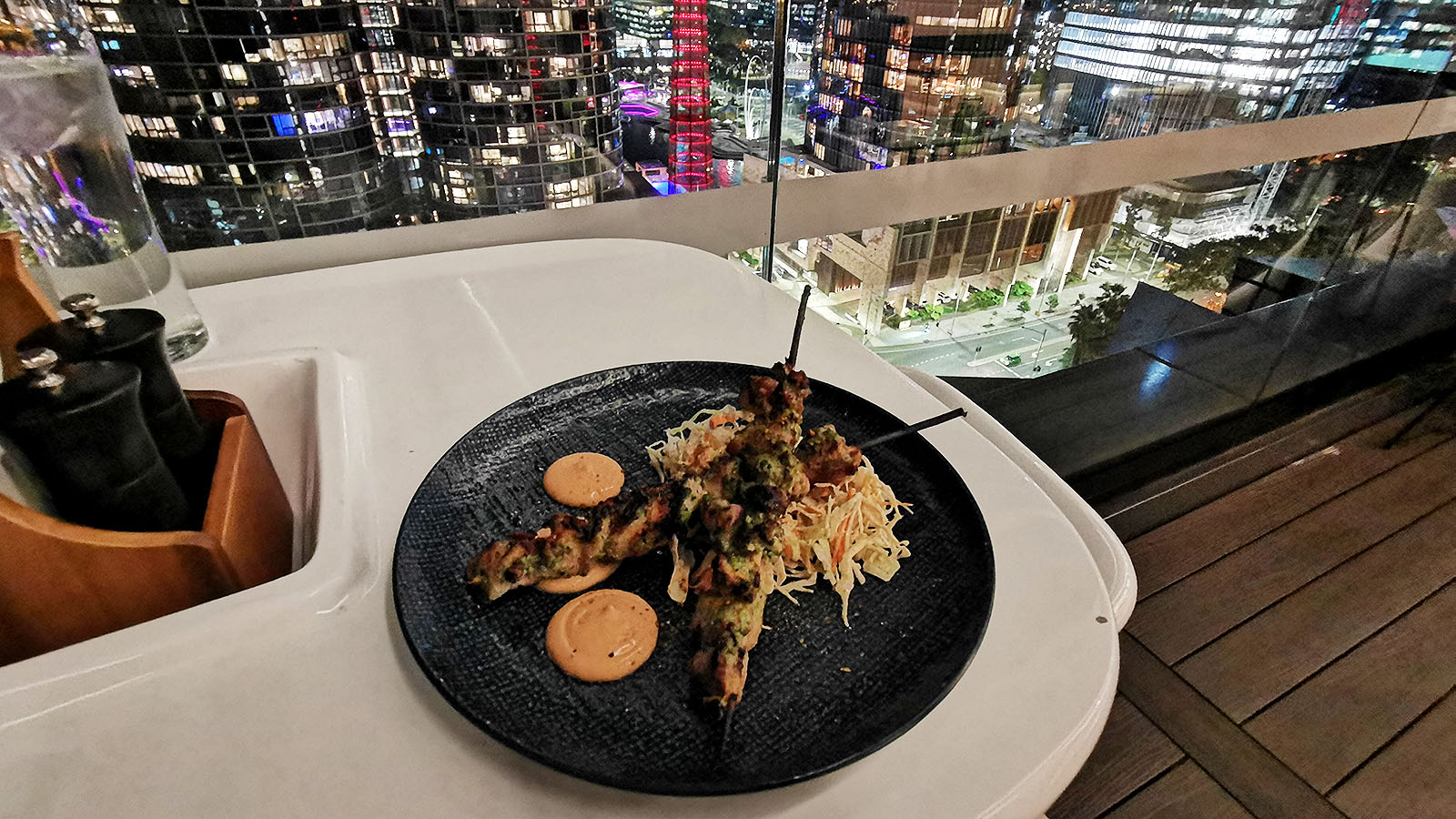 One thing I can never go past on a menu is salt and pepper squid. And I'm pleased to report, it's one that will make regular Qantas lounge lizards smile. The trio of sliders were about as filling as a burger, but again, with more variety to sample. Add a duo of chicken skewers to the mix with a crunchy slaw, and I wasn't left wanting.
Facilities at DoubleTree by Hilton Perth Waterfront
Globally, DoubleTree hotels are known for their warm cookie on arrival. Later realising that I hadn't received one at check-in, a quick visit to reception found four handed my way. After enjoying one and looking at the calorie count, I was sure glad there was a 24-hour gym on-site.
As a nice touch, the cardio machines here face the river. And just around the corner, there's a striking rooftop infinity pool where I made time for some laps.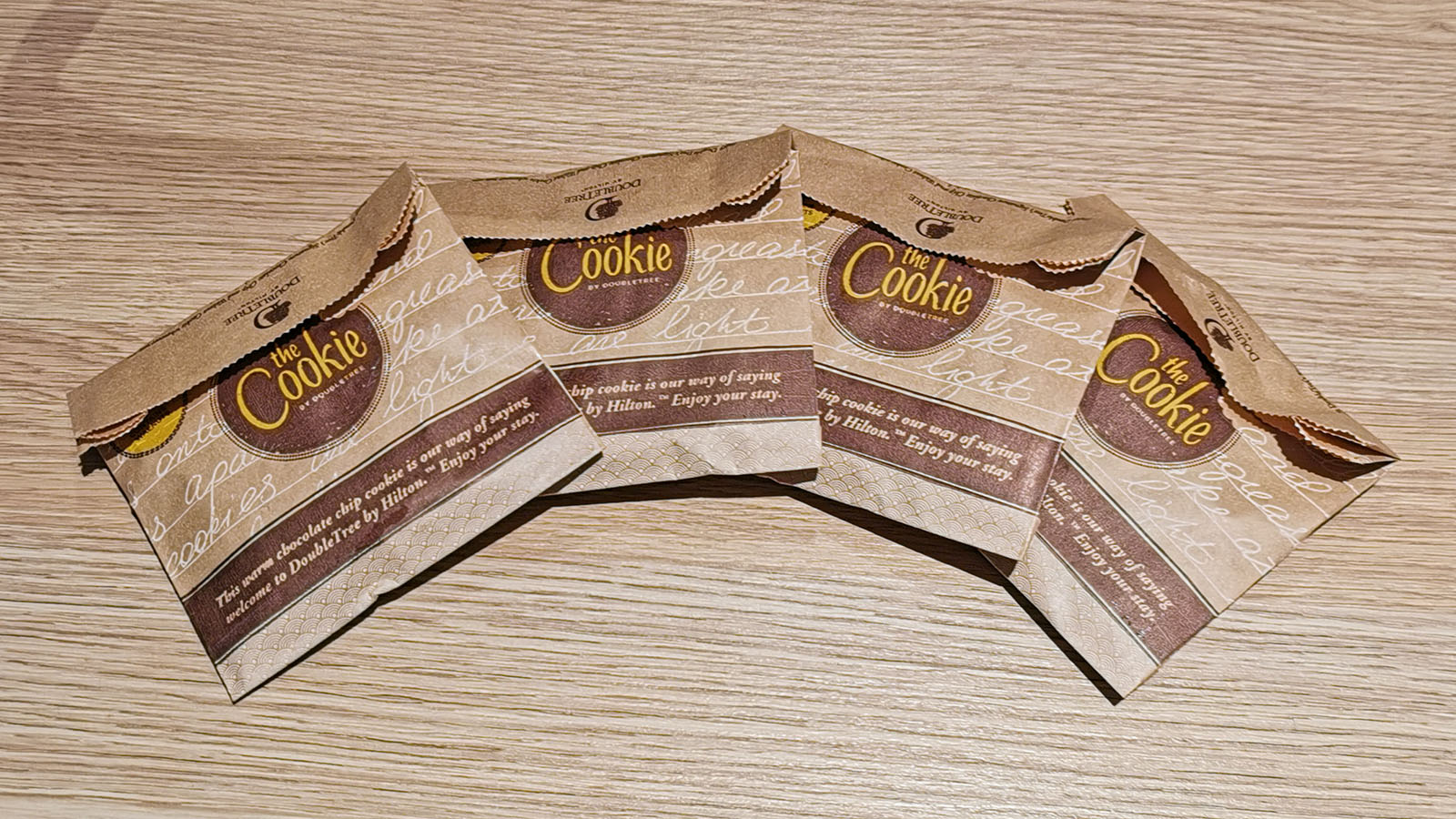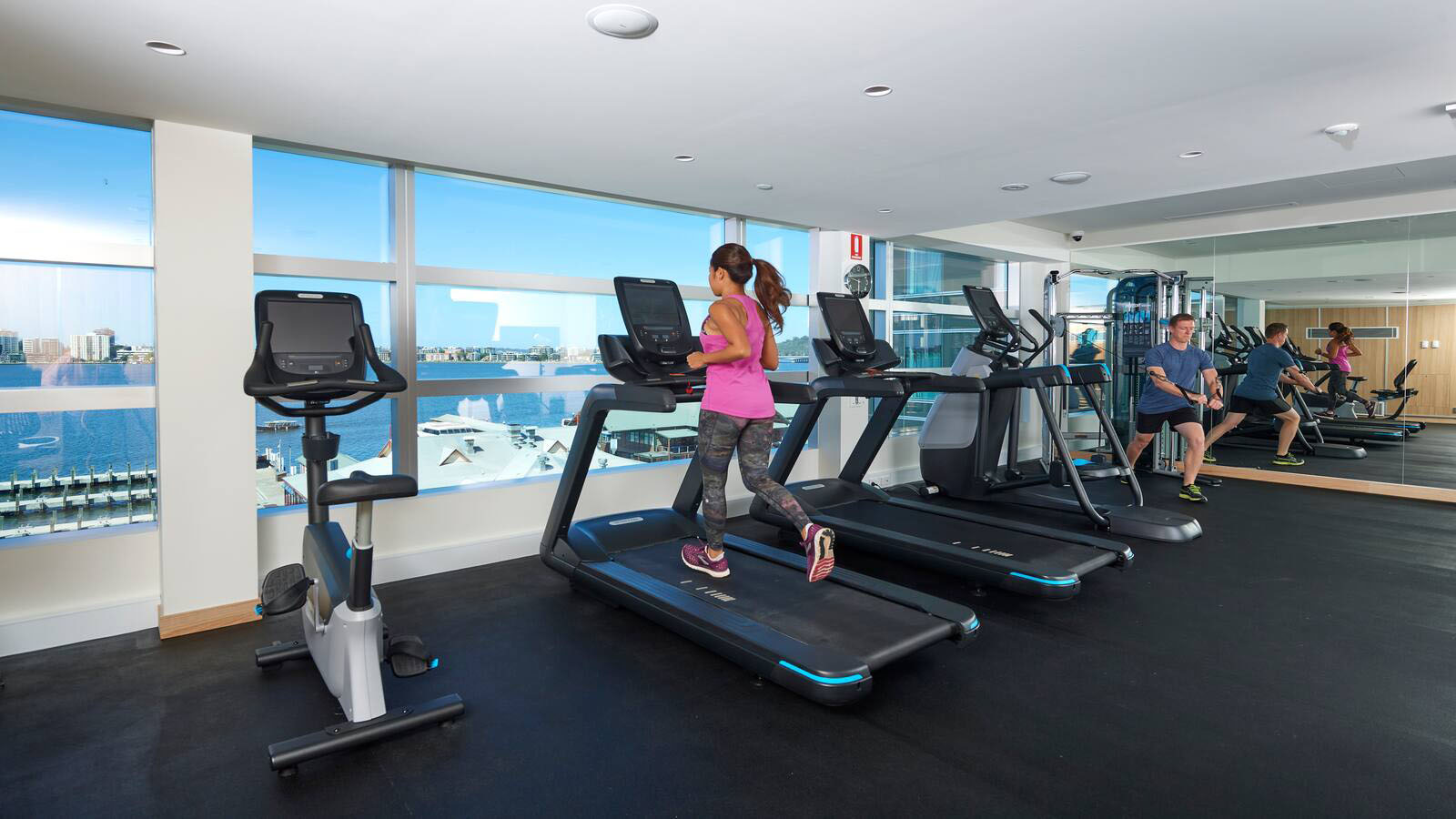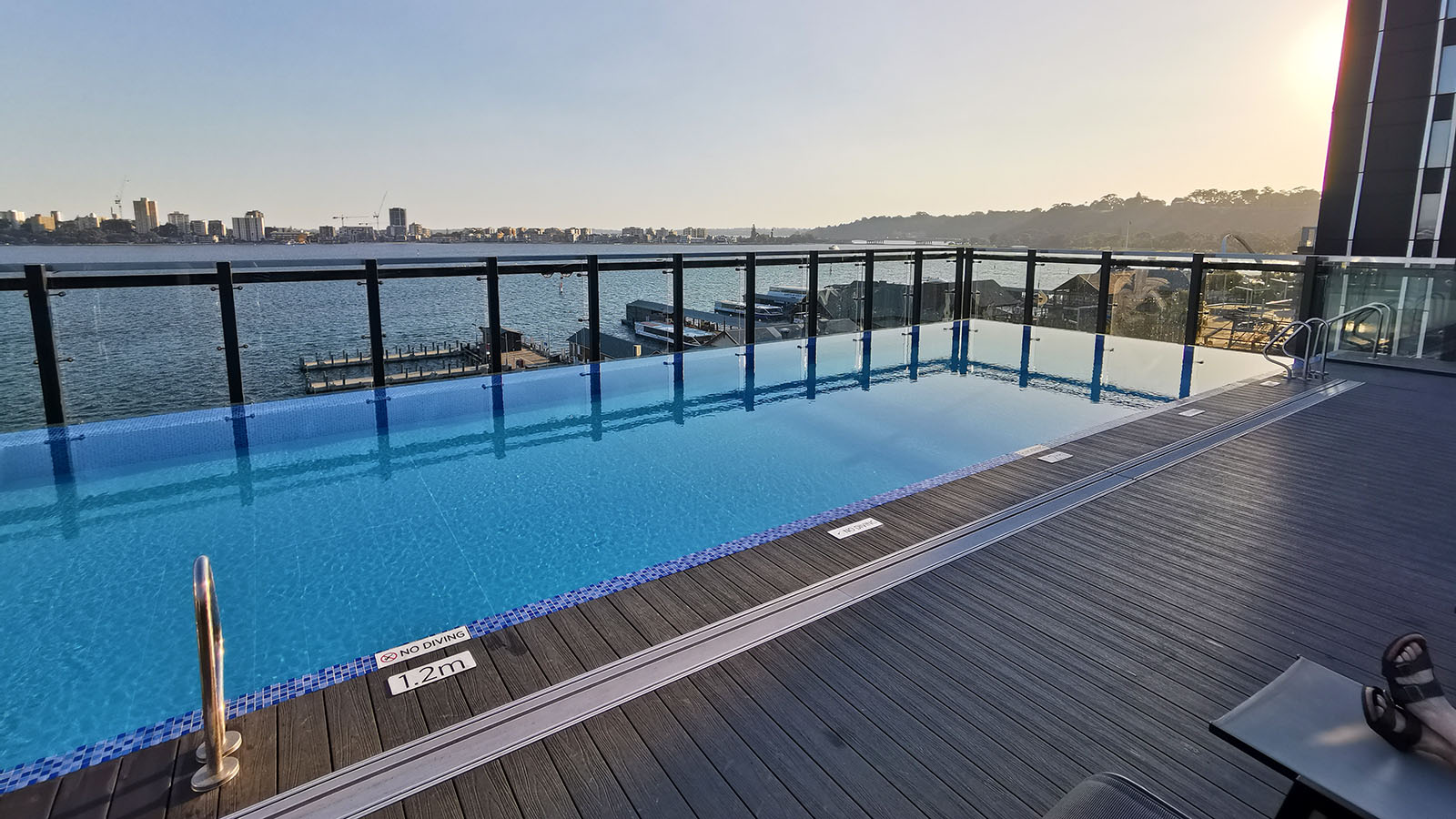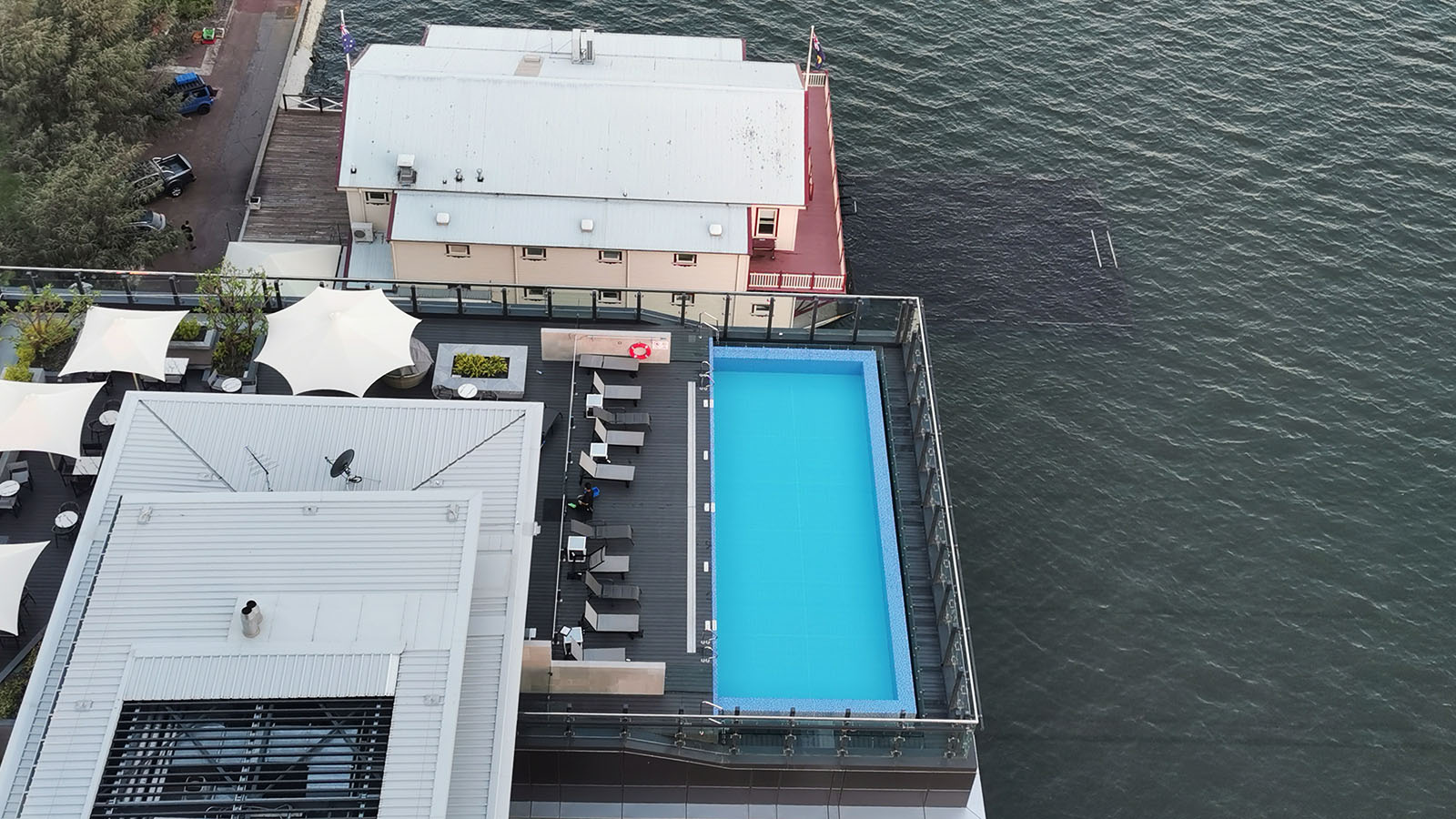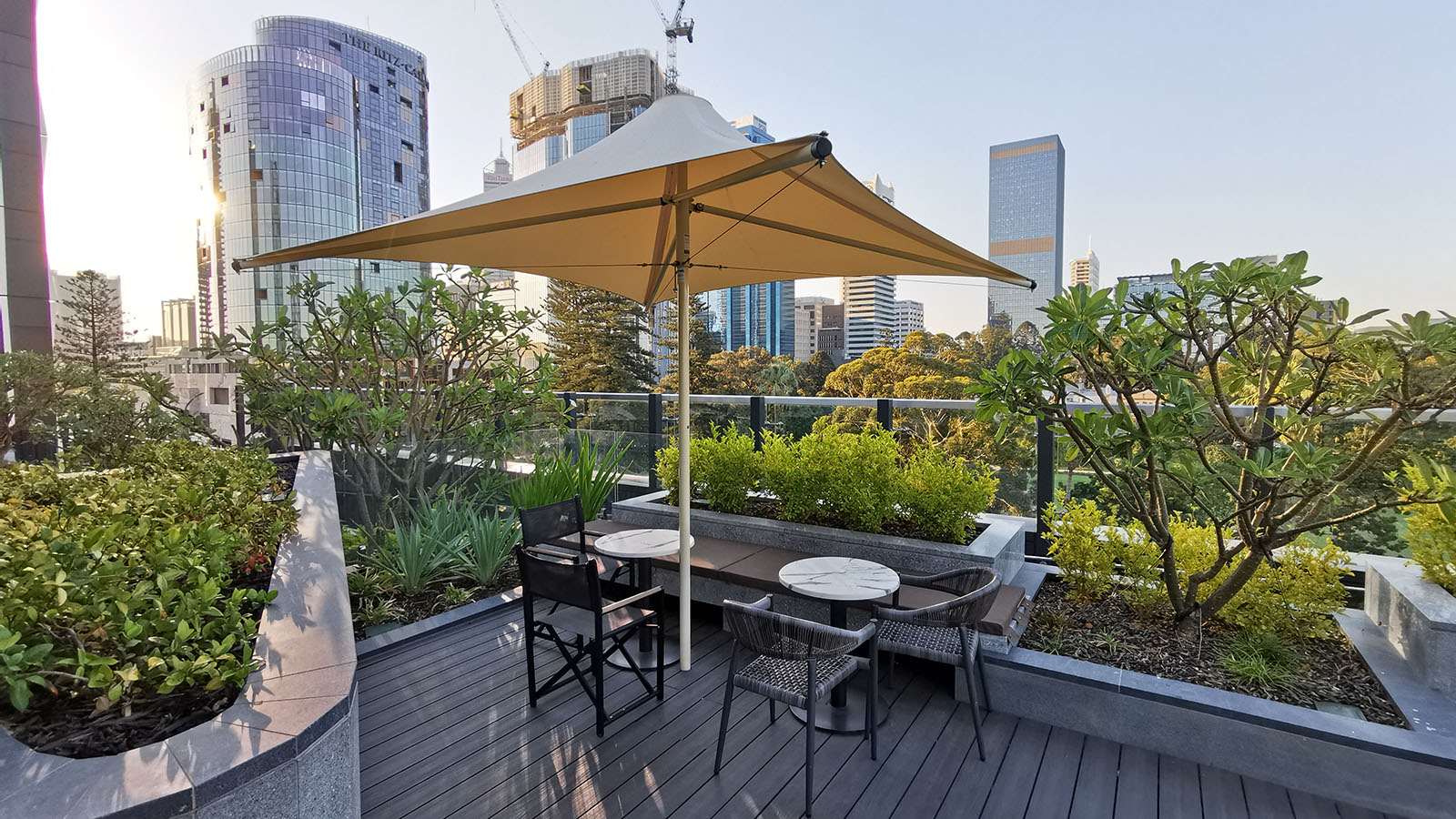 But even if you're not using the gym or pool, this area is still great for a visit. Had I discovered this space sooner, I'd have brought my laptop down and worked at one of the shaded tables.
I certainly know for next time!
Earning points at DoubleTree by Hilton Perth Waterfront
Hinted by its name, the DoubleTree by Hilton Perth Waterfront is linked with the Hilton Honors program. That's your ticket to earning and spending Points when booking direct. You can generally earn points on your room rate, as well as other folio charges like dining and drinks (including the $4 breakfast upsell).
The number of points you'll take home depends on your tier level, as below.
| | | |
| --- | --- | --- |
| Hilton Honors earning rates by tier | Tier bonus | Total earn rate |
| Member | – | 10 Points per US$1 |
| Silver | 20% | 12 Points per US$1 |
| Gold | 80% | 18 Points per US$1 |
| Diamond | 100% | 20 Points per US$1 |
Spending Hilton Honors Points on your next stay
As to how many Points you'll need to reserve a stay, it varies. Because Hilton Honors uses dynamic pricing, the number of points required can tilt up or down in line with the price of paid room rates. But having said that, Hilton Honors Points don't have a fixed cash value either.
How far your points can go is also influenced by the type of room you book. But here's a rough idea, based on an overnight stay at this hotel in mid-June. We've compared the points required against the lowest flexible cash rate available to Hilton Honors members on the same nights.
| | | | |
| --- | --- | --- | --- |
| Spending Points at DoubleTree Perth Waterfront | Hilton Honors Points required | Cash rate (same night) | Value per Point (AUD) |
| Twin Guest Room | 40,000 Points | AU$227 | 0.566c |
| King Guest Room | 89,000 Points | AU$239 | 0.269c |
| King Guest Room Panoramic River View (as reviewed) | 111,000 Points | AU$299 | 0.269c |
There's an interesting quirk at this hotel. Only the Twin Guest Room is recognised as a 'standard room', where using points provides the best value. On the other hand, a King Guest Room is considered a 'premium room'.
Even though the nightly rate differs by only $12, the number of points required more than doubles. This could be a time where it makes more sense to pay for a stay rather than use points, if you don't want twin beds.
But if you would like to take the points path, you can always buy Hilton Honors Points if you need a top-up. Or convert Australian Amex Membership Rewards points into Hilton Honors Points at a 2:1 rate.
Summing up
DoubleTree by Hilton is such a varied brand. Over in Melbourne on Flinders Street, it represents cosier rooms – some even without windows. Yet here at Perth Waterfront, the hotel is more of a flagship.
It's modern, fun and well thought out. And if you're going to stay here, it's certainly worth the extra for a water view. But even if your vista looks towards the city, the views from the pool, gym, outdoor deck, restaurant and rooftop bar will certainly have you covered.
Photography by Chris Chamberlin, who stayed as a guest of DoubleTree by Hilton Perth Waterfront. Feature image courtesy Hilton Hotels & Resorts.
---
Stay up to date with the latest news, reviews and guides by subscribing to Point Hacks' email newsletter.
DoubleTree by Hilton Perth Waterfront
was last modified:
August 31st, 2022
by