Airpoints is the frequent flyer program of Air New Zealand, which is part of Star Alliance. It has relevance to Australian travellers thanks to Airpoints Dollars ("APD") earning ability with credit cards, Air New Zealand and Star Alliance flights, plus other partners including hotels, car hire companies, and retail outlets.
It is a somewhat unique program that many have a love/hate relationship with. When travelling with Air New Zealand, it is completely revenue-based. The 'points' you earn are directly tied to the fare you pay. And the rate at which you can redeem them is directly related to the cost of the flight.
This can be quite consumer-unfriendly as it doesn't offer good value compared to some of the other frequent flyer programs. It can be hard to earn enough APDs for a high-cost Business Class flight with Air New Zealand.
Conversely, using APD on partner airlines is based on a fixed-price award chart, like the majority of frequent flyer programs. Unsurprisingly, that's where the best-value redemptions lie.
How to sign up for an Airpoints account
It is free to sign up and hold an Air New Zealand Airpoints account. Just follow these steps:
Head over to the registration page.
You will be required to fill in your personal details, address and contact details.
On the next page, you will be prompted to create a username and password for login.
Congratulations, you are now an Airpoints member!
Check your email for your welcome email where you will find your Airpoints number.
How to redeem Airpoints Dollars
There are multiple ways to use Airpoints Dollars. Here are the more common applications.
Using Airpoints for Air New Zealand flights
You can spend your Airpoints Dollars on any available seat on any Air New Zealand flight. If there is a seat for sale, you can buy it with APD. That's akin to Qantas or Velocity Any Seat Rewards. And these 'rewards' are not the same as the traditional Qantas Classic Flight Rewards or Velocity Rewards Seat options respectively.
Members earn 1 Airpoints Dollar for every $1 NZD or AUD spent on flights with Air New Zealand. The currency is dependent on where you reside. The flight part of your booking can be paid in full with points, or blended with cash for 'Airpoints Flexipay'. For any associated airport or government costs you can choose to pay for these by credit card or POLi.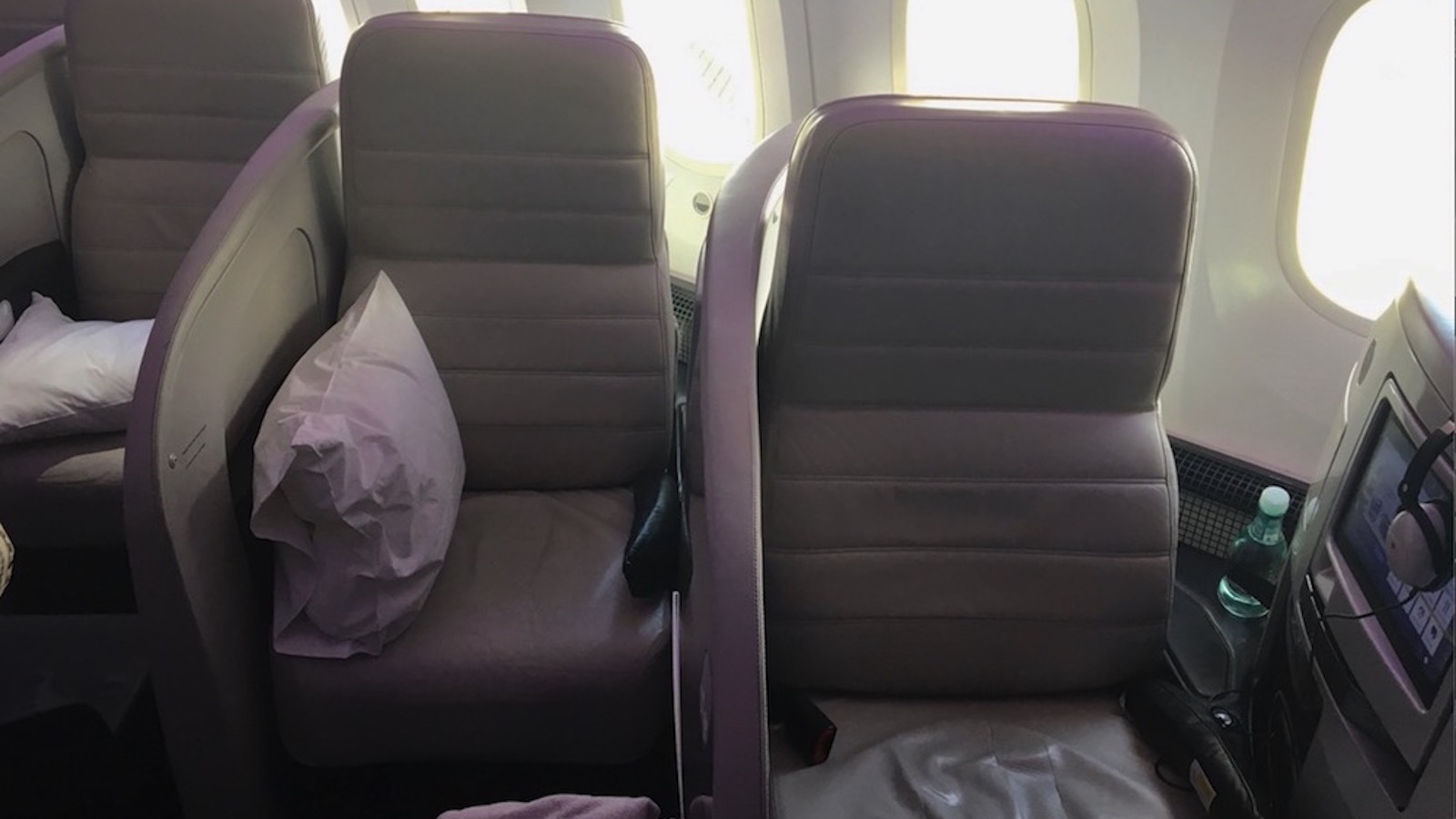 How to Book
You can book in any of the following three ways (the first is the most simple):
Book online: Simply sign in to your online account with your Airpoints details before or while you are booking your flight. Then select to pay with Airpoints Dollars at the payment stage.
Book by phone: Have your Airpoints membership number ready when you call the Air New Zealand Airpoints contact centre in Australia on 1800 803 298.
Book via a travel agent: Provide your travel agent with your Airpoints number at your time of booking.

Select 'Use Airpoints Dollars' on the online payment page to use your APD to pay for a flight.
You have access to specially priced 'Companion Tickets' when purchasing any of the following fares:
Business Class
Premium Economy
Economy Flex
Flexi Works
Flexi Works Deluxe
You can purchase these 'Companion Tickets' with APD. This is a good way of reducing the average price of two revenue fares between yourself and a travelling companion – you can read more about these here.
Using Airpoints for Star Alliance partner flights
Contrasting with redemptions on Air New Zealand flights, awards on partner airlines are fixed-price based on region. You can check how many Airpoints Dollars you'd need on their partner airline reward chart.

The key thing to note about APD redemptions with partner airlines is that while they'll be in shorter supply, they can be much better value, particularly for long-haul Business and First Class flights.
Using Airpoints for flight upgrades
Only Air New Zealand's highest-tier Elite members are able to use Airpoint Dollars for fixed-rate, one-cabin upgrades. The full rates are here and vary from 85 Airpoints to 790 Airpoints depending on the route. Passengers can also upgrade select flights on other Star Alliance carriers by filling in this form.
There are other ways to upgrade that don't involve Airpoints Dollars: this includes Recognition Upgrades which are awarded to status members and OneUp, which is the airline's cash bidding system for upgrades. Learn more about Air New Zealand upgrades here.
Using Airpoints with other travel partners
You could spend Airpoints with selected partners, such as with Avis and Budget for car rental and with travel insurance backed by Covermore.
Using Airpoints on Koru Programme membership
Wanting to become a Koru (lounge) member? It also includes priority check-in, boarding and baggage privileges, plus some other benefits on selected partner airlines.
Using Airpoints on the Airpoints store
If you have nothing else to redeem your ADPs on, you can always splurge on the Airpoints store for merchandise and gift cards. Like Air New Zealand flights, you will get roughly $1 of value per Airpoint.

Earning Airpoints Dollars
Earning Airpoints with credit cards
One of the easiest methods to earn Airpoint Dollars is from credit card spend, with a few bank rewards program having Airpoints as a transfer partner:
Earning Airpoints with flights
You can earn Airpoints Dollars on almost every Air New Zealand flight, excluding greenlight grabaseat fares via 'grabaseat.co.nz' and fares purchased using Airpoints Dollars.
Simply enter your Airpoints membership number when you book a flight:

If you've got upcoming travel with Air New Zealand already and you haven't already entered an Airpoints number, you will have the chance to do so when checking in online, or by providing your card or number at the airport. You could also message Air New Zealand via their Facebook or Twitter account and they'll also be happy to input your account number for you.
If you've already travelled and forgotten to use your Airpoints number when booking, you may be able to claim missing Airpoints Dollars after the flight.
Air New Zealand has a really helpful calculator that lets you calculate how many APD you could earn for a specific flight. The APD earn rate is also confirmed before you book – if you're using a desktop computer, look out for the top right-hand corner of the screen.

As the earn rate is variable depending on the fare (i.e. sale or flexible), price and route, it is always best you either use the calculator or do a flight search to confirm. Airpoint Dollars can also be earned on a range of flights with Air New Zealand's airline partners, including with Star Alliance.
Earning Airpoints with hotels, car rentals and travels
You could be earning Airpoints Dollars on every part of your upcoming travel experience; both hotels and rental cars. Earn up to 3 APD for every rental day with Avis or Budget, or get 1 APD for every $75 spent through Expedia. You could also book directly with Airpoints partner hotels to earn on each booking.

Status Points and Frequent Flyer Tiers
Holding status with Air New Zealand means that you can skip lines, enjoy complimentary food and drink in lounges, and receive a range of other benefits that will generally make flying more enjoyable, including with Star Alliance members and select partner airlines.
Status Points (SPs) dictate what level of membership you currently attain. There are four membership tiers with Air New Zealand, from lowest to highest:
Standard (entry level)
Silver
Gold
Elite
Seat upgrades clear in reverse order, starting with Elite down to Silver. The figures for achieving and maintaining each status level are based on membership year. You can find more detailed information on Status Points and tier benefits on the Air New Zealand website, however here is a summary:
Standard
To achieve: 0 SPs
To maintain: 0 SPs
There are no substantial benefits to this entry status level. It just means you are a member of the Air New Zealand Airpoints program and can earn or redeem Airpoint Dollars and Status Points.
Silver
To achieve: 450 SPs
To maintain: 405 SPs
Star Alliance equivalent: Silver
Note: At least half the Status Points are to be earned on Air New Zealand-operated, qualifying partner, or Star Alliance qualifying flights.
Two complimentary single-entry lounge passes each membership year that can be used at all Air New Zealand-owned lounges when departing on eligible flights
One Recognition Upgrade each time you retain or become a Silver member
OneUp offers will be upweighted by 10%
Priority waitlisting
Priority airport standby
Discounted business class award fares
Gold
To achieve: 900 SPs
To maintain: 810 SPs
Star Alliance equivalent: Gold
Note: At least half the Status Points are to be earned on Air New Zealand-operated, qualifying partner, or Star Alliance qualifying flights
Access to Air New Zealand, Star Alliance and partner airline lounges with one guest, regardless of class.
Two recognition upgrades each time you retain or become a Gold member and OneUp offers will be upweighted by 30%.
Complimentary frequent flyer seating on any fare type
One extra checked bag (apart from seat-only fares)
Two pieces of carry-on baggage, with a combined total weight of 14kg with a maximum weight of either bag of up to 10kg
Fast Bag service, where you can drop off and pick up your bag right beside the aircraft on Air New Zealand Link regional domestic flights
Priority check-in, boarding, baggage claim, waitlisting and airport standby
Gold Track with Star Alliance members (Priority Security & Immigration)
Vouchers for a complimentary one room category (hotel) and one car rental car upgrade at participating locations in Australia and New Zealand.
Discounted Business Class award fares
Airpoint Dollars don't expire, and you can have extra gift recipients.
Elite
To achieve: 1,500 SPs
To maintain: 1,350 SPs
Star Alliance equivalent: Gold
Note: At least 60% of the Status Points are to be earned on Air New Zealand-operated, qualifying partner, or Star Alliance qualifying flights.
In addition to Gold privileges, you'll get:
Lounge access perks and the ability to invite one guest for regional lounges, partner lounges, and Star Alliance lounges, and up to five guests for Air New Zealand International and Domestic lounges.
Two long-haul and one short-haul recognition upgrades each time you retain or become an Elite member, the ability to use Airpoints Dollars for upgrades, and the ability to gift Recognition Upgrades or Elite Airpoints Dollar upgrades to other Airpoints members
OneUp offers will be upweighted by 50%
Five complimentary Air New Zealand Valet parking eVouchers
Special Elite gifts
Roll over Status Points if you earn between 1,500 and 2,399 Status Points
Elite banked year if you earn more than 2,400 Status Points
You can nominate an Elite Partner to receive many of the same benefits, even when travelling separately
Air New Zealand status is a valuable benefit for those who are loyal to flying Air New Zealand and its partner airlines. Given the specific figures required to achieve and maintain each status level, if you are chasing status with Air New Zealand, having this information is important in devising your flight booking strategy and where your allegiance lies.
Remember, once you have status with one airline, you have your foot in the door and could potentially status match other airlines and alliances down the track.
How do I contact Air New Zealand Airpoints?
For Airpoints specific enquiries, call the Airpoints team support at +64 (0)9 357 3000 internationally, or at 0800 247 764 in New Zealand. From Australia, there is also a local number 13 24 76.
Summing up: why consider Air New Zealand Airpoints?
Air New Zealand is New Zealand's flag carrier, and Airpoints Dollars are relatively easy to earn from flights, hotels and a large range of outlets, including online.
If you're a Kiwi living in Australia, it is more than likely that you'll accumulate a reasonable number of them somewhere along the line, so it's important to learn how to get the best value out of redeeming them. Also, if you're flying regularly, it is relatively easy to move up the rank in terms of status tier, and this comes with some great benefits, including upgrades and access to some great domestic lounges.
The fact that the program only offers expensive 'Any Seat' style seat redemptions, however, makes it uncompetitive in the market to a majority of frequent flyer programs, including Qantas Frequent Flyer and Velocity Frequent Flyer. So too does the limitation that upgrades are only accessible to top-tier elite members, although this will, of course, be a positive for those who do reach this top-tier as compared to top-tier members of other programs, as the availability of upgrade seats will be greatly increased.
Frequently Asked Questions
How do I check my Airpoints?
You can check your Airpoints balance by signing in here or on your Air NZ app.
Can I transfer Airpoints?
Transferring Airpoints to another member's account is not allowed. However, you can book flights to anyone who lives at the same address as you do by adding them to your Gifting Register. If you're a Gold or Elite Airpoints member, or you currently have a Westpac Airpoints Credit Card you can choose a limited number of people outside your household to be giftees as well
What can you do with Airpoints?
You can use your Airpoints to redeem or upgrade Air New Zealand, Star Alliance and other partner airline flights, book car rental with Avis or Budget Rental cars or purchase Koru Programme membership. Alternatively, you can use it on merchandise or gift cards on the Airpoints store.
What is Airpoint worth?
When used on flight redemptions with Air New Zealand, each Airpoint dollar is worth a dollar. It holds similar value for redemption of products and gift cards at the Airpoints store.
Originally written by Daniel Kinnoch. Supplementary images courtesy Air New Zealand.
The Ultimate Guide to Air New Zealand Airpoints
was last modified:
October 20th, 2023
by