After a pandemic pause, Qantas' fleet of superjumbos is progressively returning to the skies. Better yet, these Qantas Airbus A380s are looking swish in Business, thanks to a reconfiguration program that kicked off just before COVID hit.
But where do they fly? Other than Los Angeles, you'll find the A380 darting daily to London on Qantas' flagship QF1 service. That Kangaroo Route happens to run via Singapore – and you can book the Sydney-Singapore leg as a standalone flight, without continuing onwards to the UK.
That's exactly what I did. With meetings to attend in the Lion City but no Classic Reward seats available, I locked in a paid Economy Flex fare… and promptly requested an upgrade to Premium Economy – or Business, if available instead – using Qantas Points.
Around 25 hours before departure, my phone buzzed. It was that glorious SMS from Qantas. 'We are pleased to confirm your upgrade to Business on QF1.' It's hard not to smile at that!
By using 29,900 Qantas Points, I had eight hours of luxury to look forward to on the upper deck of the world's largest passenger plane. That's less than 4,000 Qantas Points per hour to swap my standard Economy seat for a spacious flatbed. Count me in.
Check-in, lounge and boarding
Now, it's often nice to enjoy time in a lounge before jetting off overseas. But Sydney's Qantas International Business Lounge has seen better days – and I knew it wasn't worthy of an early check-in. So instead, I took advantage of another key perk of flying Qantas Business: the ability to save time.
With a ticket in Qantas Business (or First) on an international flight, passengers can check in as late as 60 minutes before departure. On an Airbus A380 flight like QF1, that's only 15 minutes before boarding starts. In contrast, Qantas Economy and Premium Economy check-in shuts 90 minutes before each flight.
I arrive at Sydney's Terminal 1 a little after 3:30 pm, when Economy check-in would have just closed for our 5:05 pm service. I'm pleased to find no queue at the Qantas Business counters, or at Sydney Airport's dedicated 'First & Business Class' departure channel. Through there, I walk straight up to a SmartGate for passport processing. And at security, there are only two people ahead of me. Happy days!
If you're one to arrive early though, Qantas offers all-day check-in at Sydney Airport. Handy to remember if you're destined for the Qantas International First Lounge instead.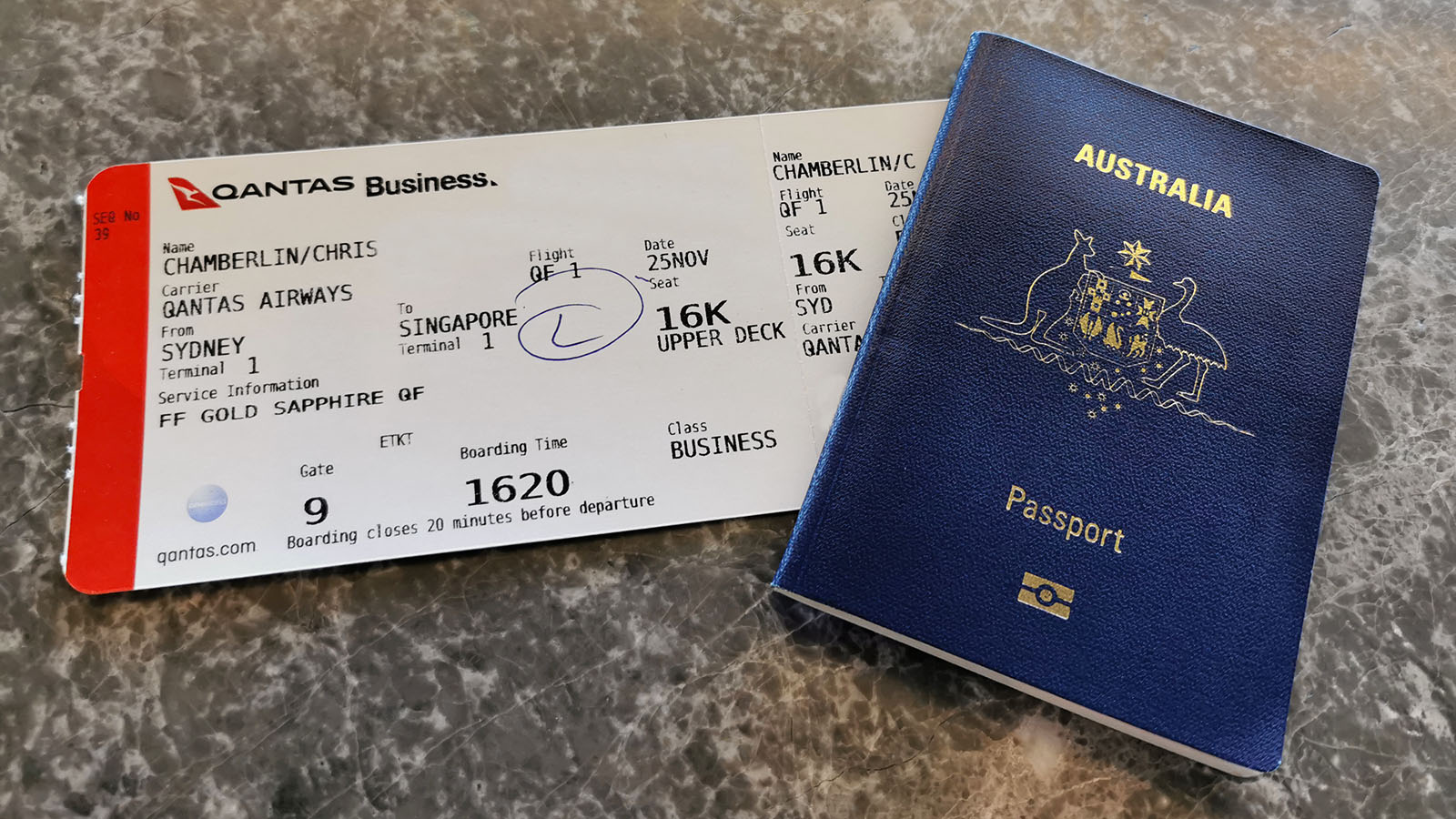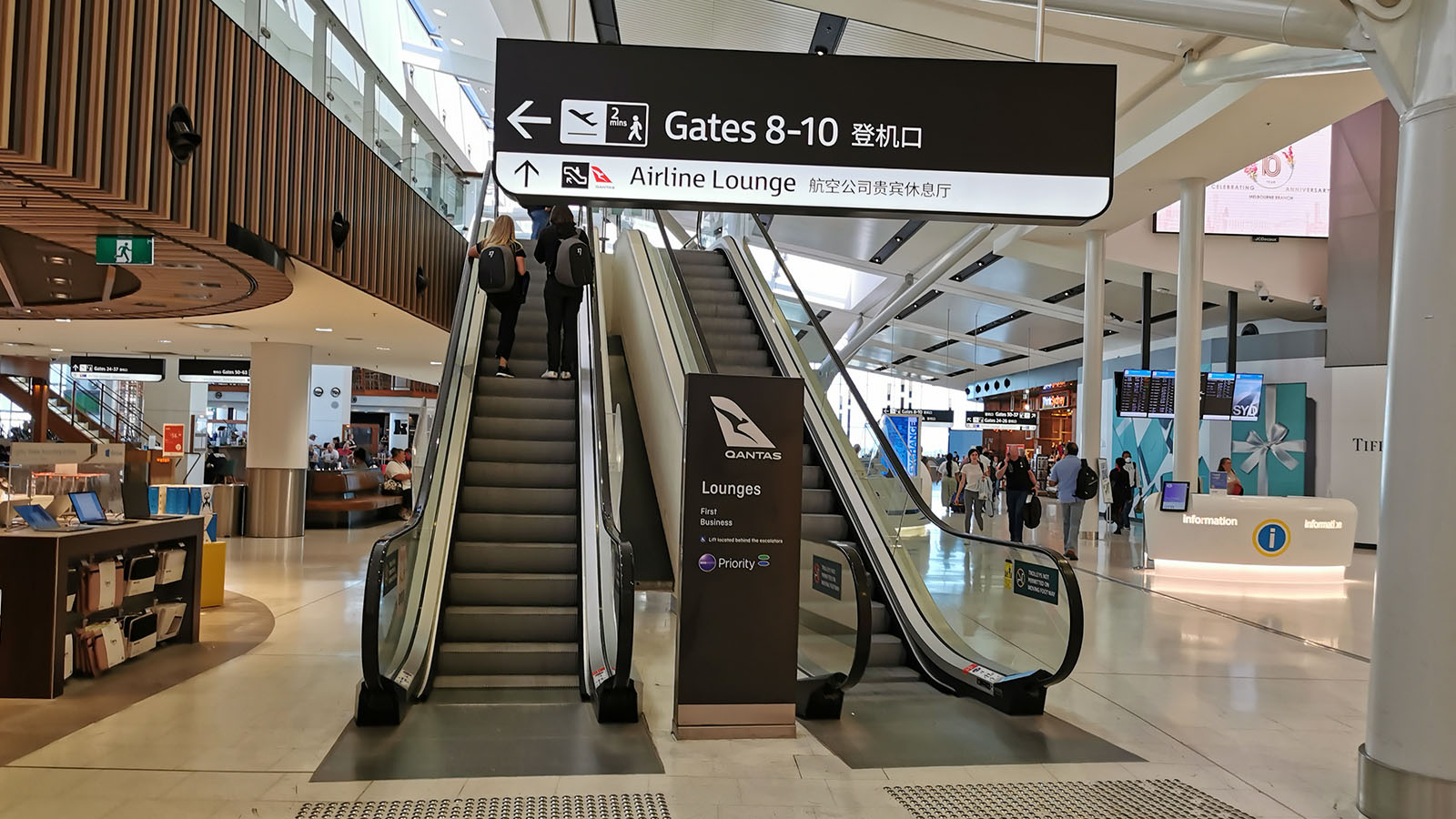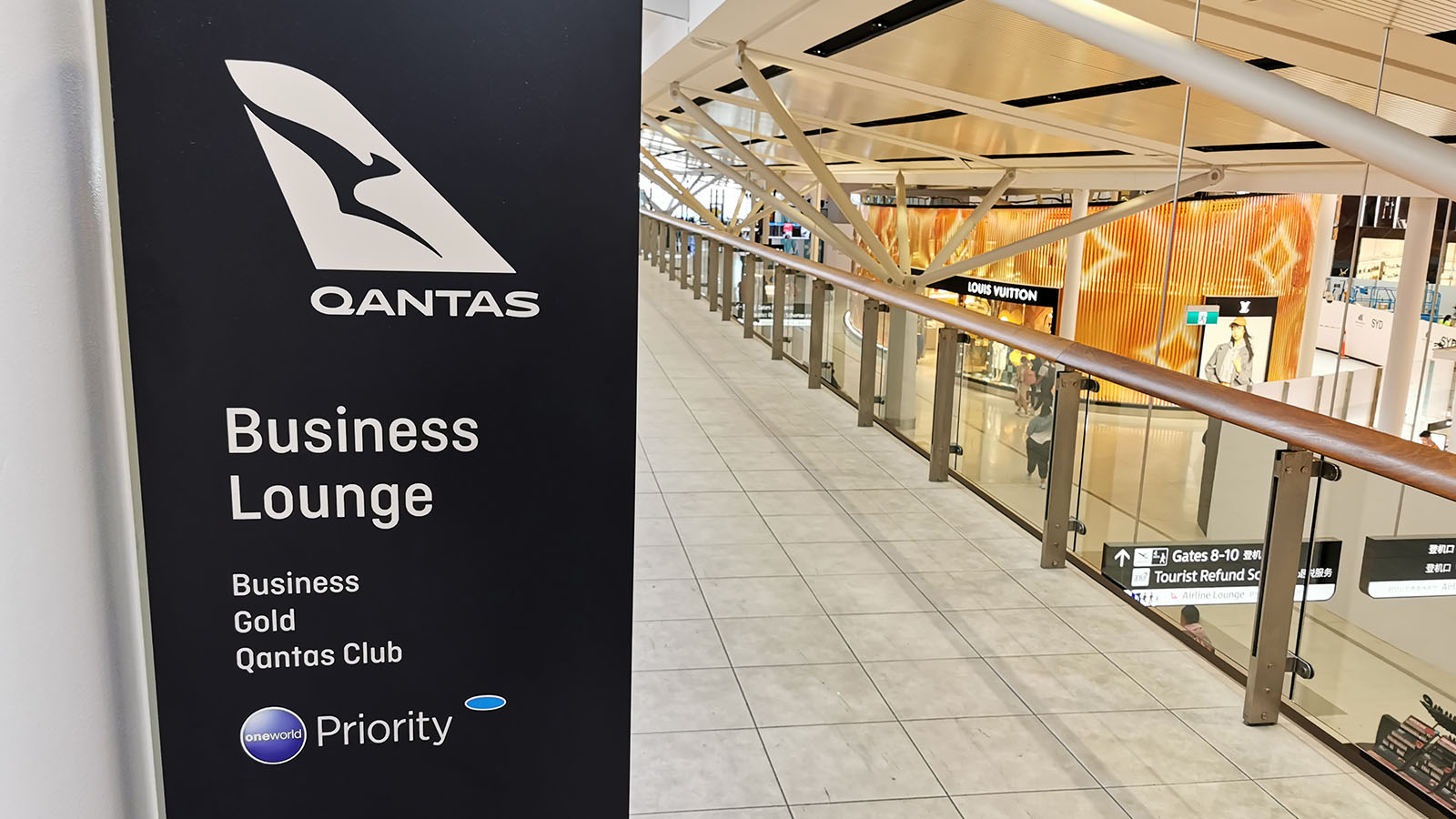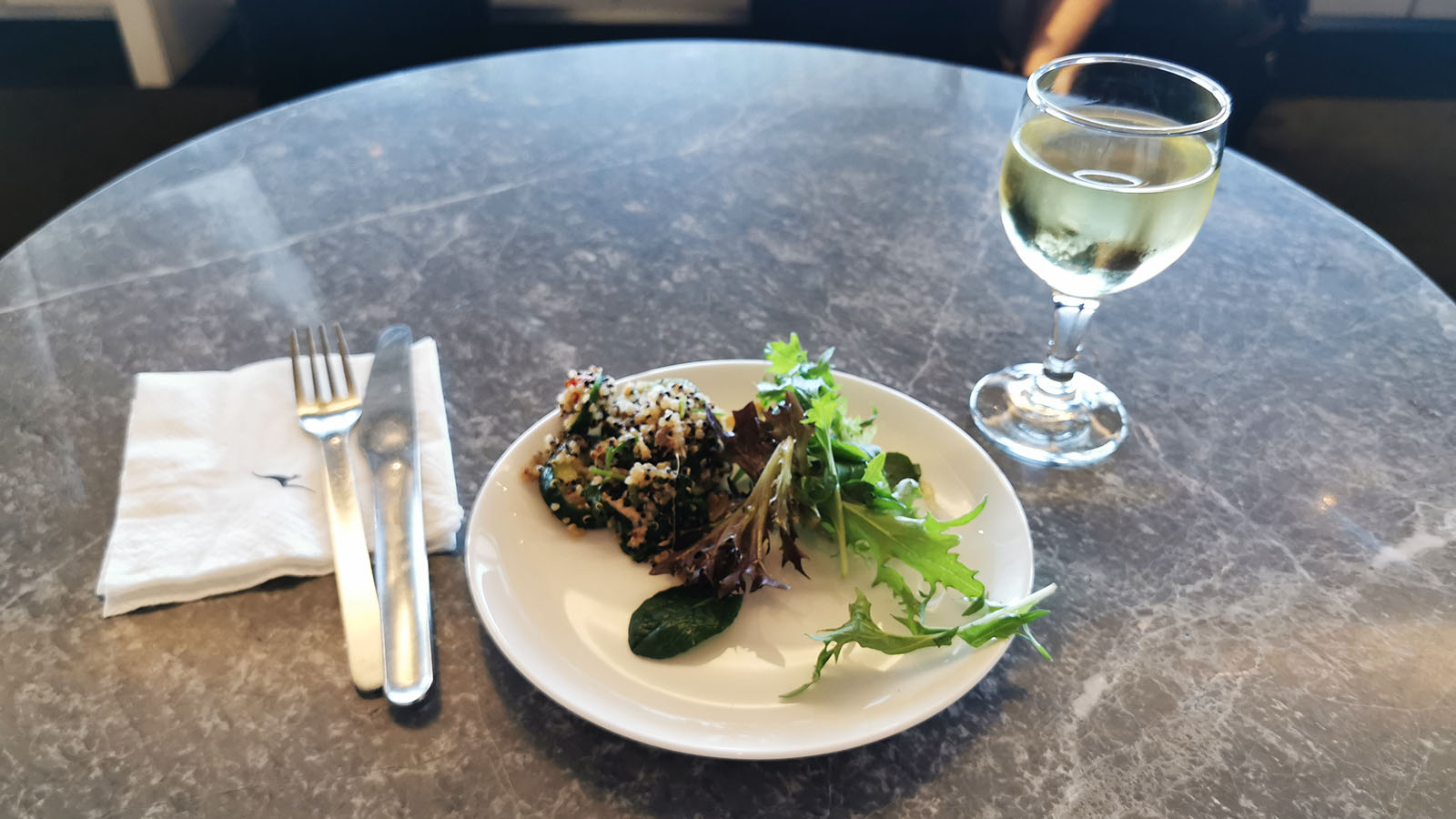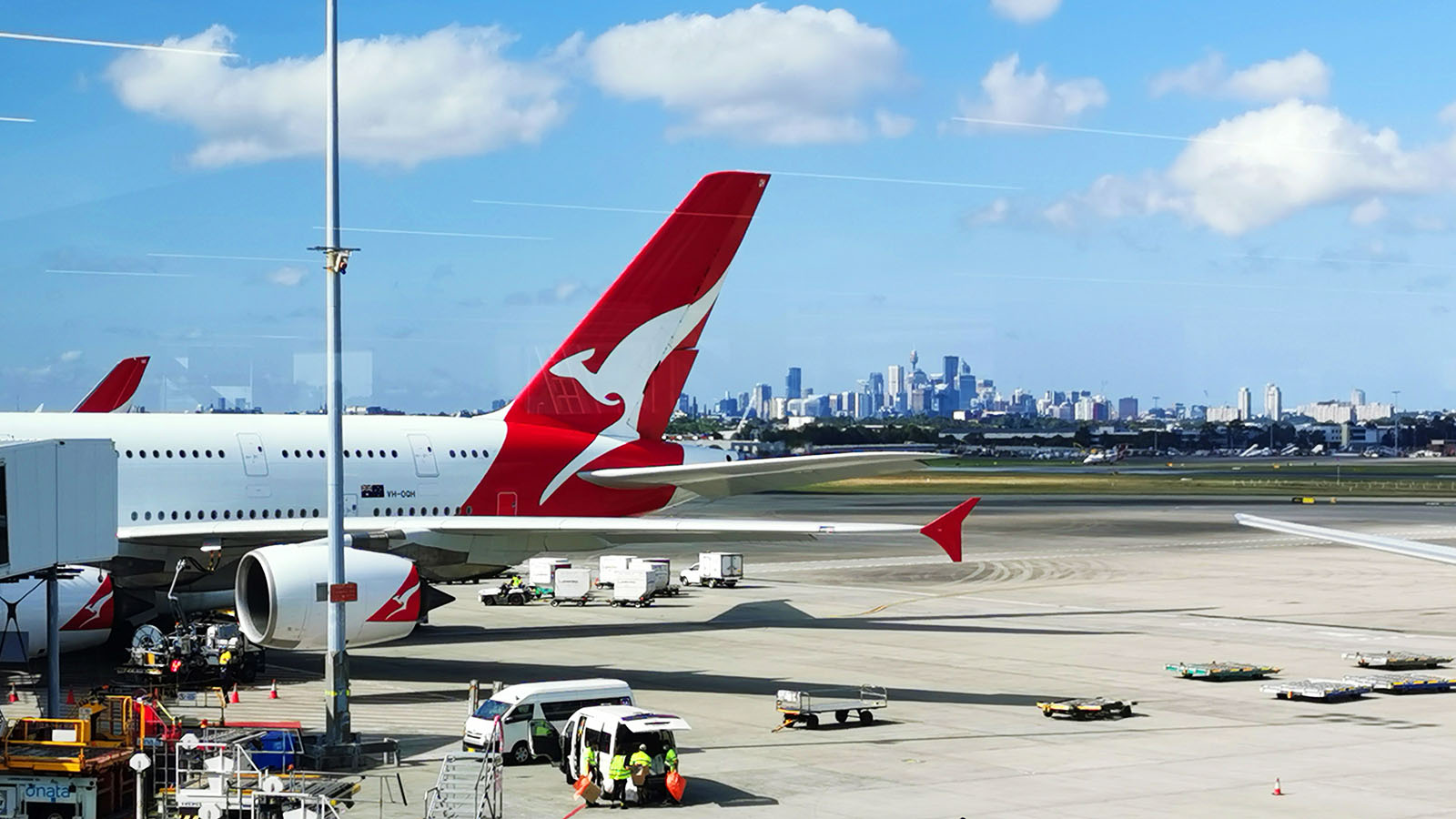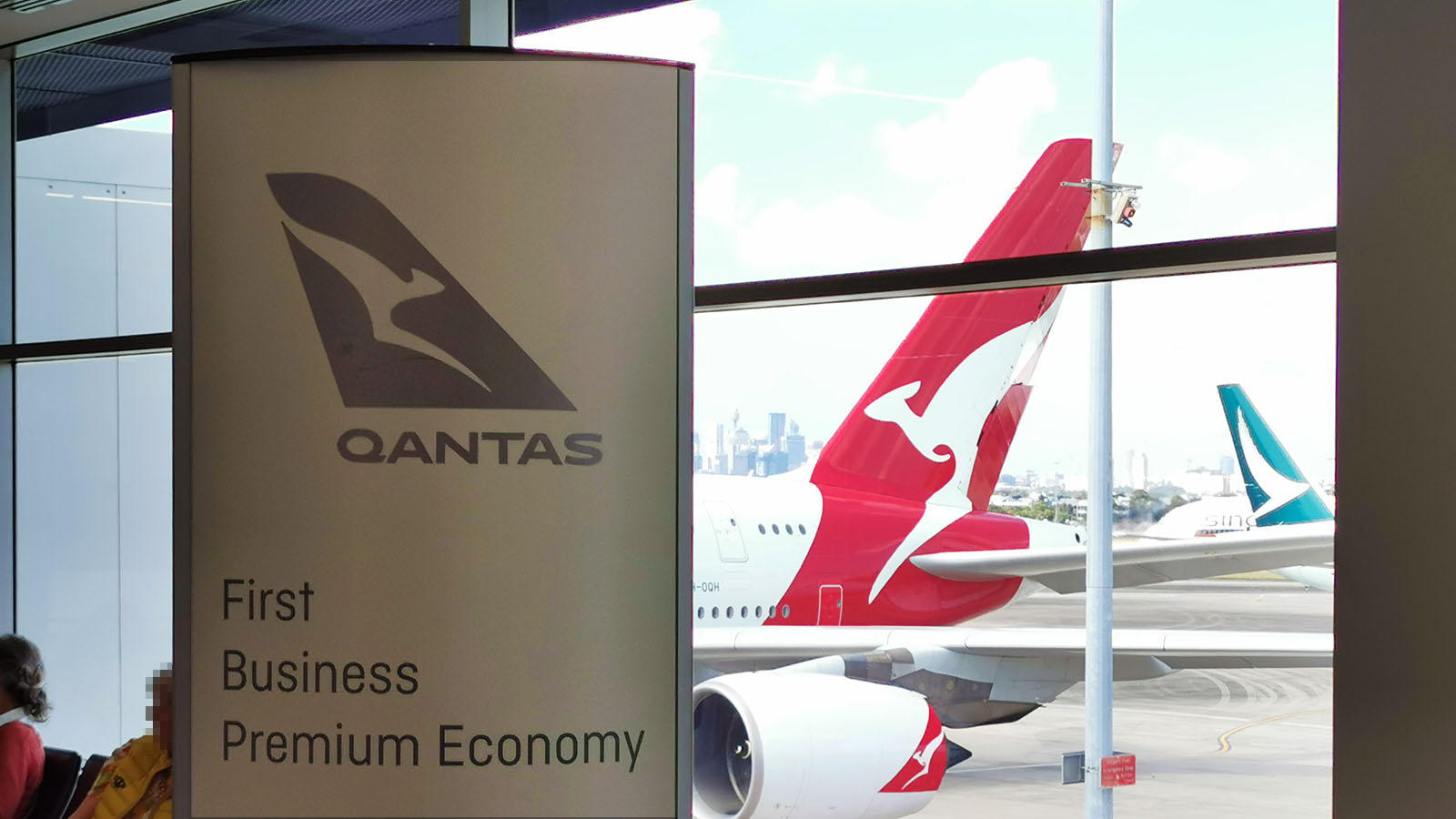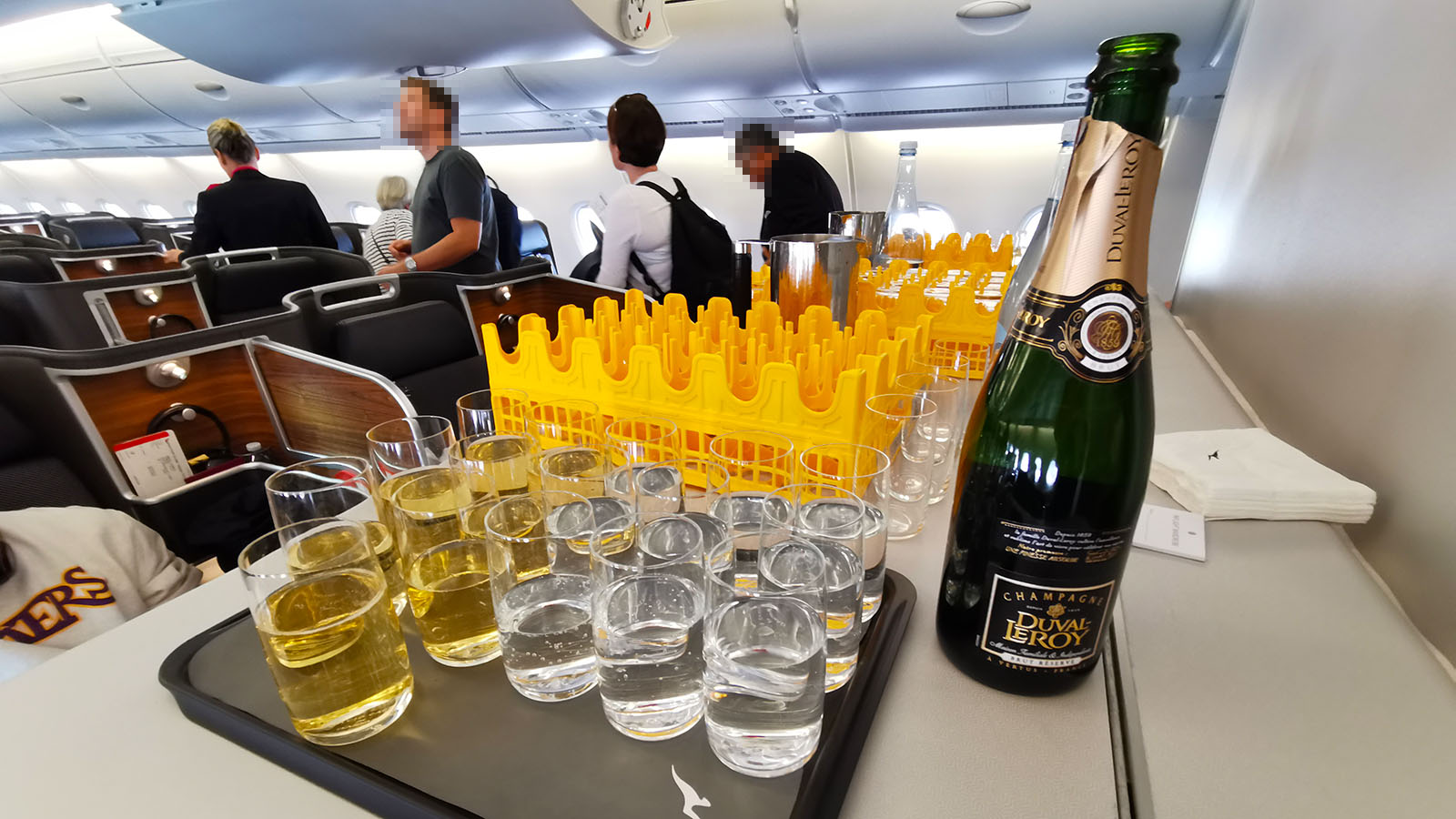 Given the speedy processing, I still got around half an hour in the Business Lounge. On that front, I'm glad I didn't race here. The space was close to full, yet only one of two buffet sections had been opened. The other was, for whatever reason, roped off.
Seeing the queue for the single pot of chicken curry, I went where the line wasn't – the salad bar, for a light bite. A glass of 2019 Penfolds Max's Chardonnay was a welcome refreshment on the side.
At boarding time, the departure gate is conveniently located just beneath the lounge, so it's a quick walk.
Qantas Airbus A380 Business seating
Qantas' Airbus A380s have been reconfigured in recent years, with the most noticeable change being in Business. Gone are the old 2-2-2 Skybeds on the upper deck. The superjumbo now sports the latest iteration of the Qantas Business Suite, in a pleasing 1-2-1 layout.
It's the third version of that Business Suite, which first appeared on the airline's Airbus A330 jets. Later, it also rolled onto the Boeing 787 – with a few small upgrades, such as a retractable privacy divider between the centre pairs of seats.
The Airbus A380 takes that further, but with more subtlety. The lighter colours of those predecessors are retired, in favour of a more vivid wood pattern wrapped around the seat. Black is then the colour of choice for the seat's shell and side panels. They're small changes, but to the trained eye of a frequent flyer, reinforce that this is Qantas' newest Business experience, and once again, the flagship.
On the A380, the window seats come with an added bonus. Unlike the Business Suites on Qantas' other aircraft, the superjumbo offers additional storage just beneath the windows. This is standard on A380s around the world, and is the only part of the cabin that remains intact from Qantas' original Skybed fitout.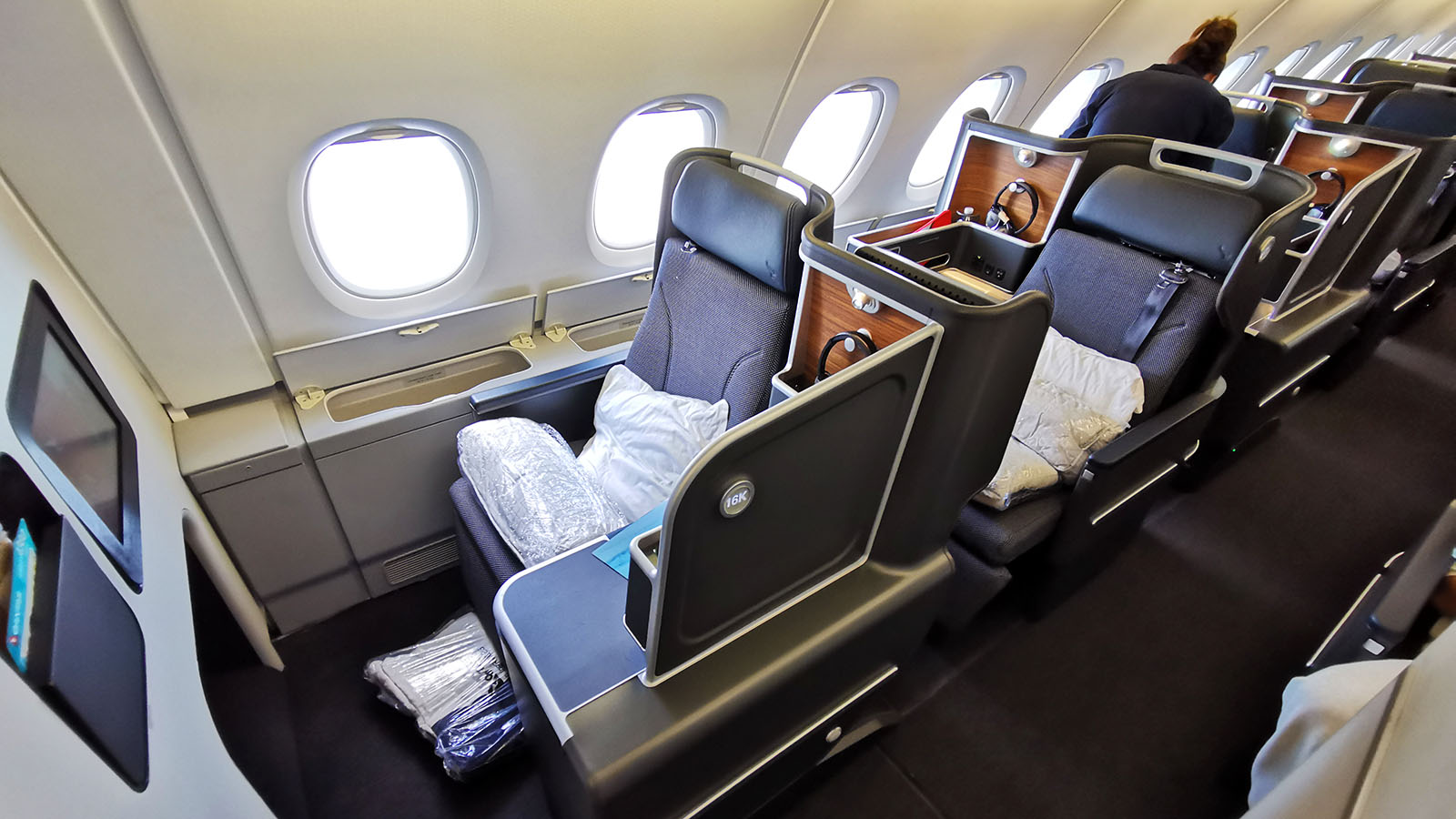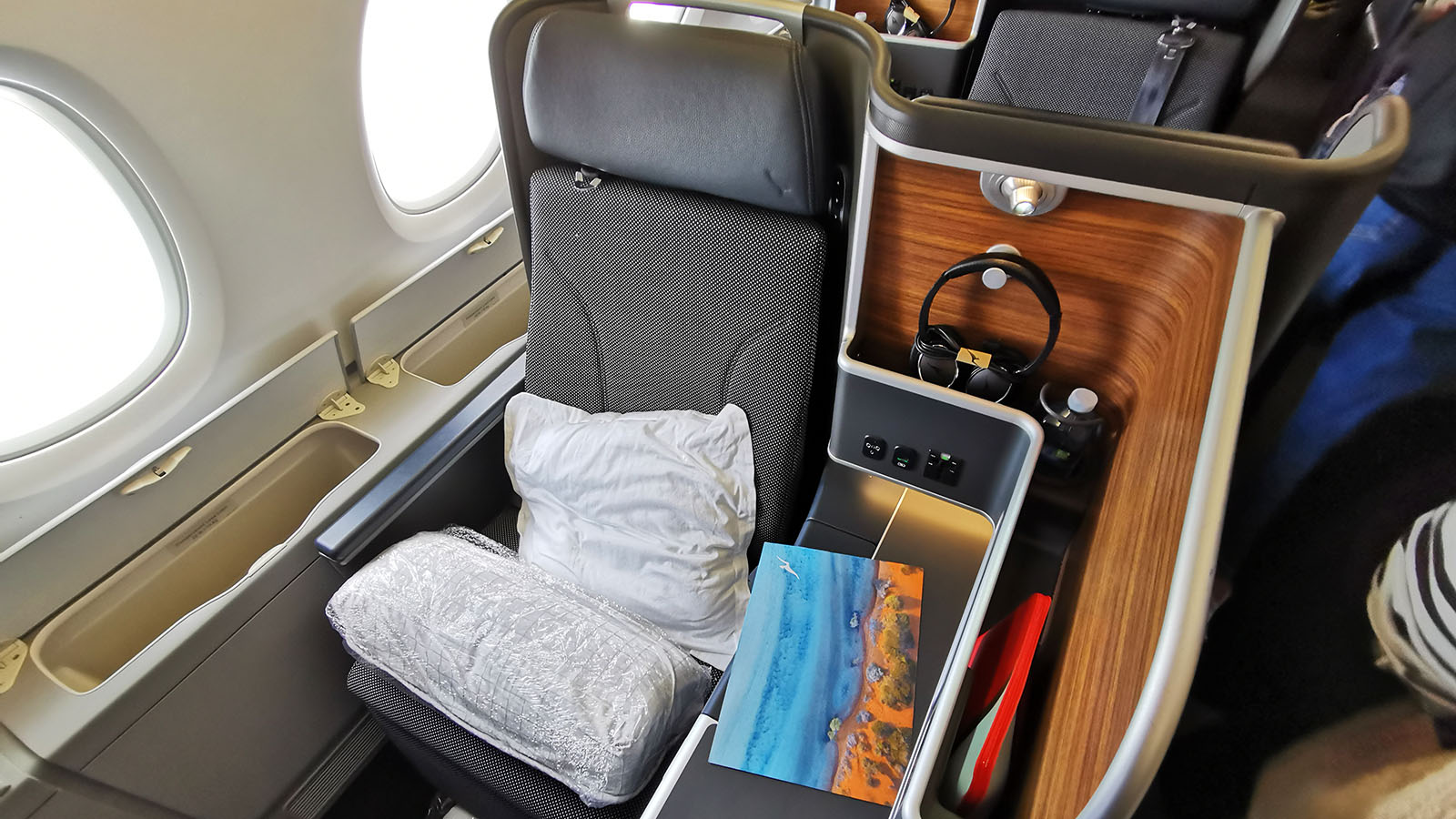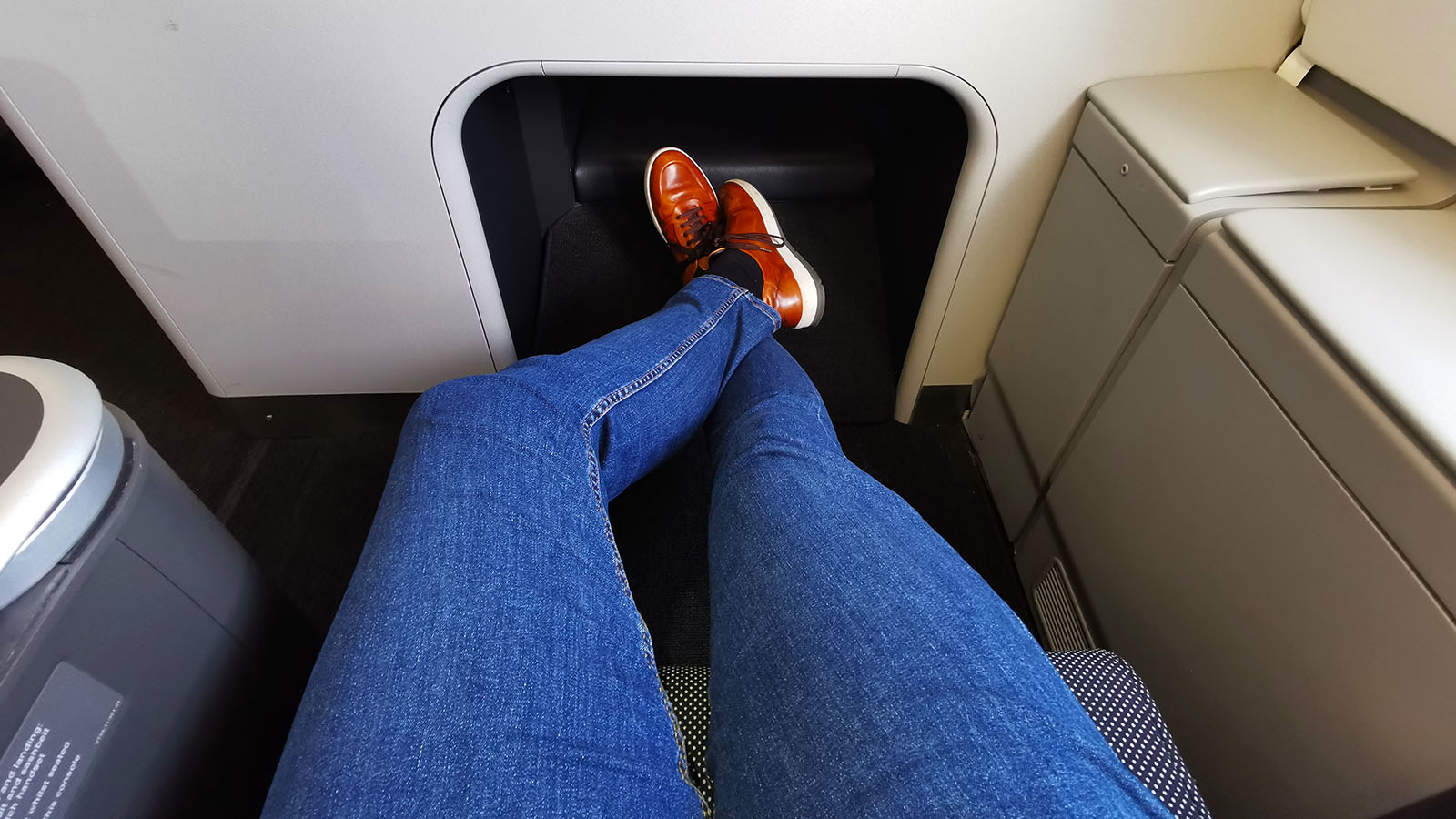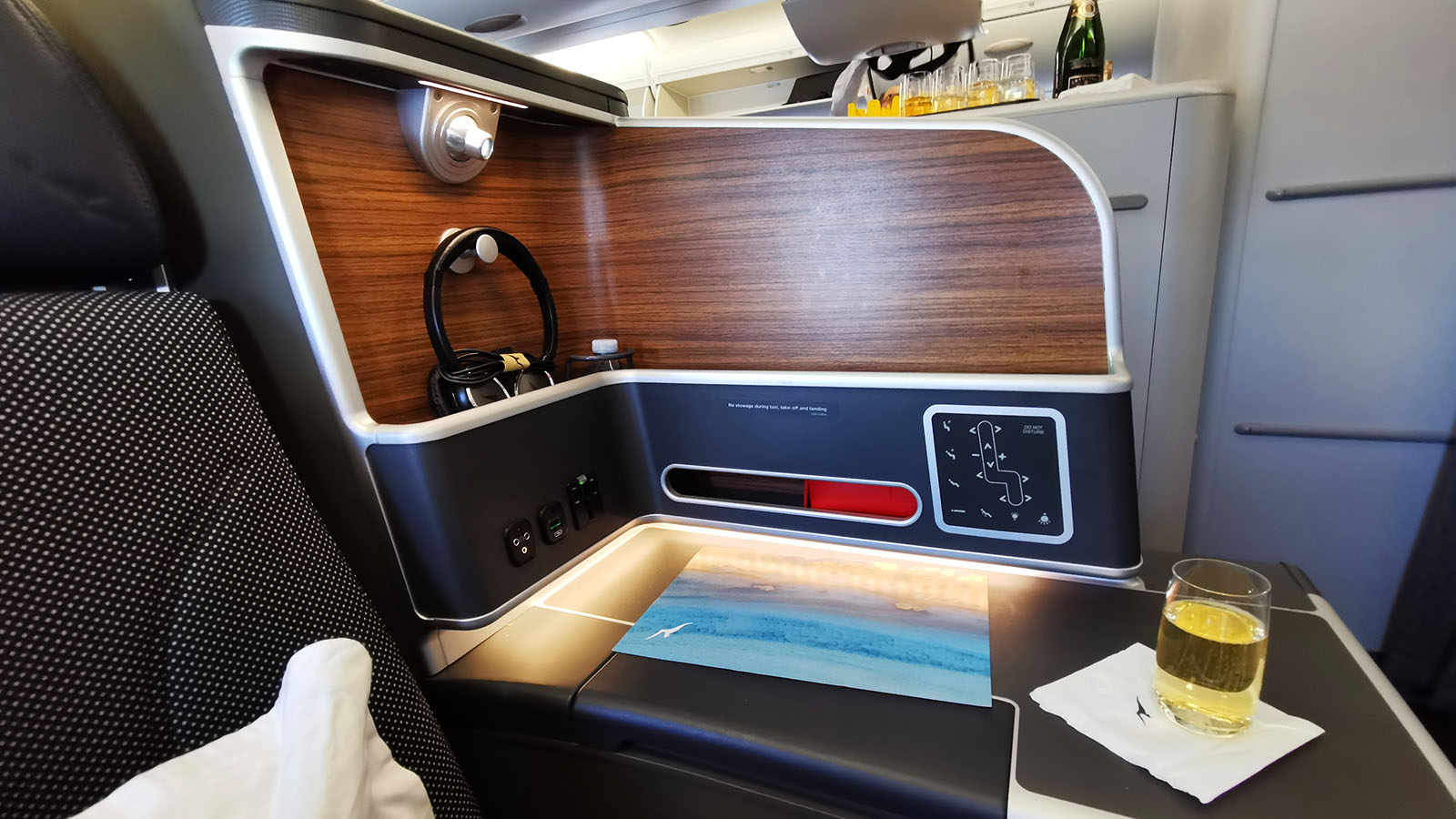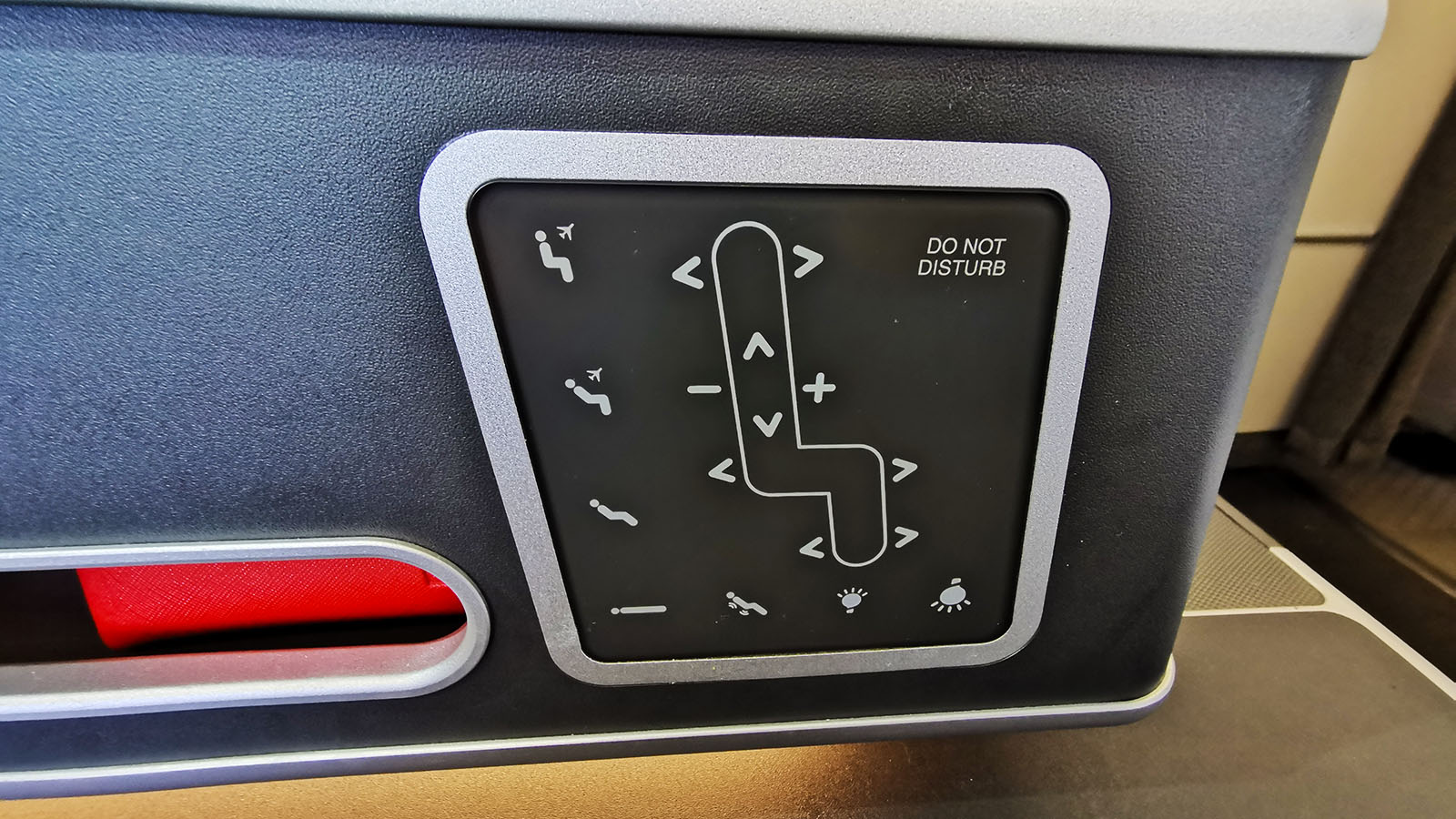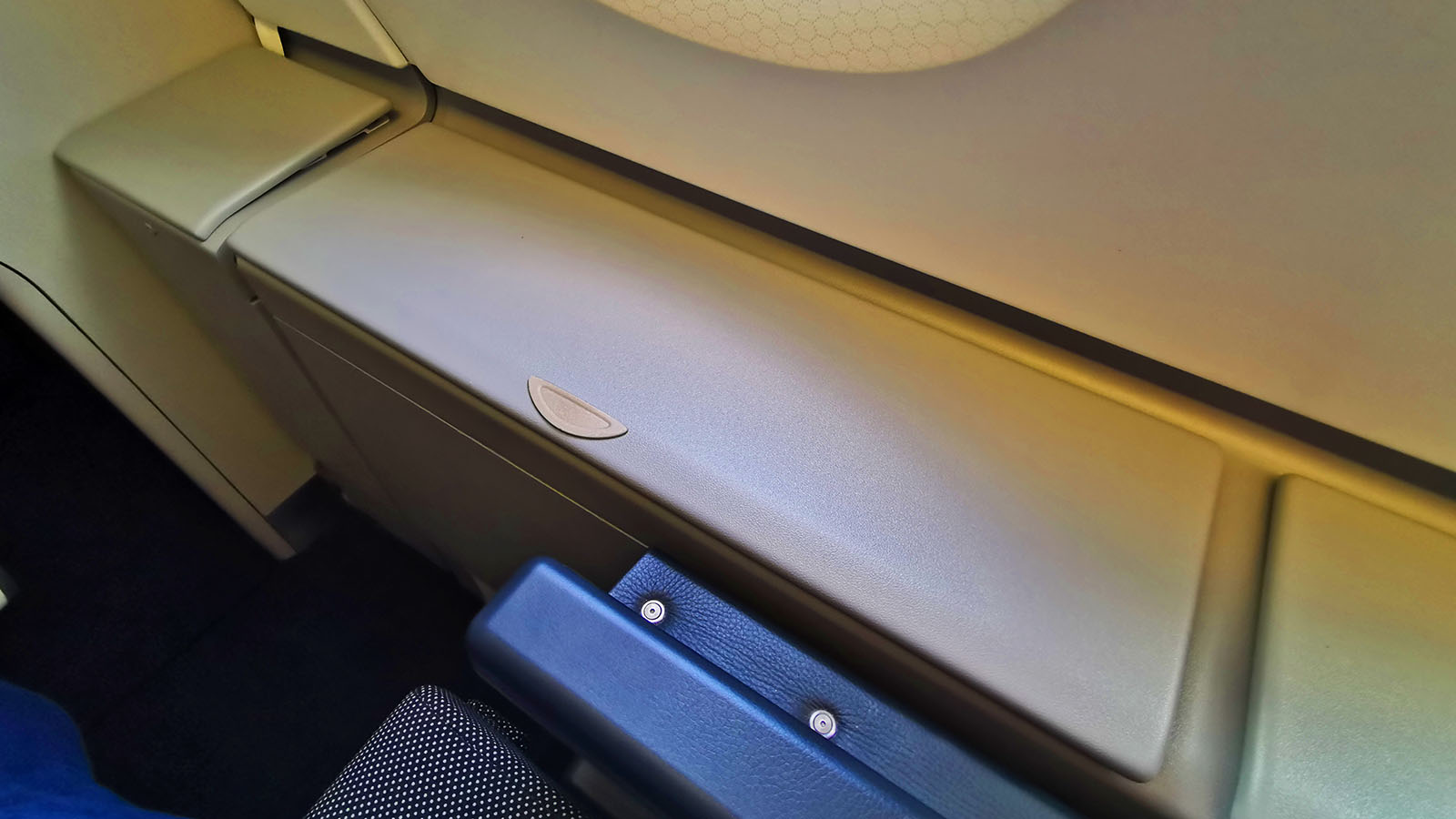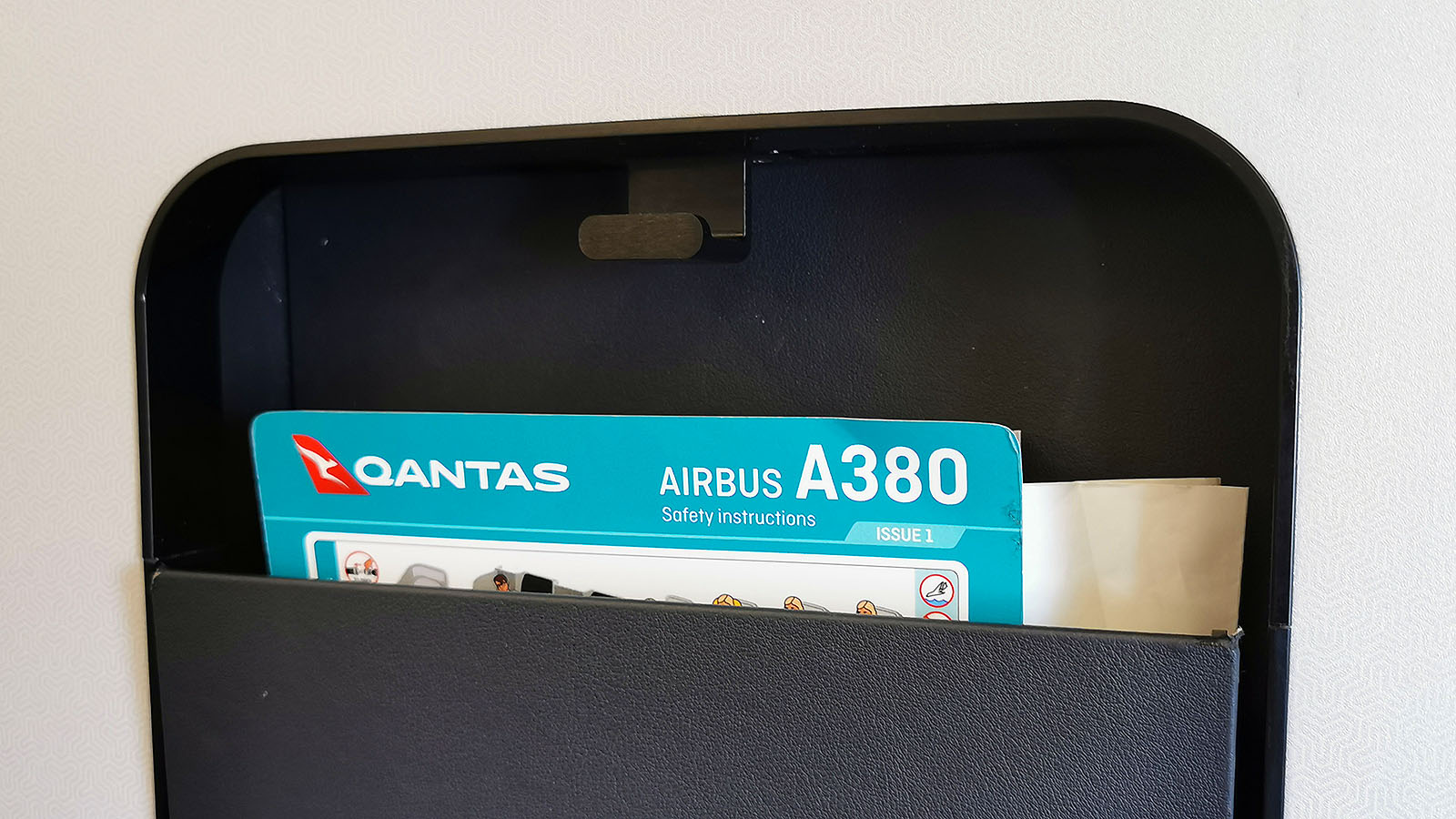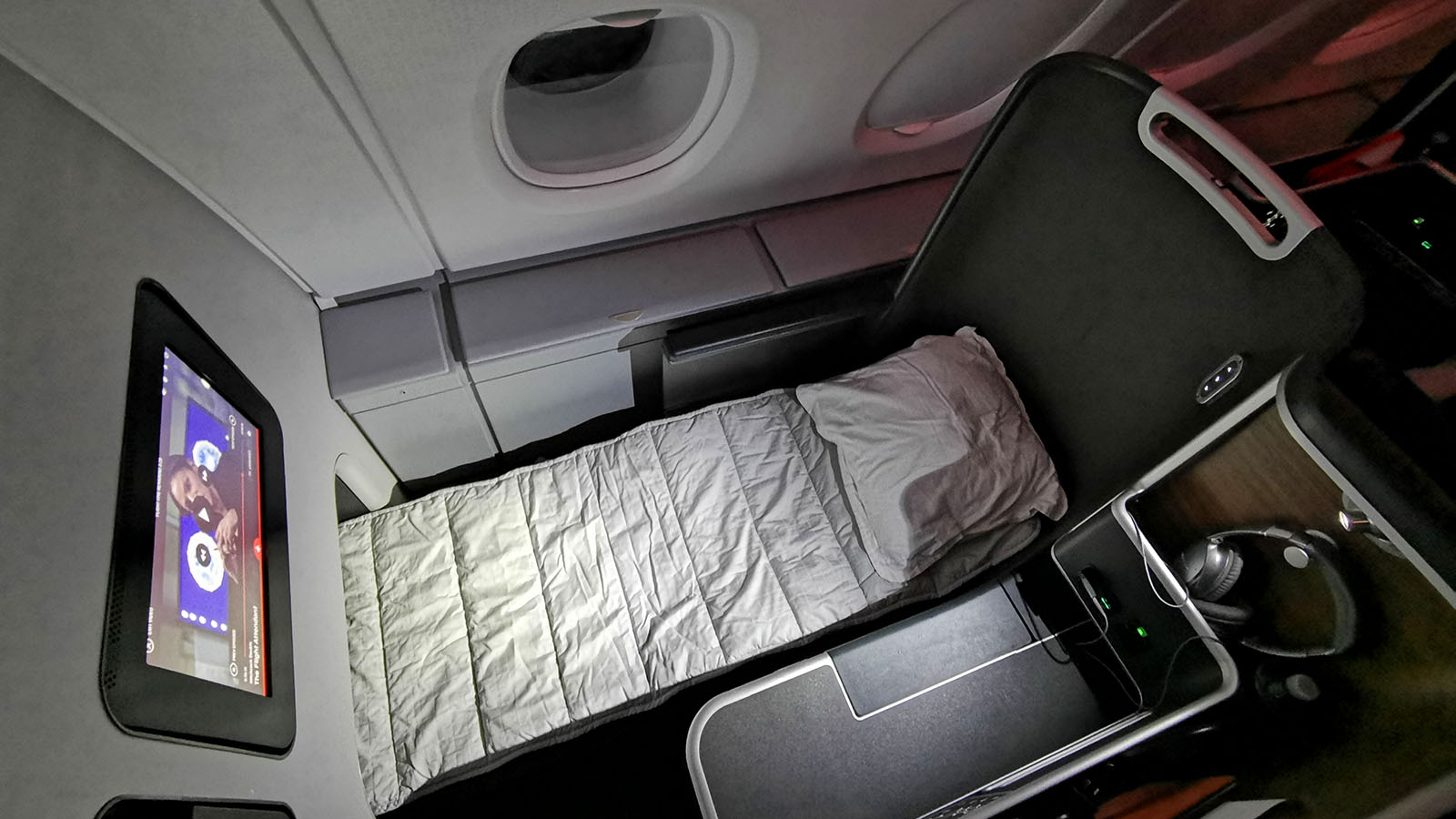 On this hop up to Singapore, I've nabbed a bulkhead seat: 16K. This provides a smidgen more legroom than found in the 'regular' rows. With rather long legs, I certainly appreciate the extra space.
Waiting for me is a pillow, blanket and padded seat cover. Pyjamas are offered only on overnight flights, such as the Singapore-London leg of QF1, or QF2 in the reverse direction. Even without them, I was still quite comfortable. The in-seat massager certainly got a workout once my work for the day was done.
Qantas Airbus A380 Business food and beverage
An obligatory glass of Champagne kicks off the Qantas Airbus A380 Business experience. On today's flight, that's Duval-Leroy Brut Reserve: a longstanding staple on the Flying Kangaroo.
After a particularly calm take-off – I'd forgotten just how quiet the Airbus A380 is inside – it's time for a Qantas Sky Spritz. That's a white wine spritz with finger lime and Davidson plum, which you'll find served across the Qantas network.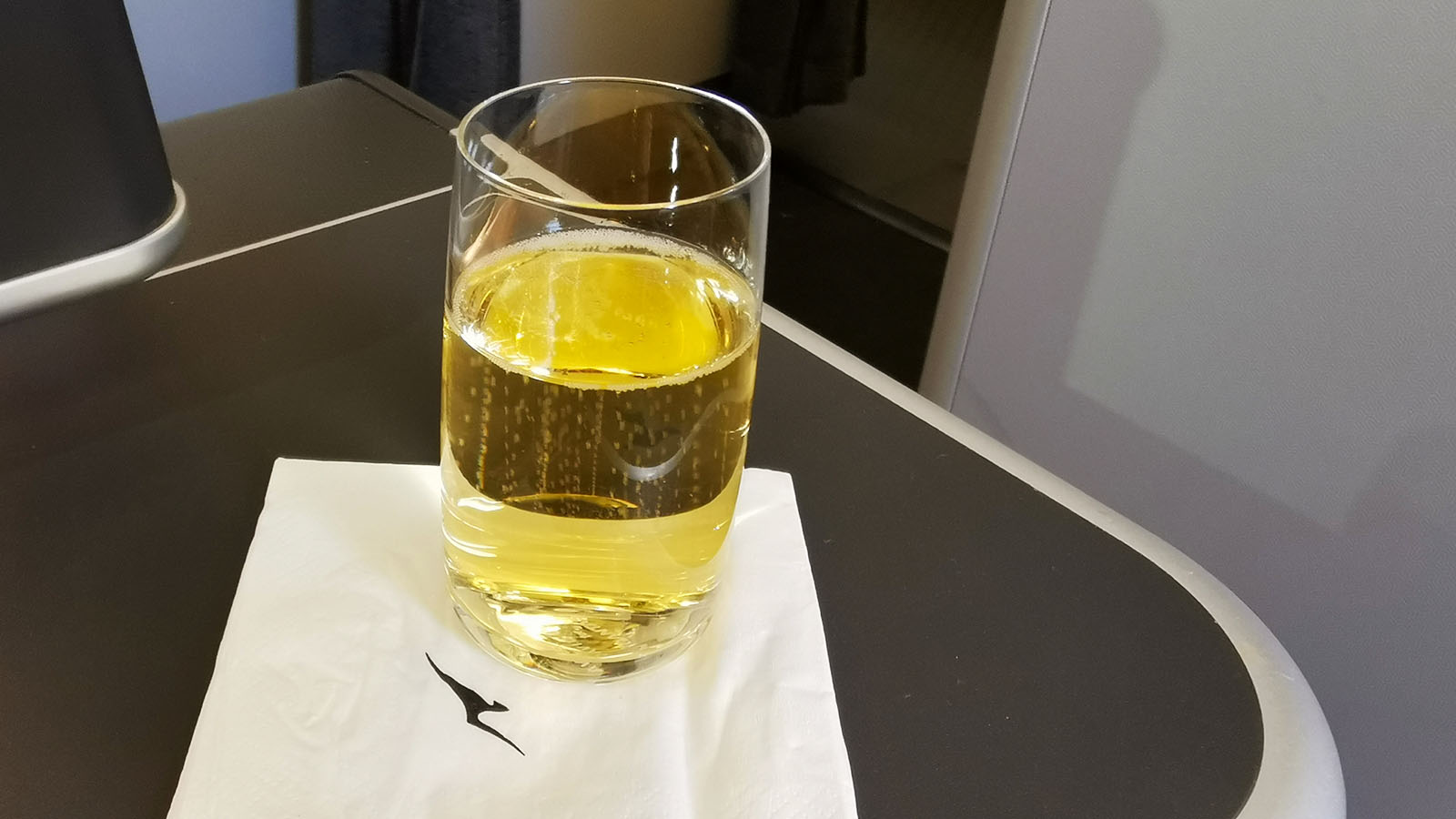 Dinner en route from Sydney to Singapore
The timing of this flight lends itself to dinner, with the following choices to begin:
Zucchini and basil soup with parmesan crouton – which I'd already tried on a recent flight to Bengaluru.
White-cut chicken salad with wombok, daikon, shallots, sesame and black vinegar dressing.
Thai-style fish cakes with pickled cucumber and chilli dressing.
I went for the fish cakes, which were fragrant, delicious and served with just the right amount of dressing.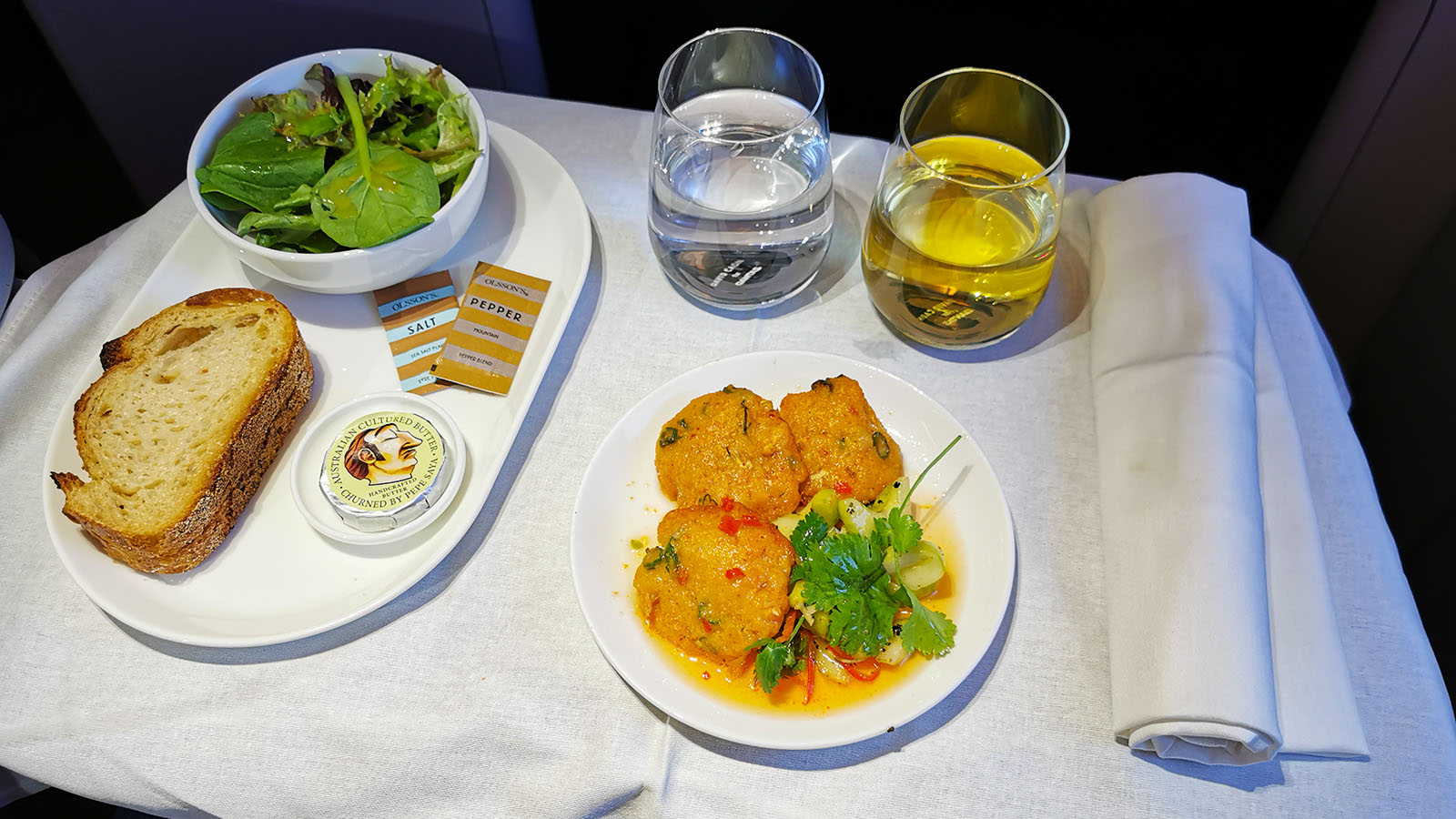 I'd hoped to find a nice wine to pair on the side, but as I've previously observed, Qantas doesn't print a wine list.
I asked what was available, but the crew member in my aisle simply replied, 'red or white'. On nudging for a little more detail in the 'white' department, all I could glean was 'Chardonnay or Rosé'. Of course, Rosé is a pink wine, leaving the Chardonnay as the sole white in the cabin.
The Chardonnay was okay, but it didn't appeal enough to request a second glass. In my view, Qantas isn't as competitive on this route as the likes of Singapore Airlines when it comes to vino. Having a wider selection that goes beyond 'white and red' would certainly step things up.
Moving on!
Orders for the main course are taken at the same time as the starter, but here were the choices on my flight:
Plant-based dining option: caramelised potato gratin with peas, mushrooms and roasted fennel.
Slow-cooked chipotle lamb sandwich with sweet onions, mint salsa and salted chilli.
Jiangxi-style Humpty Doo barramundi with seasonal greens, sesame seeds and jasmine rice.
Beef fillet with Paris mash, green beans and salsa verde.
Cabin crew have a little more technique in this regard, taking preferences from travellers based on their frequent flyer status. It's something Qantas has been doing for years, and I find as a Gold, I have a 50/50 chance of getting my first pick. That's because Chairman's Lounge, Platinum One and Platinum members get in first.
This time, I gravitated to the beef. It was my lucky day, as I managed to nab the very last one. It's a cracking dish: highly recommended, if you can get your mittens on it!
Switching to a red, the options were Cabernet Sauvignon or Shiraz (again, sans any detail). I'm in the Cabernet camp, and it was much more drinkable than the earlier 'white'. A sticky goes well with a crème caramel to finish.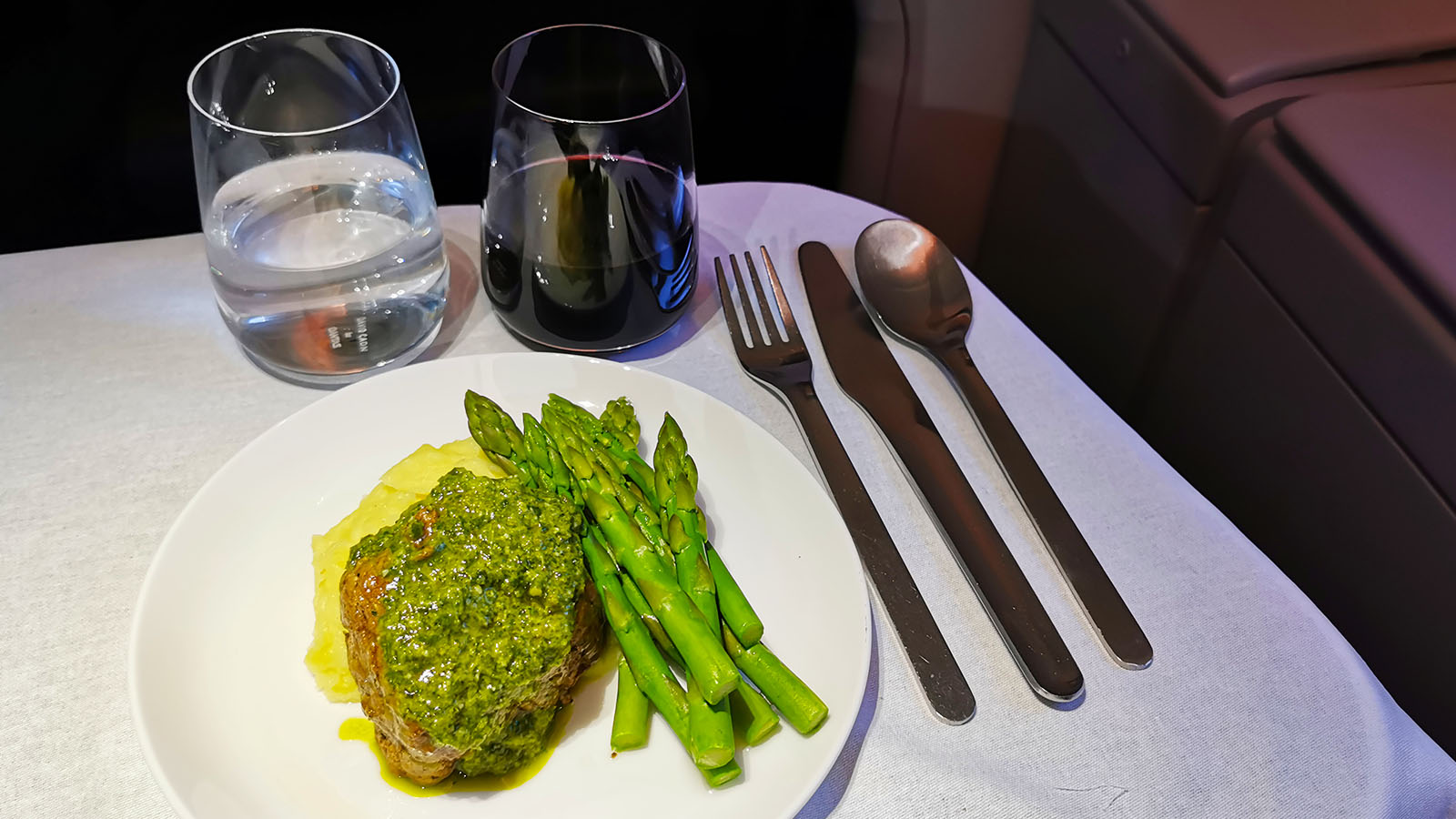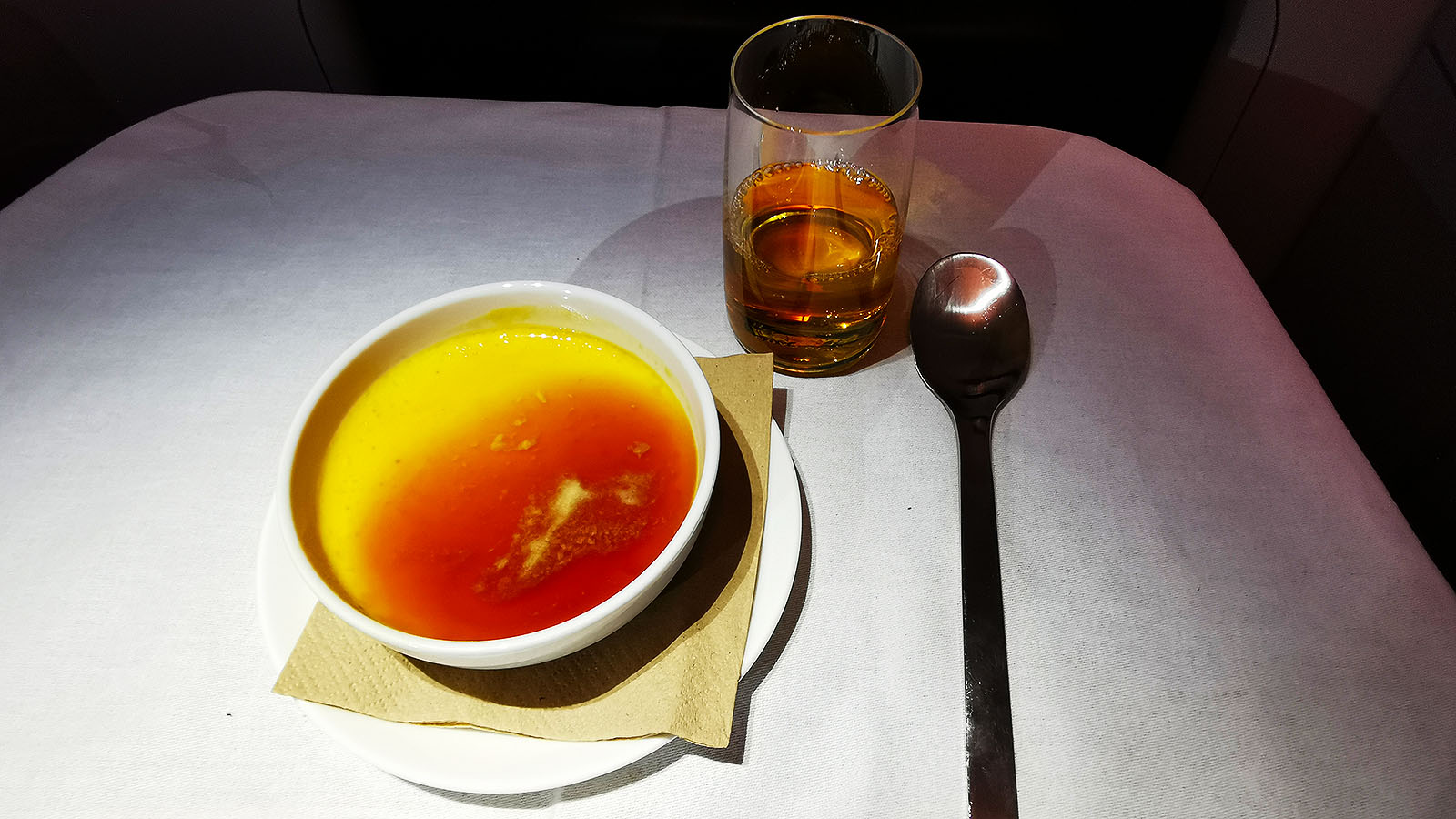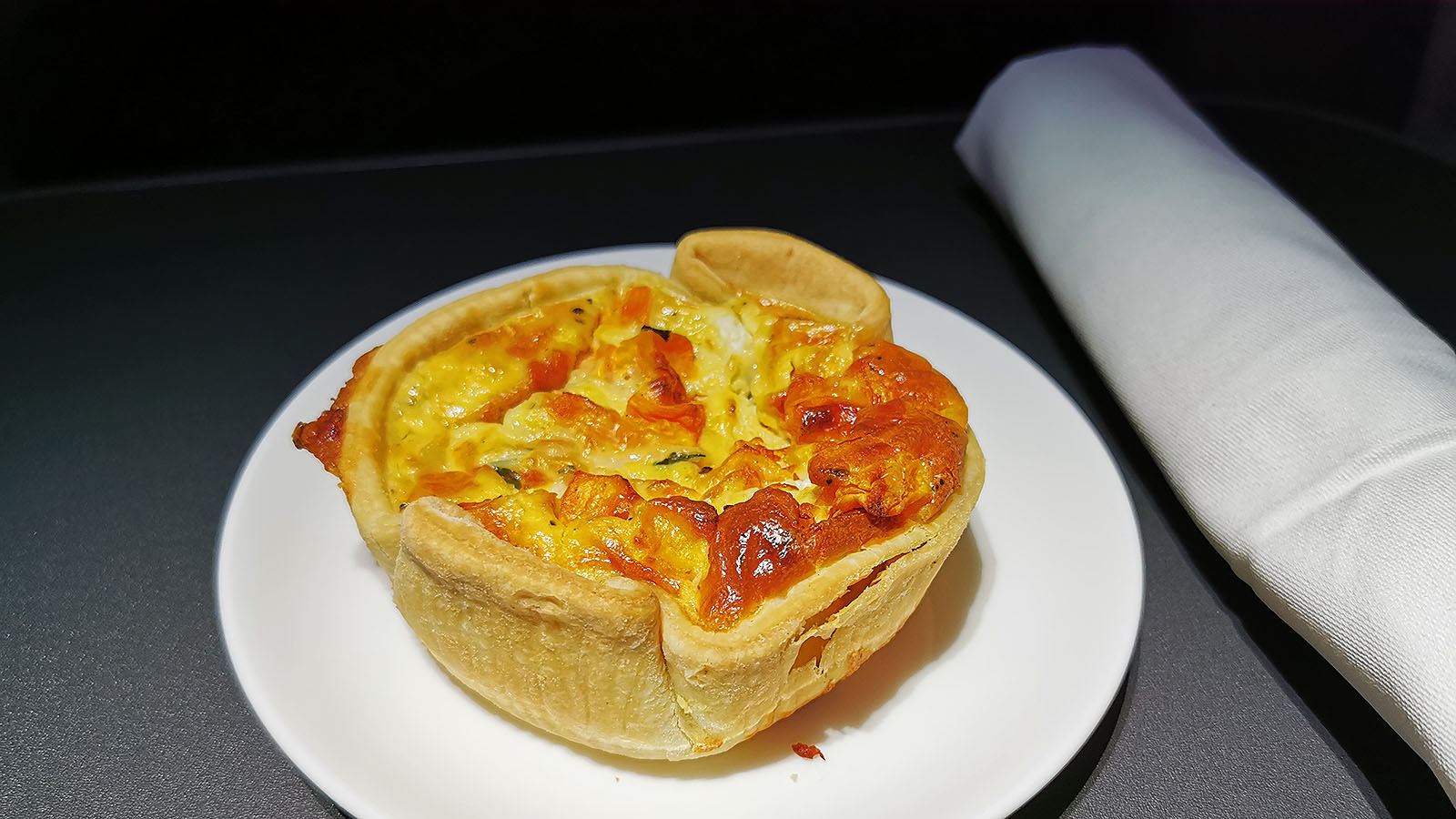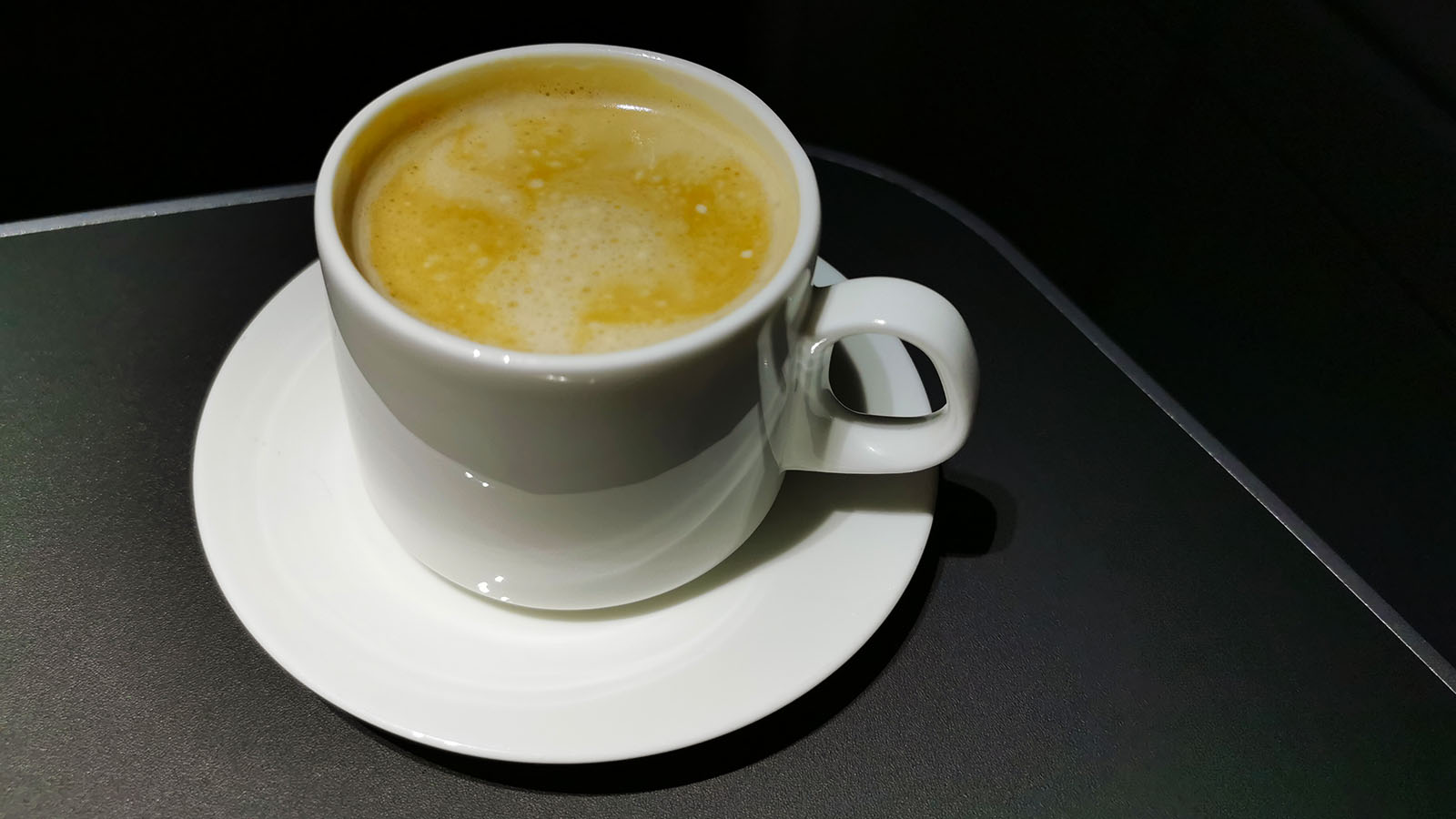 On this flight, passengers in Qantas Airbus A380 Business can also dine on demand. That'd be more useful for the onward Singapore-London leg. For this Sydney-Singapore hop, the more traditional approach of a meal after take-off and a refreshment before landing suits just fine.
Speaking of refreshments, there are a couple of hot options suited to that pre-arrival bite:
Pumpkin and goat's cheese quiche with tomato and chilli relish.
Reuben grilled cheese toastie.
The quiche was the perfect size to tide me over without being too much, enjoyed with a small latte.
Qantas Airbus A380 Business service and entertainment
Service on this Qantas Airbus A380 flight is passable for Business, but generally lacked personalisation. That can often be the difference between a flight that's 'good', and a flight that's 'great'.
The customer service manager stopped by for a quick hello, but only to deliver a generic greeting. It loses its warmth when the same sentence gets repeated verbatim to passenger after passenger, as it was. Interactions with most other crew didn't get beyond the usual service back-and-forward – but with one exception.
After the main meal, I'd relocated to the onboard lounge, setting up my laptop at one of the tables. A crew member spots me on his walk from the First cabin back to Business, and comments that hopefully I'll also have some time to relax. After all, it was a Friday night, and most others were watching movies or dozing. A glass of Champagne quickly makes an appearance – it's a nice touch.
Back in my seat, the entertainment screen is super crisp and well-stocked with content. I finish binging The Flight Attendant, and have just enough time to squeeze in Almost Famous before landing.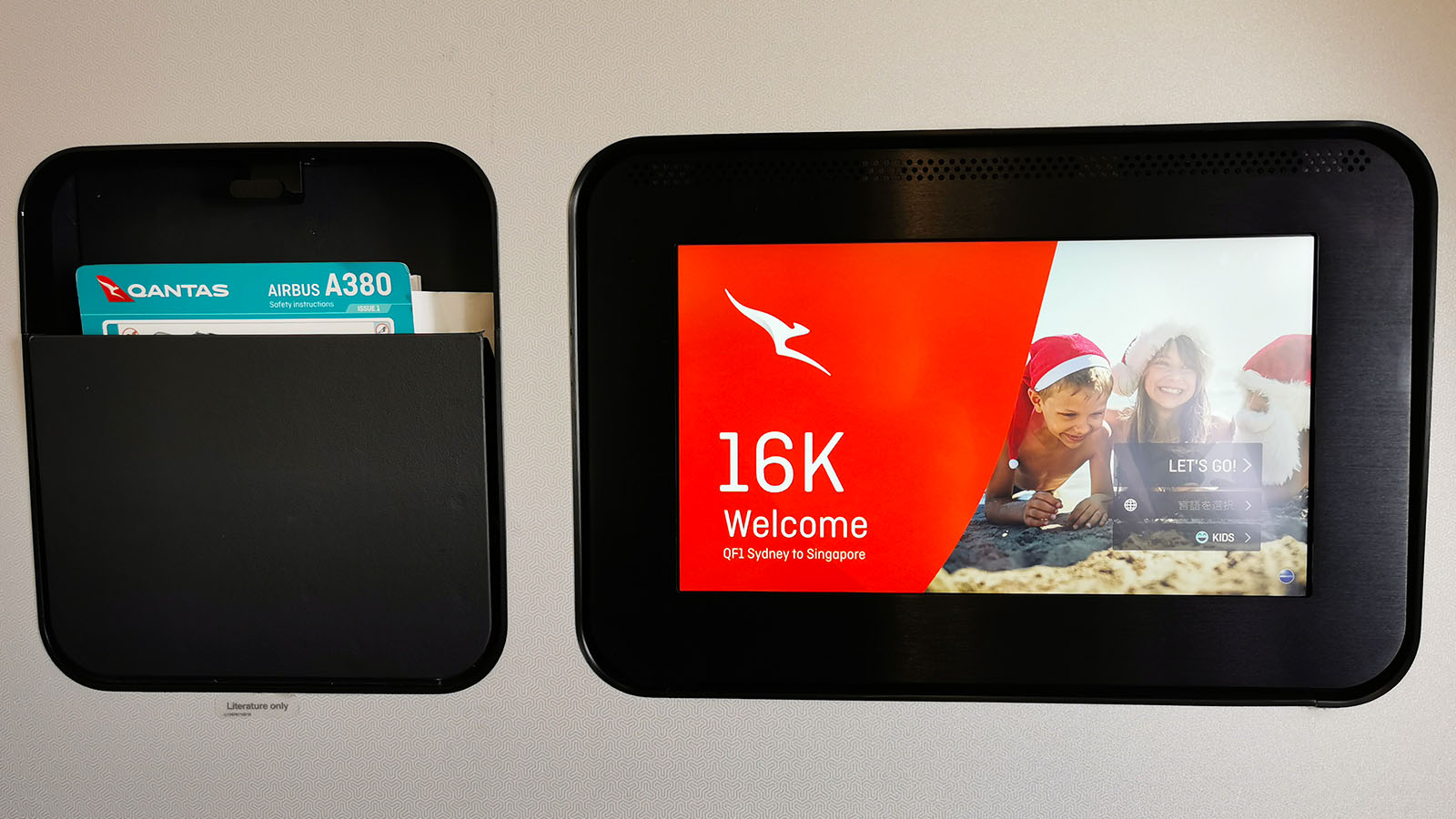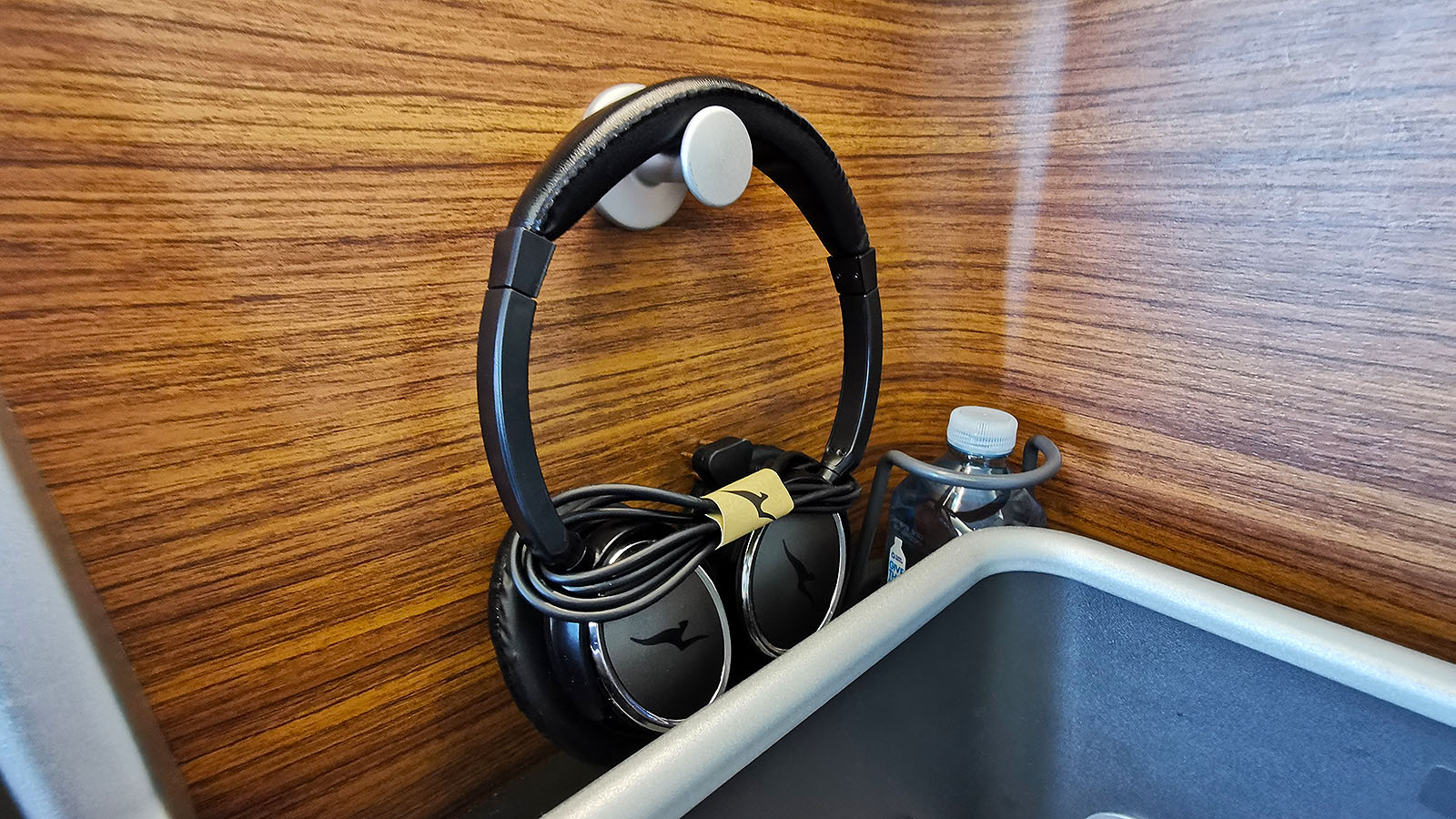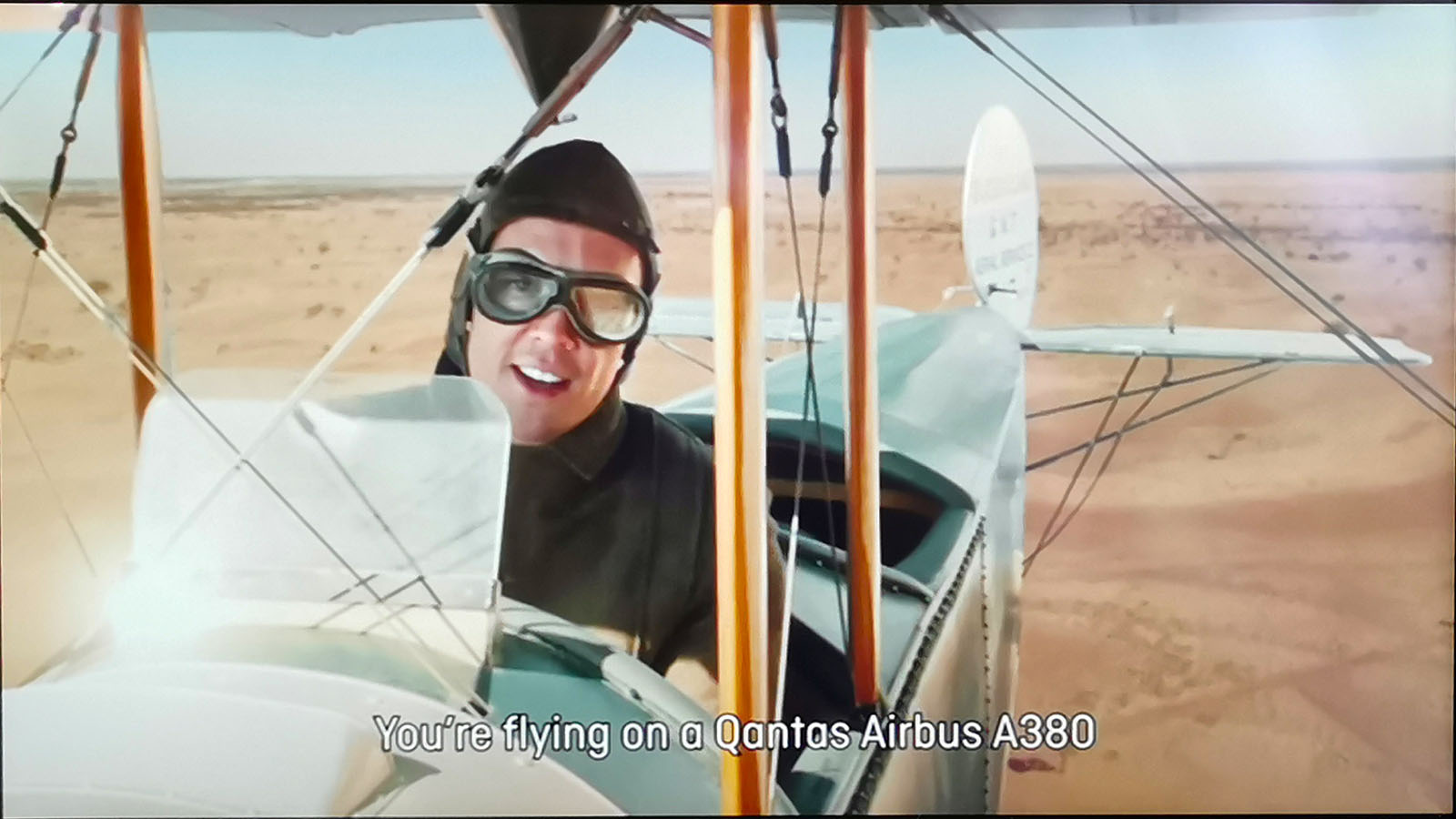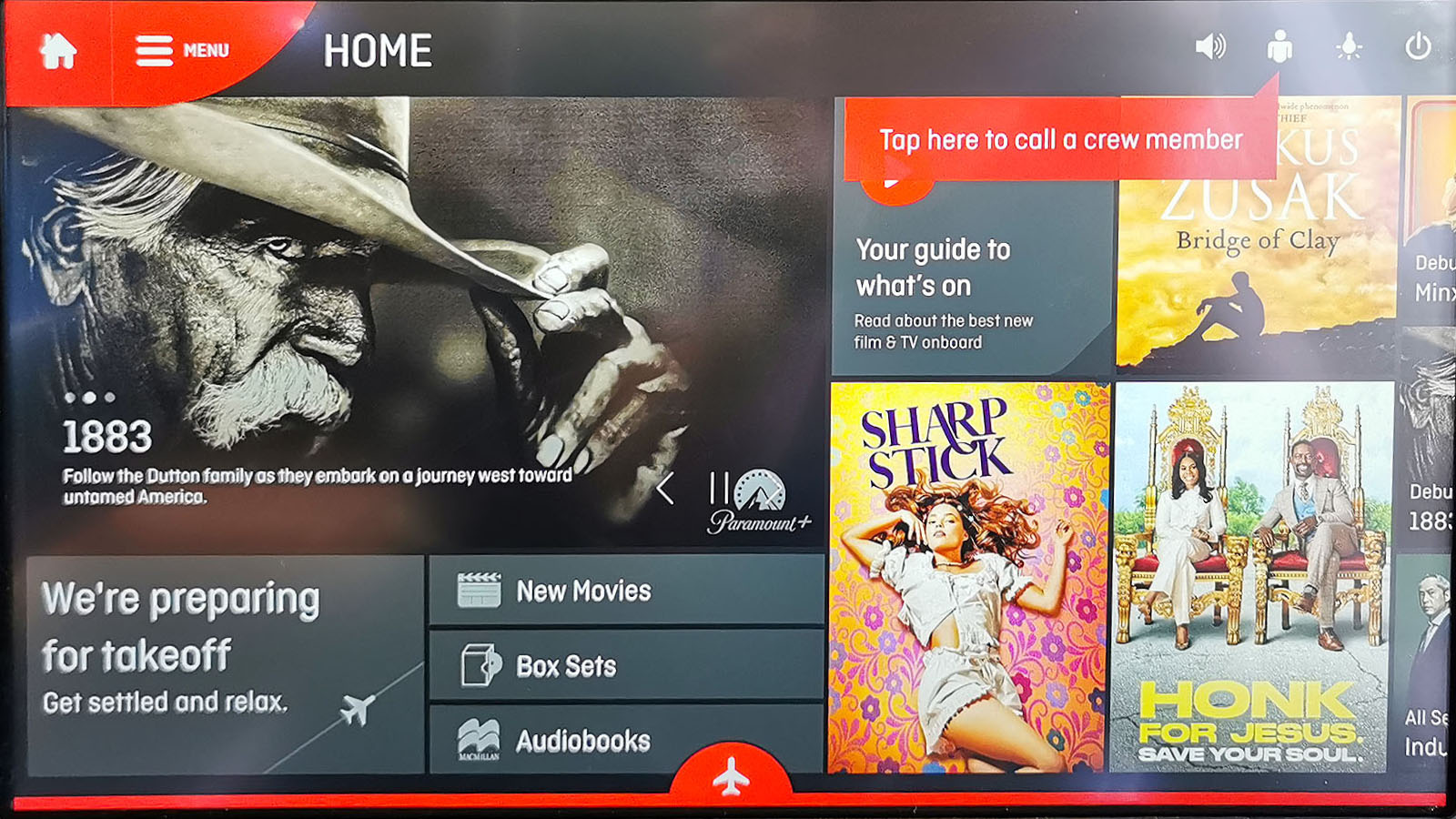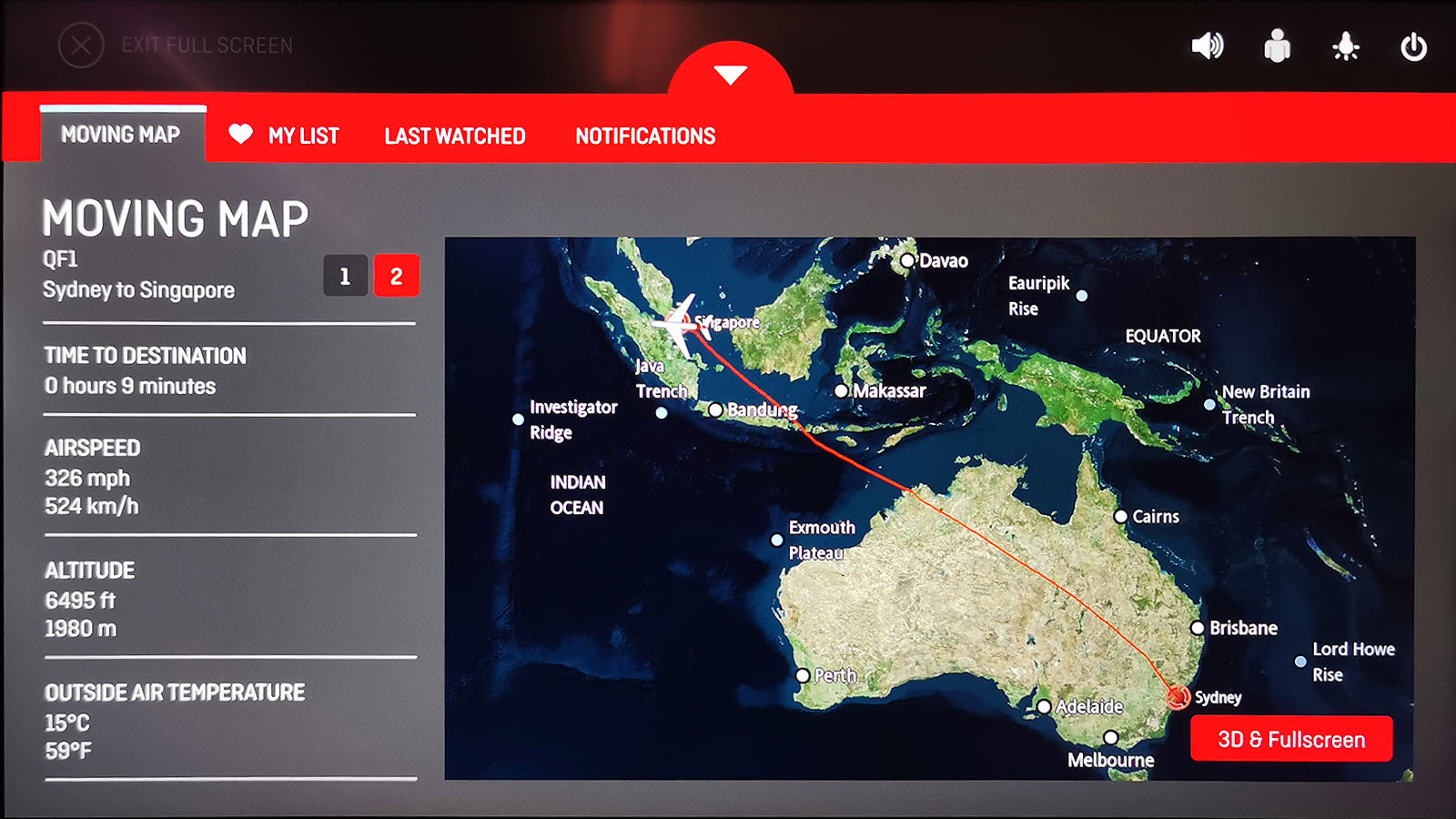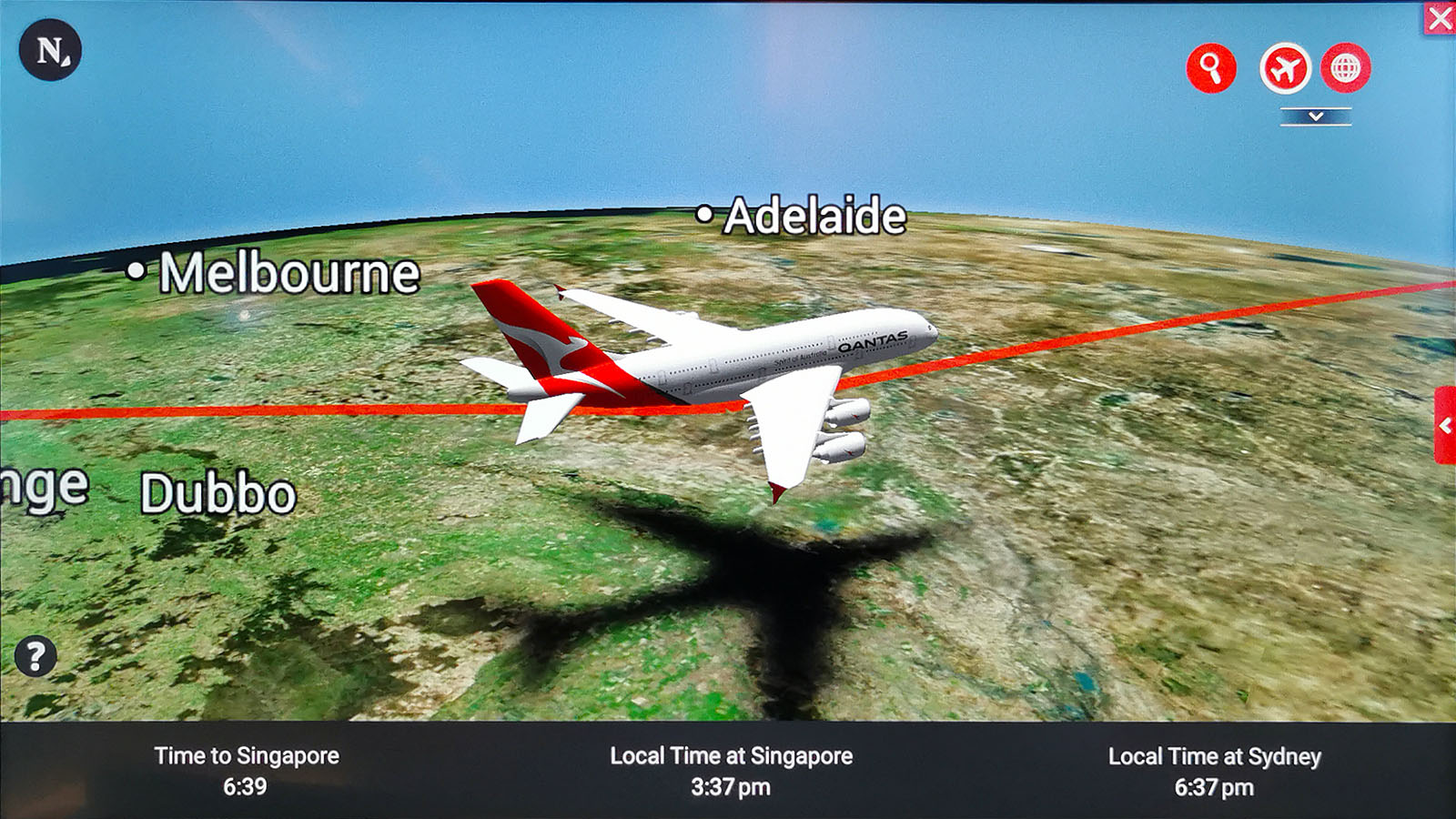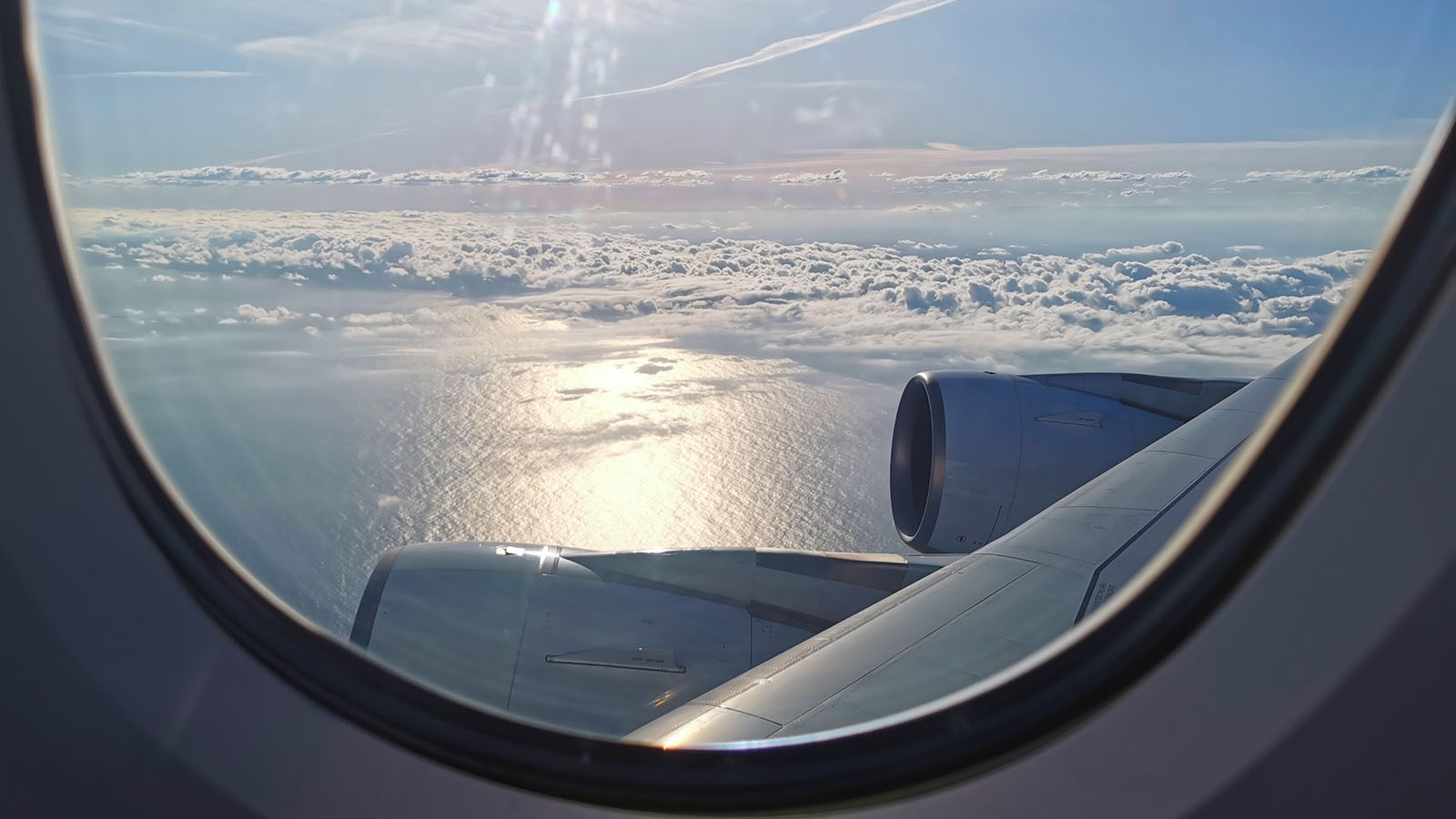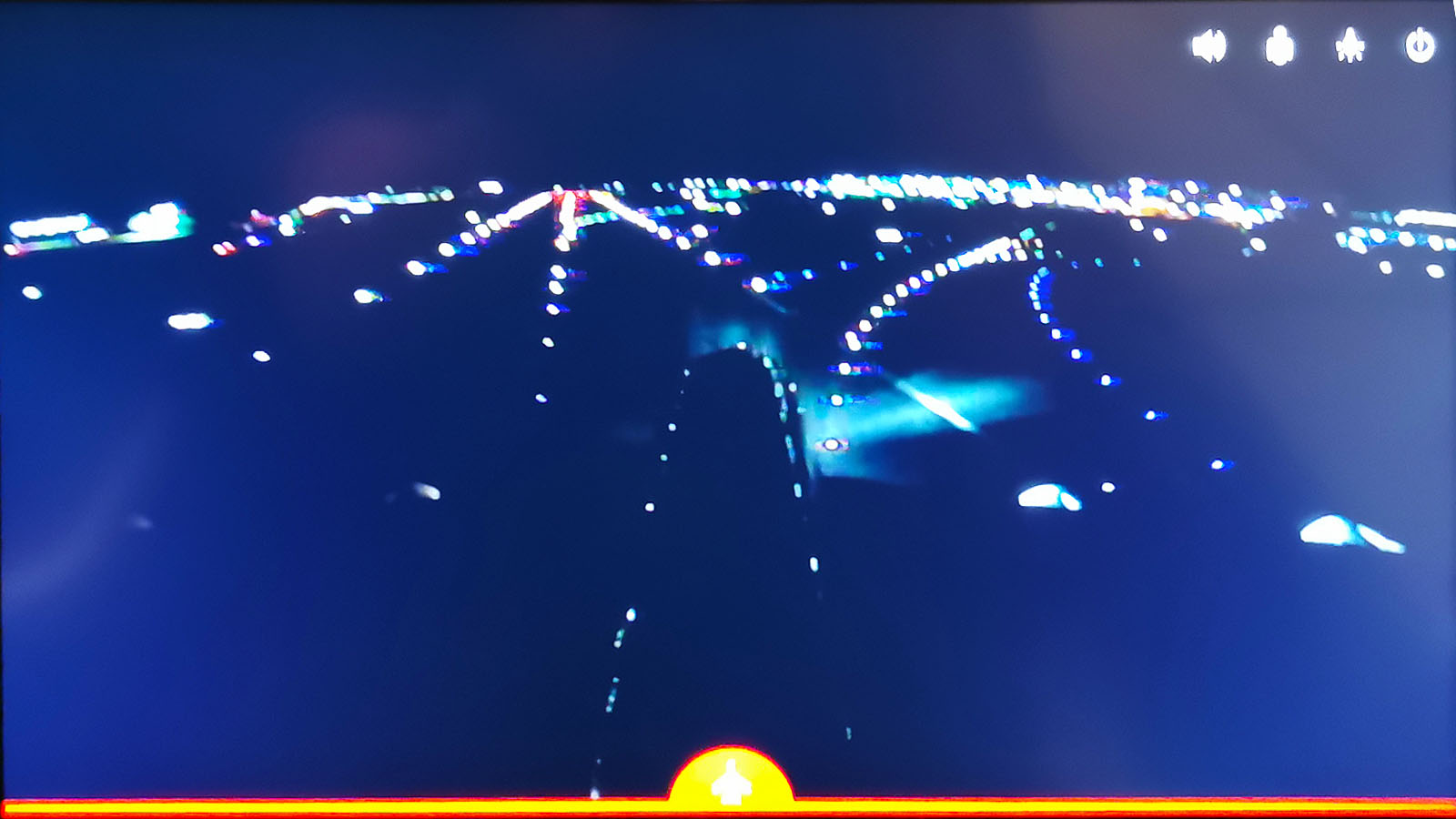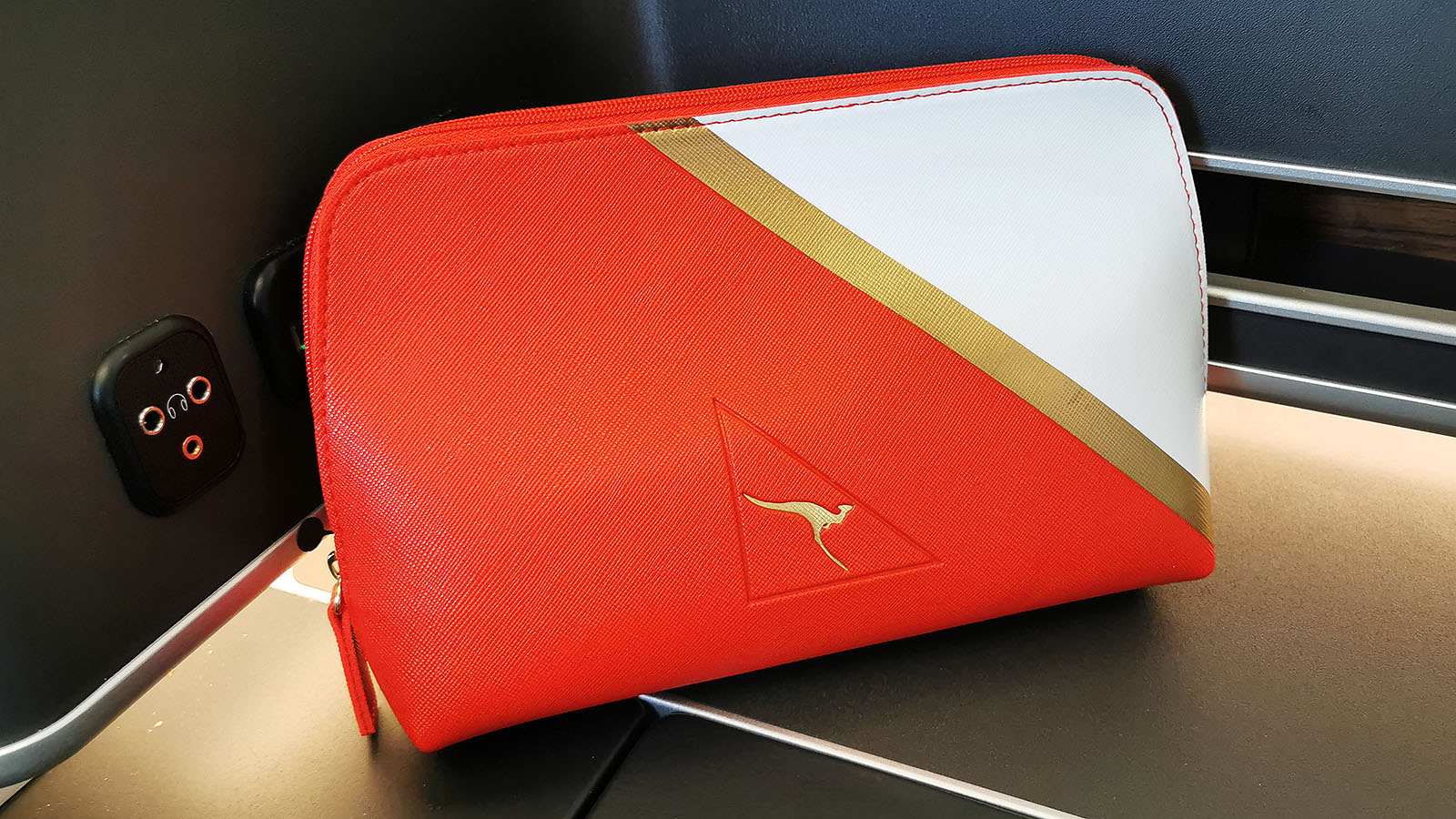 The entertainment system also provides access to the usual moving map. But it slipped my mind that Qantas' Airbus A380s have a feature not available on its other jets: access to the tail camera as well. The video quality isn't great, but viewing our landing in Singapore from a different perspective is still nice.
(As a little AvGeek trivia, these cameras aren't there just for passenger enjoyment. The feed can also be accessed in the flight deck should the need arise, along with views from several other exterior cameras not available via the public entertainment system).
Newer Airbus aircraft have sharper lenses, but today's plane (VH-OQH) was just the 50th A380 that Airbus built – of around 250 manufactured in total – thus the 'original' camera.
Exploring the Qantas Airbus A380 Business and First onboard lounge
The other groovy feature of the Qantas Airbus A380 is its onboard lounge for passengers flying Business and First. It's had an upgrade in recent years that's also seen it expanded, now with space for 10 seated (and seat-belted) passengers.
Interestingly, there wasn't a word said about the lounge at any point during the journey. You have to know it's there and which curtain to walk through in the dark. (Spoiler: it's the curtain ahead of row 11, in either aisle). But that's also part of its appeal.
If everybody wanted to check it out, there'd be no room for anybody. Instead, my visit after dinner finds a serene space with three distinct groups of seats. On one side of the lounge, an L-shaped booth with room for up to four passengers. On the other, two tables can accommodate a trio of travellers.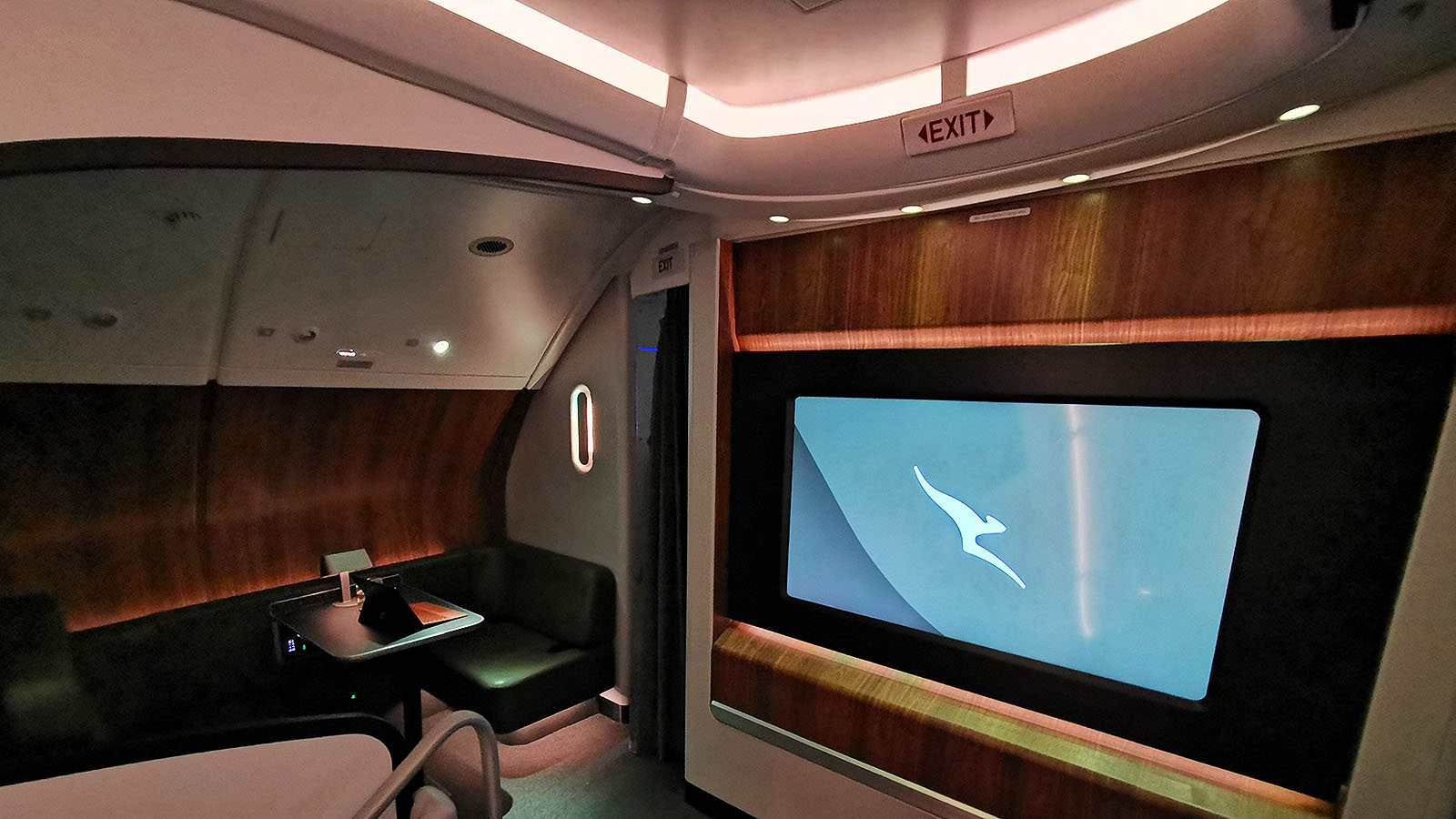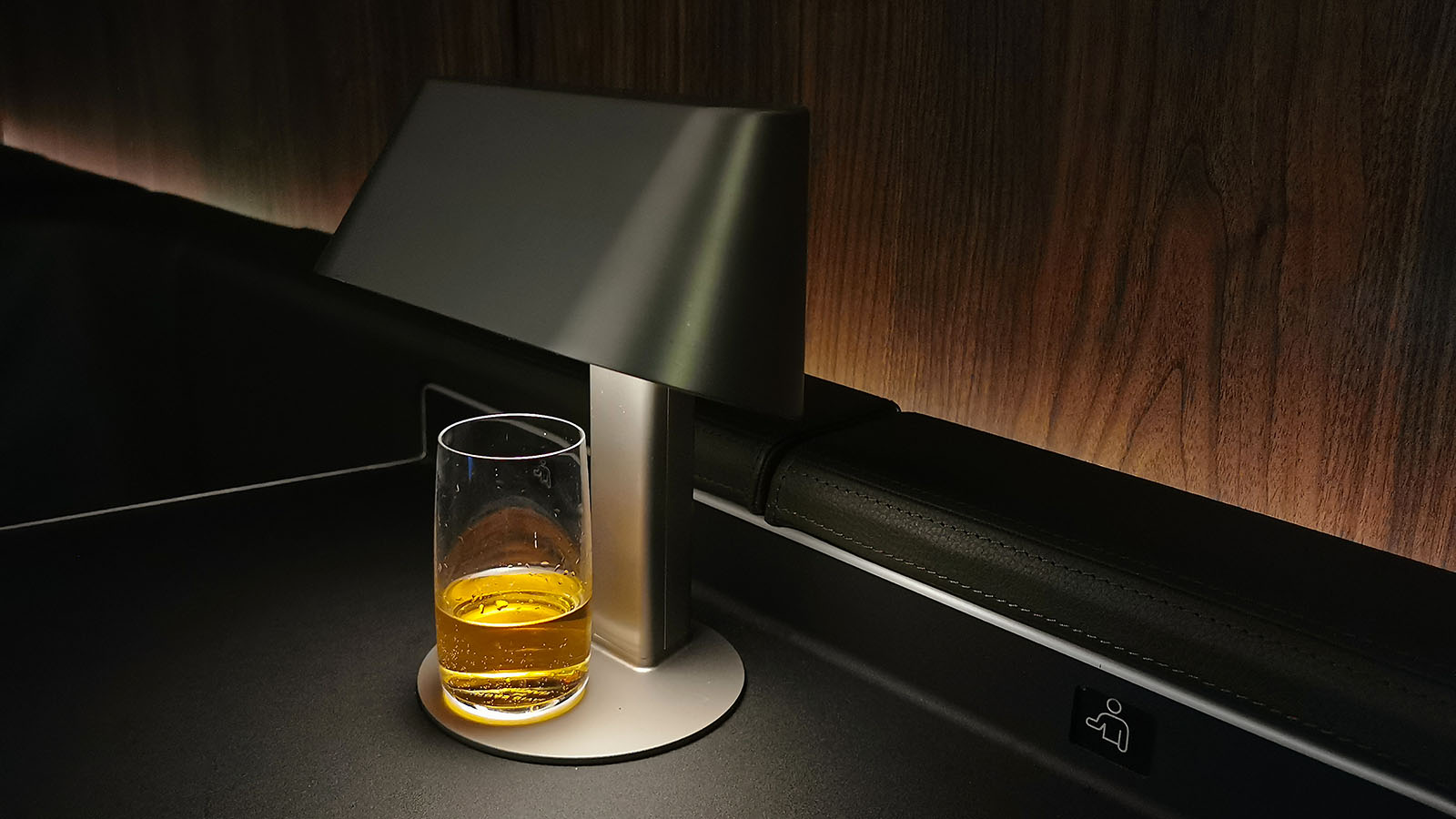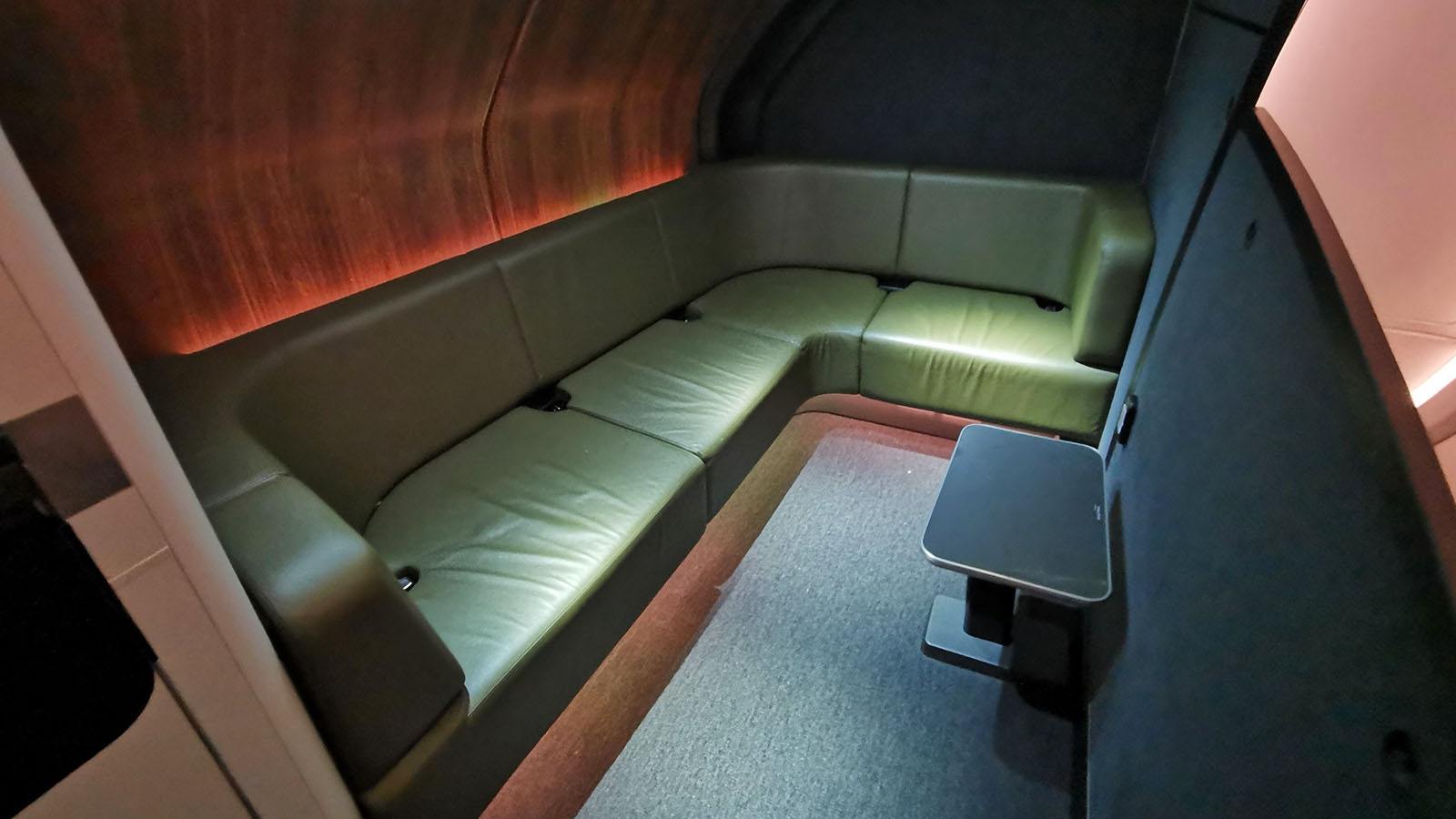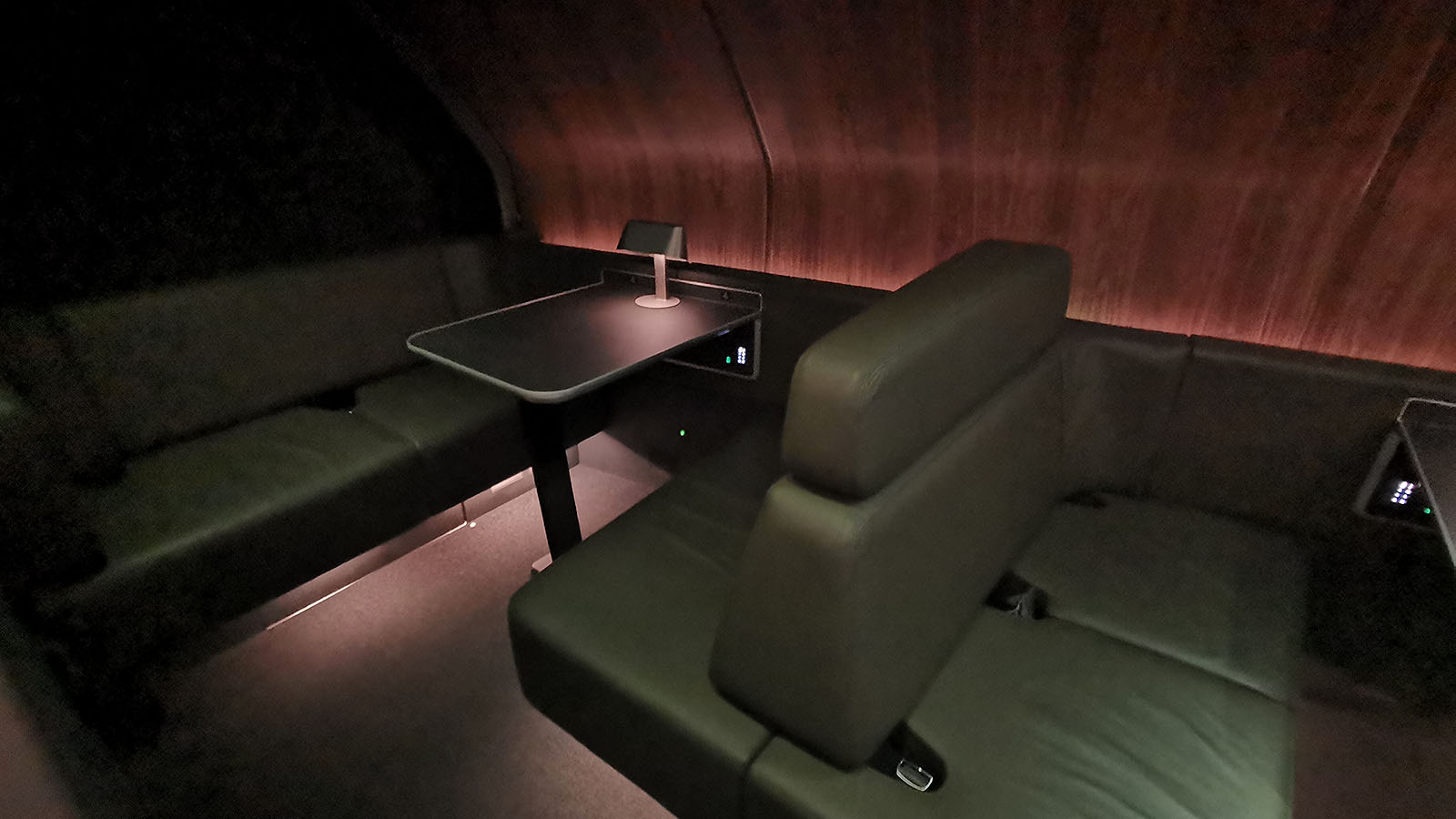 That's where I set up camp. It's pleasing to see lots of little touches that make the space so very practical. For instance, the lounge itself is kept quite dim on evening flights, giving it more of a 'private club' vibe. But if you want to work or read, there's an individually controlled overhead light at each seat.
AC and USB power outlets are scattered throughout, along with an attendant call button. You know, for that next glass of Champagne.
If you're wondering why Qantas would put a lounge space here instead of more seats, there's a simple reason. Aviation regulators don't allow this windowless part of the plane to be occupied during take-off and landing.
Rather than just whacking in another galley, it gives airlines a reason to innovate with the floor plan without making the accountants grumble! This is the world's largest passenger plane, after all.
Summing up
While the original Boeing 747 jumbo remains the favourite aircraft of many travellers, I've long had a soft spot for the superjumbo. The sense of space, particularly on the upper deck, is something you just don't get on any other aircraft.
When you combine that with Qantas' newest version of the Business Suite, the Roo's Airbus A380 is a very pleasant way to fly. The cabin reconfiguration in 2019 also keeps the fitout reasonably competitive for long-haul flyers.
But Sydney-Singapore is a hotly contested route for premium passengers. It's one served by Singapore Airlines' own Airbus A380s, which allow selected pairs of Business Class seats to transform into a double bed.
There's also Qantas' partner British Airways. BA offers its flagship Club Suites between Sydney and Singapore with closing privacy doors. Like this Qantas flight, you don't need to be travelling to London to hop onboard BA, either.
Those booking Business outright certainly have a tough decision to make. With such fierce competition, Qantas would be wise to put its best foot forward on the service front. Elaborating beyond 'red or white' in the wine department – and indeed, having more than one white available in the cabin – would be a great place to start.
All photography by Chris Chamberlin, who used Qantas Points to upgrade at his own expense on a paid ticket.
---
Stay up to date with the latest news, reviews and guides by subscribing to Point Hacks' email newsletter.
Qantas Airbus A380 Business (Sydney – Singapore)
was last modified:
December 13th, 2022
by