When it comes to flying Business Class, Emirates puts its best foot forward with the Airbus A380. There's the usual pairing of a flatbed with direct aisle access to start. But the airline cranks things up further with an inflight bar and lounge area that really make the hours fly by.
As for lounges on the ground, you can board this flight from inside the lounge in Dubai. That's true whether you visit the Business Class Lounge typically included with the ticket or are kicking back in the nearby First Class Lounge courtesy of Qantas or Emirates Platinum status.
Mix in cocktail service, comprehensive inflight entertainment, usable inflight Wi-Fi, complimentary Chauffeur Drive and service with a smile, and it's hard to top the overall Business Class experience on the Emirates Airbus A380. Even if the cabin does come without closing doors, as seen on some other airlines.
Check-in, lounge and boarding
My journey tonight continues from Frankfurt. This means I'm already checked-in and can go straight through transit security in Dubai. Aside from those booked on Emirates' lower-cost Business Class Special fares, a Business Class ticket (paid, reward seat or flight upgrade) grants lounge access here in Dubai.
This Emirates Airbus A380 flight is departing from Dubai's Concourse A. I visit Emirates' nearest Business Class Lounge for a stickybeak. It's a sizeable space with buffet dining, shower facilities and plenty of places to work and relax. But thanks to my Qantas Platinum status, I quickly move to the nearby First Class Lounge instead, where there's also à la carte dining.
The great thing about Concourse A is that you can board your flight from directly inside the lounge. I do just that, but today, it's quite a slow process. There's an additional liquid check at the gate – an Australian Government requirement. And yet, there's only one security staffer at one makeshift table. It takes about a minute for each passenger to put their bags up, open them for inspection and get packed up again – and there are about 15 people in line. Having a second table for the next passenger to use while the previous guest packs up would get everyone through in half the time.
My duty-free liquids are taken at the gate and transferred to the aircraft hold. These are later returned intact and unbroken at the 'oversized baggage' area on arrival in Sydney. (I really didn't think I bought that much, but apparently…!)
Once on board, I settle in at my carefully chosen window seat. We do a loop of Dubai – giving one last look at Burj Khalifa, the world's tallest building – before climbing up through the clouds.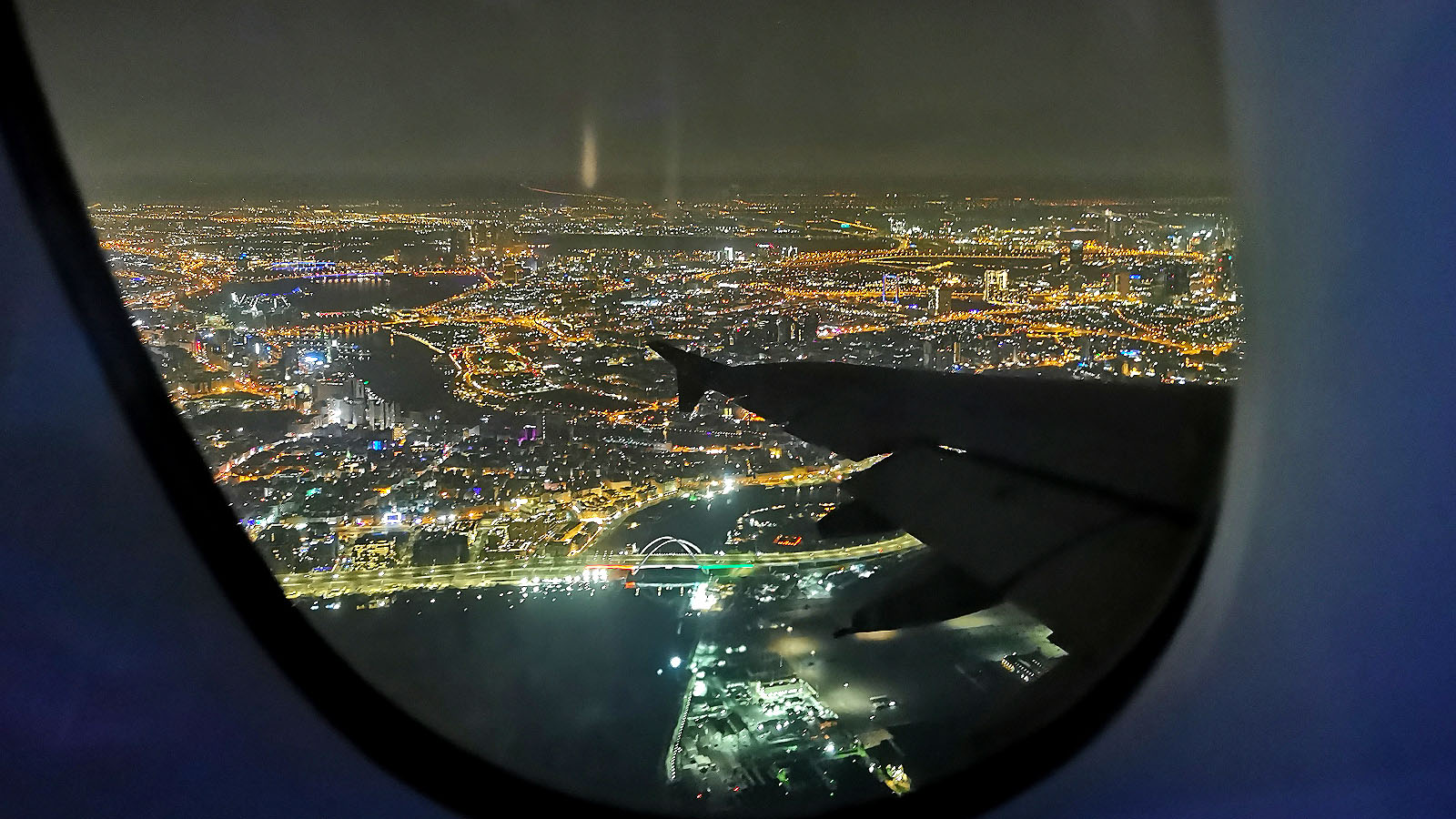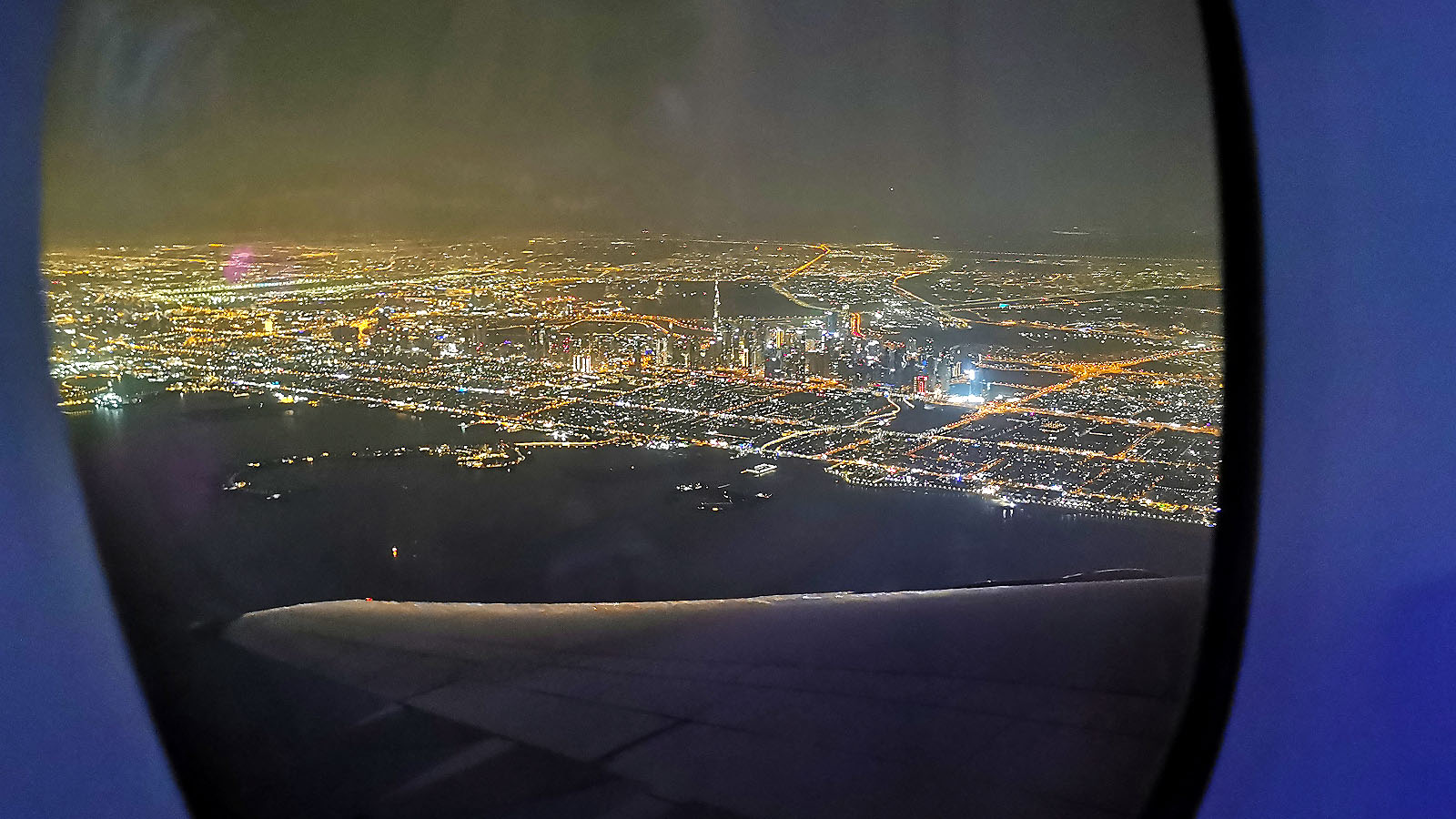 Emirates Airbus A380 Business Class seating
Emirates uses a staggered 1-2-1 seating layout in its Airbus A380 Business Class cabin. On the sides, seats alternate between being closer to the window and the aisle. In the centre, it's a zigzag between two seats together – often called the 'honeymoon' seats – and two seats apart.
Each seat transforms into a fully-flat bed. After take-off, crew set up a padded mattress. There's also a full-sized pillow and duvet to get comfortable. Pyjamas aren't provided, but I know this ahead of time and bring my own.
On this journey, I'm managing my transition between the time zones of Frankfurt and Sydney. Even though I could have a long doze, I choose a strategic four-hour sleep at the very beginning of the flight. This allows me to wake up 'morning time' in Sydney, and also follows a two-hour nap on the previous leg. All told, we later arrive in Australia at around 10 pm local time. I go straight to bed, and I wake up the next day with no jet lag at all. It's perfect.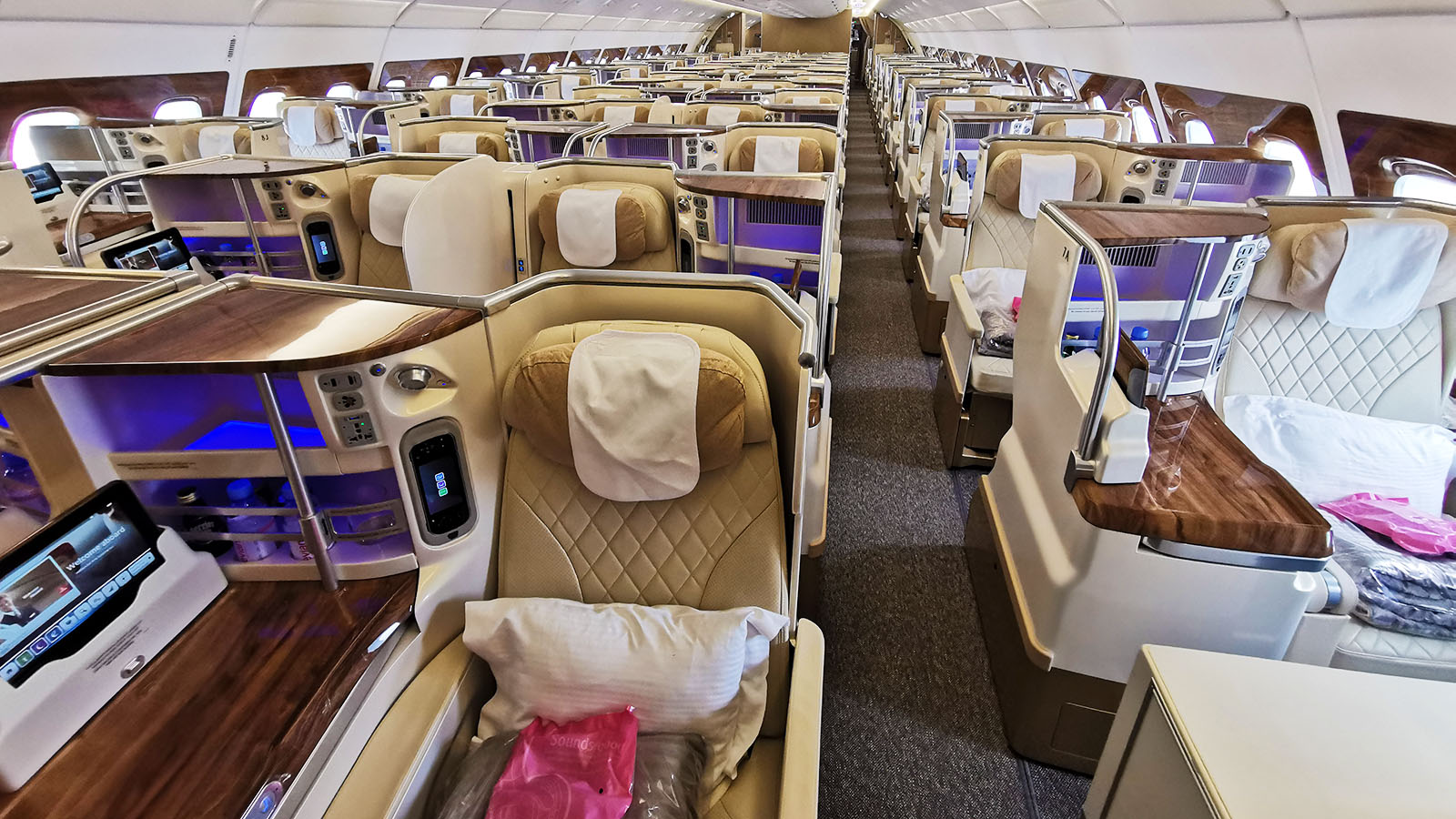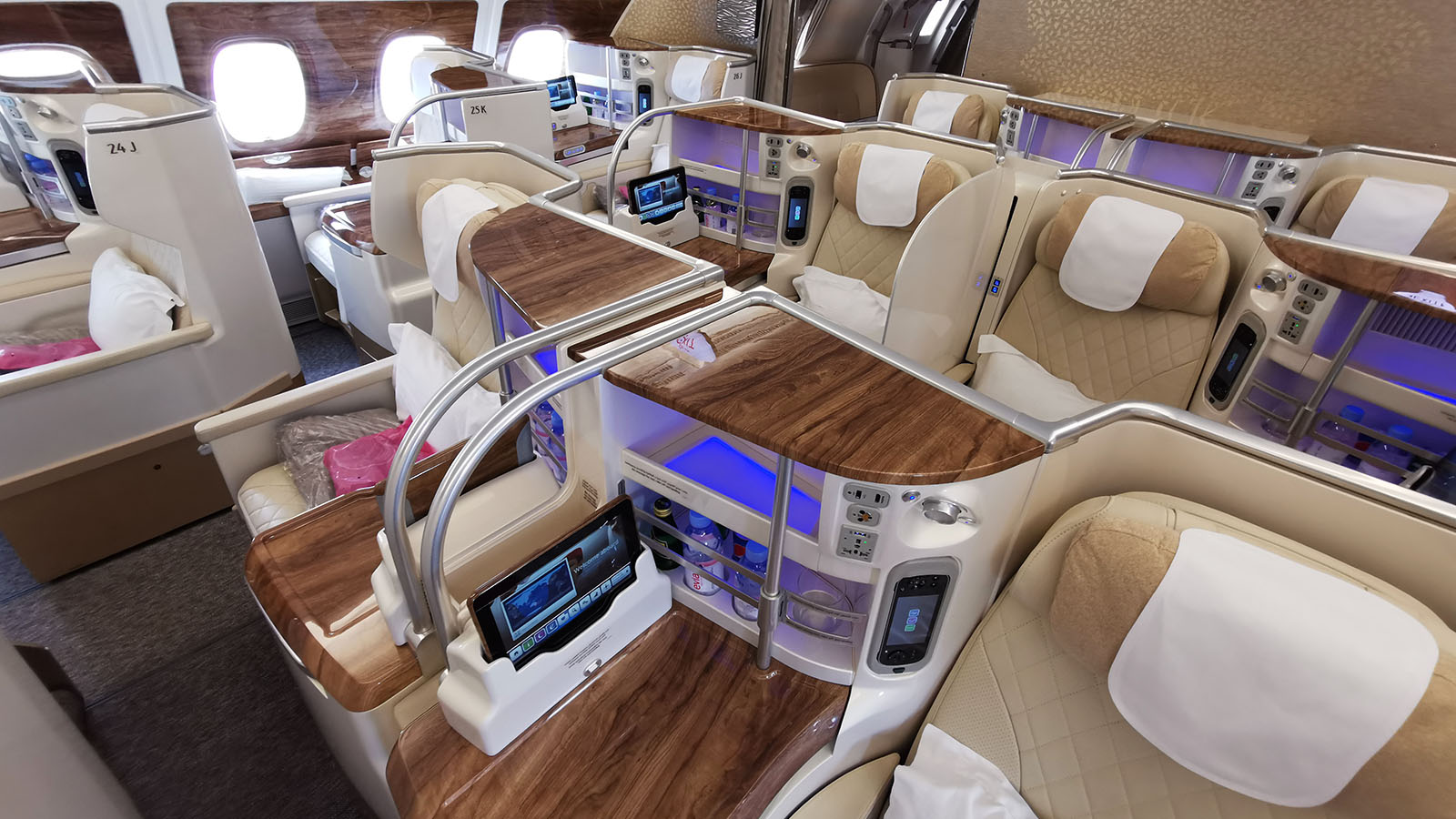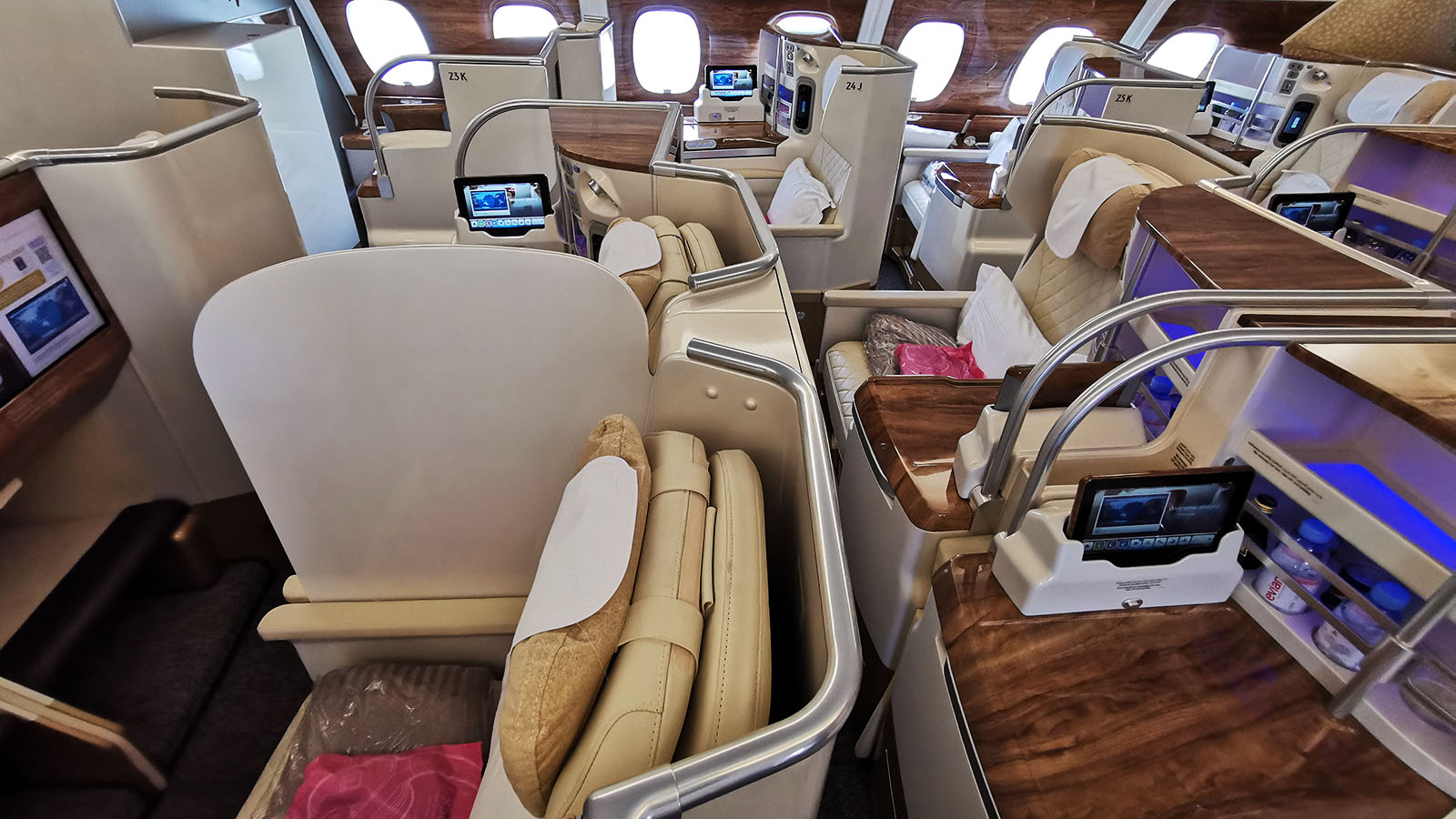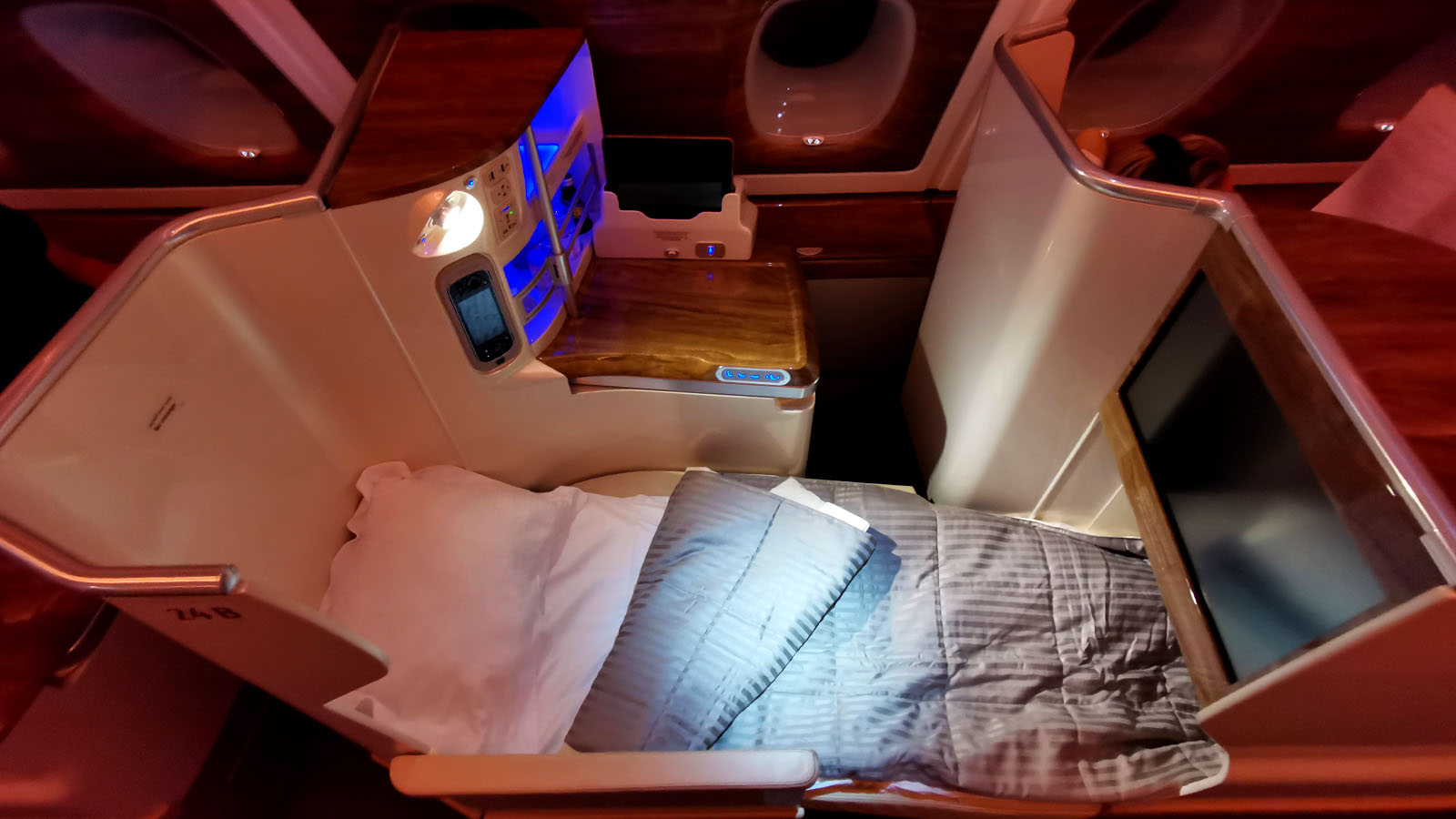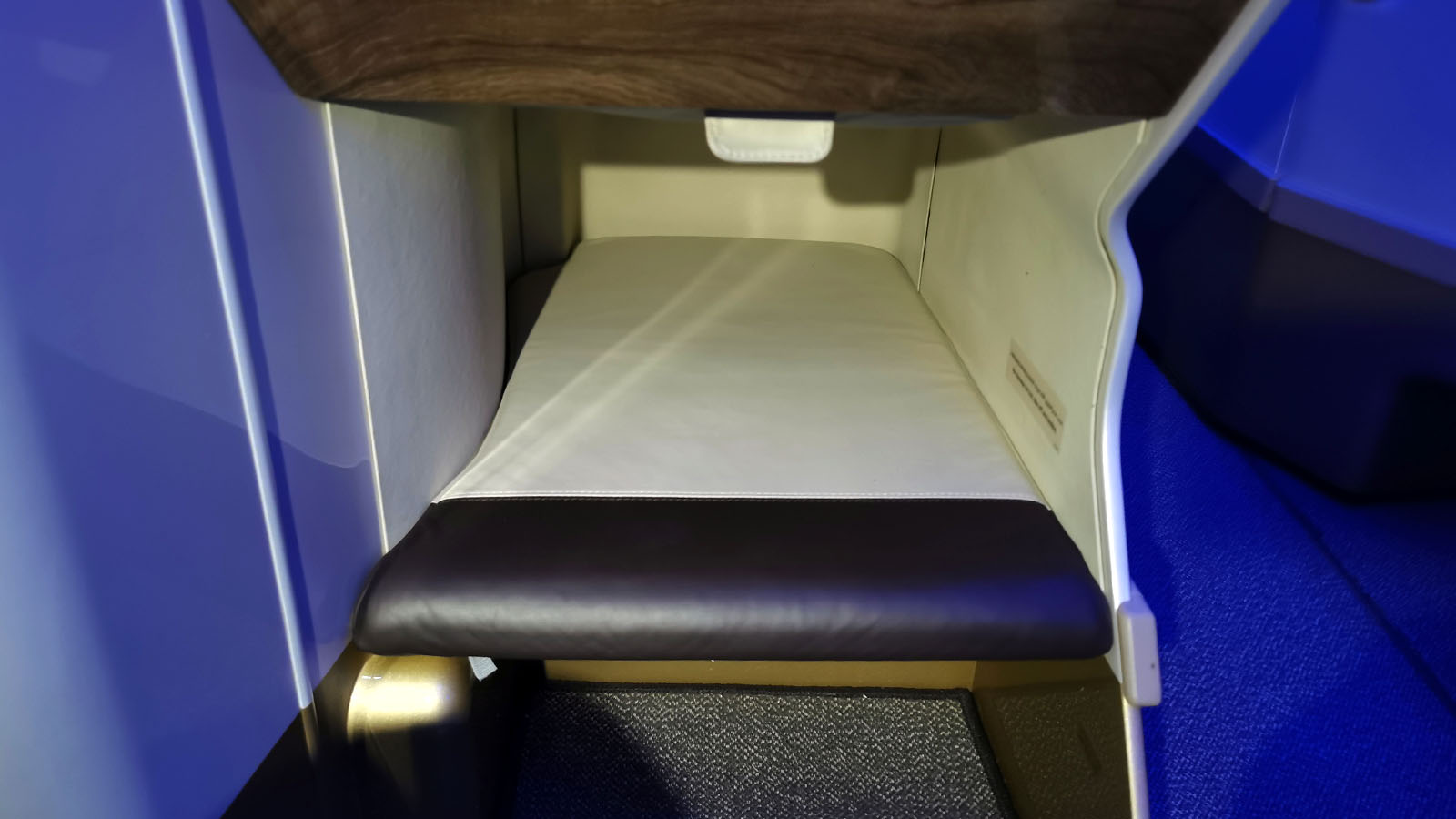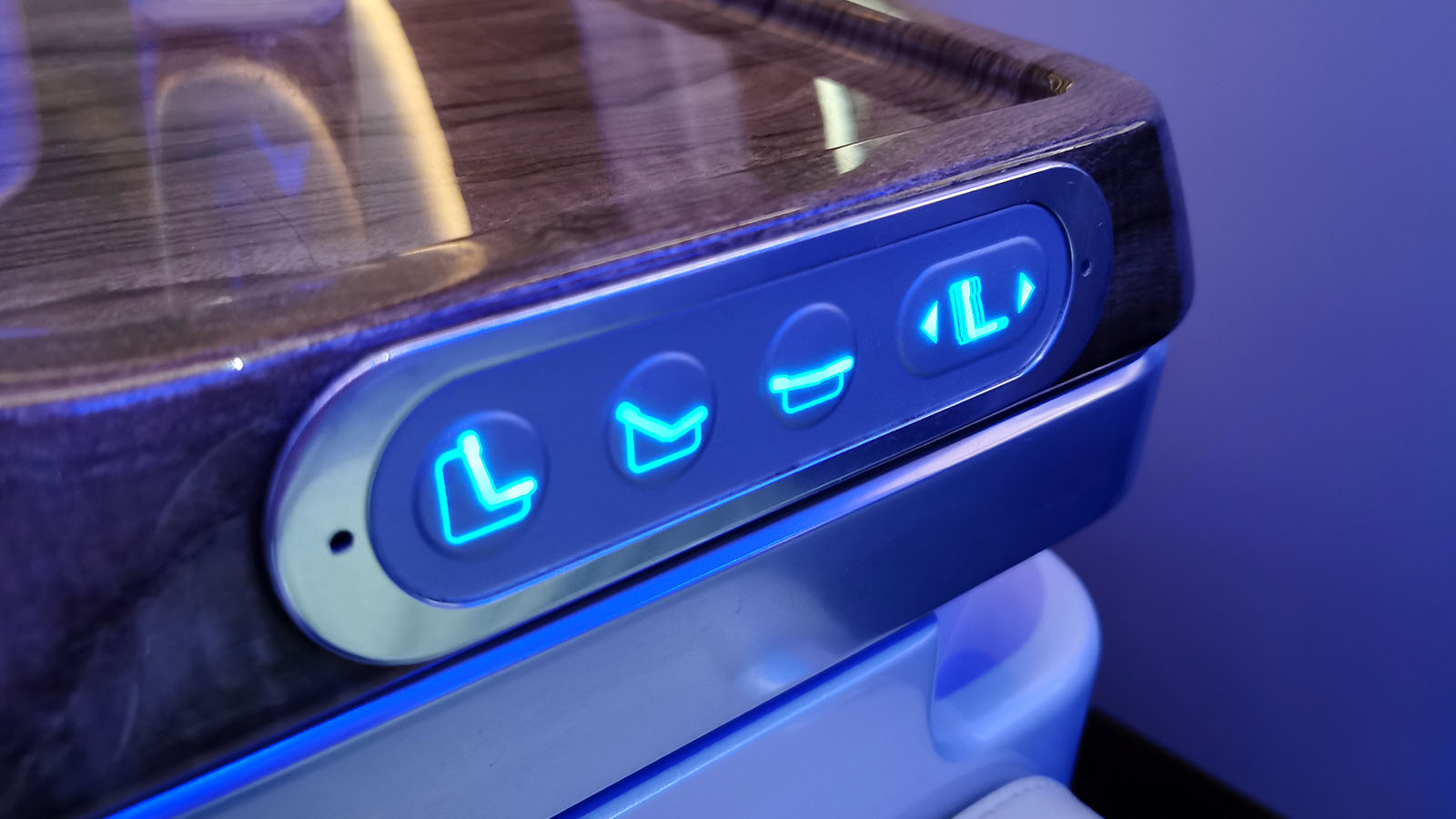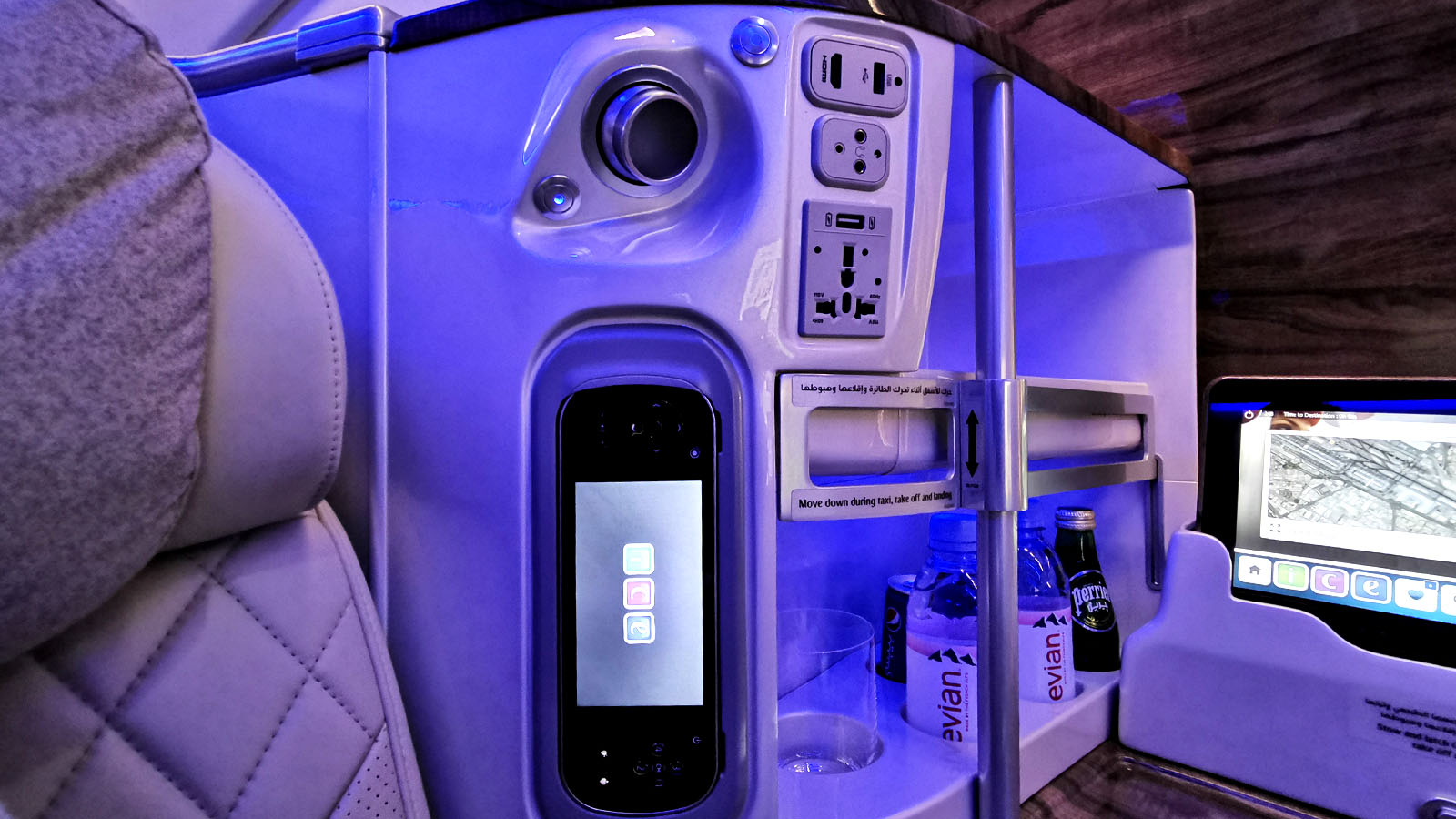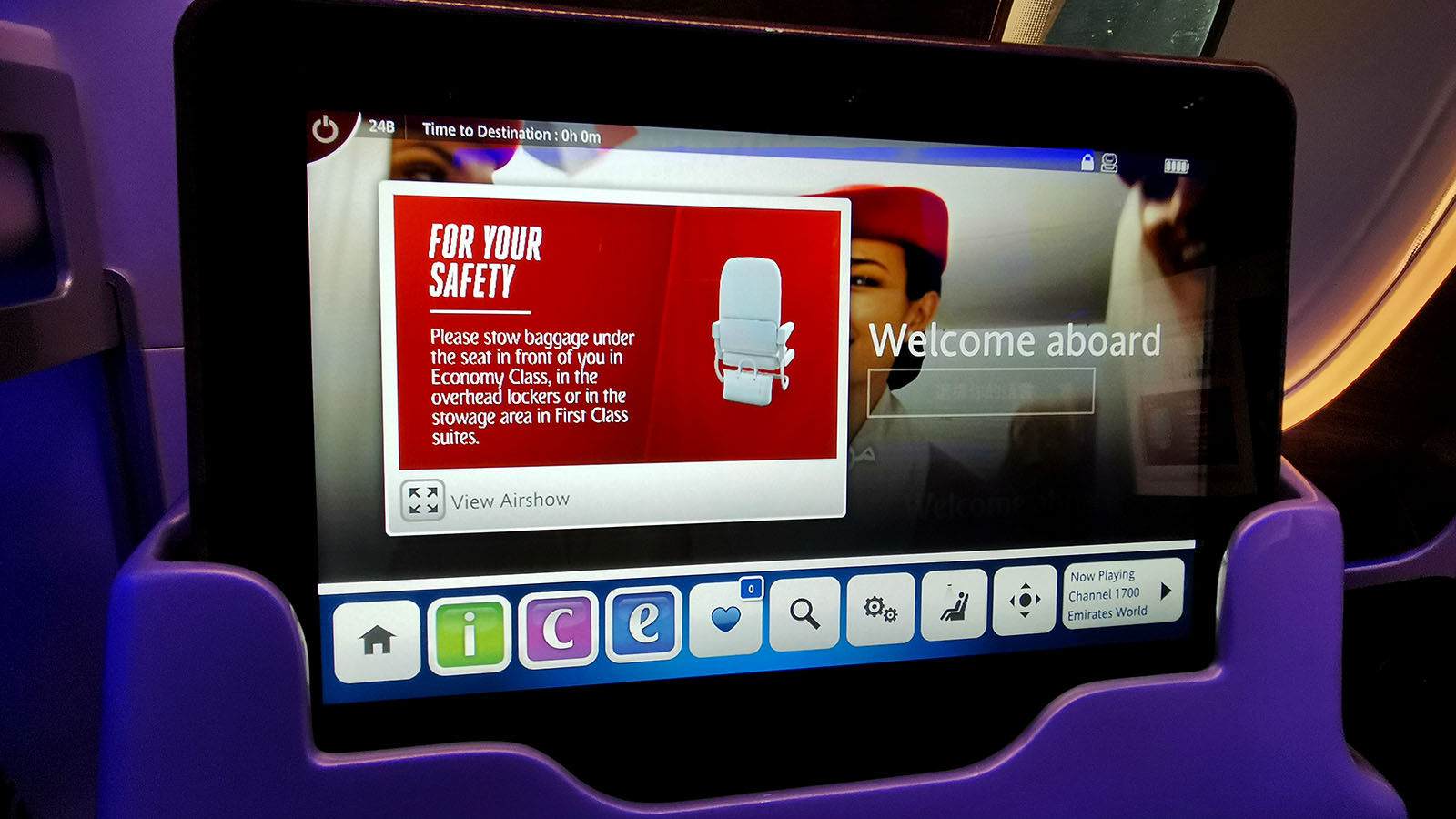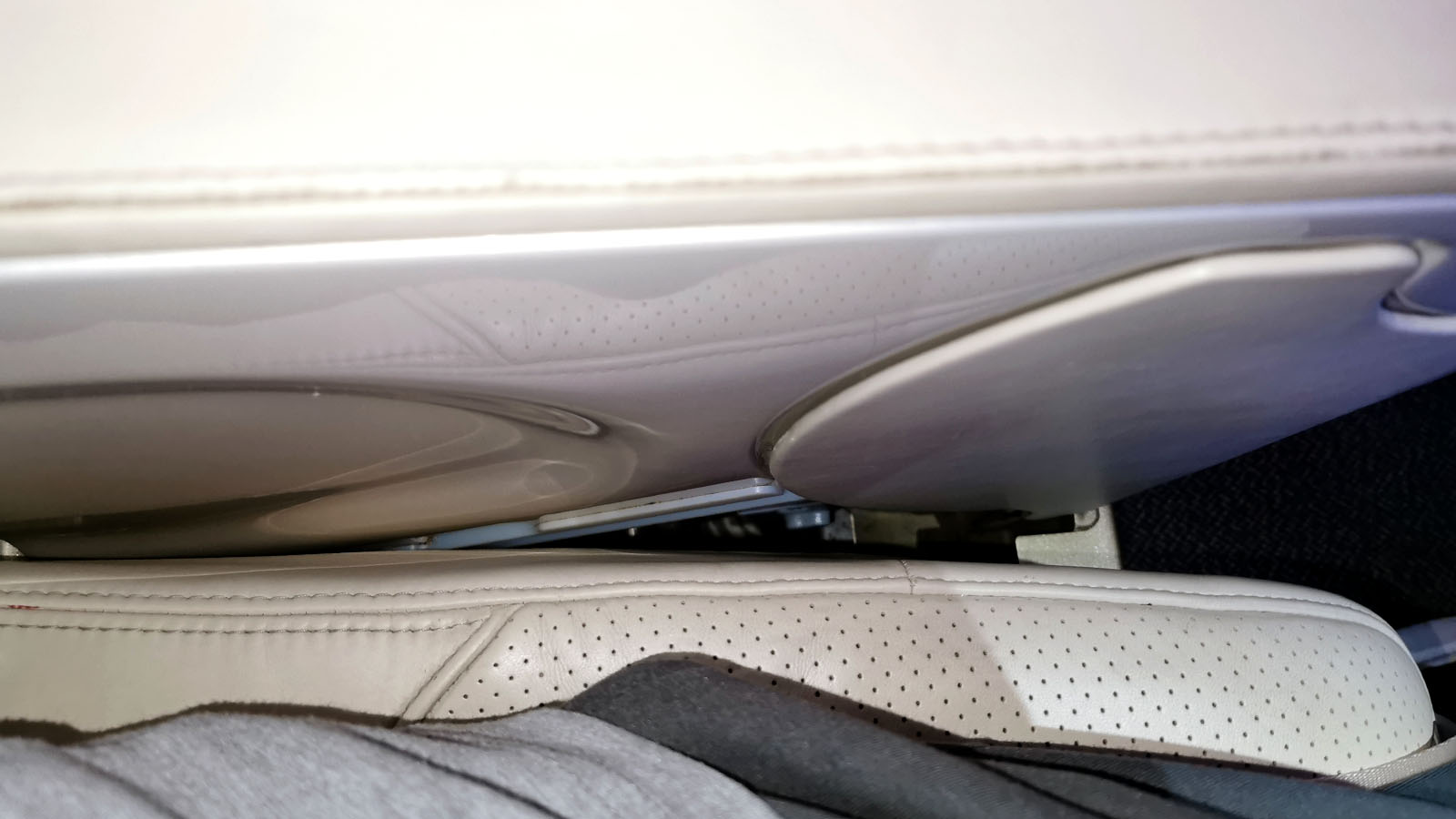 To the rest of the seat, there's an open minibar stocked with refreshments. It's a nice idea, and helpful if you don't mind drinks at ambient temperature like water. But for soft drinks, I'd want to order ice – and by the time I've done that, I could just order a cold drink in the usual way.
I also notice that there's a gap between the seat and the adjacent console. But only after my phone slips out of the pocket in my pyjama pants and gets trapped down there – before we've even left the gate. Engineering is called, but one crew member remembers a faster and easier option for recovery. Phew, we're sorted. The phone is okay, and we're not delayed leaving Dubai.
Food and beverage in Emirates Airbus A380 Business Class
As we get underway, my willpower to sleep sees a glass of Champagne declined in favour of a refreshing guava juice before dozing off. If I'd stayed up, there's a light meal service to keep any hunger at bay. Once I'm awake, I spend some time at the onboard lounge – more on that below – before returning to my seat and settling in for breakfast.
I opt for the delicious banana pancakes with blueberry compote and mascarpone cream. That's joined by a latte, because of course, there's an espresso machine on board. Later on, I'm looking for a light bite around what would be lunchtime on the ground in Sydney. I rustle up a beef and horseradish sandwich, paired with a cheeky mimosa.
Mid-afternoon, in lieu of a second coffee, I switch to something more exciting – an espresso martini. It's simply divine.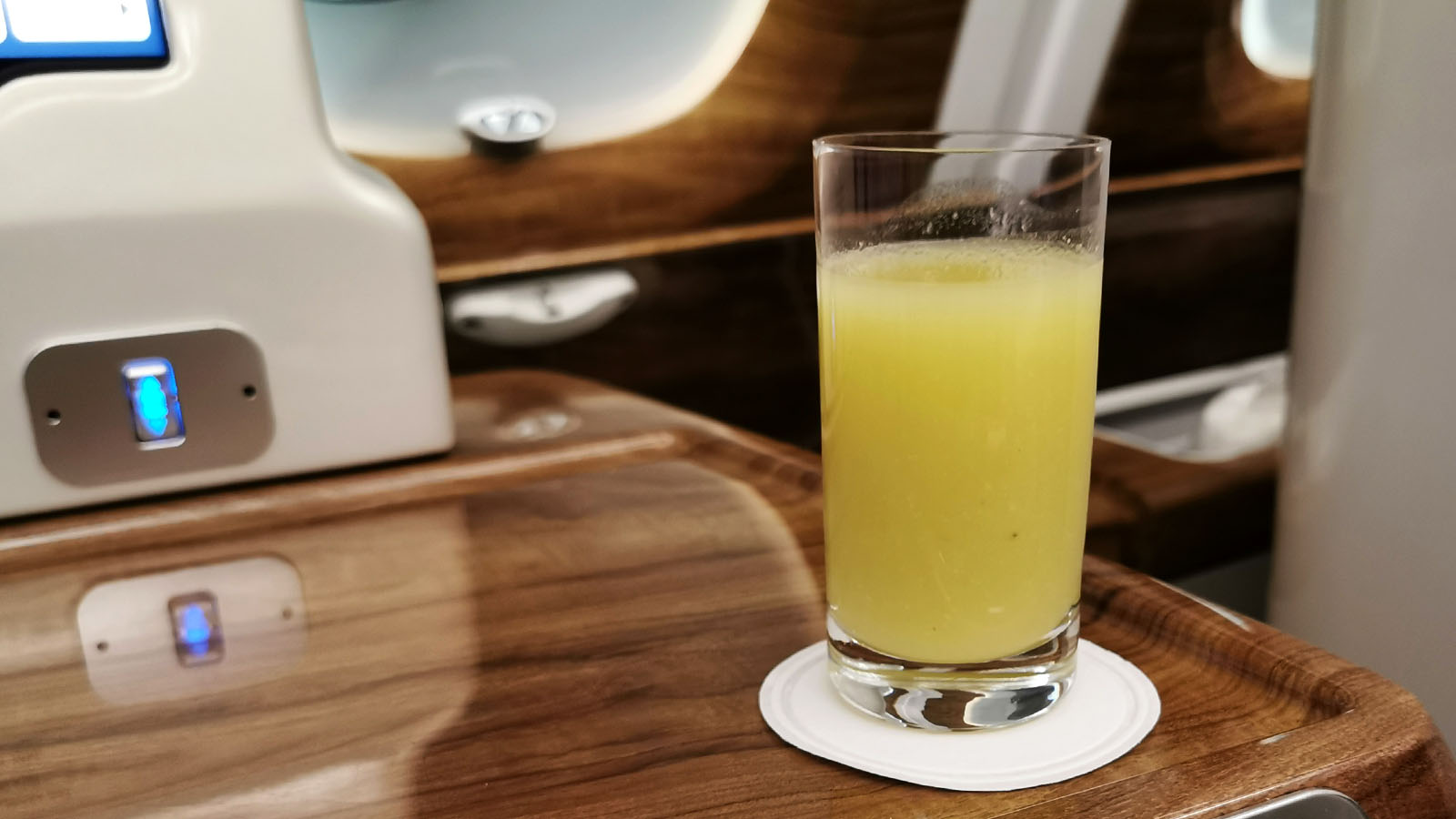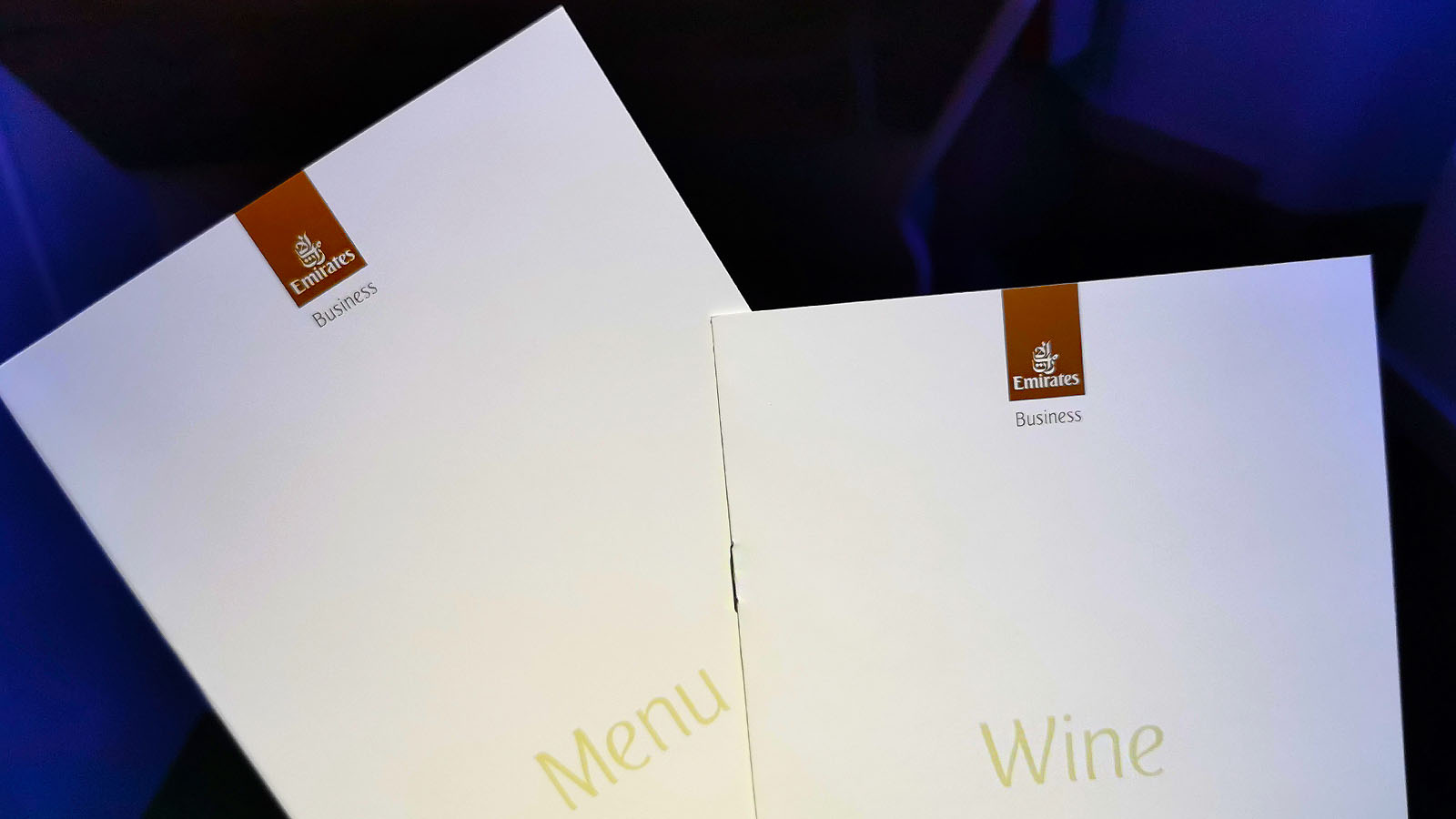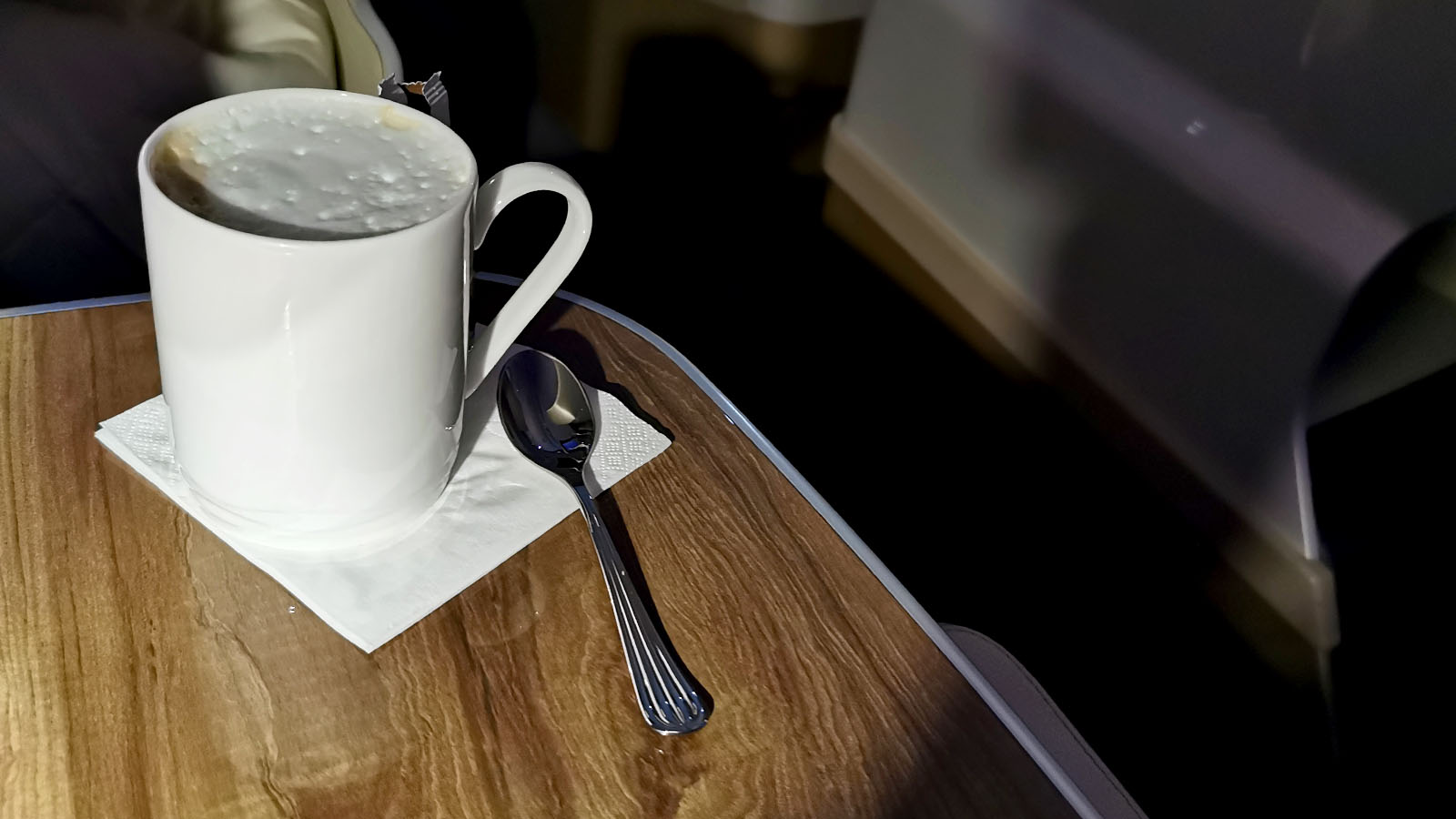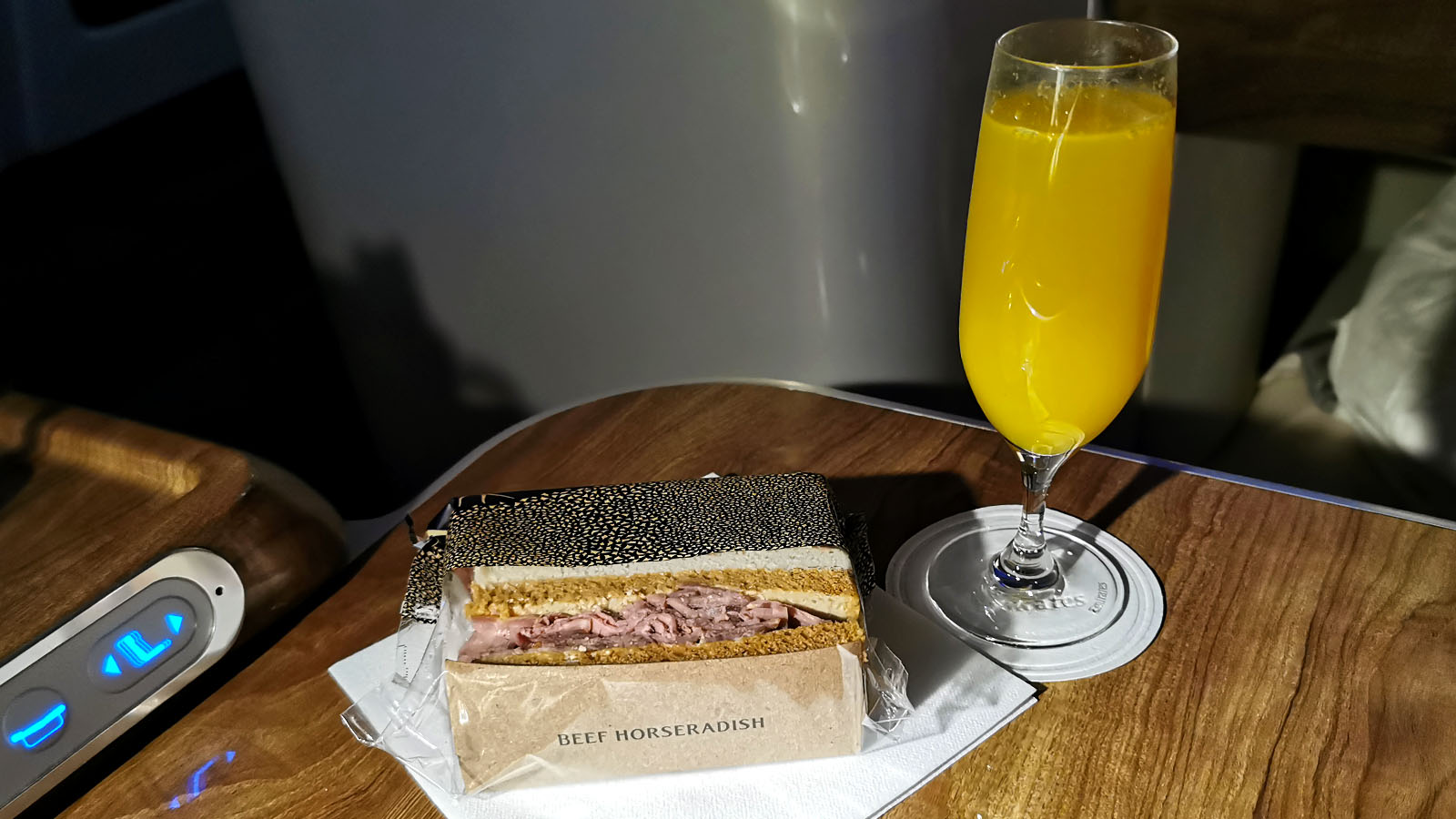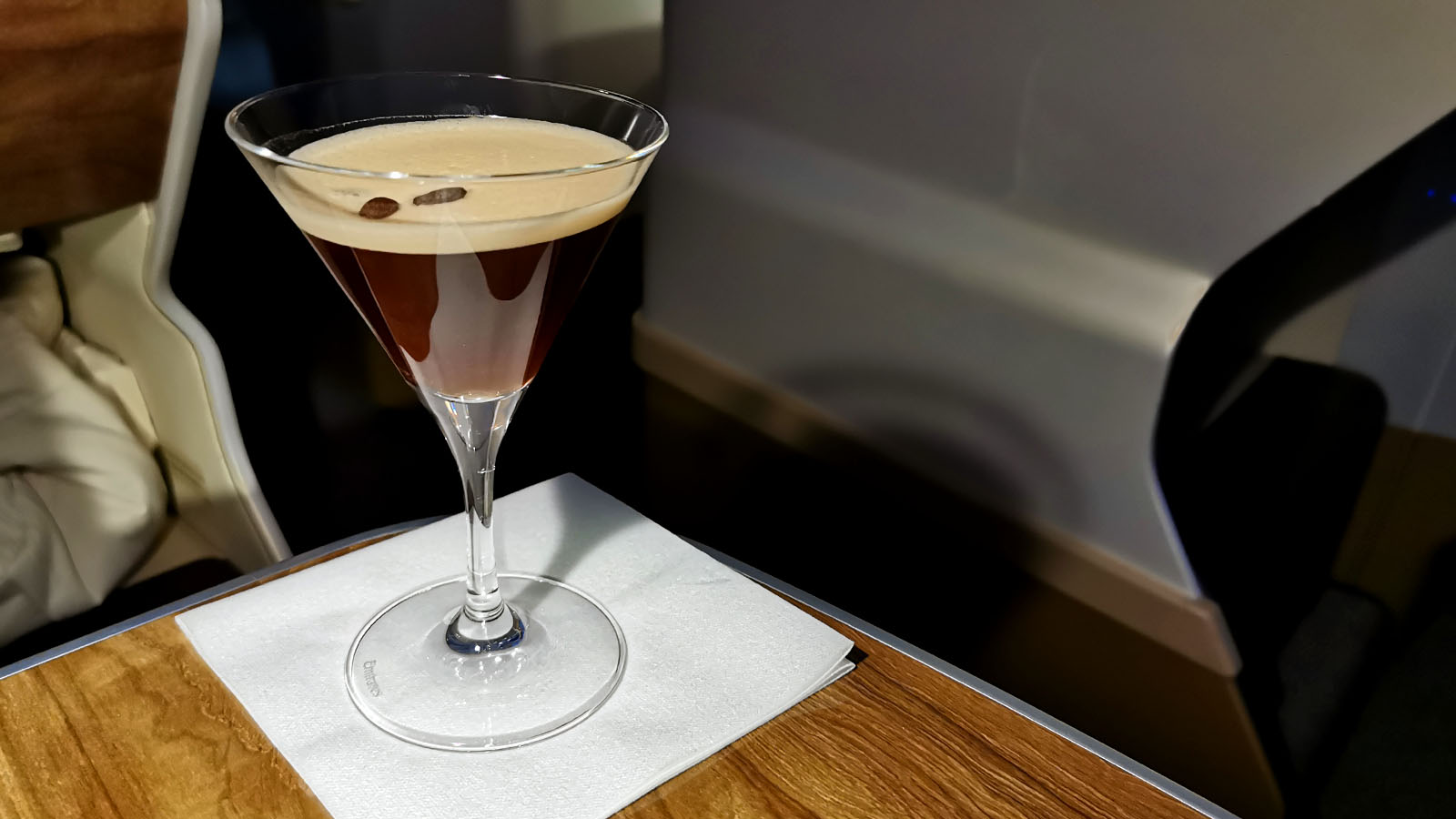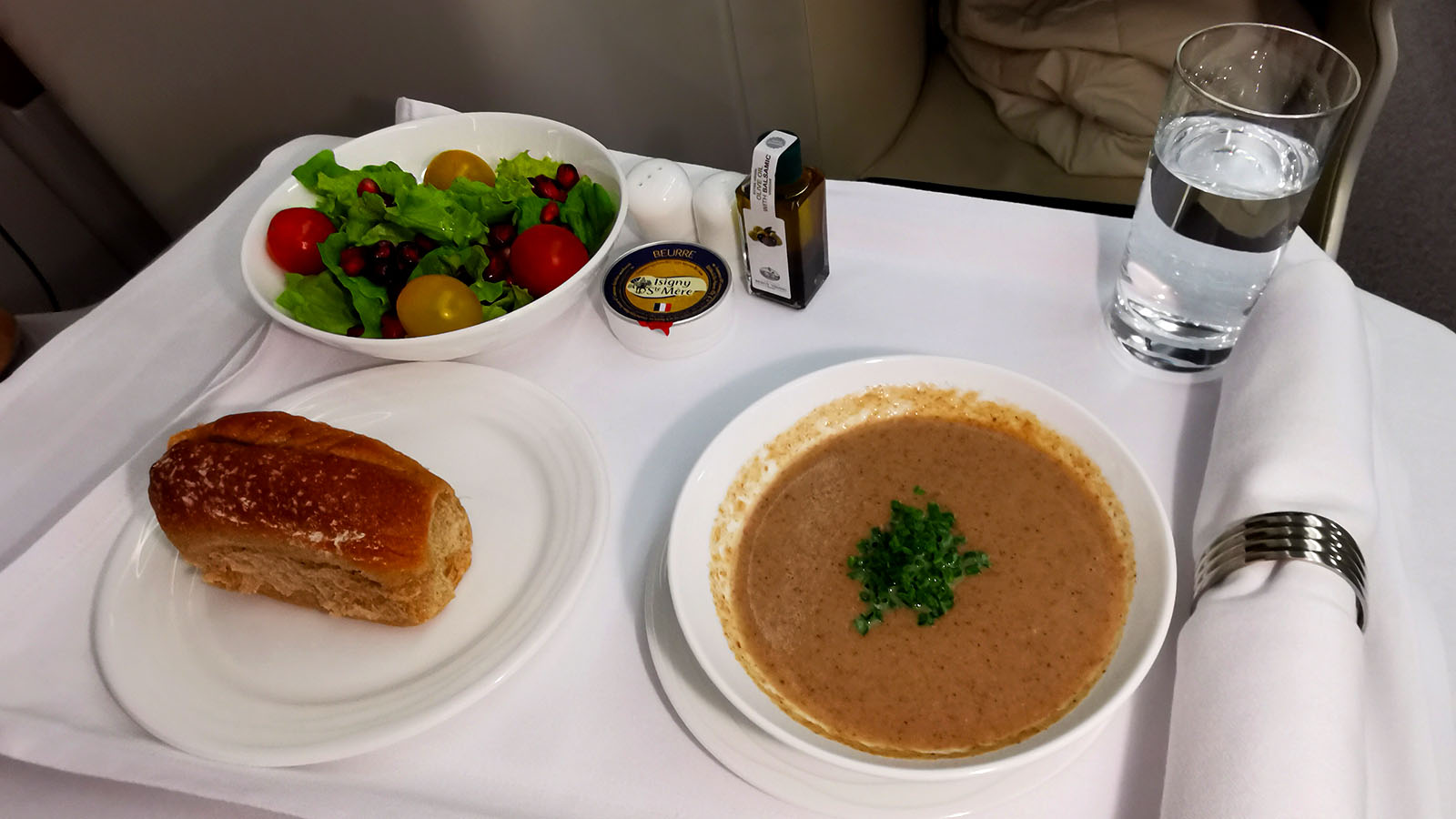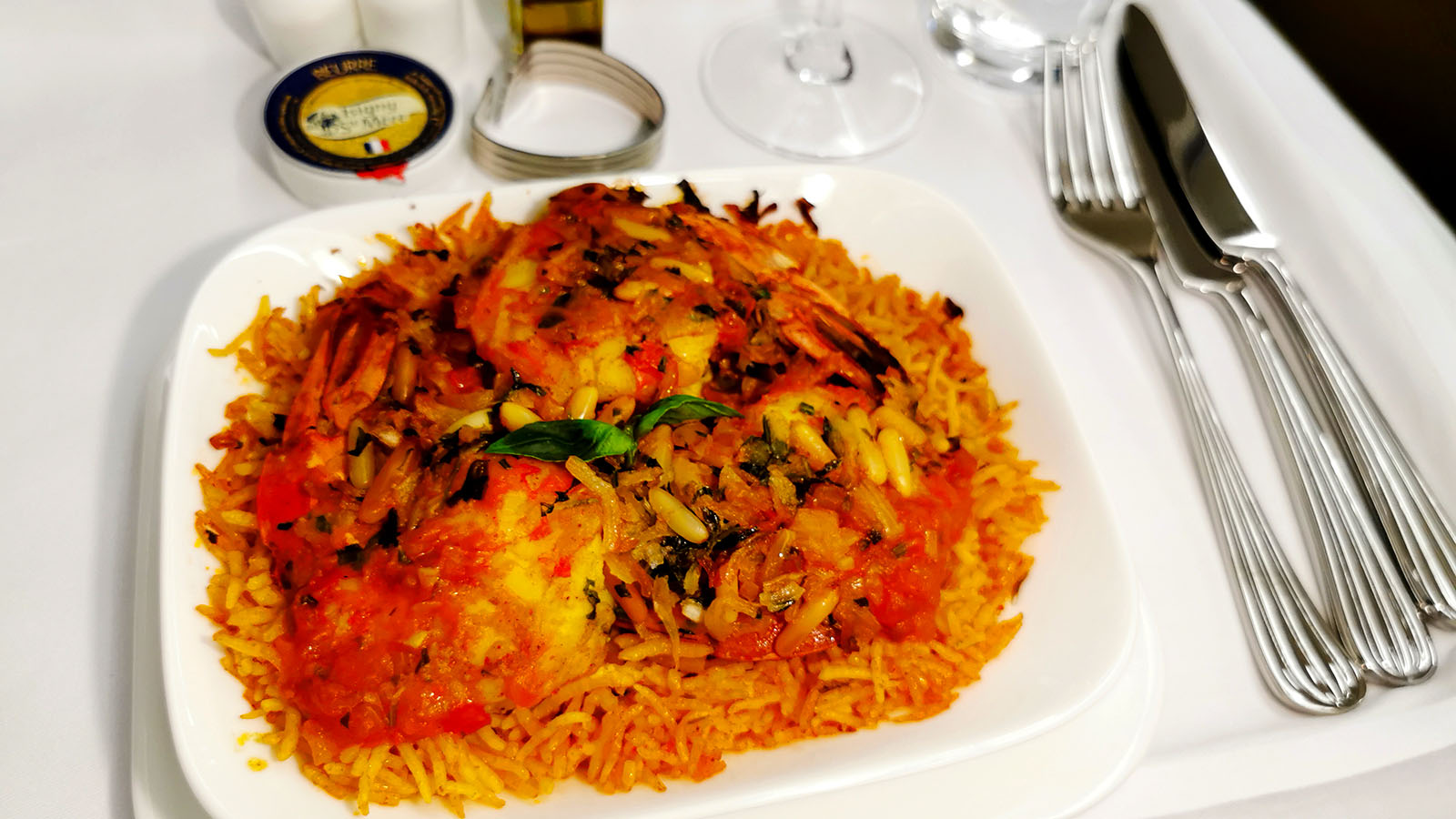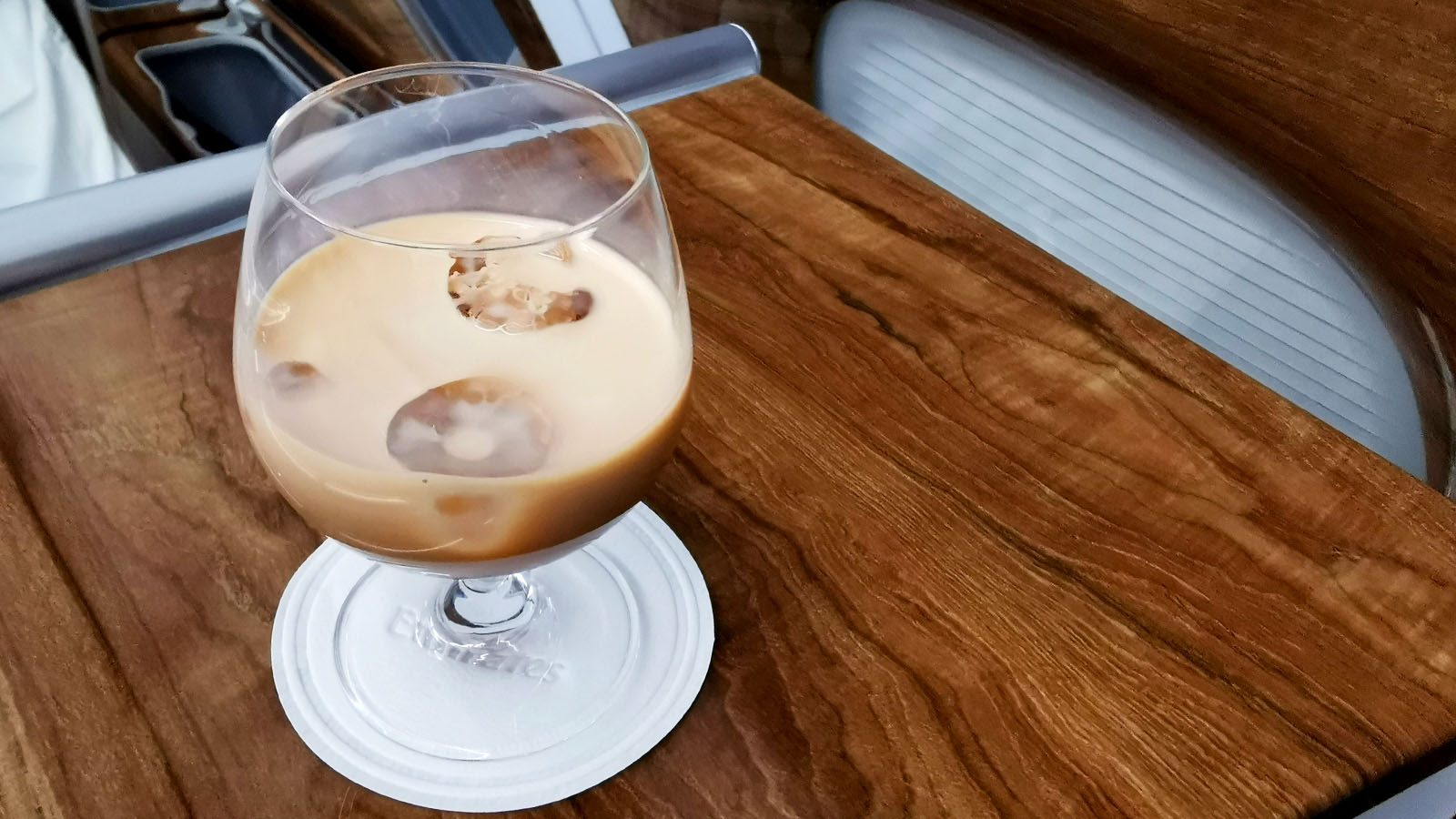 Dinner is served closer to our arrival in Sydney. I'm tempted by the Arabic mezze, an Emirates signature. But that's something I've enjoyed many times before. Today, it's time for something else. I kick things off with a very tasty cream of mushroom soup instead. But I draw on Arabic tastes for my main course, selecting the prawn machbous. The prawns are marinated in a traditional Emirati spice blend with rice, nuts and onions. Yum.
I'm too full to eat dessert, even if there is a chocolate tart and a cheese board staring me down on the menu. Instead, I finish the journey with a nightcap – Amarula cream on the rocks. Even by declining much of the food on offer today, I'm not leaving the flight hungry.
Emirates Airbus A380 Business Class service and entertainment
Service on today's Emirates Airbus A380 Business Class journey is excellent. As consistently happens for me on every Emirates flight, the crew notice my Qantas status and come by for a quick, personalised hello. It's a nice touch, especially on a very long flight.
In general too, today's crew strike the perfect balance between professional and light-hearted. Especially once you engage in conversation beyond merely ordering food and drinks. I end up chatting with one crew member for over an hour. Clearly, we both have frequent travel in common – and it's lovely to learn more about her home country, Myanmar, as well as her favourite holiday spots. (Lovely to meet you, Kay!)
Back at my seat, there are more than enough entertainment options to keep me busy. I continue with a TV series from my earlier Sydney-Dubai flight, I Love That for You. Then I buy a Wi-Fi pass (US$21.99 for the entire flight) and catch up on work.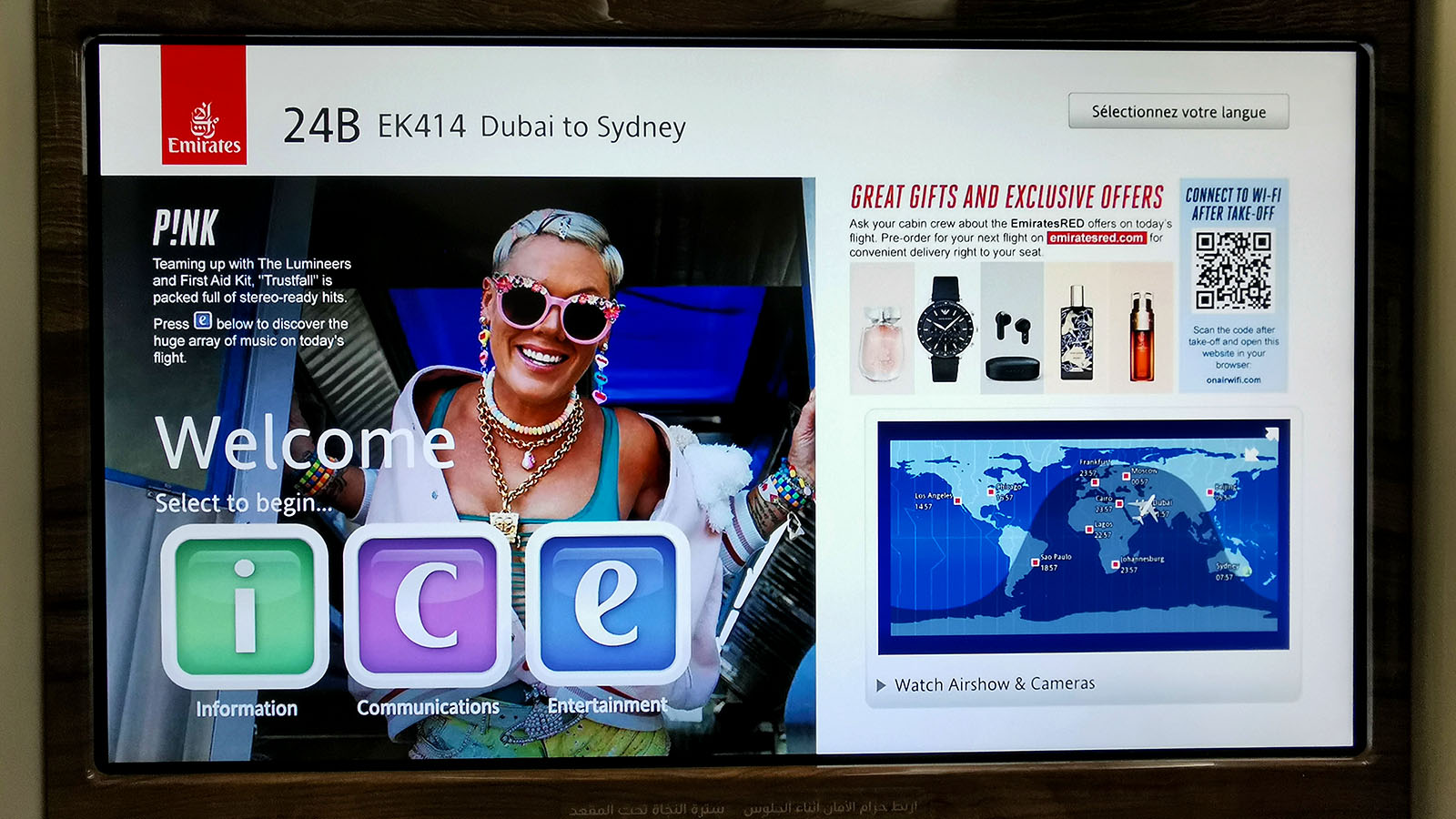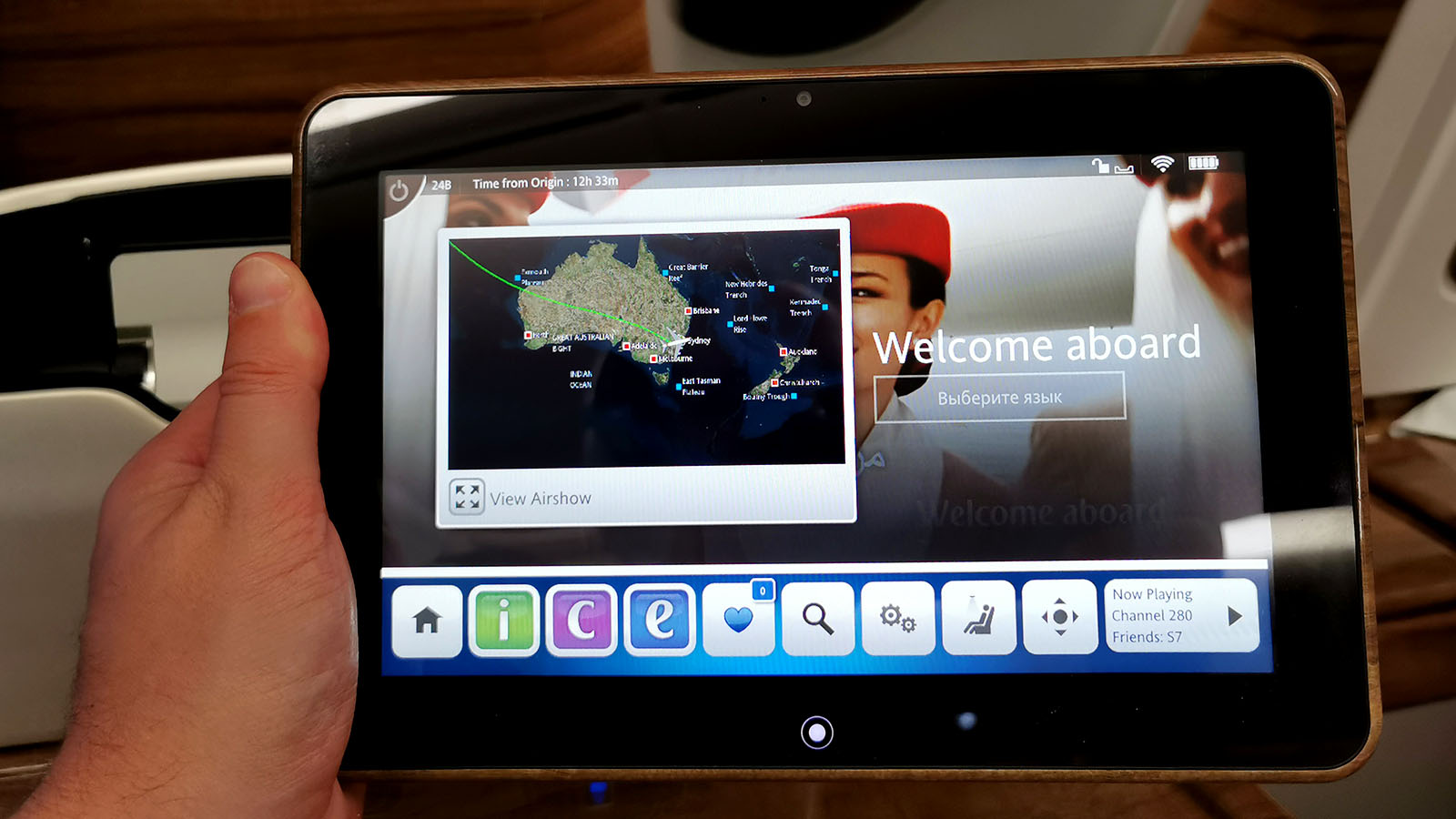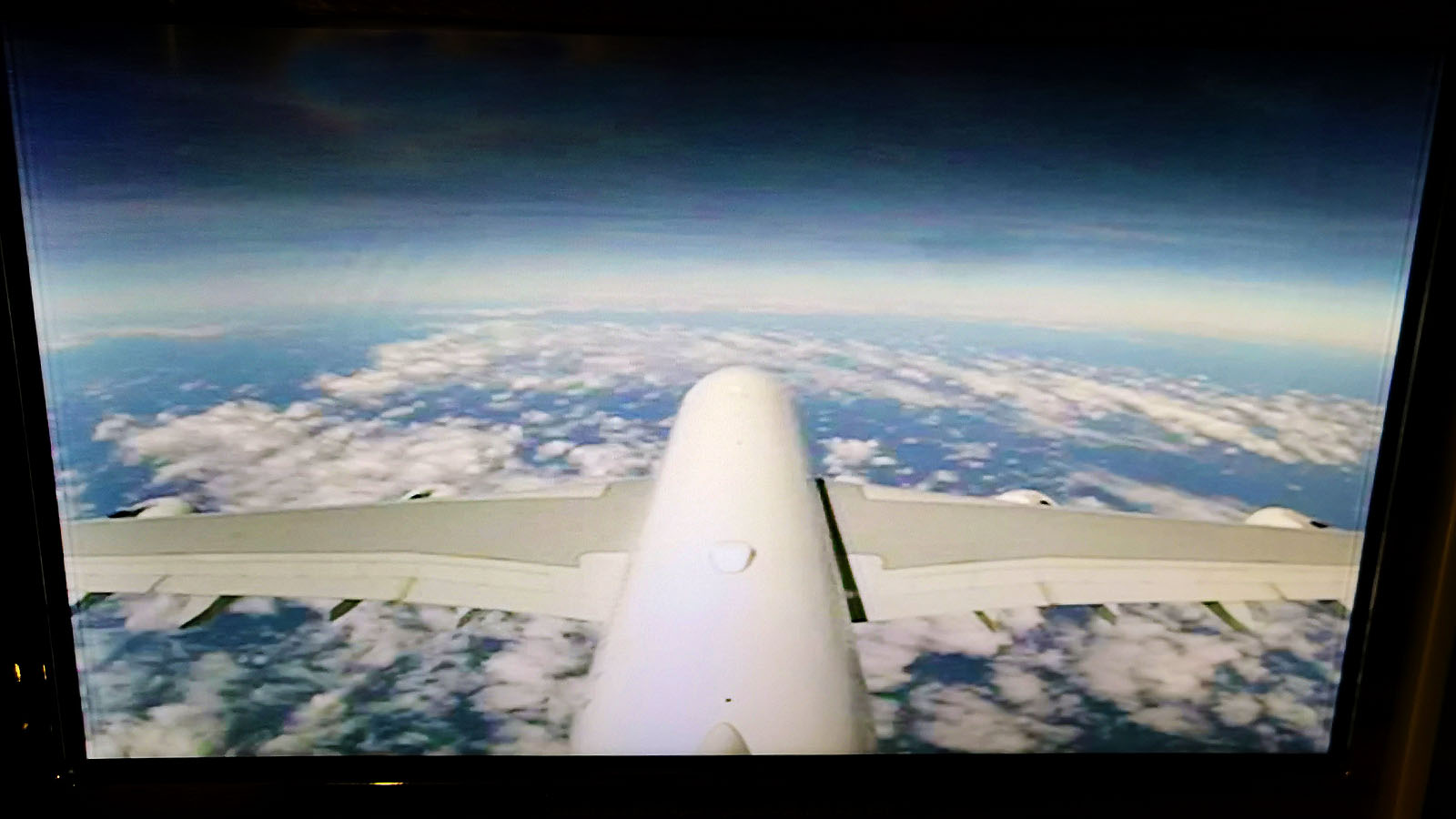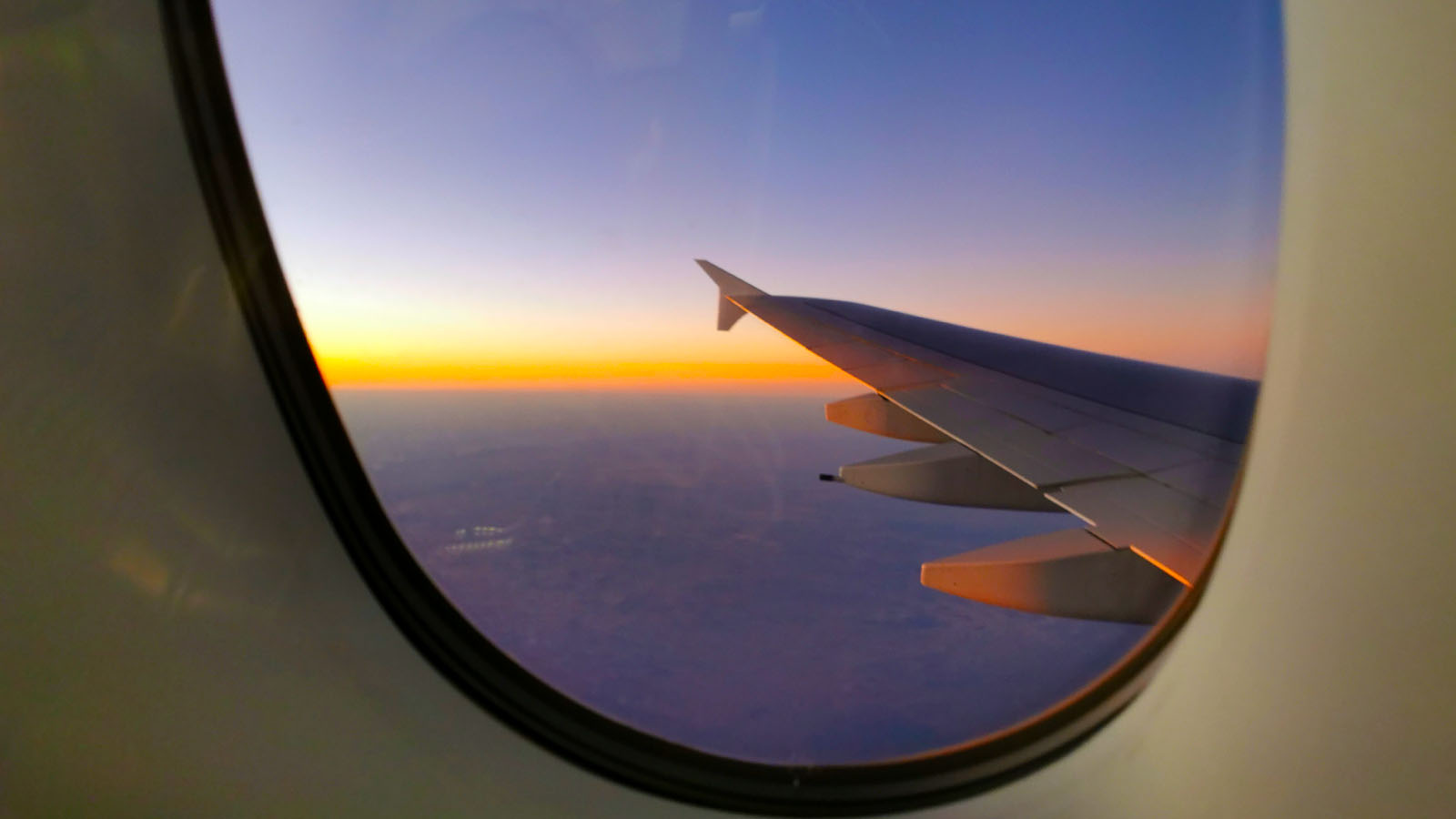 Being in a window seat allows me to enjoy the colours of the sunset outside. The Airbus A380 also comes fitted with multiple external cameras. I find it nice to display the tail camera on the entertainment screen while I'm busily working on my laptop.
The inflight bar and lounge for Emirates Business and First Class
Here's something special that you don't get on every flight. Emirates' Airbus A380s come equipped with an inflight bar and lounge area for Business Class and First Class. When I wake after my planned four-hour doze, I wander back and have the space all to myself. Well, myself and Kay – I'm happy to share.
Evidently, she's happy to let me take over bar duties for a while (okay, it's just for a quick photo, but still). She also grabs a Polaroid camera to capture the moment. We chat about her favourite country to visit, Japan, while I take photos of the space itself.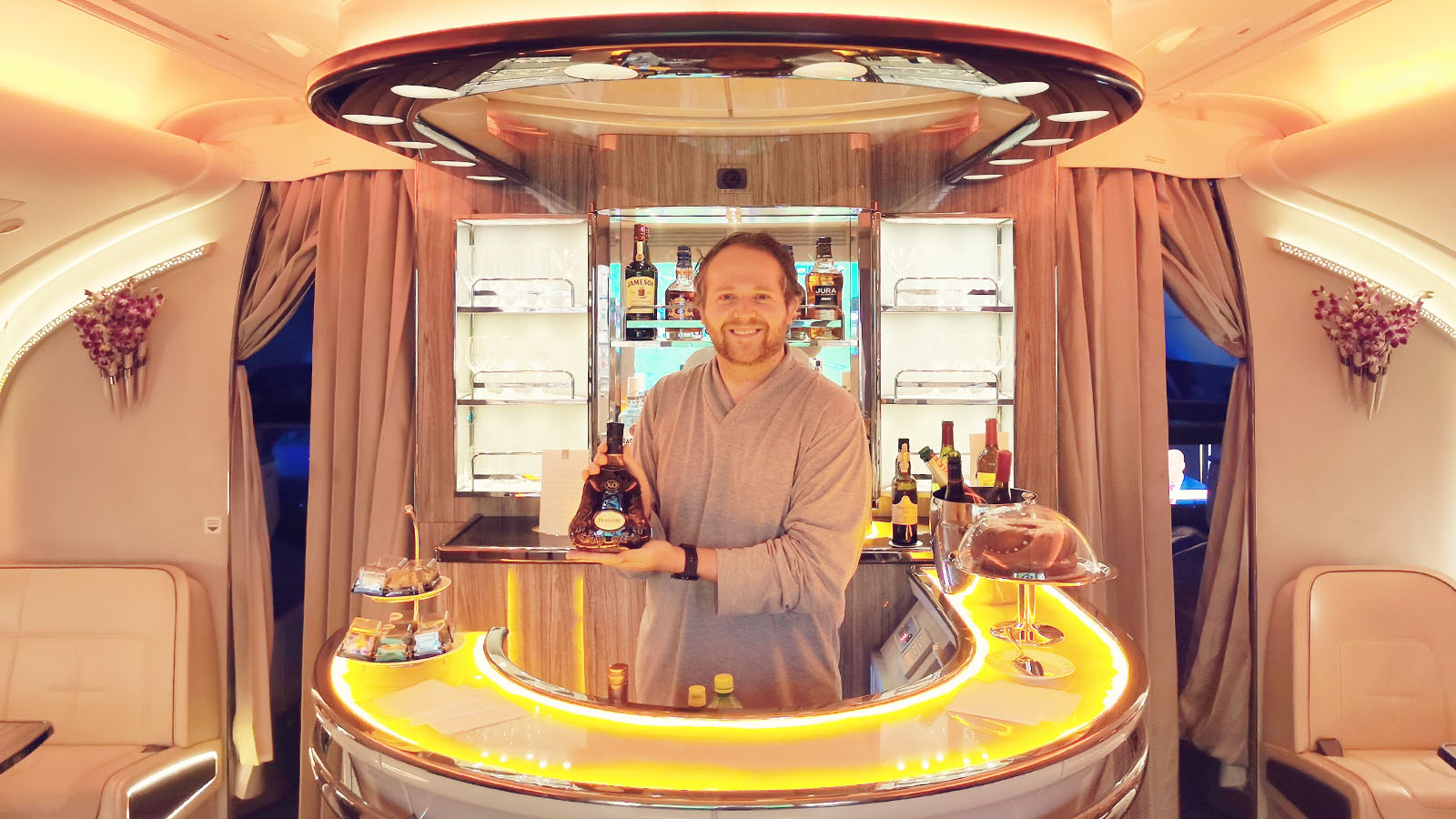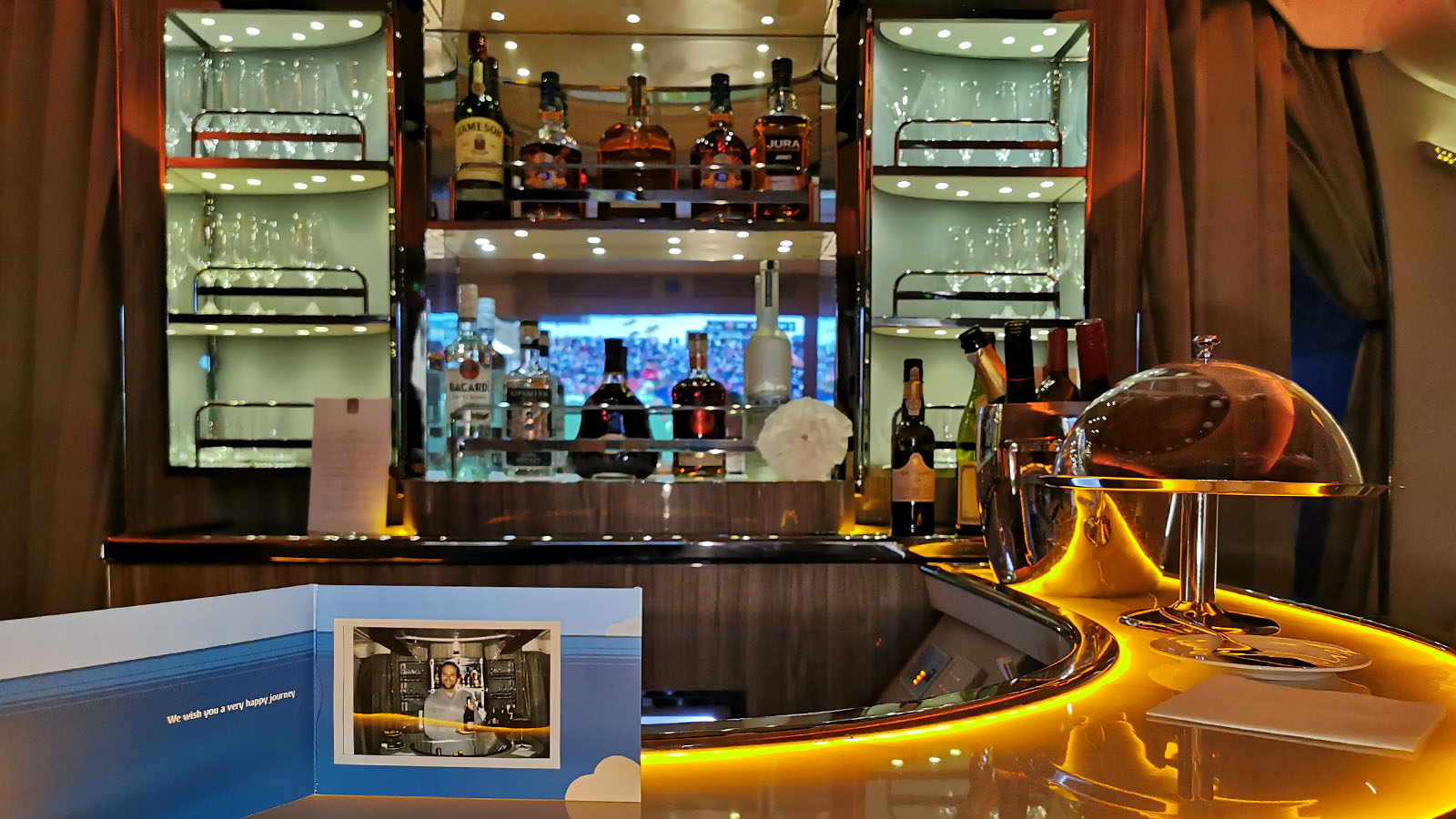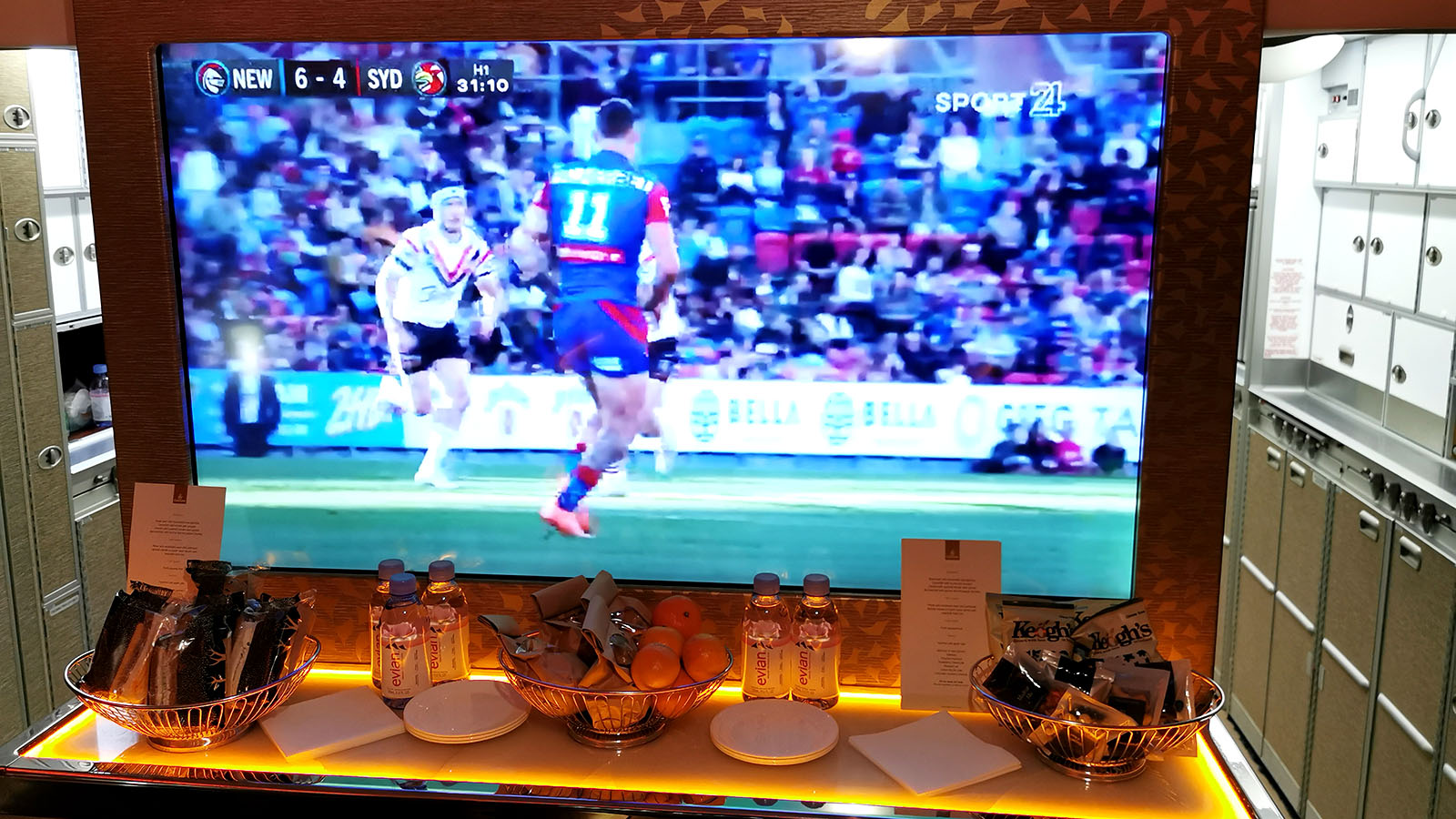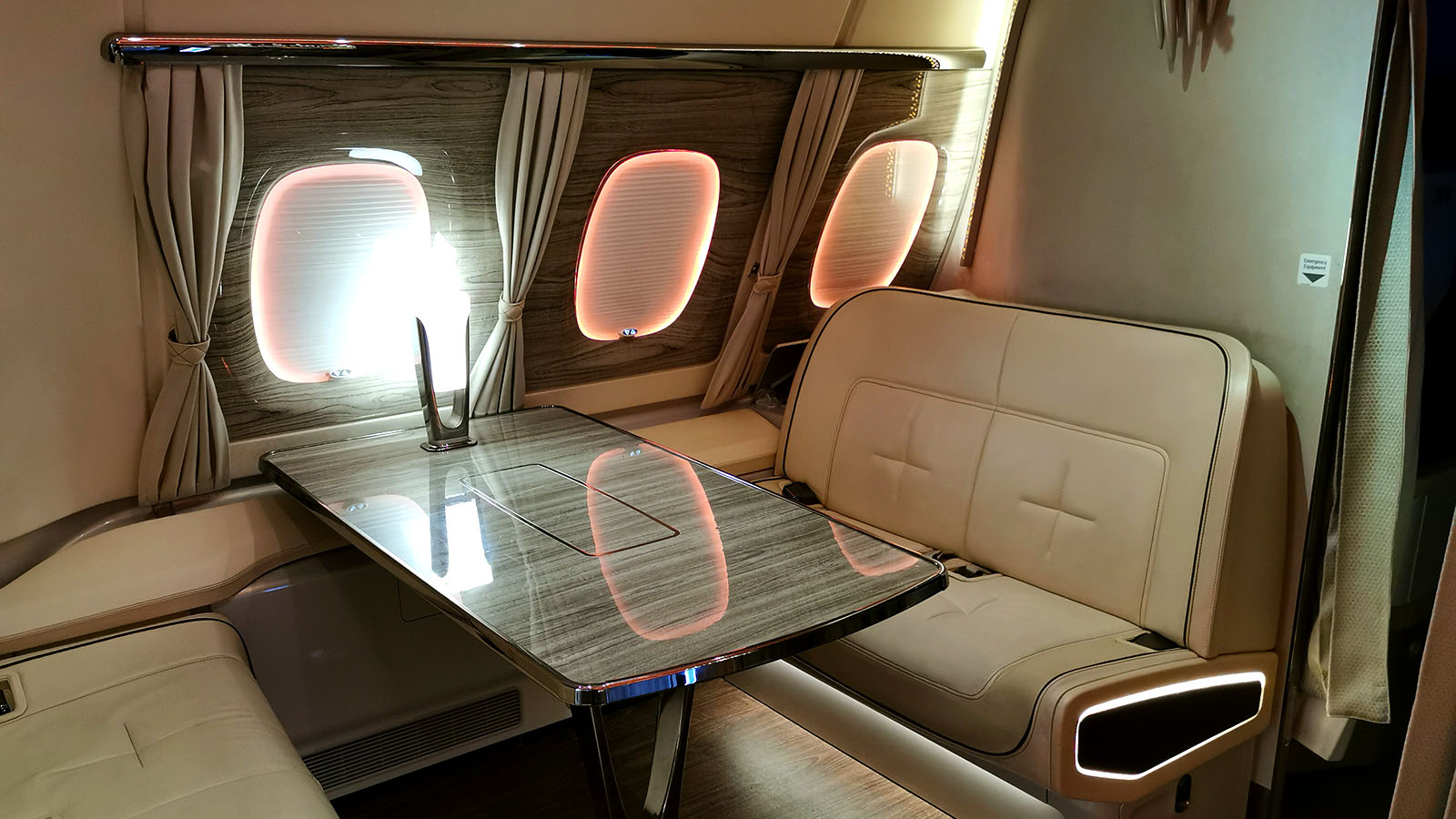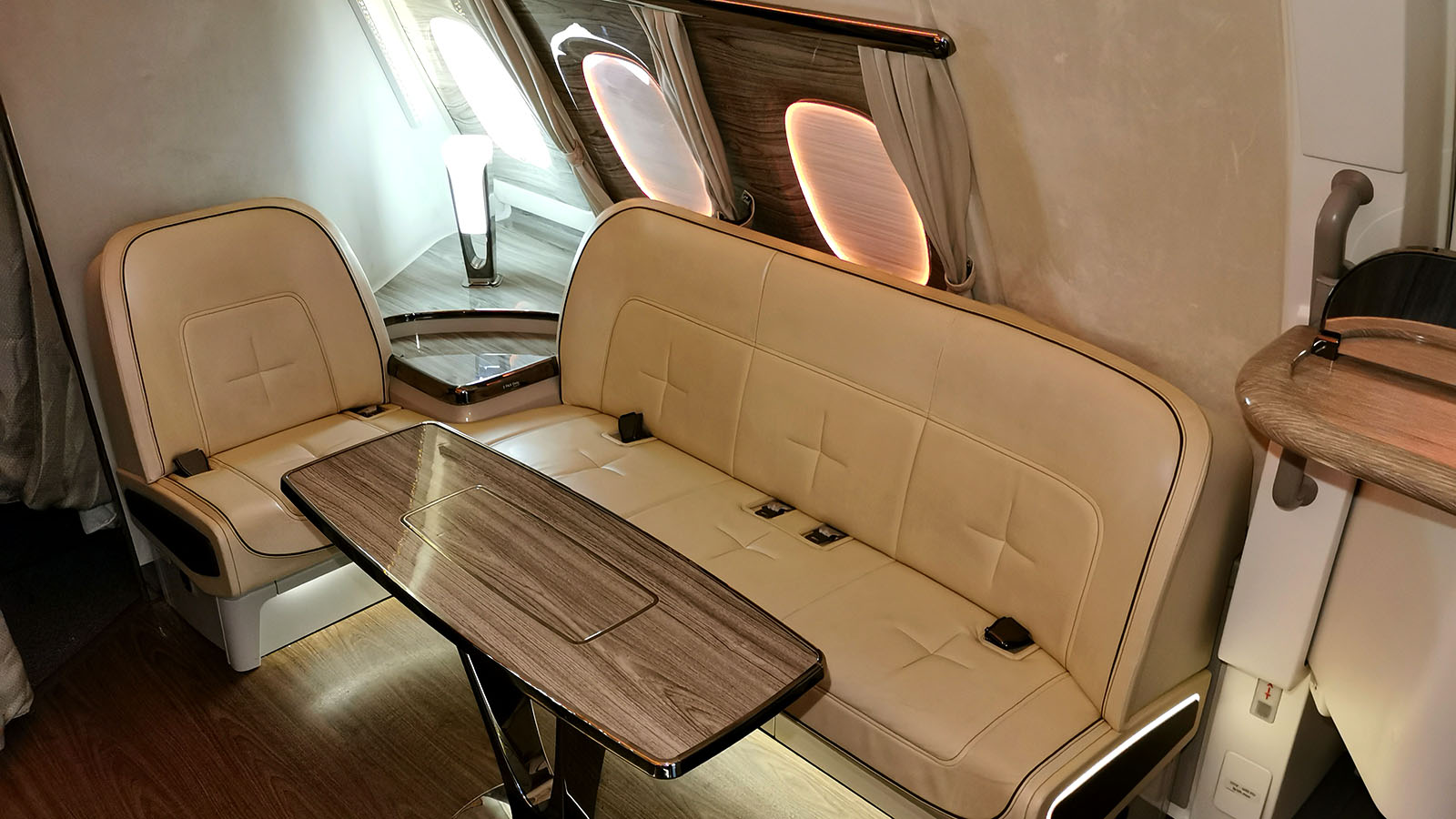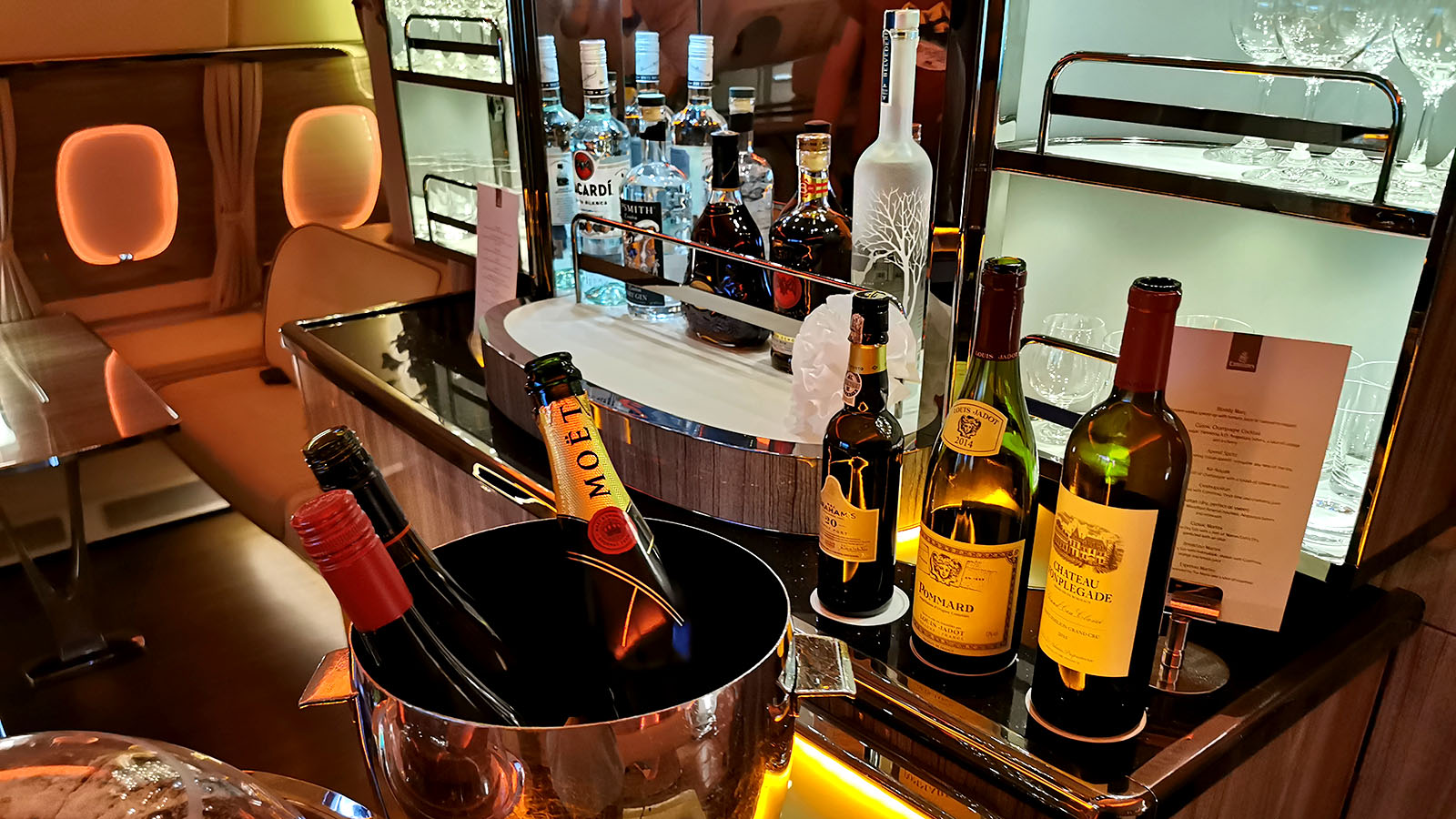 I'm here while everybody else is sleeping, but the space can get quite lively during the day. It's a full cocktail bar – and where my espresso martini comes from. And there's plenty of seating to mix and mingle. There's a large, loungeroom-sized TV at the back as well. On this flight, it's tuned to a live satellite feed of Sport24. On my earlier flight from Frankfurt, the feed is of the State of Origin. Today, it's the Knights playing the Roosters. But today, I'm more into the chit-chat.
Along with drinks, there's a food menu as well. Pick up a light bite to enjoy while standing or order something more substantial as you settle in at one of the lounge suites. This really helps the 14-hour journey fly by.
The verdict
All in all, there's so much that Emirates gets right in its Airbus A380 Business Class cabin. The seats are leaps and bounds ahead of the airline's Boeing 777 Business Class experience. There's the onboard bar and lounge, and if you're in the mood for wine, Emirates always has some interesting picks. After all, the airline keeps about seven million bottles cellared at a private facility in France. I'll have to look into that more on my next Emirates flight.
It's fair to acknowledge that the Airbus A380 is a very big aircraft. In fact, it's the world's largest passenger plane. But even so, meal and beverage services are still quite prompt on this leg – even though I'm sitting near the very back of the cabin, and delivery starts from the front.
I also quite like the latest touches to Emirates' cabin and inflight lounge. Especially the more stylish Champagne-coloured seating. It's as though somebody has looked at every aspect of the seat and cabin, and thought, 'how can we make that nicer, and make it stand out?'. It's a big step up from, shall we stay, the more 'blingy' design style you see on some of Emirates' older superjumbos. Less really is more.
As one final touch, many (but not all) Business Class passengers also receive complimentary Chauffeur Drive transfers at the start and end of their trip. It's handy having transport sorted when you land – even if the vehicle pick-up area is a fair hike from the arrivals hall in Sydney. I'm back in Australia just four days after I leave home, and I'm ready for bed. My anti-jetlag strategy happily proves a success.
Also read: Emirates First Class luxury to Christchurch for under $200 using Qantas Points
Feature image courtesy of Emirates. Other photography by Chris Chamberlin, who travelled as a guest of Emirates. First Class Lounge access in Dubai was courtesy of Chris' (earned) Qantas Frequent Flyer status.
---
Stay up to date with the latest news, reviews and guides by subscribing to Point Hacks' email newsletter.
Emirates Airbus A380 Business Class (Dubai – Sydney)
was last modified:
November 20th, 2023
by