You probably know what to expect in a typical Qantas Business Lounge. But what if there was a Qantas lounge also co-owned by British Airways and Cathay Pacific? Well, that's exactly what you'll find here in Los Angeles. The three airlines share the (rather hefty) LAX rent bill, while Qantas takes the reins in running the Los Angeles Business Lounge.
Of course, this facility welcomes all eligible oneworld Alliance passengers too – as well as travellers on several other partnered airlines. After all, with seating for 600 guests, there's plenty of space to go around.
Location
You'll find the Qantas International Business Lounge in Los Angeles' Tom Bradley International Terminal (TBIT). After making your way through departure or transit security, head along the terminal's main, grand walkway. Find the nearest lift, head on up to level five, and you're there.
If you're in transit from a US domestic or Canadian Preclearance flight, you might not even need to clear security. Most other terminals here in LAX are connected 'airside'. That means you can wander straight from your arriving gate across to the international terminal.
Connecting is super easy when arriving into LA on Qantas' main Stateside partner, American Airlines. AA uses Terminal 4 – right next to TBIT – and a walk from the AA gates across to TBIT takes about 10 minutes. If your bag is tagged through, or you're flying carry-on only, you're all set.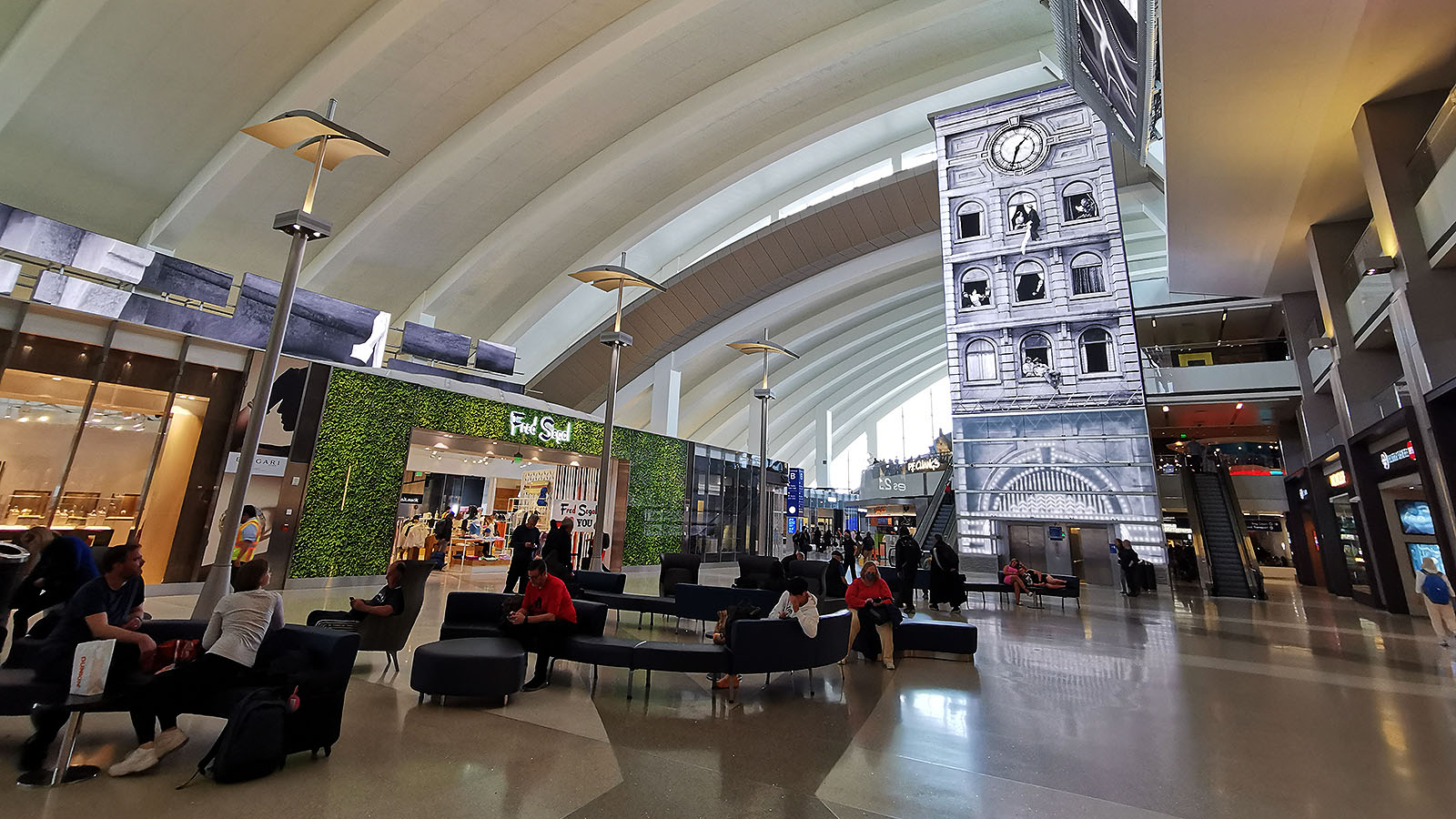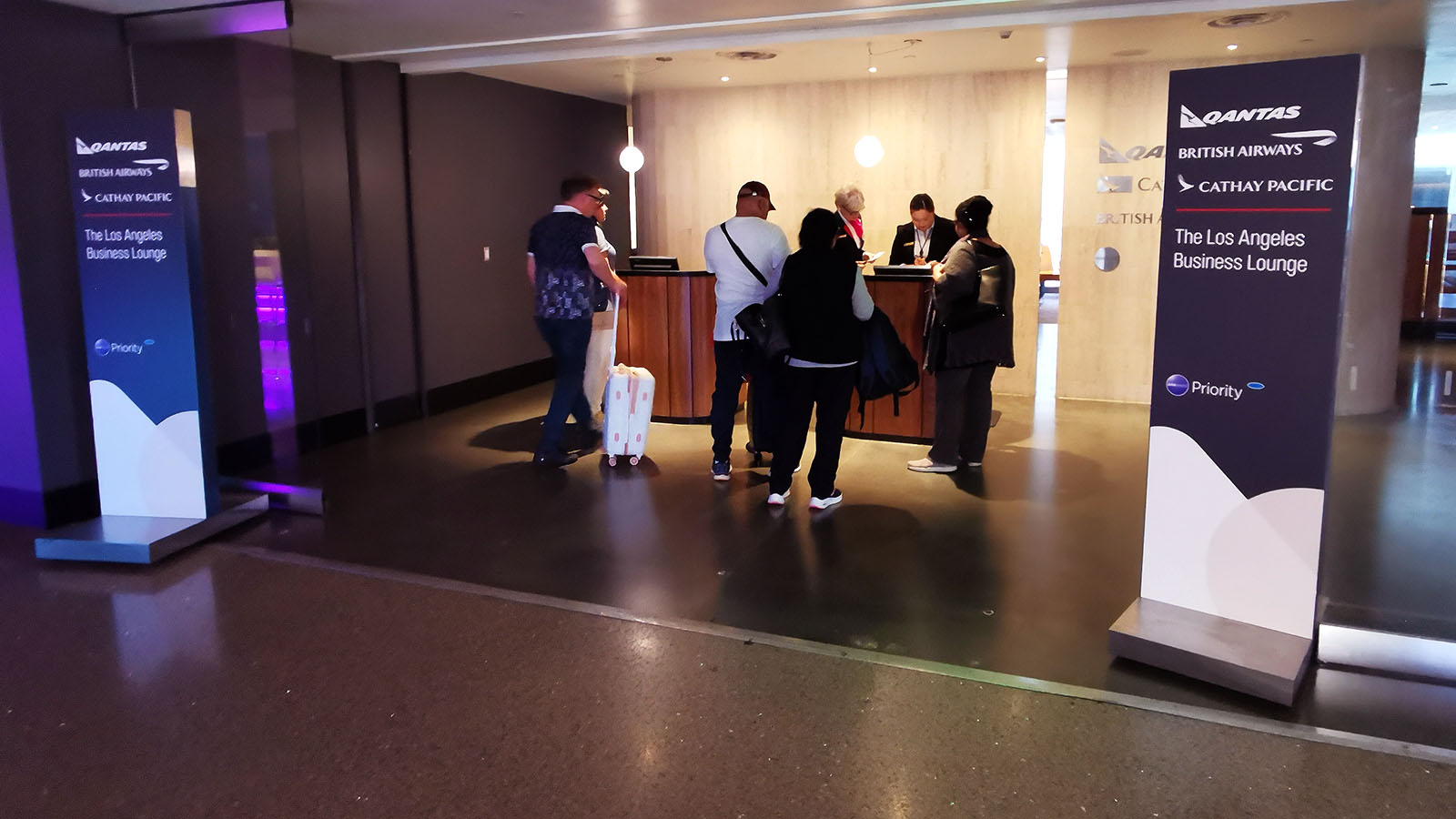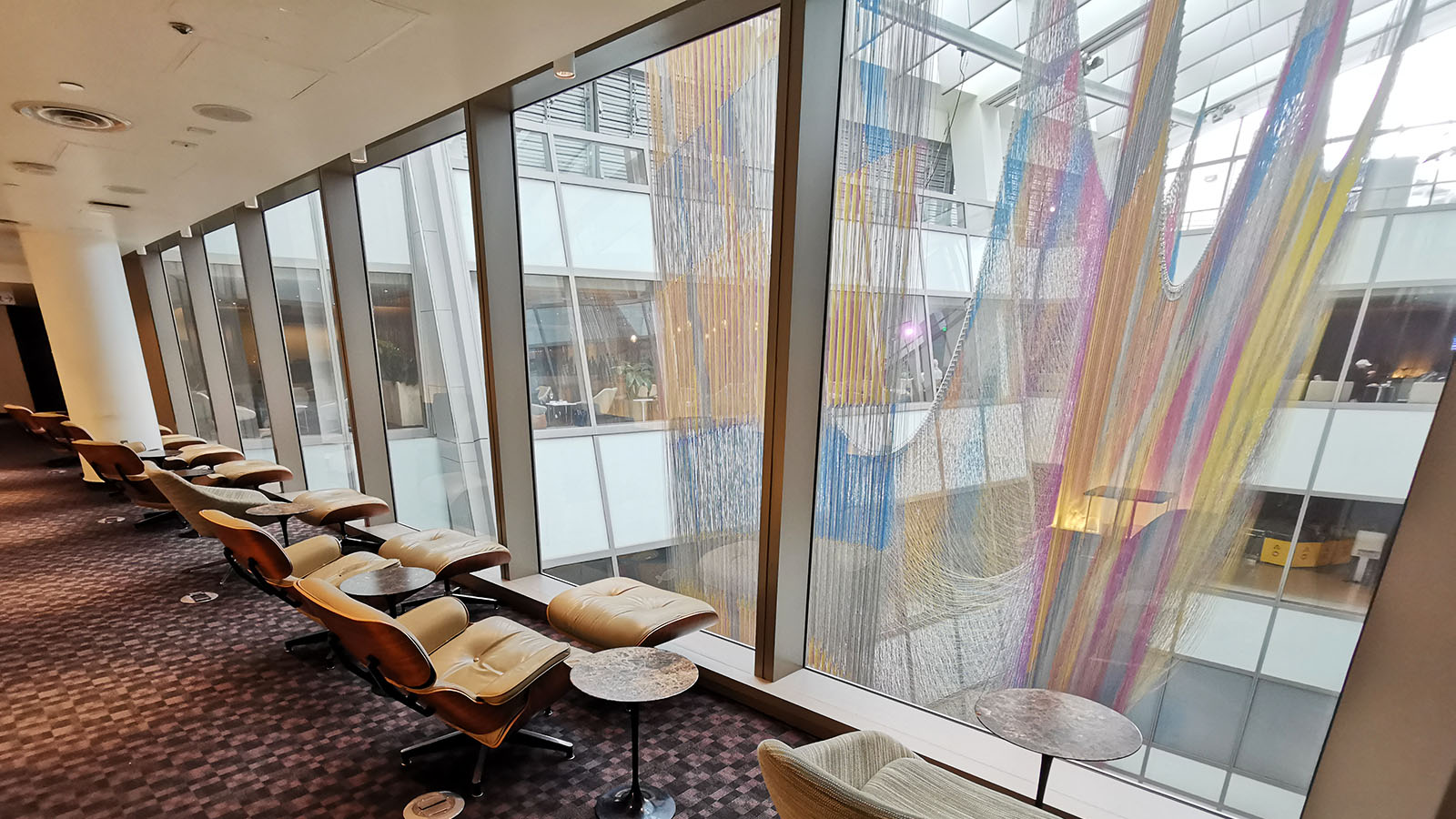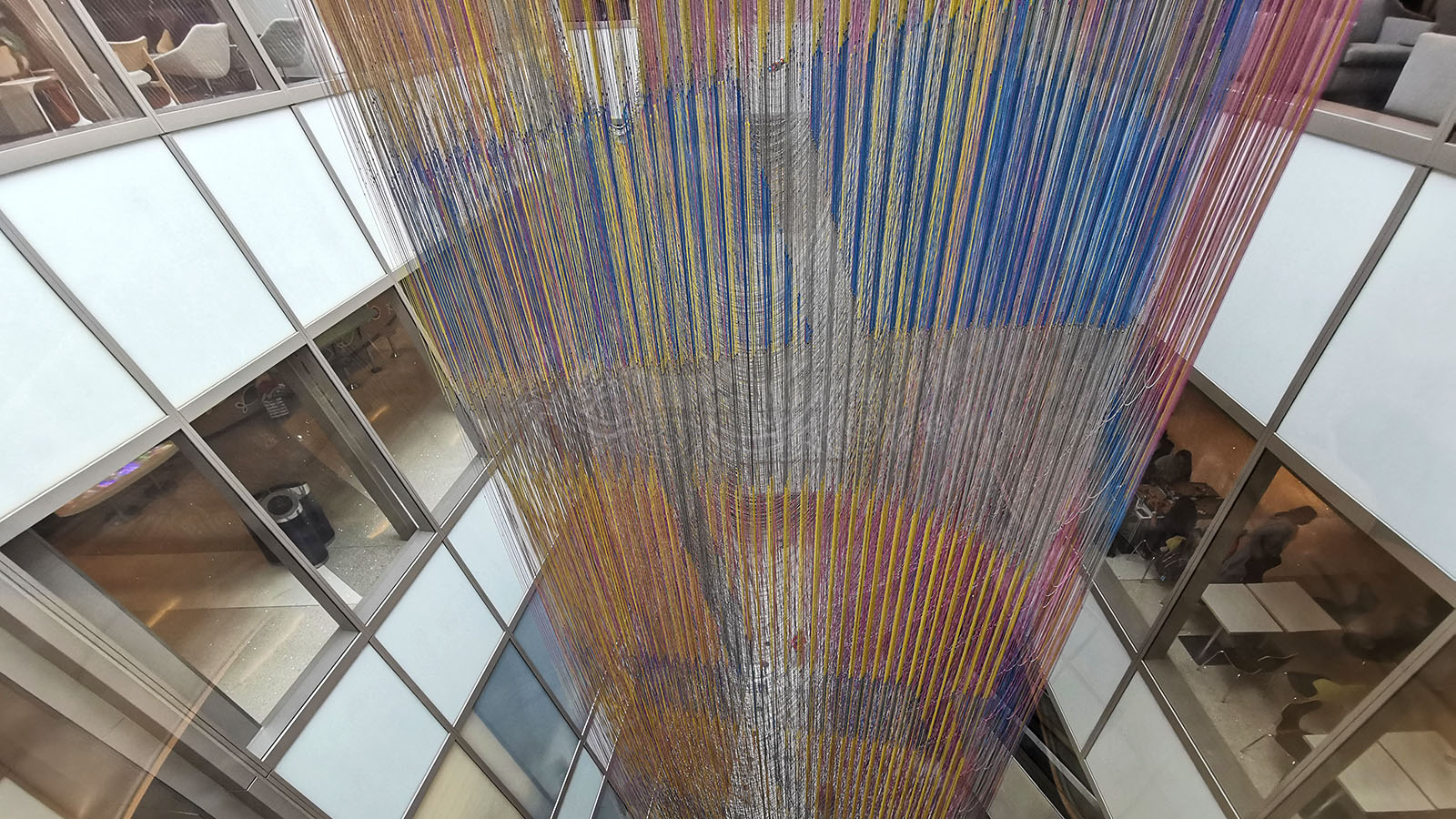 Floor-wise, the shape of Qantas' Los Angeles Business Lounge resembles a hollow rectangle. Not unlike a picture frame, the lounge wraps itself around some hanging art. This helps a little bit of natural light to flow through, but unfortunately, doesn't provide any airside views.
This lounge opens at 6:30 am every day. Expect it to close after the last Qantas, British Airways or Cathay Pacific flight. These three airlines share ownership of the lounge, with Qantas leading the management.
Lounge layout and seating
Given the layout, much of Los Angeles' Qantas International Business Lounge feels quite narrow. Many seats line the windows to make the most of the daylight. Others sit against the opposing wall, with a walkway in between. But the design also creates quieter patches in the lounge.
For instance, make a left turn immediately after reception, and you'll venture into territory that's much less traversed. Clearly, that's the idea, as many seats here have ottomans – perfect for kicking back. Continue wandering and you'll discover nook after nook of varied seating.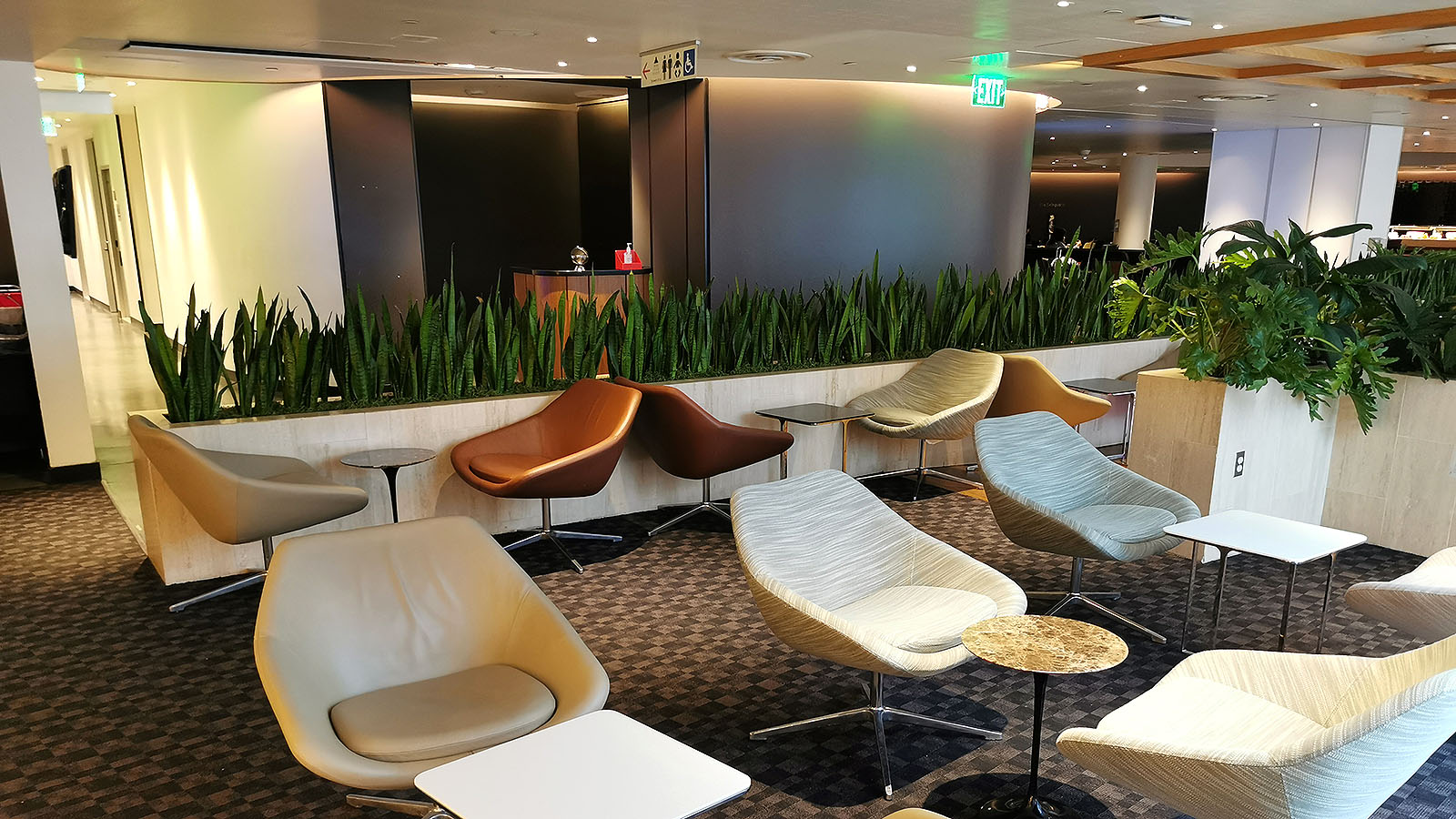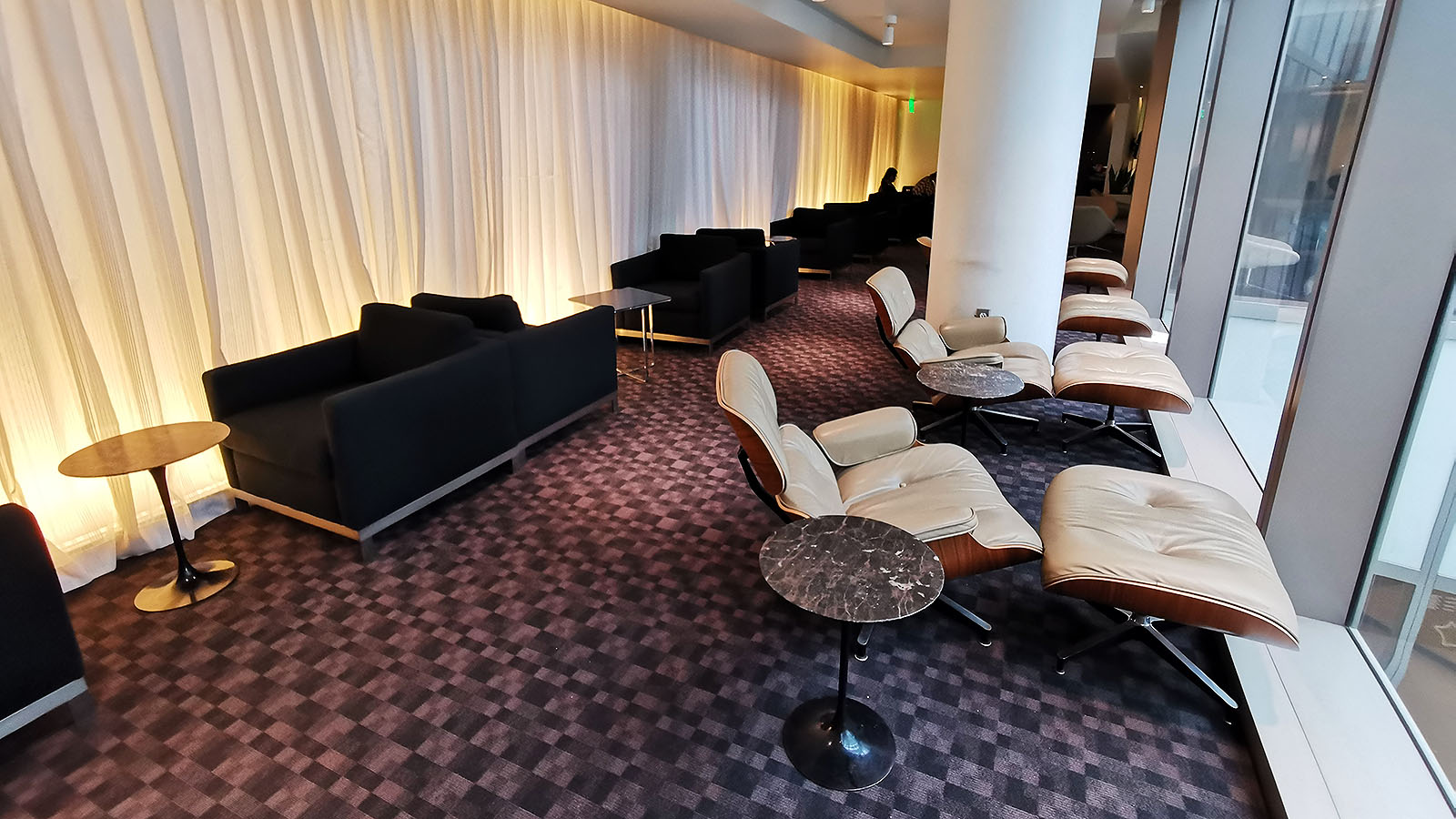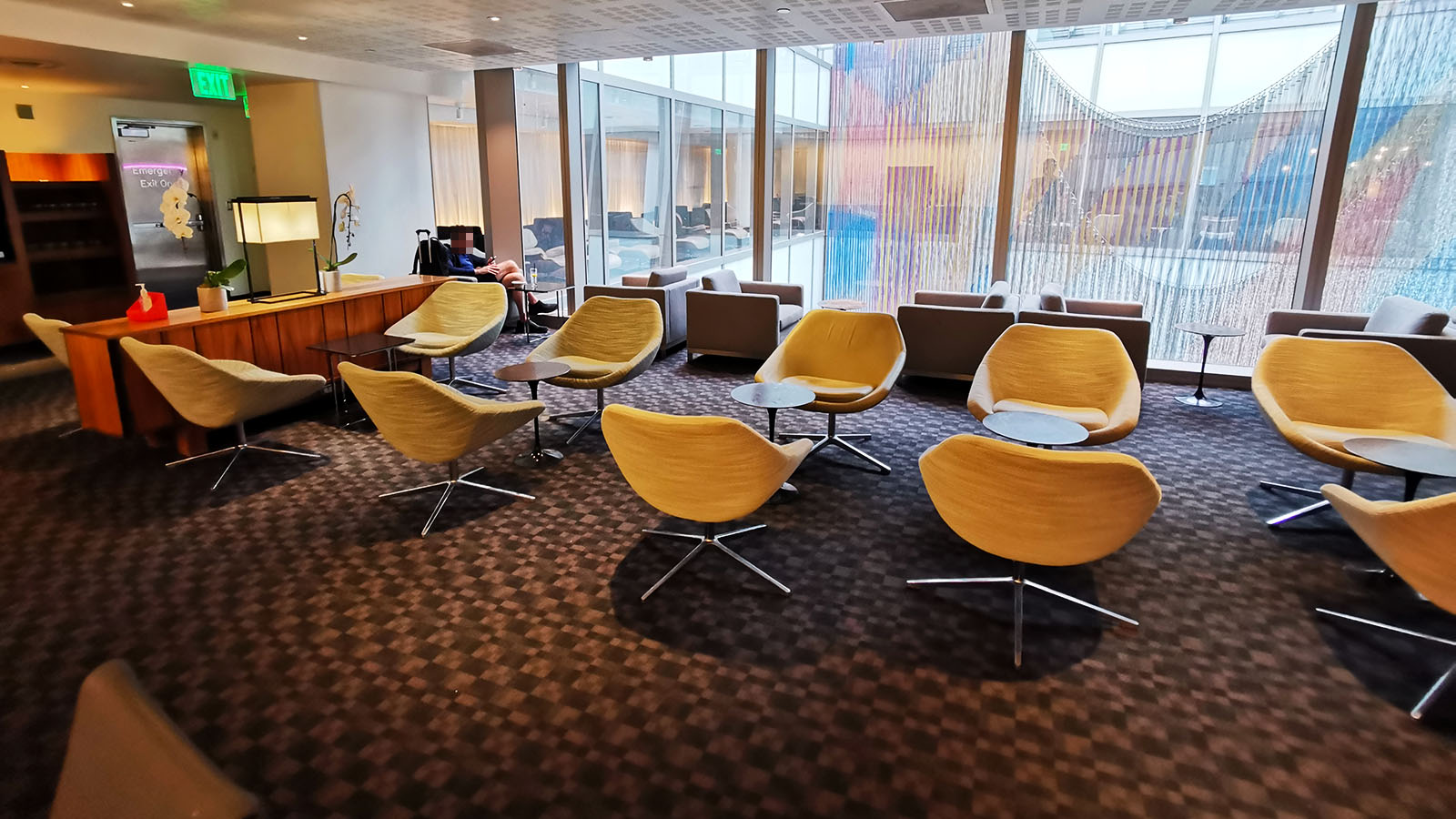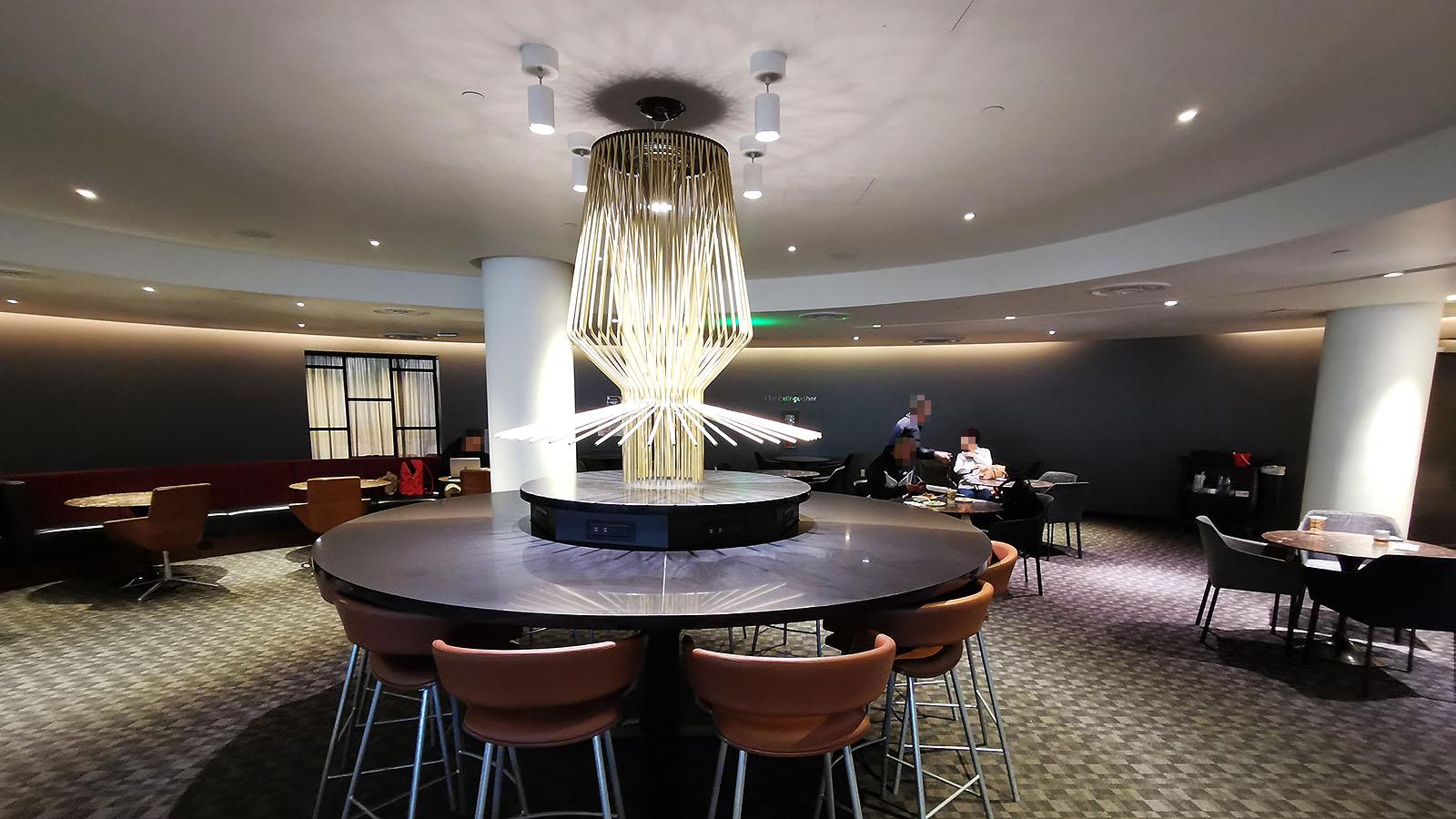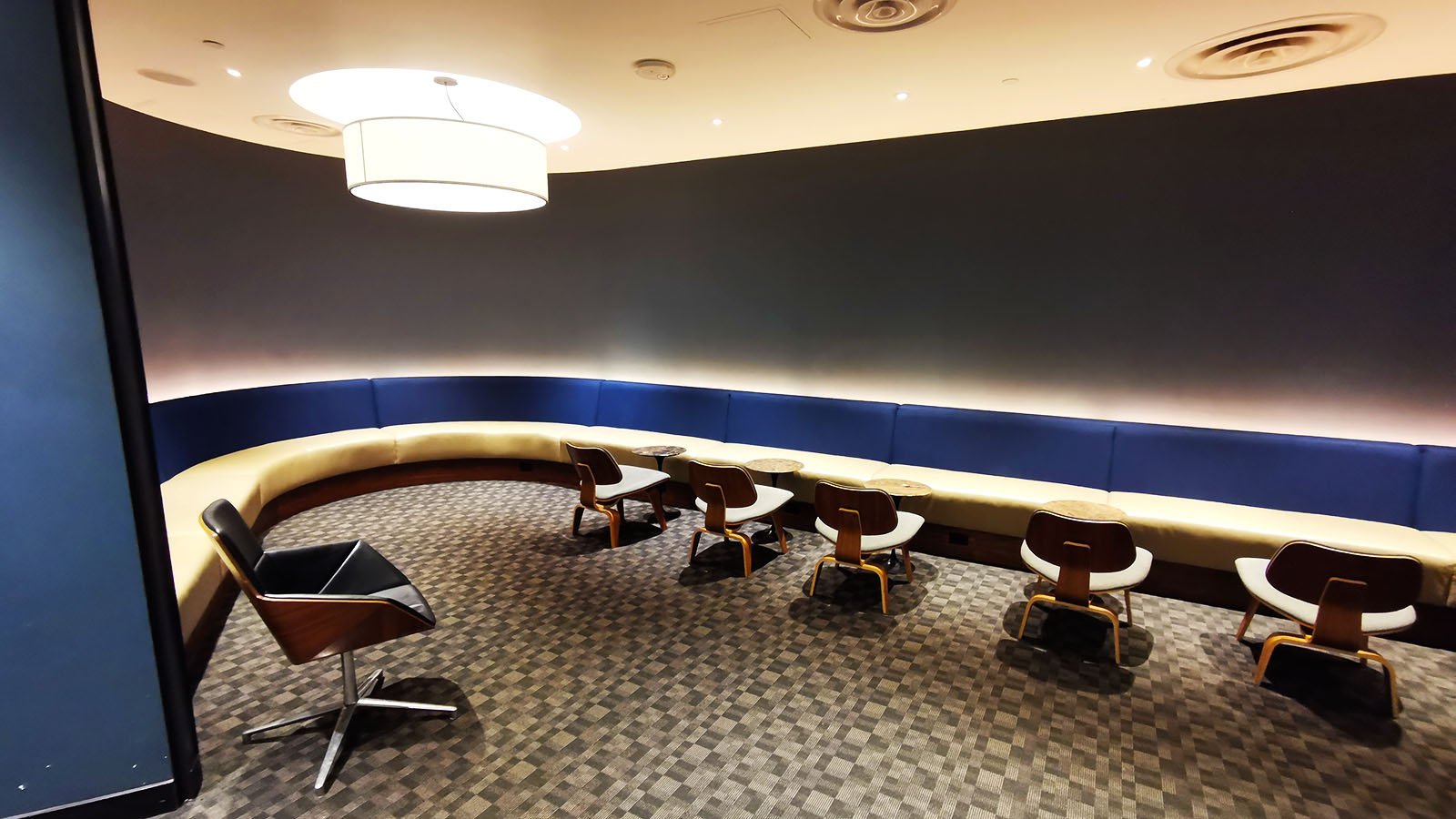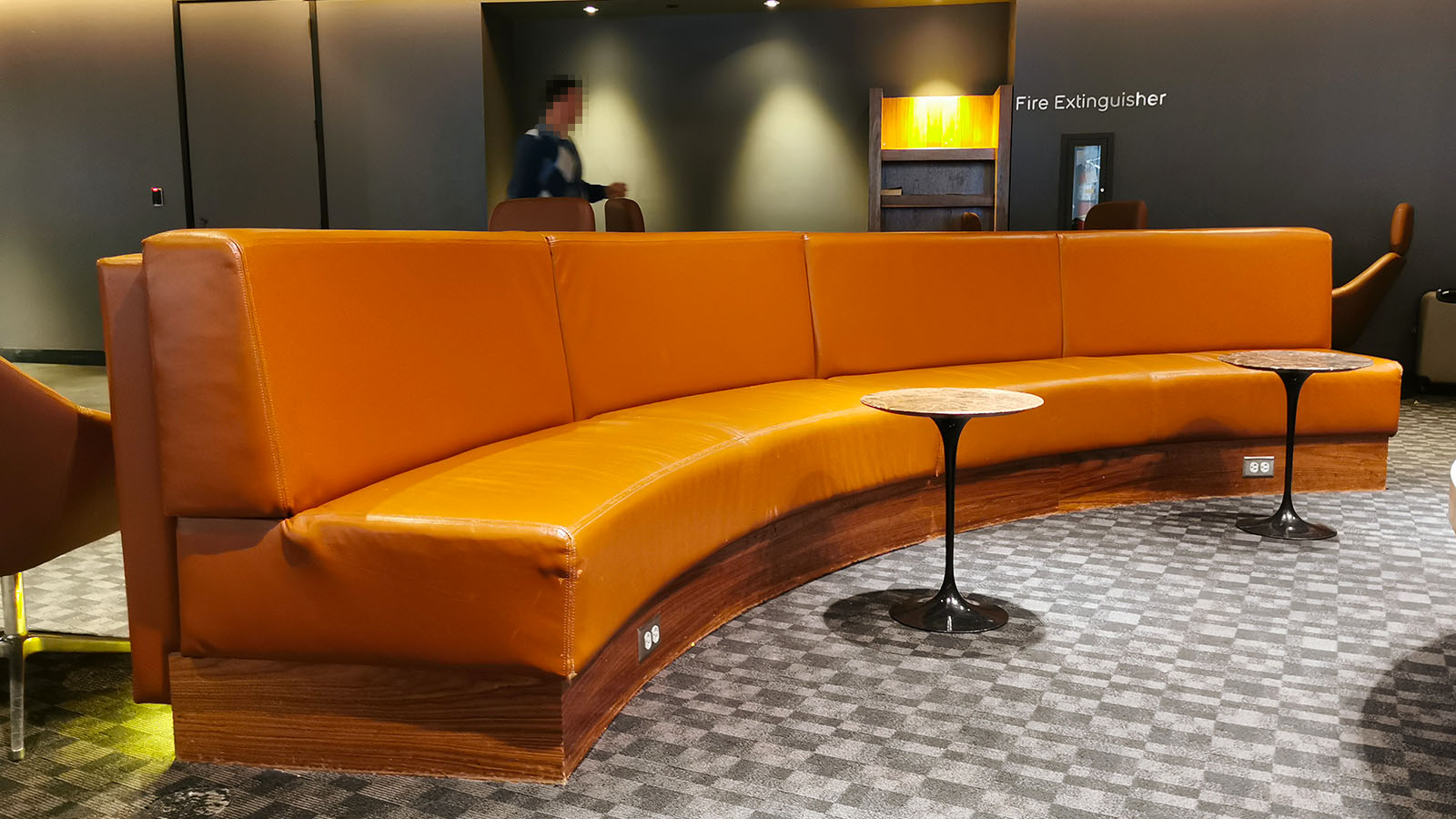 Eventually, the path leads towards the busiest and broadest section of the lounge. As you might expect, that's the area near the food. Dining tables are abundant here, complemented by more communal high-top seats.
Tucked away behind the dining area is a quiet zone. It looks like a private room, but you can just wander in. It also has an area for kids (occupied during this visit, thus no photos). Or wander over towards the bar for a little more atmosphere. You'll find plenty of space to socialise here.
Lounge amenities
Here's where the Qantas International Business Lounge stands out in Los Angeles. Right next to the bar, there's a large collection of seats arranged in a circle. Sure, they're great for large groups. But particularly during the lounge's quieter hours, it's a nice space for a little solitude.
Why? These seats all wrap around a fireplace, which is very 'LA'. Okay, so it's not a real fireplace, but it's still something different from your typical airport lounge. I thought sitting in a warmer section of the lounge would be good practice for my next destination – San Antonio, Texas. But being ornamental, the temperature here is the same as the rest of the space.
It's a nice idea, but doesn't quite match the Star Alliance Lounge nearby, which has real fireplaces along an outdoor terrace.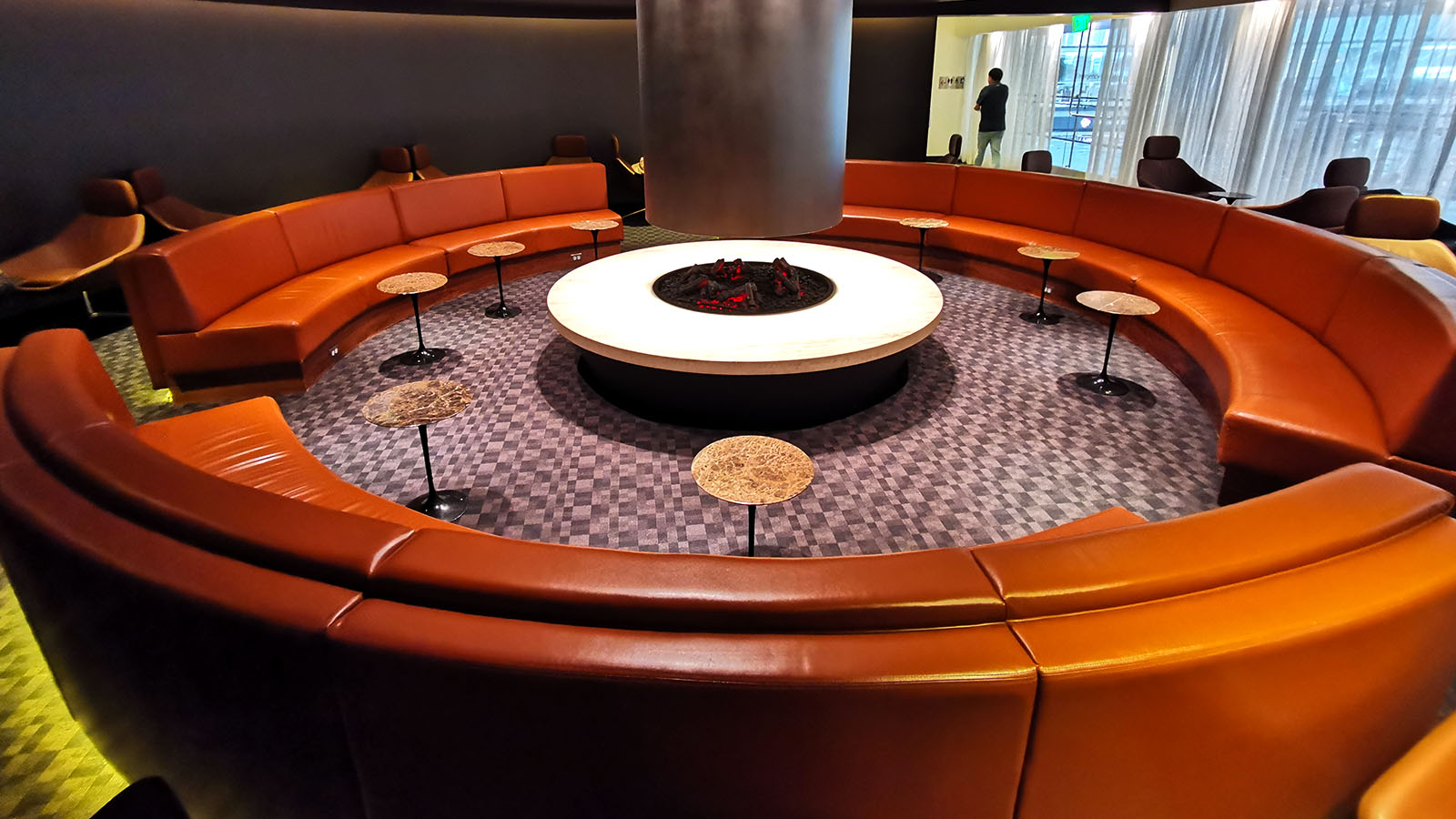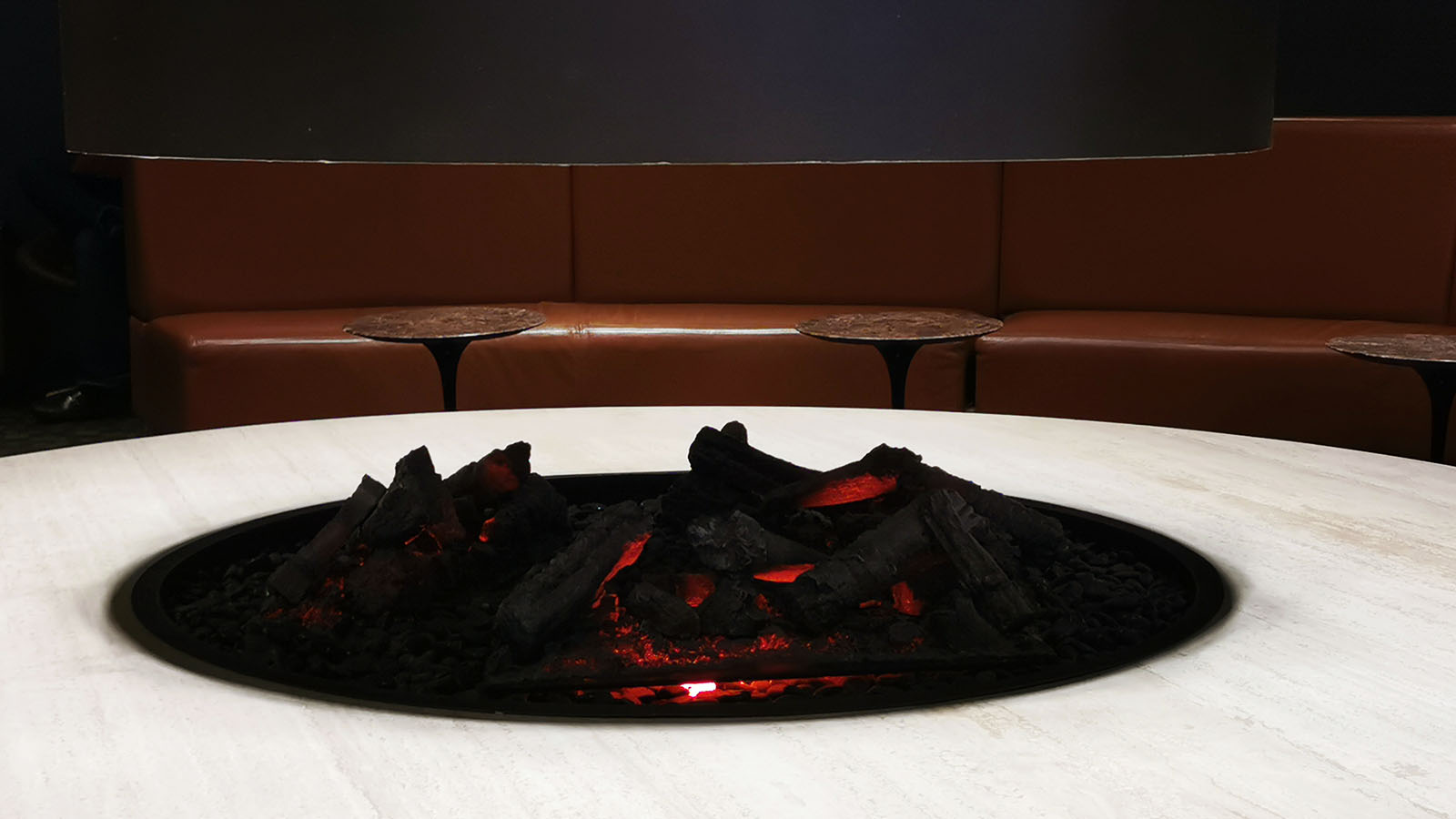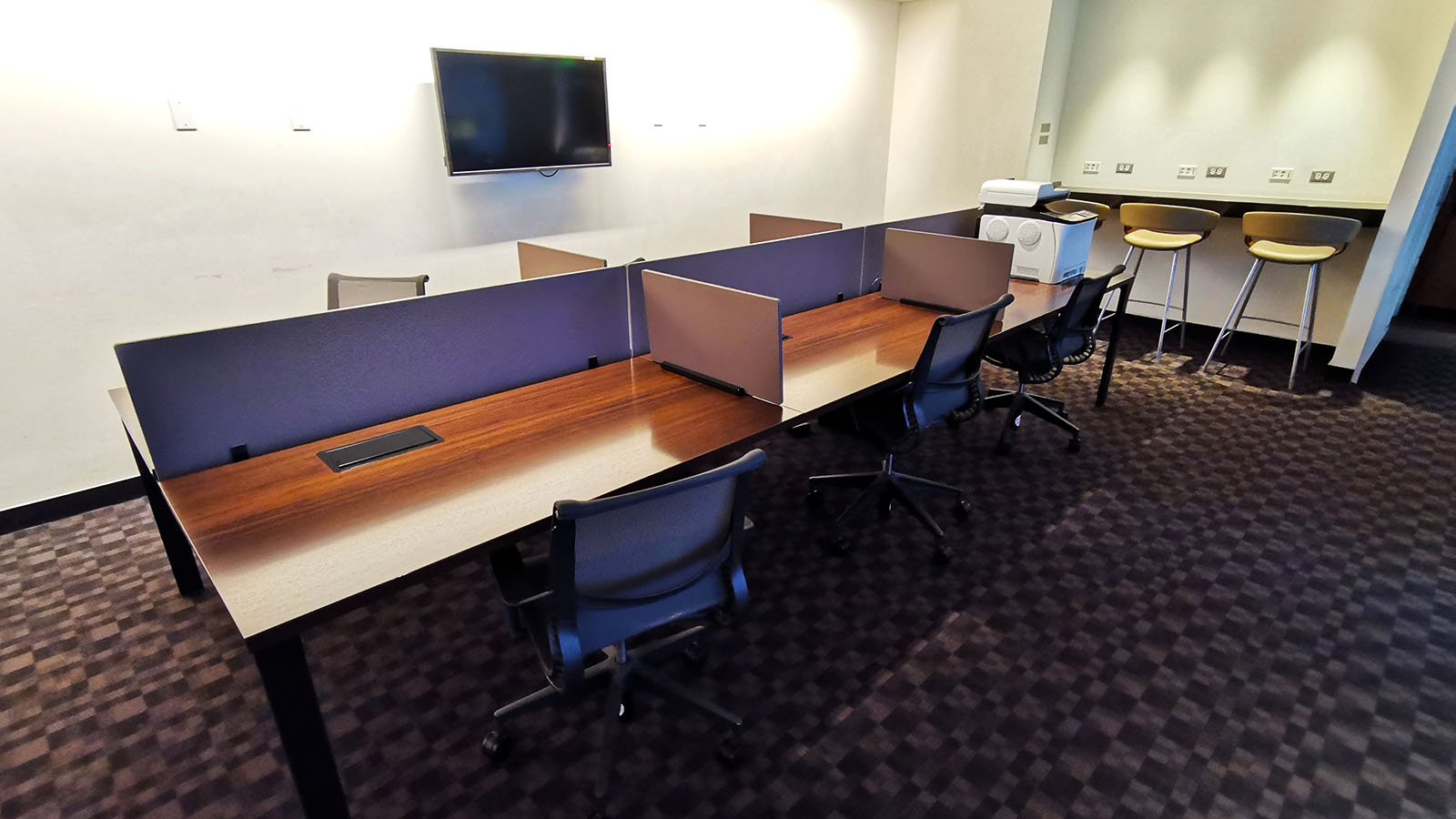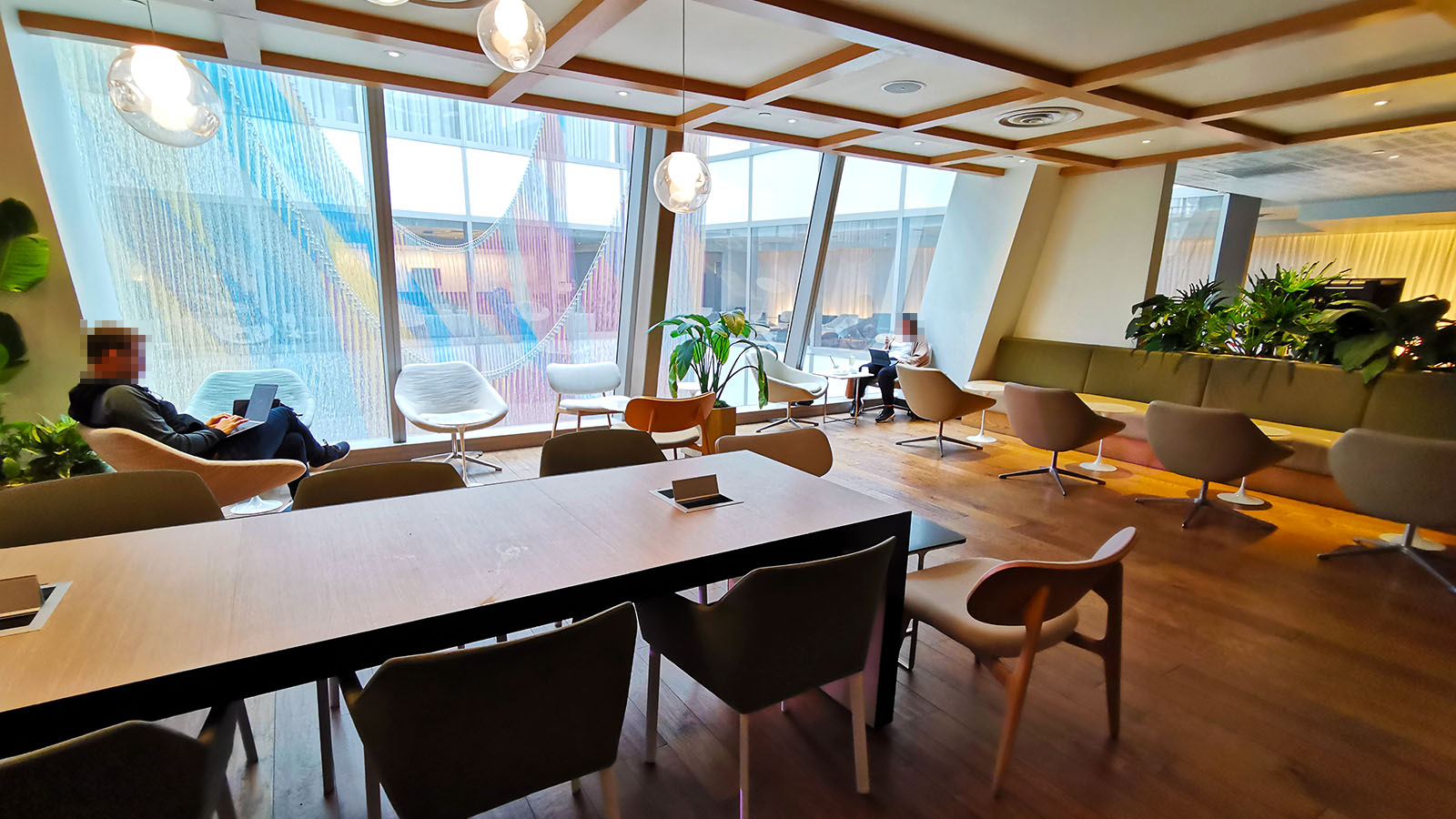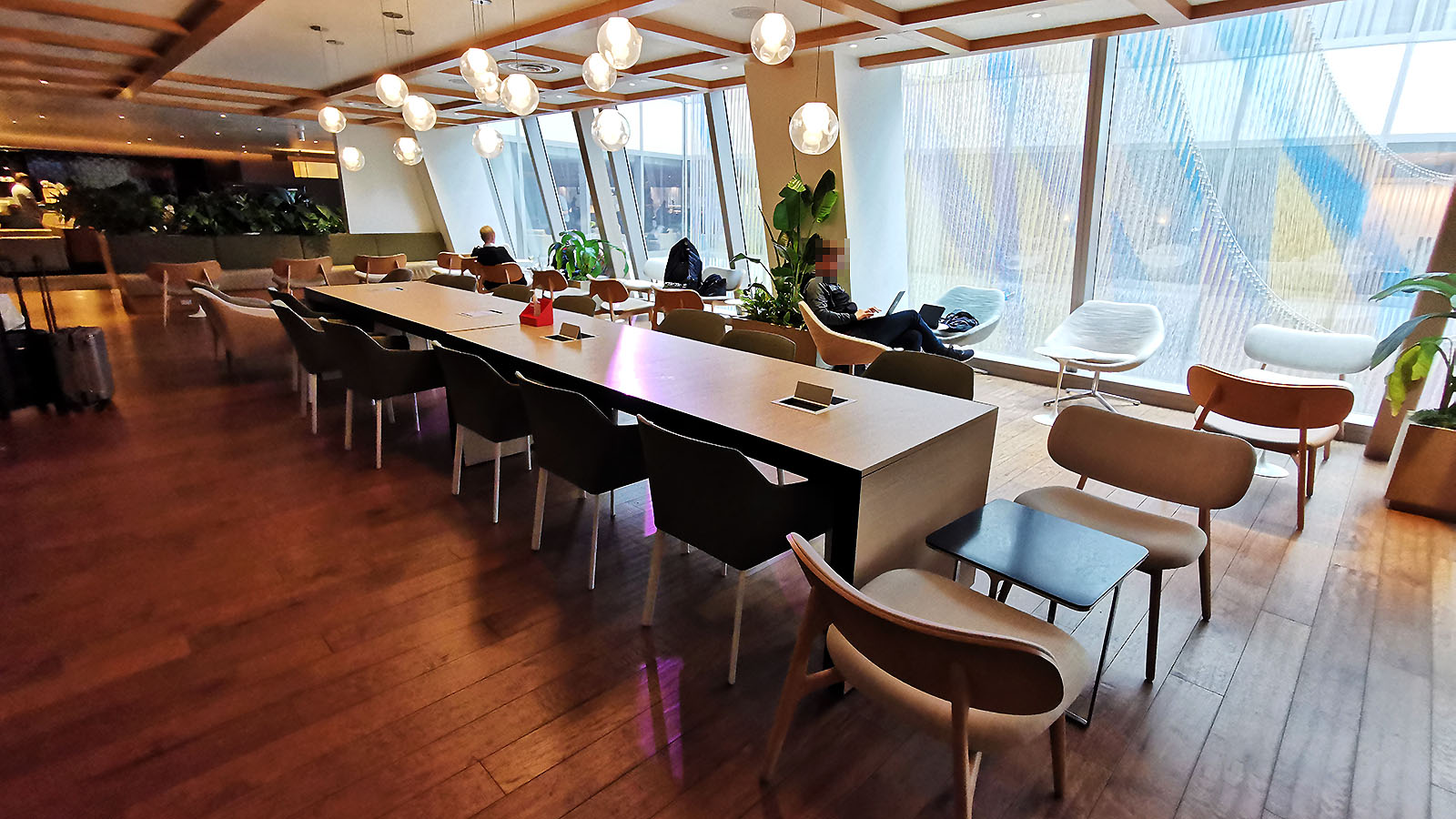 If your visit is more for productivity, you have a couple of other purpose-built options here. One is that quiet nook to the left of reception. That's where you'll find a full business centre. Think private workstations with desk-level power, printing facilities and some laptop benches. Just like an office, there's even self-serve tea and coffee nearby.
Otherwise, wander around towards the back half of the lounge – the 'opposite side' of the rectangle. There's a long workbench here where you get a bit more light, but still easy access to power. It's closer to the buffet and dining area though, so expect a tad extra noise.
I spend a bit of time in the Qantas International Business Lounge during a daytime transit in Los Angeles. Even though the lounge was quiet, Wi-Fi speeds varied significantly but remained usable. Across multiple speed tests, downloads fell in the range of 40-114Mbps. Uploads were closer in breadth, being 32-47Mbps.
Private shower suites are available too (16, in fact), but I was already spoken for this time.
Food and beverage in Qantas' Los Angeles Business Lounge
I stopped by the Qantas International Business Lounge while in transit through Los Angeles. By this stage, I already had 13 hours of flying under my belt, which could only mean one thing. I. Need. Coffee. I'd been holding out for a barista-made brew, and I figured a lounge operated by an Australian airline was my best bet.
I take pleasure in ordering my usual 'skim latte' for the first, and last time this US trip. (Out in the wild, it's a '2%' or 'non-fat' latte in the United States, to use the local lingo). It's just what I need to power through the day.
Nearby, the bar area is just about empty. But after all, it's early on a weekday afternoon. Beers and wines are self-serve. I'm content with coffee this time, but I notice a few things.
There's no Champagne – Poema Cava is instead the sparkling drop. Of the six reds and whites, three are Australian: a Chardonnay and Shiraz from Fowles Farm to Table, and a 19 Crimes Cabernet Sauvignon. Given where we are, two bottles are pleasingly Californian – a Sterling Pinot Noir and Noble Wines Sauvignon Blanc. There's also an Italian Pinot Grigio (Cavaliere d'Oro).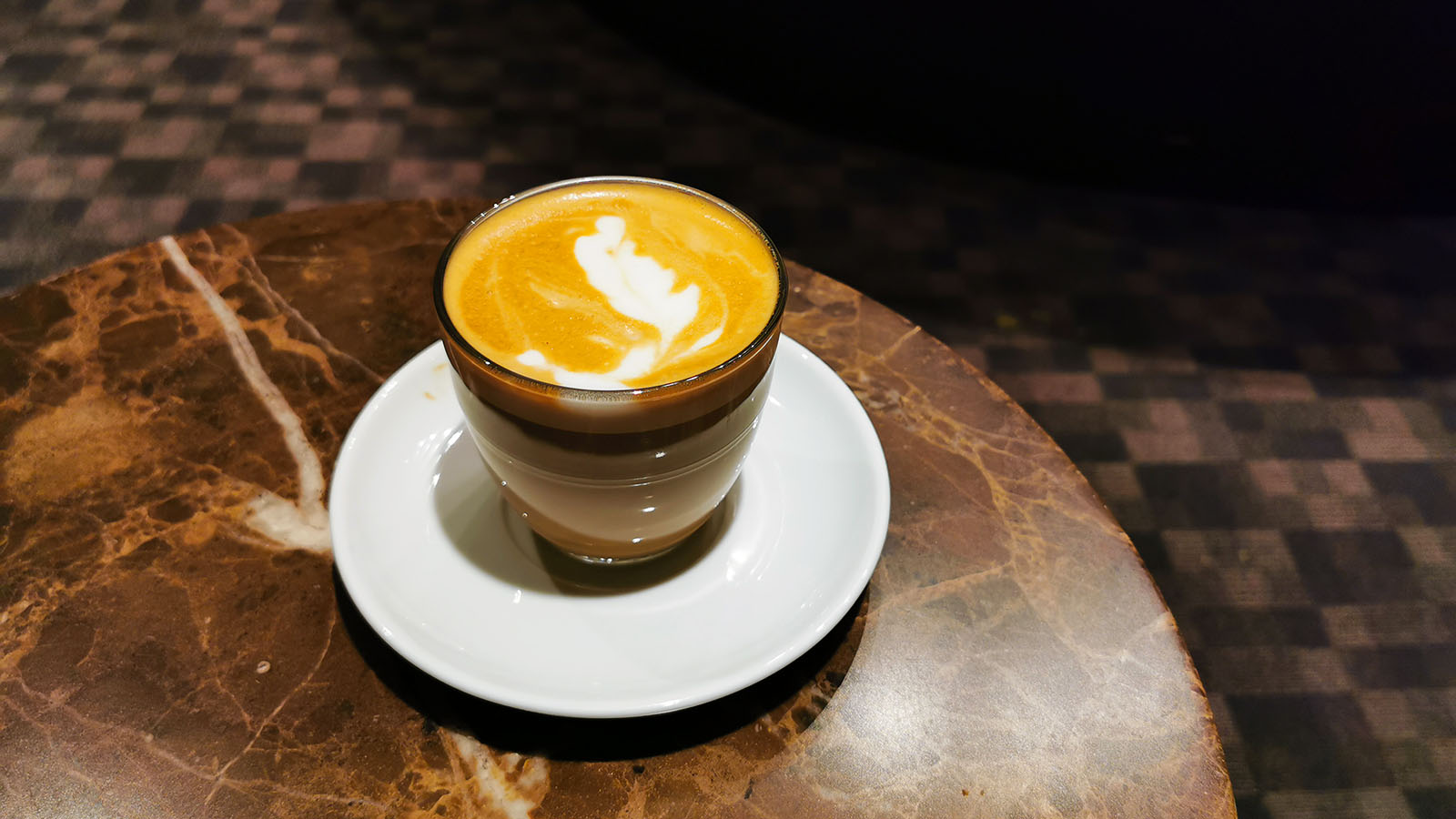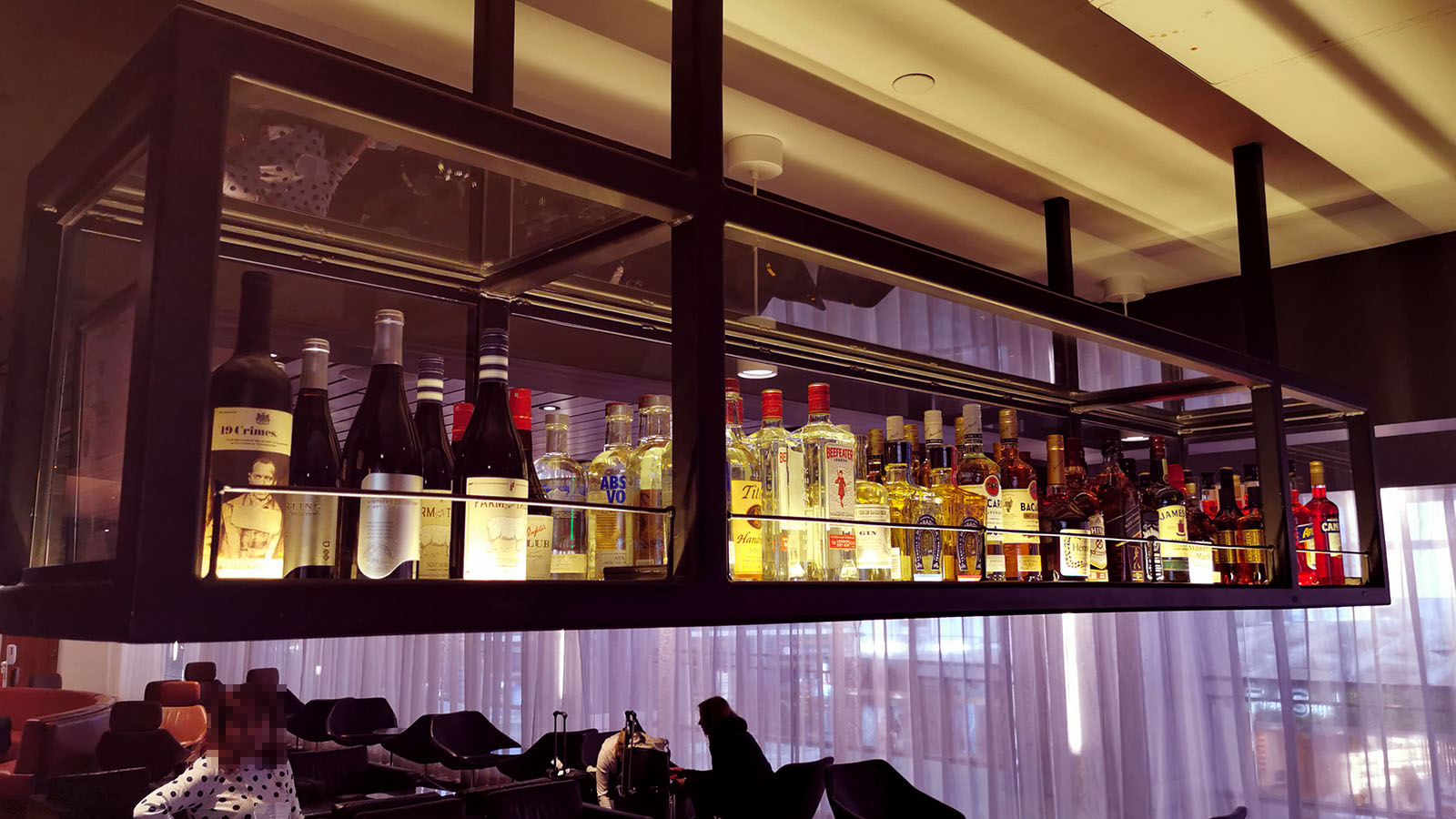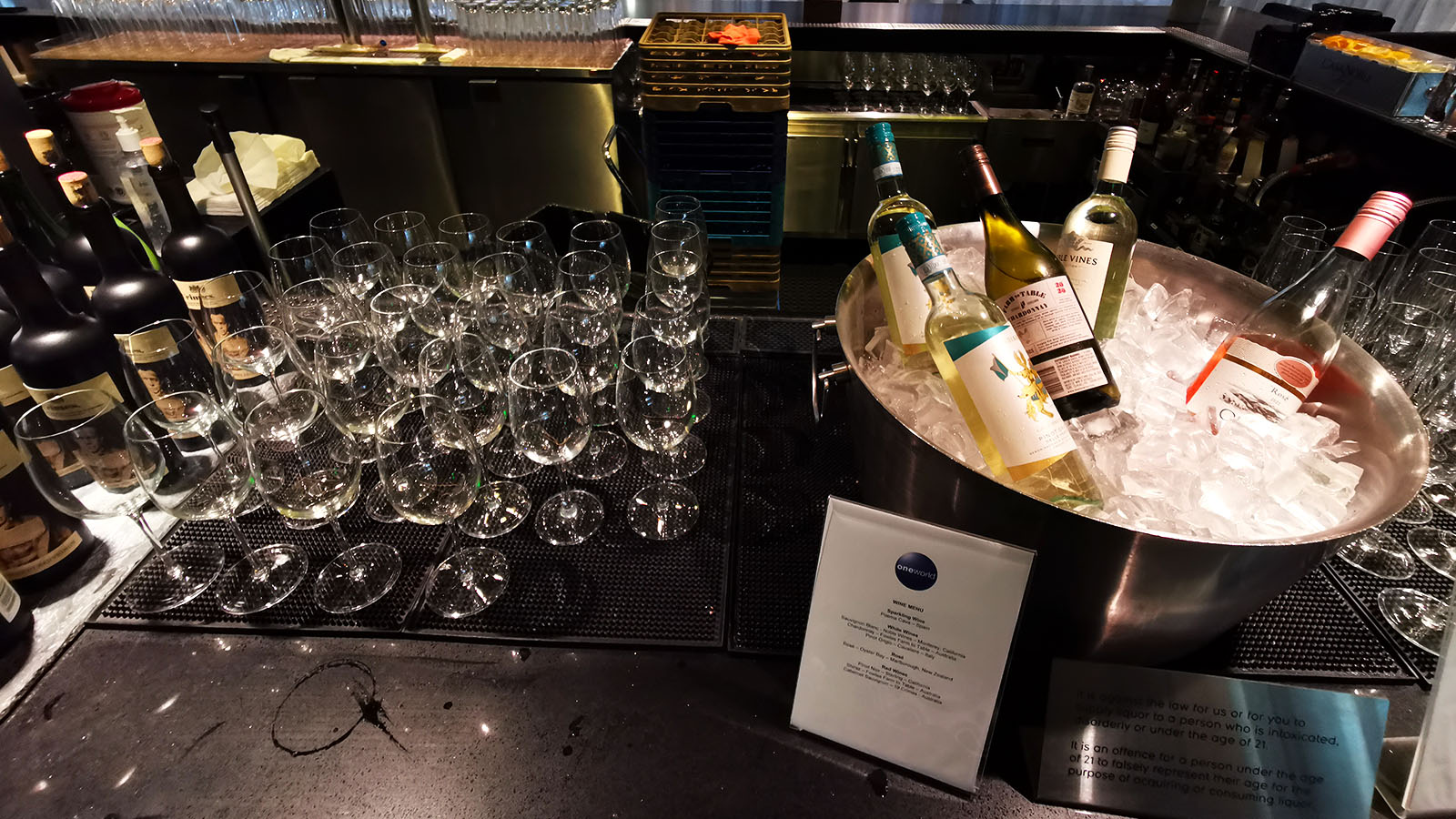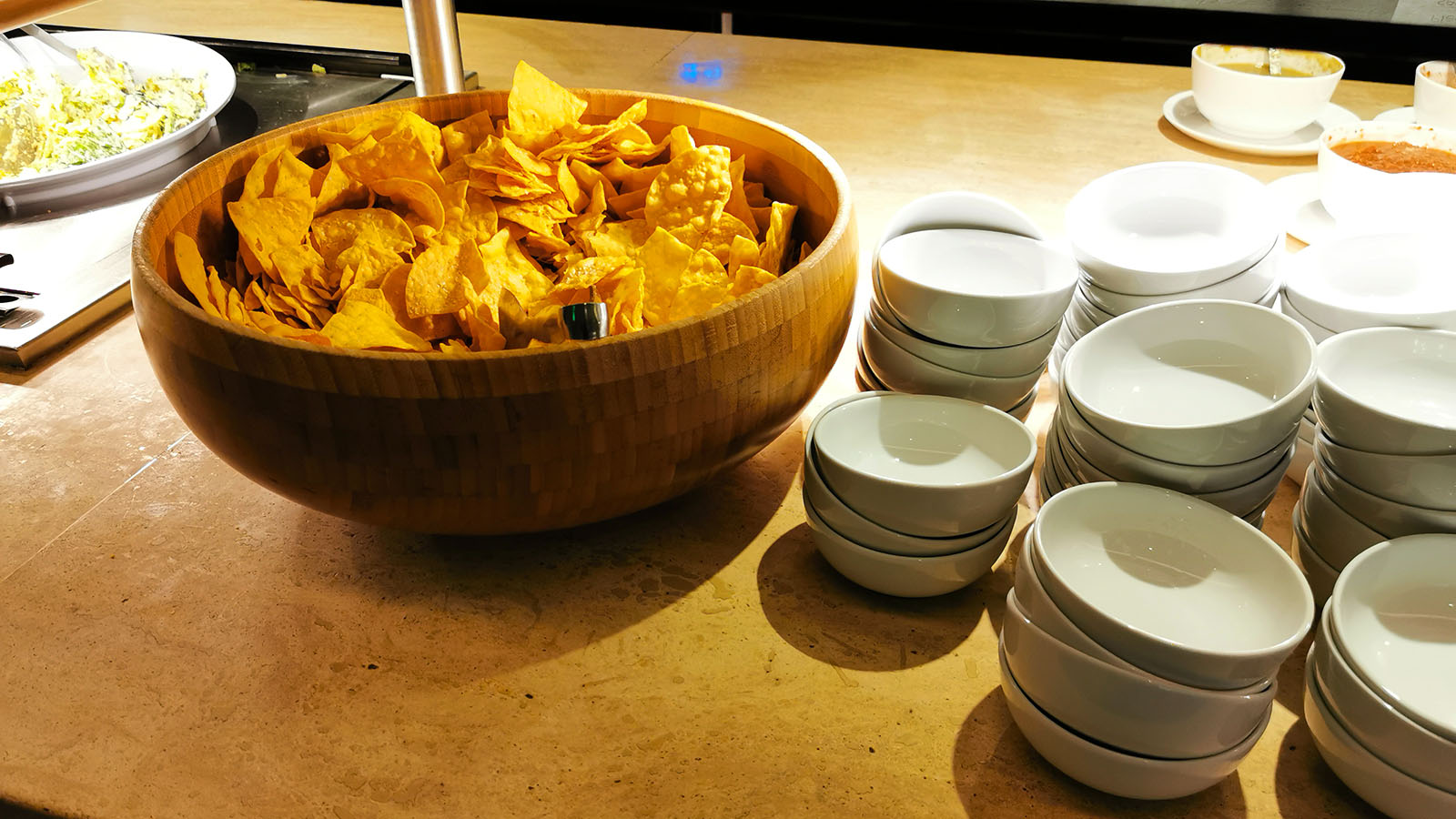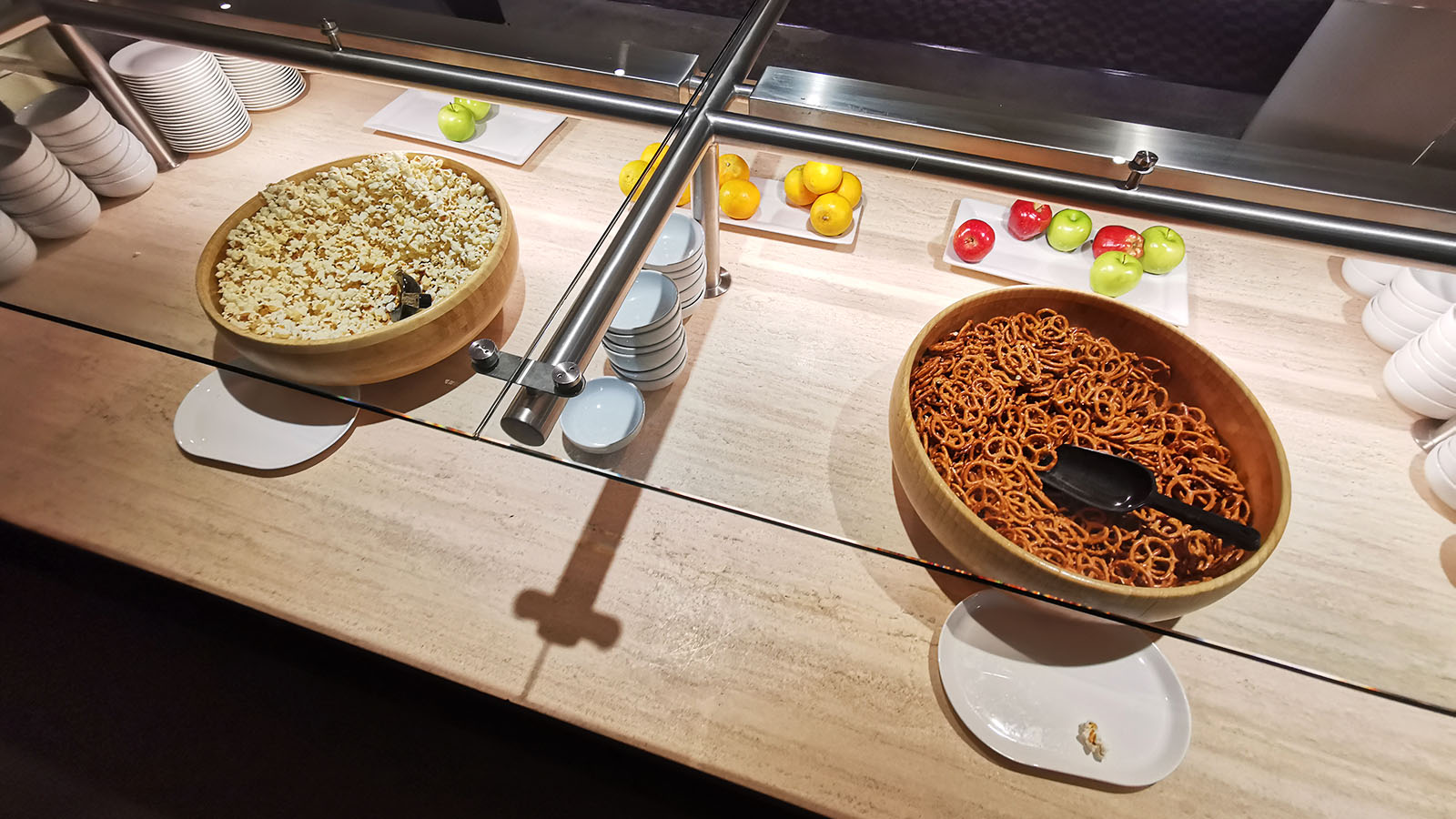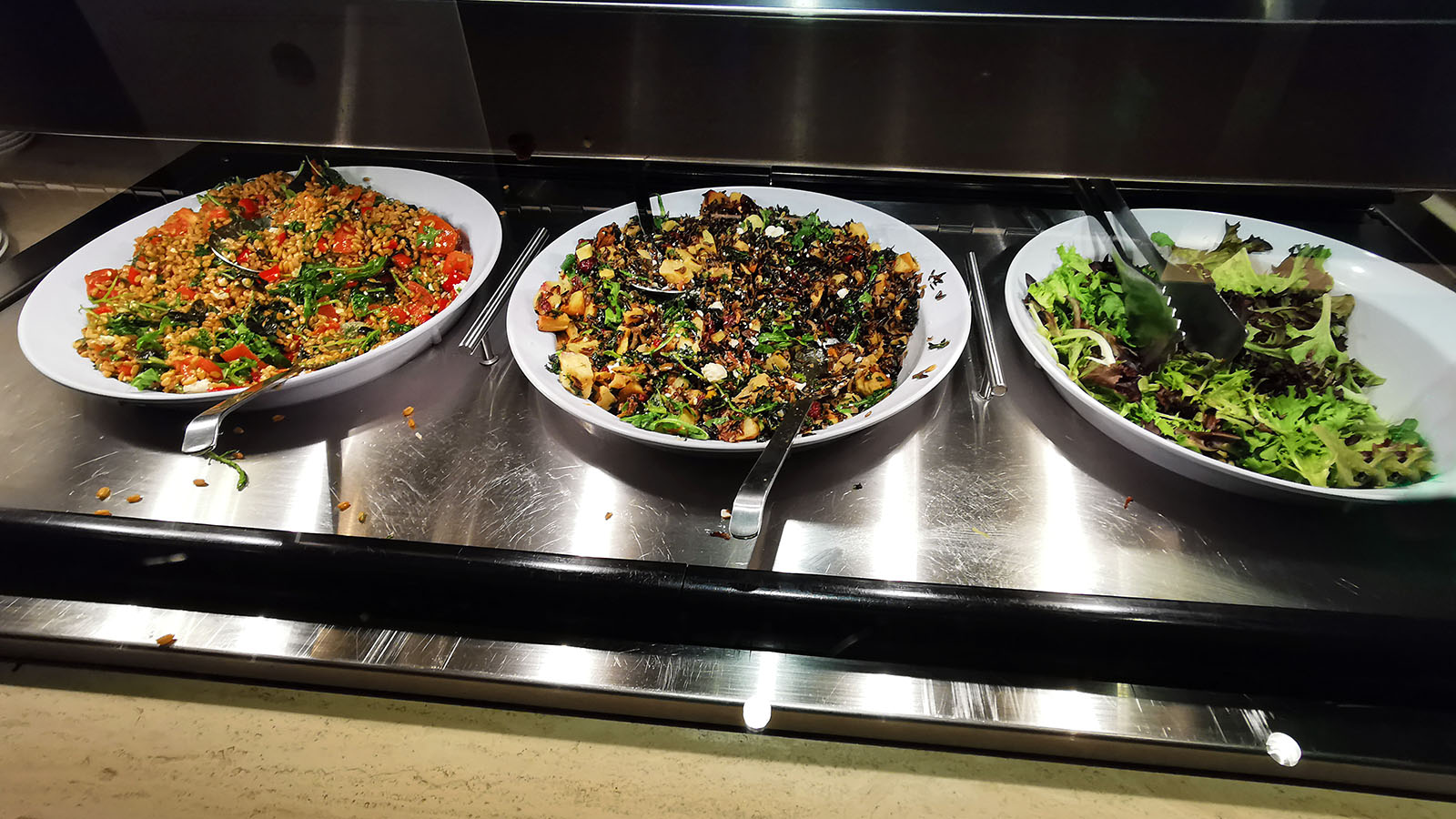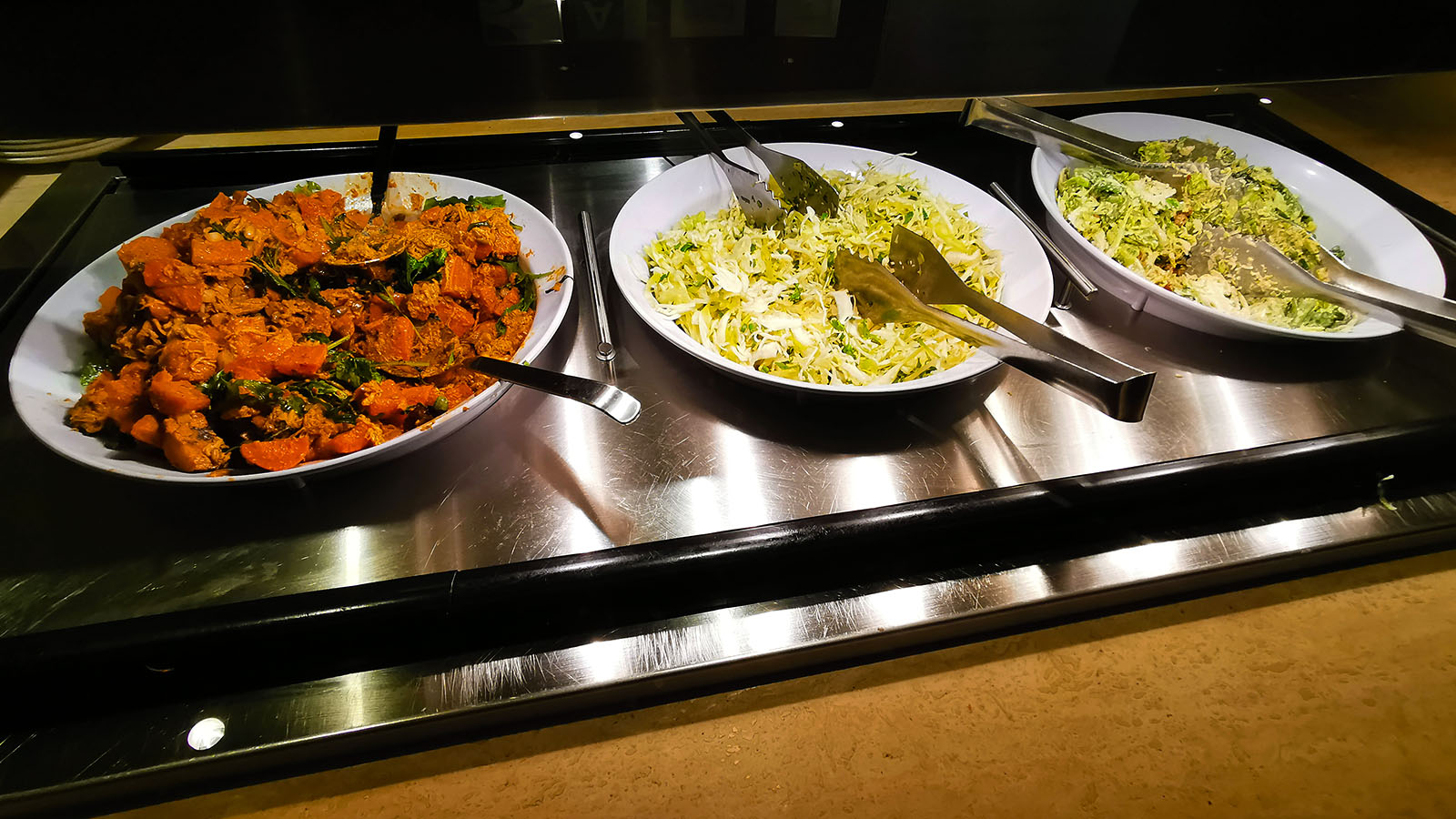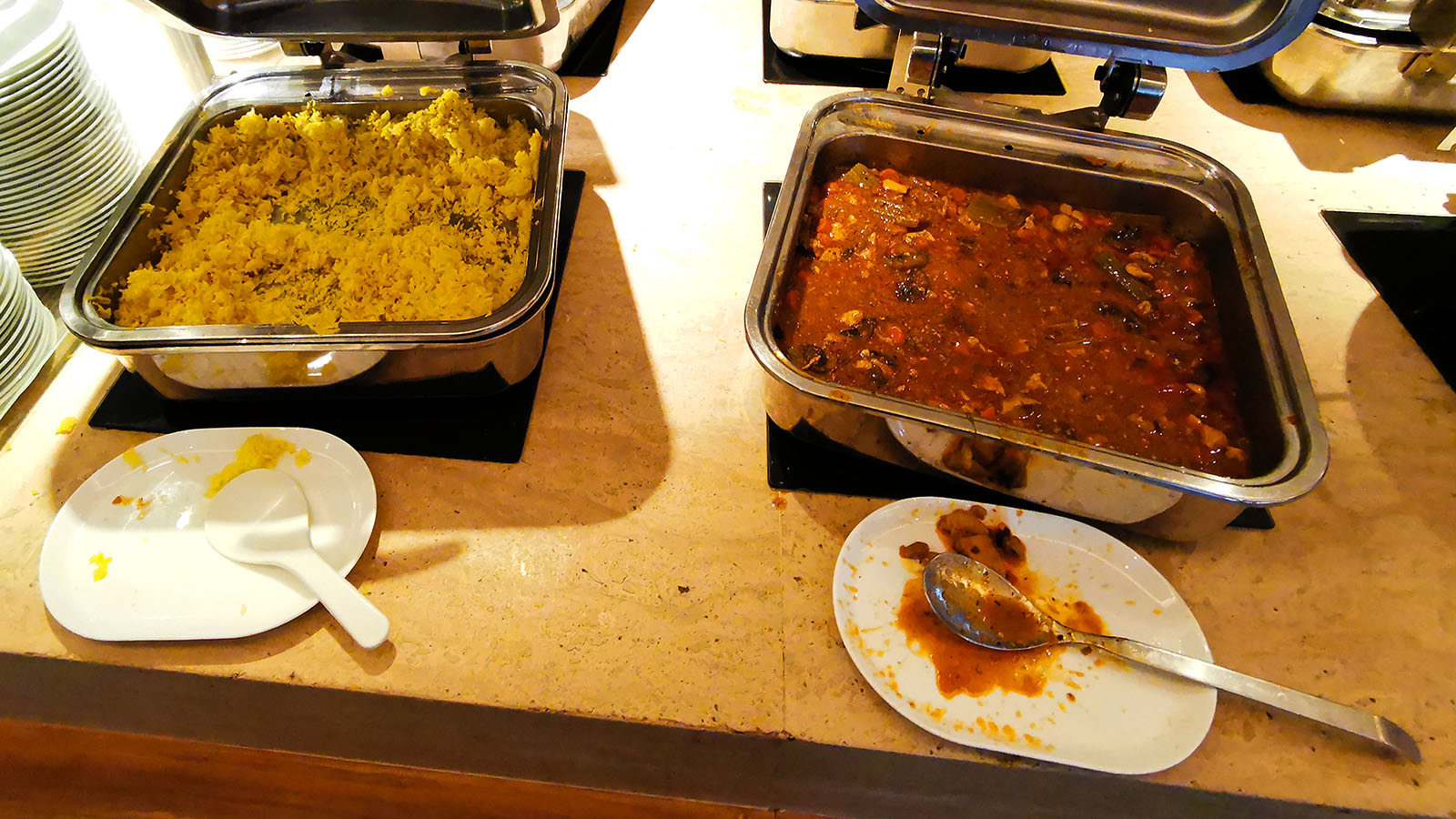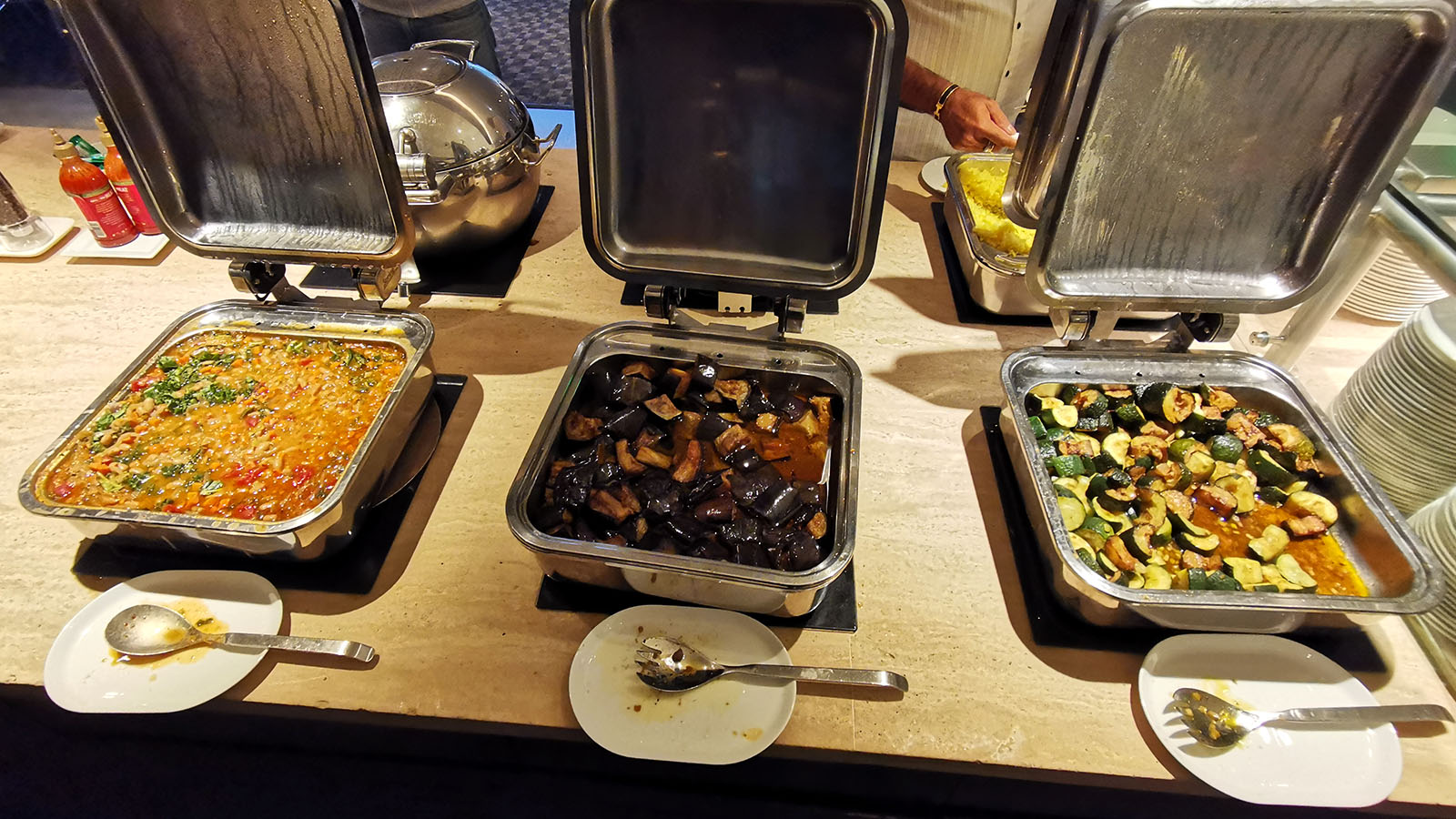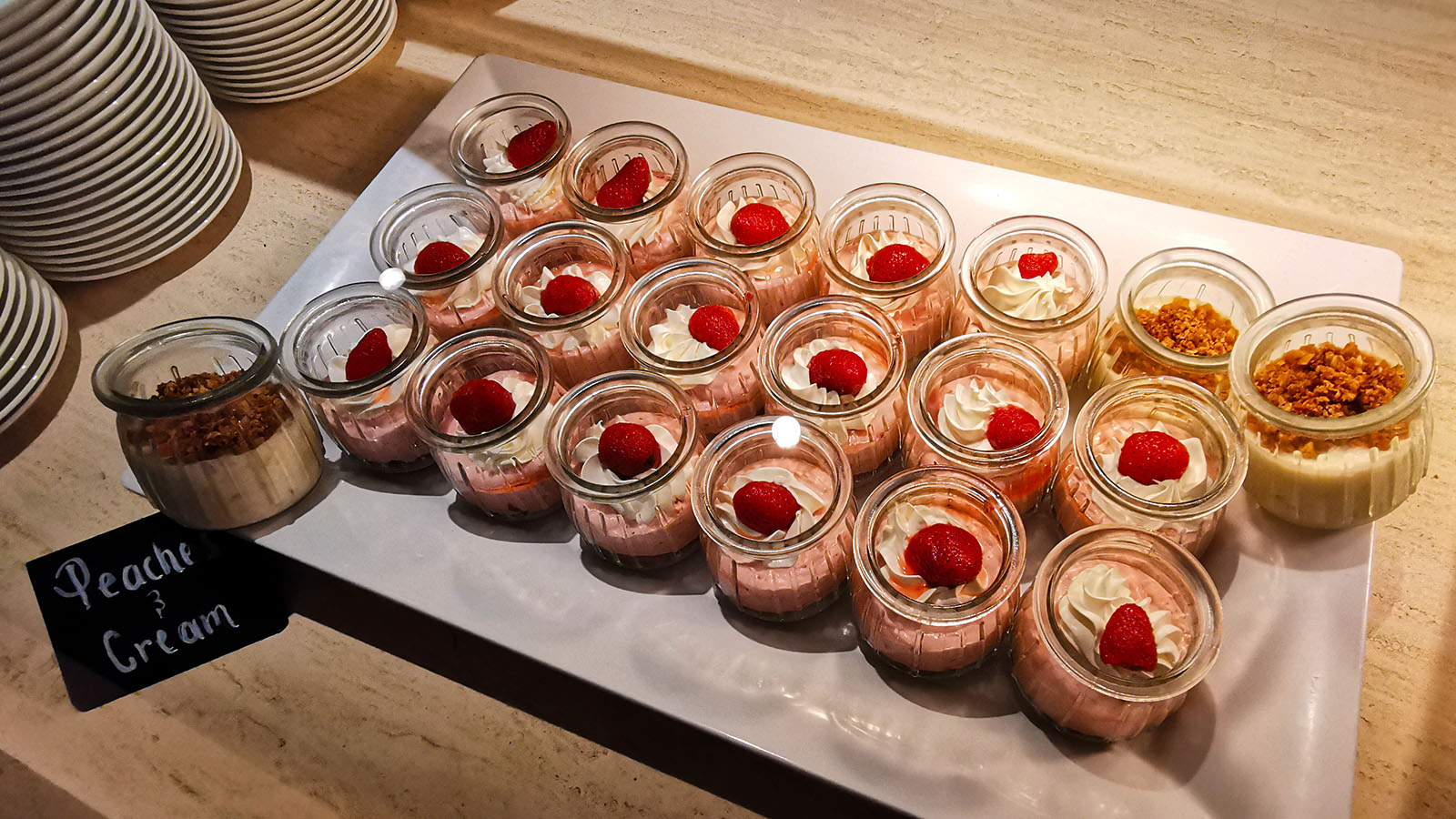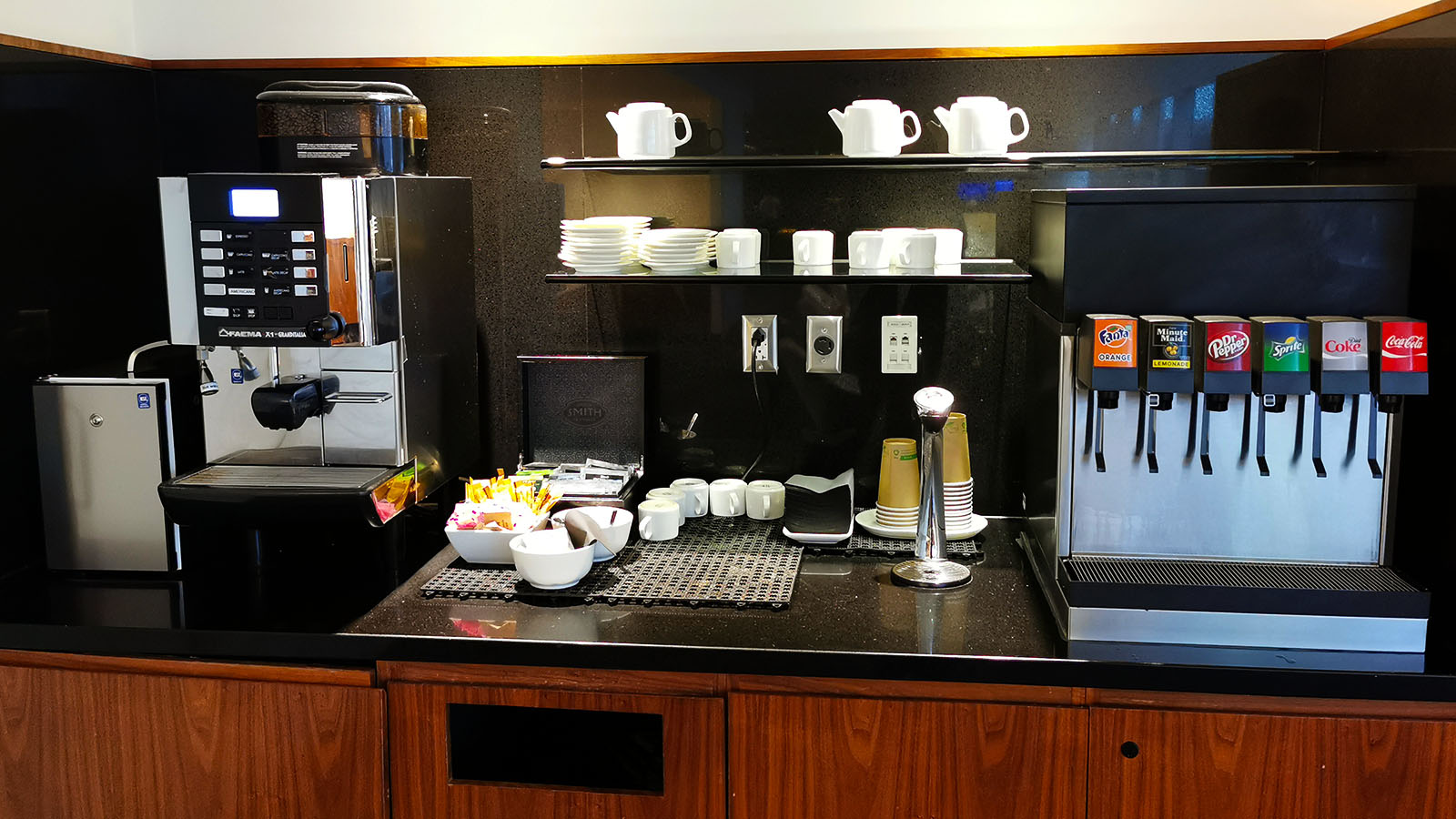 The beer front provides choice as well. Selections today are The Dudes IPA, Ayinger Pilsner, Estrella Damm Lager and Ayinger Hefeweizen. On the food side of things, there's an array of snacks, salads, vegetables, curry, rice and desserts at the buffet.
Compared to many other lounges in the US, the food selections are comprehensive enough to suit most tastes. Personally though, I don't find the range overly exciting. The food certainly fills you up, it's tasty and it meets a need. But 'curry with rice' is the headliner – and that's not overly different to what I often find in Qantas' Domestic Business lounges.
Accessing Qantas' International Business Lounge in Los Angeles
Of all the lounges in the Qantas network, understanding who can (and can't) come into the Los Angeles Business Lounge is the most complex. Rules can change depending on whether you're flying to a domestic or international destination. They can also vary based on connections, status, memberships and flight numbers. Added to that, some airlines outside of oneworld also use this lounge – and follow their own set of rules.
We know you want the details, so we've taken the time to put this list together. To keep things as simple as we can, we've also omitted those top-tier travellers and First Class flyers who'd otherwise have access to the Qantas International First Lounge here in Los Angeles.
Here's instead who uses the Business Lounge as their go-to.
When flying Business Class
Before every Aer Lingus, British Airways, Cathay Pacific, El Al, Finnair, Iberia, Japan Airlines, LATAM, Qantas and Qatar Airways flight. But passengers on Finnair 'Business Light' and Qatar Airways 'Business Lite' fares are excluded unless entitled to access via another method.
When flying American Airlines Flagship Business to a destination outside of the US, Canada, Mexico (see below), the Bahamas, Bermuda and the Caribbean. Or, when flying AA Flagship Business on a qualifying transcontinental route, such as to New York JFK, or to Mexico City only.
When connecting between an eligible international oneworld flight with a scheduled flight time longer than five hours, and a oneworld-operated US domestic flight, or another oneworld international flight of fewer than five hours. This is a handy rule to know for passengers arriving from Australia in Qantas or AA Business Class, and who have an onward flight in Economy.
Access is also allowed when departing in Business Class on a codeshare flight booked on the QF number, aside from the exempted routes above. It's mainly useful when flying Air Tahiti Nui or Fiji Airways on a QF code, as these airlines otherwise use the Star Alliance Lounge at LAX.
Note that of the airlines listed in this section, Aer Lingus, Air Tahiti Nui, El Al and LATAM are not oneworld Alliance members. Fiji Airways is also merely a oneworld Connect member. This means the 'connecting between flights' rule doesn't apply on any of these carriers. Lounge access isn't available here when flying Air Tahiti Nui on a TN flight number, or Fiji Airways on an FJ flight number.
By airline frequent flyer status
Alaska Airlines Mileage Plan MVP Gold members prior to a oneworld flight. However, this only applies when travelling to a destination outside of the US, Canada or Mexico.
American Airlines AAdvantage Platinum members prior to oneworld flights. But only when flying to destinations outside of the US, Canada, Mexico (except Mexico City), the Bahamas, Bermuda and the Caribbean.
Qantas Gold members prior to all oneworld flights (including US domestic-only itineraries). Access is also allowed prior to all flights booked on a QF codeshare (regardless of oneworld membership), such as with Air Tahiti Nui and Fiji Airways.
Other oneworld Sapphire frequent flyers prior to all oneworld flights, regardless of destination (includes US domestic). Must be booked on the flight number of a oneworld airline, and travelling on a oneworld carrier.
Only before Aer Lingus flights – AerClub Silver, Platinum and Concierge members.
Prior to El Al flights only, Matmid Frequent Flyer Club Gold, Platinum and Top Platinum cardholders.
Before LATAM flights only, LATAM Pass Platinum, Black and Black Signature members.
By lounge membership
Alaska Airlines 'Lounge+' members departing on a Qantas-operated international flight. (Other LAX lounges are available instead when flying on Alaska Airlines or American Airlines).
Qantas Club members departing on a Qantas or American Airlines flight (QF or AA flight number required). Qantas Club Annual Guest cards are also valid here. However, single-use Qantas lounge passes aren't valid at LAX.
Prior to Aer Lingus flights only, holders of the Bank of Ireland Mastercard Gold Business Card.
Members of El Al's King David Club, prior to El Al flights only.
Notably, this lounge doesn't appear on the list of partner locations available to American Airlines Admirals Club members. Fortunately though, the LAX Admirals Club is a 10-minute walk inside the security area. It's available to Admirals Club members flying Alaska Airlines, American Airlines or Qantas.
Other ways to enter the Qantas International Business Lounge in Los Angeles
Prior to Cathay Pacific flights only, Silver members of the airline's rebranded loyalty program, Cathay.
Before Japan Airlines (JAL) flights only, travellers booked in Premium Economy Class. Also when flying JAL, those on the highest-price Economy Class tickets, branded as 'Flex Y'. (Access not included with any other Economy Class fare, unless otherwise entitled by status or flight connection).
Phew, okay, we got to the end of that! Don't get me started on who can bring a guest in, or we'd be here all day…
Summing up
Again, the Los Angeles Business Lounge is co-owned between Qantas, British Airways and Cathay Pacific. But other than seeing the familiar BA and Cathay logos at the front door, this lounge doesn't feel like a cocktail of carriers. It simply feels like a Qantas lounge.
That's not necessarily a bad thing. And to be fair, the lounge is 'managed' by Qantas alone. Yet as a passenger, it's not clear what, if anything, those other airlines bring to the experience. There isn't a noodle bar in a nod to Cathay Pacific, or Champagne on request, as is common in British Airways' lounges.
Instead, there's a general buffet spread, sparkling wine and barista-made coffee: mirroring what Qantas offers in many other Business lounges. For some, that ticks enough of the boxes. And on this visit, that latte really hit the spot.
But I'd be remiss not to highlight that the AA Flagship Lounge is an easy walk – and if you can get into the Qantas lounge, you likely qualify for Flagship too. It's more of a 'Business Class plus' lounge, and with time to wander, it'd be my choice if flying Qantas Business or with oneworld Sapphire status.
The Flagship Lounge has floor-to-ceiling windows, a more comprehensive buffet, and often, a chef's station too. Add to that, true Champagne – Piper Heidsieck, on my most recent visit. So here's an idea. Next time you're flying through LAX and the Business Lounge is your go-to, why not try Flagship as well, and discover your own favourite?
Also read: What's the difference between American Airlines' Admirals Club and Flagship Lounge?
Photography by Chris Chamberlin, who accessed the lounge as a regular guest while travelling at Point Hacks' expense. Feature image courtesy of Qantas.
---
Stay up to date with the latest news, reviews and guides by subscribing to Point Hacks' email newsletter.
Qantas International Business Lounge, Los Angeles
was last modified:
June 15th, 2023
by