Flybuys is a large and much-loved loyalty program with many partners apart from Coles. These partners sometimes have amazing promotions that will nab you tens of thousands of Flybuys Points – which could be enough to score some serious rewards. Think of a Virgin Australia Business Class flight or a few hundred dollars off your supermarket shop.
Here are some of the better promotions (and competitions) out there right now. We will update this page regularly as new offers are released.
30x bonus Flybuys Points with Apple Gift Cards
Expiry: Until 19 October 2021
Looking at Apple's latest hardware as well as a way to boost your Flybuys Points? Then make sure to head to your local Coles! For one week, collect 30x bonus Flybuys Points on Apple Gift Cards of $50 and higher (including variable-load cards), which can be converted to 15x Velocity Points. The deal starts Wednesday 13 October at Coles stores (excluding Coles Online, Coles Express and purchases via giftcards.com.au). This offer follows a similar 30x bonus Everyday Rewards points on Apple Gift Cards offer that was held twice last month!
You're able to buy a maximum of five gift cards per customer with this offer. Also, a 75,000 Flybuys Points cap applies to this offer, meaning that each customer can purchase up to a maximum of $2,500 in Apple Gift Cards before the bonus points run dry. Therefore, bonus points can be awarded more than once for each Gift Card type – including different denominations of the same Gift Card. But up to a maximum of 75,000 points total can be collected per Flybuys account.
Here are some examples of the points you can earn:
$50 gift card: 1,500 Flybuys Points (worth $7.50 or 750 Velocity Points)
$100 gift card: 3,000 Flybuys Points (worth $15 or 1,500 Velocity Points)
$200 gift card: 6,000 Flybuys Points (worth $30 or 3,000 Velocity Points)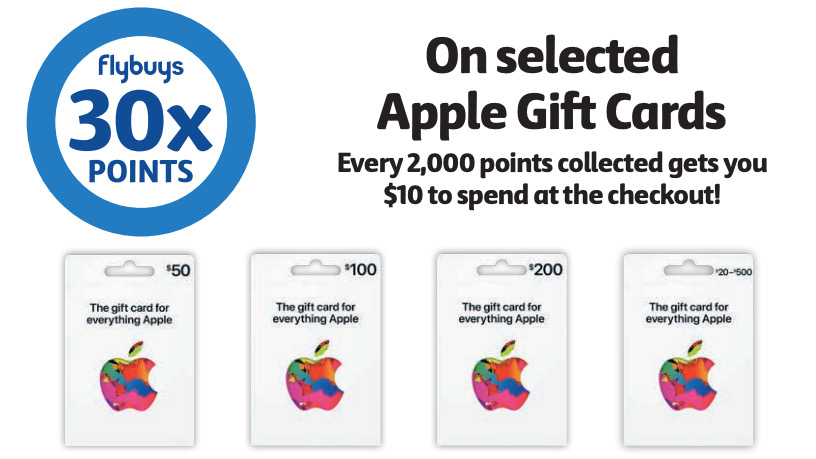 Let's say you're after a new iPhone 12 Pro Max 256GB, which starts from AUD$2,019. If you purchased 4x $500 gift cards (using variable load) to help cover the price of the phone, you'll also earn 60,000 Flybuys Points. That's easily worth $300 at the checkout, or 30,000 Velocity Points – more than enough for a free domestic Economy or Business Class reward seat on certain routes (plus taxes).
Adelaide-Darwin one-way in Economy (17,800 pts + taxes)
Melbourne-Cairns one-way in Economy (17,800 pts + taxes)
Perth-Broome return in Economy (23,600 pts + taxes)
Sydney-Hamilton Island one-way in Business (23,500 pts + taxes)
The cheapest Velocity reward flight is 7,800 points + taxes (converted from 15,600 Flybuys Points). You'll need to buy at least $550 of Apple Gift Cards to start earning enough Velocity Points for a reward flight.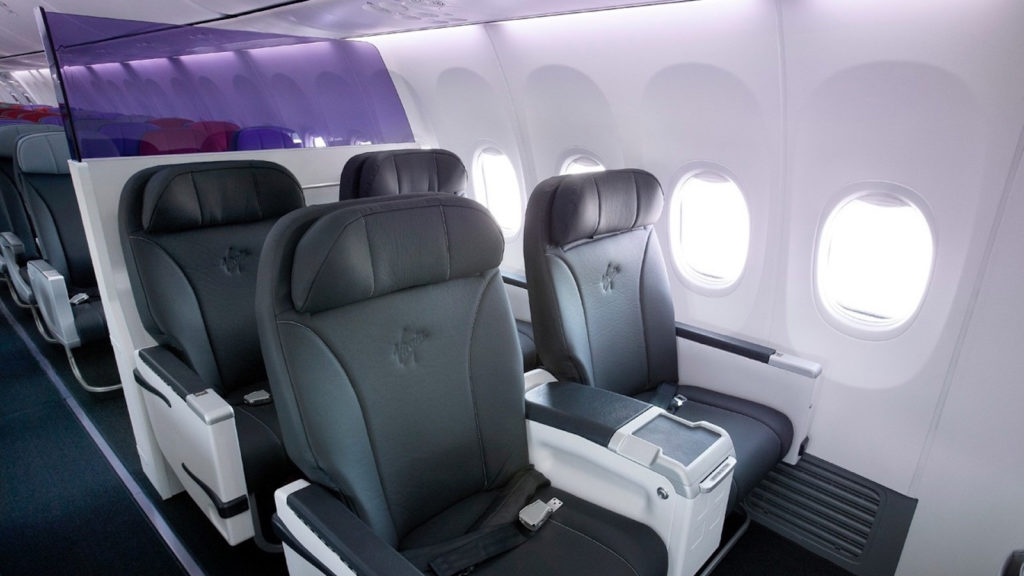 Apple Gift Cards can be used for purchase at the Apple Store (in-store and online), as well as the iTunes/App Store.
Recurring Coles challenge: 10,000 Flybuys points
Expiry: Not currently active
One of Flybuys' most popular offers runs a few times a year. Earn 10,000 bonus Flybuys points when you meet a targeted minimum spend over four weeks. We'll let you know when this offer returns again. The information below remains correct and will help you plan your next challenge.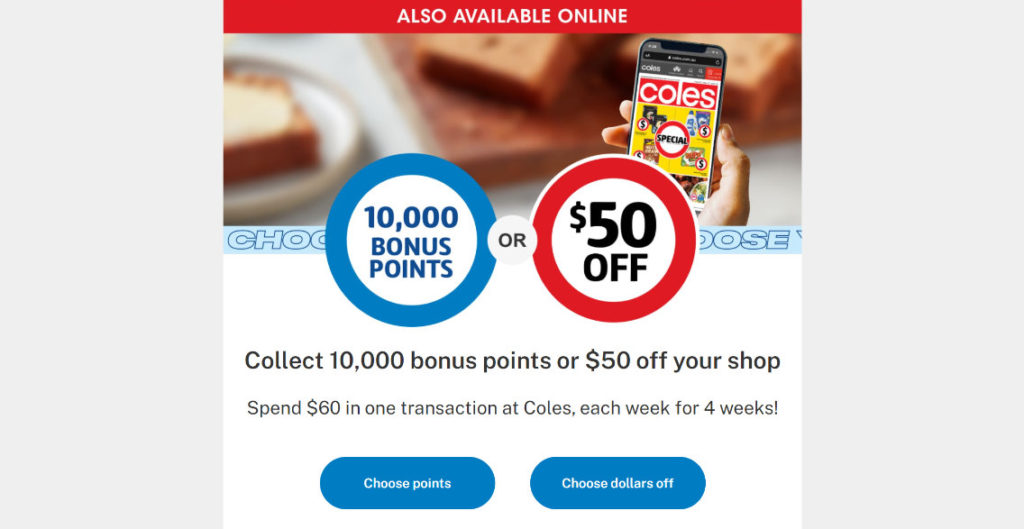 Essentially, you'll be given a target amount to spend at Coles for four weeks in a row. Reach this target and you will earn 10,000 bonus Flybuys points or $50 off your next Coles shop. The target amount usually ranges from $40 to $120 a week, depending on how much you've spent previously.
Our hot tip? Always choose the bonus points! They're way more flexible. You can convert these bonus points to 5,000 Velocity Points, or use them to get $50 off Coles shopping down the track if you decide to.
Some members are also being offered an additional 1,000 points for each transaction they complete online, for an extra 4,000 points over the four-week period.
Sign up for an Optus Plan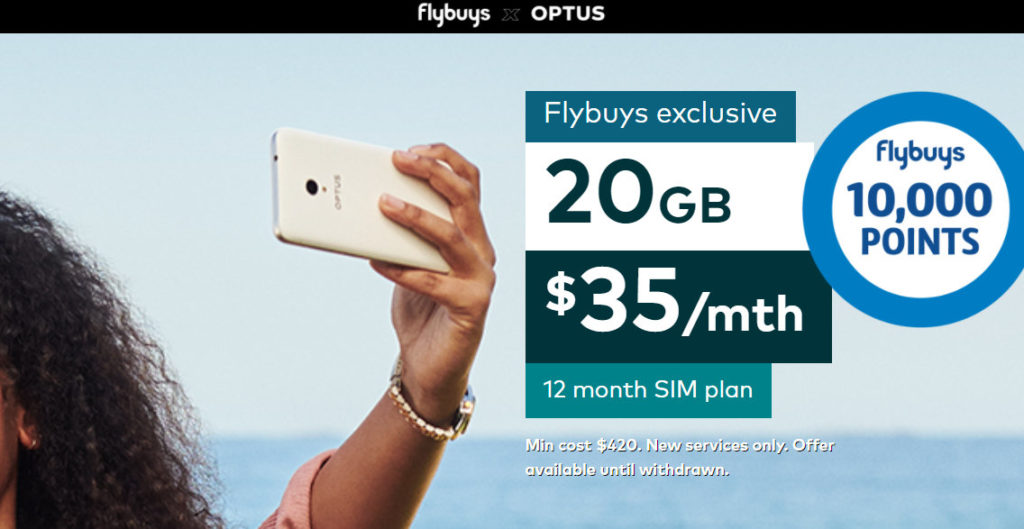 Optus offers bonus Flybuys points on many plans covering phones, handsets, home broadband and mobile broadband. The offers available may change without notice and be targeted at specific members.
In general, you'll need to sign up to a specific plan and stay connected for at least three months to score the bonus points. Most offers are for new Optus customers, but sometimes there are 'legacy customer offers' if you're looking to re-contract.
Switch to Kleenheat gas
Kleenheat has a longstanding partnership with Flybuys with many ongoing offers. The current switching bonus is 10,000 Flybuys points. You'll also get 35% off natural gas usage for two years and the normal earn rate of one point per $1 spent on bills.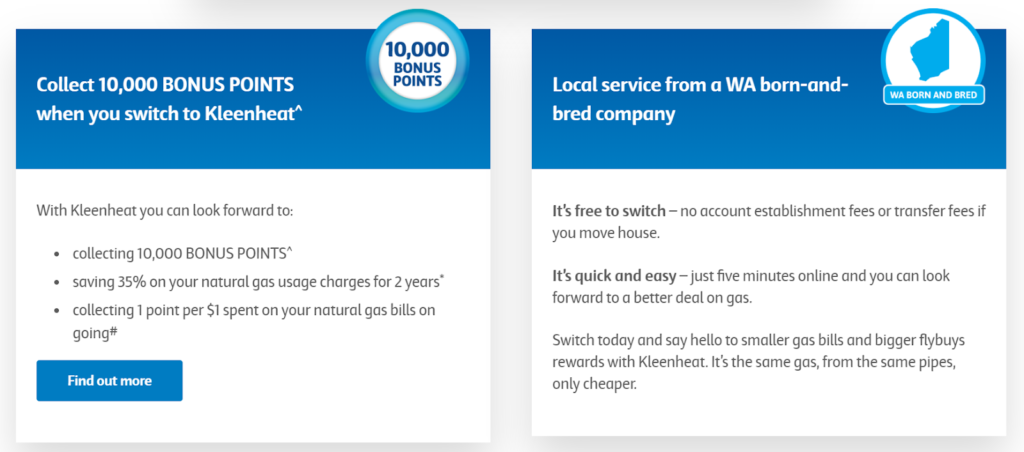 See the latest Kleenheat offers →
New Coles Online customer codes
New Coles Online customers can earn bonus Flybuys points by using one of these coupons.
| Bonus flybuys points | Minimum spend | Promo code |
| --- | --- | --- |
| 10x flybuys points | $100 | FLYBUYS10 |
| 4,000 points | $200 | FLYBUYS4K |
Full terms and conditions are explained here.
Full list of Flybuys partners
The full list of Flybuys partners will show their latest points promotions. Be sure to click on the individual partner to find out more details. This list is from July 2021.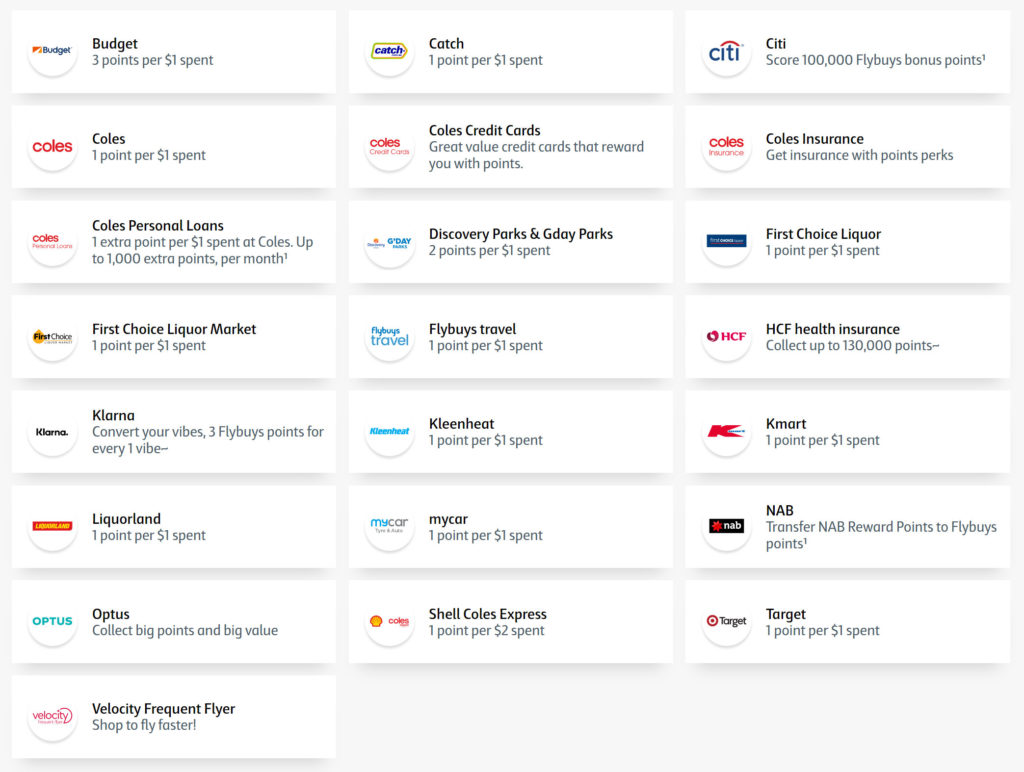 Summing up
Big Flybuys points offers can be found with its various partners – especially the bigger companies that want you to sign-up for an ongoing service.
Be sure to check the promotion terms and conditions carefully and shop around with other providers. It mightn't always work in your favour to earn more Flybuys points on a product that's overpriced compared to its competitors.
But if the deal fits your needs, then it could give your Flybuys balance an extra boost. Which will help you reach those coveted travel goals sooner.
Earn 30x Flybuys Points on Apple Gift Cards at Coles
was last modified:
October 13th, 2021
by