From décor and design elements to food and drink, everything you see at the Qantas International London Lounge reflects the British. But the lounge is also an inspired expression of the Qantas brand, with many iconic characteristics of the airline woven seamlessly throughout.
The two-storey lounge features a cocktail bar, a separate gin bar and a dining area with à la carte dining, plus plenty of lounging spaces for travellers to work and relax in.
We take a closer look at Qantas' lavish Heathrow home in this detailed guide.
The Qantas London Lounge caters for two flights: QF2 (London to Sydney via Darwin), and QF10 (London to Melbourne via Darwin). From 19 June 2022, these flights will return to flying via Perth.
However, the Lounge is also open to eligible passengers travelling from Terminal 3 on airlines that are a part of the oneworld alliance. This includes American Airlines, British Airways, Cathay Pacific, Finnair and China Eastern, as well as Qantas' partner airlines, such as Emirates.
Lounge details and location
The Qantas International London Lounge is located in Terminal 3 at the Heathrow Airport, near gates 1-11.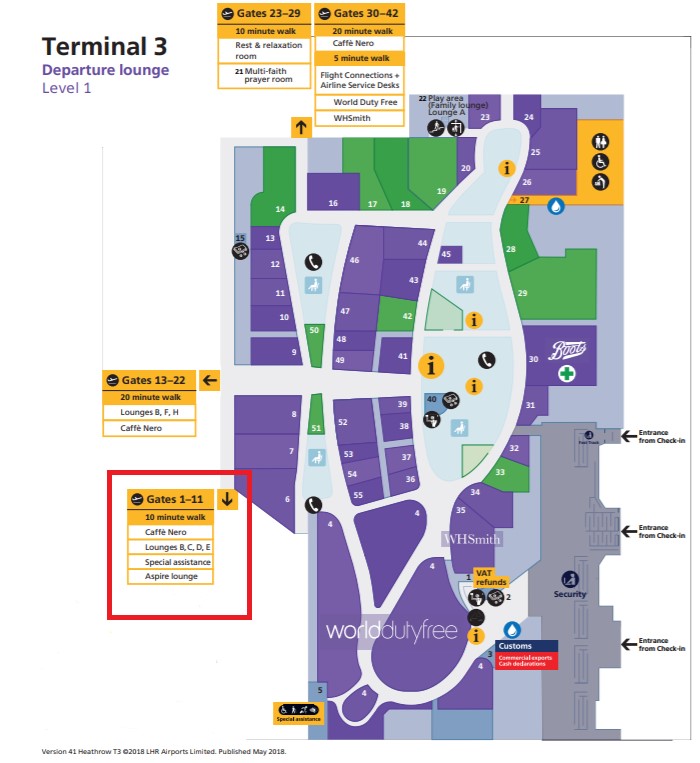 Once you make it past the security checkpoint and the duty-free shops, you need to follow the signage leading to Lounge B.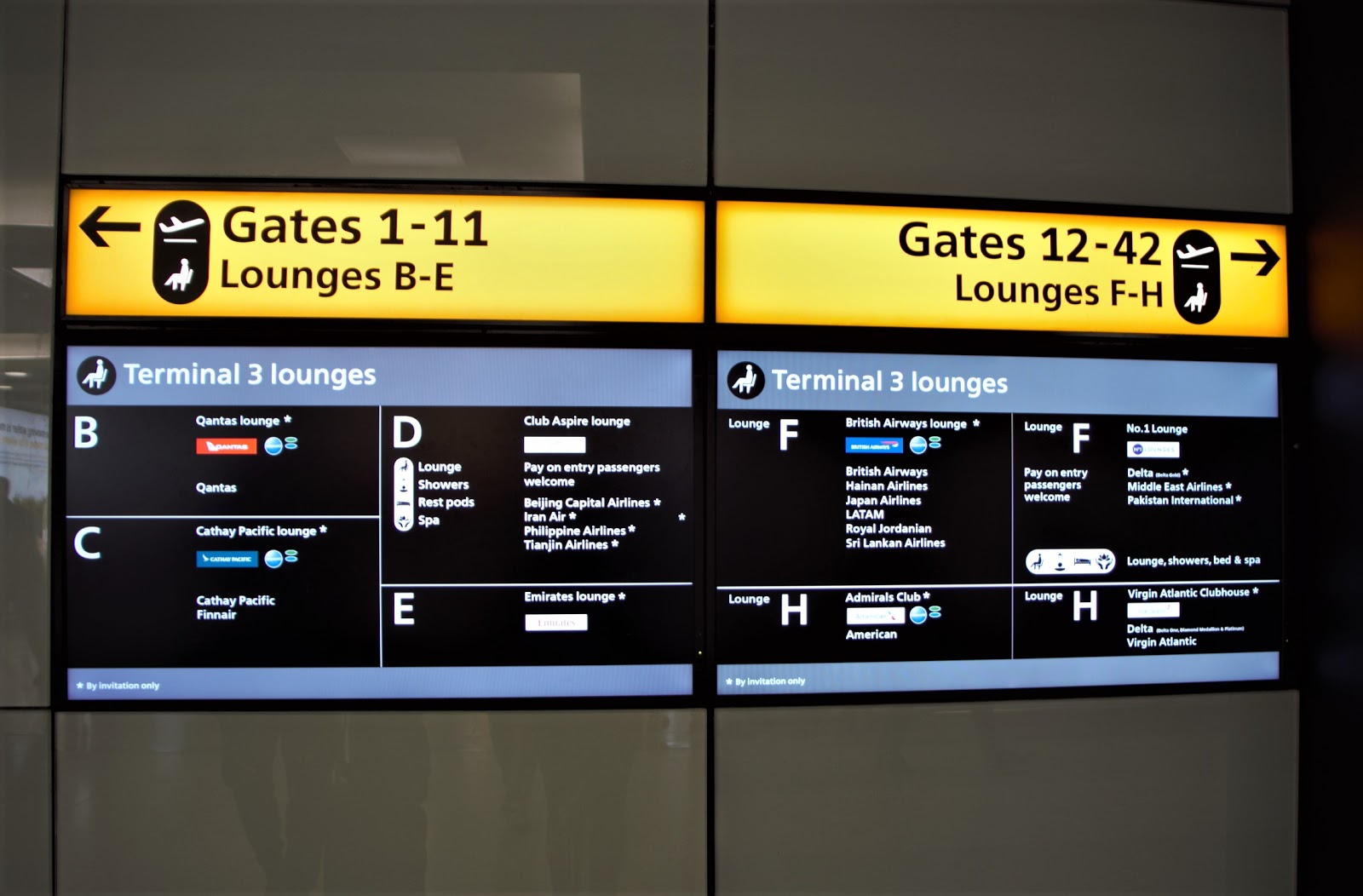 Although the Qantas Lounge is referred to as 'Lounge B' in the signage throughout the airport, the lounge itself has a beautiful exterior wooden plaque. So it's almost impossible to miss the entrance.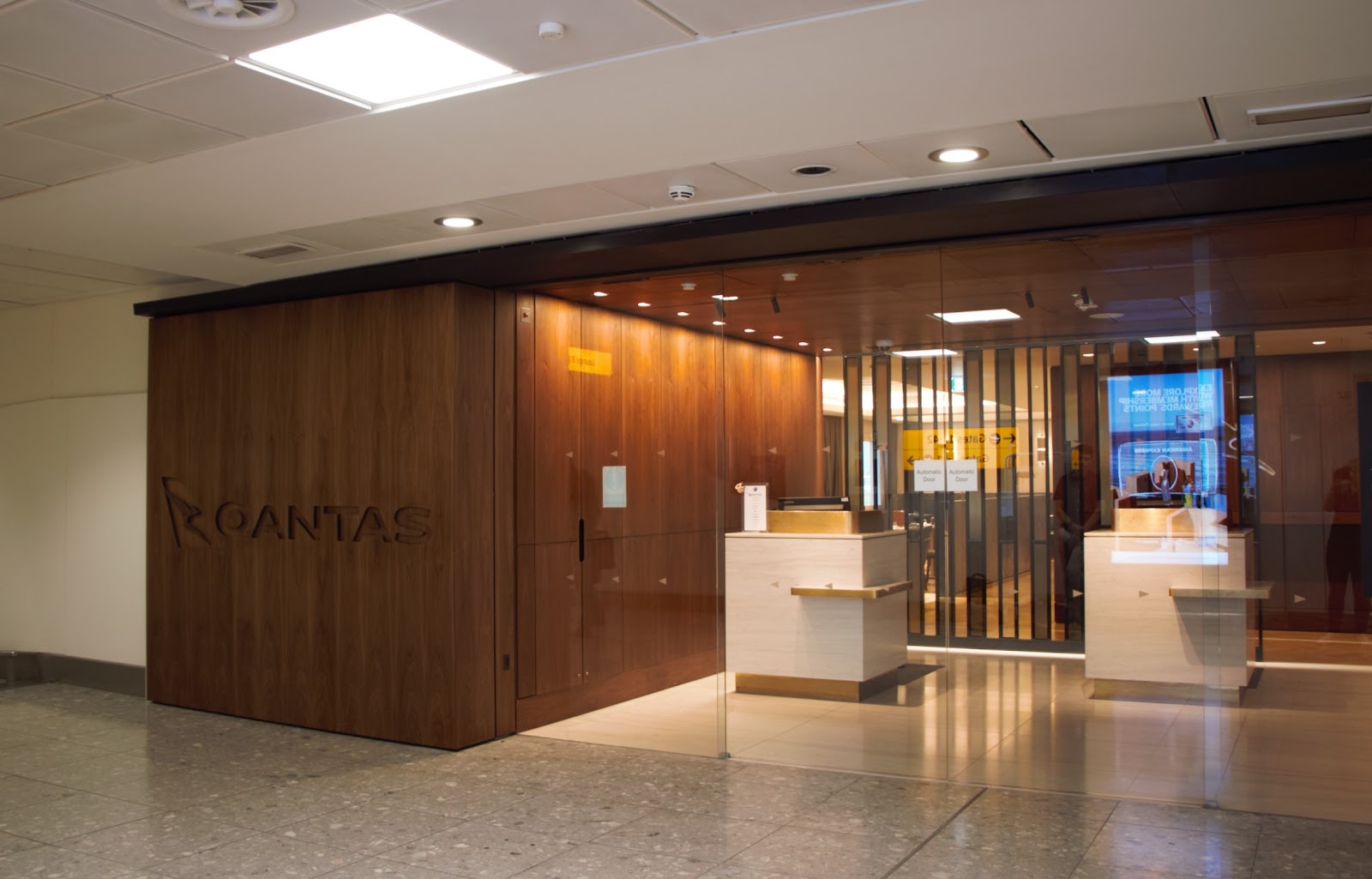 The Qantas London Lounge is open from 8:00 am to 9:05 pm daily. Walking through the glass doors, you're welcomed by friendly Qantas staff, who will check your boarding pass and usher you inside.
At the entrance, you can spot the familiar Qantas logo on wooden-clad walls, alongside a fresh bouquet of flowers. The hallway leads to the dining area on the left, while you'll find a staircase to the upper level on your right-hand side.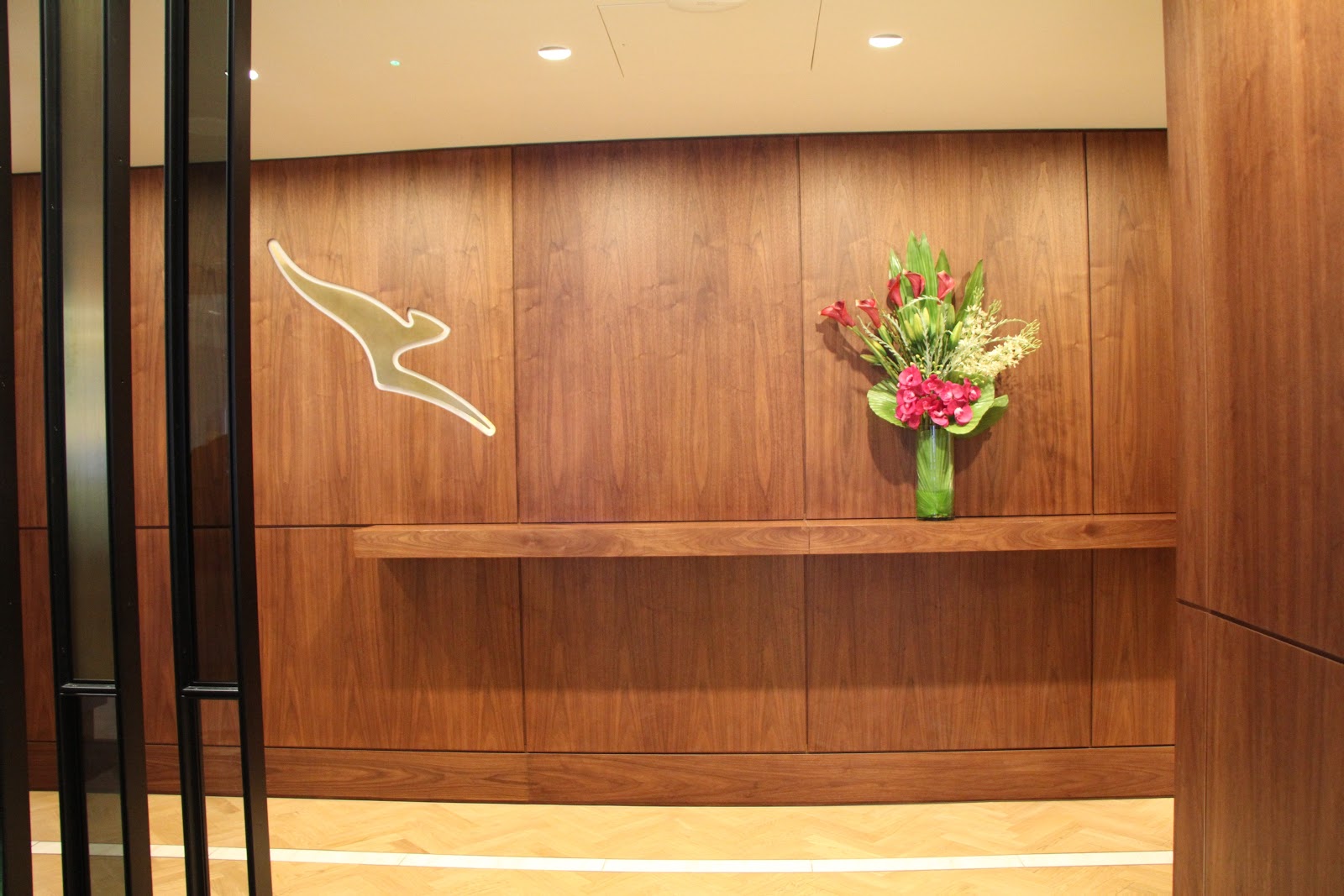 Lounge seating
The lounge décor is mainly inspired by the landscape of London – and in particular the River Thames. The deep and rich colour palettes of greens, blues and burnt orange reflect London at twilight, while a combination of timber, leather, brass and marble details add a modern twist to the classic look.
Altogether the lounge accommodates approximately 250 people. It's split into two separate levels for dining, working and relaxing. The majority of the lower level features an open dining area, alongside a designated gin bar.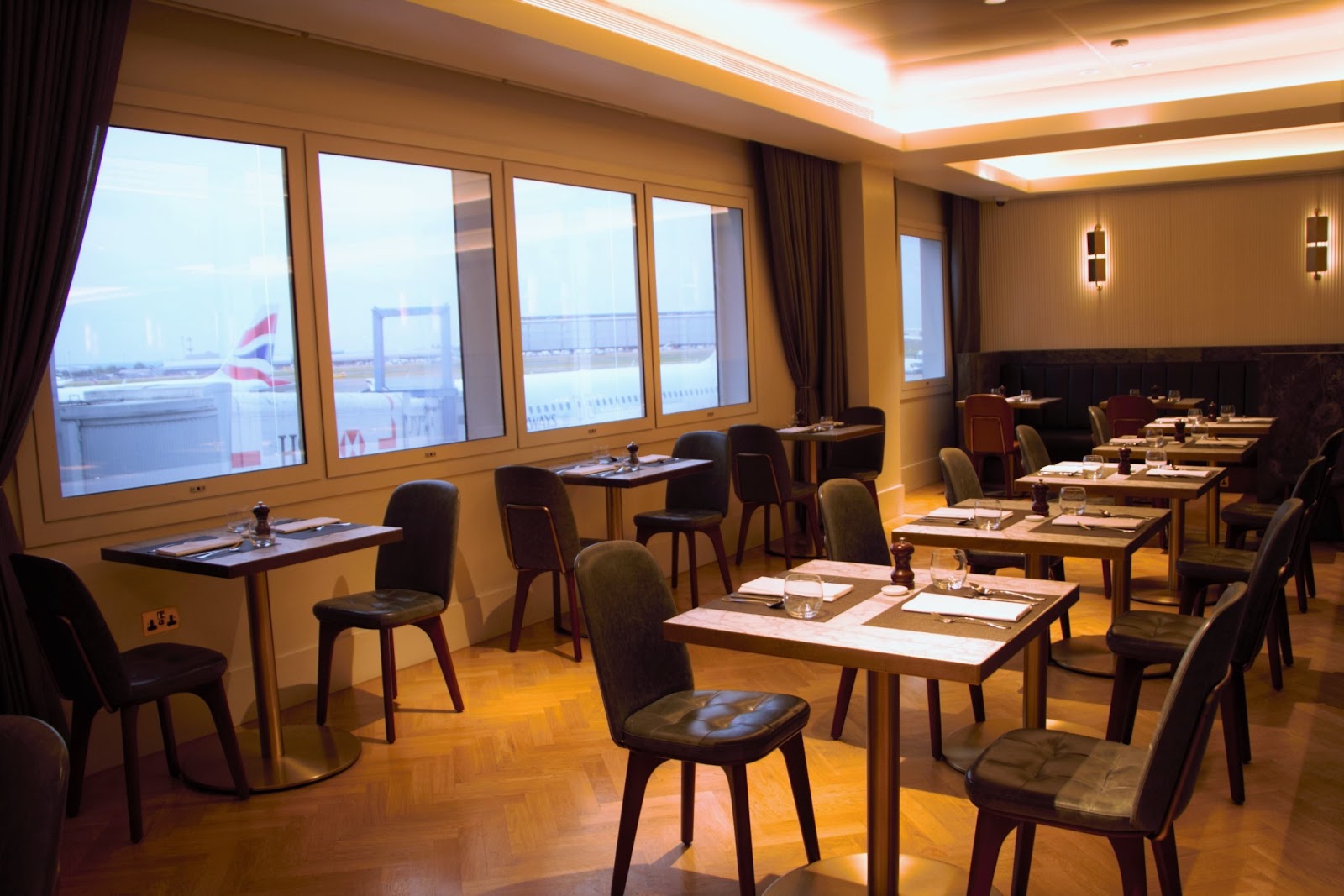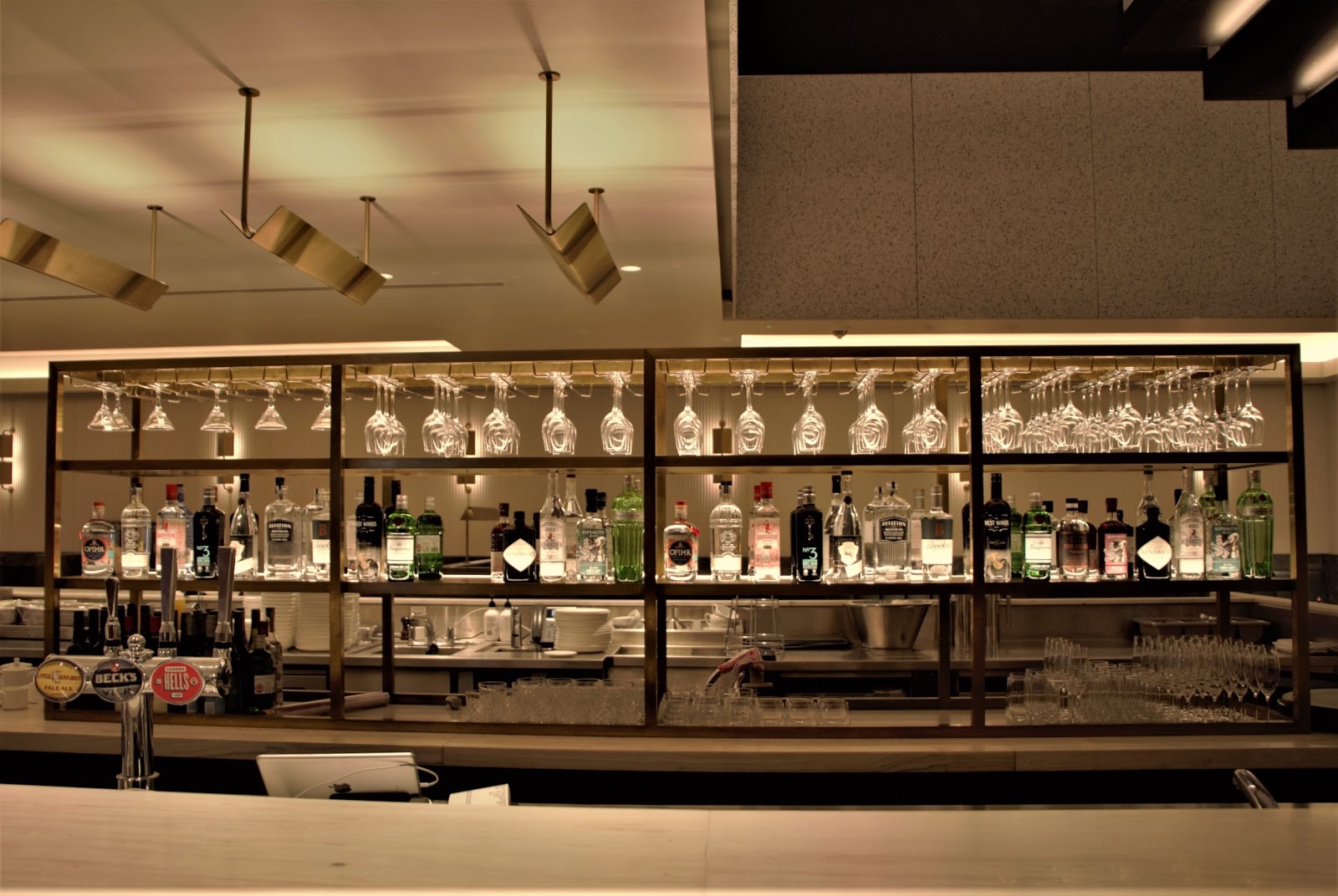 The dining area consists of individual tables and chairs arranged mostly to seat two at a table. Booth seating along the walls allows for tables to be joined for bigger groups to dine together.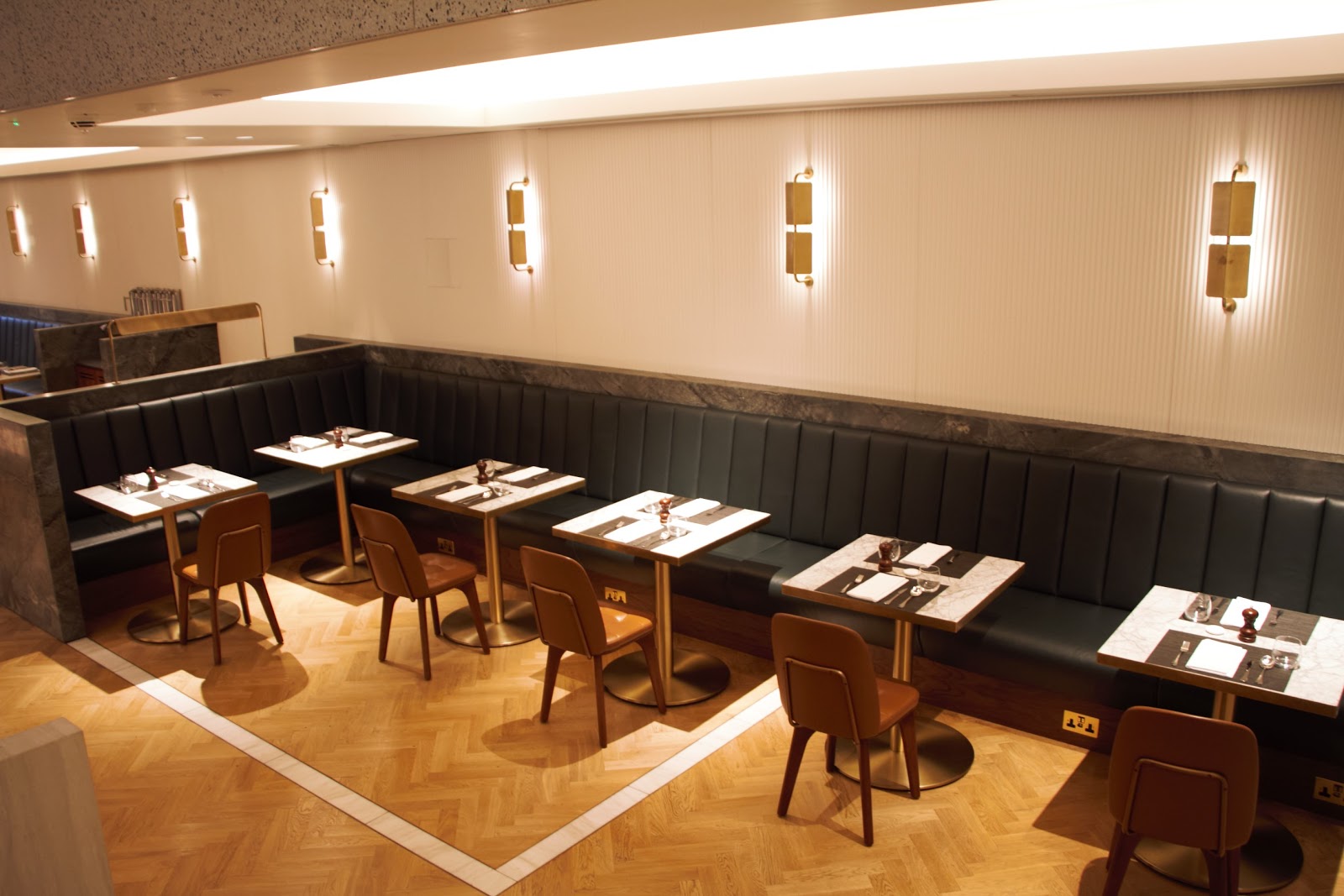 If you're not looking to sit at a table, there are also seats at the bar.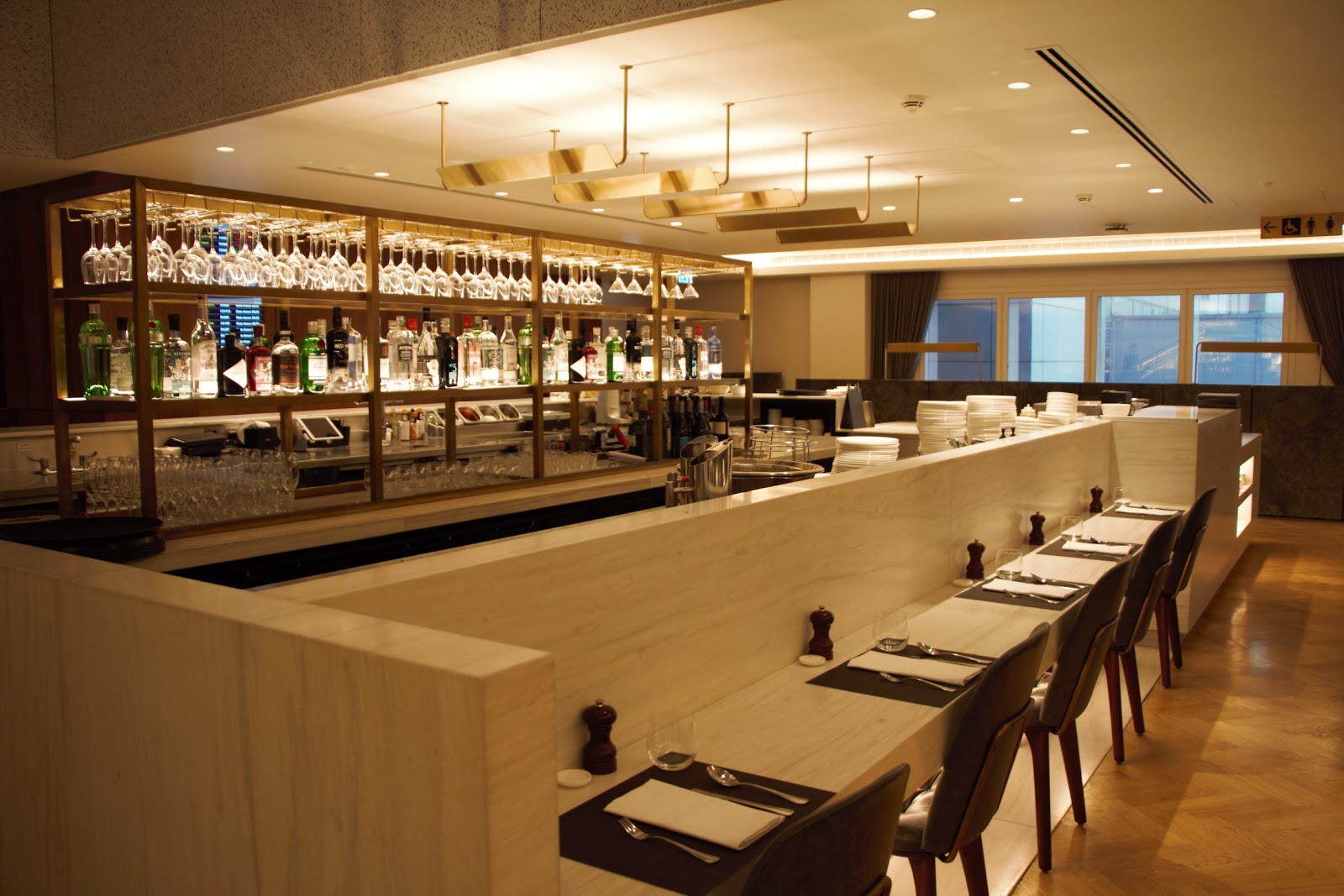 In addition to chic décor, the seating on the ground floor is also practical. There are plenty of power points located on the walls throughout the lounge, including underneath the tables in the dining area. So it's super easy to dine and work at the same time. But keep in mind England does have different power plugs, so you might have to ask the staff for an adapter. Unless of course you're travelling with one in your hand luggage.
Additionally, I couldn't go past this beautiful tea set that was sitting next to the staircase downstairs. I'm not sure if it's used for afternoon tea, or whether it's just a design element. But I mean… can it get more English?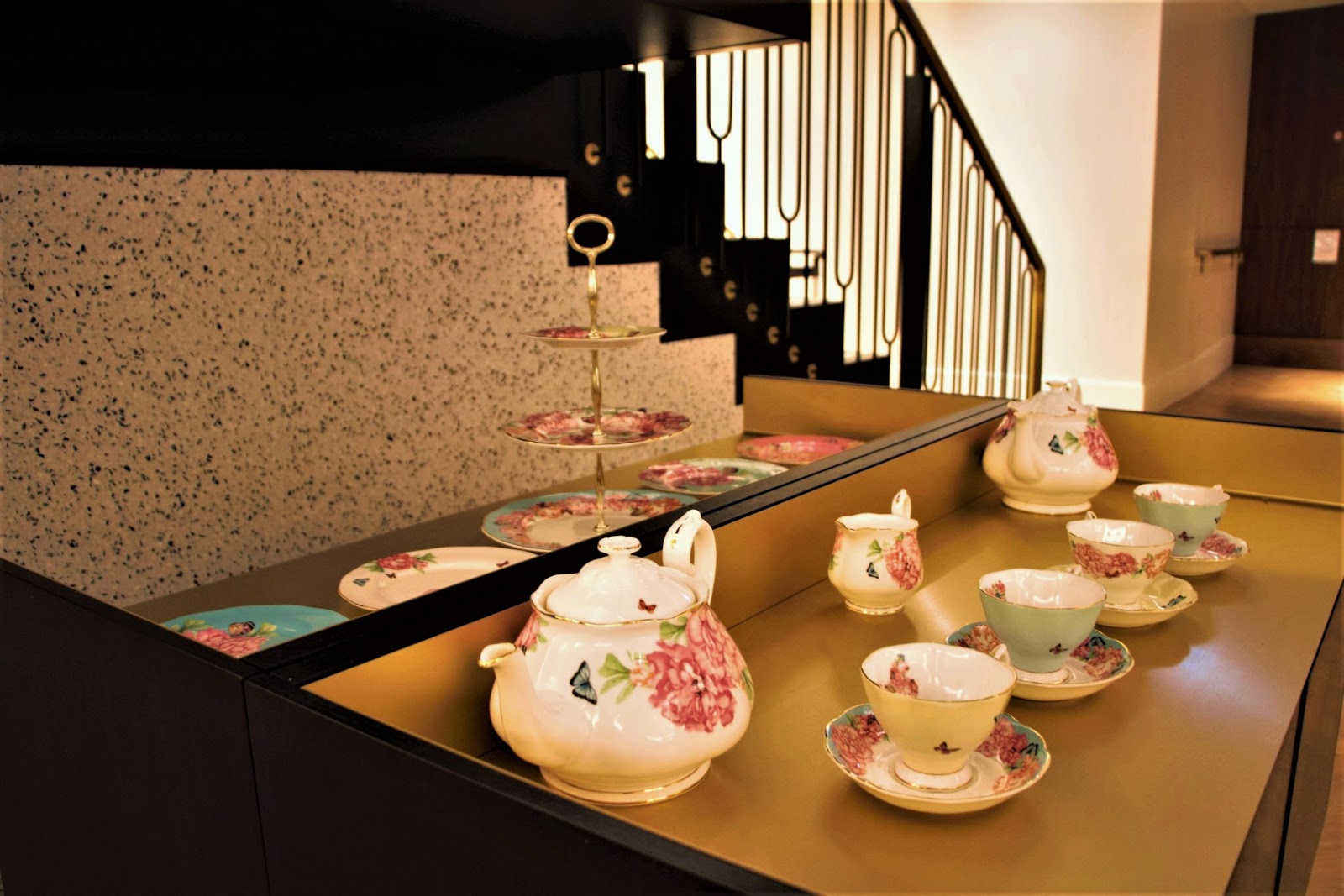 The two levels are connected by a modern brass-gilded staircase that leads you to a grand cocktail bar upstairs.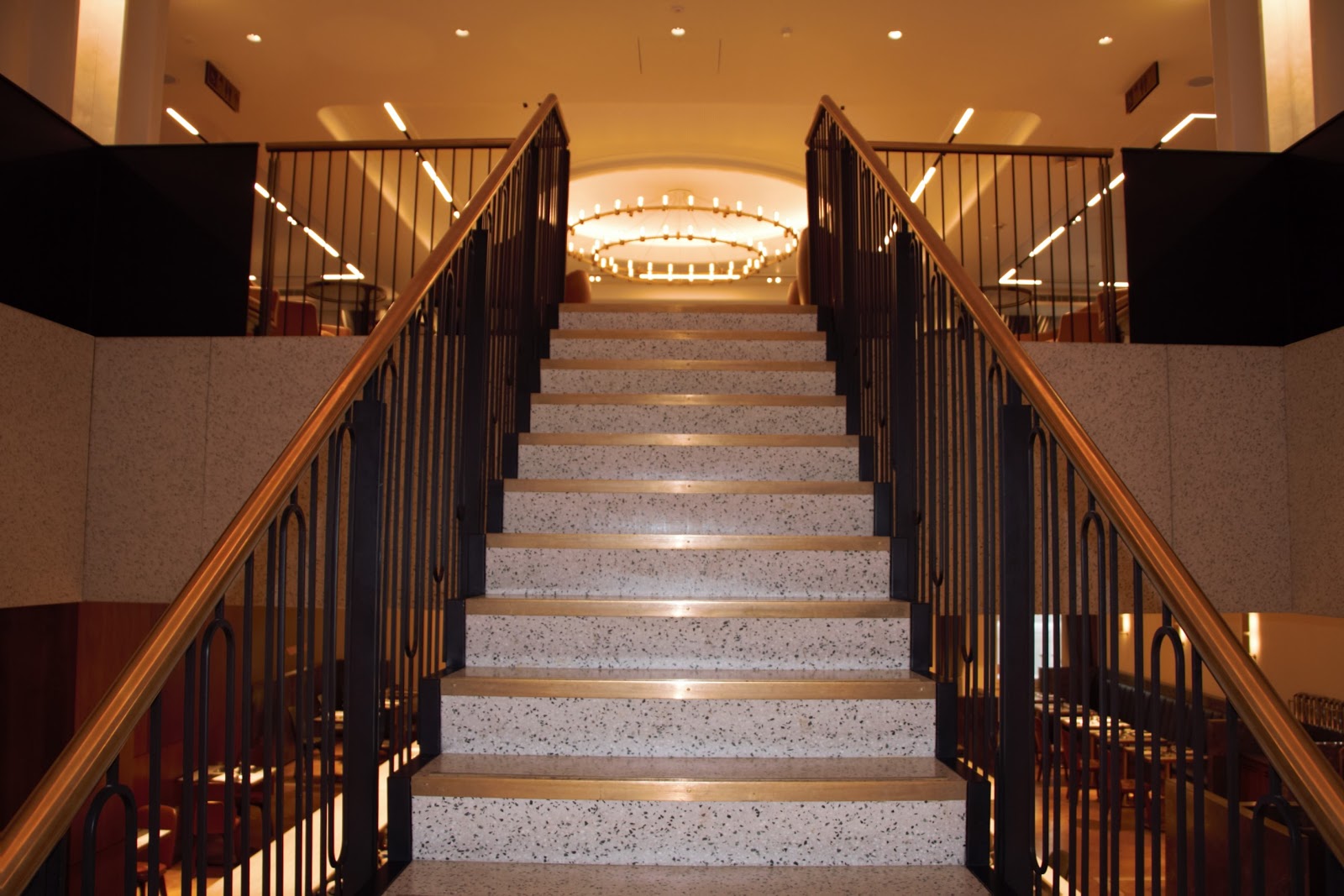 Keep in mind you can also hop on the elevator to access the upper level. The elevator is located on the left-hand side of the staircase.
Beneath an impressive brass chandelier, the circular marble bar screams luxury – adding extra elegance to the already chic lounge.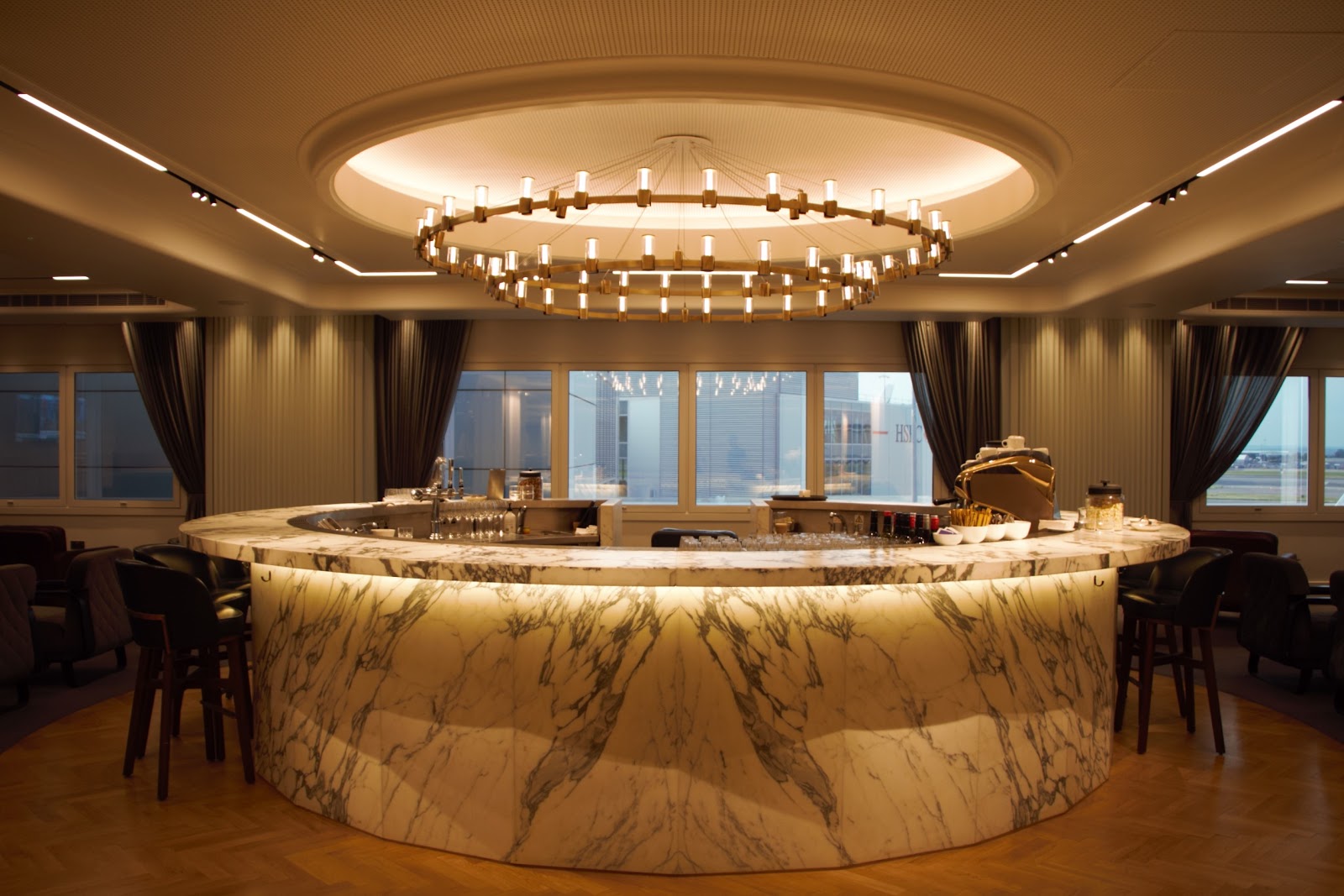 The top floor is more spacious and offers plenty of seating options, with a cosy-meets-chic vibe. You'll find leather sofas and comfortable armchairs for lounging, and booths for more privacy.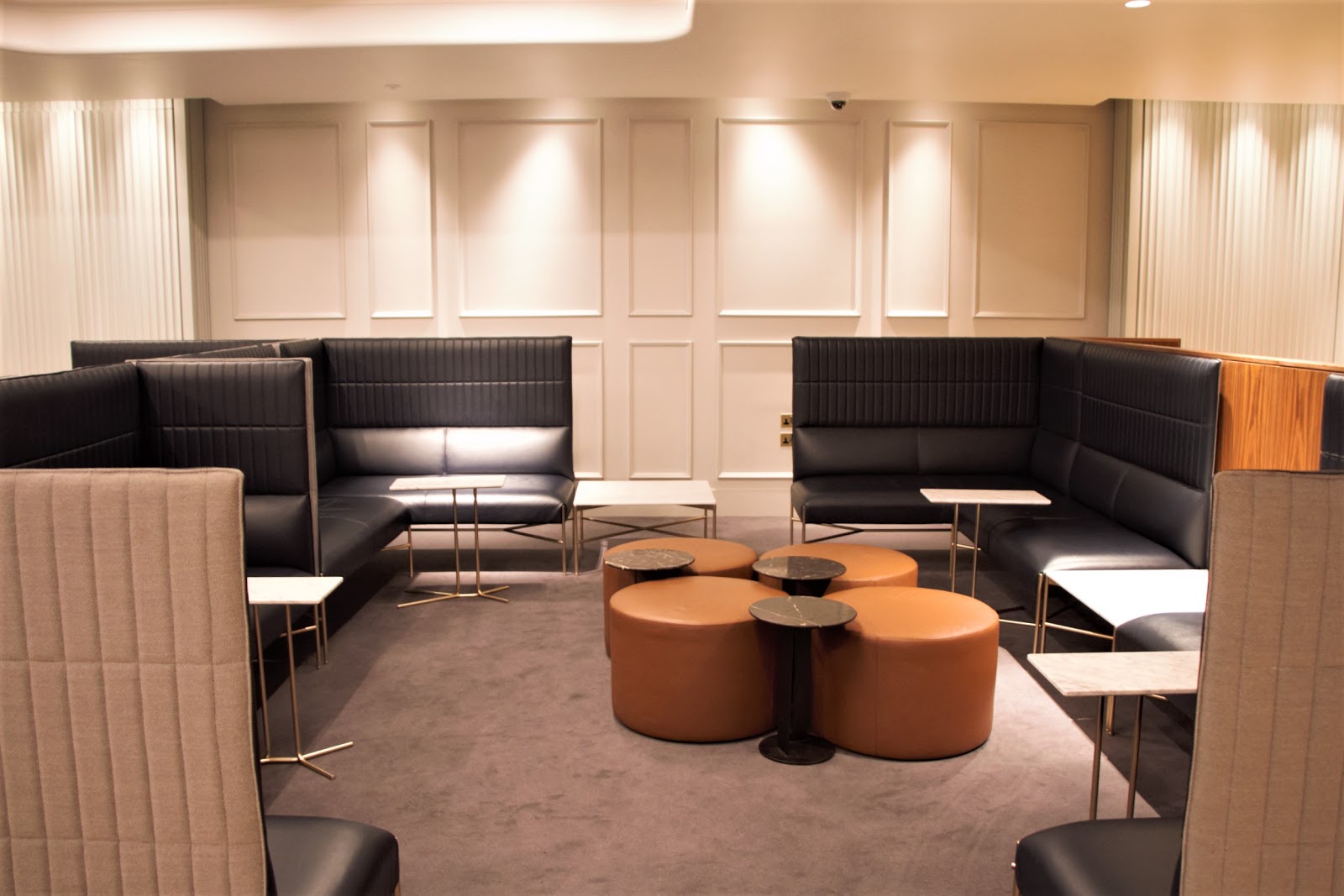 Whether you're a solo traveller or travelling in pairs or larger groups, you're sure to find a comfortable space to relax in, have a meeting or get some work done.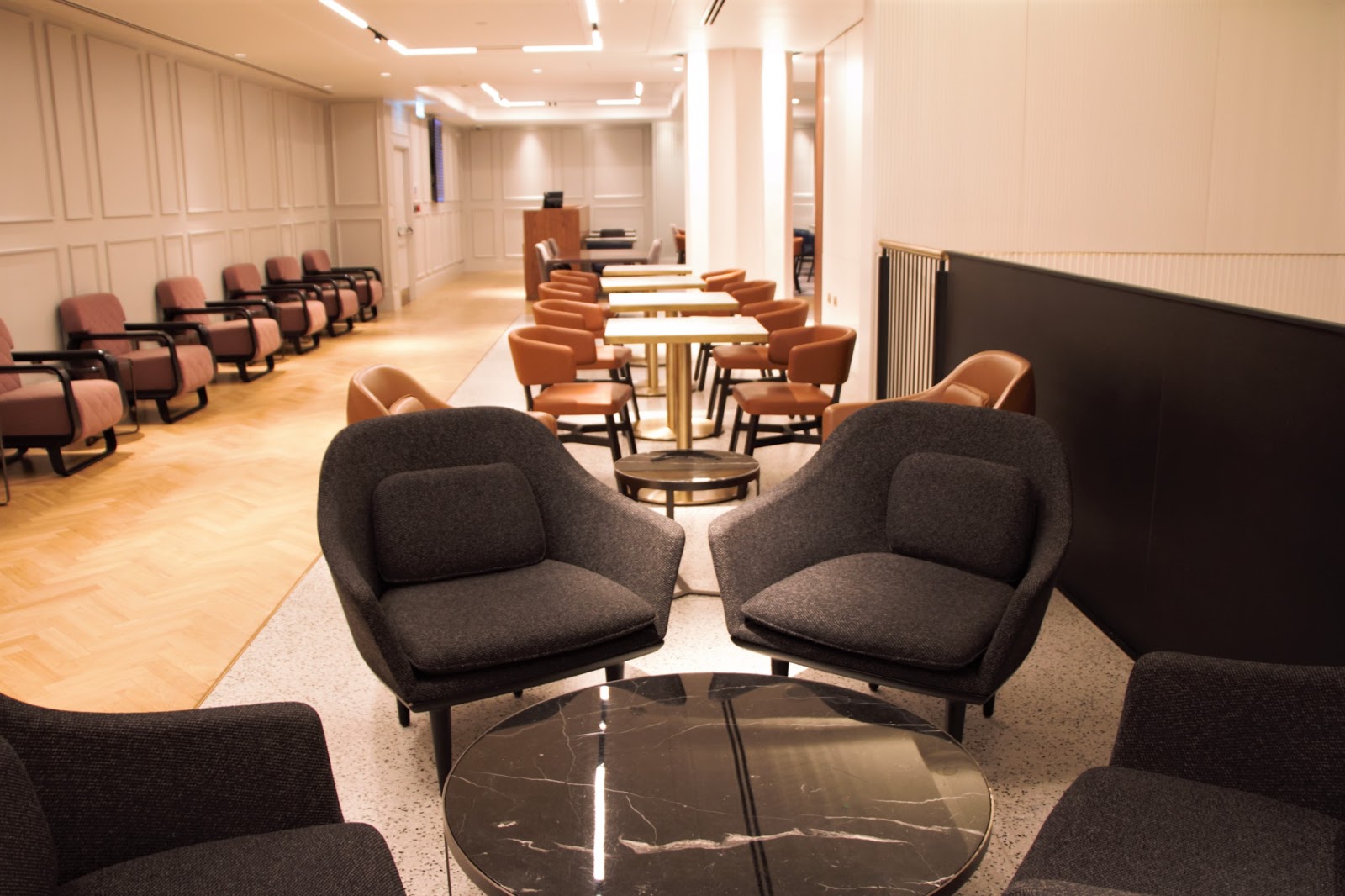 In the back corner of the lounge you'll find a workstation equipped with a printer and an iMac, as well as extra counter space and power points so you can work on your own device.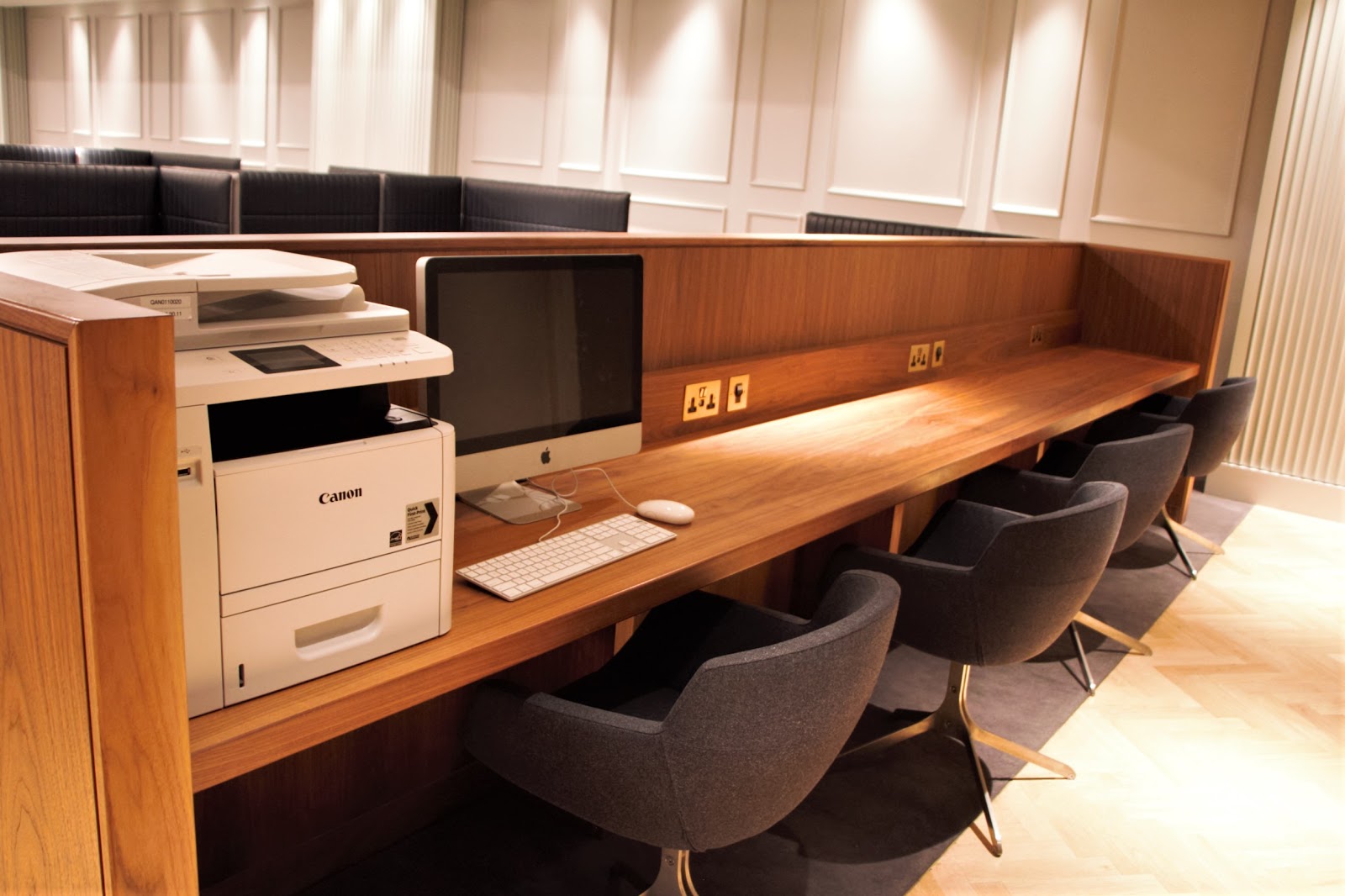 Although the workstation seats only four, there are ample power outlets scattered throughout the upper level. Securing a seat near the wall will make it easy to work on your device while charging it at the same time.
Also located upstairs are the bathrooms and shower suites.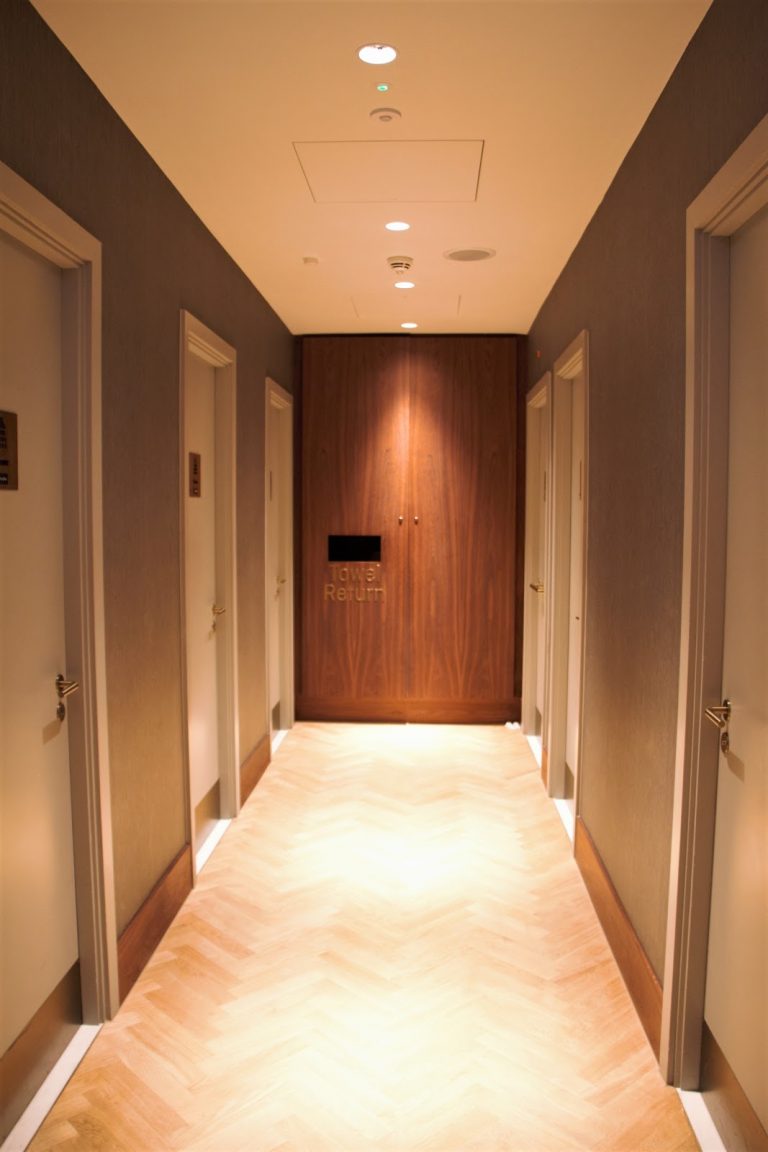 You'll also find a dedicated children's room, as well as a private VIP room, available upon request.
As à la carte dining is only offered at certain times of the day, there's a wide-spread buffet located upstairs that customers can help themselves to.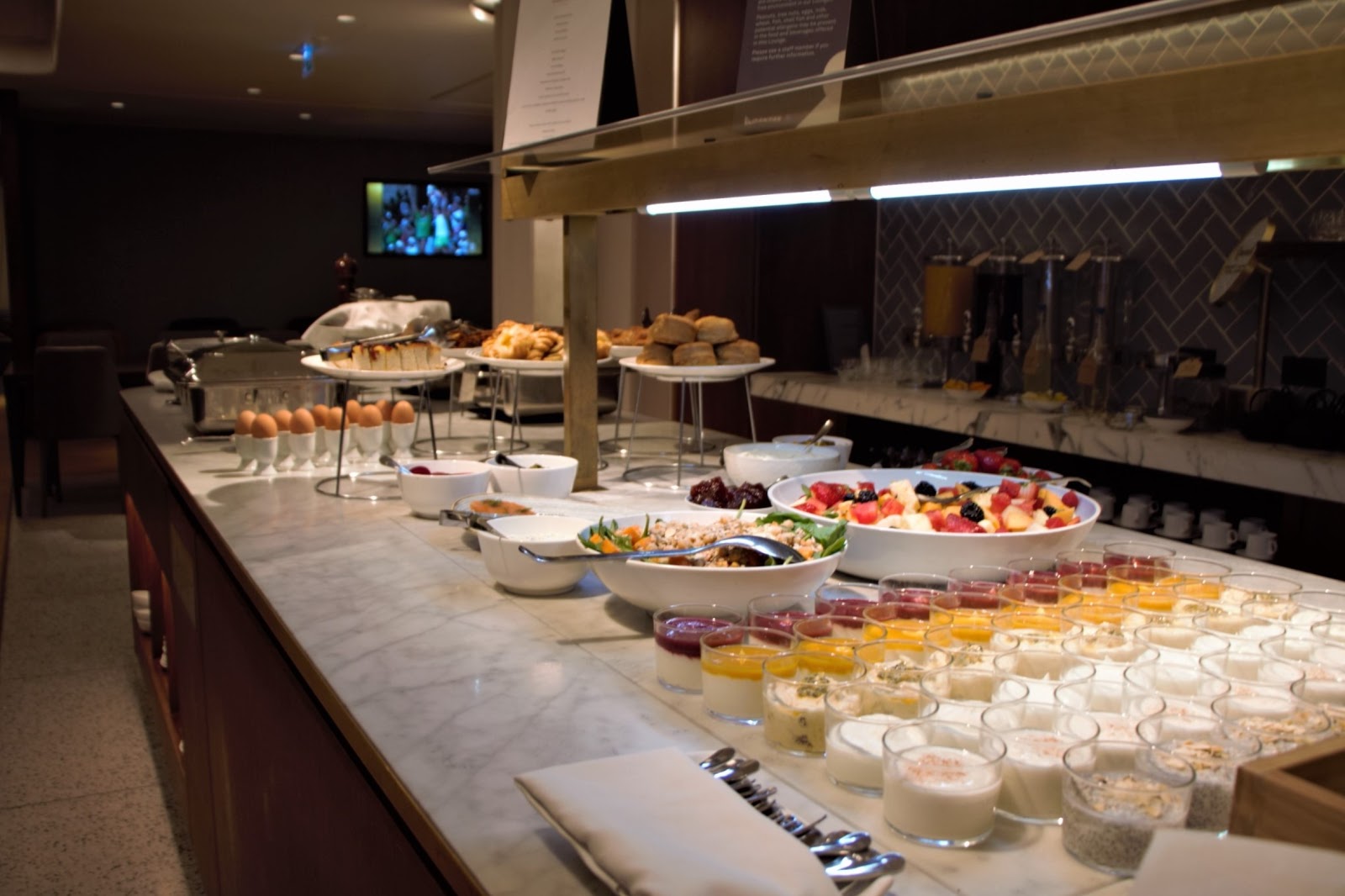 There is additional seating near the buffet, making it easy to sit down and grab a bite to eat when à la carte dining is currently unavailable.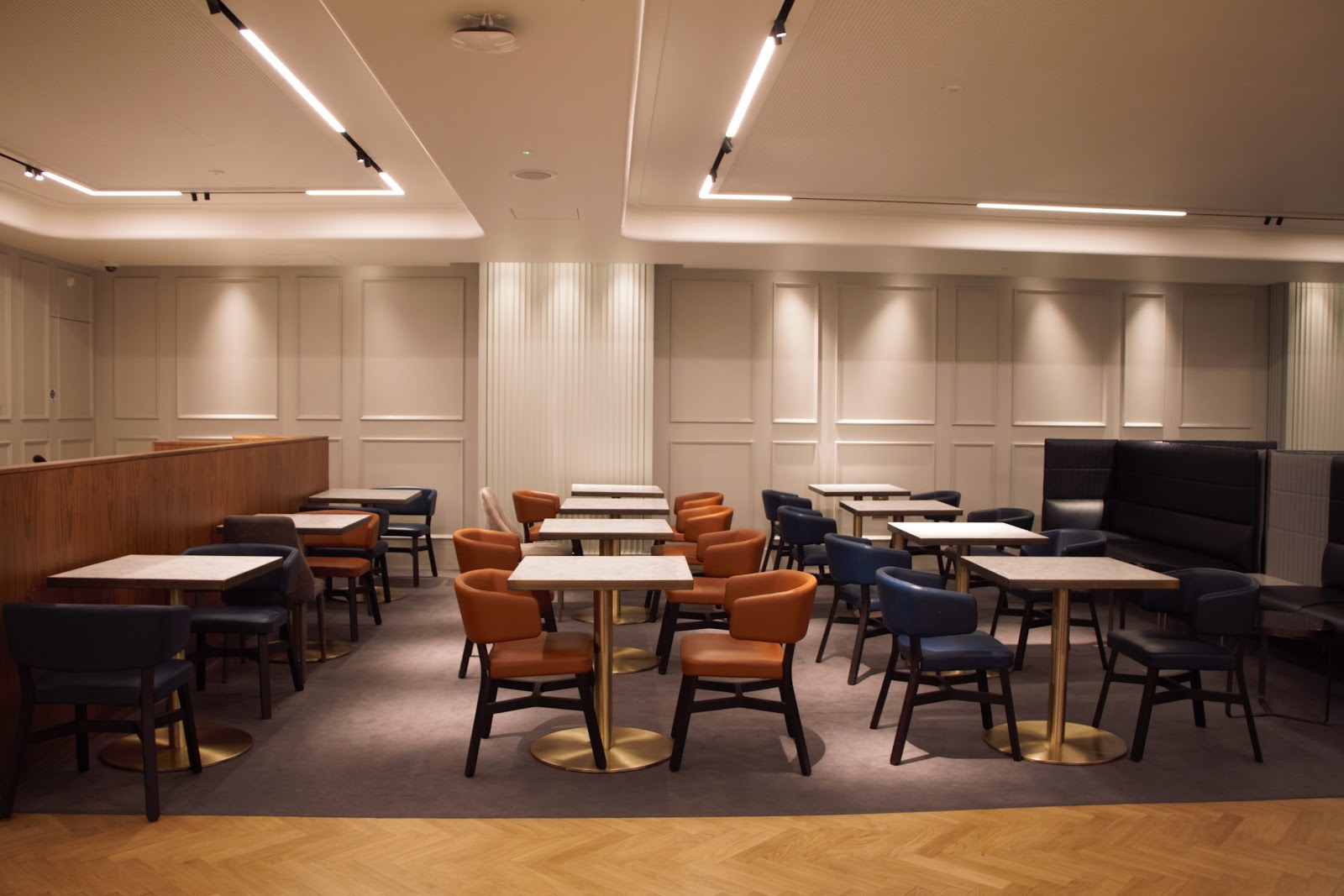 Although there are windows at both levels, the views are quite limited and natural light coming in is minimal.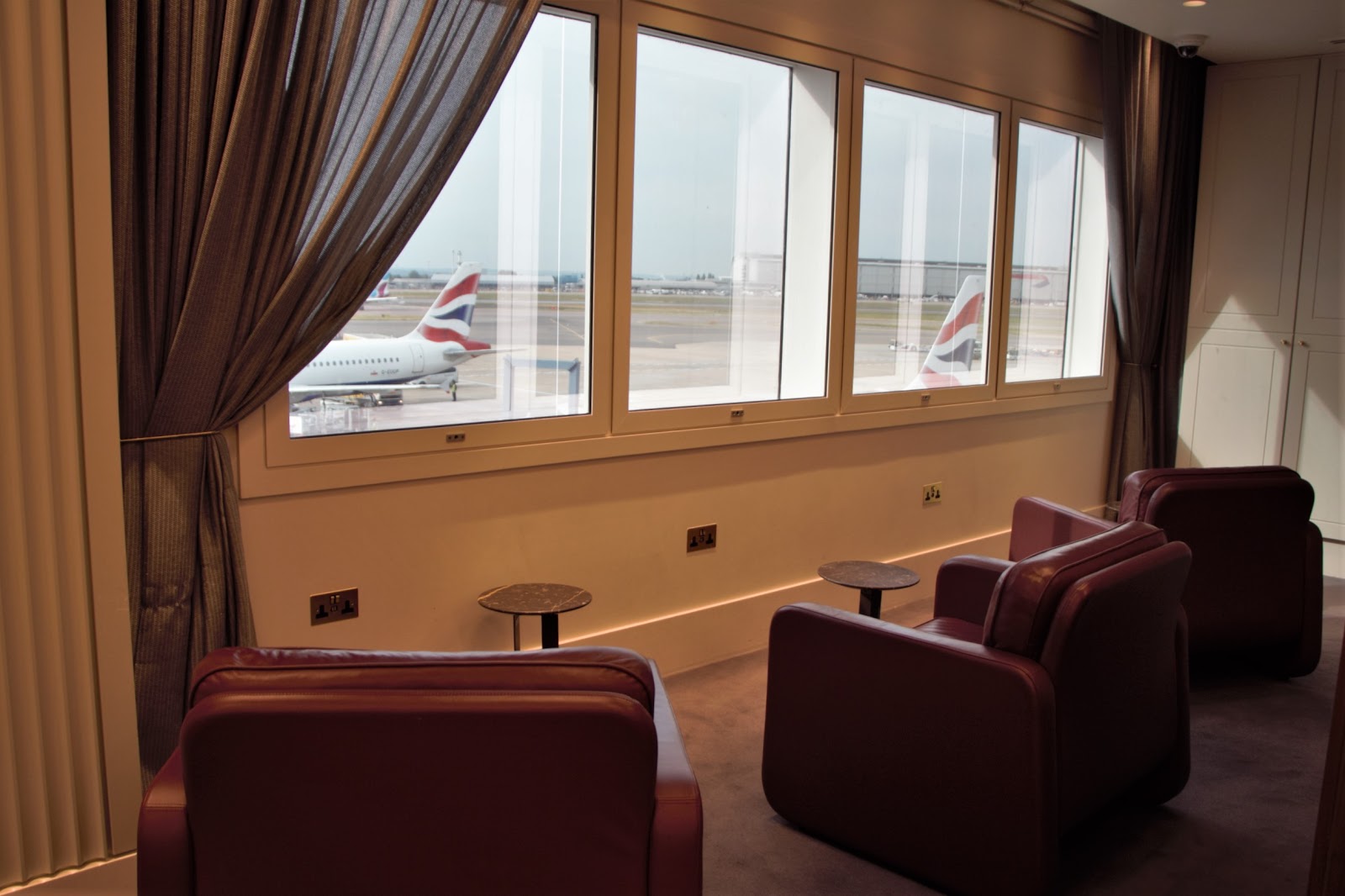 Due to the narrow set windows, the lighting at the lounge is rather gloomy. Not sure whether this was the 'London at twilight' look they were going for, but in my opinion floor-to-ceiling windows would have been much more appropriate for this two-storey space.
Food and drink
À la carte dining with table service is only available during certain times of the day. Whilst brunch is served from 9:30am, the evening service begins at 6:00pm.
Even though I didn't get a chance to try the à la carte dining myself, I did have a look at the Rockpool-inspired menus for both, the brunch, as well as the evening service.
Although the choices in the menu are somewhat limited, the dishes are supposedly made from locally sourced ingredients, and feature conventional British dishes with a Qantas twist.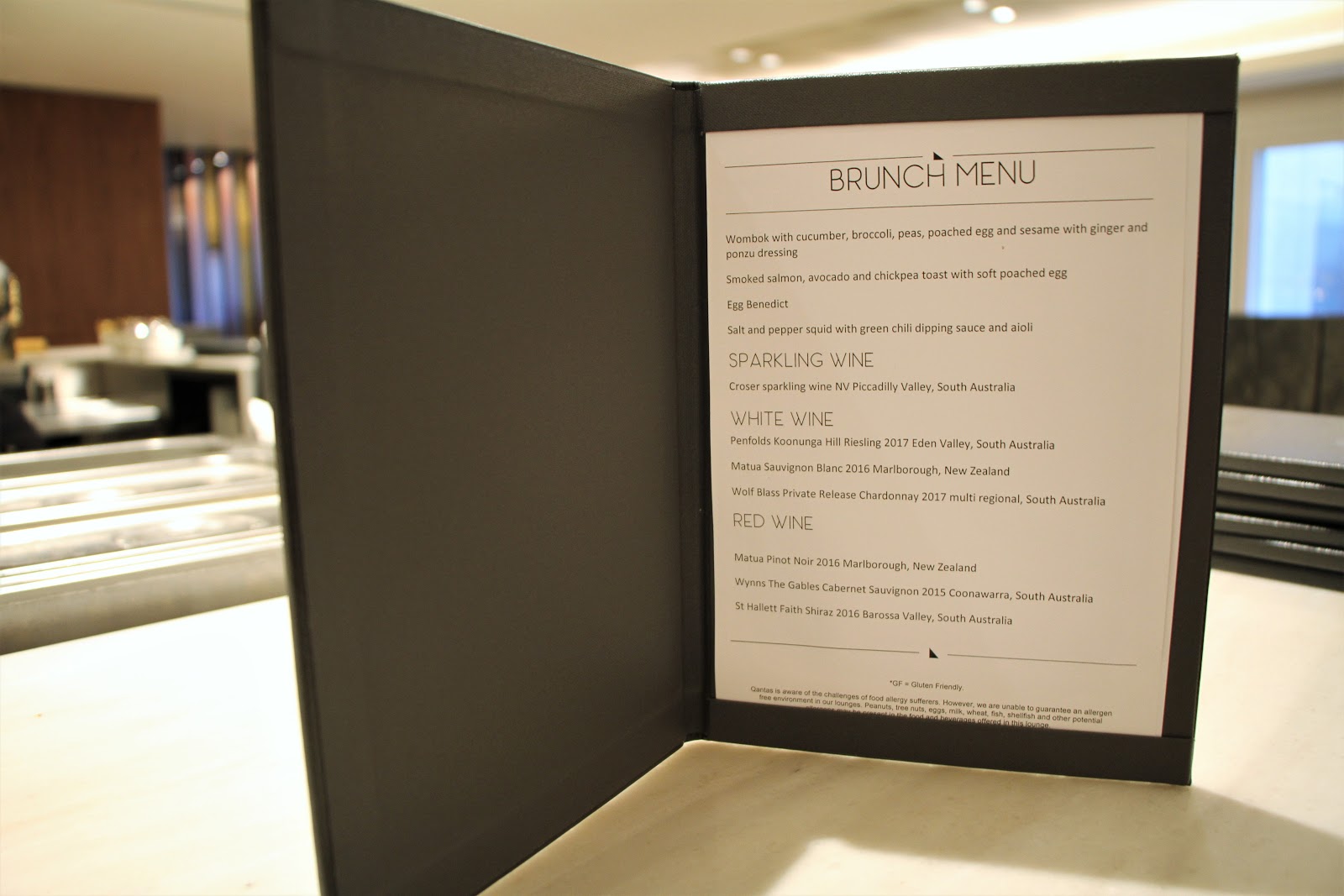 Frequent Qantas flyers will be happy to find a Qantas classic, the salt and pepper squid, in both of the menus, as well as an ample list of Australian and New Zealand wines.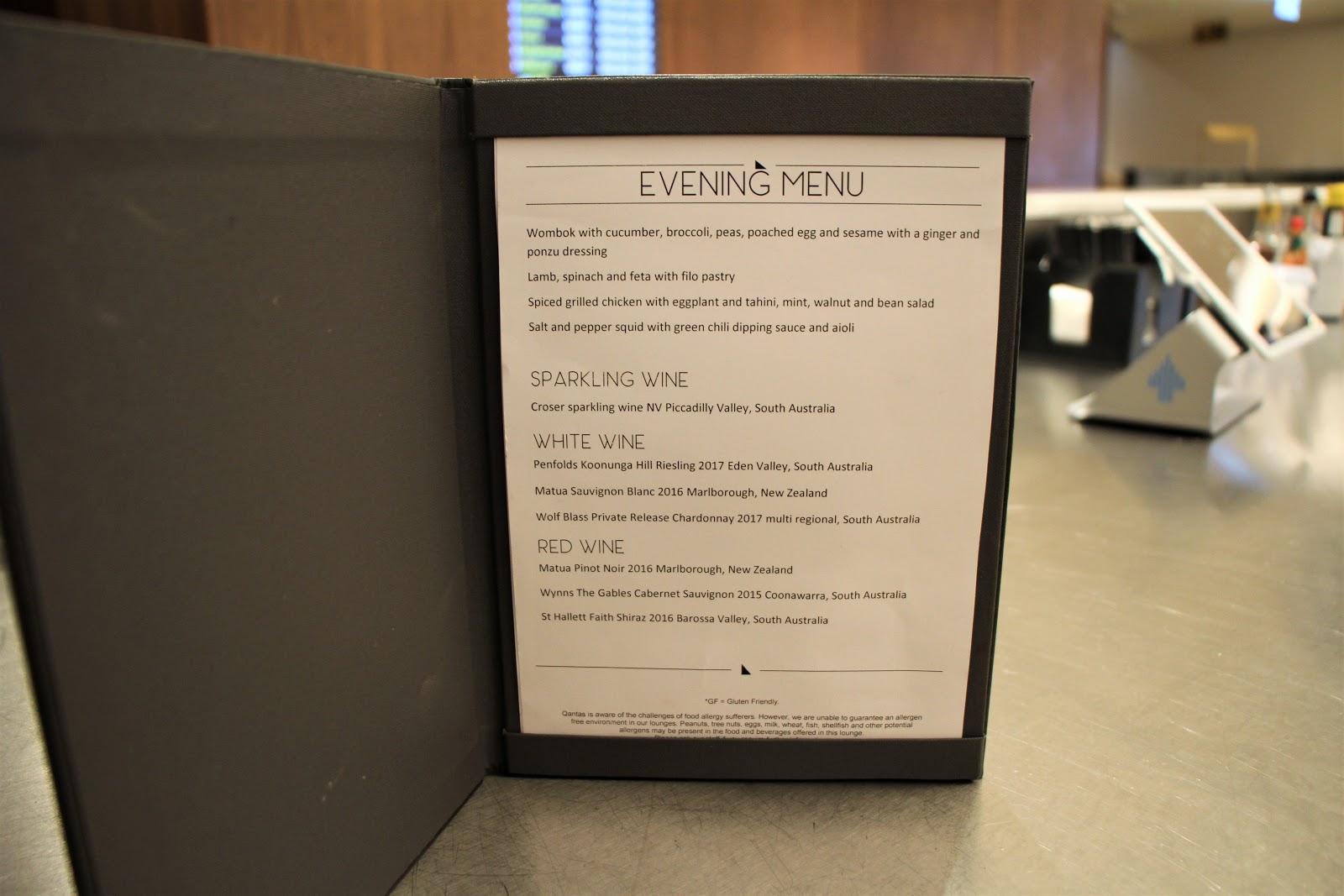 The brunch and evening dining is set to integrate with the times of Qantas daily departures. Although convenient for Qantas passengers, people who are on Qantas' partner flights at any other time of the day have to settle for the buffet.
The morning buffet at the Qantas London Lounge contains everything you would need to fix yourself up a decent English breakfast.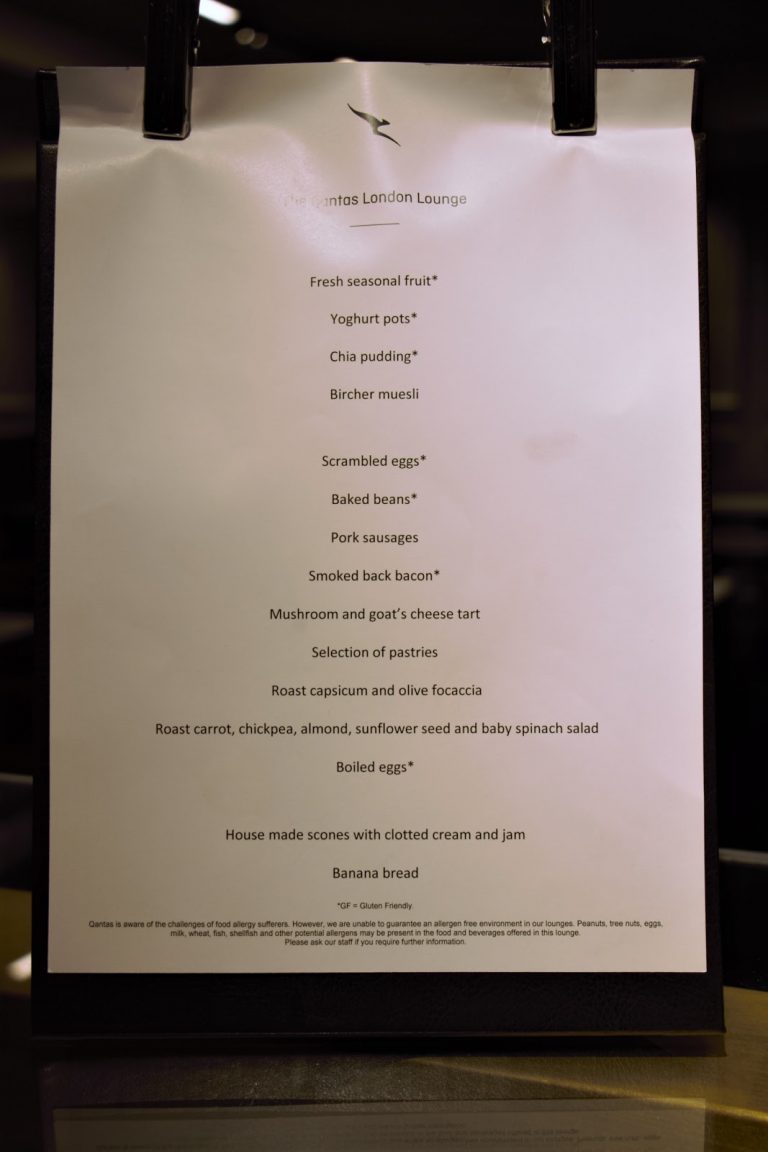 In addition to your regular eggs, beans, sausages and bacon, there's a wide-ranging selection of pastries, breads, yoghurts, puddings, muesli, as well as fresh fruit and salad.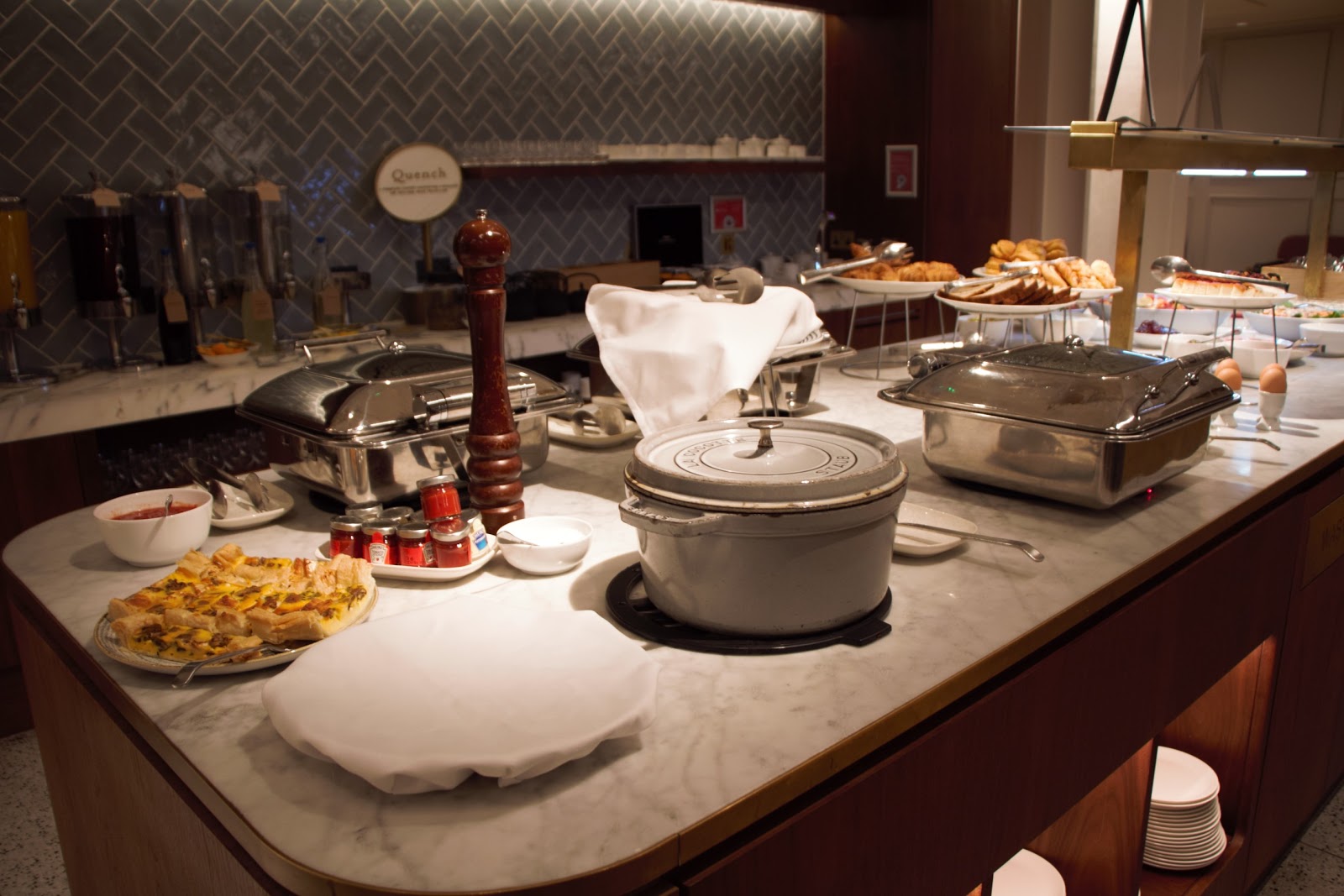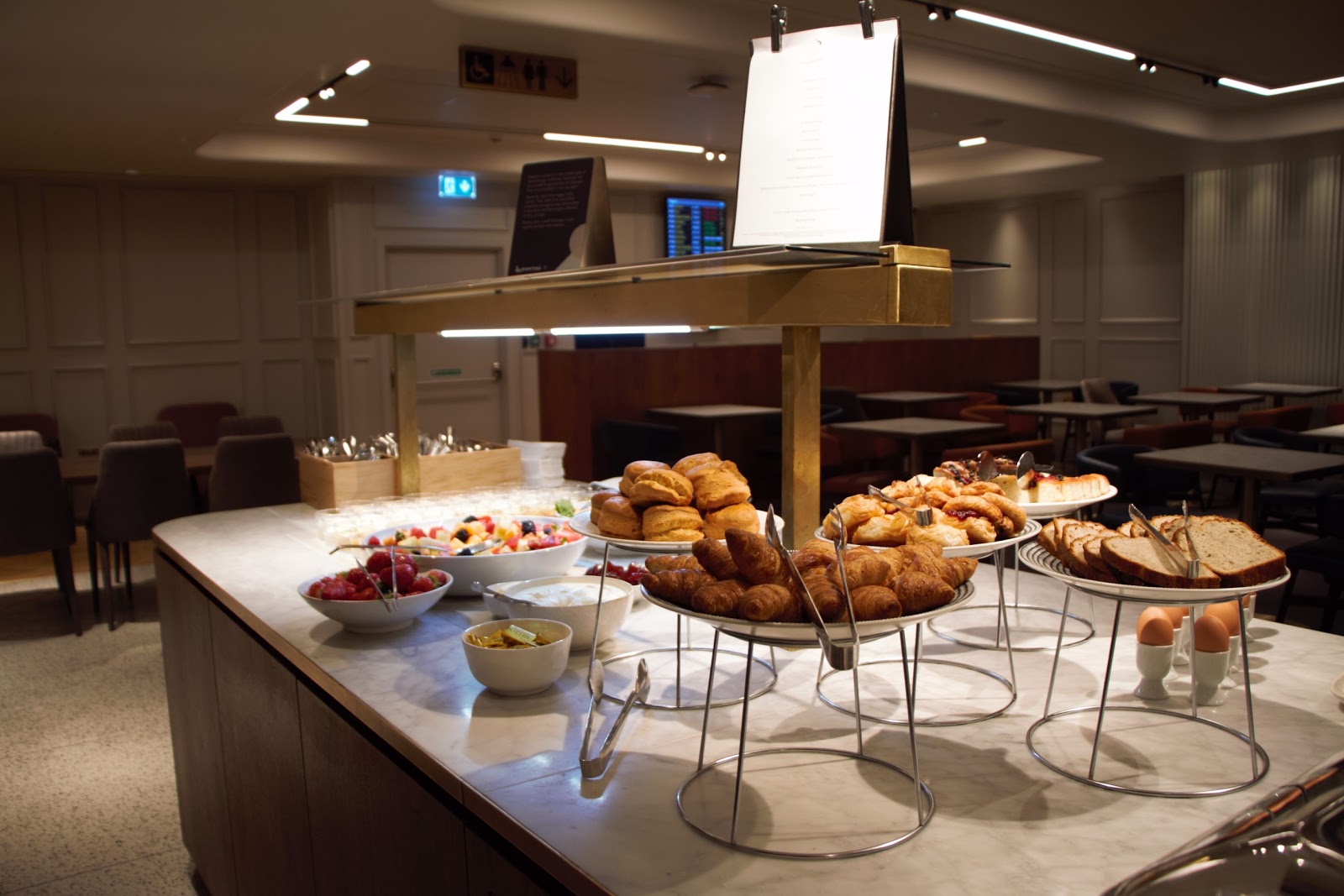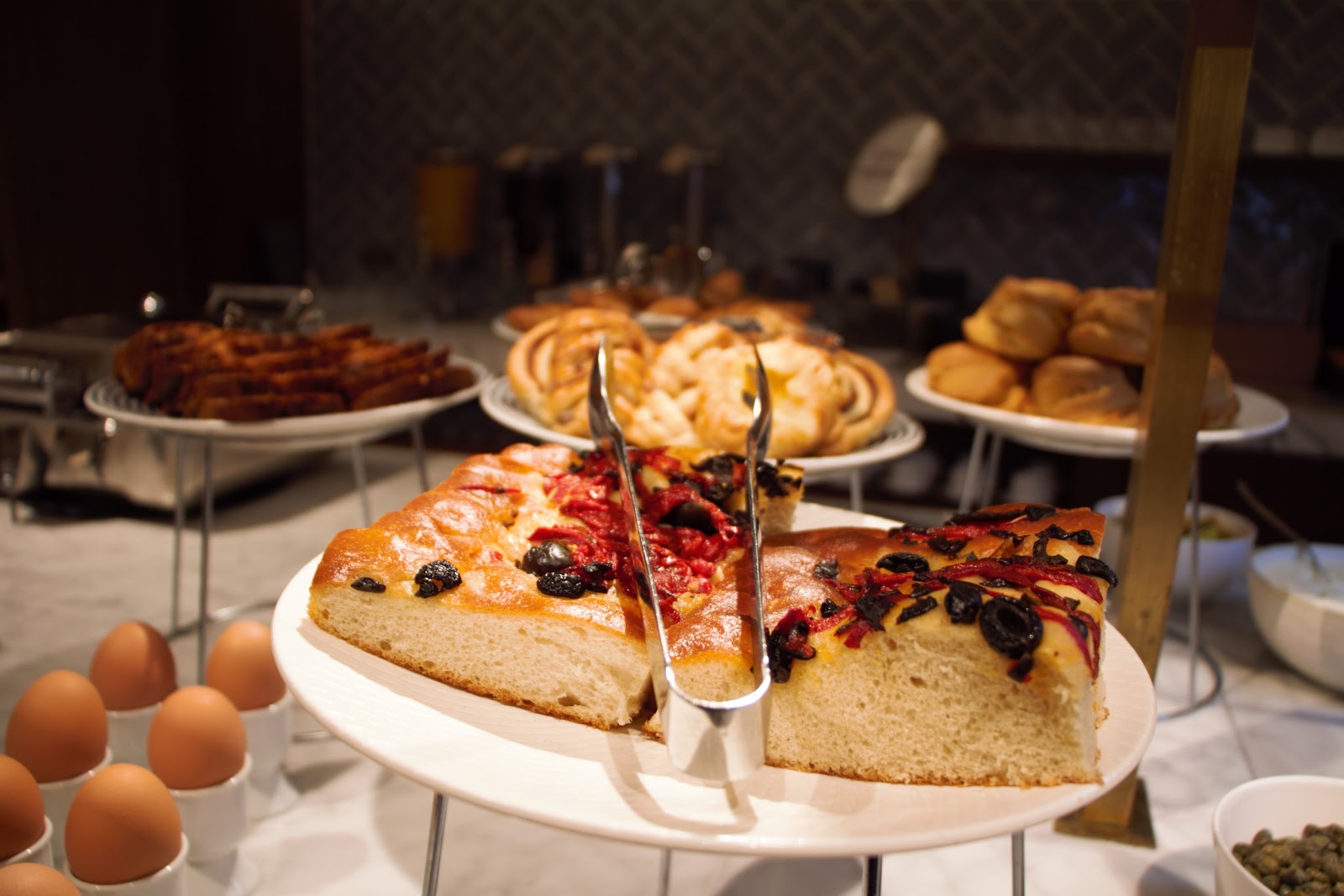 The yoghurt pots, as well as the chia pudding, are suitable for people with gluten intolerance; it's nice to see Qantas incorporating options for passengers with different dietary requirements. Additionally, Bircher muesli is prepared in-house every morning, together with fresh handmade scones with clotted cream and jam.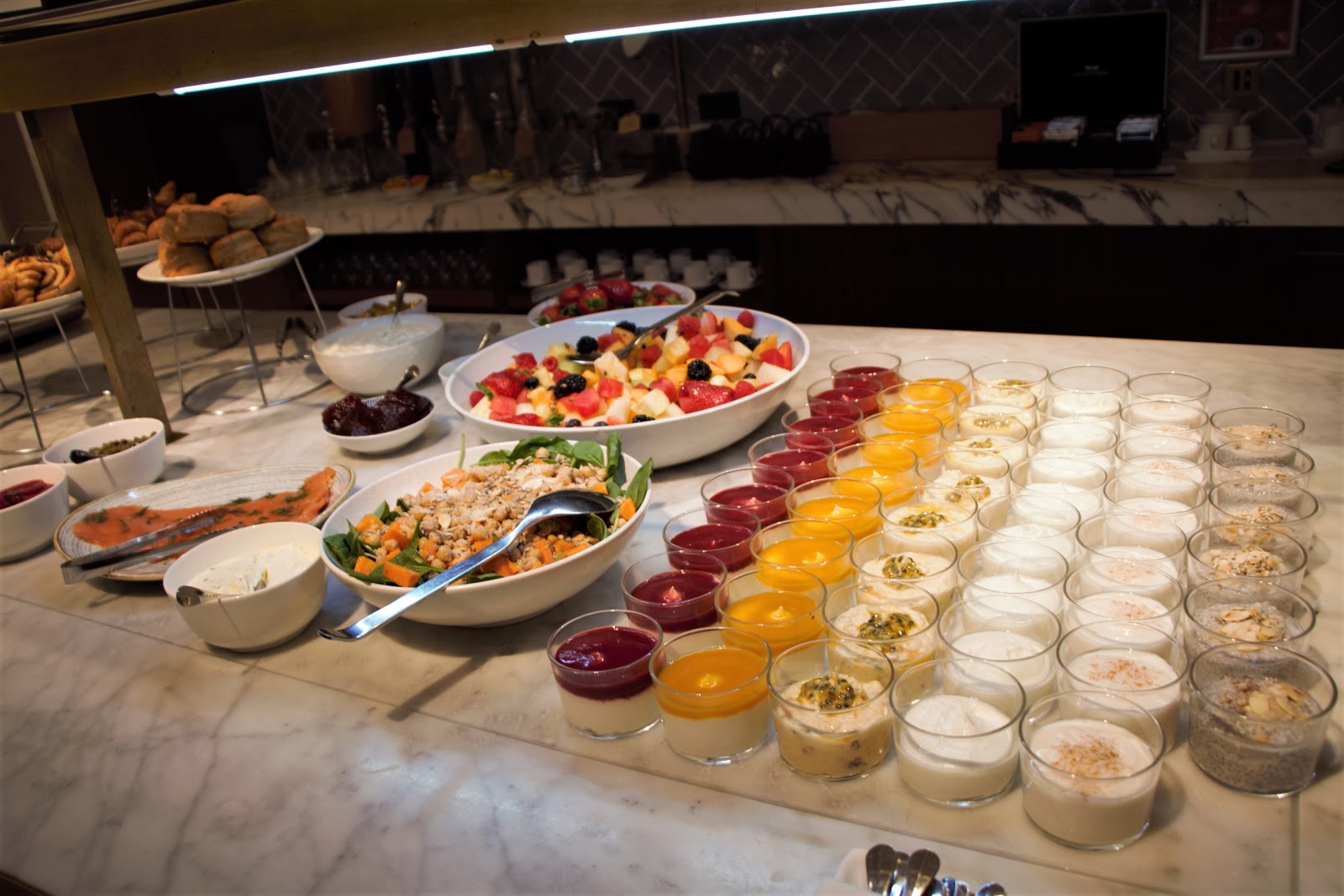 I was very impressed with the buffet. The food was presented beautifully, and the overall selection was comprehensive and incorporated a variety of authentic British flavours.
You can also recognise a Quench hydration bar, a common feature in Qantas lounges throughout Australia. This is where you can find a selection of fresh juices, infused water, and, of course, a self-serve tea station.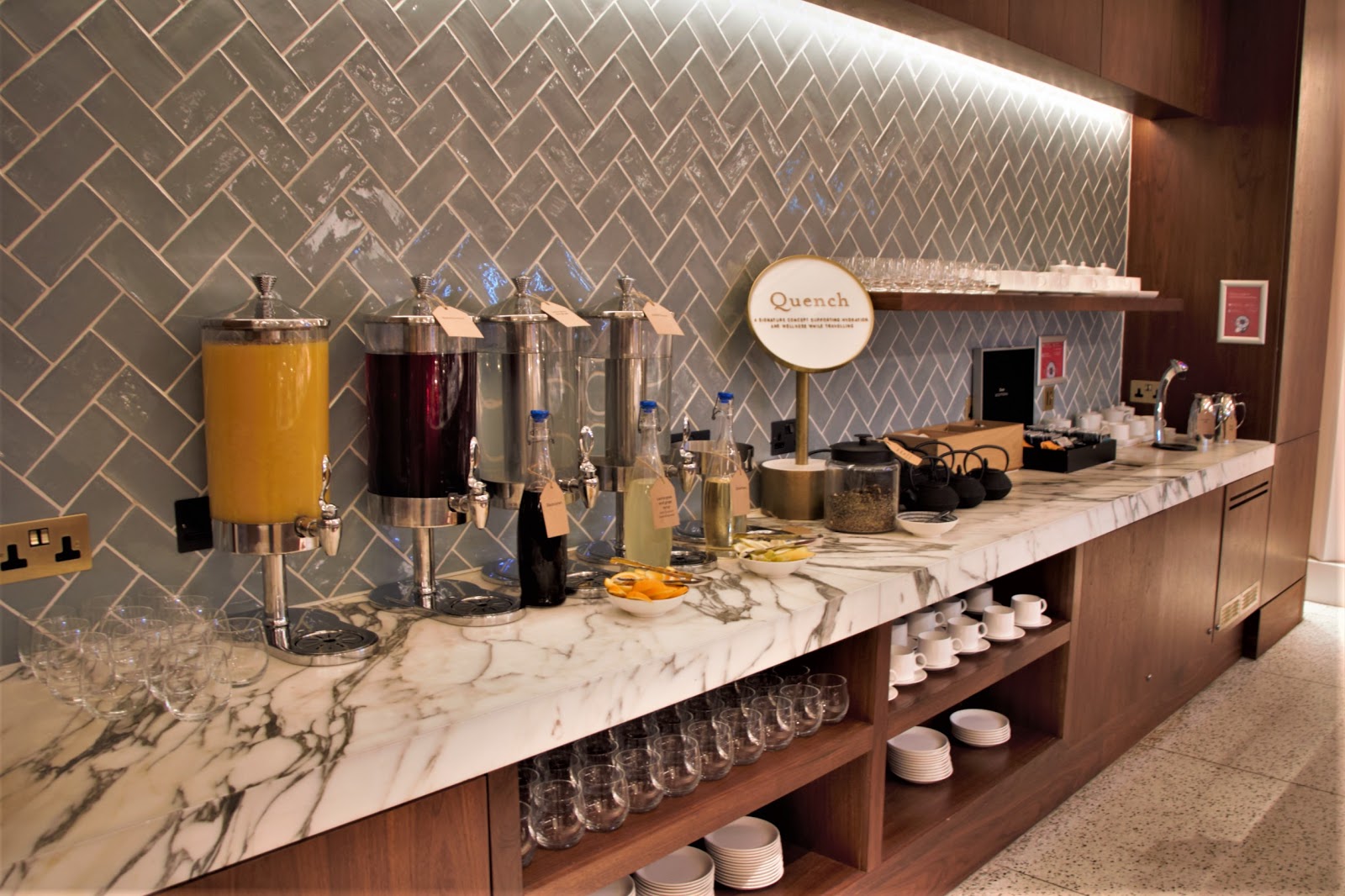 This lounge does not have a do-it-yourself coffee station, so all coffee-lovers can head to one of the bars to order barista-made coffee. Both bars are equipped with good-quality coffee machines that use only Vittoria coffee beans. This means that for any Australian, each coffee should taste just like home.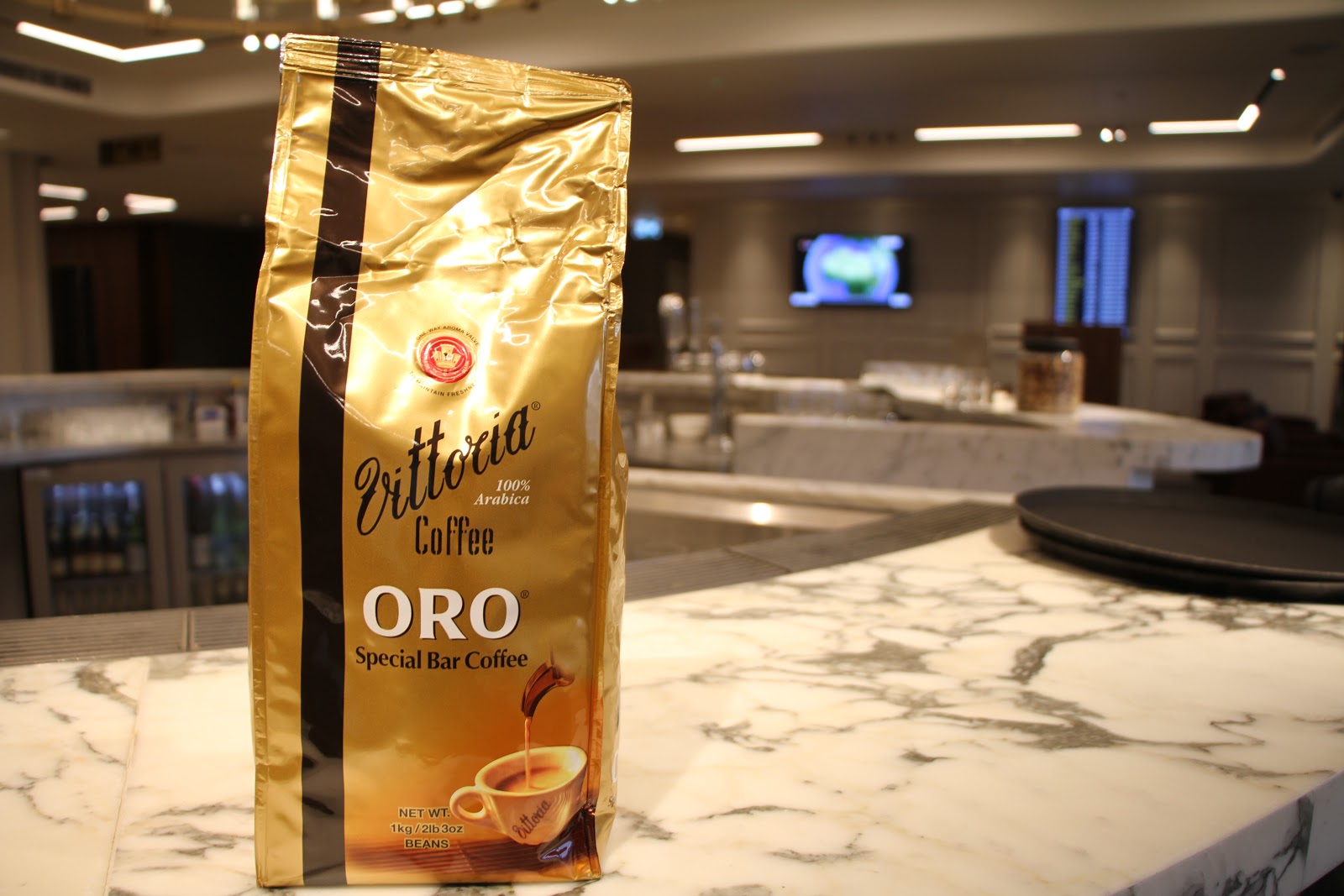 In addition to coffee you can also order other drinks from the bar, and lots of it. The cocktail menu is interesting, and alcoholic beverages are served throughout the day. This means that whilst people were ordering their morning coffee at 9:00am, I wasn't judged the slightest sitting at the bar with four house cocktails in front of me.
To demonstrate what the gin culture in the UK is really about, the general manager of the lounge was nice enough to ask the bar staff to whip me up a couple of gin cocktails from the gin menu, as well as some of their signature cocktails from the cocktail menu.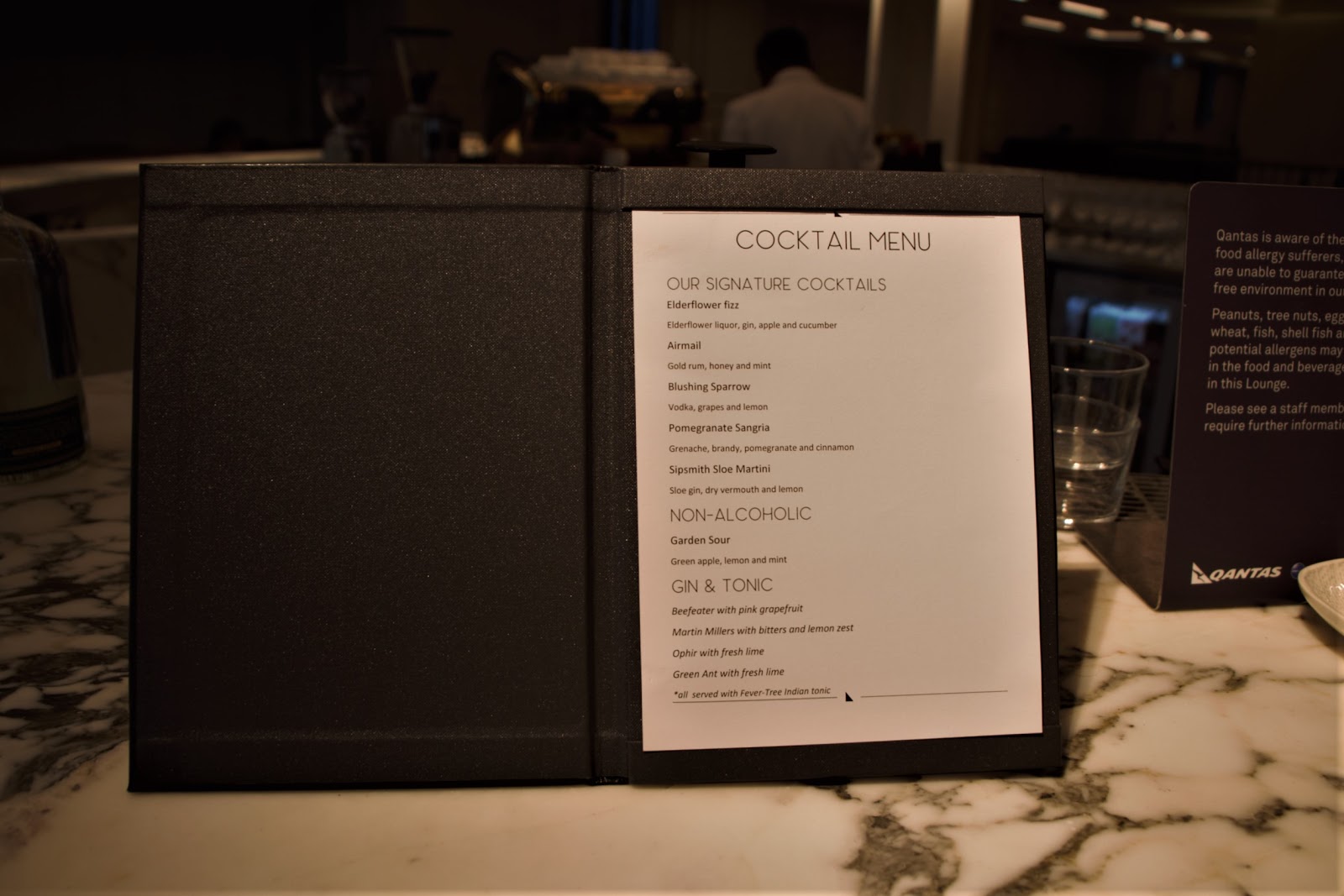 The upstairs bar focuses more on their signature cocktails with more conventional spirits, although I'm not sure how conventional you can call the gold rum they use in their 'Airmail' cocktail:
The exclusive gin bar on the ground floor is stocked not only with local produce from the UK but also gins from around the world, including some artisan distilleries in Australia. Altogether there are over a dozen of gins available to order.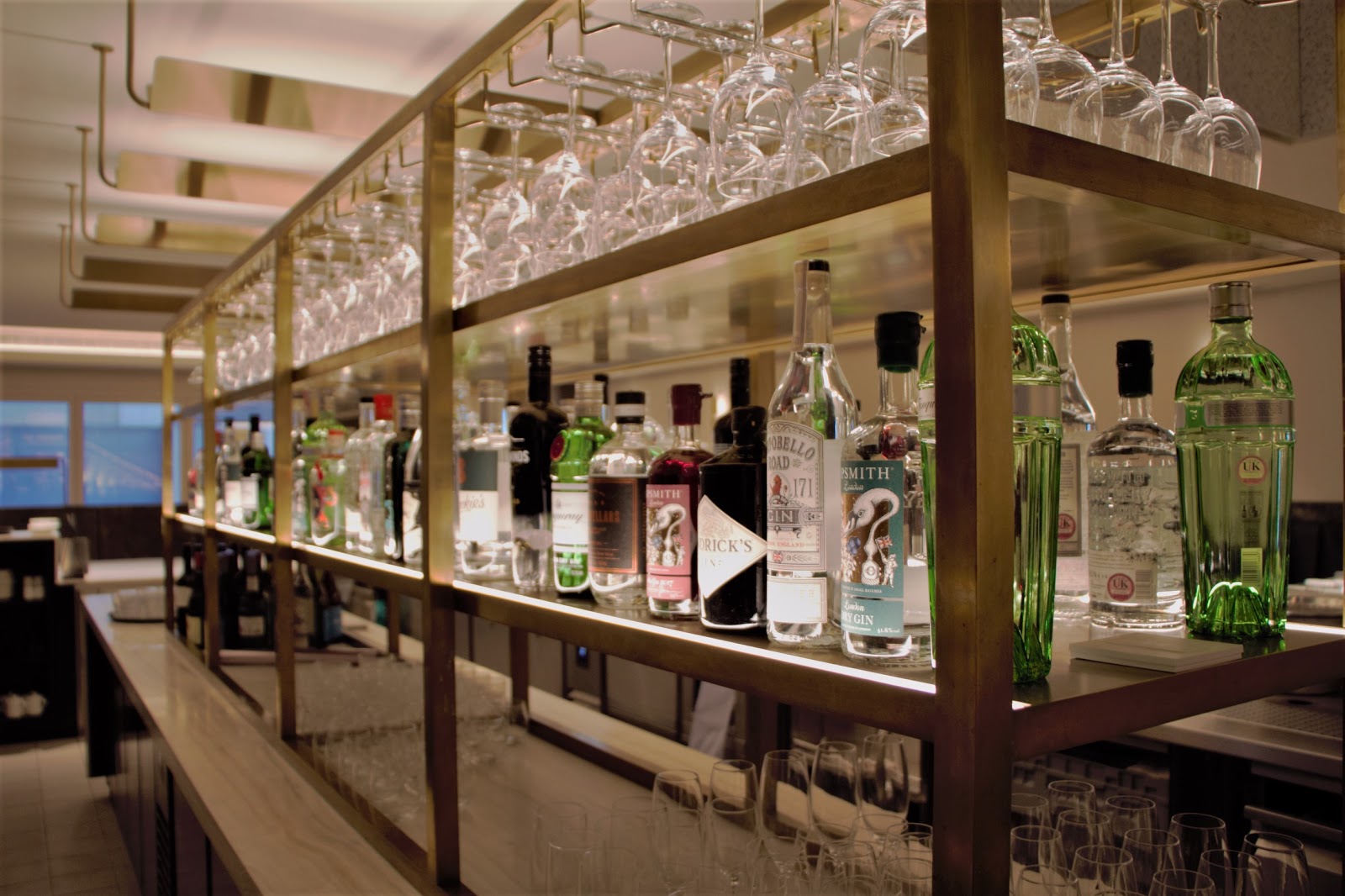 The gin bar offers passengers a chance to sample some of the most peculiar gins, for example the Australian green ant gin. If you look closely enough, you can see the green ants floating around in the bottle.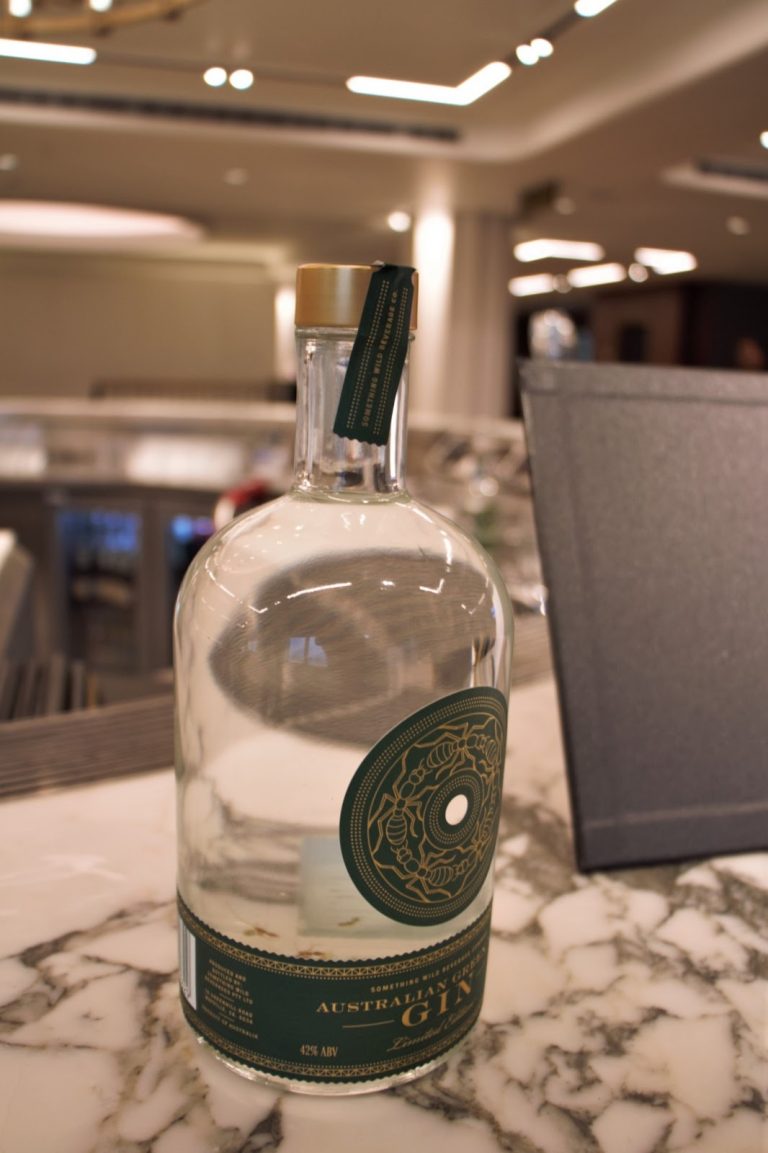 All drinks are mixed with great care, and some are delivered with a special 'twist' of fresh cucumber, or a watermelon ice cube, all adding a unique flavour to the overall taste of the drink.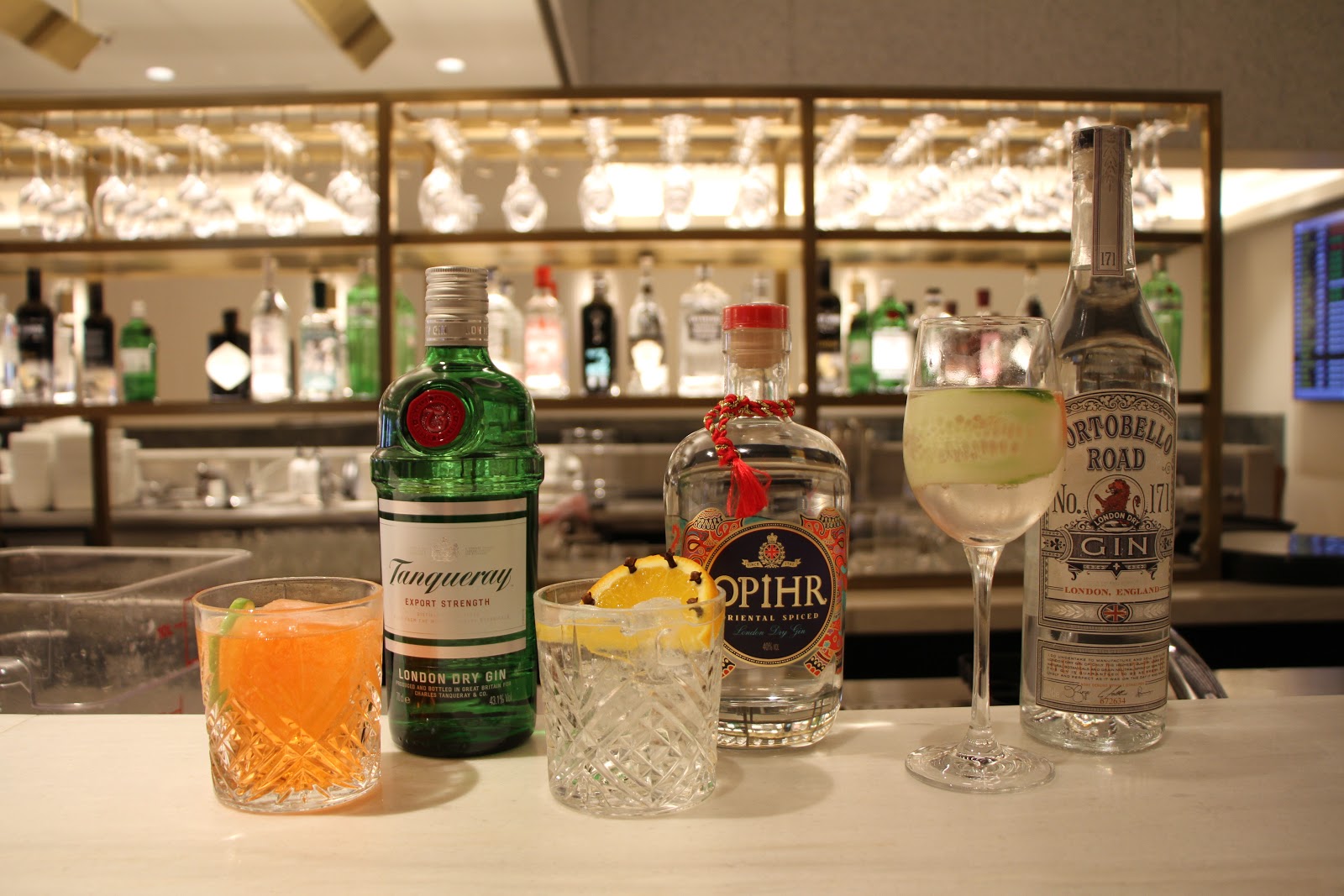 If you're not too big on gin or cocktails, there is also a broad selection of premium wines, in addition to an assortment of local and international beers and ciders.
Amenities
All of the bathrooms and shower suites are located on the upper level of the lounge. There are eight unisex toilets, and six private shower suites.
The light-coloured stones mixed with black finishes make the shower- and bathroom facilities look modern and sophisticated.
Each shower suite features a spacious shower cubicle with a rainfall and a handheld shower.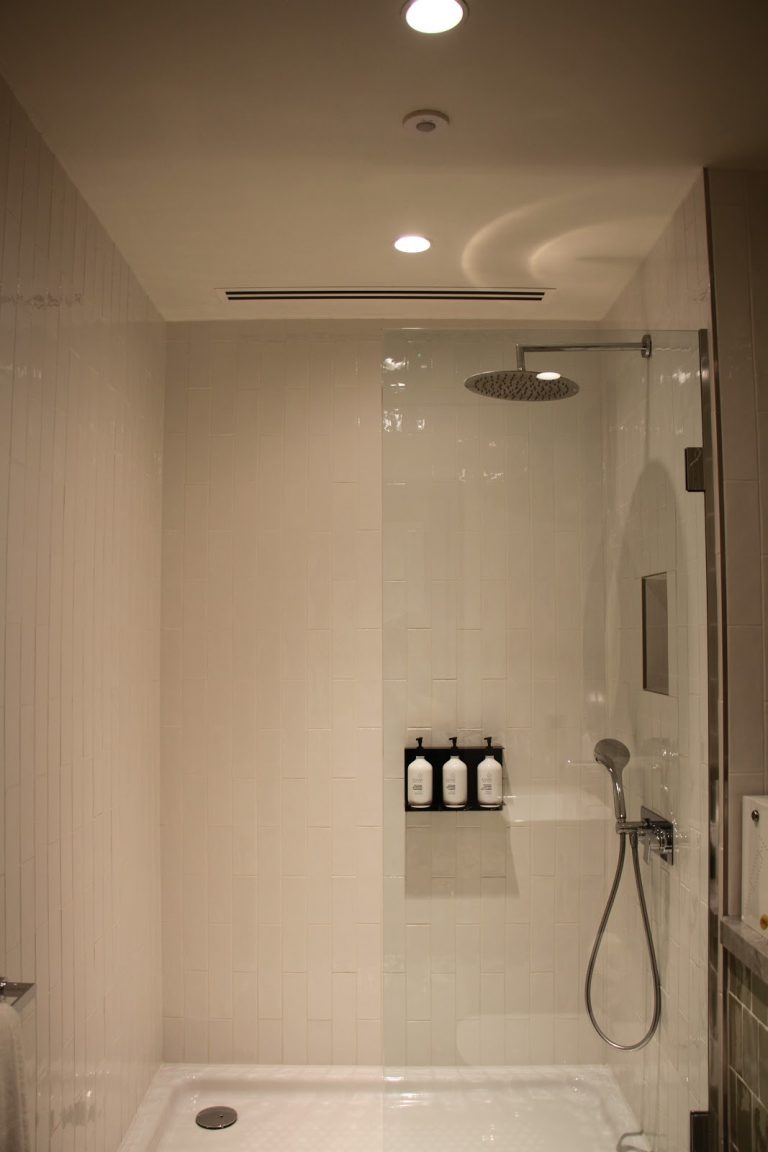 You can also find Aurora Spa skin- and haircare products located in the shower.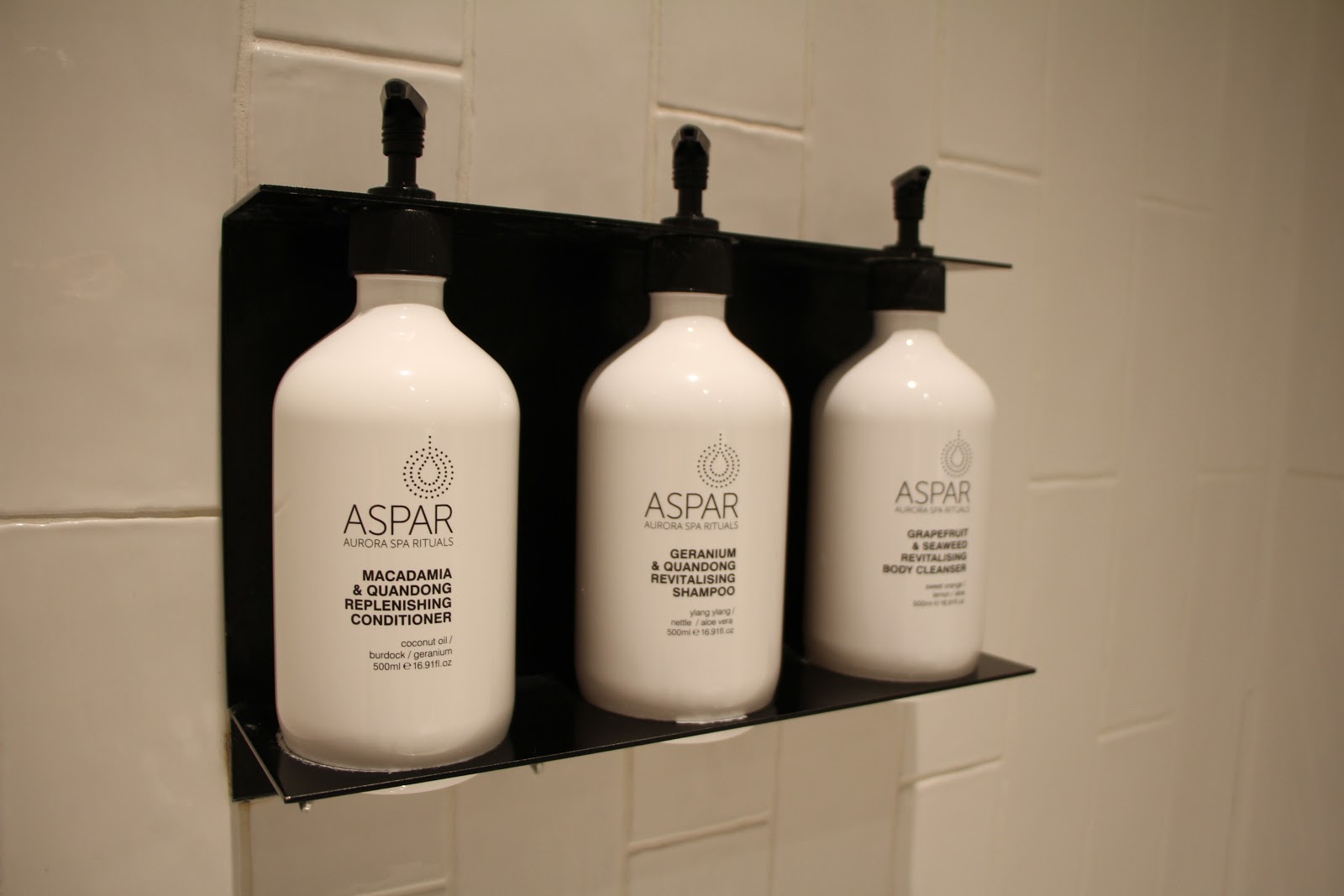 Additionally, the shower rooms contain a toilet, a sink and a couple of mirrors.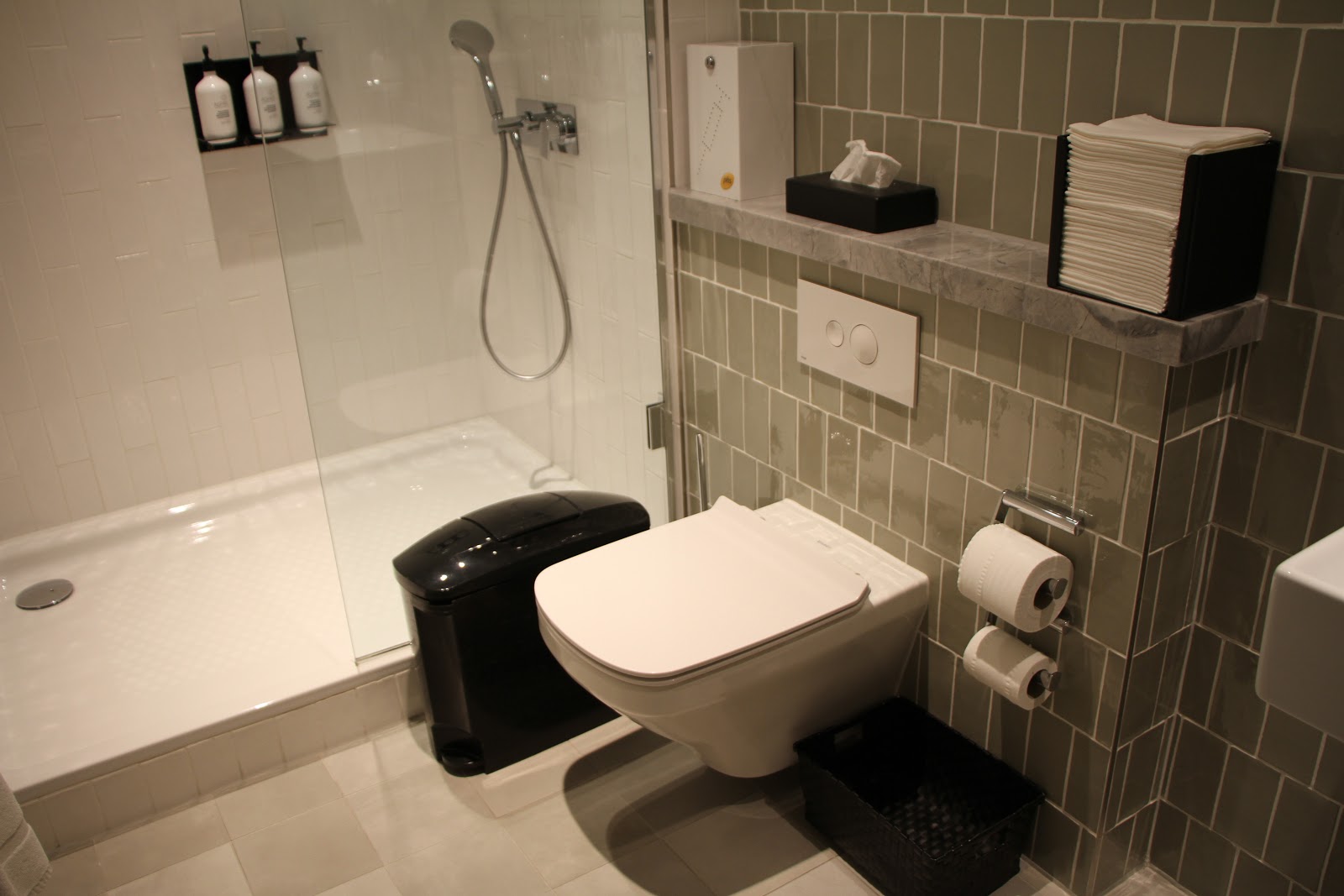 My favourite detail about the shower suites were the leather-lined hanging mirrors above the sink. They look a lot edgier than normal mirrors and add a nice contrast against the neutral-coloured stone walls.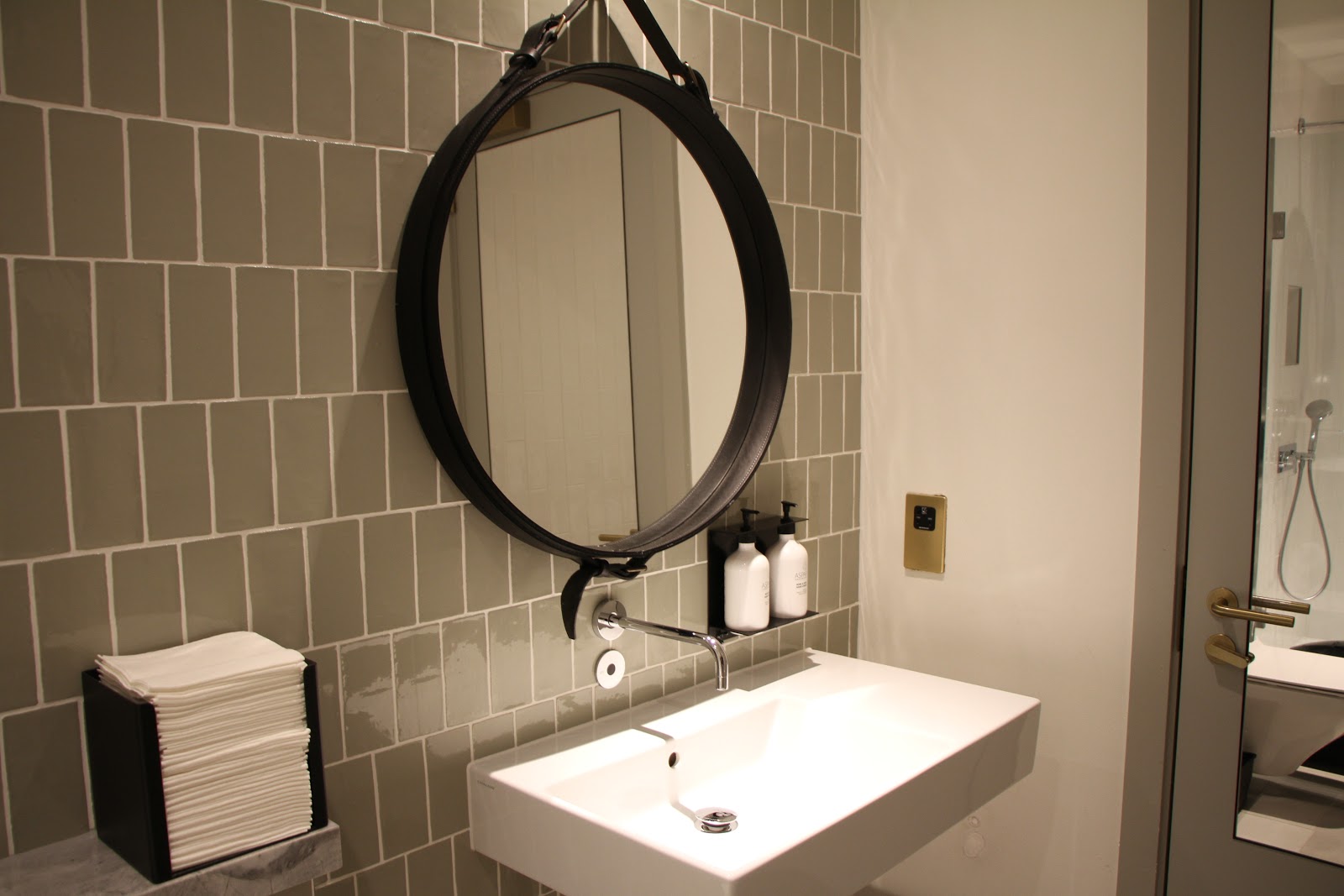 As the shower suites don't have a booking system as such, and therefore the 'first in-first serve' rule applies. This can be extremely inconvenient considering that this lounge caters for First and Business travellers, as well as high-status frequent flyers, meaning that it can get fairly crowded during peak times.
The bathrooms are all individual rooms rather than cubicles and contain a mirror as well as a sink with a large vanity bench.
The lounge also has a separate children's room with basic necessities to entertain a child, including a TV, a drawing nook and a general play zone.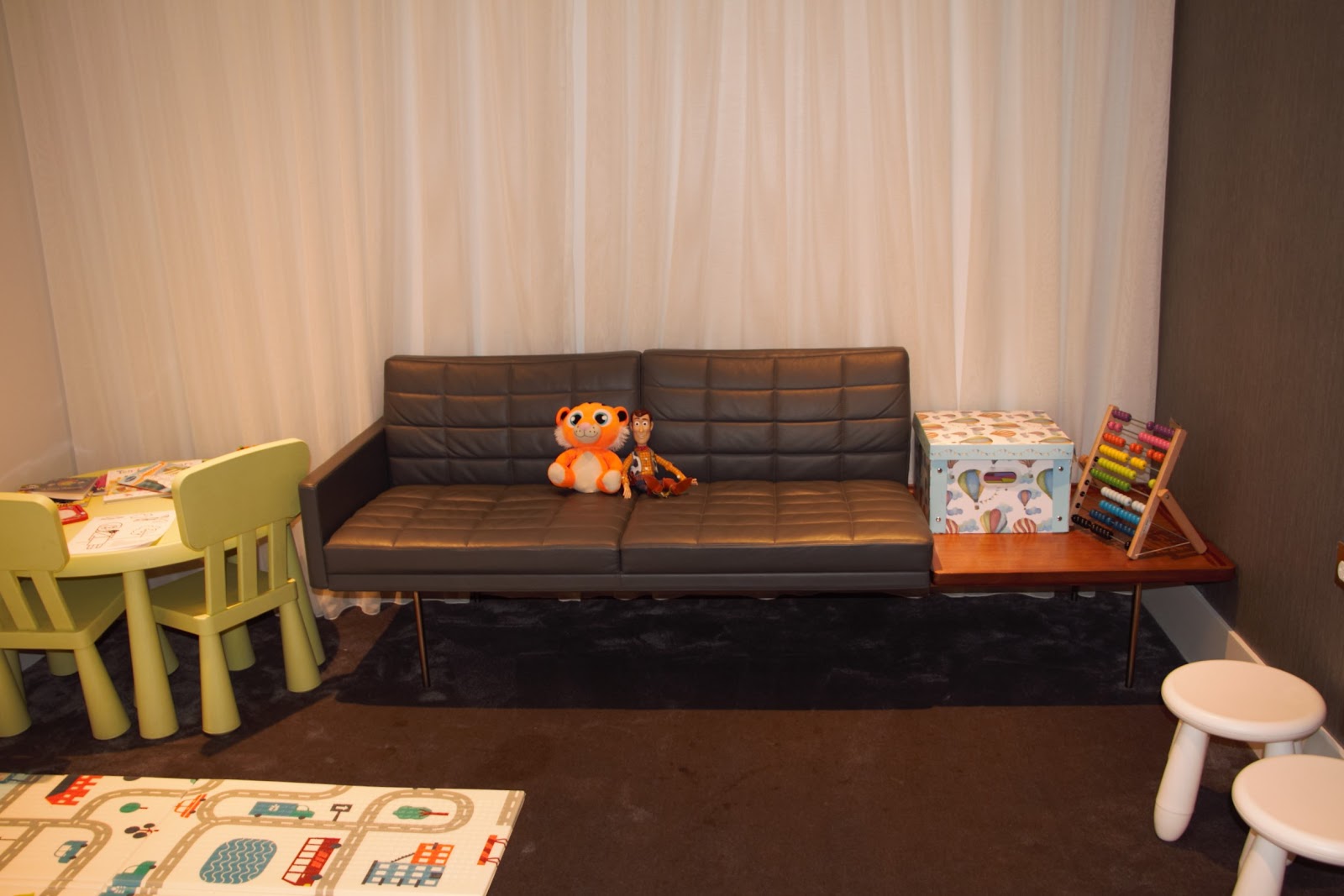 The 'Qantas Wall Of Fame' is such a sweet touch, as the children can leave their mark behind in the lounge in a form of a coloured-in picture.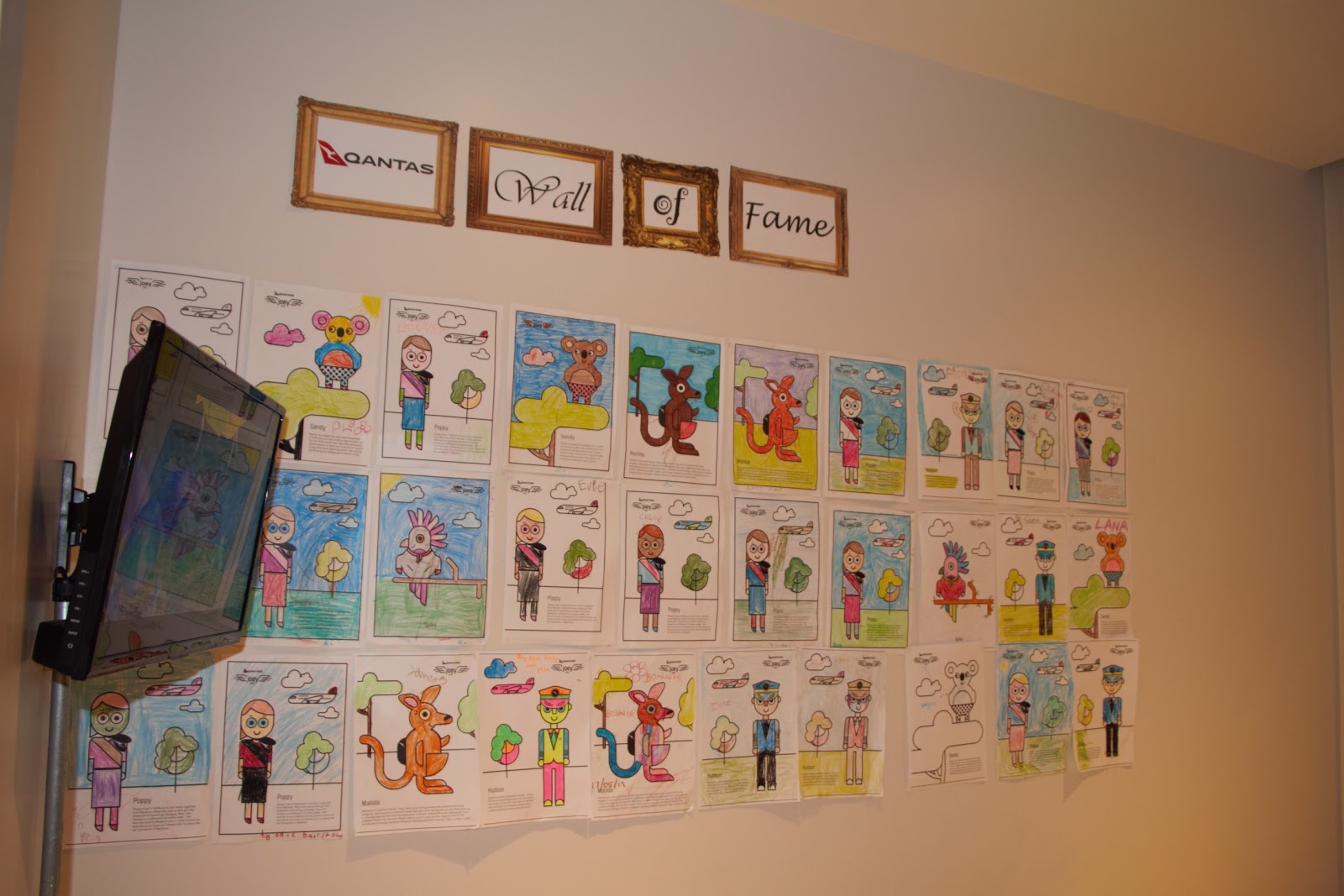 Although I like the idea of a separate children's room, it's not very big in size, meaning that there might be an issue when there are multiple families with children travelling at the same time.
Upon request, passengers can also get access to a private VIP room.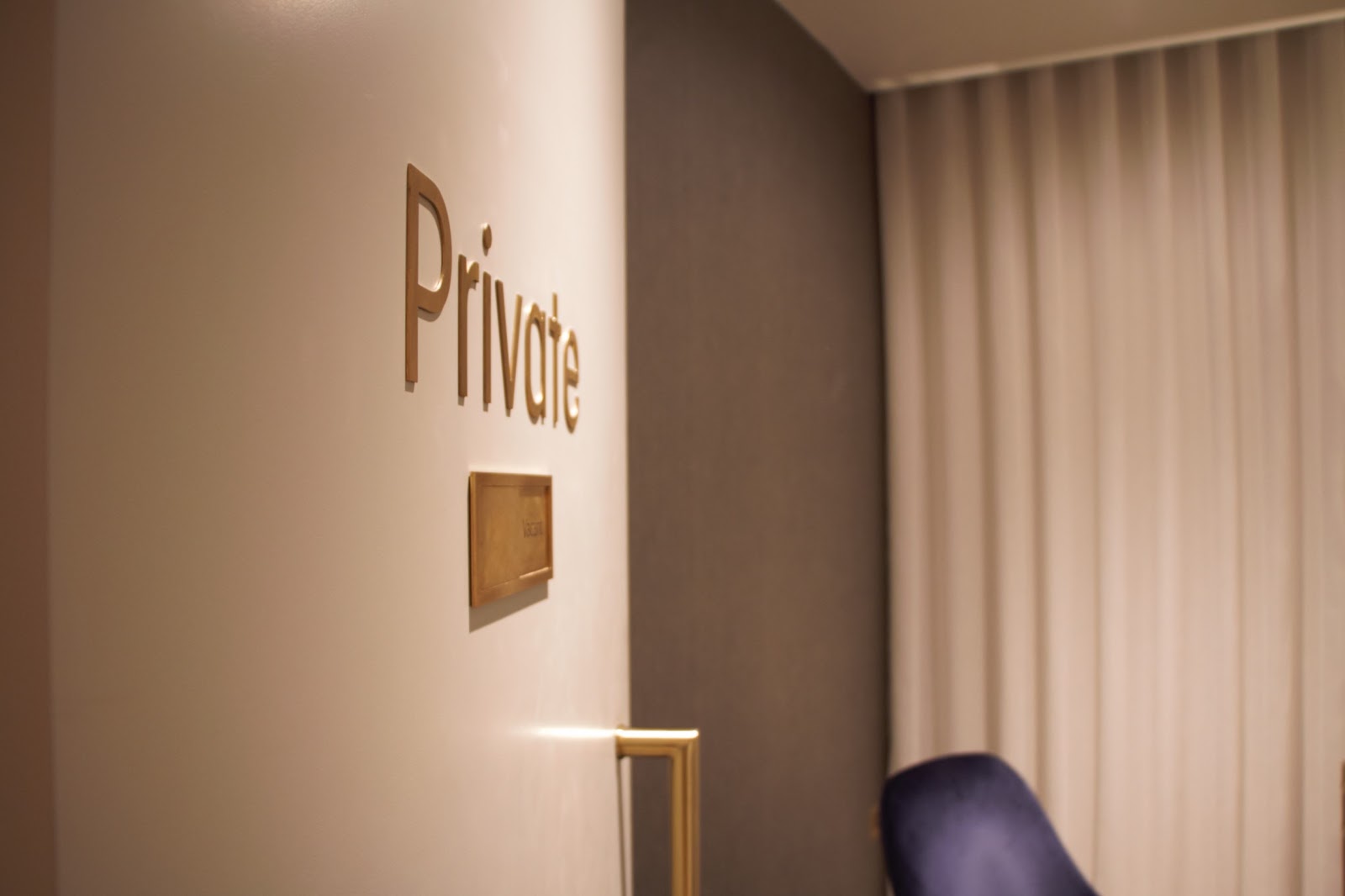 According to staff, Hugh Jackman had been in the VIP room just a week before me – pretty cool if you ask me!
Even though the VIP room is not as spectacular as you'd expect, it is a cosy little space and certainly provides privacy if needed.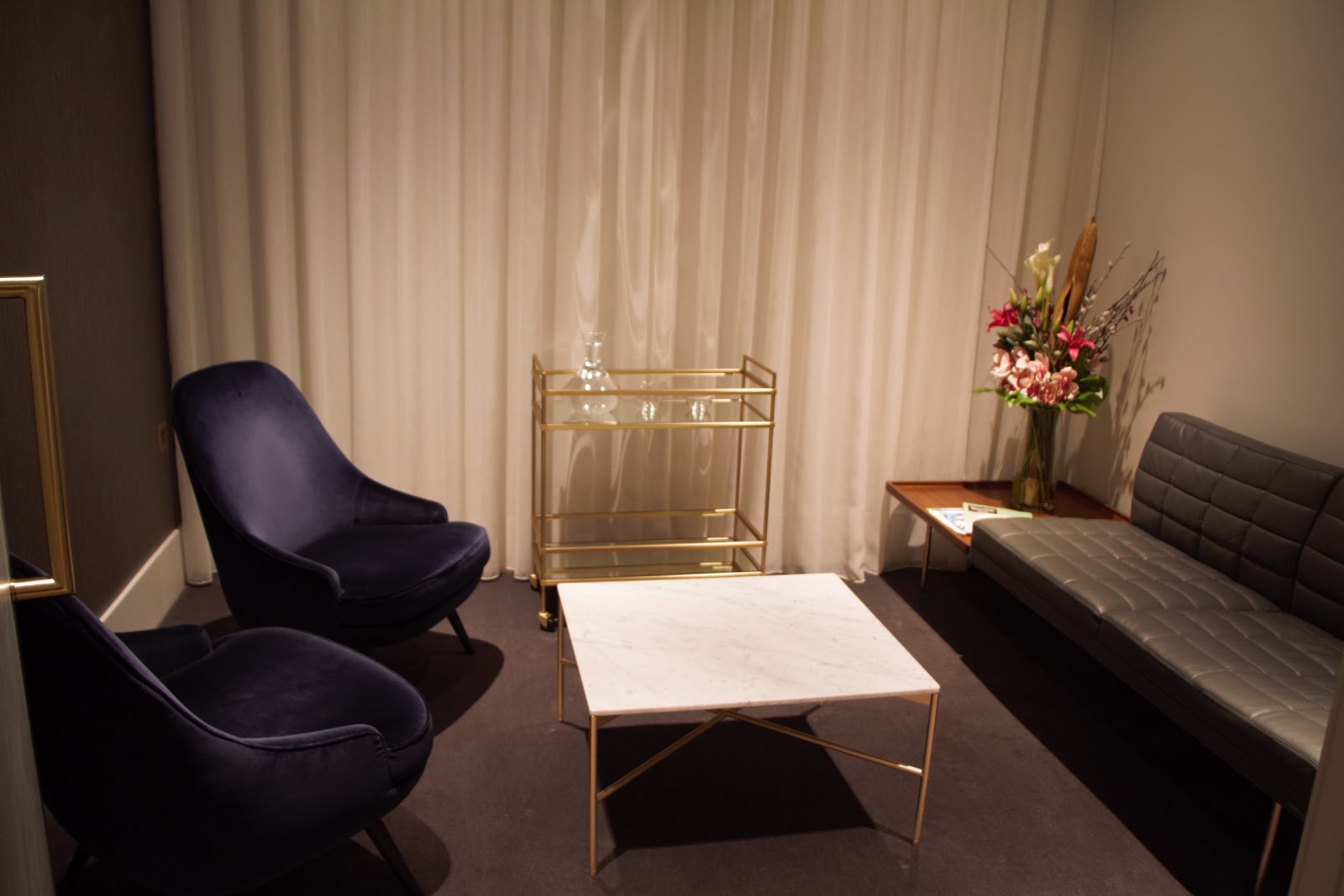 If you have been travelling for the last 20 hours, and are looking to catch up with what's been happening with the rest of the world, there are newspapers and magazines available in different areas of the lounge.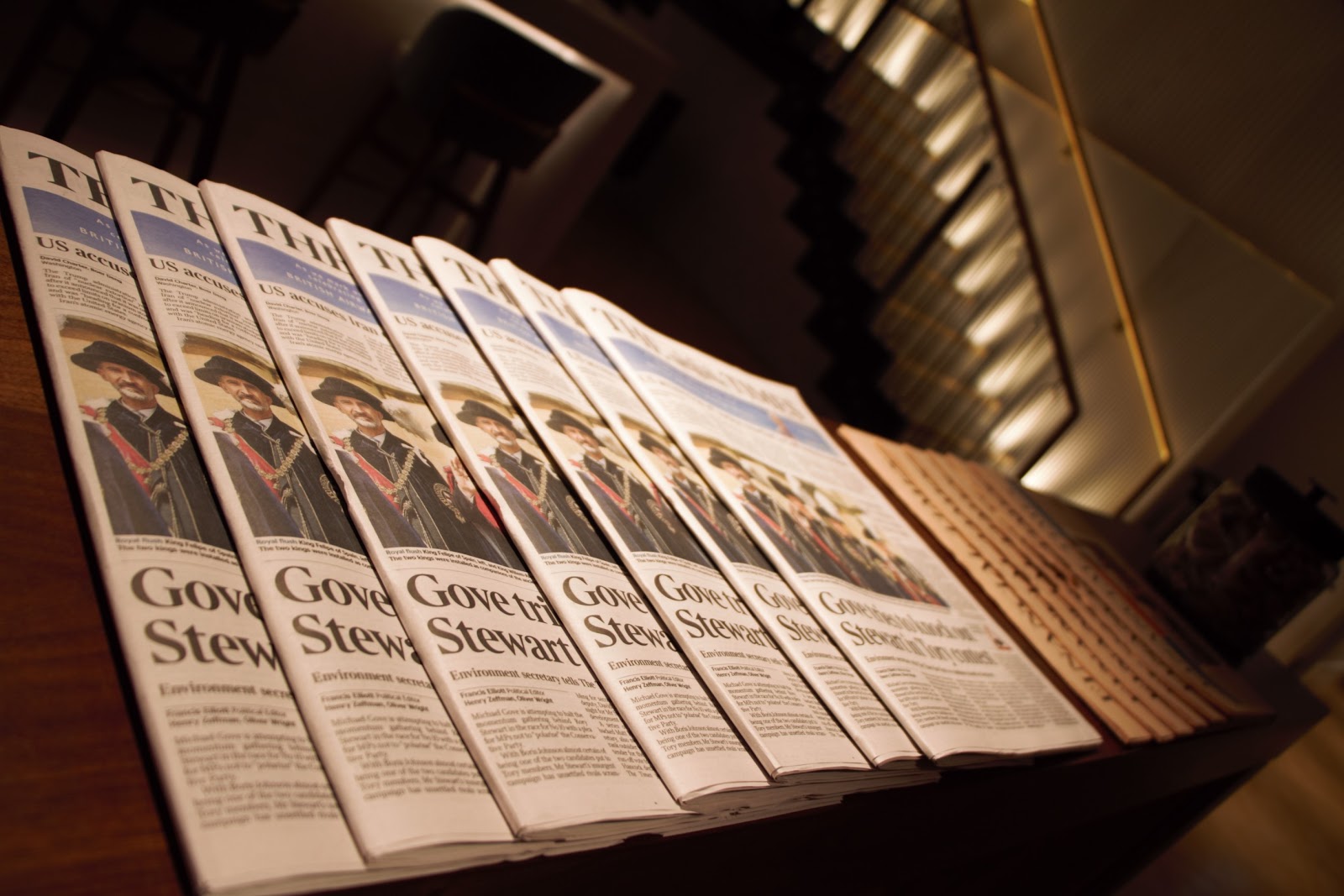 There are also multiple TVs across the lounge broadcasting the world news, and LED screens showing the latest departures information.
WiFi is available at the lounge, but I didn't actually connect any of my devices to do a speed test.
Last but not least, I feel like the staff at the Qantas London Lounge deserves a special mention.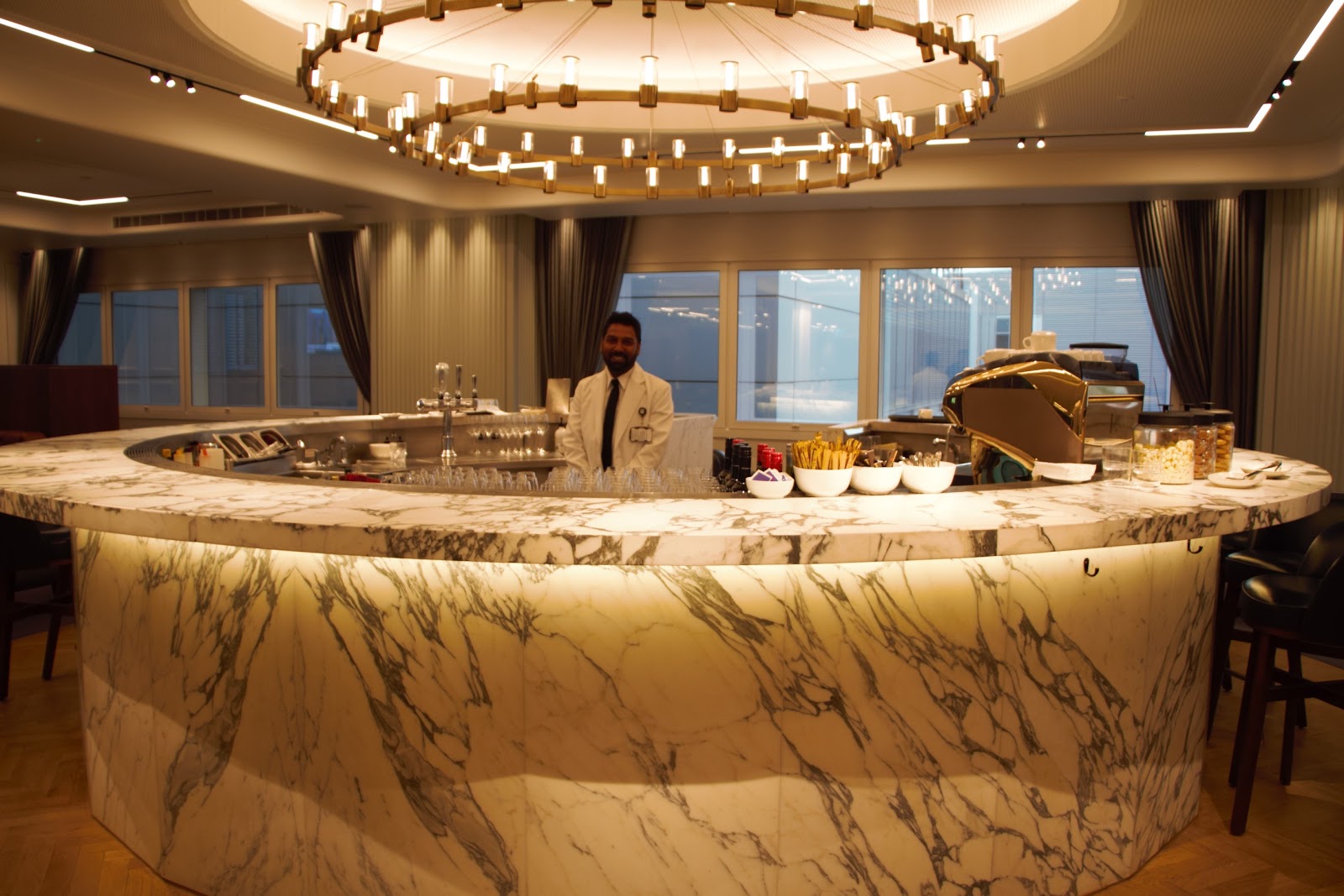 Not only did the lounge general manager take me on a mini-tour through the lounge, the lovely ladies at the service desk also proved to be extremely helpful and willing to go out of their way to ensure all of their customers are well looked after.
Just as we were leaving the lounge, my partner realised he had misplaced his boarding pass, and asked if the staff at the service desk could print him out another one. As we were about to board a Finnair flight, the girl assisting us seemed to have a computer glitch, and therefore couldn't print out the boarding pass. After ringing the Finnair's service desk, and doing her best to solve the problem, she ended up walking us to the gate herself, making sure we are able to get a copy of the boarding pass at the gate, and board the flight without any issues. Talk about service or what!
Lounge access options
You can access this lounge:
By eligible class of travel: Business and First Class passengers travelling on a Qantas, Emirates or oneworld flight (+1 guest)
By Qantas frequent flyer status: Qantas Gold, Platinum, Platinum One and Chairman's Lounge members (+1 guest) travelling on a Qantas, Emirates, or oneworld operated flight
By airline partner frequent flyer status: Emirates Skywards Gold and Platinum members (+1 guest) travelling on a Qantas or Emirates operated flight
By alliance frequent flyer status: Sapphire and Emerald oneworld members (+1 guest) travelling on a Qantas or oneworld operated flight
By Qantas Club membership: Qantas Club members (+ 1 guest) and Annual Guest Card holders (in the company of a member) travelling on a Qantas flight
By credit card: refer to our definitive guide to Qantas lounges for credit cards that offer access to Qantas lounges like this one
By day pass: from achieving Qantas Silver Frequent Flyer status or £55 for any passenger flying in any cabin on any airline
Summing up: Our take
Although the Qantas London Lounge delivers a unique British setting, the lounge also features a lot of elements that create a sense of recognition for any Australian, and make it feel like a home away from home.
The sophisticated, elegant design and outstanding customer service create a sense of a luxurious private members club.
Whether they be the grand staircase or the magnificent cocktail bar, there are plenty of wow-factors in the London lounge that make it stand out from other Qantas lounges elsewhere in the world.
What is great
Elegant British design with a modern twist
Different zones for working, relaxing and dining
Plenty of seating
A lot of power points to charge your devices
Wide-ranging buffet
Exclusive gin bar
A separate cocktail bar with excellent beverage options
Barista-made coffee
Outstanding customer service
Separate children's room
Separate work station with printing facilities
What is not great
Only six shower suites without a booking system
Limited outside views and natural light
Limited à la carte options
À la carte dining available only at certain times of the day
Qantas International London Lounge overview
was last modified:
April 28th, 2022
by