If you're like me, you've probably dreamt of flying First Class, but thought that dream was out of reach. After all, who has a spare $8000-plus lying around for a cash ticket?
Well then here's some great news. I just flew Emirates First from Dubai to Madrid on the mind-blowingly luxe A380 (the one with the shower), and it cost me all of $674.
How? I booked with Qantas Points – 89,800, to be exact – for an eight-hour flight in the lap of luxury. That's less than the sign-up bonus from a single credit card offer.
From the enormous suite with sliding privacy doors to the vintage champagne and next-level service, I've never felt more pampered. And to think I'm paying less than those cramped up the back in Economy!
So if you're keen to find out how you can fly Emirates First Class yourself, then read on.
An unrivalled cabin experience
Wondering what it's like to jet above the clouds in unparalleled luxury? Me too. And as a First Class newbie, I'm about to find out.
It's hard to contain my excitement as I walk down the aerobridge for premium passengers towards the Emirates A380. On a plane carrying more than 500 people, I'm one of a select few flying First Class. In fact, there are just 14 suites in the rarefied cabin. Talk about feeling special.
On this packed jet, I'm the very first passenger on board. Turning left into the First Class cabin, I'm greeted by name and welcomed aboard as if they've been waiting especially for me. My personal host shows me to my suite. Decked out in pebbled wood and gold, it's the definition of opulence. Reading lamps, a pop-up minibar, a live fuchsia orchid in a wall-mounted gold vase… I can't believe I booked this enormous suite entirely on points, plus just $674 in fees and taxes.
Once I'm settled in the supple leather seat, my host returns with a welcome glass of 2012 Dom Perignon. A sneaky Google reveals that a bottle retails for a whopping $330! But here in Emirates First, there are unlimited glasses on offer. Bottomless Dom – how's that for luxe?
We've boarded with time to spare, so before take-off I'm in for another treat: cardamom-scented Arabic coffee. Ceremonially poured from a traditional Arabic coffee pot into small white mugs, it's utterly delicious. My host presents a beautiful chocolate-like box, with each indent containing a different type of delectable date. I already feel like royalty, and we haven't even left the ground yet.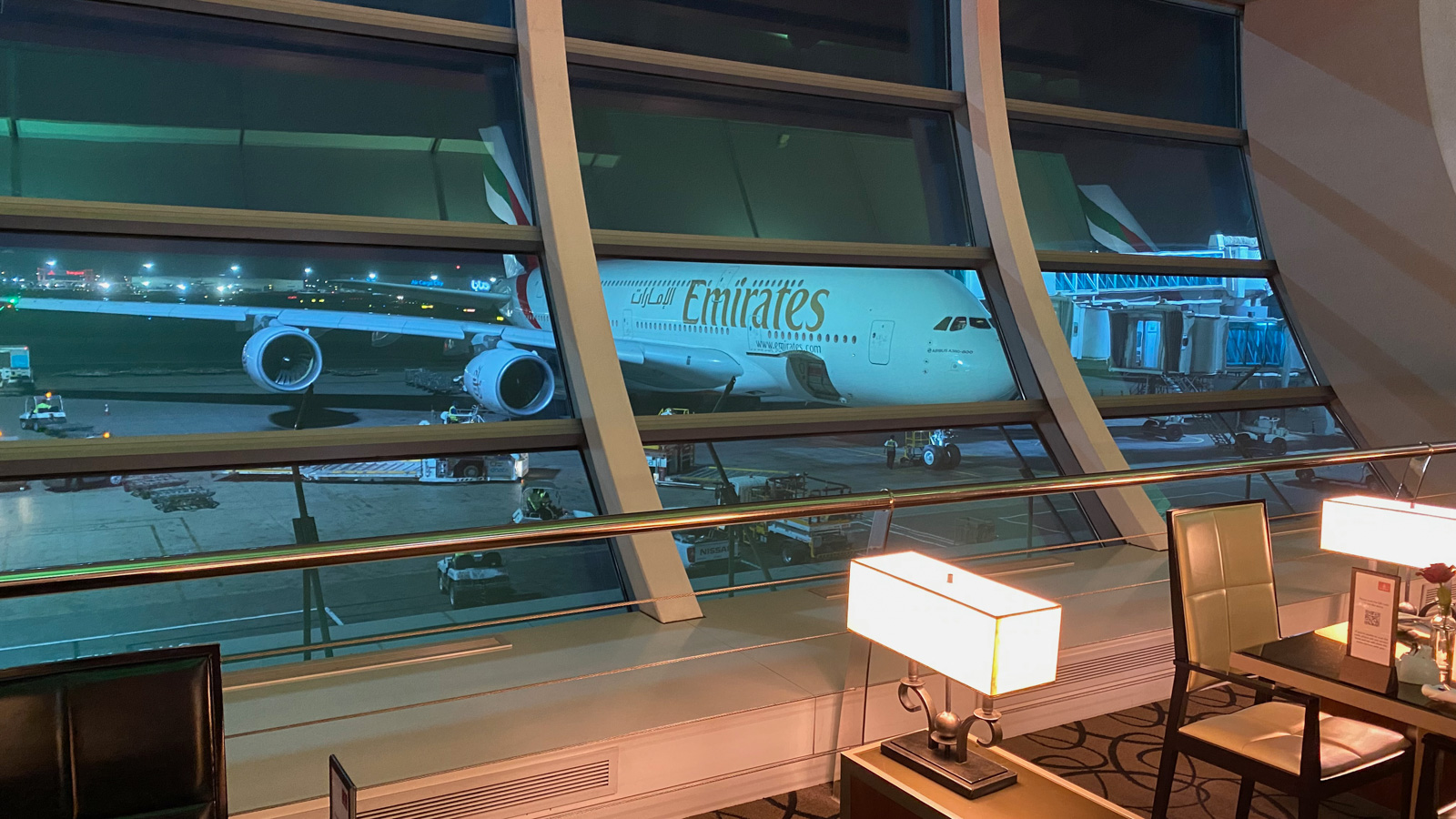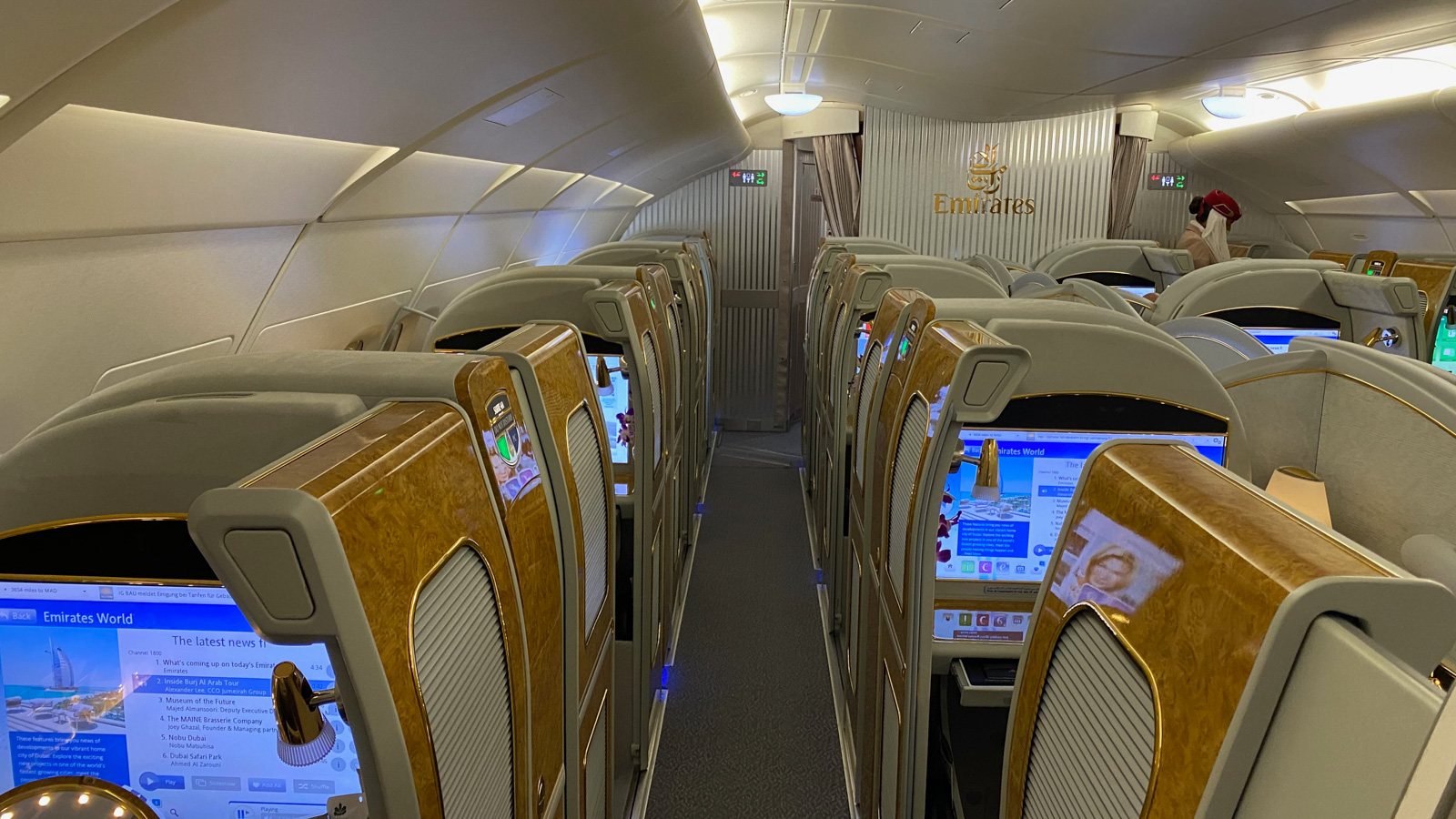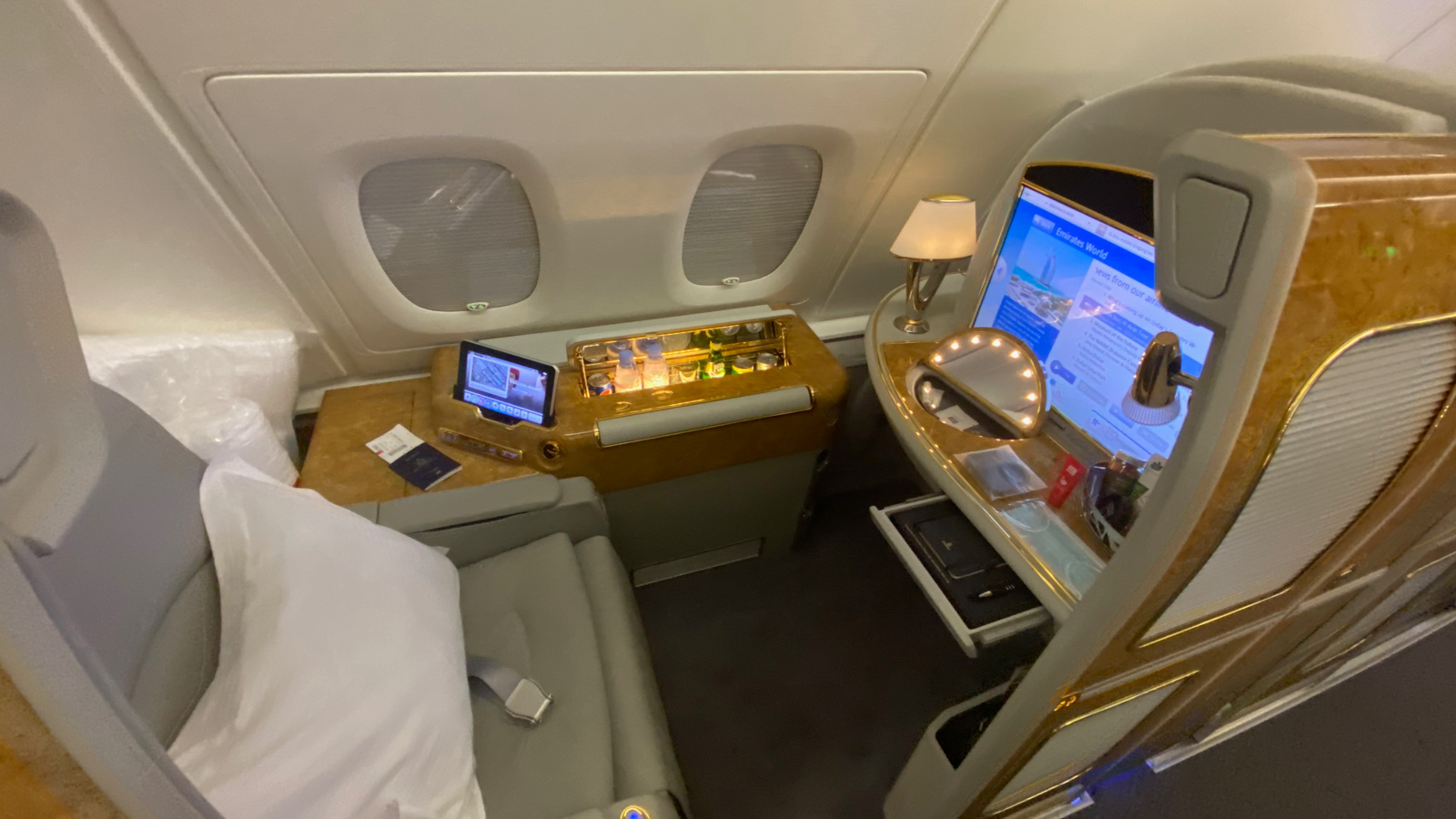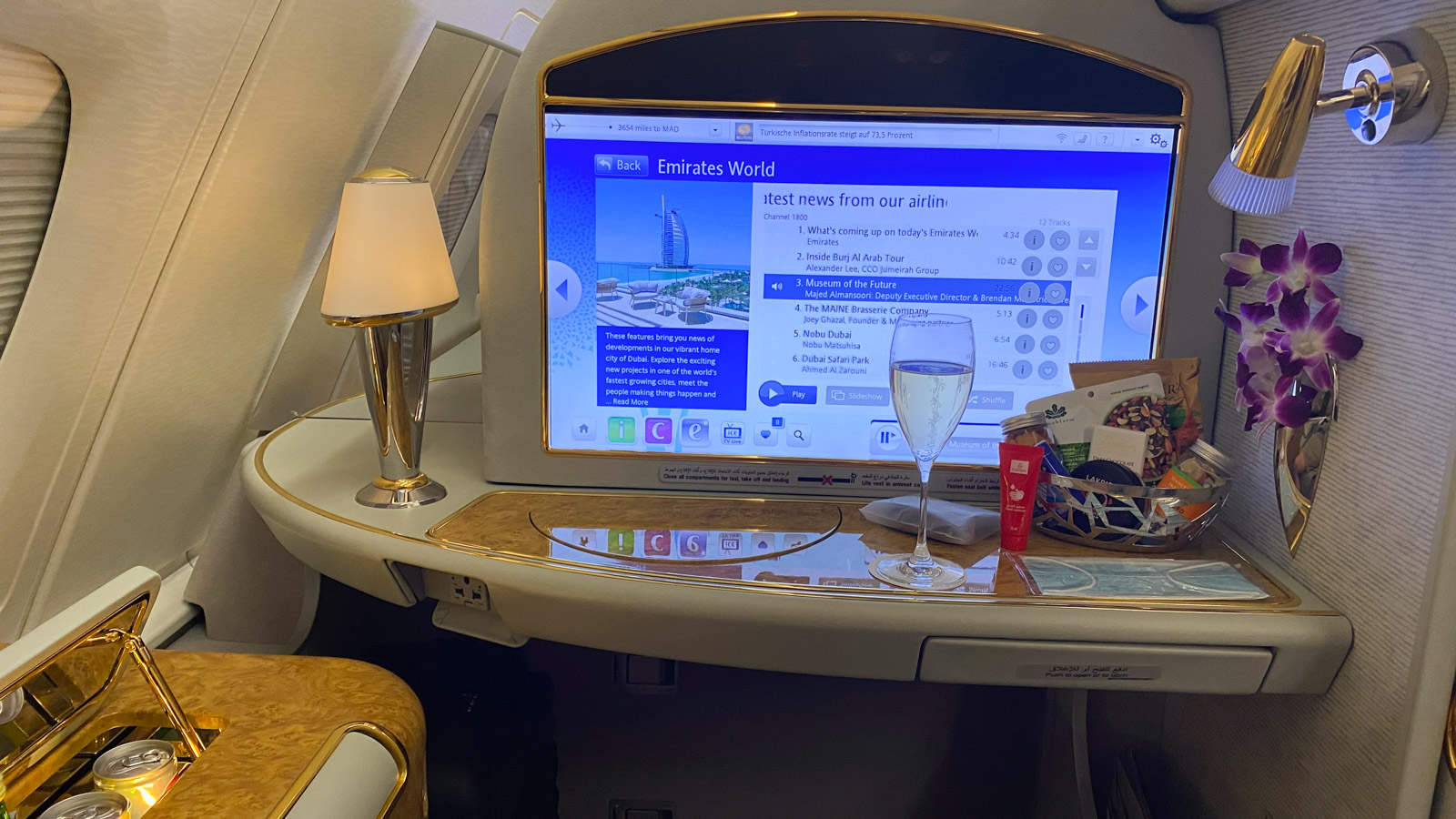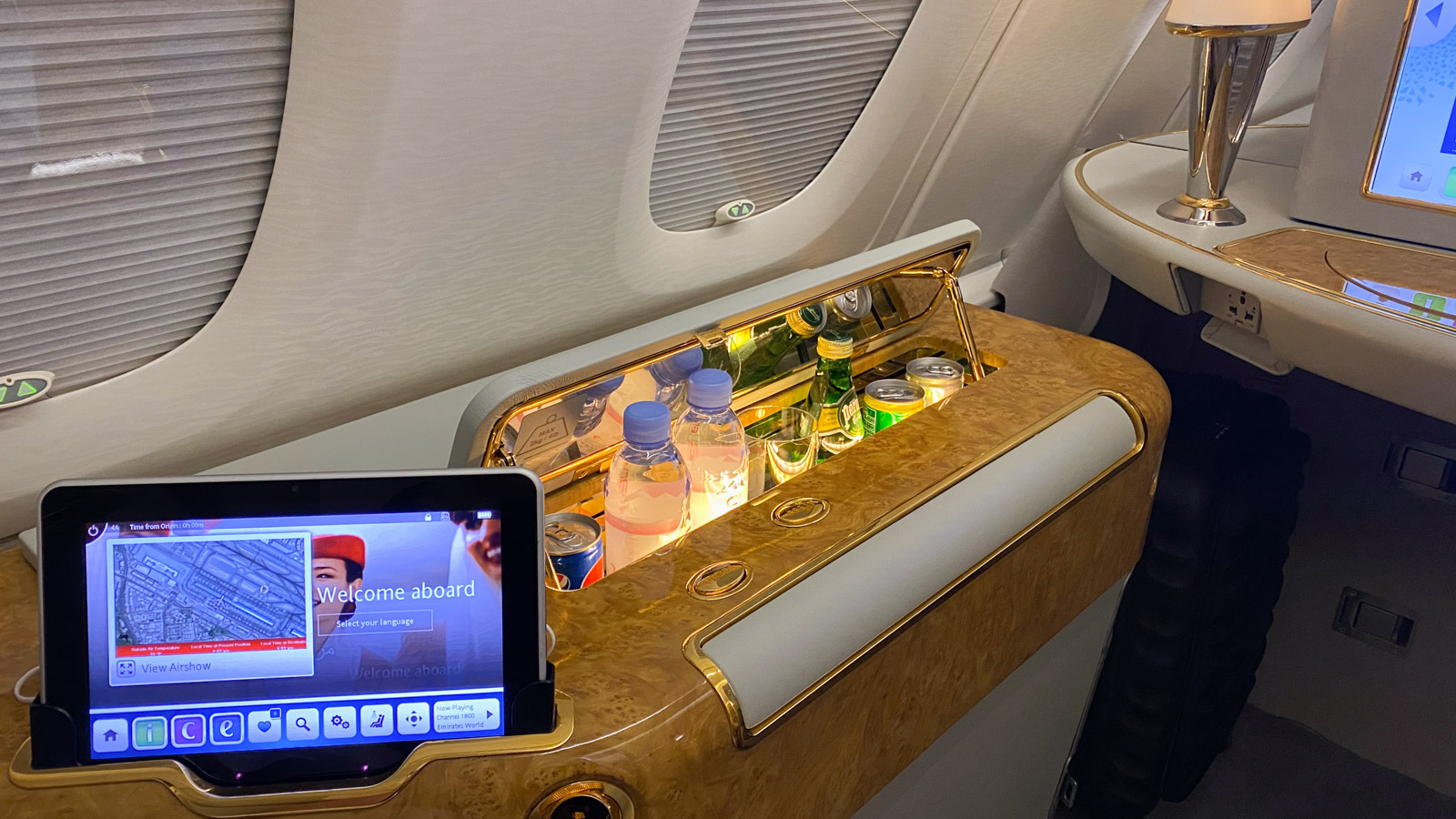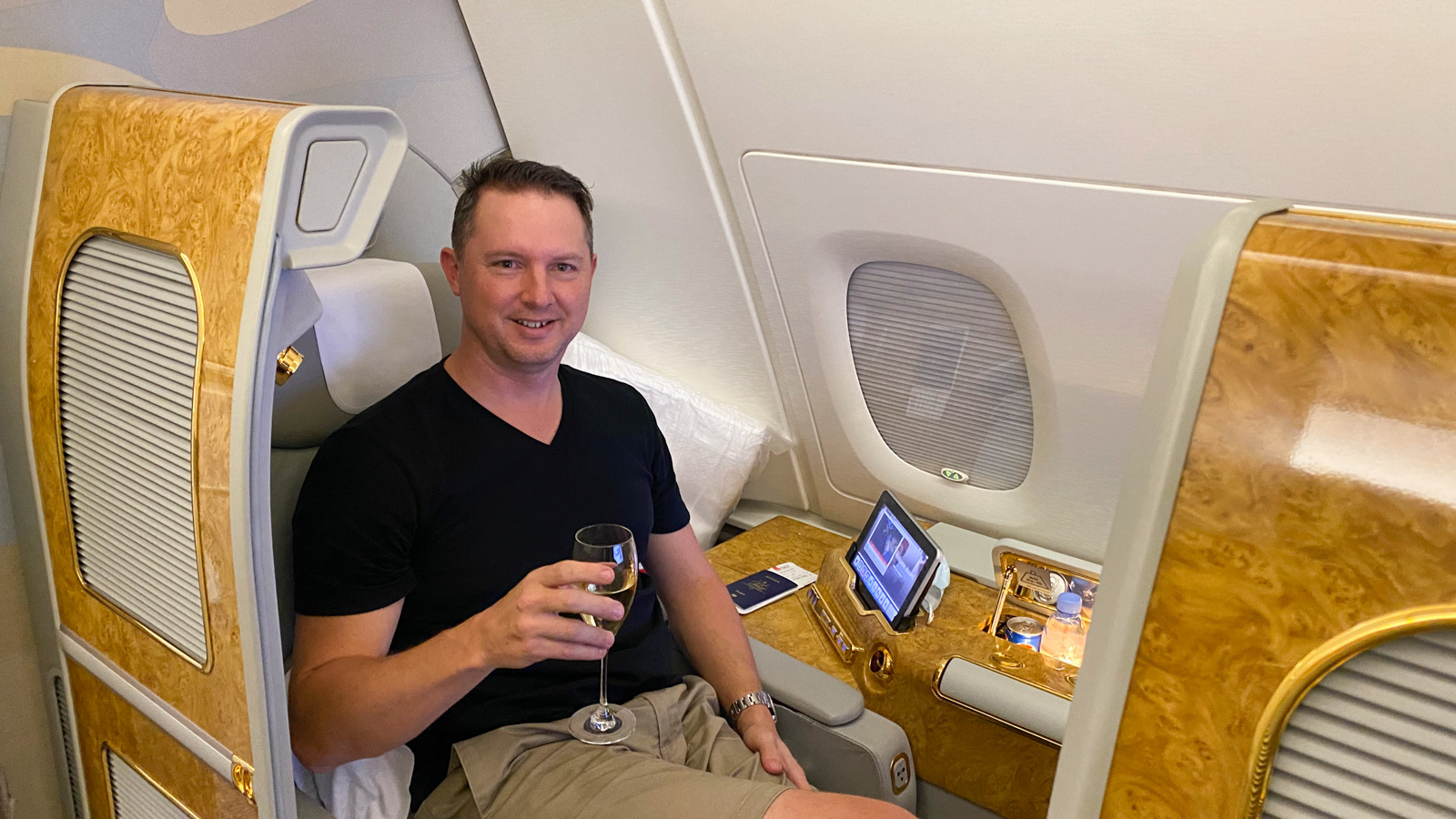 As the hazy Dubai desert disappears from view, I slip on the Bowers & Wilkins noise-cancelling headphones and settle in for a movie on the giant touchscreen. My suite transforms into a private cinema.
I've been fortunate to fly Business Class a lot, and I thought that was special. But here in First Class, the personalised service is truly next level. I'm treated like an actual king, with a staff-to-passenger ratio that feels like 1:1. I'm sure there's a call button somewhere, but I wouldn't know because I never need it. I mostly leave my privacy doors open, and my host appears the moment I turn my head. In fact, my First Class suite is so fantastic I'm not even tempted to spend time in the onboard bar.
And when I'm ready to sleep? Banish thoughts of a cramped recliner seat. My host converts my suite into a peaceful bedroom, with drawn window shades and ambient lighting making the huge flatbed look even more inviting. Lying beneath the doona in my First Class PJs, I slide the privacy doors shut and attempt to process how wonderful this all is. Sleeping on a plane is usually a matter of compromise. But there's no compromise here. I'm 6 foot 4, and I've got room to spare! If I fall asleep with a smile on my face, I wouldn't be surprised.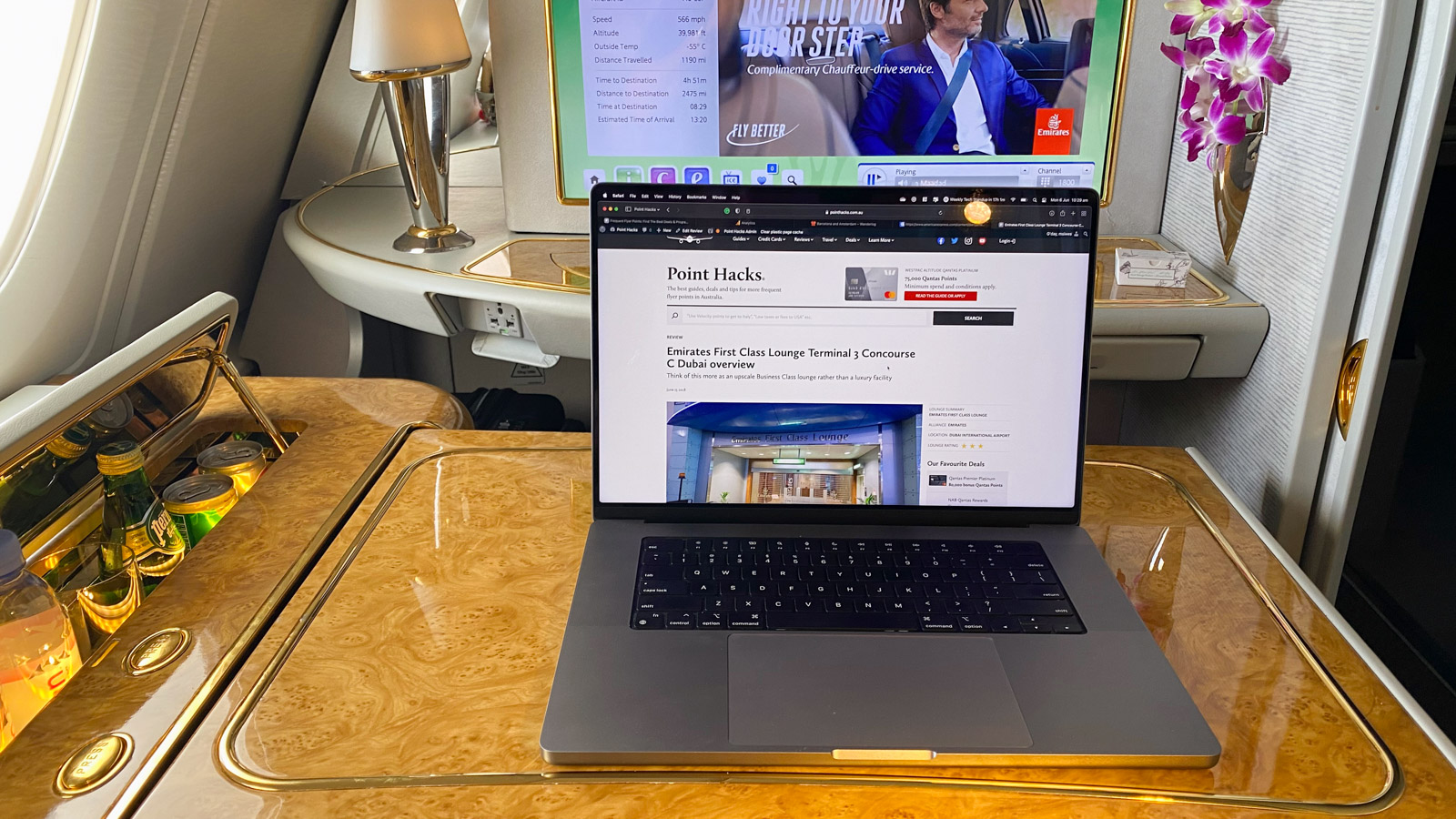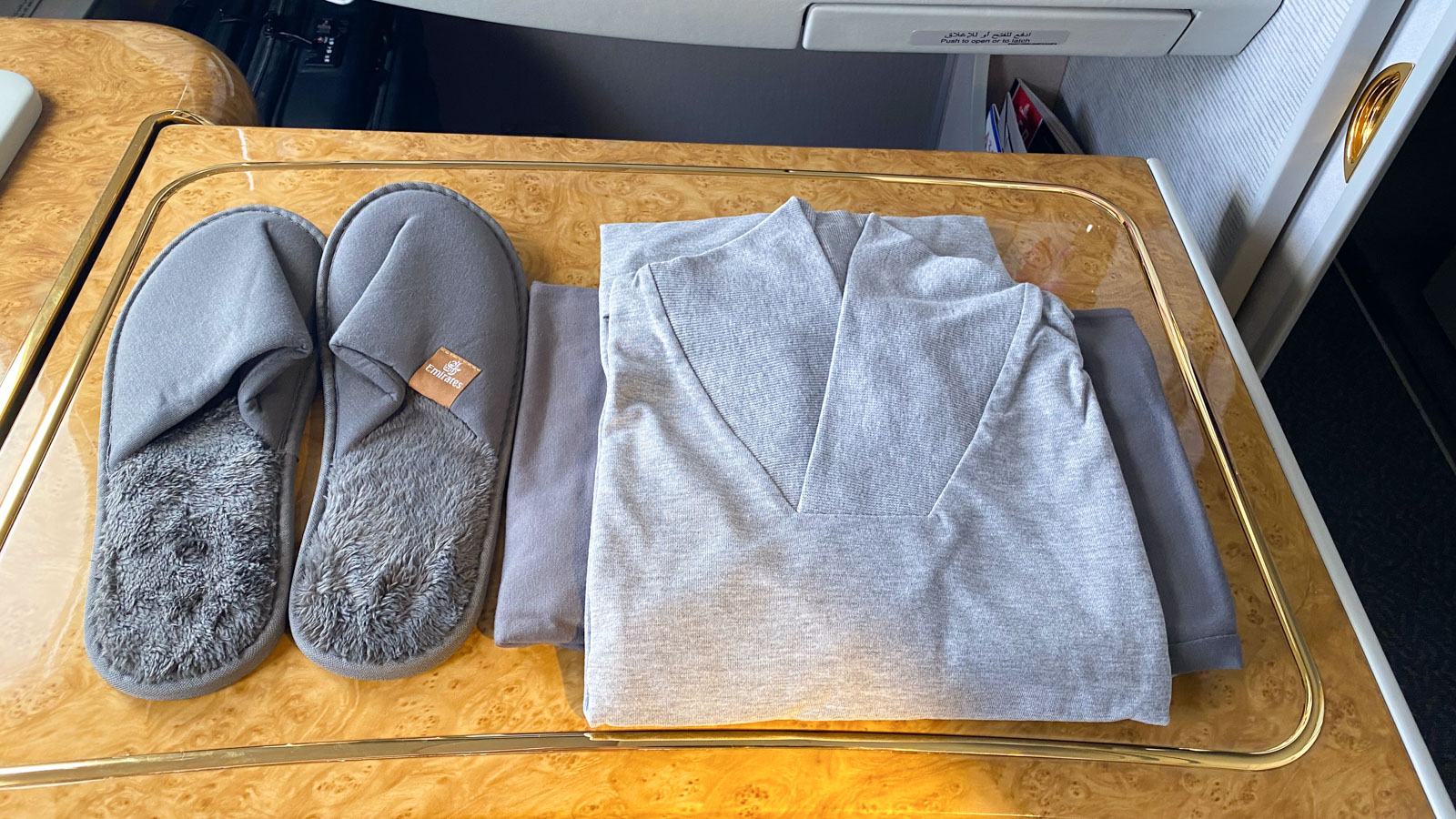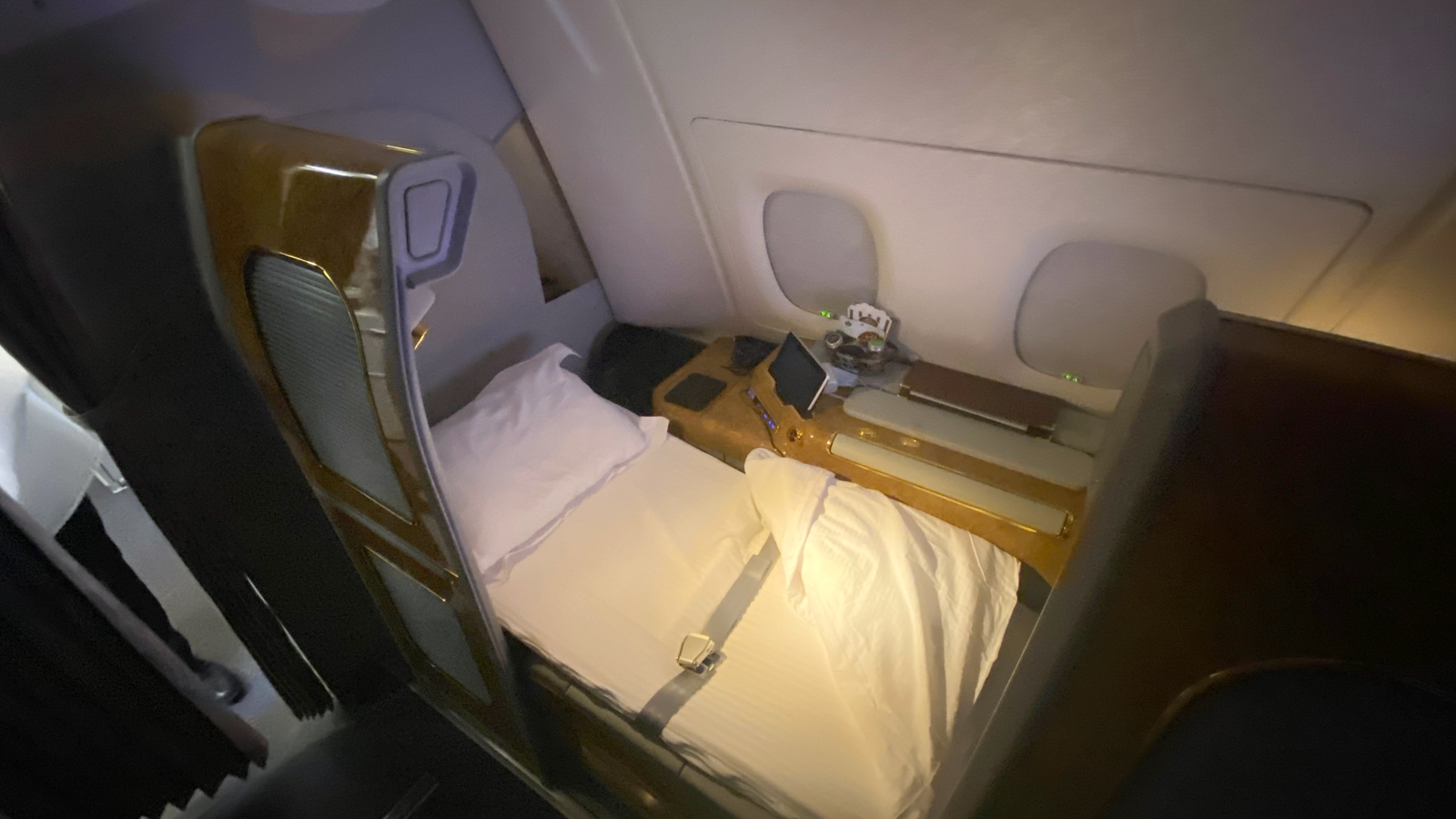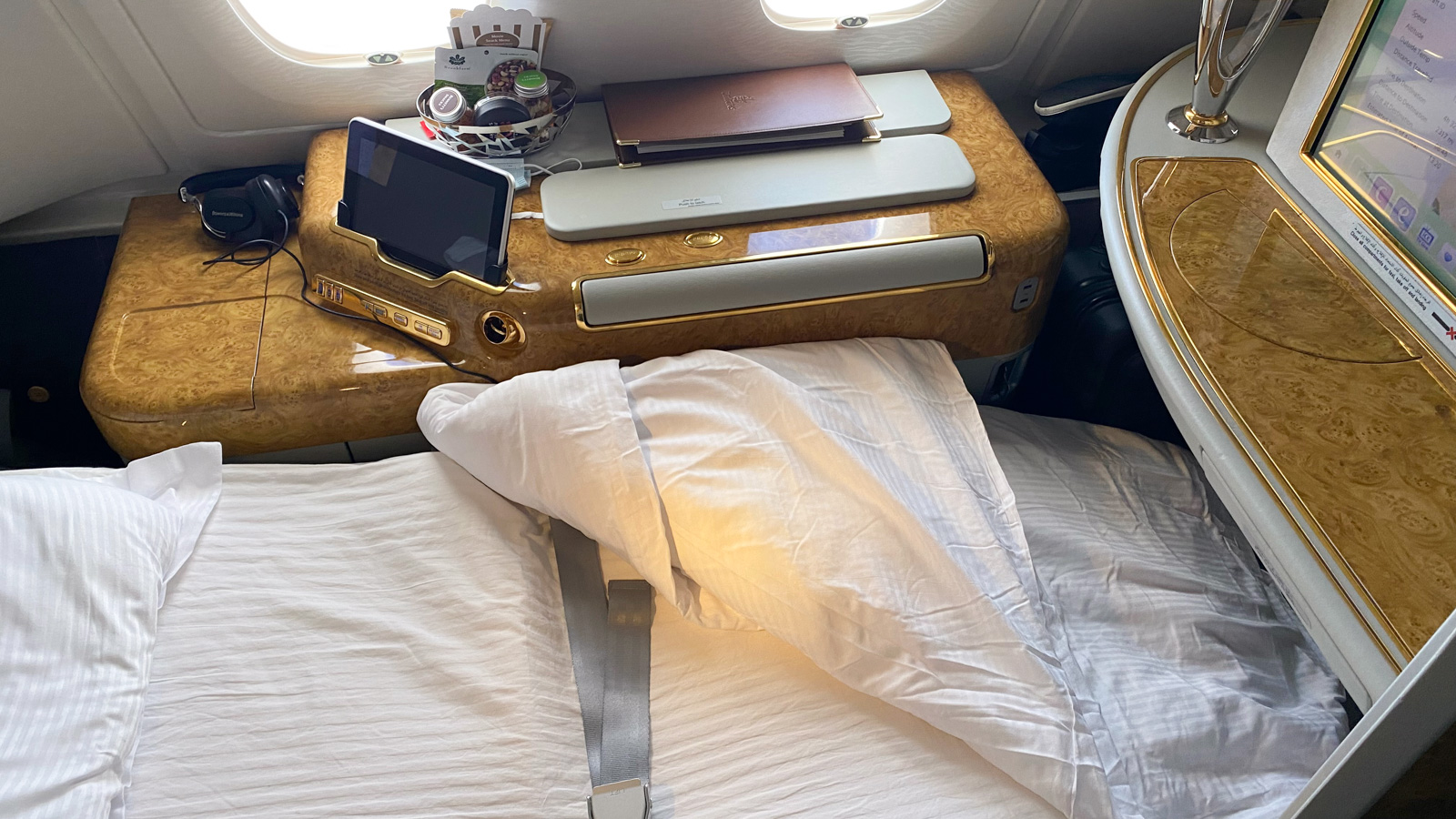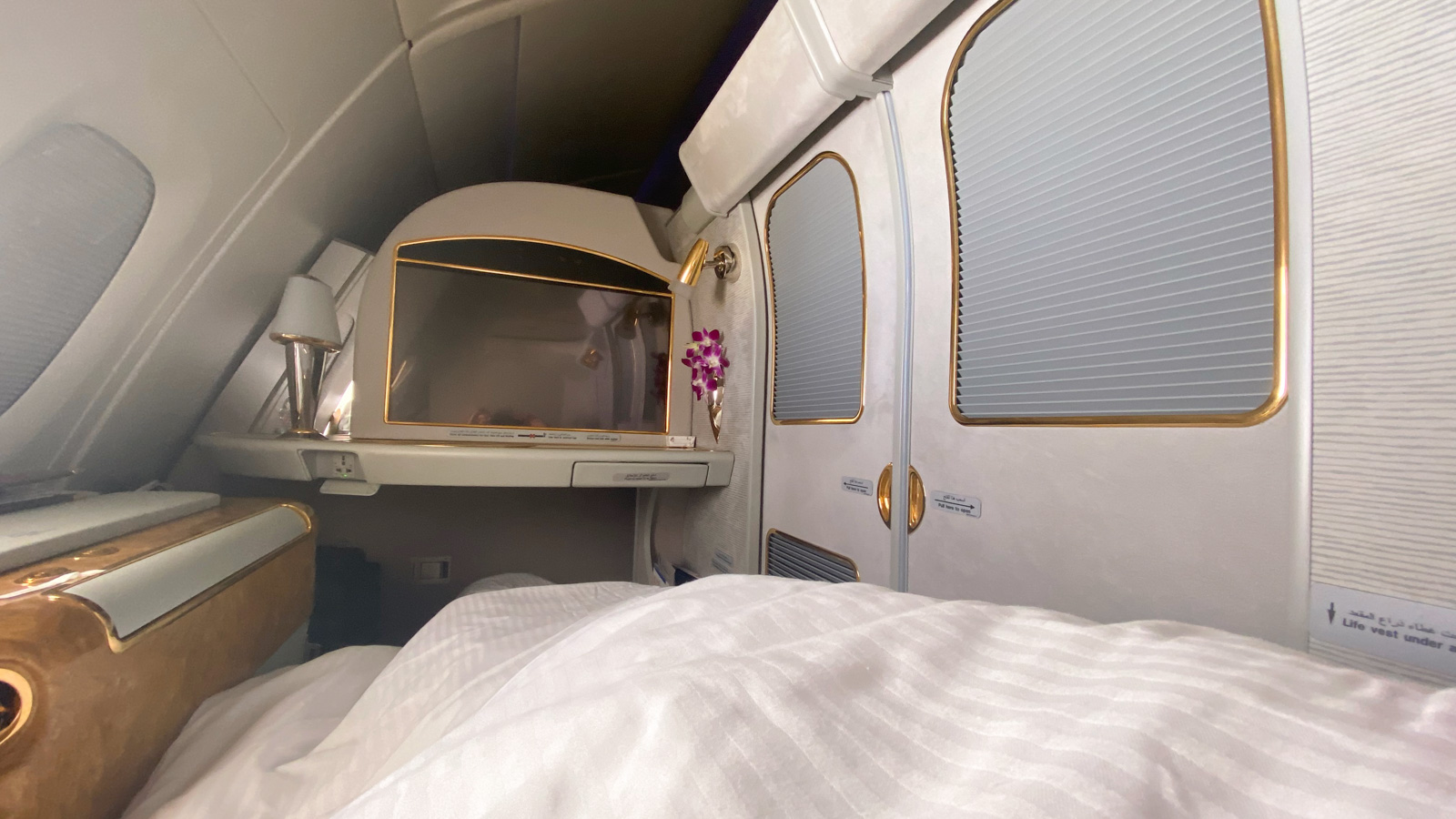 I wake deeply refreshed, and hungry. But I don't need to wait for a meal service. In Emirates First, you can eat and drink to your heart's content whenever it suits you. My multi-course lunch is the stuff of foodie dreams. A spacious table extends out from the wall, and it's set with a linen tablecloth, lustrous porcelain and crystal glassware.
I begin with the traditional Arabic mezze, a feast in itself with individually-plated dips and fresh-as salads accompanied by a selection of warm Arabic breads. And to drink? A 2016 white French Burgundy from Louis Latour. On my personal scale of yum, yuck or meh, this wine is ridiculously yum.
Speaking of ridiculous (luxury), it's time for caviar. An entire sealed tub of it, served with blinis, accompaniments and a mother-of-pearl spoon. Those who know me know I don't eat seafood. But you can't fly Emirates First and not order caviar.
After a lovely light pumpkin ravioli, paired with another aged French white wine, I finish up with a lemon and almond cake – so moist it puts other versions to shame. I'm sated rather than stuffed, and so so happy.
An hour before landing, I indulge in the ultimate luxury: a shower at 40,000 feet. On a plane, space is precious – and this shower spa is gobsmackingly big. Appointed with Bulgari toiletries and every amenity you could wish for, it rivals the size of my bathroom at home. The steaming hot shower is so refreshing it's the equivalent of an extra five hours of sleep.
Before landing, I order an Amarula on the rocks – a personal favourite I use to toast amazing days. And this has certainly been one of those. For eight hours, I literally feel like the most important person in the world. All thanks to the power of frequent flyer points.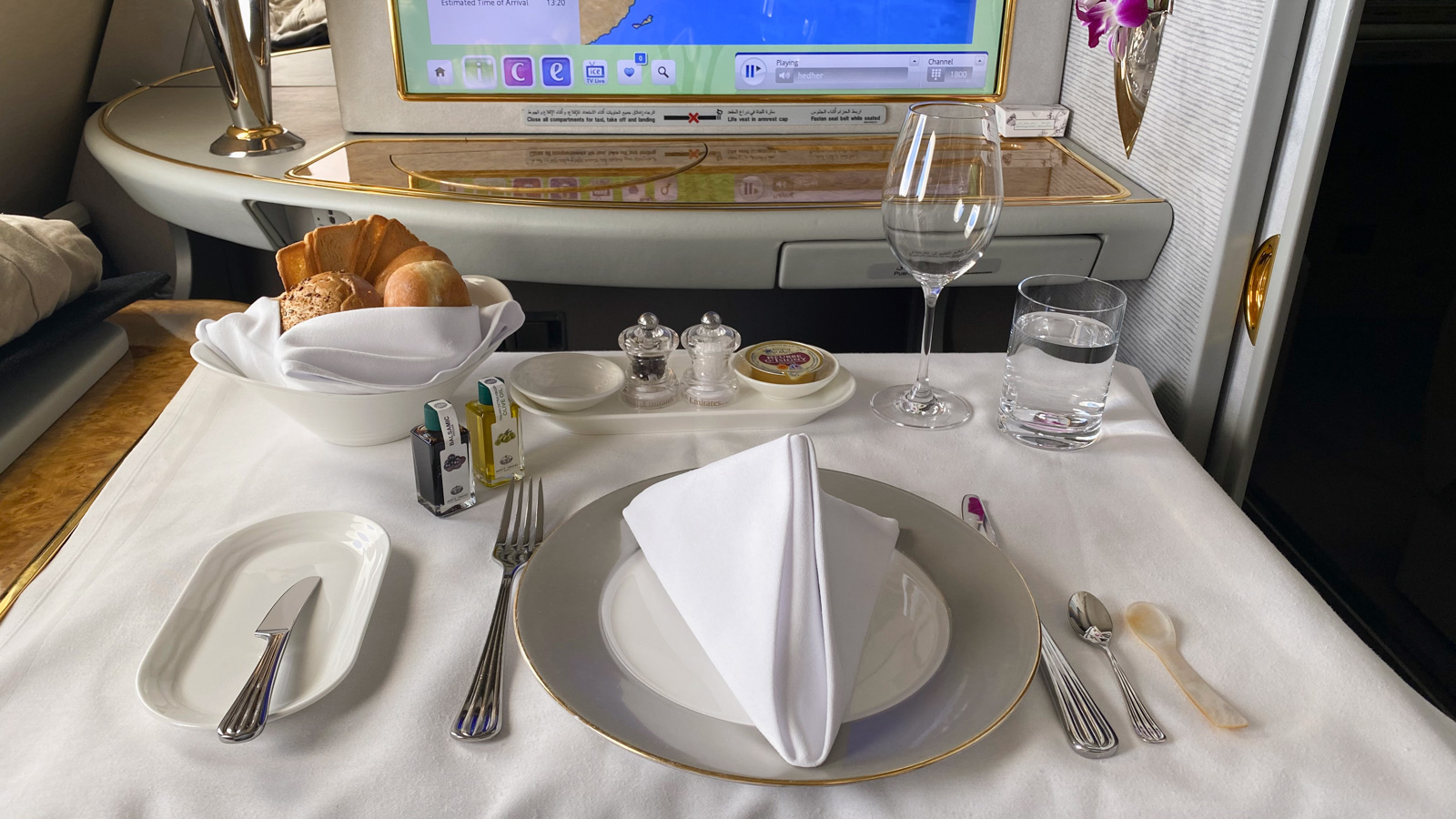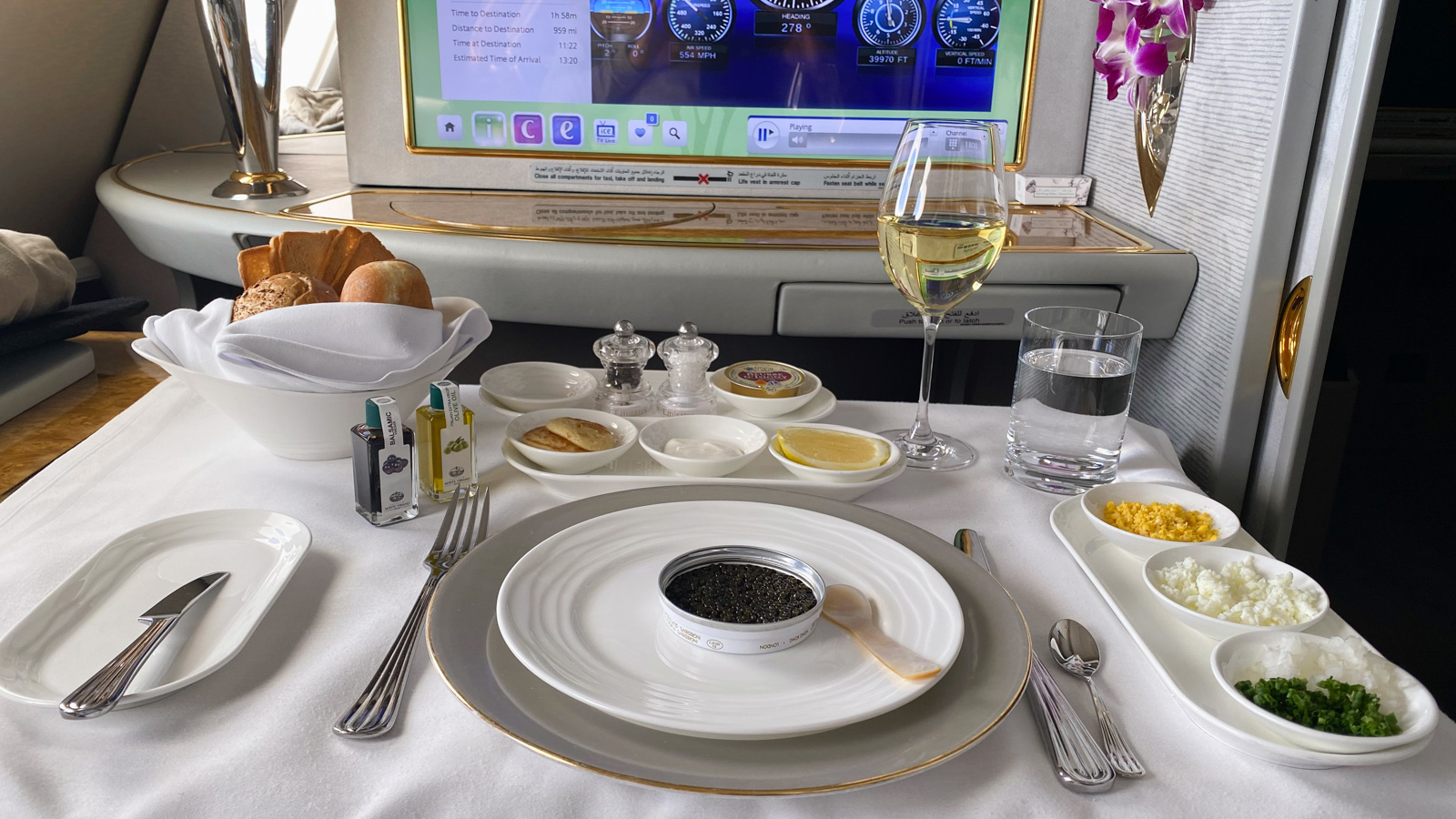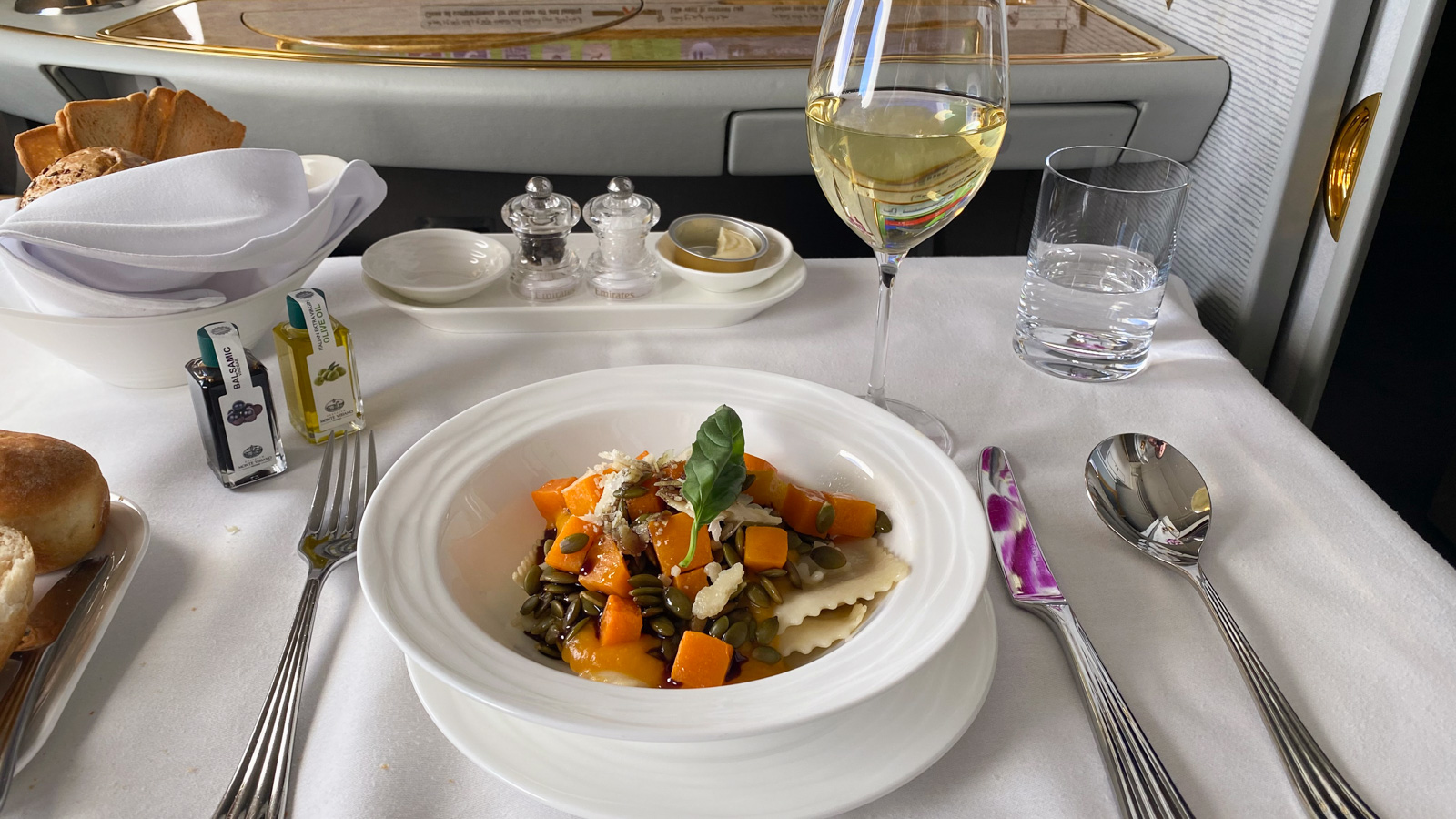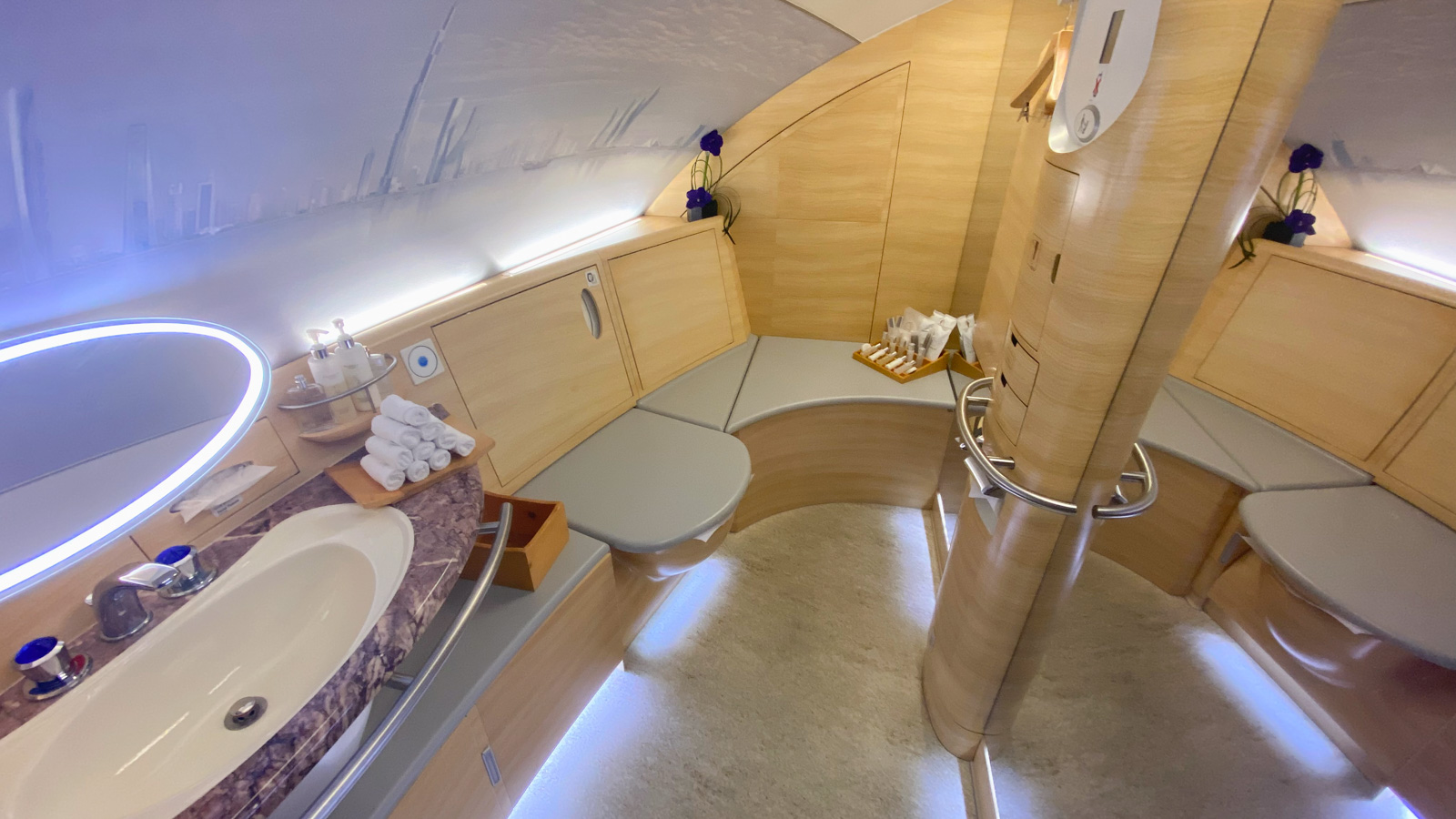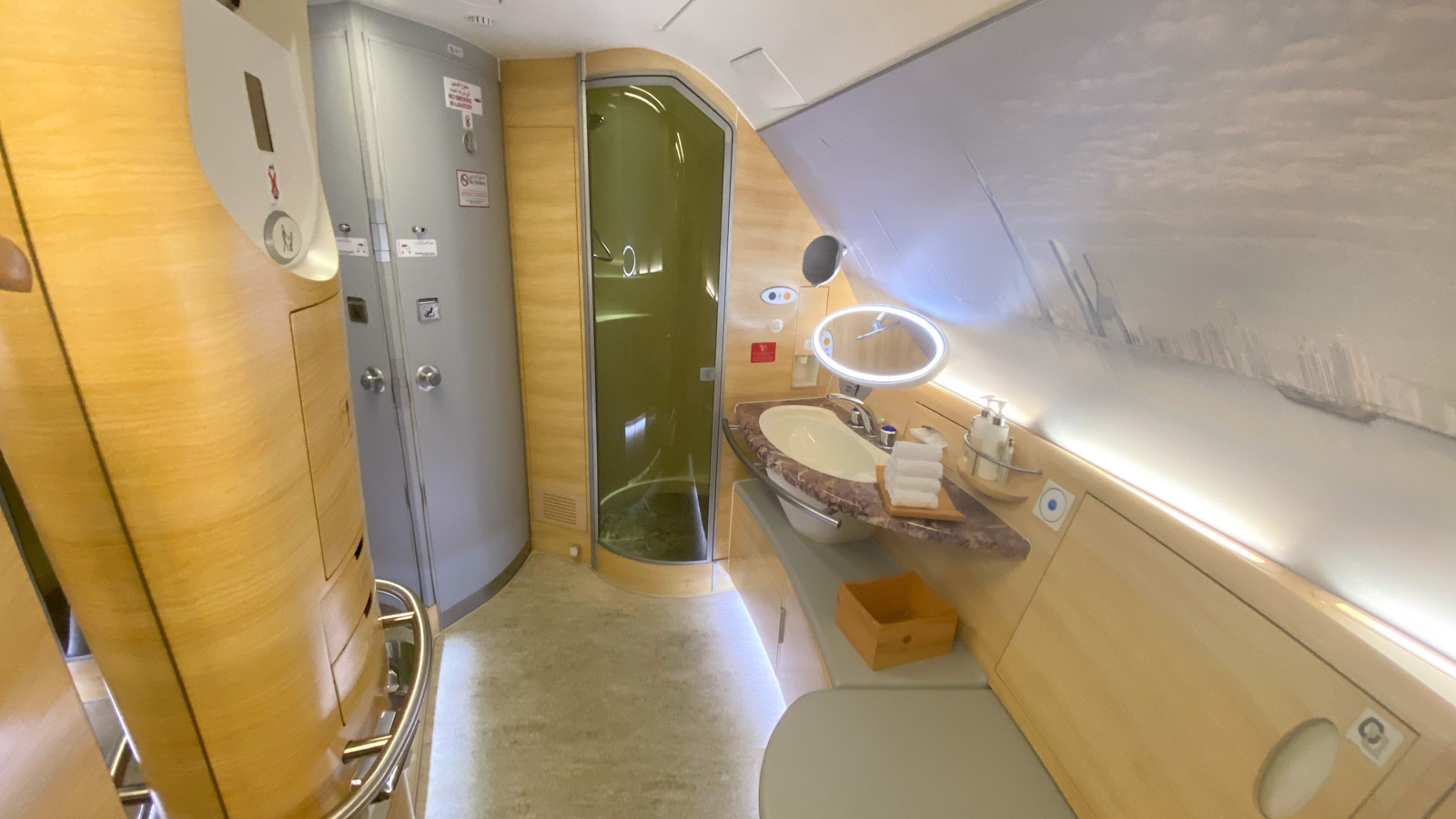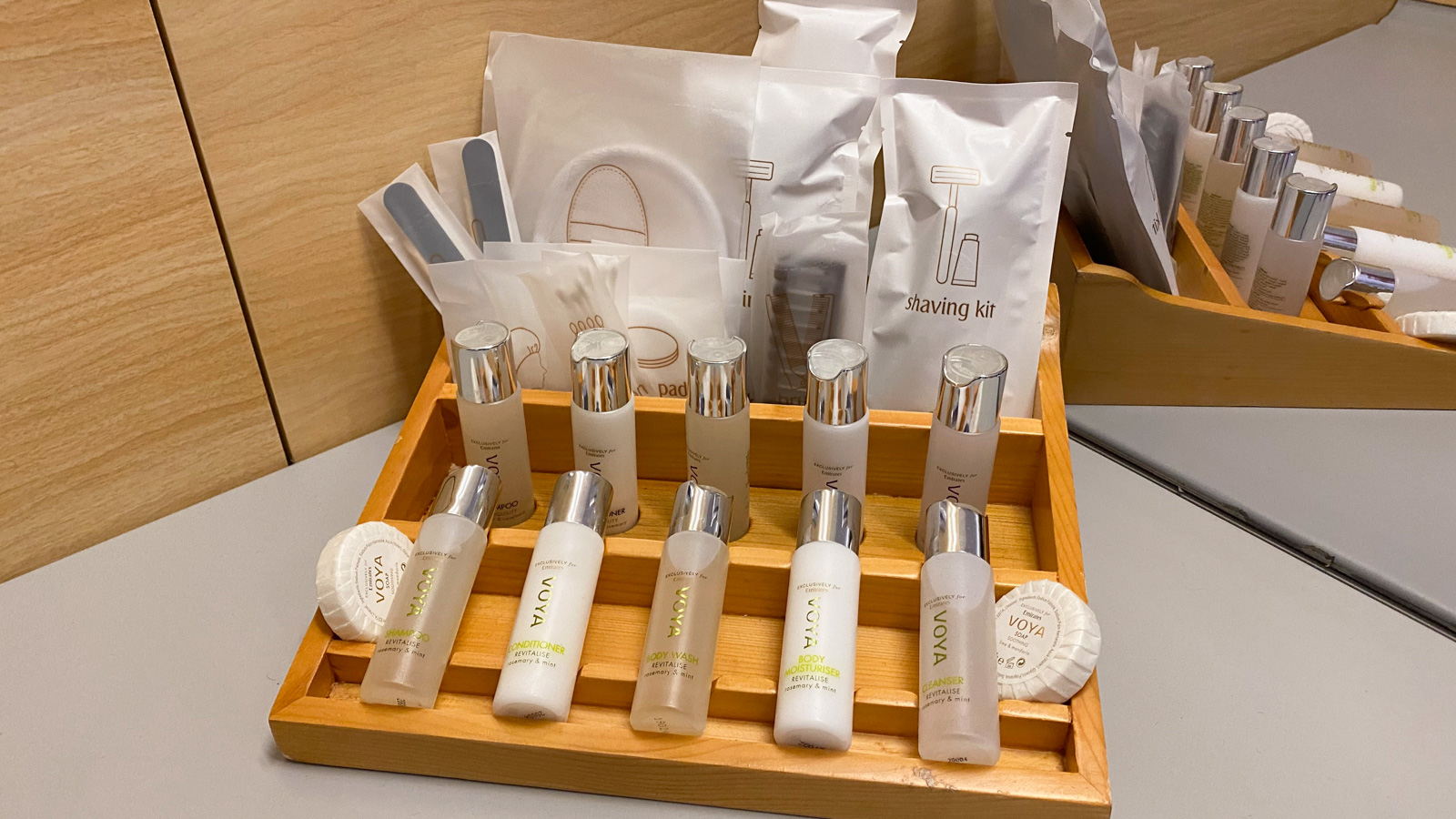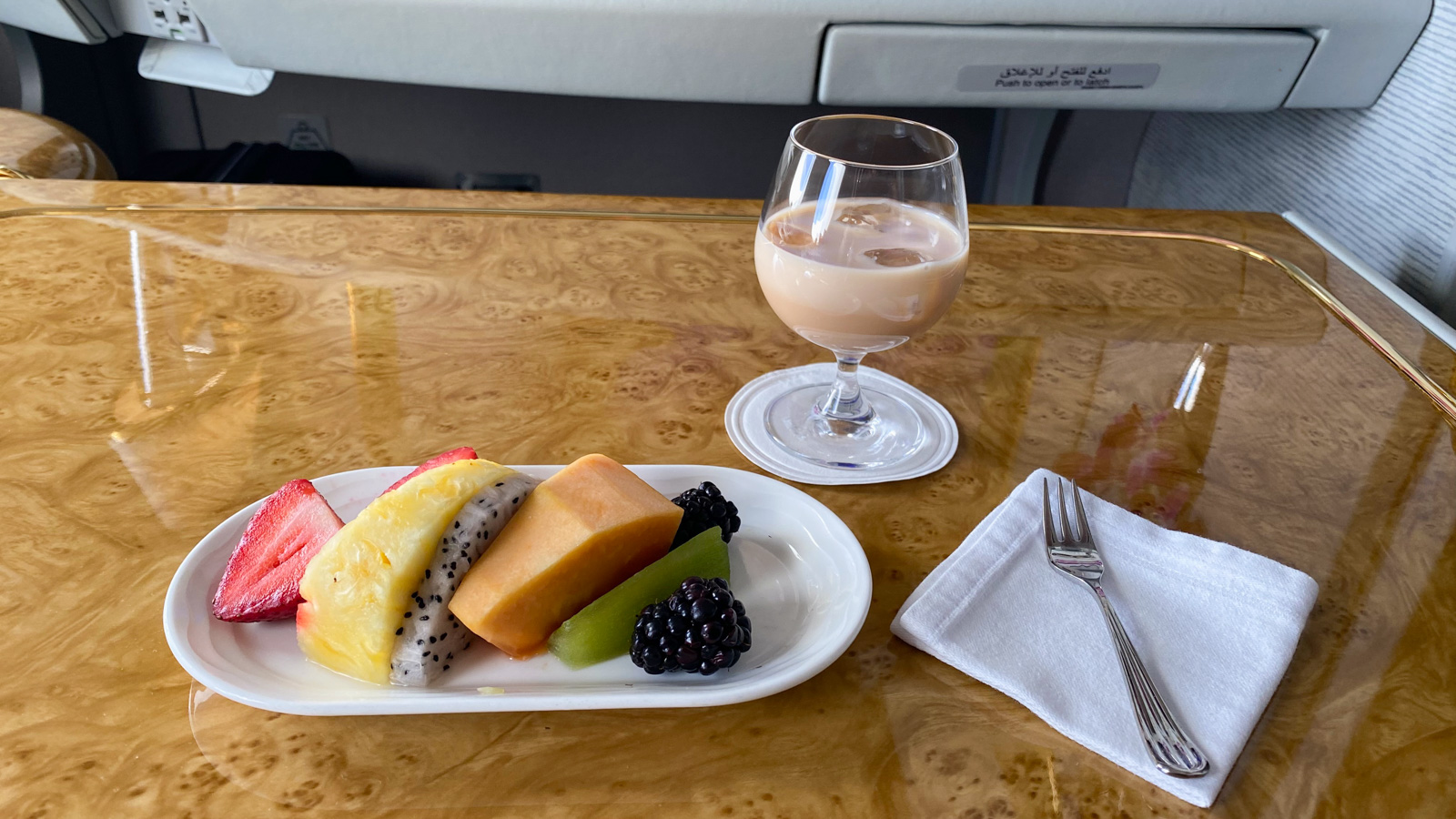 How to earn points and book Emirates First Class
As it turns out, flying Emirates First on points isn't just a travel hack, as I'd first thought. It's a life hack, in that flying First Class for the first time is actually life-changing. It's something I'll remember for the rest of my days, and there are only a handful of things I can say that about.
For those new to the point hacking game, credit card bonus offers are the quickest way to amass a stash of frequent flyer points fast. Emirates is a partner airline of Qantas, meaning you can book Emirates First Class reward seats with Qantas Points. Simply meet the minimum spend requirements on one of the credit cards featured below, pocket the bonus points and get booking your First Class reward! While it's a challenge finding reward seats at the moment, that should improve as more planes return to the skies.
Speaking of booking, you can experience Emirates' incredible Airbus A380 First Class on dozens of destinations worldwide (I flew Emirates First from Dubai to Madrid). From Australia, Emirates flies the A380 on all flights out of Brisbane, Sydney and Melbourne to Dubai. Onward from Dubai, the A380 jets to a range of key cities in Europe including London, Paris, Rome, Zurich, Vienna, Madrid and Milan, as well as destinations within Asia, the US and South America. So if you're looking to jet off somewhere in unmatched luxury, there's a good chance Emirates A380 First Class will fly you there.
Of course, it pays to keep a few things in mind when searching for reward seats on the Qantas website. Here are my top tips:
Limit the number of travellers (it's much easier to secure one or two First Class rewards than a whole family's worth).
Aim to travel outside of peak holiday seasons.
Book as far in advance as possible. Qantas opens reward bookings for Bronze frequent flyer members 297 days in advance. (Not a member? You can join here for free). You might be lucky to find a reward seat in the next 6-9 months, but you'd have a better shot booking something closer to a year in advance.
On the Qantas site, hit the small 'Classic Reward' toggle when searching for flights (it's easy to miss but it's there), and search away.
And that's it! Emirates First Class awaits.
Eager to follow along as the Point Hacks crew traverse the globe up the pointy end? Then don't forget to subscribe to our email newsletter. And to discover the lengths I'll personally go to to fly in Business and First Class – including a 109-hour return trek from door-to-door – have a listen (and laugh along!) to this exclusive podcast.
Photography by Michael Siwes, who flew at Point Hacks' expense. The comparison ticket price of $7,900 one-way is based on the cheapest available return First Class fare around our dates of travel.
Featured deals
Mind-blowing luxury in Emirates A380 First Class
was last modified:
October 11th, 2023
by