Looking after your own health has never been more important. Perhaps that's simply sleeping longer or getting out more often – though at times the 2 seem mutually exclusive! Medibank is following in Qantas Frequent Flyer's footsteps with its new 'Live Better' wellbeing app that rewards you for being, well….well.
Anyone can sign up for the 'Live Better' program to earn points, though you'll need to eventually become a Medibank customer to enjoy any rewards.
Live Better points can be used for several things – from lowering your premiums to getting a discount on your next 'extras' treatment. You can also nab some gift cards with partners as well.
What is Medibank Live Better?
Live Better rewards is the new wellbeing program of health fund giant Medibank. Not a bad idea for an insurance company that is undoubtedly better off when its clients are healthy! You can earn points by doing certain activities, and later use those points for discounts or gift cards.
Of course, the program isn't mandatory for Medibank customers. But it's easy to sign up and start being rewarded. You'll need to download and use the iOS or Android app to take part.
Ad – Scroll down to continue reading.Minimum spend, terms & conditions apply.
How do I earn Live Better points?
1. With activities
If you eat well and like to stay fit, then you should have no problems earning points with Live Better. In most cases, 1,000 Live Better points = $10 of rewards, though this can vary.
You also earn 'credits' for participating in various activities. Some rely on self-reports, while others are tracked by your linked wearable devices. These credits help you advance levels and earn even more points.
Start at Level 1: 5,000 credits = 250 Live Better points
Reach Level 2: 25,000 credits = 500 Live Better points
Finish at Level 3: 60,000 credits = 750 Live Better points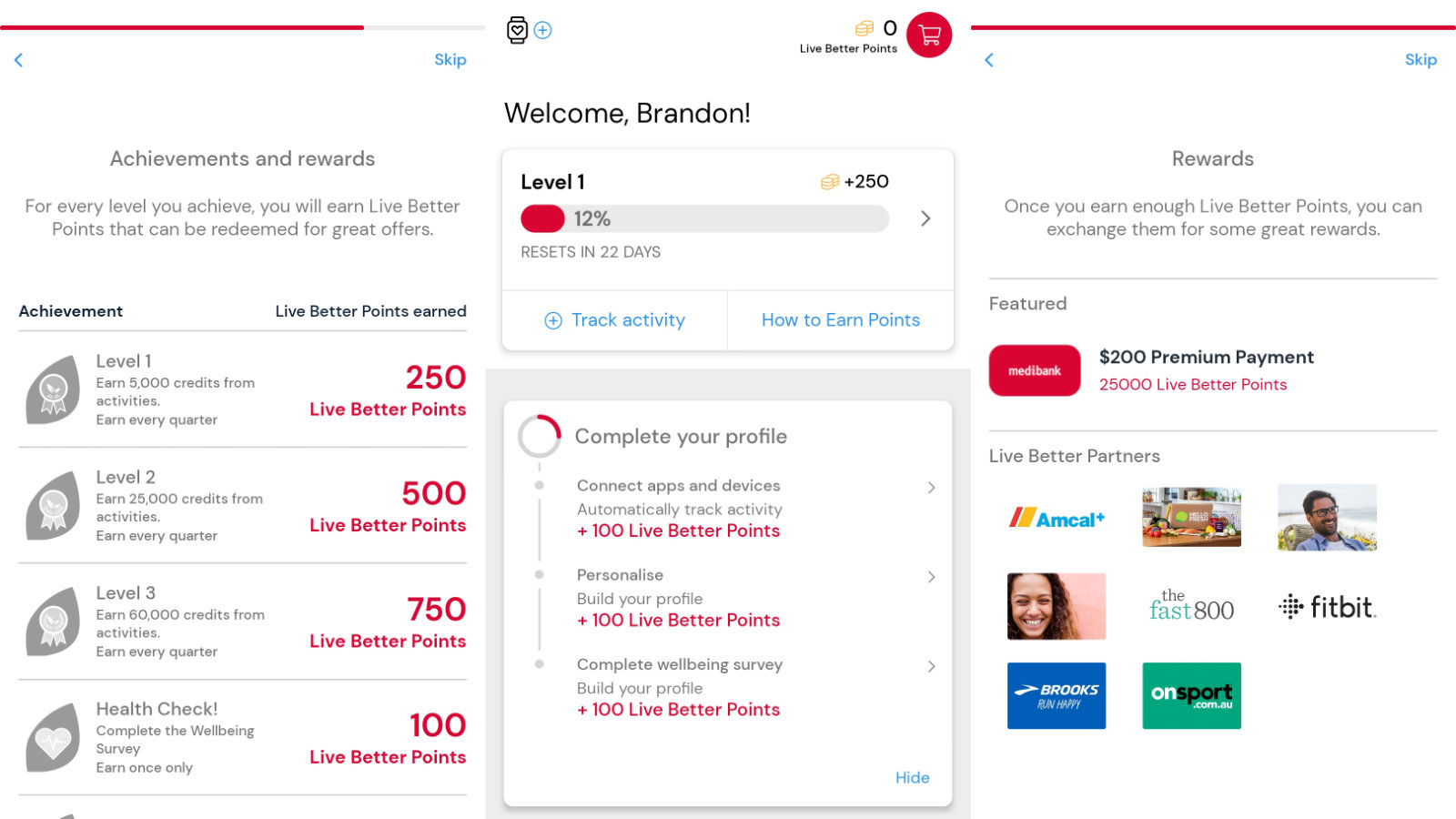 For activities, your credits reset each quarter (January, April, July, October) and you begin again from scratch. One-off tasks, such as reporting better sleep, generally don't reset. Your Live Better points also don't expire, as long as you earn points at least every 24 months.
Medibank is supporting COVID-19 vaccinations with 1,000 Live Better points (worth $10 at Amcal) for those who report receiving both doses. This option will become available in the app sometime in September 2021.
2. With shopping and partners
Simply link your eligible partner shopping account with Medibank Live Better to earn points on purchases! There are no caps using this method, but only Medibank members with Hospital and/or Extras cover can link. Partners include:
Amcal Pharmacy: Earn 5 Live Better points per dollar spent, excluding prescriptions. You can continue earning Amcal Points as well, plus frequent flyer points from using the right card at the checkout.
HelloFresh: Earn 1,000 Live Better points per box, up to 10 boxes. It appears existing HelloFresh customers can earn these points after linking their account.
Specsavers: Earn 5 Live Better points per dollar spent on prescription glasses.
Participating Member's Choice Advantage dentists: Earn 1,000 Live Better points per dental checkup, up to twice a year. Only available to Medibank customers with Extras cover.
Brooks Running: Earn 15 Live Better points per dollar spent on full price shoes, and 10 Live Better points per dollar spent on discounted shoes. Shop through livebetter.brooksrunning.com.au.
Onsport: Earn 10 Live Better points per dollar spent.
The Fast 800: Earn 3,000 Live Better points when you purchase the program, and 300 Live Better points per monthly subscription afterwards.
How do I use Live Better points?
To redeem rewards, you'll need to visit Live Better's rewards store as a Medibank customer with an eligible Hospital and/or Extras insurance plan.
1. On private health costs
Who doesn't want cheaper private health cover? Your Live Better points can be used for the following rewards:
$200 off your premiums (25,000 points).
$100 (10,000 pts) and/or $200 (20,000 pts) increase in your Extras limits, excluding optical.
$250 reduction in the excess for Hospital policies (25,000 points).
$115 to use on a single session of remedial massage, myotherapy, physiotherapy, chiropractic or osteopathy (10,000 pts). This is a single credit and any remainder is forfeited.
$50 reduction on the dental or optical gap (5,000 points).
2. On gift cards
If you're after some new gear, why not indulge in a gift card or 2? Redemptions start from 2,000 Live Better points = $20. Participating merchants include:
Adidas: $20, $50, $100, $200 gift cards available.
Amcal: $20, $50, $100 gift cards available.
Apple: EarPods, AirPods, Beats headphones or Apple Watches, starting from 4,500 points.
Brooks Running: $20, $50, $100, $200 gift cards available.
Fitbit: $20, $50, $100, $200 gift cards available.
Onsport: $20, $50, $100, $200 gift cards available.
The Fast 800: $20, $50 or $175 gift cards available.
Summing up
Medibank Live Better is a great addition for both customers and those interested in a healthier lifestyle. It's quite similar to the Qantas Wellbeing App, though it has a broader range of rewards. Apart from activities, the app also includes blogs and community areas for people to learn more and connect with one another.
Plus, we like how you can earn points through various means – and use them for rewards such as a fully-covered remedial massage, or a discount on your premium.
Of course, frequent flyers can double (or triple!) dip on points by paying their premium and shopping at partner stores with a rewards credit card.
This article was written in conjunction with Joseph Lam.
Be rewarded for staying healthy with Medibank Live Better
was last modified:
August 24th, 2023
by