Tempted to book that staycation or your next holiday in Australia's cultural capital? Act fast because Qantas Hotels is offering up to 9 points per dollar spent for hotel bookings in Victoria.
Qantas Hotels is one of the better third-party booking platforms for earning points, as members can enjoy special deals at some properties. You can also earn or use Qantas Points on bookings.
Ad – Scroll down to continue reading.Minimum spend, terms & conditions apply.
How to earn triple points on Qantas Hotels
Expiry: Book by 11:59 pm AEDT Sunday 26 November 2023
Simply make a booking at an eligible Victorian hotel between 22 and 26 November 2023 for travel from now until 26 October 2024. If everything matches, you'll see a minimum of 9 points per dollar applied to your booking.
There's not much in particular you need to do. Just visit Qantas Hotels and book a stay. Your 9 points/dollar rate will automatically be displayed at checkout. As an example, here's how it would work for a stay worth $492.
Normal Qantas Hotels earn (3pts/$): 1,476 Qantas Points (worth around $26.57)
Special Qantas Hotels earn (9pts/$): 4,428 Qantas Points (worth around $79.70)
If you're a Points Club member (+25%): 5,535 Qantas Points (worth $99.63)
And if you're a Points Club Plus member (+50%): 6,642 Qantas Points (worth $119.56)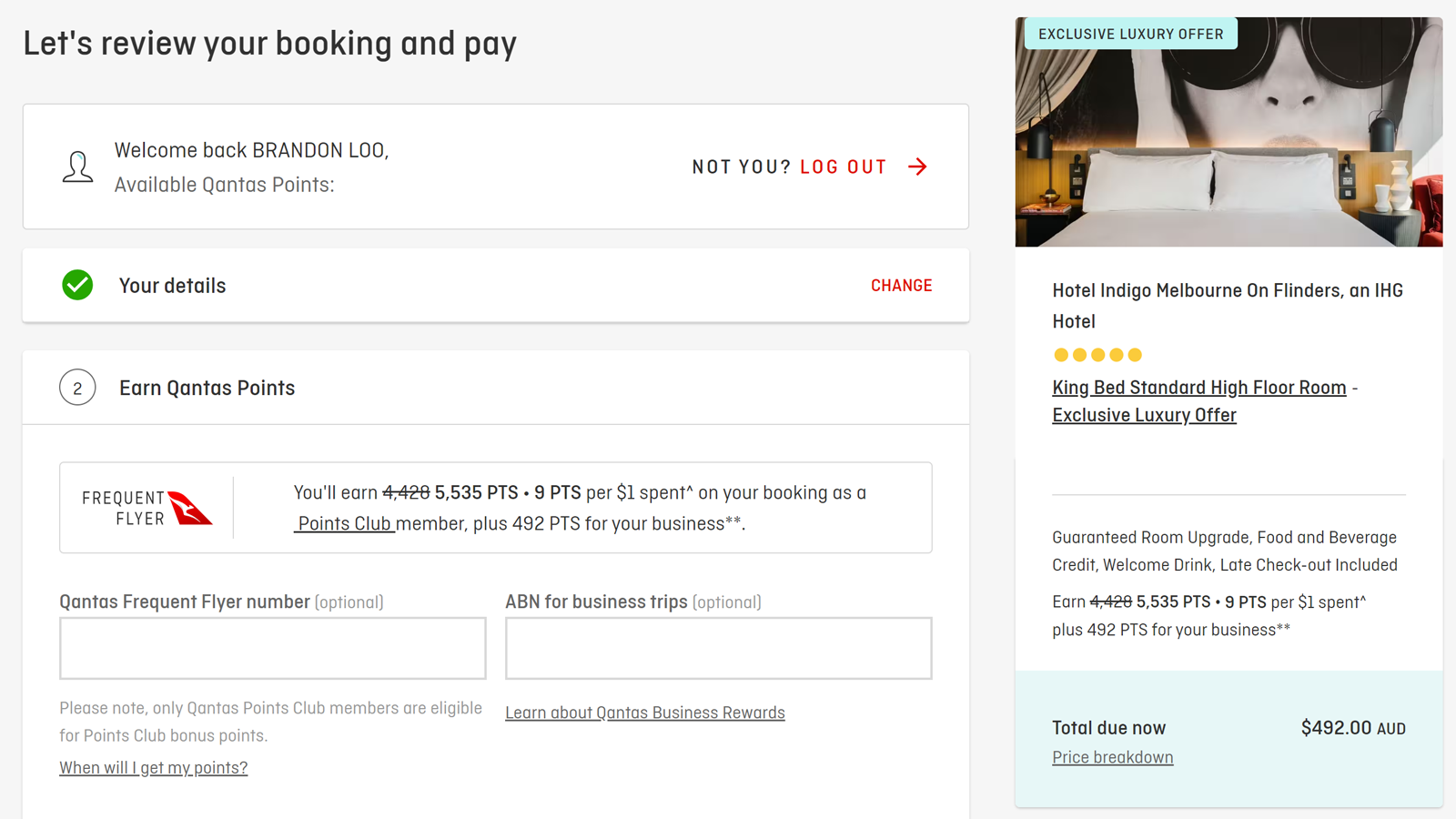 With a triple points offer, you get real value back in Qantas Points – particularly if you're also a Points Club or Points Club Plus member!
Qantas Hotels offer history (since 2019)
Date
Total Qantas Points
per dollar
Duration
Notes
September 2023
9
7 days
All hotels
February 2023
9
5 days
All hotels
January 2022
9
3 days
All hotels
October 2021
9
3 days
All hotels
July 2021
9
5 days
All hotels
October 2020
-
4 days
20% off hotels
August 2020
-
3 days
5,000 bonus points on all hotel bookings
February 2020
9
5 days
All hotels
December 2019
6
3 days
International hotels only
May 2019
9
3 days
All hotels
February 2019
9
3 days
All hotels
January 2019
6
3 days
Domestic hotels only
Summing up
If you don't frequently stay at one particular hotel chain, it can be more lucrative to earn airline frequent flyer points instead. Qantas Hotels is worth including in your price comparison research versus Hotels.com, Expedia and the like, given that all hotels booked through their platform are points-earning.
Read our separate detailed guide to earning points when booking accommodation through Qantas Hotels or through Airbnb. Plus, we explain how you could directly earn Qantas Points through hotel loyalty programs such as Hilton Honors or IHG Rewards Club.
The regular Qantas Hotels earning rate is 3 points per dollar spent at over 200,000 partner hotels. Qantas Business Rewards members are able to earn extra points by including their ABN on the booking.
With all other things like price being equal, you are earning a points kickback worth ~6% when booking through Qantas Hotels if you value your Qantas Points at 1.9 cents per point. That reaches closer to ~18% when there's a triple-point offer!
---
Frequently asked questions
Is it worth using Qantas Points for hotels?
Qantas Points tend to have better value when used for flights, but if using points for hotels works out best for you, then it can be worth it.
Which hotels earn Qantas Frequent Flyer points?
Any bookable property listed on Qantas Hotels can earn Qantas Frequent Flyer points. Remember to use a reward points-earning credit card to earn even more points.
Can you pay for Airbnb with Qantas Points?
No, it is not possible to book Airbnb properties using Qantas Points.
How much are Qantas Points worth?
Qantas Points are worth different amounts depending on how you choose to spend them. Read our guide to points valuations for more information.
This content contains affiliate links from which Point Hacks may earn commissions from transactions generated from new customers, bookings and general enquiries. Find out more here.
Triple your points at Qantas Hotels in Victoria
was last modified:
November 22nd, 2023
by