Accor Live Limitless (ALL) is the new name for the recently rebranded Le Club AccorHotels program.
ALL is the membership program for those staying at AccorHotels properties worldwide. The program offers a range of stay benefits as you work your way up through the different membership tiers, such as upgrades, in-room amenities, and free breakfast.
All stays booked directly with Accor will see you earn Rewards points that can be redeemed on future nights or transferred to frequent flyer partners like Qantas and Asia Miles.
Here is a snapshot of the new Accor Live Limitless program, including all the changes you need to know with the basics of earning and redeeming points and status tiers.
How do I join Accor Live Limitless?
The quickest way to join Accor Live Limitless is to do it online. It's easy and free to join the program.
Go to the 'Create an Account' page on the Accor website.
Fill in your personal details, and make sure to select to become a member of the ALL – Accor Live Limitless program.
Click 'Sign Up'. Your membership details will be sent to your email.
What Accor brands are there?
Accor has more than 30 hotel brands, which collectively encompass more than 3,700 properties in over 100 countries. The hotels cover all market segments from 'economy' to 'luxury'.

You can earn and redeem ALL points on stays at Sofitel, Novotel, Mercure, Peppers, Raffles, Ibis properties and more.
What are the Accor Live Limitless elite status levels?
There are five status tiers, starting from the base-level Classic, then Silver, Gold, Platinum and Diamond.
You can achieve these tiers by staying a set number of nights or by reaching a minimum spend. Going down the spending path, every €10 in eligible expenses is equal to 25 Status points at most participating brands. But some hotels, such as Ibis and Mantra, have lower earning rates.
Accor ALL Classic
Requirement: just enrolment in the program
Complimentary internet
Members rates for rooms
Online check-in and fast check-out
Earn 25 points per €10 spent at most properties
Accor ALL Silver
Requirement: 10 nights or 2,000 Status Points (€800 spend). Complimentary with Accor Plus membership.
In addition to Classic benefits, you get:
Priority welcome
Late check-out
Welcome drink
Earn 31 points per €10 spent at most properties
Accor ALL Gold
Requirement: 30 nights or 7,000 Status Points (€2,800 spend). Complimentary with the ibis Business card.
In addition to Silver benefits, you get:
Guaranteed room up to three days before arrival
Early check-in or late check-out
Turndown service at selected hotels
Welcome gift (such as chocolates)
Upgrade to next room category subject to availability
Earn 37 points per €10 spent at most properties
Accor ALL Platinum
Platinum remains the sweet spot, offering a much higher range of perks for frequent Accor guests.
Requirement: 60 nights or 14,000 Status Points (€5,600 spend).
In addition to Gold benefits, you get:
Dedicated contact line
Premium Wi-Fi
2x Suite Night Upgrades (guaranteed)
Early check-in and late check-out
Complimentary daily breakfast in Asia-Pacific
Access to hotel executive lounge
Complimentary soft drinks from the minibar (MGallery only)
Complimentary ironing service of one piece (Pullman only)
Earn 44 points per €10 spent at most properties
Accor ALL Diamond
The new status tier offered in 2019, Diamond is for those who spend big with AccorHotels.
Requirement: 26,000 Status Points only (€10,400 spend).
In addition to Platinum benefits, you get:
Complimentary weekend breakfast globally
Gift Accor ALL Gold status to a person of your choice
4x €25 dining or spa reward vouchers
How do I earn Accor ALL points?
Staying at hotels is the main way to earn Accor Rewards points. There's bound to be an Accor property wherever you go, particularly in Europe and the Asia-Pacific, which are its main focus regions.
The varying earn rates at the different participating hotel brands can make it a bit confusing to calculate how many points you'll earn. They also base their earn rate on the amount you spend, converted to euros.
Accor's website does have a calculator you can use, which makes it a bit easier to work out exactly how much you'll earn for your bill at any given property. Here is the full earn rate table: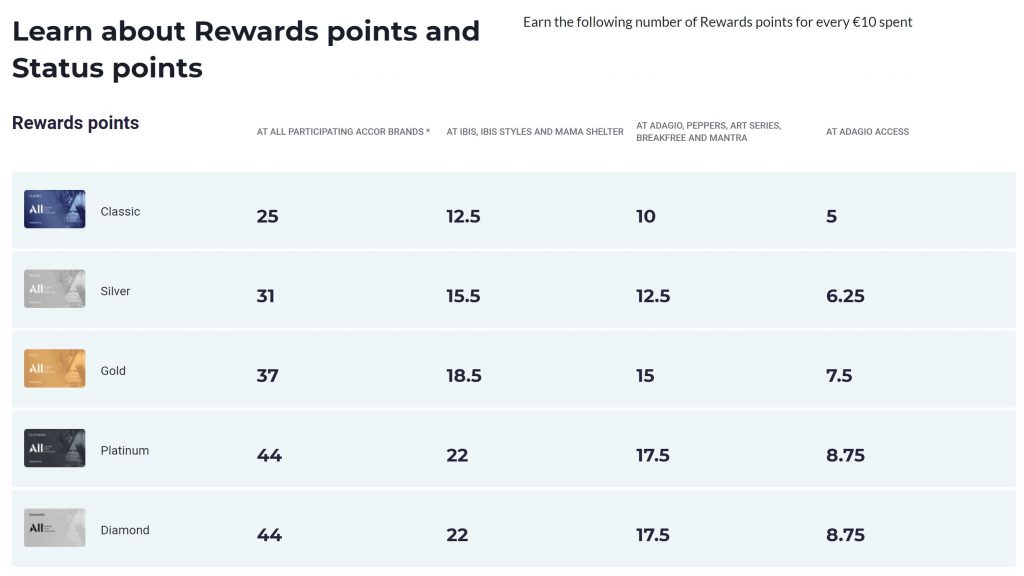 Accor has also retained its ties with car hire companies. Eligible rentals will earn the following rewards:
3 points for every €1 spent at Hertz
Up to 150 points per day with Avis
A maximum of 1,000 points for every booking, depending on the length of rental with Europcar
Qantas and Accor partnership
Since late 2021, Qantas and Accor Live Limitless have struck up a unique partnership. Qantas Frequent Flyer members can earn 3 Qantas Points per AU$1 spent on participating properties. How rewarding!
To get started, head to the Qantas-Accor partner link page and follow the steps to link. You'll need to log in to both accounts during the process.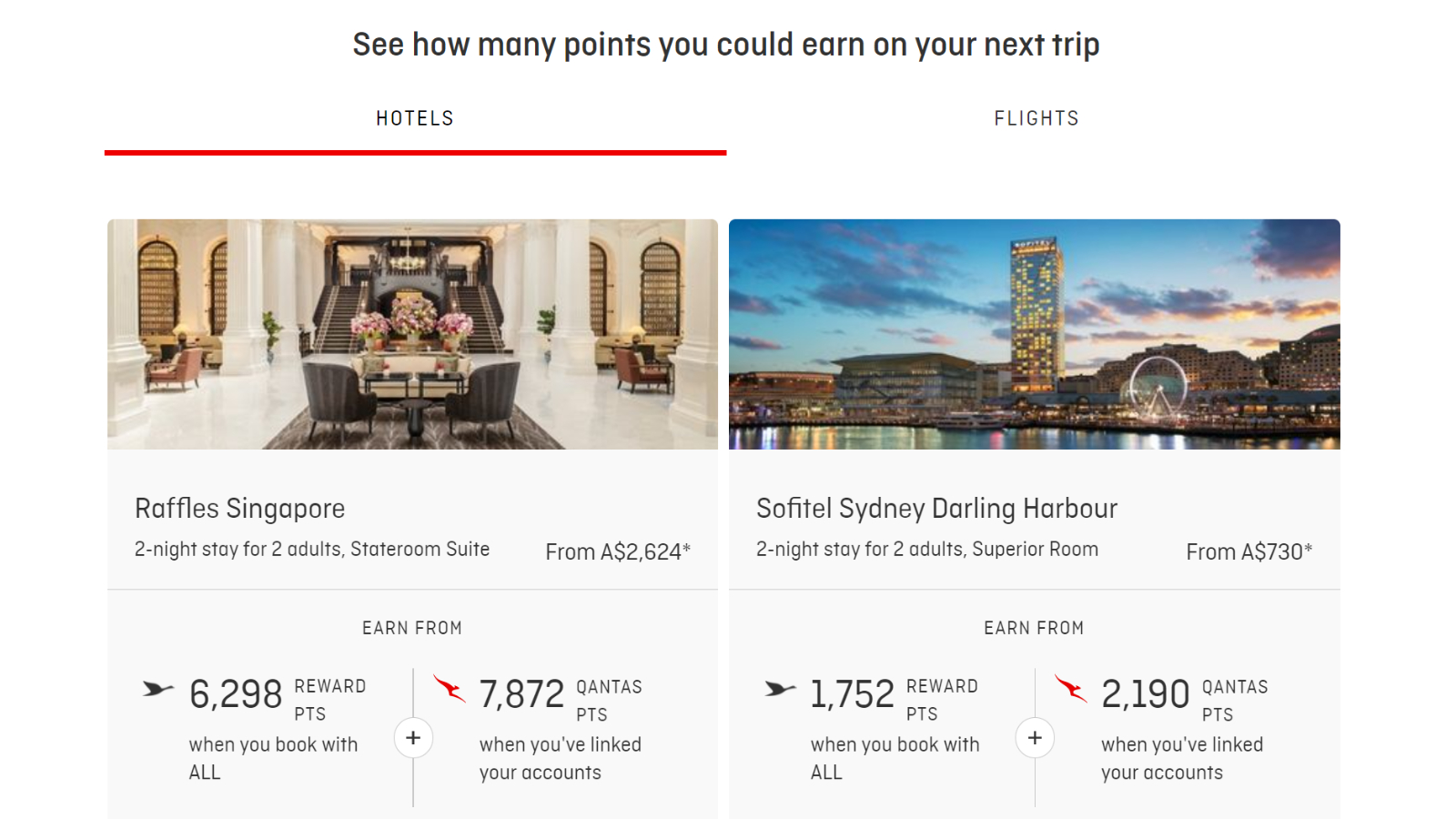 The partnership works in reverse as well, though it's a bit more limited.
Whenever you book a paid Qantas flight with your ALL account linked, you might pocket some extra points as well. But you'll need to be an elite status member with either Qantas (Platinum and higher) or ALL (Gold and higher).
ALL Gold: Earn 1 ALL Reward point per AU$10 spent on Qantas flights.
ALL Platinum + Diamond: Earn 2 ALL Reward points per AU$10 spent on Qantas flights.
Qantas Platinum + Platinum One: Earn 2 ALL Reward points per AU$10 spent on Qantas flights.
Eligible flights are ones operated by Qantas with a QF flight code, so codeshares are excluded.
How do I redeem Accor ALL points?
Here are the ways in which you can use your ALL points:
Car hire
Exclusive events and experiences
Shopping
Hotel stays: You can still use Accor Rewards points to redeem towards free or discounted stay rewards at most participating hotels. The same redeem rate applies as before, with 2,000 Rewards points giving you €40 (~AU$64) of credit to spend.
Transfer to frequent flyer partners: You can convert your points into miles with over 30 frequent flyer programs, including Qantas, Virgin Australia Velocity, Singapore Airlines KrisFlyer and Cathay Pacific Asia Miles. The full list of programs is available here.
The exchange rate is two points to one mile for most programs. Qantas and Velocity are notable exceptions, with an improved 1:1 transfer ratio.
Other uses: You can directly use your Accor points to pay for car hire with Europcar, but this is rarely good value compared to using them for reward nights. 2,000 Rewards points get you €20 off a rental.
Likewise, using points for experiences or shopping will usually be bad value overall unless it's a money-can't-buy-experience you really want, or you have no other use for your points.
What is Accor Plus?
Accor Plus is the Asia Pacific loyalty subscription program of Accor. It's a paid subscription program that includes travel, dining and lifestyle benefits that are in addition to Accor Live Limitless.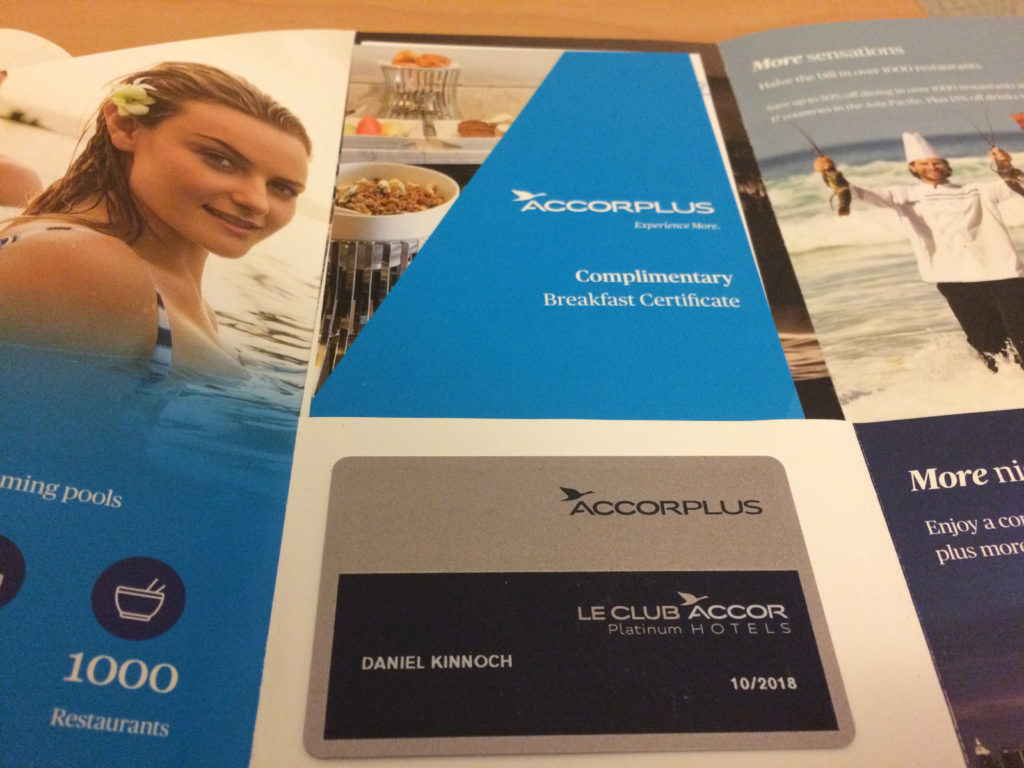 The four major benefits include:
A free night 'Stay Plus' at participating hotels across Asia -Pacific.
Up to 50% of 'Red Hot Rooms' promotions, where you get a half-price discount rate at certain hotels.
Up to 50% off your restaurant bill, and 15% off drinks at participating restaurants in Asia.
Silver status with the Accor ALL loyalty program.
If you have the American Express Platinum Charge card, one of your benefits is a complimentary annual membership to Accor Plus.
What effect does COVID-19 have on Accor ALL?
Although Accor was initially slow to announce status extensions, it eventually did so in mid-May 2020. Since then, your ALL status has been extended a further 12 months until 31 December 2022.
Is there an Accor App?
Yes, Android and iOS users can download the 'Accor All – Hotel booking' app onto their devices. It's a one-stop shop for members to manage their points balances, status and to make reservations. While the app can handle most common functions, it mightn't be able to do everything. For more detailed information about Accor ALL and its properties, it's best to head to the website.

Some of the features of the 'Accor ALL – Hotel booking' app, including status management and bookings.
Here are the steps for using the Accor ALL app:
Download the 'Accor ALL – Hotel booking' app from the Google Play or Apple App store onto your mobile phone or tablet device.
Open the app and tap 'Account' on the corner. You will be prompted to sign-up or login.
You can now use the Accor ALL app for bookings and more.
How do I contact Accor Live Limitless?
Have a question? The easiest way to get in touch is via the web form. The rewards program doesn't have a direct phone number to call, though there is a number for reservations and general enquiries.
Summing up
While the introduction of the new Diamond status tier at the end of 2019 is sure to please the biggest spenders with Accor, the program rebrand has brought minimal change for most members.
Nevertheless, Accor Live Limitless is a must-know loyalty program, with a flexible points currency and good value redemptions for hotels and transfers to partners like Qantas and Velocity.
Frequently Asked Questions
What is Accor Live Limitless?
This is the new name of Accor's loyalty program, which was previously called Le Club AccorHotels.
Is Accor membership free?
Yes! You can join online in under 5 minutes. It's a clever idea to do this before your next stay, so you don't miss earning Accor Rewards points.
Can I buy Accor Rewards points?
No, you can't 'buy' extra Accor Rewards points to bring you closer to a reward. Many programs like IHG, Hilton and Marriott allow you to do so, but Accor does not offer this to members.
Do Accor Rewards points expire?
No, if you earn points at least once every twelve months. This can be done via stays, car rental, and purchases via their other partners.
This content contains affiliate links from which Point Hacks may earn commissions from transactions generated from new customers, bookings and general enquiries. Find out more here.
The Ultimate Guide to Accor Live Limitless
was last modified:
October 19th, 2023
by