Whether you're a Qantas Frequent Flyer, Asia Miles or Starwood Preferred Guest loyalist will determine which of these three rideshare and luxury car services is best for you.
This guide crunches the numbers on earn rates for Uber, GoCar and Blacklane, and provides advice on which one you should direct your business to in order to rack up the most value in frequent flyer points.
First, the numbers
| Car service | Frequent flyer program | Earn rate | Points earn on $25 AUD ride |
| --- | --- | --- | --- |
| Uber | Starwood Preferred Guest | 1 point per USD spent (more during SPG hotel stay) | 18 |
| GoCar | Qantas Frequent Flyer | 1 point per AUD spent | 25 |
| Blacklane | Asia Miles | 2 points per USD/EUR/GBP spent | 29-36 (depends on currency conversion) |
| Blacklane | Miles & More | 1 point per EUR spent | 17 |
You can see here that it is hard to compare simple earn rates when there are different frequent flyer programs and currencies at play. On the surface, it looks like Blacklane and GoCar offer the highest earn rates, but keep reading to see why earning Starpoints with Uber might be the best avenue to take.
Services provided
Blacklane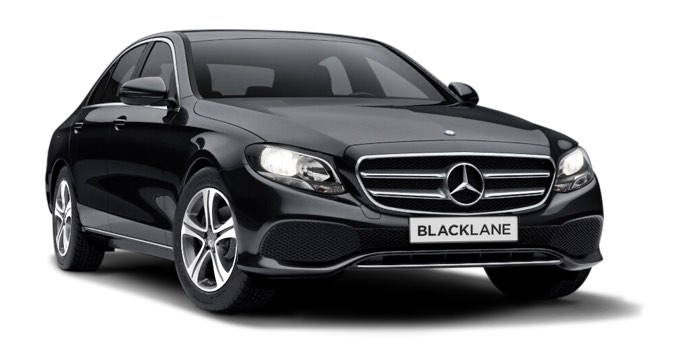 Blacklane is a luxury airport transfer, point-to-point and hourly (think weddings or parties) car service.
It has three categories:
Business Class: equivalent to UberBLACK
Business Van/SUV: equivalent to UberSUV
First Class: equivalent to UberLUXE
Currently, there are two frequent flyer earn options:
Asia Miles: two miles per USD/EUR/GBP spent + 250 bonus miles for entering Asia Miles number into Blacklane account and booking a service by 30 November 2016, with service completed by 31 January 2017 – there's no promo page we can find confirming this offer, but we've seen the deal by email and had it confirmed by Blacklane directly
Miles & More: one mile per EUR spent in Lufthansa's frequent flyer program + 1000 bonus miles for booking and completing a ride by 31 December 2016
Asia Miles is a much more useful program for travellers in Australia than Lufthansa's Miles & More, so even though the bonus miles for sign-up and booking is higher for the latter, we'd still recommend going with Asia Miles, especially as its ongoing earn for Blacklane rides is two Asia Miles per EUR spent versus one Miles & More mile.
Uber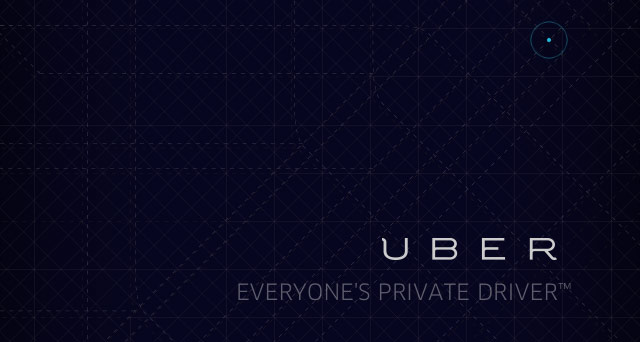 There are currently four types of Uber services you can request in Australia. From cheapest to most expensive, here they are:
UberX: the low-cost option, with up to four seats in cars manufactured from 2000 onwards, e.g. Toyota Prius, Honda Accord
UberBLACK: a step up from UberX, in registered premium black cars, e.g. BMW 5 Series, Jaguar XF
UberSUV: up to six seats in a 4WD or minivan, e.g. Toyota Prado, Jeep Grand Cherokee
UberLUX: roughly double the price of UberBLACK, the most expensive Uber service in luxury cars, e.g. Mercedes S-Class, Rolls Royce
If you are a Starwood Preferred Guest member, you can link your SPG and Uber account and you will earn at least one Starpoint per USD spent with Uber, with extra points if you use Uber whilst staying at an SPG property, and even more if you have elite status with SPG.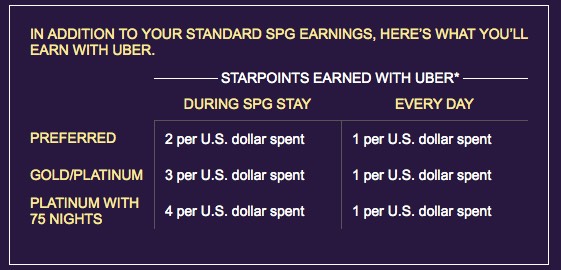 You do have to have completed a Starwood or Marriott hotel stay in the current calendar year before you can earn any SPG points for that year, however.
More information: our guide to the Uber-Starwood Preferred Guest partnership, as well as our guide to using Uber at Australian airports
GoCar

You earn one Qantas Frequent Flyer point per AUD spent on both GoCar (rideshare competitor to UberX) and GoCatch (regular taxi) rides, as long as you pay by credit card.
More information: our guide to the GoCatch-Qantas Frequent Flyer partnership
Our take
It is important to make sure we are comparing apples with apples, not apples with oranges.
UberX and GoCar are direct competitors, and Blacklane's three services all correspond directly to Uber's premium offerings.
UberX vs GoCar
Generally, we would recommend earning Starpoints with Uber rather than Qantas points with GoCar.
The reason is that Starpoints are some of the most valuable points out there and can be transferred to many airline programs, including Velocity, Asia Miles and KrisFlyer.
Having said that, there are some catches: you have to have stayed at a Starwood hotel this year to earn the points on UberX rides, plus the fact you earn points based on USD rather than AUD spend means that in our example of a $25 AUD ride, you only get 18 Starpoints vs 25 Qantas points.
If you are loyal to your Qantas account and have not stayed at a Starwood or Marriott property this year, then we'd recommend going with GoCar, however, if you have stayed at one of these hotels, then UberX is probably the way to go.
Uber premium services vs Blacklane
If you already have an Asia Miles balance (or plan to for an upcoming trip) and understand the value of the program, then the higher two-point per USD spend earn rate is superior to SPG's one-point rate for Uber services. In addition, the current 250-mile bonus miles offer for Asia Miles is attractive.
Having said that, as stated above, Starpoints are much more flexible, even though you'll earn them at half the rate, so if you need more options with your points use, then we'd recommend sticking Uber over Blacklane.
Summing up
Things change so quickly! We didn't even have rideshare services in Australia until relatively recently, and the fact that frequent flyer programs are coming onboard so you can earn points is great news.
In the case of simple rideshares, if you're super loyal to Qantas, go with GoCar; if you want more flexibility with your points, you are better off earning Starpoints with UberX.
For premium services, if you want to invest in your Asia Miles balance with a higher earn rate (and potentially bonus miles), then use Blacklane; again, if you want more flexibility in your points, go with the Uber-SPG partnership.
Either way, you'll be earning points on a service you were going to use anyway, so it's a win.
Blacklane now available in Australia, offering 250 Asia Miles for black car bookings plus 2 miles per USD spent
was last modified:
March 18th, 2017
by