With COVID-19 restrictions beginning to get eased, many of us will be beginning to increasingly start moving around (in a socially distant responsible way of course!) over the coming weeks and months.
Ridesharing is an increasingly popular way to get around town, both at home and overseas. Some of the major players have teamed up with airlines to offer more ways to earn frequent flyer points, in addition to what you'd normally get from spending on your credit card.
We take a look at the major rideshare companies currently operating throughout Australia and compare their frequent flyer partnerships.
Uber
Think rideshare, and you're probably thinking Uber. They partner with Qantas, and anyone can earn Qantas Points on eligible airport rides, but only members of Uber Rewards can earn Qantas Points on all other types of rides as well as UberEats.
That may sound complicated, so here is how it works in more detail.
Earning on airport rides
You can earn 1 Qantas Points per $1 AUD spent on eligible Australian airport rides with Uber. You must link your Uber and Qantas accounts together first, or points won't be earned.
Once linked, you can order your ride directly through the Uber app or through the Qantas App (there is a link to Uber there). Eligible airports are Adelaide, Brisbane, Cairns, Canberra, Gold Coast, Hobart, Maroochydore, Melbourne, Perth, Sydney, Townsville, Newcastle, Toowoomba, Avalon and Byron Bay.
Earning on all other rides and UberEats
With the introduction of Uber Rewards (UR), it's now possible for members to convert UR Points to Qantas Points. UR Points are earned on all type of Uber services, starting from 1 point per $1 for UberEats and up to 3 points per $1 for Uber Premier.
To start, you must be a member of Uber Rewards, which is still on an invitation-only trial basis as of February 2020 (they will open up registrations to everyone shortly).
However, only Gold, Platinum or Diamond Uber Rewards members can transfer points to Qantas. To reach UR Gold status, it requires earning at least 1,200 UR points in the last 6 months (equal to a minimum $400 spend on Uber Premier rides, or more if mixing with other types of Uber services).
Only then, will you be able to exchange 750 UR points for 200 Qantas Points. That is quite a low earning rate overall, especially since you could be getting 15% off Uber or UberEats for three days as an alternative reward, which may be worth more to you.
Surge pricing: Yes
Time for points to credit: 1-7 days, but up to 6 weeks
Ola
Ola partners with Velocity Frequent Flyer and thankfully, it's much easier to earn Velocity Points on Ola rides than it is for Qantas Points on Uber rides.
The number of Velocity points you earn per $1 AUD spent on ola rides is based on whether your ride is an airport or non-airport ride, and your Velocity status level, as shown below:
| Velocity status level | Airport rides | All other rides |
| --- | --- | --- |
| Bronze | 2 | 1 |
| Silver | 3 | 1 |
| Gold | 3.5 | 1 |
| Platinum | 4 | 1 |
Eligible airports are Sydney, Canberra, Melbourne, Perth, Brisbane, Adelaide, Gold Coast, Christchurch, Auckland and Wellington (the last three being in New Zealand).
Fares are generally lower than Uber, and Ola often has promo codes for airport rides (see the app for more details). The main downside is a smaller footprint than Uber.
Surge pricing: No
Time for points to credit: Usually immediately, but up to 2 weeks
Didi
Chinese-based app Didi is a relatively new entrant to the market and doesn't have any frequent flyer affiliations. It's currently available in Melbourne, Geelong, Newcastle, Brisbane, Gold Coast, Sunshine Coast and Perth.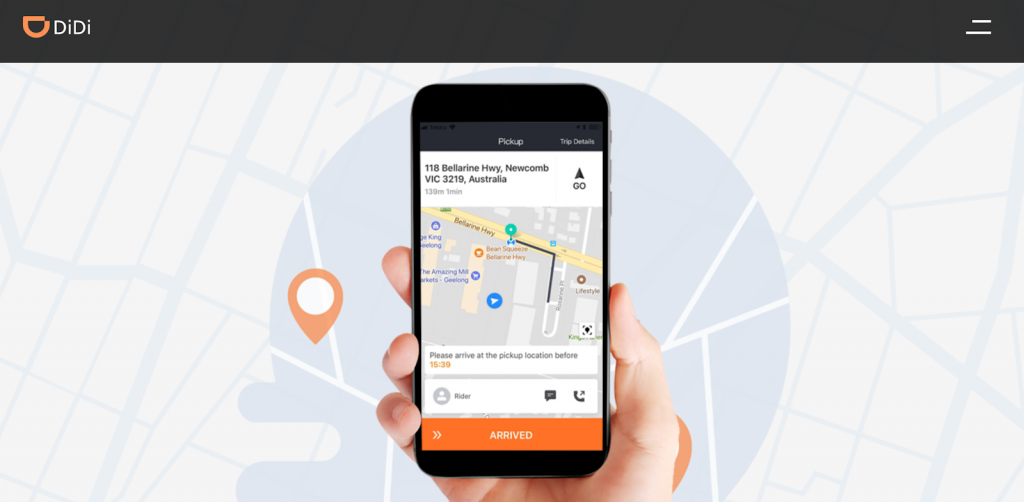 For what it's worth, fares on Didi are usually lower than Uber or Ola on the same routes, so it's a solid option to keep up your sleeve.
Surge pricing: Yes
Ad – Scroll down to continue reading.Minimum spend, terms & conditions apply.
Grab
Although you might not have heard about it here in Australia, Grab is the dominant (and sometimes, only) rideshare app throughout many areas of Asia.
It has an extensive rewards program as well, including tiers and bonuses. It's possible to exchange GrabPoints for Singapore Airlines KrisFlyer miles, but like the Uber/Qantas partnership, the rate isn't that great and you're probably better off getting discounts on food and rides instead.
Surge pricing: Yes
Other rideshare apps
The following apps have a more limited scope of operations currently, and don't have extra frequent flyer points earning potential.
Oscar: Australian-owned rideshare app that primarily operates in places where some of the big ones haven't reached yet, such as Bunbury (WA), Darwin, Alice Springs, Geelong, Hobart, Launceston and Cairns.
Bolt: Previously Taxify, Bolt is limited to Melbourne and Sydney.
Taxi booking apps
Taxis have traditionally been slow in meeting up to the challenge of Uber and other apps, but some companies have started to offer their own apps to offer similar functionality. While most taxi apps are for single taxi brands or operators, Ingogo is available to all taxi operators across Australia.

Best of all, Ingogo is a Qantas Frequent Flyer partner so you can earn 1 Qantas Point per A$1 spent on any ride, regardless of destination.
Although it books traditional taxis, Ingogo has fixed transparent fares and supports pre-booking up to 48 hours prior. Like other rideshare apps, you'll know who your driver is before they arrive.
Surge pricing: No
Time for points to credit: Up to 8 weeks
Summing up
We're spoilt for choice here with both Qantas and Velocity partnering with at least one rideshare app, and many other standalone choices too. If you have time, it's worth comparing rates between at least two different apps because it's not worth paying 1.5x the fare in surge pricing just to earn points, when another company could just get you there for the standard price.
Uber and Ola are the top picks for frequent flyers, and I personally rate Ola as the best rideshare app overall, given its lower prices, lack of surges and simple Velocity Points earning structure. If they can expand their footprint to match Uber in other cities, then Ola will do well indeed.
Ingogo also deserves a special mention, as it brings the convenience of an app to traditional taxi services, and makes it easier to book, see the fares and also earn Qantas Points.
Comparing frequent flyer points earning potential with different rideshares
was last modified:
May 13th, 2020
by