Hilton Honors is offering a 100% bonus on points that you buy until 1:59pm AEST 1 October 2021, which can be leveraged into cheaper Hilton Hotels stays. The annual points buying cap of 80,000 points applies. You could pocket up to 160,000 Hilton Honors points at a rate of 0.5 cents USD each (about 0.7 cents AUD).
This can represent good value for topping up points balances for specific redemptions — a 100% bonus is the best offer you will usually see. In fact, all of Hilton Honors' promotions have been offered at this rate recently.
However, we don't recommend you buy points speculatively — you should ideally have a specific hotel stay in mind to compare buying Hilton Honors points versus paying cash.
You can also get your hands on Hilton Honors points by transferring them over from American Express Membership Rewards at a 2:1 ratio.
What is the current Hilton Honors offer?
Expiry: 1:59pm AEST 1 October 2021 (converted from 11:59pm ET 30 September 2021)
The minimum points purchase required to trigger the bonus is 20,000 points, and you can purchase up to 80,000 points in a calendar year, excluding bonus points.
That means the maximum amount of points you can purchase in this promotion is 80,000 regular points + 80,000 bonus points = 160,000 total points for US$800. The bonus brings the cost of each point down from the regular price of 1.0 cents USD per point to 0.5 cents USD.
You should run the maths in advance and see if room reward costs and availability will work for you to buy Honors points instead of paying cash.
Once you've clicked through, you'll need to sign in to your account and the bonus will be visible.
Offer history
The usual price set by Hilton is 1 US cent per point, including taxes. Previously, points have been sold for as low as 0.5 US cents each:
Date
Cost per point
(USD cents)
Notes
August-September 2021
0.5
100% bonus (highest)
July 2021
0.5
100% bonus (highest)
March 2021
0.5
100% bonus (highest)
July-September 2020
0.5
100% bonus (highest)
March-May 2020
0.5
100% bonus (highest)
January-February 2020
0.5
100% bonus (highest)
December 2019
0.5
100% bonus (highest)
November 2019
0.5
100% bonus (highest)
September-October 2019
0.5
100% bonus (highest)
June-July 2019
0.5
100% bonus (highest)
April-May 2019
0.5
100% bonus (highest)
January-February 2019
0.5
100% bonus (highest)
How do I use Hilton Honors points?
Hilton Honors haven't published an award chart since 2017. Instead, it follows a dynamic pricing model. That means that the cost in terms of points fluctuates based on the date. In June 2019, it made some properties even more expensive.
The best redemptions tend to lie with mid-tier to high-end properties, especially in more touristy areas. (Bear in mind that with COVID-19 restrictions, your current choices may be quite limited). Traditionally, good value can be found at:
mid-tier properties like the DoubleTree by Hilton Hotel at Universal Orlando, Agra and Queenstown
luxury properties like Conrad Maldives, Tokyo and Hong Kong; Waldorf Astoria Hotels & Resorts; and Hilton Hotels & Resorts
properties located in touristy cities at touristy times, like the Hilton Barcelona and Hilton Imperial Dubrovnik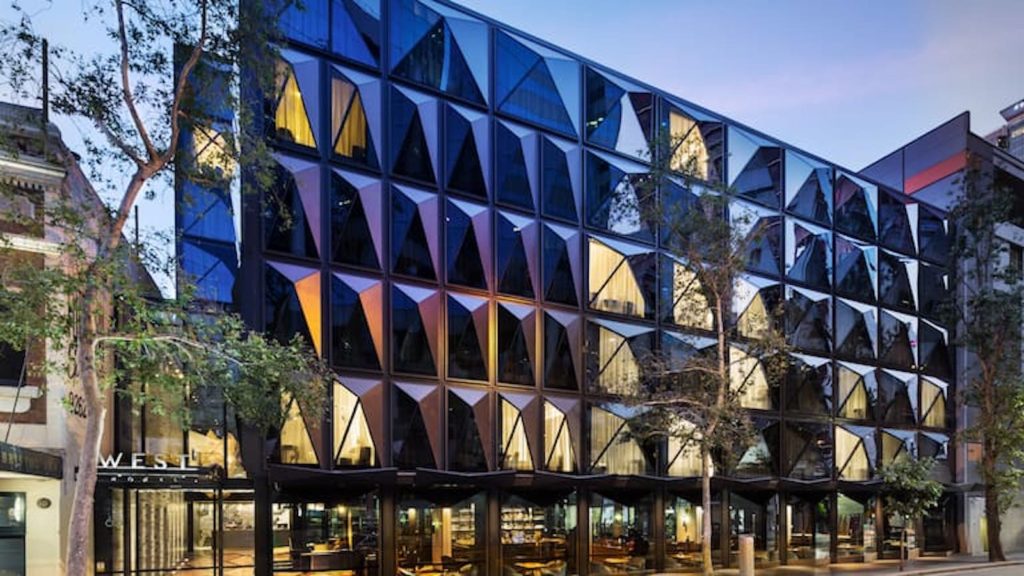 A quick way to calculate the value of a Room Reward
If you've bought a chunk of points, here's an easy way to work out the value of your points.
Divide the cost of the points by the number of points purchased (e.g. US$800 ÷ 160,000 points)
Multiply that value by the points cost of a Standard Room Reward. (e.g. A 58,000 points room = US$290 using the figures above and the booking example below)
In the below case, it would cost US$290 (A$394 at this time) to buy the points required. But as a Hilton Honors member, you could just pay A$368 in cash for the same room. So this would not be a good case to use points.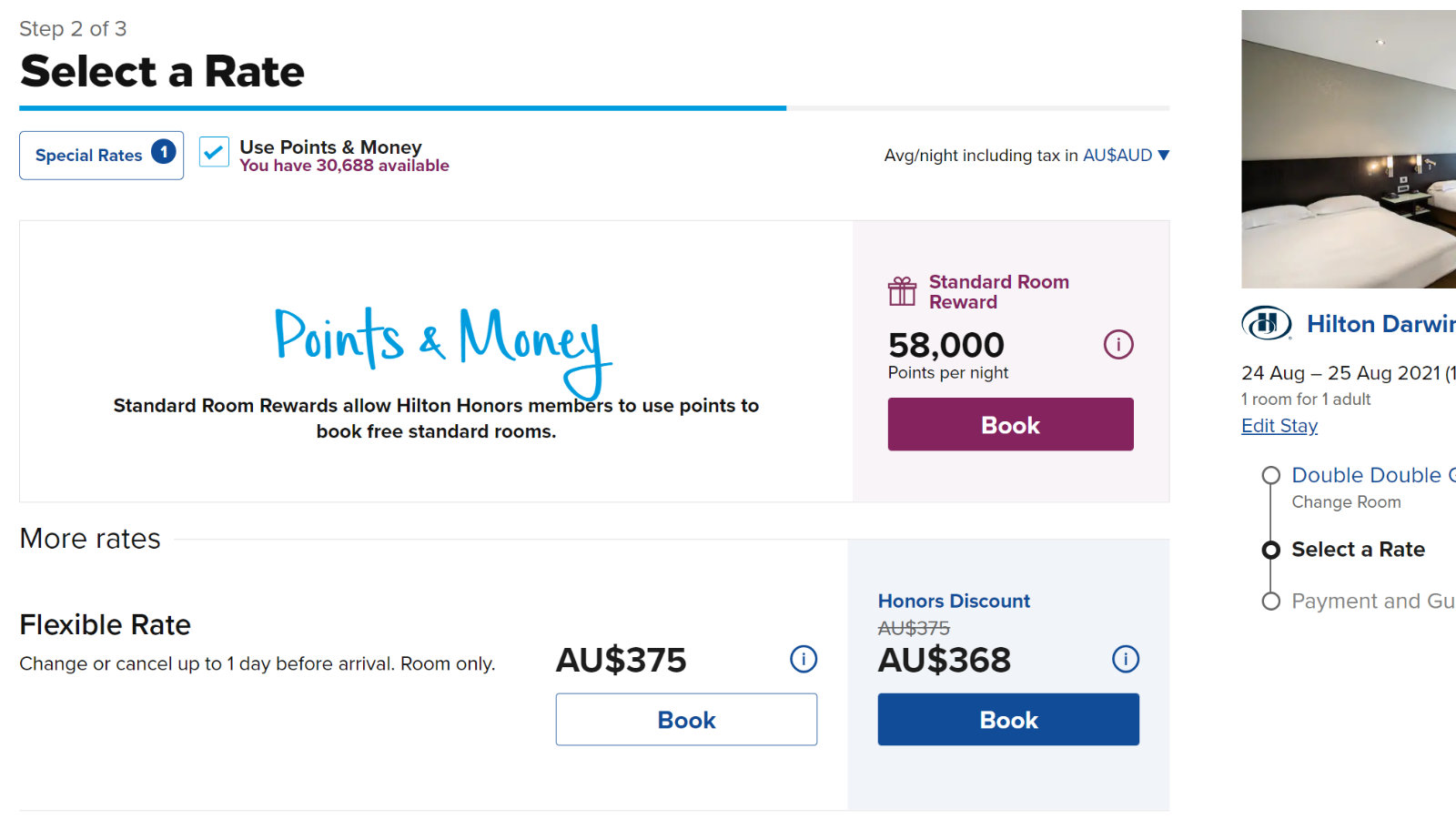 When the cost of the room using points is lower than the cash price, then that's when you should consider pulling the trigger on points purchases.
Remember, if you're a Silver member or above, you'll get your fifth award night free on stays of five nights or more., which is an excellent perk. This could swing the calculations into your favour.
Points bookings also come with flexibility and free refunds. Make sure you factor that in your price comparison, as it's especially important during the COVID-19 travel period.
Are there any restrictions on buying Hilton points?
You can buy a maximum of 80,000 Hilton Honors points before bonuses each calendar year. If you're a new member, there is a waiting period for buying points of either:
30 days after enrolment if your account reflects activity (a hotel stay or earning of points through an Honors partner); or
90 days with no account activity
You are able to pool points with ten other people of your choosing for free. They don't need to live at the same address. You can transfer 500,000 points in a calendar year and receive four times that (2 million points). This is a great way for couples and families to stock up on points.
Summing up
This deal works best if you have some specific travel plans in mind. Check the paid rate of a Hilton property at your intended destination versus what it would cost to buy and redeem points.
While the offer may be particularly good, it is probably still not quite worth buying points speculatively without a specific use in mind.
After some more information? Read our guide on how to make the most buying frequent flyer points for travel.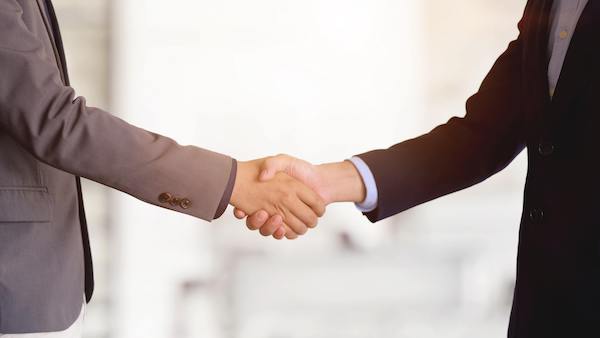 This content contains affiliate links from which Point Hacks may earn commissions from transactions generated from new customers, bookings and general enquiries
Find out more here
Hilton Honors offering 100% bonus on points purchases: best price
was last modified:
November 4th, 2021
by
Hilton Honors offering 100% bonus on points purchases: best price
was last modified:
November 4th, 2021
by