Buying alcohol through Qantas Wine is one of the simplest ways to earn Qantas Points if you enjoy a beverage. (It's also a quick way to top-up your Qantas Points balance if you're a bit short).
This guide covers both the free and paid membership options. It outlines how you can earn bonus points for free flights, and whether it's worth going for the paid premium membership.
What is Qantas Wine?
Qantas Wine (previously known as EpiQure before 2018) is the airline's wine program and offers the ability to earn thousands of bonus Qantas Points from wine, beer and spirits purchases. Wines are usually bought in cases of six or 12, rather than per-bottle.
Qantas Wine has also added a range of gourmet food – and while they won't be a substitute for your groceries, these hampers are still worth bearing in mind for gifts or treats.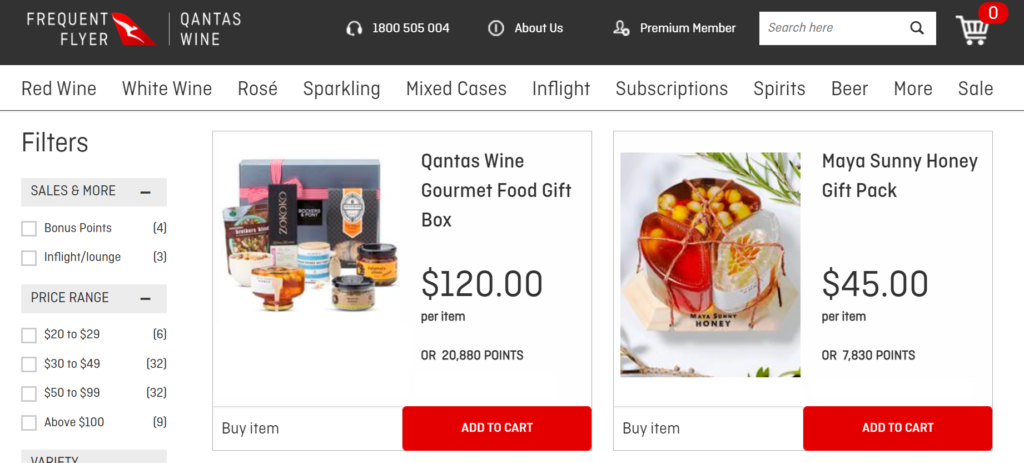 Making a purchase through Qantas Wine is one of the fastest ways to extend the expiry of your Qantas Points. Points usually post within 3-5 business days, often sooner. Plus, you can often get up to 20,000 bonus points on cases, which really boosts your balance.
Who can use Qantas Wine?
Anyone over 18 years of age with a Qantas Frequent Flyer membership (join for free here) can purchase wines from Qantas. You must have an Australian delivery address.
For all intents and purposes, Qantas Wine is a website where any member can order wine and other treats for delivery within Australia.
How many Qantas Points can I earn through Qantas Wine?
Qantas Wine free membership
As a regular Qantas Frequent Flyer member, you can access Qantas Wine as a customer with an account that's linked to your Qantas Frequent Flyer number.
You'll earn one bonus Qantas Point for each dollar spent. On top of that, you'll also receive free delivery on all orders over $300 and email invites for bonus point promotions. Delivery fees for orders under $300 range from $7 for city deliveries to $19 for country deliveries.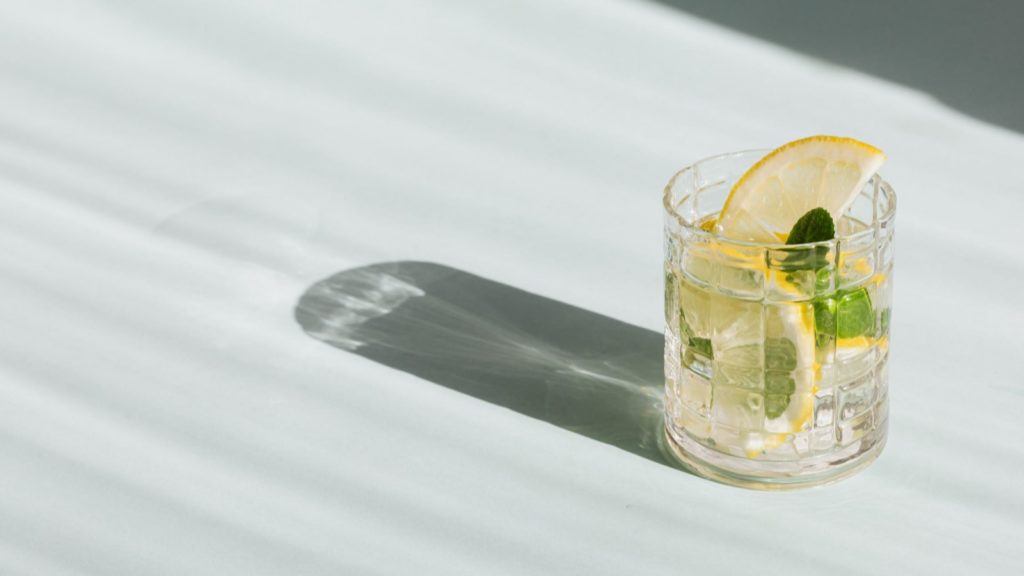 Qantas Wine Premium membership
Alongside the free membership, Qantas also has a paid membership on offer. This will set you back $99 or 13,000 Qantas Points per year, sometimes with a free gift included on sign-up.
An example of a free gift is a bottle of Taittinger Brut Réserve champagne, which we'd value at ~AU$60. This isn't always offered though, so perhaps wait until a sign-up deal comes back.
As a Premium member, you'll receive three points per AU$1 spent, on top of free delivery on all orders.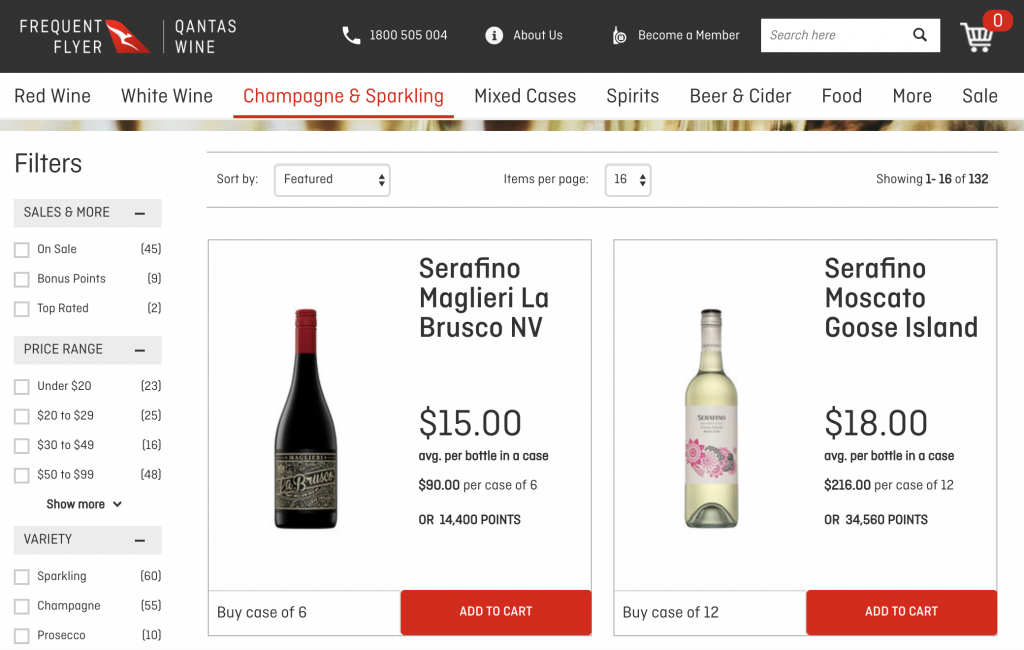 You'll also receive invites to exclusive events for Qantas Wine members. However, these are often paid events, rather than free, and won't suit all tastes. Here's a write-up on an external site of an event held in Adelaide, for example.
There's also a wine subscription option where you can opt-in to receive wines delivered quarterly based on your preferences. Joining a wine plan also comes with a complimentary paid membership. So it could be worth looking at if you were considering the membership anyway.
Double dip on points with Qantas Business Rewards
If you're an ABN holder, don't forget to sign up for Qantas Business Rewards. You could be reeling in up to five Qantas Points per dollar spent! All you need to do is link your Qantas Frequent Flyer number to your Qantas Business Rewards account, and use that membership number at checkout.

You'll earn:
Two Qantas Points per dollar as a Qantas Business Rewards member, plus
Up to three Qantas Points per dollar with a Qantas Wine Premium membership.
As a Qantas Business Rewards member, you get free Qantas Wine Premium membership if you buy something at least once a year. Simply add the code N48WINE27 to the voucher field in the checkout. Learn more here.
Negotiate extra points with a Wine Advisor
If you've recently been browsing Qantas Wine without checking out, you might be contacted by a 'Personal Wine Advisor' who can set you up with further discounts, bonus points or free shipping depending on how your negotiations go.
They may also give you a referral code, so you'll get rewarded when other people contact them to buy wine. But it's a win-win scenario because the people you refer can also negotiate special deals.
If you get a call or email from a Qantas Wine Advisor about your unfinished purchase, you might be able to negotiate more points. As a reference point, someone with Points Club Plus membership was able to trade their 10% discount in exchange for 3,000 bonus Qantas Points.
There have also been data points of customers simply successfully requesting extra bonus points, which the advisors are usually happy to offer if you meet a minimum spend.
Ad – Scroll down to continue reading.Minimum spend, terms & conditions apply.
How can I get a free Qantas Wine Premium membership?
Holders of the Qantas American Express Ultimate card, Qantas American Express Premium and Qantas Frequent Flyer Platinum One status holders get a complimentary Premium membership, as do Points Club members and Qantas Business Rewards members who make a purchase. That means you'll enjoy all the above benefits without paying extra fees.
Previous coupons offering a complimentary one-year membership have shown up. Many members commonly receive free renewals year after year if they continue to make purchases.
And as we mentioned before, wine subscription members also get a complimentary Premium membership.
---
Enjoy a complimentary Premium membership to Qantas Wine, plus some bonus sign-up points, with the American Express Qantas Premium card.
---
How do I earn bonus Qantas Points with Qantas Wine?
Utilise bonus offers
Bonus points are usually awarded for certain cases of wines. This is often on the more expensive options, but sometimes also on some of the more accessible mixed cases.
Bonuses usually start at 2,000 Qantas Points and work their way up to 20,000 points depending on the price of the case or bottle of wine.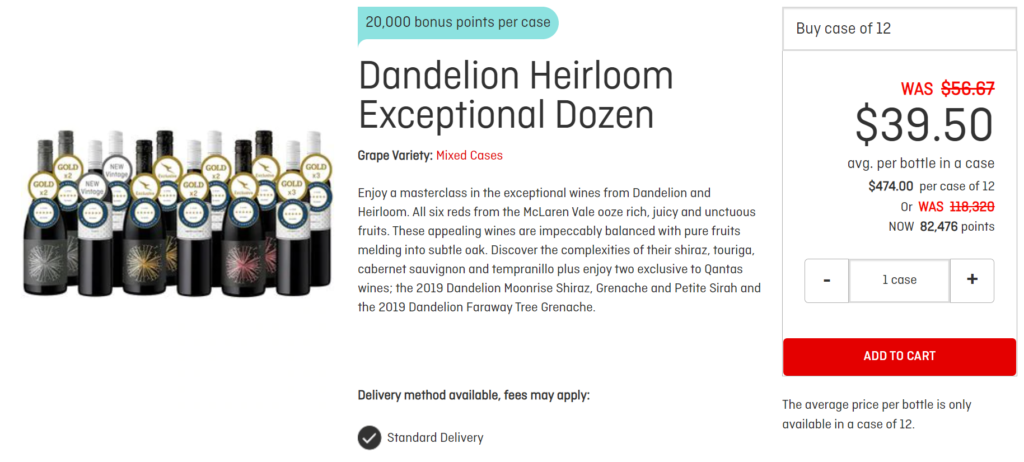 The key concept to understand is that there's no general rule you can apply around the value of wine pricing on the website. Sometimes it's a good offer, especially when the wine comes with a stash of bonus points. Conversely, the standard pricing can often be beaten by your local wine merchant.
It's worth keeping an eye on the Qantas Wine sale page of their website for some of the better deals.
Use a Qantas Points-earning credit card
If you use a credit card that earns Qantas Points, then you can boost your points earn by up to 1.25 bonus points per dollar spent. Note that Qantas Wine purchases don't count as spend on selected Qantas products and services – they're categorised as general spend.
Using Qantas Points to buy wine
If you are 'points rich', you can also choose to pay for your wine using your Qantas Points balance. However, we wouldn't recommend it as you can get better value out of your points by using them for flight redemptions or upgrades.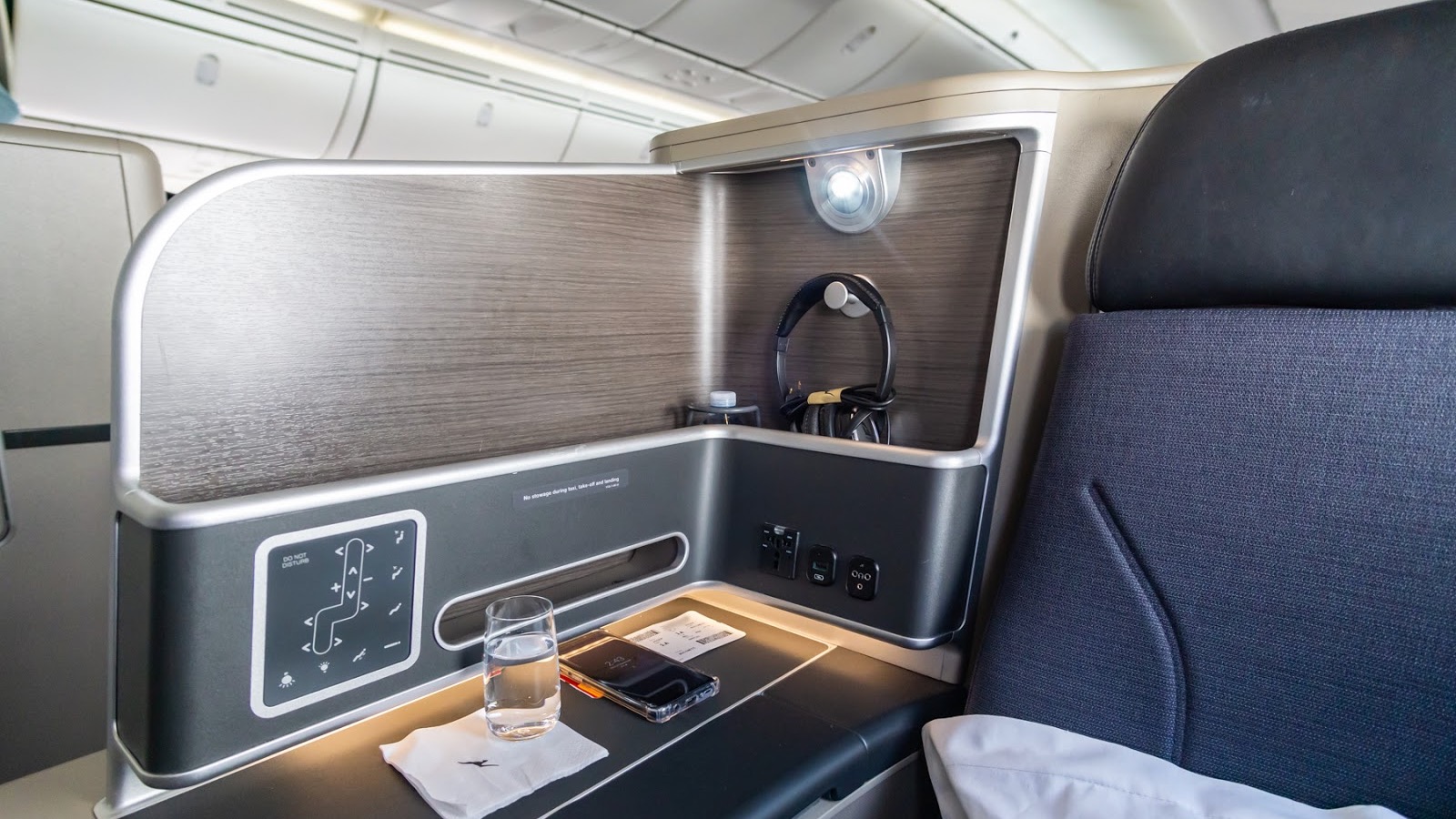 Summing up
The fastest way to earn points out of Qantas Wine is to look out for the bonus point promotions in your inbox. Then see if they meet your taste for wine to stock up on when they crop up.
These bonuses can quickly bump up your Qantas Points balance if earned wisely. Buy wine online and earn plenty of points in the process. Sounds like a win-win to us!
Supplementary images courtesy of Qantas Frequent Flyer and Qantas Wine.
How to earn Qantas Points with Qantas Wine
was last modified:
January 3rd, 2023
by