Buying Hilton Honors points can be a great way to save strategically on hotel stays. That's especially true when points are sold with a bonus or discount attached. It's also easy to buy Hilton Honors points online, but there are rules attached.
Here's a look at how to purchase, gift and transfer Hilton Honors points.
Who's eligible to purchase Hilton Honors points?
Hilton Honors previously had a clearer policy about who could buy points. Initially, it was those who'd been Hilton Honors members for at least 90 days. Alternatively, those with accounts at least 30 days old with a recent hotel stay or points earned from a partner could purchase points.
These days, you need to tick two boxes. One of them is easy, the other is more ambiguous.
To begin with, buying points is only possible when you have a 'positive account balance'. That is, you already have at least one Hilton Honors point in your account. If you're on a zero balance, consider making a small points transfer from a program like American Express Membership Rewards.
Here's the harder part. Buying points also requires that a member has 'been active within the Hilton Honors program within the past 30 days'.
The Terms and Conditions don't outline what constitutes being 'active'. If you've had a hotel stay in the past month, then you'd be A-OK. But if you've simply remained a member with points in your account, but haven't earned or spent points lately, it's a little up in the air.
You could either try to buy points and see what happens, or again, make a small transfer from a partner program before buying. For instance, converting points from Amex Membership Rewards to Hilton Honors would provide some recent account activity. It'd also give you a positive account balance, if that's a concern as well.
How many Hilton Honors points can I buy?
Members can buy between 1,000 and 80,000 Hilton Honors points per calendar year. These are conveniently sold in increments of 1,000 points. That's handy if you know exactly how you'll spend them, as you won't need to round up to the nearest 5,000 points when buying rewards via some other programs.
The annual cap of 80,000 points also excludes any bonuses that Hilton Honors may run from time to time. For instance, during times when Hilton Honors offers a 100% bonus, each member could buy up to 160,000 points per calendar year.
What does it cost to buy Hilton Honors points?
Hilton Honors points are sold at a flat rate regardless of the quantity purchased.
For every 1,000 Hilton Honors points you buy, you'll be charged US$10 (~AU$14.80). That works out to an easy one US cent per point. Buying the maximum of 80,000 points costs US$800 (~AU$1,183).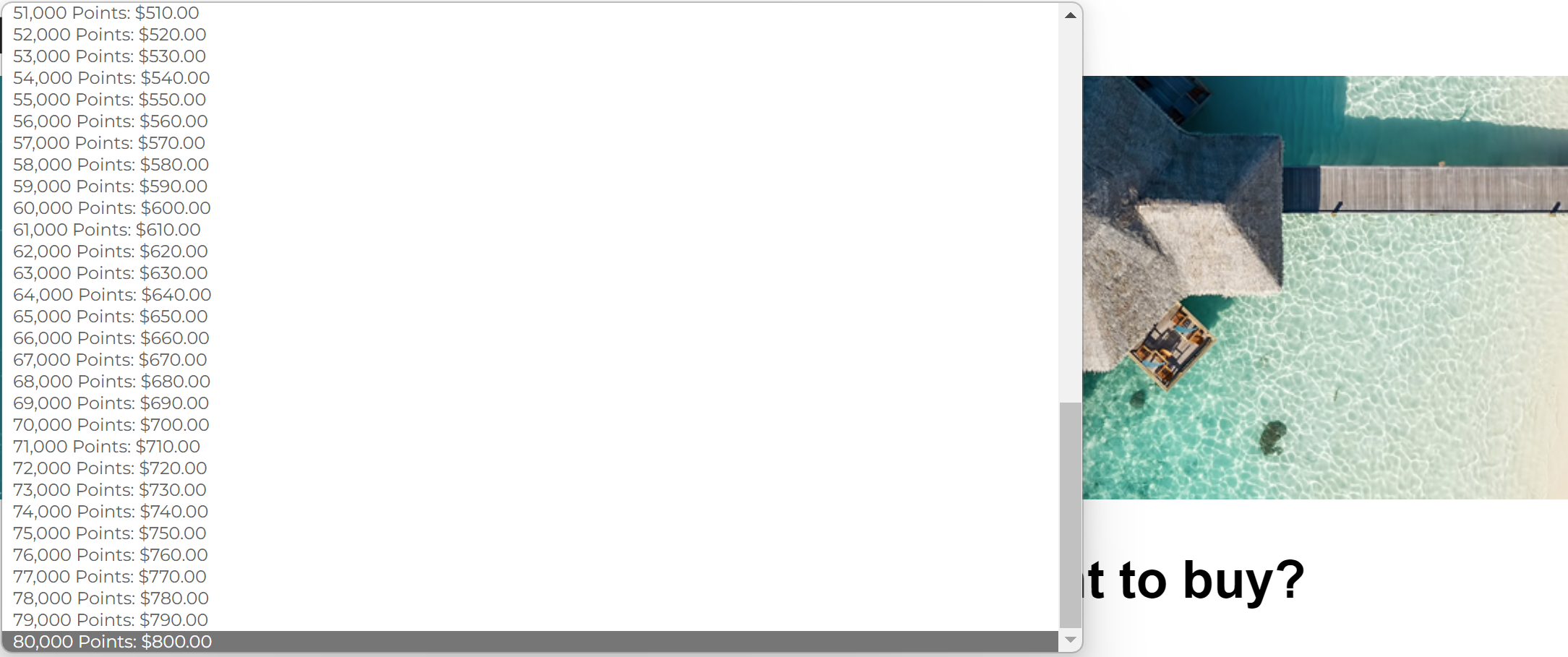 But as mentioned, Hilton runs promotions from time to time that can make these purchases more attractive. One option is to provide points with a bonus: for example, 50% bonus points. This would provide 1,500 Hilton Honors points in return for every US$10 spent.
Alternatively, Hilton Honors may offer a discount on the usual cash asking price.
At the time of writing, Hilton Honors isn't running any 'buying points' deals, but it pays to keep your eye out as they do pop up from time to time.
Ad – Scroll down to continue reading.Minimum spend, terms & conditions apply.
How do I buy Hilton Honors points?
You can buy Hilton Honors points directly through the Hilton website.
Just head to this page, and log in to your Hilton Honors account. You'll then be able to select how many points you'd like to purchase, and then complete your payment.
Hilton Honors accepts payment by credit card when buying points, so don't forget to use a points-earning card to maximise your rewards. Charges are billed in US dollars and processed in the United States, so be mindful of any international transaction fees that your credit card issuer may impose.
Can I buy Hilton Honors points for other people?
As well as buying Hilton Honors points for yourself, you can also gift them to others. You can buy Hilton Honors points for friends and family members by going to this page of the Hilton website.
The process is very similar to buying points for your own account. You'll just need to know the recipient's full name (to match with their Hilton Honors account), along with their email address and Hilton Honors number. You can also attach a personal message when gifting points.

The cost is the same as when buying points for yourself. That's US$10 per 1,000 Hilton Honors points gifted, outside of promotion periods.
An annual cap of 80,000 Hilton Honors points also applies to these transactions.
Can I transfer Hilton Honors points to other people?
Another option for getting more Hilton Honors into your account is via points transfers from other members.
Hilton allows points to be transferred in increments of 1,000 to 500,000 points in a single transfer. An annual cap of 500,000 points also applies on outbound points transfers from each account. That is to say, each Hilton Honors member can transfer a maximum of 500,000 points out of their account each year.
On the receiving end, a member can receive up to 2,000,000 Hilton Honors points per year via such transfers. Reaching that cap would require points to come across from at least four other people, given no member can send more than 500,000 points within the same period.
As well, each member can only make up to six outbound points transfers per calendar year. If making six transfers of 50,000 points each, the member wouldn't be able to transfer any more points until after the New Year. That's true even though the member won't have reached the separate 500,000-point cap, so transfer points wisely!
Transfers can be made manually as desired or can be automated by setting up a family pool, but the same limits apply.
Any transferred, pooled, gifted or purchased points don't count towards the 'Base Points' requirements for reaching or retaining Hilton Honors status.
Summing up
Many hotel loyalty programs sell points to members, and Hilton Honors is no different in that regard. But it's always worth considering whether buying points actually makes sense for your future travel plans.
That's because Hilton uses dynamic pricing when booking reward nights at hotels. Each point never has a set value, and the number of points needed per night can swing up or down at any time.
Quite often, it'll be more cost-effective to simply book and pay for a room using a cash rate, rather than buying Hilton Honors points to redeem for the same stay. Sometimes though, when the cash price of a base room is exceptionally high, the 'cost' of buying and redeeming points can offer genuine savings.
That's why we always recommend having a plan as to how, where and when you'll spend any points you buy, before jumping in and making that purchase. And if you can help it, only buy points during promotional periods. That's when you're more likely to get outsized value from this helpful trick.
Also read: The latest Hilton Honors 'buying points' promotions
Feature image courtesy of Parmelia Hilton Perth hotel.
---
Stay up to date with the latest news, reviews and guides by subscribing to Point Hacks' email newsletter.
How to buy, gift and transfer Hilton Honors points
was last modified:
September 29th, 2023
by