Qantas Frequent Flyer has been steadily branching out to many secondary markets over the years, with a focus on wellbeing. The loyalty program's insurance arm currently provides coverage for health, travel, car and life insurance.
The Qantas Wellbeing App goes hand-in-hand with most of these insurance products. It's a companion app of sorts, designed to complement a range of Qantas products and services.
Even if you don't hold an eligible Qantas Insurance policy, the Wellbeing App is still free to use with the ability to earn Qantas Points simply capped at a lower rate.
In this guide, we'll explain how the Wellbeing App works and how you can take advantage of it to ensure your Qantas Points never expire.
What is the Qantas Wellbeing App?
The Wellbeing App rewards you with small amounts of points for doing various tasks, including meeting daily and weekly step counts, challenging people for fitness goals, and completing simple health assessments.
All Qantas Members are offered a 28-day trial when they download the app, which allows them to earn up to 1,000 Qantas Points without having to purchase an Eligible Qantas Insurance product.
Once the trial has ended, Qantas Frequent Flyer members who purchase an Eligible Qantas Insurance product can earn up to 20,000 Qantas Points each year by completing activities in the App.
(If you do not purchase an Eligible Qantas Insurance product, you can still earn Qantas Points at a reduced rate — up to 2,000 Qantas Points each year).
How can I earn points with the Qantas Wellbeing App?
There are a number of ways you can earn points through the Wellbeing App, which include:
Completing daily and weekly challenges
Competing against other users in a weekly Friends Step Challenge
Inviting friends to become Qantas Wellbeing App users
Logging and following healthy sleeping habits
Completing various tasks such as health and car checks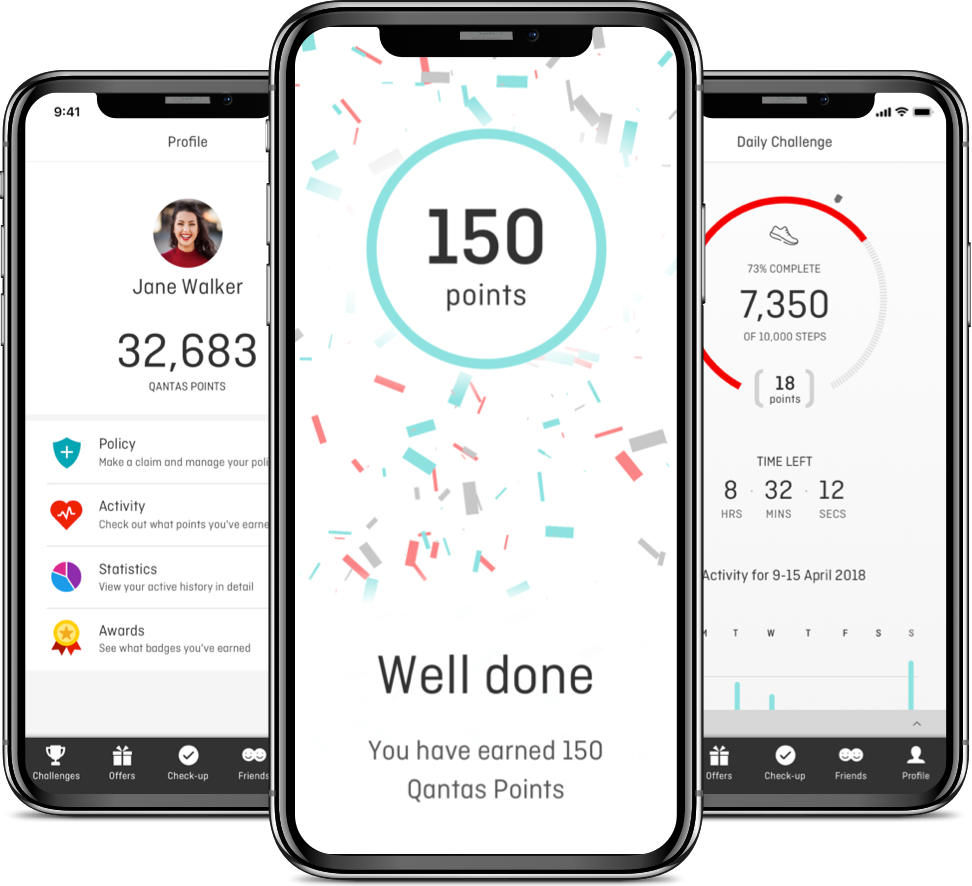 Earning points with daily/weekly fitness challenges
You can earn points with daily and weekly step challenges. The higher you set your goal, the more points you could earn!
Step goals are normally counted with your phone's built-in pedometer or fitness tracking app, so most people should be able to take part. However, if you have an eligible fitness device, then you can sync those results over to the Wellbeing App instead.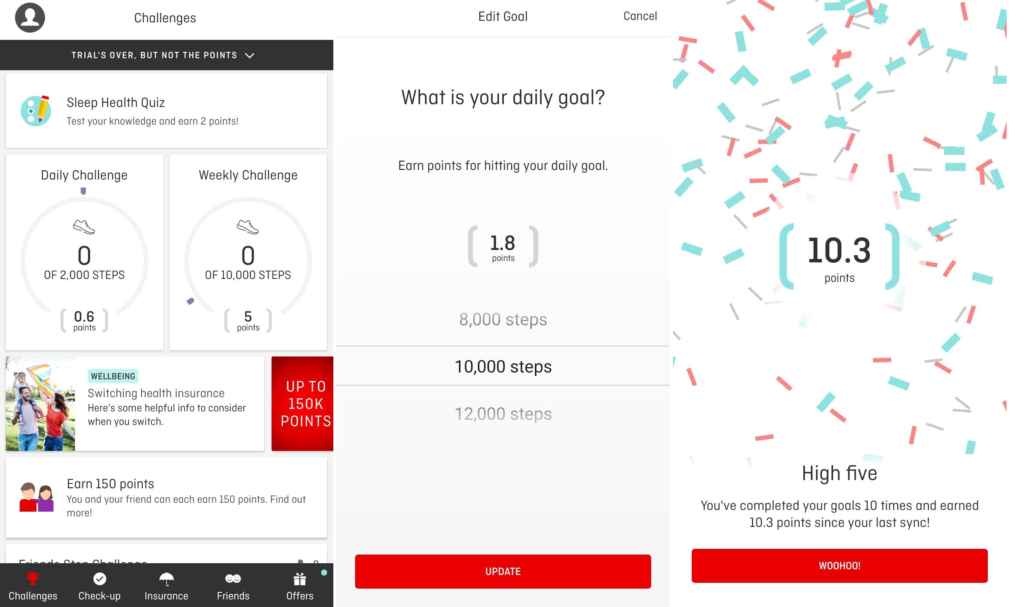 As long as you have your phone or fitness device on you during the day, you should earn a steady stream of Qantas Points every day.
Earning points with the sleeping challenge
Another easy way to earn Qantas Points is by taking part in the sleeping challenge. All you have to do is set a time where you'll put your phone down for the night and then leave it alone until the next morning while you get a good night's sleep.
Make it all the way through, and some bonus points will be yours.
Earning points with various tasks
For a one-off hit of points, try some of the tasks in the Qantas Wellbeing App. These could include checking your BMI, doing a tyre pressure check, or being reminded to service your vehicle regularly.
Find these in the 'Check-up' section of the app.
Ad – Scroll down to continue reading.Minimum spend, terms & conditions apply.
How does the Wellbeing App stop my Qantas Points from expiring?
For those who are unfamiliar with the ins-and-outs of the Qantas Frequent Flyer program, your Qantas Points balance usually expires after 18 months of inactivity. However, if you just earn or redeem a single Qantas Points during that time, your points won't expire.
Therefore, by having the Qantas Wellbeing App running in the background of your phone, you'll be regularly earning a steady stream of Qantas Points. Don't end up like one of those people complaining to the media that your Qantas Points vanished!
How do I download the Qantas Wellbeing App?
Follow the links below to download the Qantas Wellbeing App on Apple and Android devices:
Summing up
The Qantas Wellbeing App is an innovative way for the loyalty program to reward its members for keeping fit and staying healthy. (Of course, it's also a guise for Qantas Frequent Flyer to sell its own insurance products, but that's no surprise).
By taking part in step and sleeping challenges, you could regularly earn points to keep your account active. And if you do happen to hold a Qantas Insurance policy, then you'll unlock the full potential of the app with up to 20,000 more Qantas Points a year.
What is the Qantas Wellbeing App?
The Qantas Wellbeing App allows Qantas Frequent Flyer members to earn Qantas Points by tracking their activity and challenging themselves and their friends to daily, weekly or group step goals.
How does the Qantas Wellbeing App work?
Your step goals and sleeping activity are primarily tracked through phone sensors or fitness devices, which can sync with the app. Other aspects such as tasks are user-reported.
What is the fastest way to earn Qantas Frequent Flyer points?
At Point Hacks, we believe the fastest way to earn a bucketload of Qantas Points is by applying for a Qantas-Points earning credit card with a hefty sign-up bonus.
Your ultimate guide to the Qantas Wellbeing App
was last modified:
September 21st, 2020
by