The Qantas Club in Adelaide is a vast space that not only caters for eligible Qantas and Jetstar passengers, but also guests travelling on international oneworld and partner airline flights. (Like many other smaller airports around Australia, the domestic and international terminals are combined in Adelaide).
Even though domestic Qantas Clubs are the most basic in the airline's lounge hierarchy, I find that the food and beverage choices in Adelaide are fantastic. There's also plenty of space to work or relax in the lounge.
Location
The Qantas Club lounge is directly opposite Gates 21 and 22 – head right from central security screening and follow the signs. You'll see the frosted white glass and red signage of the lounge on your right.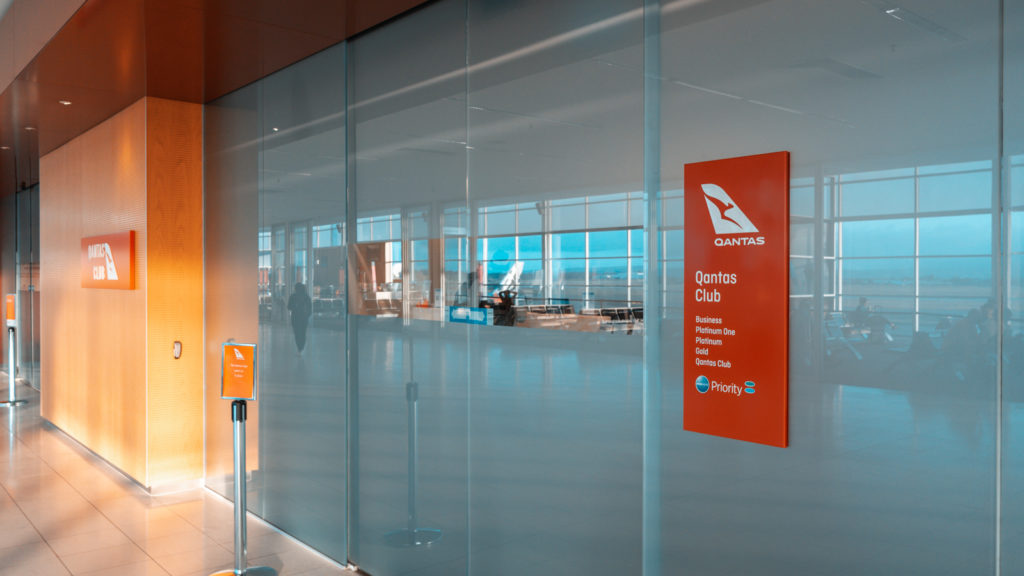 In Adelaide, the lounge generally opens at least one hour before the first Qantas flight until the last Qantas (or contracted partner airline) departure of the day. Qantas lounges don't usually directly cater to Jetstar flight timings, but you've got a pretty good chance of lounge access if your Jetstar flight is during the day.
Lounge layout and seating
Similar to the Qantas Club in Darwin, I think you'll also find the Adelaide lounge to be very spacious. In typical lounge fashion, I first come across a quiet working area, with plenty of partitioned desks and charging ports. To the right are the main bathrooms and showers.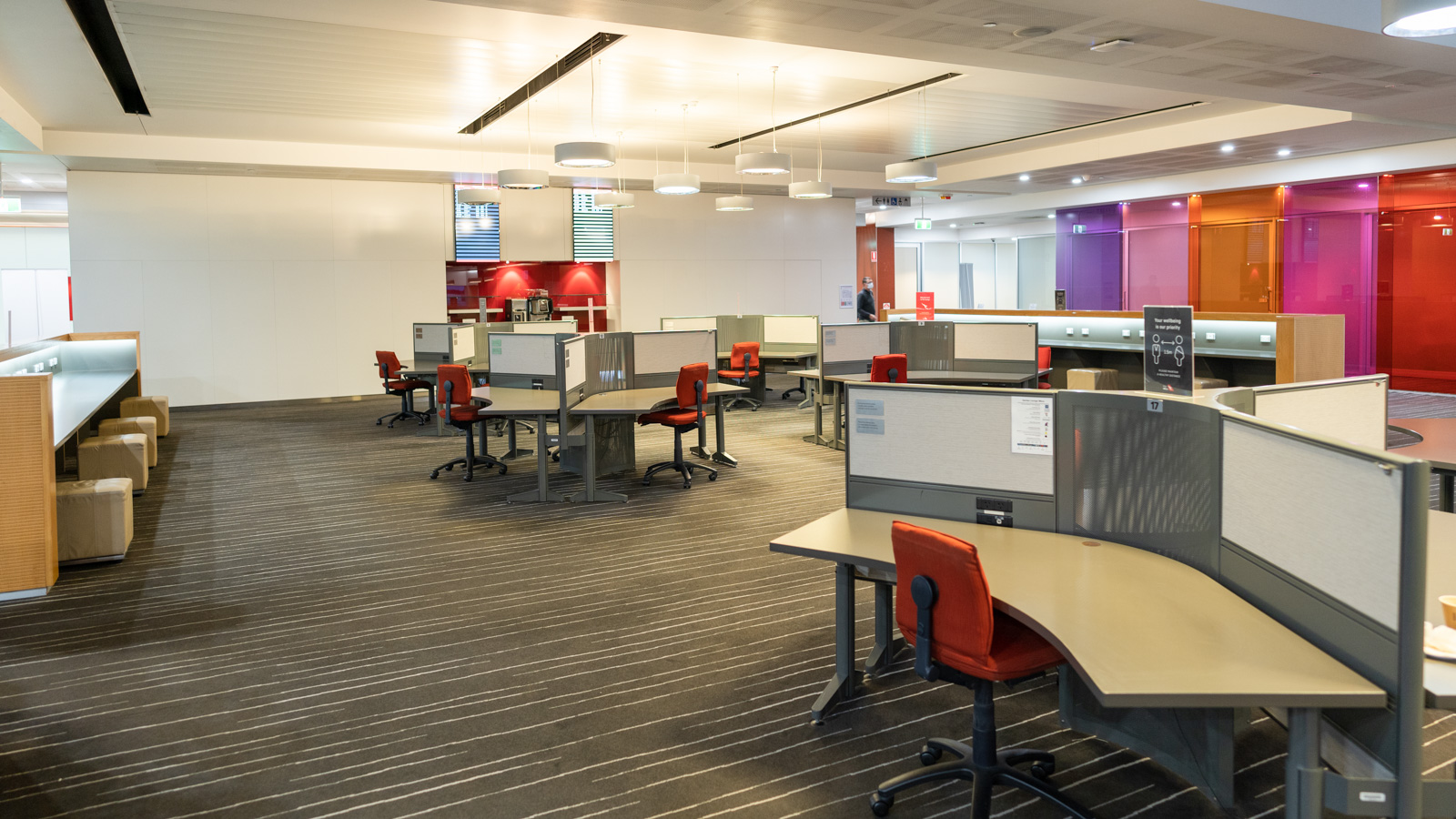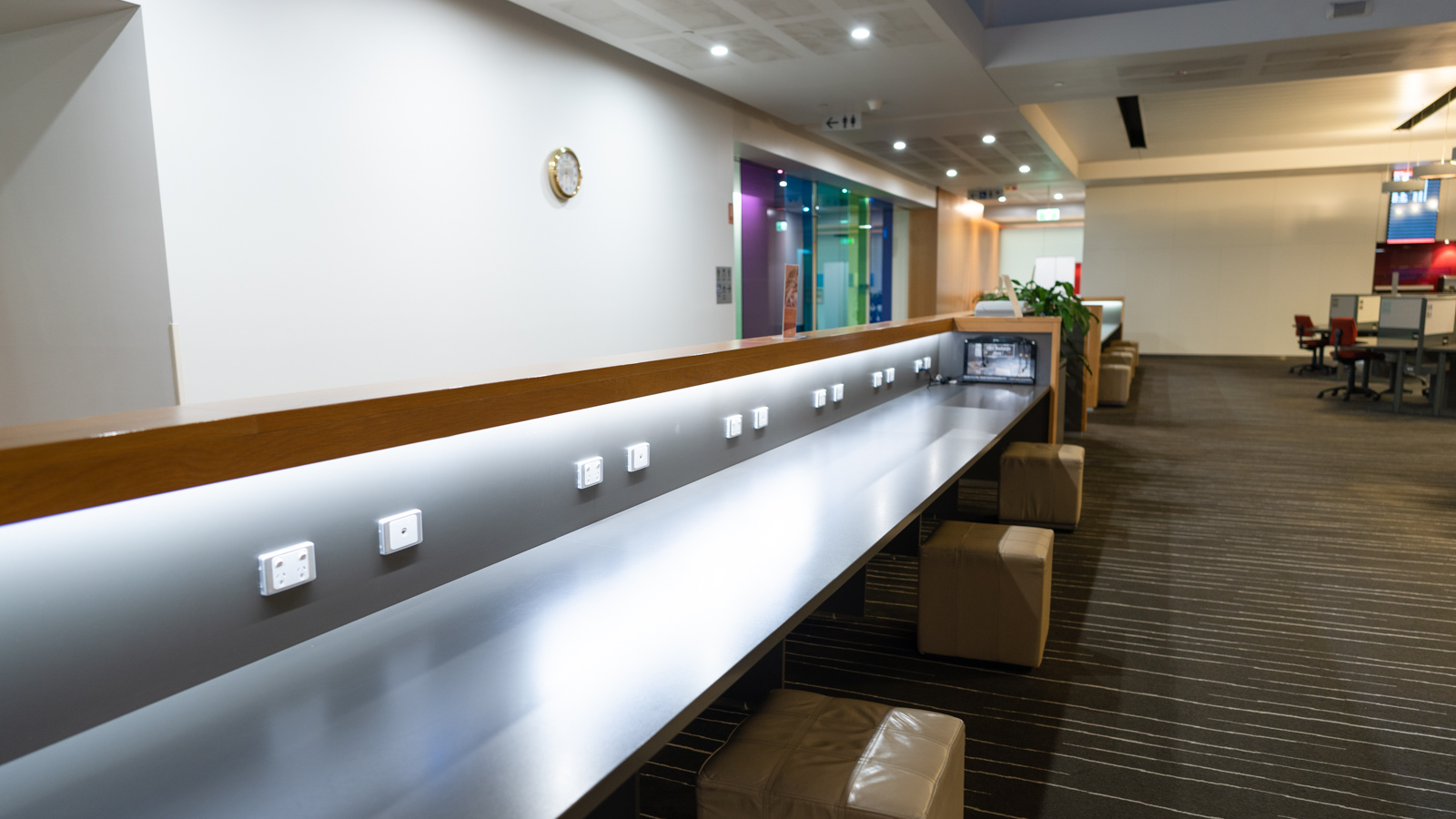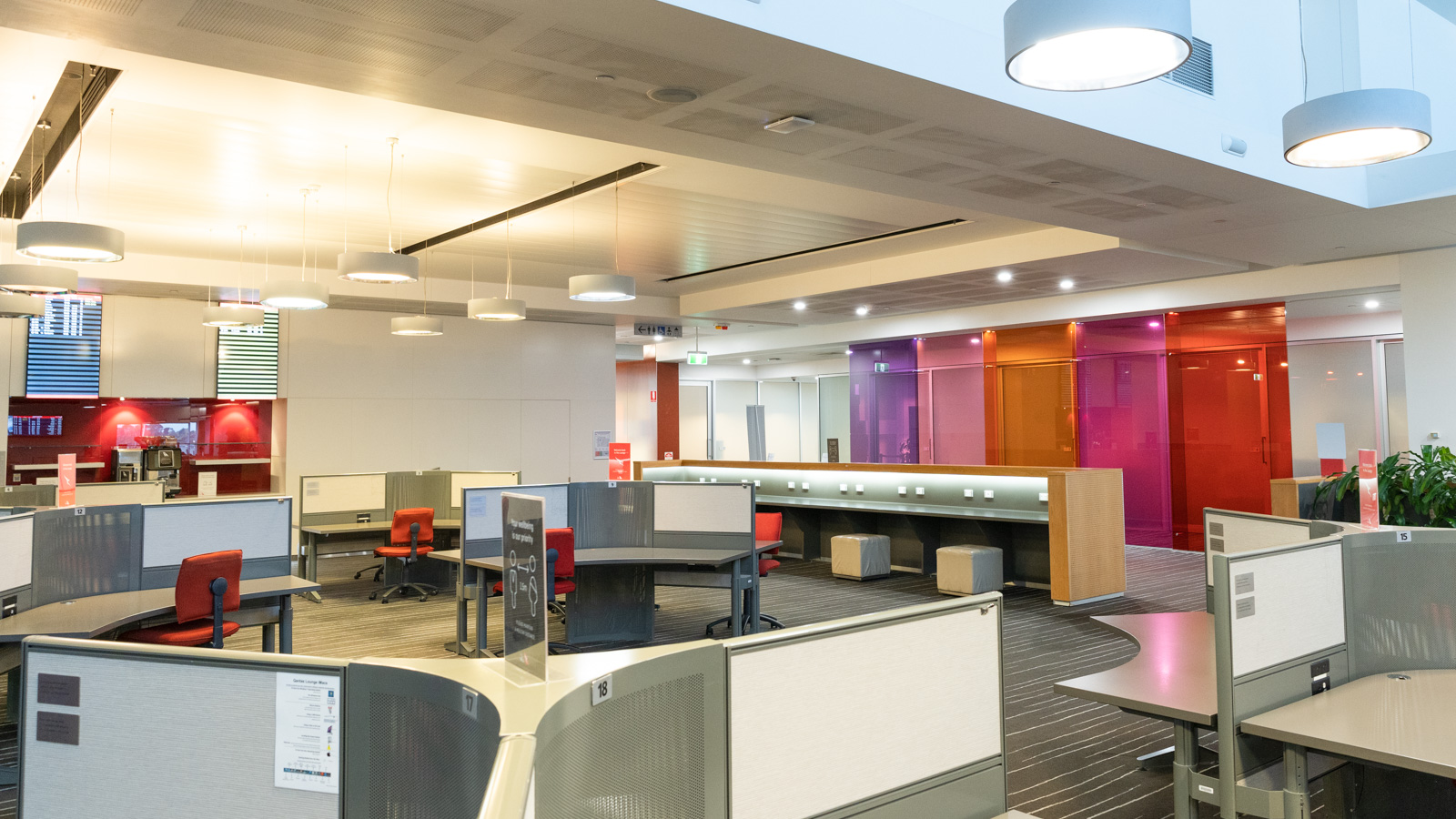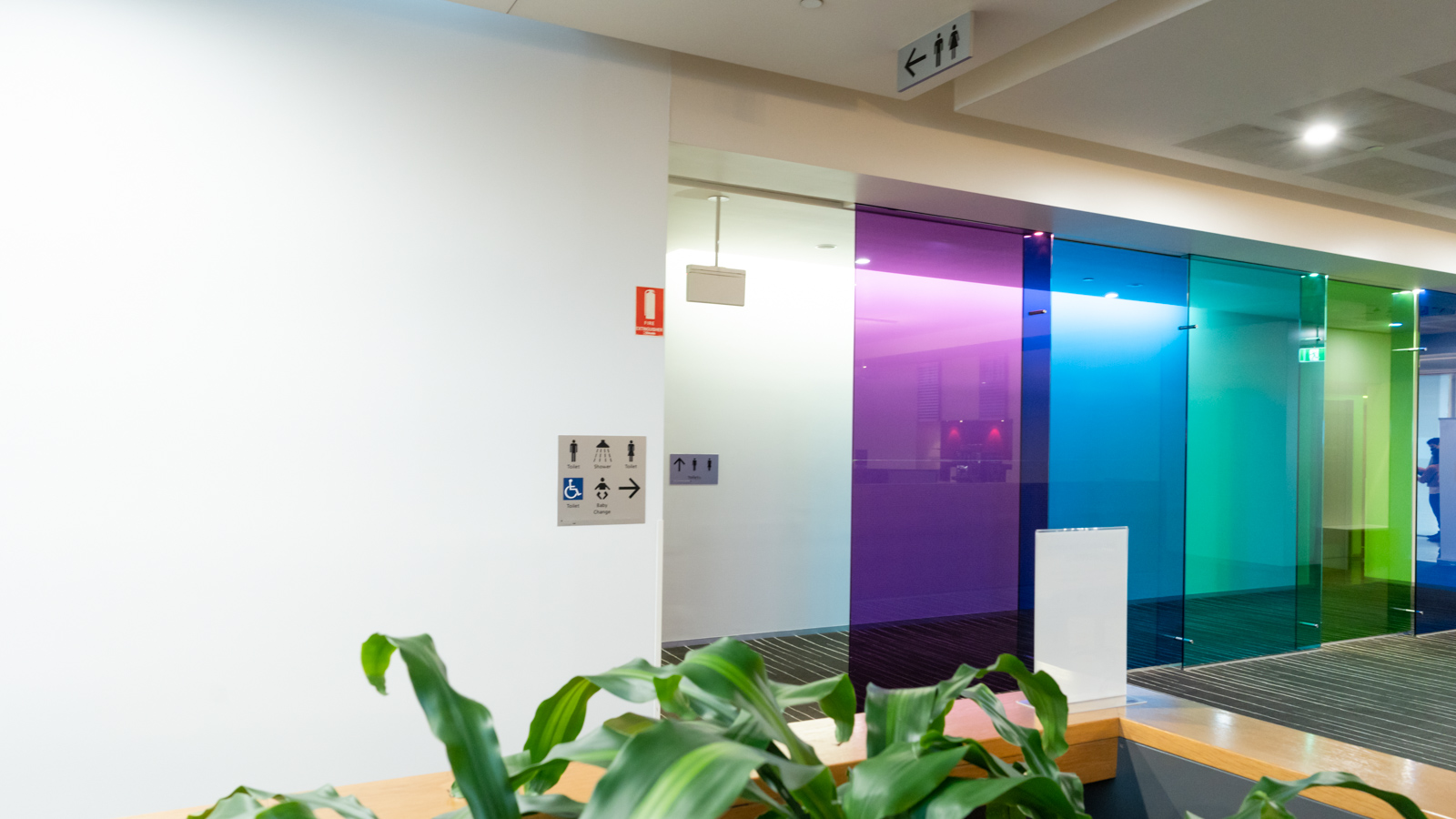 As I'm visiting just before 6 am on a Sunday morning, breakfast and coffee desperately beckon. Beyond the work zone, I spy the food station and dining area to my right. So that's the grumbling belly sorted. There's also a small Joey Club corner for kids, next to the buffet.
In search of a caffeine hit, I turn left from the food station and eventually come across the staffed bar, which overlooks one end of the lounge. Barista-made coffee is flowing freely here. Behind the bar, there are additional toilet facilities (but no showers).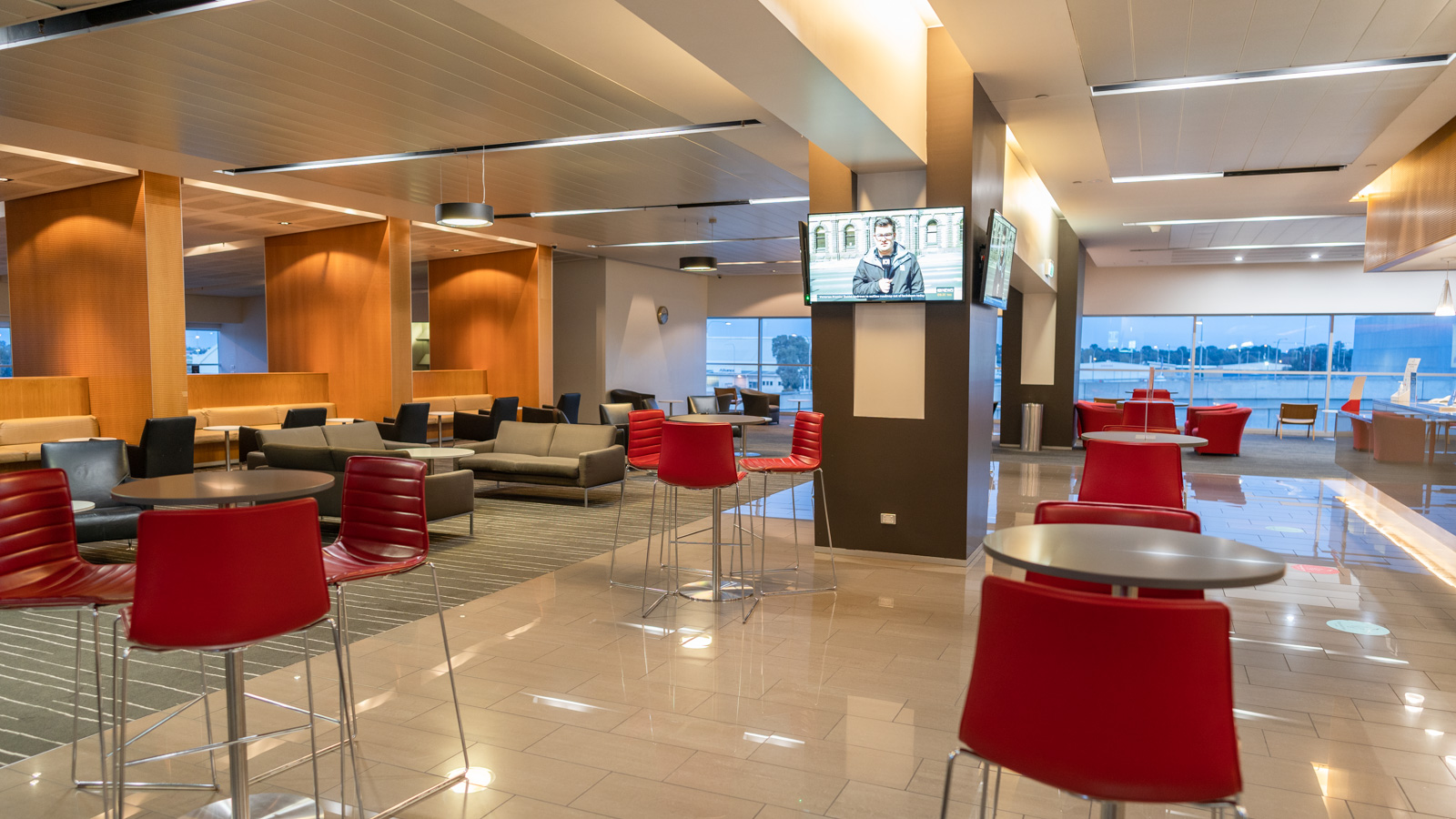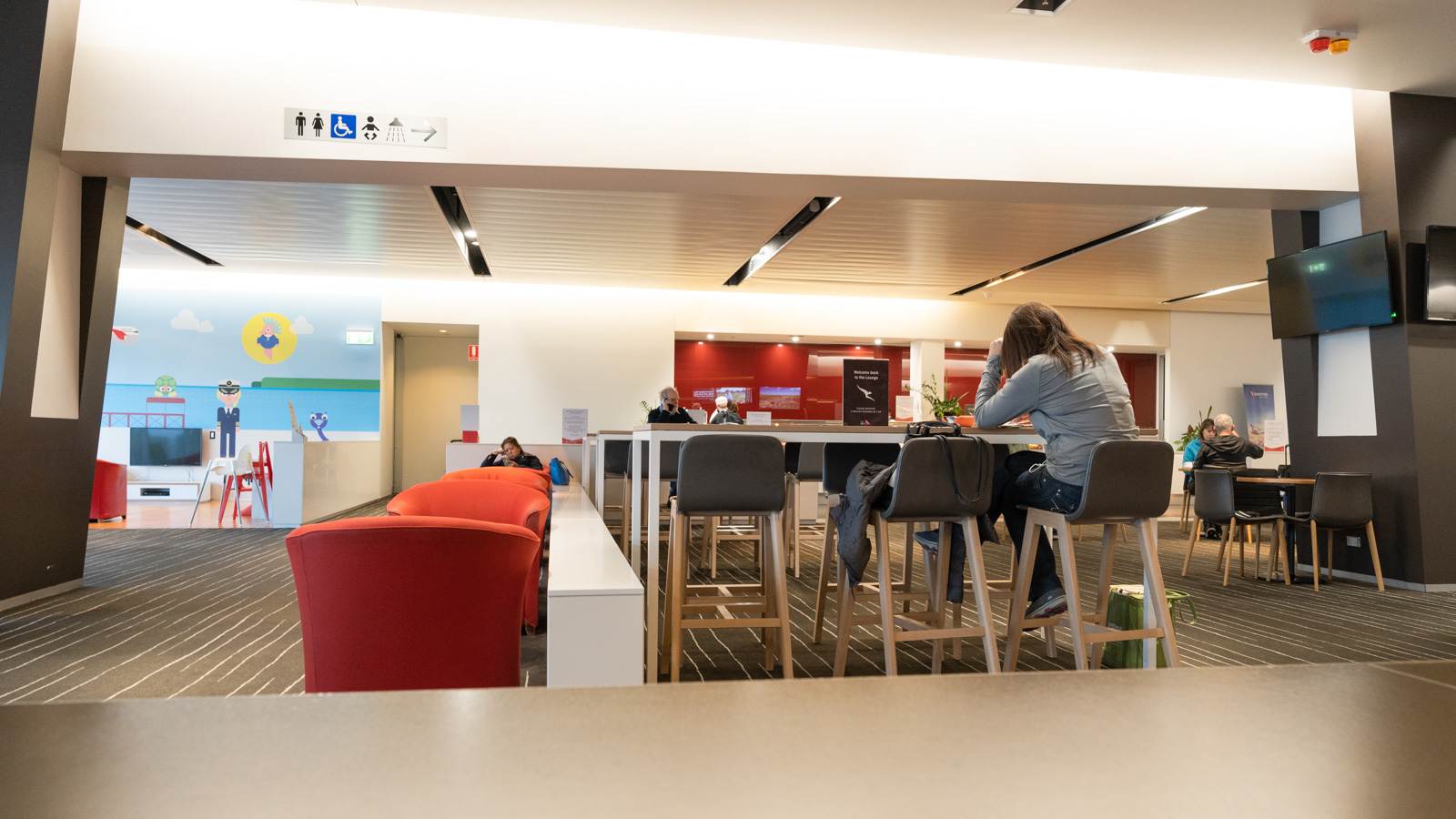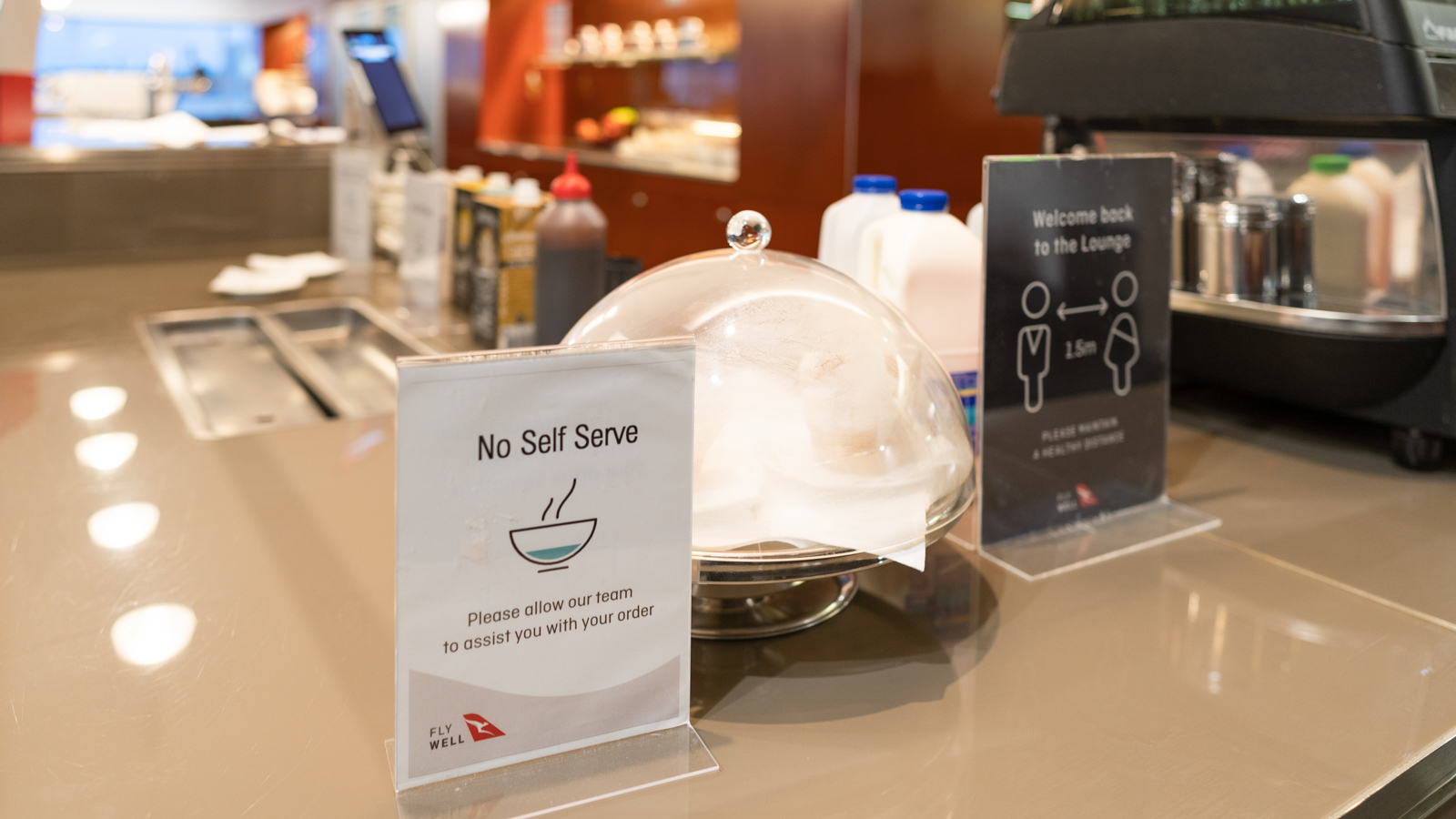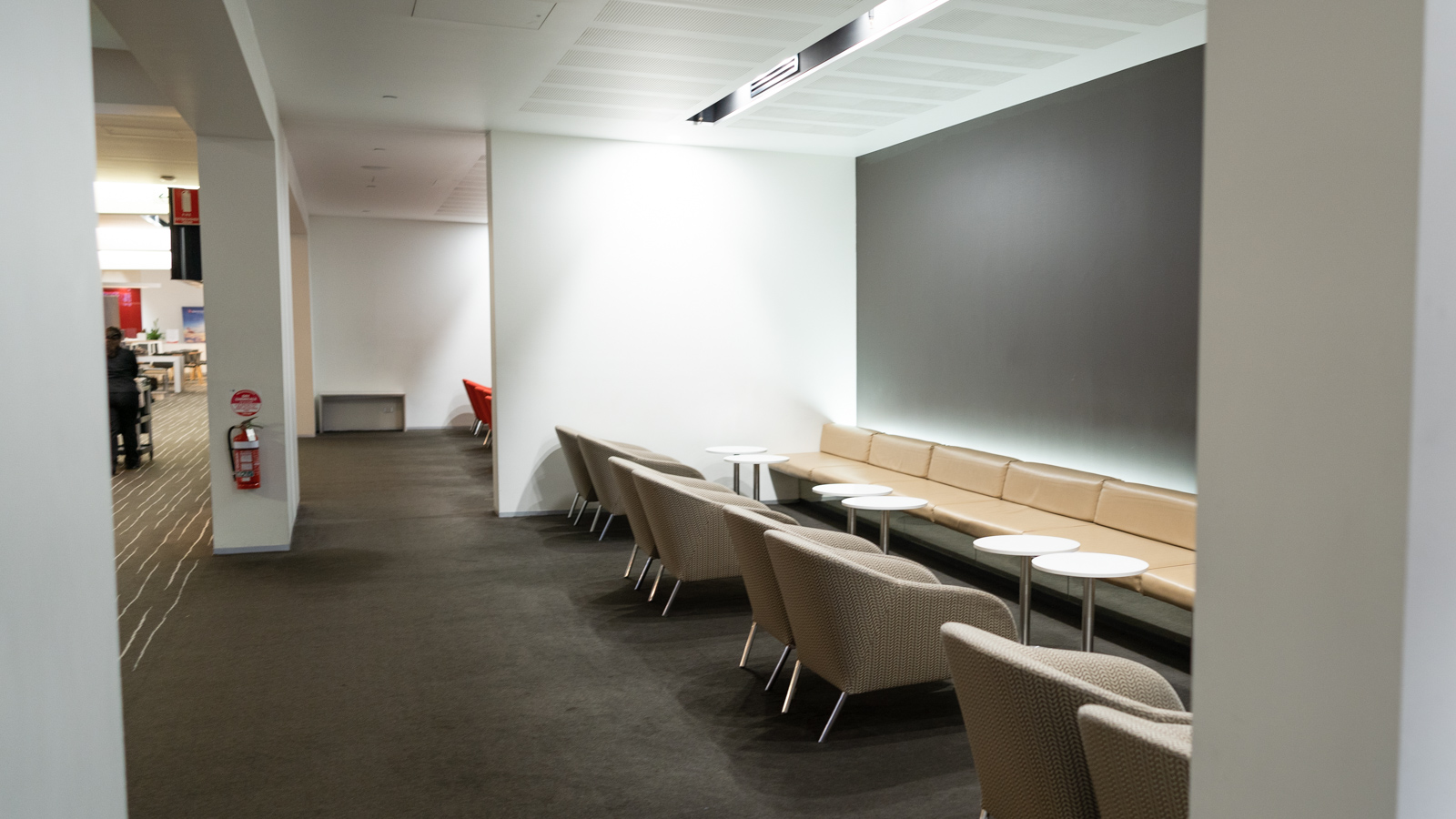 Opposite the bar, I perch myself on one of the benches, with windows providing great views of the apron where some smaller regional turboprops sit. There's a lot of different lounge seating in this section, ranging from solo chairs at the window to groups of 2 or 4.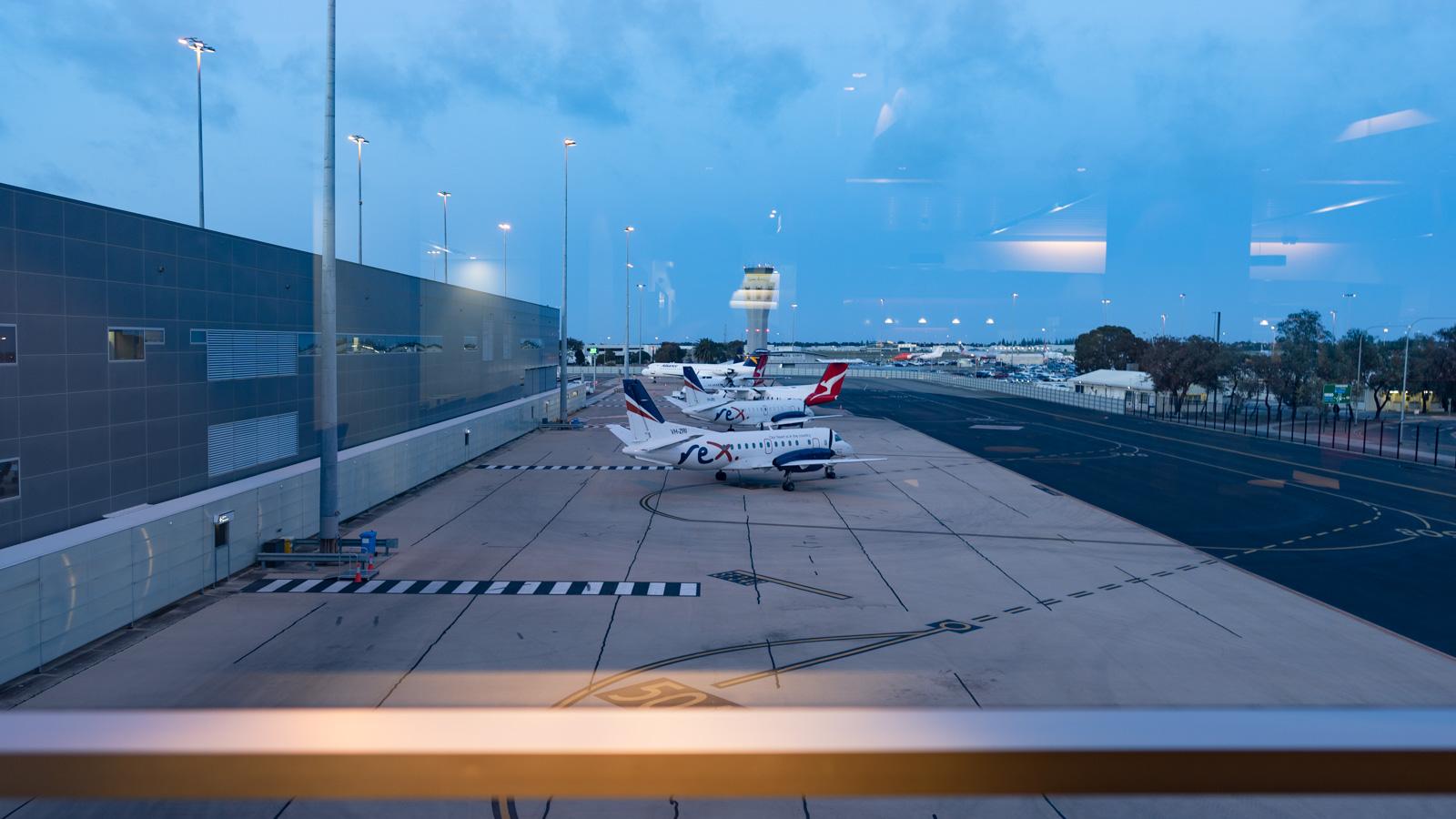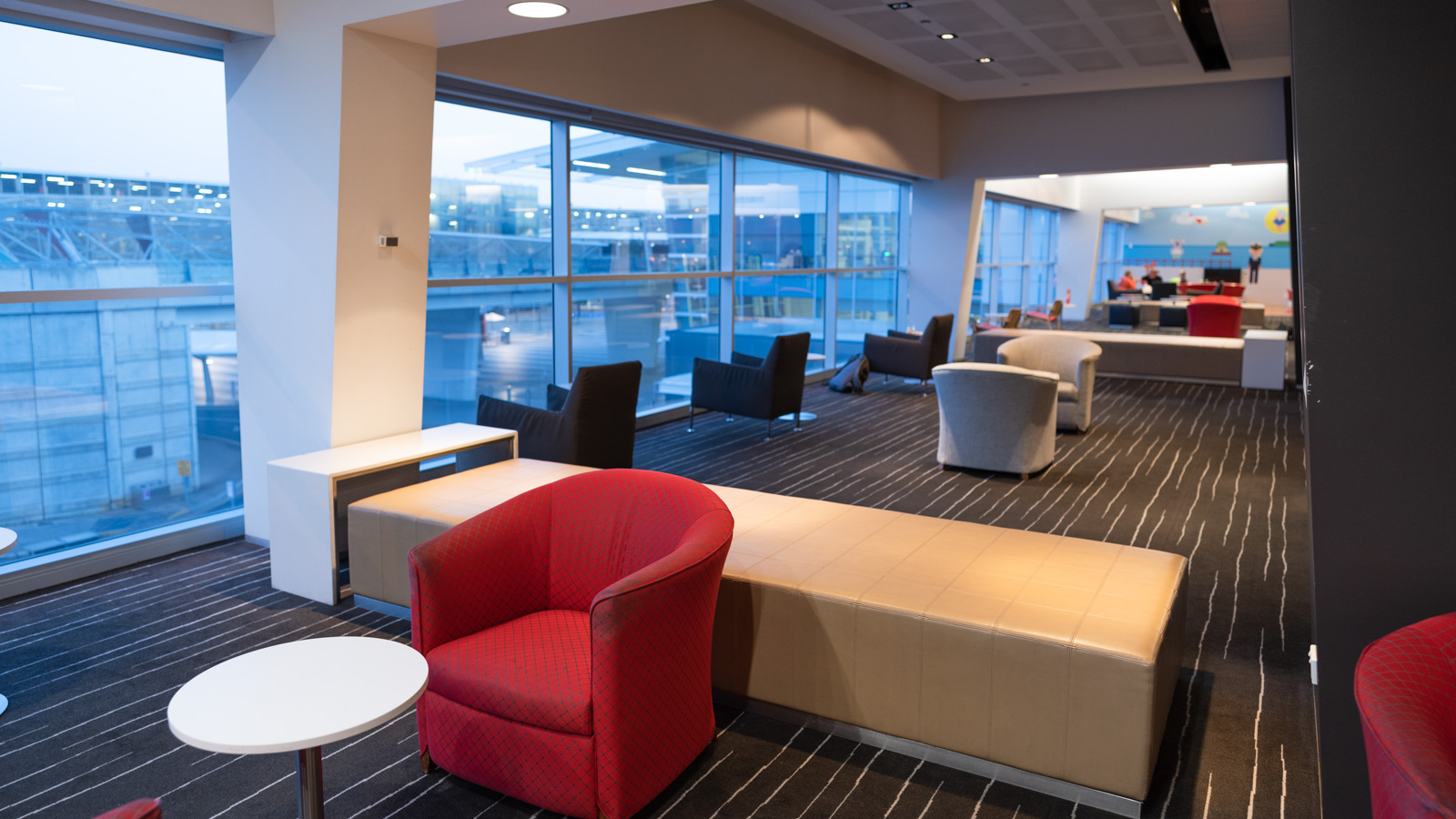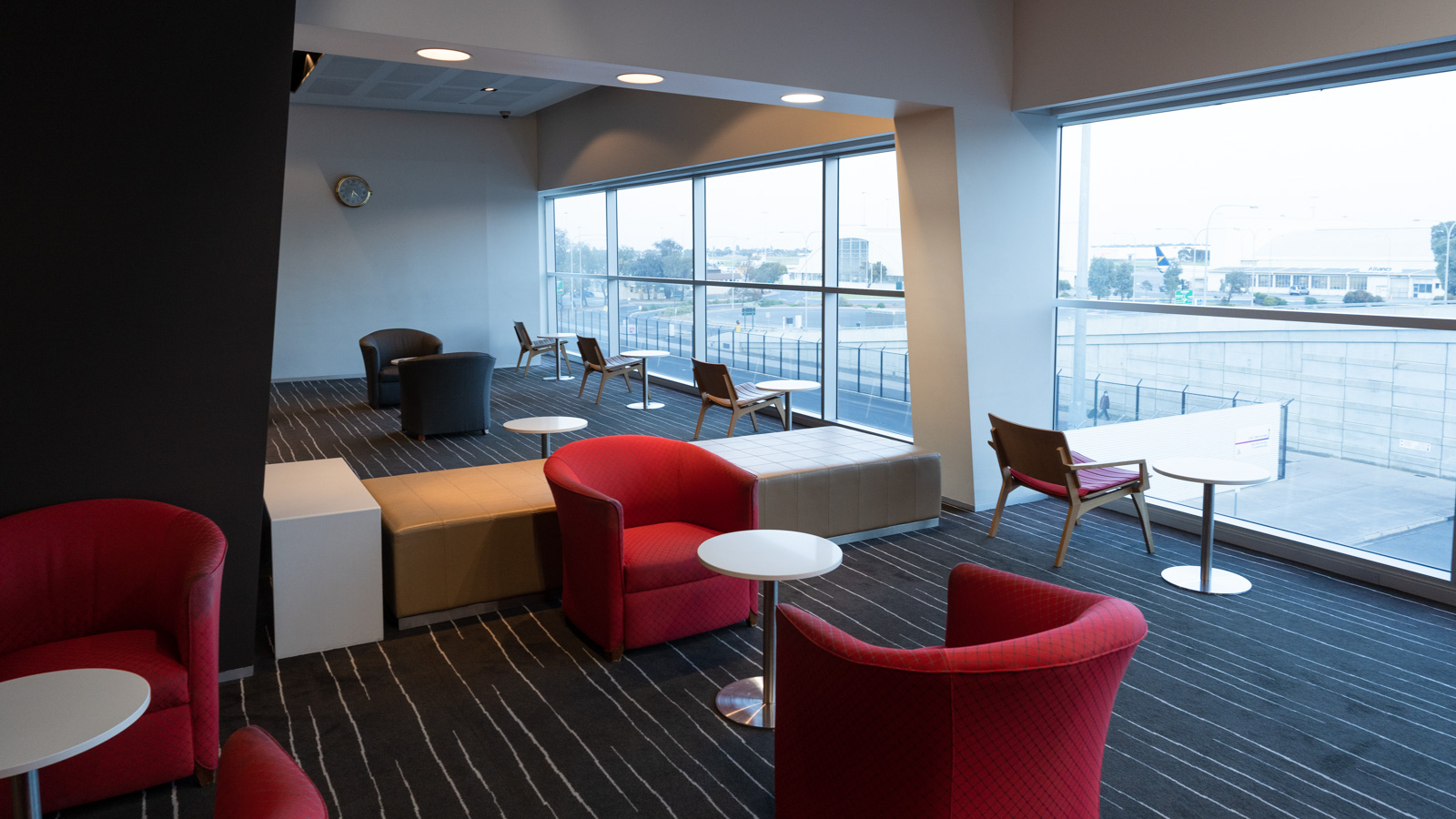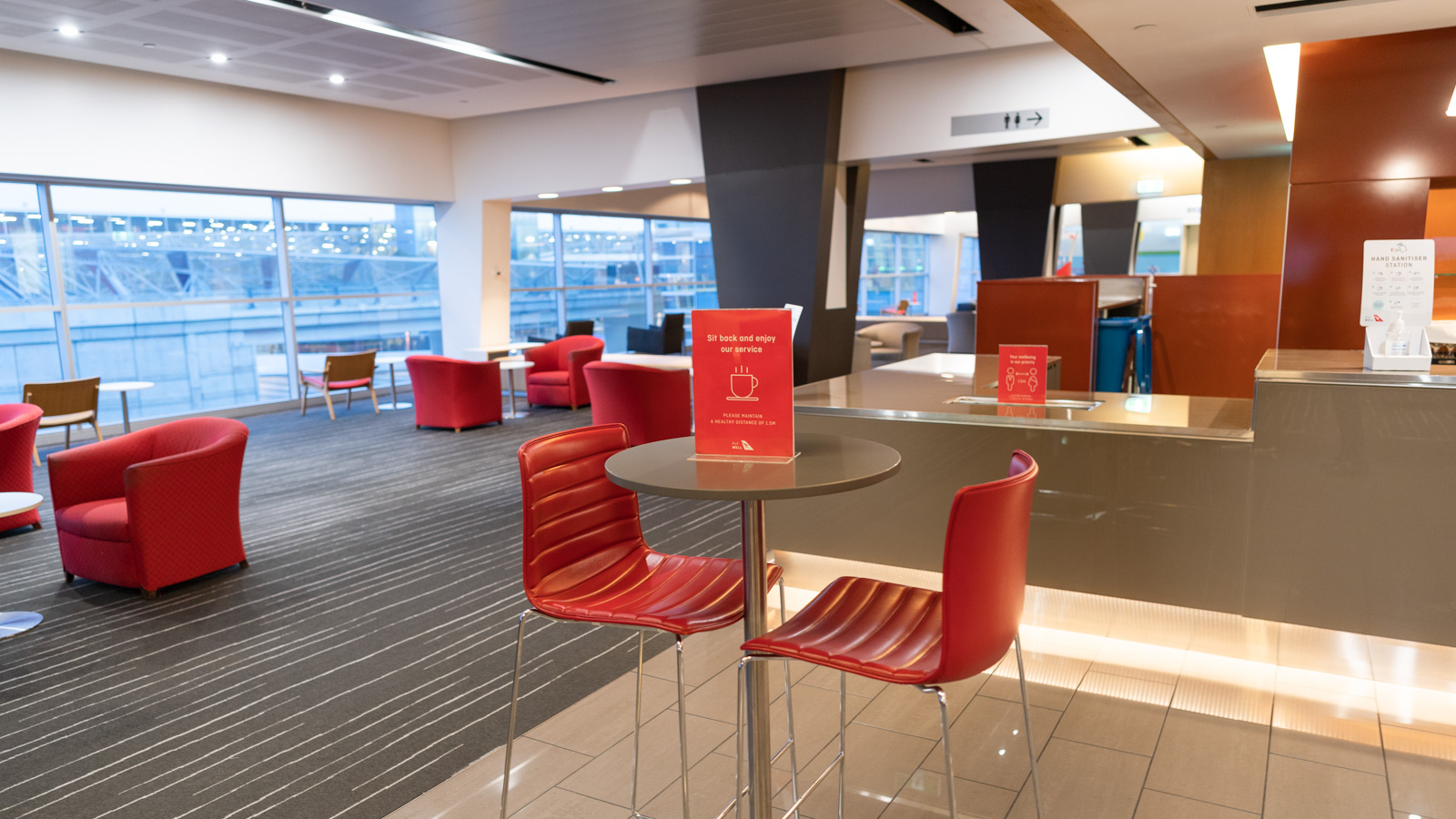 Overall, the Qantas Club Adelaide caters very well for all sorts of travellers, whether you're on your own or going on a holiday with some kids in tow.
Food and beverage
At the time of writing, the Qantas Club Adelaide lounge is still using staffed stations, rather than a buffet. This is actually great from a dining perspective, as the quality of the individually-plated dishes is quite good.
On the menu for breakfast are 5 options including scrambled eggs, warm porridge, and a zesty kale, bacon and egg salad. Indeed, I'd say this standard of breakfast would be more on par with a Domestic Business lounge rather than a mere Qantas Club!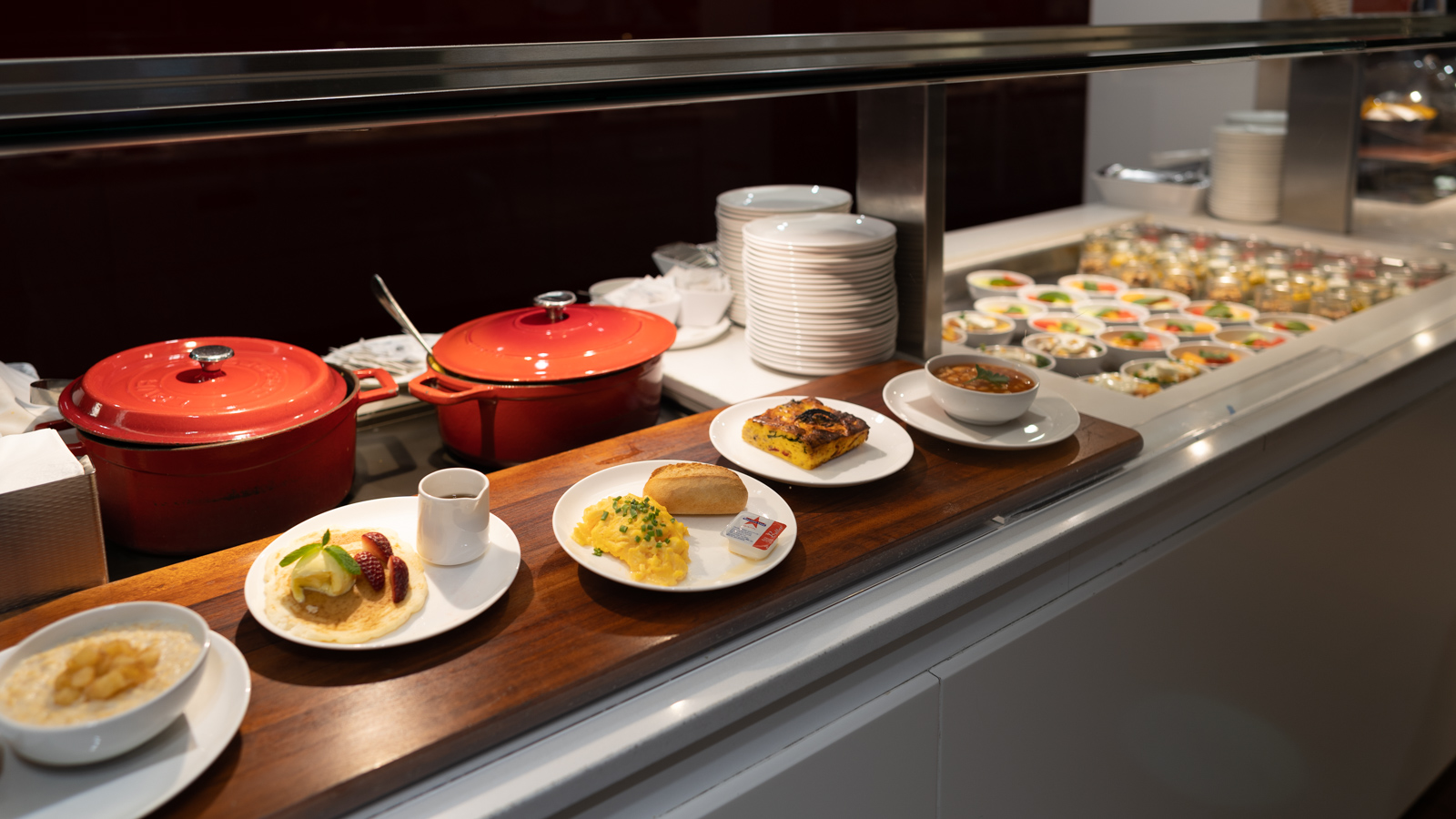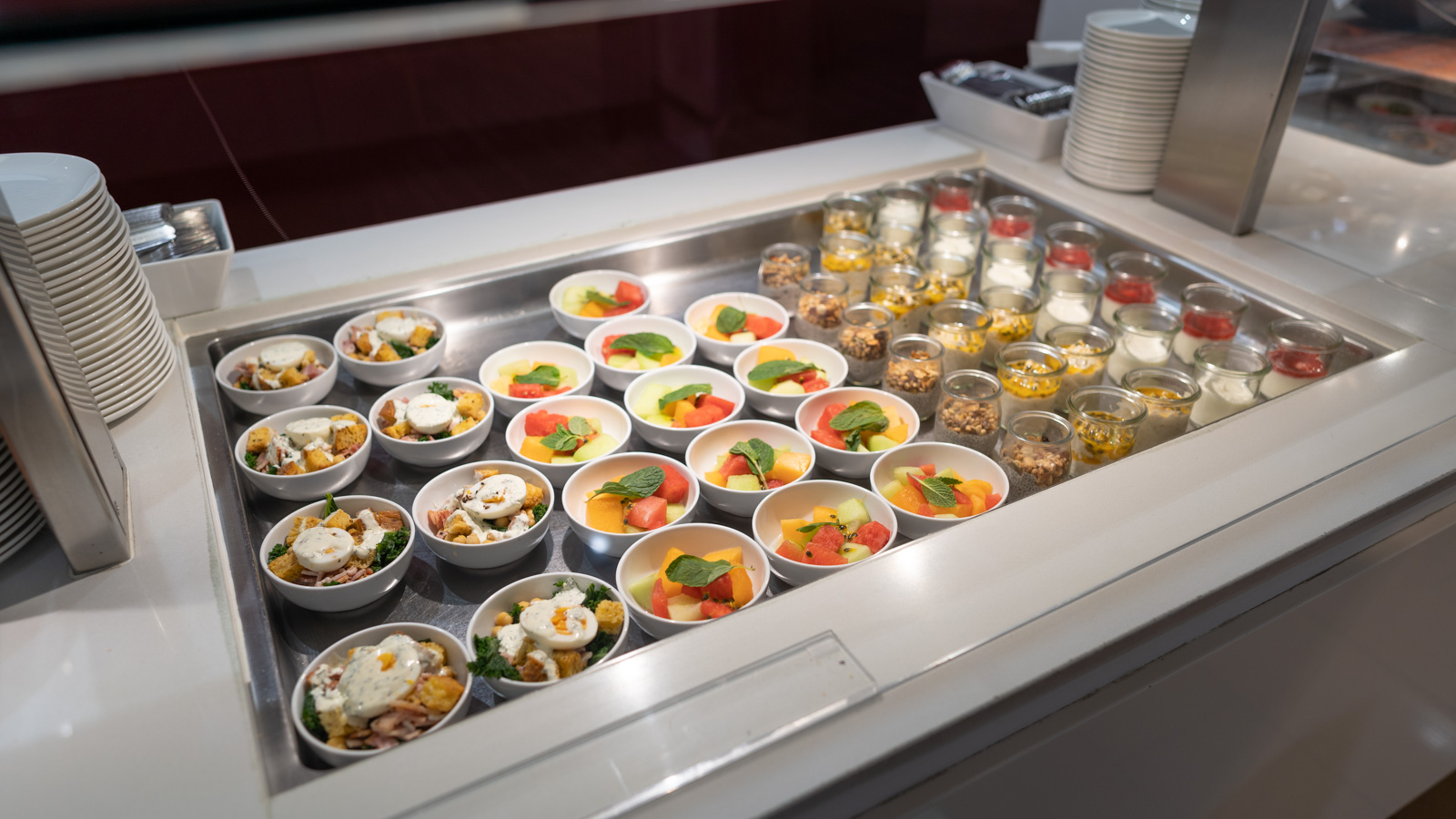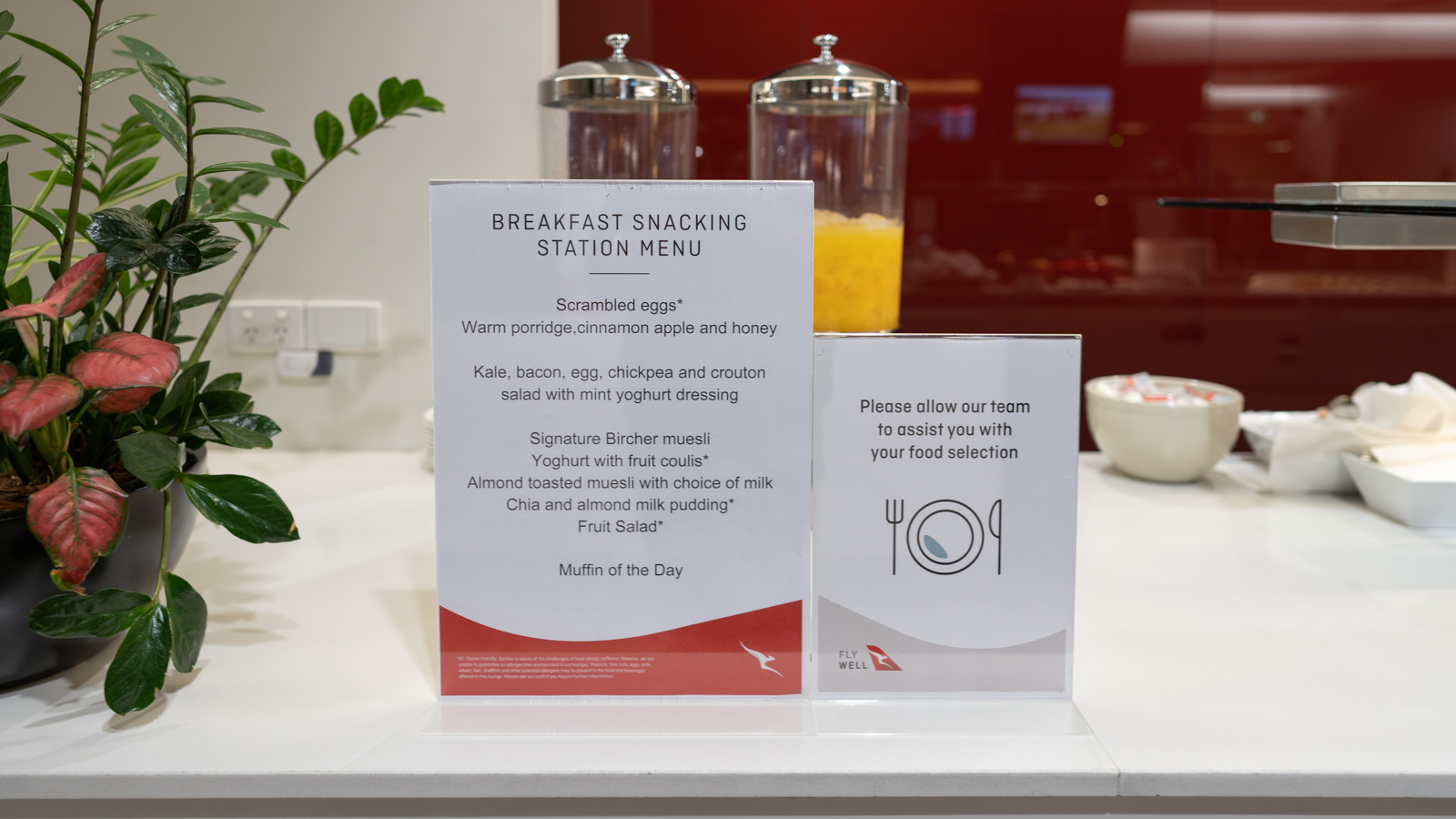 Over at the bar, there's a great selection of alcoholic beverages which you can order from 12 pm. On tap, enjoy the likes of 5 Seeds Crisp Apple, Iron Jack Lager and 150 Lashes Pale Ale. A similar selection is available from the fridge. But for something different, why not try a White Claw hard seltzer in mango or ruby grapefruit?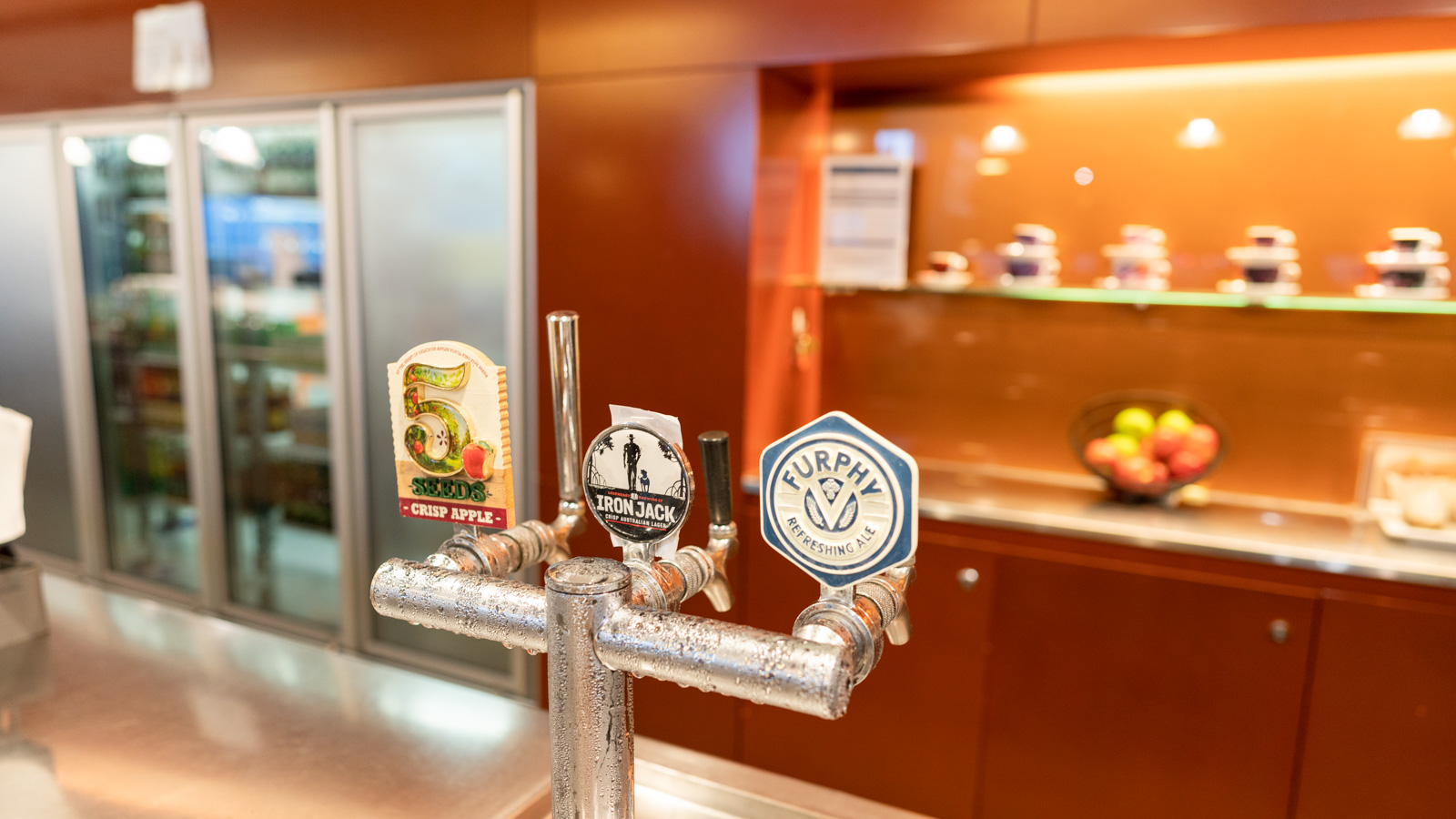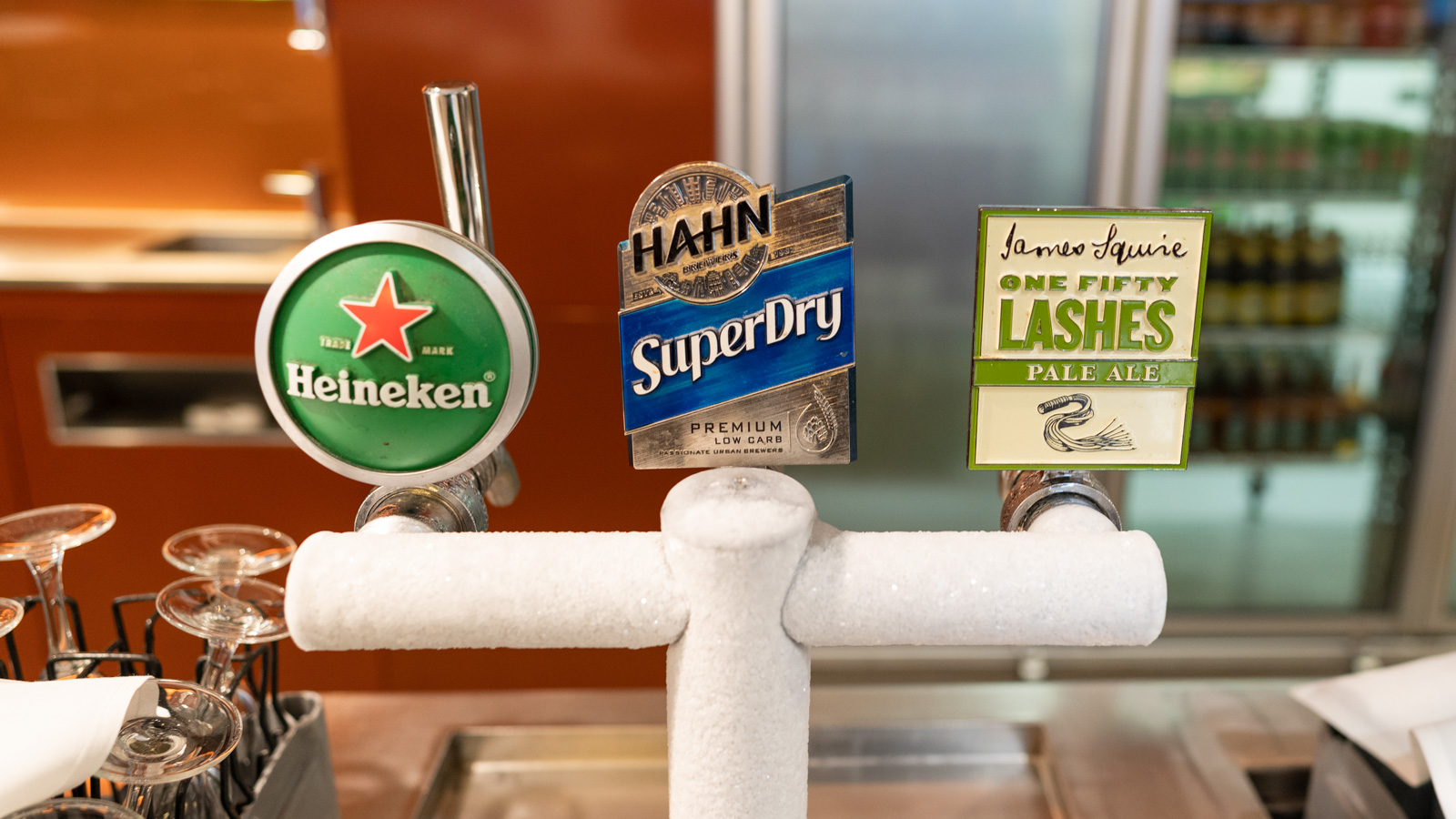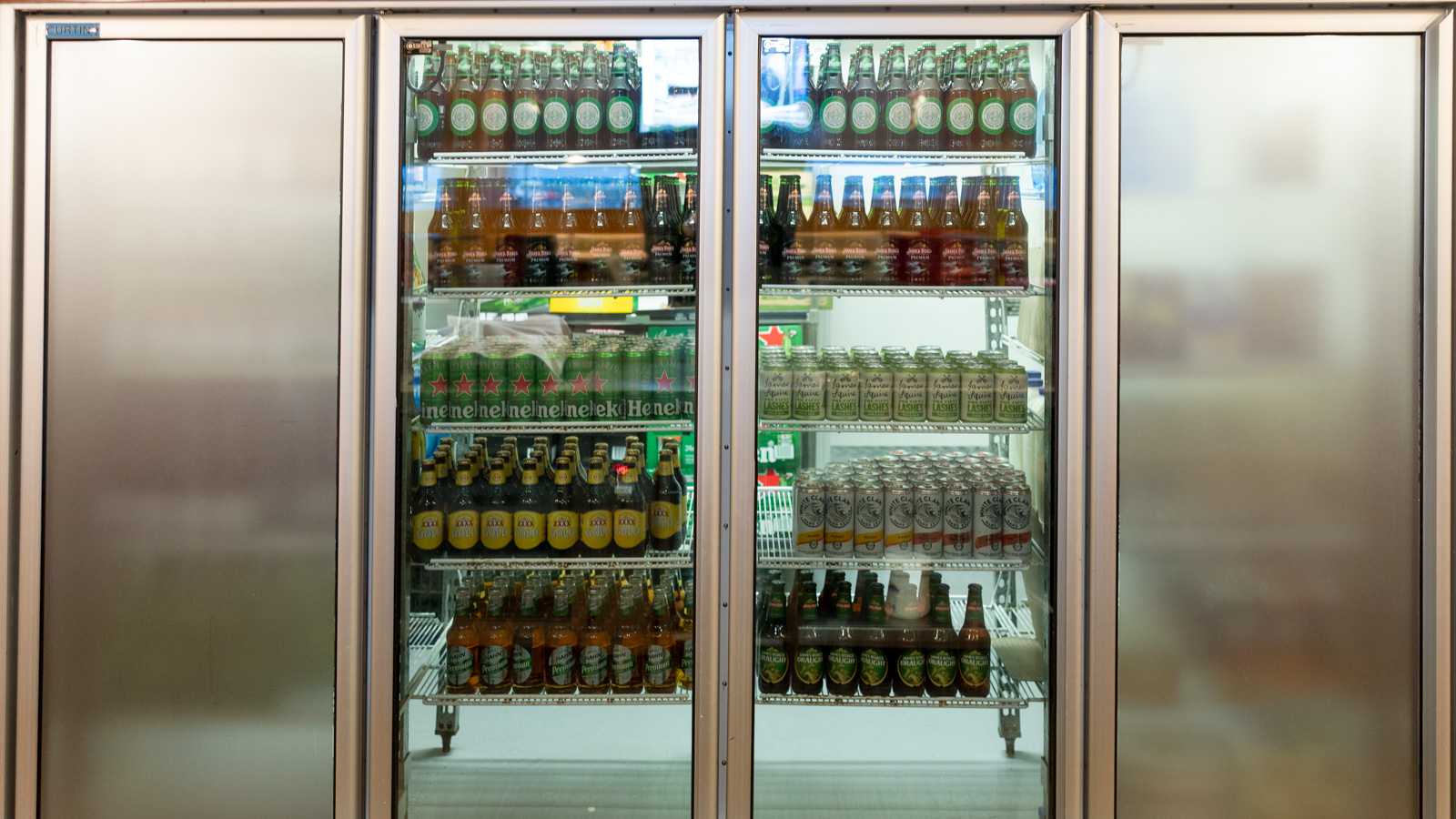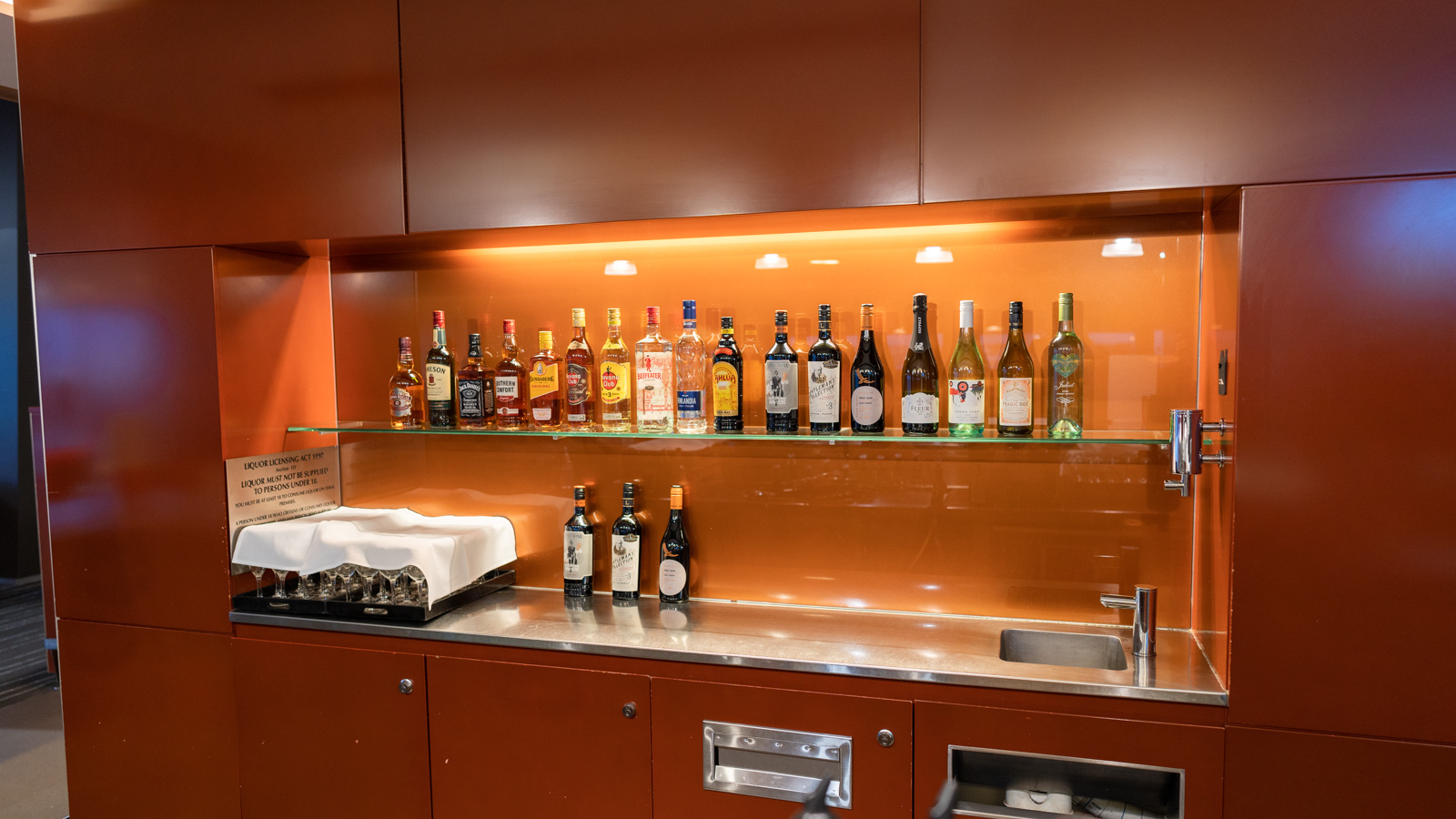 A selection of wines and basic spirits are yours to enjoy as well. While the white wines aren't on display during our morning visit, I do spy 3 red wine options. Those are: Gentleman's Collection Cabernet Sauvignon, Wolf Blass Pinot Noir and Samuel Wynn The Man From Nowhere Shiraz.
The barista pulls a great coffee with Vittoria beans. Tea and soft drinks are available as well, of course.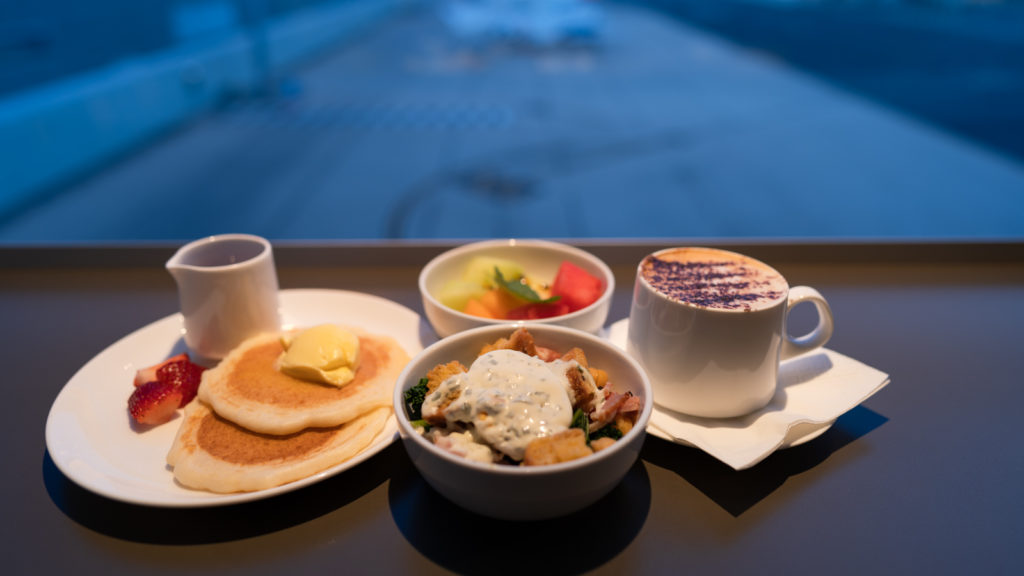 Qantas Club amenities
If work is on the agenda in Adelaide, you won't have a problem in the Qantas Club lounge. Powerpoints are easily available throughout the different seating zones, particularly in the dedicated working area near the front. My WiFi speed test notches up 43 Mbps in downloads and 92 Mbps for uploads, with a ping of just 4ms. That's an excellent result overall, easily surpassing many home NBN plans.
There were previously Mac computers and printers for general use, but these have been temporarily removed due to the pandemic. I notice that there's not much reading material on the shelves either. What is available is shrink-wrapped and yours to take home.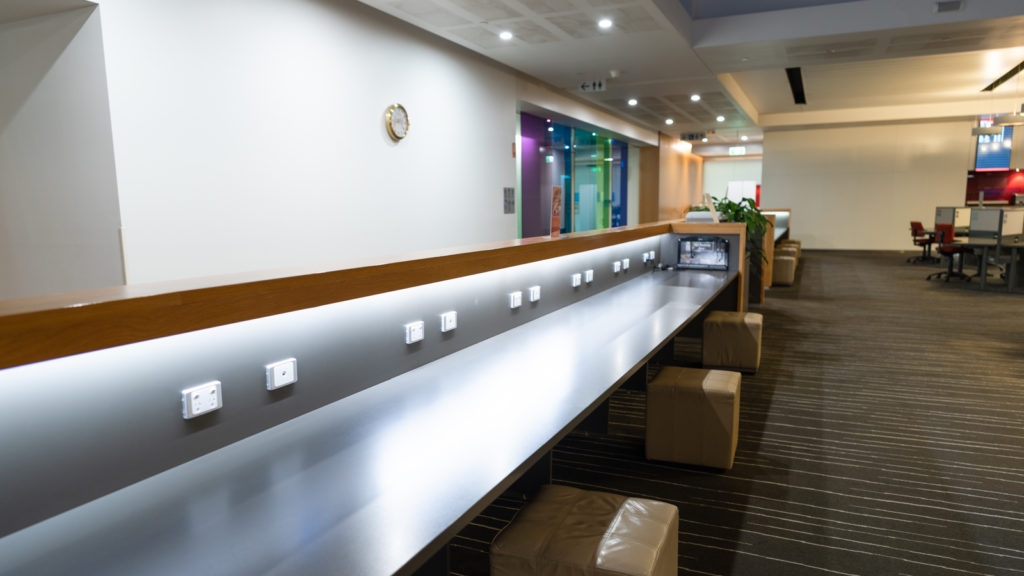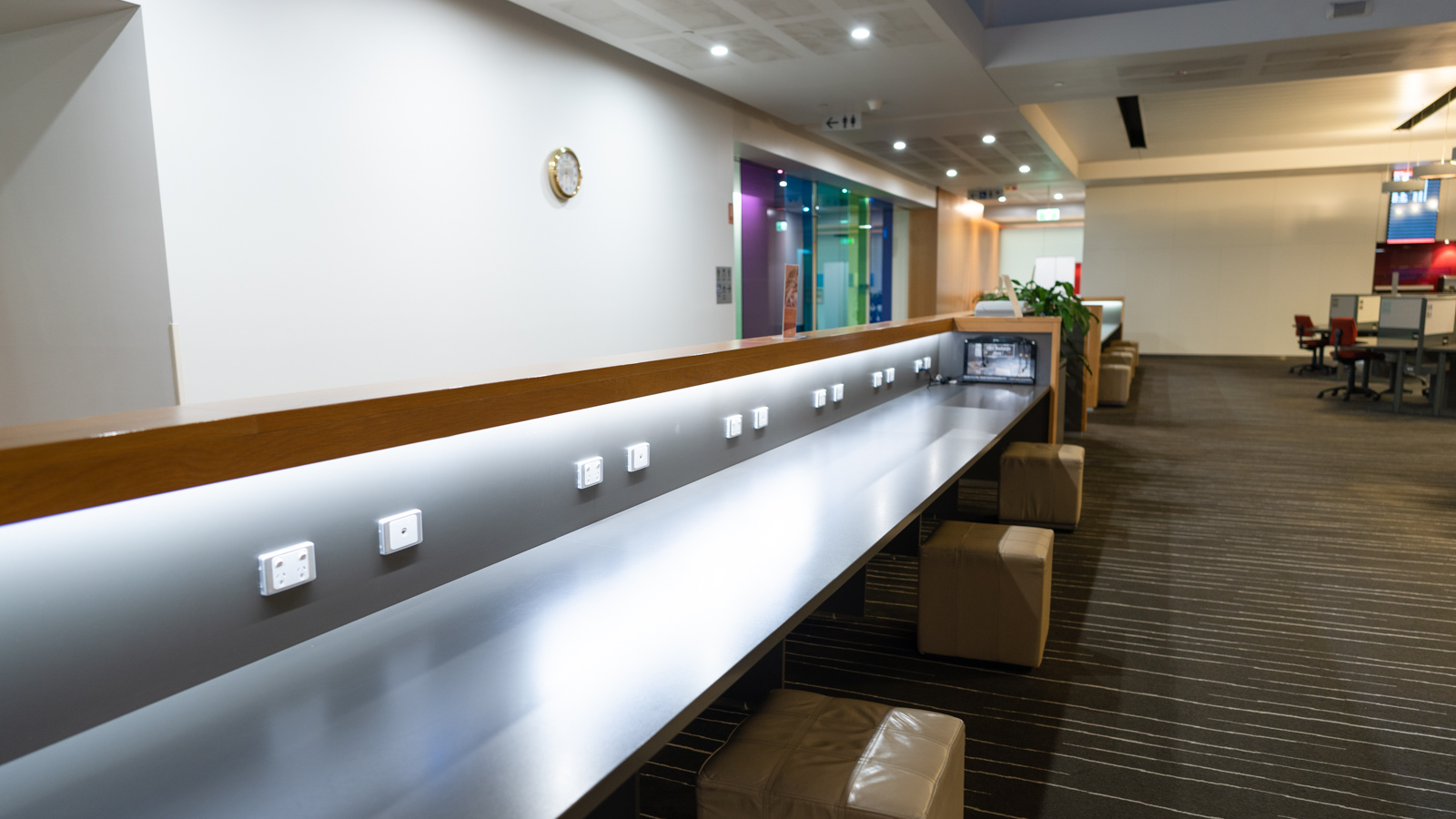 For your viewing pleasure, there are plenty of TVs dotted around the lounge. Some are tuned to local news stations, while others show Qantas' Qview content including weather and boarding updates.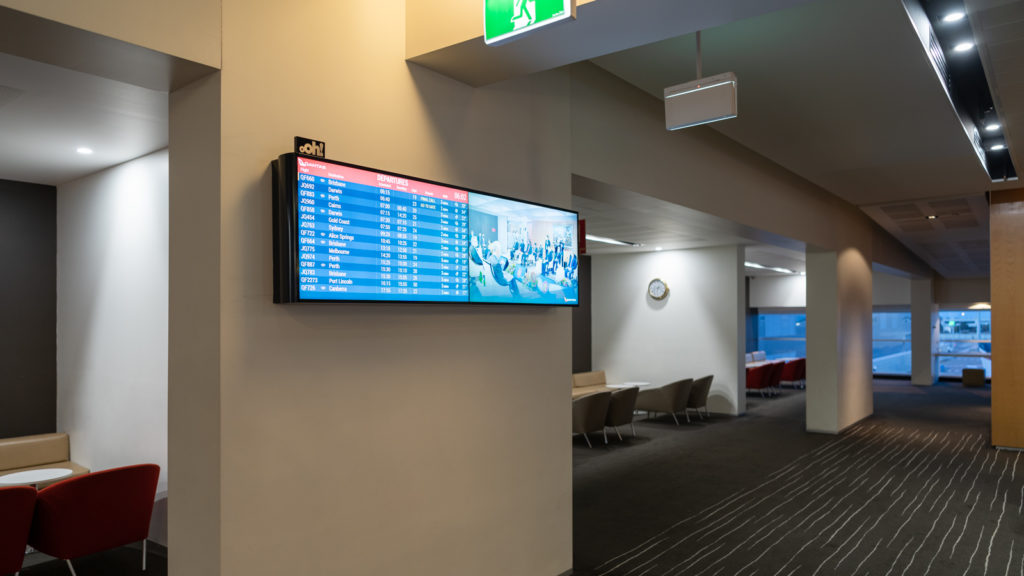 Finally, all the shower suites are open again. Keep in mind that with Qantas Clubs, you don't get any of the fancier products found in the higher-tier lounges. Towel sets are available from reception.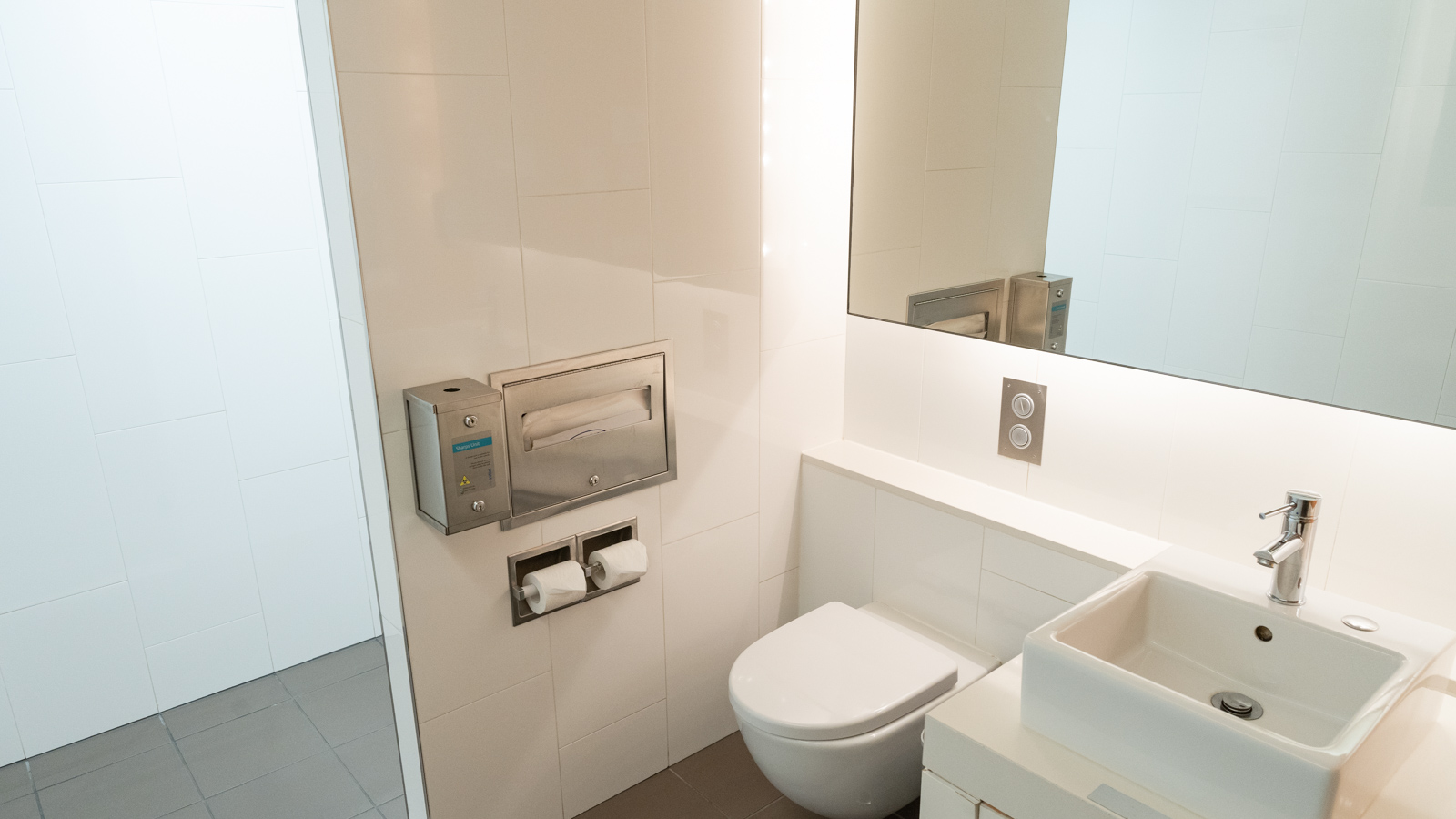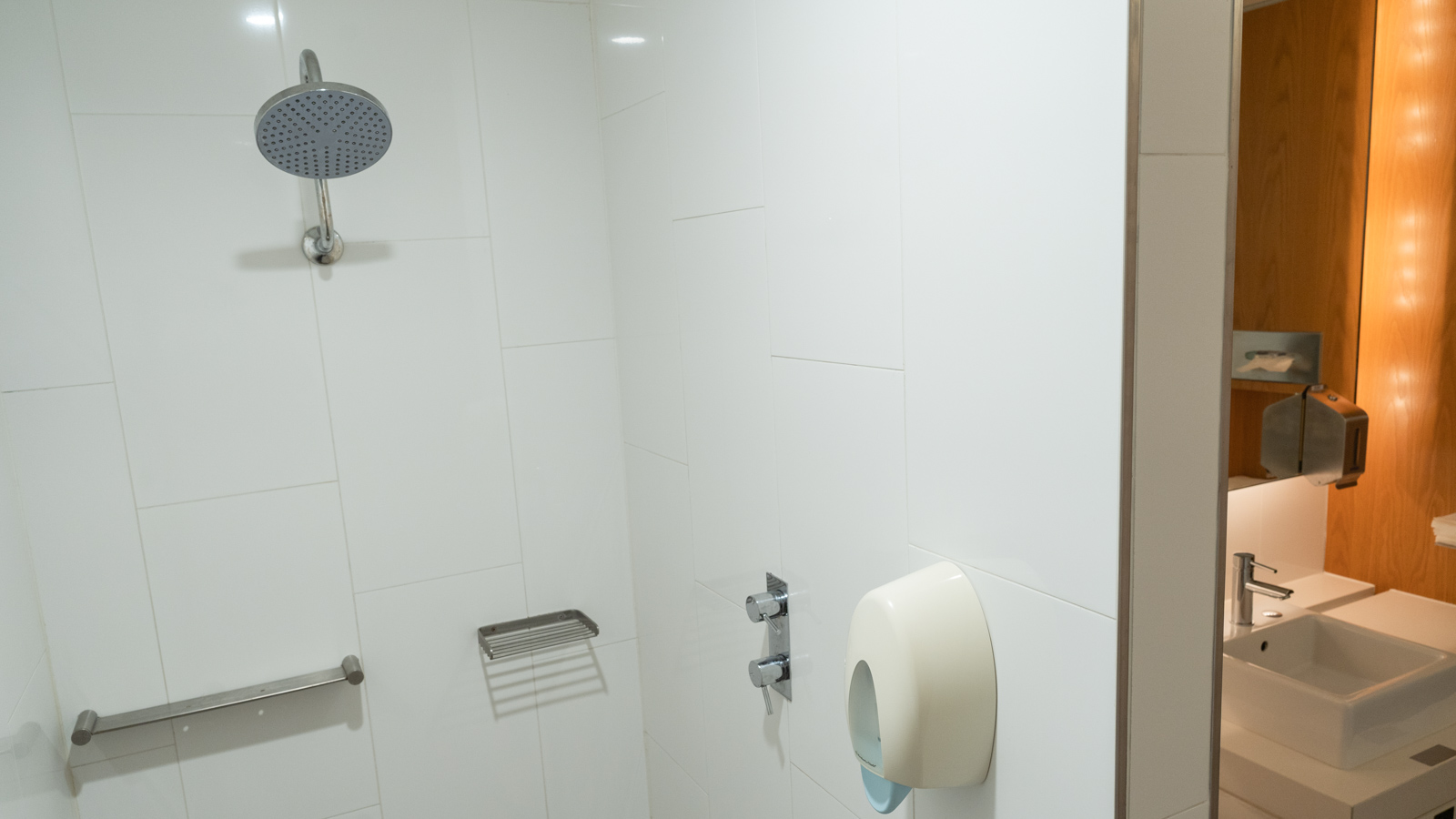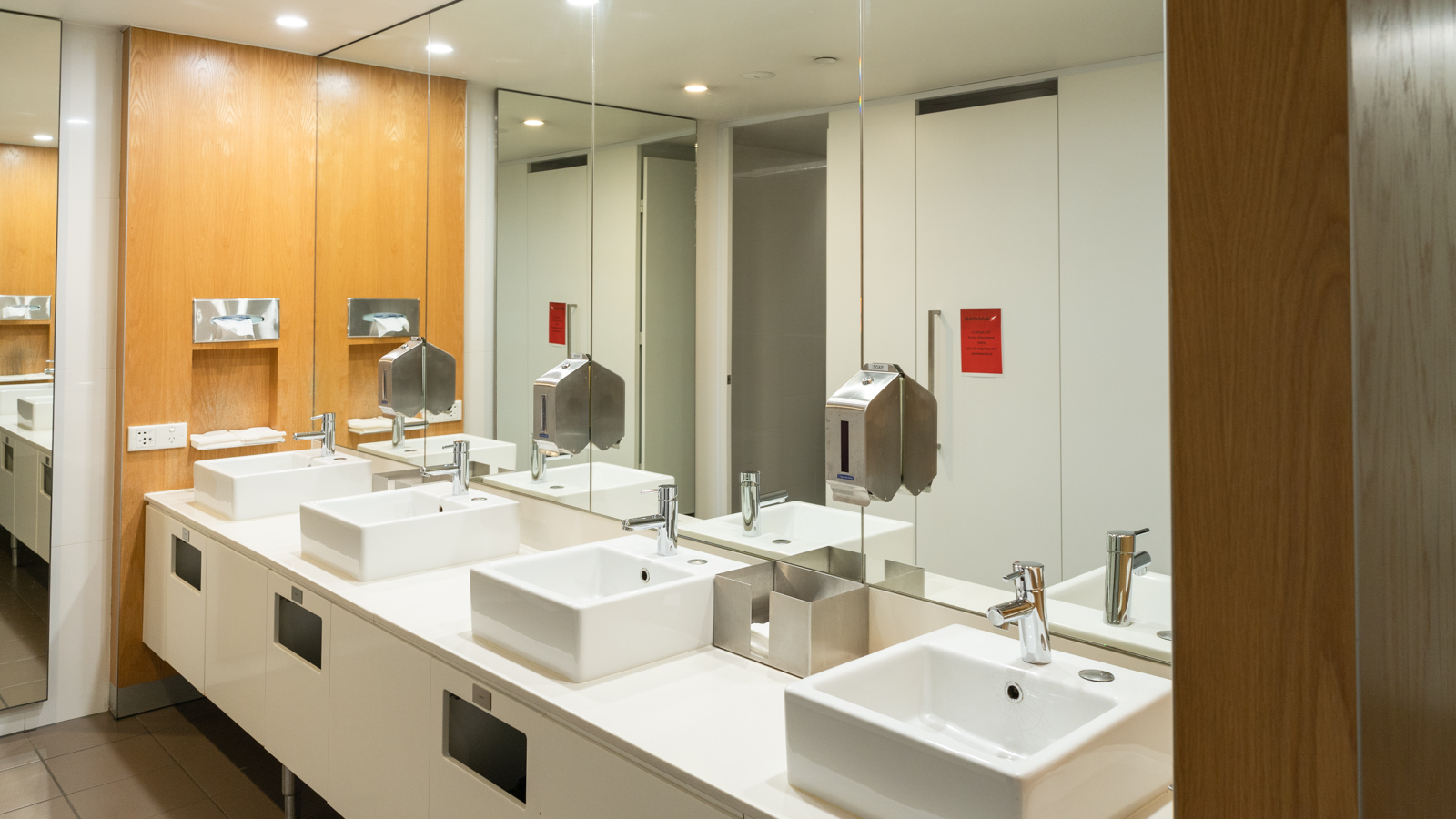 Accessing the Qantas Club
There are quite a few ways to enter The Qantas Club in Adelaide. Your next onward flight should be with Qantas, QantasLink, Jetstar, or selected partner airlines. Guests are usually allowed in the lounge (1-2 depending on your entitlements).
Class of travel: Business and First Class passengers on Qantas, QantasLink, Emirates, Qatar Airways, Cathay Pacific, Malaysia Airlines and Air New Zealand.
Connecting flights: Passengers connecting to or from a same-day international Business or First Class flight on Qantas, Emirates or any oneworld partner – even if the connecting Qantas domestic flight is in Economy.
Qantas status: Qantas Gold (+1 guest) and higher (+2 guests).
Qantas Club membership: Qantas Club members and Annual Guest Card holders travelling on a Qantas, QantasLink or Jetstar flight number (+1 guest).
Airline partner frequent flyer status: Emirates Platinum Gold or higher (QF/EK flight number), China Eastern Miles Gold or higher (QF/MU flight number), Air New Zealand Gold or higher (NZ flight number) (+1 guest).
By airline partner lounge membership: American Airlines Admirals Club and Alaska Airlines Lounge members.
By oneworld status: Sapphire and Emerald members travelling on a oneworld flight (+1 guest); International First (+1 guest) or International Business (no guest) travelling on a Qantas flight or arriving on a oneworld flight in First or Business, respectively.
By credit card/single passes: Refer to our definitive guide to Qantas lounges for credit cards that offer access to Qantas Club lounges like this one.
By day pass: A perk of achieving Qantas Silver – or sometimes offered for purchase via email before your flight for $49 – but not available at the door.
Summing up
The Qantas Club lounge in Adelaide is a functional space with great food and beverage. Of course, it helps to put the experience in perspective. As a domestic traveller, it should cater for all of your immediate needs. But if you're visiting before an overseas flight, you might find the space isn't quite as 'special' as a dedicated international lounge.
Qantas has still done well with this lounge, given its age. Sure, the interiors aren't up to date anymore. But the WiFi is blazing fast, the bar is well-stocked and the individually-plated meals are tasty. We can't ask for much more from a Qantas Club lounge.
The Qantas Club, Adelaide
was last modified:
September 28th, 2021
by