Award Nexus is one of a growing number of tools that can help you find those elusive reward flights. With the ability to search across all of oneworld, Star Alliance and SkyTeam, Award Nexus is a website well worth keeping in your back pocket.
If you've never used it before, Award Nexus isn't too difficult to understand. In this guide, we'll look at how the program prices its search tool, and how to use it to uncover reward flights effectively.
Award Nexus Pricing
Rather than selling time-based subscriptions or pricing based solely on search quantity, Award Nexus follows a points-based structure for its paid plans.
Every time you search for a flight, you'll use at least one Award Nexus point. But you're likely to need many more of those points to gain any traction. That's because one point only buys you a search of one day and one cabin.
Want to search across a whole week, while being open to flying in any level of service on a four-cabin route? That's 28 points gone in a single search. One point for every day of the search, and one point for every cabin on every day – First Class, Business Class, Premium Economy Class and Economy Class.
Because Award Nexus uses automation to search various airline websites, you'd also spend more points if running the same search across multiple sites. The same search above would cost 56 points if polling two separate websites: such as the Qantas website and the American Airlines website.
So how much do points cost? Most new members have three choices:
A Premium Basic plan for US$59 (AU$87.95), with 500 points.
The Premium Advanced package for US$129 (AU$192.35). This includes 1,000 points as standard, but a 140% bonus for first-time members takes that to 2,400 points.
The Premium Expert plan sells for power users for US$249 (AU$371.20). That covers 2,000 points by default, and for new users who currently get a 140% bonus, that's 4,800 points.

Award Nexus accepts all major credit cards, including Visa, Mastercard, American Express and Discover/Diners Club. This can provide another opportunity to top up your balance of frequent flyer points as well, by using a points-earning credit card.
If you are a member of FlyerTalk, you are eligible for a free community membership of Award Nexus.
Finding reward flights using Award Nexus
Once you're all set up with Award Nexus, bring your dream trip one step closer by navigating to Award Search > Find Awards Now.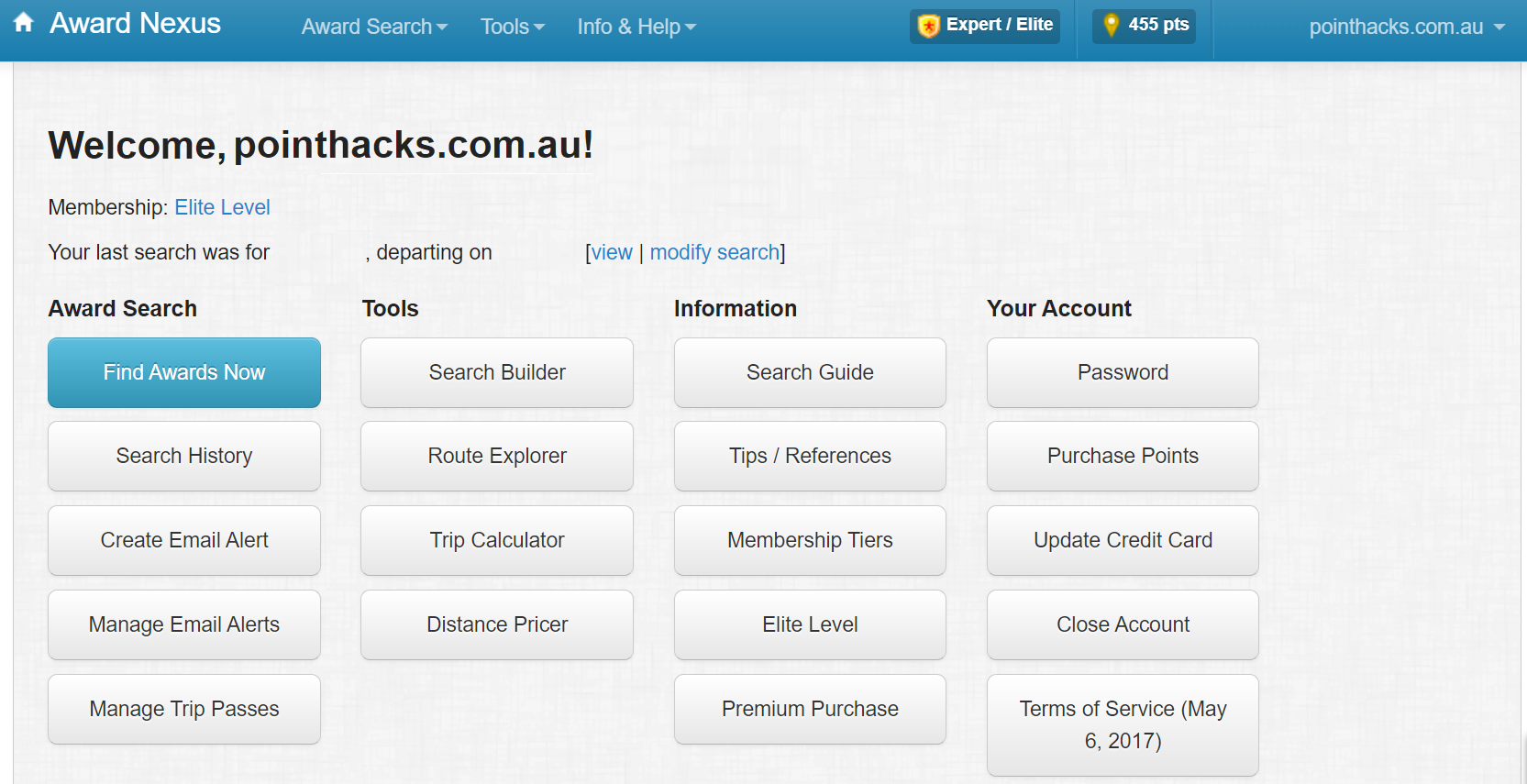 This reveals what at first, seems to be a complicated search screen. But after a few tries, using it becomes very easy. Simply enter where you'd like to travel from and the date you'd like to fly. You can choose to explore options on multiple dates – but remember, every date is an extra point used up.
You can also set which cabin you'd like to fly. But here's the interesting part. Award Nexus works by scraping data from various public reward booking portals. It's not like ExpertFlyer where the result comes back via a Global Distribution System, or GDS.
This means, before running your search, you'll also need to choose which website – or websites – you'd like to have data pulled from. Remember, the more options you select, the more points you'll burn.

Let's use Award Nexus for something relatively straightforward – finding one Business Class seat from Sydney to Singapore.
We simply enter the origin, destination and desired travel date. With flexible dates, choosing '+6 days' searches across an entire week. With Qantas Points to spend, we also choose the 'Oneworld (QF)' option for simplicity. This search will cost seven points, which you can see before any points are used up.

After that, you'll need to be patient. A simple search like this can take several minutes to perform. Once it's started, you won't be able to stop it.

Once the search tool has run its course, the real fun begins.
Ad – Scroll down to continue reading.Minimum spend, terms & conditions apply.
Understanding Award Nexus' search results
When your search is complete, there are several ways to explore the results found by Award Nexus.
List view
'List view' is a quick and easy way to browse what Award Nexus has located. From there, a few simple commands can narrow the results down to what you really want.
For example, here's what the default version of 'list view' looks like, based on our search above. This provides a broad overview of the departure and arrival timings, the airlines you'd be flying, the transit point and the journey direction.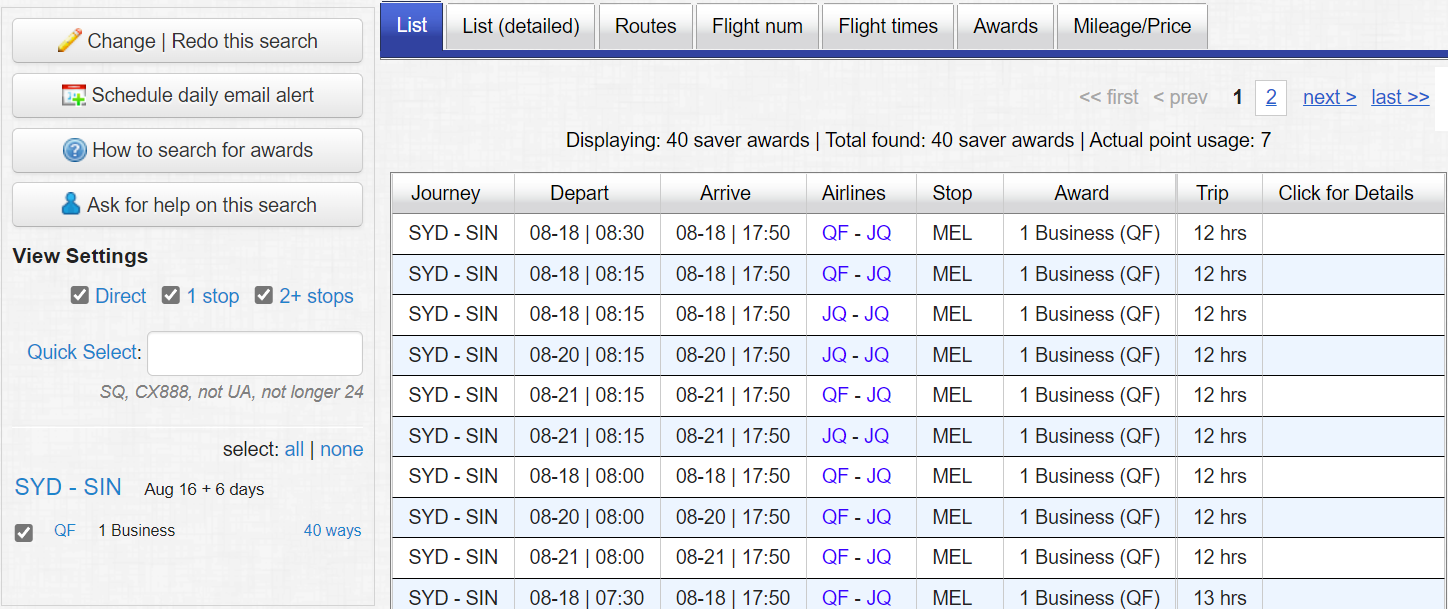 Here's that same view, but in 'detailed' version where you can see a little more information. For instance, the specific flight numbers located by the tool. These screenshots show just a fraction of the 40 reward options found for this search.

But let's make things interesting. We didn't go to the trouble of using Award Nexus just to end up on a Jetstar flight – even if it's Jetstar Business. On the left, typing 'not JQ, not 3K' removes both Jetstar and Jetstar Asia flights from the mix.
As you can see, we've just narrowed the results down to the more attractive options in Business. On these dates, they all happen to be on Cathay Pacific (CX) via Hong Kong (HKG).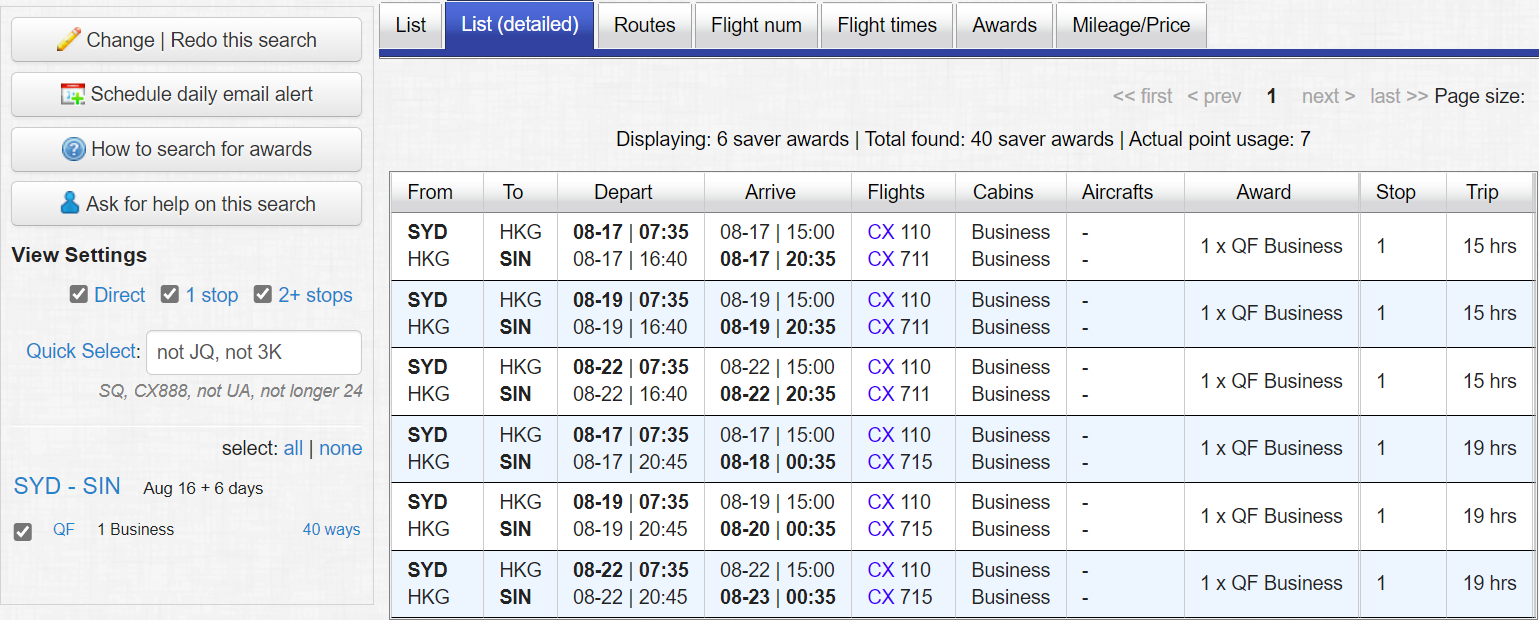 You can then sort the results however you like, such as by departure date and time.

Then, click on any of the options to see more information, such as flight timings. On this screen, you can even see the cost to book using Qantas Points, including the taxes, fees and charges payable on the side. I also love the handy tips, such as 'board with coffee' for the early morning flight!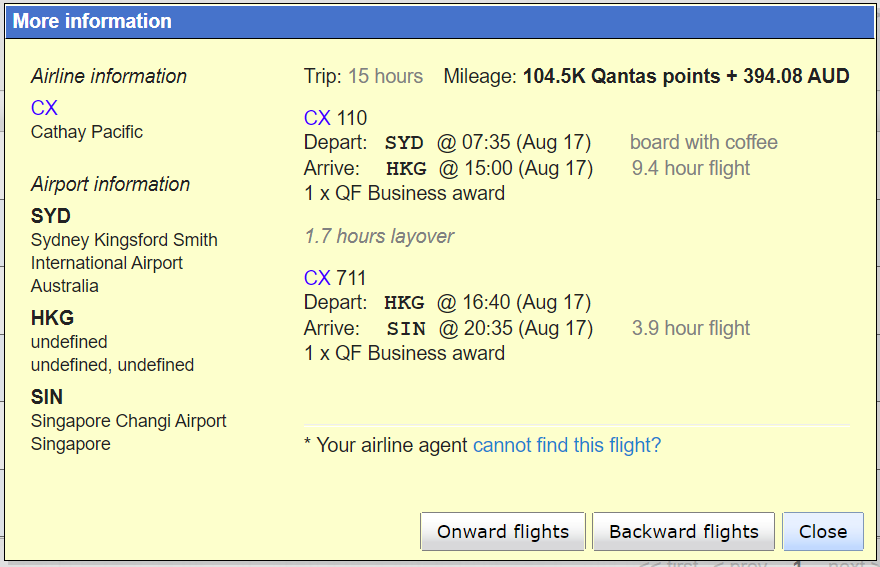 The only thing missing from the data is the aircraft type. That would be incredibly useful for the more advanced flyers, who might prefer one plane over another because of a different type of seat or configuration.
Calendar view: routes, flight numbers and flight times
Looking for a simpler view by calendar instead? Award Nexus has you covered.
For a quick overview of your flight options each day, venture to the 'routes' tab. This is most helpful when you're familiar with airport codes. If you're trying to decode the outline below, there's Sydney (SYD), Jakarta (CGK), Singapore (SIN), Hong Kong (HKG), Brisbane (BNE), Melbourne (BNE) and Canberra (CBR).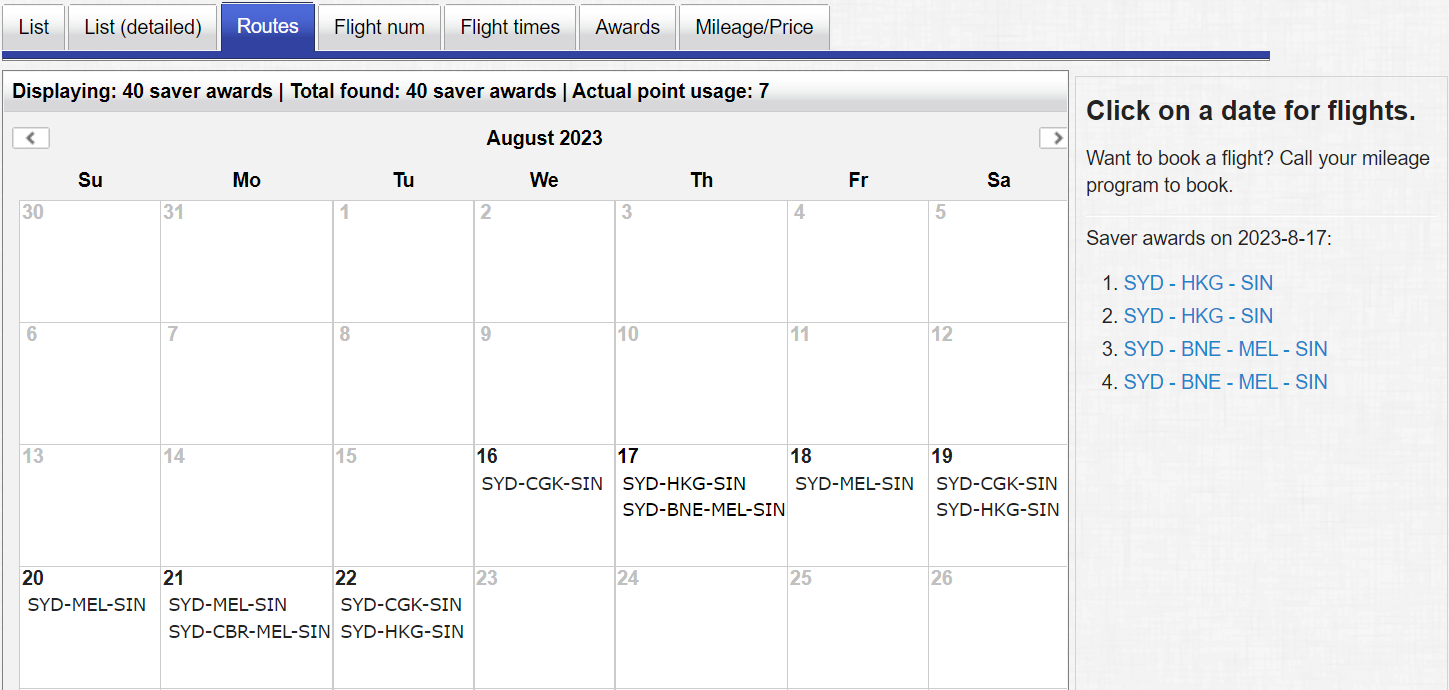 For more specific results, tab across to the 'flight num' option. If you're a frequent traveller, you'll probably already know that QF means Qantas, CX means Cathay Pacific, JQ is Jetstar and 3K is Jetstar Asia.
You can use this view to see the specific flight numbers available for booking in your requested cabin. In our case, we can see that most options involve a stint on Jetstar or Jetstar Asia. You can filter this view in the same way by entering 'not JQ, not 3K' as before – we've just left those flights visible to illustrate.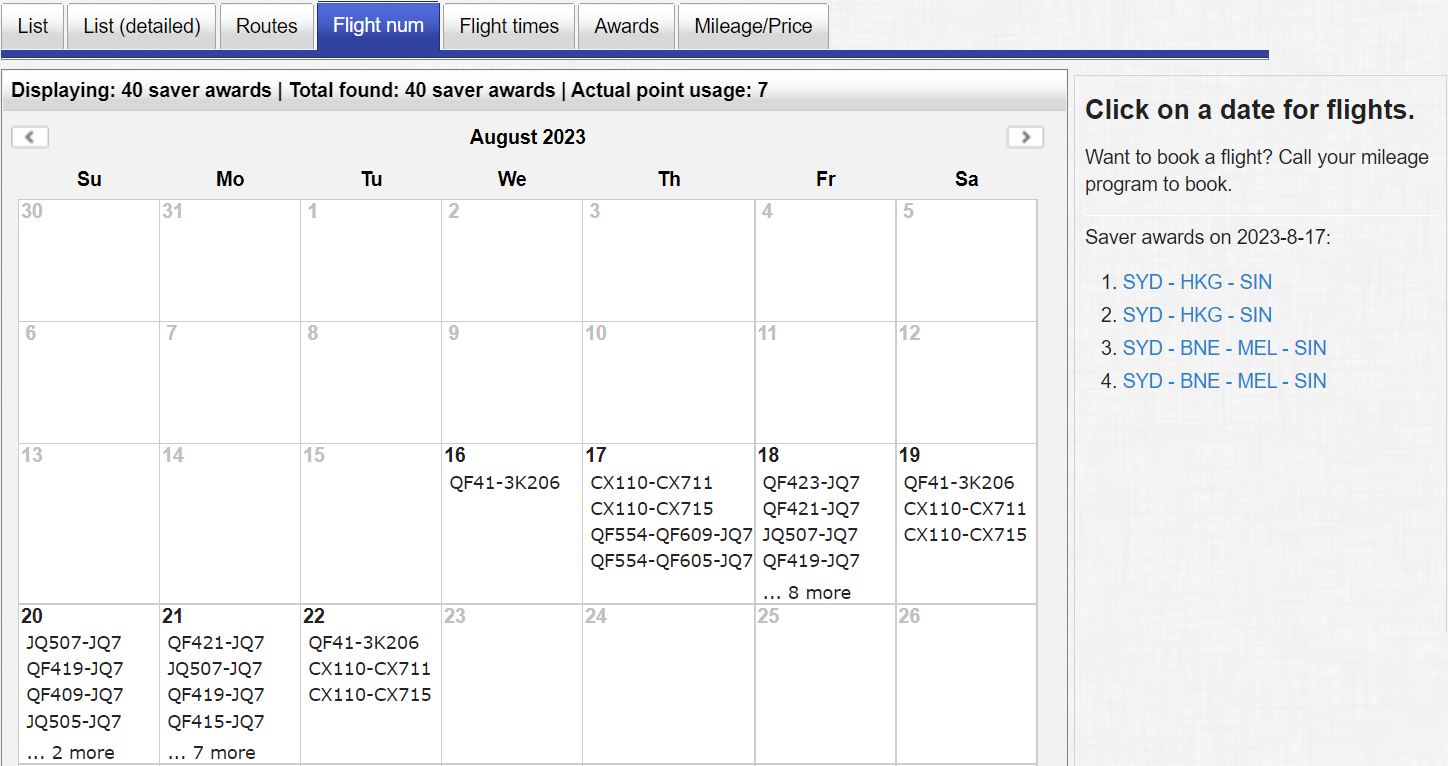 The adjacent 'flight times' tab shows similar results, but with overall departure and arrival times listed instead. Then there's the 'awards' tab, which shows the cabin class. It's irrelevant here as we've only searched for Business – but can be handy if you're looking for multiple cabins.
The final tab, 'mileage/price', is more interesting. It's not quite as relevant for this simple search but still provides some useful information.
For instance, over the few days visible, a journey to Singapore in Business can cost anywhere from 51,300 Qantas Points right up to 104,500 Qantas Points. The amount payable in taxes, fees and charges can also be double on some flights compared to others.

For context, the cheaper prices are those Jetstar Business reward bookings, with the more expensive option being the more comfortable path via Cathay Pacific.
Booking reward flights after searching Award Nexus
Armed with the data provided by Award Nexus, you can then find and book your preferred reward flight in the usual way.
If that means spending Qantas Points on Cathay Pacific, head to the Qantas website as normal. Key in your origin and destination, preferred travel dates, tick 'rewards only' on the results page, and voila! The flight found by Award Nexus is right there, ready to book.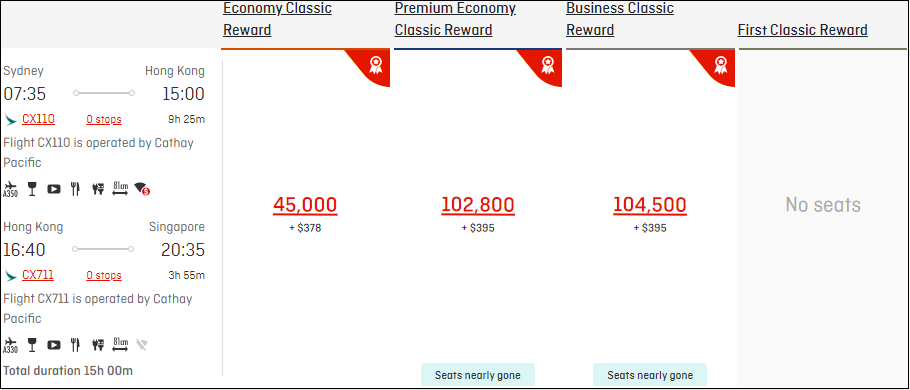 Of course, this would have been an easy flight to locate on the Qantas website, without having to use Award Nexus. And in fact, on that same day, the Qantas website also highlights a good option for a direct journey in British Airways Premium Economy (World Traveller Plus).
That BA flight would take only half as long as the Cathay Pacific detour, avoid an early morning wake-up, and get into Singapore just 30 minutes later. It's also kinder to your points balance, at 59,000 Qantas Points one-way – and with a lesser amount to pay on the side. There's a daytime flight available in Qantas Economy, too.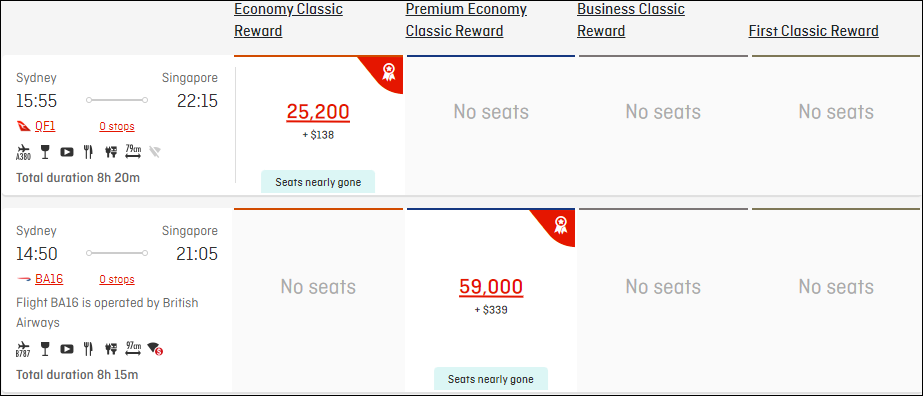 Because we'd set the scope of Award Nexus to only find Business Class, neither of these options appeared. It's a good lesson to learn. By trying to save your Award Nexus points, you could cost yourself real frequent flyer points by missing out on a great alternative.
But it's a delicate balancing act, as you don't want to burn down your entire stash of Award Nexus points planning just one trip.
Summing up
Award Nexus is one of many tools to keep up your sleeve for finding those elusive reward flights. But given the program's points-based charging structure, we wouldn't make it our first stop.
For instance, something simple like Sydney-Singapore using Qantas Points is easy enough to find via the Qantas website. If you have an unlimited subscription to ExpertFlyer, that can be handy too if award seat availability is searchable for the airline you're hoping to fly.
Add to that, a more recent entrant into this space, AwardLogic – a Point Hacks commercial partner. AwardLogic can help find reward flights and the best-value ways to book them, based on your own points habits and balances.
But Award Nexus isn't to be overlooked, and for the record, we have no commercial affiliation with Award Nexus, either. It's still a great tool for getting yourself a seat at the front of the plane. The tool that works best for you will depend on where you're headed, your skill level, the type of points you have to spend and the difficulty in finding the flights you hope to take.
Also read: These tools can help to redeem your frequent flyer points
Feature image courtesy of Oleksandr Pidvalnyi/Pexels.
---
Stay up to date with the latest news, reviews and guides by subscribing to Point Hacks' email newsletter.
Find reward flights like a pro with Award Nexus
was last modified:
December 5th, 2022
by