Everyday Rewards is the loyalty program of Woolworths supermarkets, BWS, Big W and Caltex Woolworths fuel stations around Australia (now including Tasmania). It allows you to earn points for each dollar spent, which can later be redeemed for money off your Woolworths shop or be converted to Qantas Points.
In this guide, we will cover how to get started with Everyday Rewards, strategies to earning points and how to make the most of them when it's time to get rewarded.
Watch our video or continue reading below to learn more:
How to join Everyday Rewards
The quickest way to join Everyday Rewards is to do it online. It's easy and free to join the program.
Go to the Join Everyday Rewards page on its website.
Fill in your personal details, and your temporary Everyday Rewards Card number if you have one.
Enter your postal address and email address to receive a new membership card.
A verification code will be sent to your email. Enter it to join Everyday Rewards.
How to link my temporary Everyday Rewards card to my account
Are you doing a big shop at Woolworths and realised you don't have an Everyday Rewards account yet? Don't worry, just grab a temporary paper card from the checkout and scan it to start earning points.
When you get back home, follow the steps above to create a new Everyday Rewards account. There will be a section where you can add your temporary card number.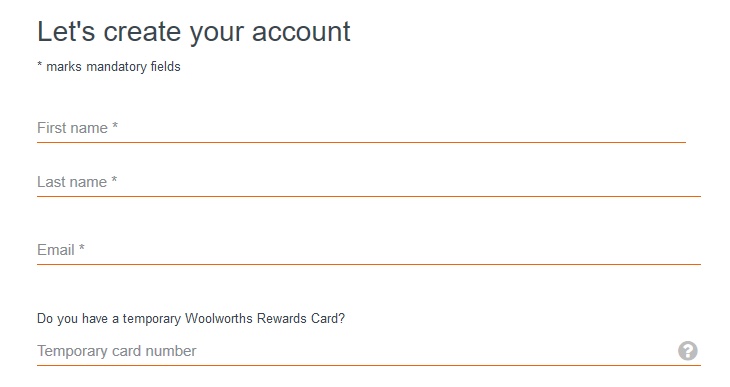 Doing this means your previously earned points will transfer to your main Everyday Rewards card when it arrives.
Tip: If you forget your Everyday Rewards card while shopping, you won't be able to use a temporary card to collect the points and transfer it back to your main card at a later stage — it's only for new signups. Instead, consider saving your card to your Apple Wallet or Google Pay account, so it's always on your phone.

How to add your Everyday Rewards card to Apple Wallet or Google Pay
Having your Everyday Rewards card on your phone means you won't even have to carry the physical card around anymore. Just log in to your account and go to 'Cards and Accounts'. Look for the tab 'Add your Rewards card to your phone' and go from there.

If you have a phone with NFC (i.e. tap and go) capabilities, you can just tap your phone to the EFTPOS machine during checkout to add your Woolworths Card automatically. For all other phones, you can bring up a barcode and scan it in before payment.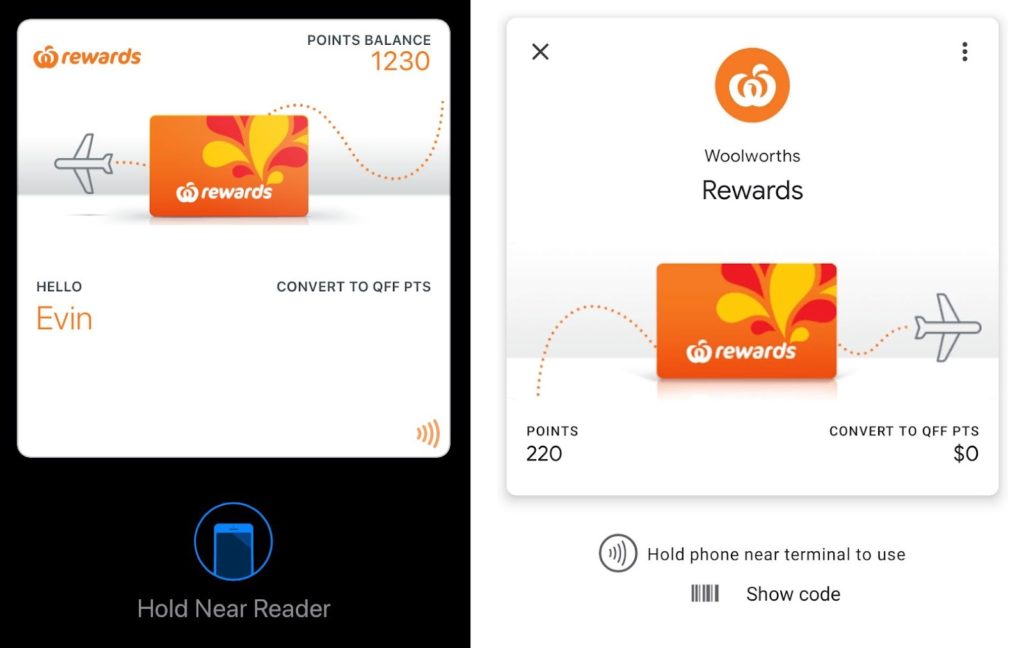 Everyday Extra
In addition to Everyday Rewards, Woolworths offers another layer of its loyalty program. For a small fee, members can unlock Everyday Extra. This paid subscription includes 10% off one shop per month and Woolworths and Big W, the ability to earn triple points on eligible purchases instead of the standard 1:1 earn rate, plus additional member-exclusive offers.
Find out everything you need to know in our ultimate guide to Everyday Extra or you could also watch the video below:
The Everyday Rewards app – everything you need to know
Everyday Rewards has a dedicated app for its program, similar to that of Flybuys. You can now track your current points balance, fuel vouchers and current redemption option on the app. Other cool features include easy activation of offers and the storing of e-receipts in case you lose the paper one.
You can also access your information on the normal Woolworths shopping app. There really isn't much to it because Everyday Rewards has less offers and reward options than Flybuys, which has its own dedicated app.
The Woolworths app can show you your card barcode (once again eliminating the need for a plastic card), your current points balance, current offers, and number of saved fuel discounts.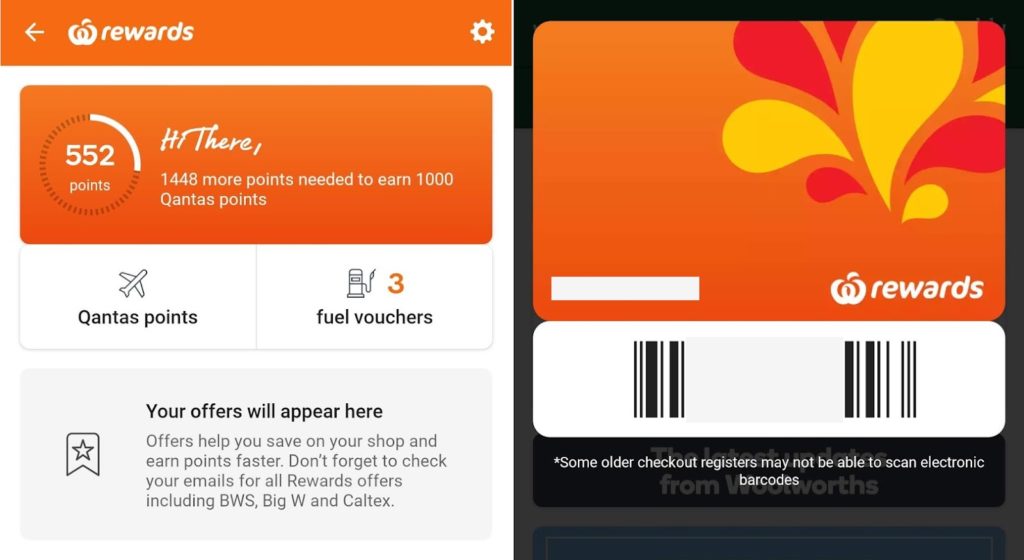 How to join Qantas Frequent Flyer for free if you haven't already
The Woolworths-Qantas partnership gives lots of benefits, as you can turn your rewards points from shopping into Qantas Points for flying.
You need to be a Qantas Frequent Flyer member first, which charges $99.50 for Australian residents to sign-up. Luckily, there are plenty of free ways to join including through Woolworths. Simply join through this link, which already has the promo code WOOLWORTHS included.


How to link Qantas Frequent Flyer and Everyday Rewards
It's best to link your Everyday Rewards and Qantas Frequent Flyer accounts on the Everyday Rewards website. Simply follow the steps below to link your Qantas account to Woolworths and choose Qantas Points as the reward:
Login to your Everyday Rewards account and go to Cards & Accounts.
Under 'Qantas Frequent Flyer membership', add in your membership details.

Under 'My Account', go to Redemption Settings.
Choose 'Convert to Qantas Points'. You'll now automatically get 1,000 Qantas Points whenever you reach 2,000 Everyday Rewards Points.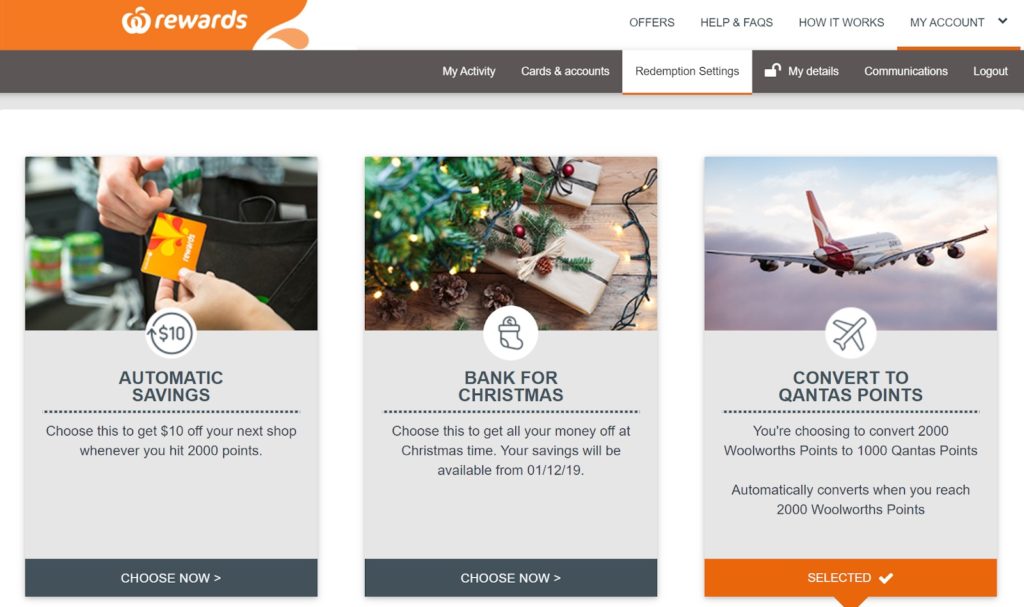 A quick note on earning and spending Everyday Rewards points
Everyday Rewards only has a few partners and a set earn rate, so it's very easy to understand. Right now, you can get 1 point for every $1 spent at Woolworths supermarkets, BWS, participating Caltex and Caltex Woolworths outlets and Big W. This includes online purchases.
You get a reward at every 2,000 Everyday Rewards points earned. There are three ways to redeem your reward — convert to Qantas Points, get $10 off your next Woolworths shop, or bank the value to Christmas and get multiples of $10 off your shop from December onwards.
We would recommend choosing Qantas Points, as it can be used to get flight redemptions in premium classes which often works out to give the best value per point. If this doesn't appeal to you, then getting $10 off your next shop is the second best choice.
How to contact Everyday Rewards
Have a question? Due to the current coronavirus situation, Everyday Rewards has temporarily disabled the ability to get in touch via phone or chat.
The best way to get in contact is to email [email protected].
Frequently Asked Questions
How can I check my Everyday Rewards points?
Download and sign in to the Woolworths App to always have your points balance handy. The same works if you add your card in Apple Wallet or Google Play. Otherwise, you can check the balance online.
Is it worth converting Everyday Rewards points to Qantas?
Yes, as long as you understand how the Qantas Frequent Flyer program works and you know what to use the Qantas Points for. We have plenty of guides on this topic. Most savvy points collectors will eventually use their balance to book Business and First Class flights on Qantas and partner airlines.
Do Everyday Rewards points expire?
No, as long as you scan your Everyday Rewards card or use it online at least once every 18 months.
What do I do if I've lost my Everyday Rewards card?
That's fine, just log in to My Account and look for a tab called 'Order a new card'. If you say you've lost your card, then they will cancel your old card number and issue you with a new one.
Can I add points to my Everyday Rewards?
No, you can't 'buy' extra Everyday Rewards points to bring you closer to a redemption. All you can do is continue shopping as normal and earn points the usual way.
This content contains affiliate links from which Point Hacks may earn commissions from transactions generated from new customers, bookings and general enquiries. Find out more here.
The Ultimate Guide to Everyday Rewards
was last modified:
October 19th, 2023
by