A new payment platform, pay.com.au, has landed, providing an exciting new way for businesses to seamlessly manage payments through a single platform, while also maximising rewards points.
While we can't reveal the full details just yet, there are plenty more products and initiatives to be released by pay.com.au, so stay tuned! These include rolling out innovative features to enhance the overall user experience and offer unique reward options for pay.com.au members.
Here's everything you need to know about pay.com.au.
What is pay.com.au?
The main focus of pay.com.au is to be the premier business-to-business platform where you get rewarded across all of your business-related payments.
As a one-stop-shop for business payables, pay.com.au is engineered to get you flying sooner by managing all your business payments across the platform using any payment type that suits you.
How does pay.com.au work?
As a payment platform
At launch, pay.com.au will primarily be a credit card business-to-business payment and rewards platform. This means businesses can pay most of their bills through the platform using a credit card — even those expenses that usually are paid by bank transfer.
Business owners will be able to benefit from an increased haul of reward points and cash flow benefits associated with using a business-orientated credit card, such as the American Express Platinum Business Card.
Apart from accepting all forms of credit card payments, pay.com.au will also be the cheapest platform for business-to-business payments on the Australian market, compared to existing payment schemes.
Plus, you will also earn PayRewards PayPoints on all your eligible transactions. A flexible program that gives you the option to transfer your points to either Qantas Points or KrisFlyer miles. Read more about PayRewards in our dedicated guide here.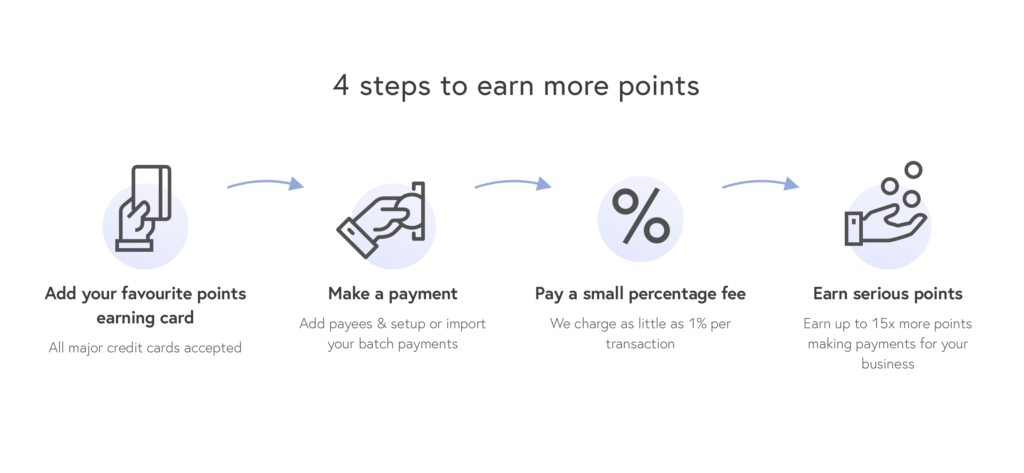 Below are a few examples of the benefits of using pay.com.au from customers who use their American Express Platinum Business Card to pay all of their business expenses
Example 1: James
James spends $1 million per year on various business expenses, such as ATO, rent and suppliers.
He pays $13,300 in fees (after tax) for his American Express Platinum Business Card but earns 2.25 Membership Rewards points per dollar spent, which equate to 1.125 frequent flyer points in 10 different airline programs, including Qantas Frequent Flyer.
Therefore, each year, James earns 1.125 million Qantas Points, which have a monetary value of $67,500 based on a standard Classic Reward Flight First Class redemption.
By using pay.com.au, James is able to take his family to Europe in First Class every year (although at present he is saving up his points until the international borders open!).
Example 2: Jenny
Jenny spends $500,000 per year on various business expenses, which include superannuation, payments to the ATO and to her suppliers.
As a result of this spending, Jenny earns 1,125,000 Membership Rewards points, which convert to 562,500 frequent flyer points. The monetary value of these points is around $24,750 based on a standard Classic Flight Reward redemption in Business Class
By using pay.com.au, Jenny is able to cut nearly $25,000 off her business travel costs every year.
And aside from the savings in travel expenditure, there are also working capital gains to be made. While Jenny pays $9,500 in fees for the Card, which come in at $6,650 after-tax, the working capital benefits alone outweigh this cost.
Jenny has a short-term business loan facility that incurs a rate of 7%p.a. Therefore, her Amex card having an interest-free period of 55 days allows Jenny to save on interest costs, as she can keep the money that she spends on her Amex Card in an offset account for up to 55 days and reduce the interest payable on her loan facility.
Understandably, Jenny is very happy using pay.com.au and she benefits both from reductions in her business travel expenses, as well as from interest saved from her working capital.
As a travel concierge
Unlike other payment platforms in the market, pay.com.au provides end-to-end service from the moment you earn points using the platform, to the time you are ready to use them.
An initial consultation will help you understand the potential your business has for earning frequent flyer points and help point you to the optimum cards to get you up and running.
Account-holders also have the option to take advantage of a travel concierge service. The travel concierge will help you with general frequent flyer point enquiries, take the trouble out of booking frequent flyer travel with your points, and also assist you with purchasing paid travel.
These latter options can be used on an ad-hoc basis, or accessed through a recurring subscription which also includes reduced payment processing fees and some included travel assistance.
Ad – Scroll down to continue reading.Minimum spend, terms & conditions apply.
How much does pay.com.au cost?
Payment platform
All B2B transaction will incur certain fees, depending on what credit card and platform you use. The fees charged at pay.com.au are aimed to be lower than other comparable B2B platforms.
| | | | |
| --- | --- | --- | --- |
| | Free Account | Regular Account | Premium (30 day free trial) |
| Monthly Fee | Free | $85/month | $165/month |
| Payment Processing Fee: Mastercard | 1.00% | 0.90% | 0.80% |
| Payment Processing Fee: VISA | 1.20% | 1.10% | 1.00% |
| Payment Processing Fee: American Express* | 2.10% | 2.05% | 1.90% |
| Payment Processing Fee: Linked Bank Account | Free | Free | Free |
* American Express fees are tiered based on payment size, down to 1.7% for payments over $1M.
Travel concierge
Free members can access the consulting service for $990, while a basic setup is included with Gold Subscribers. The full consulting and points concierge service is included with Platinum subscriptions.
For the Points Booking Service, free users can get assistance with international & domestic bookings for $250 each. Regular subscribers have two included bookings, while Premium subscribers have access to four bookings per year.
How does pay.com.au compare?
You might be curious how pay.com.au compares with other similar platforms, including B2BPay, RewardPay and Payment Logic. Here is a quick comparison of the services offered.
| | | | | |
| --- | --- | --- | --- | --- |
| | Pay.com.au | Payment Logic | RewardPay | B2BPay |
| All major credit cards | ✓ | – | – | ✓ |
| Cheapest rates | ✓ | – | – | – |
| Points Concierge | ✓ | – | – | – |
| Seamless customer interface with accounting integrations | ✓ | ✓ | – | ✓ |
| Travel bookings & points redemption service | ✓ | – | – | – |
Summing up
Pay.com.au is a promising new option for business owners to take charge of their payments and unlock their full points-earning potential, all while enjoying perks such as up to 55 cash flow days and a points concierge to help them maximise their frequent flyer balances.
Its payment rates are competitive against all the other B2B payment platforms in the market and its end-to-end service will deliver a seamless travel experience to clients, from payment to take-off.
Point Hacks is affiliated with Pay.com.au.
Introduction to pay.com.au and how it could benefit you
was last modified:
August 25th, 2023
by