Radisson Rewards is the loyalty arm of the eponymous Radisson Hotel Group. The portfolio encompasses 1,300 hotels in about 100 countries, including the Radisson Blu, Park Inn and Park Plaza hotel brands.
In this guide, we'll highlight key hotels in Australia and overseas, explain status benefits, and show you how to maximise value in earning and redeeming Radisson Rewards points.
In June 2021, Radisson Rewards 'simplified' the award chart for hotel stays. Unfortunately, this does represent a reduction in value in most cases. Read more about it below.
---
What are the Radisson hotel brands?
The Radisson portfolio covers the following brands:
Radisson Collection
Radisson, Radisson Blu & Radisson RED
Park Plaza & Park Inn by Radisson
Country Inns & Suites By Radisson
Art'otel

We only have three hotels here in Australia:
Radisson Blu Plaza Hotel Sydney
Radisson Hotel and Suites Sydney
Radisson on Flagstaff Gardens Melbourne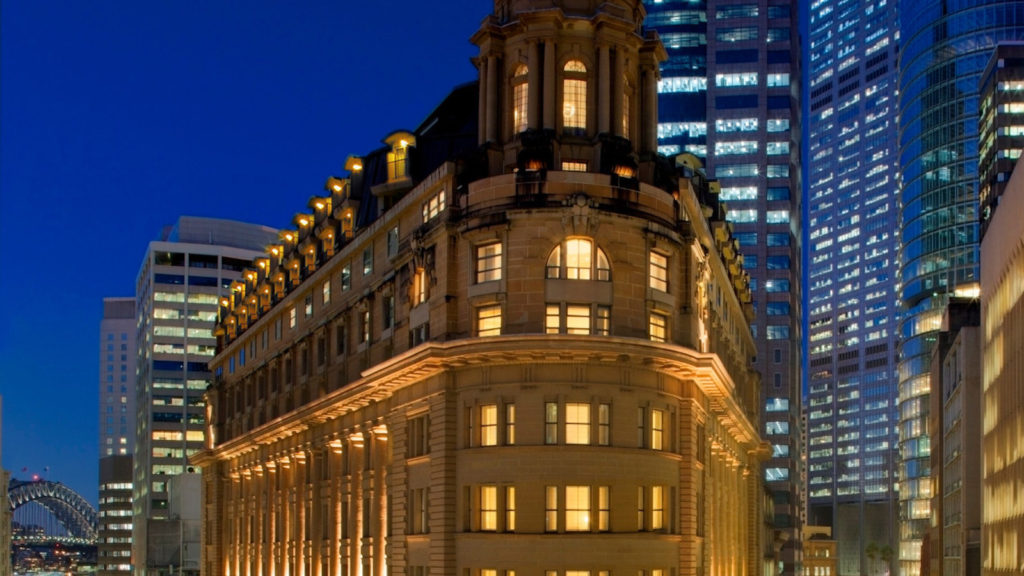 There are plenty more Radisson properties further afield, particularly the Asia-Pacific, Europe, Africa, the Middle East and the Americas (including the United States of course).
The Radisson Collection is the most luxurious of the Radisson Hotel Group's brands, with only five locations, in Edinburgh, Copenhagen, Stockholm, Muscat (Oman) and Kuwait City.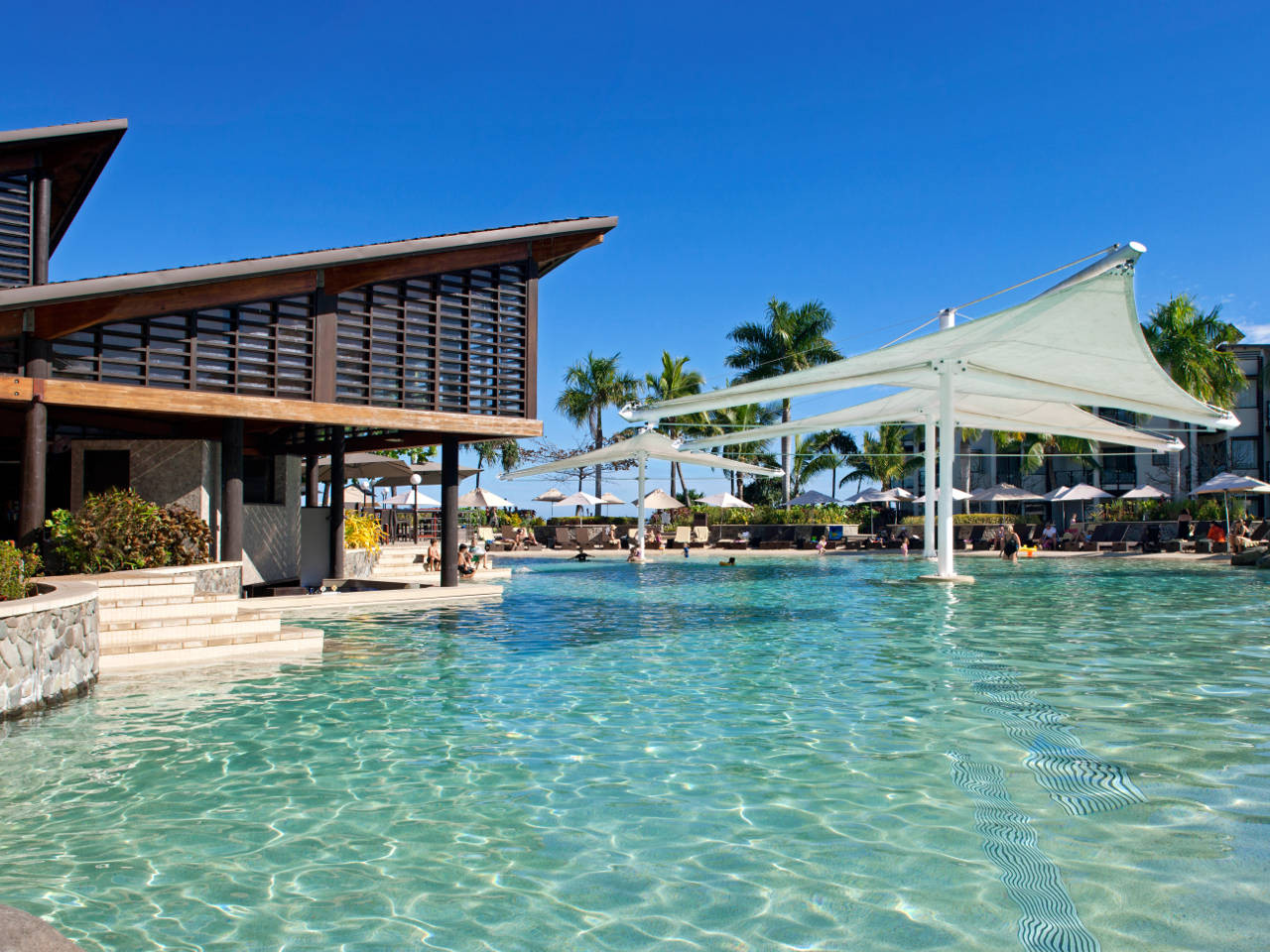 What are the Radisson Reward tiers?
Radisson Rewards offers four tiers of elite status – Club, Silver, Gold and Platinum. As to be expected, the lowest tier doesn't offer any substantial benefits, so let's have a look at the higher three.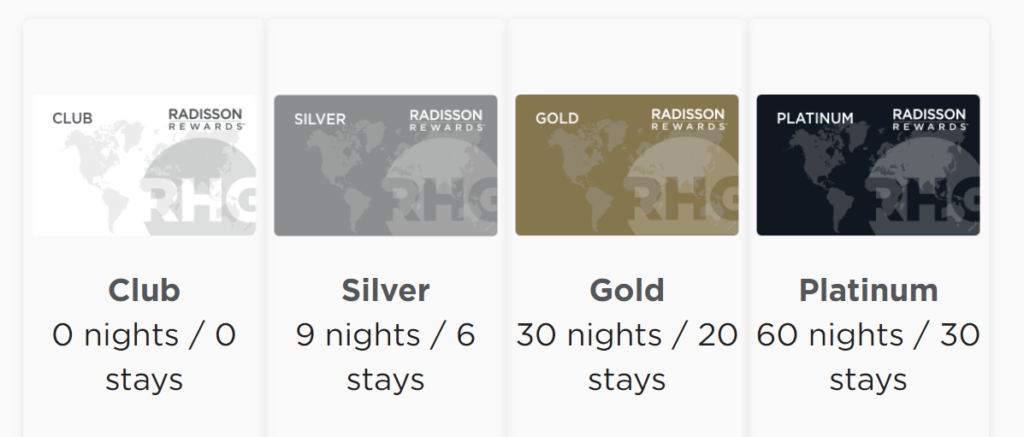 Radisson Silver status
By completing 9 nights or 6 stays in a calendar year, you'll get the following:
Complimentary room upgrade (where available)
Early check-in and late check-out
Earn 22 points per US$1 spent during a stay
These are actually quite generous compared to other hotel loyalty programs, where these benefits don't usually kick in until Gold.
Radisson Gold status
In addition to the above, the other benefits of the second-highest tier are:
In-room welcome gift
72-hour room availability guarantee
Earn 25 points per US$1 spent during a stay
The traditional requirement to reach Gold status is 30 nights or 20 stays in a calendar year.
However, the quickest way to earn Gold status is to have an American Express Platinum Card. Supplementary cardholders will also enjoy automatic Gold status.
Radisson Platinum status
This highest tier offers all the benefits of Gold, plus the following:
48-hour room availability guarantee
Free breakfast at participating hotel restaurants
Platinum member services line
Earn 35 points per US$1 spent during a stay.
You'll normally reach Platinum status with 60 nights or 30 stays in a calendar year.
After earning elite status, your tier is valid for the rest of the year, plus another full program year which runs from March 1 to the end of February. For example, if you earn Radisson Rewards Gold on 30 August 2021, you should expect the tier to last until 28 February 2023.
Of course, if you gain status with a credit card, you will continue to hold that tier for as long as you also hold the credit card.
Want to read some fine print? Check out the Radisson Rewards terms & conditions.
How can I earn Radisson Rewards points?
Compared to other hotel loyalty programs, Radisson Rewards has a rather favourable earn rate that depends on your tier:
Club: 20 points per US$1 spent
Silver: 22 points per US$1 spent
Gold: 25 points per US$1 spent
Platinum: 35 points per US$1 spent
Radisson Rewards transfer partners
The only transfer option for Australian credit cards is with the Citi Prestige Mastercard, which transfers its Citi Rewards to Radisson Rewards points at a 2:1 ratio.
Ad – Scroll down to continue reading.Minimum spend, terms & conditions apply.
How can I redeem Radisson Rewards points?
For free nights
Radisson Rewards groups hotels into categories for the purposes of points redemptions, which range from 15,000 to 112,500 points per night depending on the hotel category and the type of room booked.
The new Radisson Rewards free award night chart is listed below, valid from 21 June 2021:
| | | | | | |
| --- | --- | --- | --- | --- | --- |
| Hotel Category | 1 | 2 | 3 | 4 | 5 |
| Standard Room Award | 15,000 | 30,000 | 45,000 | 60,000 | 75,000 |
| Family Room Award | 18,750 | 37,000 | 56,250 | 75,000 | 93,750 |
| Premium Room Award | 22,500 | 45,000 | 67,500 | 90,000 | 112,500 |
| Points + Cash (min. points) | 5,000 | 10,000 | 15,000 | 20,000 | 25,000 |
Current Radisson Rewards award table as of 21 June 2021
If you're curious, we've kept the old award table below for reference. The main changes are the elimination of the 9,000-point award tier (making 15,000 points the new minimum) and increasing the maximum award rate from 70,000 points to 75,000 points in the new 'Category 5'. Overall, you'll need more points to stay at most properties.
| | | | | | | | |
| --- | --- | --- | --- | --- | --- | --- | --- |
| Hotel Category | 1 | 2 | 3 | 4 | 5 | 6 | 7 |
| Standard Room Award | 9,000 | 15,000 | 28,000 | 38,000 | 44,000 | 50,000 | 70,000 |
| Premium Room Award | 13,500 | 22,500 | 42,000 | 57,000 | 66,000 | 75,000 | 105,000 |
OLD Radisson Rewards award table (no longer in use)
Rest assured, if you booked a property that now costs more points under the award system, your older rate will still be honoured. Conversely, if the points needed for your stay has dropped in price, you can cancel and rebook at the lower rate or request a refund of the difference.
The best value redemptions are often found in Category 1 hotels (15,000 points), mainly in smaller cities. These hotels can still cost around $150 USD per night but are fairly good value with using Radisson Rewards points.
Use the handy website tool to see how many points your desired Radisson chain hotel needs per night.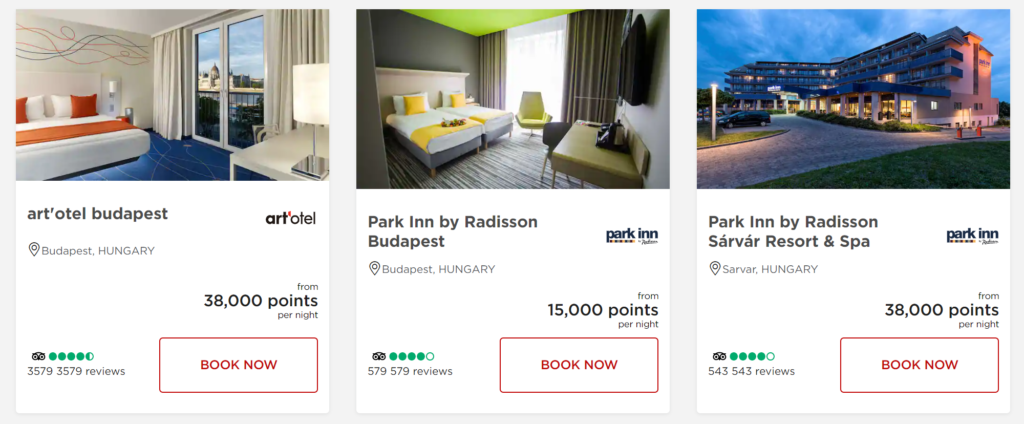 As a baseline, Radisson's three properties in Australia are all quite pricey, needing from 60,000-75,000 points per night under the new award structure (previously 44,000 to 70,000 points per night).
For frequent flyer points
If you already have Radisson Rewards points, you can convert those to a frequent flyer program of your choice. The transfer ratio is 10:1, except for SAS EuroBonus which is 7:1. You have three denominations to choose from:
2,000 Radisson Rewards points to 200 airline points/miles
50,000 Radisson Rewards points to 5,000 airline points/miles
100,000 Radisson Rewards points to 10,000 airline points/miles
If you want to transfer points to Lufthansa's Miles & More program, note that purchasing Radisson Rewards points will exclude you from transferring to Miles & More permanently.
The full airline list is available here and includes Qantas Frequent Flyer, Cathay Pacific Asia Miles, Singapore Airlines KrisFlyer and more.
Alternatively, you can consider auto-transfers, which sends you 1,000 frequent flyer points or miles whenever you earn 10,000 Radisson Rewards points. You can't get this denomination through manual transfers.
Are there any current Radisson Rewards offers?
You can find a list of current promotions such as bonus points and member discounts on the Radisson Rewards promotions page.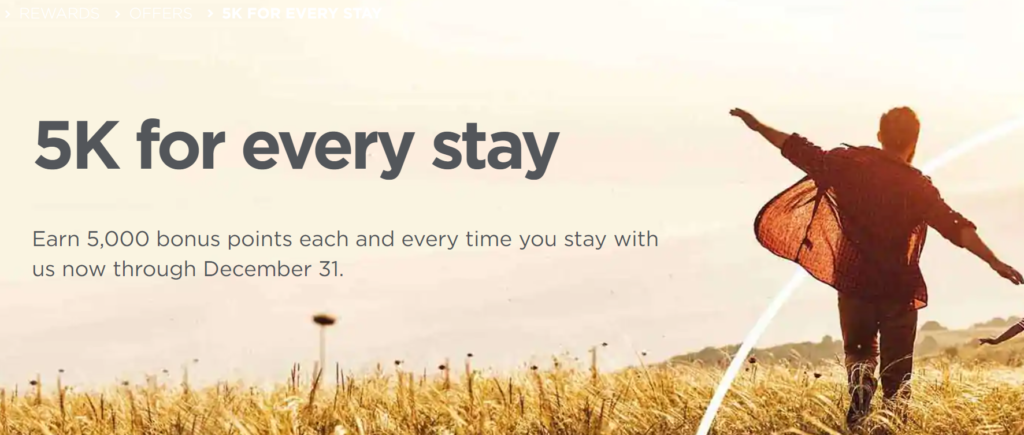 A separate program for the Americas
From June 2021, Radisson announced that they are splitting their Radisson Rewards program into two due to some complicated ownership issues – the chain is Chinese-owned and the US Government is mandating that the data of US consumers remain separate.
Hence, hotels across the US, Canada, Latin America and the Caribbean will become part of Radisson Rewards Americas, while the rest of the world (Europe, Middle East, Africa and Asia Pacific) will remain under Radisson Rewards.
For most members, nothing will change in terms of points, status or account number. However, those in one program will later need to register for the other program as well if they are going to stay in those different regions. There will be an option to swap points between the two programs.
Read more about the program update here →
Summing up
So, what's the best strategy to get the most value out of the Radisson Rewards loyalty program?
Citi Prestige cardholders could transfer their Citi Rewards points over to Radisson Rewards for good-value redemptions at lower-category hotels. For more expensive stays, make sure that the points outlay makes sense vis-à-vis the cost of booking with cash.
If you don't have access to Radisson Rewards points, then booking directly with the hotel or an online travel agent (OTA) are your main options (we have a guide to help you choose). Keep in mind that going through an OTA will usually mean you can't earn points or use status benefits for the stay.
You may get a cheaper rate and/or a free upgrade, hotel credit and complimentary breakfast if you book through a Virtuoso travel agent.
You'll earn some pretty good Radisson Rewards points (between 20 and 35 points per US$1 spent) on your stays if you book with cash. A Platinum member with no points could earn a free Category 1 night after spending US$258 on eligible stays and room charges.
Finally, if you are an Amex Platinum Card Member, you (and your supplementary cardholders) will have automatic Gold status, meaning you're in the run for a complimentary room upgrade, early check-in/late check-out (where available) and room availability guarantee.
Previously written by Matt Moffit. All images courtesy of Radisson Hotel Group and associated brands.
Radisson Rewards introduces new award chart
was last modified:
August 4th, 2021
by