Big-ticket purchases are always an ideal opportunity to maximise your frequent flyer points. So when it came time for me to upgrade my phone to the latest Samsung Galaxy S23 Ultra, I made sure to take advantage of a recurring offer to easily nab 10,000 bonus Qantas Points, without spending any more than I was going to anyway.
For the unaware, the secret lies in gift cards. Specifically, gift cards purchased at Woolworths or Big W when there is a 20x bonus points offer. Here's what I did, step by step.
Background: waiting for the right bonus points offer
The Woolworths Everyday Rewards program regularly offers bonus points on selected gift cards. This is important to note because you don't normally earn any points on gift cards. But when the offer is on, you could get 10 or 20 bonus Everyday Rewards points per dollar spent on eligible gift cards.
In general, most of these bonus offers let you earn points on 10 gift cards per transaction, and one transaction per day. Offers last for a week, so there's enough time to get the right number of gift cards for your need.
In my case, JB Hi-Fi had the best pre-order bonuses on the Samsung Galaxy S23 Ultra. Luckily, the pre-order period coincided with Woolworths offering 20x bonus Everyday Rewards points on Ultimate Him gift cards. These are essentially VISA prepaid cards that can be used at selected retailers – including JB Hi-Fi.
You can check out the latest Woolworths catalogue here.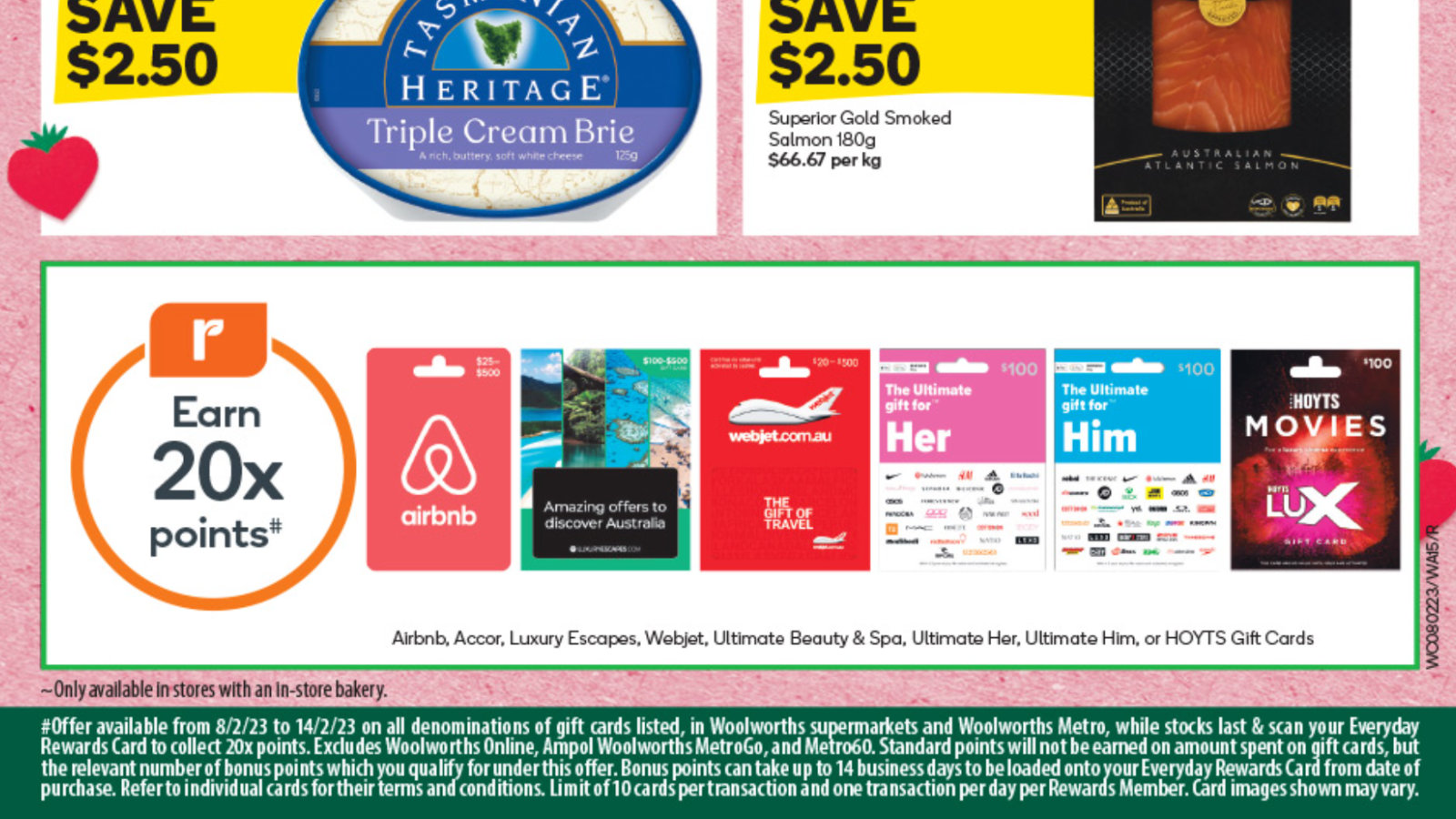 Next: crunching the numbers
With the gift card bonus points offer in play, my next step was to work out how many I needed to buy.
The Samsung Galaxy S23 Ultra 512 GB retail price is AU$2,249 (yes… eye-watering, I know). But the following pre-order bonuses helped bring the cost down:
Free upgrade from the 256 GB to the 512 GB model ($300 off).
$550 trade-in value for my existing phone ($550 off).
Bonus additional $300 trade-in value on top ($300 off).
Bonus $250 JB Hi-Fi gift card after the purchase (nice to have, but I didn't factor it into the purchase price).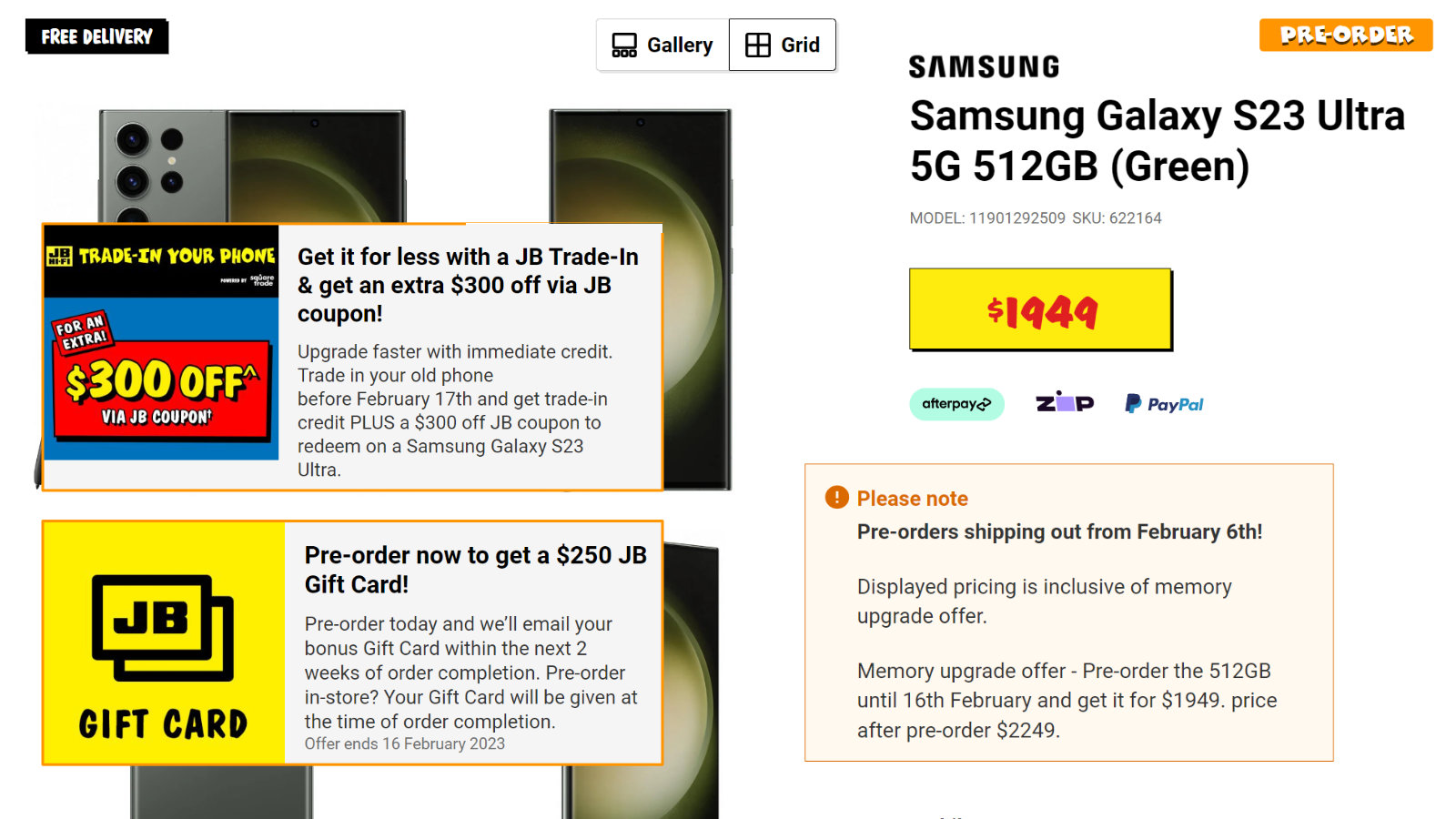 (Incidentally, I'd normally sell my older phone privately after upgrading. But in this case, the combined trade-in value of $850 – including the $300 bonus value – made sense to me, as other people were selling the same phone for around $800 on the marketplace. It saved the hassle of selling privately, and I got more value from it).
With $1,150 worth of discounts applied, I would need to pay $1,099 overall. Here's when the gift cards came in.
Ad – Scroll down to continue reading.Minimum spend, terms & conditions apply.
Buying the gift cards at Woolworths for bonus points
At Woolworths, it was a simple matter of finding the gift card display and choosing the right cards. Use the signage on the shelves to confirm which cards have the bonus points attached.
Be careful: there are 'Him' gift cards and 'Ultimate for Him' gift cards – they are issued by different companies. If you choose the wrong type, you won't get the bonus points. In this case, the right card was the 'Ultimate for Him'.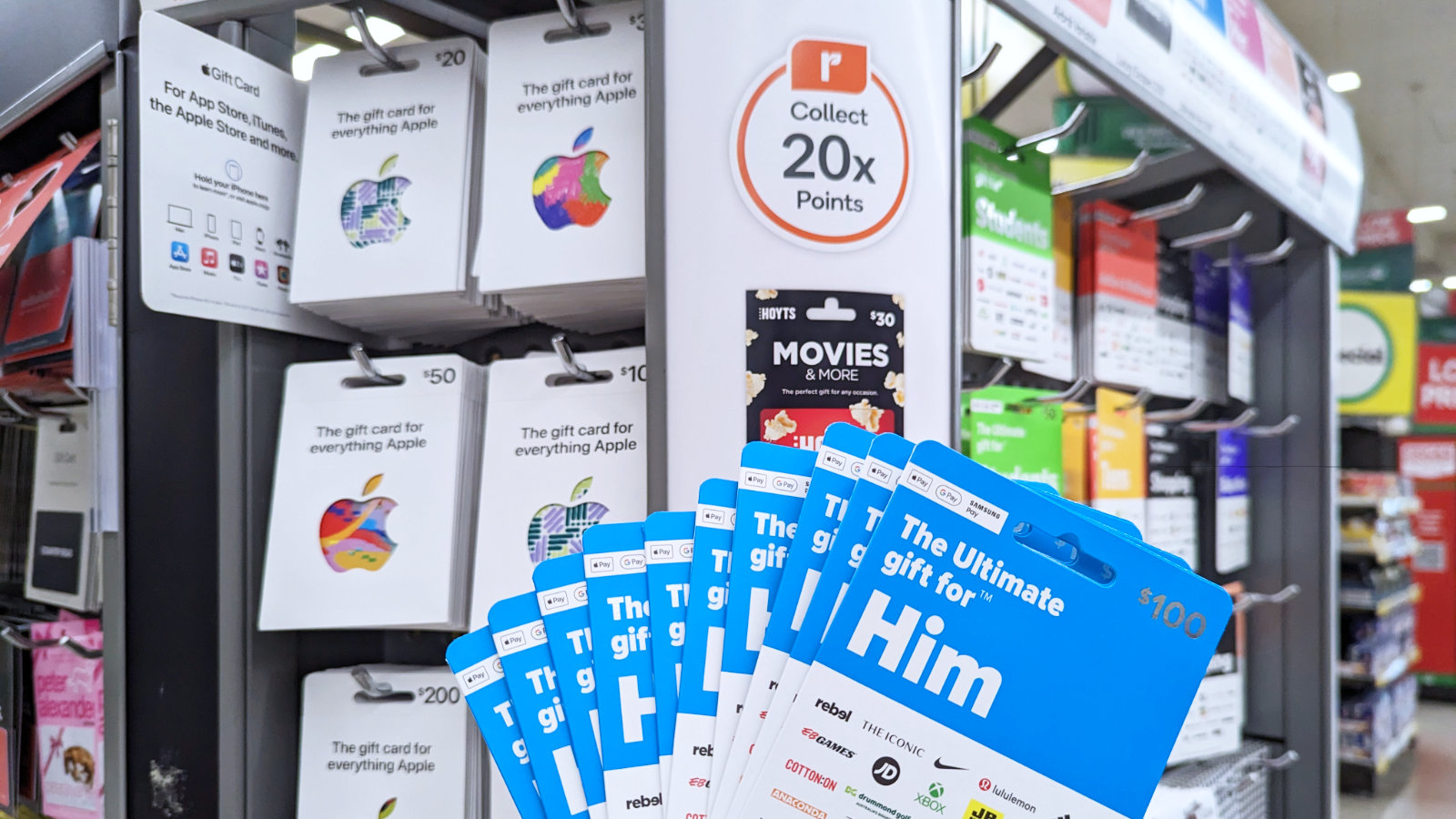 A maximum of 10 cards per day applied to this offer, and the highest denomination was $100 per card. So I took 10 of those and spent $1,000 on the checkout, paying on my American Express Qantas Ultimate Card. I earned:
10,000 bonus Qantas Points: converted from 20,000 Everyday Rewards points.
1,250 Qantas Points: earned on my American Express Qantas Ultimate Card.
Remember: scan your Woolworths Everyday Rewards card at the checkout to ensure you get the bonus points!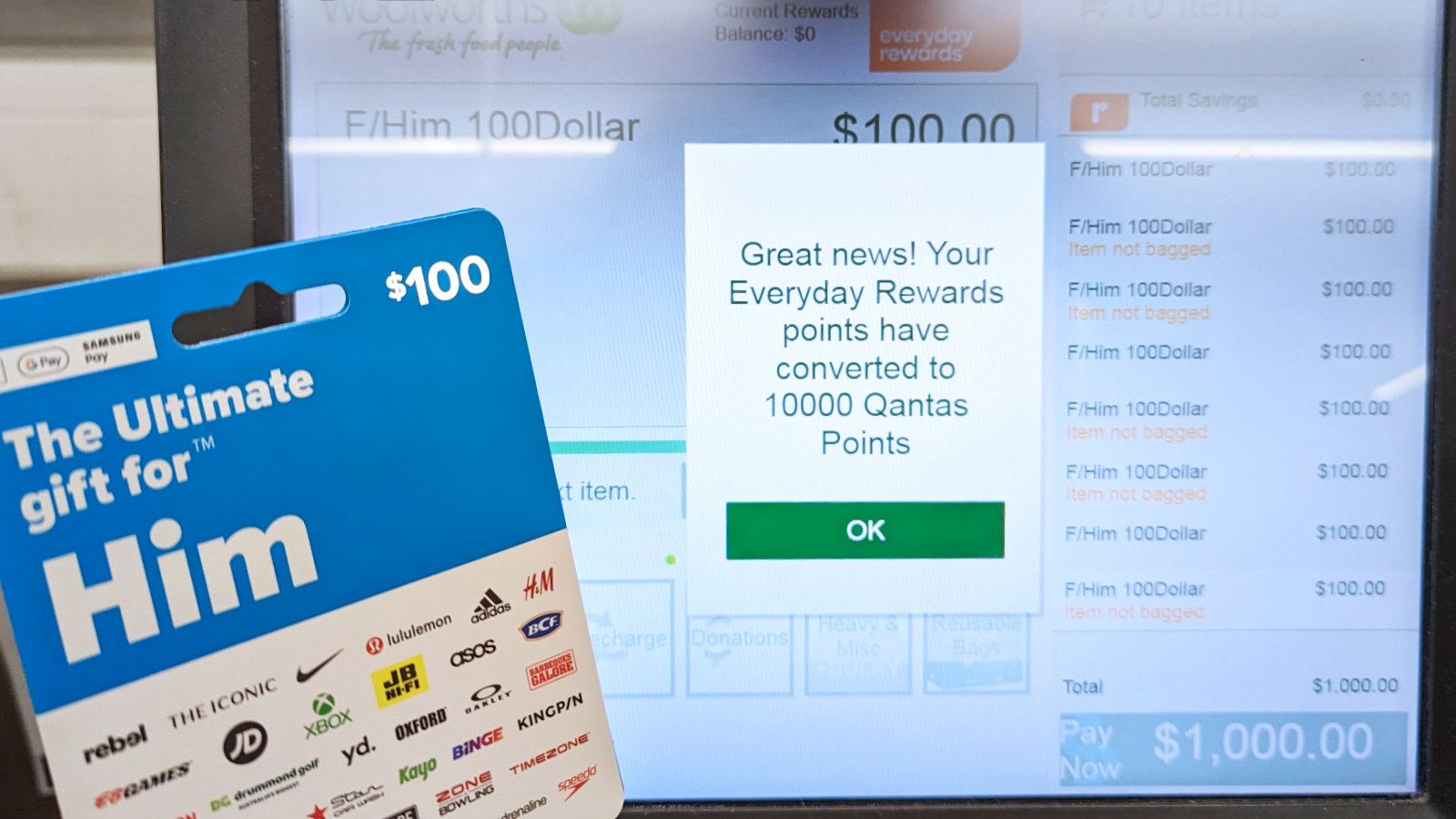 I could have come back the following day to get the final $100 gift card, but in this instance, I chose not to (call it laziness). Instead, I paid the remaining $99 balance at JB Hi-Fi on Amex for a further 123 Qantas Points.
If I hadn't traded-in my phone to reduce the overall price, I could have come back the next day to buy a further $950 in gift cards for another 9,500 Qantas Points. But as much as I love points, I still prefer cash savings where possible.
---
Expert tip: The American Express Platinum Edge Card has the highest earn rate for supermarkets – an incredible 3 Membership Rewards points per dollar! That's equivalent to 1.5 Velocity Points, KrisFlyer miles or Cathay miles per dollar spent on gift cards and groceries at Woolworths.
---
Using the gift cards at JB Hi-Fi
The staff at JB Hi-Fi didn't even bat an eyelid when I showed them my 10 gift cards. (To be fair, neither did the check-out assistant at Woolworths, who had to approve my purchase through the self-checkout machines). They've seen it all – and to be fair, this is a very easy sale (and commission) for the staff as I knew what I was going to buy already.
I also went in the morning on a weekday and there were no checkout queues to speak of. They offered me a coin to scratch out the PIN on the back of each card, but I had already done so. After that, it took about 5 minutes to swipe the 10 gift cards and redeem the full $1,000 value.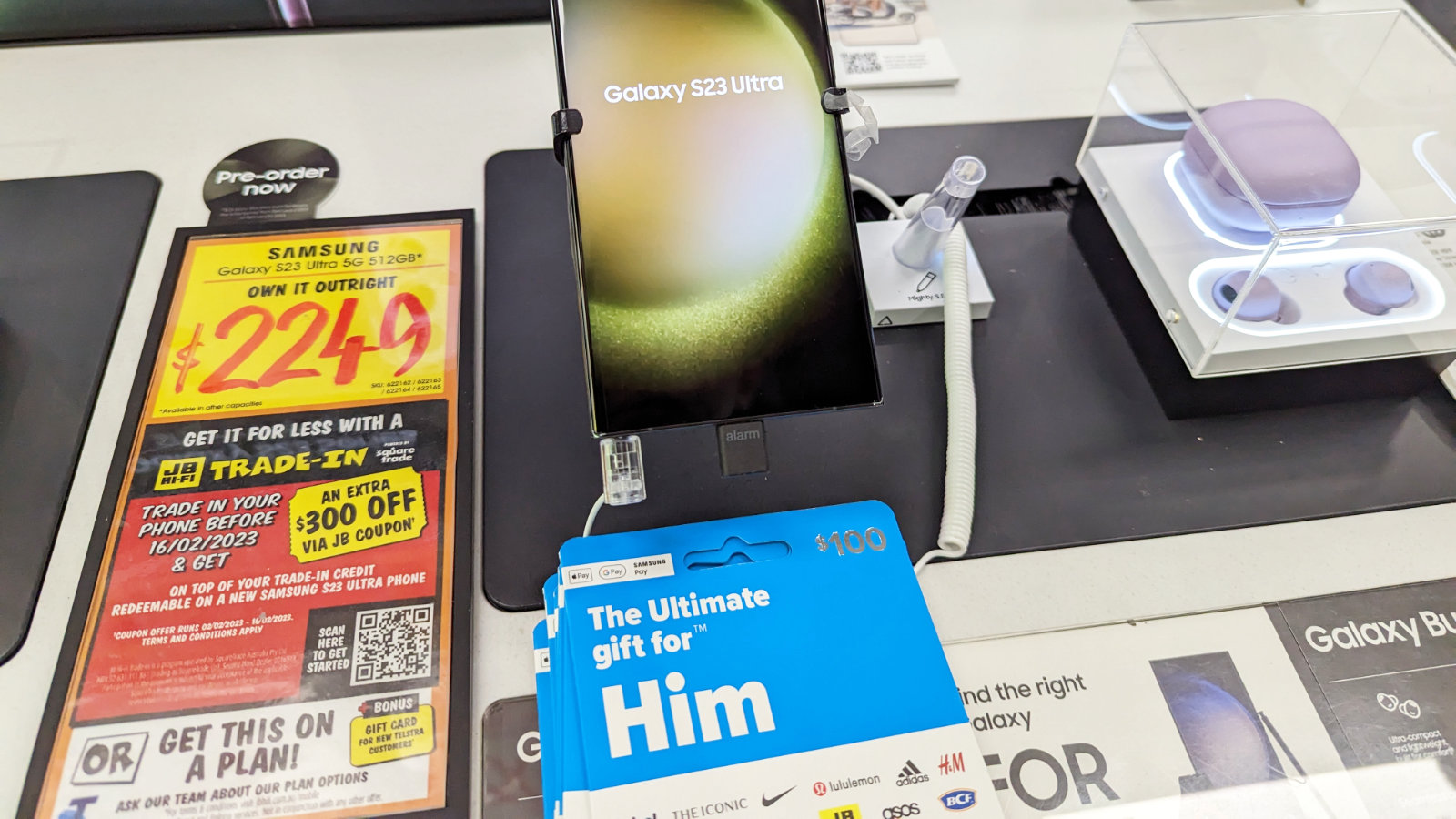 What about Coles and Flybuys?
Yes, Coles often runs similar gift card offers with bonus Flybuys points attached. The main difference is that Coles is usually more restrictive on how many bonus points you can earn. For example, the latest offer (at the time of writing) is a similar 20x bonus points on the 'Ultimate' range of gift cards.
But with this particular deal, you can only earn a maximum of 10,000 bonus Flybuys points during the whole offer period. That's 5,000 Velocity Points or just $500 worth of gift cards – perhaps okay for small purchases, but it wouldn't work well for my particular scenario.
If there's one upside, it's that the gold 'Ultimate for Everyone' card is included, which is a variable load card. This means you can load up to $500 on the one card, which makes it easier to redeem your purchase at the retailer. Velocity Points are also very useful if you're looking for international Business Class reward seats on Qatar Airways, Singapore Airlines, Etihad, United, Air Canada and more.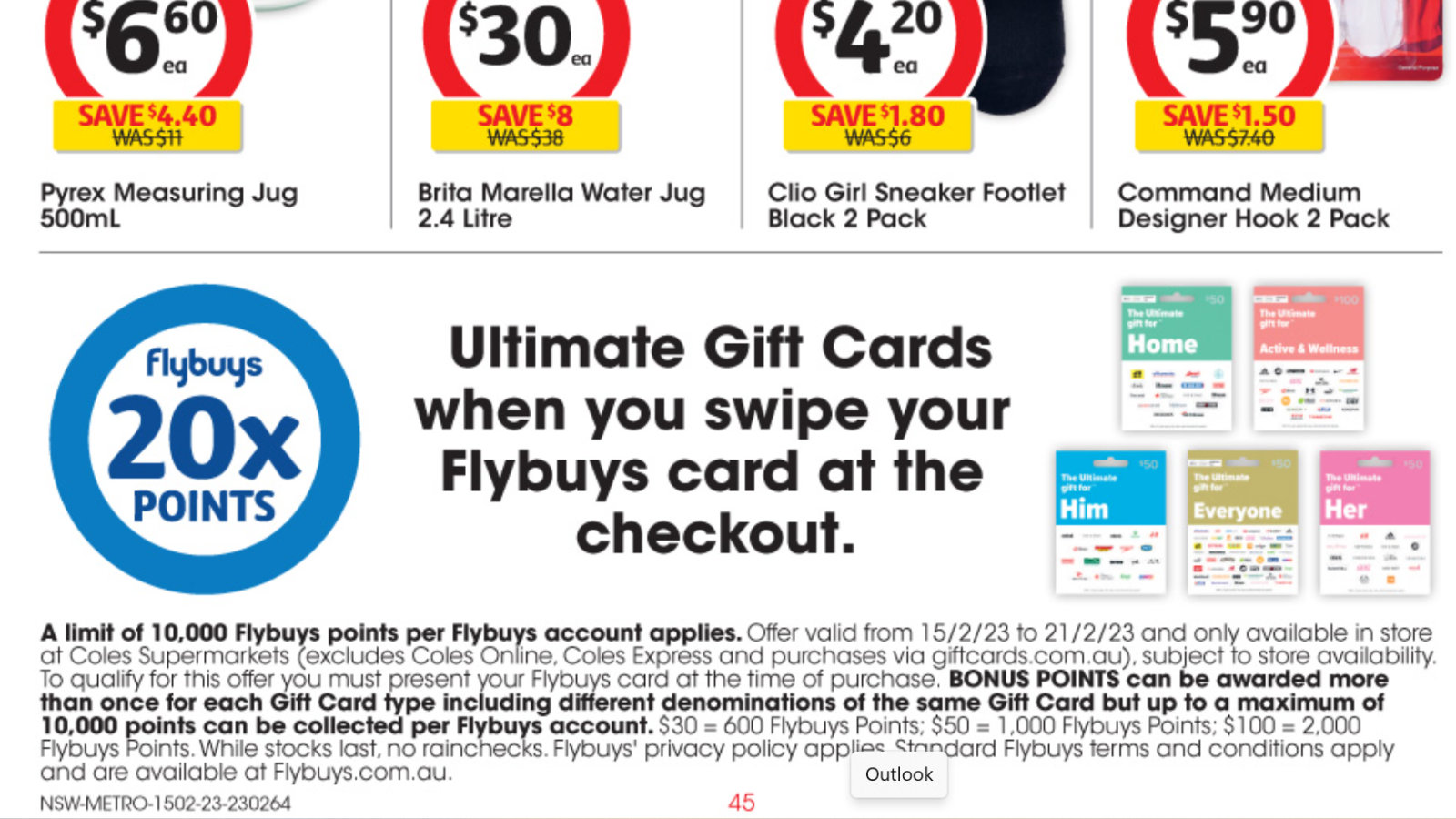 Summing up
This strategy isn't just limited to phones or purchases at JB Hi-Fi. 'Ultimate Him' gift cards can be used at lots of other retailers. So whether it's a new suit from The Iconic or fishing gear from BCF, you can still earn 10 bonus Qantas Points per dollar when Woolworths Everyday Rewards has a 20x bonus points deal.
Other popular cards that sometimes go on offer include Airbnb and Apple gift cards. In particular, Apple gift cards come in denominations of up to $500, so you could buy thousands of dollars worth in one day to earn bonus Qantas Points on your next iPhone or Macbook purchase.
All photography by Brandon Loo.
Case Study: How I easily earned 10,000 bonus points with gift cards
was last modified:
February 15th, 2023
by