Unlike its direct competitor Flybuys, Everyday Rewards only has a handful of partners at which you can earn points with — mainly the supermarket itself, BWS, Big W and through some credit cards.
Watch our short video or continue reading below to learn more:
Earning at the shops
You will earn 1 point for every dollar you spend either in-store or online with Woolworths supermarkets, BWS, Big W and participating Caltex and Caltex Woolworths co-branded fuel outlets.
Just make sure to scan your Everyday Rewards card when shopping in-store or enter your Everyday Rewards number online at checkout.
Tip: Add your Everyday Rewards card to Apple Wallet or Google Pay, and leave your physical card at home! It's easy to use and on newer phones with NFC, you can just tap your phone to the EFTPOS machine to enter your Everyday Rewards card number. See our full guide here.
Everyday Rewards promotions at the supermarket
Although earning 1 point per $1 spent is a good steady rate, you won't achieve amazing balances like that. Bonus offers help bridge the gap and give you up to thousands of points at a time. These come in two forms.
Specific range of items offers
While Flybuys often offers bonus points on specific items (like buy Vegemite and get 200 points), Everyday Rewards gives you bonus points when you purchase items from a certain category, such as chilled dairy (covering things like milk, cheese, yoghurt, eggs), or their Macro organic range.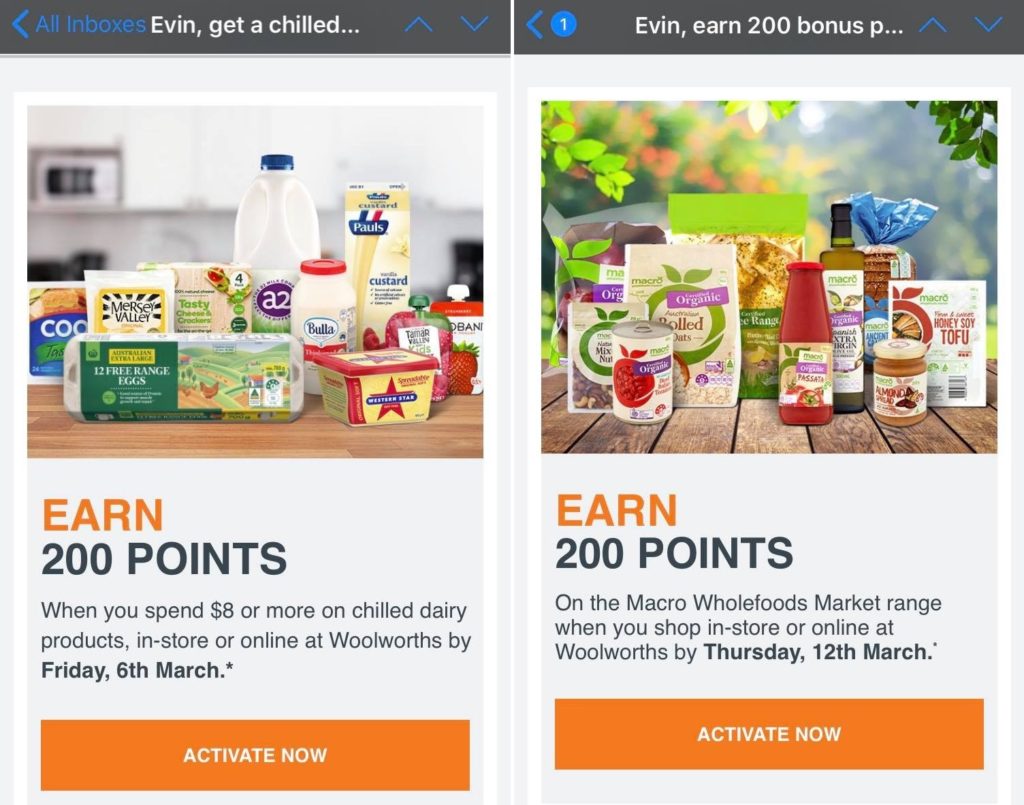 I like this approach better as it gives you more flexibility on what products to buy.
Bonus Everyday Rewards points for reaching a target
Every now and then, Everyday Rewards sends out email with offers of bonus points if your shop reaches a certain target. Once again, this is fairly flexible as you can get whatever groceries you need to fill the gap.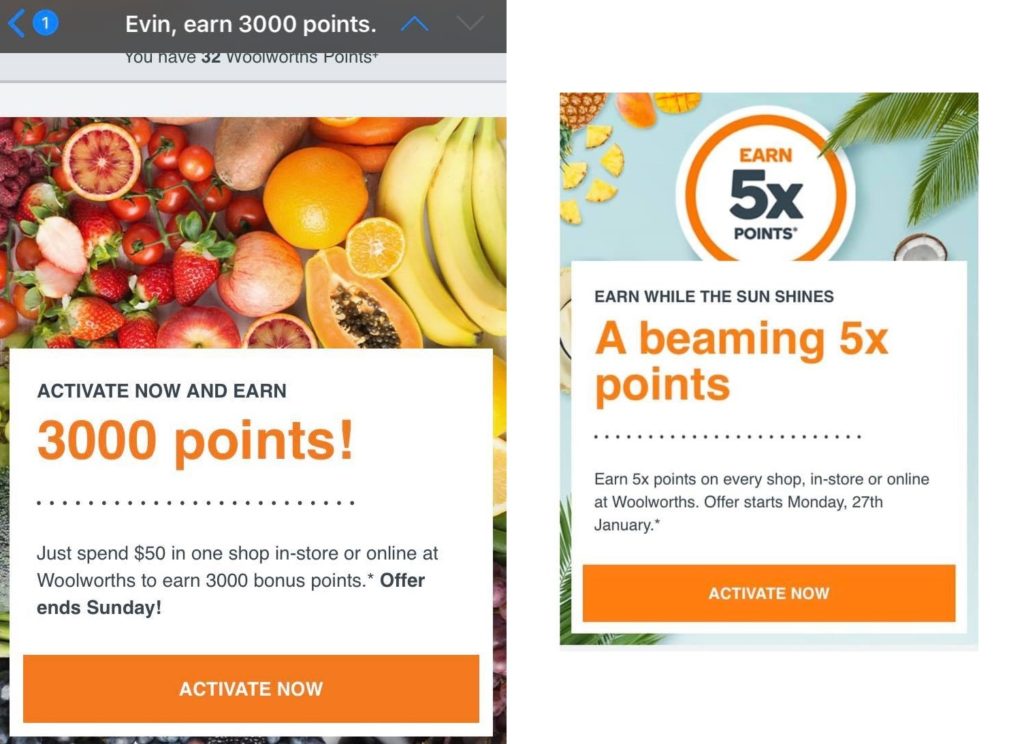 In this particular example, a $50 spend could earn me 3,000 Everyday Rewards points, equal to 1,500 Qantas Points. Not bad at all!
A variation of this offer is a bonus multiplier being added to your shop, such as 5x Everyday Rewards points on every shop at Woolworths for a short period of time. These offers aren't as lucrative though.
The three-week challenge
Everyday Rewards runs a three-week challenge with a progressive increase in spending each week. The carrot at the end of the stick is up to 6,000 Everyday Rewards points, equal to 2,000 Qantas Points.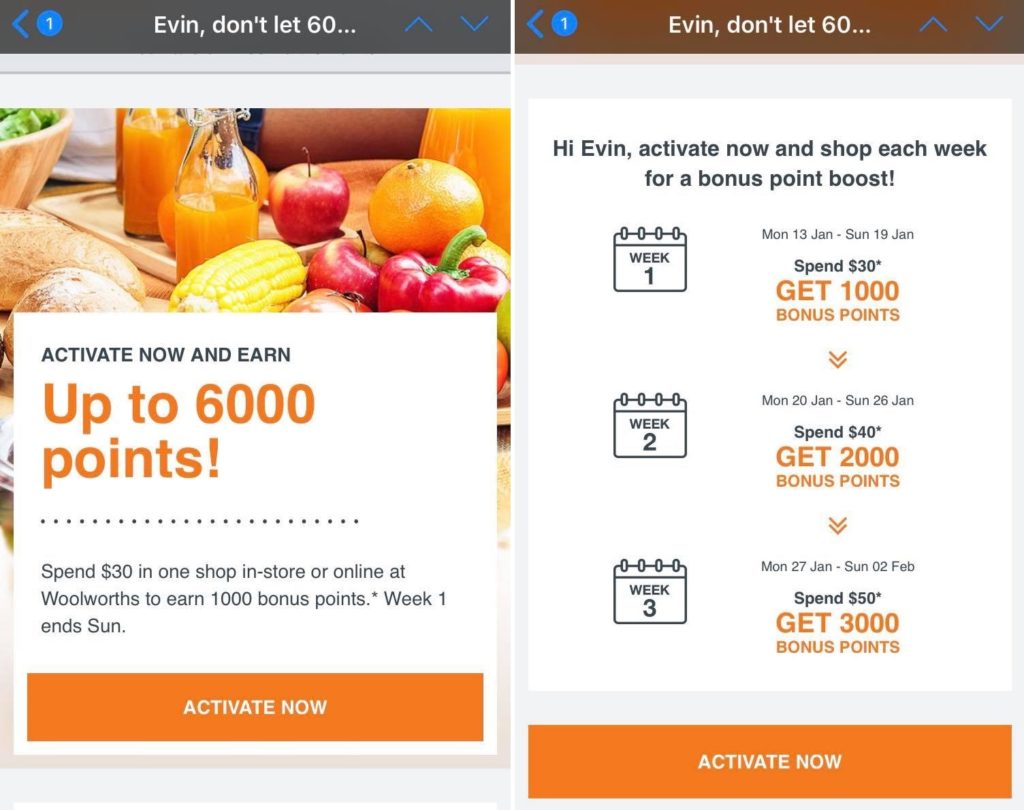 Although the promotion doesn't give you as many bonus points as flybuy's equivalent offer (10,000 bonus points after four weeks of meeting a target), there are still some benefits to the way Woolworths does it.
You will get a bonus for each week you shop. This is usually 1,000 points in the first week, 2,000 points in the second week and 3,000 points in the third week. This means you won't leave with nothing if you miss a week, but the increasing rewards do encourage you to stick with it to the end.
Everyday Rewards offers with non-supermarket partners
Although much rarer, you can sometimes earn bonus Everyday Rewards points at places like Big W and BWS. This example email offer is giving out 2,000 bonus points on your next shop at BWS.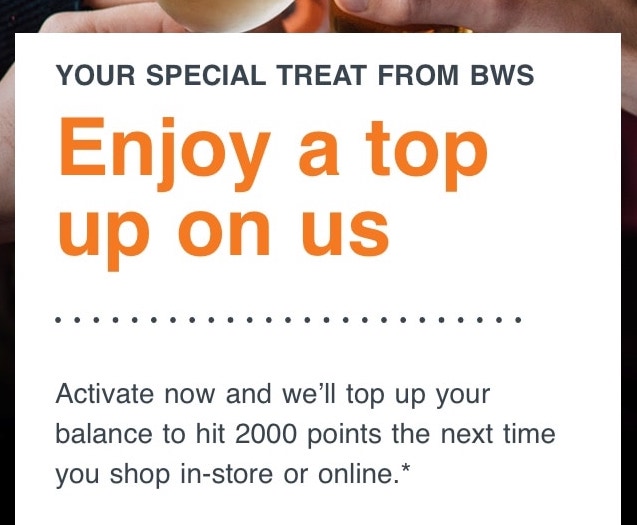 Woolworths credit cards don't use the same system
Note that the Woolworths-branded credit cards don't earn the same points as Everyday Rewards.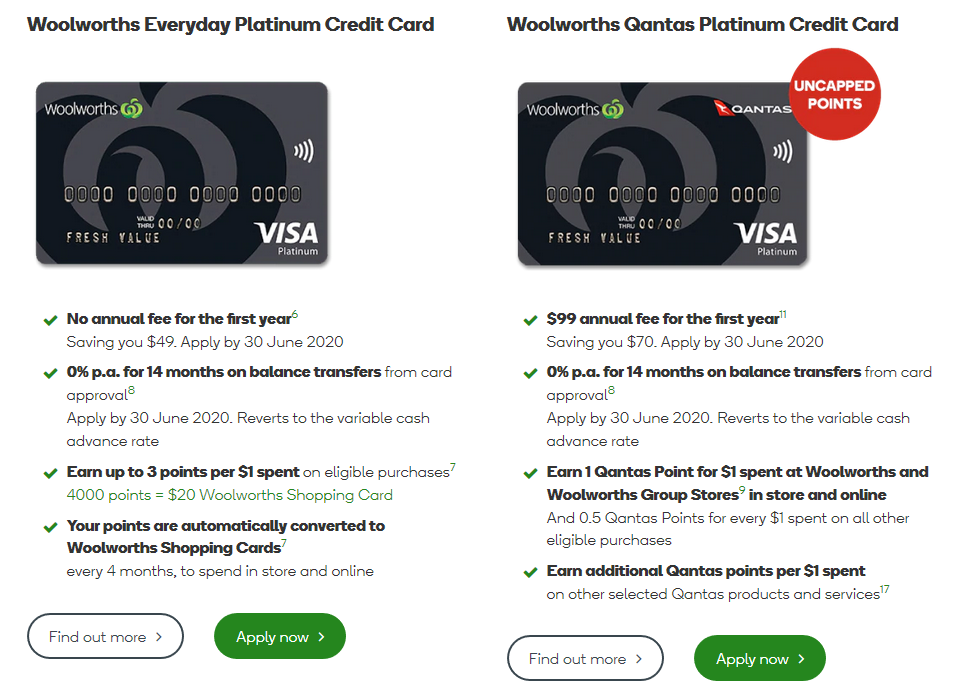 The Woolworths Everyday Platinum Credit Card earns 'Woolworths Shopping Card' rewards points, which is a different system. 4,000 Shopping Card points is equal to $20 off a Woolworths shop. The Woolworths Qantas Platinum credit card directly earns Qantas Points.
What to do with Everyday Rewards points
Everyday Rewards points have three uses: $10 off your next shop, bank the $10 credit for Christmas, or convert to Qantas Points.
Summing up
Everyday Rewards is a much simpler program than Flybuys, but it also offers a great link between the supermarket and Qantas Frequent Flyer. With bonus offers and regular shops, you can definitely earn thousands of Qantas Points each year to help with your next trip.
Frequently Asked Questions
Can you claim Everyday rewards after purchase?
Yes, if your Everyday Rewards card was not scanned at checkout, you can contact Everyday Rewards team at 1300 101 234 within 7 days of purchase to have the base points of your shop added to your account as a once-off. Be sure to have the receipt and Woolworth Rewards card number handy. 

If your shop came to over $500, you will have to email the full receipt to [email protected] with your account details including full name, date of birth and Everyday Rewards card number. 
Do Everyday Rewards points expire?
As long as you scan your Everyday Rewards card in-store or use it online at least once every 18 months to keep your account active, your Everyday Rewards points do not expire. 
What happens if I forget my Everyday Rewards card?
If you forgot your Everyday Rewards card while shopping and haven't got it stored in Apple Wallet or Google Play, try downloading the Woolworths app and logging in. It will display a barcode you can scan.

Alternatively, you can give the Woolworth Rewards team a call at 1300 101 234 within 7 days of purchase to have the base points of your shop added to your account as a once off. Note that only the base points from your purchase will be added, no bonus points from any eligible offers on your account will be added. 
How much are Everyday Rewards points worth?
It's hard to pin down a value for Everyday Rewards points, as that depends on what you use them for. As a base number, 2,000 Everyday Rewards points is equal to $10 off at Woolworths, so that's 0.5 cents a point.

If you had 16,000 Woolworths points and converted it to 8,000 Qantas Points and then used those points to redeem a short regional flight normally worth $250, then that is theoretically 1.6 cents per Everyday Rewards point.

Since 16,000 Woolworths points is worth $80 at the supermarket, if you can instead redeem it for a short Qantas flight costing more than $80 (which most flights do usually), then you'll be ahead!
How to earn Everyday Rewards points
was last modified:
May 30th, 2023
by