The Qatar Airways Al Mourjan Business Lounge in Doha is renowned as one of the best Business Class lounges in the world. And after spending many blissful hours here in September 2022, I can certainly see why.
Combining an epic scale with a soothing vibe, excellent dining and superb service, the lounge succeeds in almost every aspect. Inspired design features and clever use of partitions provide unexpectedly intimate nooks in the lofty space, while free-flow Champagne and Diptyque toiletries in the bathrooms add extra injections of luxe. Brass feature walls inscribed with Arabian calligraphy, designer furniture and hand-made accents are harmonious rather than overdone, delivering a serene space that's a pleasure to spend time in.
During my lengthy transit in Doha en route to Marrakech, I'm fortunate to savour breakfast, lunch and dinner here (read all about my journey in Qatar Qsuites and Royal Air Maroc Business Class here). In fact, I meet a lovely woman from Pennsylvania – a frequent visitor to the lounge – who chose a 20-hour transit over a 2-hour one just so she could soak it all up!
Here's what to expect in one of the globe's best Business Class lounges.
Lounge location and details
Despite having only one terminal, Doha's Hamad International Airport is vast. And it's easy to get lost. Conveniently, you'll find the Al Mourjan Business Lounge near the Louis Vuitton store and famous giant teddy bear (this enormous fluff ball stands at over seven metres tall and was reportedly snapped up by Qatari royalty for a cool $USD6.8 million).
Head towards the A Gates and look for a steep escalator with a Qatar staff member stationed at the bottom. Flash your boarding pass and you'll be ascending to the third floor lounge in no time.
The shimmering silver reception desk is stunning, but the service here is so good it manages to outshine it. In an impressive feat, one gentleman manages to reprint my Qantas boarding pass from Delhi to Melbourne (I visit on the return leg as well) after it mysteriously goes missing. Kudos.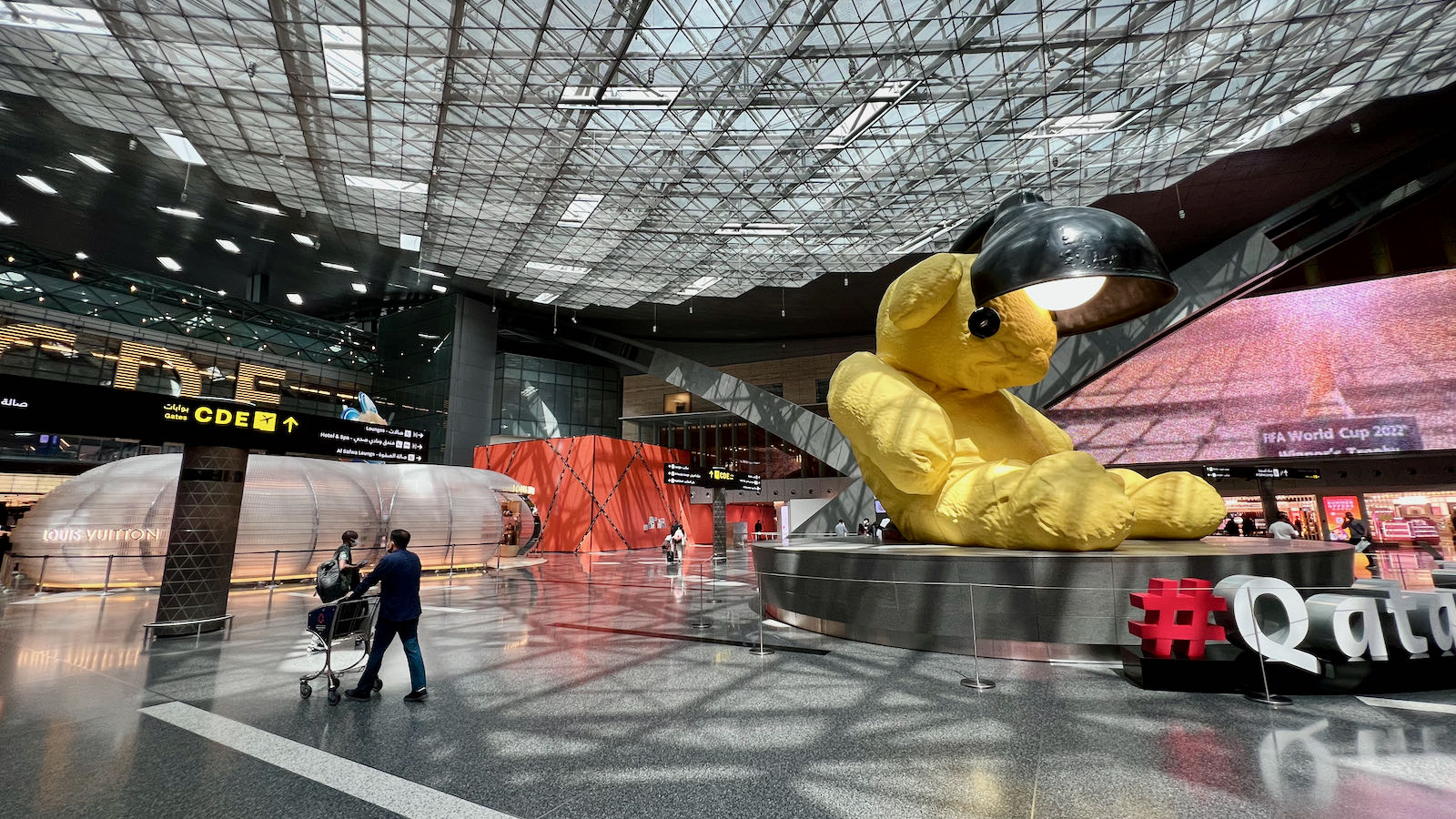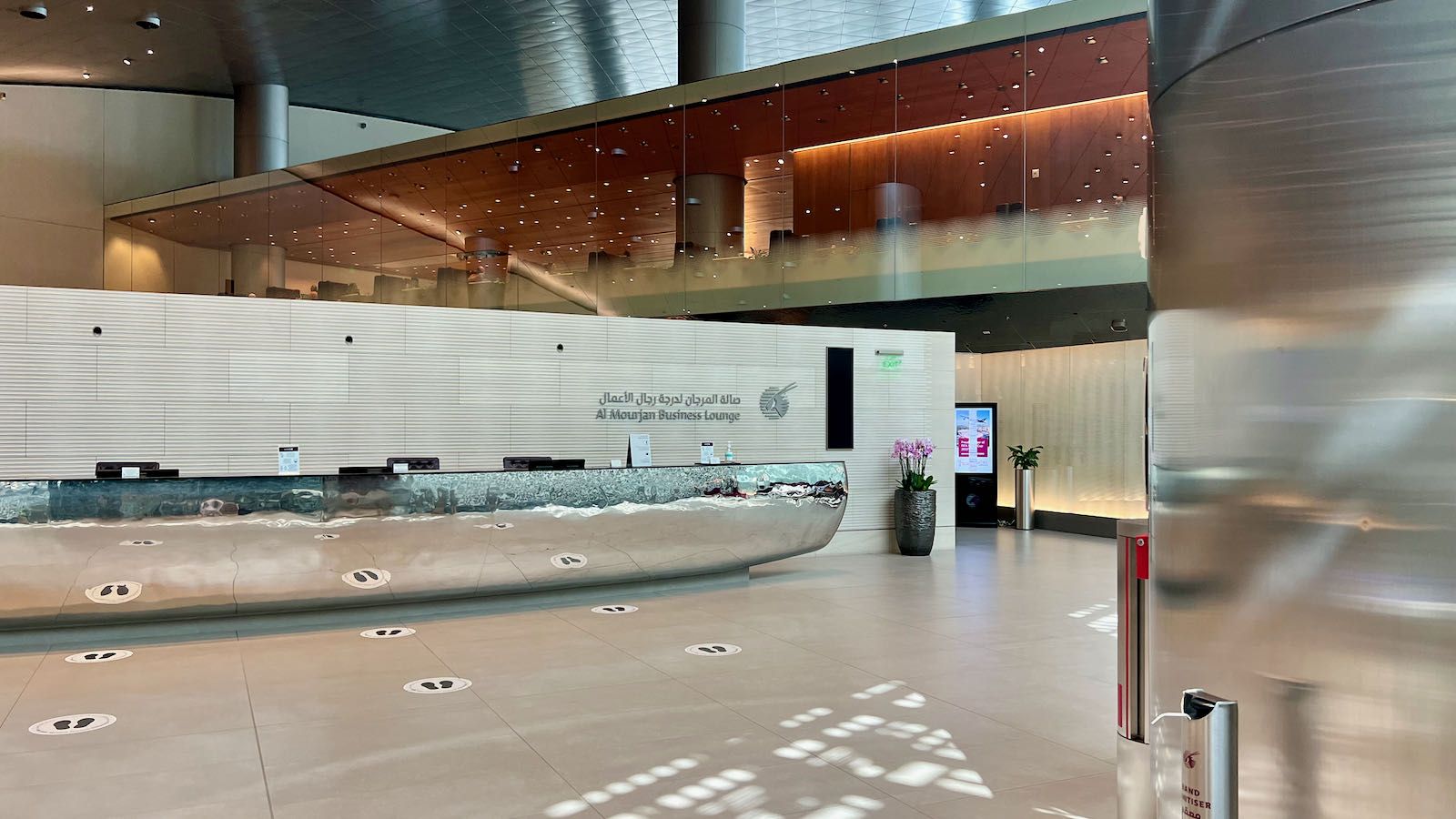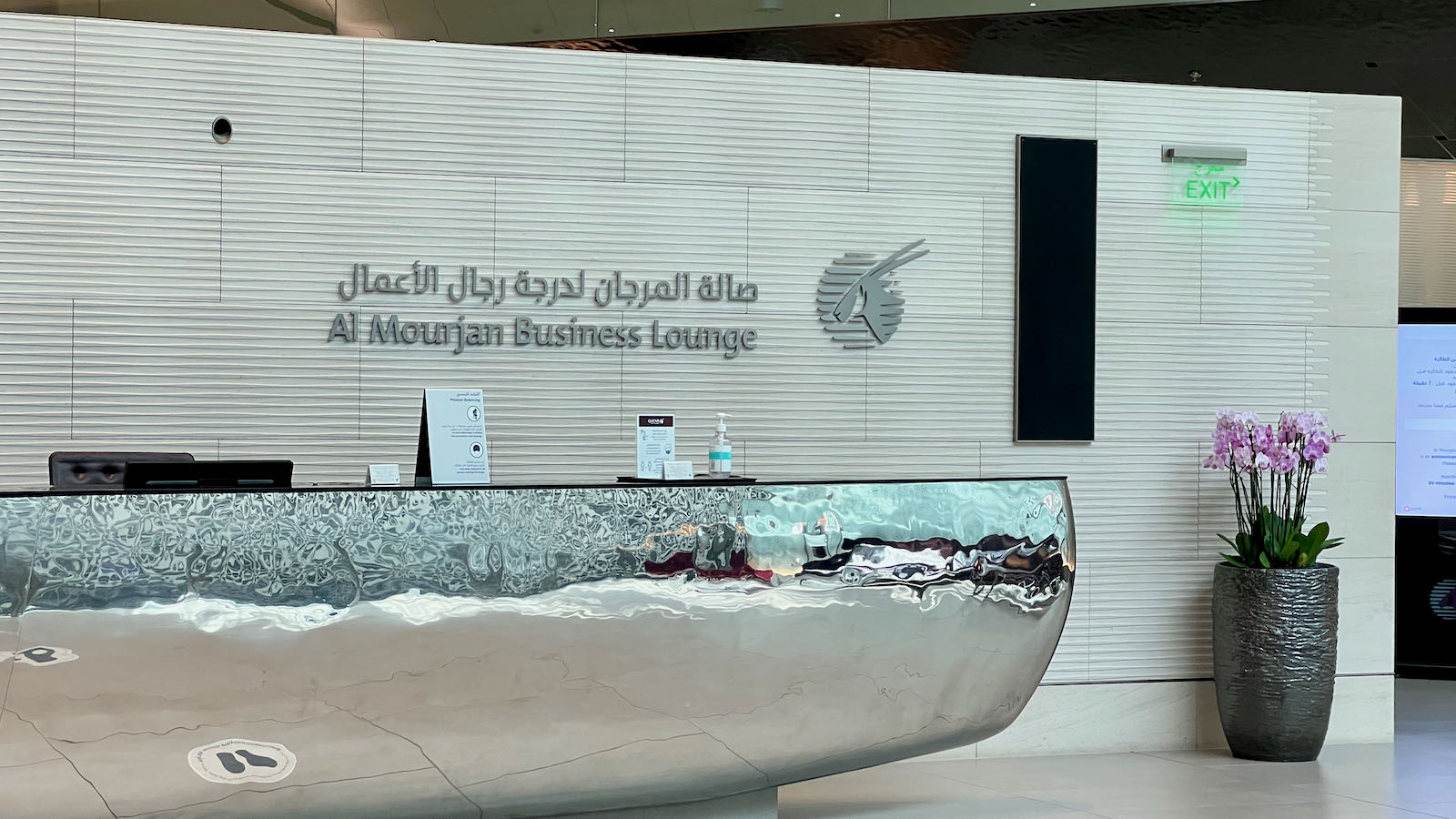 Seating and layout
The Al Mourjan Business Lounge occupies a whopping 10,000 square metres of floor space. Or, as the Qatar Airways website proudly points out, around 10 times the size of an Olympic swimming pool. The proportions are epic, with huge lofty ceilings and an abundance of spaces to work, dine and relax.
Past the spacious reception desk, a giant water feature greets weary travellers. Actually, water feature doesn't quite cut it. This thing is more of an indoor lake. The play of light on the water is breathtaking, as if an eternal sunrise is shimmering especially for you.
Small tables serviced by leather armchairs line the water, perfect for a coffee or a spot of relaxing. Heading in the same direction – beneath the mezzanine-level restaurant – delivers more seating on the huge windows overlooking the tarmac. This area is understandably popular, with its peacock-blue armchairs, reading lamps and abundance of power points. (Though on the subject of power points, you'll find them practically everywhere).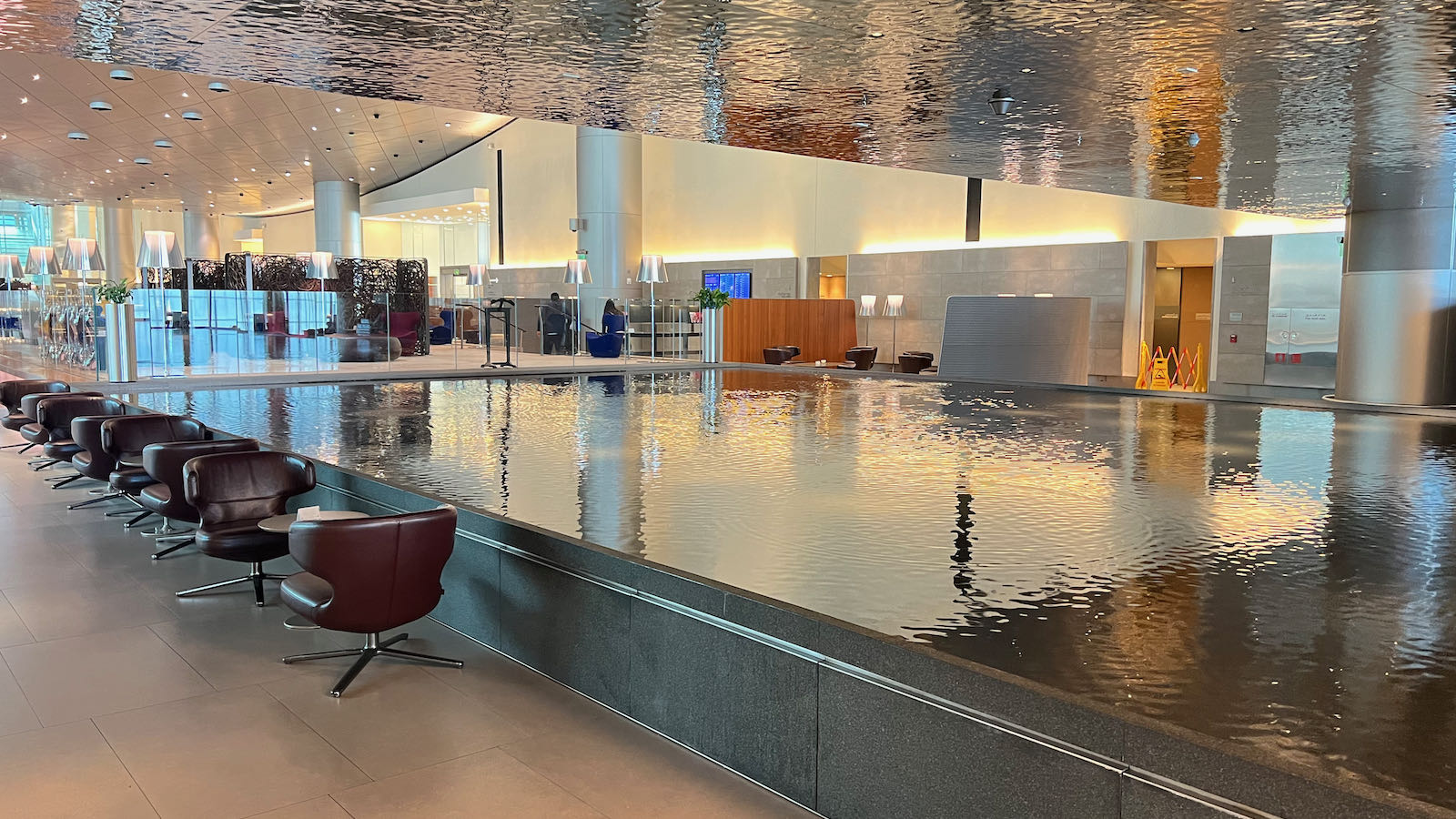 But it's by walking in the opposite direction – towards the cafe at the other end – that the vastness of the lounge truly reveals itself. There's a seemingly endless array of seating options, from intimate nooks framed by intricate wooden or silver screens to vast open-air spaces with more of those striking blue armchairs. In between, there's so much floorspace you could comfortably kick around a soccer ball without disturbing anyone.
But it's the atmosphere that truly makes this lounge stand out. Reminiscent of a serene resort, it's designed to melt away the stress and exhaustion of long-haul travel. And on that front, I can report that it succeeds admirably.
In fact, while I've forked out oodles of cash on a room at the airside Oryx Airport Hotel nearby, the lounge is so inviting I use the hotel only to sleep. Eating, drinking, working, chilling out – the Al Mourjan Lounge is perfect for them all.
Well, almost perfect. Surprisingly for such a large and beautifully-designed lounge, there are relatively few places for serious laptop work (unless you don't mind working at a low table or with your laptop perched on your knees). Other than the dedicated Business Centre (see more below), the only desk-height tables are located in the cafe or restaurant. So you'll find many of the restaurant's best tables – those lining the floor-to-ceiling windows overlooking the lounge – occupied by travellers tapping away on their laptops.
You can hardly blame them. In fact, I set up shop there myself.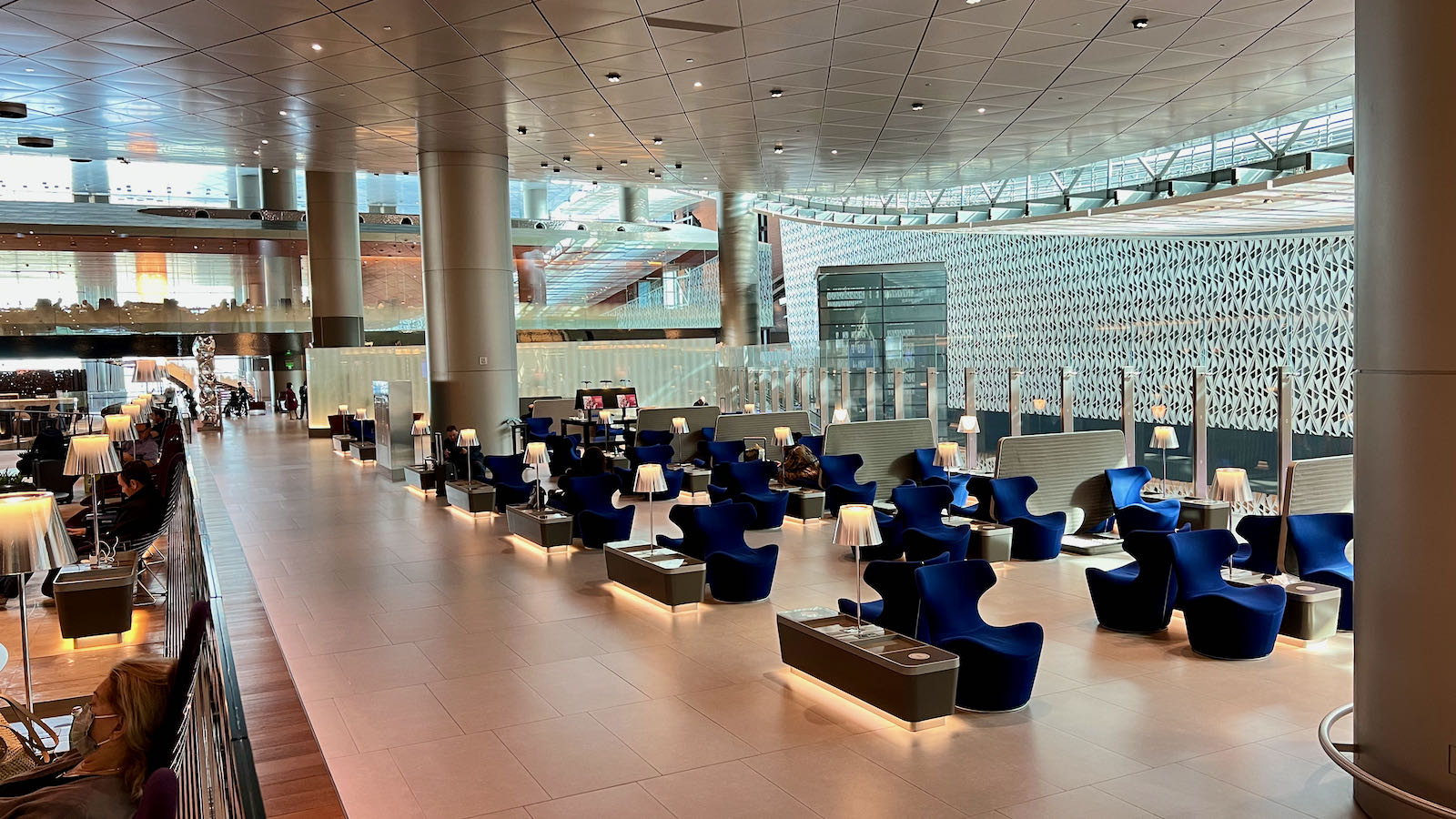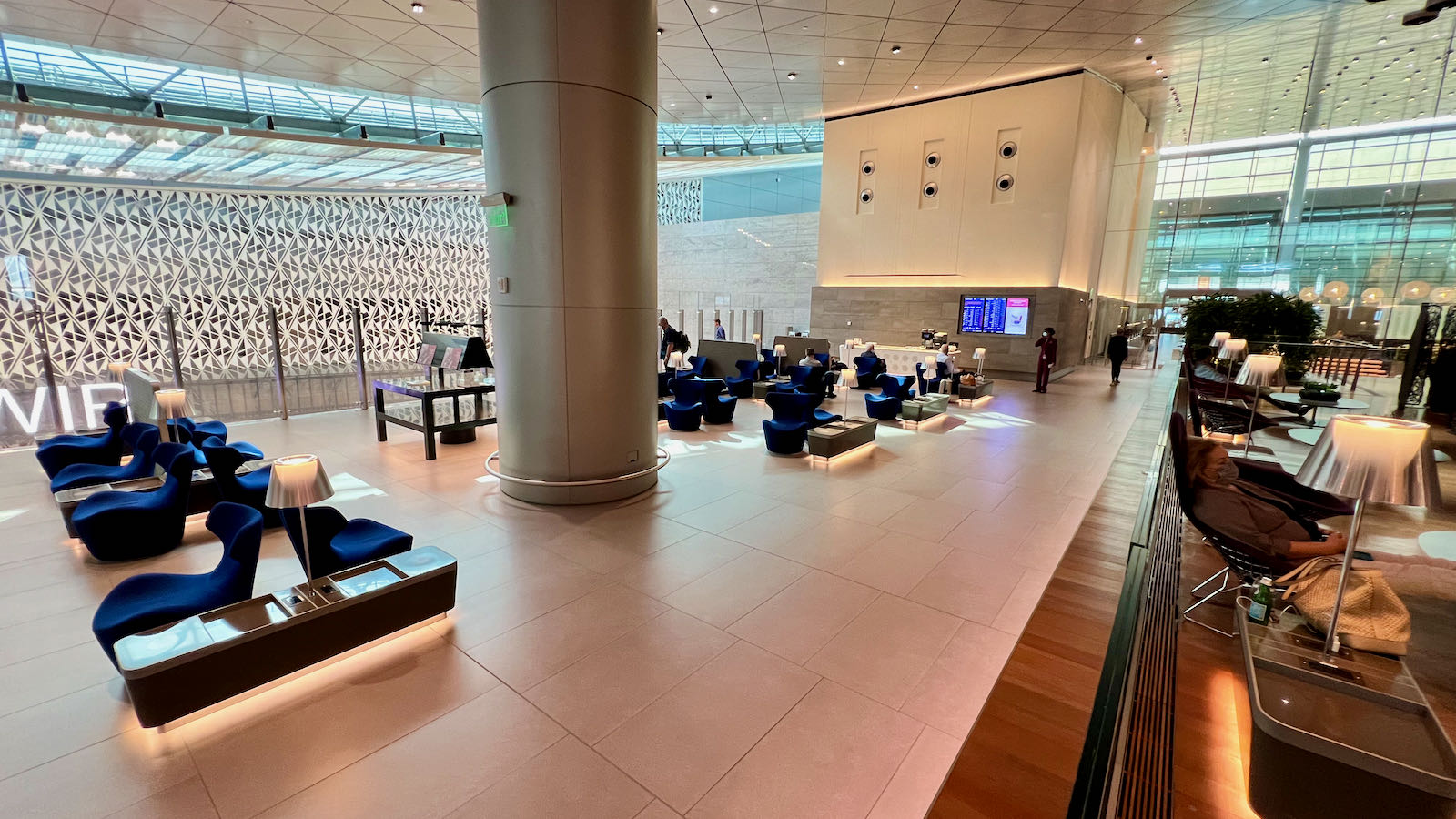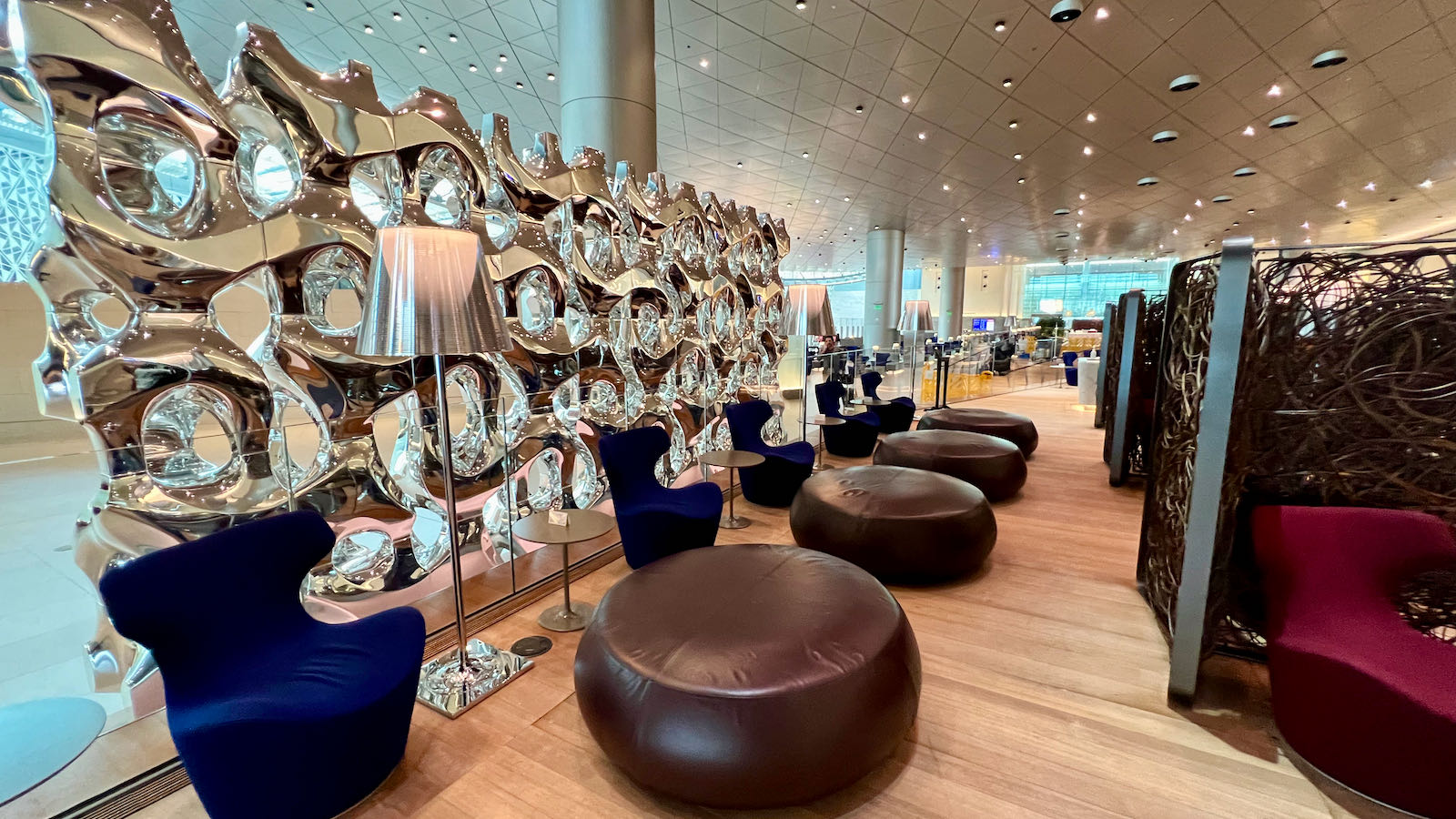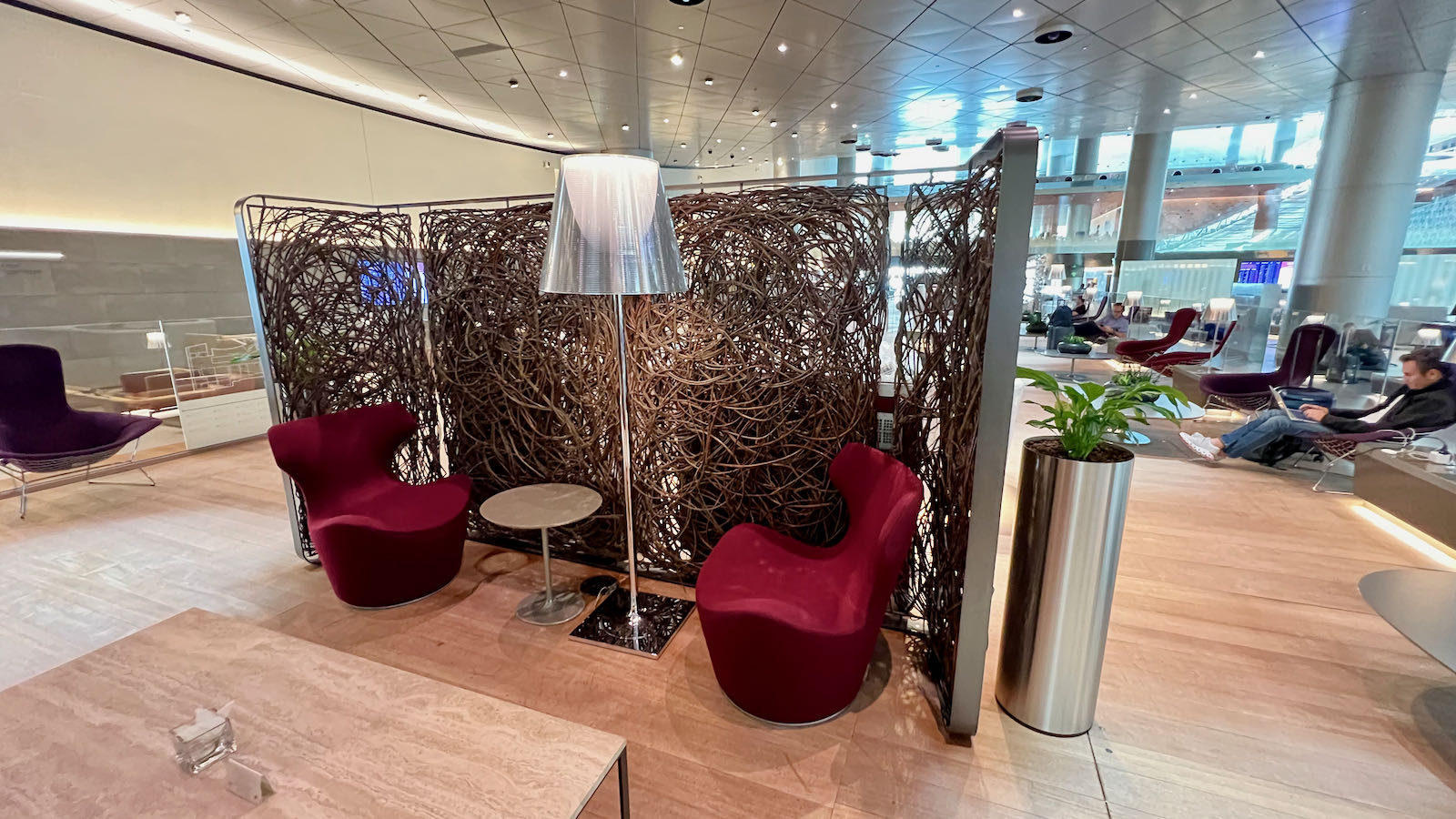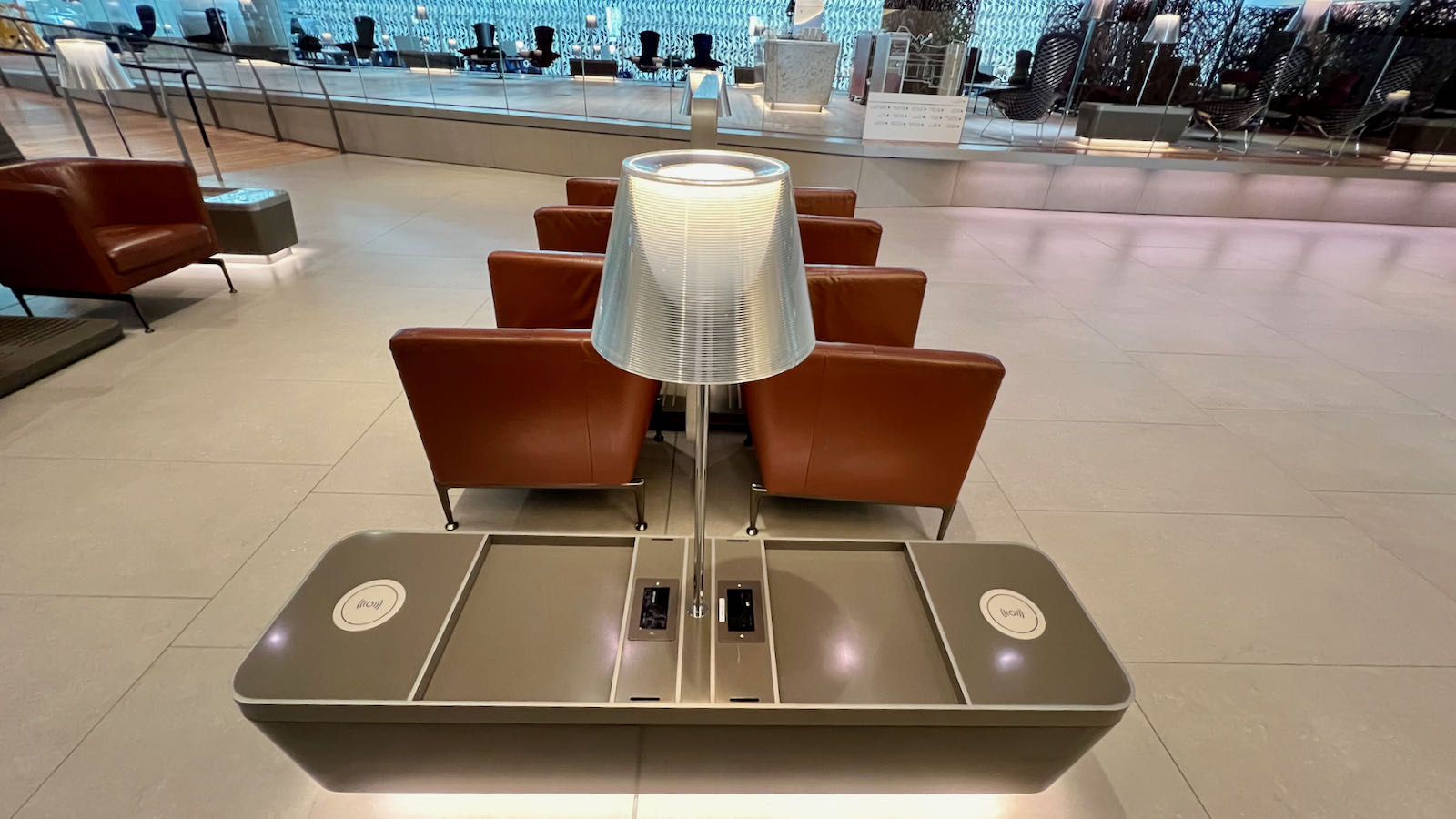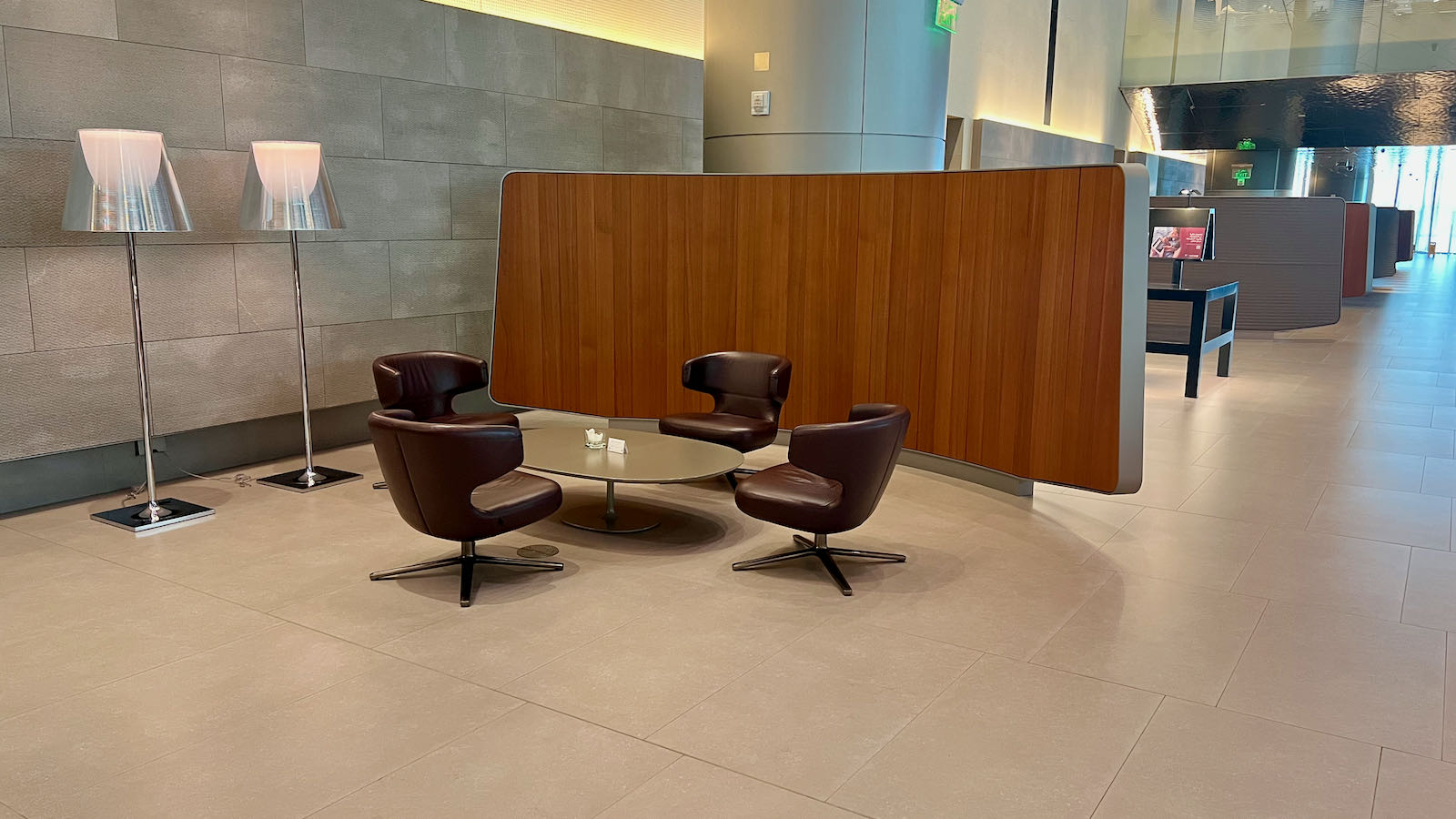 Food & drink
I'm a massive foodie, so the dining and drinking situation in a lounge always gets my detailed scrutiny. Thankfully, the food and beverage in the Al Mourjan Business Lounge exceed my (high) expectations. And after enjoying all three daily meals here, I can vouch I gave it a red-hot go.
The only glaring oversight is the lack of barista-made coffee. I've never visited Qatar, so I confess to knowing nothing about the coffee culture. But surely for such a world-class lounge, barista coffee should come as standard.
When I stop by for breakfast, my first port of call is the coffee station in the centre of the lounge. After a 14.5-hour flight from Melbourne, to say I'm looking forward to my usual piccolo latte is an understatement. Unfortunately, I'm greeted by a self-service machine. Dismayed, I approach a staff member, who confirms the machine is the only option. Though he valiantly offers to make my latte (not piccolo, as you can't customise the settings) from the machine himself.
Other than that, eating and drinking in the lounge are – mostly – a delight.
The cafe
Described by Qatar as the 'garden resort area', the casual cafe is the spot for a light bite or refreshing drink. It's the only area of the lounge that feels a little too lofty, with the soaring ceiling and giant pendant lights dwarfing the two partitions separating the space. Though on the plus side, the natural light and pops of greenery do provide an uplifting resort-like feel.
Let's start, as I do, with Qatar's signature lemon mint drink. This impressively minty juice is worthy of its renown. I feel tangibly refreshed after a few sips, and kick myself for not ordering it throughout my Qsuites flight (though don't feel too bad for me, as I'm too busy quaffing Taittinger Rosé Champagne). After enquiring, I can confirm that the only ingredients are lemon, mint, water and sugar. Yum.
In terms of food, there's a cold buffet offering a selection of dips, cold cuts, fruit salad, cereals and berry-topped yoghurt. I almost miss it, but you'll also find a short menu on each table with a selection of salads and sandwiches. I order the smoked salmon tartare with dill, onion, capers and whipped yoghurt. It's lovely and light, and after a long-haul flight just what my body needs.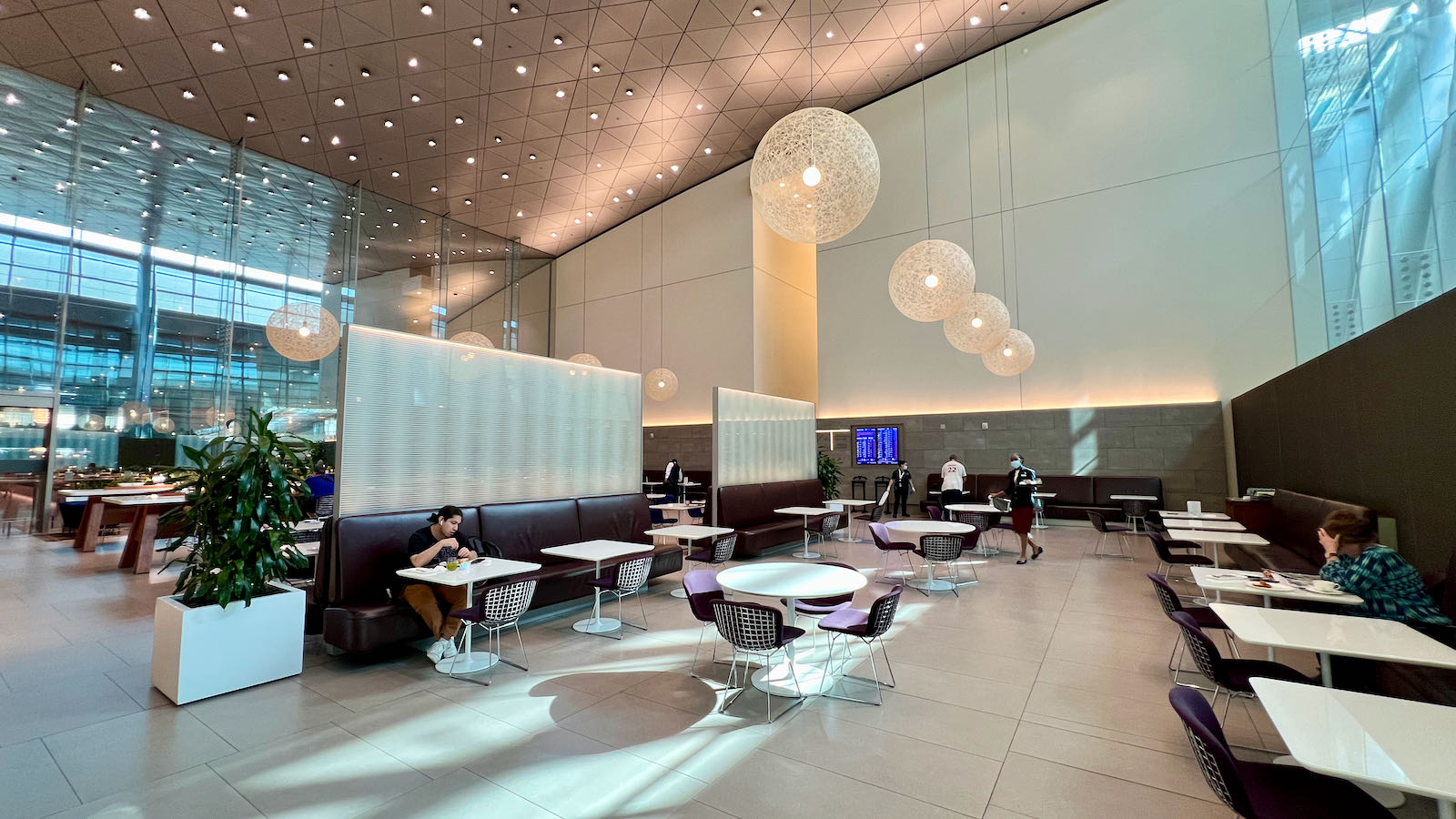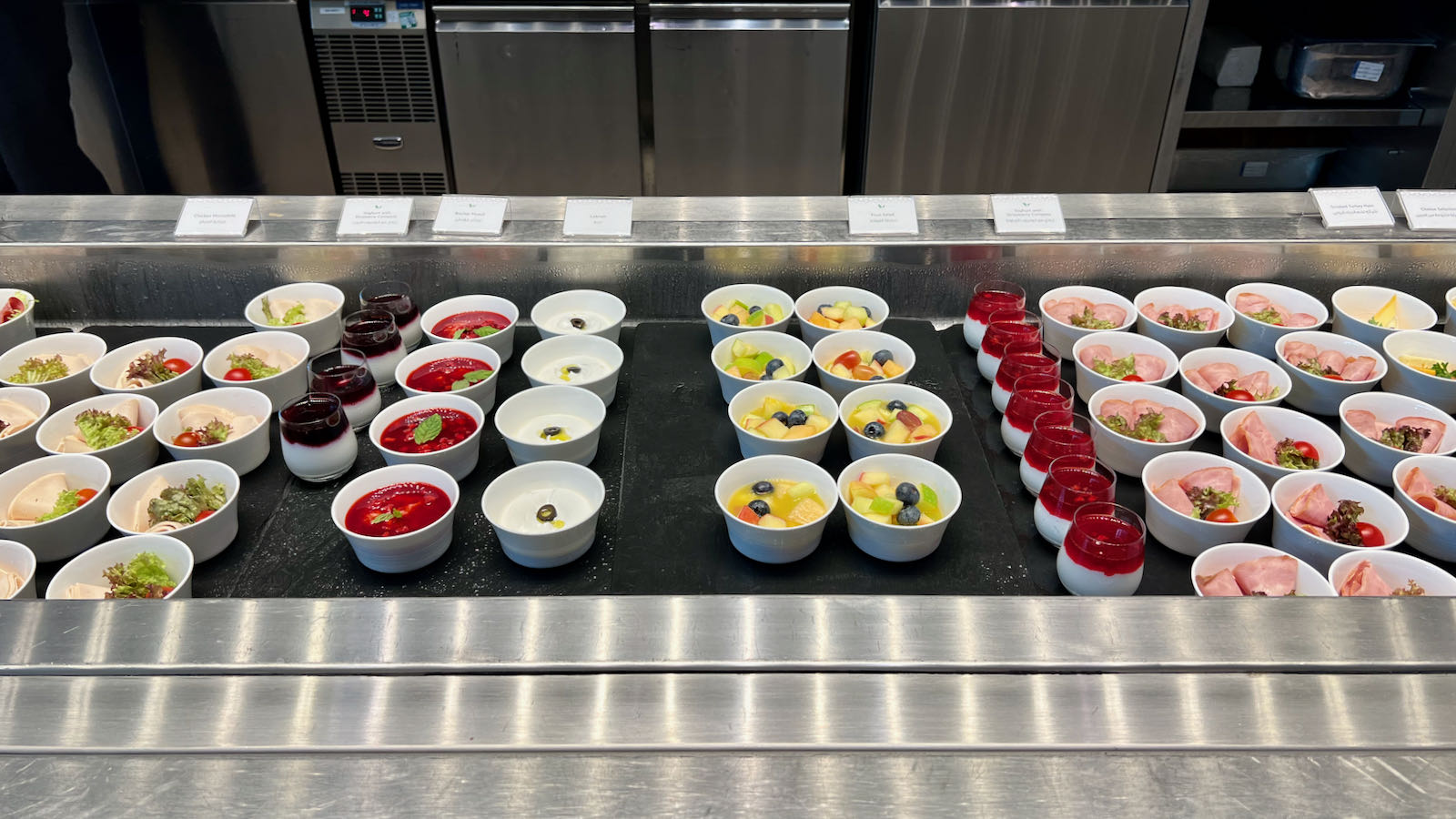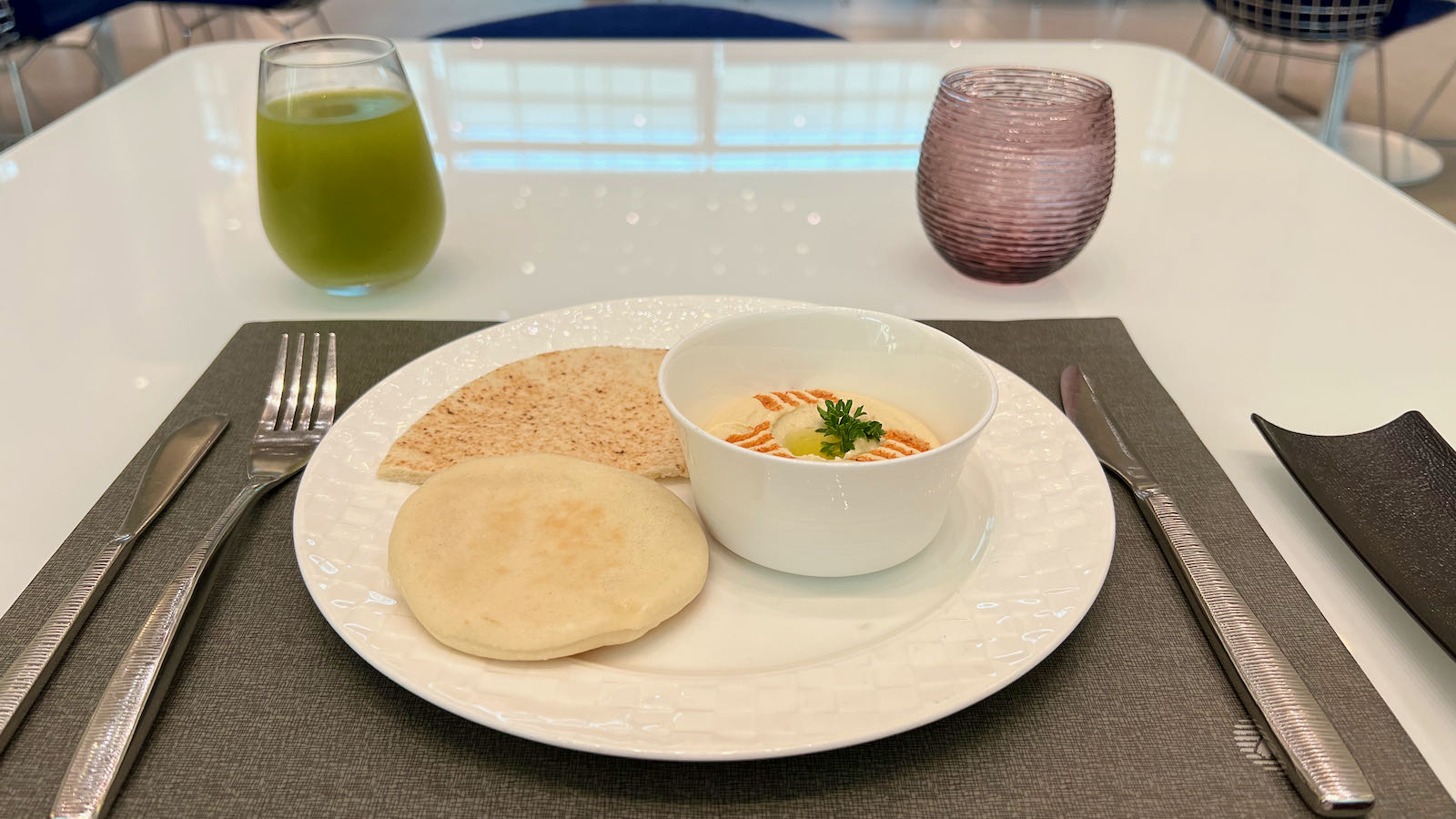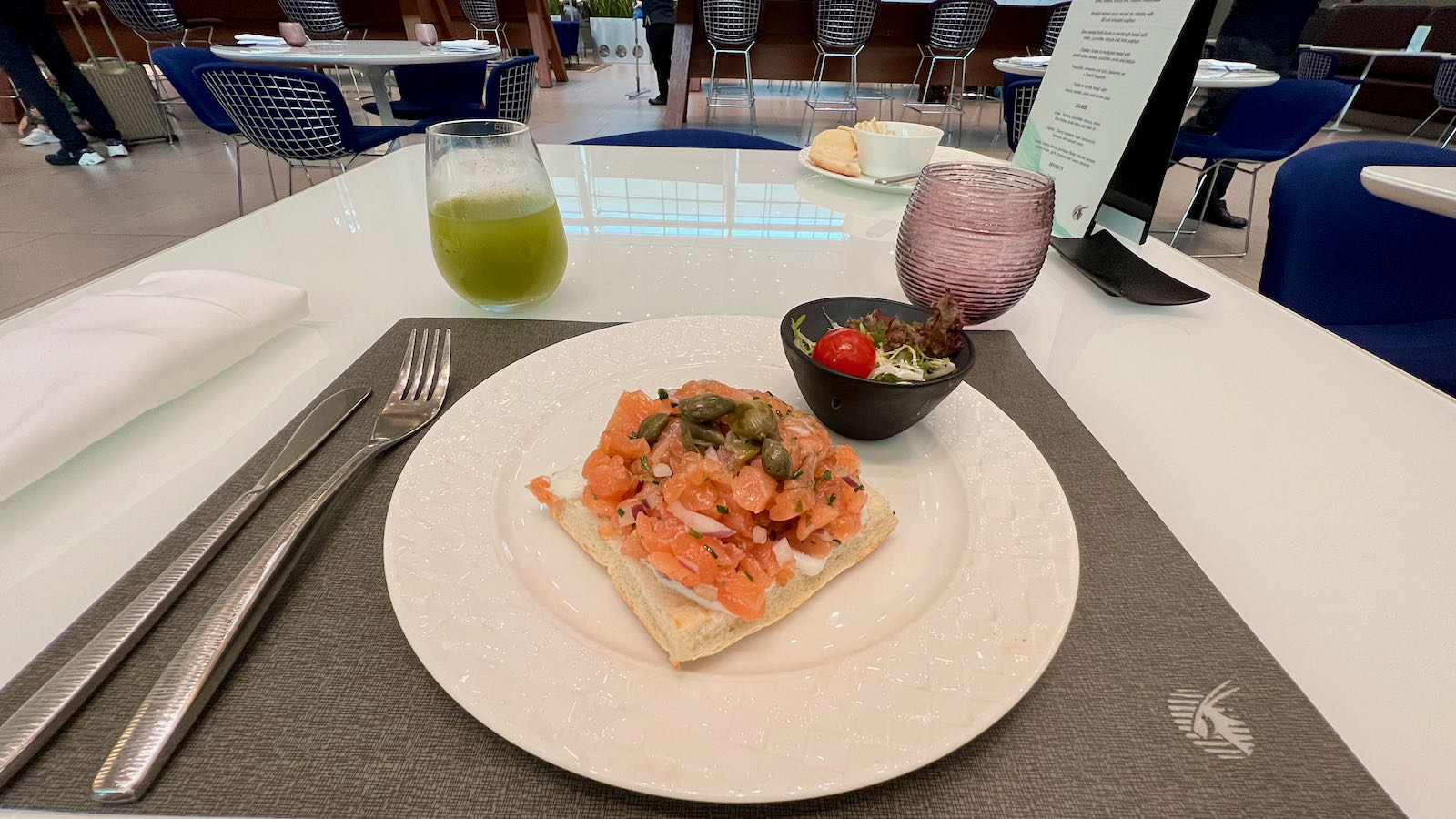 The restaurant
In all honesty, I've planned to have a room service lunch at the Oryx Hotel. But when I hear that my simple club sandwich will take an entire hour to arrive (which ravenous traveller can wait that long?), I decide to pop back to the lounge instead. Once they stamp your boarding pass at reception you're free to come and go as you please. I take them at their word, and receive an endearing 'welcome back!' on my return.
Serviced by a dramatic spiral staircase crowned with a jaw-dropping crystal chandelier (and an everyday lift), the restaurant is located on the mezzanine level. And there's a range of seating, from leather booths along one wall to simple dining tables and cosy leather armchairs lining both sets of windows.
I'm looking to knock off some work, so I pull up a pew at a laptop-friendly window table. The Al Mourjan Lounge offers à la carte dining (a luxury usually reserved for First Class lounges) from a scannable menu. But I suggest you start with the extensive buffet.
The cold buffet offers similar fare to the cafe, though with a more elevated selection of Arabic mezze. The mezze plate on Qatar Qsuites has opened my eyes to just how zesty and flavourful dips can be. So I'm delighted to discover the same options here. The muhammara – a red bell pepper and walnut dip – is ridiculously good. And the smokey whipped baba ganoush makes me swoon. I'm not exaggerating here.
The hot buffet offers both continental and Oriental fare. In fact, the offering is so extensive I don't make it to the à la carte menu at all. (When I visit, this menu features breakfast from 5 am to 10:30 am, and lunch and dinner from 11 am to 4 pm. Options range from eggs benedict for brekkie to pan-grilled salmon and chicken biryani for lunch/dinner).
I follow up my mezze with a lovely carrot and ginger soup – the equal of the dazzlingly nourishing sweet potato and coconut soup I enjoy in Qsuites. Next up it's roast grouper with lemon cream sauce. Though it's come from a bain-marie, it's moist and surprisingly light. The only dud is the walnut-stuffed chicken breast, which is so overcooked I don't eat it.
The dessert buffet – which the Qatar website rather grandly refers to as a 'patisserie' – looks tantalising, with an array of scrumptious cakes and tarts. But I'm too full for even a whisker of black forest gateau.
And let's not forget the resplendent marble bar. With a selection of delectable Champagnes waiting in hefty silver ice buckets, its siren song calls to me at breakfast. And lunch. And dinner. Who can blame me, with the captivating Charles Heidsieck Rosé on offer?
Though I return for dinner, I'm not overly hungry. Instead, I quench my travel-induced thirst and enjoy another bowl of velvety carrot soup. Happy days.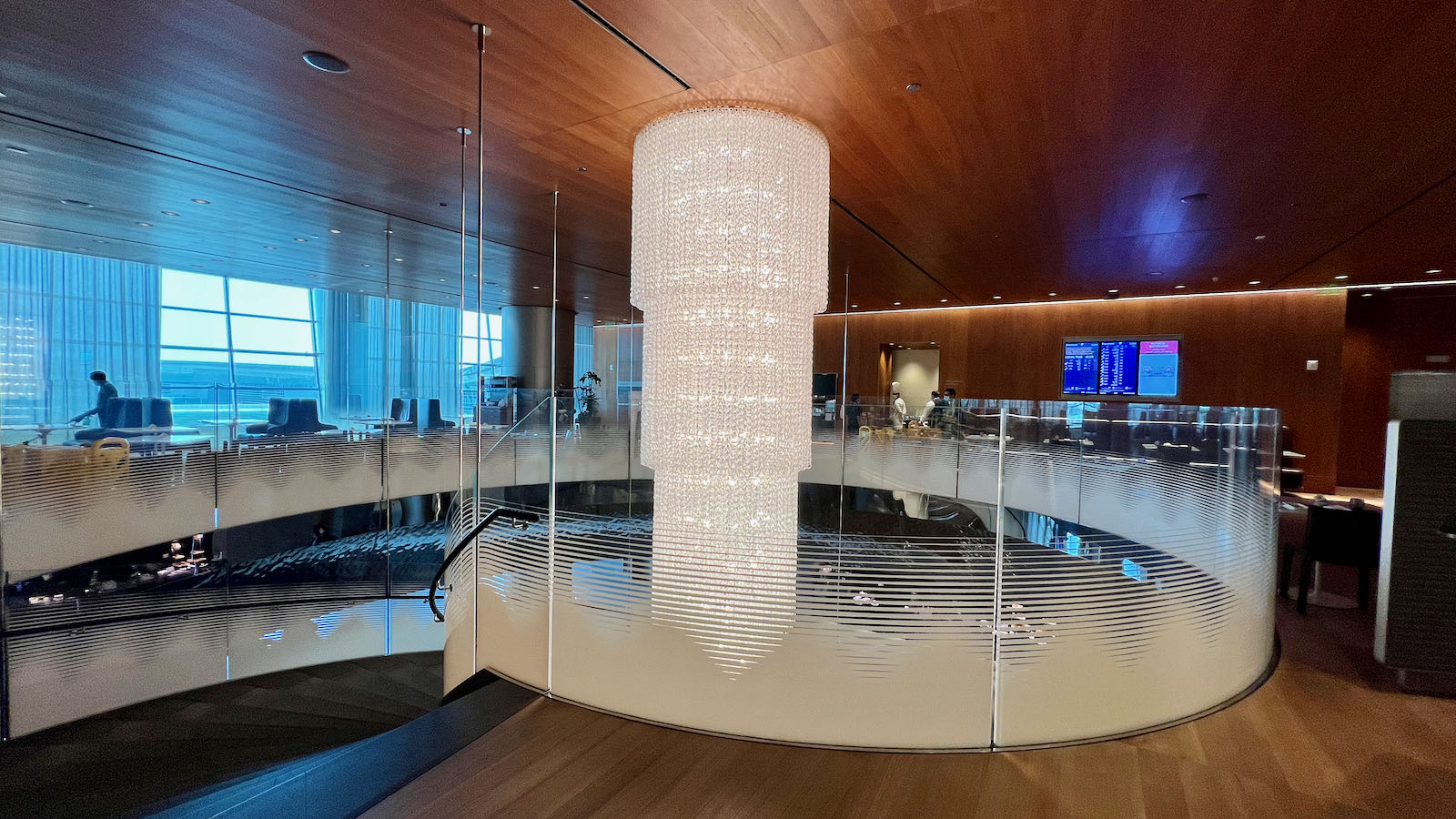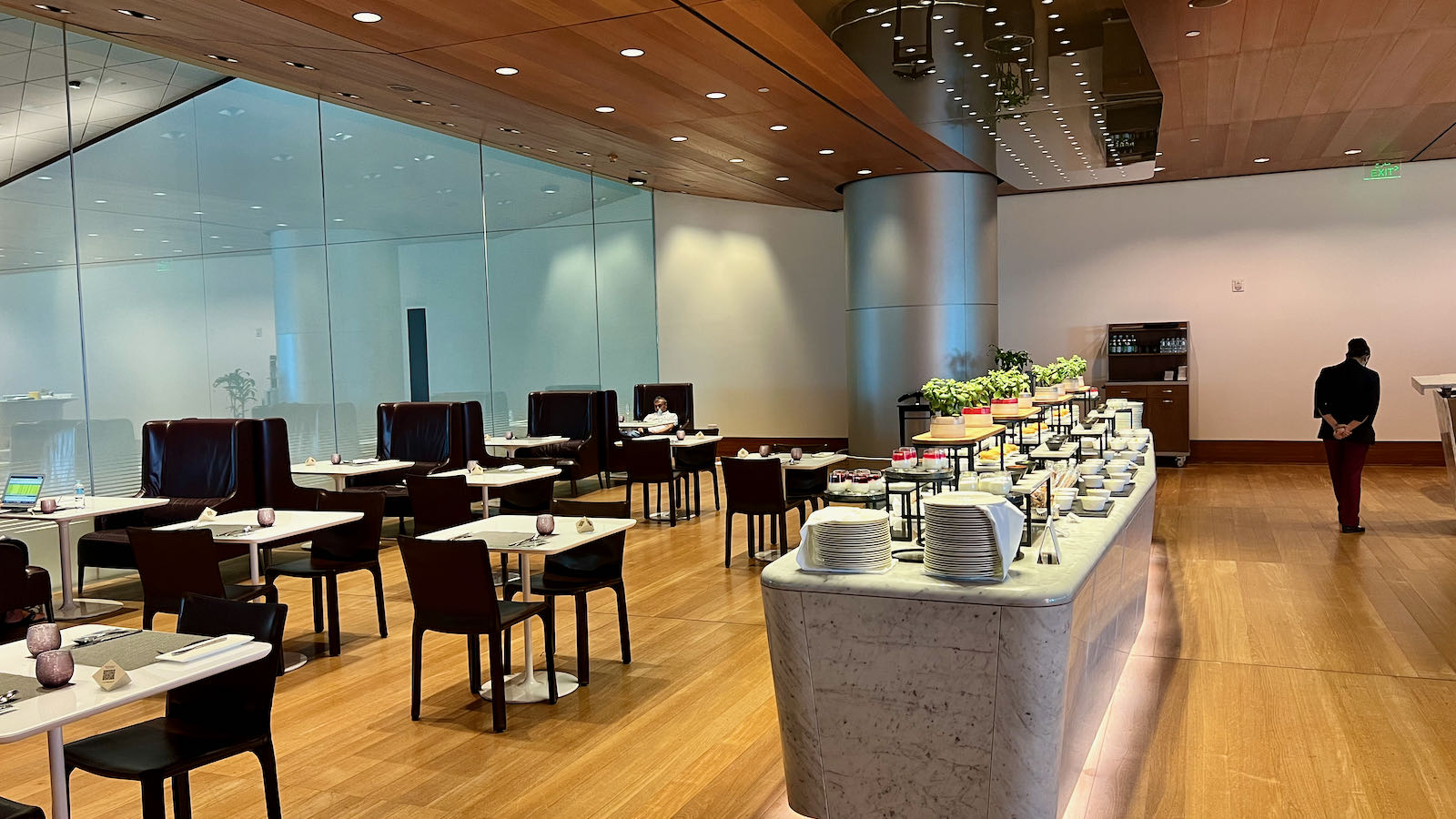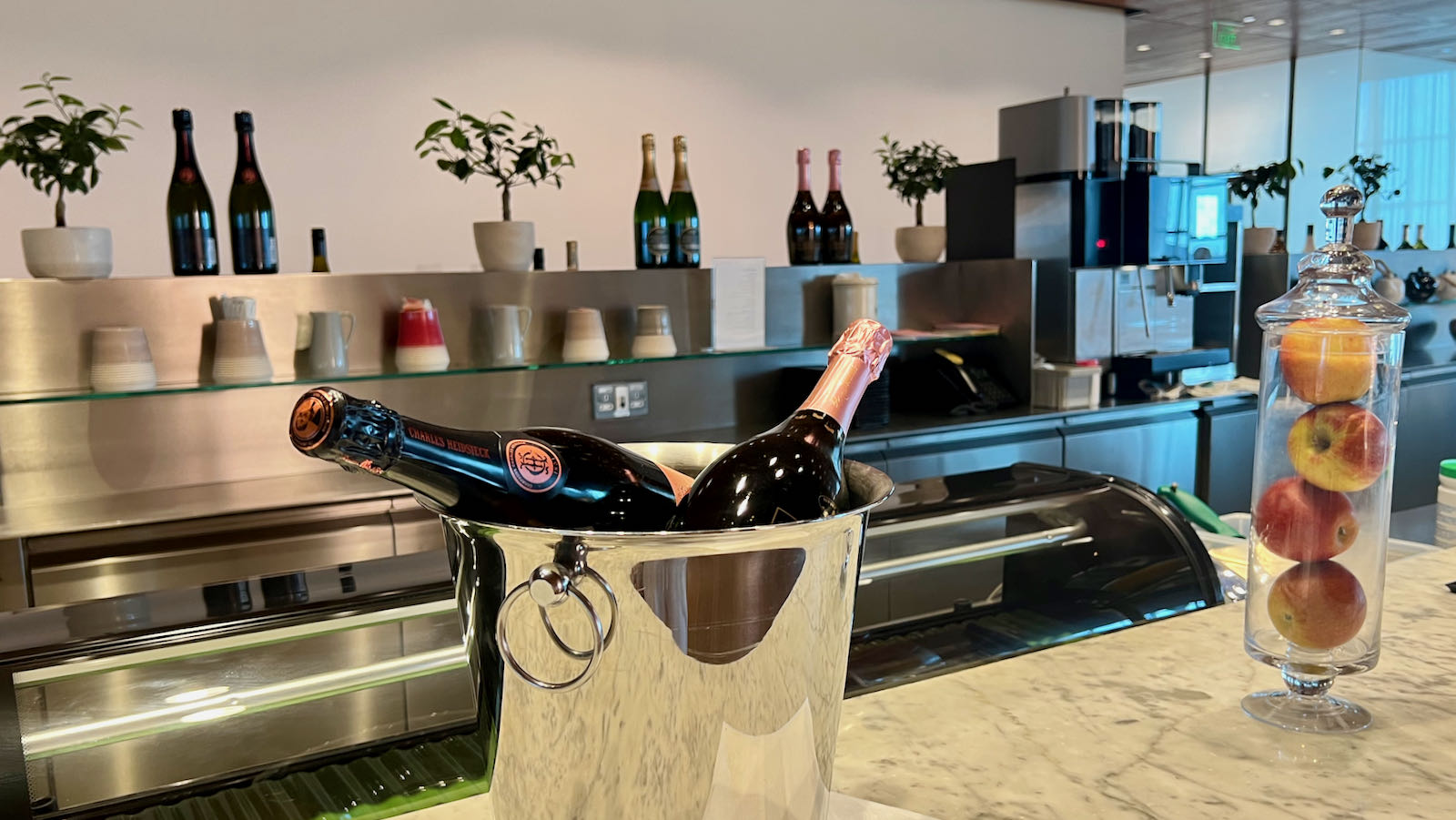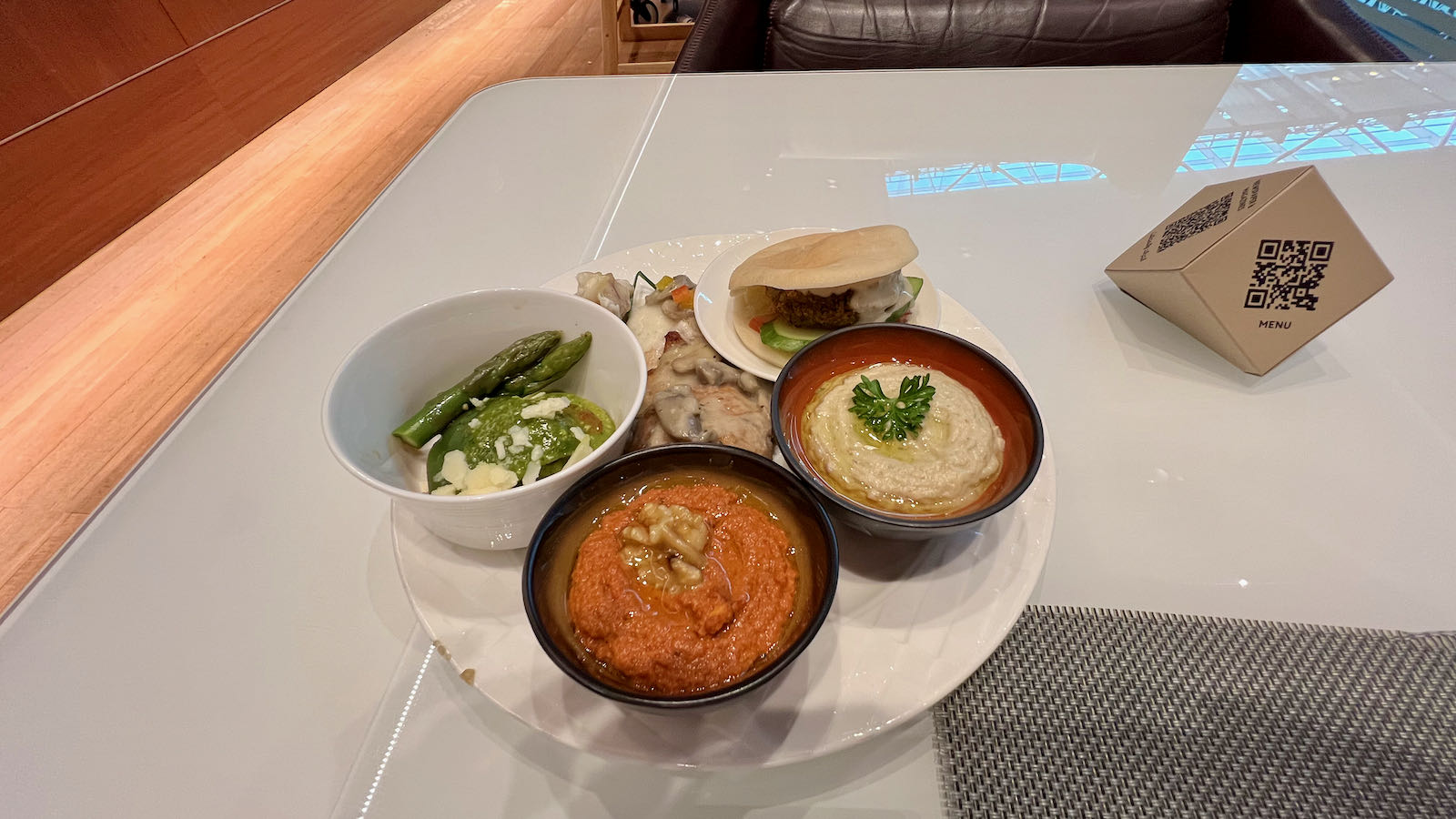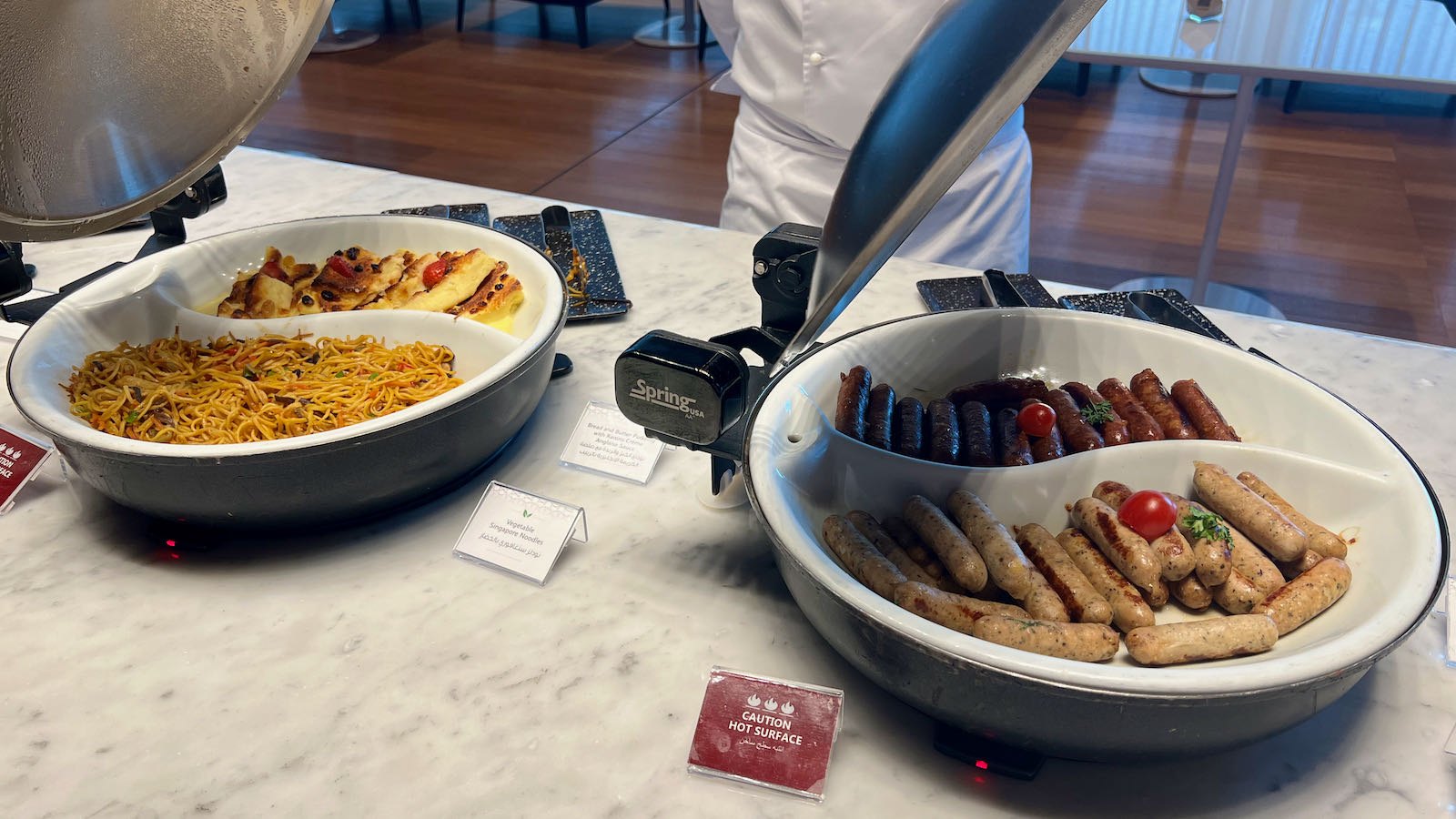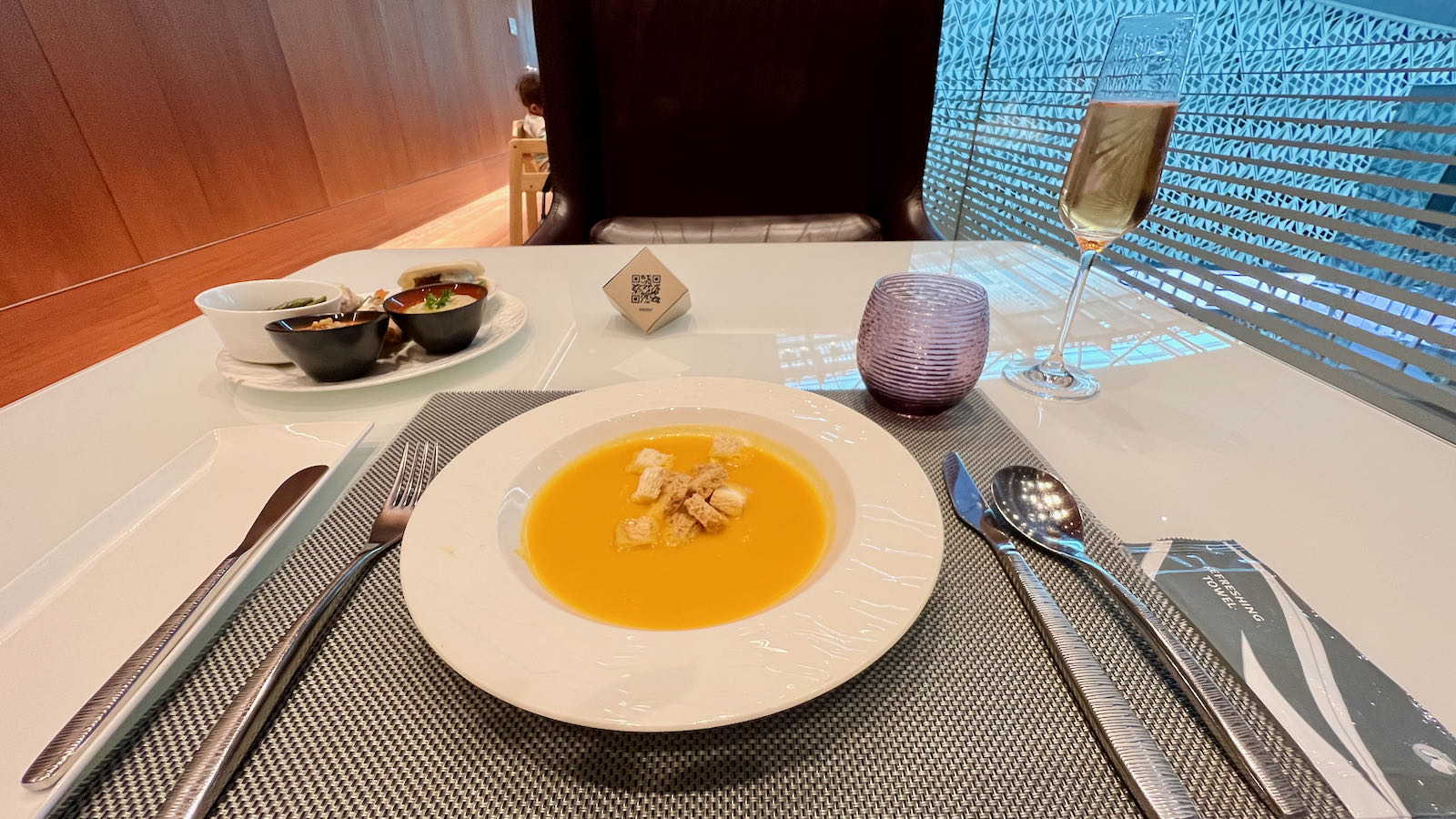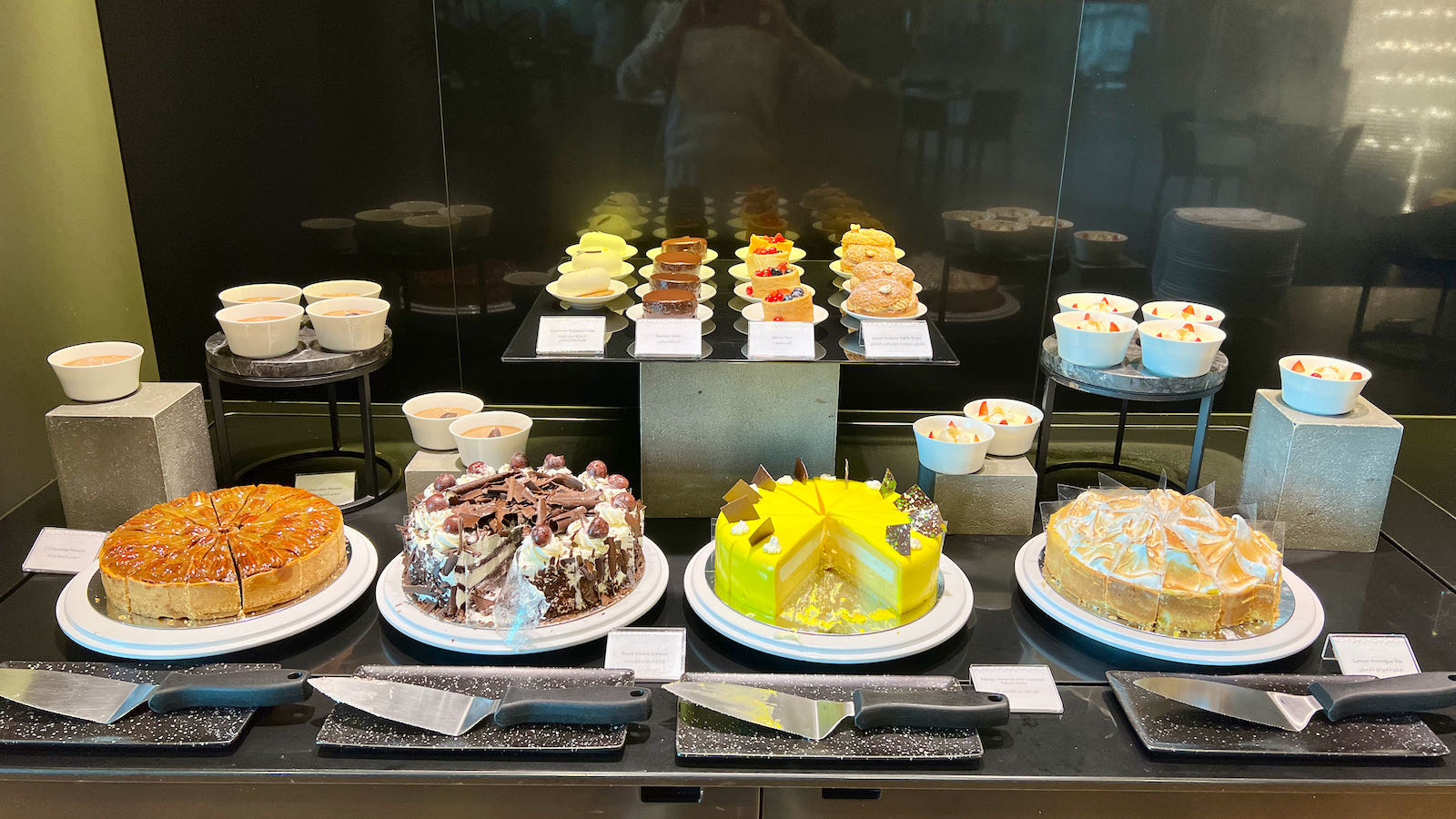 Amenities
As you might expect, the Al Mourjan Lounge comes with a range of impressive amenities.
The sizeable Business Centre offers both private and open-plan workstations with monitors and complimentary Wi-Fi (though this should be available throughout a lounge of this calibre. It's annoying to go through the multiple steps required to connect to the airport's free Wi-Fi). I clock a download speed of 76 and 61.9 upload. There's also a bookable conference room. Strangely, on my visit, the entire Business Centre is empty.
The spotless bathrooms are lovely, with Diptyque toiletries and spacious shower suites stocked with quality linens.
Near the cafe, there's also a fantastic 'quiet area' with bookable pods. It's whisper-quiet in here – the staff take volume levels very seriously. Each pod is fitted with a pillowy leather sofa, an armchair with a footstool, a reading lamp and small table, stylish fittings and your own personal departures screen. There's even a wooden valet for your suit jacket or blouse. The only thing missing is a bed.
But after reclining on the cosy armchair, I make a surprising discovery: these pods are so comfortable they make booking a transit hotel superfluous. Next time I'll save the roughly $AUD515 on a room at the Oryx Hotel and snooze in one of these quiet pods instead.
The lounge is so spacious I only hear about the family areas and games room after I've left. Whoops. But the family rooms come complete with TVs and leather couches, while there's a kids' nursery and Formula 1 simulator in the games room. Say what?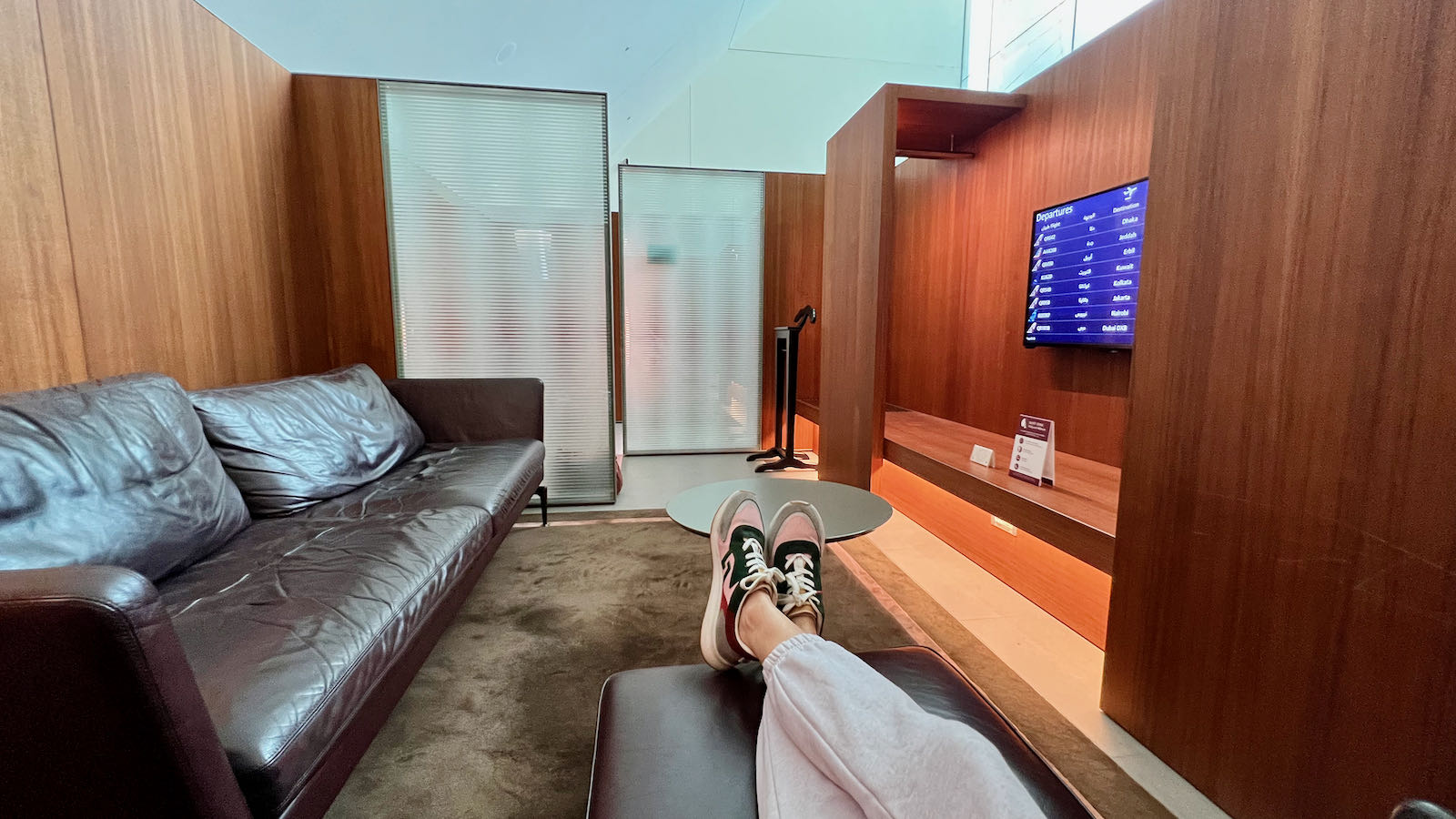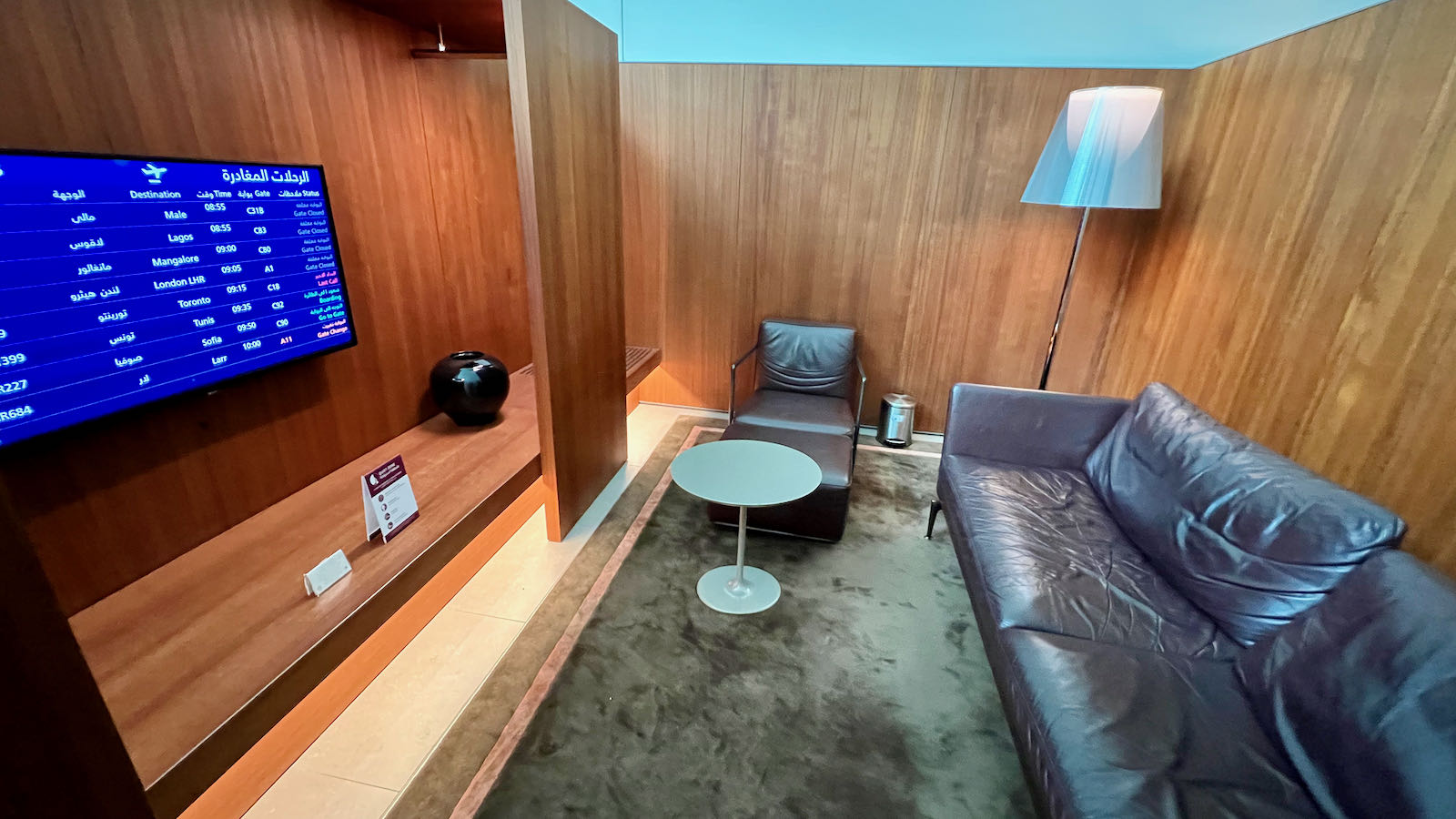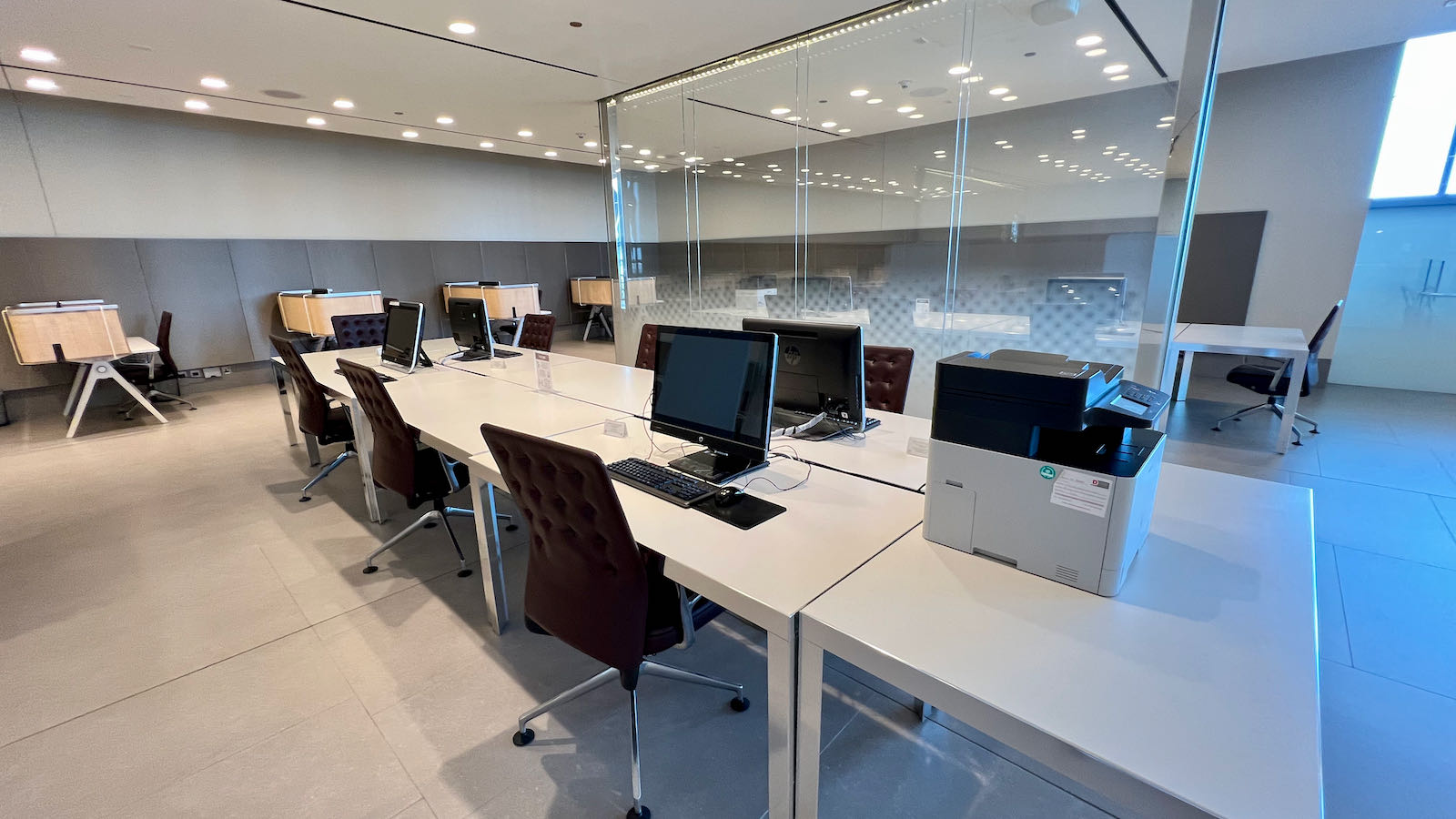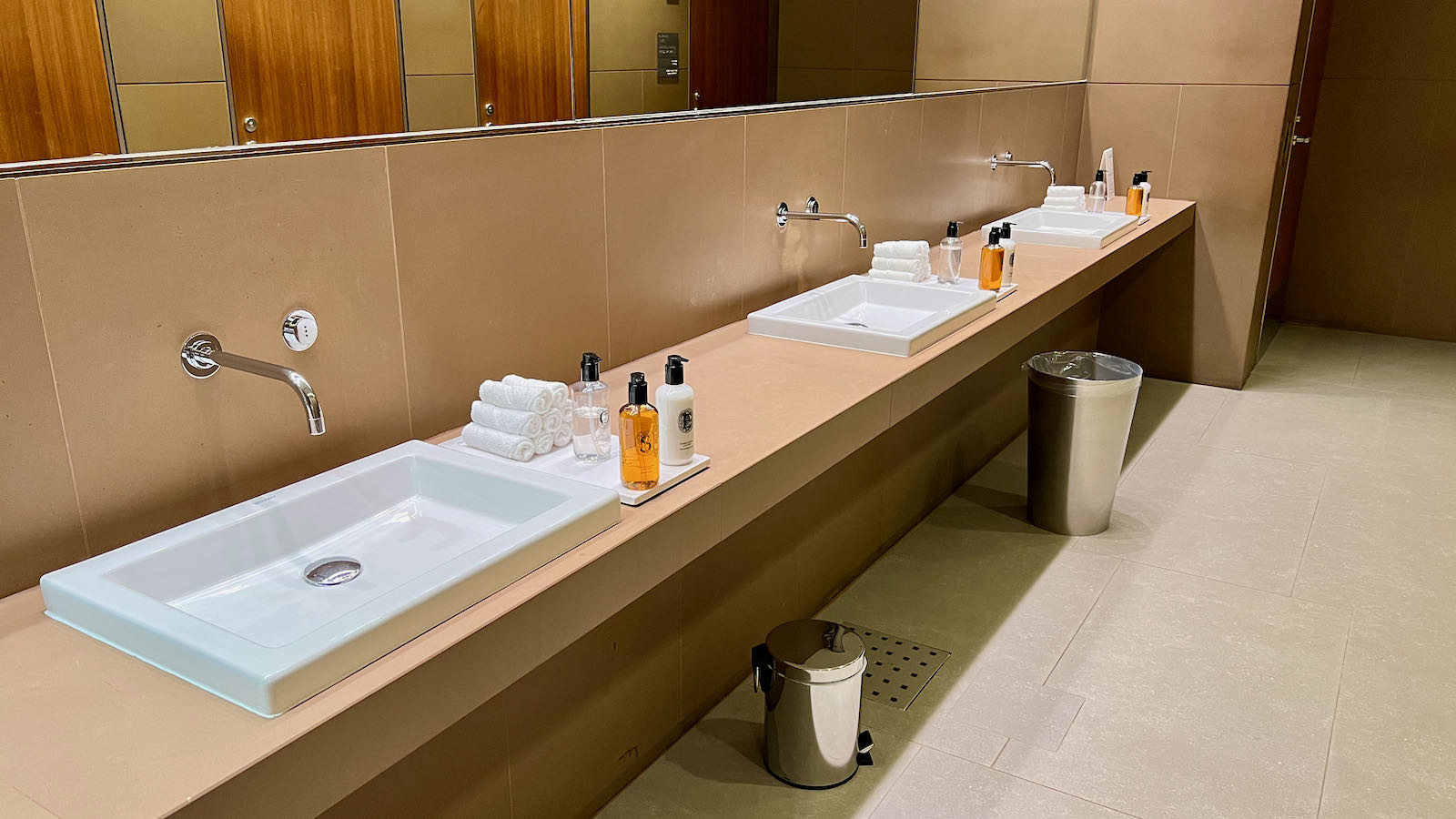 Lounge access options
Class of travel: Qatar Airways First and Business Class passengers.
Alliance frequent flyer status: oneworld First and Business Class passengers.
Day pass: Qatar passengers travelling on a Business Class (lite) fare or Economy Class passengers across the network can purchase a lounge pass for $QAR450 – around $AUD180.
Summing up
In a word, the Qatar Airways Al Mourjan Business Lounge in Doha is dazzling. The scale of the space, the attention to craftsmanship and thoughtful design, the (mostly) excellent food and beverage, the range of seating options and the superb service combine to deliver near perfection.
Much like my new friend from Pennsylvania, I discover this is a lounge worth extending your transit time for. And there aren't many Business Class lounges around the world you can say that about.
But there's always room for improvement. Barista-made coffee is the obvious first step (it's a wounding blow to discover an automated self-service machine after a long-haul flight). The lack of work-height tables that double as desks also needs to be addressed. And of course, the lounge should offer its own free and high-speed Wi-Fi. Finally, ensuring that hot food doesn't overcook in the bain-maries would elevate the food offering to across-the-board deliciousness.
Overall, though, I can't stop raving about the Al Mourjan Business Lounge to anyone who'll listen. Including you, dear reader. After all, isn't excellence worth celebrating?
Qatar Airways Al Mourjan Business Lounge, Doha
was last modified:
November 27th, 2023
by