As one of Australia's biggest frequent flyer programs, there are so many different ways to earn Velocity Points through the activities you are already doing every day! This roadmap takes a look at the strategies you could be using to maximise your Velocity Points balance.

How to earn even more Velocity Points
was last modified:
April 28th, 2020
by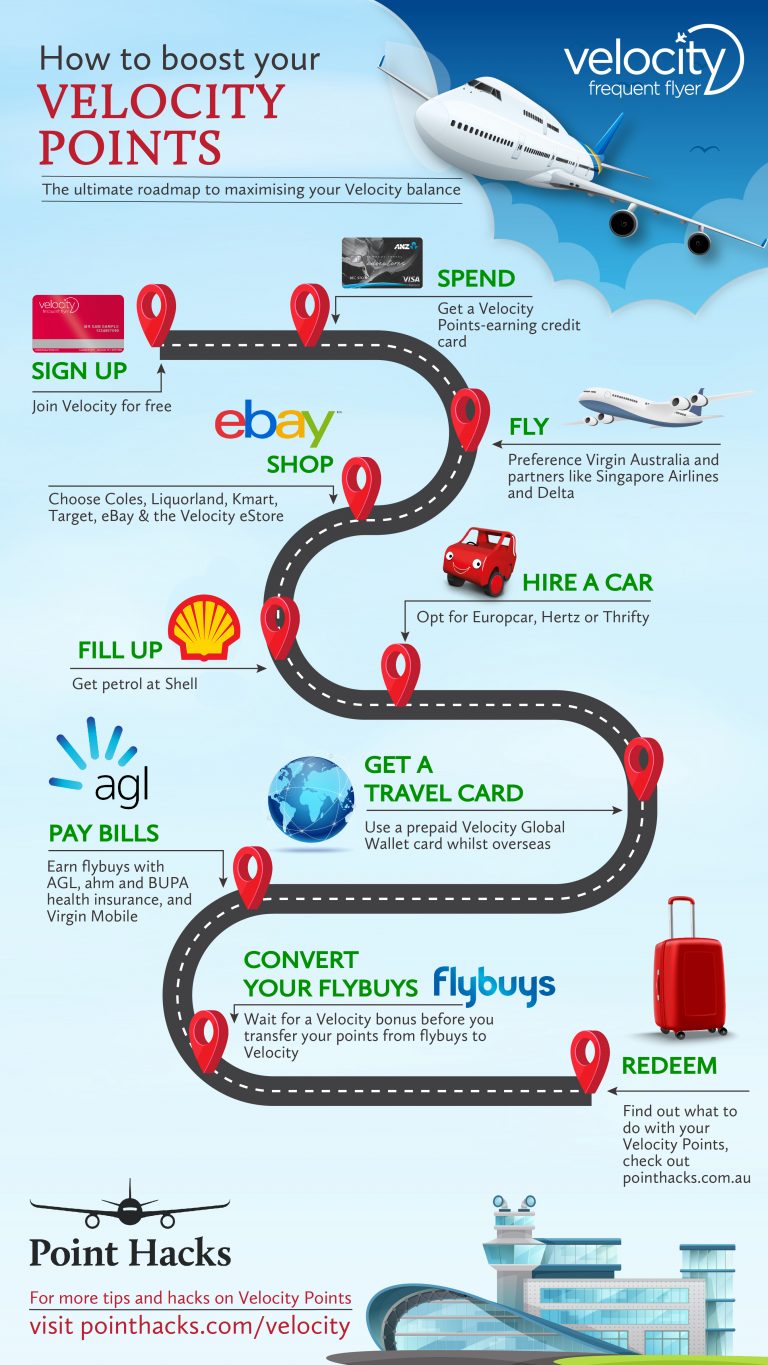 1. Spending
Credit cards: The most consistent way to earn Velocity Points is by far, spending! We don't mean go buy things you wouldn't normally buy but rather put your daily expenses on your Velocity Point-earning credit card where possible.
Say you have an American Express card which earns 1.25 points per dollar spent, like the Velocity Platinum.
For a family that spends $2,000 a month on recurring expenses, that's a steady 2,500 Velocity Points into your account each month or 30,000 Velocity Points a year. That doesn't take into account other bonuses and big-ticket purchases.
Wine: Earn 3 Velocity Points per $1 with Virgin Wines. They also often have bonus offers, such as 3,000 Velocity Points for a case. See our guide here.
2. Travelling
Flights: Travelling with Virgin Australia and partner airlines is a very easy way to rack up Velocity Points. For domestic Virgin Australia flights, you'll earn 5 points per $1 spent on airfares, plus more if you have Velocity Silver status or higher.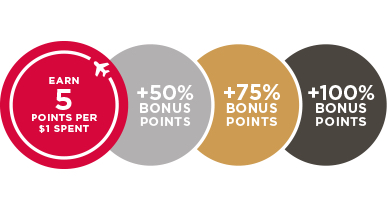 When flying internationally or with partner airlines, you will pocket a set number of Velocity Points per mile travelled. For example, Sydney – Singapore – New York return in Singapore Airlines Premium Economy would earn you roughly 26,882 Velocity Points per passenger!
Accommodation: Booking a hotel through Virgin Australia holidays will earn you 3 Velocity Points per dollar spent, with no booking fees. Rates are identical to Expedia Australia.

Other hotel chains will let you earn Velocity Points from your stay in lieu of hotel reward points.

Ola: Velocity has partnered with this rideshare app. New Ola members get 1,000 bonus Velocity Points for signing up and 30% off fares for the first two weeks.
There is an ongoing earn rate of 2-4 Velocity Points per $ for airport rides, and a flat 1 Velocity Point per $1 for all other rides.
Insurance: Travel insurance is a must if you are heading overseas. Cover-More offers 3 Velocity Points per $1 spent on policies. Be sure to check the policy is right for you before purchasing, and compare with other insurers to see if you can get a better deal.
Cruises: If you are heading out to sea, check if Cruisepilot can offer you a good rate. You will earn 3 Velocity Points for every dollar spent on cruises, with elite status holders getting a boost of 50-100% more.
If you are a Velocity Gold member who books a cruise for $2,000, then you will pocket an easy 10,500 Velocity Points.
Pets: Your furry friends can earn you Velocity Points too! Virgin Australia lets you earn Velocity Points whether your pets travel with you on the same flights or not. Check out our dedicated guide to earning points with your pet.
3. Shopping
Some retailers will also offer bonus Velocity Points on top of what you'd already earn from spending responsibly on your credit card. You can find these retailers on the Velocity eStore.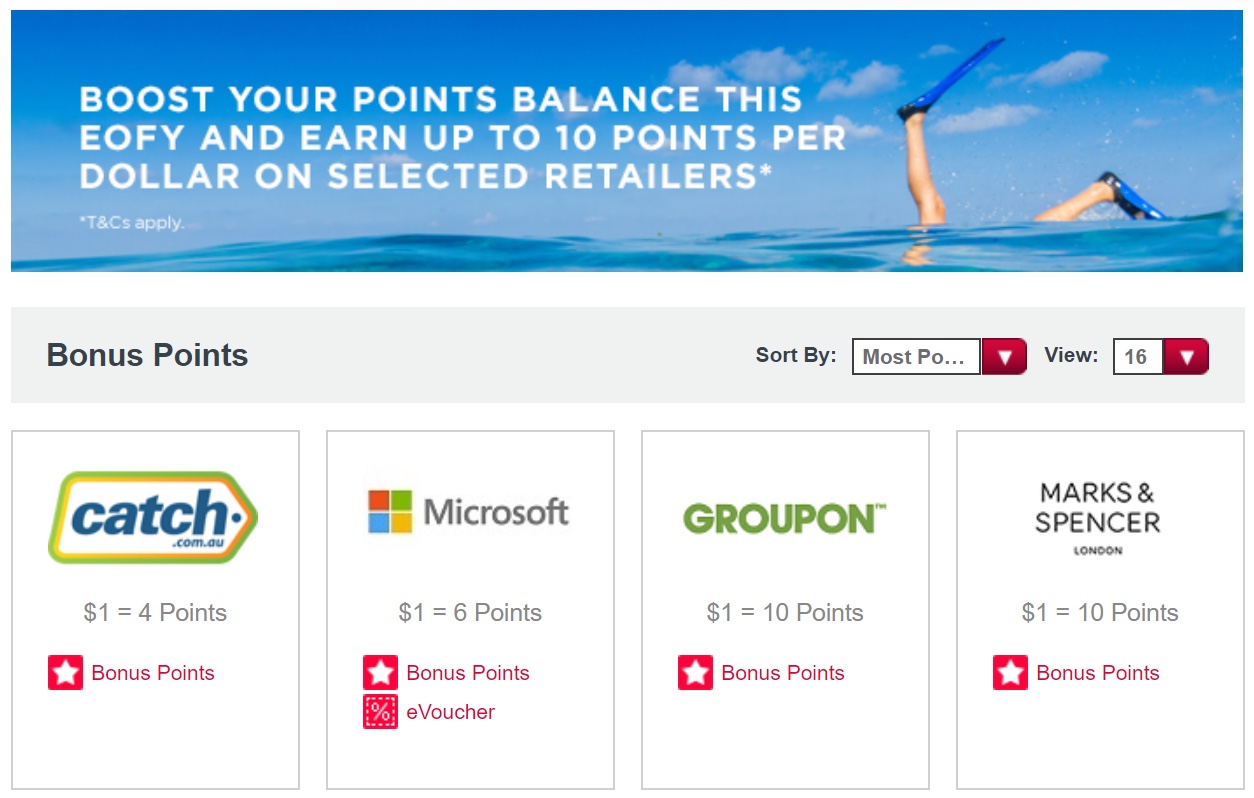 All you have to do is click through to the store you want to shop at and make a purchase.
Let's say you go to the Microsoft Store and spend $1,999 on a new laptop, buying it with your Amex, which earns 1.25 points per dollar. Say there is also a limited-time offer of 6 points per dollar bonus through the Velocity eStore.
You will earn 2,499 Velocity Points from the credit card and a bonus 11,994 Velocity Points from the eStore, which totals 14,493 Velocity Points. Your new laptop could earn nearly enough points to redeem for a Melbourne -Sydney return reward flight in Economy Class!
The other way to earn Velocity Points while shopping is through the flybuys program. Every time you shop at Coles, Kmart, Target and Liquorland, you can earn flybuys points which convert to Velocity Points. We will take a look at that later on.
4. Fuel
Unless you are fortunate enough to own a Tesla, you will probably need to fuel up your car quite regularly.
flybuys has a partnership with Shell. The best way to maximise this partnership is to:
spend $30 or more at Coles; but
forgo the 4c fuel discount;
opt instead to earn 8 bonus flybuys points per litre; in addition to
the regular 0.5 flybuys points per $1 spent; and then
transfer your flybuys points to Velocity
Velocity's separate partnership with BP offers 2 Velocity Points per litre filled or 2 Velocity Points per dollar spent in-store. However, Qantas will become BP's exclusive partner in February 2020.
5. Car hire and parking
Velocity Points are easily earned through three big players in car hire: Europcar, Hertz and Thrifty.
In Australia and New Zealand, you will get at least 3 points per $1 spent, with bonuses for Silver, Gold and Platinum members. Overseas, Hertz and Europcar give 800 points per booking, which increases up to 1,600 points for Platinum members.
Red
Silver
Gold
Platinum
Europcar
(AU/NZ)
4 pts/$
4.5 pts/$
5.25 pts/$
6 pts/$
Hertz (AU/NZ)
& Thrifty (all)
3 pts/$
+50%
+75%
+100%
Hertz &
Europcar
(international)
800 points
1,200 points
1,400 points
1,600 points
While you are out driving, you can earn 3 Velocity Points per dollar at Look4Parking, which is a secure airport parking comparison service. Velocity Silver, Gold and Platinum members also earn a 50/75/100% bonus.

6. Travel Money
The bulk of most Velocity membership cards are also Velocity Global Wallet travel cards.
This is a convenient way to turn your Velocity card into an international spending card, pre-loaded with the currencies you need.
You can earn 2 Velocity Points per AU$1 spent overseas, or 1 Velocity Point per $3 spent in Australia. It is free to load your travel card via bank transfer, and there are no transaction or conversion fees if you are using one of the ten supported currencies.
All Velocity Points-earning credit cards will also let you earn Velocity Points at the same or higher rate per dollar when overseas. However, be careful, since most of them will charge international transaction fees of ~3%.
7. Paying bills and other subscriptions
No one likes paying bills, so at least try to make the most of it by maximising your Velocity Points earn. For energy, AGL lets you earn flybuys points, which can later be converted to Velocity Points.
Virgin Mobile and Virgin Active (gyms) both earn Velocity Points on plans, including 10,000 Velocity Points for new Collection members who hit the gym at least 3 times a week for 12 weeks.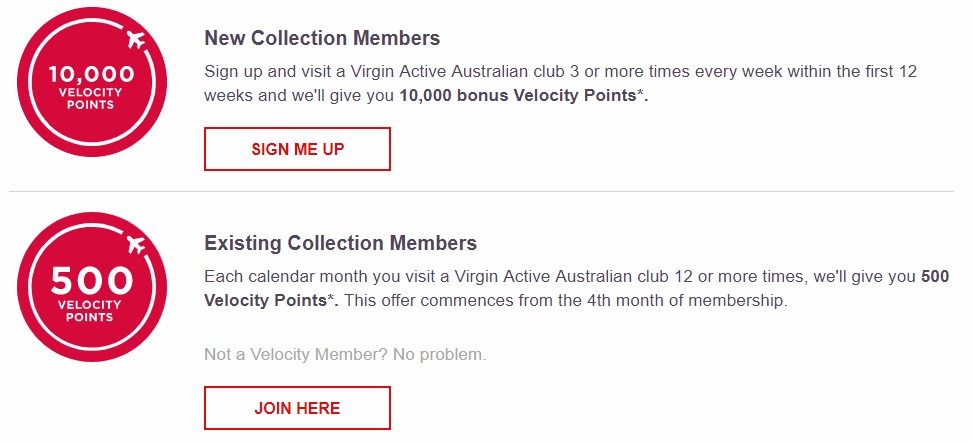 Virgin Mobile offers 2 Velocity Points per $1 spent on postpaid plans.
For health insurance, ahm partners with flybuys to offer up to 40,000 flybuys points for new couples and family plans, which can be equivalent to 20,000 Velocity Points when there is a transfer bonus. Just make sure you sign up directly with ahm during an active promotion period and include your flybuys number at the time of joining.
8. Transfer your reward points
Lots of other reward programs will also transfer to Velocity. flybuys will swap 2,000 Flybuys Points for 870 Velocity Points. However, there are often transfer promos where you will get a 15% bump to 1,000 Velocity Points.
flybuys points are easily earned while shopping at Coles, Liquorland, Kmart and Target, as well as through various other companies mentioned in this article.
The other major source of points is bank rewards programs, such as American Express Membership Rewards and ANZ Rewards. You can usually get 1 Velocity Point for every 2 bank reward points, depending on the particular institution.
We have a very comprehensive guide to transferring flybuys points and bank reward points to Velocity Frequent Flyer.
Frequently asked questions
How do I earn Velocity Points?
There are many different ways to earn Velocity Points, like shopping, flying and just paying your regular monthly bills. This guide will help you understand all the different ways to earn Velocity Points.
Related articles
Featured image courtesy Velocity Frequent Flyer.
How to earn even more Velocity Points
was last modified:
April 28th, 2020
by