Australia's third-largest airline, Rex, is eager to tempt travellers to fly again and again with the launch of its long-awaited Rex Flyer loyalty program. Earn and use Rex Points for reward seats and upgrades across the carrier's domestic and specialised regional network across Australia.
And if you're soaring high with Rex often enough, complimentary seat selection, free upgrades and even a gifted lounge membership are all up for grabs. Here's everything you need to know about Rex Flyer.
Watch our video or continue reading below to learn more:
How do I join Rex Flyer?
It's easy to become a Rex Flyer member, and of course, the program is free to join.
Sign up to Rex Flyer before 2 January 2024 to earn 5,000 bonus Rex Points. You'll also earn double Rex Points for all ZL flights booked before that same date.
Go to the Rex Flyer website
Enter your personal details and click 'Register'
You are now a member of Rex Flyer and can start earning Rex Points. Note that redemption of points will start in November 2023, while status benefits kick off in February 2024.
How do I earn Rex Points?
At this early stage, the only way to earn Rex Points is by booking and flying on Rex. You can earn three to seven points per dollar spent, depending on the fare purchased. Need to add luggage or choose paid seats? Enjoy a further five Rex Points per dollar spent on those ancillaries.
Of course, you'll need to include your Rex Flyer membership number on the booking. Here are the rates at which you can earn Rex Points.
Cabin
Fare Class
Booking Class
Earn rate (per AU$1)
Business
Biz Plus, Biz
J, C
7
Biz Saver
D
5
Economy
Flex
Y, B, M, K, G
7
Saver
H, Q, V, T, L, R, U
5
Promo/Resident/Community
N*, O, S, P, E, F
3
* Note: N-Class fares earn five points per dollar.
Points are earned on most charges including the fare, airport taxes and GST. But you won't earn on certain fees and charges such as payment fees, service fees, cancelled flights or complimentary flights (including reward seats).
How do I use Rex Points?
Reward seat bookings are projected to start in November 2023.
Points + Cash and points upgrades are expected to begin in February 2024.
Unlike Qantas Points and Velocity Points, which use fixed tables for reward seats, Rex Points are tied to the cash fare value on each route when it comes to reward seats. There are three categories of reward seats for Rex flights:
Ultimate rewards require the fewest points but have the most limited availability.
Getaway rewards are roughly 30% pricier than Ultimate rewards but have more seats available.
Anytime rewards are considerably more expensive in points but offer any-seat availability.
That's not to say the program uses full dynamic pricing or points plus pay. Instead, the number of points needed to book a seat is based on the published cash fares for a route, which doesn't fluctuate too often.
Fortunately, you don't have to have a degree in mathematics to work it out. Simply visit the Rex website to see an up-to-date list of how many points you need for reward seats.
A key perk of Rex Flyer is Last Minute Flight Rewards. Rex Flyer promises that nearly every unsold seat can be booked with points at the lowest rate. Starting in February 2024, here's how it works:
At 48 hours before departure: All unsold Economy seats (except 5) will be available as an Ultimate reward.
At 24 hours before departure: All unsold Business Class seats (except 2) will be available as an Ultimate reward.
From midnight on the day of departure: All remaining unsold seats will be available as an Ultimate reward.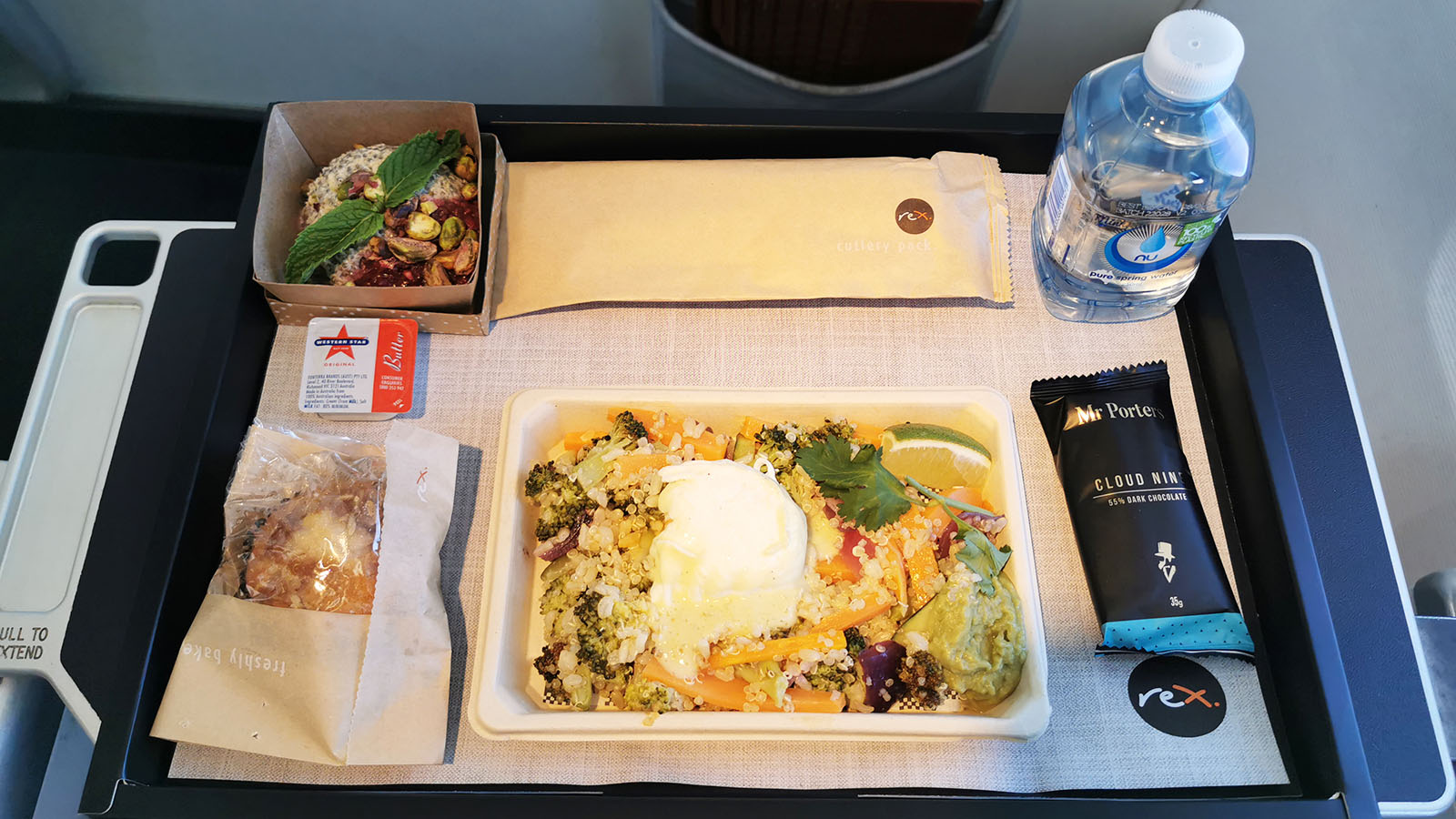 Rex will also introduce Points + Cash payments to offset cash fares in February 2024. Until then, we won't know how many points it'll cost to enjoy savings on your fare.
You can redeem Rex Points for yourself or family members, which include: husband, wife, domestic partner or de facto, mother or father (including in-law), son or daughter (including in-law), foster, step or adopted child, or a brother or sister (including in-law). You can't use Rex Points for other non-related passengers.
The reward seat pricing formula
If you're interested in the numbers, Rex is transparent about how the reward seat pricing is calculated. For example, the published $349 Business Class fare between Gold Coast and Melbourne currently costs 17,400 Rex Points + fees and taxes as an Ultimate reward, based on this calculation:
[Published cash fare] × [50% or 35%] × [100] = reward seat price (rounded down).
The published cash fare used is the cheapest Saver fare for Ultimate and Getaway, and the most expensive flexible fare for Anytime awards.
A discount of 50% is then applied to Ultimate and Anytime awards. A discount of 35% is used for Getaway awards.
Finally, a points conversion factor of 100 is multiplied and the number rounded down to the nearest 100 to work out the price of the reward seat.
This cost-based formula favours Rex's higher-frequency domestic trunk routes, which have more competition and lower fares. It does mean that even though some regional flights are shorter, they may require more Rex Points as the published cash fare used is higher.
Using Rex Points for upgrade rewards
Don't quite have enough points for a reward seat? Why not try your luck at a points upgrade, which currently ranges from 4,300 points from Economy Flex to 16,800 points from Economy Promo.
Points upgrade prices are priced at 25% to 75% of the Business Ultimate reward seat, so they will also be subject to change if the base published fare changes as well.
Economy Flex: upgrades cost 25% of a Business Ultimate reward
Economy Saver: upgrades cost 50% of a Business Ultimate reward
Economy Promo: upgrades cost 75% of a Business Ultimate reward
Once again, see the Rex website for the latest upgrade price on your route. Points upgrades can be requested on Rex's Boeing 737 flights between Australian cities.
Things to know about upgrades:
Availability is limited and not all seats may be available for upgrades. You may waitlist for an upgrade, which is prioritised by status.
Upgrades can be requested for anyone travelling in the same booking as you, or for family members travelling separately to you.
Requests may be cancelled without penalty online and before they're awarded. Cancellations over the phone and after they've been awarded will be charged a fee.
What are the Rex Flyer membership tiers?
If your travels take you on Rex more frequently, you might want to look at ascending through the membership ranks. There are four status levels in total, with each status level gained through earning Status Points or Status Flights. Essentially, any flight that is eligible to earn Rex Points will also earn Status Points and a Status Flight.
However, Status Points are earned per dollar spent, so it's possible to 'buy' status with enough spending.
You earn 1 Status Point per AU$1 spent on eligible Rex flights and extras.
You also earn 1 Status Flight for every eligible flight taken.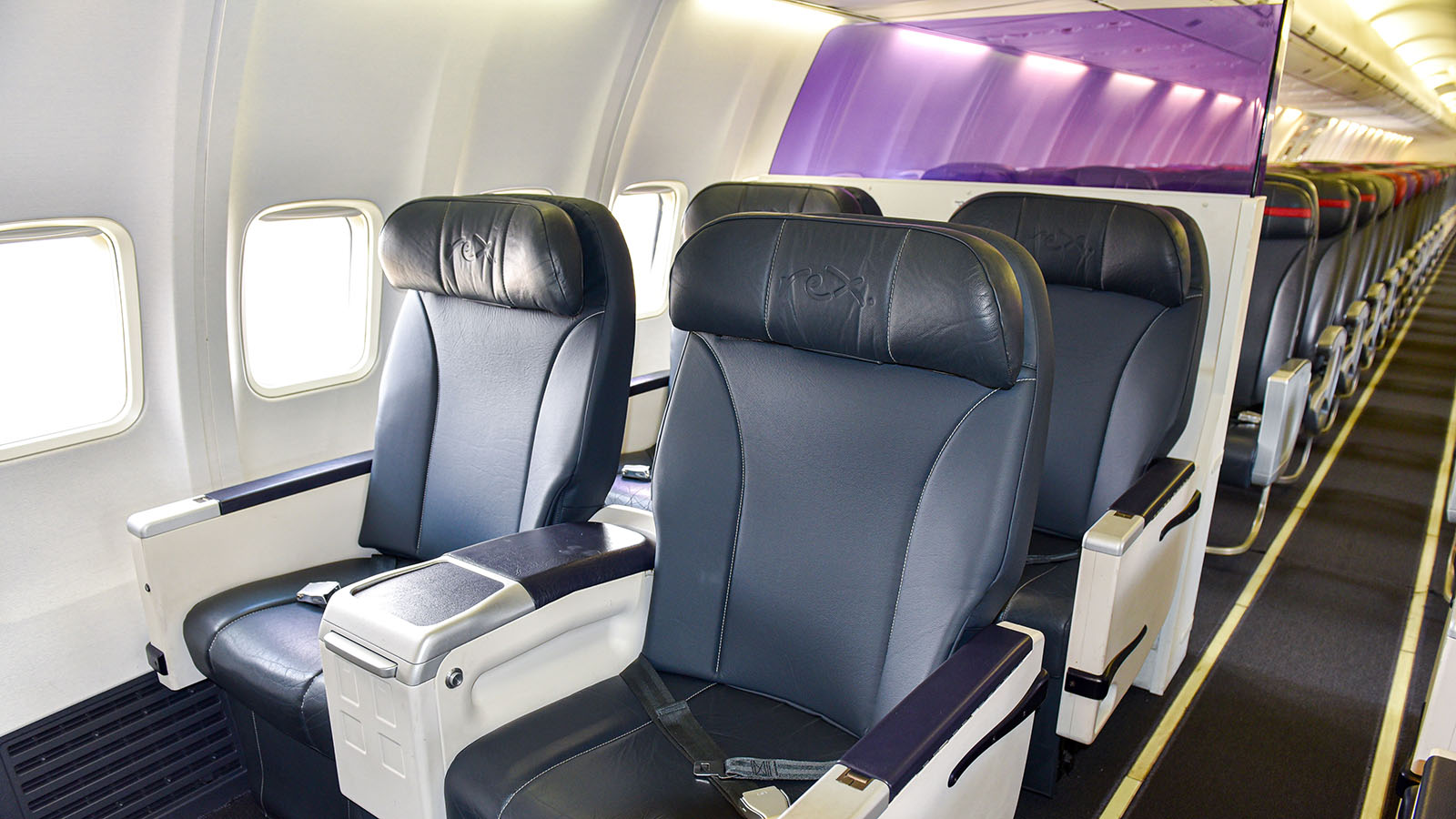 Like Velocity Frequent Flyer, Rex Flyer uses a rolling 365-day calendar. Whenever you earn enough Status Points or Flights to go up a tier, you'll be upgraded within a day. Your next benefits last for 12 months and you'll have a new review date from that upgrade.
You'll need fewer Status Points or Flights to retain a tier – as long as it's earned within 12 months of your review date.
Rex Flyer Opal
To achieve/maintain: Just enrolment in the program
Base-level membership with no additional tier benefits. You can earn and redeem Rex Points on flights and upgrades.
Rex Flyer Sapphire
To achieve: 1,500 Status Points or 12 Status Flights
To maintain: 1,100 Status Points or 10 Status Flights
Sapphire is the first elite status. You get:
25% bonus points on Saver, Flex and Business Class fares
Complimentary standard seat selection
Priority phone service, waitlist, seating zones and upgrades over Opal members
Rex Flyer Emerald
To achieve: 3,000 Status Points or 24 Status Flights
To maintain: 2,200 Status Points or 22 Status Flights
As the next status level up, you can enjoy a wide range of perks, excluding lounge access.
50% bonus on Saver, Flex and Business Class fares
Complimentary Front Seat selection
Complimentary Rextra legroom seats during check-in
2x complimentary upgrades to Business Class from Economy Saver or Flex
9 kg (Economy) to 10 kg (Business) additional checked baggage allowance on Boeing 737 services
Waived change fees on Saver fares for 'Get Me Home' earlier flights (airport standby)
Priority check-in, baggage, and boarding
Priority phone service, waitlist, seating zones and upgrades over Sapphire members
Rex Flyer Diamond
To achieve: 6,000 Status Points or 48 Status Flights
To maintain: 4,400 Status Points or 44 Status Flights
You've reached the Rex Flyer summit. As a Diamond member, there are lots of benefits now.
75% bonus on Saver, Flex and Business Class fares
Complimentary Front Seat and Rextra legroom selection
Complimentary Lounge Access membership
3x complimentary upgrades to Business Class from Economy Saver or Flex
1x complimentary alcoholic drink in Economy, per flight
19kg (Economy) to 32 kg (Business) additional checked baggage allowance on Boeing 737 services
Bring 23 kg (instead of 15 kg) on Saab 340 services on all fares, not just Economy Flex
Bring 15 kg hand-carry on Boeing 737 services on all fares
Waived change fees on any fares for 'Get Me Home' earlier flights (airport standby)
Waived loyalty service fees
Priority check-in, baggage, and boarding
Priority phone service, waitlist, seating zones and upgrades over Emerald members
Complimentary upgrades for Emerald and Diamond members are available on Economy Flex and Saver fares. These are offered on a standby basis and are processed alongside point upgrade requests.
How to contact Rex Flyer
Most of the time, you can self-service online to avoid service fees. But if you need to get in touch with Rex Flyer, call them on 13 17 13 or +61 2 6393 5550 from overseas. You can also write to Rex or contact them over WhatsApp and Messenger, Monday to Friday.
Summing up
Rex Flyer is a strong start for the airline's new mainstream frequent flyer program, which runs alongside the existing Business Flyer program. As Rex Flyer is still in its infancy, it'll take a while for all the program functionality to roll out. But with reward seat redemptions starting in November 2023, plus upgrades and status benefits launching in February 2024, we won't have to wait too long.
How could Rex Flyer work for you in practice? If you regularly fly between Melbourne-Gold Coast in Rex Business Class for $349 one-way, then:
You'll earn Sapphire status after five flights, Emerald after nine flights and Diamond status after 18 flights.
You'll earn enough Rex Points to redeem the same flight in Business (17,400 pts) after flying seven times, including the Sapphire bonus after five flights.
There are certainly some strong elements in the Rex Flyer program and it'll be interesting to see how it competes with Qantas Frequent Flyer and Velocity Frequent Flyer.
---
Stay up to date with the latest news, reviews and guides by subscribing to Point Hacks' email newsletter.
The Ultimate Guide to Rex Flyer
was last modified:
October 19th, 2023
by