CommBank Awards is the credit card loyalty program of Australia's biggest banks. The program also has an interesting range of mainstream and niche frequent flyer programs that may appeal to certain travellers.
With a range of cards, you can earn Award Points on qualifying purchases. There's plenty to choose from on the rewards front: airline points, shopping, gift cards and more. But where the program excels in partners, it falls with lacklustre transfer rates.
What are the CommBank Awards cards?
There are three card tiers in the Commbank Awards portfolio: the base level 'Awards', followed by 'Smart', and 'Ultimate'. Each tier comes with greater earning potential and perks, but along with a higher credit limit and stricter eligibility to apply.

| | |
| --- | --- |
| Card | Awards Card |
| Points Earn Rate | 1 point per $1 spent on eligible purchases up to $2,000 in a statement period, 0.5 Awards points per $10 spent thereafter |
| Points cap | unlimited |
| Minimum credit limit | $500 |
| Extras | No additional insurances included |
| Overseas transaction fee | 3% |
| Monthly fee | $8 per month |
Smart Awards credit card
| | |
| --- | --- |
| Card | Smart Awards credit card |
| Points Earn Rate | 1.5 Awards points per $1 spent up to $5,000 on eligible spend per statement period |
| Points cap | unlimited |
| Minimum credit limit | $3,000 |
| Extras | International Travel Insurance |
| Overseas transaction fee | $0 |
| Mobile wallet | Apple Pay, Google Pay and Samsung Pay |
| Monthly fee | $19 per month, but waived if you spend $2,000 or more per statement period plus $60 per year opt-in feee to earn CommBank Award points |
Card
Ultimate Awards credit card
Loyalty Program
CommBank Awards
Points earned from spend
3 Award points for international transactions up to $10,000

2 Award points at major Australian supermarkets, department stores and petrol stations up to $10,000

1 Awards point on all other purchases up to $10,000 and 0.5 Awards point thereafter uncapped
Points Cap
Soft capped at $10,000 per category but no hard cap
Earns points at ATO
No
Travel benefits
Lounge access via Mastercard Travel Pass
Insurance included
International Travel Insurance
Overseas
transaction fee
0%
Mobile wallet
Apple Pay, Google Pay and Samsung Pay
Annual fee
$35/month but can be waived if you spend at least $4,000 in your statement period
Plus $60 opt-in fee to earn Qantas Points
Bonus points with CommBank
In addition to the standard card rates above, all Awards cards can earn bonus uncapped points at the following partners:
Where can I transfer CommBank Award points to?
Flexible transfer partners
As a flexible rewards program, you can transfer Commbank Award points to quite a few frequent flyer programs. This includes partners not commonly available in Australia.
Virgin Australia – Velocity Frequent Flyer: 2 Award Points to 1 Velocity Point (Platinum, Diamond and Ultimate cards)
Virgin Australia – Velocity Frequent Flyer: 2.5 Award Points to 1 Velocity Points (Awards cards, and the now-defunct Gold cards)
AirAsia – BIG: 2.5 Award Points to 1 BIG point
Air France/KLM – Flying Blue: 2.5 Award Points to 1 mile
IHG – IHG Rewards: 2.5 Award Points to 1 IHG Rewards point
Etihad – Etihad Guest: 3 Award Points to 1 mile
EVA Air- Infinity Mileagelands: 3 Award Points to 1 mile
Marriott – Marriott Bonvoy: 3 Award Points to 1 point
Singapore Airlines – KrisFlyer: 3 Award Points to 1 mile
Wyndham – Wyndham Rewards: 3 Award Points to 1 point
Cathay Pacific – Cathay (formerly Asia Miles): 3.5 Award Points to 1 mile
Qatar Airways – Privilege Club: 3.5 Award Points to 1 Avios
United – MileagePlus: 3.5 Award Points to 1 mile
Air Canada – Aeroplan: 4 Award Points to 1 point
Emirates – Skywards: 4 Award Points to 1 mile
Accor – Accor Live Limitless: 5 Award Points to 1 point
While it's good to have coverage for a range of overseas programs such as United MileagePlus, a 3.5:1 transfer rate is quite high and makes it harder to earn meaningful rewards.

CBA Awards have dropped the requirement for a minimum of 3,600 Awards points to make your first exchange to Velocity Points, and every subsequent exchange needing to be a minimum of 1,000 Awards points. You can now exchange points on a 'per point' increment.
Want to earn Qantas Points instead? That's possible, but through a different process.
Qantas Frequent Flyer Direct
To opt-in to earning Qantas Points, you'll need to sign up for 'Qantas Frequent Flyer Direct' via the Awards website or by calling 13 16 61. There is a $30 additional annual fee to pay, and all Awards points earned on your CommBank cards will automatically be transferred to Qantas. This means you won't be able to earn at any of the flexible partners listed earlier.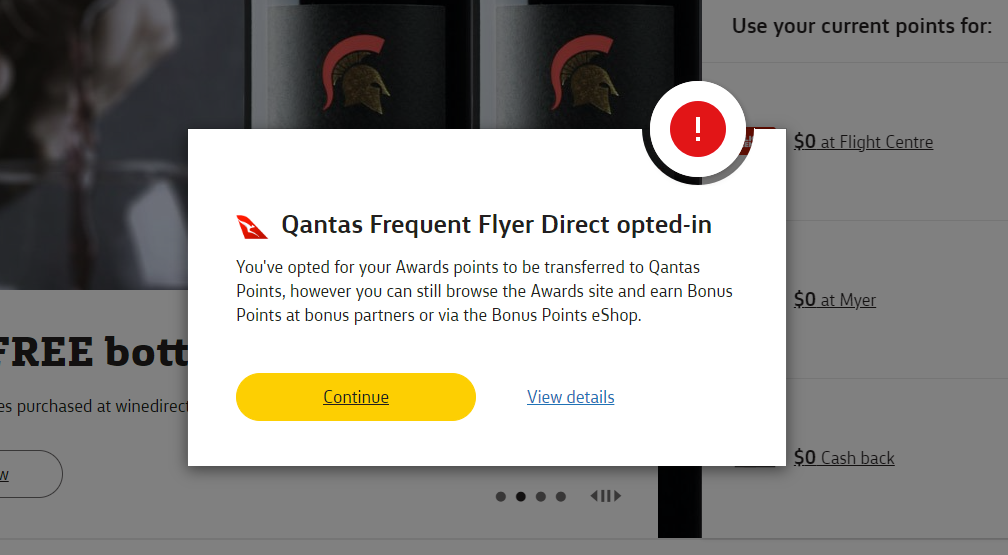 The transfer rate is 2.5 Awards points to 1 Qantas Point.
What else can I use CommBank Award points for?
Pay with points at Myer and Flight Centre
An interesting facility that CBA offers is the ability to pay using your Awards points. At the moment, it's only for Myer and Flight Centre, but if it gains traction we can probably expect to see this option rolled out to more retailers.
The way it works is by presenting your credit card in-store and telling them that you'd like to use your points rather than your actual money. You can also use your points online and over the phone with Flight Centre.
The Awards exchange rate at both Myer and Flight Centre is $200 points per $1. At Myer, you need to be spending at least 200 points ($1) to use this function, but at Flight Centre, the minimum is 2,500 points.
One thing to note: if you are a Myer One member you will be able to claim credits on your Myer One card on purchases you make using Awards points but you can't use Awards points to pay off any money you owe in a Myer credit account or on layby.
Gift cards
You can also exchange your award points for gift cards. Let's be honest — gift cards are the next best thing to cold hard cash, and if you're not an airline points person, then chances are this is the best way to spend your Awards points.
Gift cards range from $25 to $500 and surprisingly, you don't need to get the largest gift card to get the best exchange rate for your points (the sweet spot starts from $100). Note that cards from different retailers may have different price points, so the figures below are just an example.
| Gift Card | Award Points Needed | Rate (points per dollar) |
| --- | --- | --- |
| $25 | 5,400 | Each $1 costs you 216 points |
| $50 | 10,700 | Each $1 costs you 214 points |
| $100 | 20,000 | Each $1 costs you 200 points |
| $250 | 50,000 | Each $1 costs you 200 points |
| $500 | 100,000 | Each $1 costs you 200 points |
Pay off banking fees or get cashback on your purchases
If you'd rather use your points to save cold hard cash, you can also use them to offset purchases on your account.
This includes each card's annual fee. In effect, if you earn more points than are needed below to offset that fee, you're very likely coming out ahead overall.
| Card Type | Annual Fee | Points needed to pay off annual fee |
| --- | --- | --- |
| Award | $59 | 11,800 points |
| Platinum Award | $249 | 49,800 points |
| Diamond Award | $349 | 69,800 points |
Summing up: is CommBank Awards for you?
There are a number of ways to use CommBank Awards points, including transferring to frequent flyer programs, redeeming them for gift points or cashback on your statements, or even using those points to pay at the Myer checkout.
CBA's partnership with both Qantas and Velocity — as well as other frequent flyer programs — makes those programs an attractive option. However, the Qantas Frequent Flyer Direct requirements are restrictive, cost $30 more a year, and stop you from making use of any of the program's other reward options.
While it looks promising on paper, unfortunately, the points earn rates and reward rates on Commonwealth Bank Awards-linked credit cards are poor, with greater value to be had by looking elsewhere.
The main redeeming feature of the wide breadth of CBA's international points partners is for those with bespoke needs. For example, a traveller who already has a significant sum of miles in an offshore account, and just needs a few miles more to redeem for a meaningful reward.
That said, the bank's Ultimate Awards card may suit some, given its strong earning rates on international transactions. Given these payments earn 3 Awards points per dollar spent (within the card's monthly tiering threshold), a 3:1 conversion rate to the likes of Etihad Guest and KrisFlyer means these transactions are still accruing one mile per AUD$1 spent. But not everybody will be able to maximise that earning structure.
The Ultimate Guide to CommBank Awards
was last modified:
October 19th, 2023
by