American Express Membership Rewards cards have a somewhat hidden option—you can buy Amex points to top up your account at a reasonable cost. However, the overall value when converting to airline points is far below the level it was prior to the April 2019 devaluation of points.
The cost to top-up your Amex points for Membership Rewards-linked cards is AU$25 for 1,000 points or 2.5c per point. However, since most airlines are now a 2:1 ratio transfer from Amex, you are effectively buying one airline point for 5c, which is insanely high.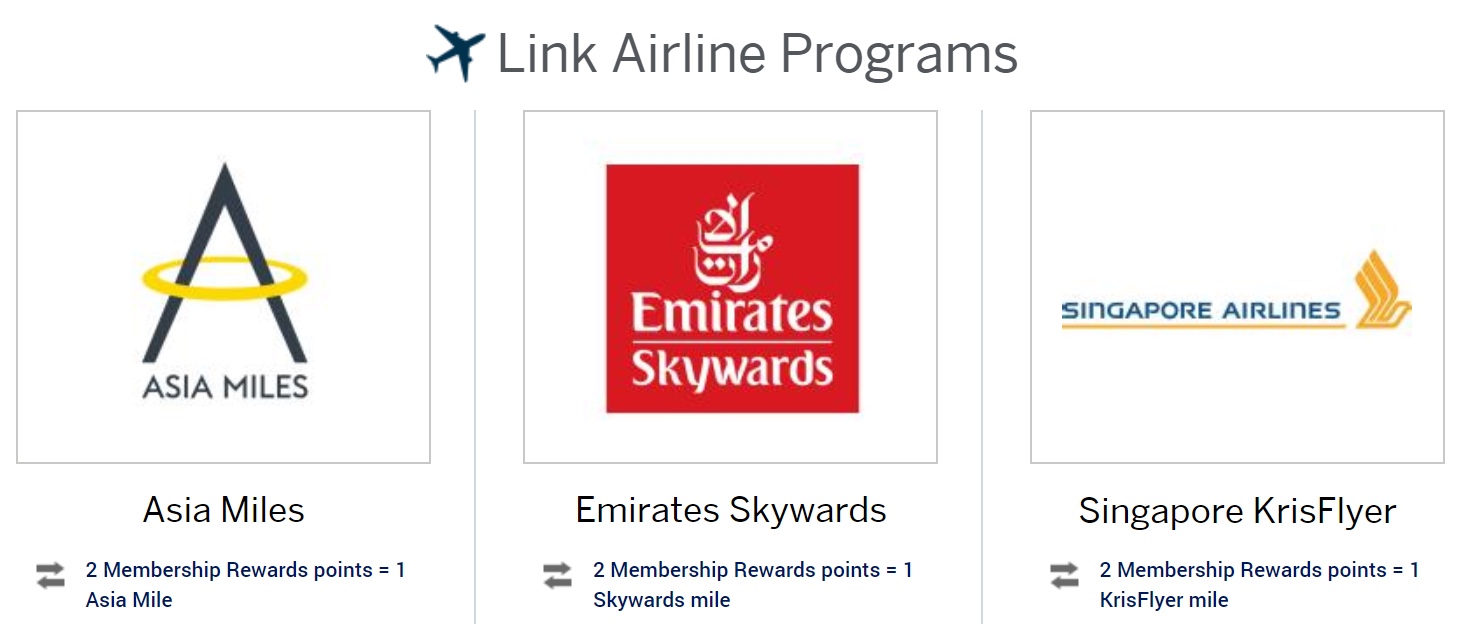 At those rates, it might be cheaper to top-up points from the airline directly where offered. There are only very limited scenarios where buying Amex points make sense, and that's when you're desperate for a quick points top-up for a redemption.
In this guide, I'll run through how to buy Amex points and how it compares to buying points through other means.
How to buy American Express Membership Rewards Points
The only way to purchase points is to call American Express Membership Rewards on 1300 363 276. Before you call, make sure you know all of the following details:
How many points you want to purchase (blocks of 1,000)

What to do with the points (transfer or redeem, can't keep them)
Purchased points can be used for any travel partner such as airline and hotel transfers, merchandise and gift vouchers. There are no set limits for purchasing points, but presumably, Amex will apply limits if you go overboard.
Ad – Scroll down to continue reading.Minimum spend, terms & conditions apply.
Value of purchased American Express Membership Rewards Points
Here is a quick summary of the value of purchased Amex points.
Airline transfer partners are Emirates Skywards, Thai Royal Orchid Plus, Singapore Airlines KrisFlyer, Cathay Pacific Asia Miles, Etihad Guest, Malaysia Airlines Enrich and Virgin Atlantic. Air NZ is not included as their Airpoints system is not great value.
| Transfer Partners | Transfer Ratio | Cost per point |
| --- | --- | --- |
| All airlines (except Air NZ) | 2:1 (Amex to airlines) | 5c per point |
| Hilton Honors | 2:1 (Amex to Hilton) | 5c per point |
| Marriott Bonvoy | 3:2 (Amex to Marriott) | 3.75c per point |
| Gift cards, travel redemptions | 10,000 points = $50 | 2.5c per point |
Click here to view all the transfer rates for Membership Rewards.
According to our valuation of frequent flyer points, they are valued anywhere between 0.6 cents and 1.9 cents, meaning that we wouldn't want to spend more than these amounts to purchase the relevant program's points.
With the effective 'cost per airline point' being 5 cents through American Express, the cost is too high to get any value out of it unless it's a small top-up for a big redemption.
Other ways to buy frequent flyer points
Before buying Amex points to top-up an account, consider these other ways which will get you a lot more value for your dollar.
Consider buying from Qantas Wine with bonus points offers (e.g. $354 for six bottles of highly-rated wine and 15,000 Qantas Points). You're effectively paying 2.36 cents per point, not including the six bottles of wine on the side!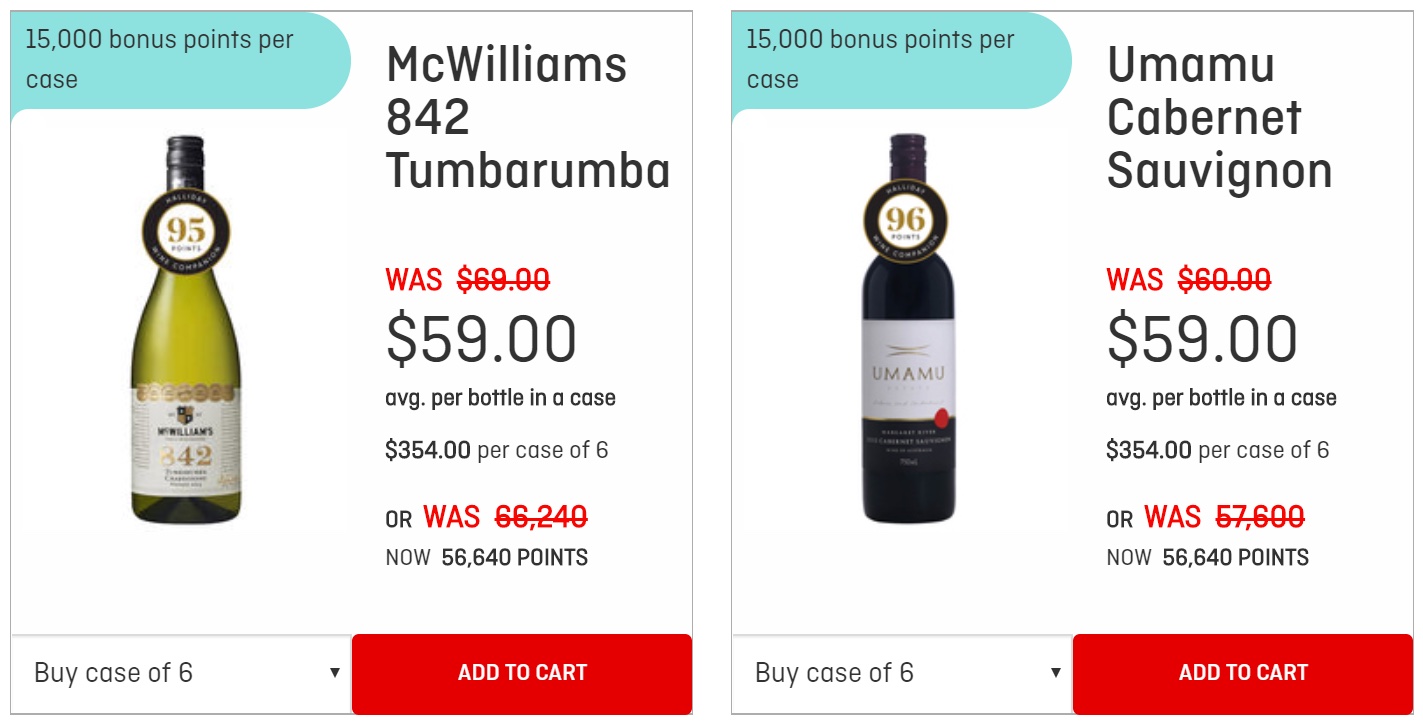 It's also possible to top-up Qantas Points straight from the source. If you needed 10,000 Qantas Points, instead of purchasing them from Amex for $500 (Ascent Premium program only), you could buy them from Qantas for $388.

Note that the Qantas Wine deal above is still better, giving 15,000 points and six bottles of wine for $354.
Unlike Qantas and Virgin, it's actually harder to buy KrisFlyer miles straight from Singapore Airlines. They charge US$40 per 1,000 miles and you need to have a specific award in mind.

Let's say you need 10,000 KrisFlyer miles. You could buy 20,000 Membership Rewards points from Amex for $500, or straight from SQ for US$400 (AU$585).
Like KrisFlyer, Asia Miles will sell you a restricted top-up at US$60 for 2,000 miles, up to 30% of the specific award you have in mind.


Let's say you're 10,000 Asia Miles short for a redemption. You could pay US$300 (around AU$440) straight to Asia Miles. Through Amex, the 20,000 Membership Rewards points are still $500, so you're slightly better off through Asia Miles.
Summing up
It's good to still have an option available with buying American Express Membership Rewards Points to transfer to airline partners, but due to the 2019 devaluations, this is no longer a good value option with each point costing 5c.
Most airlines, such as the ones described above, will have some other authorised way to top-up their points if you're a little bit short, usually at a better rate than that.
If you're short of points in your account, don't hesitate to ask for help in the Point Hacks Community, as someone might have a clever way to top-up the shortfall and save some money.
Is it worth buying American Express Membership Rewards points and transferring them to airline partners?
was last modified:
May 26th, 2022
by