Have you ever encountered a situation where you're just short a few thousand points for a reward that's in high demand? Hopefully not! But if it happens one day, Velocity Points Booster is an easy way to top-up your balance.
Don't get us wrong – the rates are quite expensive, and there's usually little reason for you to consider buying those points. But if your next holiday hinges on topping up your balance pronto, then be sure to keep this strategy in mind.
How do I buy Velocity Points Boosters?
If you're a Velocity Frequent Flyer member with points already in your account, it's very easy to buy a points booster.
Head to the Velocity Points Booster landing page.
Log in to your Velocity Frequent Flyer account when prompted.
Choose the number of points you wish to purchase.
Enter your payment information to complete checkout.
Your purchased Velocity Points should be ready for use almost instantly.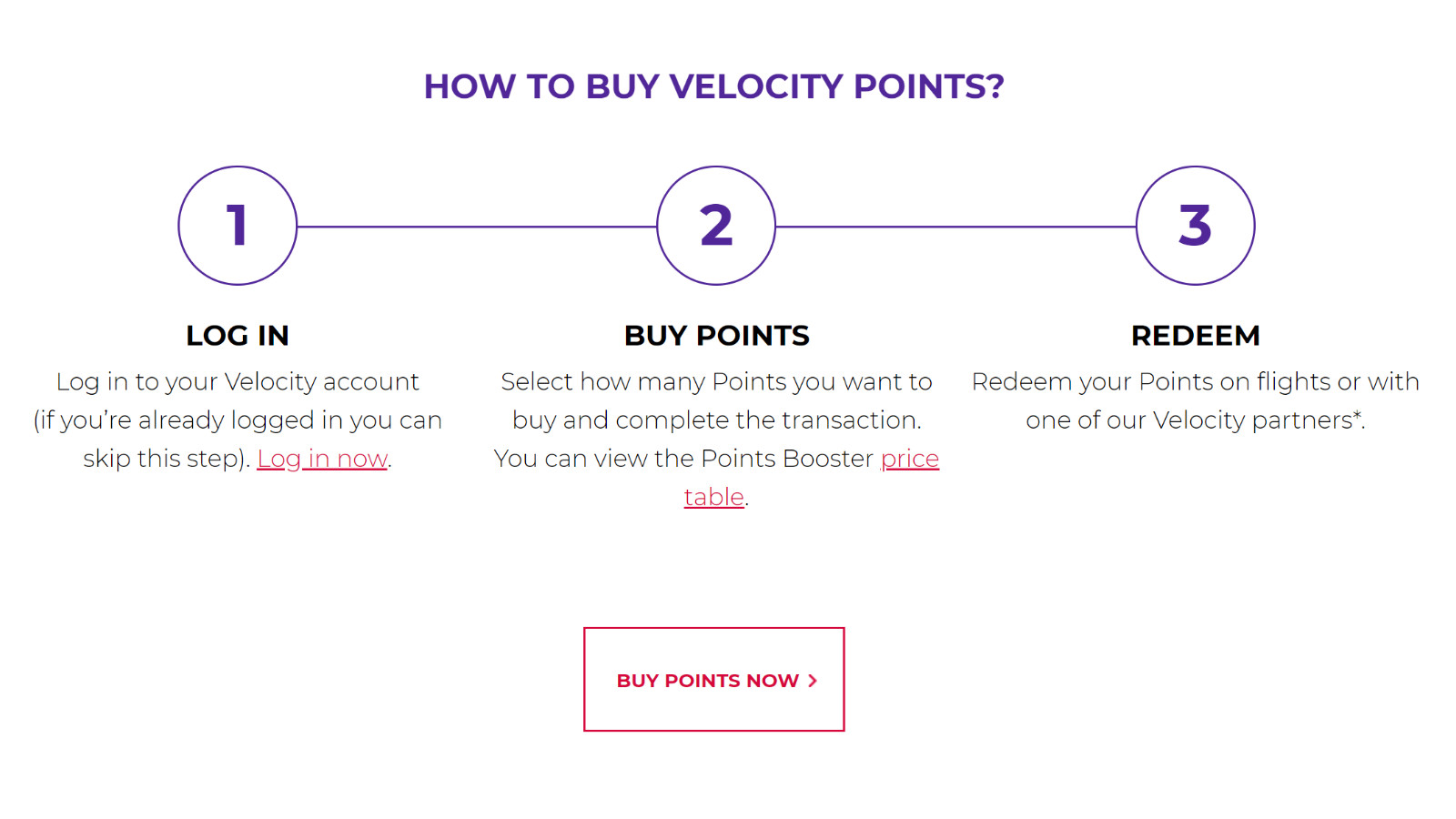 You're allowed to buy up to 250,000 Velocity Points per calendar year, with no limits on the actual number of transactions you perform. The rack rates start at $36 for 1,000 points (3.6 cents per point) to $5,850 for 250,000 points (2.34 cents per point).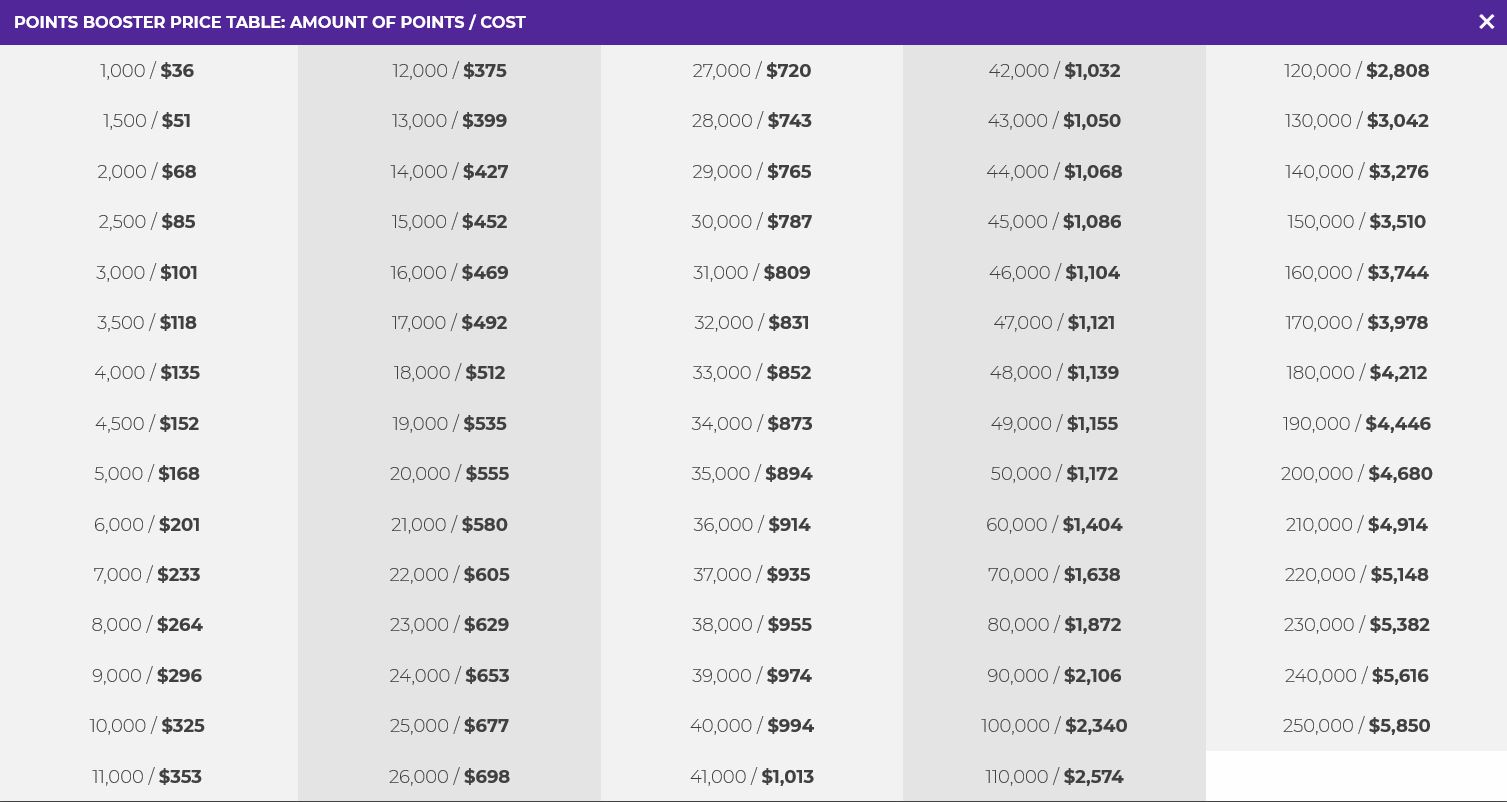 We value Velocity Points at 1.80 cents each. These purchase rates are a lot higher, meaning it's generally not great value unless you are really just a little short of your goal. The numbers get a bit better if Velocity is running a bonus point or discount offer.
See the latest 'Buying Velocity Points Boosters' deals →
Note that the transaction is run by points.com, which is based in the US. Chances are, you'll get charged an international transaction fee even though the payment amount is in AUD.
Ad – Scroll down to continue reading.Minimum spend, terms & conditions apply.
Are there other ways to buy Velocity Points?
If you're creative enough, there are certainly other ways to indirectly top-up your Velocity Points account. But most of them will take a few days to a few weeks, so don't do this if your need is urgent.
1. Through American Express Membership Rewards
American Express cardholders enrolled in Membership Rewards can buy points from Amex directly and transfer them to Velocity.
The cost is $25 AUD per 1,000 points. However, since the April 2019 devaluation, 1,000 Membership Rewards points now fetch only 500 Velocity Points. This brings the cost of a Velocity point up to 5 cents each, which is worse than buying Points Boosters straight from Velocity.
2. Through Choice Privileges
Choice Privileges is a hotel chain that offers transfers to Velocity. Normally, 2,000 Choice Privileges points convert to 800 Velocity Points. There has been a double-transfer promo where you could get 1,600 Velocity Points instead.
Currently, you can purchase up to 180,000 Choice Privileges points. At the standard level, you're paying around US$21.80 per 2,000 points, which equates roughly to 3.47 cents (AUD) per Velocity Point. That's expensive, but it can get much better if bonus points or transfer promos are in play.
For example, if the awesome 40% bonus on purchases + double Velocity Points deal came back, you could be paying as little as 1.35 cents per Velocity Point. This deal was last seen in April 2021.
You could also buy points with Hilton Honors or IHG One Rewards, and transfer to Velocity. But with a very high exchange rate, it's just cheaper to buy a Velocity Points Booster.
3. Velocity Wine Store
If you love wine, be sure to check out the Velocity Wine Store. Although it's nowhere near as comprehensive as Qantas Wines, you might be able to nab some bonus points with a case of wine.
Summing up
It's a cinch to earn Velocity Points with day-to-day spend and credit card offers, so hopefully you aren't caught short too often. But if you are, then buying a Velocity Points Booster might be the quickest way to save your plans.
Sure, paying $168 for 5,000 points is a bit of a kick in the guts for a seasoned Point Hacks reader. But if it means you can snag that rare London-Sydney Business Class flight with Singapore Airlines, then so be it.
---
Don't get caught out by running out of Velocity Points! Keep your balance healthy with one of our highest Velocity card offers.
---
Frequently Asked Questions
When should I buy Velocity points?
1. To top-up your balance if you are just short of a reward flight.
2. To book reward seats if they are available, and the cash price of your flight is high.
What is a good price for Velocity points?
We value a Velocity Point at 1.80 cents each. You should aim to purchase a Velocity Point at a cost less than this if possible.
How much does it cost to buy Velocity Points?
The Velocity Points Booster costs between $36 for 1,000 points, up to $5,850 for 250,000 points.
Can you lose Velocity Points?
Your Velocity Points will not expire as long as you earn or spend at least one Velocity point in a 24-month period. This includes earning points with any partner, or spending points on a flight reward. However, Family Pooling and Family Transfers don't count.

How to buy Velocity Points
was last modified:
September 29th, 2023
by