For a long while, Brisbane's international terminal was never known for its lounges. But a redevelopment of its interior some years back created an all-new space for airlines to up the ante. Air New Zealand took the chance to move into an all-new lounge in Brisbane, and there the carrier has stayed – with no reason to move.
Enjoying views over the terminal concourse, airfield and towards the city, Air NZ's lounge sits in the most enviable location of any airline facility in the terminal. Let's take a look inside, and see how the lounge stacks up for travellers in 2023.
Location
Once you're finished with the usual departure formalities, make a right turn after duty free. Ascend the nearby escalator and you'll find Air New Zealand's Brisbane lounge immediately to your left. Its corner location affords a tremendous amount of natural light which flows through the space – perfect when you're still half awake!
One side of the lounge faces towards the departure gates, overlooking the concourse below. It provides a glimpse of an Air New Zealand Boeing 777 taxiing to the gate, which will soon be whisking me across to Auckland. The other side offers a distant view of Brisbane's CBD.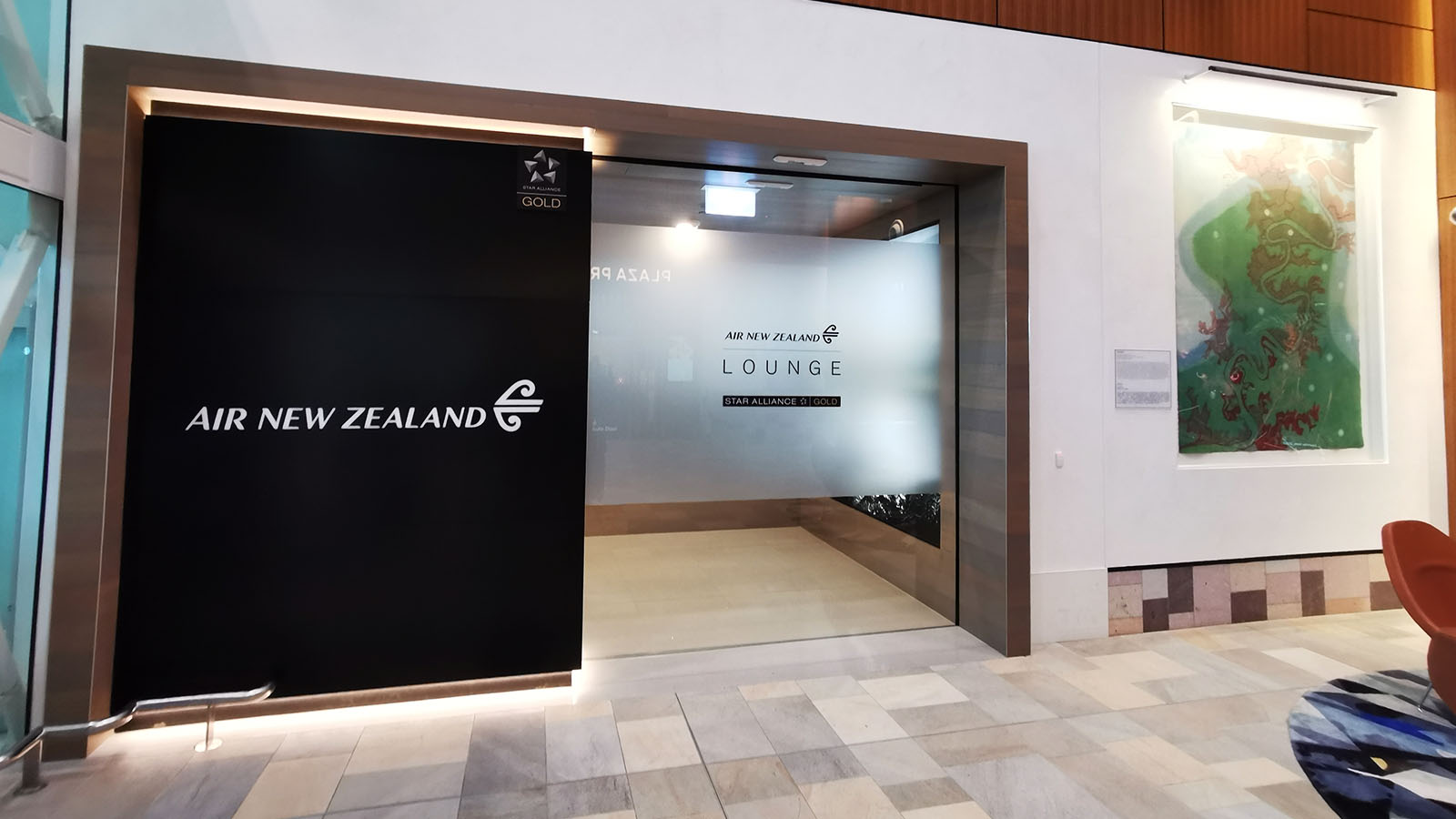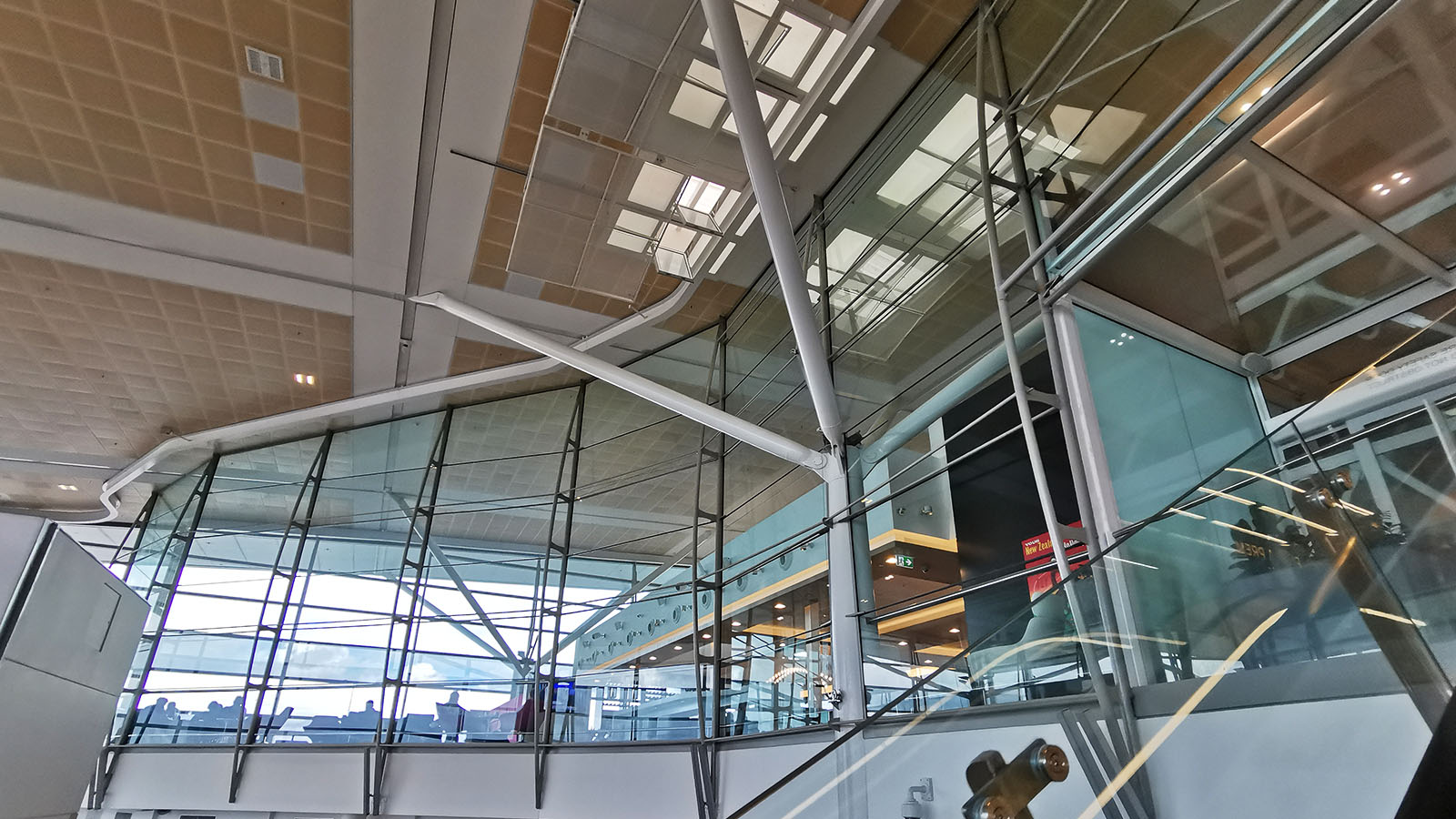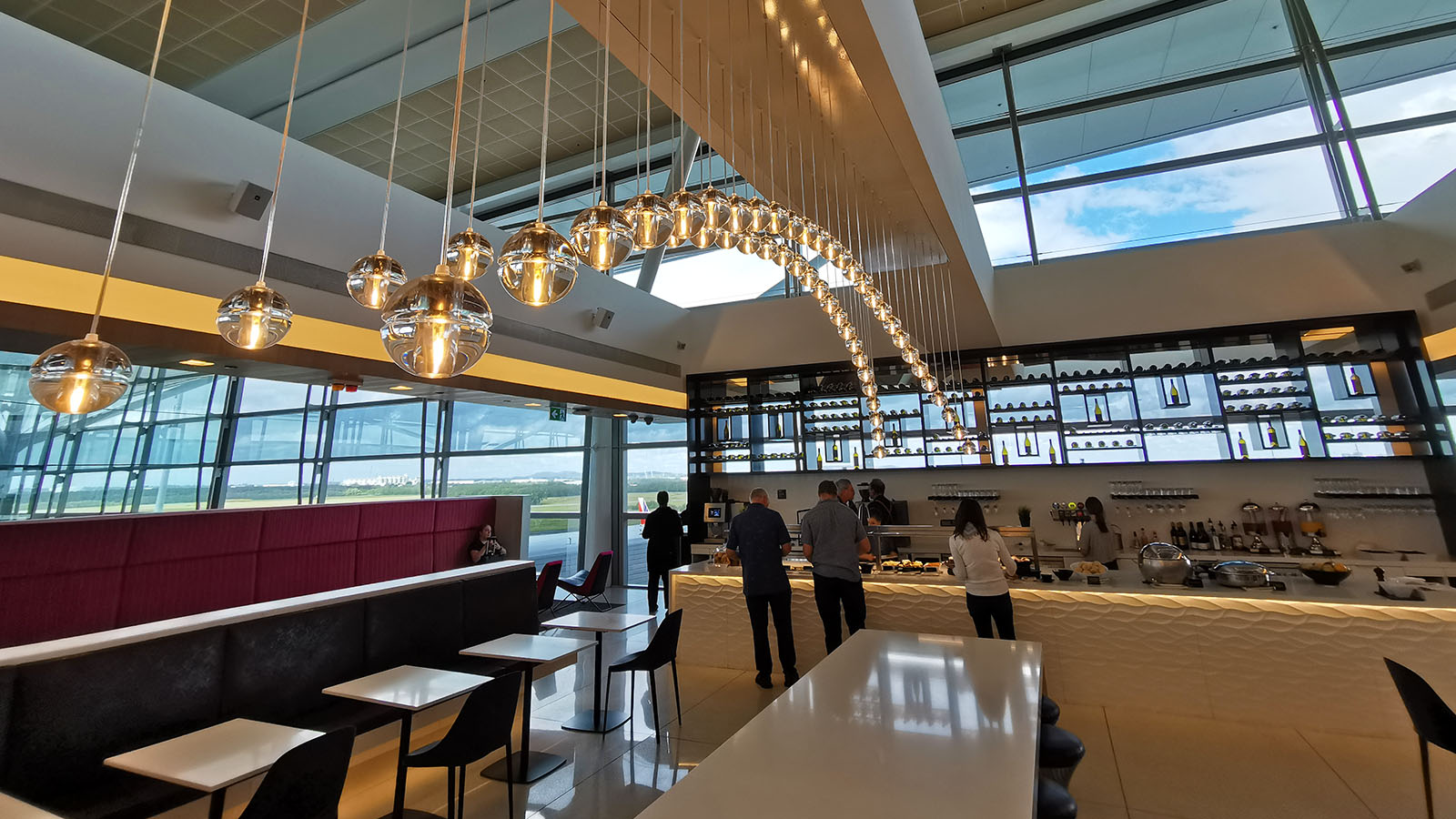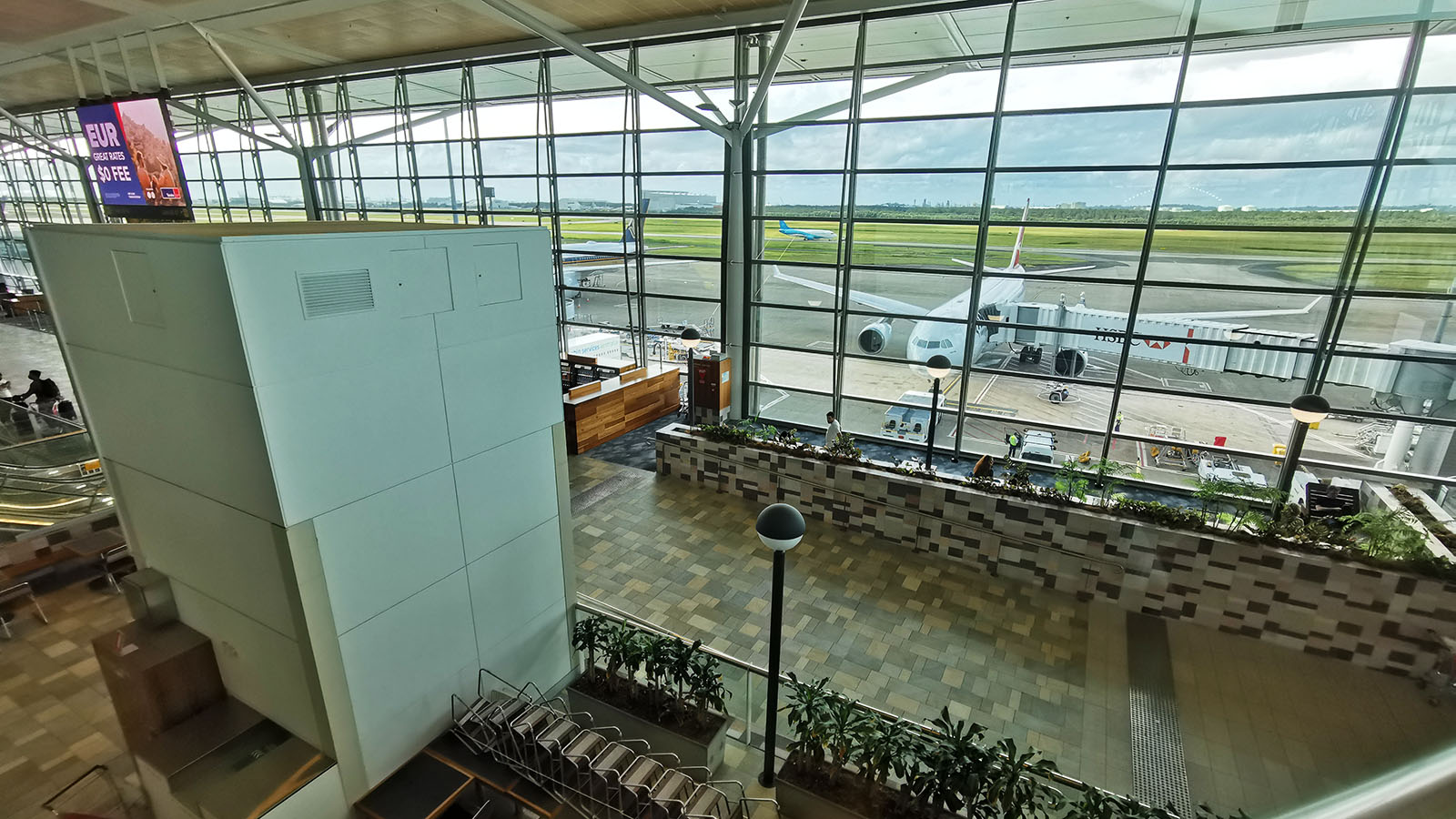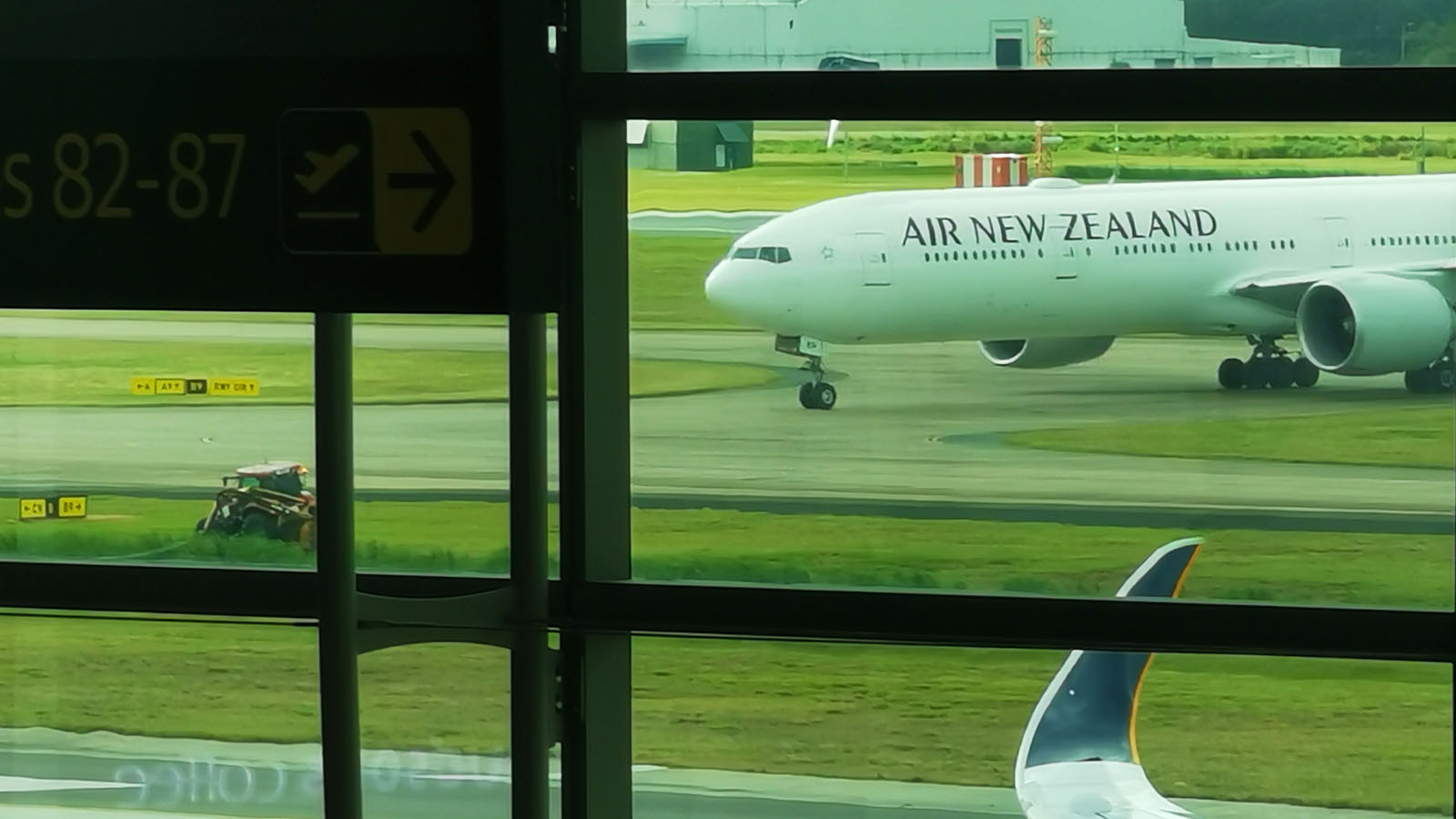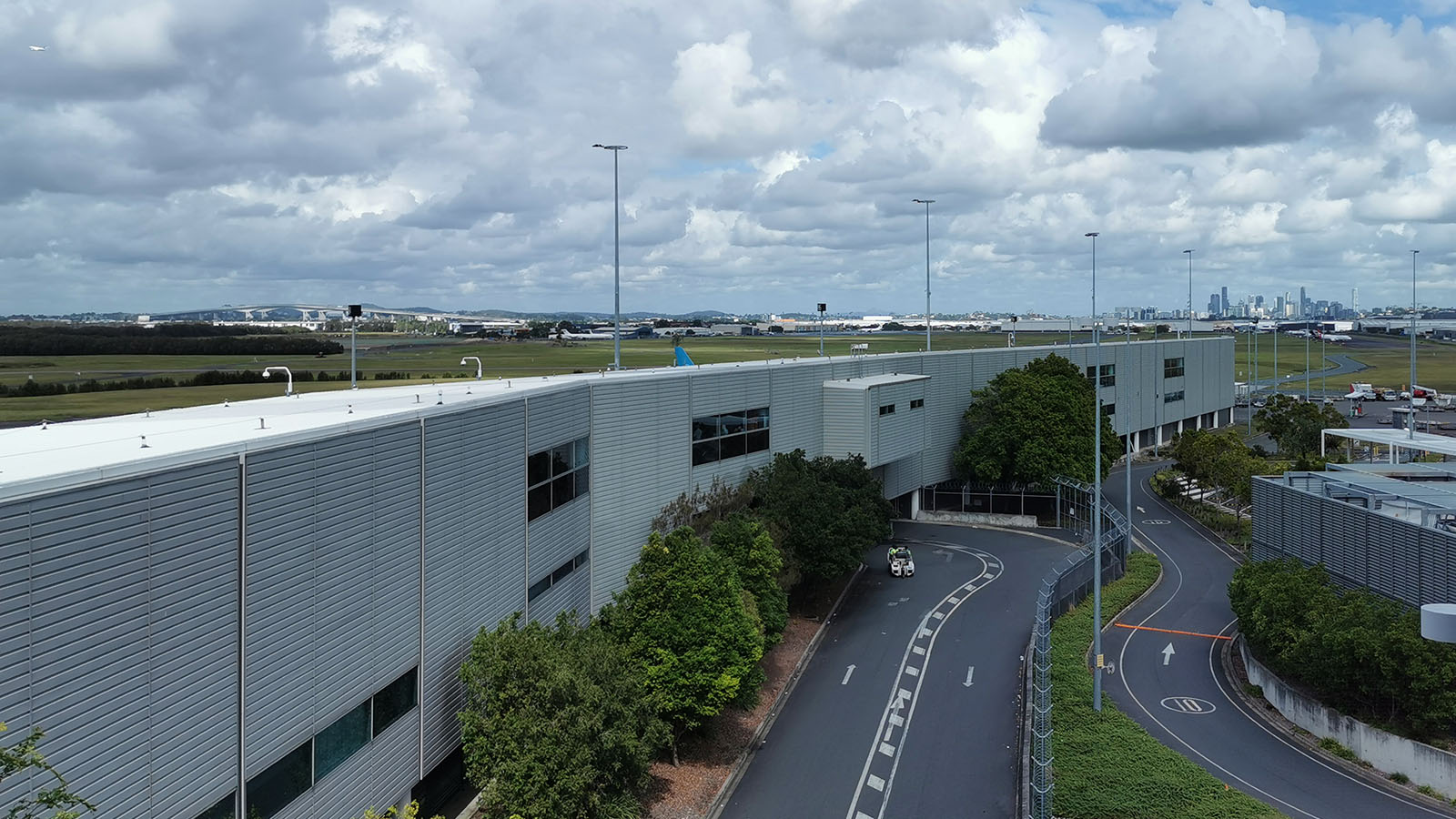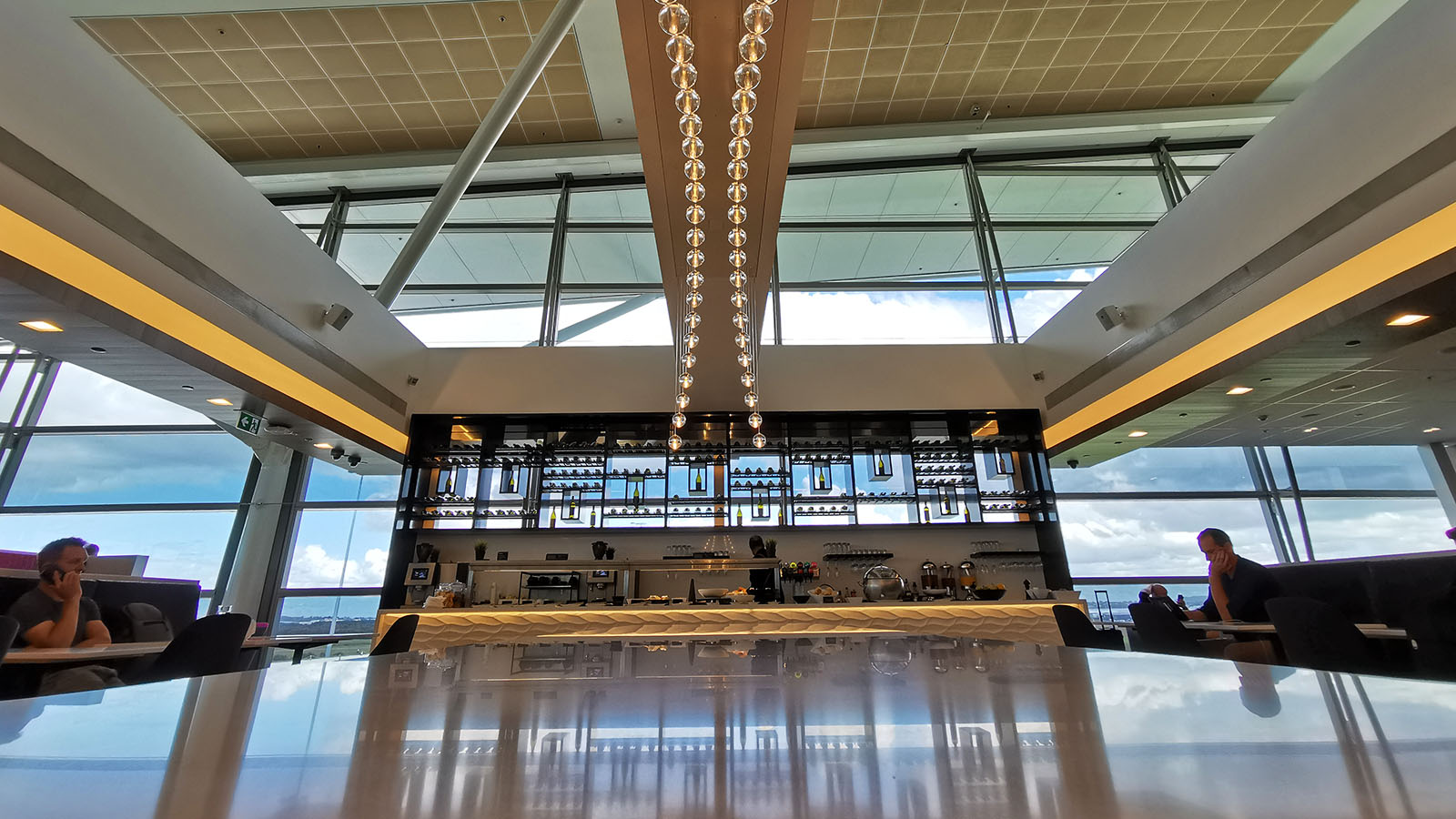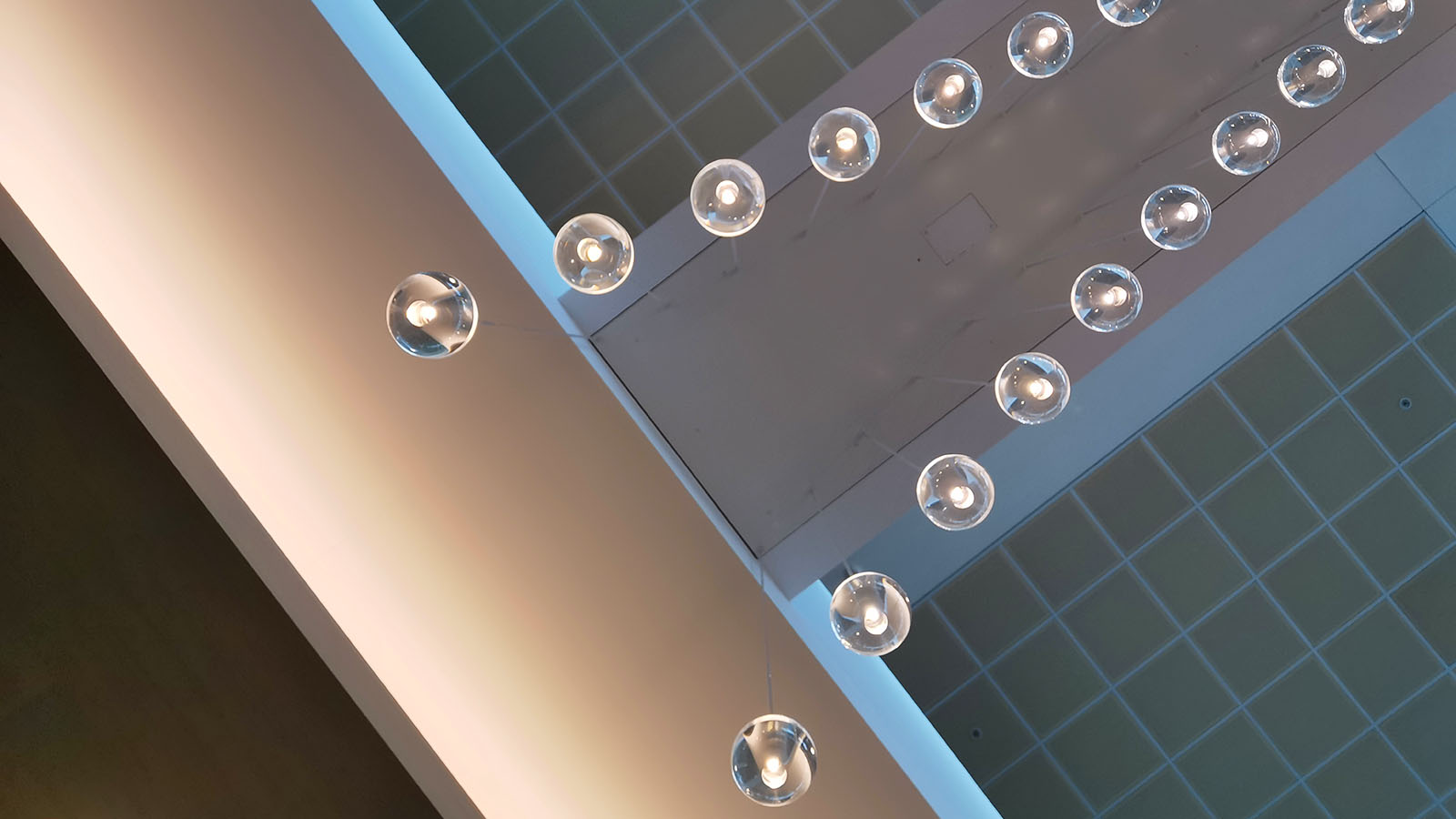 High ceilings afford a considerable sense of space. That's aided by some of the lounge's lighting features. Namely, the arched installation marking the centre of the dining area.
Air New Zealand's Brisbane lounge opens at 5 am each day. It remains open to cater for all Air New Zealand flights. It also serves passengers flying with Air NZ's Star Alliance partners Air Canada, EVA Air and United Airlines. Add to that, eligible travellers on Air Niugini, Air Vanuatu and Qatar Airways flights.
Eligible travellers on Singapore Airlines are welcome too during Air NZ's regular opening hours, although Singapore Airlines has its own lounge in Brisbane.
Lounge layout and seating
Compared to the expanse of Air New Zealand's Sydney lounge, its home in Brisbane is more compact. But that's to be expected, given Sydney is served by five additional Star Alliance carriers that don't normally call into Queensland. (Air China, Air India, All Nippon Airways/ANA, Asiana Airlines and Thai Airways, if you're playing at home).
Brisbane instead has a small left wing, where the best views can be had. Then there's the main dining area, which is surrounded by seating suited more towards relaxation.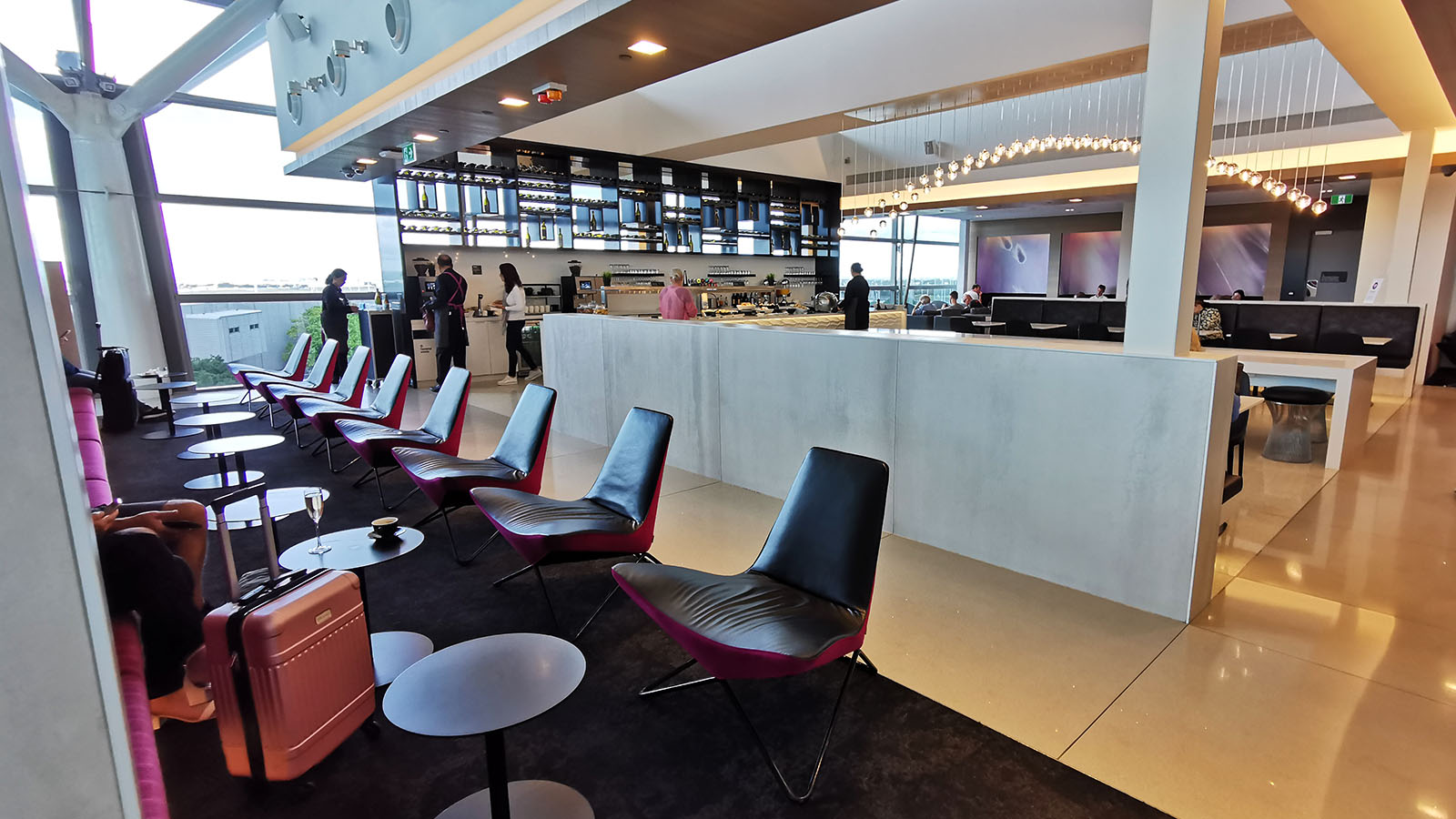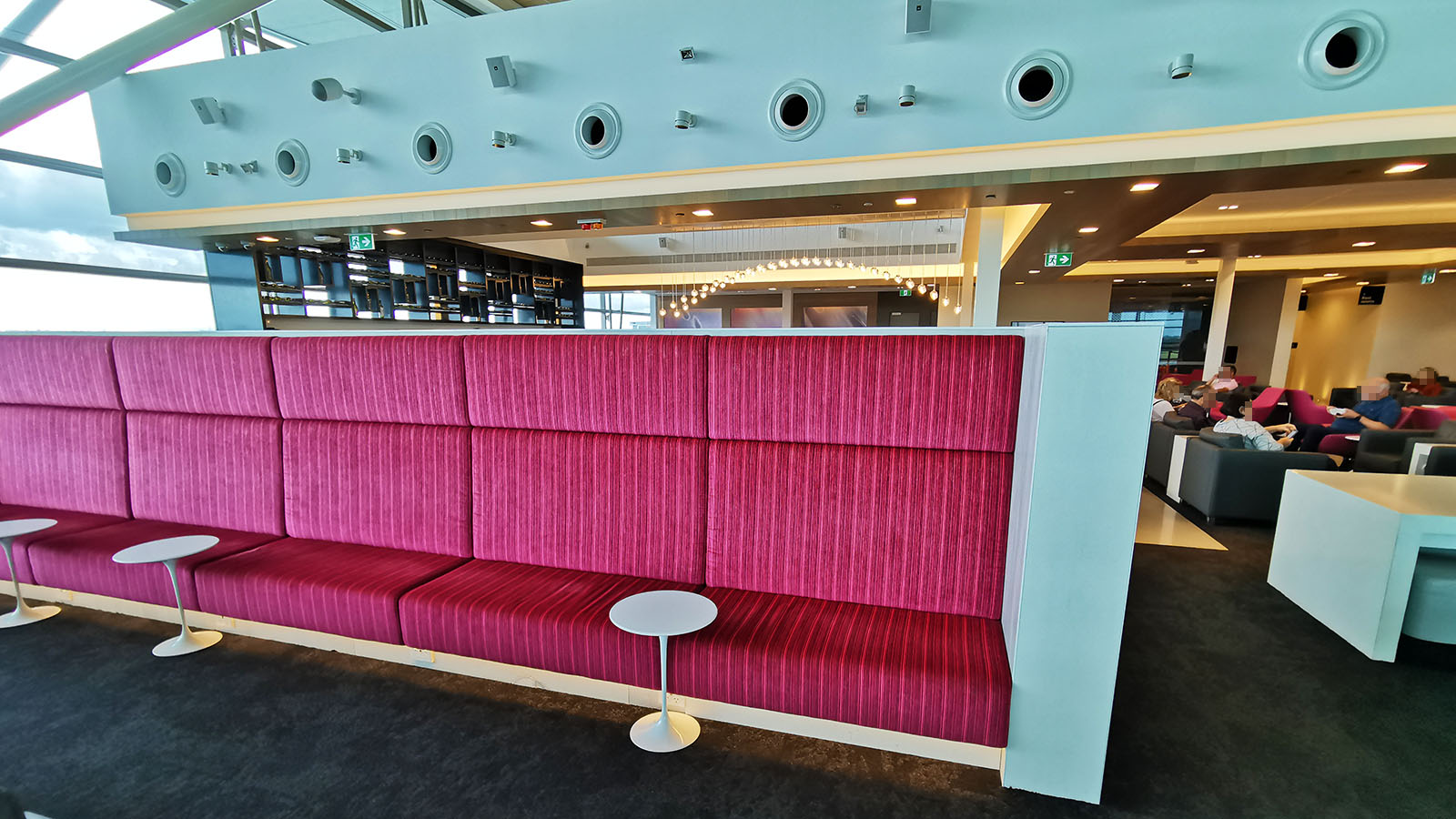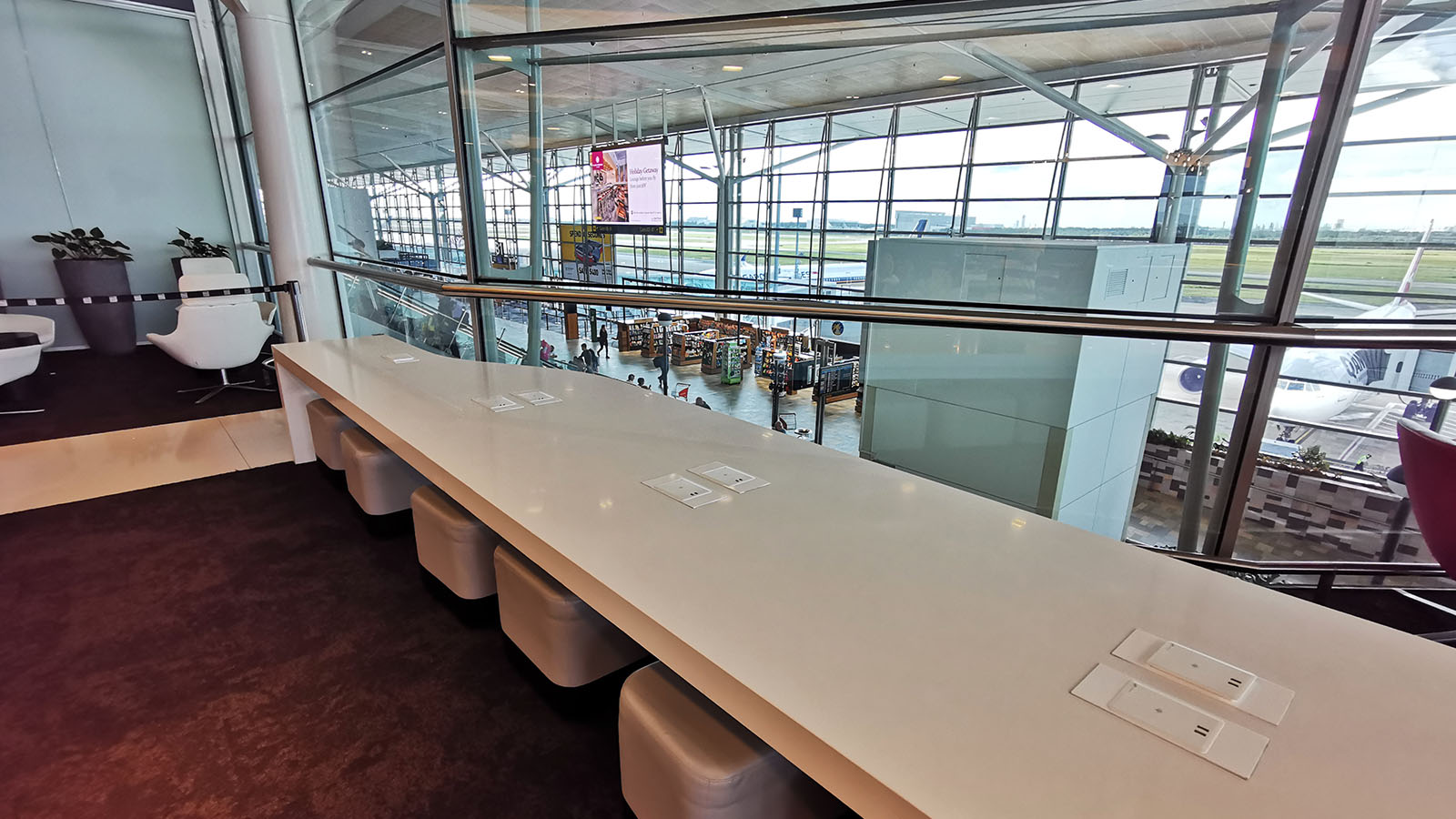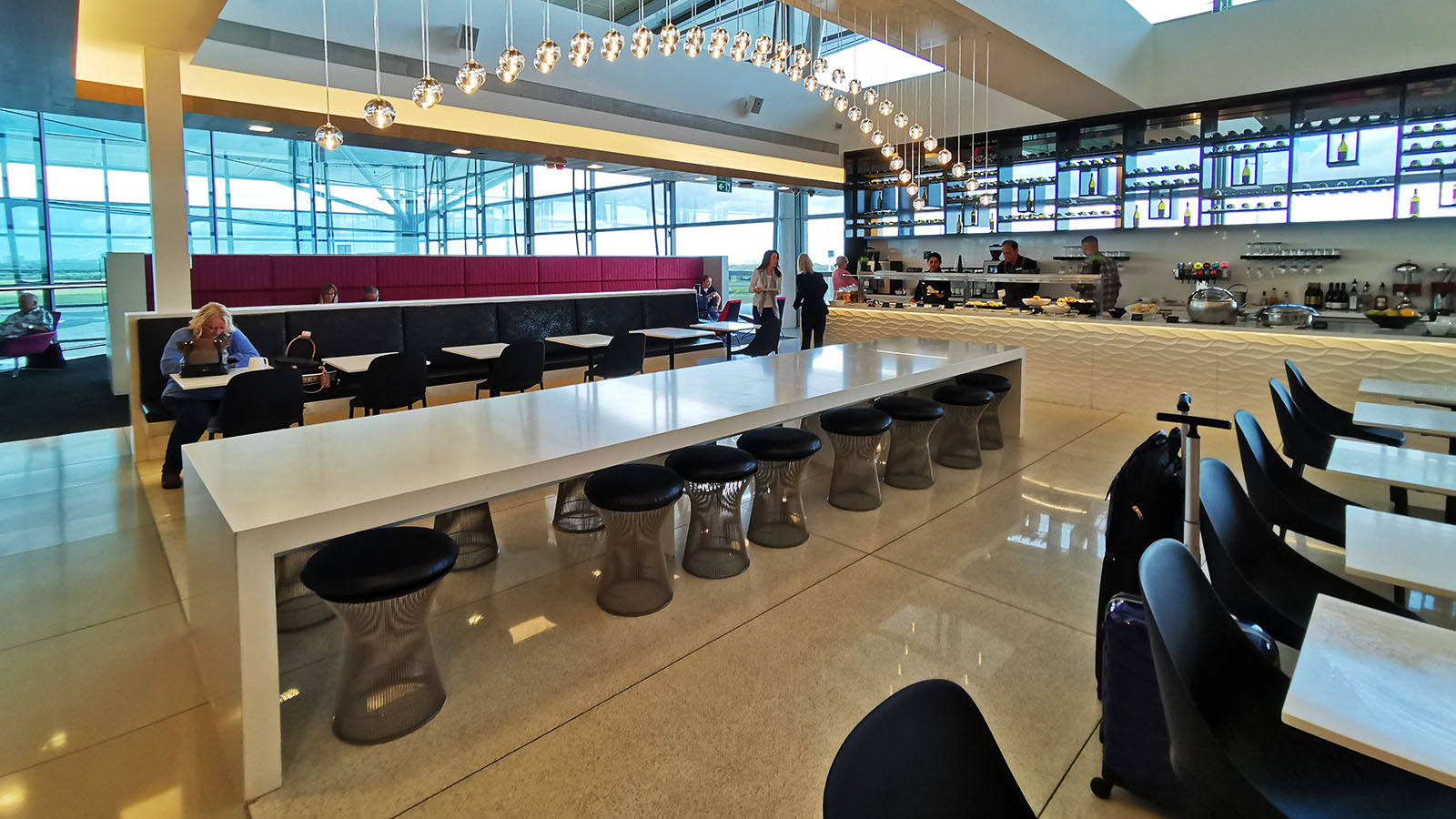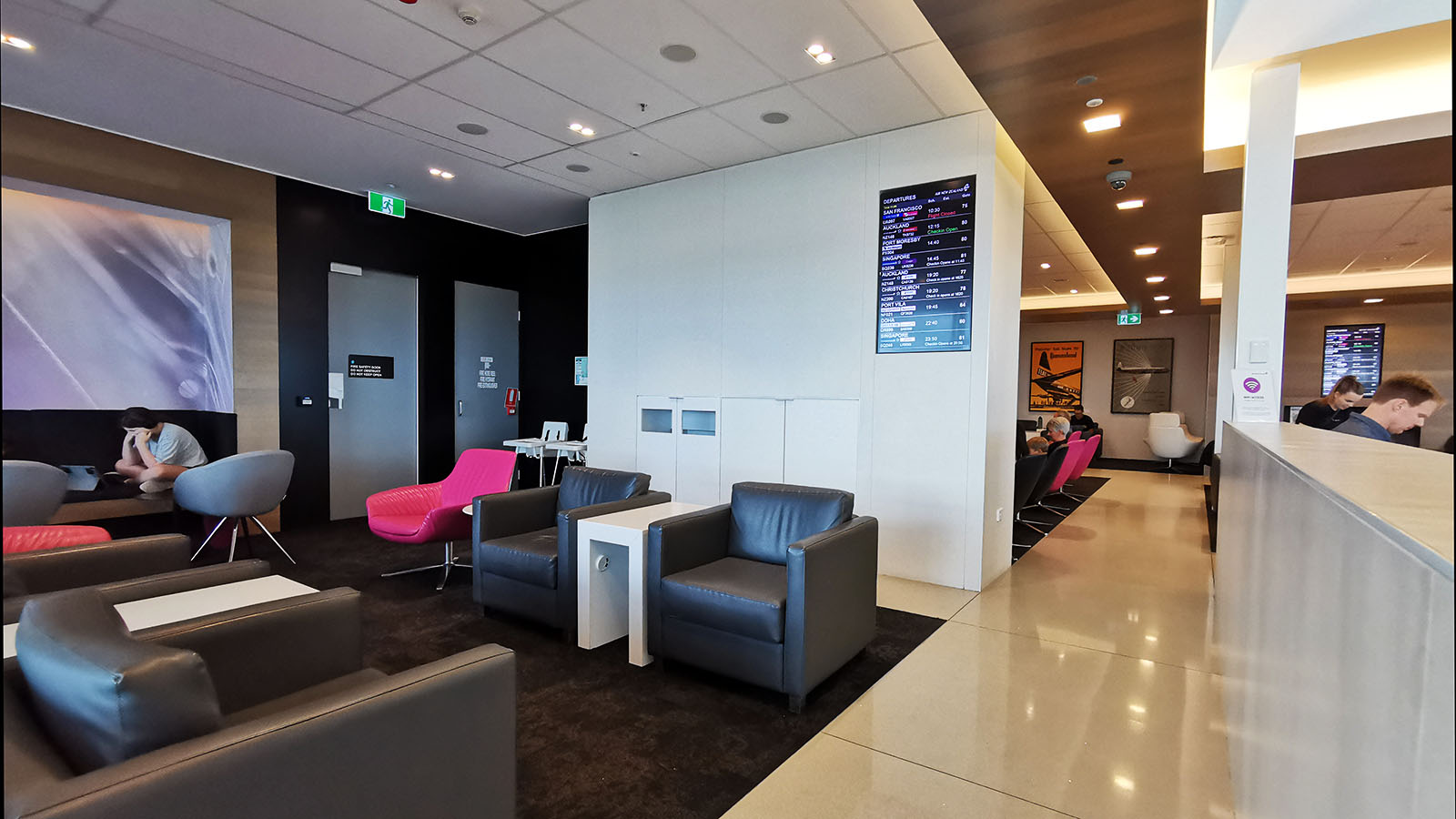 I always find that the seats in this 'wing' fill up first. It feels separate from the hustle and bustle of the main lounge space – and of course, comes with something to look at. For me, I see planes taking off and landing enough as it is, so I'm usually one to make a simple pit stop in the dining area before zipping off to the gate.
The design of Brisbane's lounge allows plenty of variety in the types of seating offered. But by nature, the quantity of each seating type is limited. This can mean that sometimes, you won't get the type of seat you might have been hoping for – but you'll still have somewhere to settle in all the same.
Lounge amenities
Beyond the typical seating, Air New Zealand's Brisbane lounge has more to explore. Those travelling with little ones will rejoice at the kids' room. It's a colourful space in its own corner nook, with games and more to keep children amused. Adults can sit nearby to keep a distant eye on things – without having to immerse themselves in the room itself.
Reading material is also at hand, found near the information screens that cleverly display details only of the flights eligible for access to this lounge.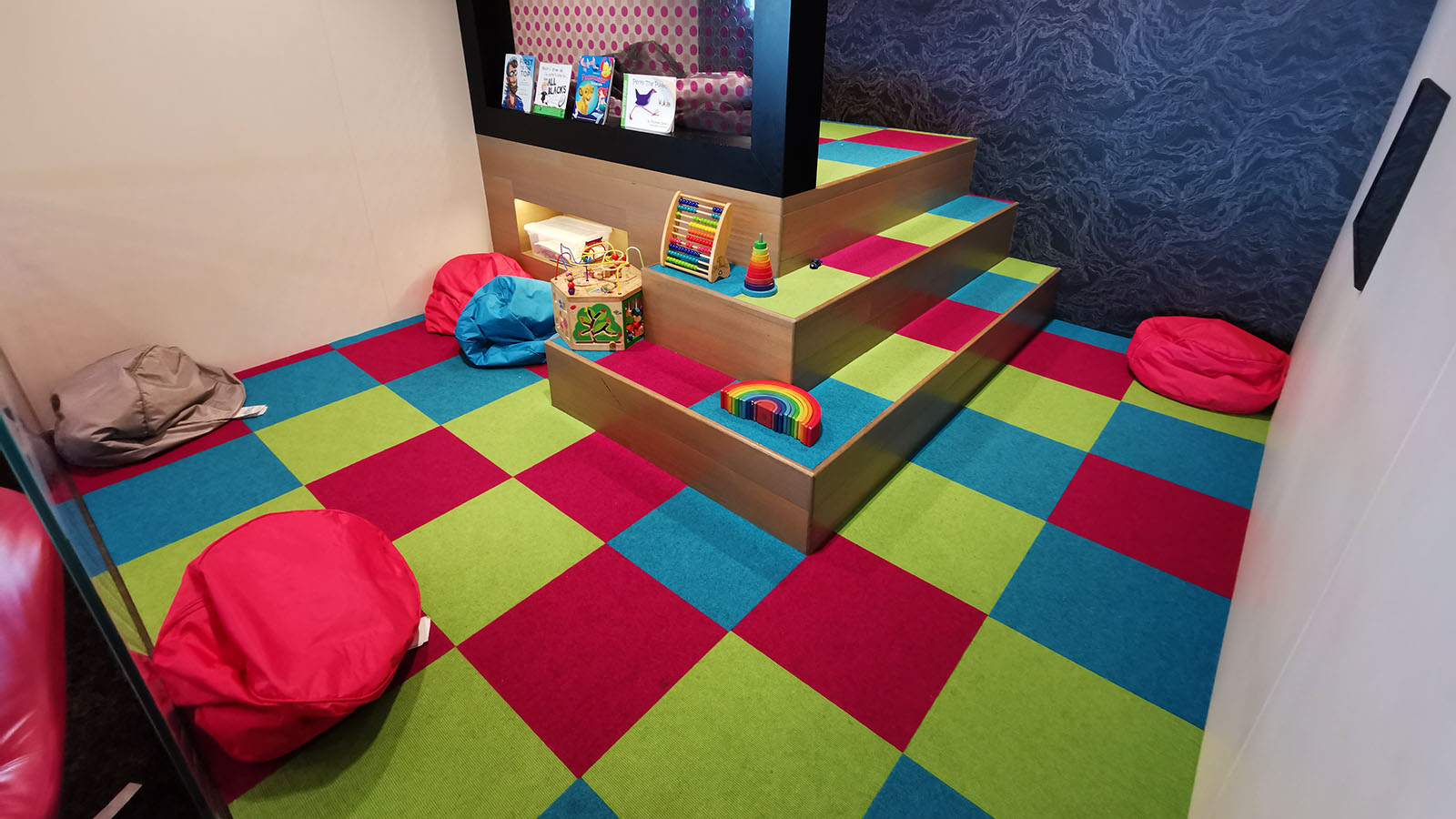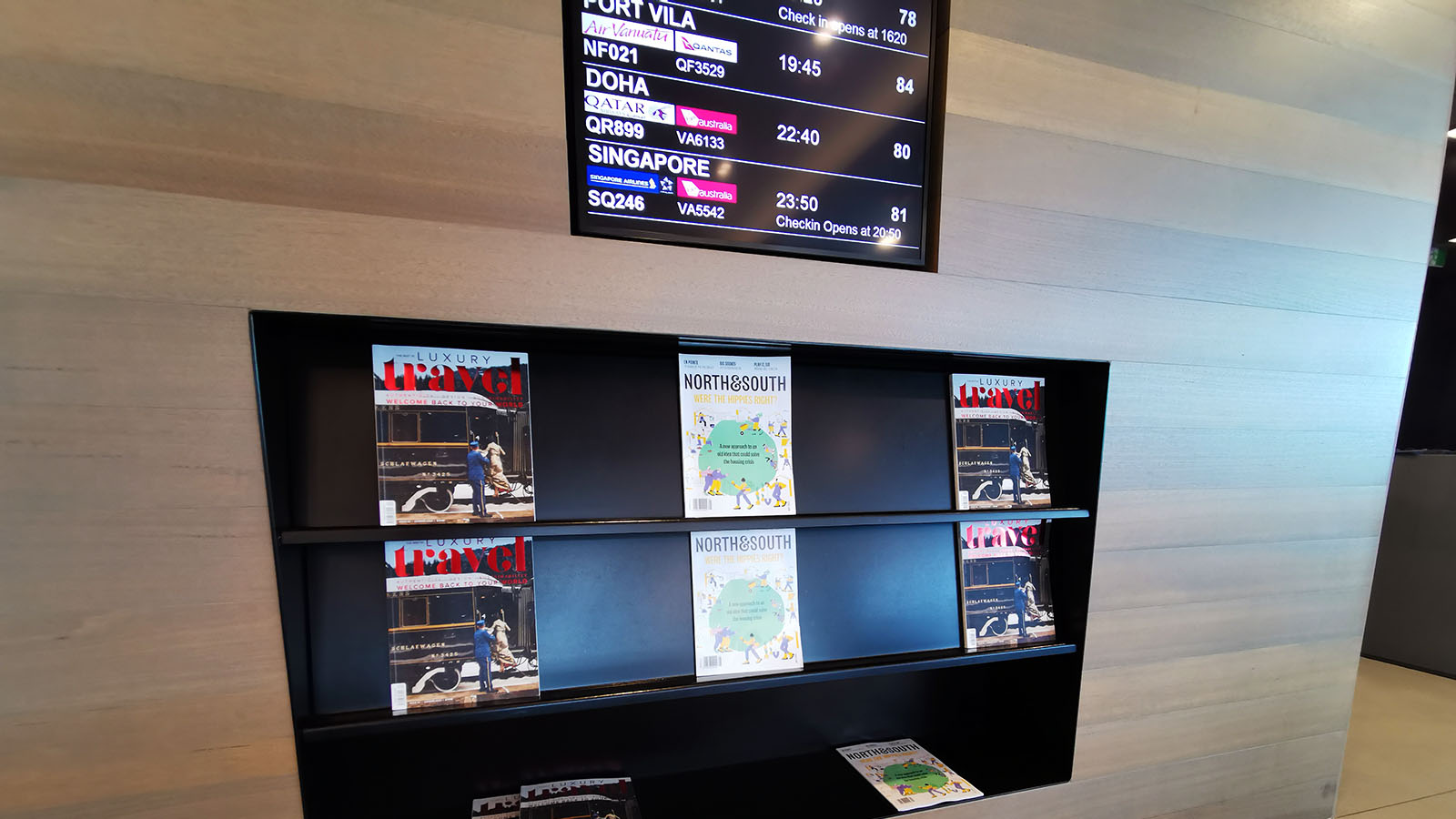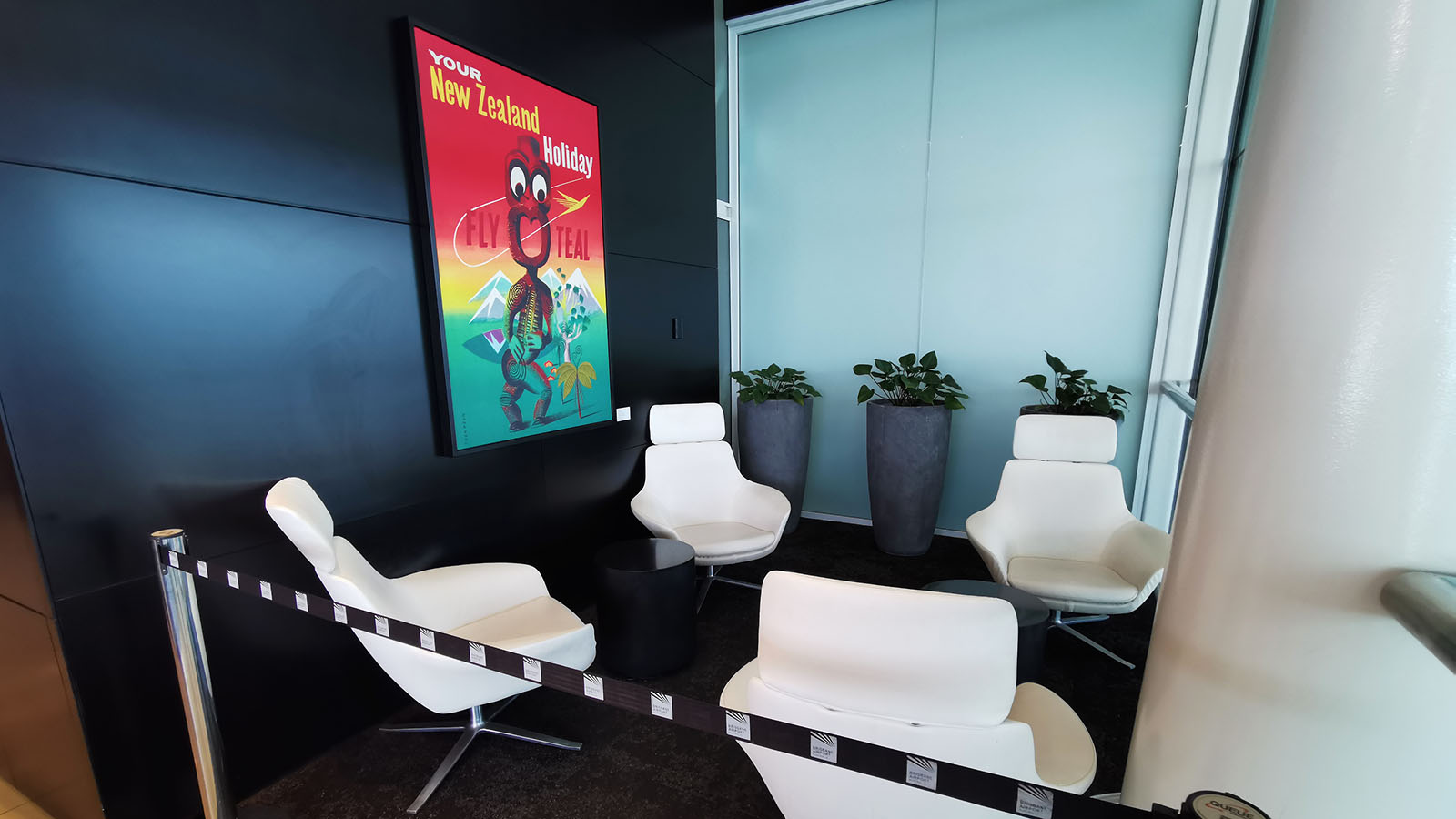 Air New Zealand's Sydney and Auckland lounges have separate rooms for Elite Priority One cardholders. That's Air NZ's VIP tier, equivalent to the Qantas Chairman's Lounge and Virgin Australia Beyond. Brisbane doesn't have such a private room… although there's a little nook that remains roped off just behind reception. This affords a touch more privacy than the main lounge space – and if you're on the VIP list, you'll be shown to your seat.
Back in the main area, shower suites are available too. While perhaps not necessary before a short flight to New Zealand, they're sure to be appreciated by those taking longer journeys. This includes travellers heading to the United States via Auckland, or perhaps those on Qatar Airways' evening flights to Doha and beyond.
Food and beverage in Air New Zealand's Brisbane lounge
Here in Brisbane, Air New Zealand's lounge predictably serves food tailored to the time you stop by. But as with most international lounges, alcohol is served whenever the lounge is open. I stop by at around 10 am ahead of a lunchtime flight to Auckland, and find the staff proactively offering sunrise mimosas. It's a long weekend, so count me in!
But with priority check-in a breeze and Brisbane Airport's express path finally back open, I have a couple of hours to pass. One of the drawbacks of Air NZ's lounge is the lack of barista-made coffee, which you'd find in the nearby Singapore Airlines and Plaza Premium lounges. But staff are doing the rounds and serving up delicious iced coffee too, which I progress to after the mimosa. It's a nice start, and sure beats the usual 'push-button latte' from the machine.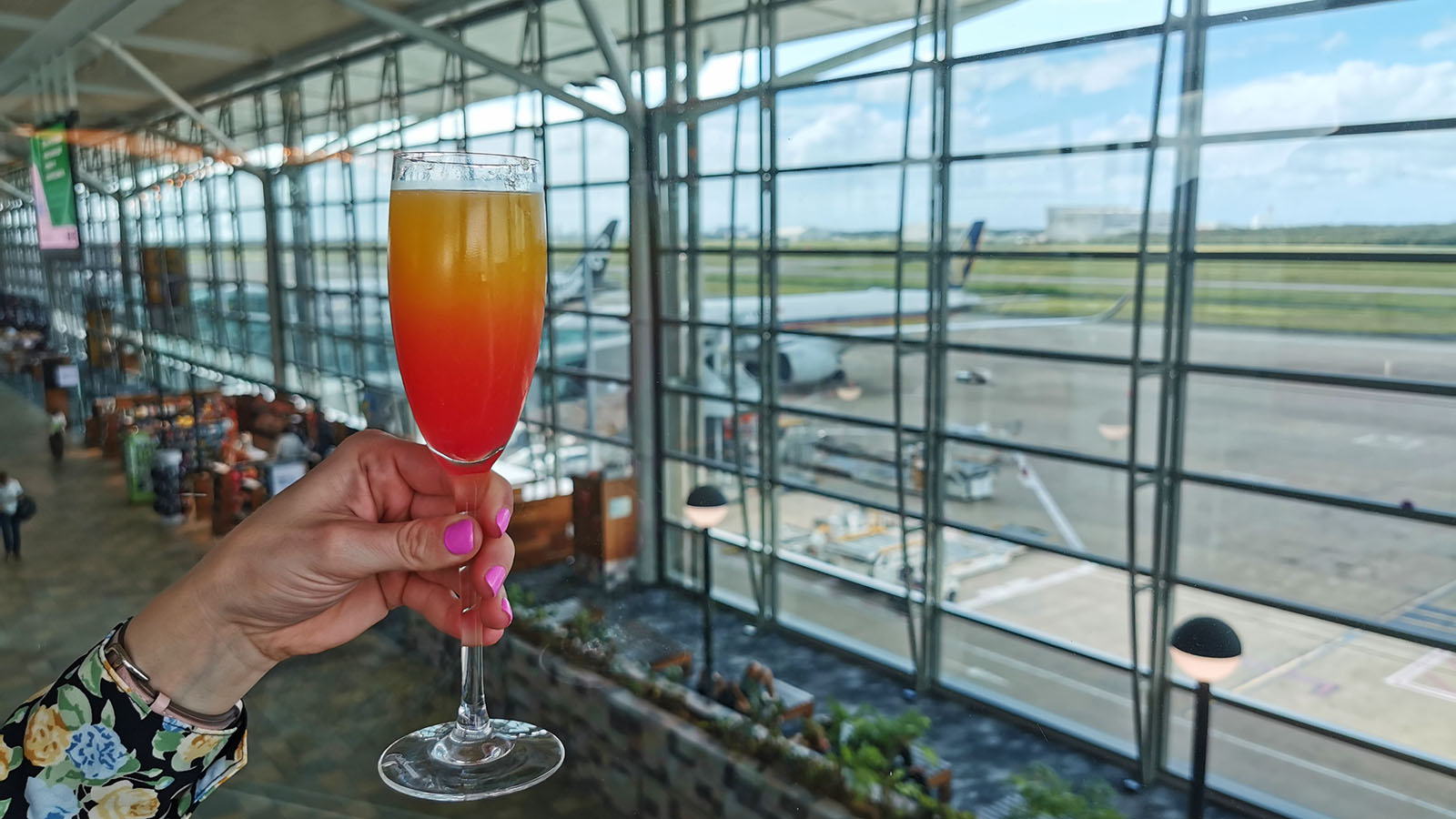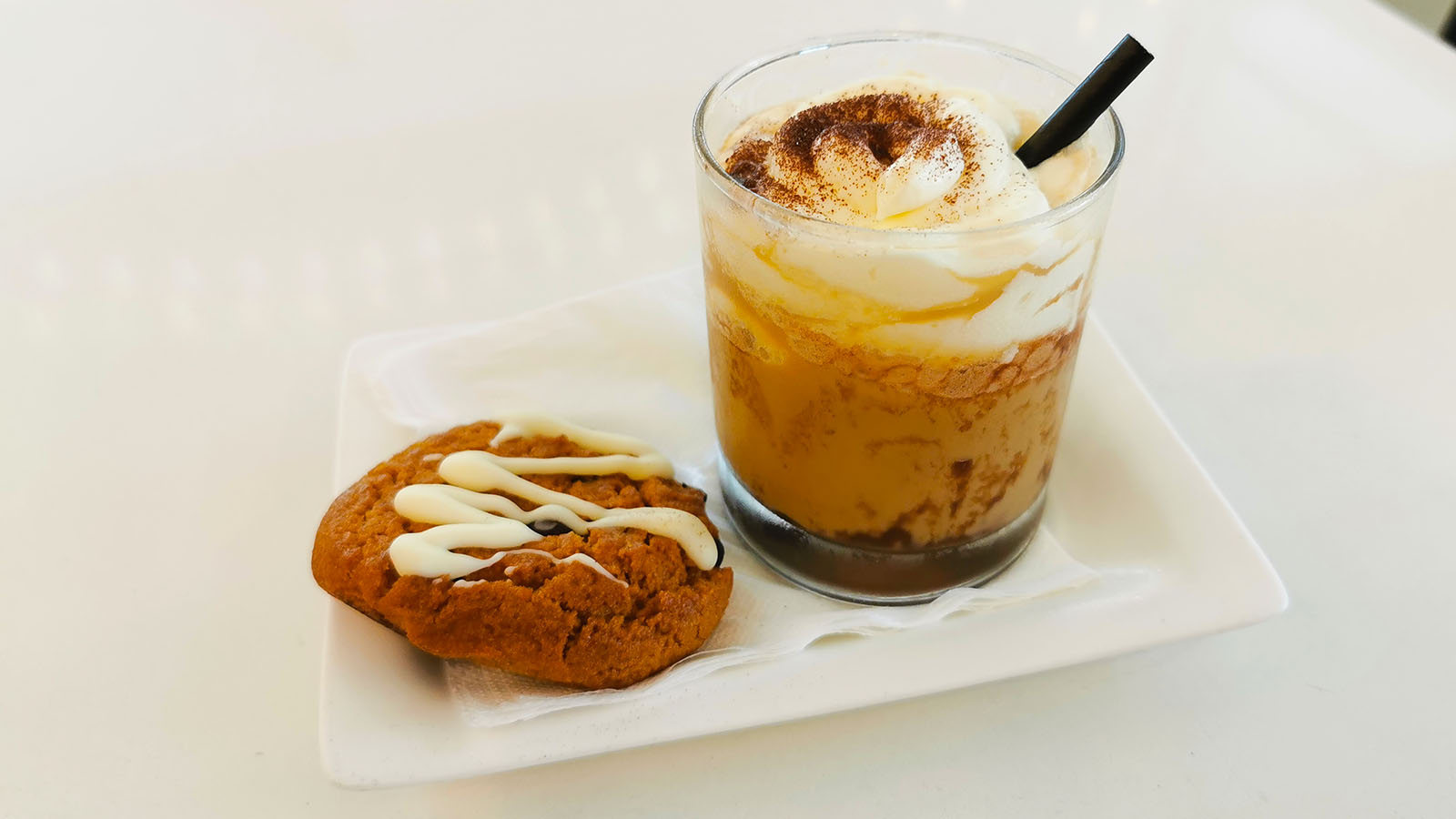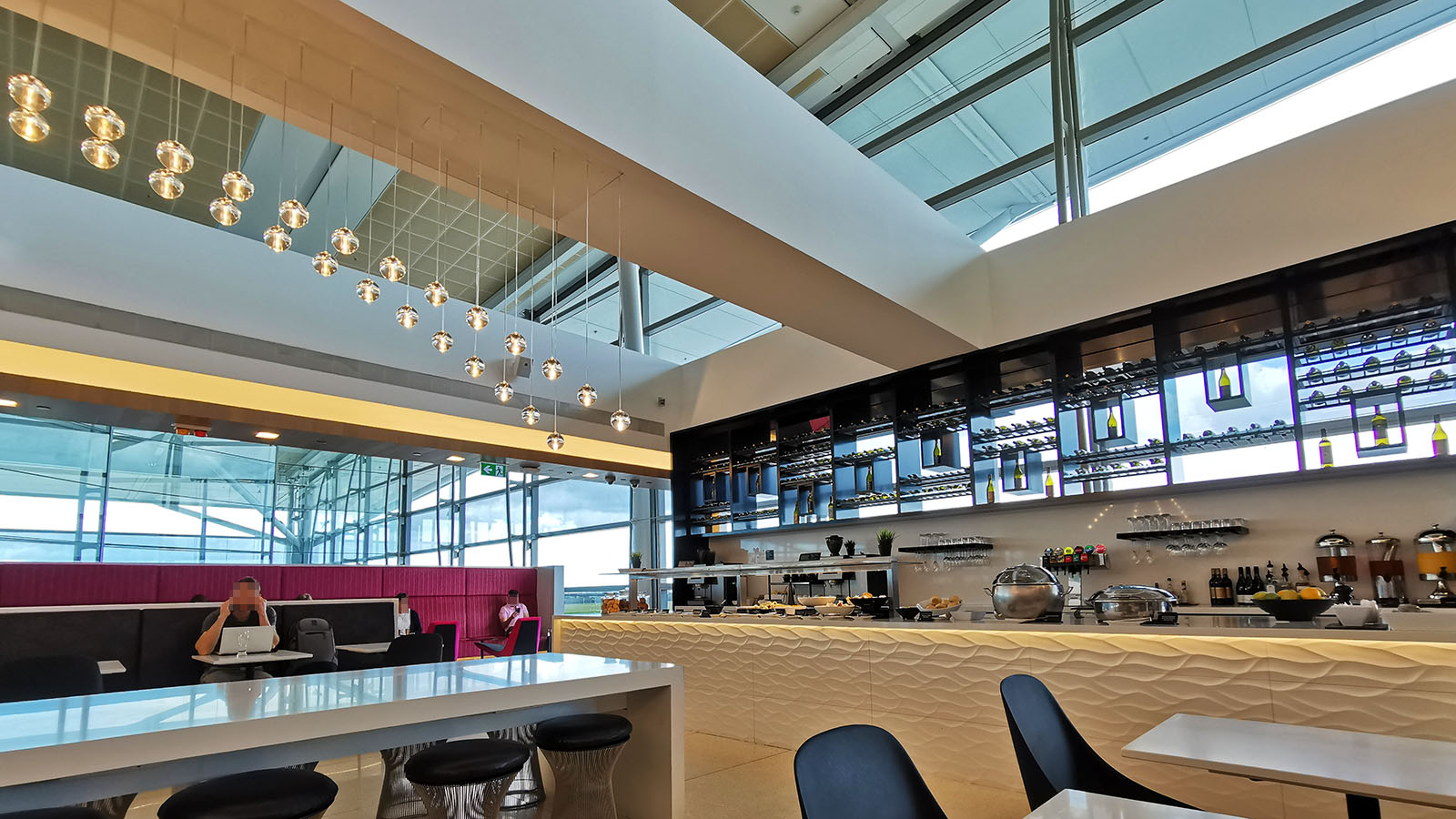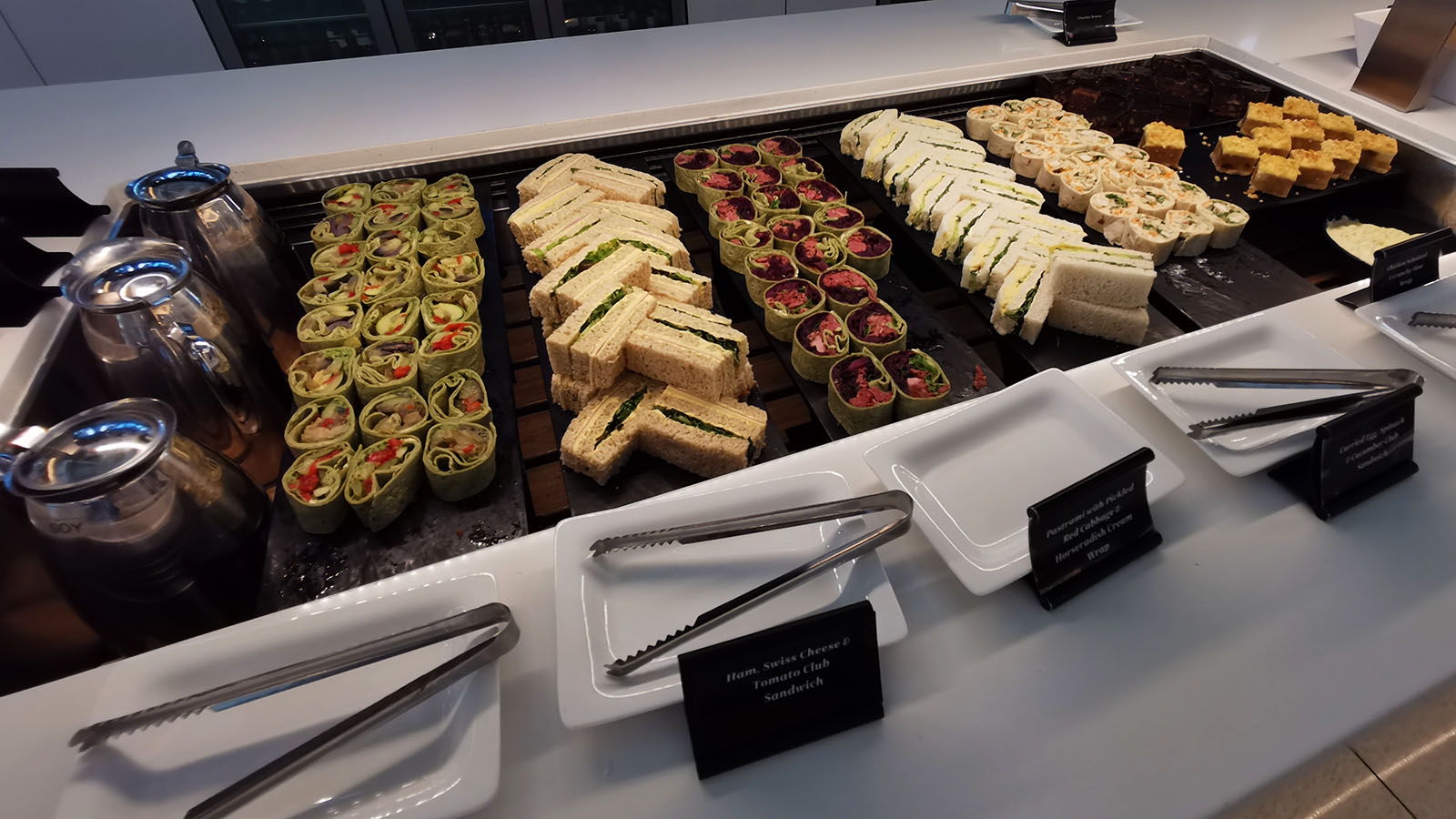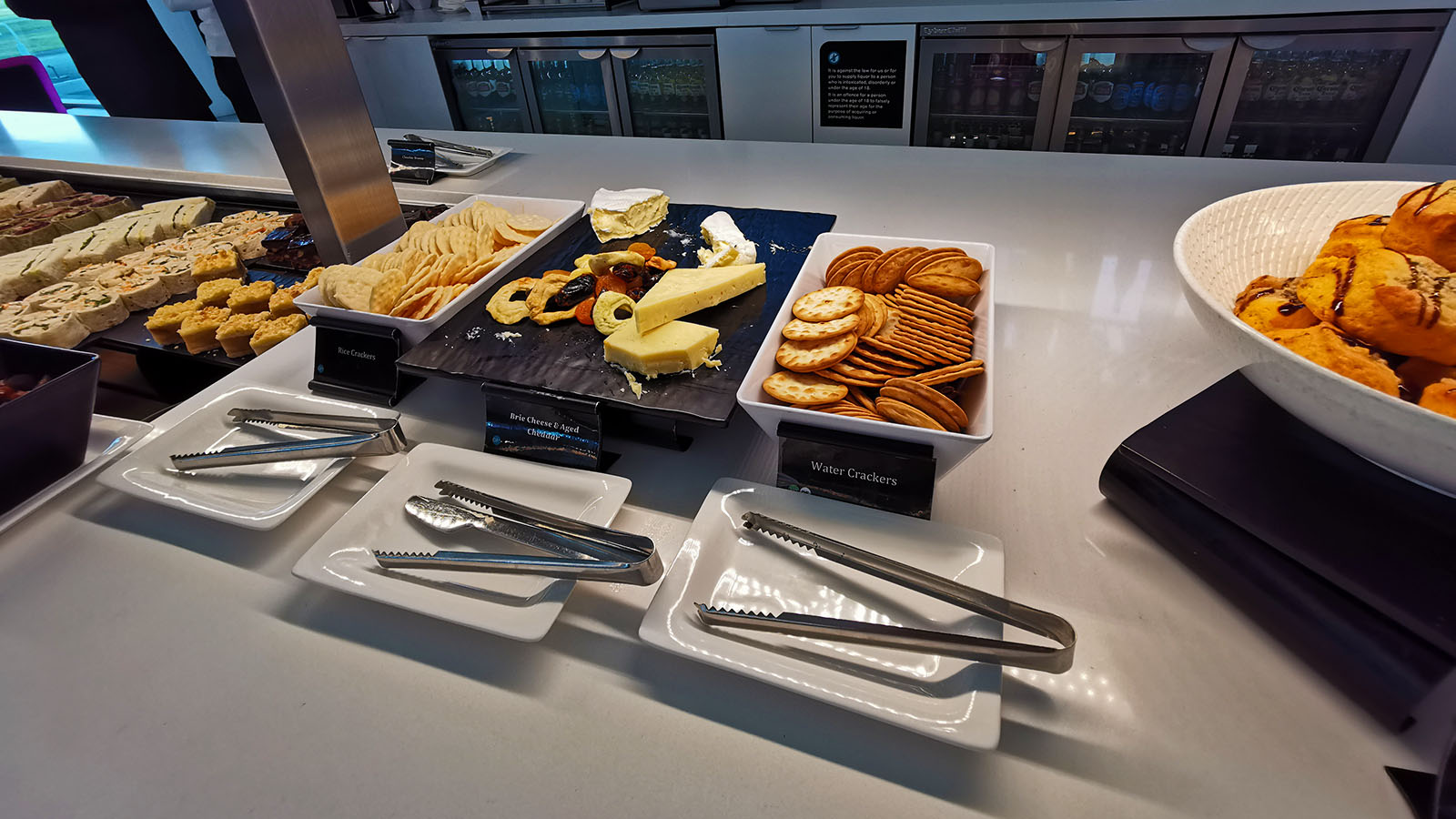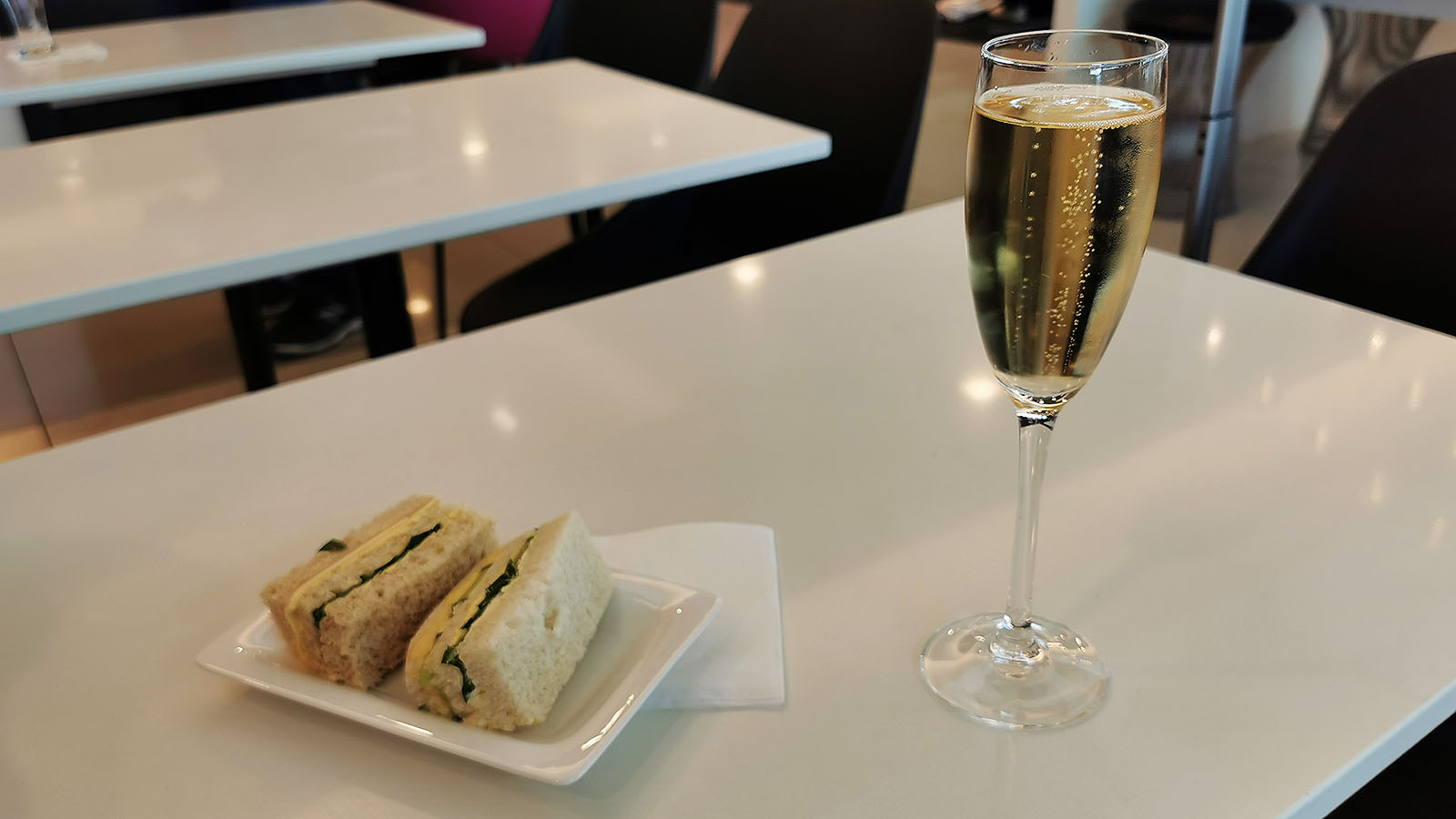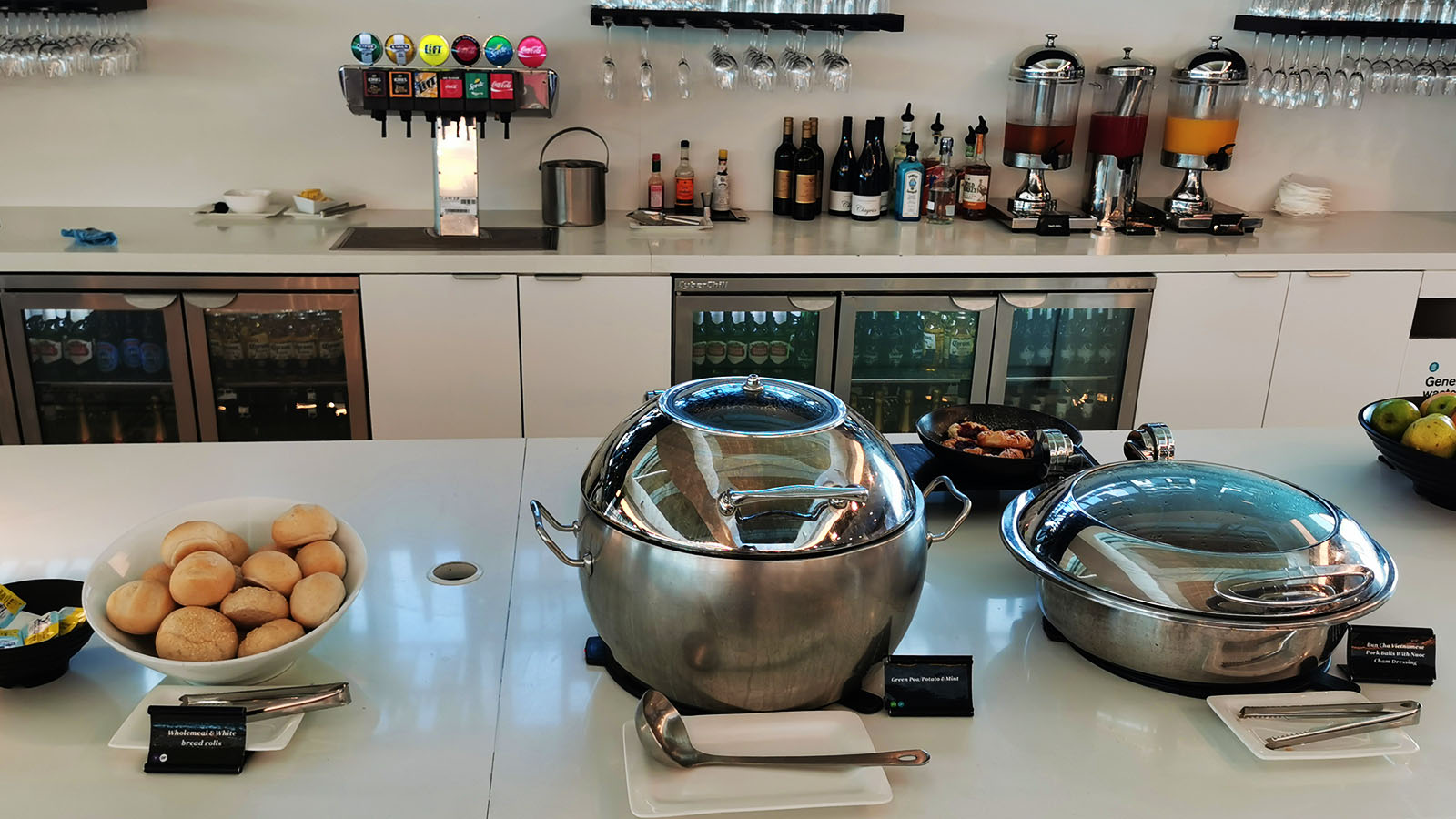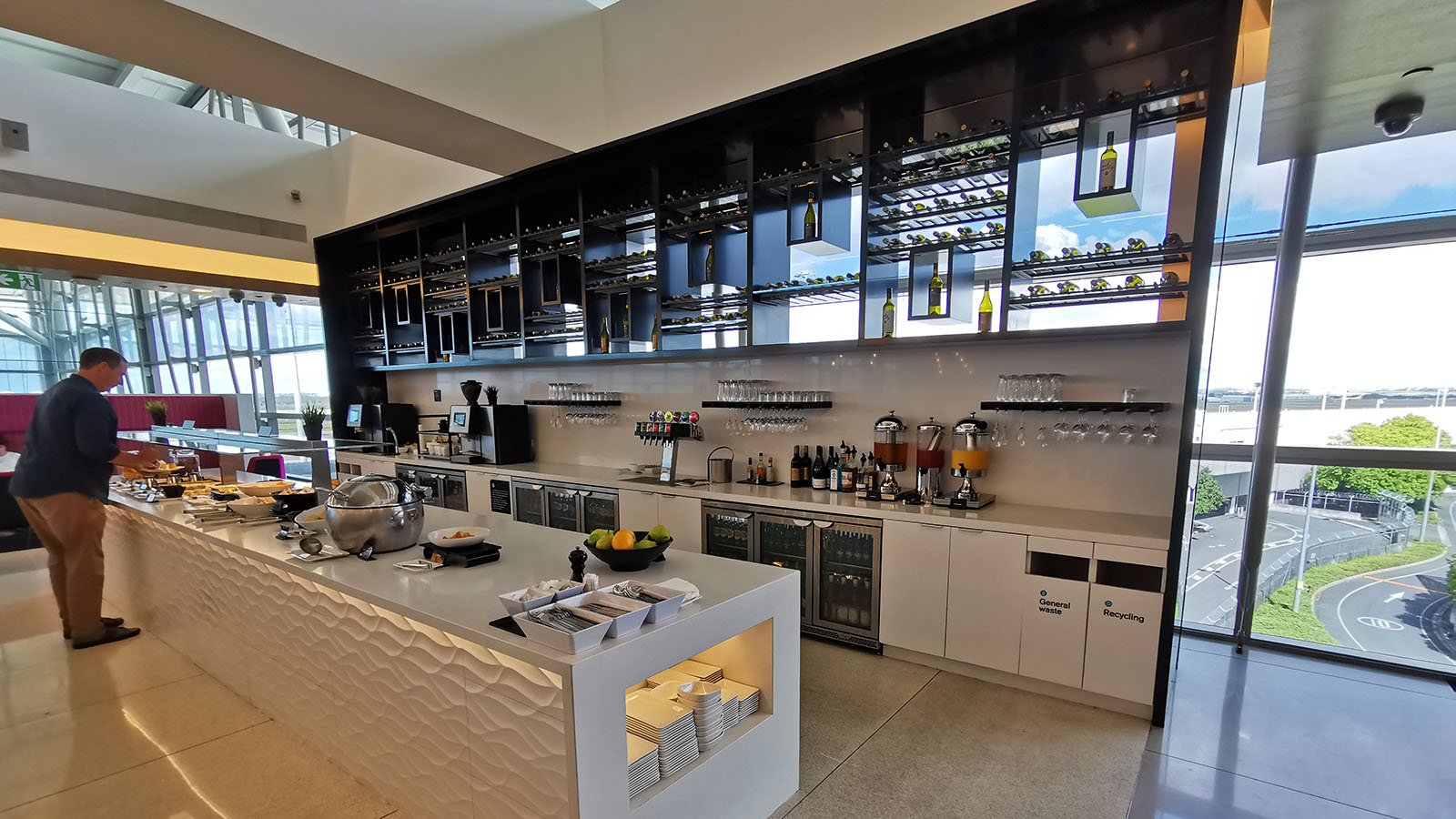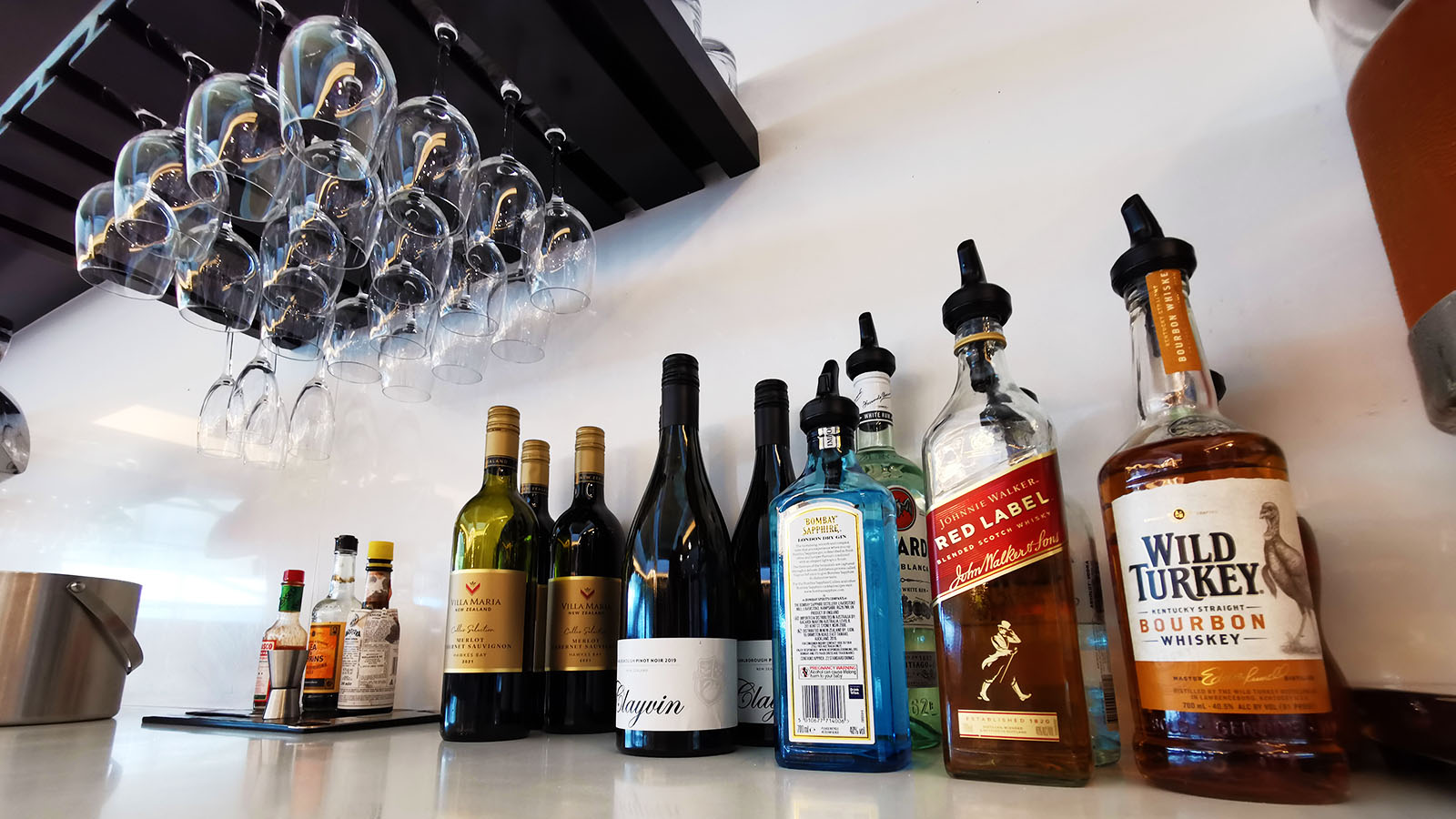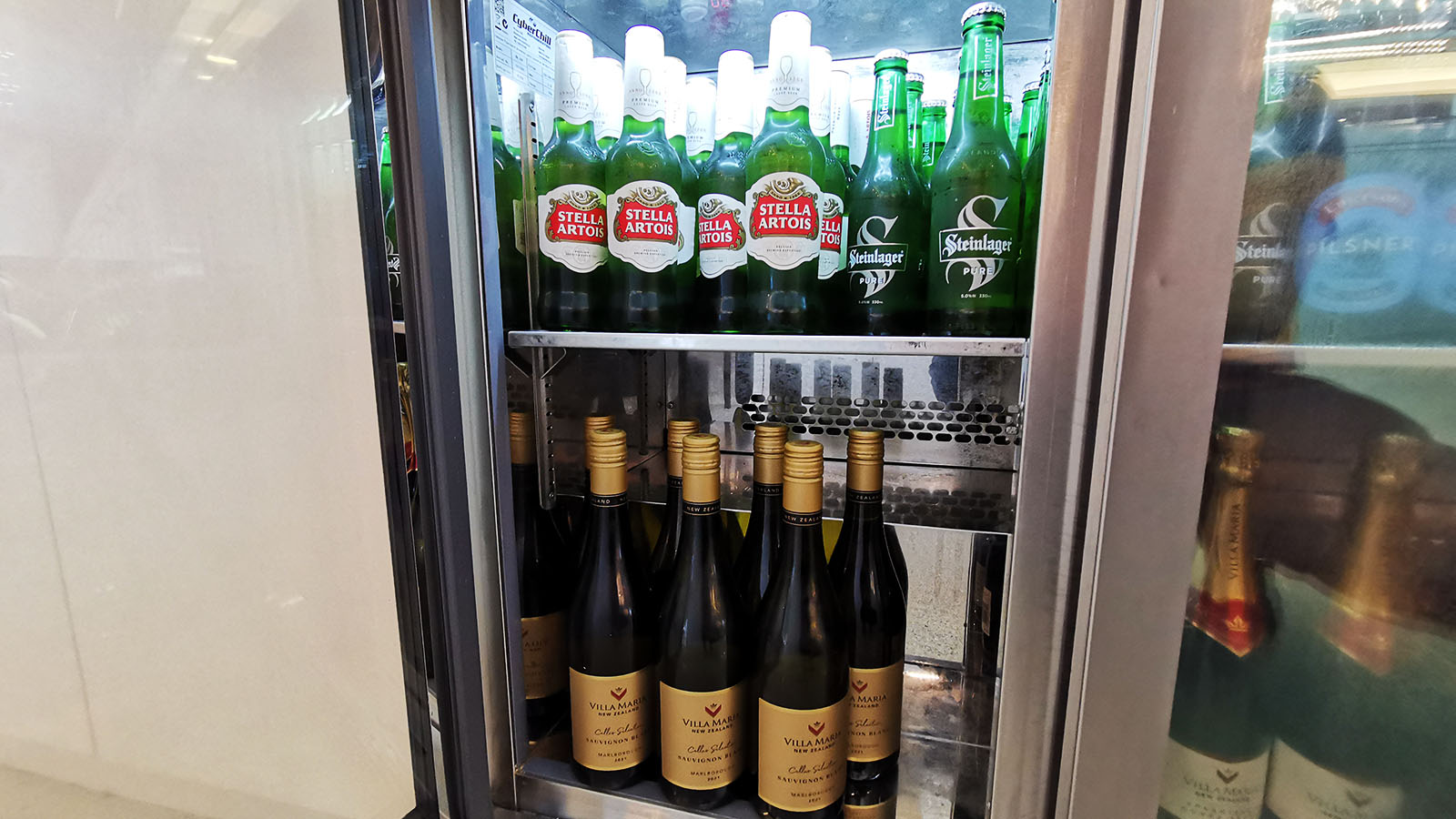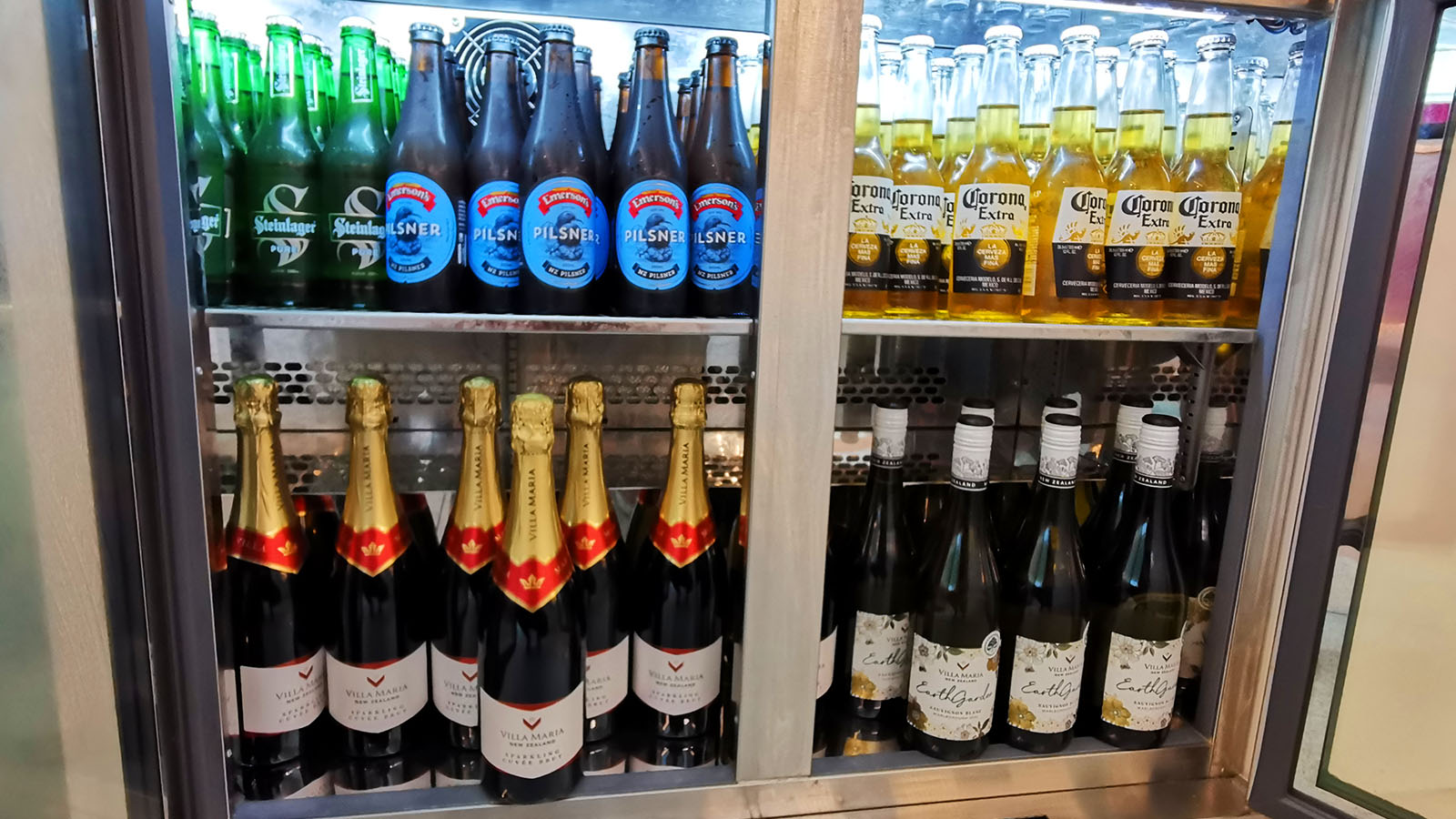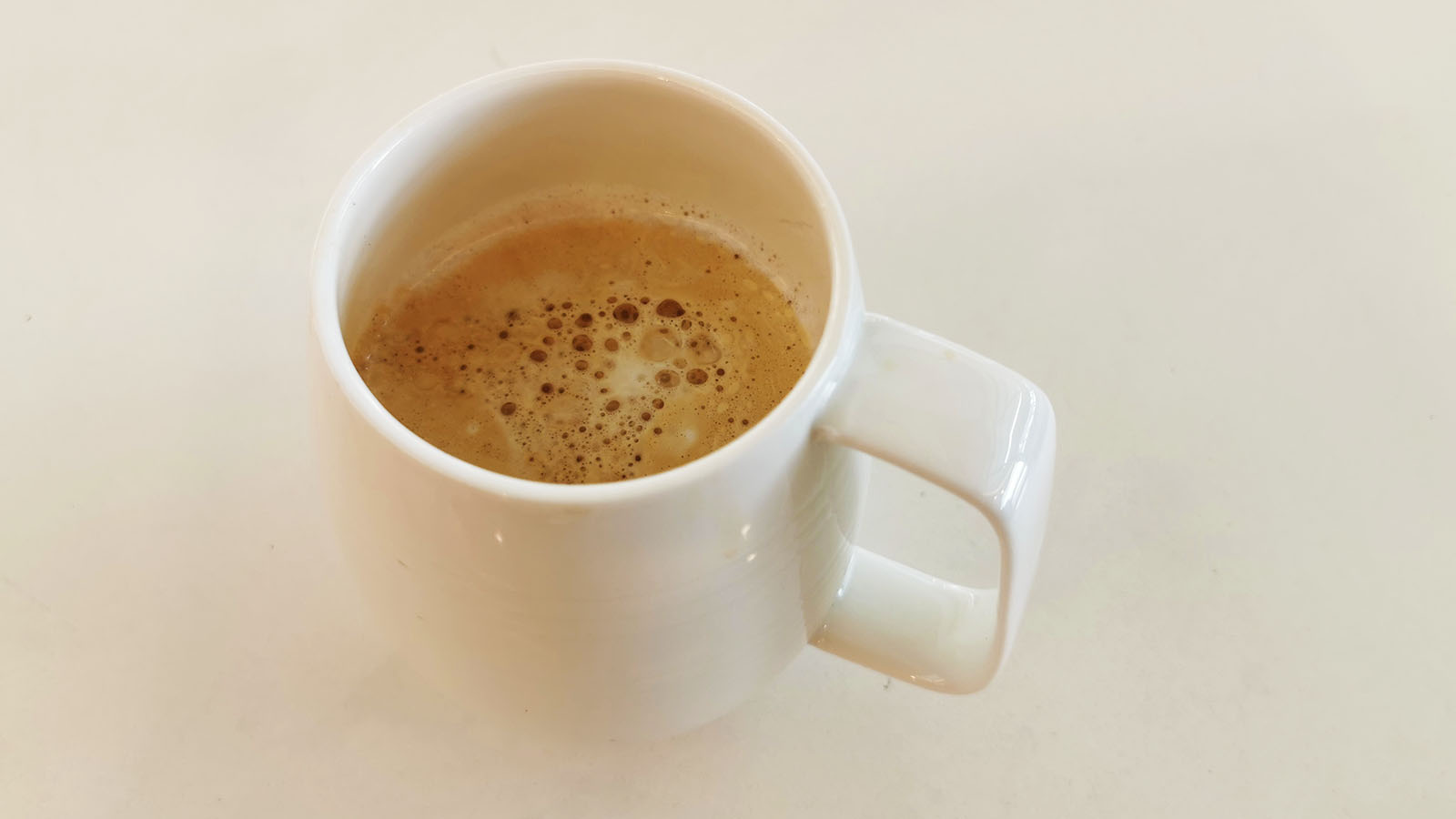 On the food front, there's everything you need at the main buffet. For something light, explore the sandwiches and wraps – a staple of most Air New Zealand lounges. There's also cheese and crackers, along with a selection of pastries, soup and a hot dish. Today, it's Vietnamese pork balls. But given I've already eaten breakfast, I'm content with a simple sandwich.
Other than the roaming sunrise mimosas, drinks are self-serve here. Help yourself to a glass of New Zealand sparkling wine – the Villa Maria Brut is rather quaffable. The fridges are also stocked with beer and wine. The gin (Bombay Sapphire) catches my eye, but I'm taking it easy this visit – there'll be plenty to enjoy on the flight, anyway.
Accessing Air New Zealand's Brisbane lounge
Air New Zealand's Brisbane lounge serves the airline's own eligible flyers, along with other qualified Star Alliance travellers. A few airlines also use this as their go-to space. Here's who makes the cut.
By Business Class ticket:

Passengers of Air New Zealand and those Star Alliance partners. Out of Brisbane, that's Air Canada, EVA Air, Singapore Airlines and United Airlines. Entry is also available to Business Class passengers on Qatar Airways, Air Niugini and Air Vanuatu, by separate arrangement.

By airline frequent flyer status:

Air New Zealand's secret-tier Elite Priority One cardholders are top of the pecking order – and have that private nook to unwind in.
Airpoints Gold and Elite members prior to Air New Zealand flights (+1 guest for Gold, +3 guests for Elite) or Star Alliance flights (+1 guest at either tier).
Airpoints Elite Partner members prior to Air New Zealand flights only (+1 guest).
Other Star Alliance Gold frequent flyers prior to Air New Zealand and Star Alliance flights (+1 guest).
Qatar Airways Privilege Club Gold and Platinum members prior to Qatar Airways flights only (+1 guest for Gold, +2 guests for Platinum).
Other oneworld Sapphire and Emerald frequent flyers prior to Qatar Airways flights only (+1 guest).
Virgin Australia Velocity Gold, Platinum and Beyond members departing on Qatar Airways flights only (+1 guest).
Air Niugini Executive Club Gold members prior to Air Niugini flights only (+1 guest).

By paid lounge membership:

Air Canada Maple Leaf Club (Worldwide) and United Club members on a Star Alliance flight (+1 guest).
Air New Zealand Koru members prior to Air New Zealand flights only (+1 guest, or +2 guests when also holding a Koru Extra Guest card).
There's no paid access available here. If you don't make the cut, consider visiting the Aspire Lounge or Plaza Premium Lounge instead.
Summing up
Air New Zealand's Brisbane lounge isn't overly sizeable – but then again, it doesn't really need to be. Despite the airline having many flights a day from the Queensland capital to New Zealand, the schedule largely has them spread out. This makes the current lounge big enough – and while it can feel 'busy' at times, you can always get a seat.
I've long been based in Brisbane, and have been flying abroad from Brisbane Airport for many years. Winding the clock back, Air New Zealand's lounge here used to be little more than a waiting room, with a few snacks. But once it moved into its present location with an all-new design and a greater focus on premium travellers, those passengers departing Brisbane gained a much more relaxing place to await their flight.
Again, it's not on-par with the carrier's lounge in Sydney – or Auckland, for that matter.
Missing elements such as barista-made coffee, bartender service and a chef's station do make the lounge feel more 'tier two' than 'flagship'. But if you're after a wider variety of hot food, or that barista coffee, there's a good chance your boarding pass will also unlock Singapore Airlines' SilverKris Lounge at Brisbane Airport. Conveniently, it's just down the same hallway.
Also reviewed: Singapore Airlines' SilverKris Lounge, Brisbane
All photography by Chris Chamberlin, who accessed the lounge as an Air New Zealand Business Premier passenger, when flying at his own expense.
---
Stay up to date with the latest news, reviews and guides by subscribing to Point Hacks' email newsletter.
Air New Zealand International Lounge, Brisbane
was last modified:
May 26th, 2023
by