This is an overview of Singapore Airlines' Boeing 777 Premium Economy, but the same seat and service are found on its Airbus A380 and Airbus A350s.
On a recent flight from Singapore to Australia, I was presented with an opportunity to bid some cash to upgrade from my Economy Flexi ticket to Premium Economy.
After bidding the bare minimum of roughly $100 AUD per passenger (converted from Malaysian Ringgit as my booking originated from Kuala Lumpur), I received confirmation 48 hours before check-in that my bid was successful and we were promptly moved to the upgraded cabin.
Fleet & routes
Premium Economy is found on long-haul and ultra-long-haul Airbus A350s, Boeing 777-300ERs and Airbus A380s. These aircraft usually operate long-range routes such as Singapore to Europe and the USA.
Occasionally, the cabin will also be on shorter regional routes within Asia, like Singapore to Japan, China and Hong Kong. They also operate to Sydney, Melbourne and Brisbane.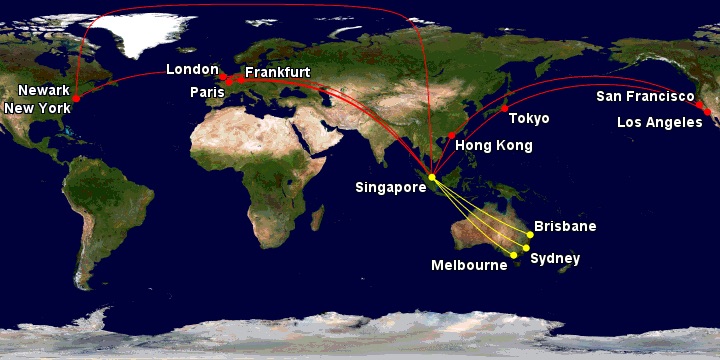 The cabin & seats
Premium Economy has quite a different design aesthetic compared to Economy Class. It's predominantly grey leather with orange fabric highlights.
There are multiple configurations for the Airbus A380. The refurbished ones (with new Suites and Business Class) have 44 Premium Economy seats at the front of the lower deck [left, below]. The older versions have 36 seats on the lower deck, just behind Suites [right, below].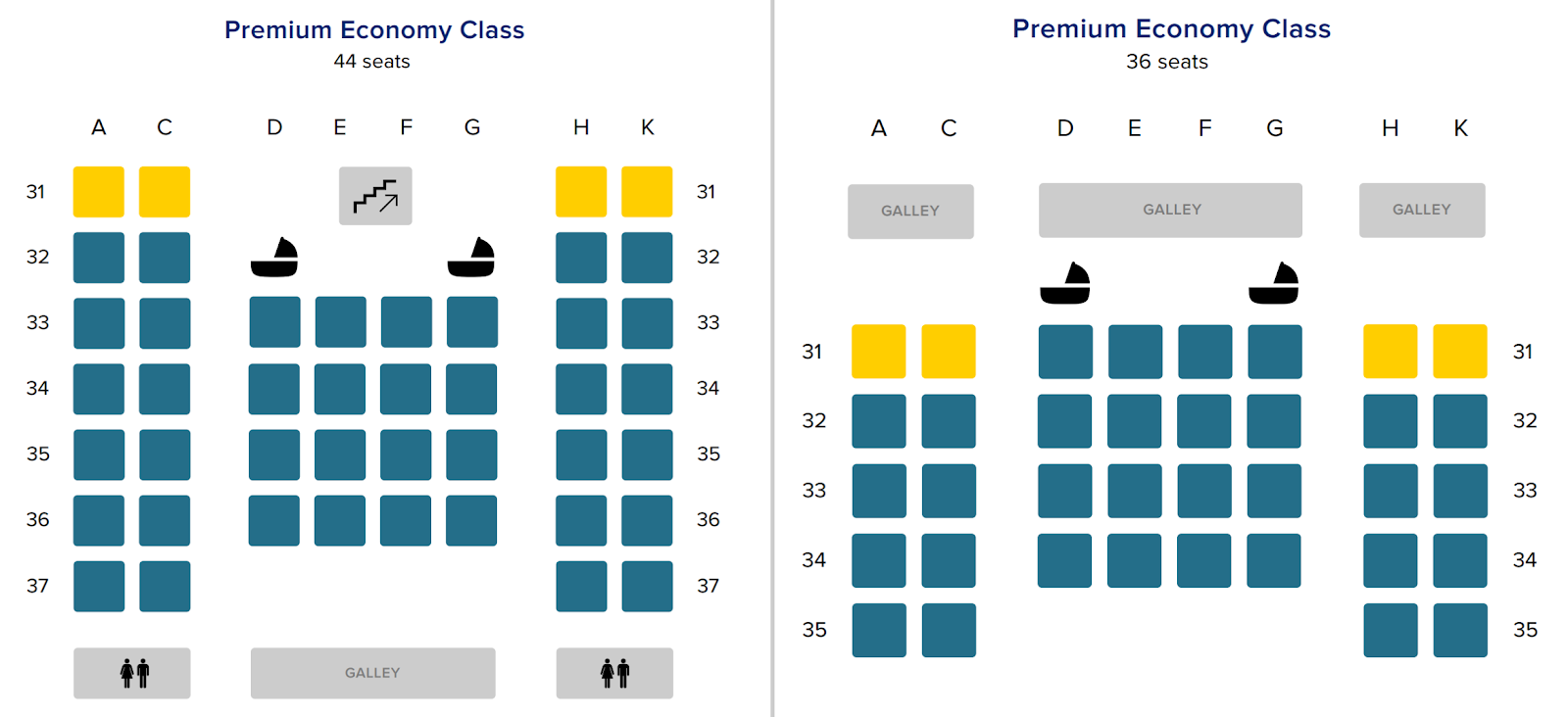 The Airbus A350-900 Ultra Long Haul (which flies between Singapore and Newark/New York) has a large 94-seat Premium Economy cabin as the lowest cabin class available [left, below].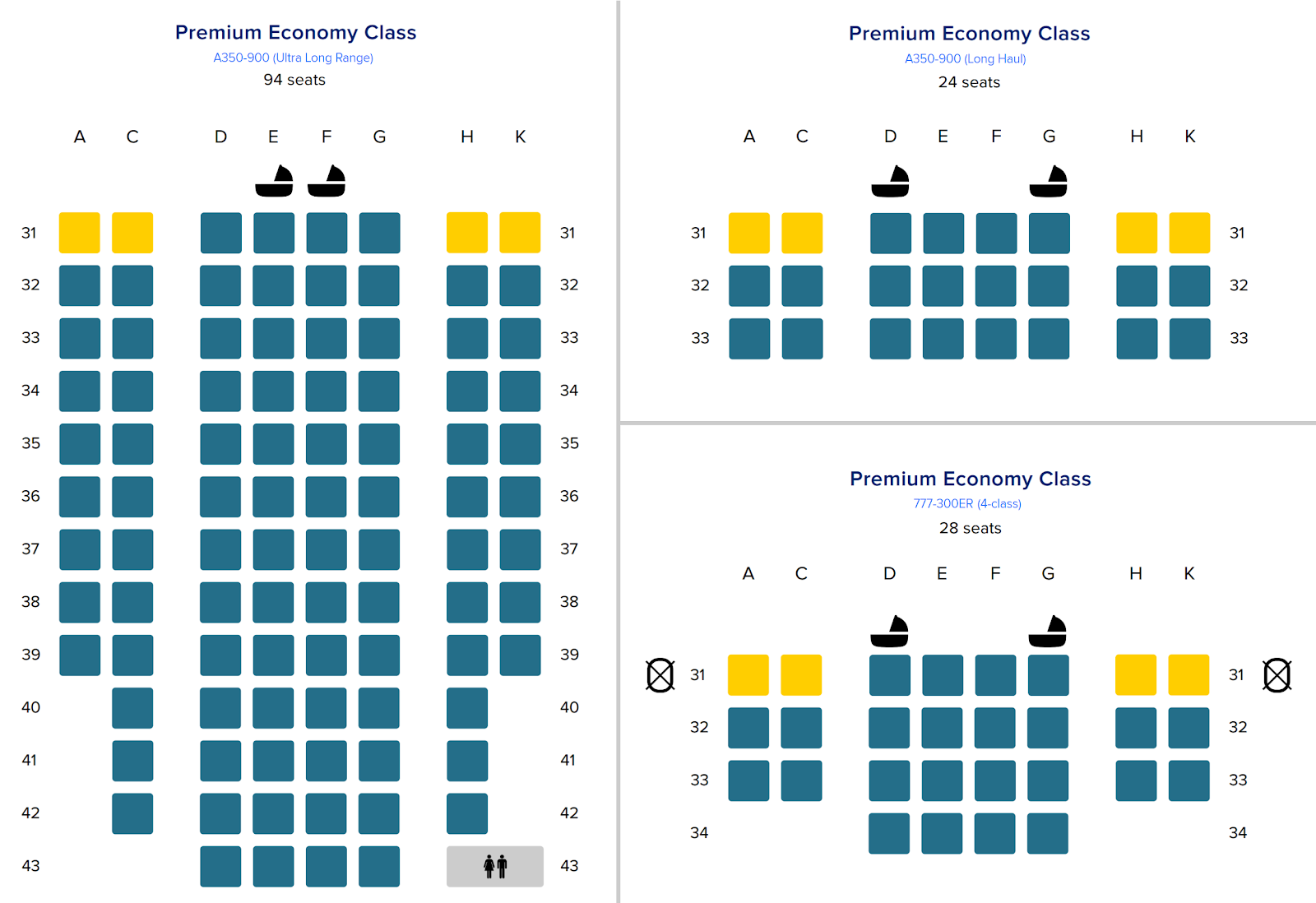 The 'standard' long-haul Airbus A350 has the smallest cabin at 24 seats [top right, above], while the Boeing 777 has 28 Premium Economy Seats [bottom right, above].
In all cases, Premium Economy is in a 2-4-2 layout instead of Economy which is 3-3-3 or 3-4-3, which means slightly larger seats. Yellow seats are designated 'extra legroom' and come at an additional charge until 48 hours before the flight.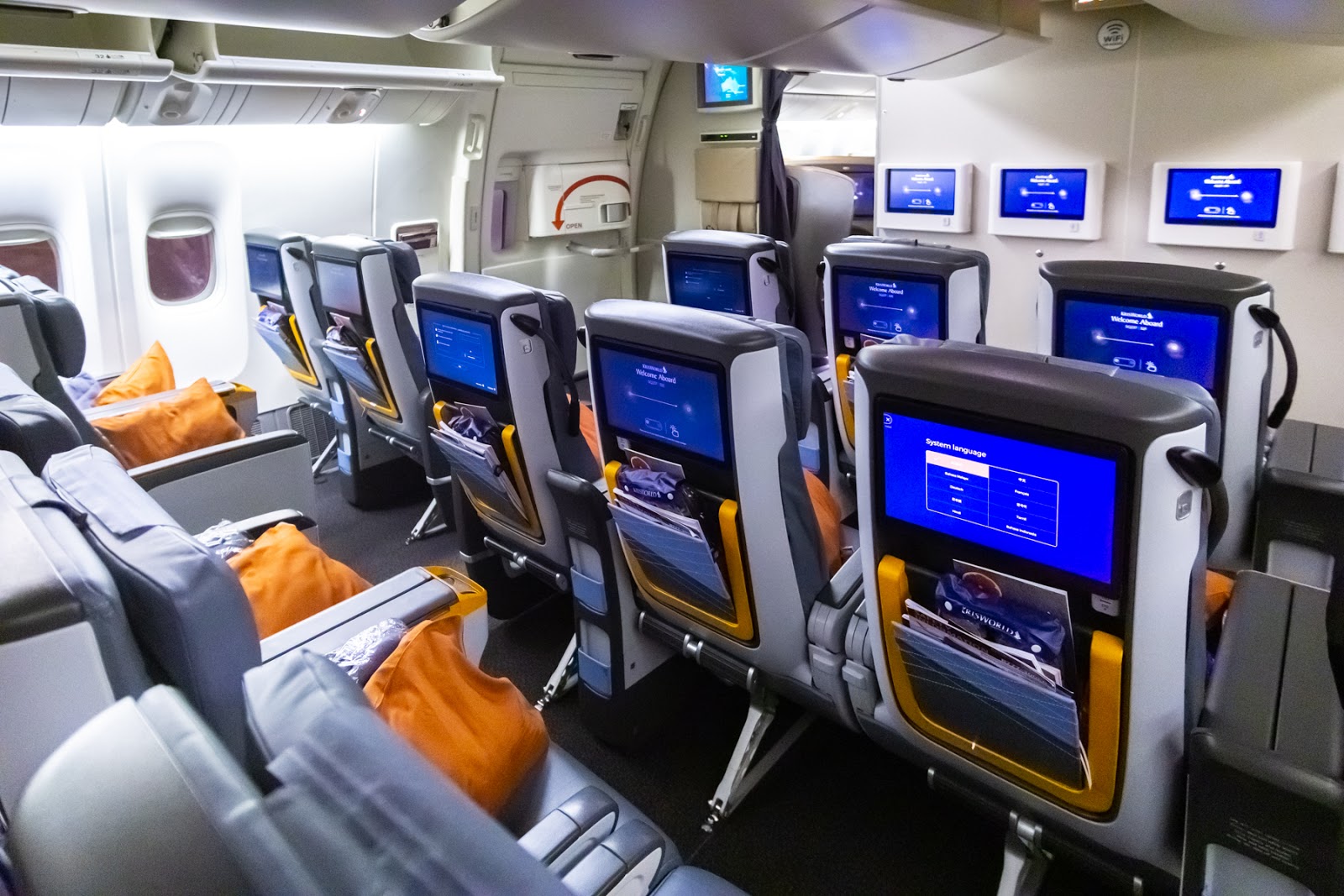 Seats have a generous 38-inches pitch, which means no knee-crunch for tall travellers compared to Economy Class, which has 32-inches of pitch between rows.
(Granted, Singapore Airlines Economy is still very comfortable, as I've previously reviewed).
Premium Economy seats have 8-inches of recline (more than Economy's 6-inches) and all rows have an extendable leg-rest. Front row seats also have a swing-out footrest, while other rows have a drop-down footrest underneath the seat in front.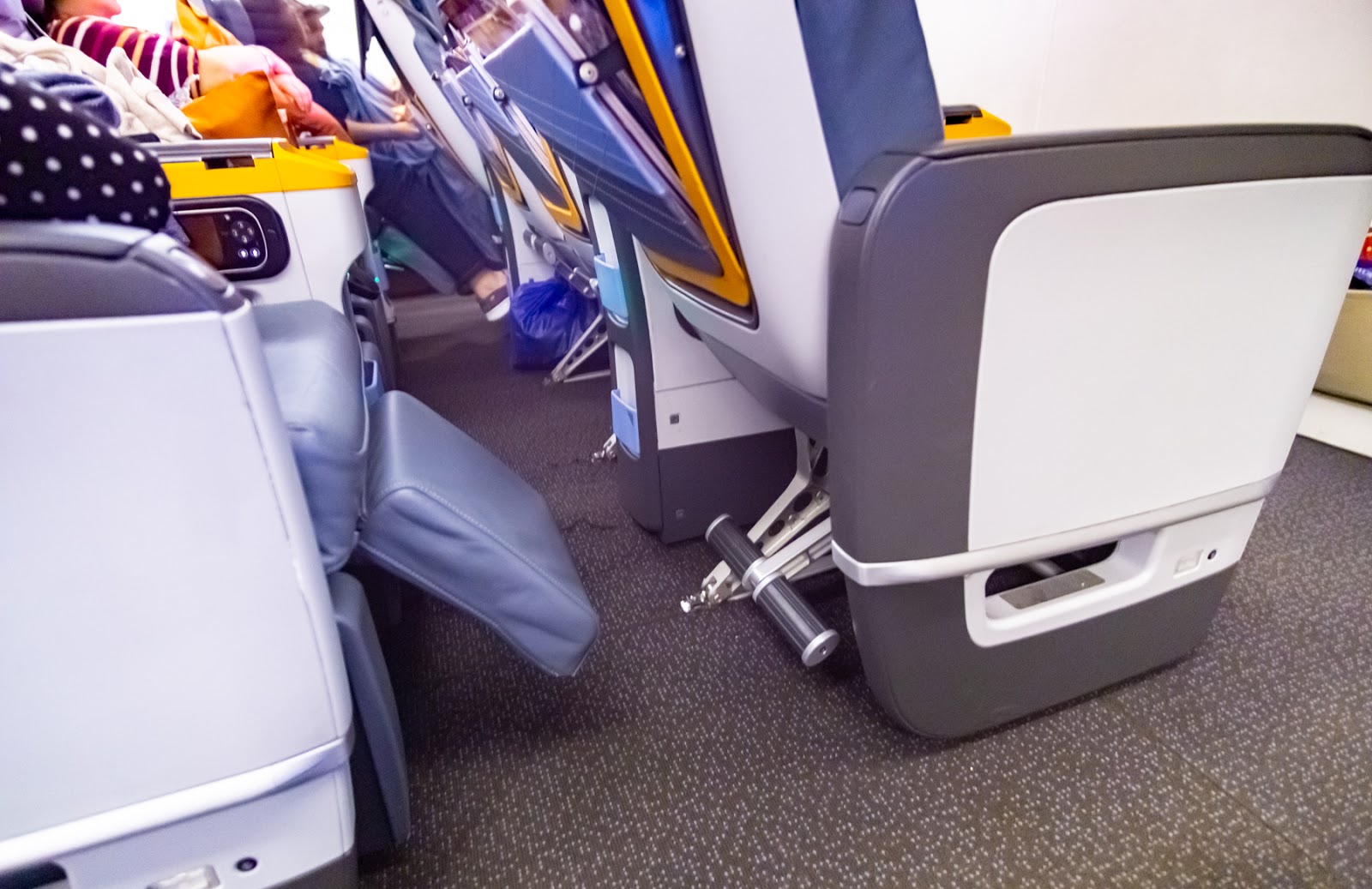 Overall, this produces a comfortable cradle effect for shorter people, although taller people will find that their legs are too long to be supported.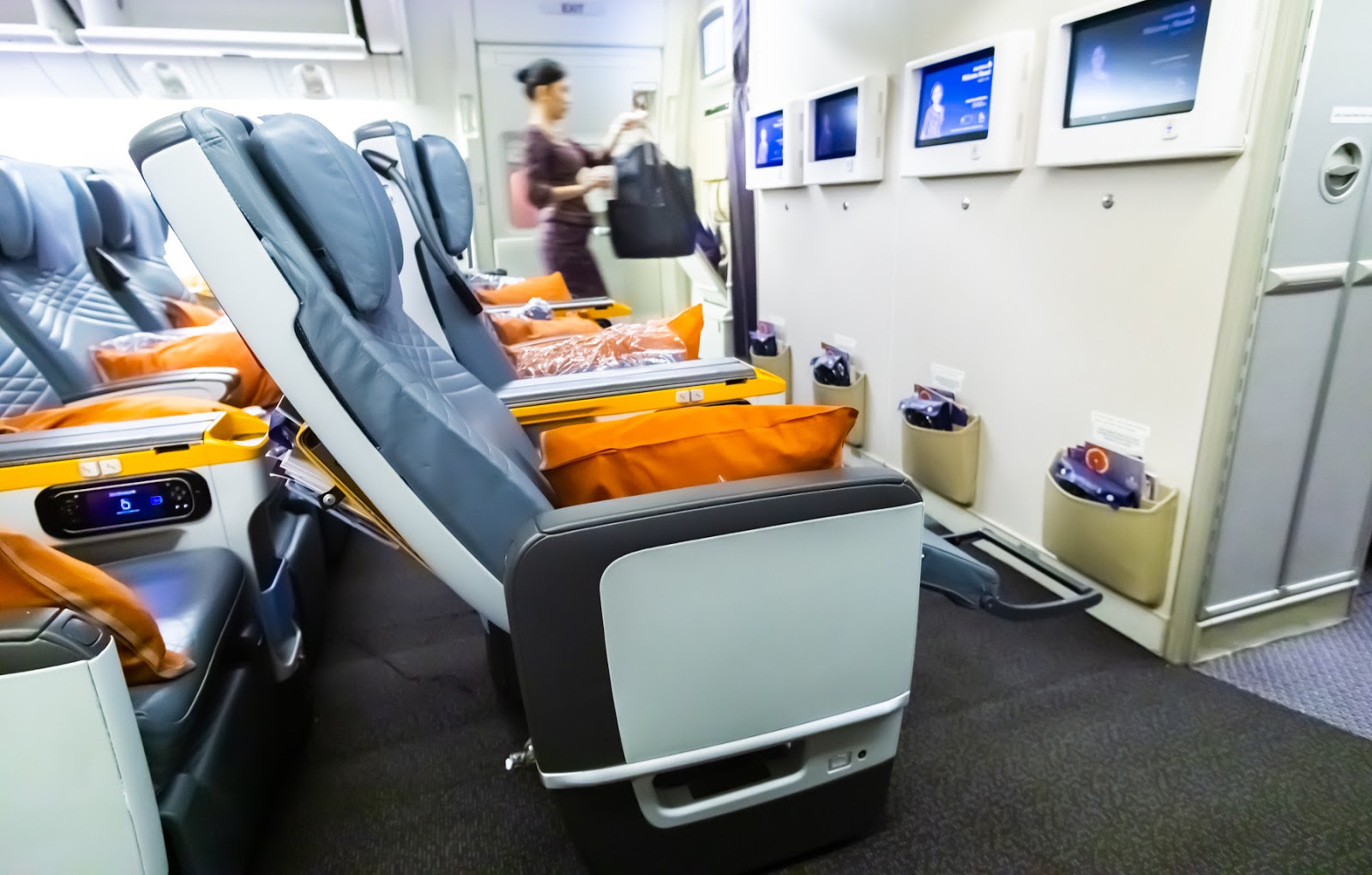 Recline and the leg-rest is controlled by two levers, which are located near the touchscreen controls for the in-flight entertainment.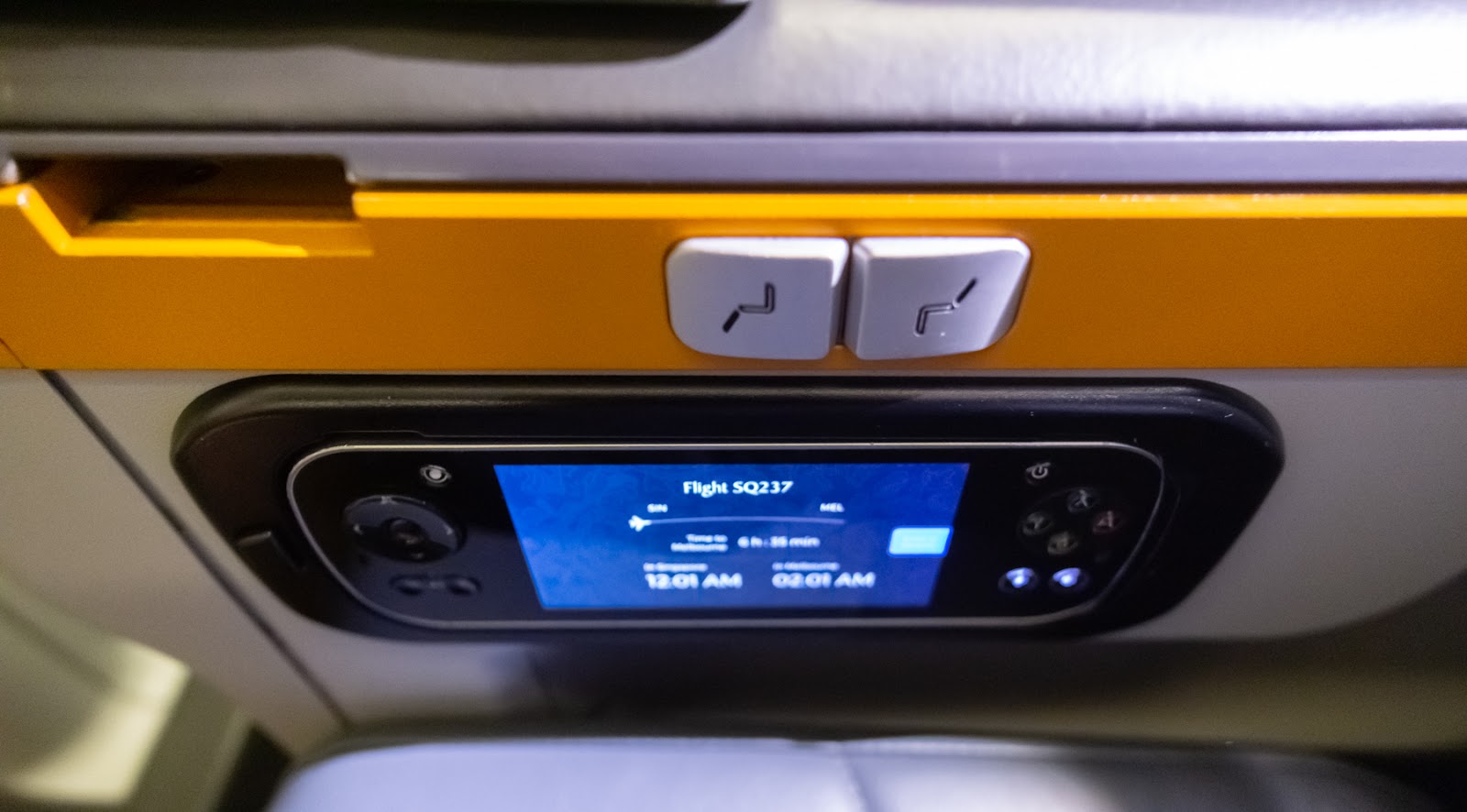 Each seat has a useful pocket for literature and personal items. There is also additional storage within your seat, tucked by your body in the spaces by the armrests.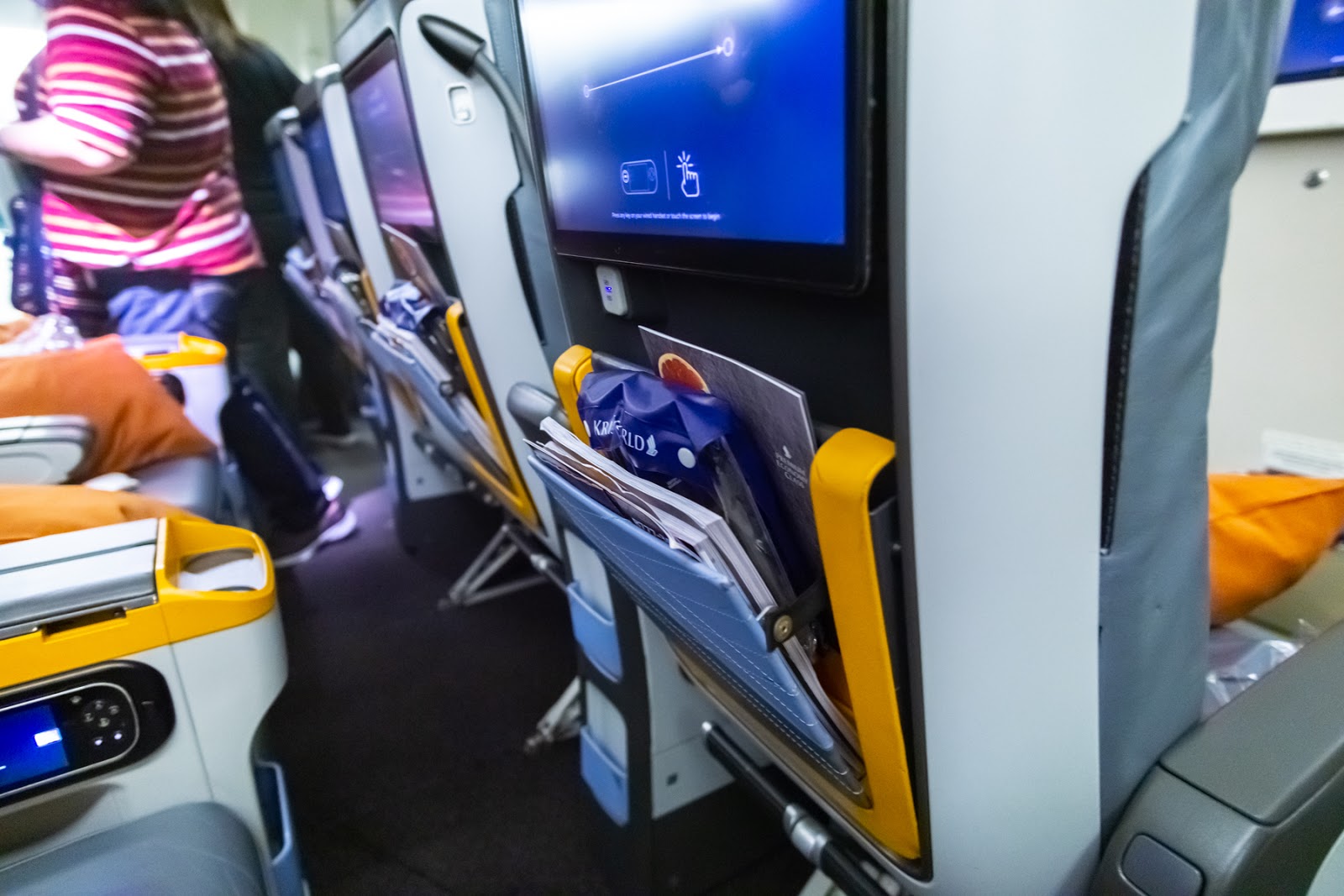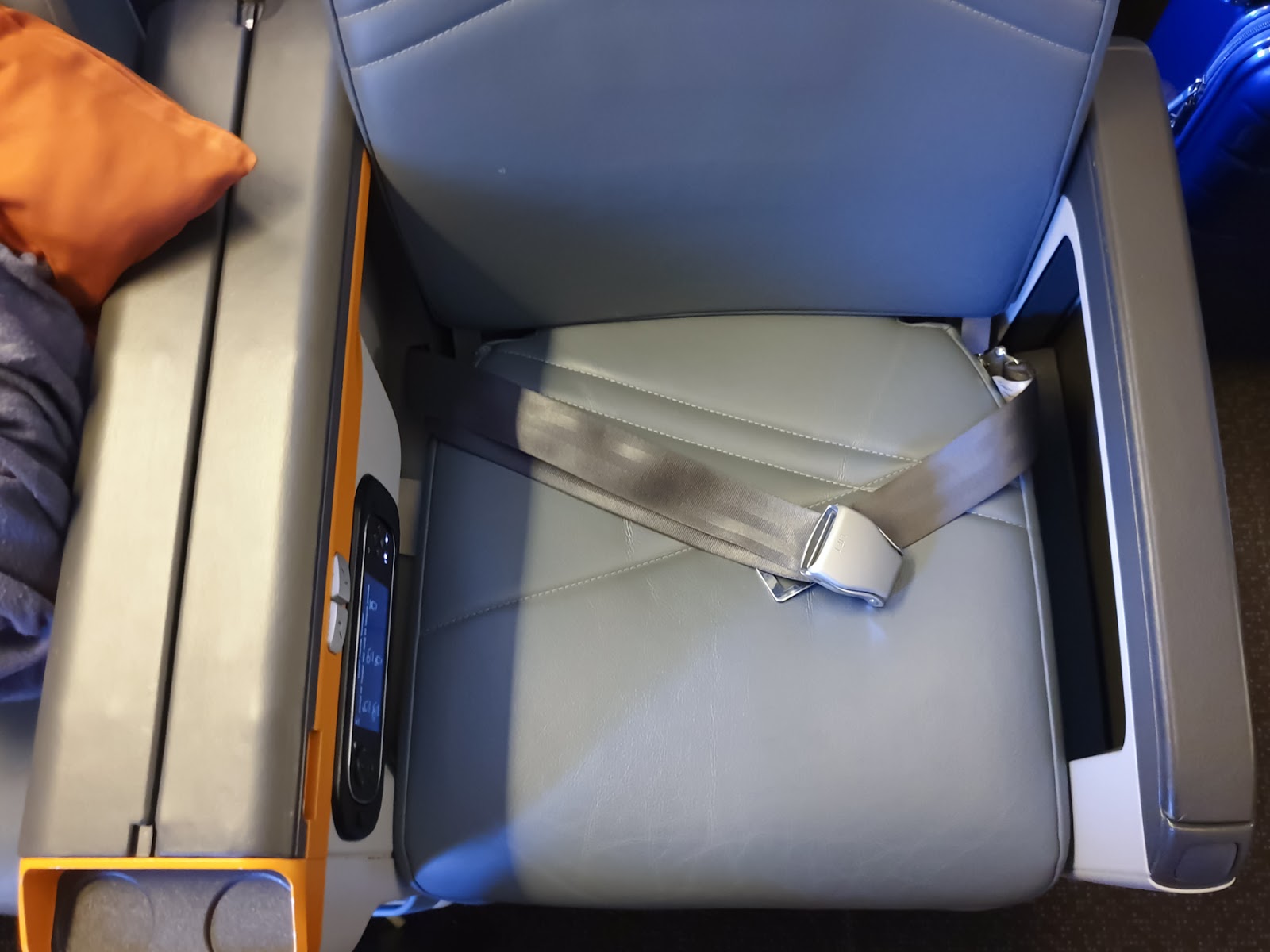 Each seat sports a 13.3-inch HD video screen. The difference is notably bigger than in Economy – here it is compared to my 6.2-inch phone screen for comparison.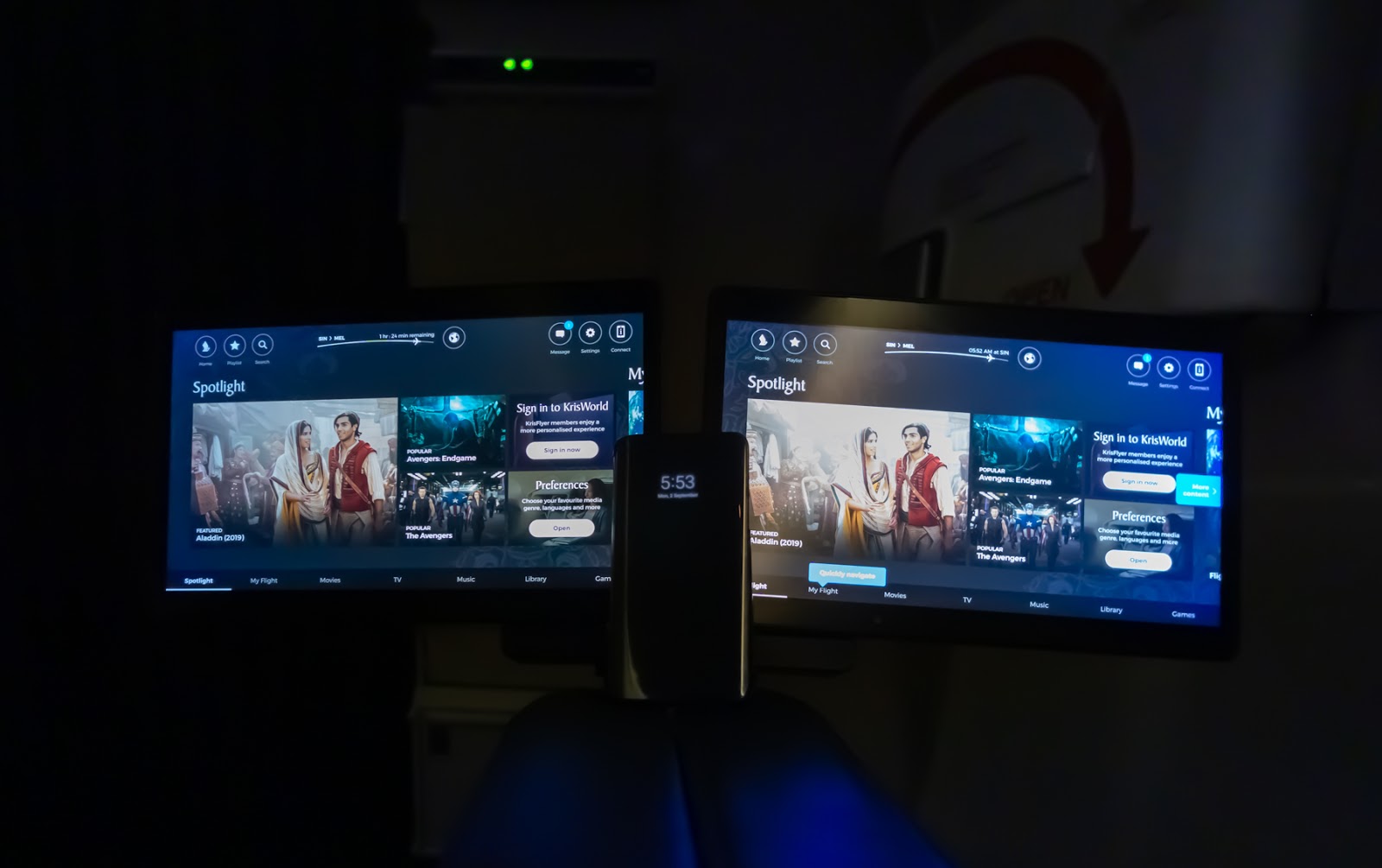 In addition to the standard overhead reading light, you also have a personal LED light which can be adjusted to your liking and has three levels of brightness.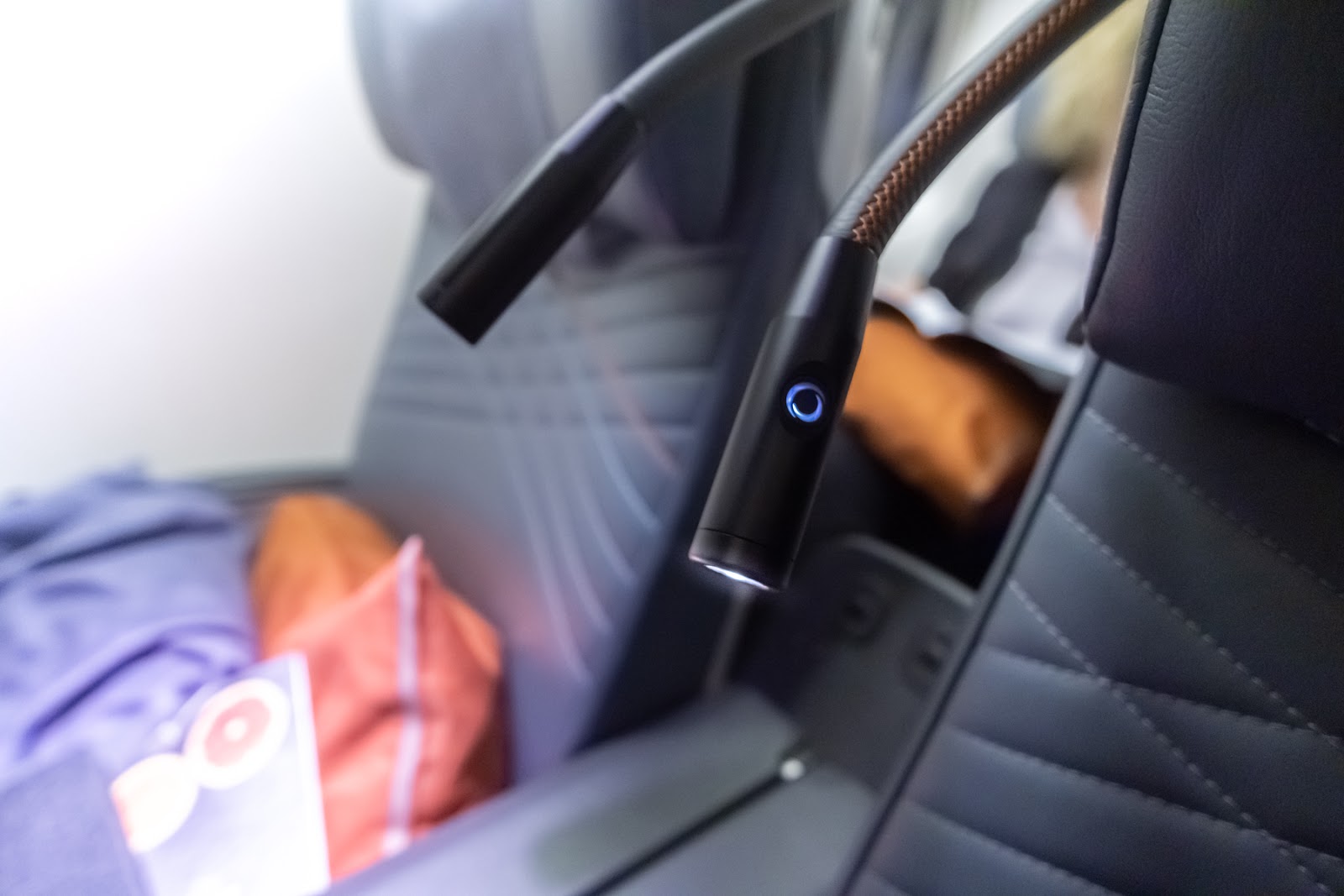 Between seats are a water bottle holder and a universal power plug for each passenger.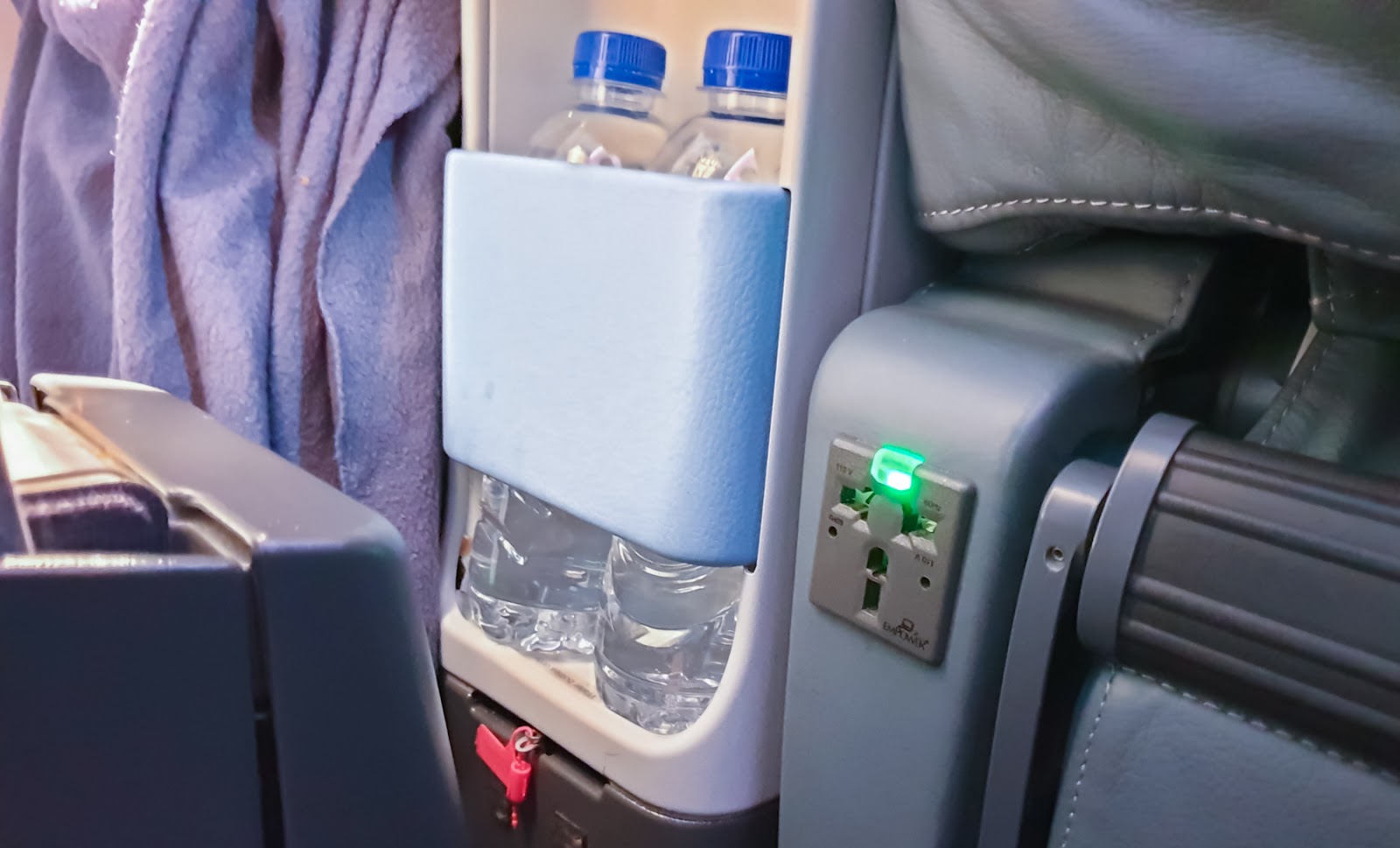 The centre armrests hold a large tray table (much larger than Economy), plus one of two USB plugs per seat. The second USB plug is high-powered and located on the entertainment screen.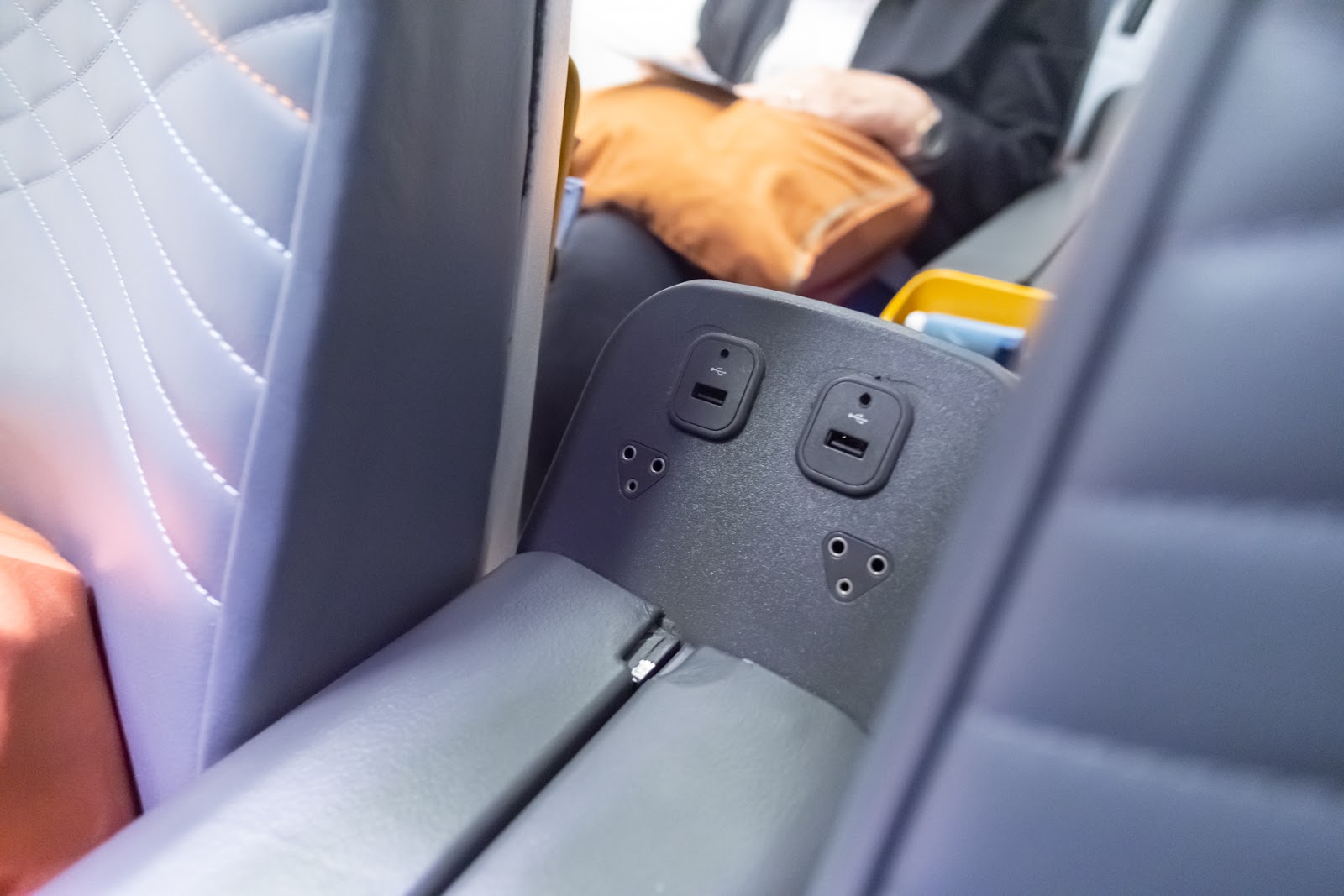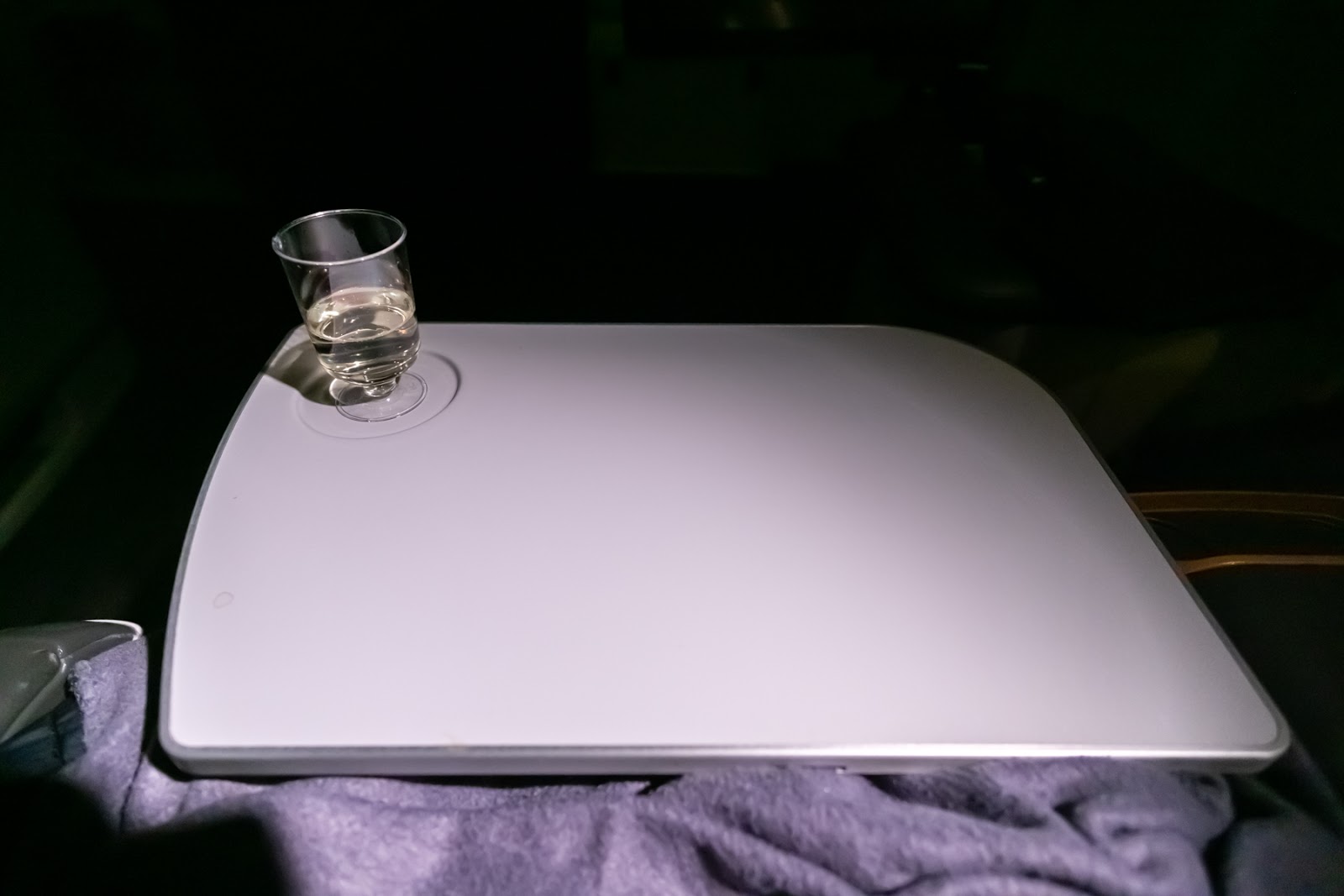 Some of the extra-legroom seats are set up differently. On the Boeing 777-300ER (my flight), there are no windows on the side, but the legroom is excellent.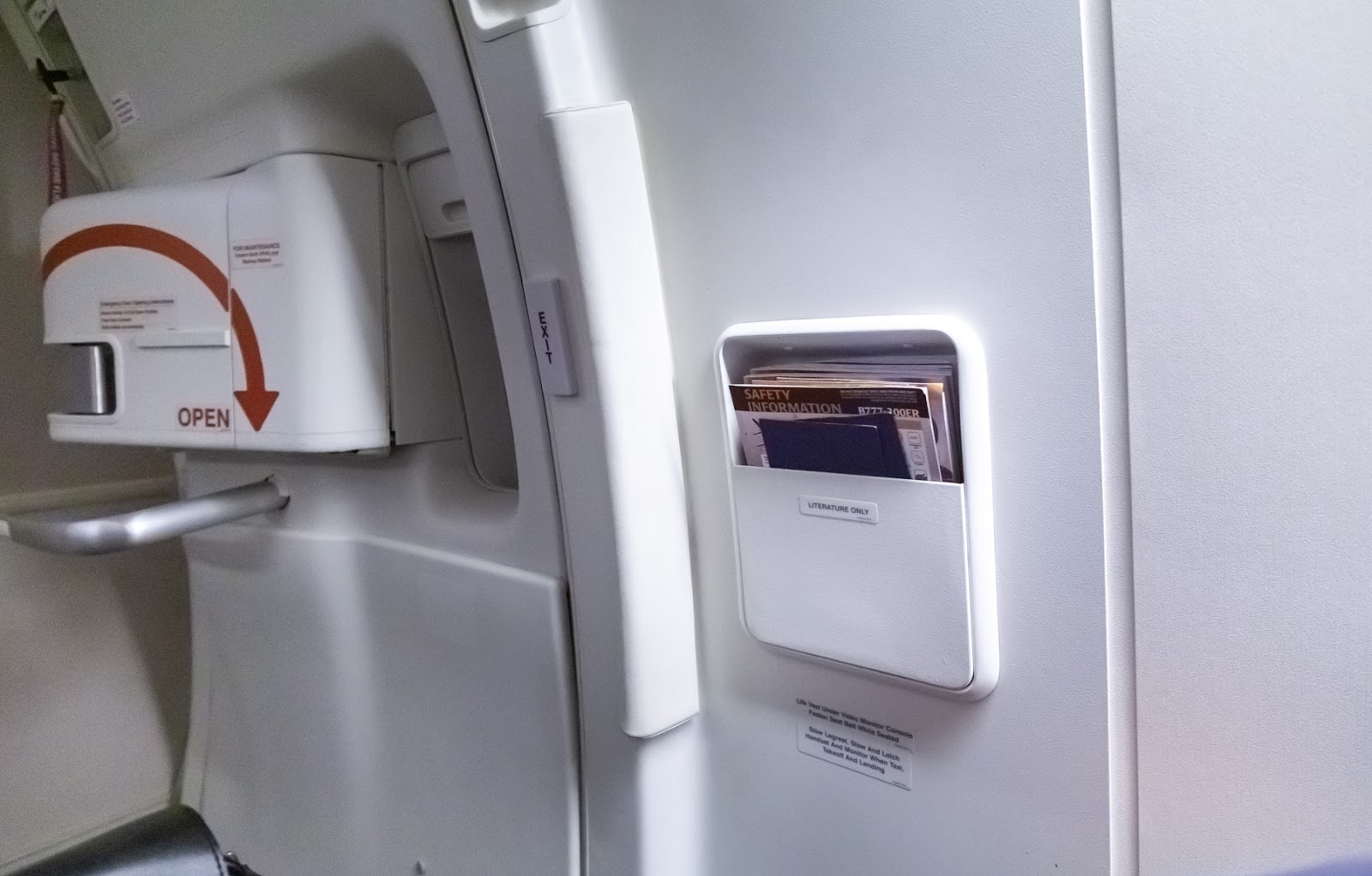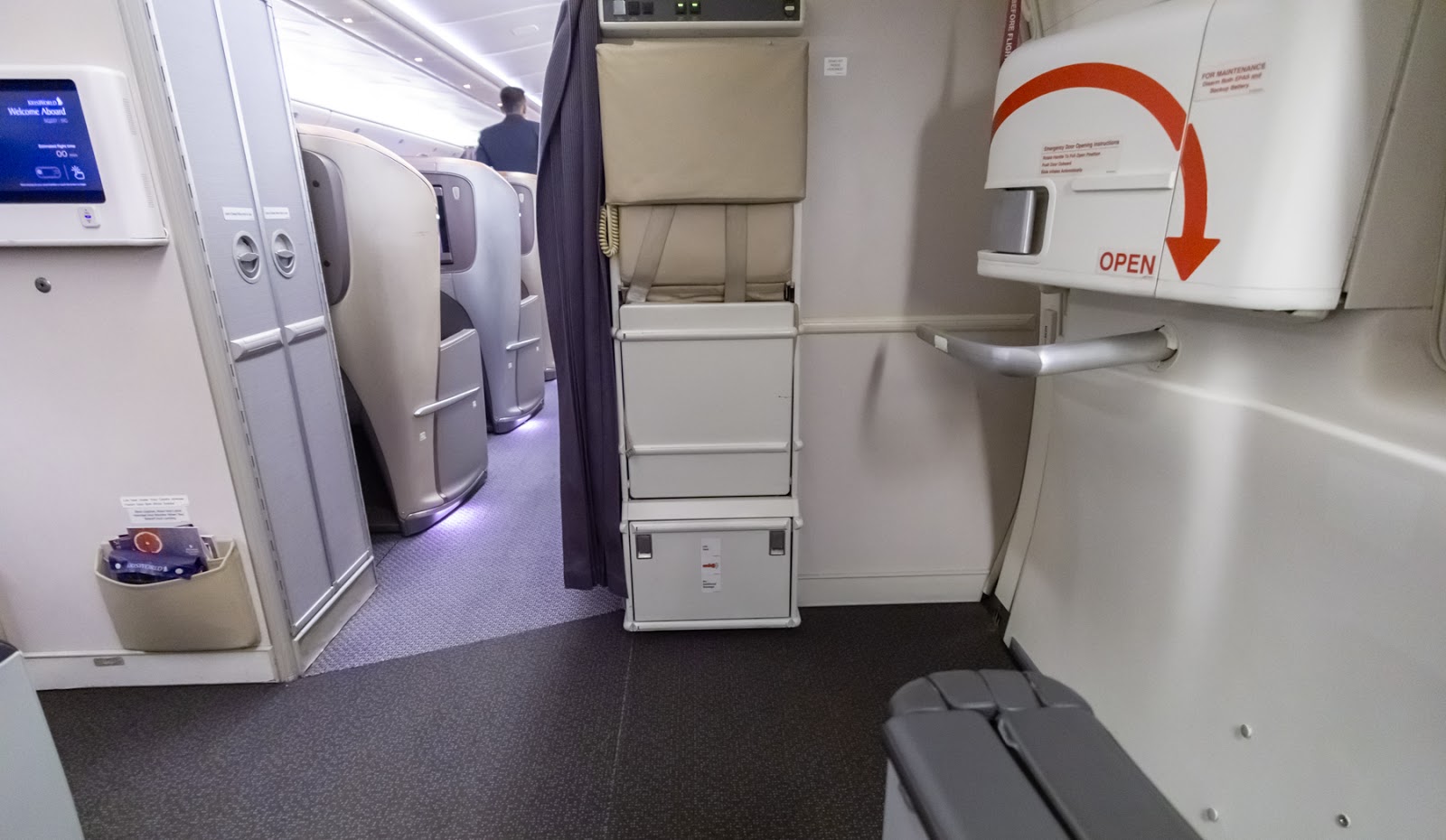 There is only one literature pocket on the wall, and the in-flight entertainment screens come out of a console in front. You need to slide the leather lid to one side, push down hard on the screen, and the entire unit will pop up smoothly (I needed help to figure this out).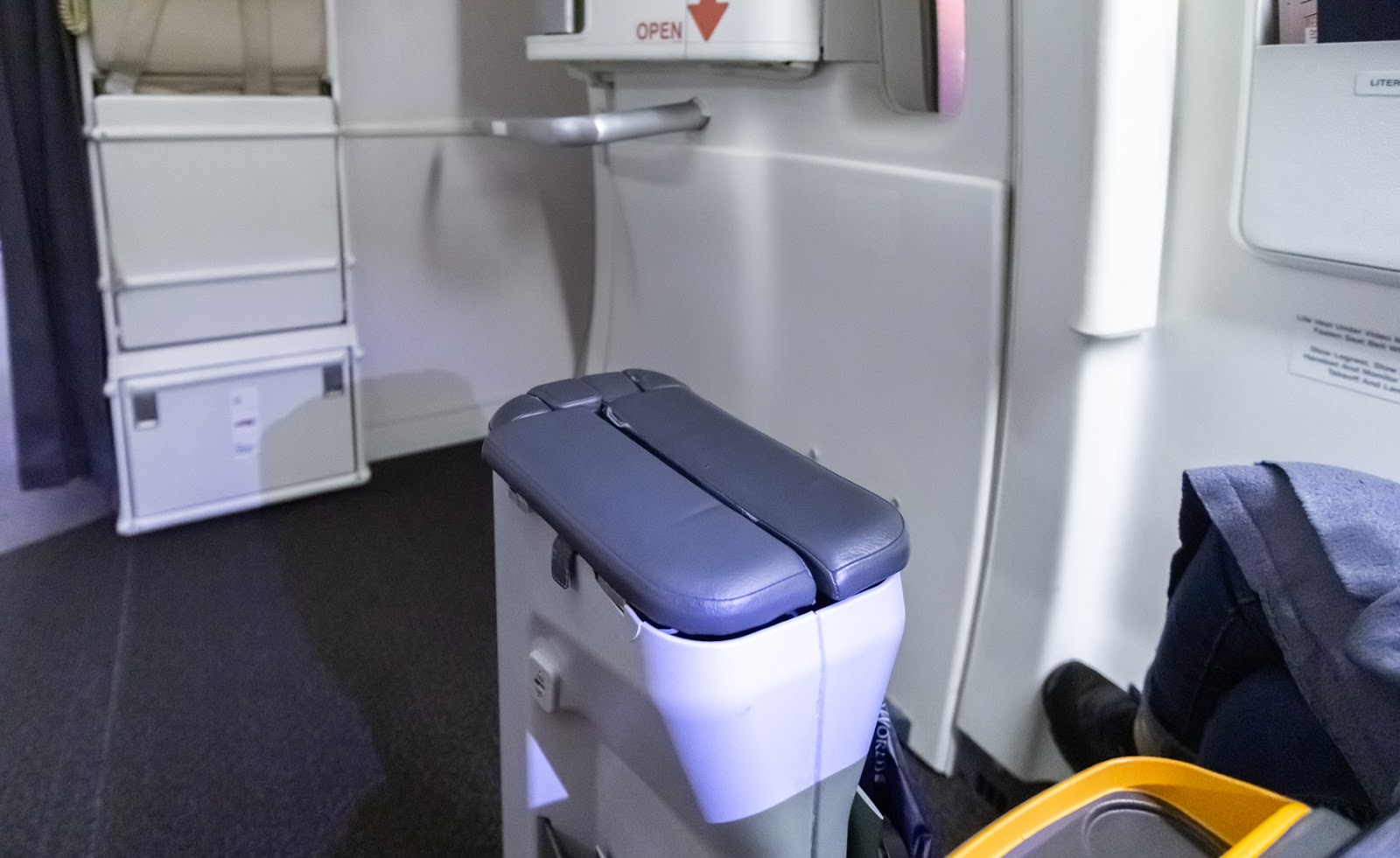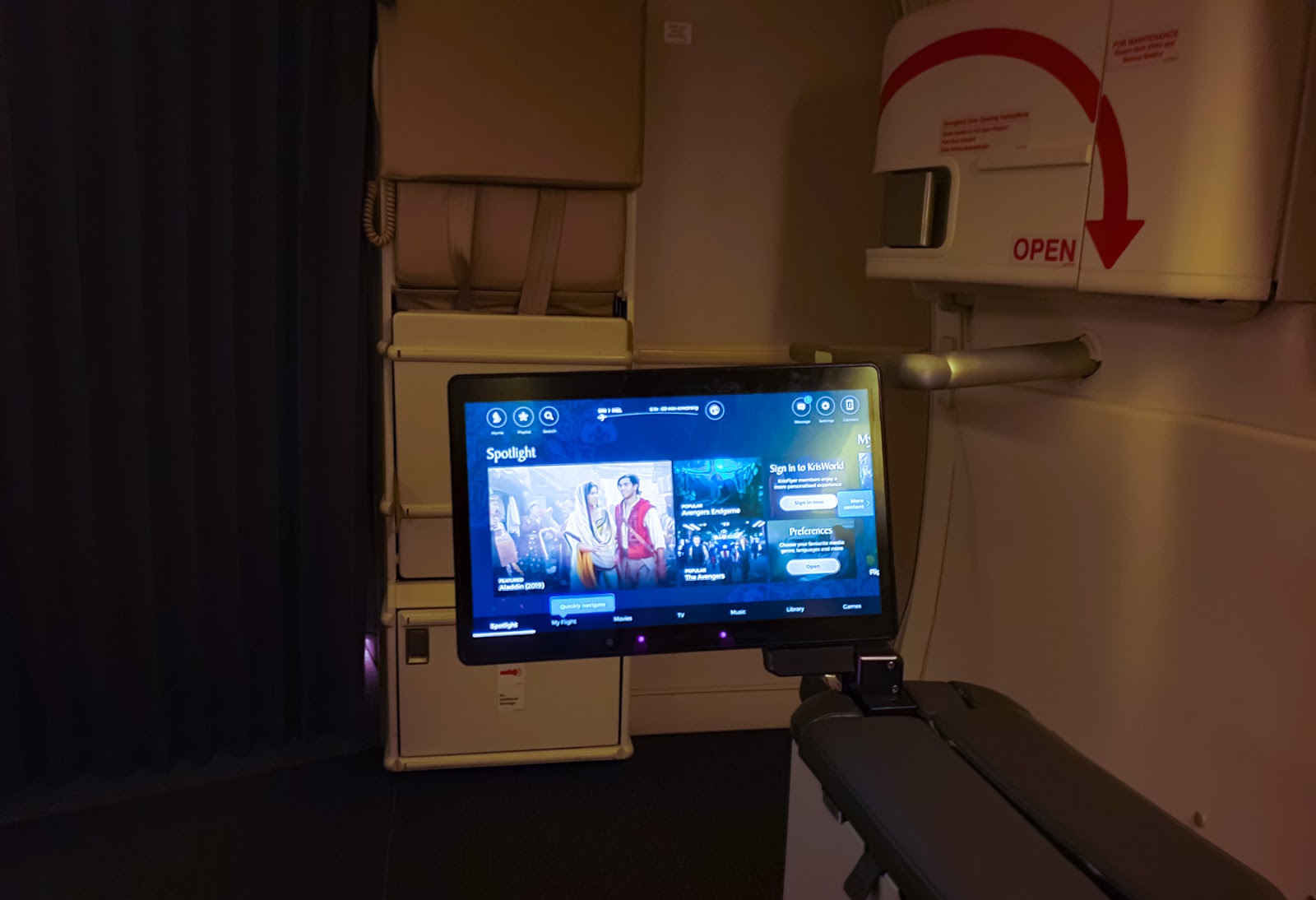 I chose these exit-row seats as they became free-of-charge 48 hours before the flight and the only other options were middle seats. The usual cost for these seats was otherwise around $80 AUD each for the Singapore to Melbourne flight, which I thought was excessive.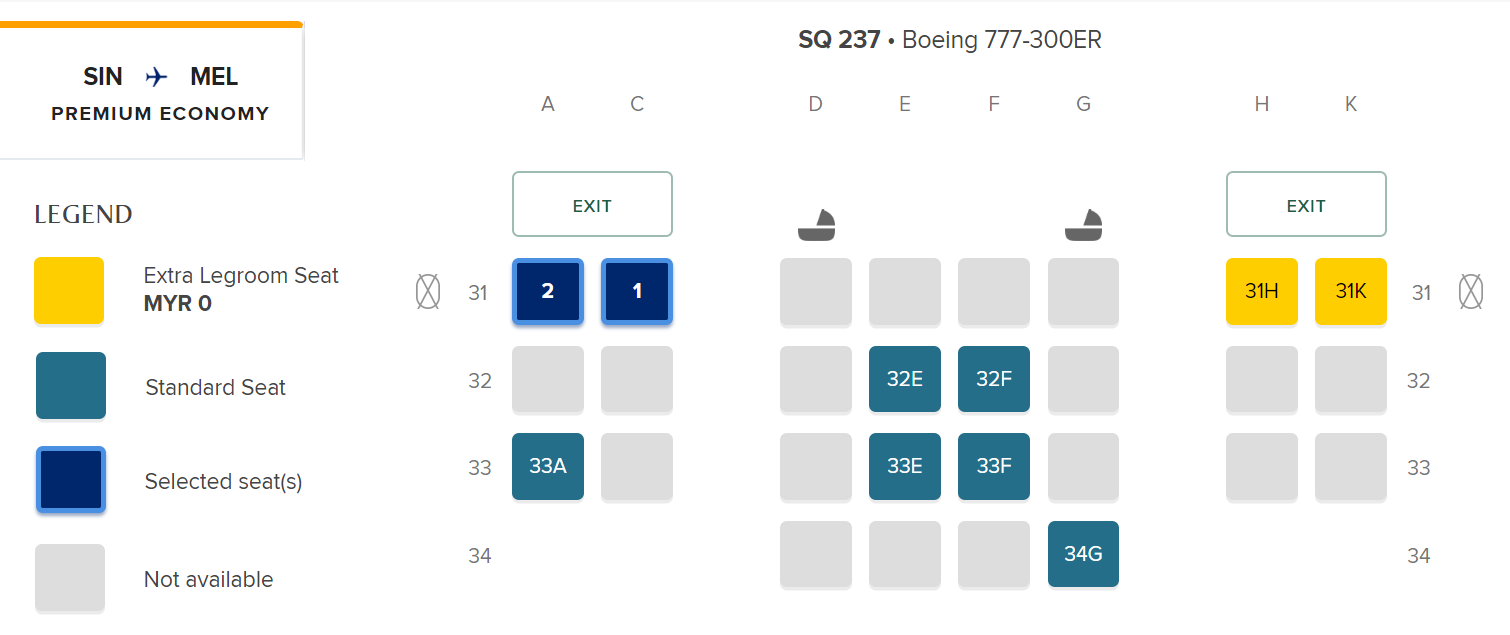 Even though I was missing a window, it was an overnight flight so I didn't miss too much. The exit door also has a small window to allow a bit of natural light during the morning.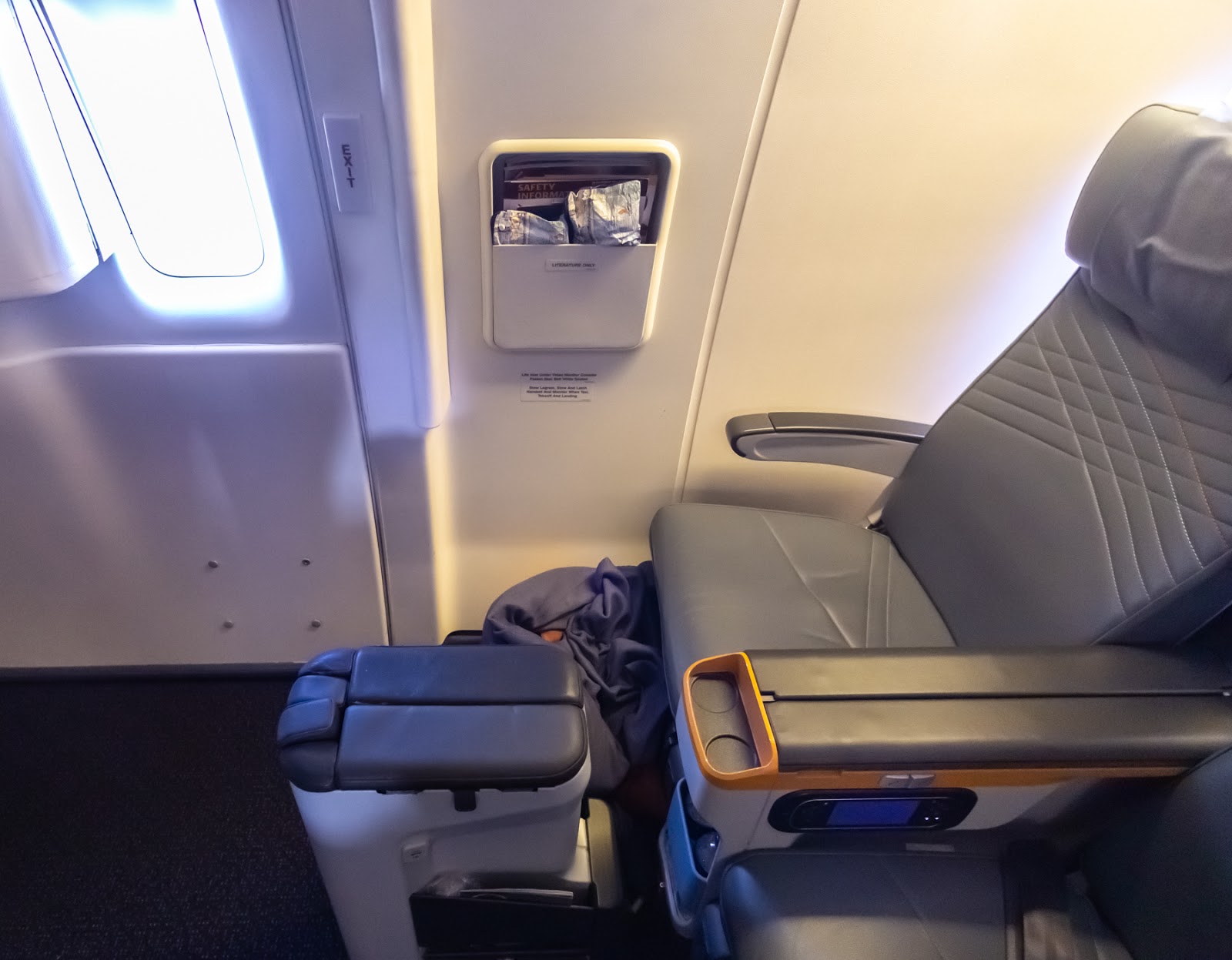 Seat choice
Here's a look at one of the Premium Economy seat maps again.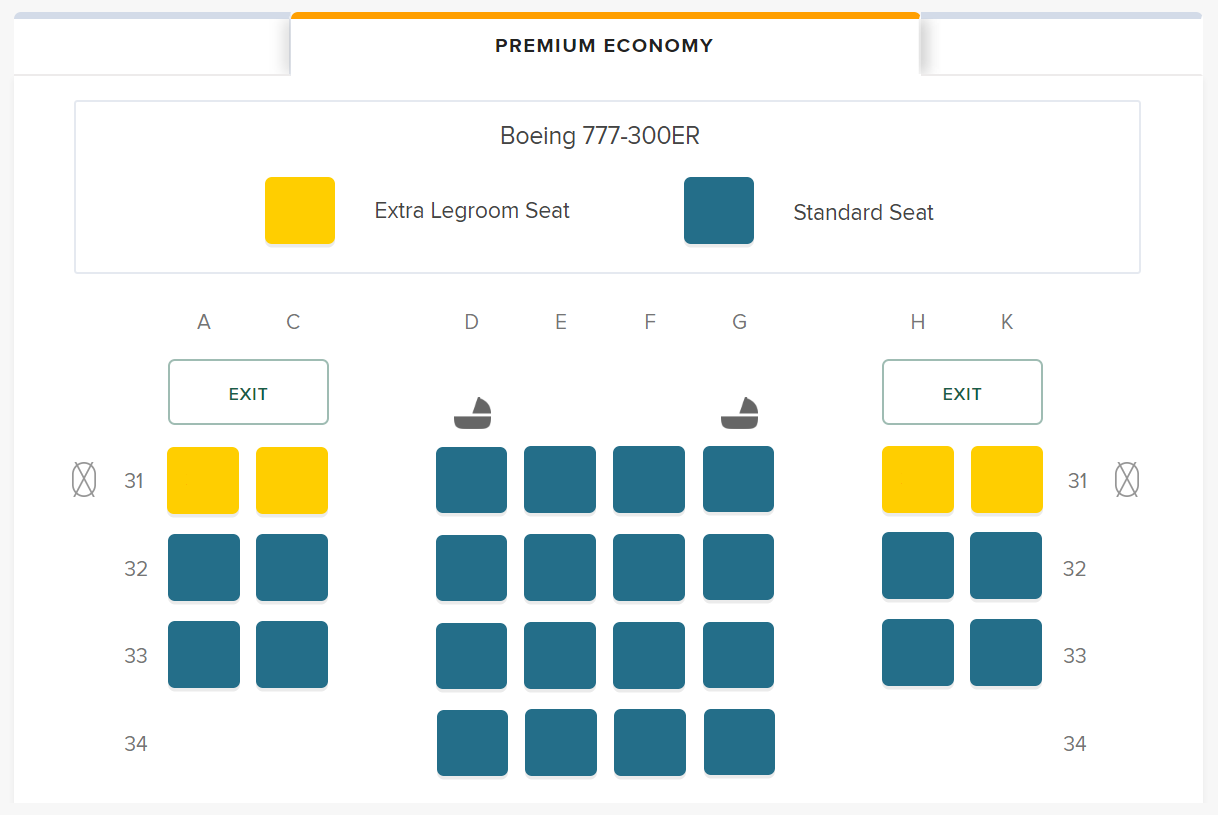 For couples, the best choices are obviously the pairs by the window. There is not much difference between rows unless you want the extra-legroom space.
Groups of three should try aim for the middle section, as it is likely one seat will remain free if Premium Economy isn't sold out. Travellers on their own should consider the aisle D or G seats, as there is a higher chance the centre E or F seats remain free.
Since it is such a small cabin in Premium Economy, there is not much room to be choosy, especially if you get a last-minute upgrade like me.
Food & drink
Singapore Airlines' premium economy meal service is similar to normal Economy in terms of presentation and choices (you won't get high-end drinks or lobster here).
The main differentiator is a Book the Cook menu which means you can pre-order a meal and not miss out on your first choice, which is nice to know.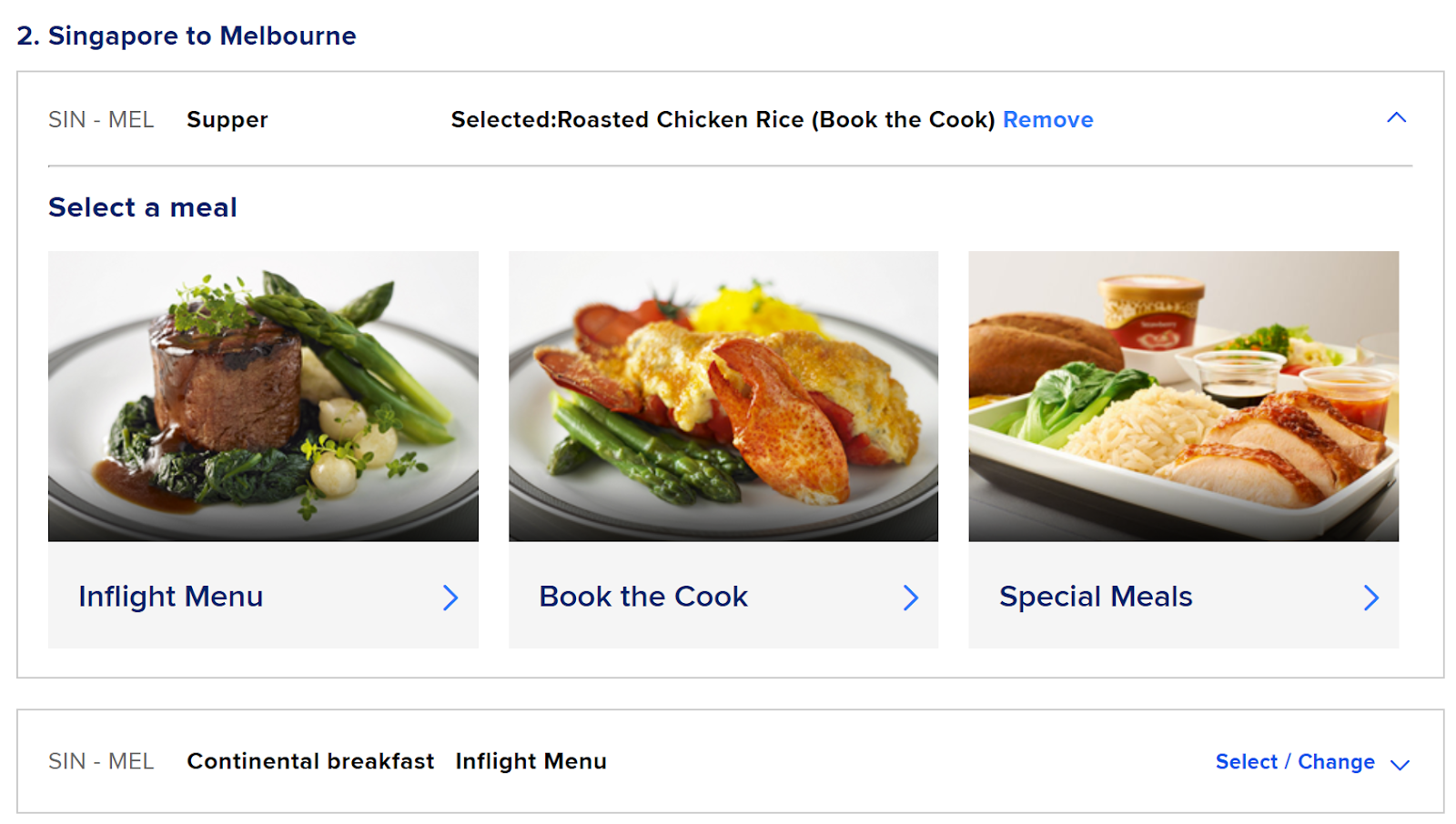 You can see the Book the Cook Premium Economy options for flights departing from Singapore here, including new 'wellness' dishes that have been introduced in September 2019.
Below is the Nasi Lemak, a classic Malaysian dish with fried chicken, coconut rice, omelette and grilled fish cake. The peanuts and anchovies were provided on the side, and when sprinkled on, made a decent hot dish.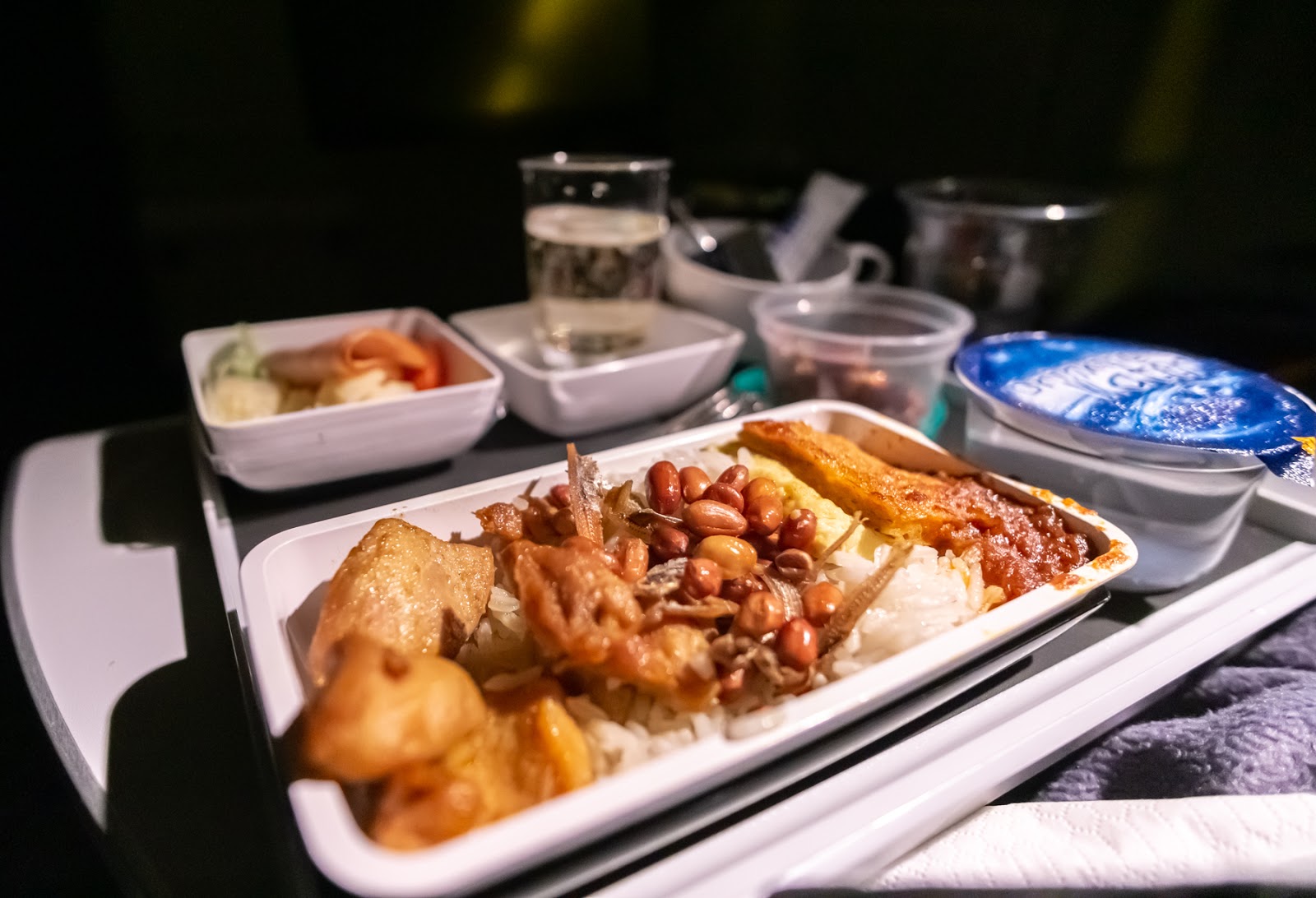 On overnight flights in Business Class, you have the option to choose a hot dish after take-off or before landing. In Premium Economy, mealtimes are set so there is no flexibility, unfortunately.
Before landing, a light continental breakfast was served.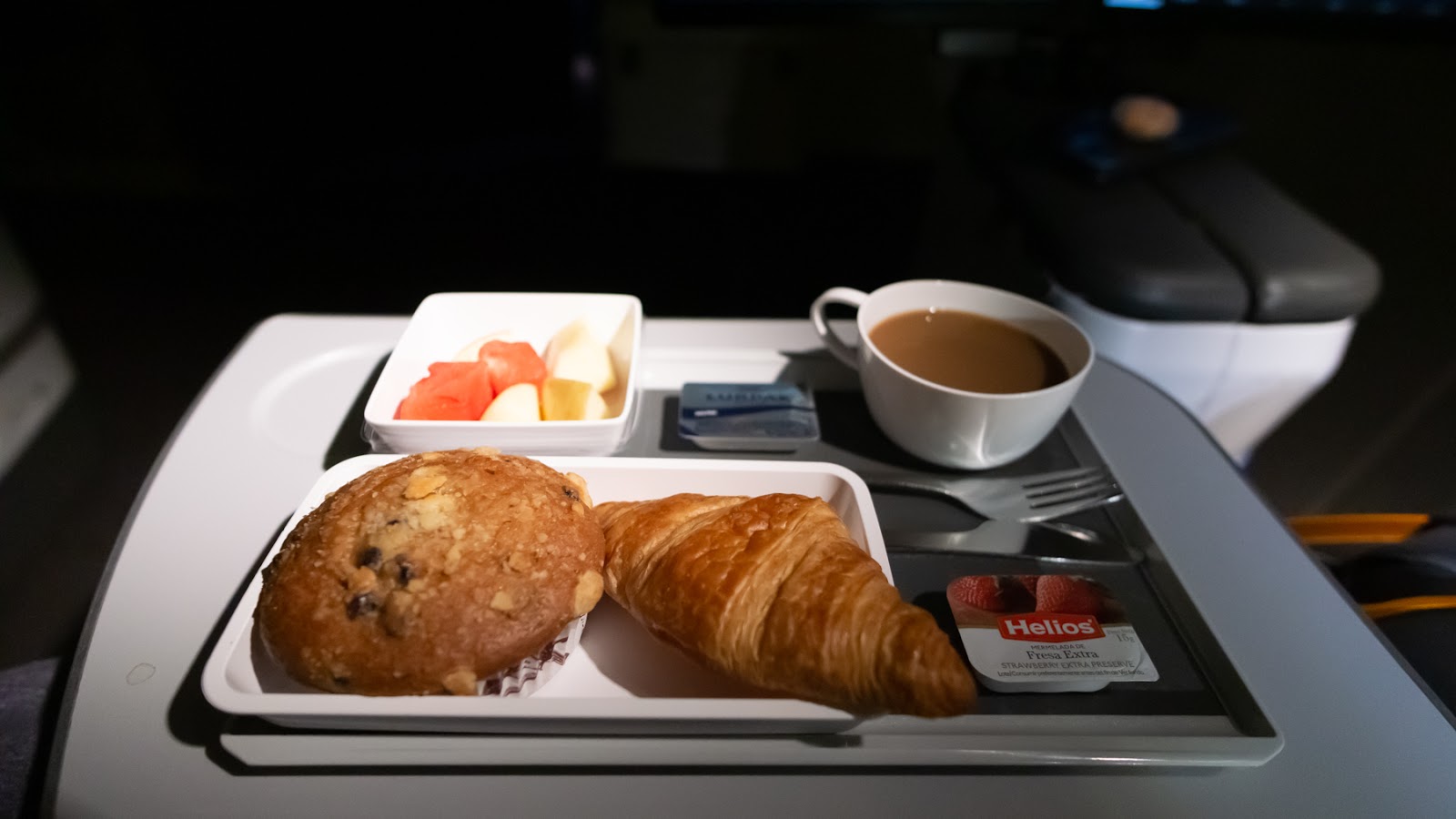 In terms of beverages, you can order anything that's provided in Economy (soft drinks, hot drinks, basic wines and spirits). The one difference is that Premium Economy includes a round of Champagne offered during mealtime.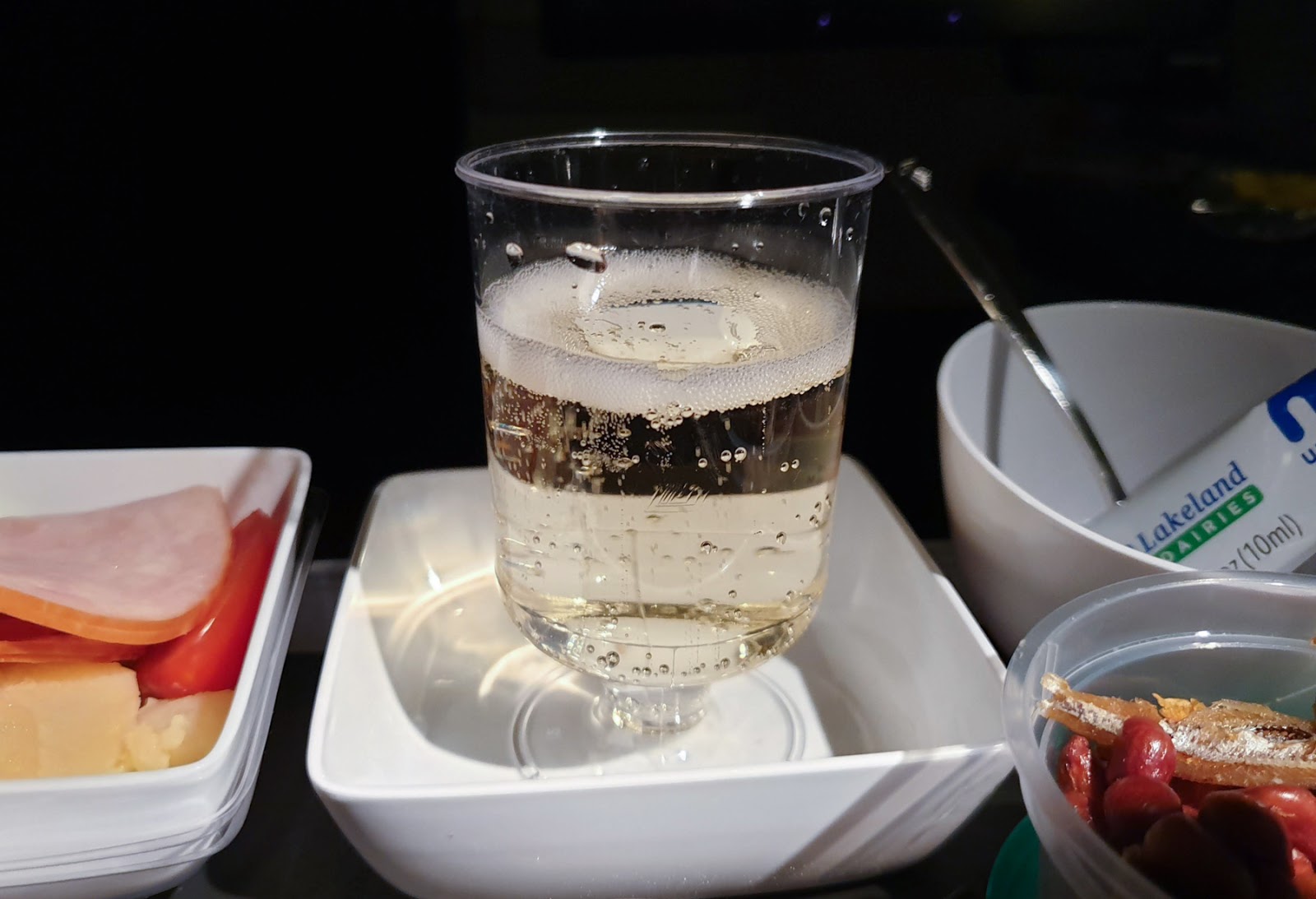 Unlike Qantas and Virgin Australia which offer a much more refined 'Business Class-like' experience with Premium Economy dining, Singapore Airlines has clearly taken the opposite approach. Book the Cook is a great addition, though.
Customer service
Service on Singapore Airlines is generally friendly and this flight was no exception. Since it was an overnight flight, I did have very minimal interaction with the crew.
They were efficient in serving the meals. Premium Economy does get served before Economy, so you can rest sooner.
Inflight entertainment
The KrisWorld entertainment system is one of the best out there, in my opinion. The screens are sharp and responsive, and there are always new-release movies to watch which you can browse here.
Amenities
At least on the Boeing 777-300ER, Premium Economy passengers have to use the Economy lavatories at the rear of the aeroplane. Unfortunately, one was out of service the whole flight which lead to longer lines before landing.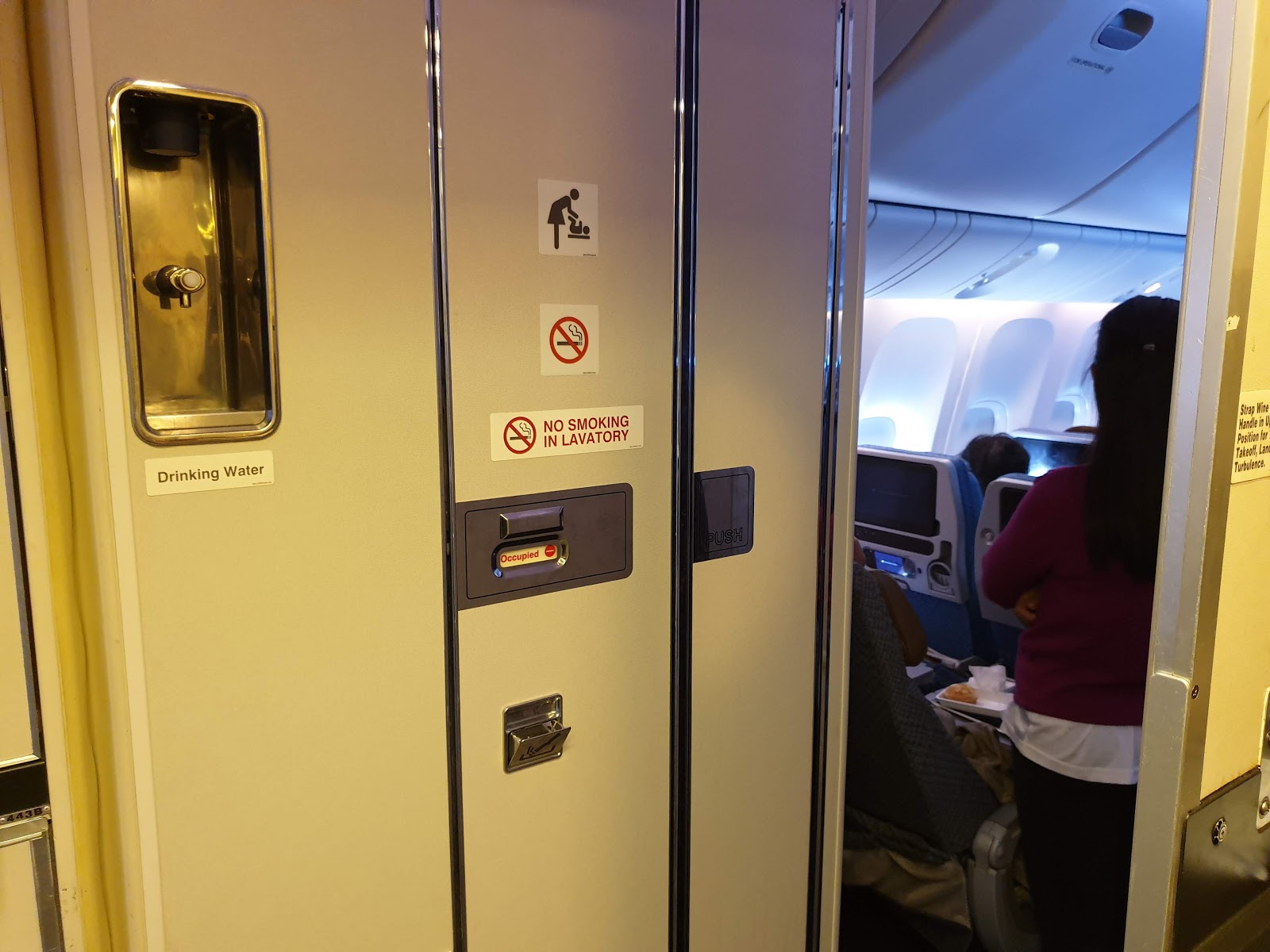 A small amenity kit is provided in Premium Economy, containing only socks and a dental kit. On your seat when you board is a pillow and blanket.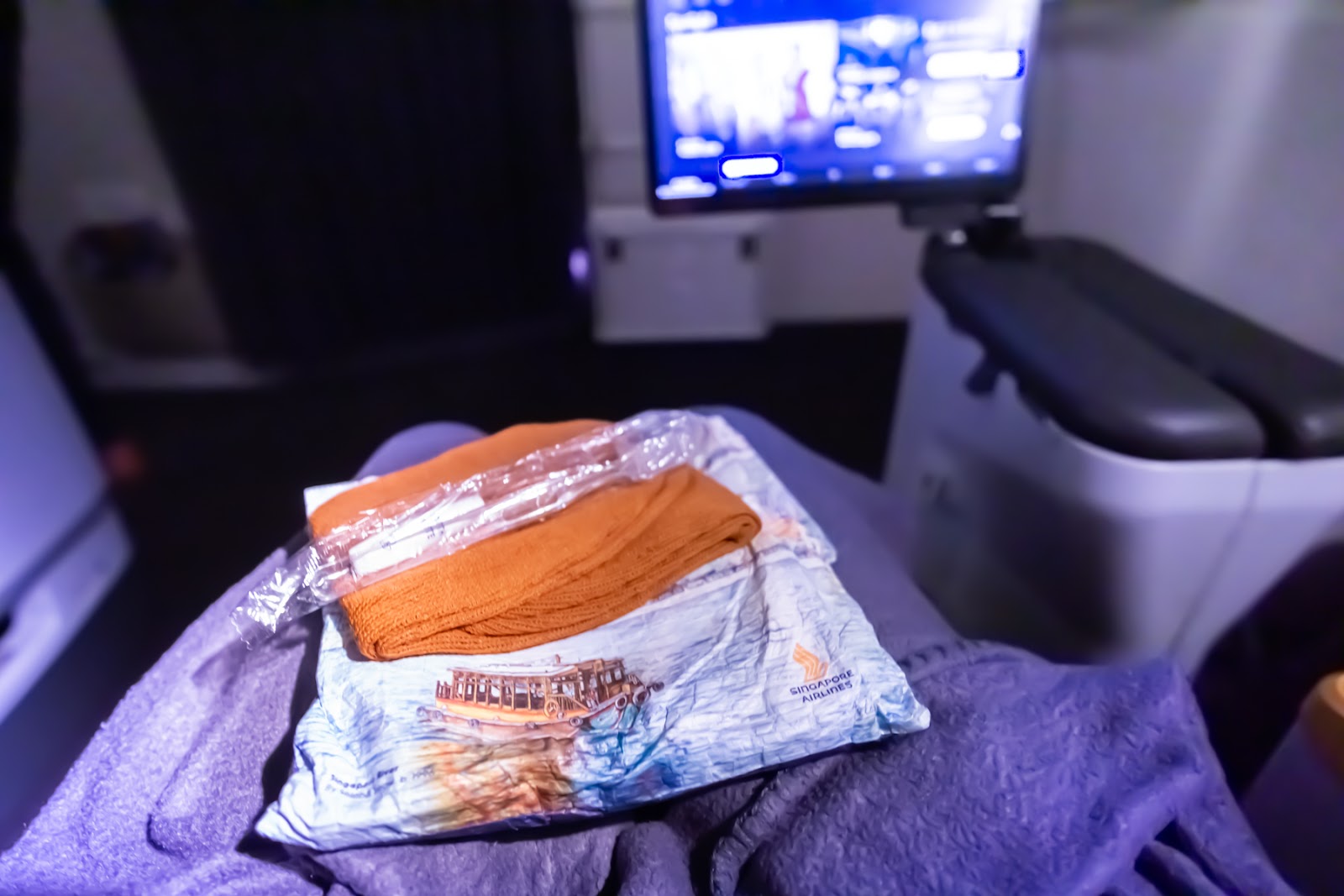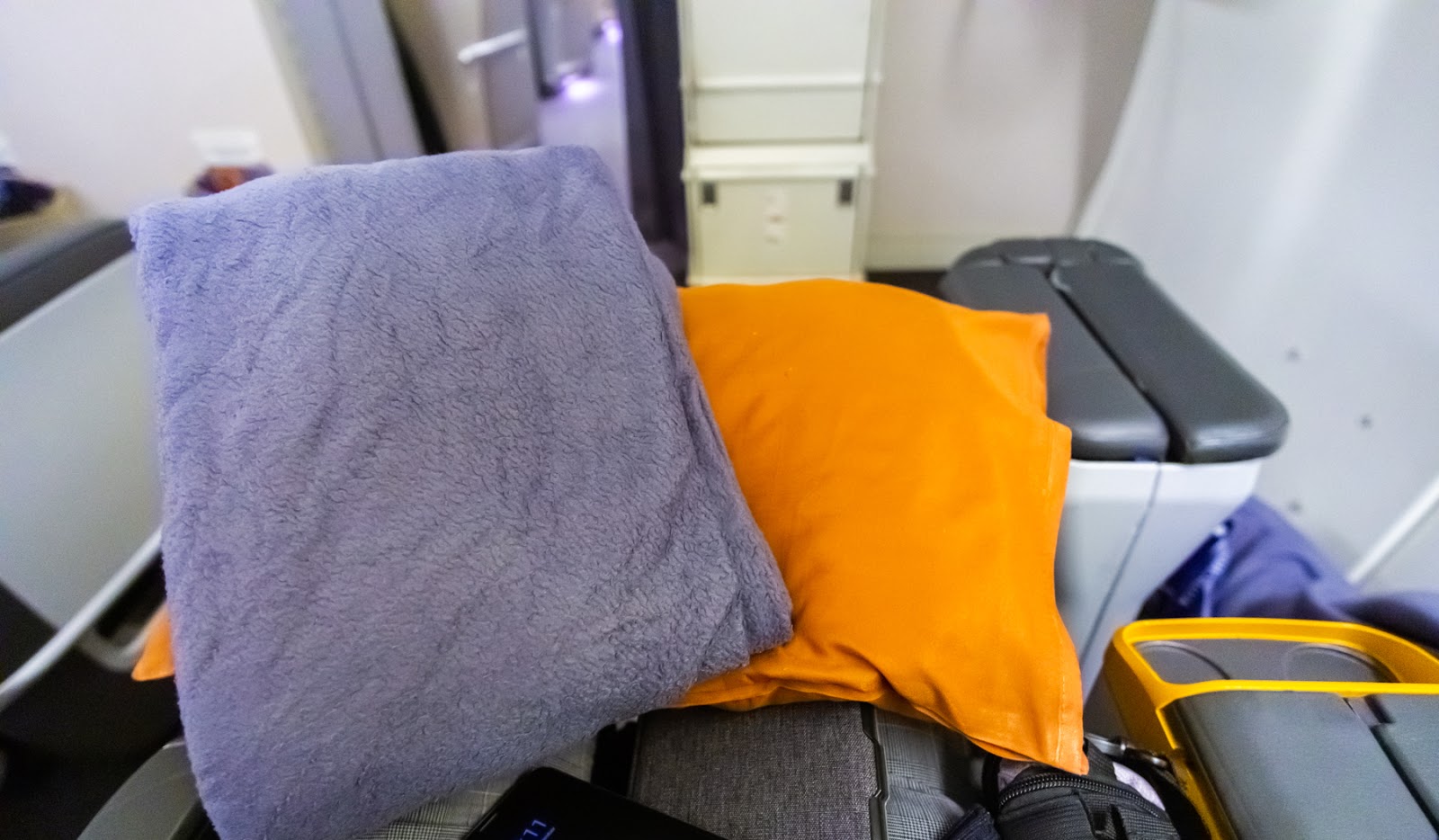 Finally, noise-cancelling headphones and a printed menu are also handed out before departure.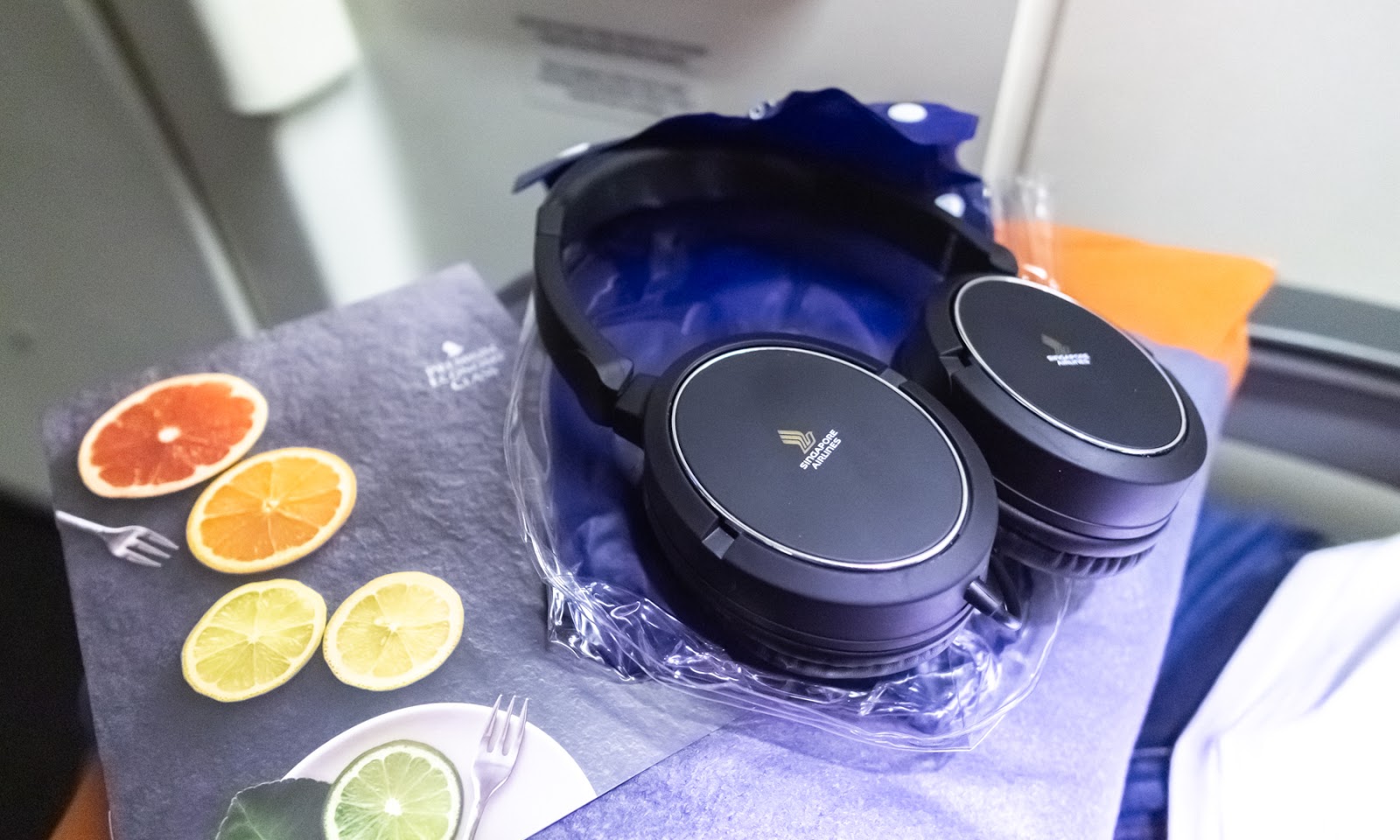 WiFi is available on all flights that have Premium Economy. Free access is only given to Business Class and PPS Club members (100MB) while First Class gets unlimited.
Otherwise, these are the prices you have to pay, which doesn't really work well with the weak AUD at the moment. Since I was sleeping the whole time, I didn't purchase a plan.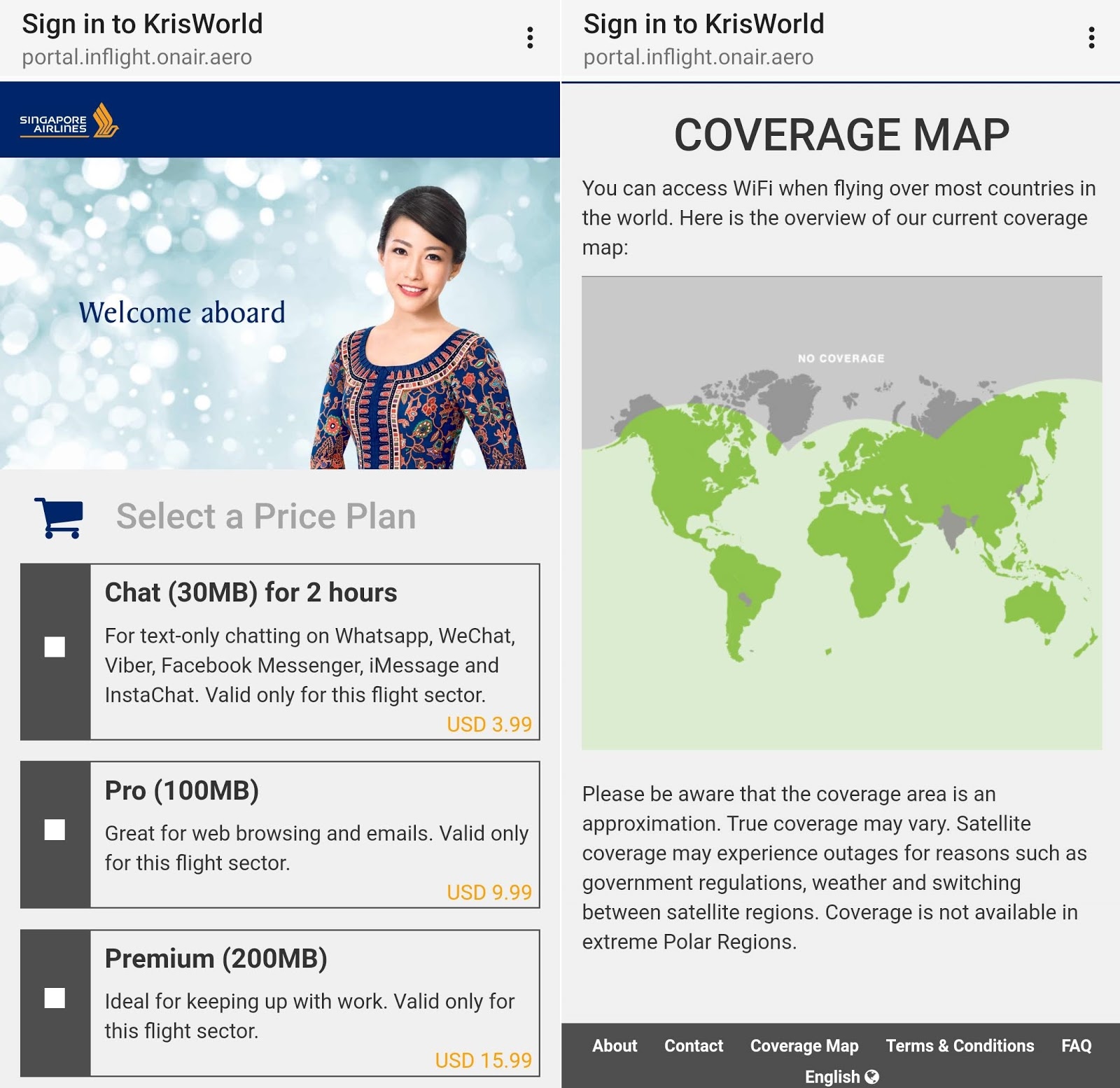 Wifi speeds on one of my previous SQ flights (A350 Economy) were relatively fast, topping at 10 Mbps downloads. Matt experienced speeds of ~3/2 Mbps download/upload on his A350 flight from San Francisco to Singapore.
How to redeem points for this flight
If you wanted to redeem points to fly from Australia (Sydney/Melbourne/Brisbane) to Singapore in Premium Economy, here is what you would need per person one-way:
| Cabin | Velocity Points | KrisFlyer miles |
| --- | --- | --- |
| Economy | 35,500 points | 28,000 miles |
| Premium Economy | 52,500 points | 47,000 miles |
| Business Class | 65,000 points | 62,000 miles |
Taxes are ~$87 AUD each way, per passenger. There is no Premium Economy Cabin flying to Perth, Adelaide or some Brisbane flights.
If you can't see availability on Velocity but there is on KrisFlyer, then you can transfer your Velocity Points to KrisFlyer at a 1.55 to 1 ratio (meaning you would need 72,850 Velocity Points to get 47,000 KrisFlyer miles).
However, it would be better value to redeem outright through Velocity if possible, unless you already have KrisFlyer miles earned some other way.
Lounge access
Singapore Airlines Premium Economy tickets do not include lounge access. With Velocity Gold status, I accessed the KrisFlyer Gold Lounge in Singapore, which is actually the Marhaba Lounge.
With a Priority Pass membership, there are plenty of other lounges to access in Singapore, Brisbane, Sydney and Melbourne as well.
Related reviews
Summing up: why choose this flight?
Singapore Airlines Premium Economy is good as a cheap upgrade from Economy class or if the cash fares are on sale, but I personally don't think it's really worth it for using points or miles.
You get a bit more space, but the same could be said for Economy exit rows, which I can often get for free anyway at 48 hours before the flight, or requesting it as a Velocity status member.
There isn't too much difference on the service or dining front, although the experience is a little bit more polished. There isn't any lounge access included either.
If you can save up the points or miles, save up for Singapore Airlines Business Class instead, which is a far more special experience and not too much more than Premium Economy.
What is great
Book the Cook options
Leg-rest and foot-rest
Bigger entertainment screen
Champagne service
What is not great
Still need to use Economy lavatories
No flexibility in dining times
Not much service differentiation from Economy
Singapore Airlines Premium Economy overview
was last modified:
March 15th, 2022
by