The dedicated Flybuys app makes it easy to view and manage your Flybuys account from the palm of your hand. We dive into some of the features of the updated app, including streamlined digital fuel dockets, personalised offers and the potential to boost your Velocity Points balance.
Flybuys app: your points at a glance
On the app home screen you'll see your current Flybuys points balance, and if you've got auto transfer turned on, any Flybuys points that you've converted to Velocity Points. Swiping left will bring up a brief overview of your Velocity account, including your Velocity Points and Status Credits. This is relevant since you can earn Velocity Status Credits with Flybuys. Here's a guide on how to make the most of the Flybuys-Velocity partnership.
Scrolling down, you'll find options to redeem your Flybuys points for money off your shop or at the rewards store. You can also view the weekly Coles catalogue and your activated offers in the app, which we'll cover in more detail below.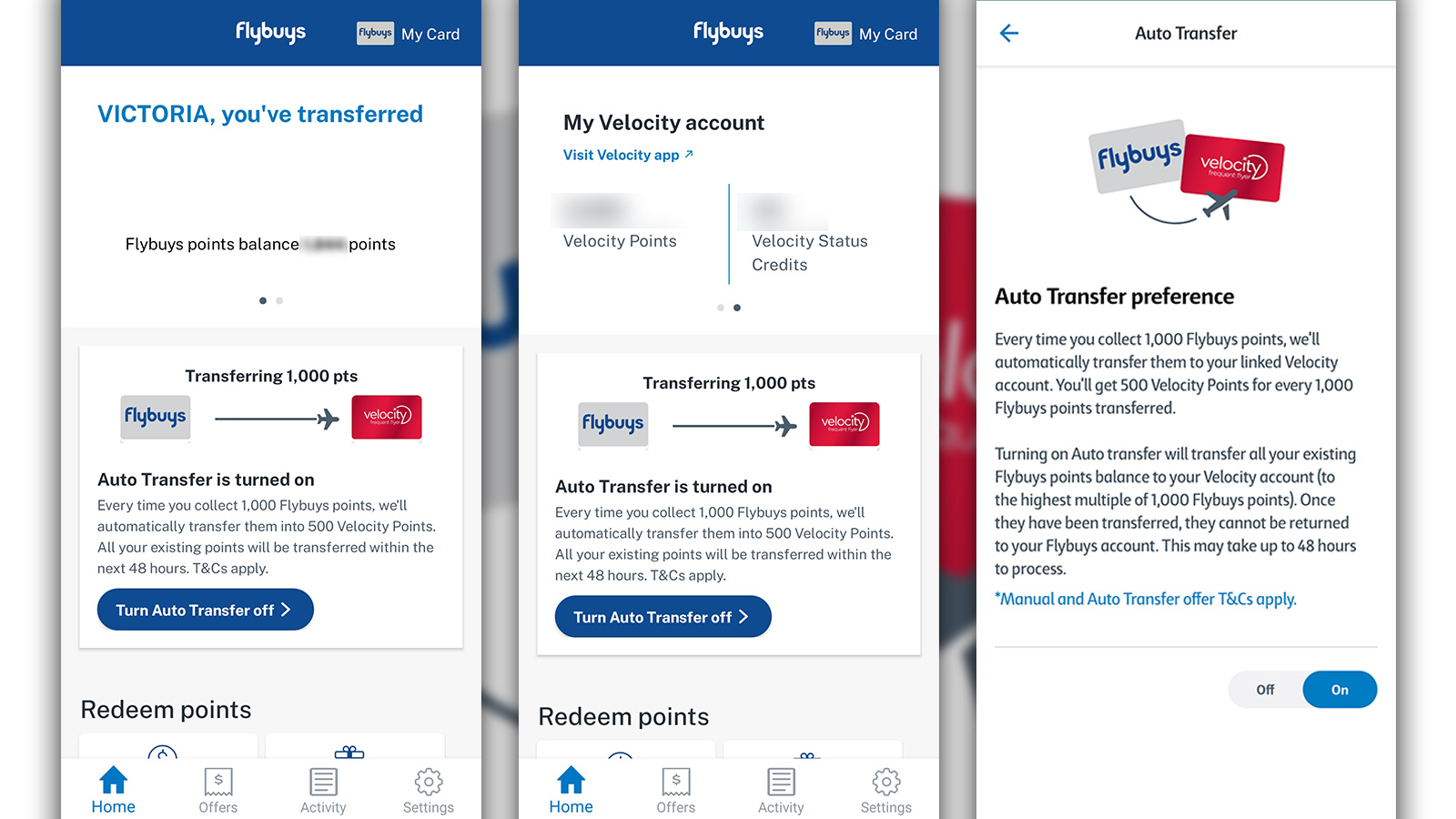 To access your Flybuys card quickly during checkout, pressing 'My Card' in the top right will bring up your Flybuys barcode to scan. From here, you can also add your Flybuys card to your mobile wallet, if you've got an eligible device.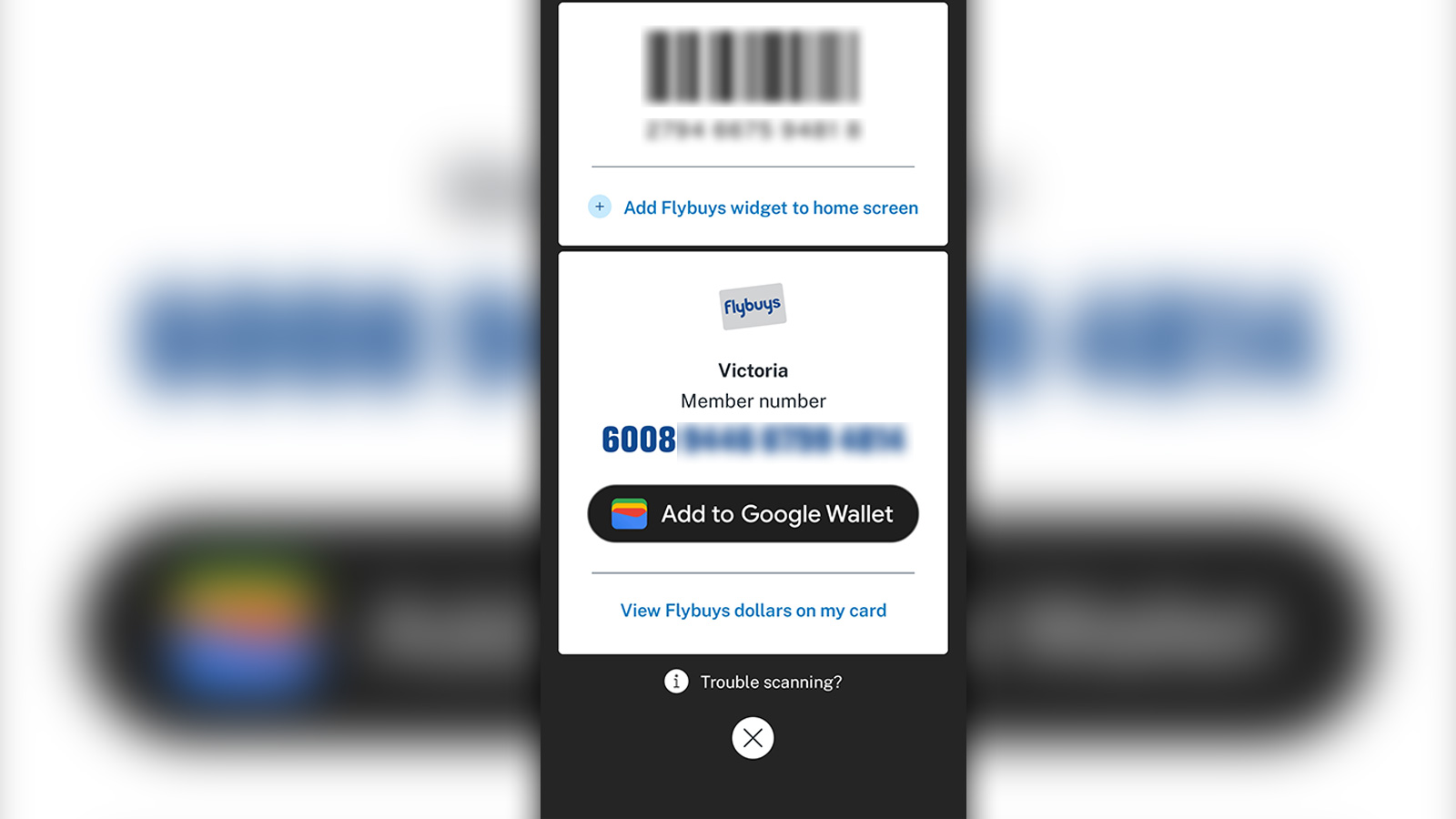 Flybuys app: view and shop the Coles catalogue
The Flybuys app puts the latest Coles specials in your pocket – literally. From the home screen, you can access the current Coles catalogue, and even add items from the catalogue straight to your online cart.
The app doesn't provide full functionality to shop online with Coles. But here's a tip – once you've added at least one item to your cart, pressing 'Checkout' will redirect you to the Coles mobile site so you can continue the rest of your shop.
Flybuys app: view and activate your offers
Offers are a great way to boost your Flybuys points balance, but you'll need to activate them first. Under the 'Offers' tab you'll find all of your personalised offers, including new and activated deals. Given that these offers are tailored to your preferences and shopping habits, it's worth checking the Flybuys app of another member of your household. It's likely they'll have different offers, so you can plan accordingly and maximise your Flybuys points at the checkout.
Under your offers you'll find your digital fuel dockets and their individual expiry dates. You'll need to activate your digital fuel offer before you can redeem it.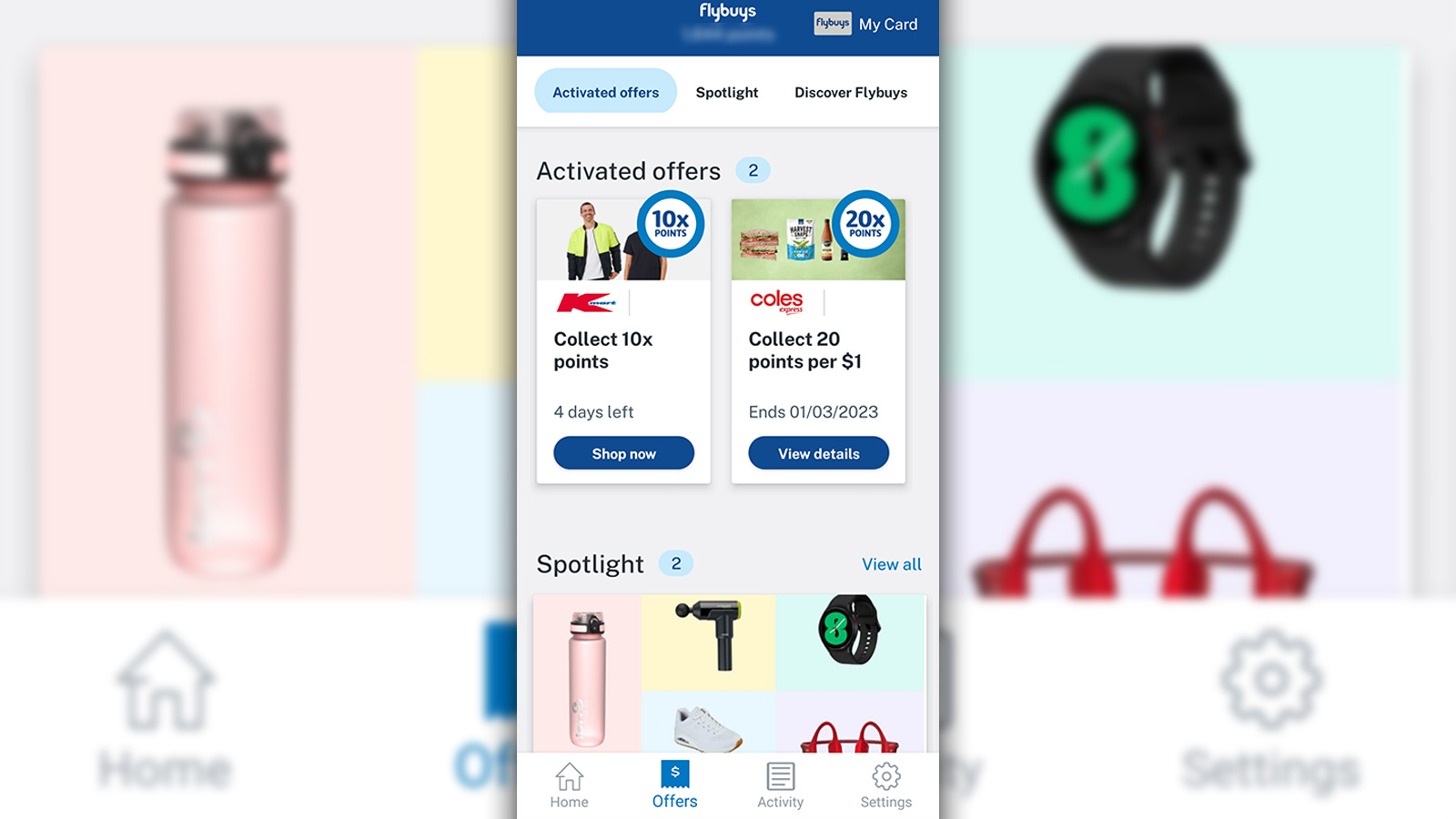 Ad – Scroll down to continue reading.Minimum spend, terms & conditions apply.
Flybuys app: activity
Under the 'Activity' tab, you'll find a list of all points-earning activities and transactions. Your total spend and points received are clearly outlined, including any points bonuses.
Unfortunately the app doesn't have an electronic receipt function just yet, so you won't be able to view the full details of each transaction. But if you want a clearer overview of your activities, you can sort your transactions by the type of points (standard, bonus or redeemed) and by month.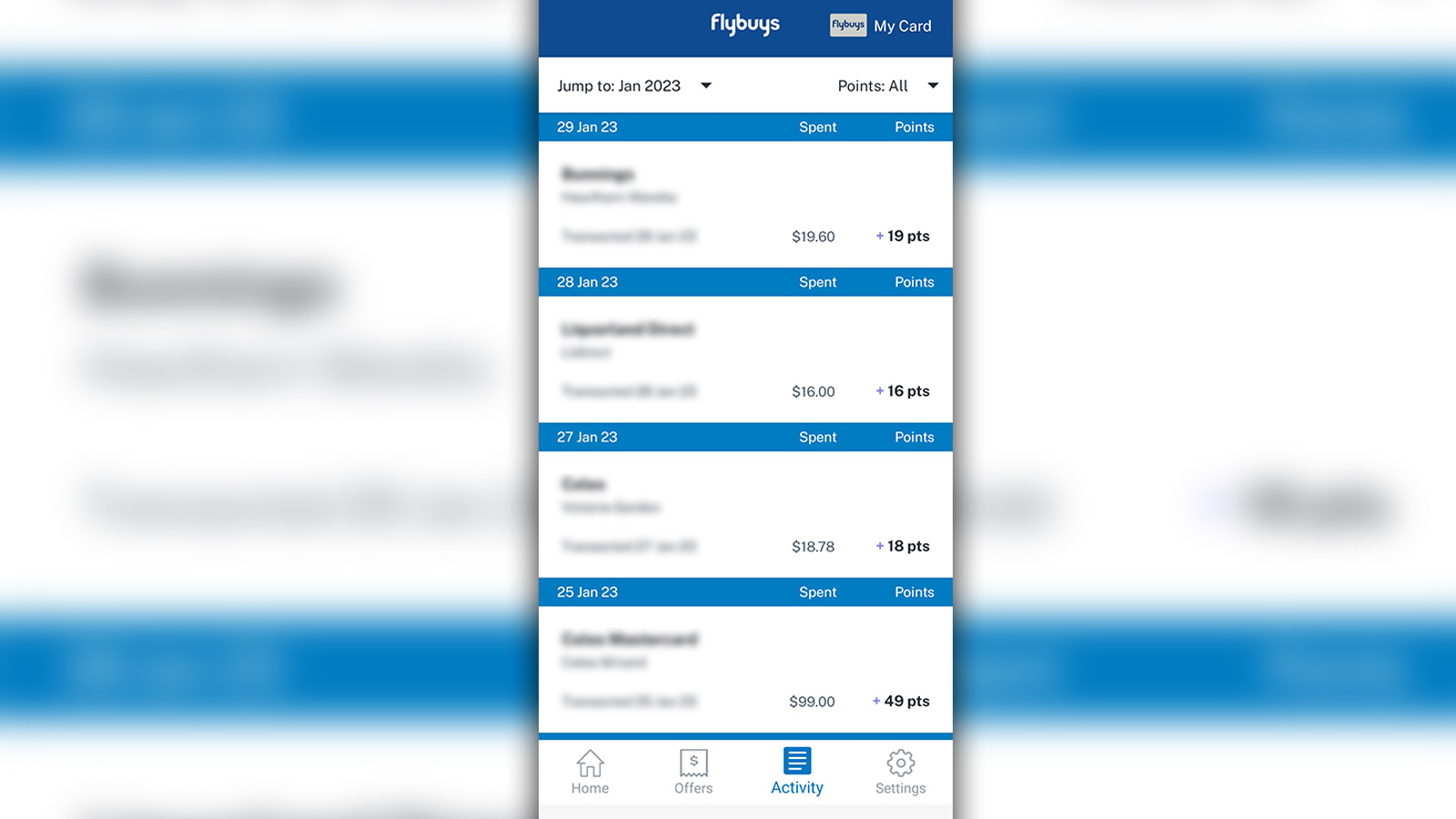 Flybuys app: toggling your reward preferences
Quickly toggle your reward preferences in the app. You can turn the Velocity Points auto transfer on and off from the home screen, but for your fuel preferences you'll have to dive into the 'Settings' tab. Here you can select how your fuel offer functions – either receive 4c off per litre at the pump or collect eight Flybuys points per litre.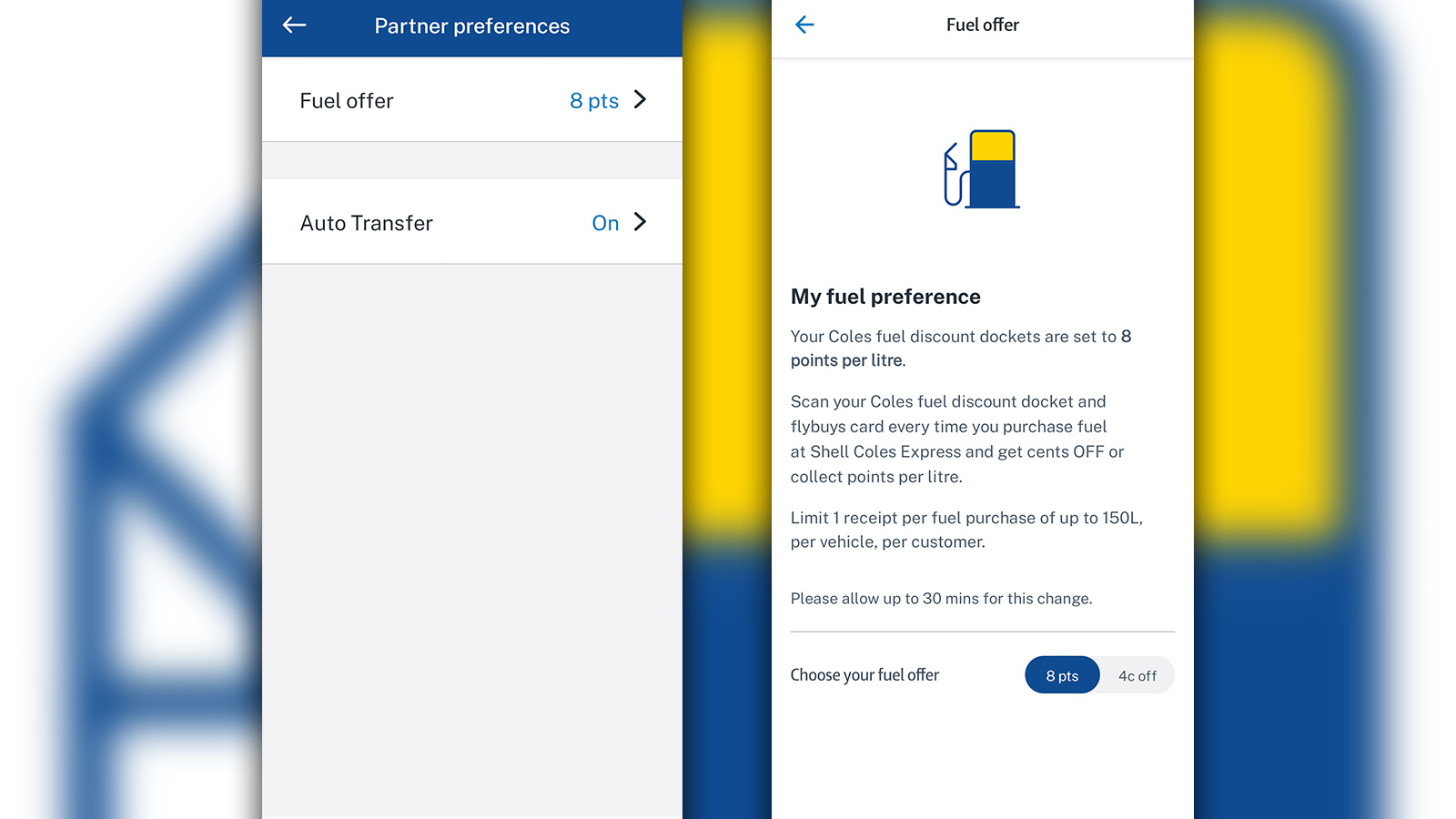 Summing up
The Flybuys app offers an effective way to keep track of your rewards. While not as feature-packed as the Everyday Rewards app, it's still a great tool for monitoring your points-collecting activities, activating any bonus offers, and accessing your digital Flybuys card and fuel dockets.
Frequently Asked Questions
Is there an app for Flybuys in Australia?
Yes. Flybuys has released its dedicated mobile app, making it easier for users in Australia to manage their Flybuys account.
How do I set up Flybuys on my phone?
The Flybuys app can be downloaded for Android and Apple devices from the relevant app store.
How do I get a digital Flybuys card?
When you download the Flybuys app, you can access your digital Flybuys card from the home screen. You'll also have the option of adding your digital Flybuys card to your device's mobile wallet.
Is the Flybuys app free?
Yes. The Flybuys app is free to download and use, and it's free to become a member of the Flybuys program.
Guide to the Flybuys app
was last modified:
August 24th, 2023
by