The Qantas Premier Platinum Mastercard has 80,000 bonus Qantas Points on offer for new cardholders until 29 September 2022. Comes with a discounted first-year annual fee of $225 ($299 p.a. ongoing), includes 2 single-entry complimentary lounge invitations and 0% p.a. for 18 months on Balance Transfers.
A 1% balance transfer fee applies. Reverts to cash advance rate. No interest free days apply to retail purchases while you have a Balance Transfer.
You will be ineligible to take up this offer if you currently hold, or have held a Qantas Premier Mastercard in the previous 12 months.
A minimum spend of $3,000 on eligible purchases within the first 3 months of card approval is required to receive 80,000 bonus Qantas Points*.
---
National Australia Bank Limited (ABN 12 004 044 937, AFSL and Australian Credit Licence 230686) ("NAB") is the Credit Provider and Issuer of Qantas Premier credit cards on behalf of Qantas Airways Limited ABN 16 009 661 901. NAB has acquired the business relating to the Credit Cards from Citigroup Pty Limited (ABN 88 004 325 080, AFSL and Australian Credit Licence 238098) ("Citi") and has appointed Citi to assist to administer the products.
---
The Qantas Premier range also includes the low annual fee Qantas Premier Everyday Mastercard, and the higher-end Qantas Premier Titanium. All cards are issued by NAB.
How you could use the bonus points from this card
All redemption figures above exclude any accompanying taxes, fees and charges. Points redemption price data is provided by a third-party. For an exact total redemption cost, please consult with the airline directly.
---
Disclaimer: These are example redemptions only and due to COVID-19 travel restrictions, some of these routes may not be currently available.
---
Qantas Premier Platinum Mastercard
Card Details
Card
Qantas Premier Platinum Mastercard
Loyalty Program
Qantas Frequent Flyer
Points earned from spend
1 Qantas point per $1 spent on eligible domestic spend up to $10,000 (10,000 points) per statement period, then 0.5 Qantas Point per $1 thereafter

1.5 Qantas Points per AU$1 spent on international spend
Points earned with Qantas spend
1 additional Qantas Point per $1 spent on eligible Qantas spend
Points Cap
no cap
Earns points at ATO
no
Insurance included
Travel Insurances (PDS)
Overseas transaction fee
3% of the transaction amount
Minimum Credit Limit
$6,000
Minimum Income
$35,000 p.a.
Annual fee
$299 p.a. ongoing
The Qantas Premier Platinum Mastercard focused on maximising your points earn from day-to-day spend, with 1 Qantas Point per $1 up to $10,000 per statement period and 0.5 Qantas Points per dollar thereafter. There's also an additional bonus point for spend on Qantas products and services, such as flights and Qantas Club membership, and a bonus half-point for overseas purchases.
The card terms and conditions are here and the rewards terms and conditions are here. Amongst other exclusions used in the definition for Eligible Transaction (full definition can be found in the Qantas Premier Credit Card Rewards Terms and Conditions, an Eligible Transaction does not include transactions from operating a business, or from government transactions, e.g. paying the ATO, council rates, and even Australia Post.
Qantas-specific benefits of Qantas Premier Platinum
The following benefits are available outside of Qantas Points earned from spend:
Up to 20% discount on selected domestic companion fares when booking with the card through the Qantas Premier concierge service
Two single-entry Qantas Club or select Qantas operated International Business Lounge Invitations each cardholder anniversary year
Complimentary domestic and international Travel Insurance
Qantas Domestic companion fare discount
The companion flight discount works as follows: you can take up to eight passengers at a discounted rate, once per year maximum, on selected Qantas domestic companion flights when booked through the Qantas Premier concierge using the Qantas Premier Platinum card. You'll receive a 10% discount on red e-deal, 15% on Flexible Economy and 20% on Business fares. The full terms and conditions of this benefit are here.
Of note from those terms, the discount is only applicable to the base fare, not the total fare including taxes. In addition, the terms state that:
Companion Fare Benefit discounts are not available on all fare classes and in some instances, there may be sale fares available to the general public that are cheaper than the fares offered under the Companion Fare Benefit.
So be warned that the deepest discount fares may not be matched by what you can earn from the companion fare discount either.
The companion fare discount is only usable once a year and can't be reinstated in case of a cancelled booking. Plus, you can only book eligible flights using the discount if the primary Qantas Premier cardholder is travelling on the booking.
All up, I see this being most useful for folks booking family travel over more expensive periods, e.g. taking multiple travellers where red e-deal fares are probably not available, and you may be unlikely to cancel.
Qantas lounge passes
Enjoy two single-entry complimentary Lounge Invitations each year on your card anniversary. These passes can be used at domestic Qantas Club lounges or Qantas-operated International Business Lounges (excluding Los Angeles Tom Bradley Terminal International Business Lounge) in accordance with the Qantas Premier Platinum Credit Card Airline Benefit Terms and Conditions and the Qantas Lounge Invitation Terms and Conditions.
Qantas' credit card partners are focussing on rolling out digital instead of paper lounge passes, so it is no surprise that Qantas' own card is going to use the same system.
You can view, as well as transfer, your invitations to any other Qantas Frequent Flyer member on the Qantas Complimentary Lounge Invitations website.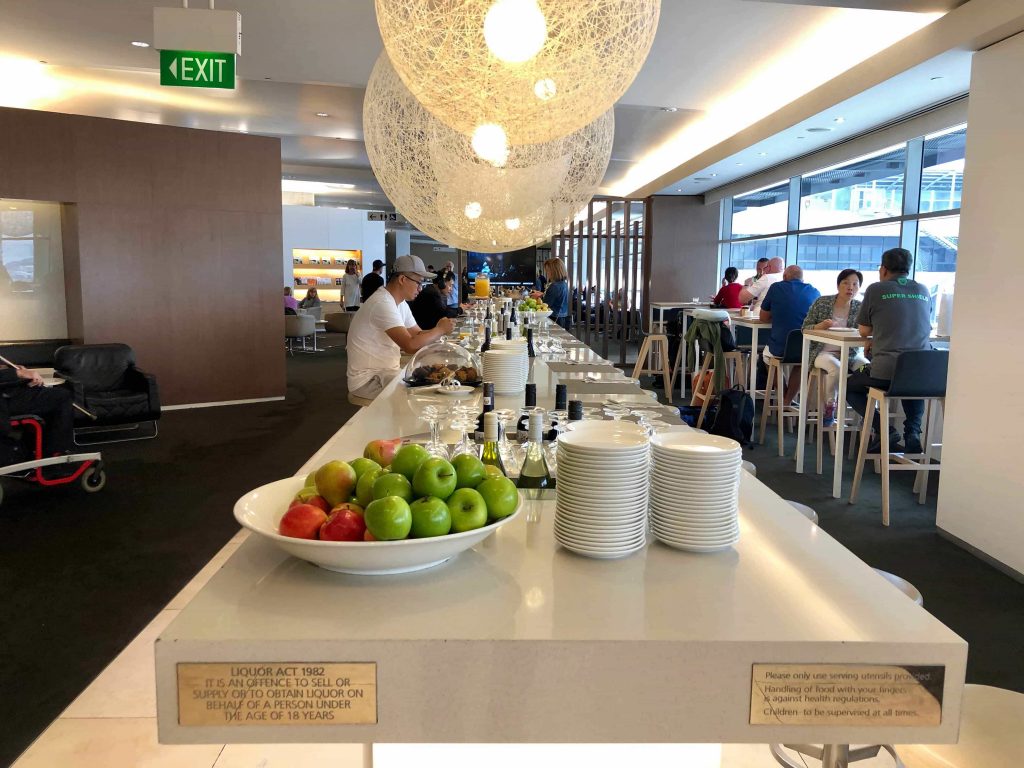 Qantas Money Apple Pay support
Qantas Money cards now support Apple Pay, meaning you can now use their cards on your compatible Apple device for easier payments.
Frequently asked questions
What is Qantas Premier Concierge?
The Qantas Premier Concierge is a service that can provide assistance to primary Qantas Premier Cardholders for travel, entertainment, lifestyle and shopping tasks. This includes restaurant reservations or sourcing tickets to events. There is no extra charge for this service. Call the Qantas Premier Concierge on 1300 992 700 anytime: 24 hours a day, 7 days a week.
How do I pay my Qantas Premier card?
You can pay your Qantas Premier card through BPay (Biller Code: 266536 and your card number as the reference), or direct debit an amount of your choosing from your bank account through Easi-Pay. 
Alternatively, take your Qantas Premier credit card to any Australia Post office displaying the [email protected] symbol, together with your cheque, EFTPOS or cash payment. More information here.
What do the bonus Status Credits count towards?
Bonus Status Credits (if available) will count towards attaining any tier from Silver to Platinum One as well as Lifetime Status. Tiered members who have already benefited from the status extension, and Bronze members, could use the bonus Status Credits to help attain the next tier.
Summing up: the Qantas Premier Platinum Card
Qantas Premier Platinum is a solid option for earning Qantas Points from your spend, with no points cap. You'll need to factor in the restrictions mentioned above on government transactions though.
The discount companion flight benefit has some conditions, so to have this offer be of significant value you'll need to be aware of the restrictions with how it is booked, how fares are priced and how it can be used to get the most value from it.
The extra 0.5 Qantas Points per dollar earned on international transactions helps when using your card on international spend — but while you'll pick up an extra 0.5 Qantas Points per dollar vs domestic spend, you'll pay an equivalent additional fee of 6c per point (0.5 points per dollar with the 3% additional fee for international transactions).
The Qantas Premier Platinum card definitely deserves to be considered if you are in the market for a Qantas Points-earning Mastercard, especially for those who spend with Qantas and will be able to earn more bonus points as a result.
Terms and conditions
* Offer extended to 29 September 2022. 80,000 bonus Qantas Points offer is available to new approved Qantas Premier Platinum credit card account holders who apply by 29 September 2022, 11:59pm (AEST). 80,000 bonus Qantas Points will be awarded when $3,000 or more is spent on eligible purchases within 3 months from card approval. Eligible transactions do not include Cash Advances, Balance Transfers, Refunds, Chargebacks and Special Promotions. Bonus Qantas Points will ordinarily be credited within 6 – 8 weeks of meeting the spend criteria. Any bonus Qantas Points will be forfeited if you no longer hold or close your Qantas Premier Platinum Credit Card Account before they appear in your Qantas Frequent Flyer Account. Please note that the bonus Qantas Points will not be awarded if you are currently a primary cardholder of another Qantas Premier Everyday, Qantas Premier Platinum or Qantas Premier Titanium credit card, or have closed, or qualified for bonus Qantas Points on any of those Qantas Premier credit cards within the last 12 months. All rewards are subject to the Qantas Premier Credit Card Rewards Terms and Conditions. The account needs to be in good standing for bonus points to be awarded. Offer extended to 29 September 2022.
80,000 bonus Qantas Points plus a discounted first year annual fee with the Qantas Premier Platinum
was last modified:
June 9th, 2022
by