I found myself in Singapore with an overnight stop between two flights on two separate airlines. Rather than heading out to the city and back the next morning, I decided to look at the numerous hotels at Singapore Changi Airport and settled on the Crowne Plaza, which was also the perfect spot to test my trial IHG Spire Elite from a status match.
The Crowne Plaza Changi consistently ranks as the world's best airport hotel, and again in 2020 was awarded the World's Best Airport Hotel by SkyTrax for the sixth consecutive year. It's not hard to see why. Located landside, you need to clear immigration and customs to access it, but it's directly connected to Terminal 3 and also easily accessed from the other terminals.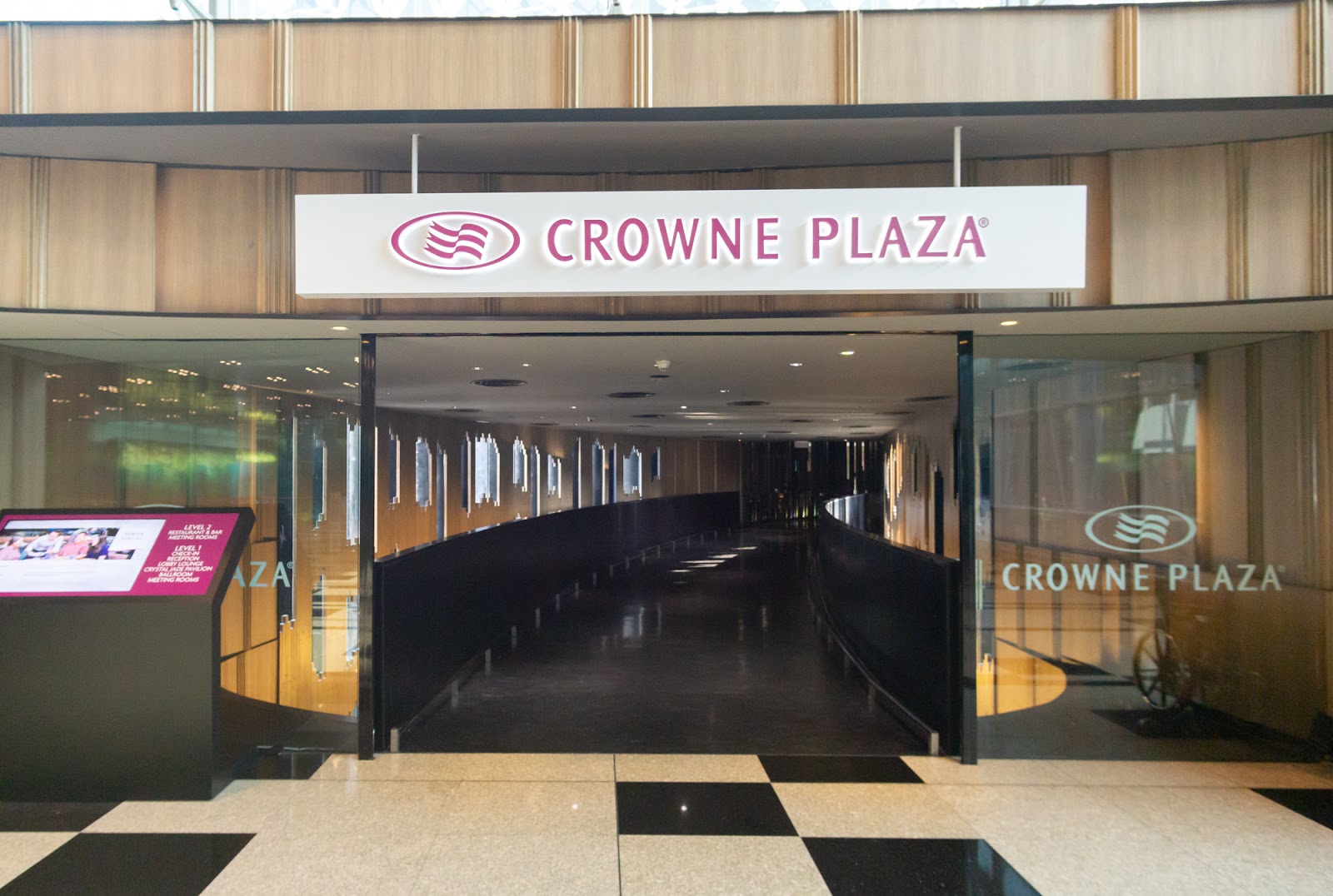 The hotel is surprisingly popular with locals as a wedding destination too, as it has the full suite of ballrooms, function rooms, restaurants, pools, bars and lounges you'd expect from a 5-star property.
As such, room rates are accordingly pricey. I booked a base-level Deluxe Room with a 'Jump Start Your Weekend' package for $231 SGD, which ballooned to $272 SGD ($293 AUD) after mandatory taxes. The rate included complimentary breakfast, 4pm checkout and a $30 SGD room credit for dining.
Incidentally, using IHG points for a Reward Night proved to be terrible value, so I wouldn't recommend it unless it was one of their PointsBreaks promotions.

About a week before my stay, I found that my booking had been changed to a Premier Room for free, which is one category higher. There were also e-Standby upgrades available to purchase, but I didn't opt for any.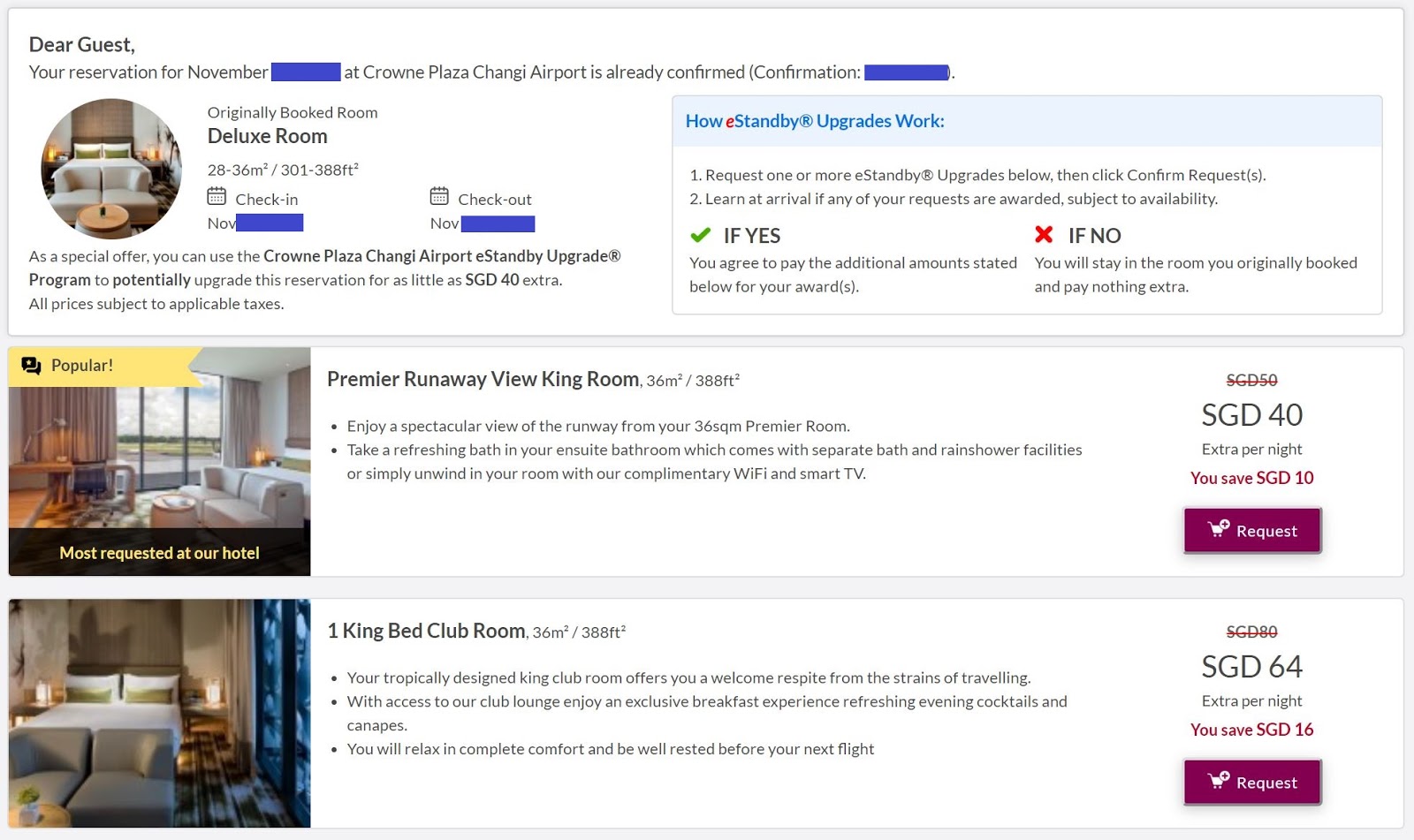 Here's the view of the Crowne Plaza through the main lobby, where you'd arrive if coming from town. The Lobby Lounge is to the left of the check-in area, while upstairs has the main Azur restaurant and other bars. Club Lounges and other facilities are on the 3rd floor.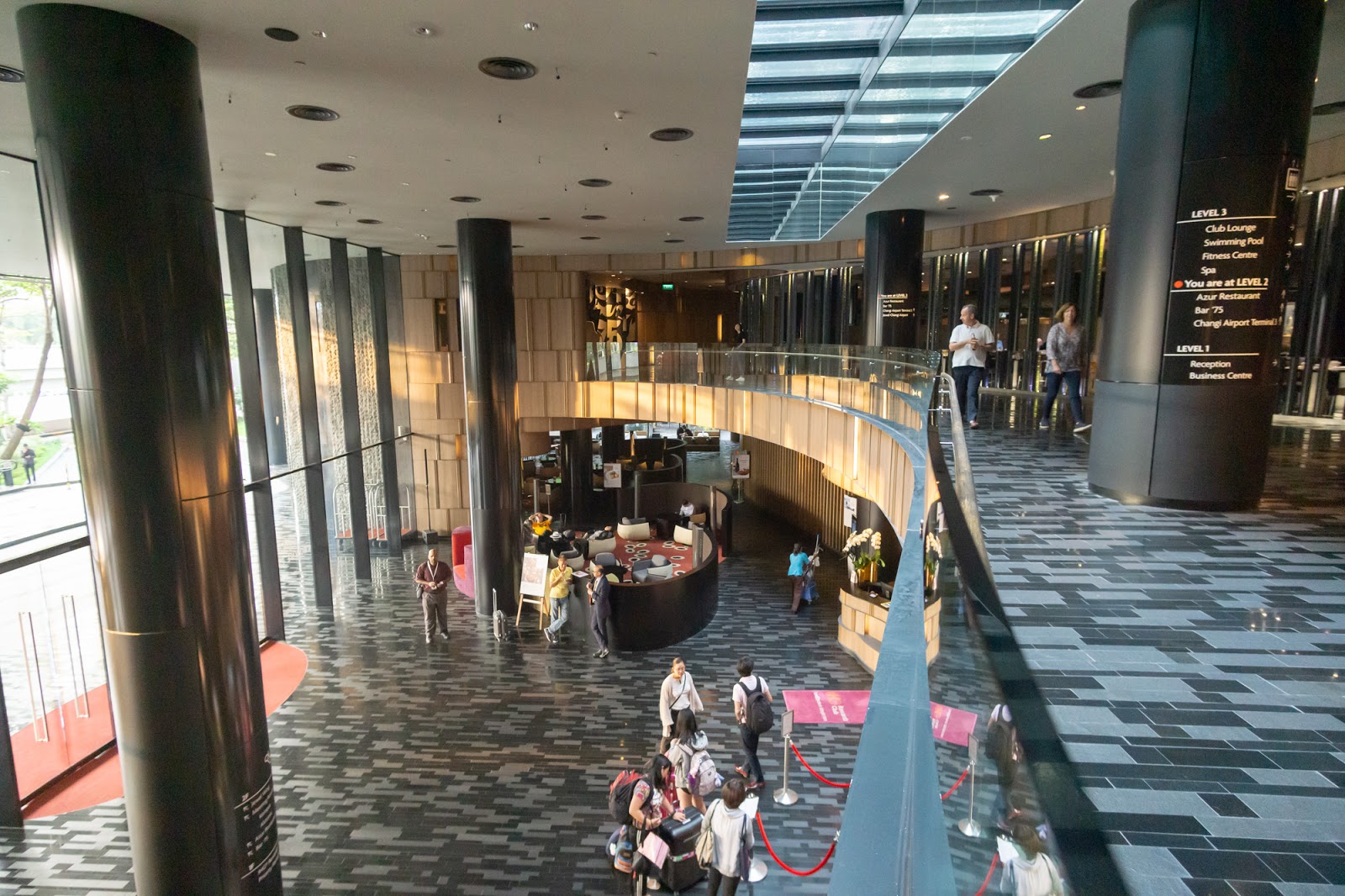 Check-in was easy with a dedicated line for IHG Elite members. As a Spire Elite member, I was also given two drinks vouchers, which could be swapped for a selection of cocktails or other beverages.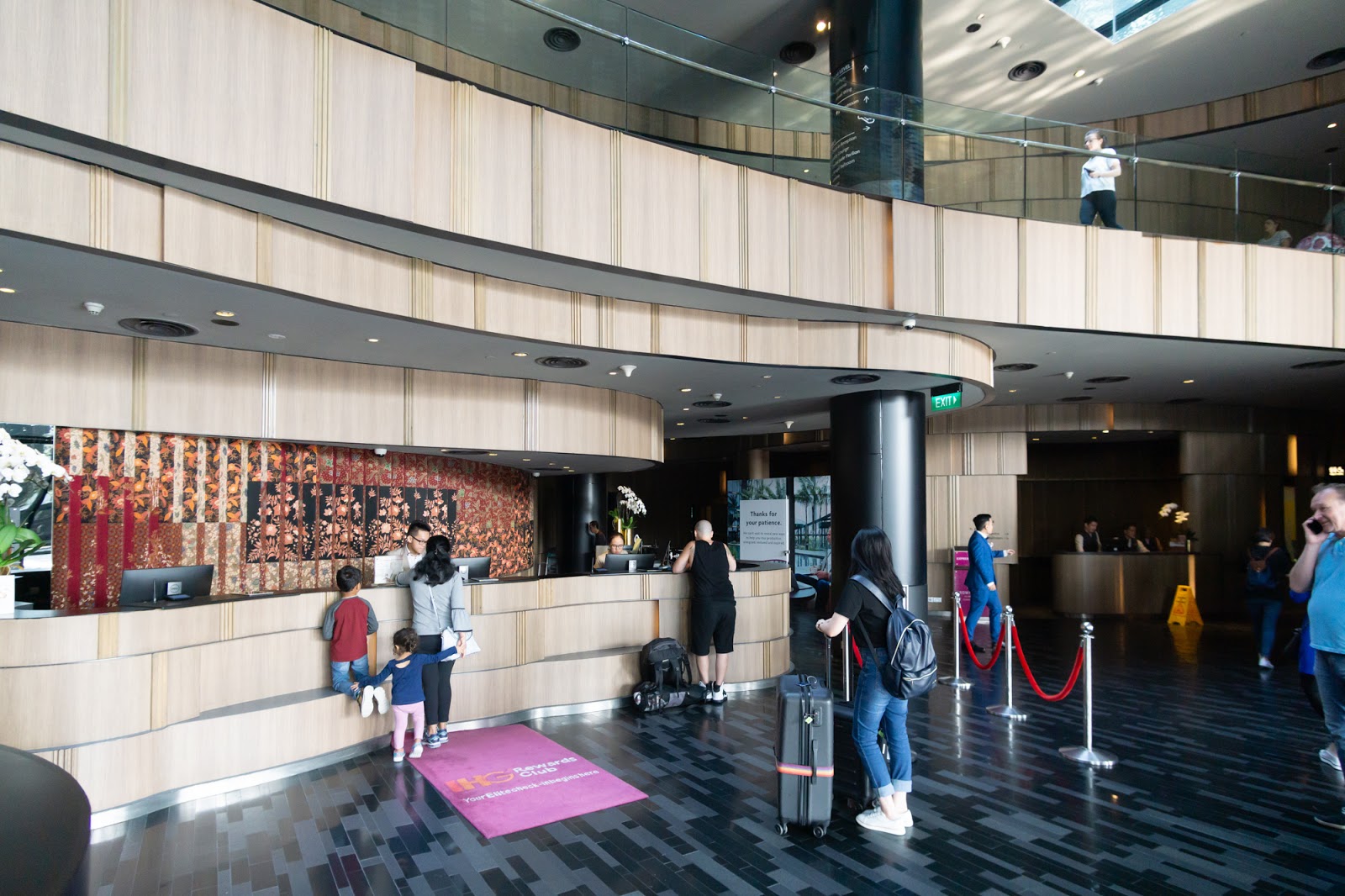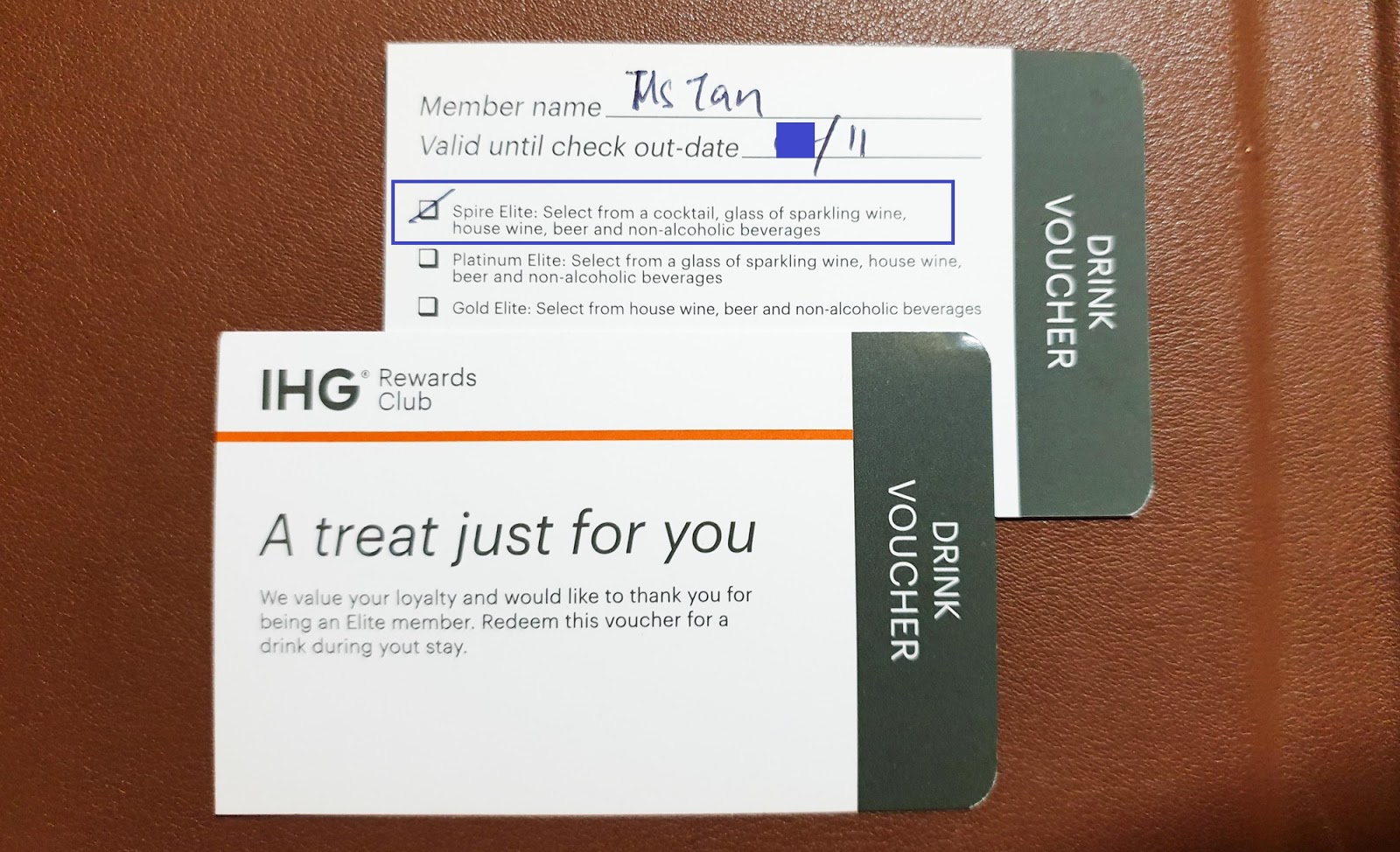 The agent offered Club Lounge access at a promotional rate of $20 SGD per person, but I once again declined due to having a dinner reservation at their restaurant and breakfast already included in the rate.
Room Layout
The Premier Rooms are 36 sqm, while Deluxe Rooms are 28 sqm. I might have actually preferred the Deluxe Room I booked as some are located in the newer Jewel Wing and have a bathtub set against a window with views of Jewel, which would look awesome at night.
The Premier Rooms are much older in comparison, but still quite comfortable. My room was located on the highest floor with some side-on views of Jewel, the control tower and Terminal 2 in the distance.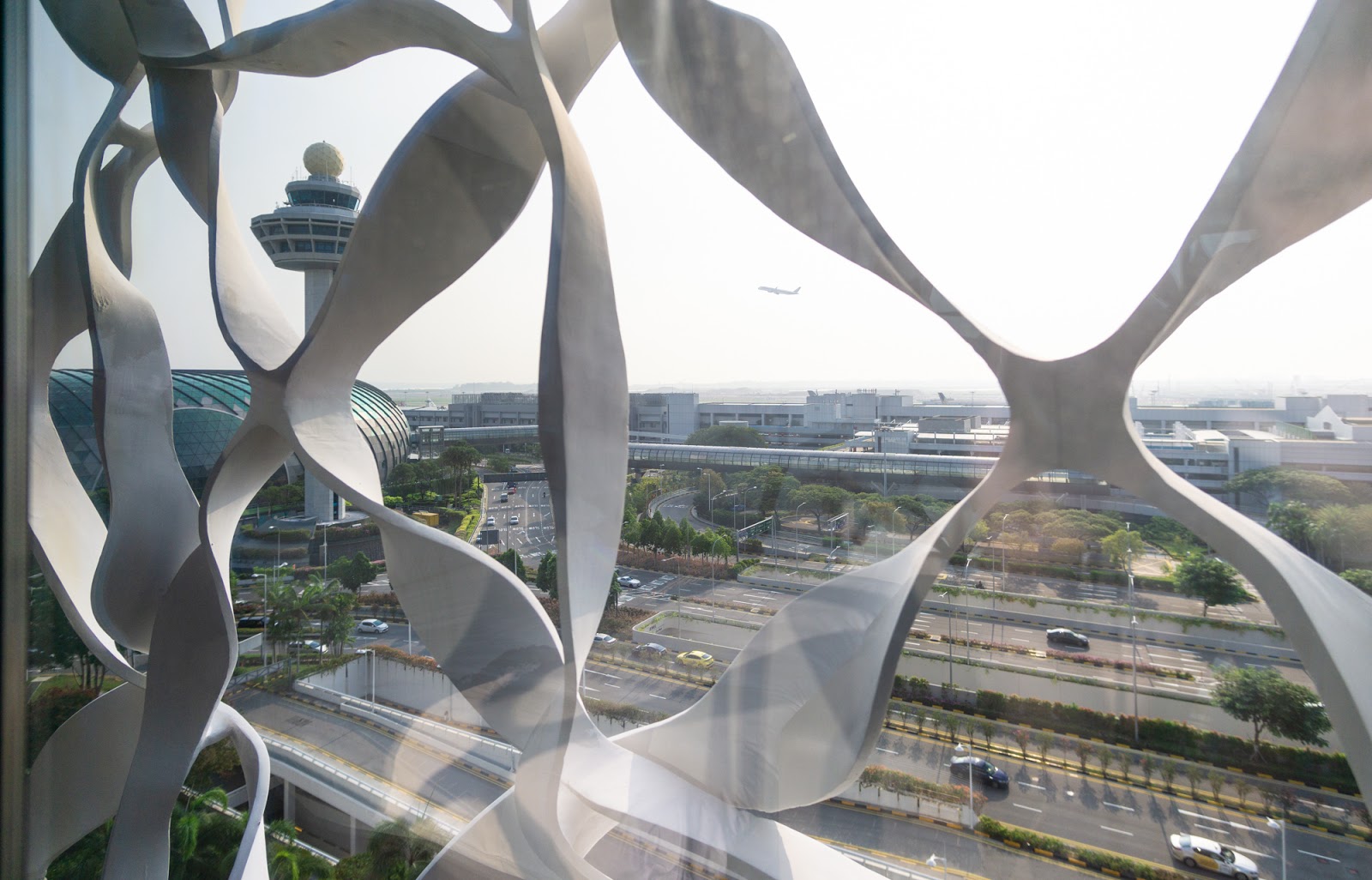 The room has a very plush King bed that provided for a great night's rest. While lamps are on both sides, only one side of the bed has charging plugs, while the other side has a phone and light switches. The bathroom is surrounded by glass with some floral patterns that I found quite tacky.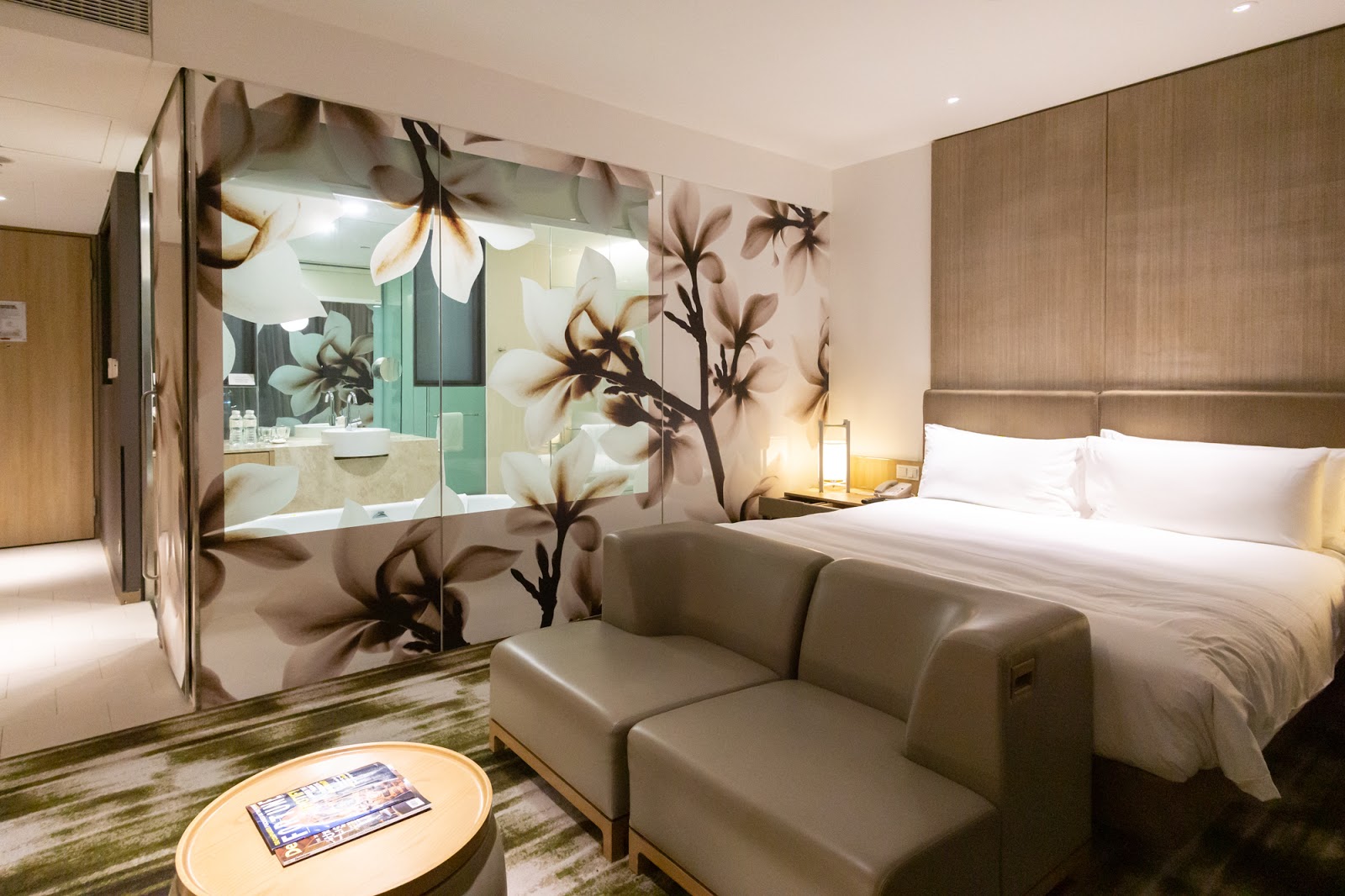 The far side has two sofas, a working desk with ergonomic chair, and the television.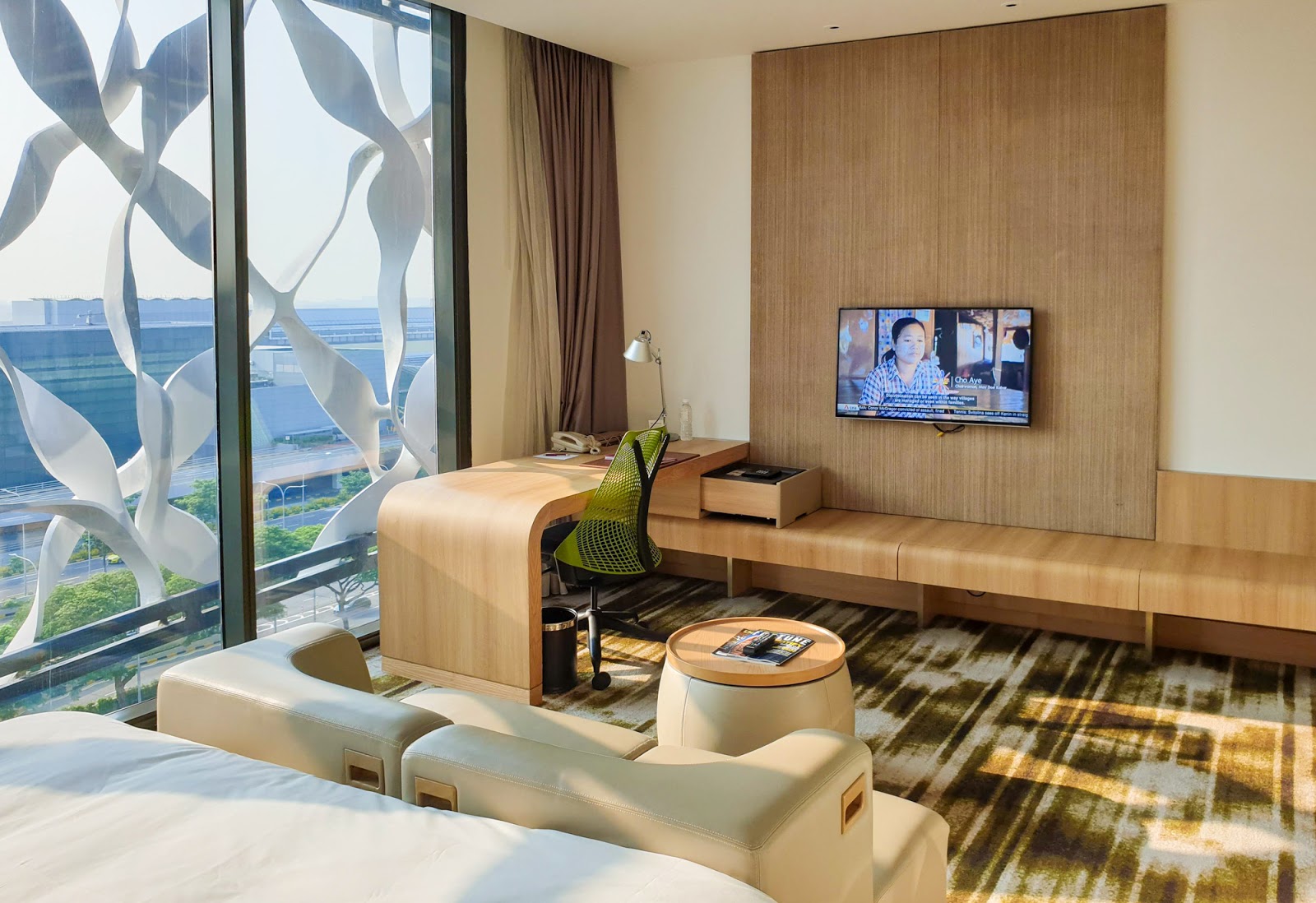 The entrance hallway has the bathroom on one side, an enclosed wardrobe closest to the door, a full-length mirror, the mini-bar and fridge, and an open wardrobe where the bathrobes were hung.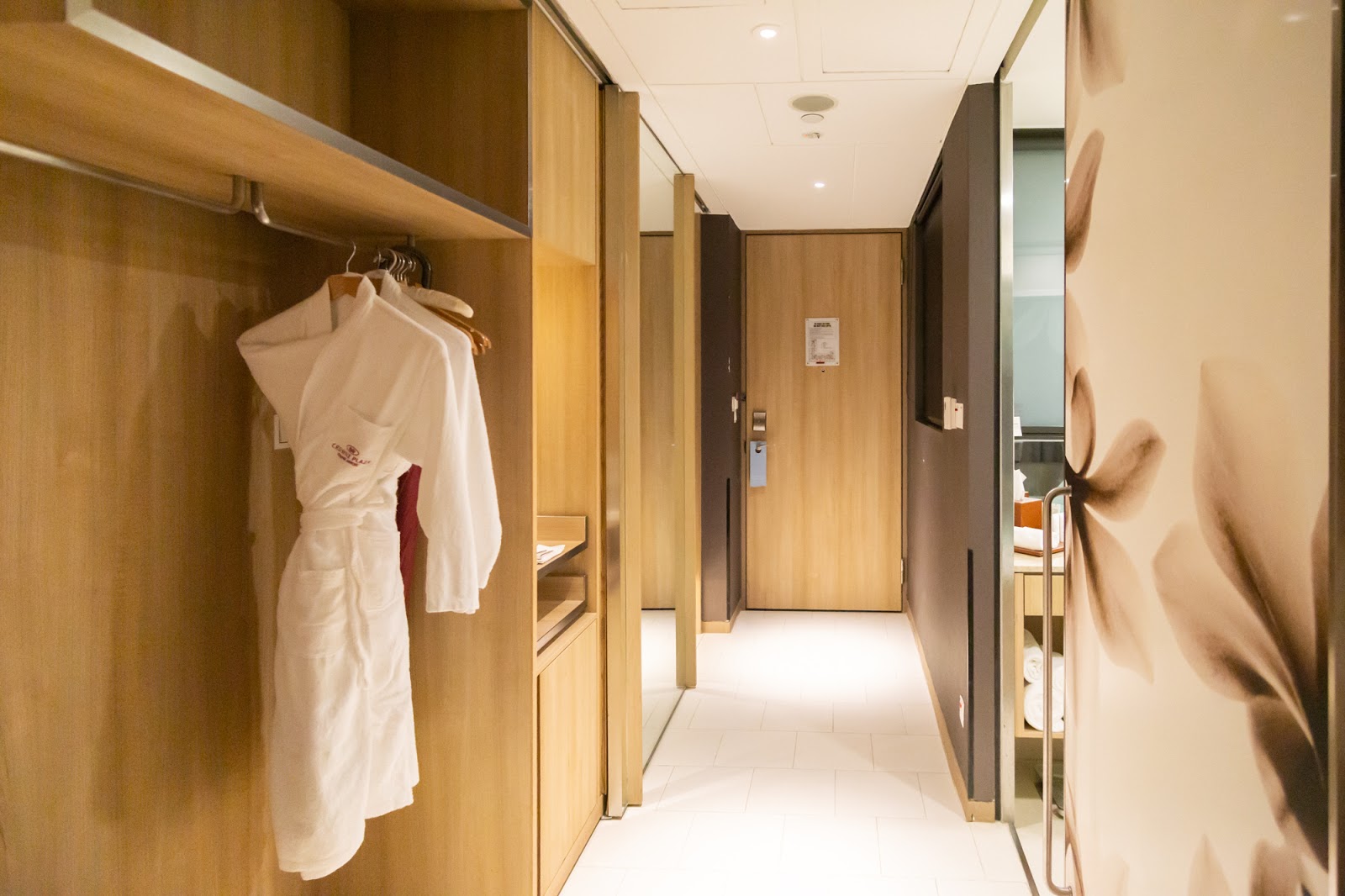 One thing I didn't like about the hotel in general was the open-air corridors. As Singapore is usually very hot and humid all-year round, it leaves you feeling sticky whenever you leave your room, even if you were just going down to the restaurant, for example.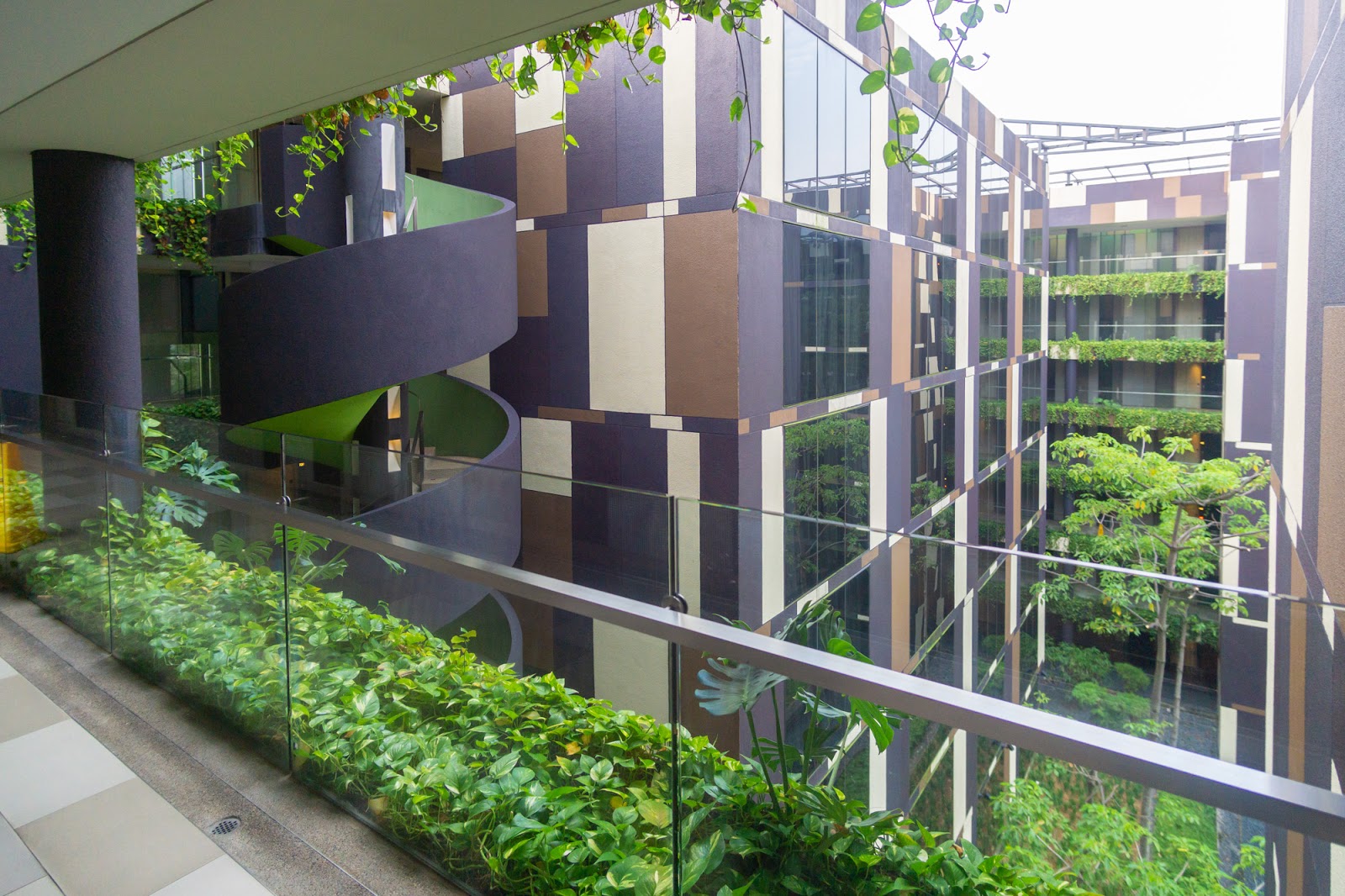 Technology
I liked how all the power plugs were international standards, meaning most people won't require an adaptor. There are two plugs at the work desk and one by the bedside table.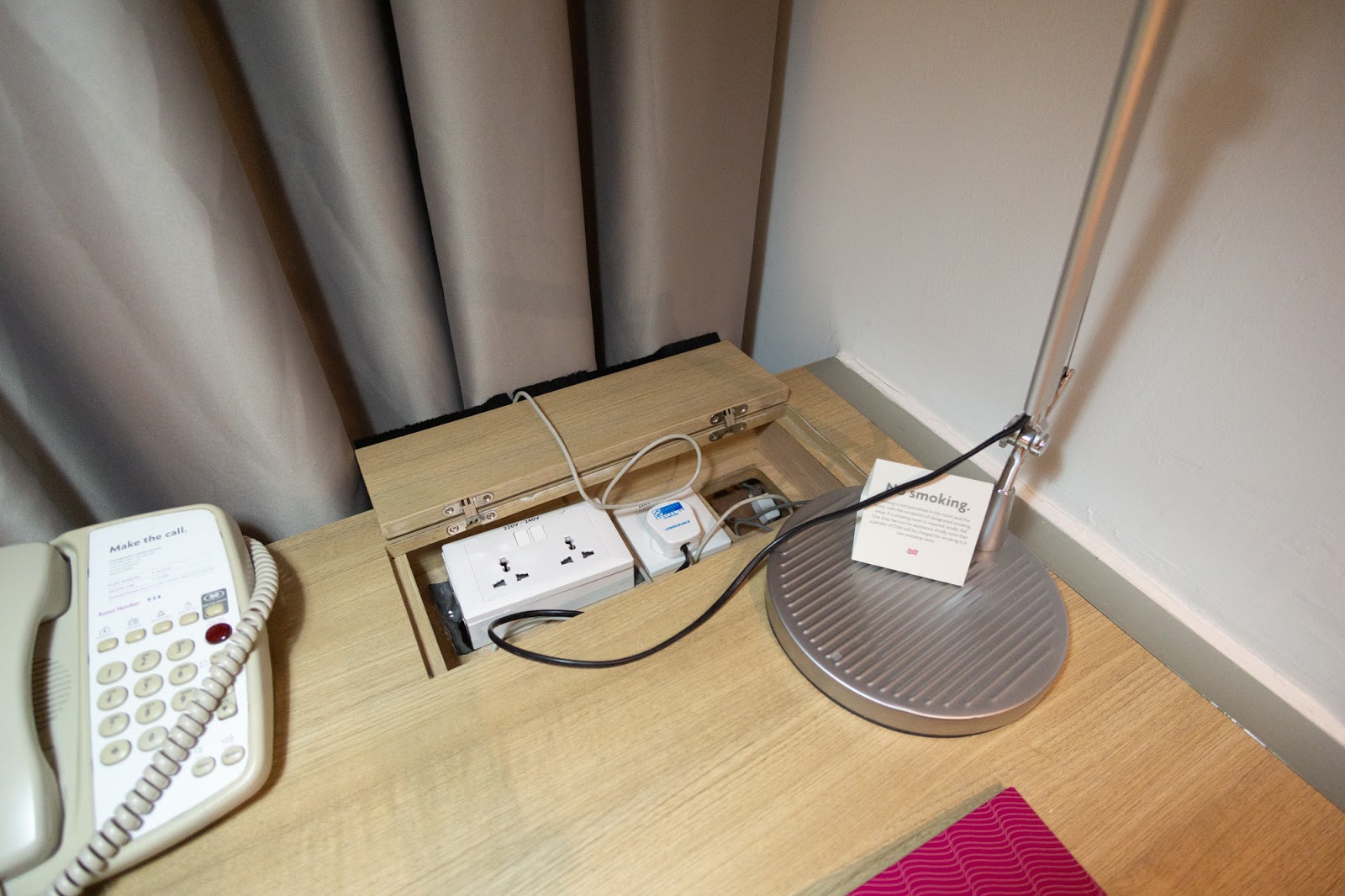 The Samsung TVs are high-definition and easy to operate, with a selection of local and cable TV channels. I didn't test it out too much during my short stay though.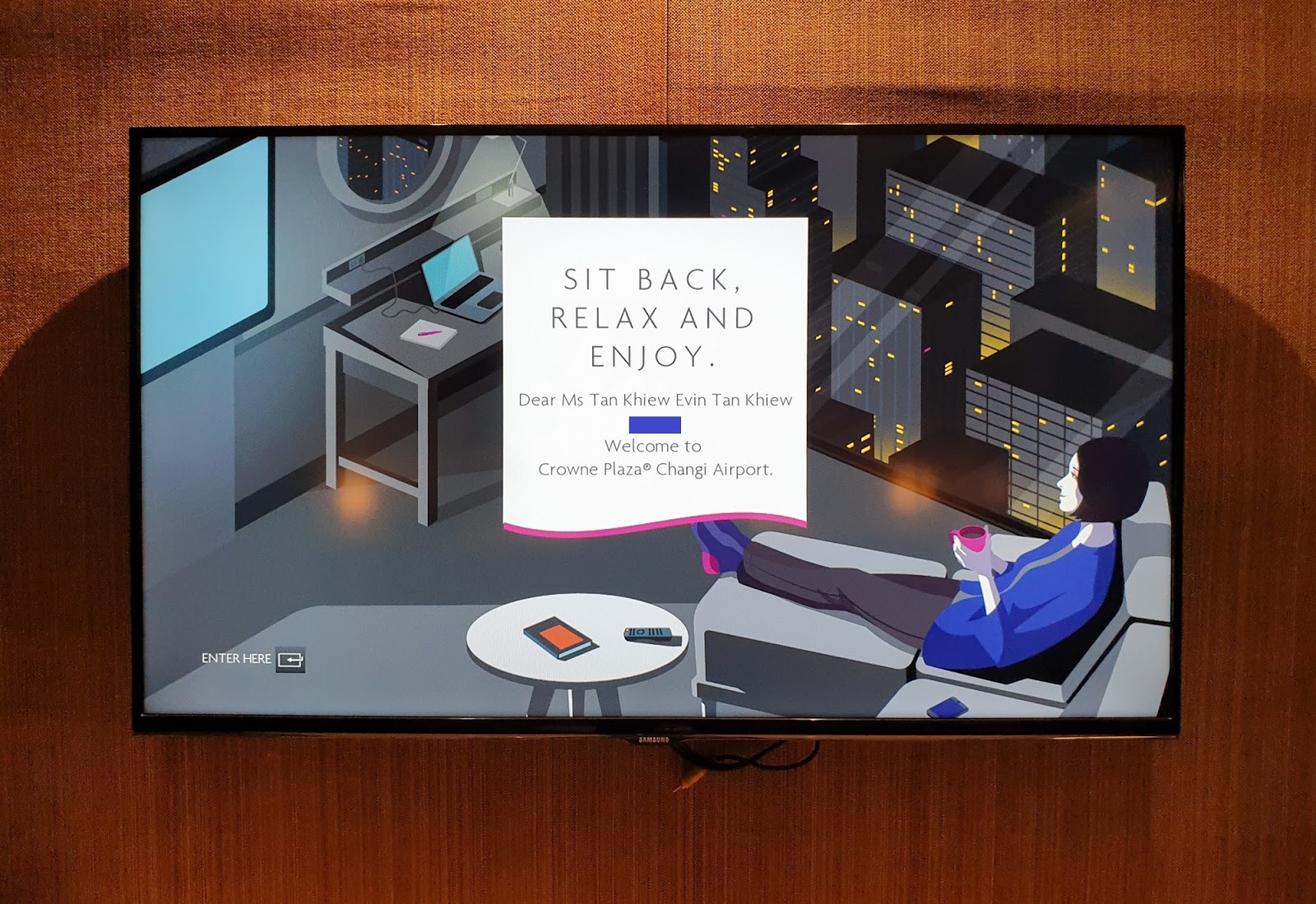 Free WiFi is provided and I measured it to be around 15 Mbps both ways, which is decent for normal use. An electronic safe is found in one of the drawers of the work desk.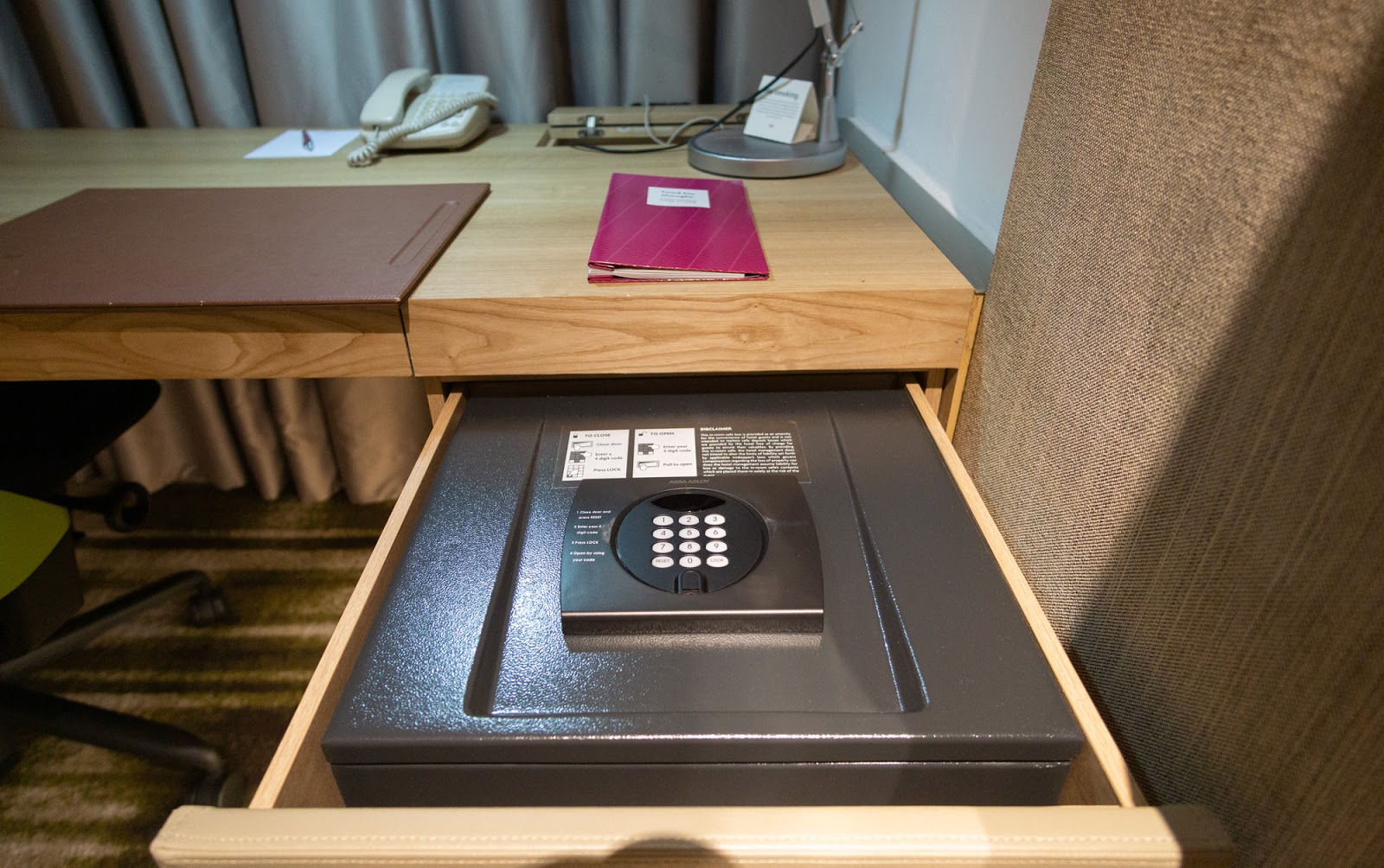 Bathroom
The bathroom is spacious by hotel standards and includes a separate shower with two shower heads and bathtub, which I do appreciate. The blinds provide total privacy from the bedroom if you require it.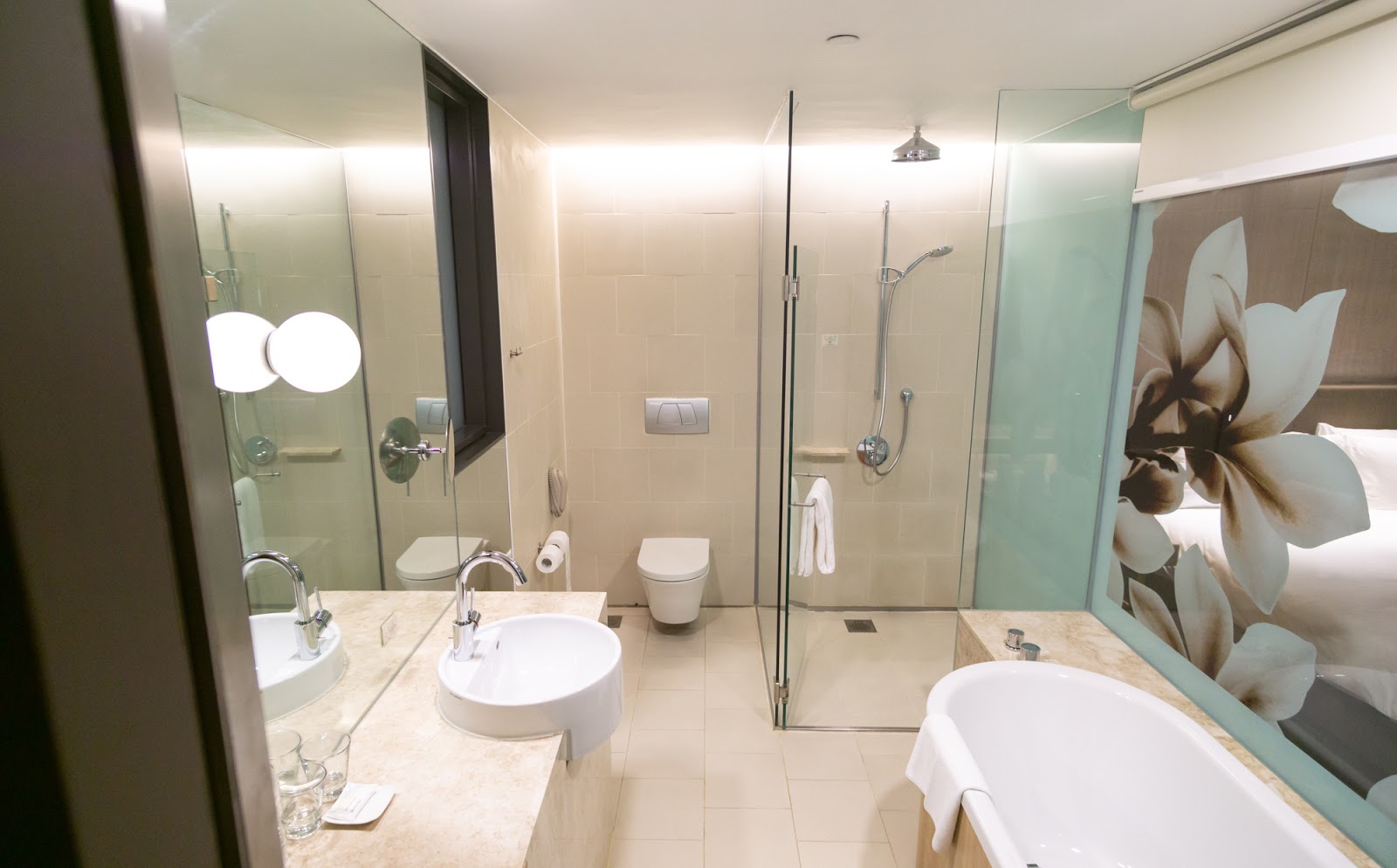 Individual shower products are provided, while a hairdryer and other amenities like a toothbrush, comb and sewing kit are found in the drawers below.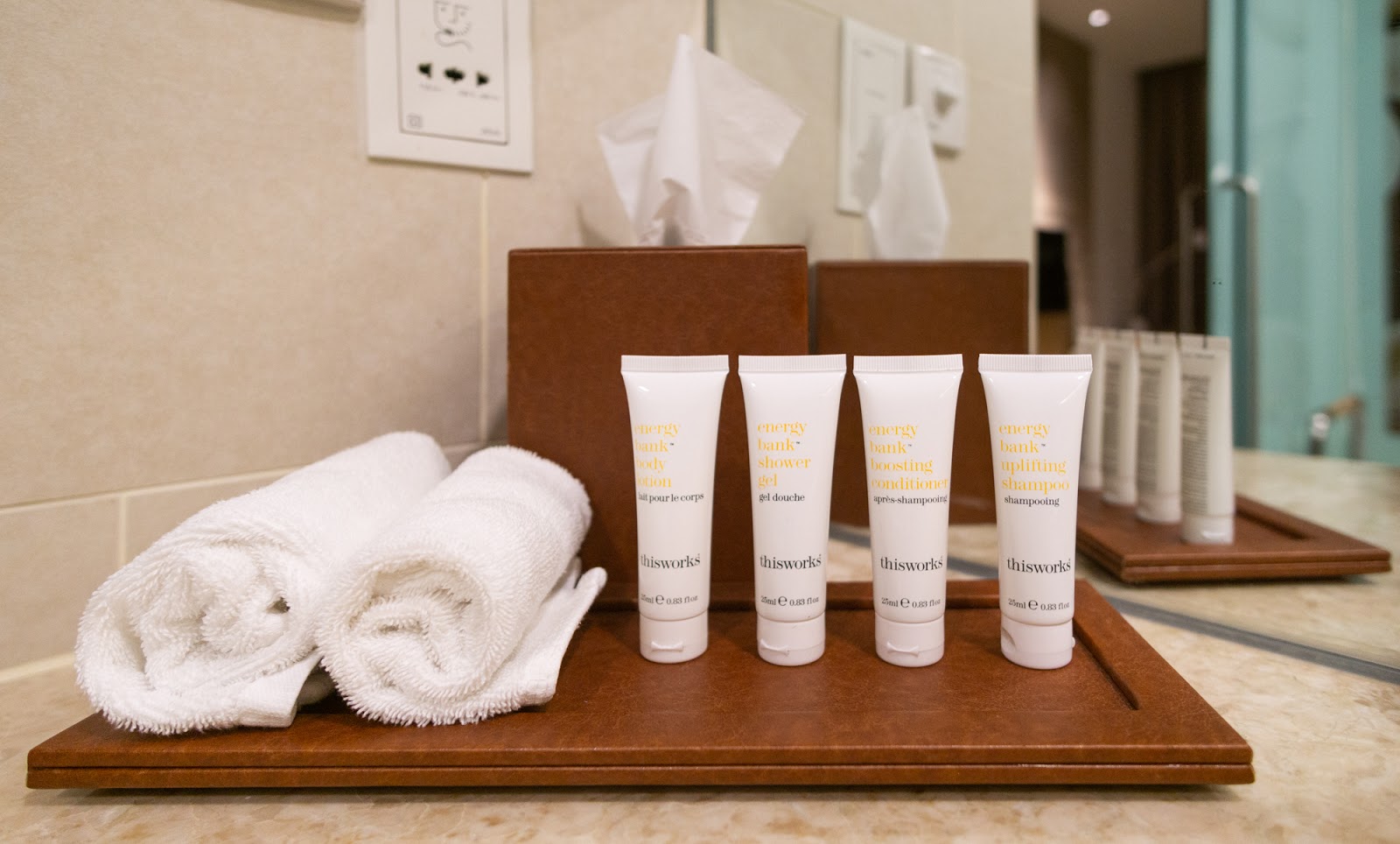 In-room service
The mini-bar fridge is left empty, which is convenient if you have your own things that you want to chill. You can, of course, order minibar items to be stocked if desired.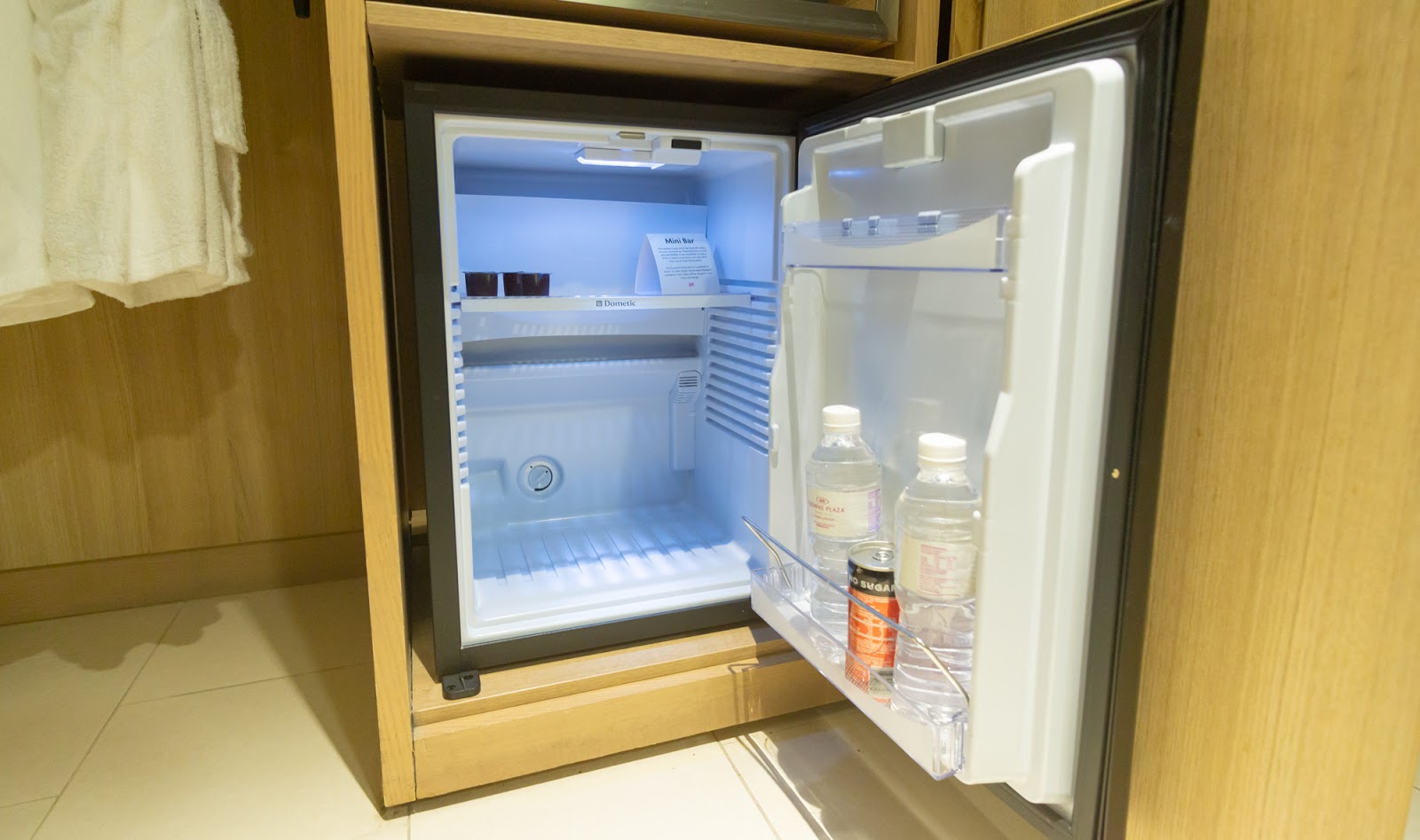 There is an extensive room-service menu that's too large to list fully, but here are a few relevant pages: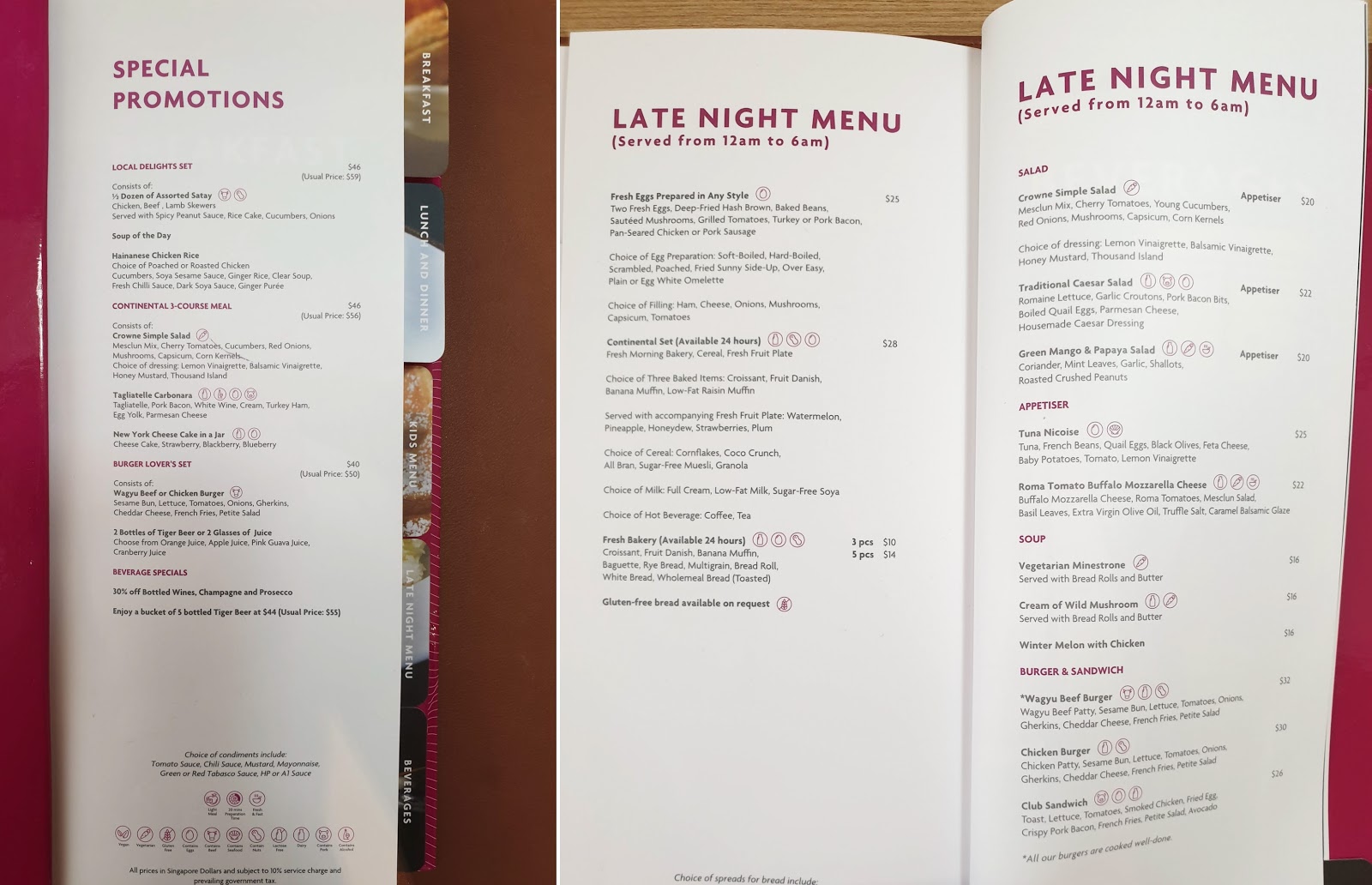 A set of six satay sticks, soup of the day and Hainanese chicken rice would cost you $46 SGD and a midnight Wagyu beef burger craving would set you back $32 SGD, both plus taxes.
Dining
The main restaurant here is Azur on level two, offering buffet breakfasts, lunches and dinners. There's also the Crystal Jade Pavilion on level one, serving Cantonese Chinese food.
Hotel guests had a special 1-for-1 dining deal at Azur, which happened to cover the Crowne Plaza's weekend seafood buffet.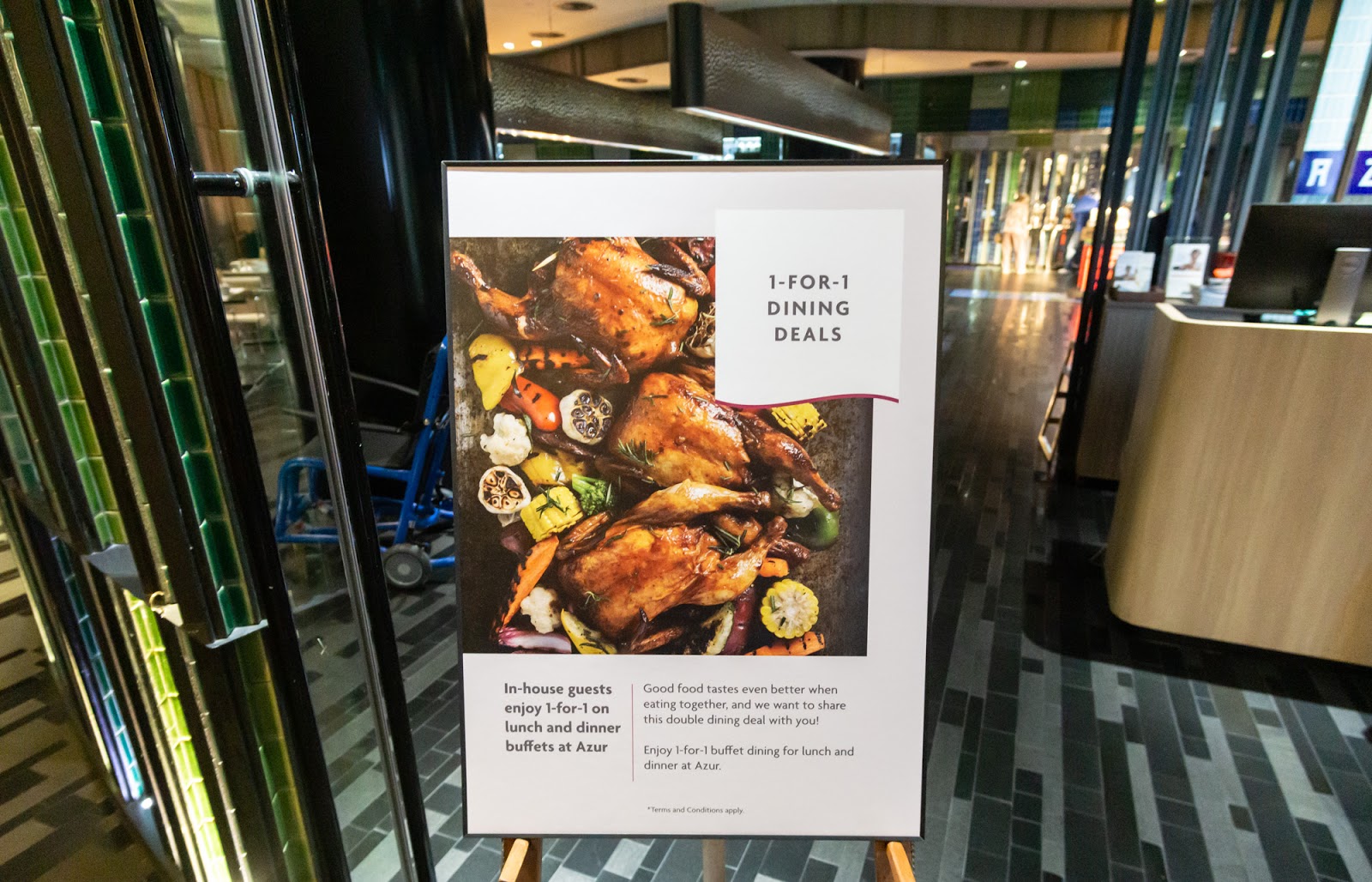 With this offer, it cost $78 SGD for two adults (plus taxes). Highlights included mini lobsters, mussels, prawns, Singapore chilli crab and local delights such as satays and roast pork.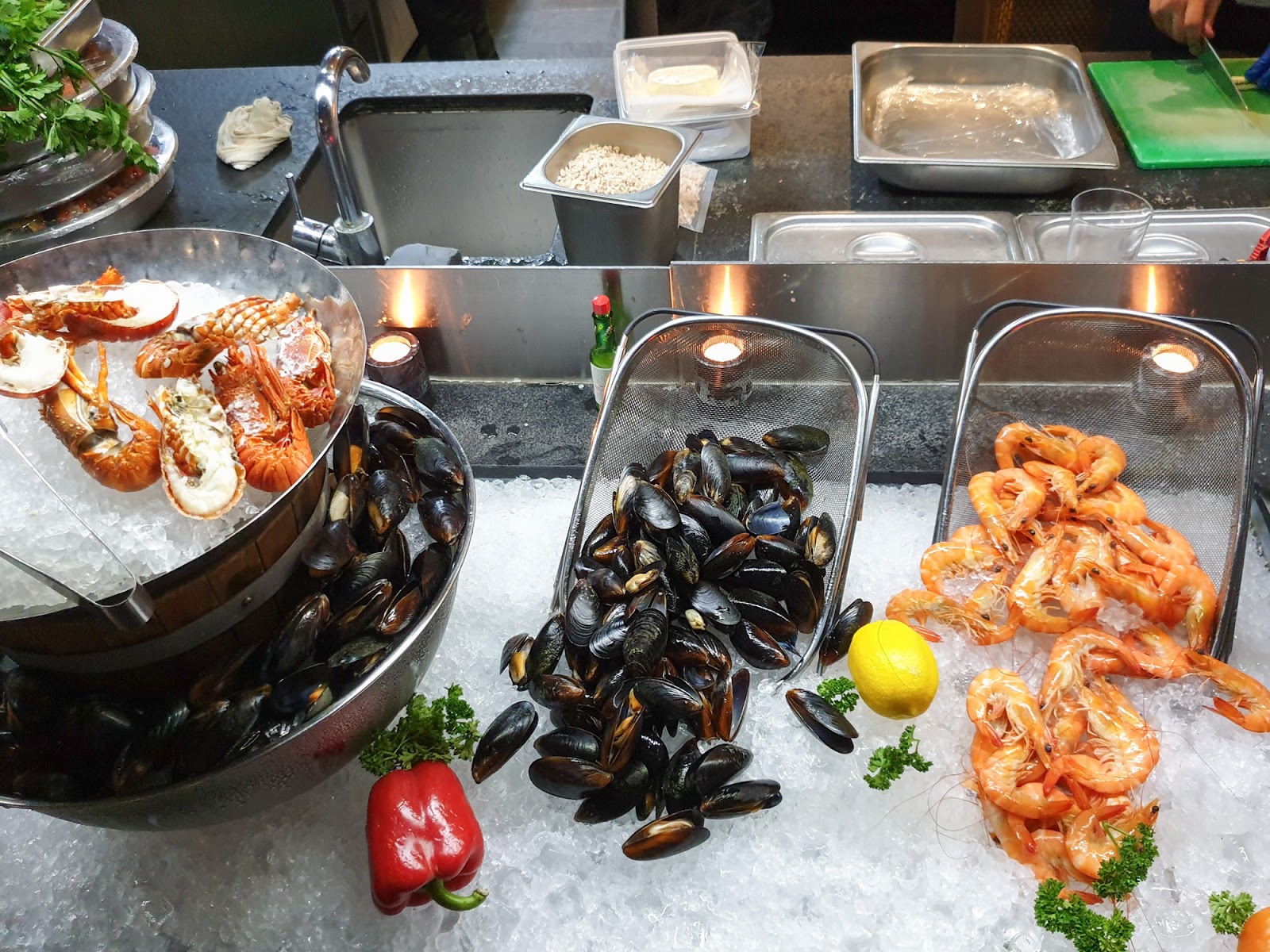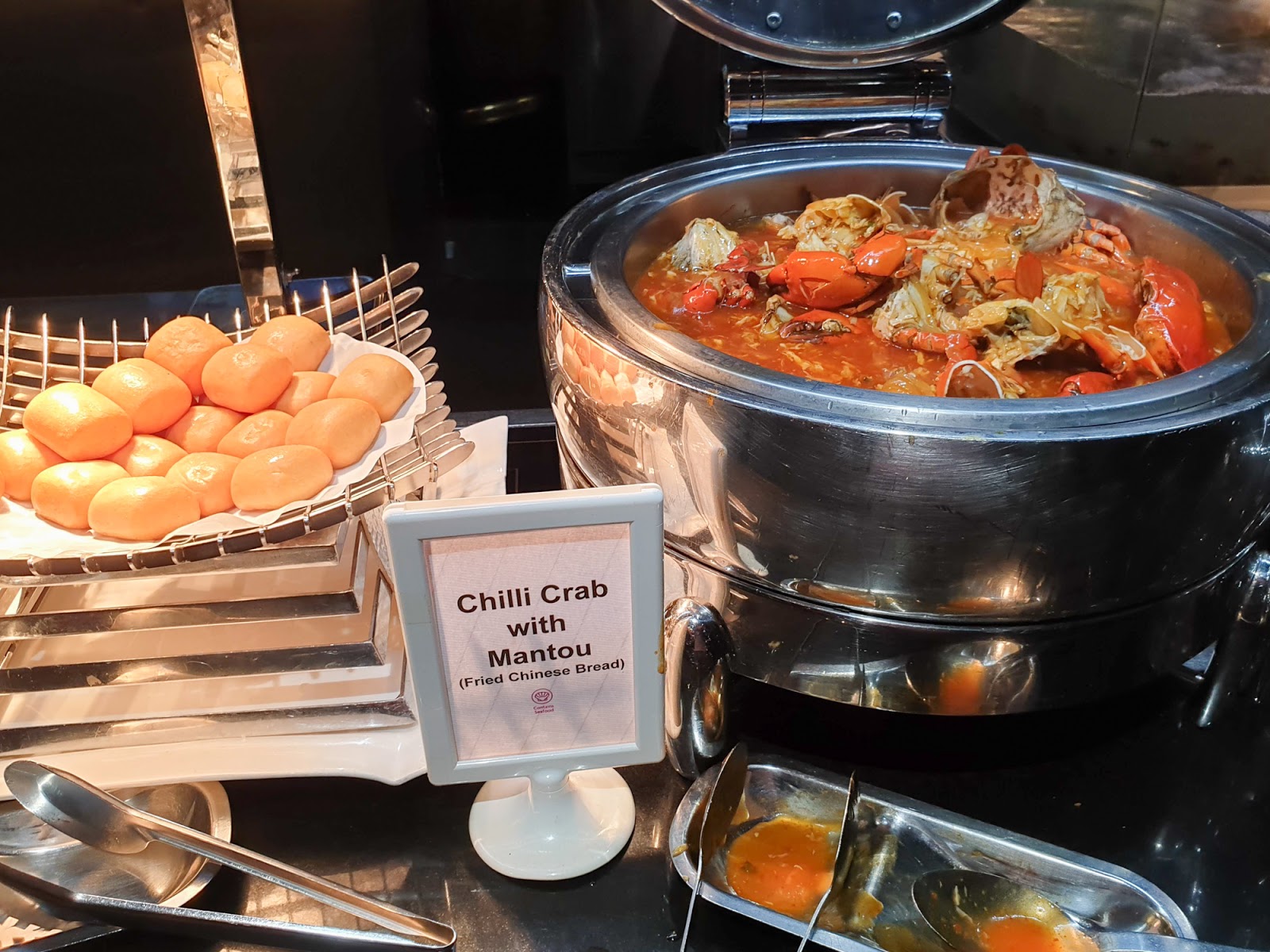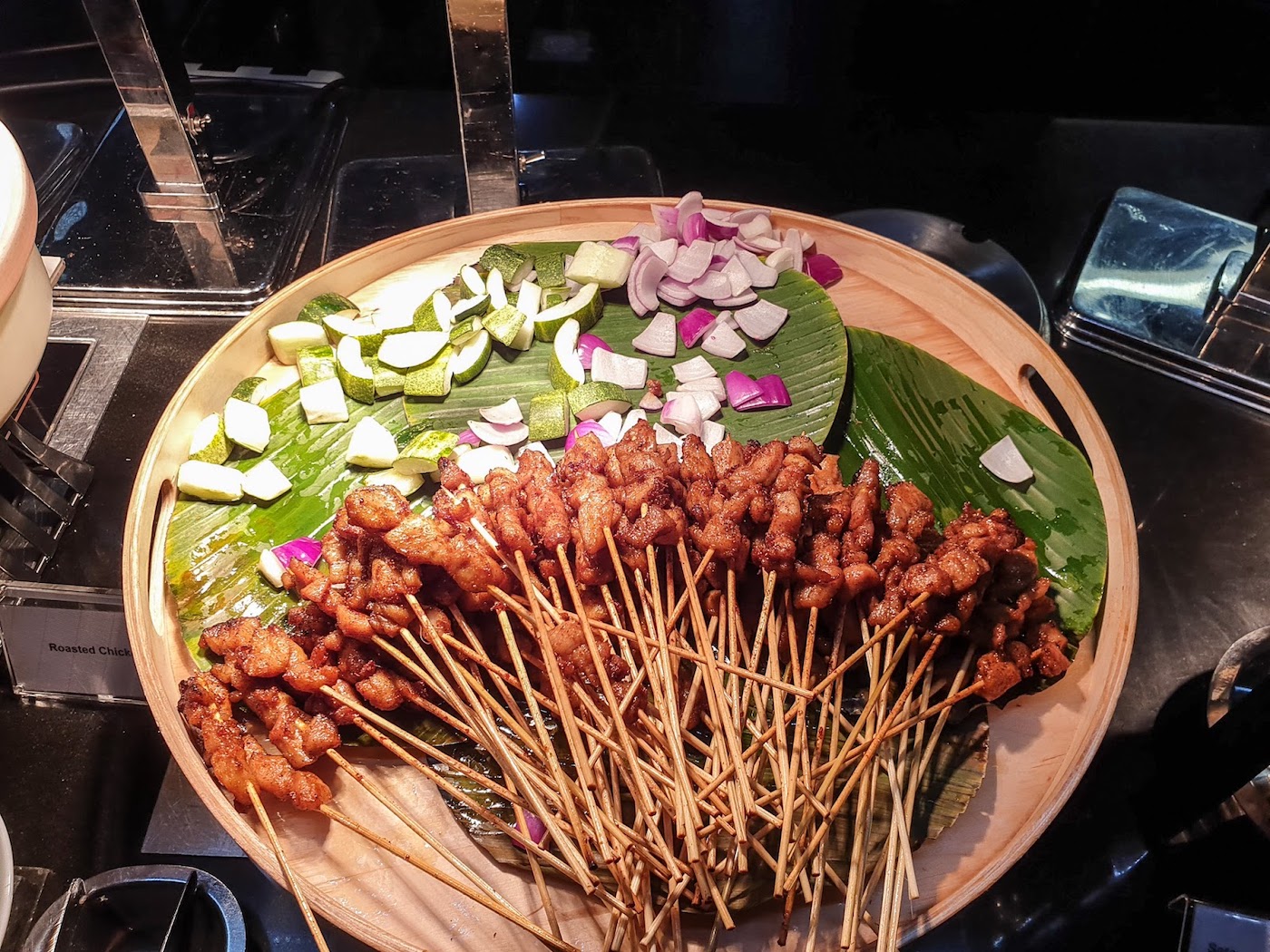 While the variety was impressive, I do have to say the quality of most individual dishes isn't up to par of what you'd get at restaurants that specialise in these cuisines. Nonetheless, it was good value overall.
When I came back the next morning for breakfast, there was also a large selection of Western and Asian dishes including made-to-order omelettes and noodles.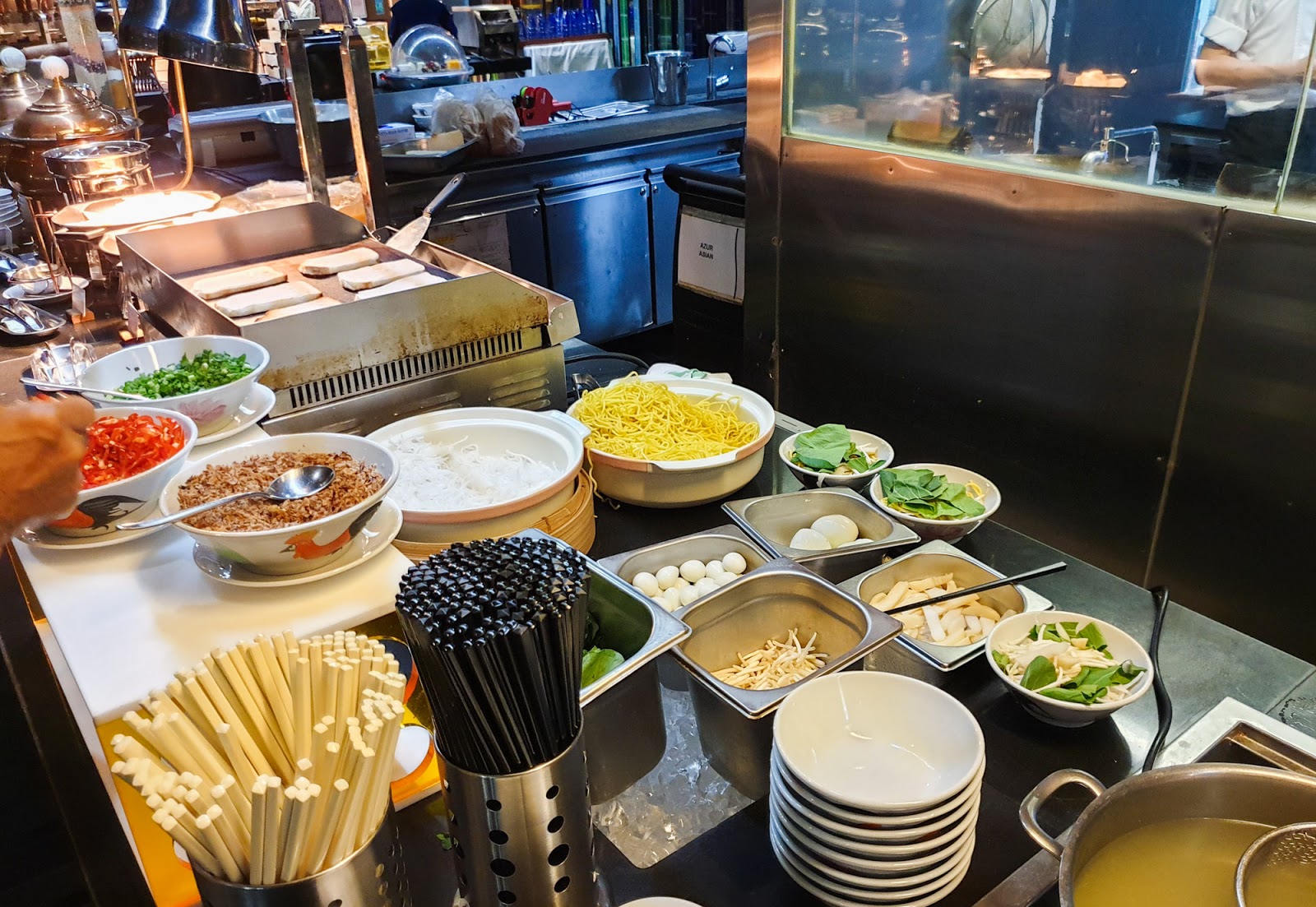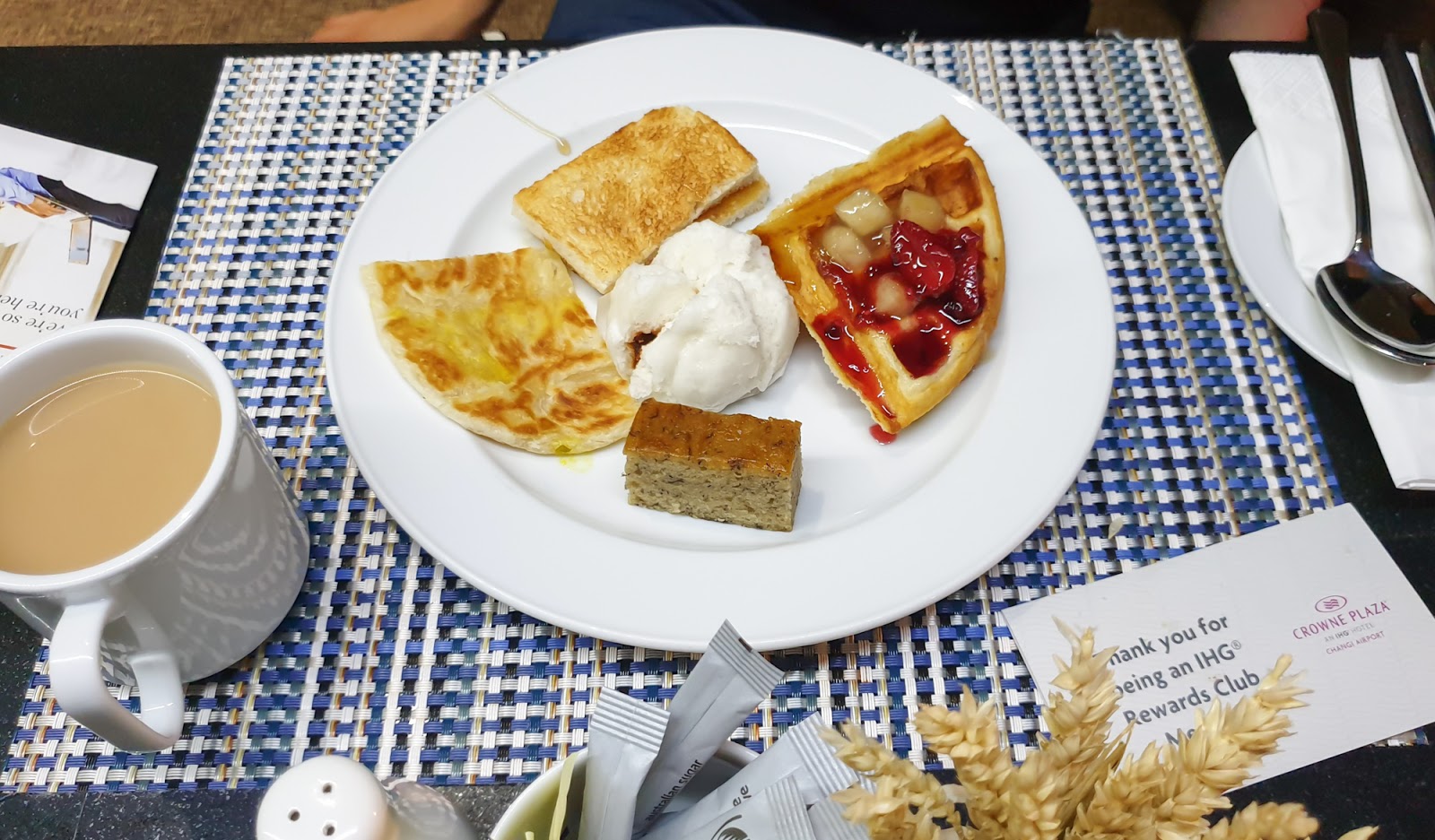 In the Lobby Lounge, I switched my two drinks vouchers for cocktails and mocktails. A limited selection of the full menu is offered to voucher holders, including the Singapore Sling and Mai Tai.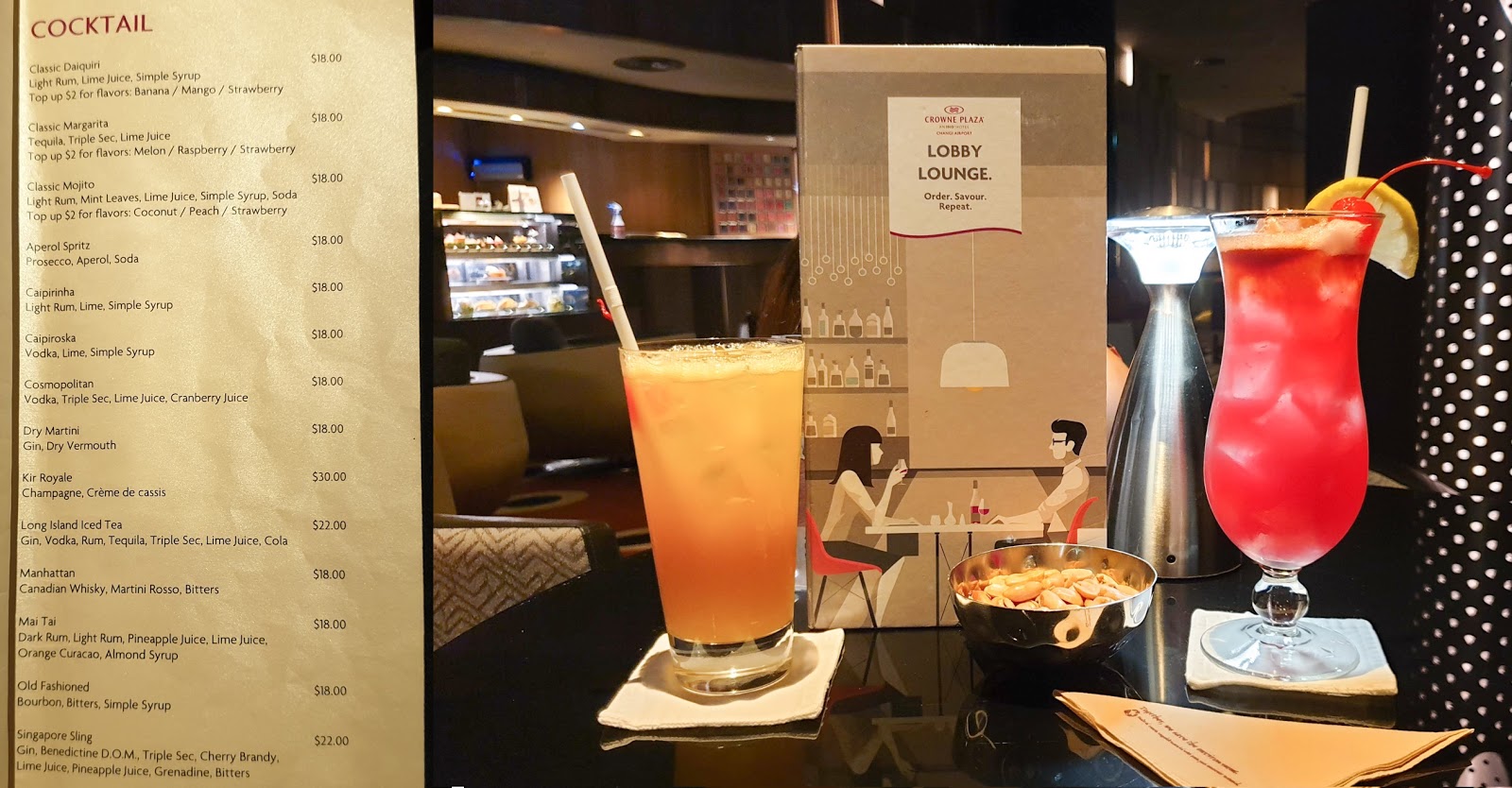 Considering alcohol is generally very expensive in Singapore, I found these complimentary Spire Elite drinks vouchers to be very handy.
Facilities
Crowne Plaza Changi has an amazing pool deck area on Level 3. I only wish I had enough time to go for a swim during my short overnight stay!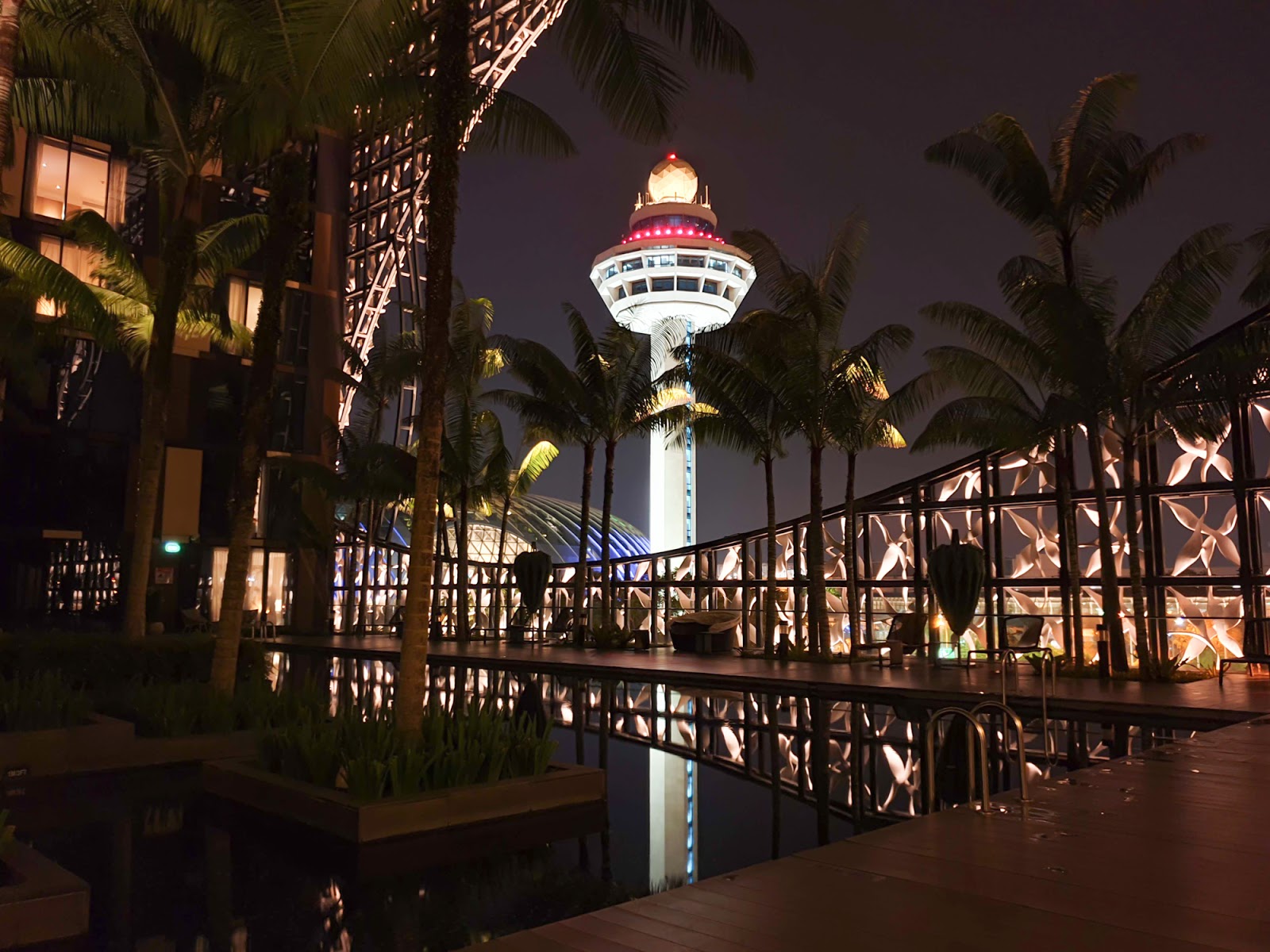 The hotel's fancy pool-deck rooms have direct access to the pool from their rooms, at the cost of less privacy overall and having a low-floor and limited views.
Also on Level 3 is the Club Lounge, which appeared fairly quiet in the morning when breakfast was served.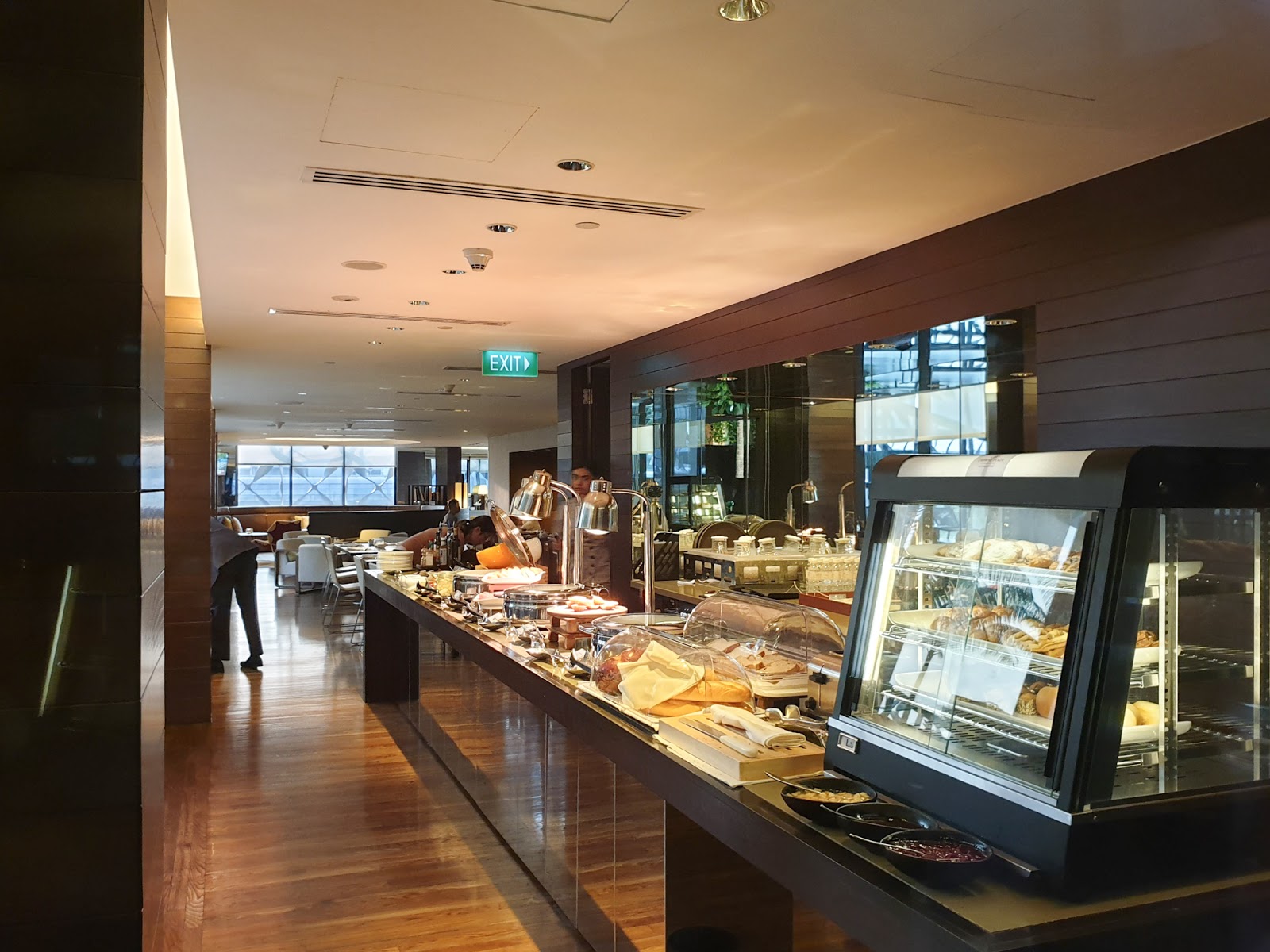 Nearby is the gym and fitness centre which has a full range of cardio, weights and resistance bands.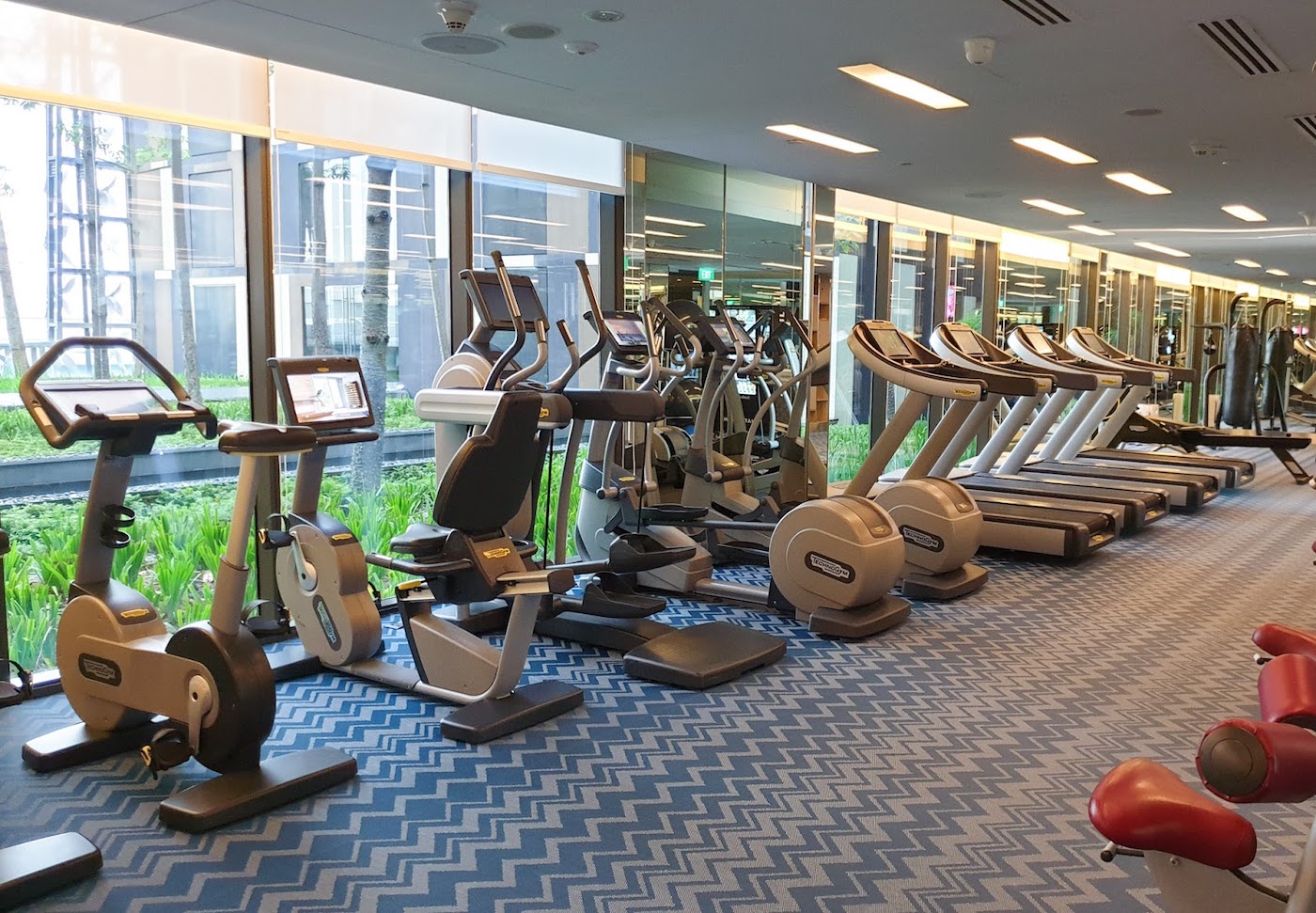 Both the pool and gym area are serviced with dedicated towels and places to freshen up. You just leave the towels in the chute when you go.
Summing up
I had a very enjoyable stay at Crowne Plaza Changi and I only wish my flight was later the next day, so I could take advantage of 4pm check-out and spend some time at the pool.
While the lobby is quite dark and gets crowded during peak hours, the rest of the hotel has a relaxed tropical vibe and it's often hard to believe you are minutes away from the bustling Terminal 3.

The Premier Rooms are slightly dated in appearance, but still very comfortable and more importantly, spacious all through-out. It has all the amenities that a traveller in transit would need and I slept very well.
I did have a minor issue at check-out though, when I tried to use my $30 SGD included dining credit against the Azur dinner bill. I was informed by the agent that the dining credit couldn't be used when other offers were also applied to the bill.
Since that contradicted what the restaurant told me when I initially made the booking, they were eventually able to sort it out for me. But keep that in mind for the future if you intend to use a dining credit with a restaurant or bar at Crowne Plaza as they often have lots of special offers, such as '30% off the entire bill for IHG members', which might then invalidate the dining credit.
Things I liked:
Convenient location for transit travellers
Overall relaxed, tropical feel
Delivered perks for IHG Elite members
Excellent pool area and other facilities
Dining at Azur, especially with special offers for hotel guests
Spacious and well-designed rooms; comfortable beds
Things I did not like:
Open-air corridors makes you feel sticky whenever you are roaming the hallways
Anything chargeable in the hotel (room rates, food, drinks etc) is subject to 10% service charge and 7% government taxes on top – it really adds up. This is true for most of Singapore though
Expensive room rates due to its location
Included dining credit with room rates is not as flexible as it seems
Crowne Plaza Changi Airport
was last modified:
June 20th, 2023
by