Qantas Health Insurance can protect you from expensive hospital fees if the need arises, plus it could help offset some of the costs of health-related services such as dental, optical and physiotherapy.
We take you through everything you need to know, including what cover to choose and how to pocket the biggest sign-up bonus. For more general information, see our guide to Qantas Insurance as a whole.
Note: This is a neutral guide to Qantas Insurance products. You should read the relevant PDS in detail and assess whether the cover and associated costs are appropriate for your personal circumstances.
What is Qantas Health Insurance?
Underwritten by nib, Qantas Health Insurance offers a range of policies designed to cover you and your partner and/or dependents for private healthcare costs. So what are the benefits of being a member?
A stay in a private hospital can easily exceed thousands of dollars a day, so a good level of cover could be useful for covering those costs. Additional 'Extras' cover also contributes to medical treatments outside of a hospital, such as visits to a dentist or allied health practitioner.
Plus, earn thousands of Qantas Points on new policies, a steady 1 point per dollar spent on premiums, and full access to the Qantas Wellbeing app. See the latest Qantas Insurance deals on our dedicated Qantas Deals page.
What's covered with Qantas Health Insurance policies?
Hospital Cover
Qantas Health Insurance offers a broad range of policies that might be suited to your needs, whether that be basic health cover or something more comprehensive, such as planning for pregnancy.

Basic Hospital covers services such as accidental injury, emergency ambulance, dental surgery, tonsil procedures, joint reconstructions and more — all things suited for younger people with fewer health issues.
For a step up that includes many more services such as the brain and nervous system, ear/nose/throat, chemotherapy, skin, blood and more, then Bronze Hospital is a well-rounded choice.
In the middle of the pack, Silver Hospital includes even more services like hearing devices and heart/vascular system, plus the back, neck and spine. Silver Plus Hospital adds cataracts, joint replacements, weight-loss surgery and dialysis for kidney failure.
The top-level cover is Gold Hospital, which adds assisted reproductive services and pregnancy/birth cover for people looking to start a family, in addition to all the services covered by the lower policies.
Extras Cover
Qantas Health Insurance also has five levels of Extras cover to choose from, which include an increasing range of services. Unlimited emergency ambulance is included in all policies, with 100% coverage of costs.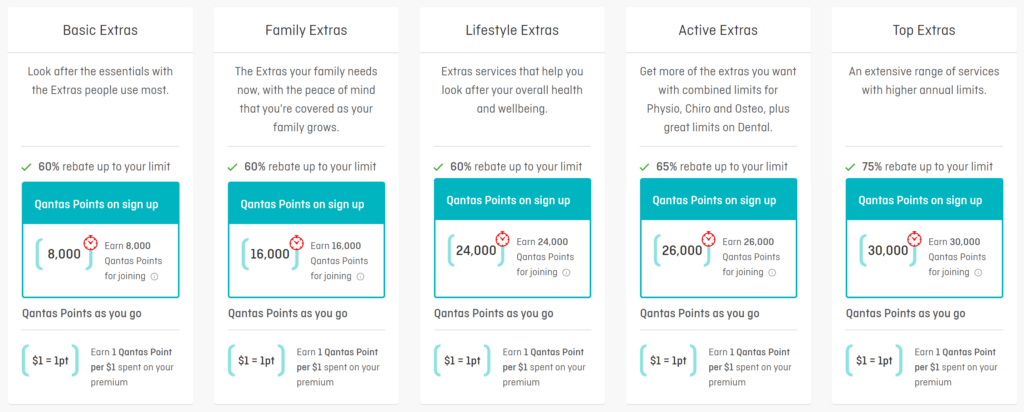 Basic Extras gives 60% rebates up to your limit on general, major and preventative dental, optical, physiotherapy and some pharmaceutical prescriptions. Family Extras adds many more services like chiro and osteo, natural therapies, podiatry and orthodontics. Lifestyle Extras has a different subset of services compared to Family Extras, such as psychology and dietary advice, designed for those who want to look after their overall health and wellbeing.
Active Extras bumps the rebate up to 65% and covers the same as Lifestyle Extras, but with added OT and exercise physiology for busy people and higher rebate limits for dental.
Finally, Top Extras gives 75% back and covers the full range, including hearing aids and home nursing.
What are the best things to know when browsing policies?
To help you pick out your optimal cover, here are some questions to consider.
Is my condition covered? If you have a particular medical condition, check to see if it will be covered in your desired policy. Some medical conditions, such as cataracts, are only covered in higher-level policies (e.g. Silver Plus for cataracts).
Have I previously served out waiting periods? If you are changing health insurance providers, your previously-served waiting periods should be honoured on your new policy for equivalent services. Check with Qantas Health Insurance for more information.
Are there any promotions? 2 and 6-month waiting periods on Extras are sometimes waived as a promotion. Bonus sign-up points are also regularly offered as well.
Am I planning to start a family soon? Services associated with pregnancy and birth, plus assisted reproductive services, are only included with top-level Gold hospital cover. The waiting periods for both are 12 months, so upgrade to that level of cover well in advance.
Do I want Extras? Apart from the dentist, if you see other allied health providers regularly, such as the optometrists for glasses or the podiatrist for foot conditions, then having Extras may help with getting a benefit paid on treatment costs.
Ad – Scroll down to continue reading.Minimum spend, terms & conditions apply.
What is excluded from Qantas Health Insurance?
There are a few scenarios where treatment won't be covered with Qantas Health Insurance, which is fairly standard across the industry. Here are the things to look out for.
If you haven't served waiting periods: Treatments within your waiting period are not eligible for claims.
Pharmaceutical Benefits Scheme (PBS) medications: Not covered in Hospital policies. Non-PBS items are covered by Extras.
Withholding information: If you've hidden important information such as pre-existing conditions, your claim may be denied.
Non-approved providers: You must be treated by suitably qualified and registered providers in accredited rooms.
Non-essential treatment: Health insurance is for medically-necessary treatments, which usually excludes most cosmetic procedures.
How do I earn points with Qantas Health Insurance?
Sign-up bonus
Qantas Health Insurance offers bonus Qantas Points in two ways. The first is bonus sign-up points when taking out a new policy — various amounts are shown in blue as you complete the sign-up process.
Often, there is a huge sign-up offer shown in orange, which is applicable when you meet certain conditions (such as taking out Gold Hospital with Top Extras cover; both the most expensive options).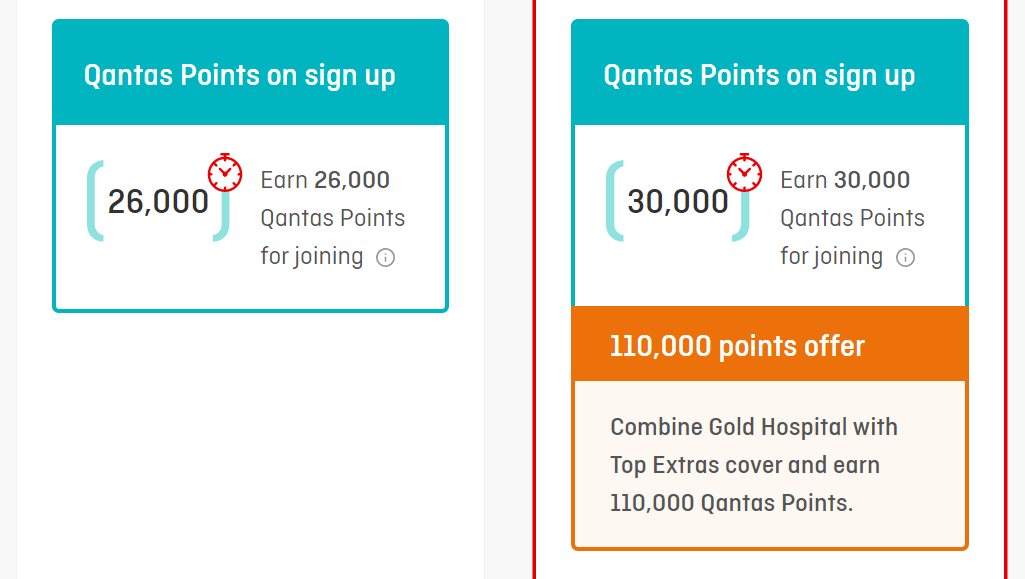 Bonus sign-up points are awarded after holding the eligible policy for 60 continuous days, so there isn't a requirement to hold the policy for a full year in regards to the sign-up promotion.
It's important to note that sign-up bonus points are not available to customers who have held a health insurance policy with Qantas, nib, AAMI, Apia, GU Health or Suncorp at any time in the 6 months before purchasing a new Qantas Health Insurance policy.
Ongoing points
You'll also earn 1 Qantas Points for every dollar spent on the premium and could earn even more points via the Qantas Wellbeing app for doing health checks and meeting daily and weekly step counts.
How do I sign up for Qantas Health Insurance?
Health Insurance is a fairly bid decision to make, so there are quite a few steps involved with the process.
Visit Qantas Health Insurance and click 'Get a Quote'
Fill in the 'About You' section with your name, type of cover, where you live, date of birth, annual income and whether you are switching insurers.
Choose your desired Hospital cover, including the excess.
Choose your desired Extras cover.
Review and check-out. This includes signing in to your Qantas Frequent Flyer account (if you haven't already), confirming your sign-up points bonus (if any), and the details of everyone on the policy.
After payment is successfully made, you are now protected by Qantas Health Insurance!
Frequently asked questions
Who is Qantas Health Insurance with?
Qantas Health Insurance is underwritten by NIB, who also underwrites for Suncorp, AAMI Health, APIA and TAL.
Which is the best health insurance in Australia?
It's not possible to answer this — some insurers will offer policies better tailored to you than other insurers.
Who is the underwriter for Qantas Car Insurance?
The sister product Qantas Car Insurance is underwritten by Auto & General, not nib.
How do I apply for Qantas Health Insurance?
Follow the steps in this guide to apply for Qantas Health Insurance.
How do I contact Qantas Health Insurance?
Call Qantas Insurance on 13 49 60, or go online to Live Chat or submit a callback request.
Is Qantas Assure part of NIB?
Qantas Assure (now Qantas Insurance) uses partners such as nib to underwrite some of its insurance products. However Qantas Insurance is not part of any other larger insurance group as it is an offshoot of the Qantas Frequent Flyer loyalty program.
Your in-depth guide to Qantas Health Insurance
was last modified:
May 11th, 2022
by