Everyday Rewards has a dedicated app to help you manage your account and boost your points-earning potential. You can see your current personalised offers, view your purchase history and even save e-receipts from your in-store shops! Here are the features of the app.
Looking for a short introduction to Everyday Rewards? Watch our video below to learn more:
Everyday Rewards app: important information at a glance
The app homepage shows you your current points balance, number of fuel vouchers (with expired dates noted) and what your current reward option is: either Automatic savings, Bank for Christmas, or Qantas Points.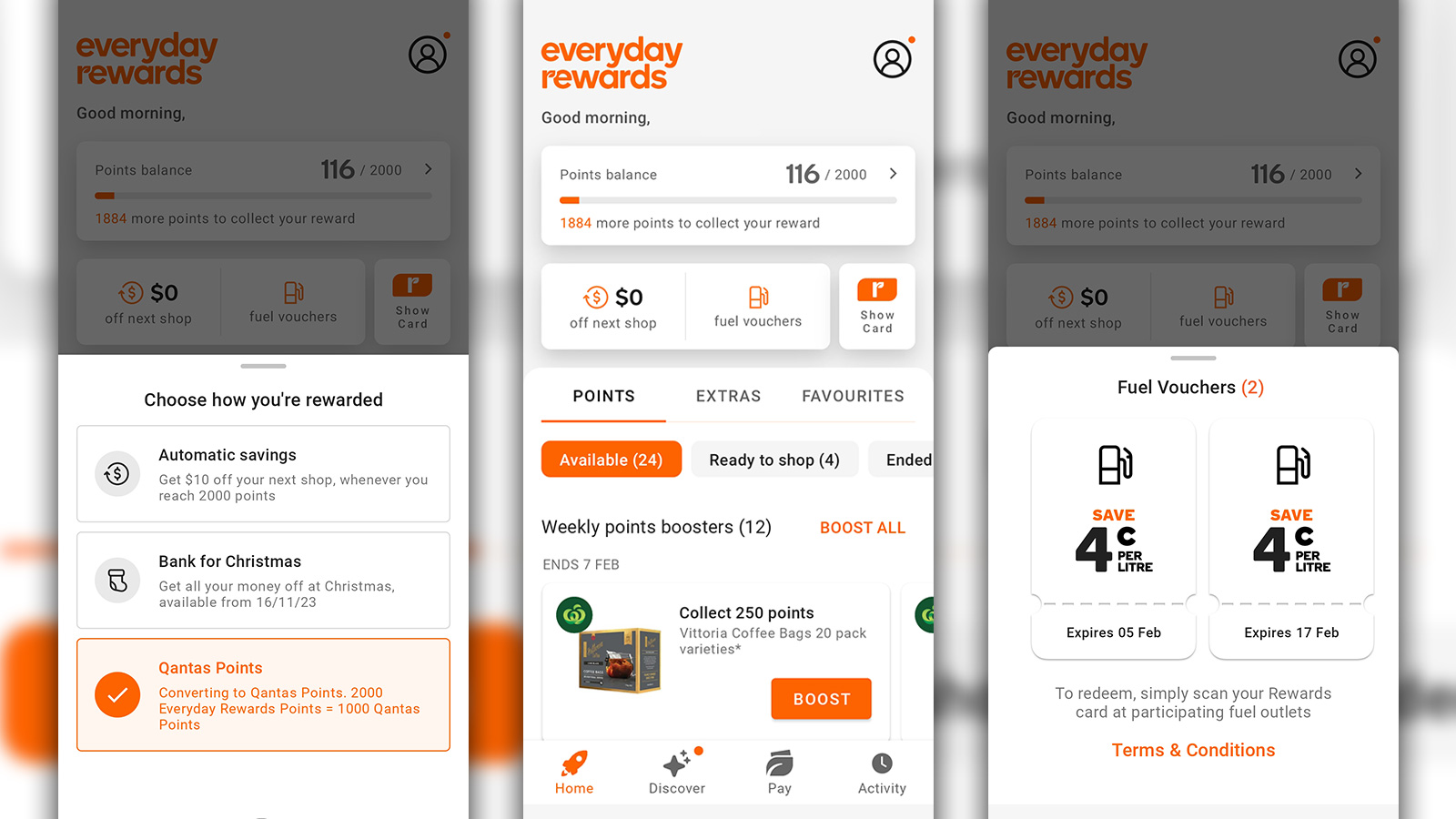 Everyday Rewards app: boosters
Under the 'Points' section on the homepage, you'll notice several points boosters. These targetted offers are based on your purchase history and change frequently. If other members of your household have the Everyday Rewards app, it's worth comparing boosters. You may find that having your partner scan their card during your weekly grocery shop can yield better rewards!
To take advantage of any of these offers, you need to 'Boost' them in the app first. All of your boosted offers can be found under 'ready to shop'. Allow a minimum of two hours between boosting your offers and shopping to ensure the offer is linked to your Everyday Rewards account.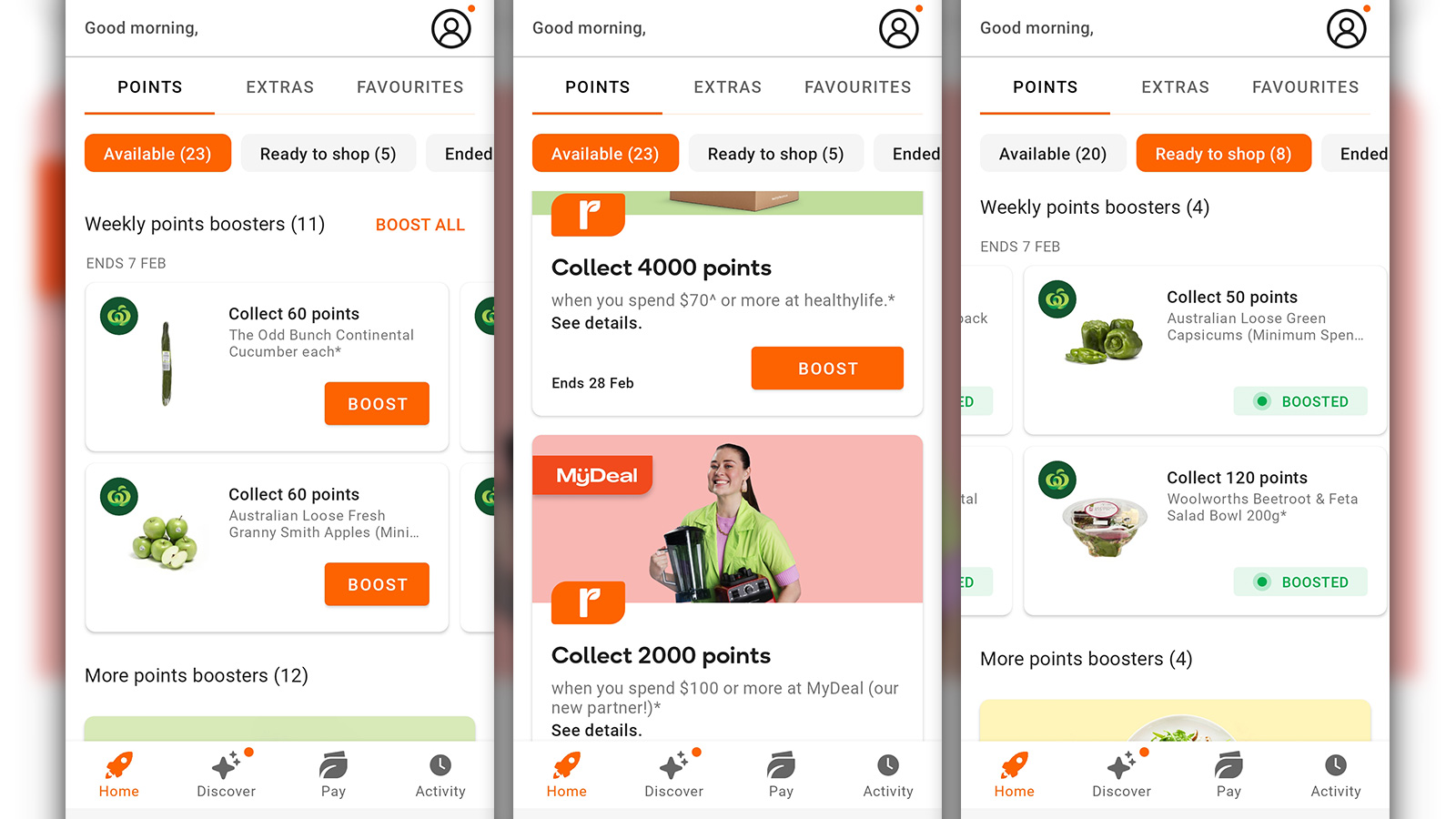 Everyday Rewards app: Everyday Pay
One of the newest features of the Everyday Rewards app is Everyday Pay, which is located under the Pay tab on your homepage. This feature saves you time at the checkout, minimises fuss and ensures your valuable points don't go astray.
To set up Everyday Pay, link a debit or credit card to your account – this is what you'll use to make payment during checkout. We recommend a points-earning credit card to maximise your rewards. The next time you're at Woolworths, navigate to the Pay tab of the app and scan the QR code on the self checkout screen or the pinpad before you begin your transaction. Then you can pop your phone away – there's no need to scan your Everyday Rewards card at the end of the transaction (and run the risk of forgetting!) or fumble around for payment.
Simply select 'Pay Now' once you've scanned your items, and your nominated card will be charged. Any points you've earned will be recorded to your Everyday Rewards account, and you'll see your eReceipt pop up under the 'Activity' tab (there's no option to receive paper receipts when you use Everyday Pay.)
Keep an eye out for boosters that award you bonus points for using Everyday Pay.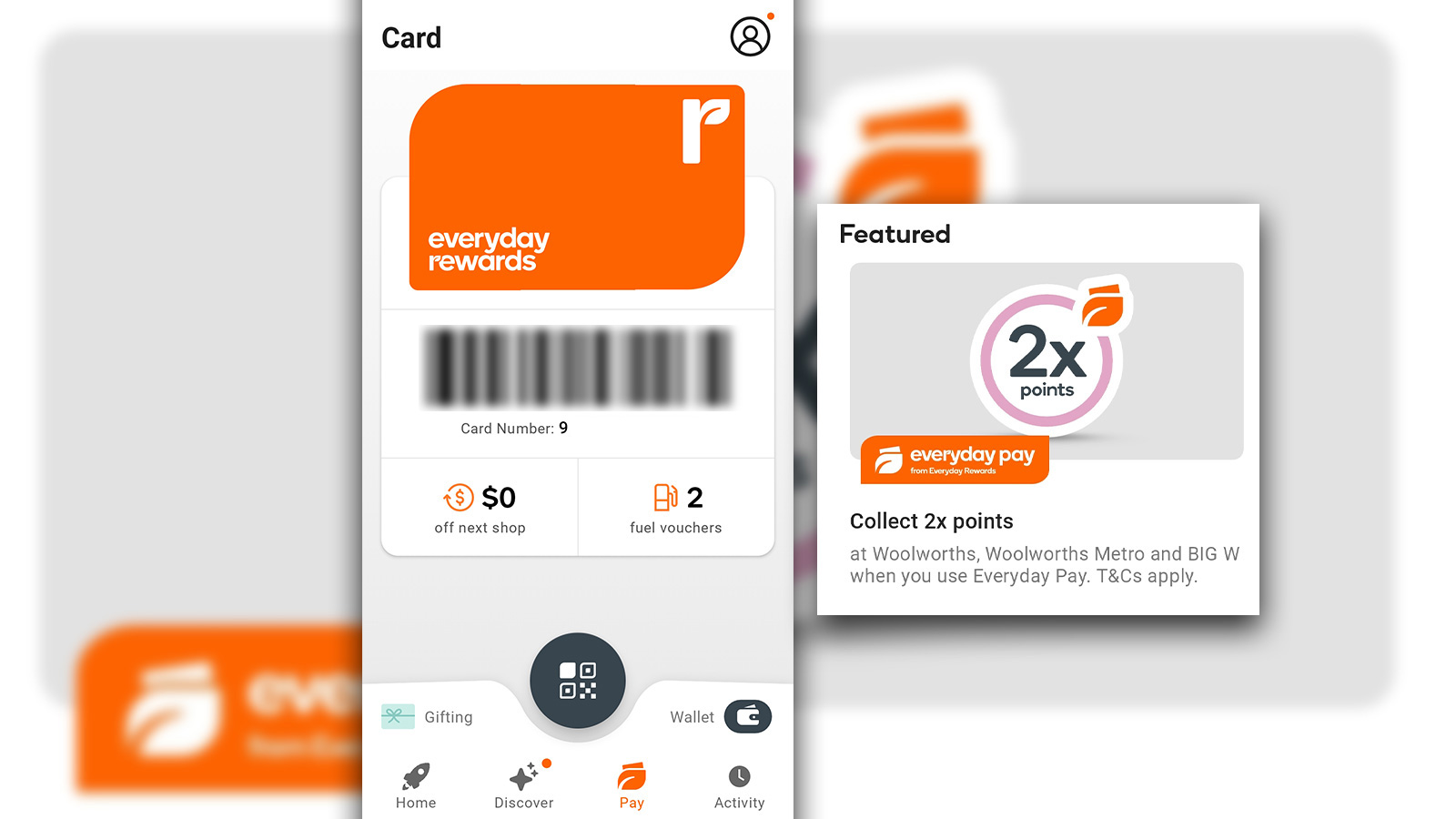 Everyday Rewards app: wallet and gifting
A new feature of the Everyday Rewards app is the ability to view all of your payment options and purchase gift cards. Under the 'Pay' tab, you'll see a button that says 'Gifting'. You can purchase electronic gift cards via the Everyday Rewards app for use at Woolworths and selected Everyday Rewards partners.
If you've got an electronic gift card to use, it'll be located in your 'Wallet'. This is also where you'll find any debit or credit cards that you've linked to Everyday Pay.
Everyday Rewards app: set and forget your card
When you install the Everyday Rewards app, there is the option of also saving your card to Apple Wallet or Google Pay, if you have an eligible device.
It means you don't have to bring the physical card out again, as simply tapping your NFC-enabled phone on the terminal, or scanning the barcode from your screen, will enter the Everyday Rewards number.
To add your card to your device's wallet, navigate to your account details and select 'Cards & Accounts'. From here, select 'save to phone' and follow the prompts.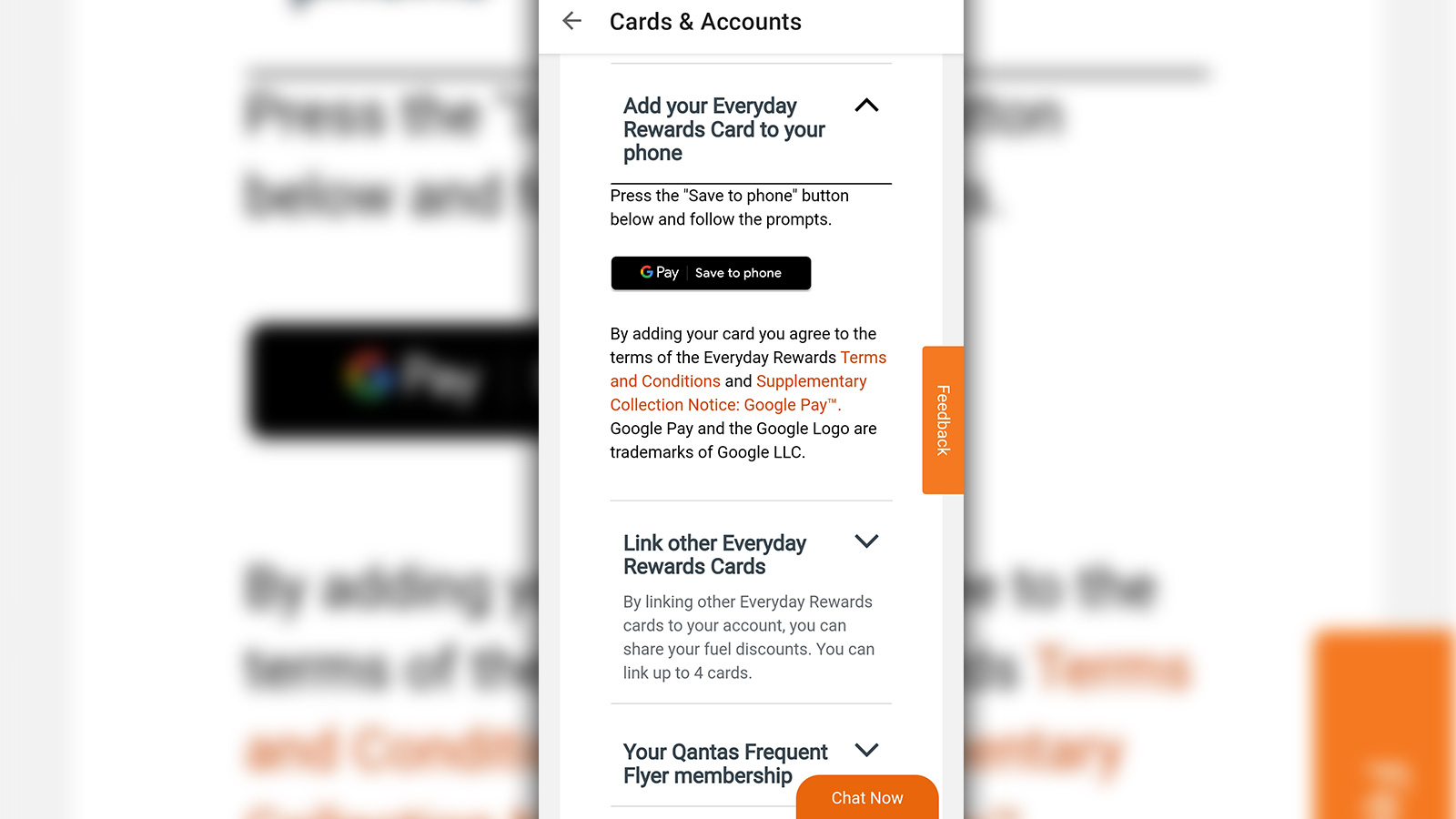 Everyday Rewards app: keep your e-receipts safe
The biggest new feature of the Everyday Rewards app compared to the Flybuys app is the ability to save your in-store purchase receipts. Go to the 'Activity' tab to see your recent transactions and the number of points earned.
If you see the orange receipt icon in the description, it means there is an e-receipt available, which is essentially a digital version of what you'd usually get printed at the checkout.
Any rewards earnt from a transaction, such as Everyday Rewards Dollars, Rewards Credits during promotional offers, or Qantas Points conversions, are also clearly highlighted in the 'Activity' tab.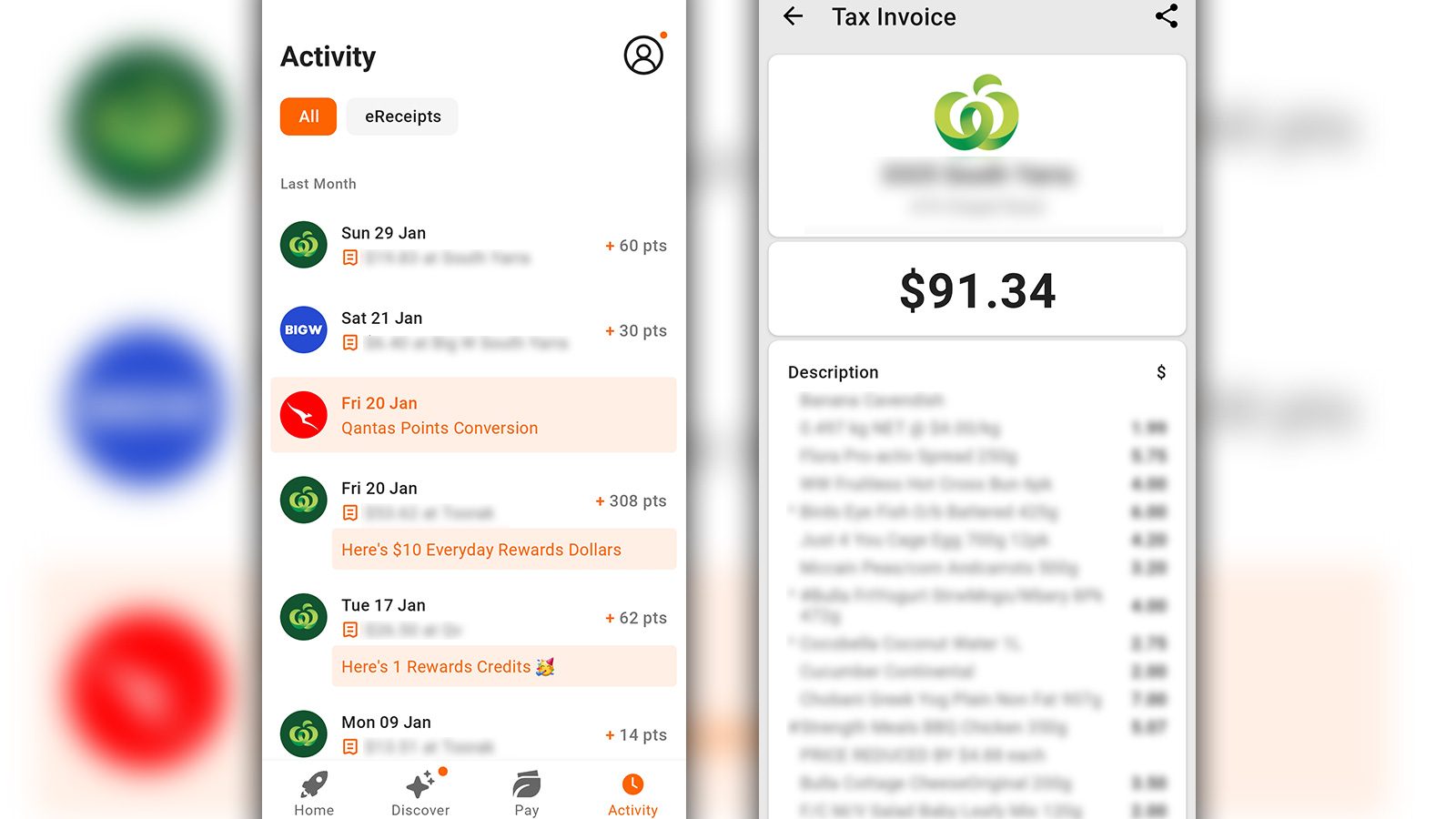 Summing up
Overall, the featured-packed Everyday Rewards app makes it easier than ever to manage payments, transactions and even digital fuel dockets. Having its own app (rather than piggybacking off the Woolworths supermarkets app, which it did previously) means it's easier for customers to see how many points they're earning, and choose which rewards they want.
Article originally written by Evin Tan Khiew.
Frequently Asked Questions
How do I join Everyday Rewards?
It's easy and free to join Everyday Rewards.

1. Go to the Join Everyday Rewards page on its website.
2. Fill in your personal details, and your temporary Everyday Rewards Card number if you have one.
3. Enter your postal address and email address to receive a new membership card.
4. A verification code will be sent to your email. Enter it to join Everyday Rewards.
How do I link my Woolworths card to Qantas Frequent Flyer?
You can link your Everyday Rewards and Qantas Frequent Flyer accounts on either the Everyday Rewards or Qantas website.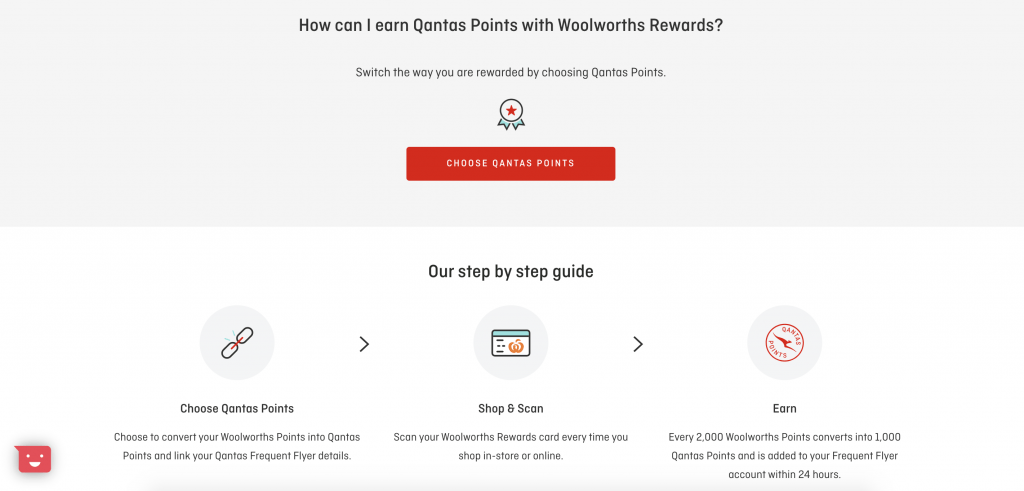 How do I check my Everyday Rewards points?
Just download the Woolworths app for Apple or Android, or through your web browser. Login to your account, and your current points balance will be displayed.
How do I get a new Everyday Rewards card?
To get a new or replacement card, you can use the Everyday Rewards app or a web browser.
In the app, navigate to 'Cards and Accounts' under your account settings. Scroll down to 'Order a new Everyday Rewards Card' to request a physical card.
On a web browser, go to 'My Account', then 'Cards and Accounts'. You will see a section on ordering a new card. Beware that if you say you've lost your card, it'll be cancelled and points transferred to a new card.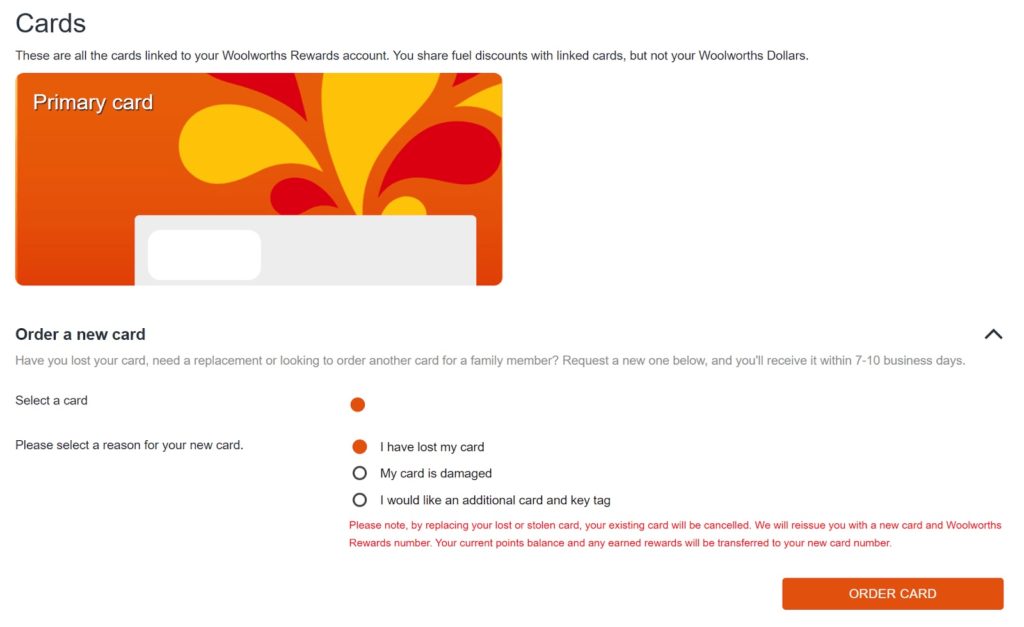 Guide to the Everyday Rewards app
was last modified:
May 30th, 2023
by