Unlike many hotel programs these days, World of Hyatt provides a clear award chart for hotel bookings. While the rates still flex up and down between peak and off-peak, World of Hyatt is very easy to understand. Better yet, you can buy World of Hyatt points in bulk and potentially save big on future travels.
In this guide, we'll explore the pros and cons of buying World of Hyatt points and show you how it's done. You can also peruse our related World of Hyatt Buy Points Promotions page for the latest deals.
What are the benefits of buying World of Hyatt points?
The strategy of buying points to save on travel follows one key principle. That's when the cost of buying and using points for an experience is less than simply booking and paying for that same experience in dollars.
Along those lines, buying points via World of Hyatt can sometimes deliver savings on hotel stays. But it's always important to run the numbers and see where you stand before diving in.
For instance, buying and redeeming World of Hyatt points in Australia often doesn't deliver much in the way of savings. That's particularly true given World of Hyatt points are priced and sold in US dollars – and right now, the USD:AUD currency exchange rates aren't particular favourable.
But when it comes to travelling and staying outside of Australia, the opportunities are a little more lucrative. Especially so at higher-priced hotels.
The value behind buying World of Hyatt points
Let's take a look at how Hyatt points can be spent. This shows the power behind the World of Hyatt program, and what you can do with points after you've bought them. To illustrate, we'll use New York as an example.
For a simple midweek overnight stay in March 2023, here's what several NYC hotels are charging per night. These rates include all taxes and other mandatory fees, such as 'destination charges'. For that exact same room on the same date, we've also included what it'd cost to book using World of Hyatt points.
In our table, you'll also see the 'value per point' these bookings can unlock. We'll get into why that's important very soon.
| | | | |
| --- | --- | --- | --- |
| Hotel | Nightly room rate | Book using points | Value per point redeemed (USD) |
| Hyatt Grand Central New York | US$352.01 | 20,000 points | 1.76 cents |
| Andaz 5th Avenue | US$624.01 | 25,000 points | 2.5 cents |
| Thompson Central Park New York | US$673.19 | 25,000 points | 2.69 cents |
| Park Hyatt New York | US$938.71 | 40,000 points | 2.35 cents |
| The Beekman, a Thompson Hotel | US$544.54 | 25,000 points | 2.18 cents |
As you'll see, the value gained from each booking isn't a set price. In effect, the best value comes at hotels with hefty cash nightly room rates, but where relatively few points are needed to book. This is where buying and redeeming World of Hyatt points gets the most exciting.
To make things even better, Hyatt waives all 'destination fees', 'resort fees' and other similar charges when using points to cover the entire booking. This is reflected in our calculations above, where the paid nightly rates include these charges.
Ad – Scroll down to continue reading.Minimum spend, terms & conditions apply.
So then, what does it cost to buy World of Hyatt points?
We're glad you asked! Outside of promotional periods, you can buy World of Hyatt points for 2.4 US cents apiece.
World of Hyatt members can buy from 2,000 to 55,000 points per transaction. An annual purchasing limit of 55,000 points also applies. This means you could buy the full 55,000 in one go or make several smaller purchases throughout the year.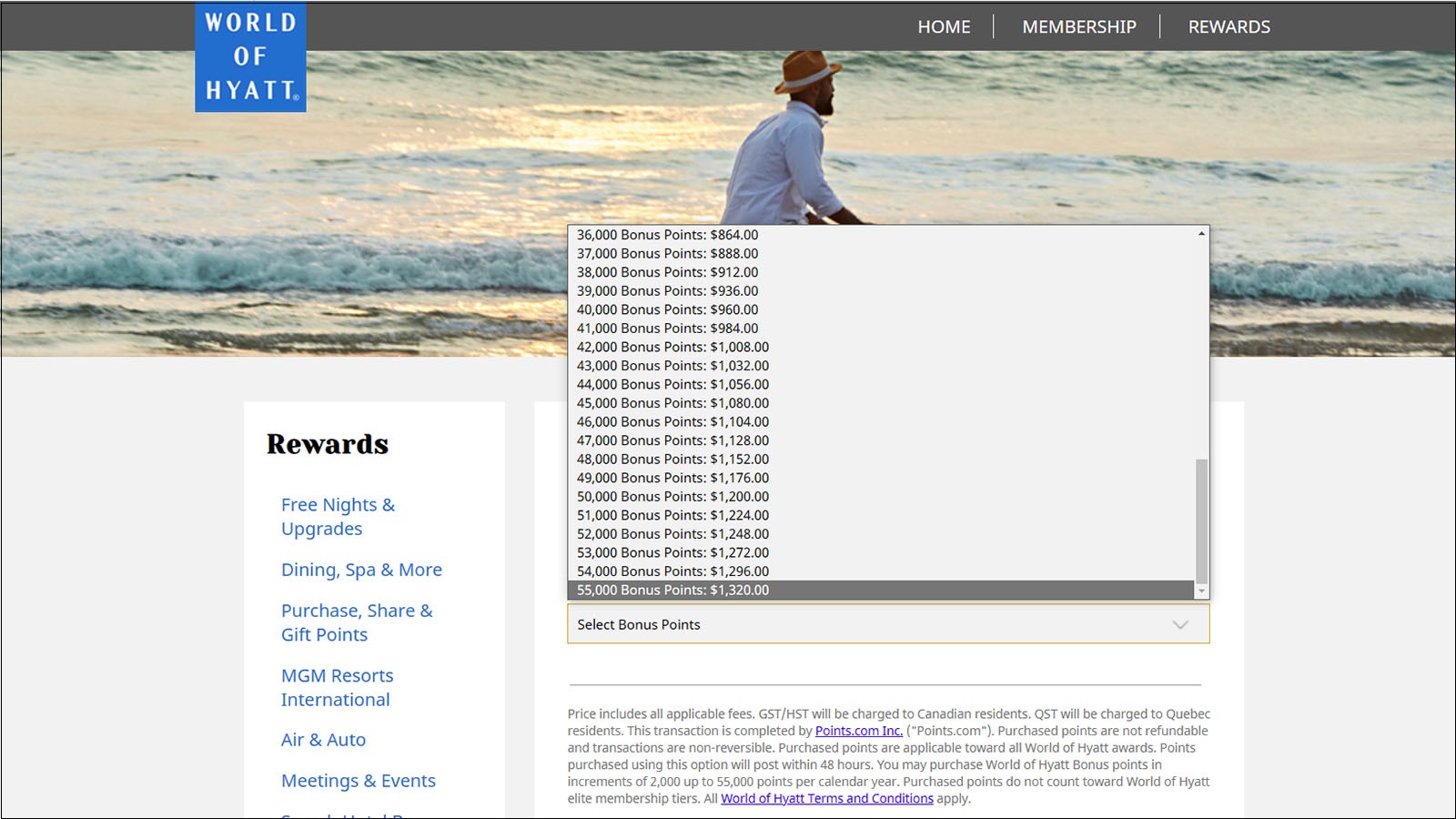 At these rates, it costs US$48 to buy 2,000 World of Hyatt points. For the maximum of 55,000 points, you're looking at US$1,320. From our earlier table, we can see there'd be a slight saving had by buying and using points at the Thompson Central Park hotel, given the redemption gives almost 2.7c in value per point. But that's still only a marginal saving. At other hotels, you'd be better off simply paying for a room, and earning points on that stay.
But from time to time, World of Hyatt runs promotions to encourage members to buy points. These deals typically offer either bonus points from the same spend, or cash discounts when buying points.
That, friends, is where the real value comes from.
Let's say you stocked up on points during a deal offering a 100% bonus or a 50% discount when buying points from Hyatt. This would bring the cost per point down from the usual 2.4 US cents to just 1.2 US cents. Given you could potentially redeem those points for more than twice that value, that would be a great time to buy and redeem points.
Should you buy World of Hyatt Points?
You can easily check whether buying World of Hyatt points would save money on any given booking.
Head to the World of Hyatt website and search for a hotel on your desired travel dates. Tick the 'use points' box as well.
Compare the nightly cost in points with the nightly total cost in cash. Note, you often need to take the booking through to the payment page to see all taxes, fees and mandatory charges included.
Divide the cost of the room in cash with the number of points needed for the same booking. For instance, with our Andaz 5th Avenue example above, we divided the total nightly cost of US$624.01 by 25,000 (the number of points required), to calculate the value per point at 2.5 US cents.
If the value per point redeemed is greater than the cost of buying those points, you're onto a winner. If not, paying for a room in the regular way is the better option.
Separately, World of Hyatt also offers a 'Points + Cash' option. These rates are generally priced at around a 50% discount on the paid room rate, but can require 65-75% of the points needed for a completely free night in combination.
It's something to consider if you won't have enough points to cover the full room rate. But still make sure you're getting a good deal if buying Hyatt points for that stay.
The Points + Cash path is less likely to be good value on bookings in the US, given the propensity of destination fees and resort fees. Except for Hyatt's top-tier Globalist members, these fees are only waived when using points to book a room in full. Where points only cover part of the nightly fee, such as on Points + Cash stays, those charges still apply.
World of Hyatt's award chart
Unlike many other hotel programs, World of Hyatt still uses award charts for spending points. Hotels are assigned a 'category'. This category number influences how many points are needed per night.
You can check which category each hotel belongs to via this page on the Hyatt website. It's not quite straightforward, but you can select a hotel category at the top, and then see a list of which hotels belong to that category. Park Hyatt Sydney belongs to the highest rung, category 8. Meanwhile, Park Hyatt Melbourne is category 5.
Hyatt also uses three redemption rates within each category. Free nights are centred on a 'standard' redemption rate but can swing upwards to 'peak' during busier times, or down to 'off-peak' during quieter periods. Here's how that looks when using points to book a standard room.
| | | | |
| --- | --- | --- | --- |
| Hotel Category | Off-Peak | Standard | Peak |
| 1 (e.g. Hyatt Place Bangkok Sukhumvit) | 3,500 | 5,000 | 6,500 |
| 2 (e.g. Hyatt Regency Perth) | 6,500 | 8,000 | 9,500 |
| 3 (e.g. Hyatt Recency Brisbane) | 9,000 | 12,000 | 15,000 |
| 4 (e.g. Grand Hyatt Melbourne) | 12,000 | 15,000 | 18,000 |
| 5 (e.g. Park Hyatt Melbourne) | 17,000 | 20,000 | 23,000 |
| 6 (e.g. Grand Hyatt Tokyo) | 21,000 | 25,000 | 29,000 |
| 7 (e.g. Park Hyatt Maldives Hadahaa) | 25,000 | 30,000 | 35,000 |
| 8 (e.g. Park Hyatt Sydney) | 35,000 | 40,000 | 45,000 |
World of Hyatt points can also be used to book Club rooms, standard suites and premium suites at most hotels (Park Hyatt Sydney is a notable exception). These redemption rates can be found on the Hyatt website.
Summing up
Strategically buying and redeeming points for travel can deliver some serious savings. But it's not always guaranteed to be a good strategy.
You really do need to check whether each and every booking is good value. After all, you don't want to spend a hefty sum on points for a hotel stay, only to find that you could've just paid for the same room – and paid a lot less.
Based on the usual cost to buy World of Hyatt points, it's not a move we'd recommend diving into without a specific booking in mind. But if a promotion came along and gave a hefty discount or a solid bonus to sweeten the pot, it could be worth buying a stash if you know you'll use them in a way that gives greater value.
Featured image courtesy of Park Hyatt Sydney.
Also read: How to buy, gift and transfer Marriott Bonvoy reward points
This content contains affiliate links from which Point Hacks may earn commissions from transactions generated from new customers, bookings and general enquiries. Find out more here.
How to buy World of Hyatt points
was last modified:
February 8th, 2023
by