Following an ambitious SG$50 million upgrade project, Singapore Airlines' suite of lounges across Changi Airport's Terminal 3 are back in business. But with four distinct lounges here, the carrier's SilverKris First Class Lounge has a unique tilt.
Certainly, it's better than the Business Class Lounge. But despite the name, it's also not the real First Class Lounge. (For Singapore Airlines, that's The Private Room). It's more of a lounge for top-tier travellers, or for those flying at the pointiest of pointy ends on partner airlines.
It's still a tough lounge to access, but if you do make it inside, here's what awaits.
Watch our video or continue reading below to learn more:
Location
You'll find Singapore Airlines' SilverKris First Class Lounge in Changi Airport's main departures area. Open to both departing and transiting travellers, it's nestled in Terminal 3 as part of the carrier's main lounge precinct.
If your journey begins in Singapore, make your way through passport control and turn left. Then keep your eyes peeled for Singapore Airlines' refreshed signature batik motif, nearby the escalator up to the lounge level. In transit instead? You can head straight to the lounge, as there's no further security to venture through until reaching your departure gate.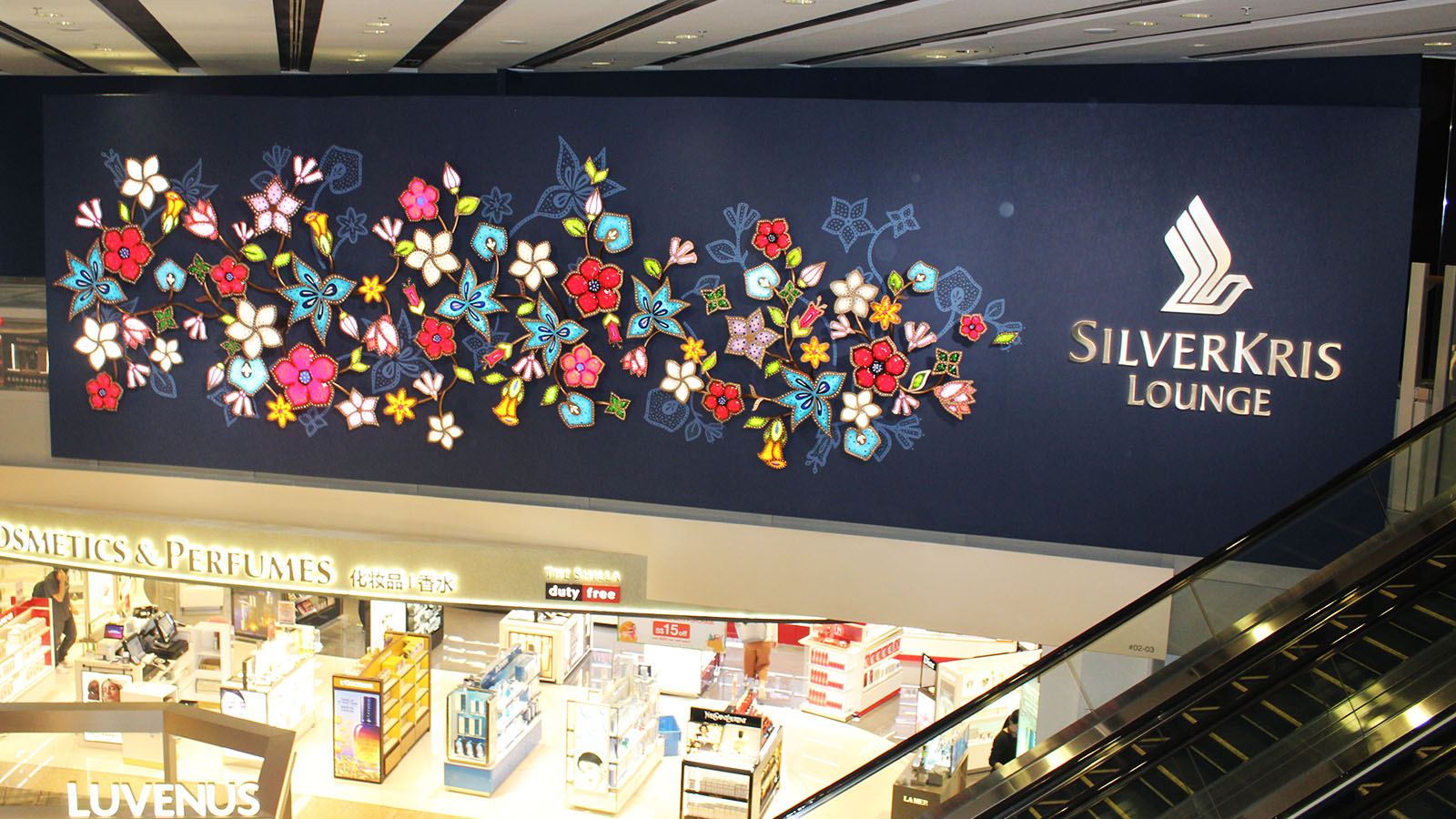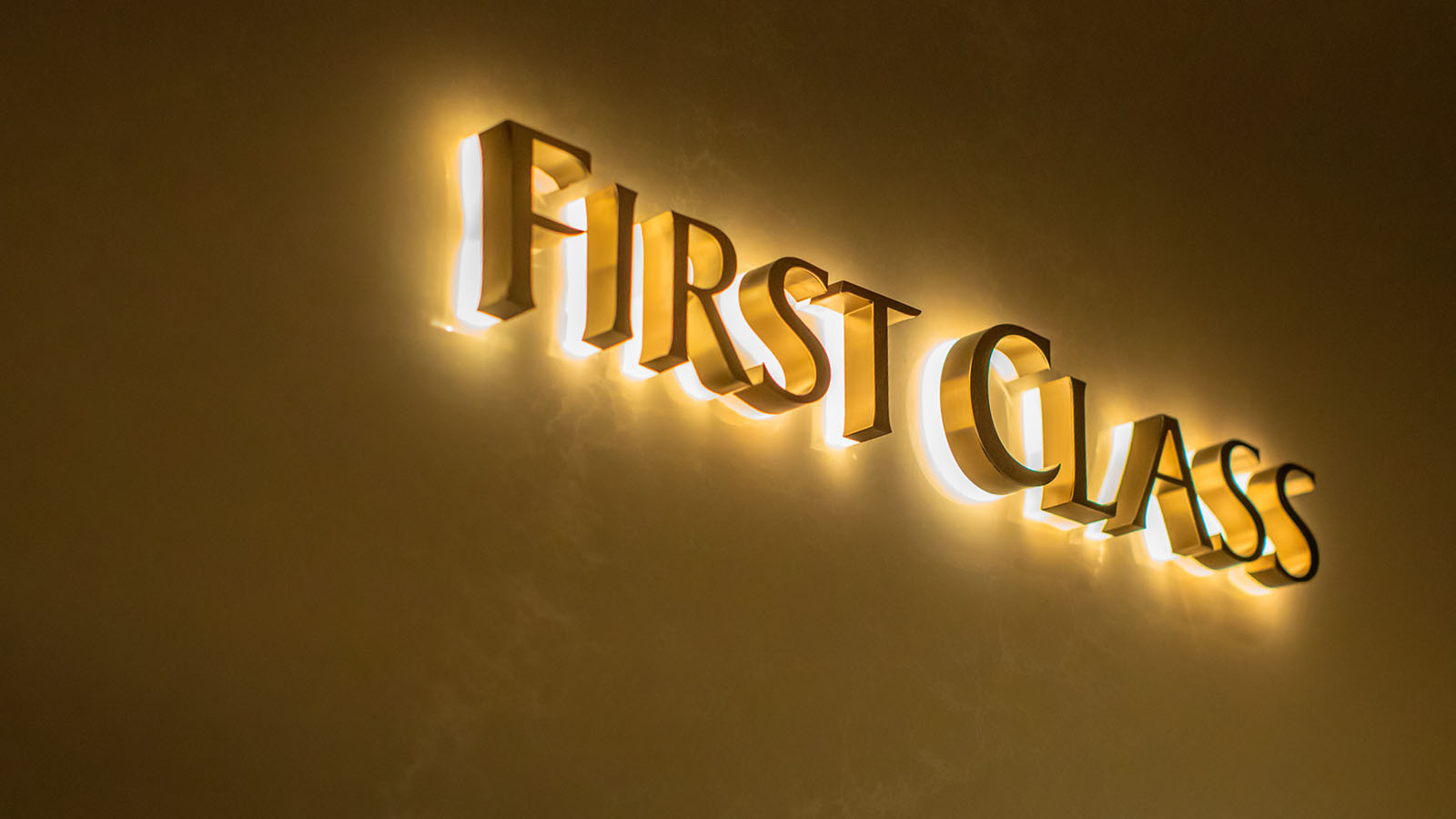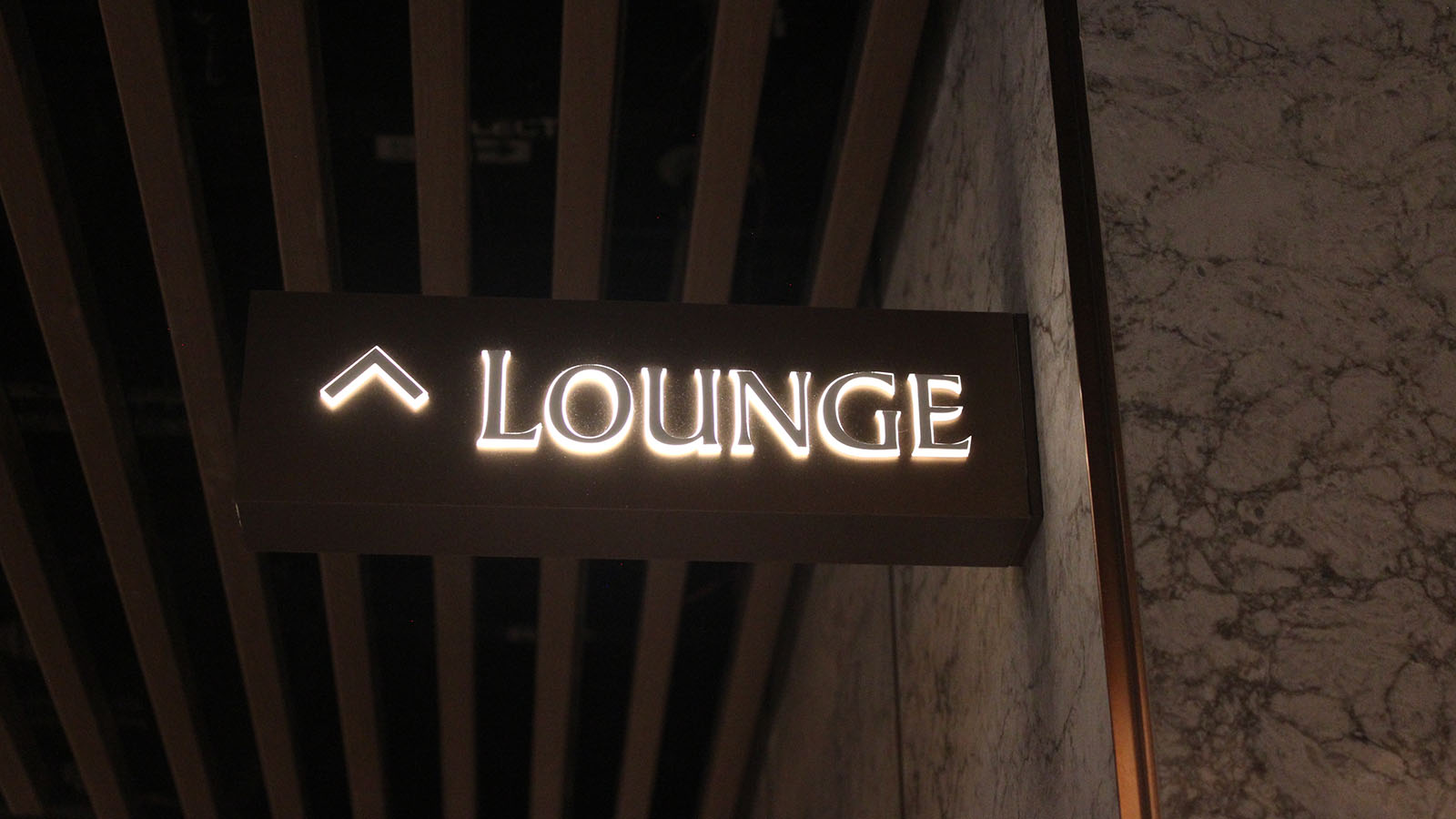 Following the redesign of the T3 lounge precinct, the SilverKris First Class Lounge now has its own entrance. The reception space is still shared between the First Class and Business Class lounges. But from there, you can walk straight into First Class – no more parading travellers through the Business Class space.
Lounge layout and seating
The all-new SilverKris First Class Lounge finds an all-new layout. This primarily centres around one main zone, catering for a mix of working, dining and relaxing.
Booths lining the walls and against the walkway have you covered on the dining front. The comfy sofas suit a more laidback visit – and with all forms of power built-in with easy access. Whether it's AC, USB or wireless charging you need, this is the place to power up while you recharge your own battery for the flight ahead.
As seen in many of Singapore Airlines' other lounges, private pods also line some of the walls. These give the flexibility to work with a little more privacy, to dine solo, or read a good book with a handy light right where you need it.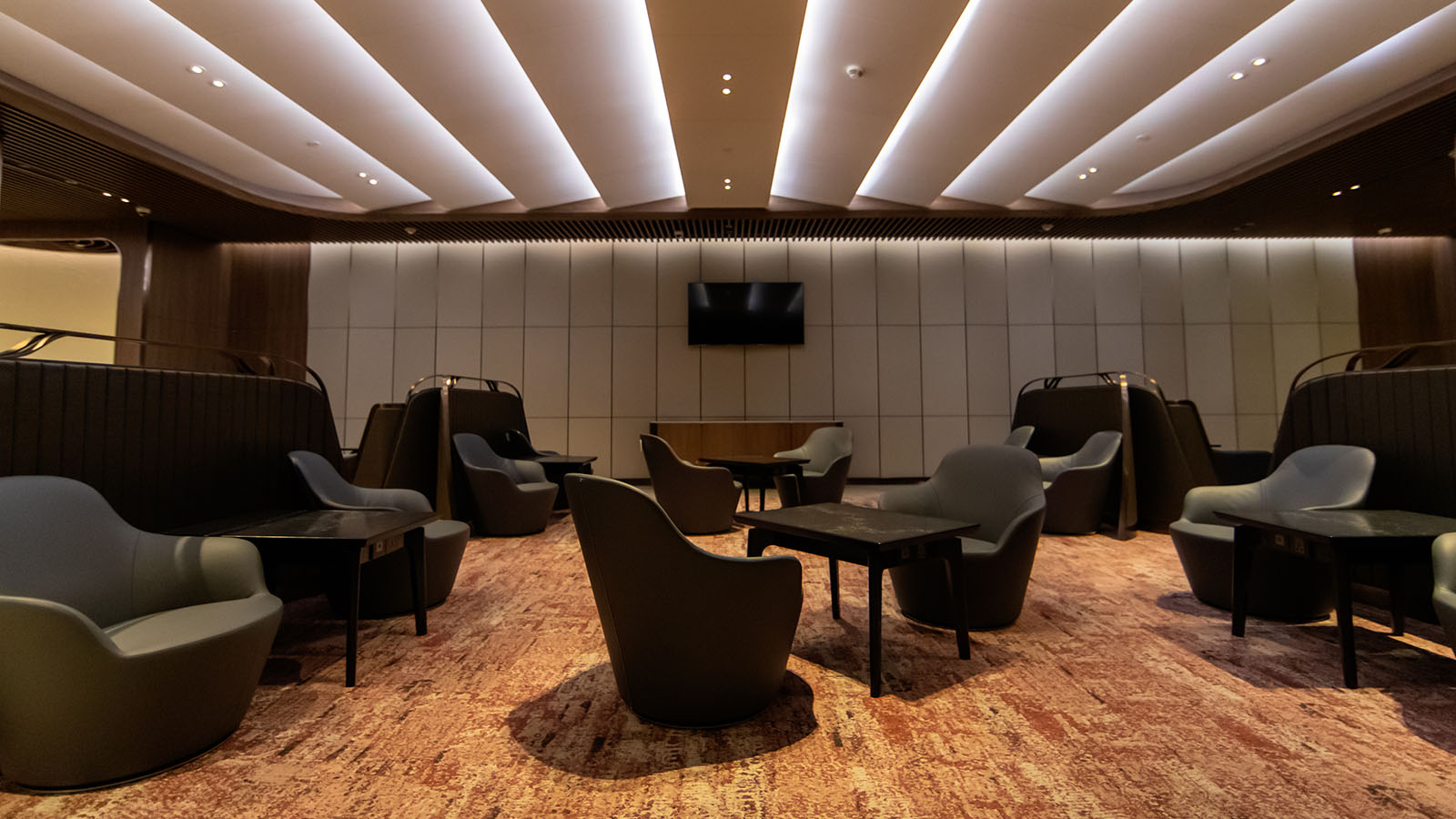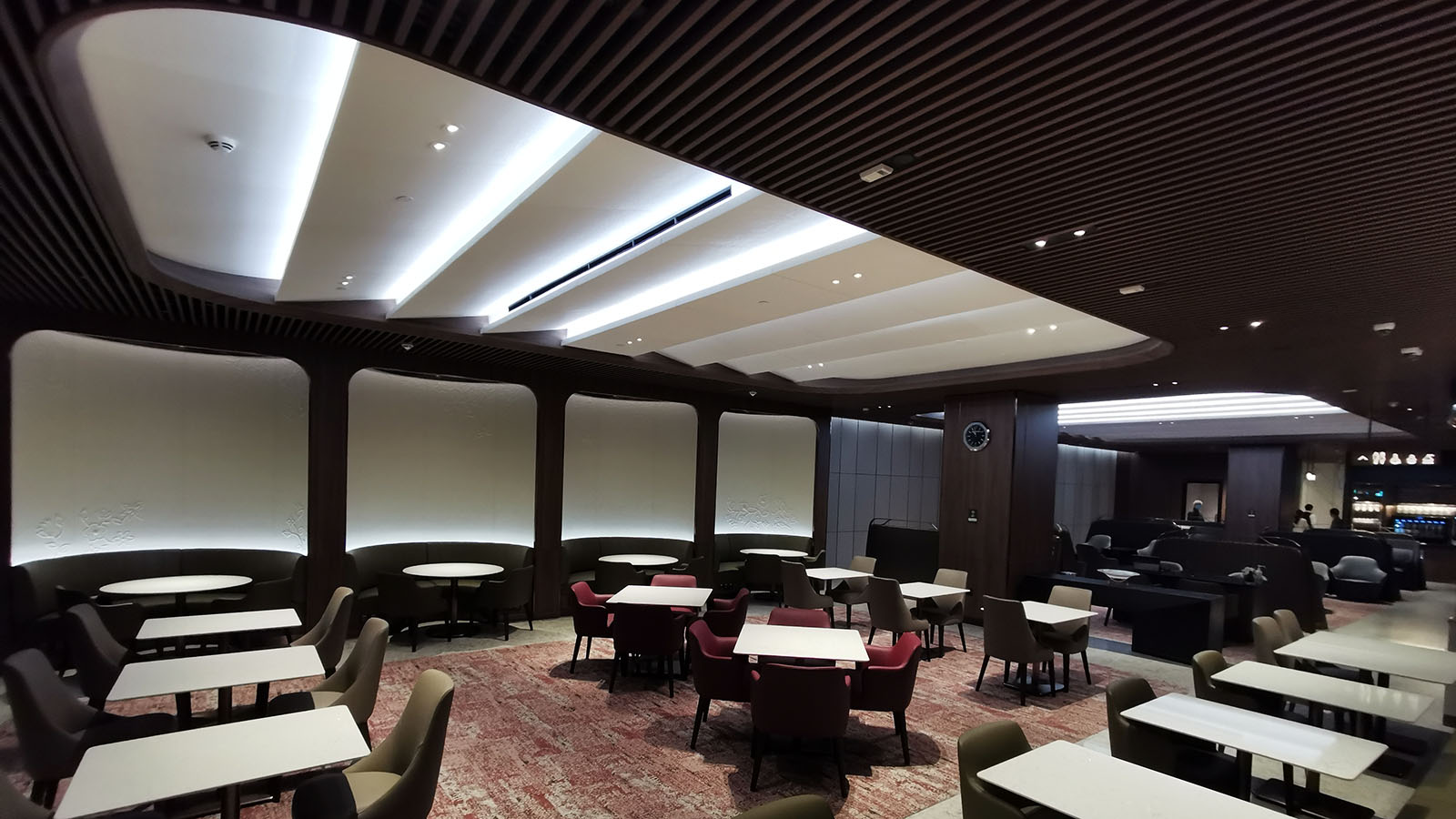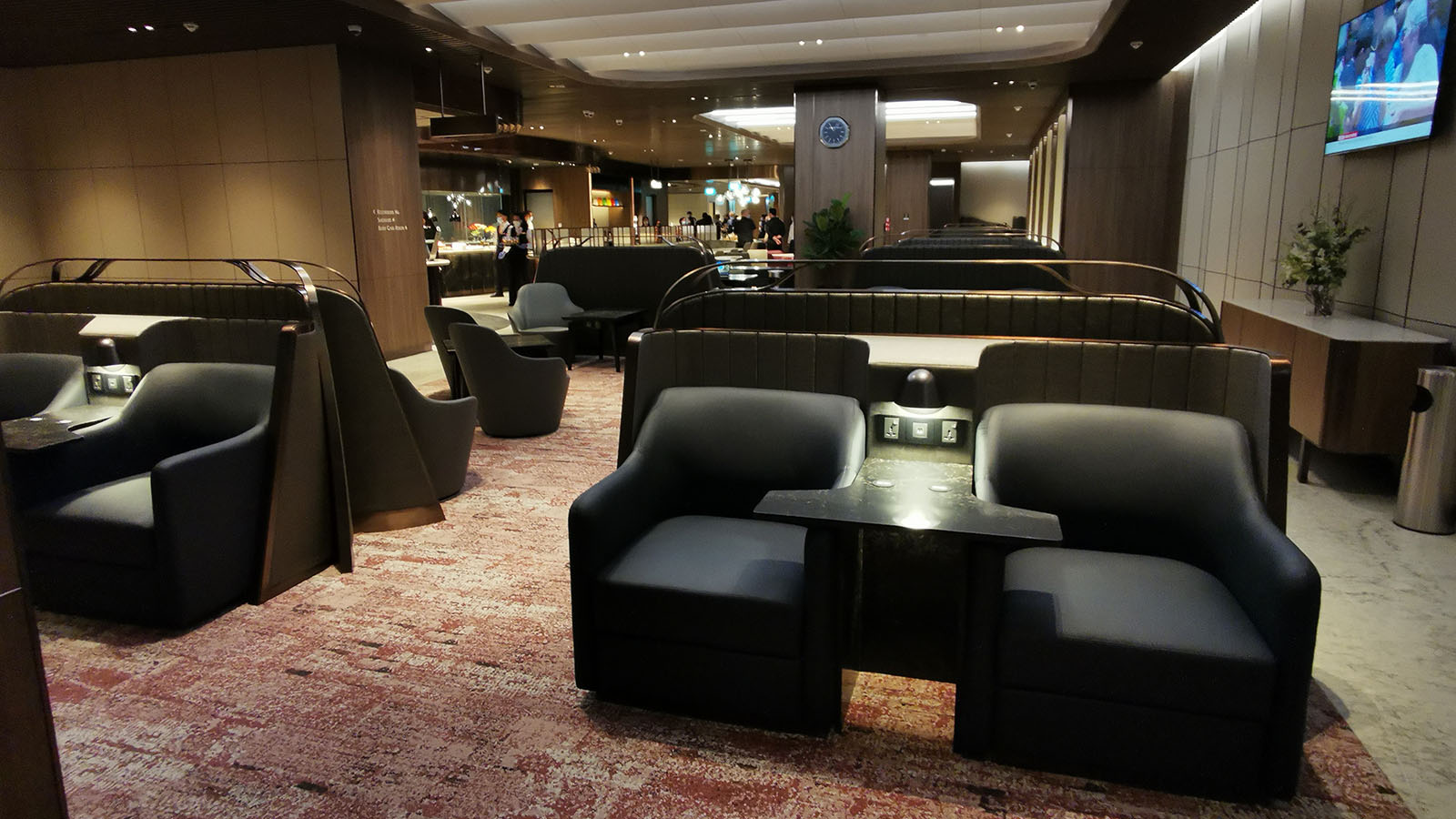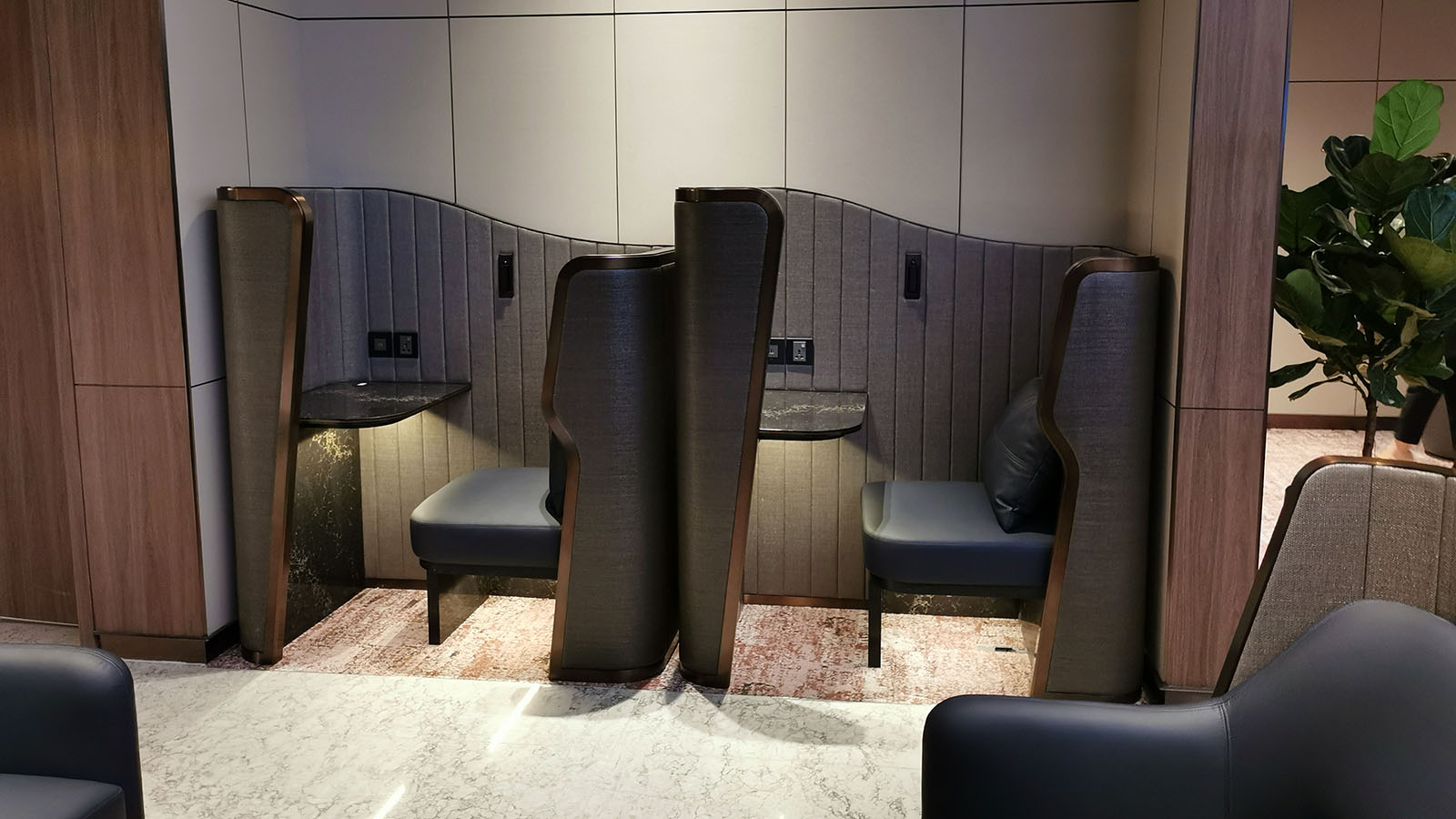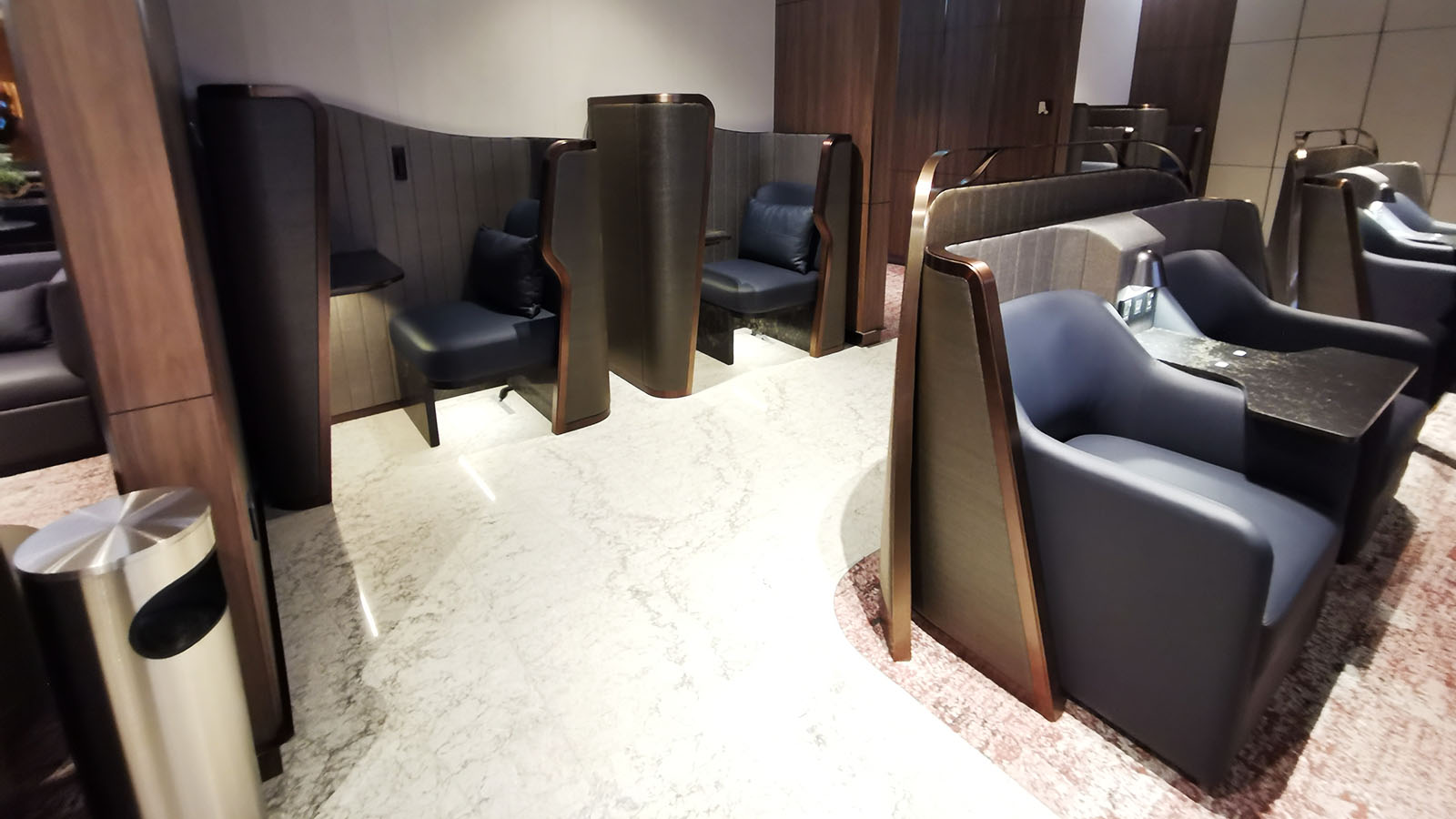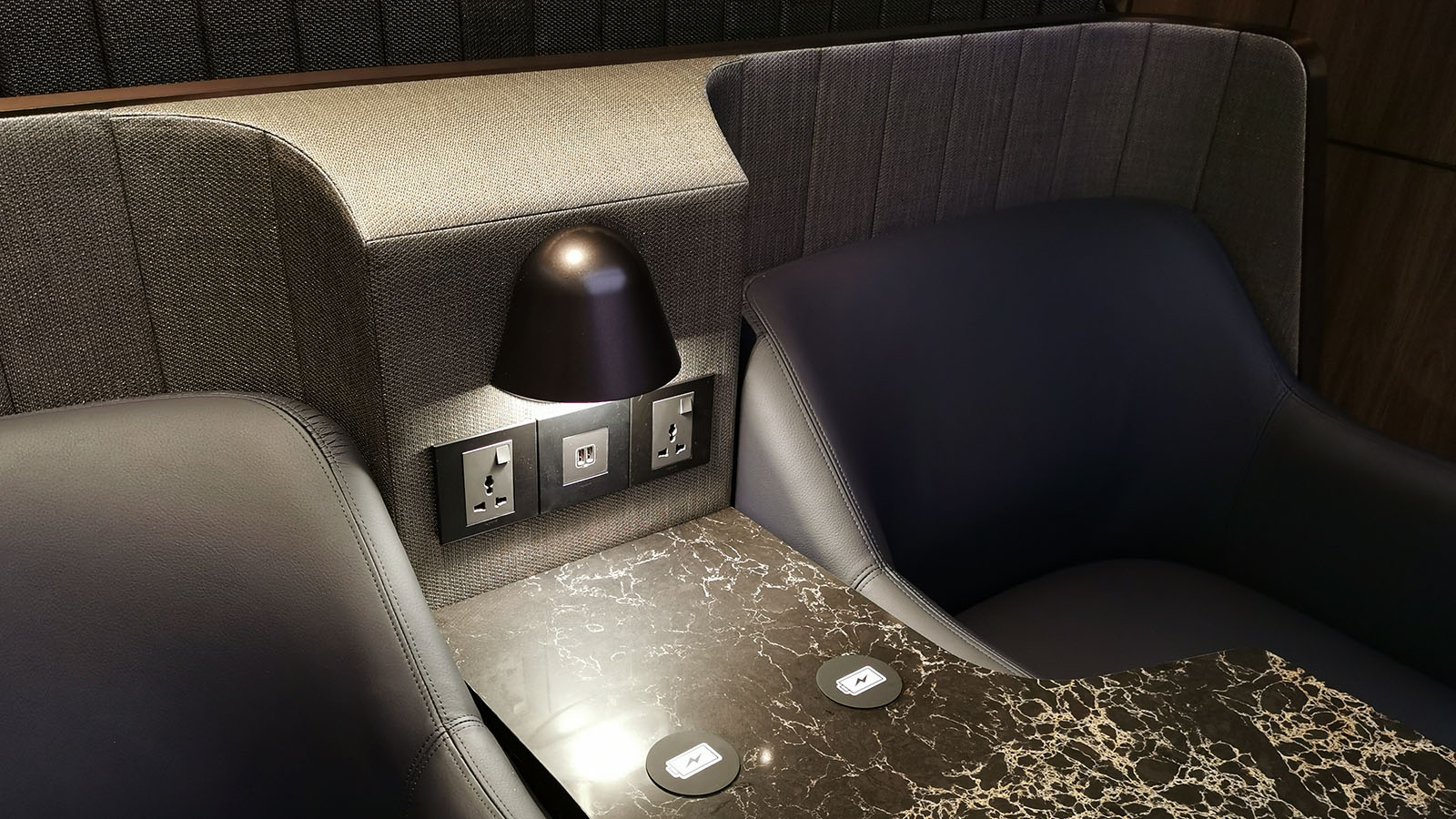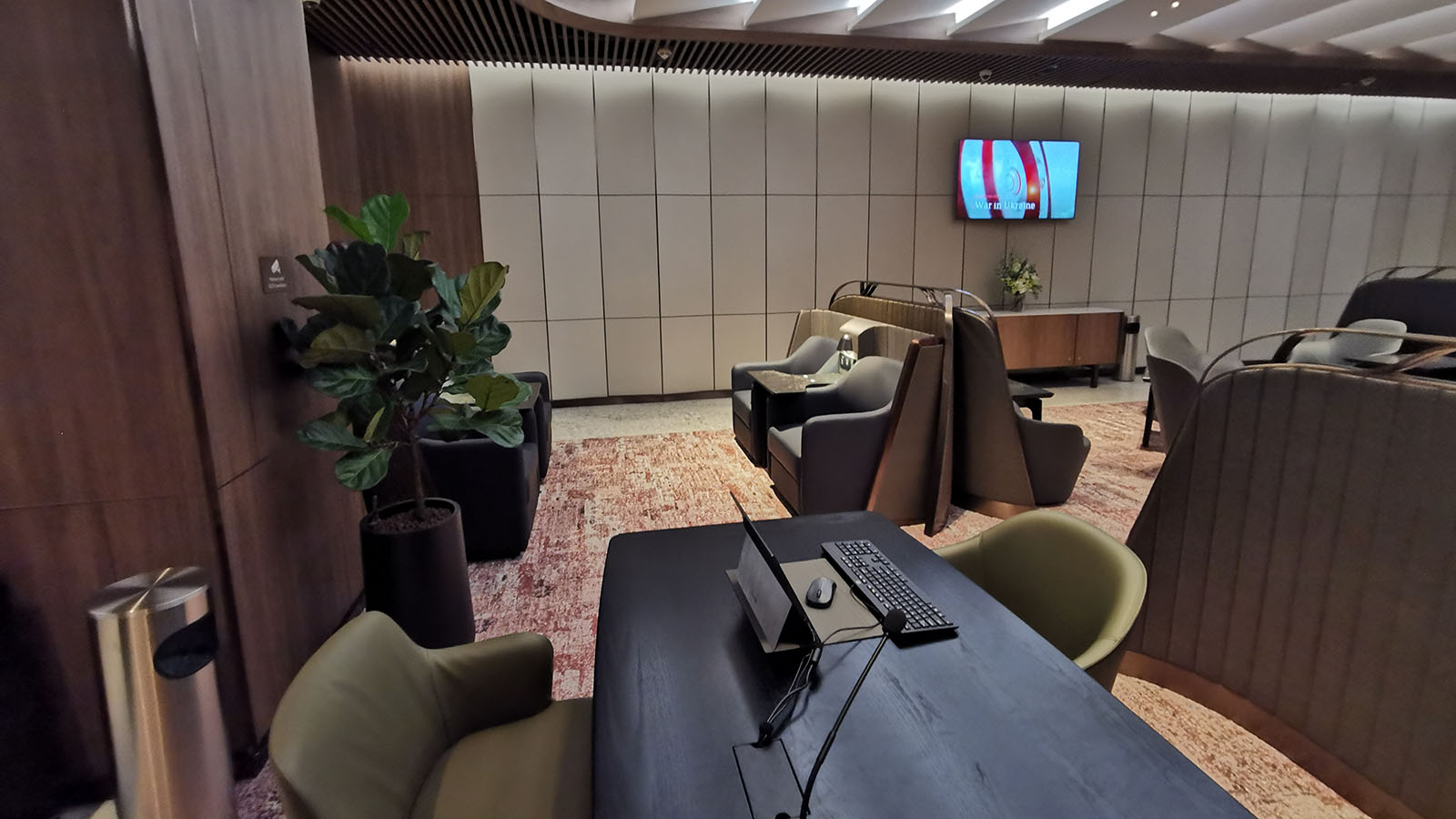 The overall styling of the lounge resembles many of the airline's premium cabins, and with small design touches echoed from The Private Room. Given the very restrictive access list for this lounge, it's not a space to become busy in the way that the Business Class Lounge and KrisFlyer Gold Lounge can be bustling at peak times.
That's why the spacing of seats here can be what it is: there's simply no need for seats in bulk. It's a bespoke experience for the airline's highest-tiered flyers, shared only with travellers booked in First Class on Star Alliance airlines. A very small club indeed.
Food and beverage in Singapore Airlines' SilverKris First Class Lounge in Singapore
Being a level above Business Class but not quite the 'real' Singapore Airlines First Class Lounge, the food and beverage offering here reflects that. Broadly, this sees barista coffee and bartender service available, as well as self-served food options.
Choices vary to suit the time of day, but on this visit, the buffet proved quite comprehensive. There's everything from dumplings and satay through to truffle fries, salads, sandwiches, cheese and fruit. As expected in Singapore, the satay was most certainly worthy of a second pass.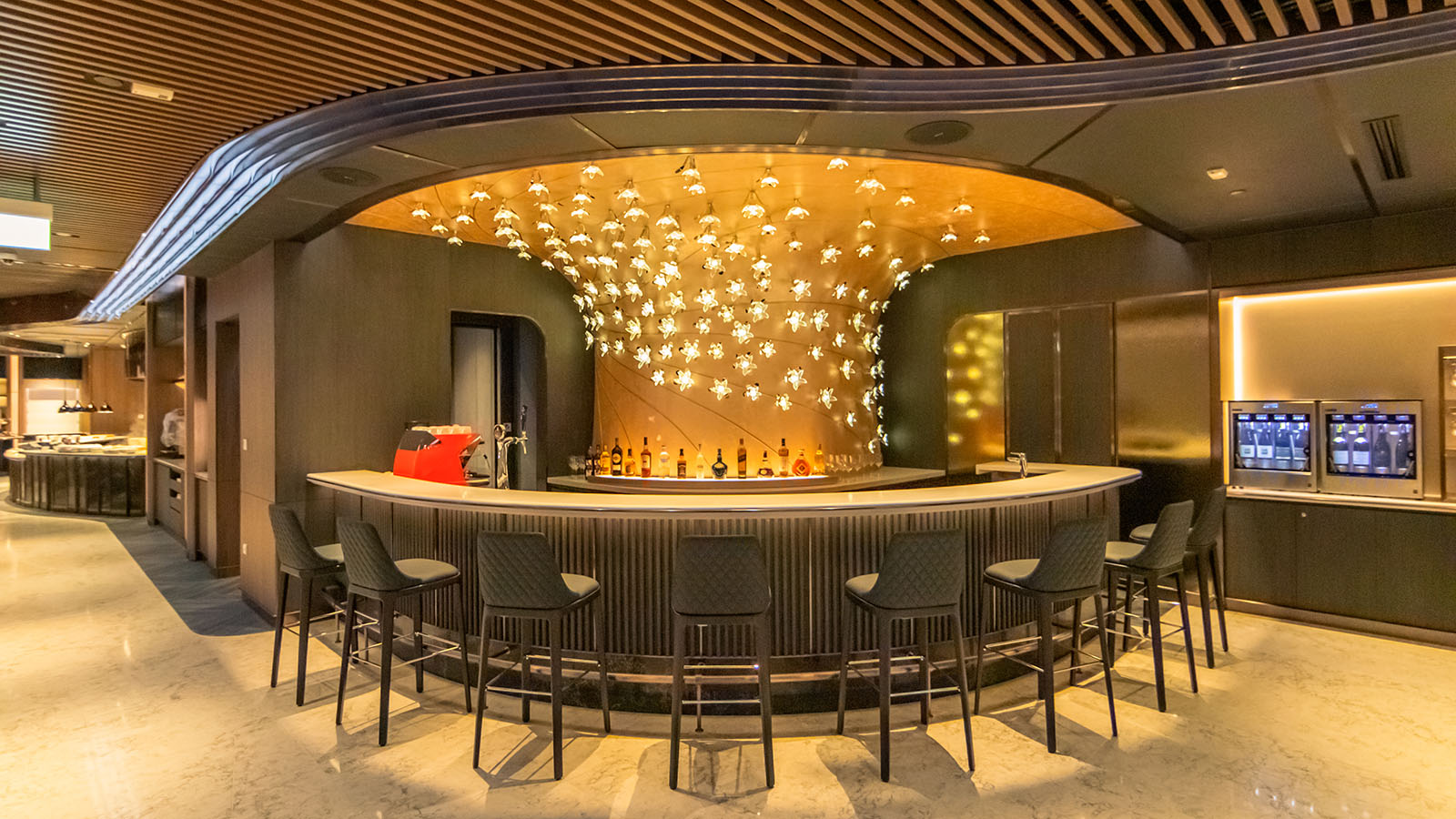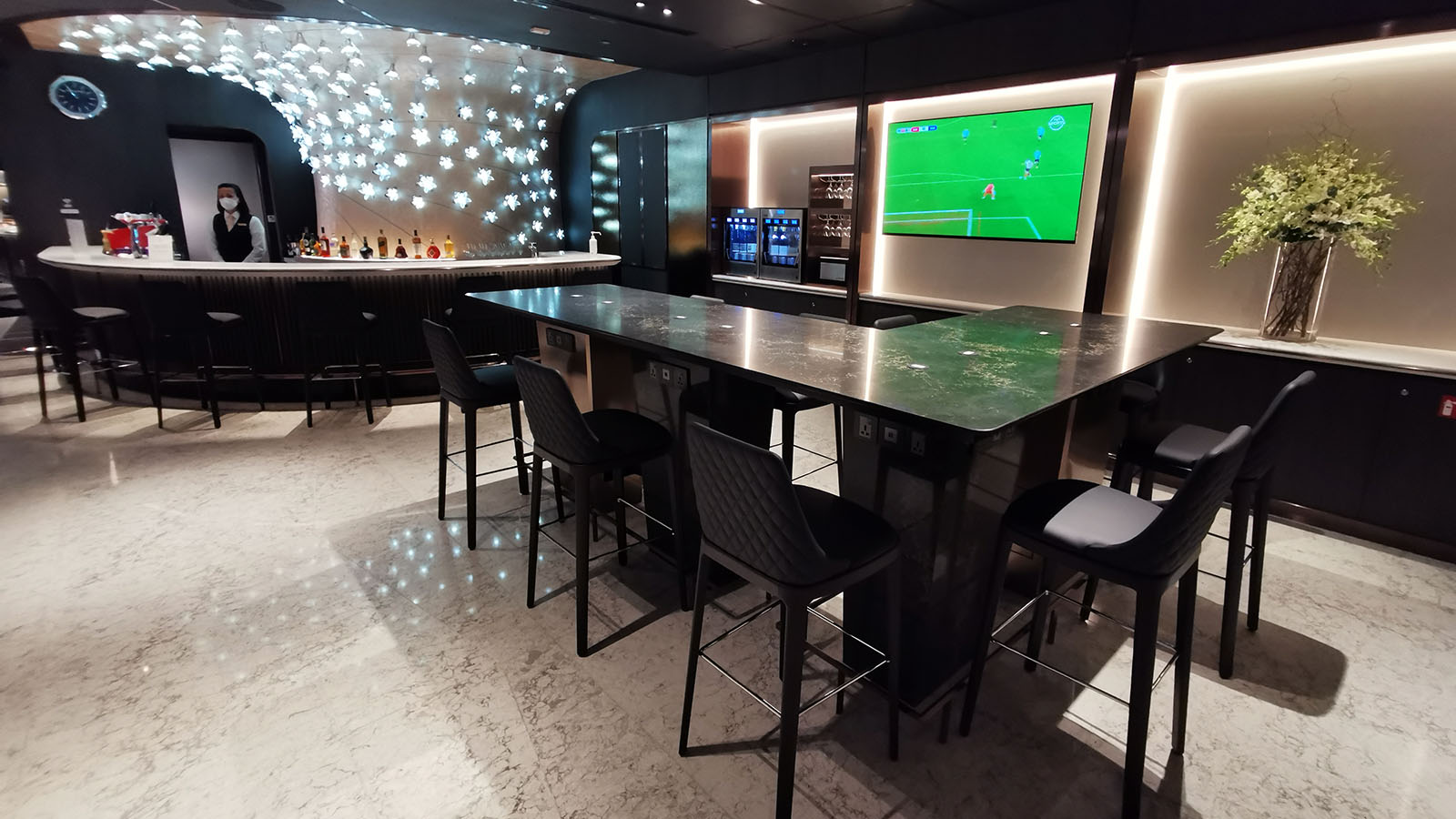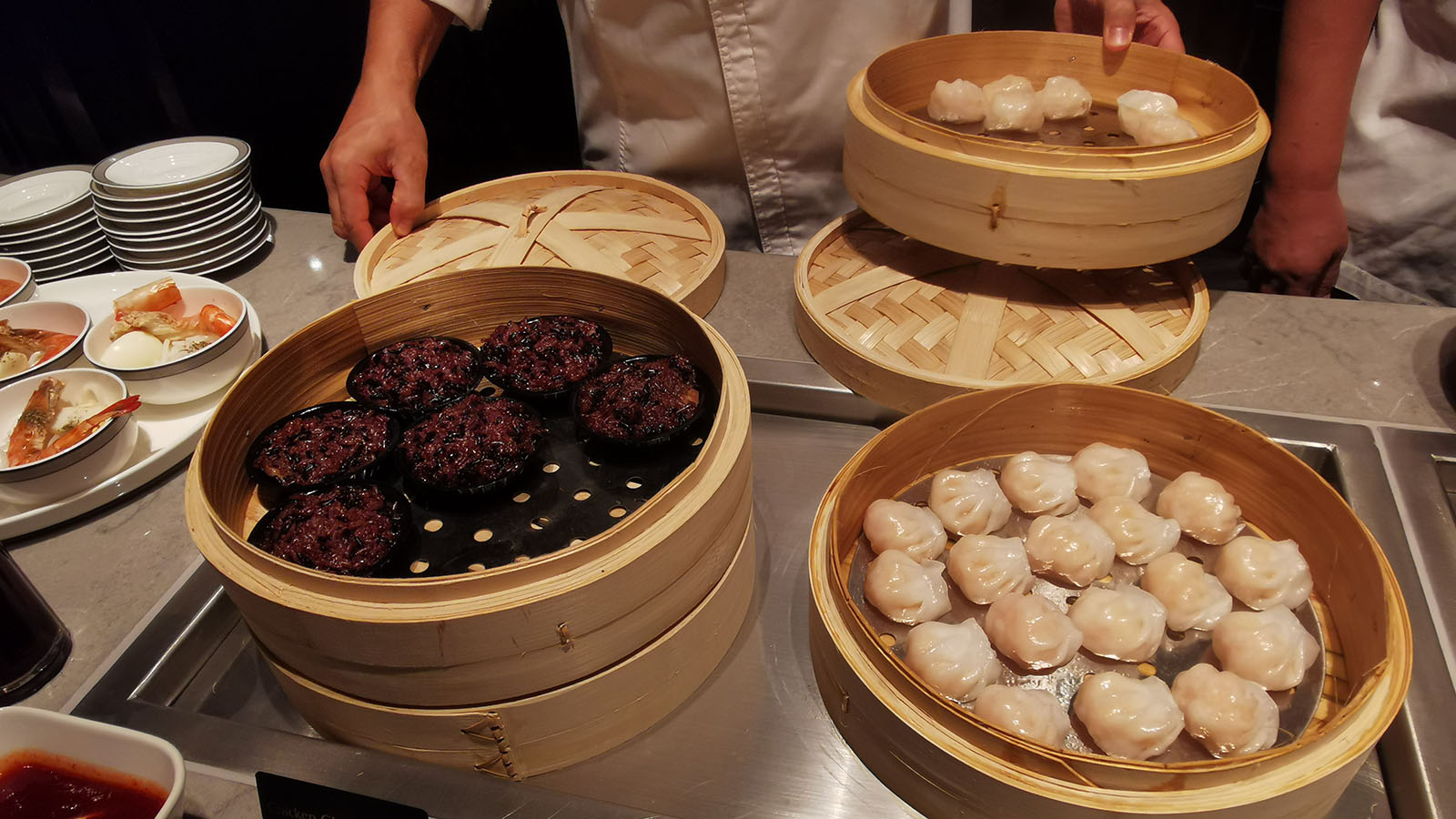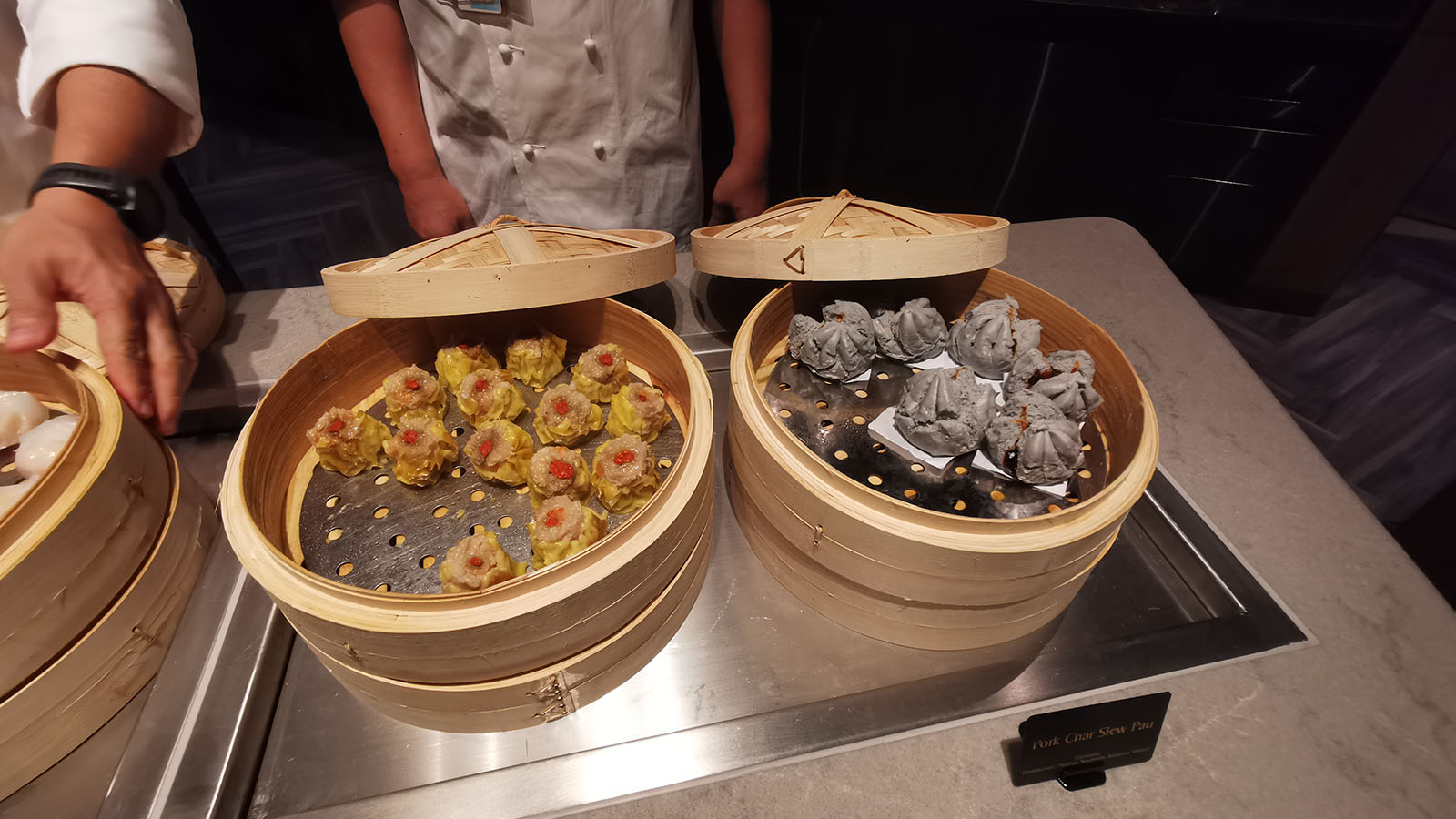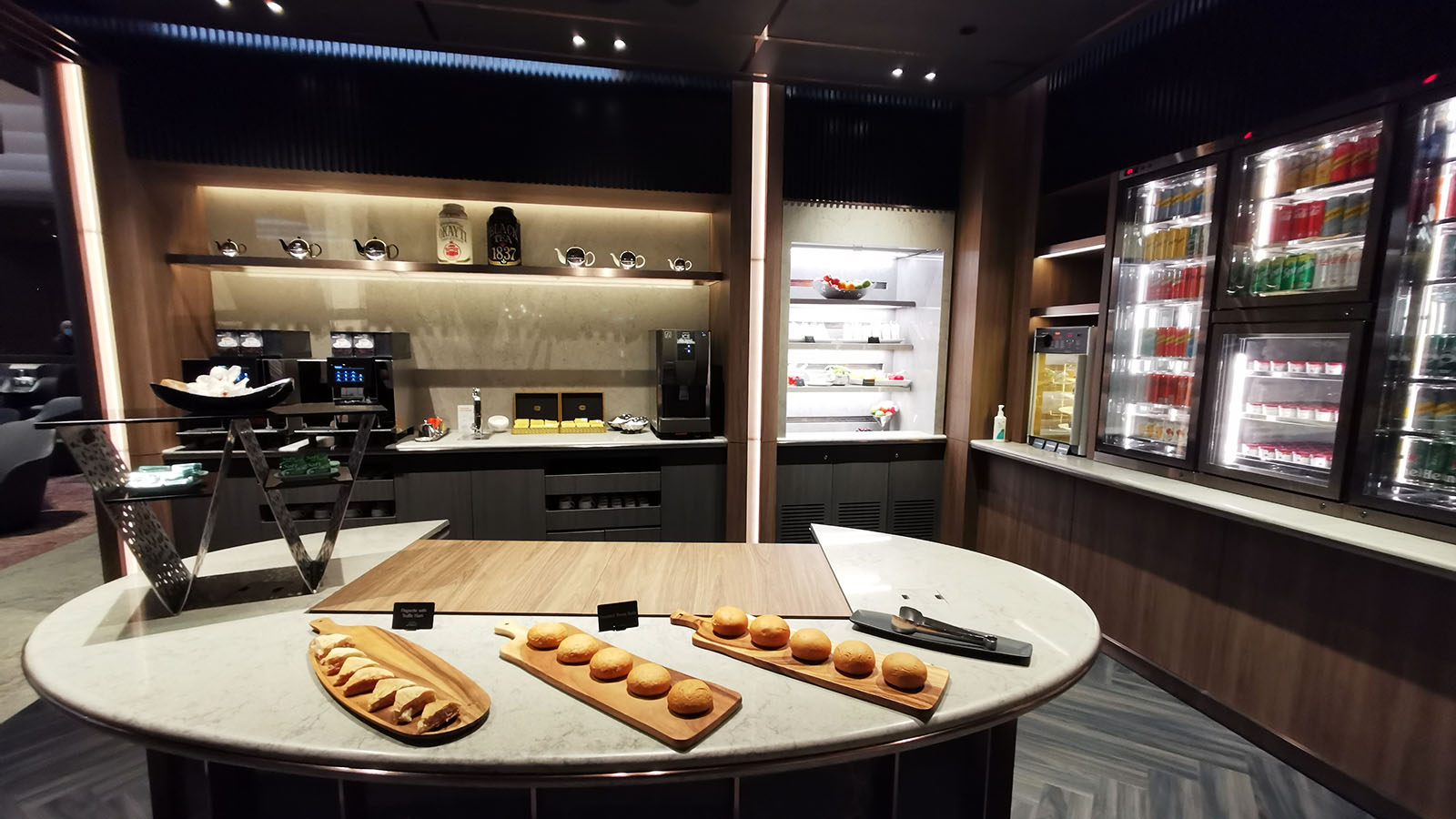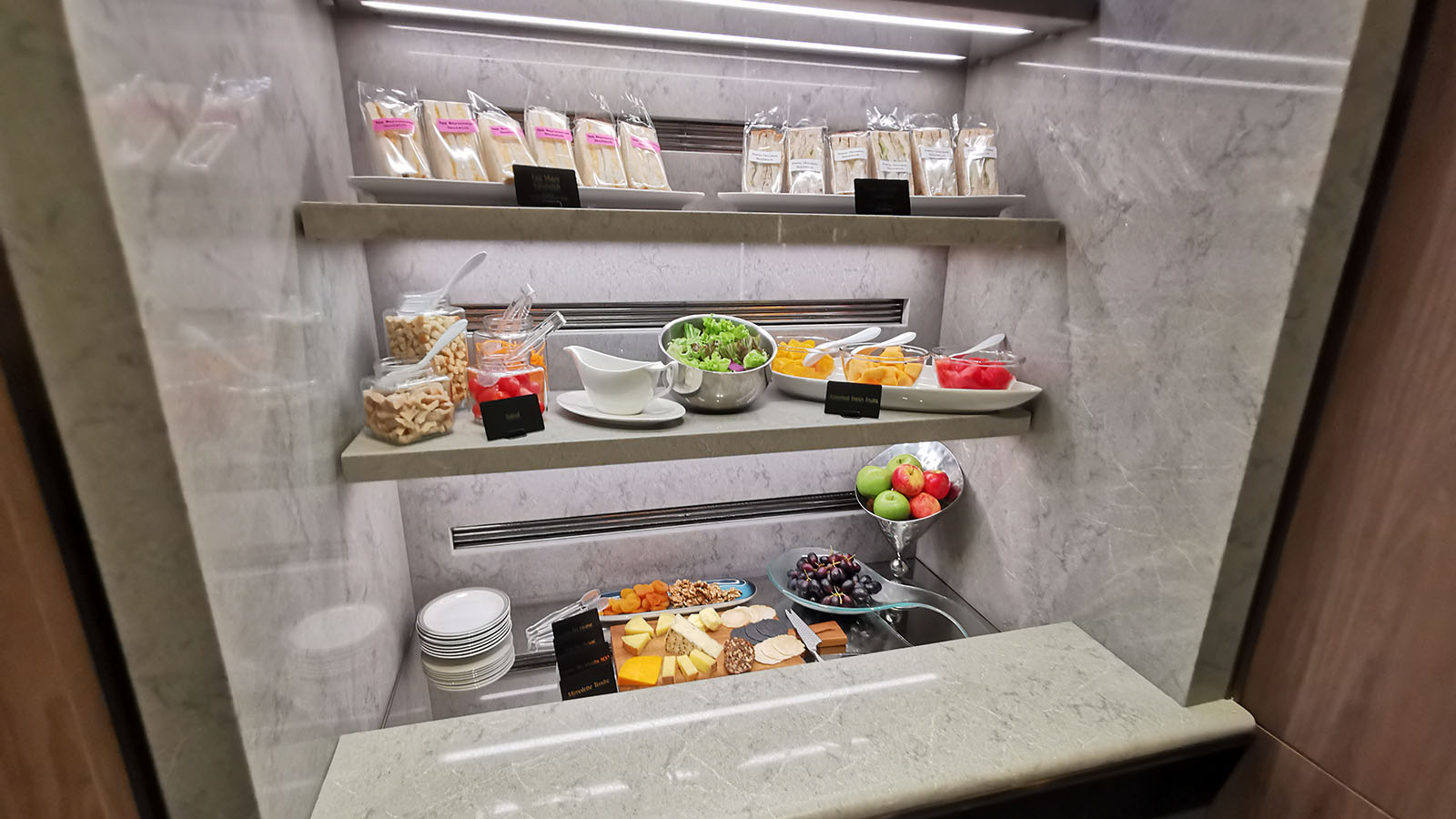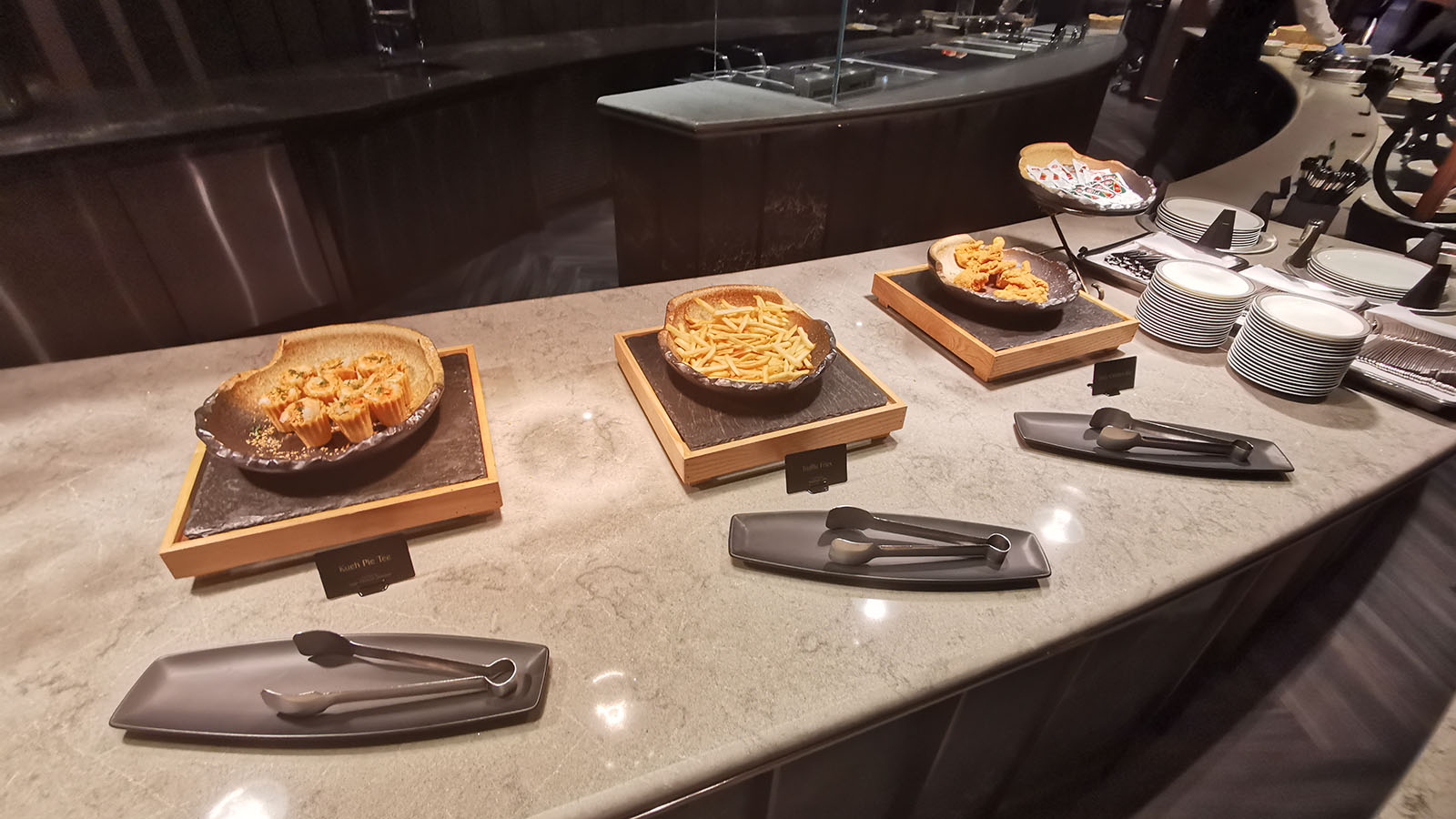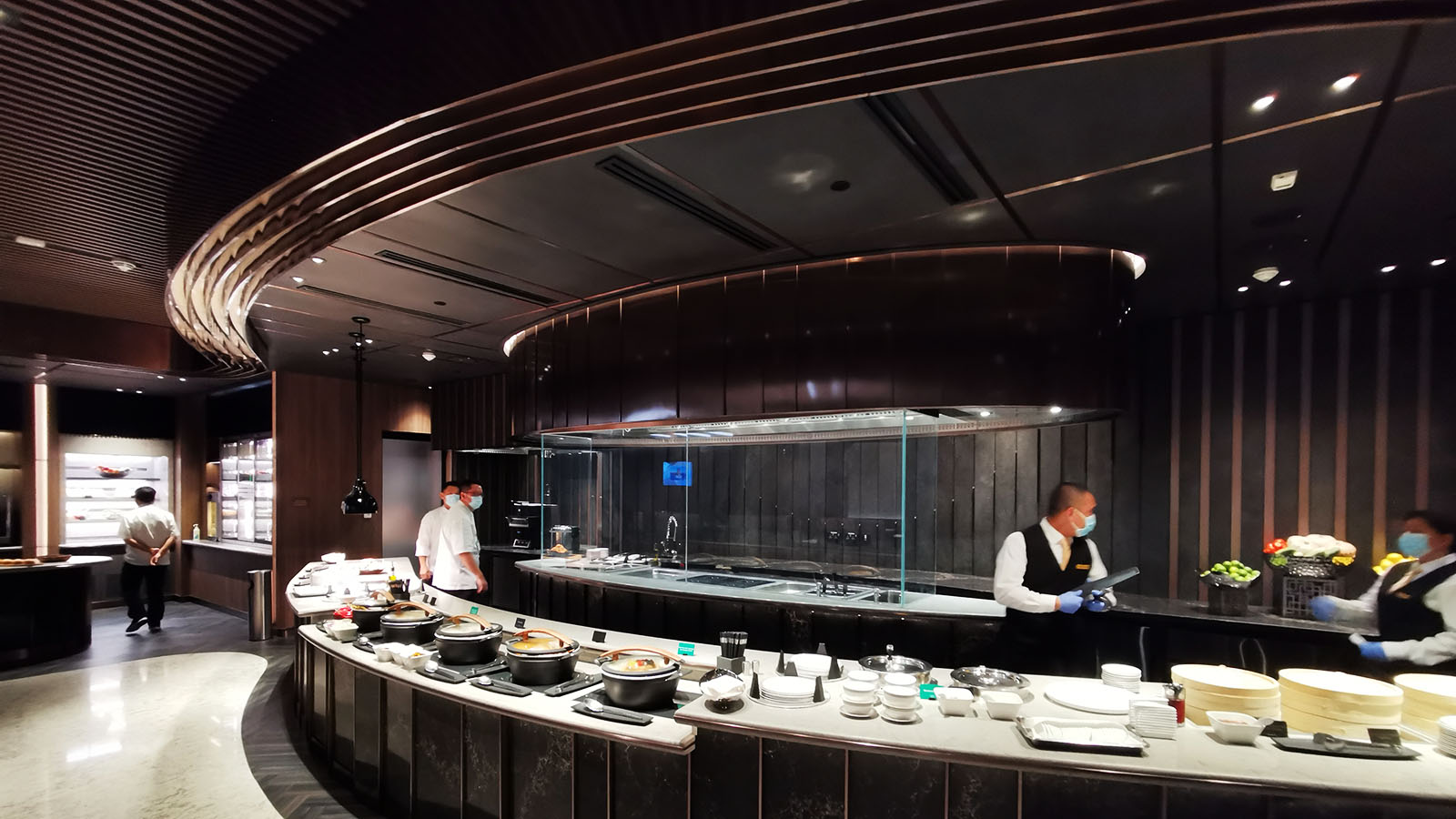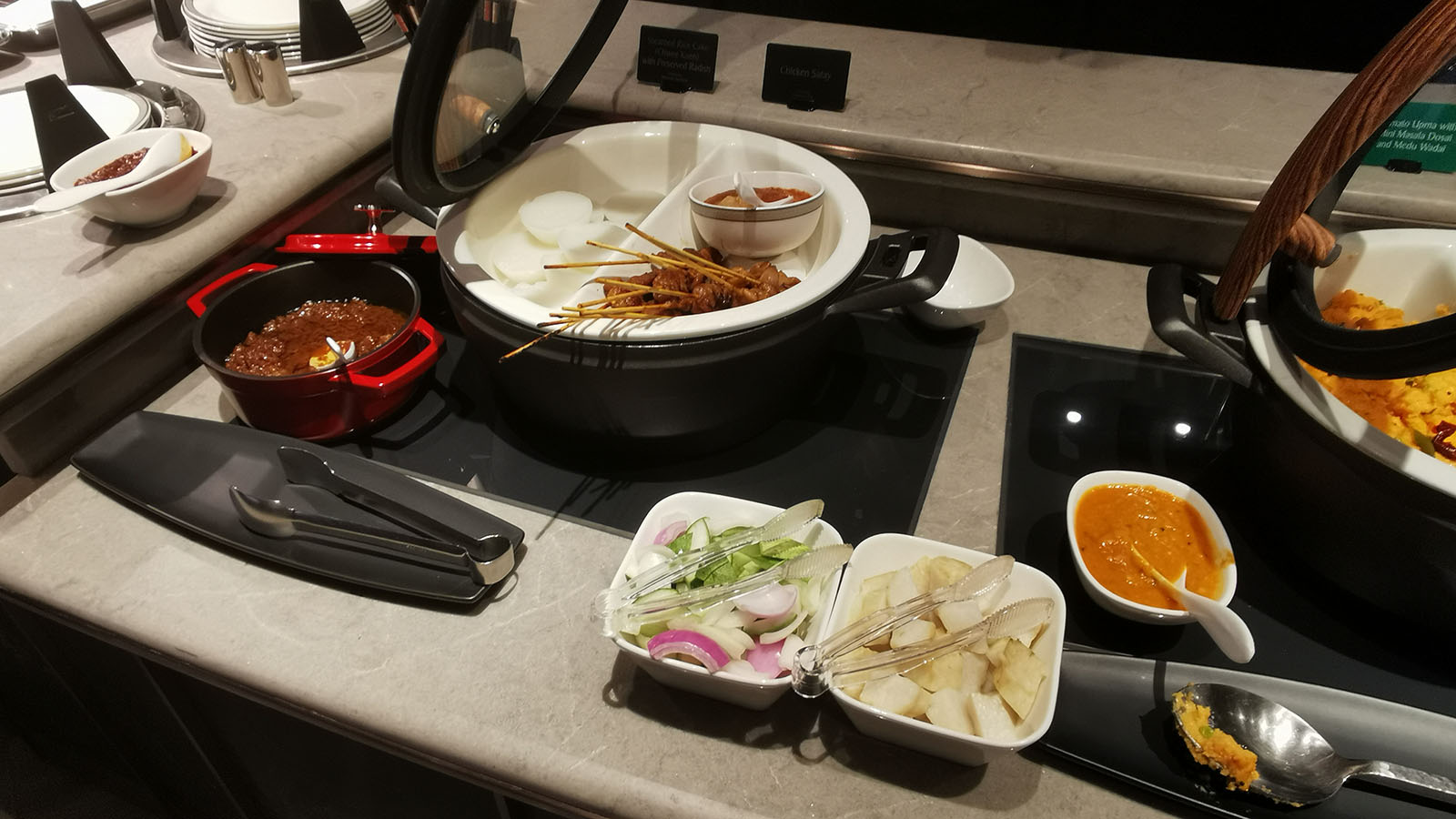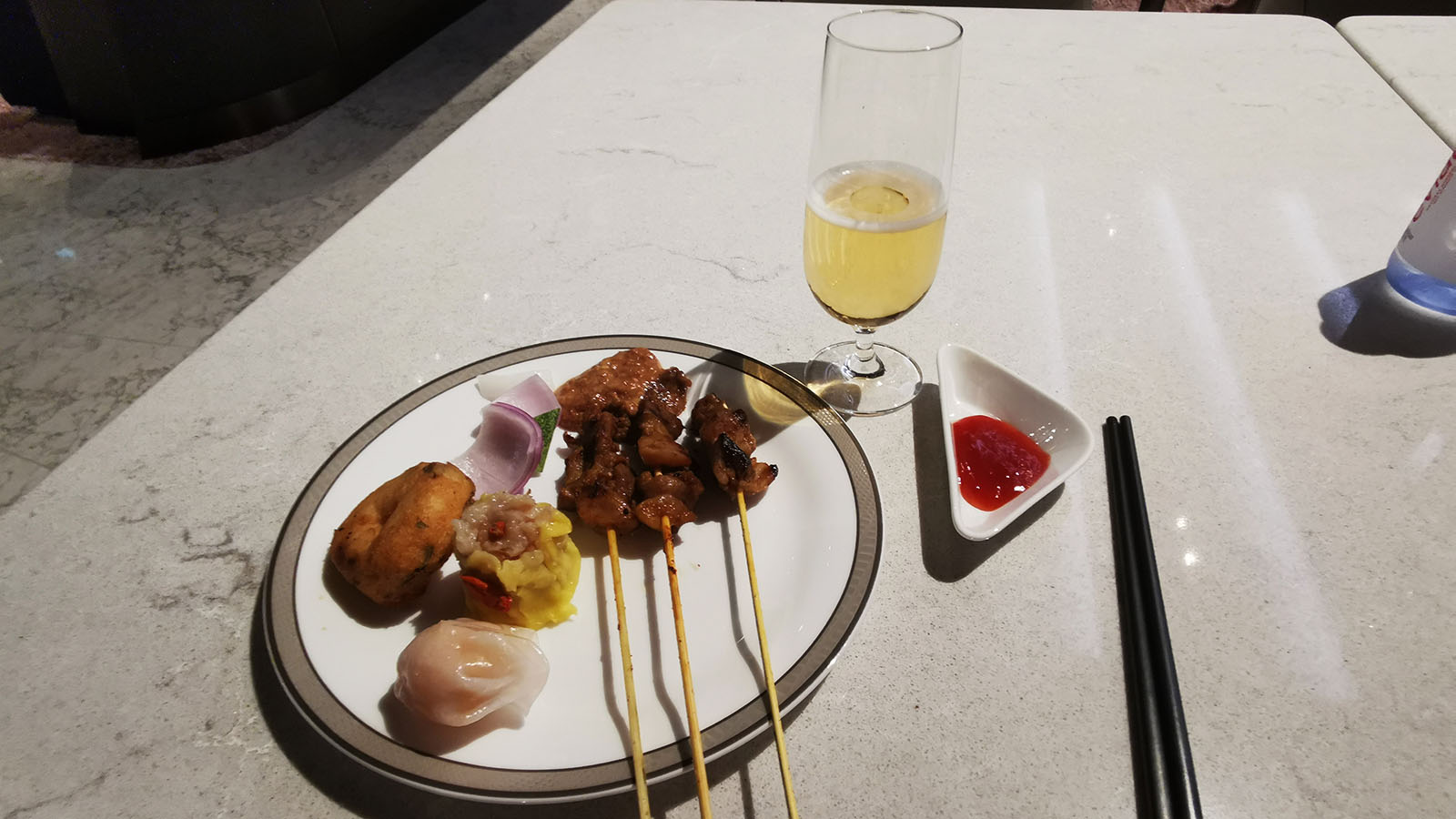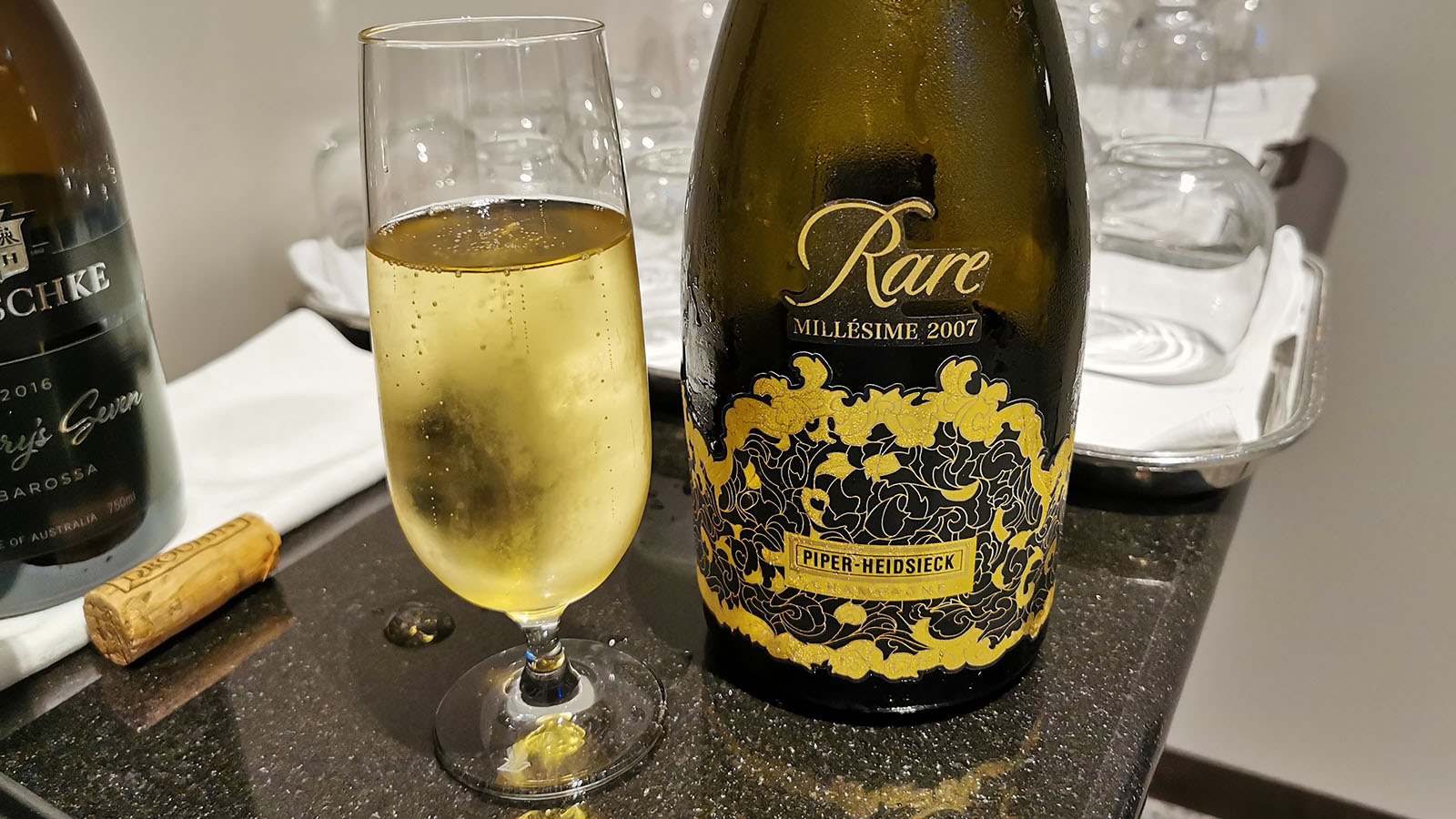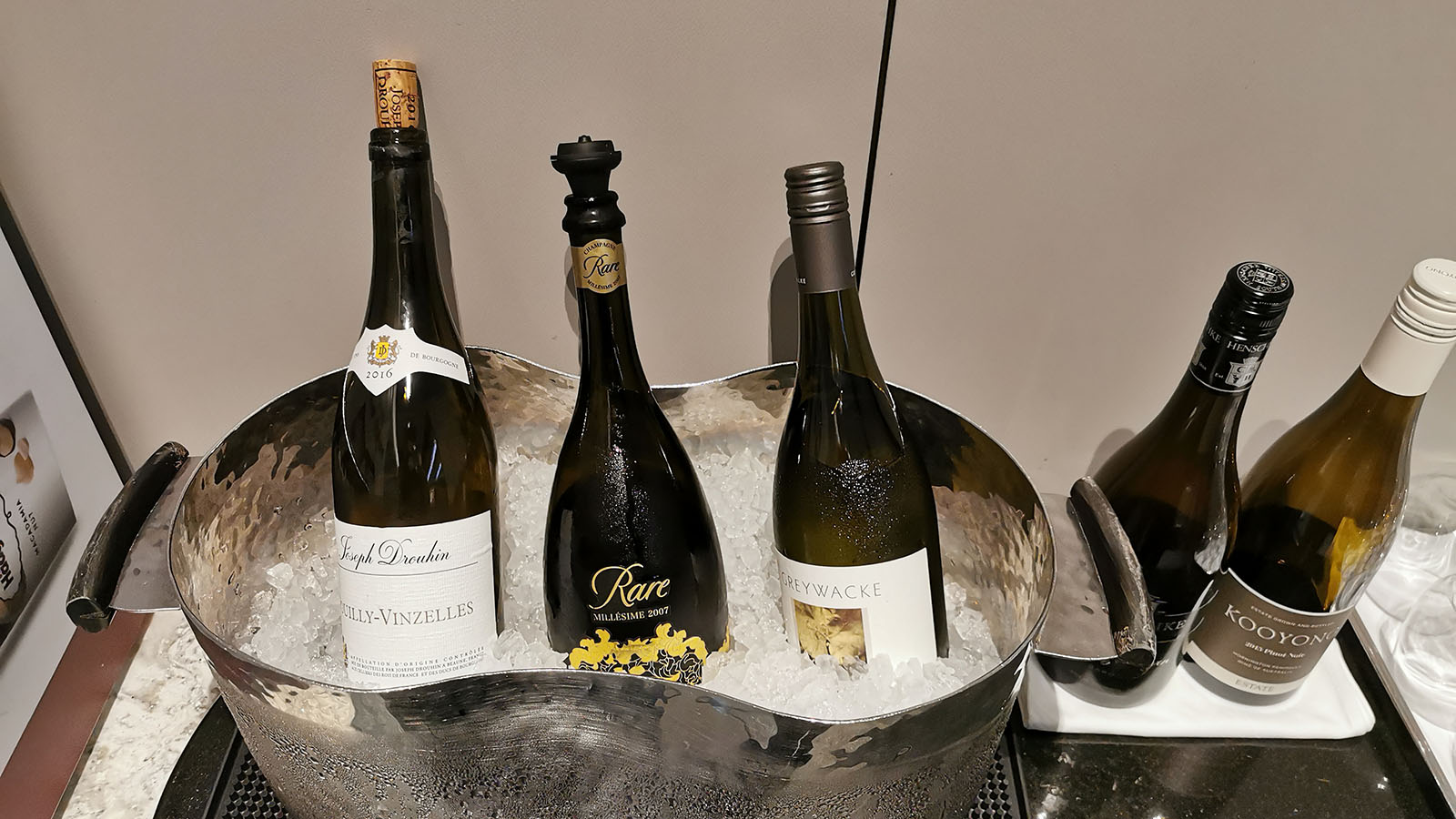 In recognising the premium-tier travellers who call this space home, the house Champagne mirrors that. As before the refurbishment, Piper-Heidsieck Rare Brut Millésime 2007 is here to enjoy. And even if you're taking an early morning flight, it'll be ready and waiting for you.
Barista-made coffee is available here too, but unfortunately, service stops at 10 am rather than being all day. After that, you'll need to make do with a DIY brew via the self-serve machines.
Lounge amenities
Here's a change a little out of left field. For travellers with time to spare, Singapore Airlines' SilverKris First Class Lounge now offers private nap rooms. Available on a first-come, first-sleep basis, the rooms are bookable for two hours at a time. Many will choose to nap, but if you can't, there's a yoga mat to get your body moving.
Bathrooms and showers here are stylish. In fact, wandering into a shower suite feels like you've just checked into a luxury hotel.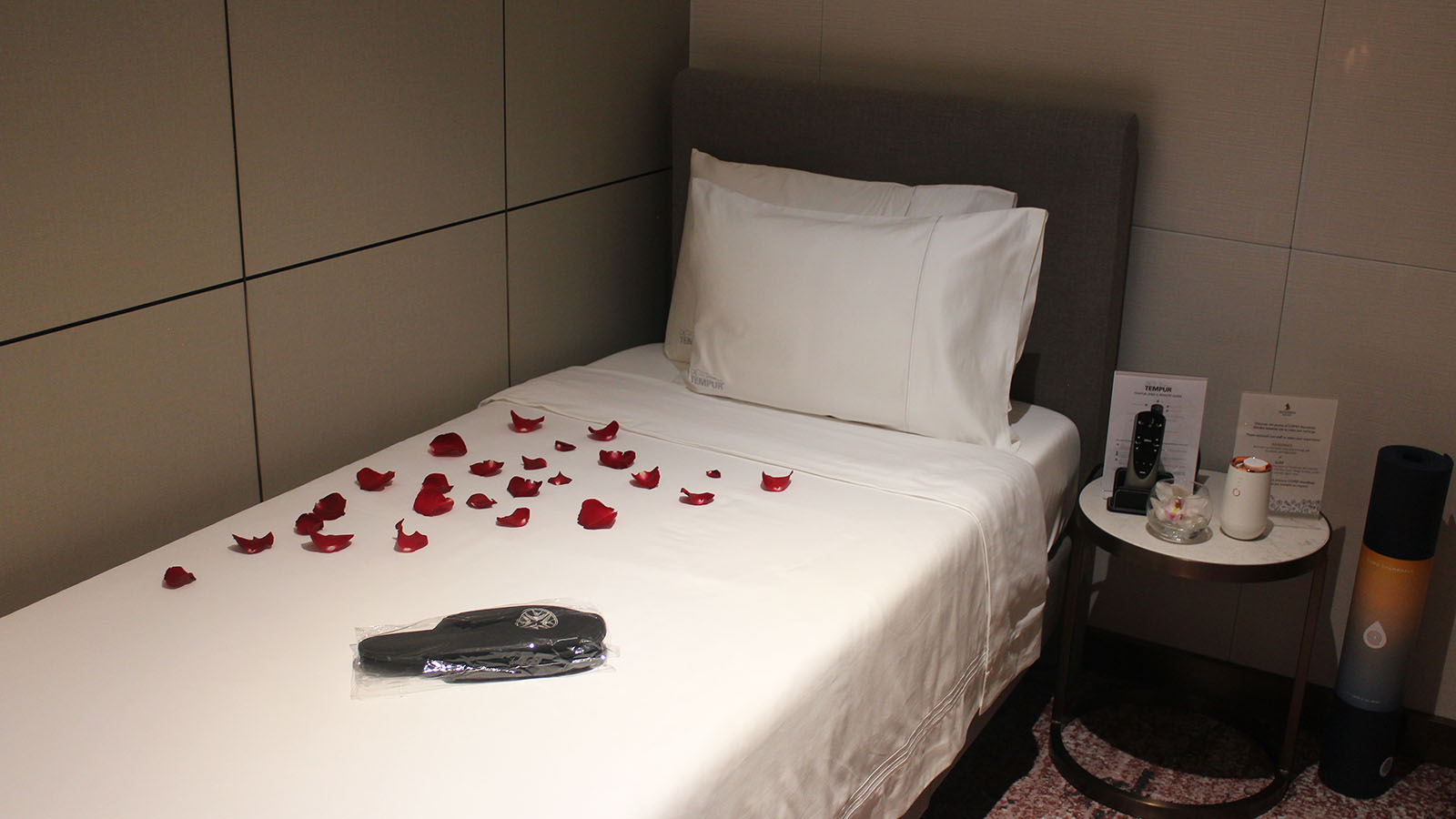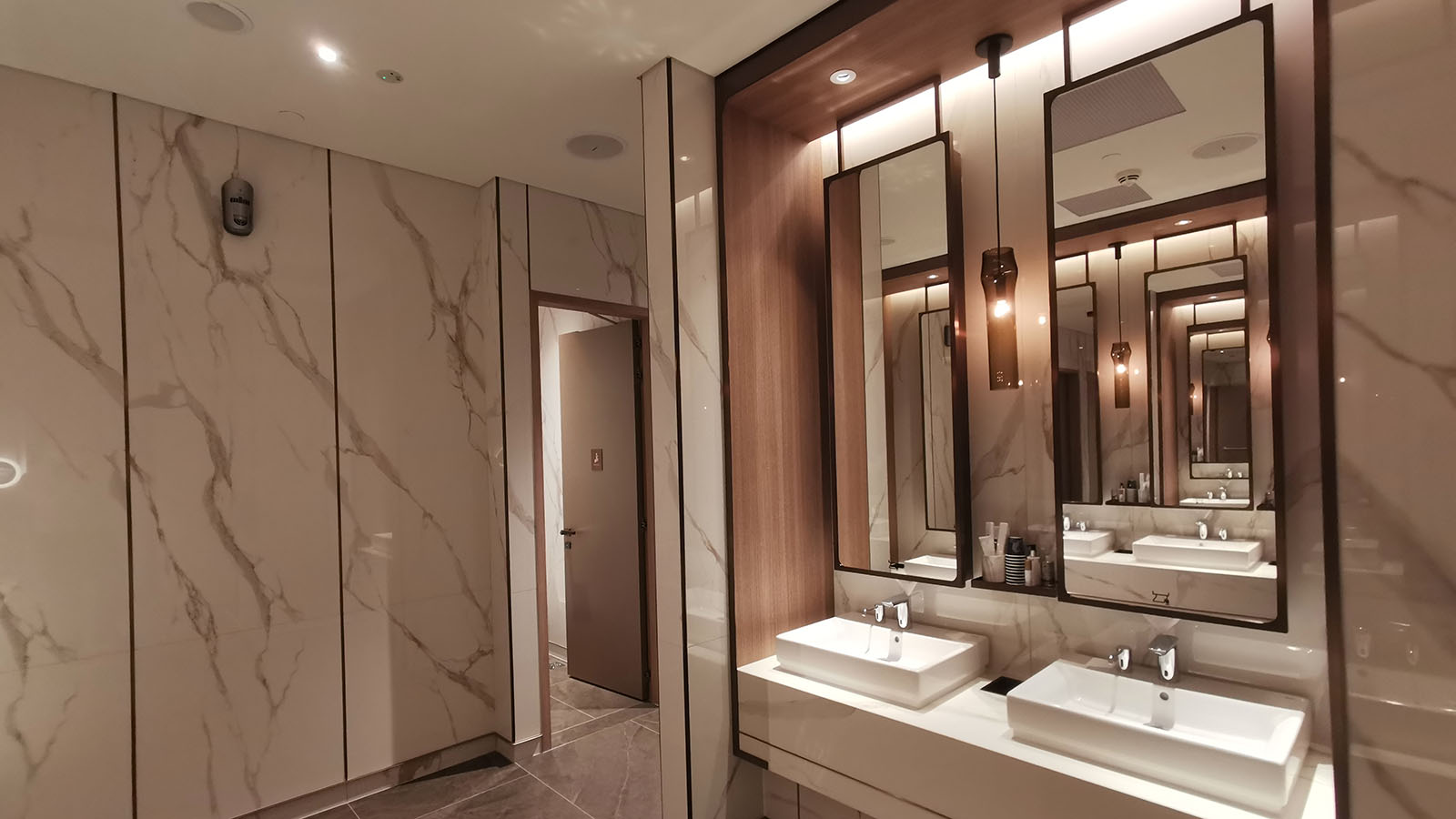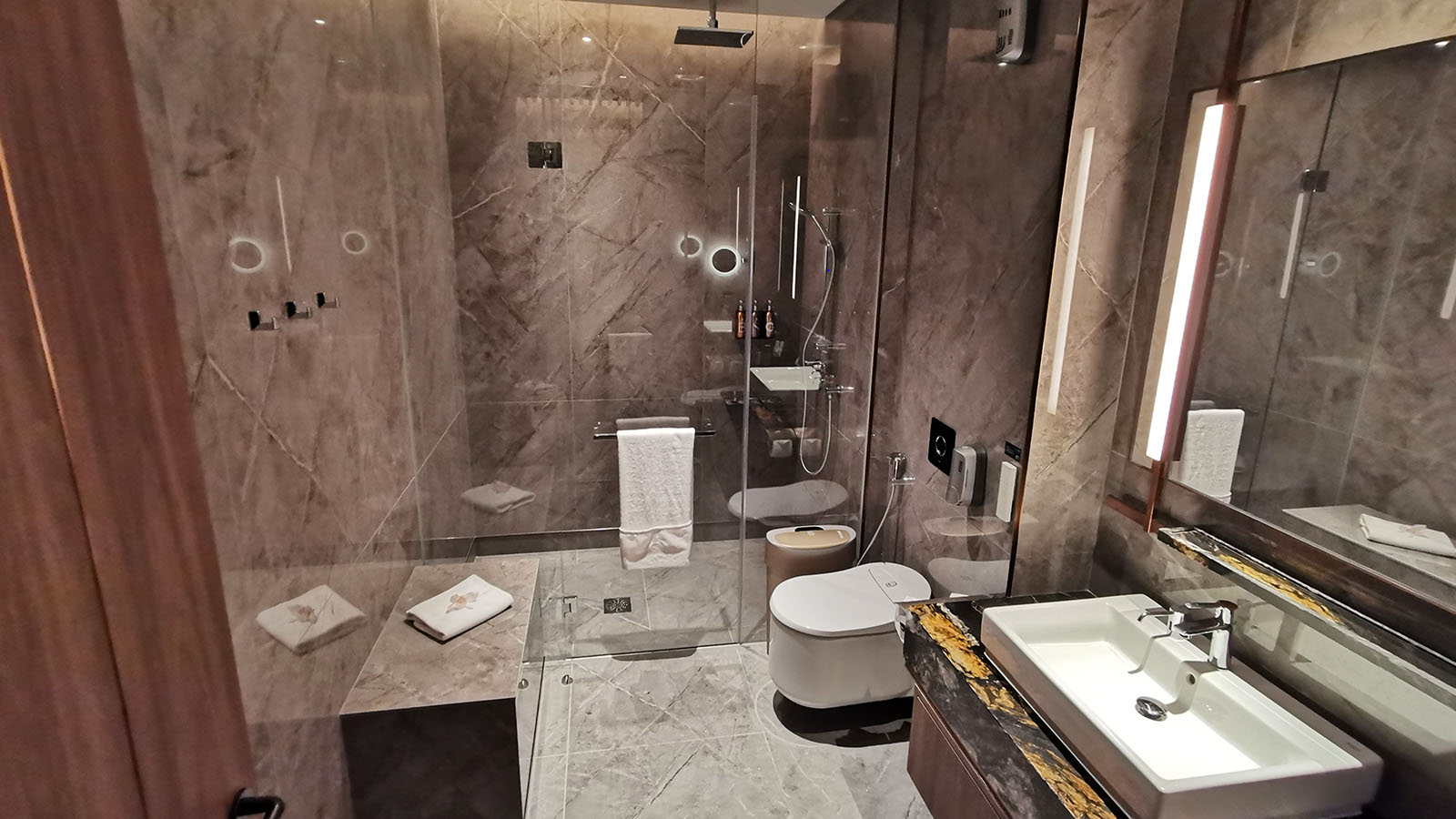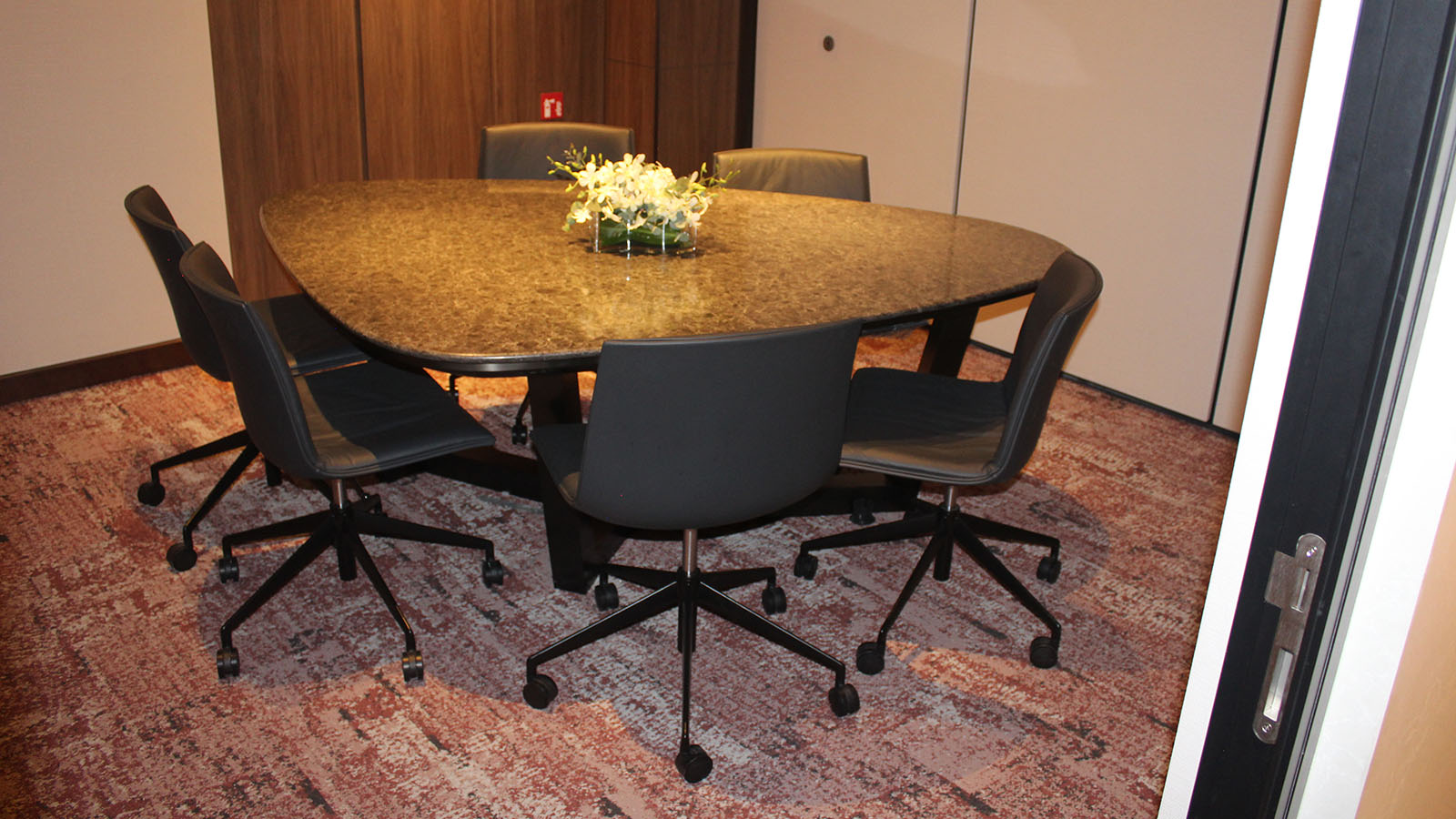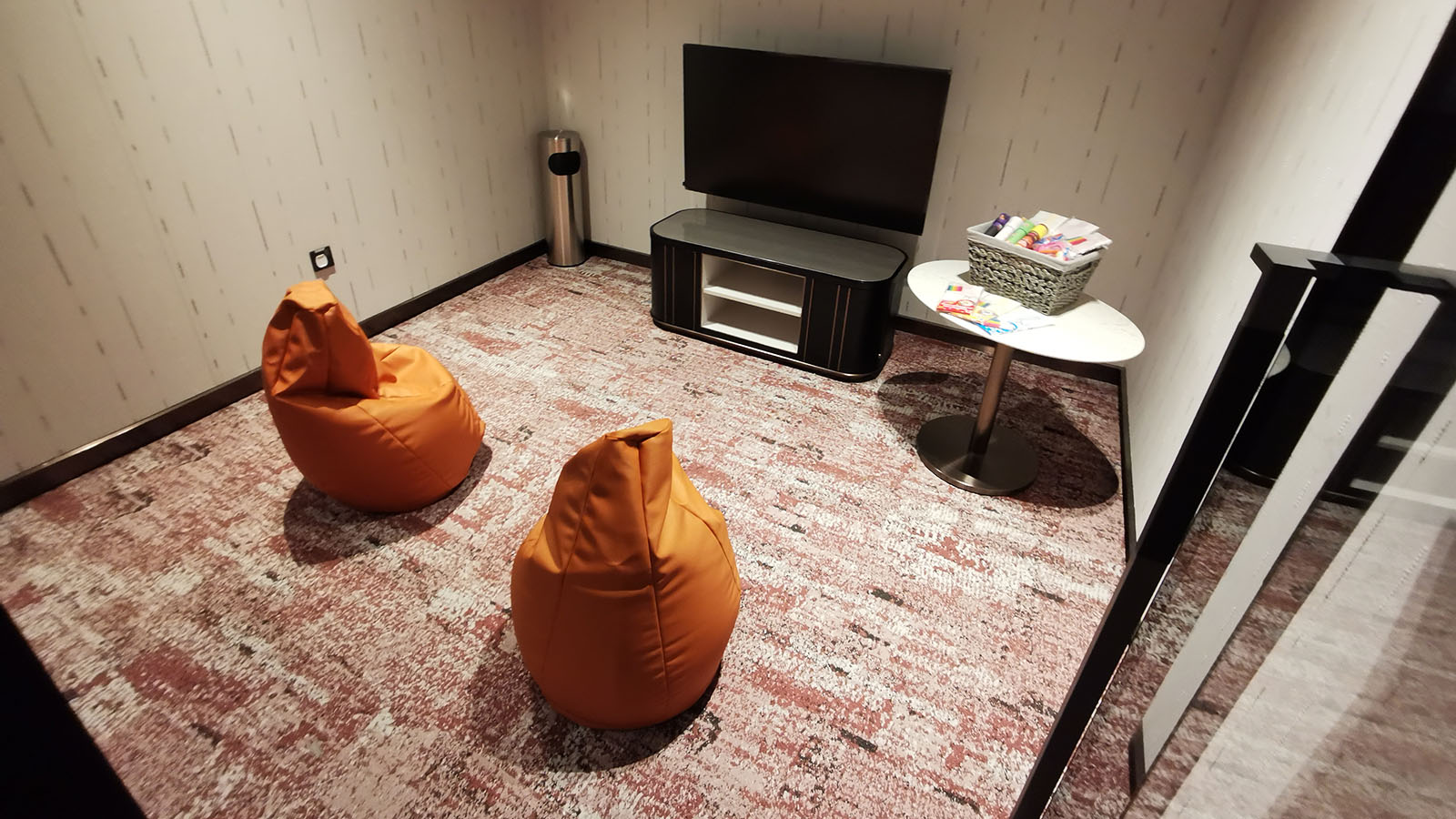 If your pre-flight visit calls for a chat, head to the meeting room for a little privacy. Or with kids in tow, the dedicated playroom lets them have fun while containing the sound, and with seats for supervising adults just outside.
As expected, there's free Wi-Fi. Speeds are workable, with my tests finding downloads averaging 16Mbps and uploads just shy of 30Mbps. But with these results measured when the lounge was quiet, it'll be interesting to see how the Wi-Fi stacks up on a busier day.
Accessing Singapore Airlines' SilverKris First Class Lounge in Singapore
This isn't a lounge that many travellers get to experience. But for those on the inside, that's what gives it an edge. You'll have entry if your journey aligns with the list below:
Class of travel: those flying First Class on a Star Alliance airline (+1 guest).
Singapore Airlines KrisFlyer status when departing or arriving on Singapore Airlines:

Solitaire PPS Club (+1 guest).
Solitaire PPS Club Life (+1 guest).
Of course, passengers travelling in First Class or Suites with Singapore Airlines can also technically visit this lounge. But with The Private Room catering for these guests instead, the SilverKris First Class Lounge is really for those above.
Summing up
Singapore Airlines' SilverKris First Class Lounge is a space I'd visited many times before COVID. Even before these latest works, the lounge was already a premium and quiet space, with great Champagne.
These upgrades retain those favourite attributes, but bring the experience to a new level. The eye-catching bar, nap rooms, stylish bathrooms and showers cement the lounge as a truly 'better than Business Class' facility. But faster Wi-Fi and all-day barista-made coffee would set that tone even more.
After all, many travellers expect nothing less from a Business Class lounge. In a First Class and top-tier space, they should fairly come as standard.
Also read: Inside Singapore Airlines' new Changi Airport lounges
Photography by Chris Chamberlin, who travelled to Singapore as a guest of Singapore Airlines. Feature image courtesy of Singapore Airlines.
---
Stay up to date with the latest news, reviews and guides by subscribing to Point Hacks' email newsletter.
Singapore Airlines' SilverKris First Class Lounge, Singapore
was last modified:
September 29th, 2023
by