World of Hyatt is the loyalty 'frequent guest' program for the Hyatt chain of hotels, including well-known names such as Park Hyatt, Andaz, Grand Hyatt and Hyatt Regency.
Frequent travellers can benefit from perks to make their stays more special and smoother. Earn points on stays at all properties within the Hyatt portfolio and redeem them for free nights or even frequent flyer points with major airlines such as Qantas.
How do I join the World of Hyatt?
1. Head over to the World of Hyatt enrolment page.
2. Fill in your personal details and create a password.
3. Click on 'Join Now'.
4. Your member number will be displayed on the welcome screen. You can start earning!
What are the World of Hyatt tiers?
World of Hyatt has three main status tiers above the base-level membership. Each offers increasingly better benefits when booking directly and staying at Hyatt properties.
Member
Every registered member starts off at this tier. You can earn 5 base points per $1 USD spent and redeem those points within the Hyatt group of hotels and resorts. Resort fees are waived on reward night stays, plus those free nights also count towards elite status.
Discoverist
Earned with 10 nights or 25,000 base points or 3 events/meetings. In addition to the standard benefits, Discoverists can enjoy:
Upgrades to preferred room types within the same category booked
Premium internet and bottled water
Elite check-in and 2pm late check-out
10% of base points earned
Earn 1 World of Hyatt point per $1 USD spent on American Airlines flights
Explorist
Earned with 30 nights or 50,000 base points or 10 events/meetings. In addition to the Discoverist benefits, Explorists can enjoy:
Upgrades to better room categories, excluding suites and Club access rooms
Guaranteed room availability if booked 72 hrs prior
Globalist
Earned with 60 nights or 100,000 base points or 20 events/meetings. In addition to the Explorist benefits, Globalists can enjoy:
Upgrades to better room categories, up to standard suites
4pm late check-out
Guaranteed room availability if booked 48 hrs prior
Club Access (where available) or free breakfast for up to 2 adults and 2 children
Free parking on reward nights when the cost can be charged to your room
Priority access to rooms when checking in early
Guest of Honor: sharing your in-hotel benefits when gifting an eligible reward night to someone else
Lifetime Globalist
Earned solely with 1,000,000 base points. As the name implies, Lifetime Globalists keep the Globalist privileges for life (of the member or the program). That's some serious money to drop on hotel stays; around $200,000 USD as a guide.
How do I earn World of Hyatt reward points?
The primary way of earning World of Hyatt points is by booking eligible stays at Hyatt hotels, plus with dining, spa and other in-hotel charges. These earn 5 base points per $1 USD spent, before any applicable bonuses.
You could also earn points at participating small luxury hotels around the world and at MGM Resorts across Las Vegas. Meetings and events could net up to 50,000 bonus points.
Interested in other experiences? Earn up to 10 bonus points per $1 USD spent on FIND Experiences, or bonus points and discounts off the base rate for Avis car hire. Members can purchase up to 55,000 bonus points a year, though promotions may increase this limit or reduce the prices.
In lieu of earning World of Hyatt points, you could opt to earn airline frequent flyer miles for each stay instead. This could be a better option for infrequent guests.
How do I redeem World of Hyatt reward points?
World of Hyatt points is best used for free reward nights, starting from 5,000 points. Not only could you save hundreds of dollars a night, but these free nights are also exempt from resort fees and count towards gaining elite status. Points can also be used for room upgrades, particularly if you want a Club Access room or suite. Bookings can be gifted to other people.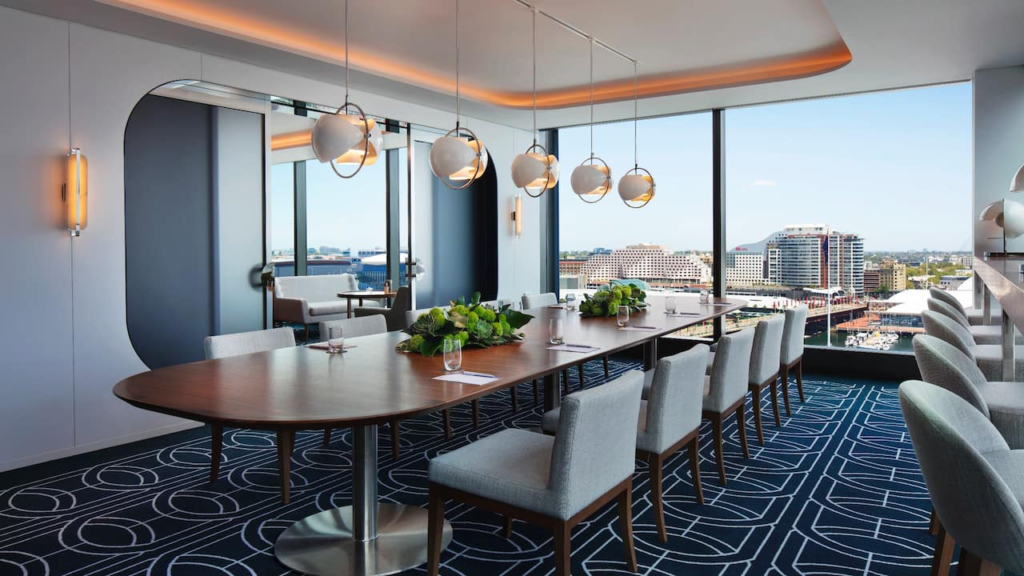 Note: Peak and off-peak pricing will be introduced from 2021. This could see room rates increase or decrease due to demand.
For non-hotel experiences, you could consider a spa treatment, booking a meeting or hiring a car. You can turn World of Hyatt points to airline miles with 5,000 Hyatt Points converting to at least 2,000 airline miles. Partners include Qantas Frequent Flyer, Singapore Airlines KrisFlyer, Cathay Pacific Asia Miles and more. Login here to see the current transfer rate.
How do I contact World of Hyatt?
You can contact the World of Hyatt team through email or by phone. In Australia, simply call 13 12 34 to reach the Hyatt team and make sure to have your membership number and password handy. Alternatively, send them an email through to [email protected].
Frequently Asked Questions
What is the World of Hyatt?
The World of Hyatt is a loyalty program of the Hyatt Hotels Corporation, where you can earn points on stays, dining, the spa and more. These can later be redeemed on rewards including free nights on stay and experiences.
Is the World of Hyatt membership free?
Yes, it is free to sign up as a World of Hyatt member.
How much does the World of Hyatt cost?
The standard World of Hyatt membership is free, allowing you to earn and redeem points with your hotel stays. However, there is a minimum on the number of nights stayed, points earned or meetings hosted to be qualified for higher tier membership.
Do the World of Hyatt members get free breakfast?
Only their top tier members, the 'Globalist' are entitled to free club access or breakfast as a benefit.
New to the World of Hyatt program? Start here!
was last modified:
September 30th, 2020
by