American Express is offering up to 100,000 bonus Qantas Points for New American Express Card Members who apply for the Qantas American Express Ultimate Card until 23 August 2022.
The American Express Qantas Ultimate Card is targeted towards Card Members who want to maximise the Qantas Points earned from spend on an American Express, as well as receive a range of travel-related benefits.
The bonus is split into two parts, with the first 75,000 bonus Qantas Points to be received after spending a minimum of $3,000 on eligible purchases within the first three months of approval and an additional 25,000 bonus Qantas Points in your second year upon fee renewal.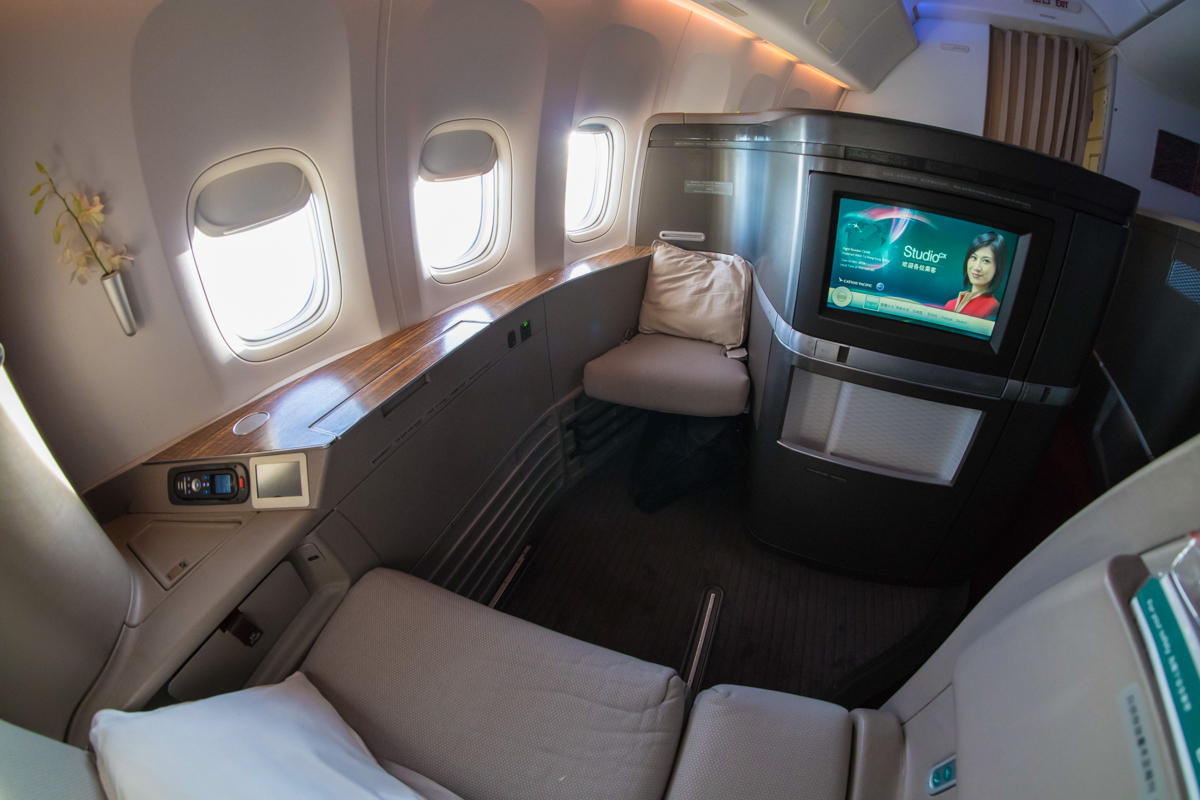 You'll also receive:
a $450 Qantas Travel Credit each year to use when booking Qantas flights through American Express Travel;
two Qantas lounge invitations as well as two entries to the American Express Lounge Sydney or Melbourne each membership year; and
a complimentary Qantas Wine Premium Membership
How you could use the bonus points from this card
All redemption figures above exclude any accompanying taxes, fees and charges. Points redemption price data is provided by a third-party. For an exact total redemption cost, please consult with the airline directly.
---
Disclaimer: These are example redemptions only and due to COVID-19 travel restrictions, some of these routes may not be currently available.
---
Digging into the benefits of the Qantas American Express Ultimate Card
The Qantas American Express Ultimate Card is a competitive card in the premium card market and comes with a high points earn and generous benefits.
Card Details
Card
Qantas American Express Ultimate
Loyalty program
Qantas Frequent Flyer
Points earned from spend
1.25 Qantas Points earned per $1 on eligible purchases
1 additional Qantas Point per $1 spent on selected Qantas products and services in Australia
0.5 Qantas Points per $1 at government bodies in Australia
Points cap
None
Travel benefits
$450 Qantas Travel Credit each cardholder year
2 American Express Airport Lounge entries each year
2 Qantas Club lounge invitations each year
Included insurances
Medical Emergency Expense Cover
Personal Accident Cover
Trip Cancellation and Amendment Cover
Travel Inconvenience Cover
Personal Baggage, Money or Travel Documents Cover
Card Purchase and Card Refund Cover (PDS)
Overseas transaction fee
3% of the converted amount
Mobile wallet
Apple Pay, Google Pay and Samsung Pay
Minimum income requirement
$65,000 p.a.
Annual fee
$450
Earning Qantas Points from spend
With the Qantas American Express Ultimate Card, there is no points cap on what you can earn, and the Card will sweep over your points to your Qantas Frequent Flyer account on a monthly basis, as you'd expect.
If you find yourself booking several hundreds of dollars in Qantas flights on a regular basis, the 2.25 points per $ on Qantas spend will quickly rack up to boost your Qantas Frequent Flyer balance.
Also, you'll earn a solid 1.25 Qantas Points per $ spent on most purchases, except government spend which earns 0.5 Qantas Points.
Read the Point Hacks guide to American Express cards acceptance here.
$450 Qantas Travel Credit
This benefit gives Card Members $450 towards the purchase of a Qantas domestic or international flight through American Express Travel.
The Qantas Travel Credit is designed to give Card Members more flexibility than the return domestic flight previously offered and helps to directly offset the $450 annual fee.
You can access the Qantas Travel Credit after you have paid your annual fee and as long as your account is current and in good standing. Do note that if you do not use the entire credit in one booking, you forfeit the remaining balance, so try to save it for a booking over the value of $450.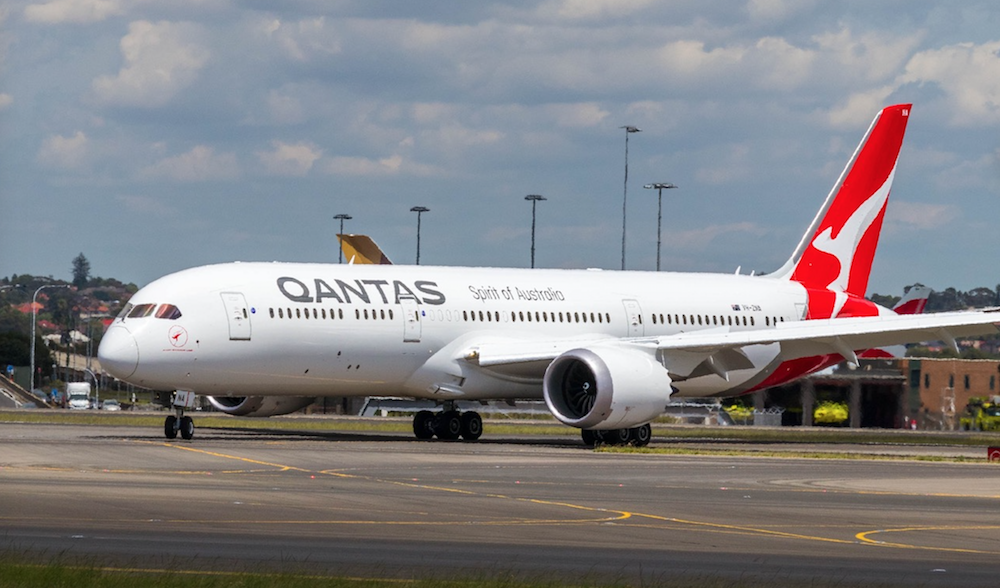 You'll receive the credit each year you have your Card but you can use it to book travel into the future, e.g. if credit expires on July, you can book travel for October.
It is unclear whether the credit is restricted to Qantas-operated and -marketed flights, or if codeshare flights, e.g. an Emirates flight with a QF flight number, are also eligible. Please comment below with your experience and we can clarify for other readers.
As for points earn on the booking, the Qantas Travel Credit terms and conditions state:
Your booking and travel will accrue Qantas Points in the usual way, except for the $450 Qantas Travel Credit portion of your booking which will not earn Qantas Points.
Customers can only book hotels, car hire or experiences if a Qantas flight is within the same transaction, i.e. Card Members will not be able to use their Qantas Travel Credit solely towards hotel, car or experience bookings.
As the taxes and fees on an award redemption using Qantas Points must be paid directly to Qantas through their website or over the phone and the Qantas Travel Credit is only available to use through the American Express Travel website, you cannot use your Qantas Travel Credit to pay the taxes and fees on an award redemption.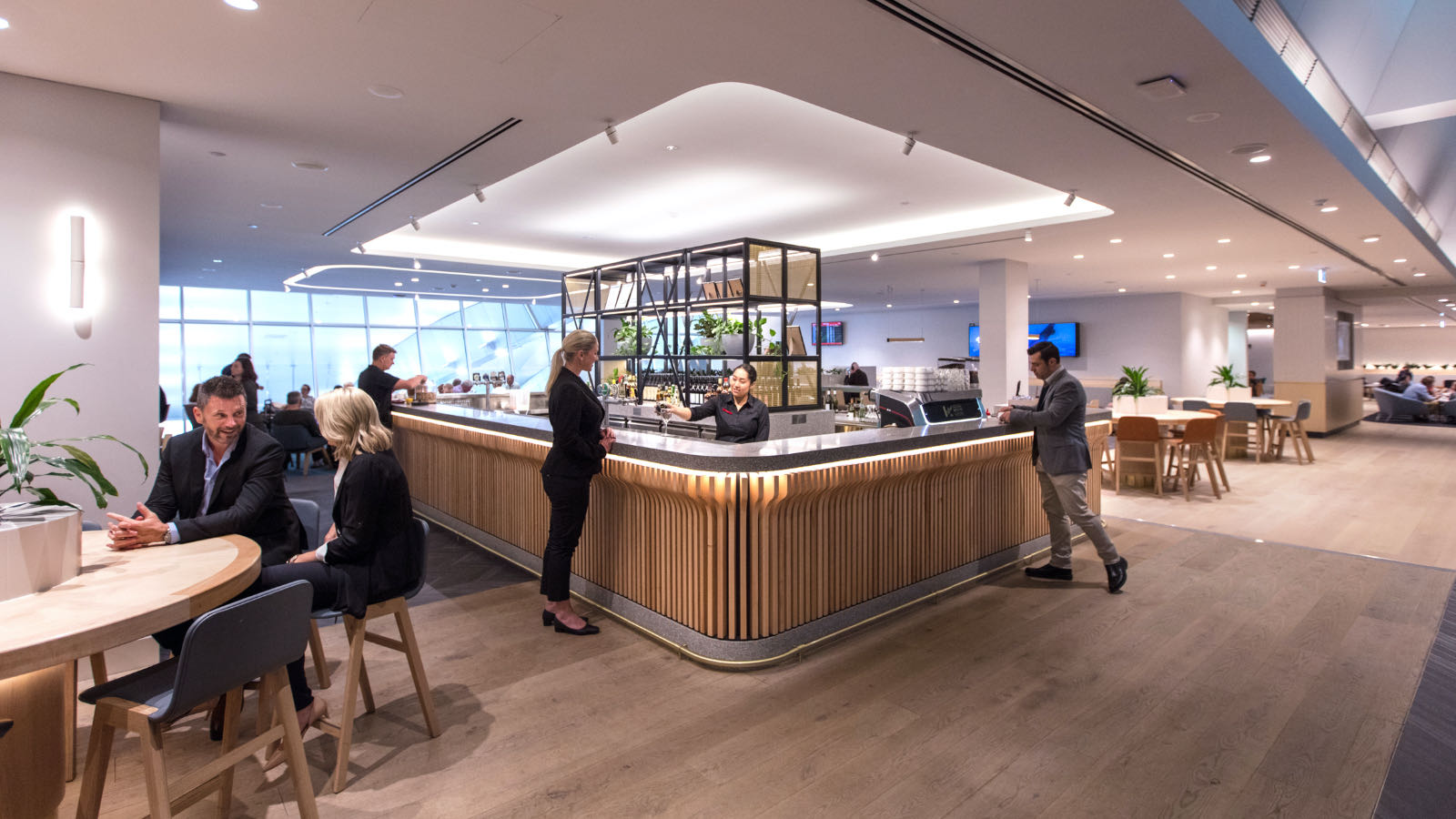 Lounge access
Card Members are eligible to receive two Qantas lounge invitations.
You can access domestic Qantas Clubs, International Business Lounges (except at Los Angeles) and International (Premium) Lounges in Brisbane, Singapore, Hong Kong and London.
Note that the lounge pass does not admit any guests—only you—however, you could use your two passes for two people.
An important note is that in order to receive the Qantas lounge passes, you need to first make an eligible purchase with Qantas using the Card, which is defined as:
Qantas passenger airfares with a QF flight number purchased directly from Qantas Australia by you (or by a travel agent on your behalf) that appear on your Qantas American Express Ultimate Card statement as a Qantas transaction; Qantas Frequent Flyer and Qantas Club membership joining and annual fees; and Qantas Travel shop purchases.
So, basically, you must first purchase a Qantas flight or purchase a Qantas Frequent Flyer or Qantas Club membership before you can use your lounge passes. This seems to exclude paying the taxes and fees on an award booking using this Card.
Two weeks after you do so, you'll be sent an email and your two digital lounge passes will be attached to your Qantas Frequent Flyer account. You could then choose to transfer them to another Qantas Frequent Flyer member.
The full terms and conditions of the Qantas Club lounge benefit are available here.
Another benefit of the Qantas American Express Ultimate Card is access to the Sydney and Melbourne American Express Lounge.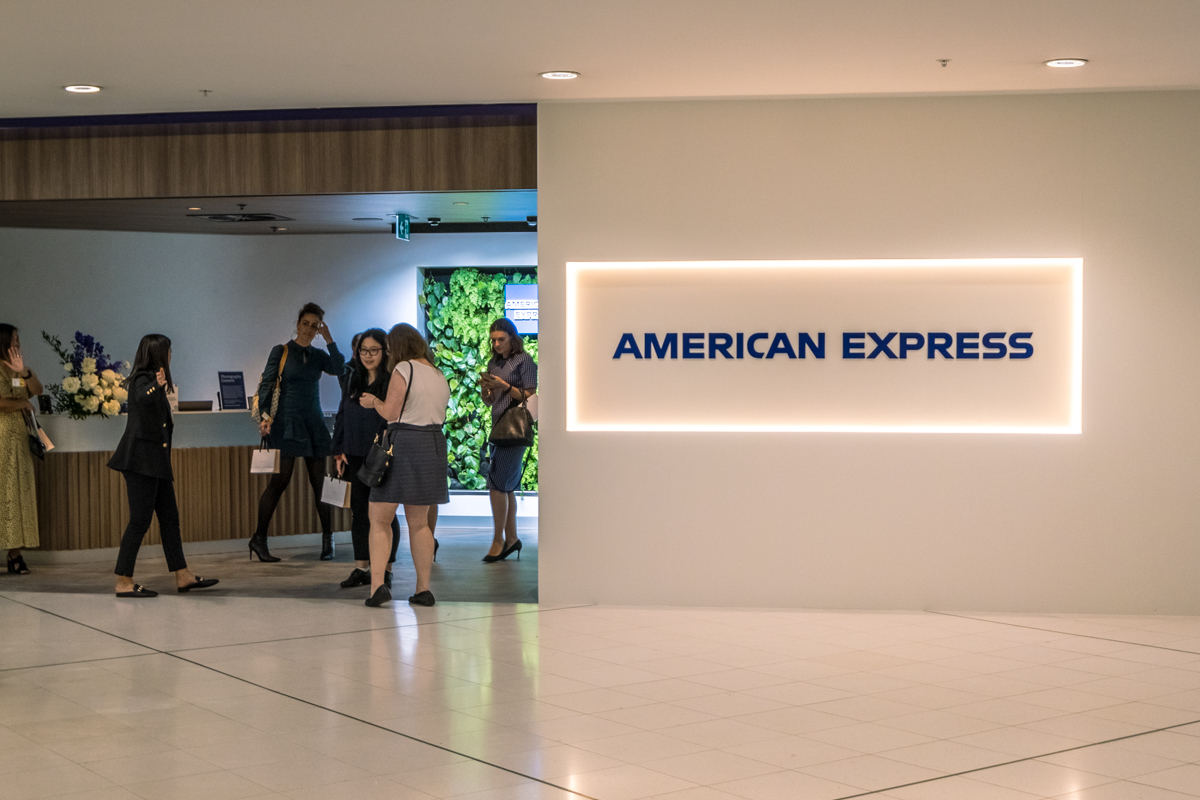 Card Members can bring their children into the Amex lounge for free (age 2-17) however additional guests over 17 may be subject to an entry fee. Unlike the Qantas lounge passes, you do not need to make an eligible purchase before receiving entry to this lounge.
Complimentary Qantas Wine Premium membership
Worth $99 a year, a premium membership to Qantas Wine, food & champagne portal gives you a bonus 3 points per $ spent as well as free delivery.
Plus, paying for these purchases with this Qantas-branded card will earn you a total of 4.25 points per $ spent on Qantas Wine products (3 points as a Qantas Wine Premium member + 1.25 points for regular spend on this Card). It's a bit weird that this doesn't qualify as a purchase of a Qantas product or service, earning 2.25 points.
American Express Plan It
American Express launched 'Plan It' in mid-2020, which allows cardholders to create instalment plans that allow for equal payments to be distributed over a 3, 6 or 12 month payment period. There is a monthly fixed fee to access this feature, with up to 10 Plan It plans with a minimum of $150 balance able to be created.
Insurances and other benefits
In the Travel Insurance bucket you'll get Medical Emergency Expense Cover, Trip Cancellation and Amendment Cover, Personal Baggage, Money and Travel Documents Cover and Travel Inconvenience Cover when you pay for travel with the Card. Read the PDS here.
You'll need to dig into the various PDS of these policies if you intend on relying on this cover to make sure they work for you.
This guide references some of the benefits of insurance policies provided with this card. You should read the PDS and obtain independent professional advice before obtaining this product.
Unparalleled mobile wallet integration
American Express cards support Apple Pay, Google Pay and Samsung Pay, meaning you can use this card on your smartphone for easier payments.
Read the Point Hacks guide to using Apple Pay or for using Google Pay and Samsung Pay, including instructions on how to add your American Express card to those services.
With this feature set up, it means you could still use your NFC-enabled phone to make purchases with your American Express account, even if your physical card is lost or stolen and pending replacement.
Eligibility criteria for bonus points for existing American Express Card Members
American Express are quite specific about whether existing Card Members will be eligible for bonus points if they apply for a card, are approved, and meet the minimum spend criteria.
Card Members who currently hold or who have previously held any Card product issued by American Express Australia Limited in the preceding 18 month period are ineligible for this offer.
American Express don't allow existing Card Members, even for different types of American Express cards (e.g. Charge, Credit or Business) to be eligible for bonus points offers for cards in a different family.
Frequently asked questions
Can you transfer Qantas Frequent Flyer Points to Amex?
No. Qantas Frequent Flyer points cannot be transferred to your Amex Rewards account, however, if you would like to earn Qantas points from your credit card spend, you will need to choose a Qantas Credit Card from American Express or alternatively, hold The Platinum Card or Centurion card.
What is a Qantas Travel Credit?
Card Members are eligible for a $450 Qantas Travel Credit every year. The Qantas Travel Credit can be redeemed for any Qantas flight booked (i.e. a QF flight number on your ticket) and paid online through American Express Travel in a single booking. Make sure to use your Travel Credit on a booking of $450 or more, otherwise, any unused portion is forfeited.
How do I use the American Express Qantas Travel credit?
Head to American Express Travel and make sure to log in to your American Express account using the 'Log in' button at the top-right of the page. When you reach the payment page after finalising your booking details, you will be provided with the option to use your Travel Credit as payment for the booking.
Is it worth getting an American Express card?
If you looking to earn rewards points from your everyday spend, then American Express cards offer some of the best earn rates in the market. Make sure to consult your accountant or financial adviser before applying for a card to ensure that you are choosing the best one for your financial situation.
Summing up: the Qantas American Express Ultimate Card
The Qantas American Express Ultimate Card is on the higher end for annual fees but does offer high points earn for the die-hard Qantas Points collector.
The Qantas Travel Credit each year is a useful bonus to offset the annual fee, and the lounge passes and complimentary Qantas Wine Premium membership top off a solid offer.
Up to 100,000 Qantas Points and $450 annual Travel Credit with the Qantas American Express Ultimate Card
was last modified:
June 29th, 2022
by