One of the key benefits offered by American Express on eligible Cards is a Travel Credit that is usable for booking travel through American Express Travel and helps to offset the cards' annual fees.
---
Note: Beginning 1 May 2023, you will need to use the full value of your annual Travel Credit on a single travel booking using your eligible Card, made through American Express Travel Online. Your booking will be charged in full to your American Express Card and American Express will then credit the amount to your Account within 3 business days but may take up to 30 days. You will still receive your Travel Credit each year, and your Travel Credit anniversary will remain the same.
---
There are a few conditions that come with these Travel Credits, so you'll need to consider where and when you maximise their use.
In this guide, we explore the ins and outs of the benefit, what it does and does not cover, how to use it and most importantly, how to maximise the value from it.
Which American Express Cards have Travel Credits?
There are currently four American Express Cards that offer Travel Credits as one of their Card benefits. The Cards, along with the value of their respective Travel Credit, are shown below:
Eligible travel bookings using your American Express Travel Credit
The Travel Credit can be used for travel bookings made through American Express Travel, which includes most domestic and international flights, hotels and some car rentals.
The table below summarises what can be booked and, as well as any exclusions:
| Category | The Platinum Card | The Explorer Card | The Platinum Edge Card |
| --- | --- | --- | --- |
| Flights (excluding low-cost flights) | Yes | Yes | Yes |
| Low-cost flights | Unclear | No | No |
| Hotels | Yes | Yes | Yes |
| Car rentals (only airport) | Unclear | Yes | Yes |
| Experiences | No | Yes | Yes |
| Cruises | No | No | No |
| Annual fee | $1,450 | $395 | $195 |
| Travel credit | $450 | $400 | $200 |
Notes:
The Platinum Card terms and conditions is not clear in regards to your ability to book low-cost flights or car rentals outside of airports
Car rentals must be from and to the same airport location only
Cruises are not eligible for any card's Travel Credit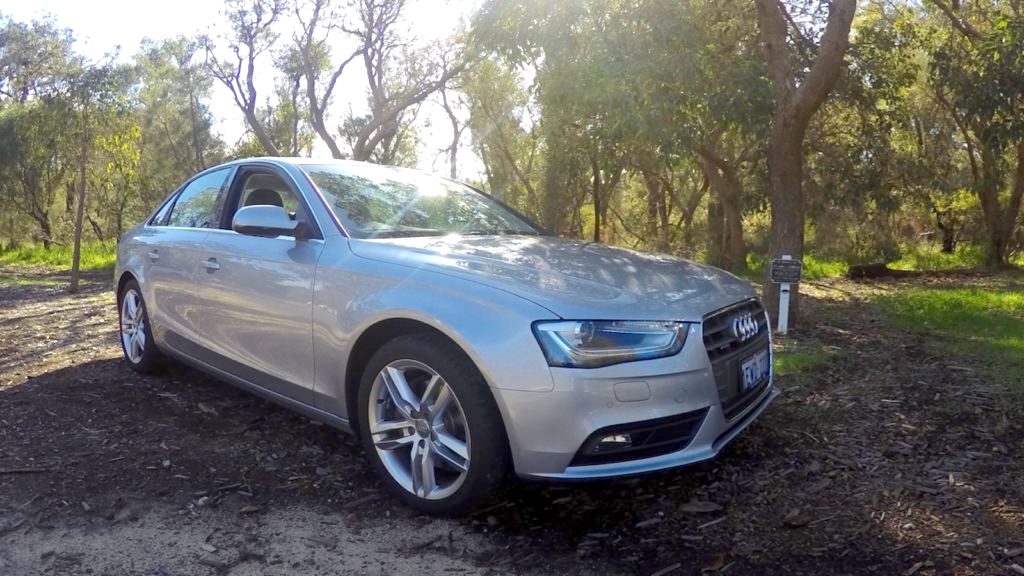 Ad – Scroll down to continue reading.Minimum spend, terms & conditions apply.
Be aware of the following Travel Credit restrictions
The Travel Credit must be used in one booking and not over multiple bookings
If you cancel a booking made using a Travel Credit, there is no refund given on the Travel Credit (although refunds are currently being allowed during COVID-19). You may still get a refund of the points or cash portion if the original booking was a refundable fare or hotel rate
You won't earn Membership Rewards points on the portion of the booking covered by the Travel Credit
Only Primary Card Members are issued with Travel Credits and are not extended to Additional Card Members. However, Primary Card Members can use Travel Credits for an itinerary booked in anyone else's name (kind of like a gift)
The Travel Credit cannot be used when you are paying for a hotel or car rental directly, as is the case with Fine Hotels & Resorts bookings or non-prepaid/flexible car rental bookings
Car rentals eligible for the Travel Credit must be to and from the same airport
You can use the credit for a booking that is less than the amount of the Travel Credit on your account, but you will forfeit the difference
The Travel Credit expires each year if it is unused, meaning you have 12 months from the day it arrives in your account. That is, the Travel Credit does not roll over to the next year.
Prices quoted on American Express Travel can sometimes differ from the prices quoted direct by the airline or hotel. We have found this can be the case, and it can be in either direction. For example, we recently noted that Virgin Australia Freedom fares can actually be cheaper through American Express Travel than directly with Virgin Australia. However, some readers have experienced quotes that are more expensive using Amex Travel, so make sure to compare prices to get the best deal. Note that Amex Travel do not price match.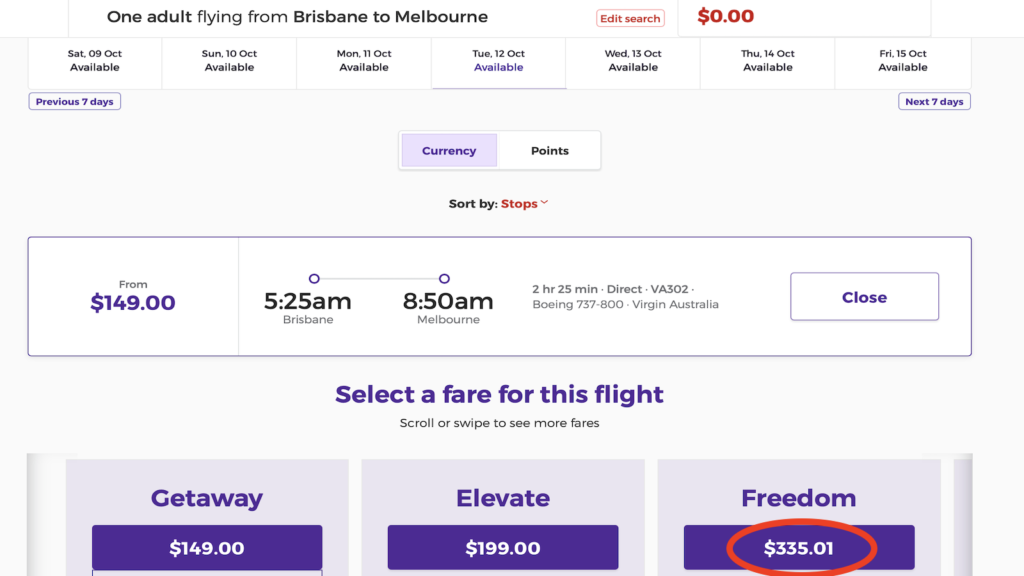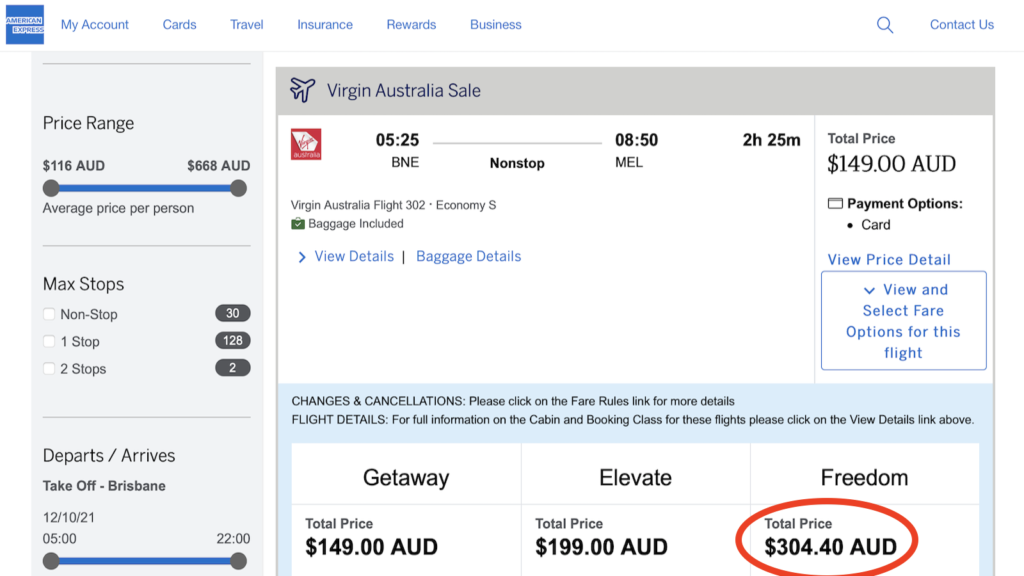 How to maximise the value of the Travel Credit
Given that Travel Credits has some limitations on their use making them less flexible than cash, we have provided some tips below to help maximise the value of your Travel Credit:
Only use for highly certain bookings: This is the most important tip. Do not consider using your Travel Credit for bookings that you think you may need to cancel, as you will lose the credit amount
Book travel that is equal to or higher than the Travel Credit amount: Remember to target bookings that are going to total above the amount of your Travel Credit. If you have a specific flight or hotel in mind that is going to cost less than your Travel Credit, you could consider increasing the cost to make it eligible for the credit. FOr example, by booking a more expensive room type
Use if you are chasing airline status, but not hotel status: If you are chasing hotel elite status, you will not earn any stay credits toward status on prepaid bookings via Amex Travel. Therefore, ensure you use your Travel Credit for hotel stays where you would otherwise not be worried about points and status. Conversely, a flight booking using your Travel Credit will still earn you frequent flyer points and status credits with the airline
Use for bookings with multiple people: If you are booking a $200 flight for yourself and also want to bring your partner or a friend along, you can book two tickets for $400 and claim the Travel Credit on the total. That is, the Travel Credit applies to all passengers in the booking
Select the most appropraite Travel Credit: If you hold two or three of the above Cards, you can choose which Travel Credit to use on your booking (phone American Express if you are having trouble doing this online). Therefore we recommend using a Travel Credit that is due to expire first and cover the entire cost of the booking. Should one of the these two factors not apply, look at other Travel Credits in your account first to see if they are more appropriate for that respctive booking. Unfortunately, you cannot stack multiple Travel Credits on the same booking. To use multipke Travel Credits, you will need to make separate bookings
Use on last-minute flight, hotel or car rental bookings: By using on last-minute bookings, you minimise the risk of losing the Travel Credit as there is less time for your plans to face any unforeseen circumstances that requires cancelling the booking
Use your Travel Credit for travel in the future: Even if your Travel Credit expires in January, you can use it for travel in March so long as you have completed the booking before the Travel Credit expires. Travel can be commenced after the Travel Credit expires.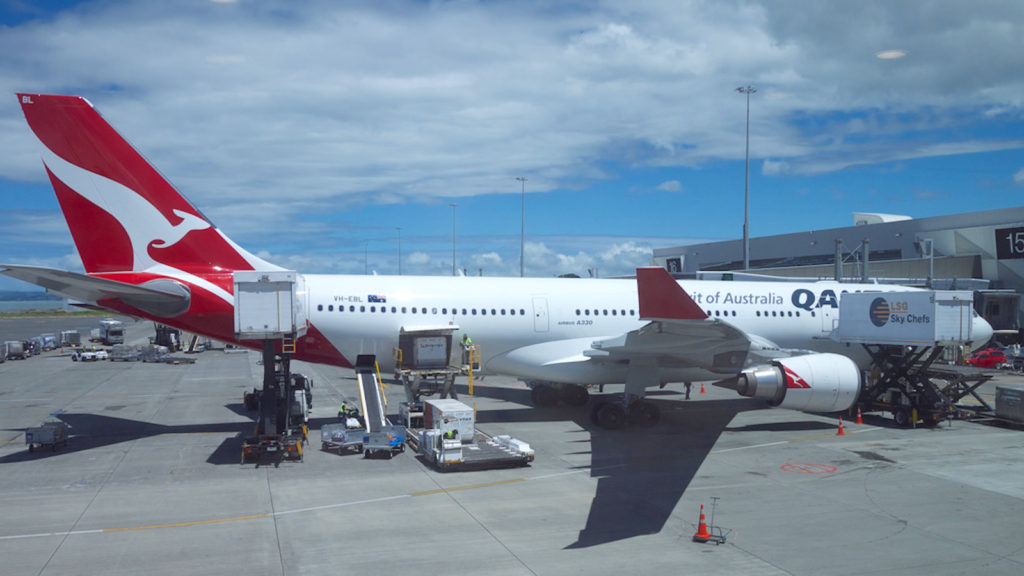 How to use your Travel Credit online with American Express Travel
Step 1: As soon as you have paid your annual fee and made the minimum payment on your first month's statement, you should find a new Travel Credit in your Amex Travel account ready to use
Step 2: Log in to the American Express Travel website, and then click on 'Travel Credit details' on the top right-hand corner of your account. You will be able to see your available Travel Credits
Should you not see your Travel Credits, contact Amex via live chat or by calling 1800 673 760 (Platinum Card), 1800 059 388 (Explorer and Platinum Edge Cards) to get this rectified.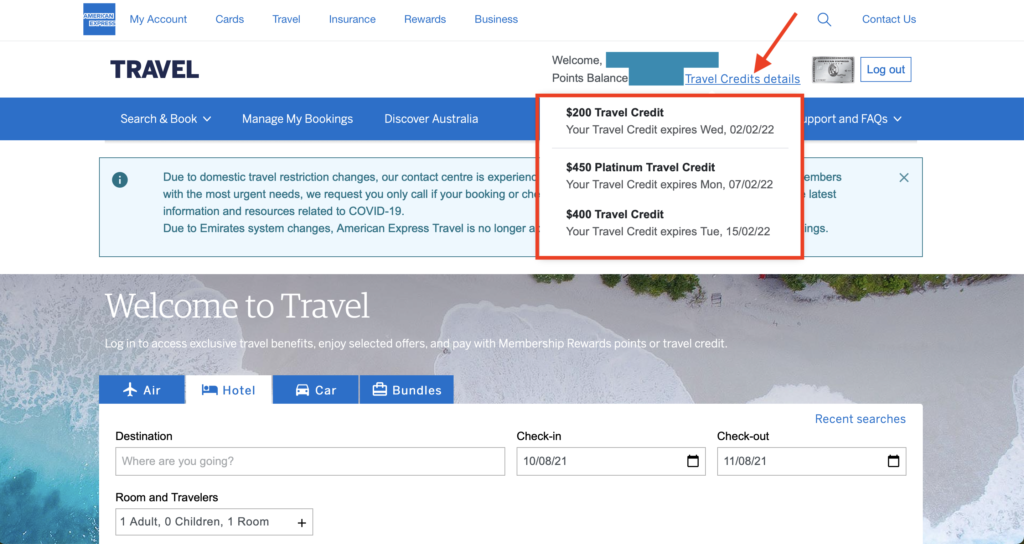 Step 3: From here, you can start researching your flight, hotel, car rental and/or experiences options
Step 4: When you are ready to finalise your booking, you will see the option to select your Travel Credit that you wish to use.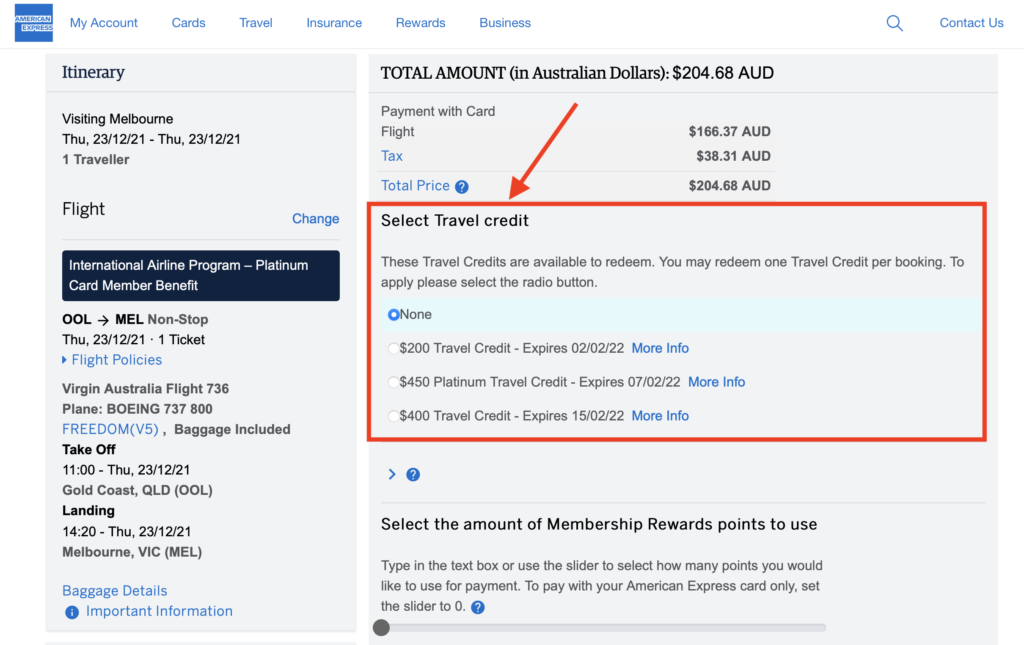 Step 6: Review and confirm your booking
Summing up
The Travel Credit is a handy and valuable benefit of all three eligible American Express Cards but it is important to remember to use it!
One thing that we find troublesome is its non-refundable nature, although as mentioned, this is currently being waived during COVID-19. We much prefer refundable rates, given the increasing uncertainty in travel plans that is likely to be with us in the near term.
Make sure to remember our tips above also, to ensure you gain maximum value from your Travel Credit and reduce the risk of letting it go to waste.
The article was originally written by Keith Mason.
How to use your American Express Travel Credits
was last modified:
February 17th, 2023
by