If your next international escape calls for a luxurious start, then the Qantas International First lounge in Melbourne beckons. Like a silver fox, this stylish space gets better with age thanks to imported Italian marble, and leather sourced from the makers of Ferrari.
The Melbourne lounge has a bit less 'wow' factor than its Sydney counterpart. But despite the smaller footprint, it's still a luxe space to relax in for a few hours. Here's what you can expect.
Note: this review contains a mix of images from visits in 2019 and 2022. The à la carte menu rotates seasonally, so expect some variations from what we've covered in this article.
Lounge details & location
The Qantas First Lounge is located on Level 3 of the Melbourne International Airport's Terminal 2 and can be accessed via the escalator near Gates 9 and 10. It's arguably the airport's best lounge 'real estate', with sweeping views of the apron. In contrast, most other airline lounges here are located under the departures level.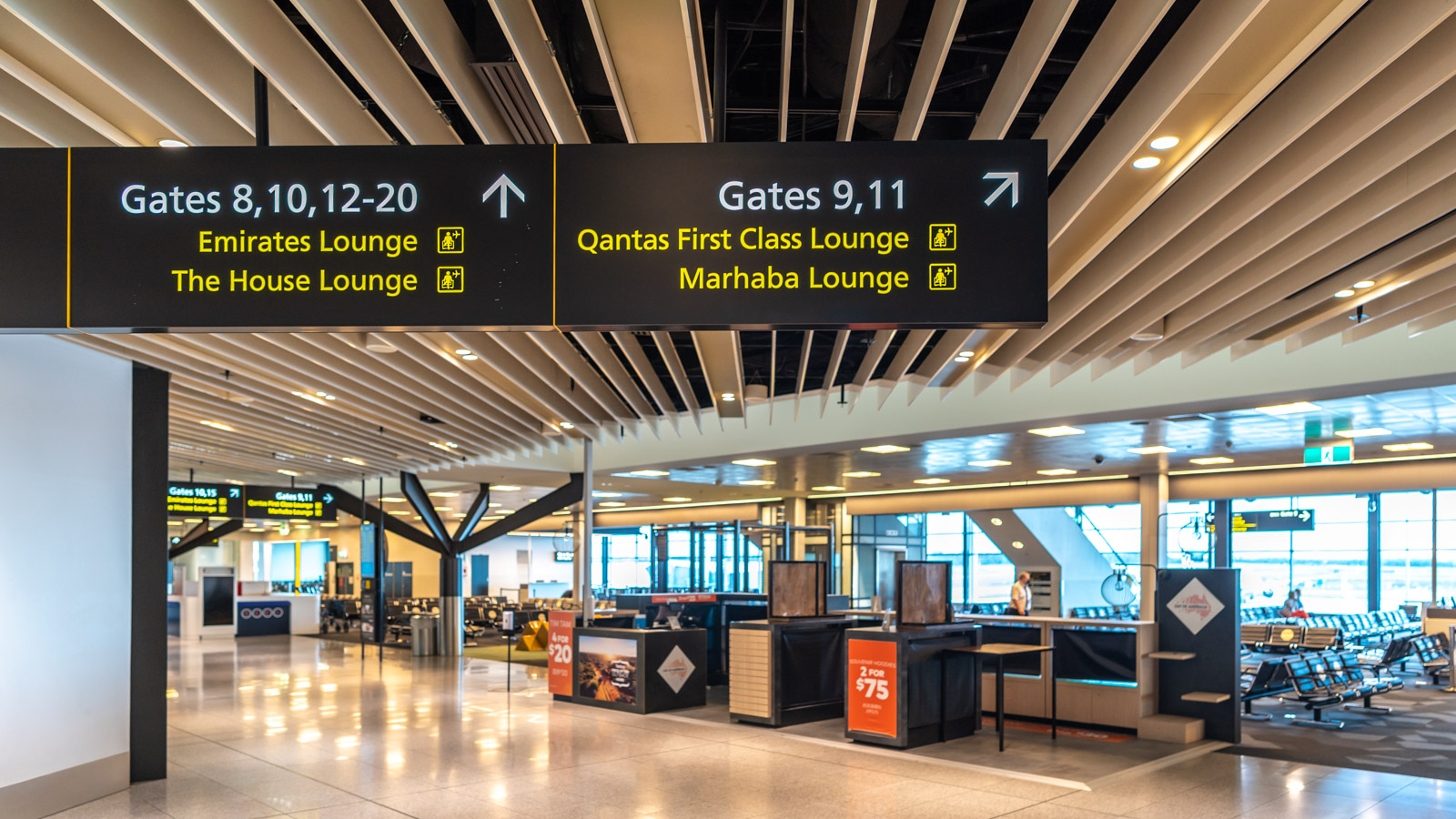 You'll know you're at the right spot when you peek left at the top of the escalators. The white marble-trimmed entrance awaits. Prior to COVID-19, the lounge was open from dawn to late, covering most Qantas and oneworld flights. These days, the opening hours are trimmed to be 3-4 hours before each Qantas departure. If your oneworld or Emirates flights line up near a Qantas flight, you may be able to access the lounge.
We understand this is a temporary measure and Qantas will eventually restore the lounge opening hours. But for now, be sure to carefully check the Qantas website for the latest information.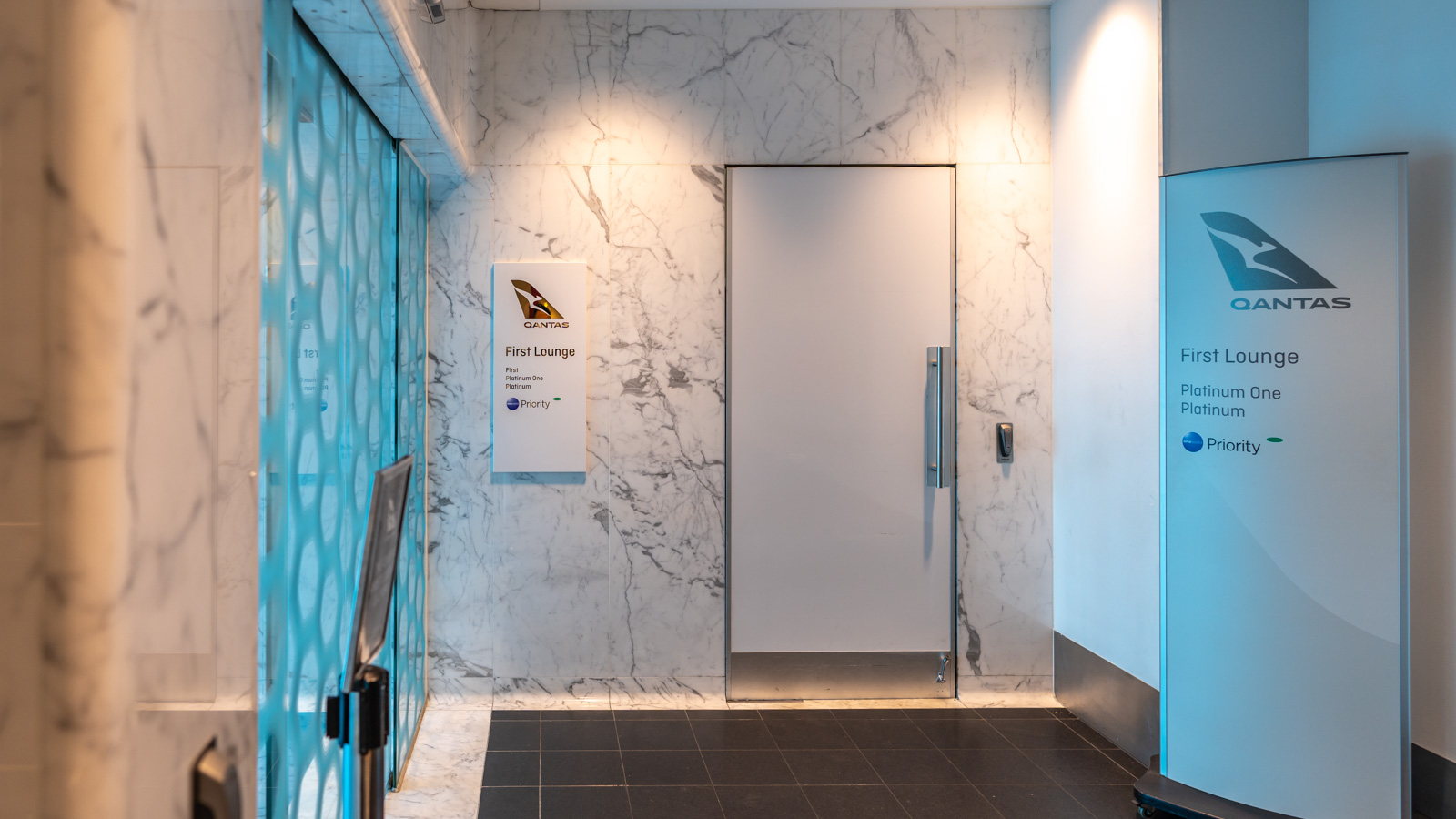 Lounge seating
Although this is the smaller sister lounge to the International First Lounge Sydney, it does the job well. The space is a large rectangle, with lounge seating taking up most of the windows. Be sure to snag a front-facing sofa for uninterrupted views of the airfield! (Hint: these seats 'recline' too).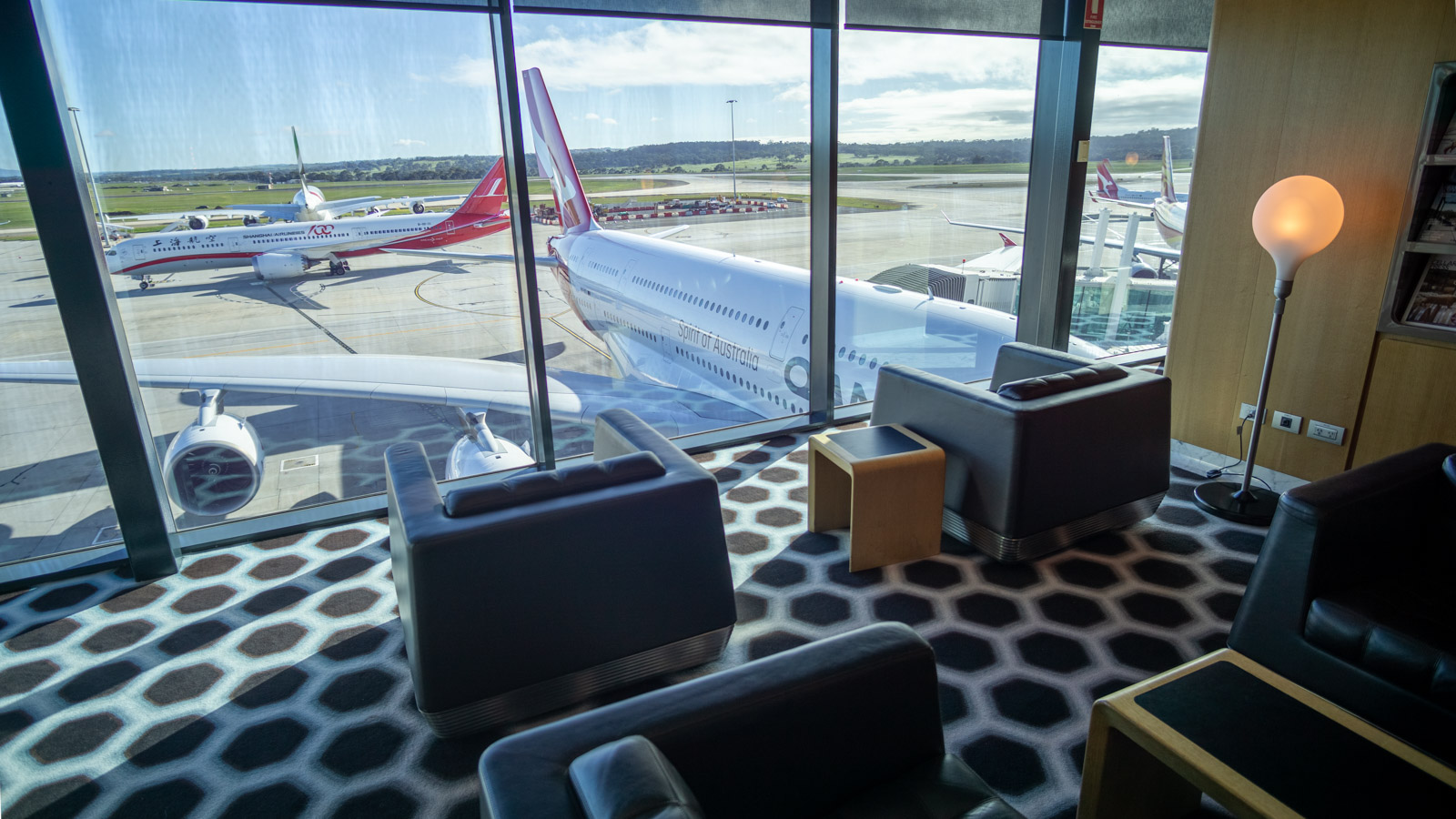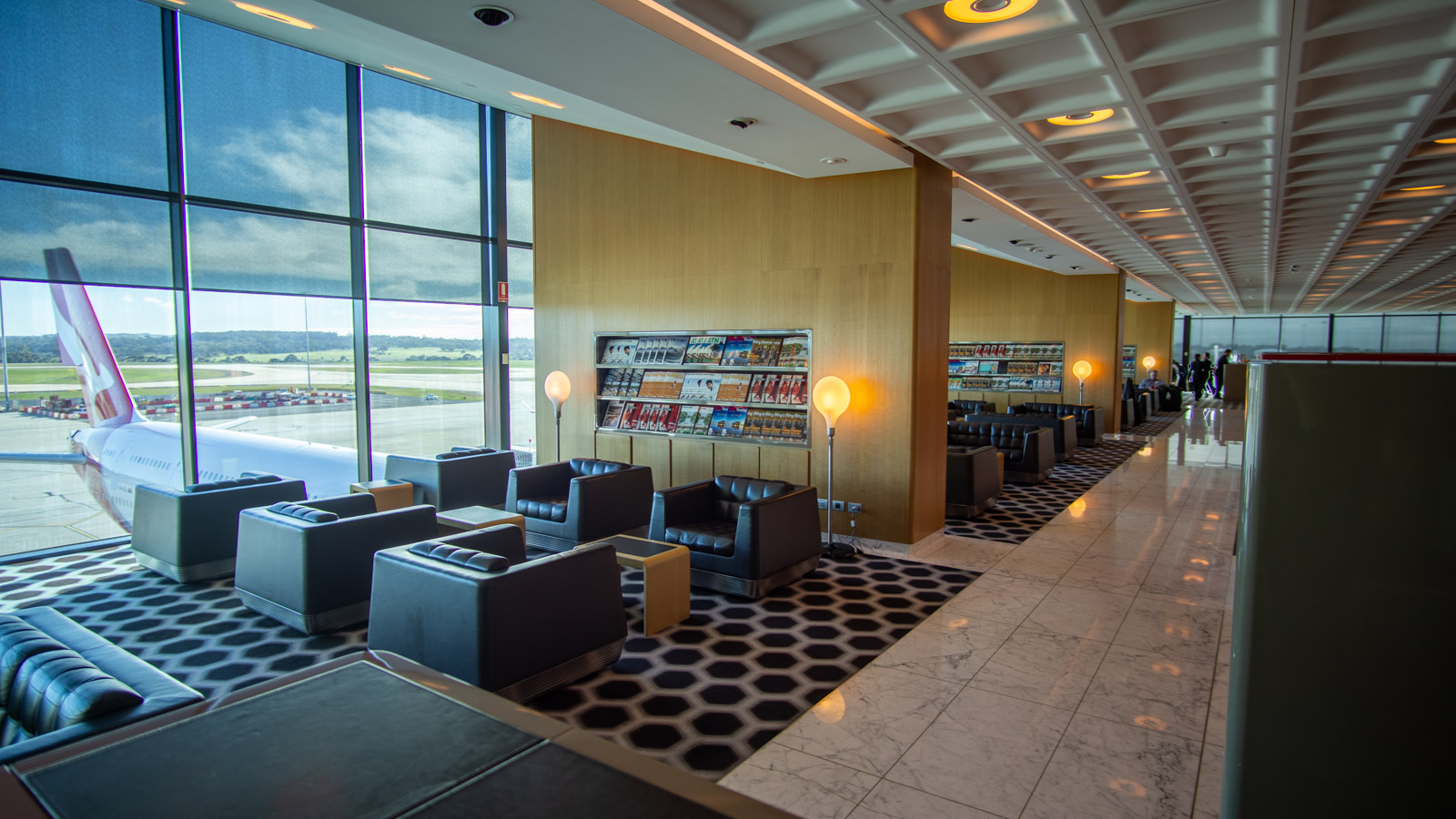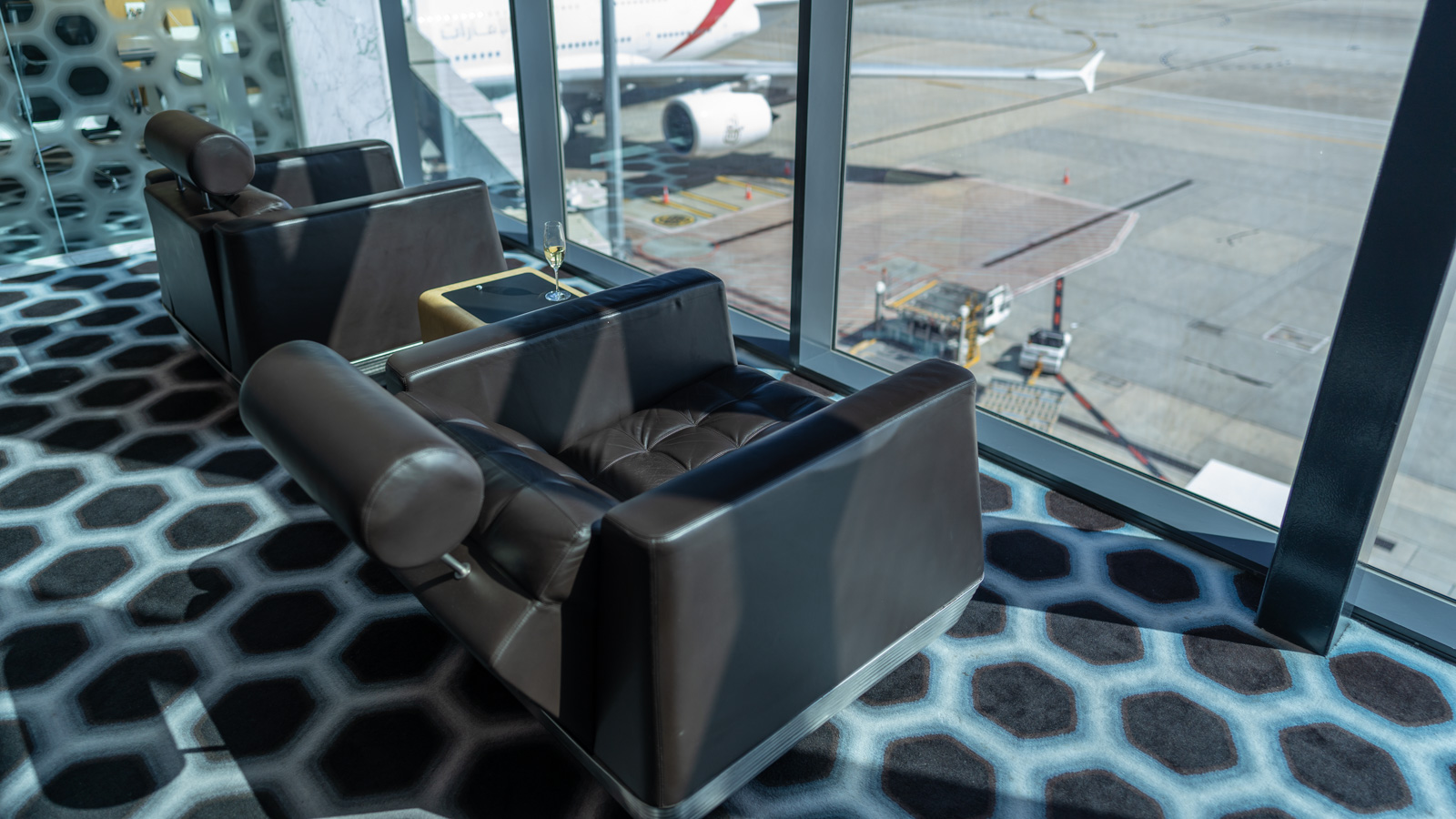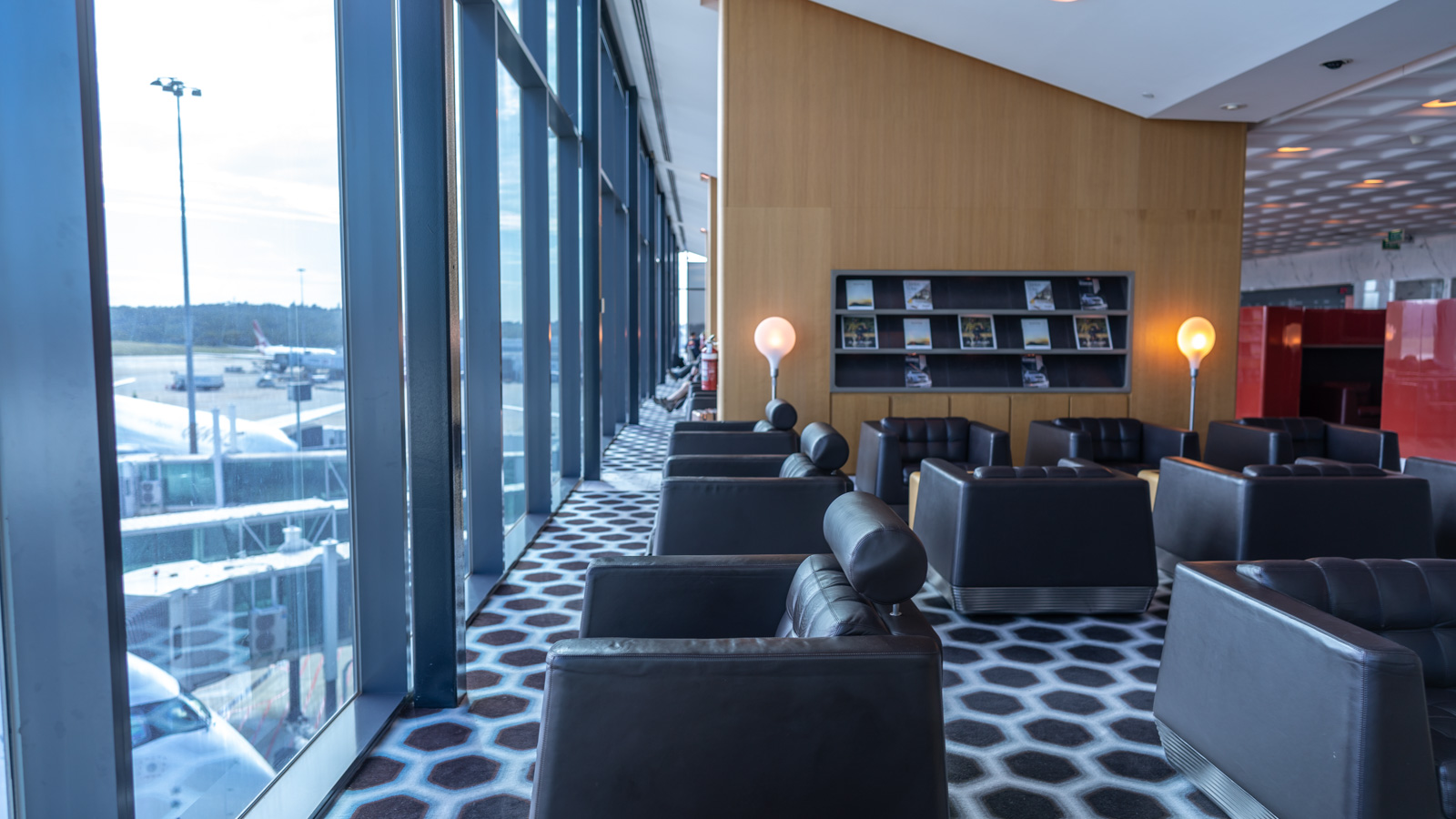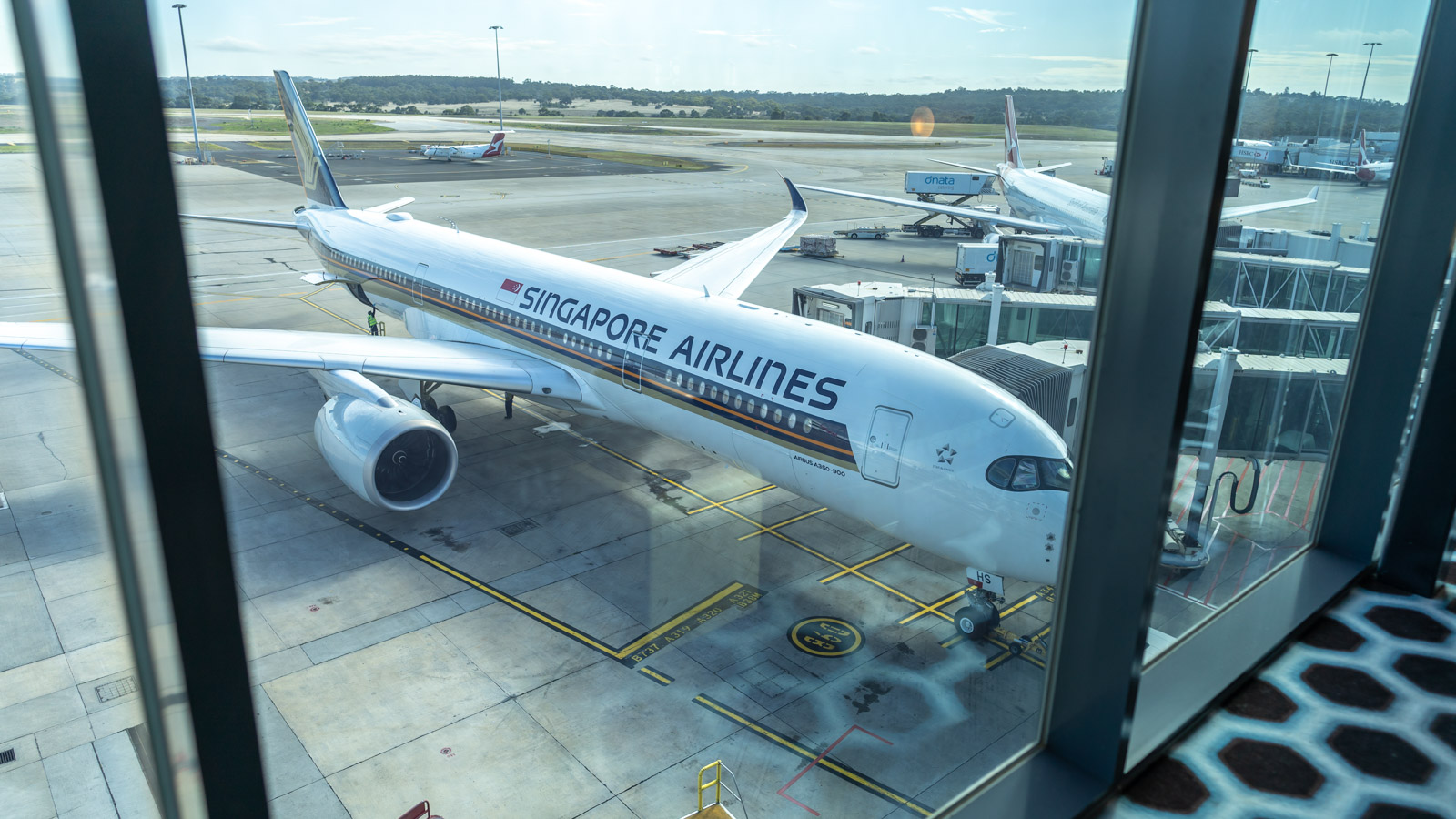 Near the entrance are work desks, two office suites and a boardroom to hold meetings.
The rest of the lounge seating is divided into a number of partially partitioned areas which Qantas calls the 'Library'. There are several of these nooks – instead of just one large one as in the Sydney lounge – making them much more usable spaces.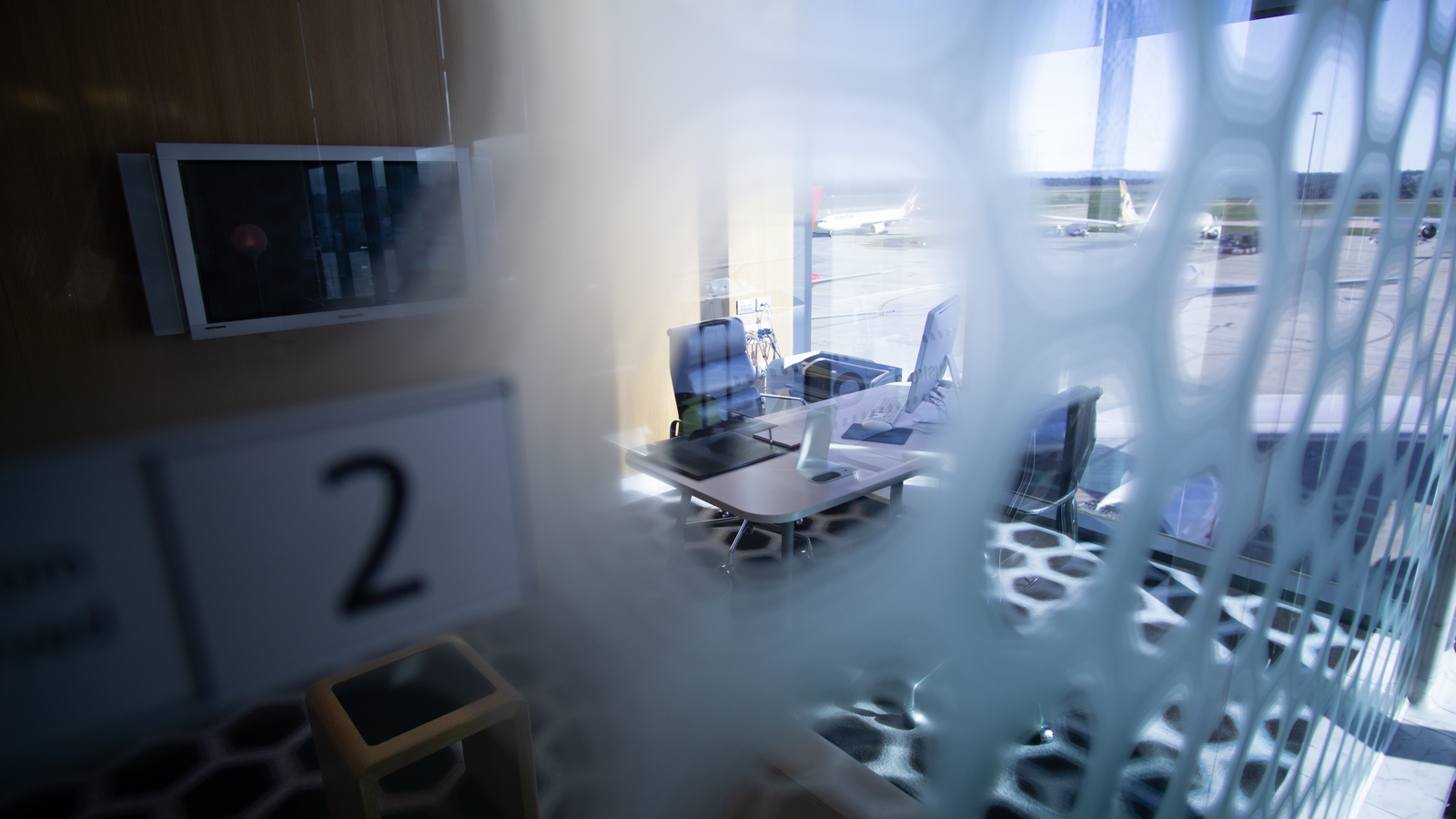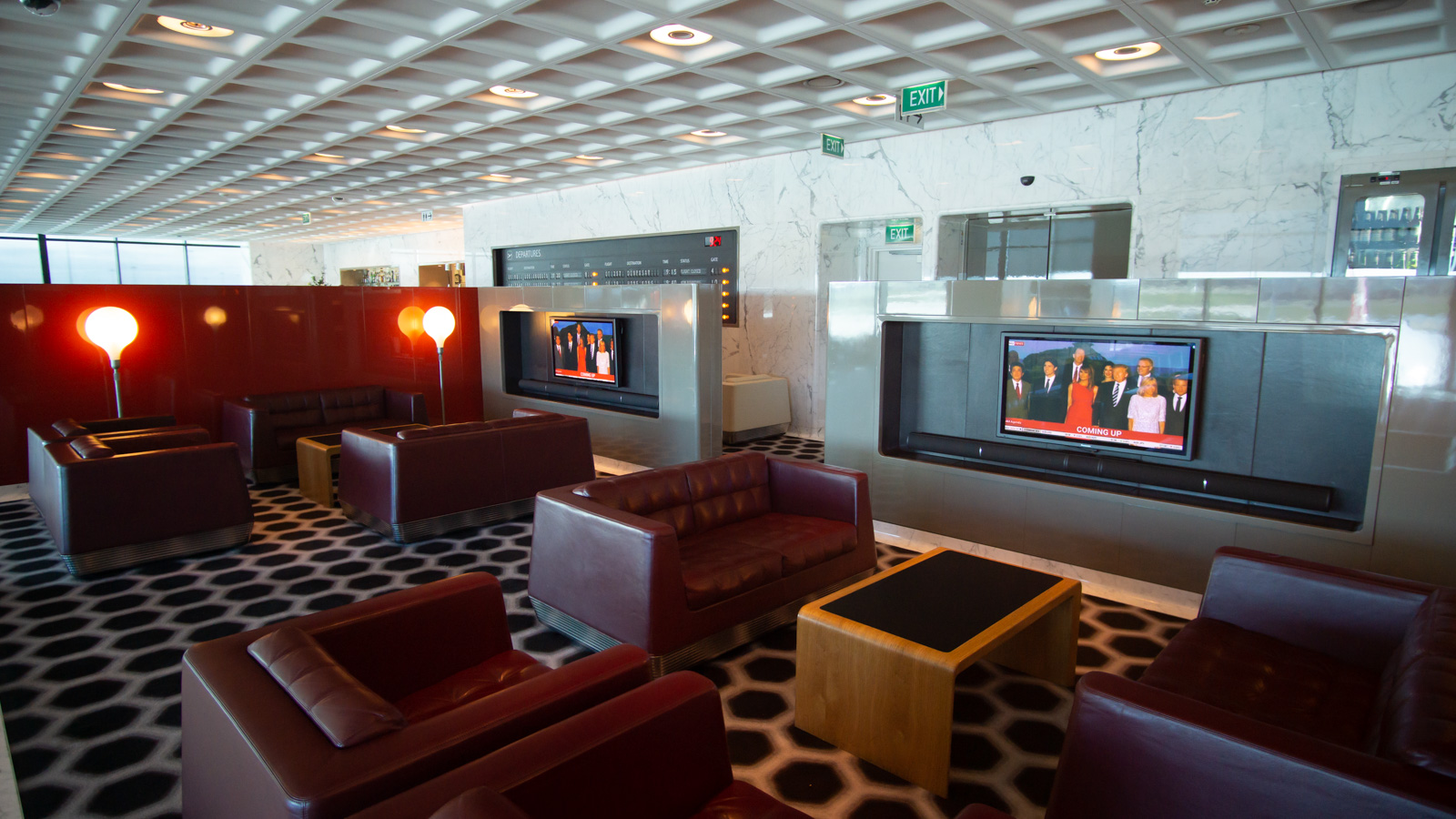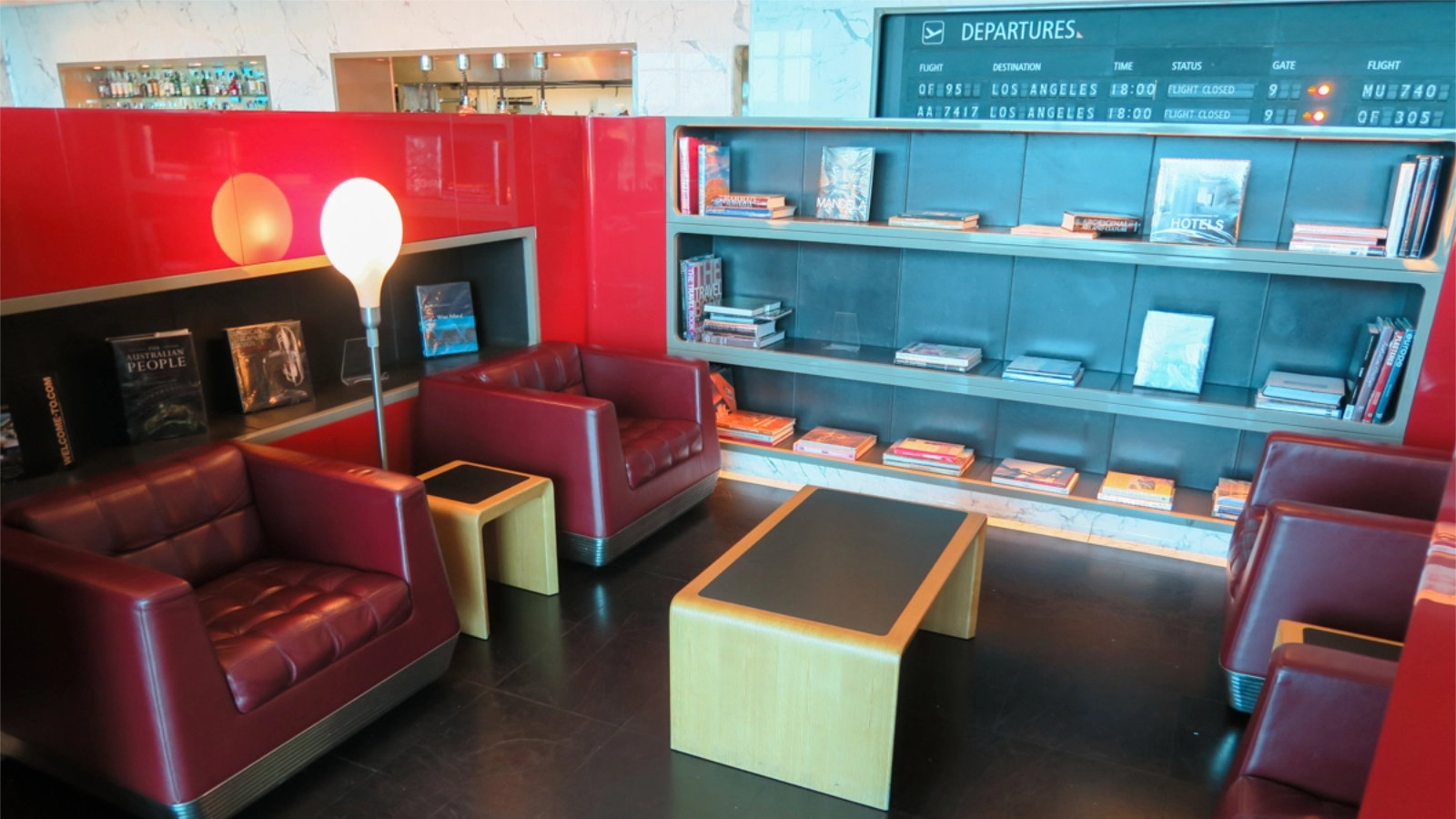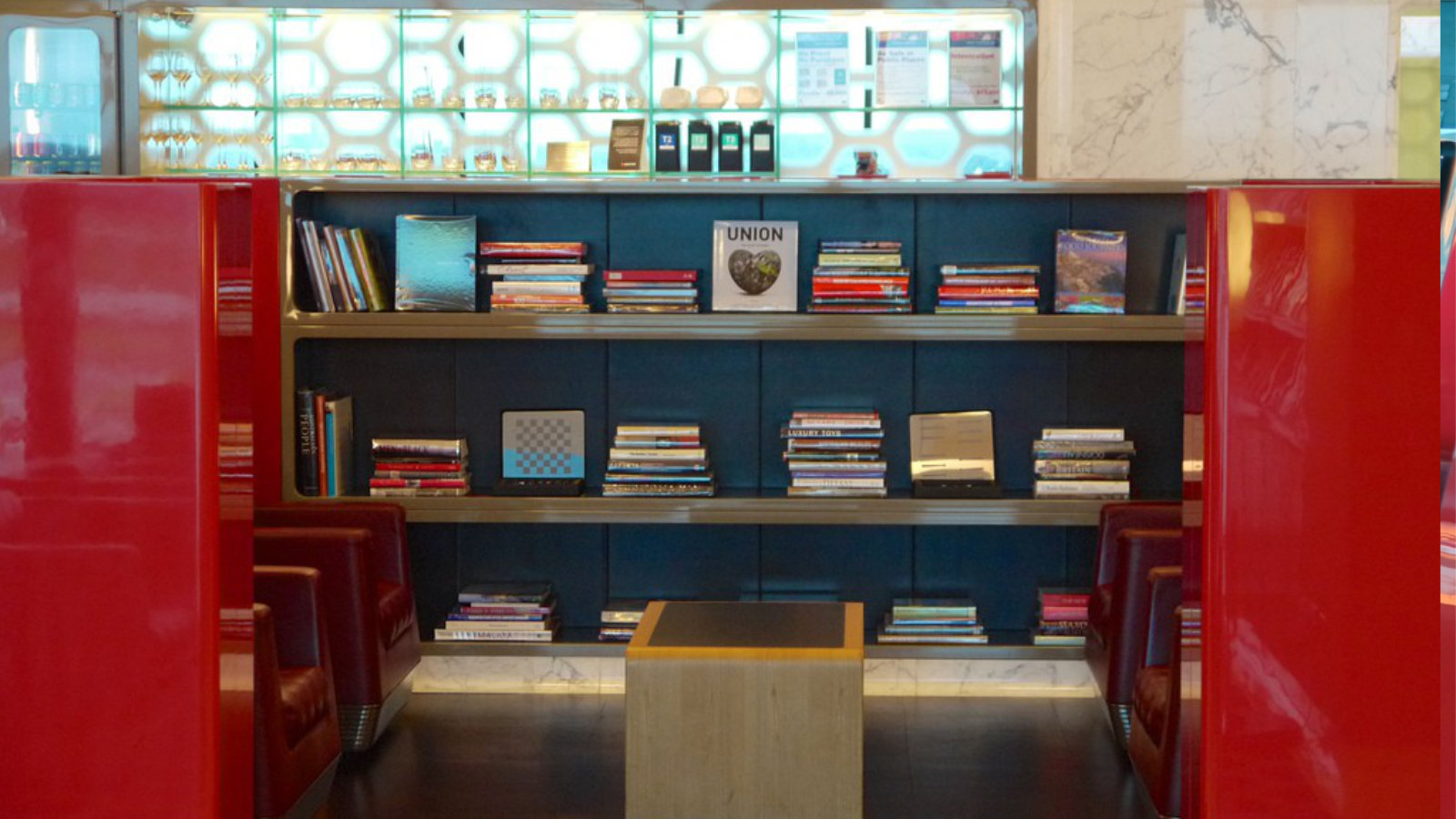 Don't miss the classic split-flap departures board on the rear wall, near the buffet. But we don't expect anyone will be grazing at the buffet when there is a full restaurant here! Yes, at the far end of the lounge is the dining and bar area, which can seat up to 50 guests.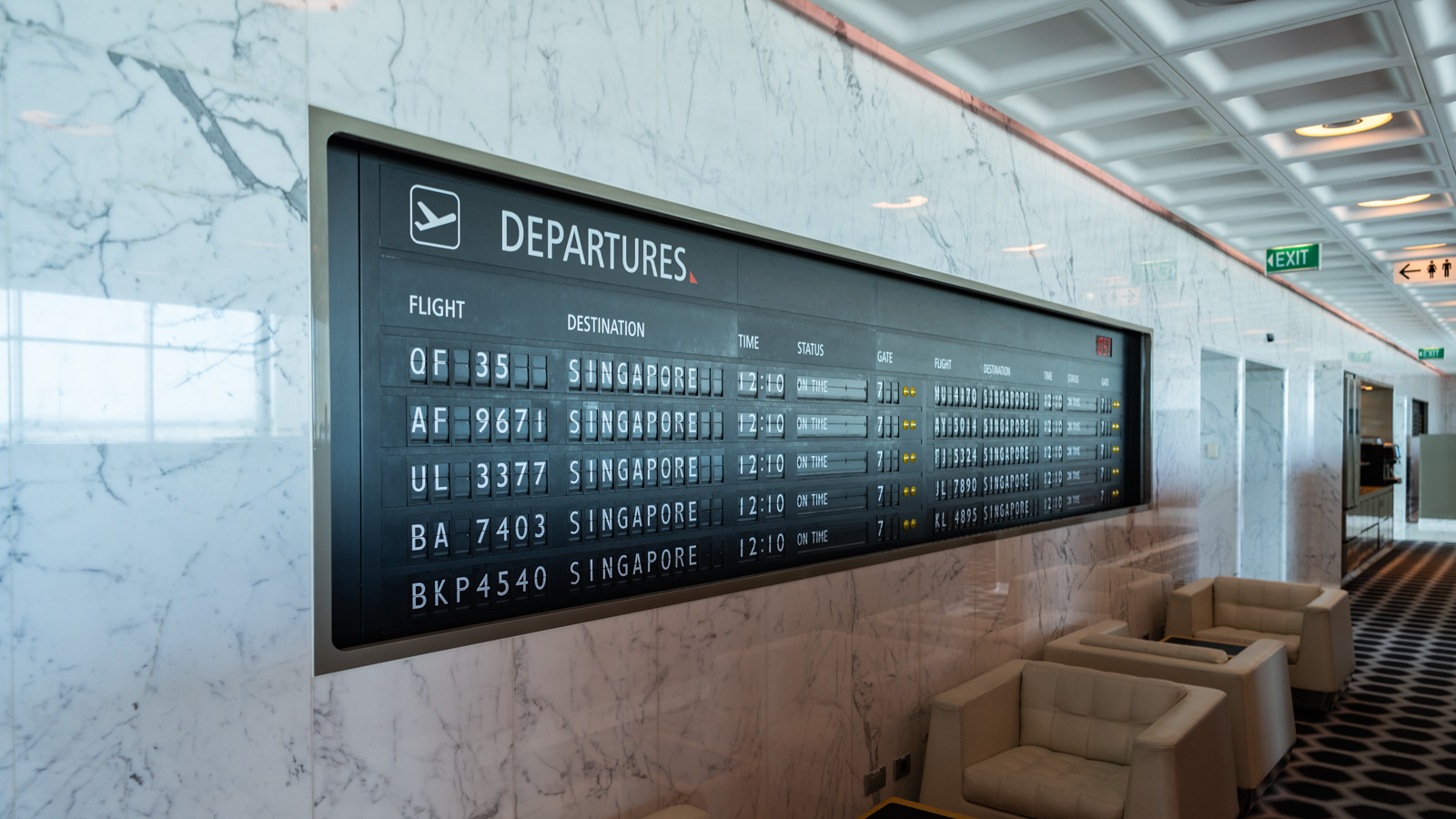 Food & drink
The restaurant is where I invariably find myself parked. Designed in consultation with chef Neil Perry, the seasonal menu is entirely à la carte. With dishes changing every three months, expect to see lighter meals in summer and heartier dishes in winter.
Unlike some 'pretend' à la carte dining offered by other lounges we've visited, where meals are cooked in advance and kept warm under heat lamps, the Qantas First Lounge resembles a restaurant.
Don't forget to try the signature dish, the salt and pepper squid with a green chilli dipping sauce. The sauce is addictive. And yes, it's okay to order this more than once. No one will tell.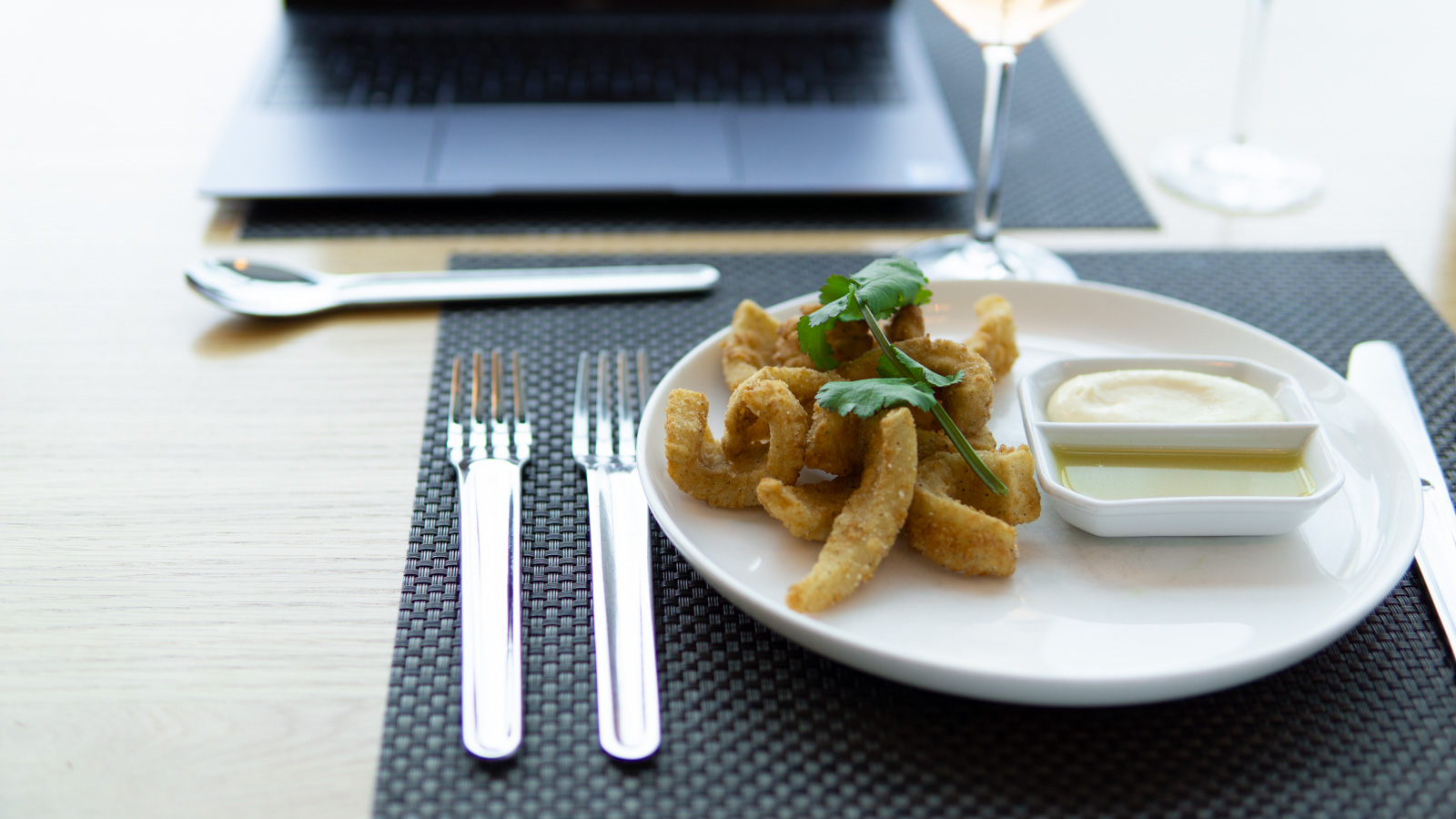 The food is excellent (as you'd expect). Sitting at the bar near the open kitchen allows you to observe each dish go through the various stages of preparation before finally being called for service and delivery. But I'm also partial to dining in front of the expansive windows.
Here's a selection of tasty dishes I've tucked into over the last few years. Remember, the menu is seasonal, so you may see some of these choices vanish and turn up again a few months later.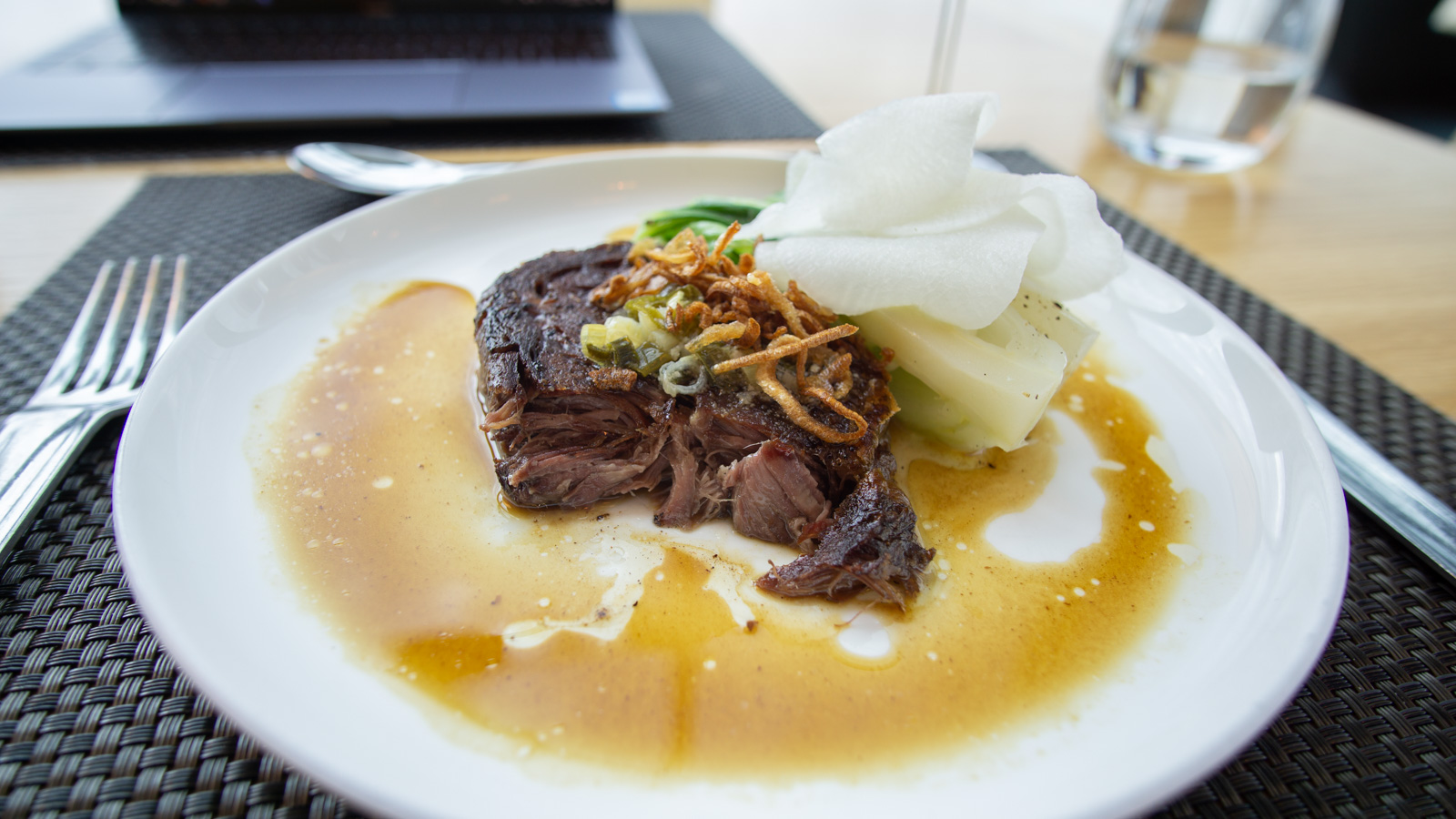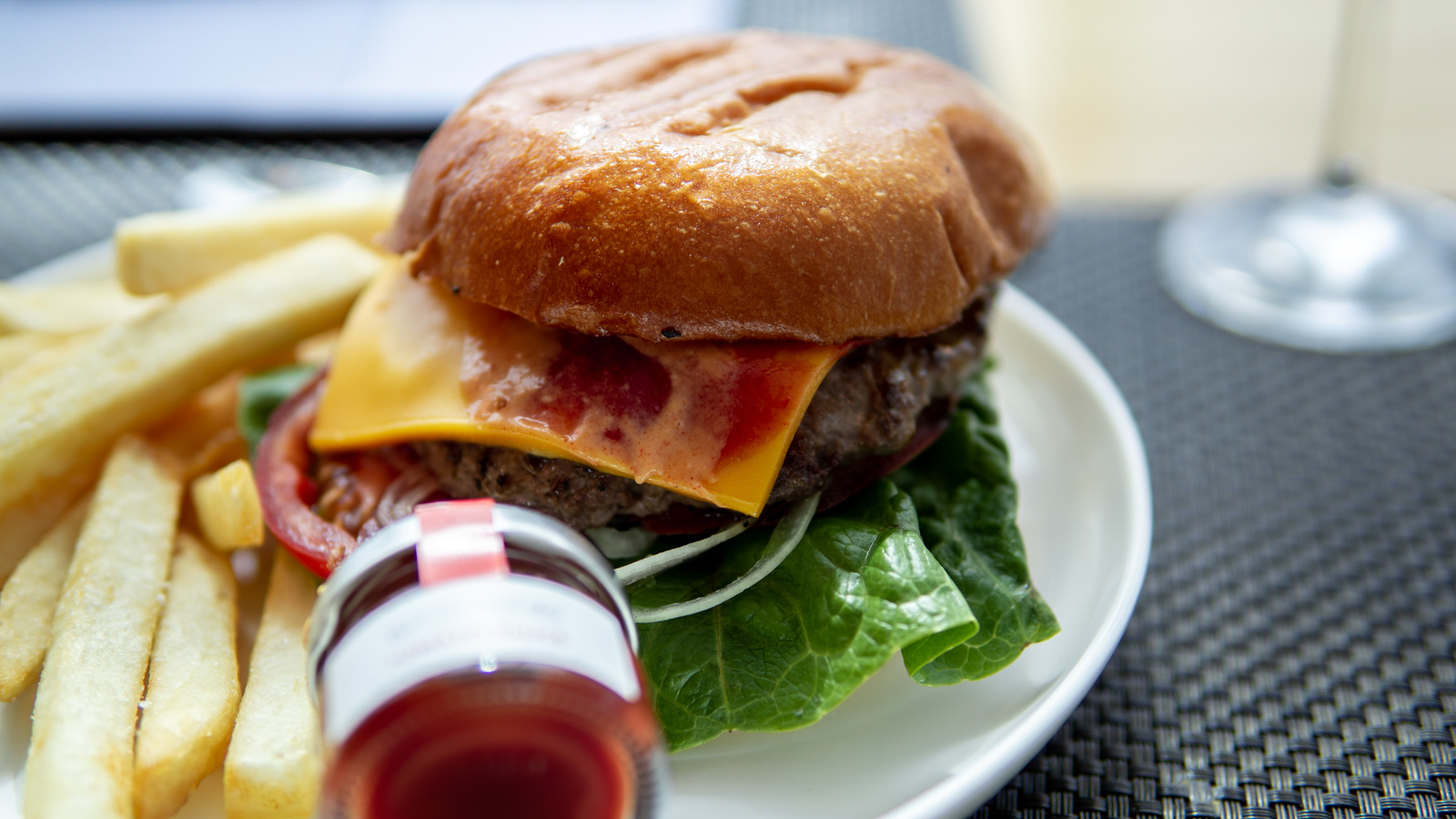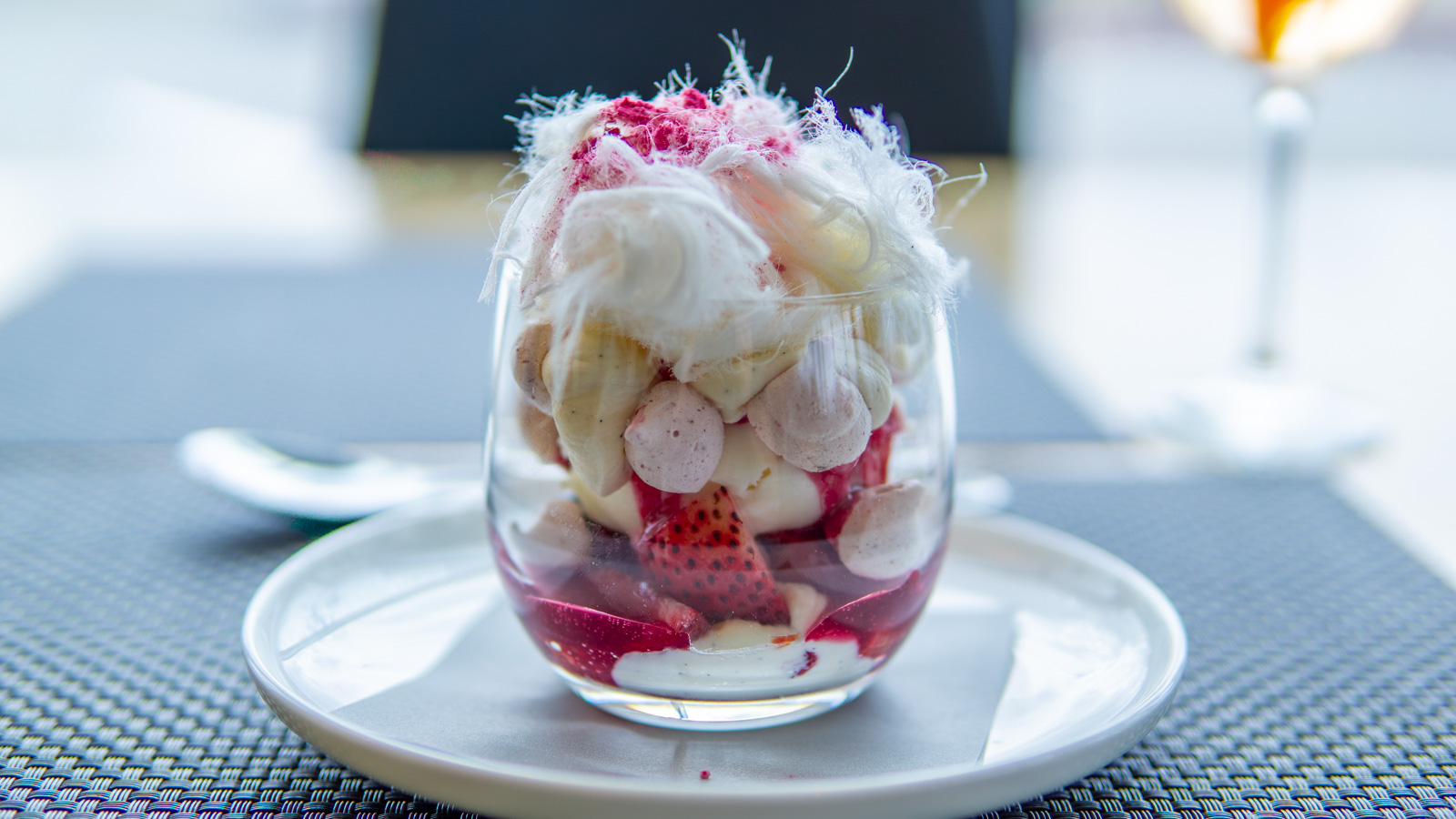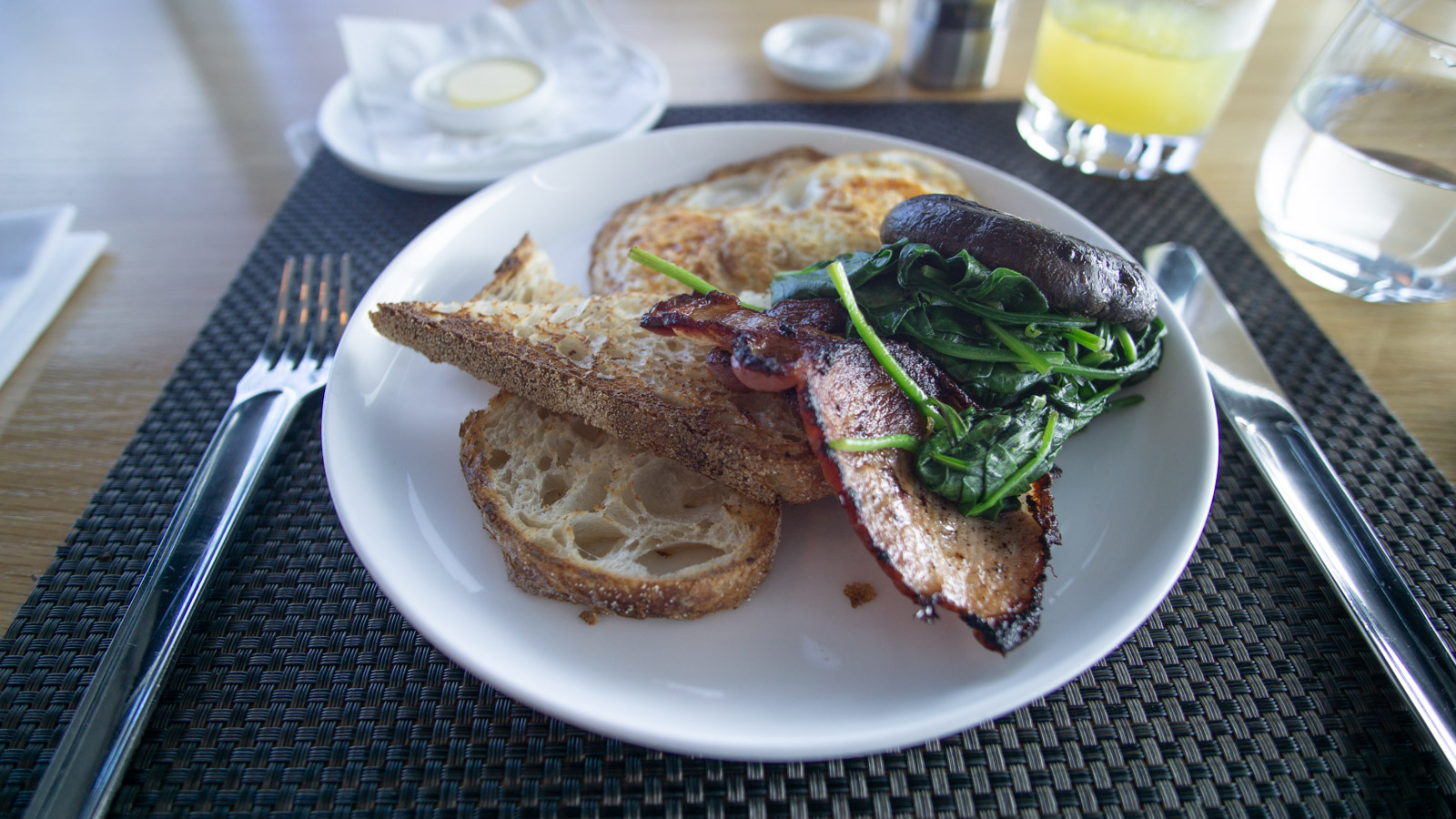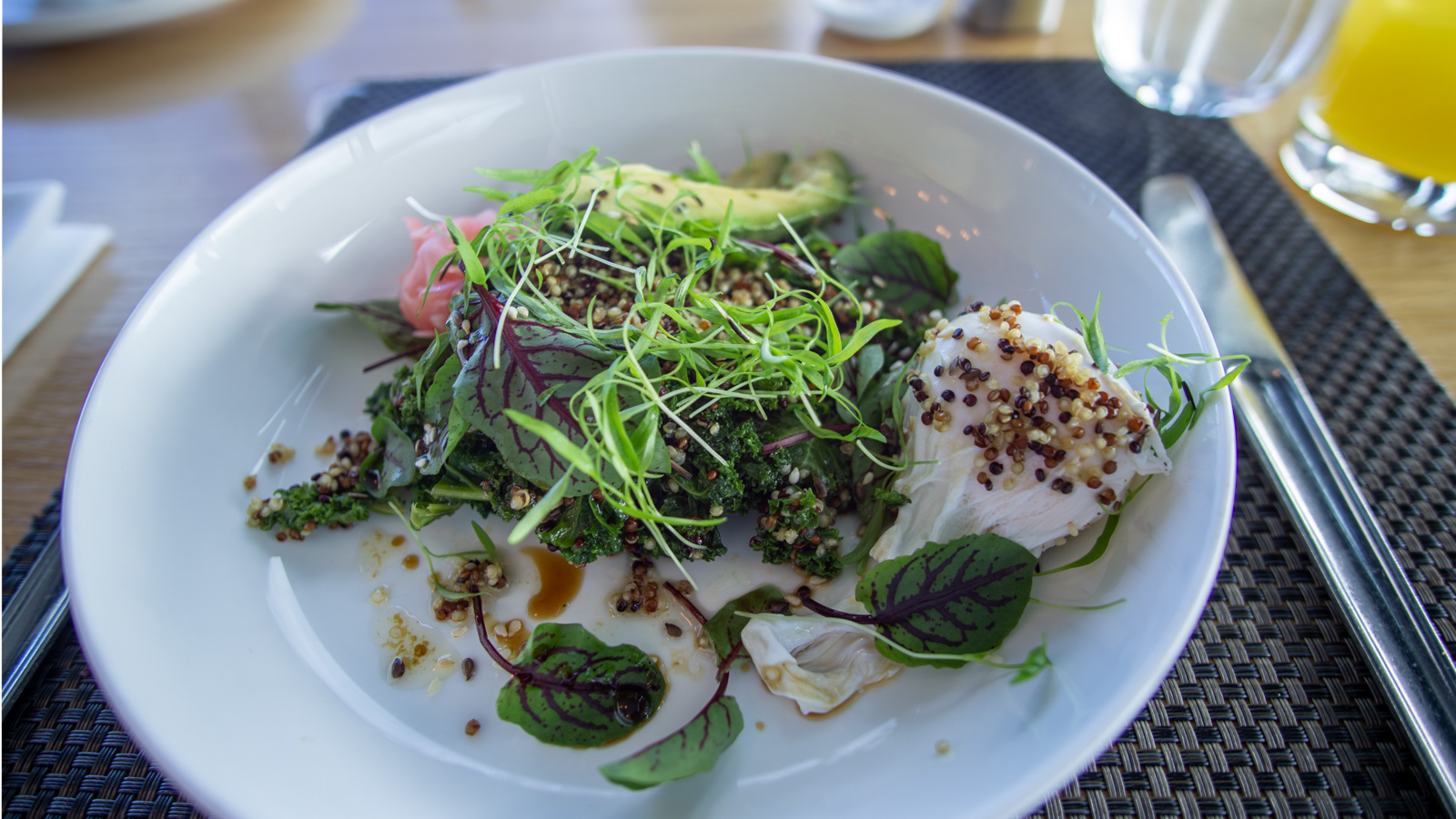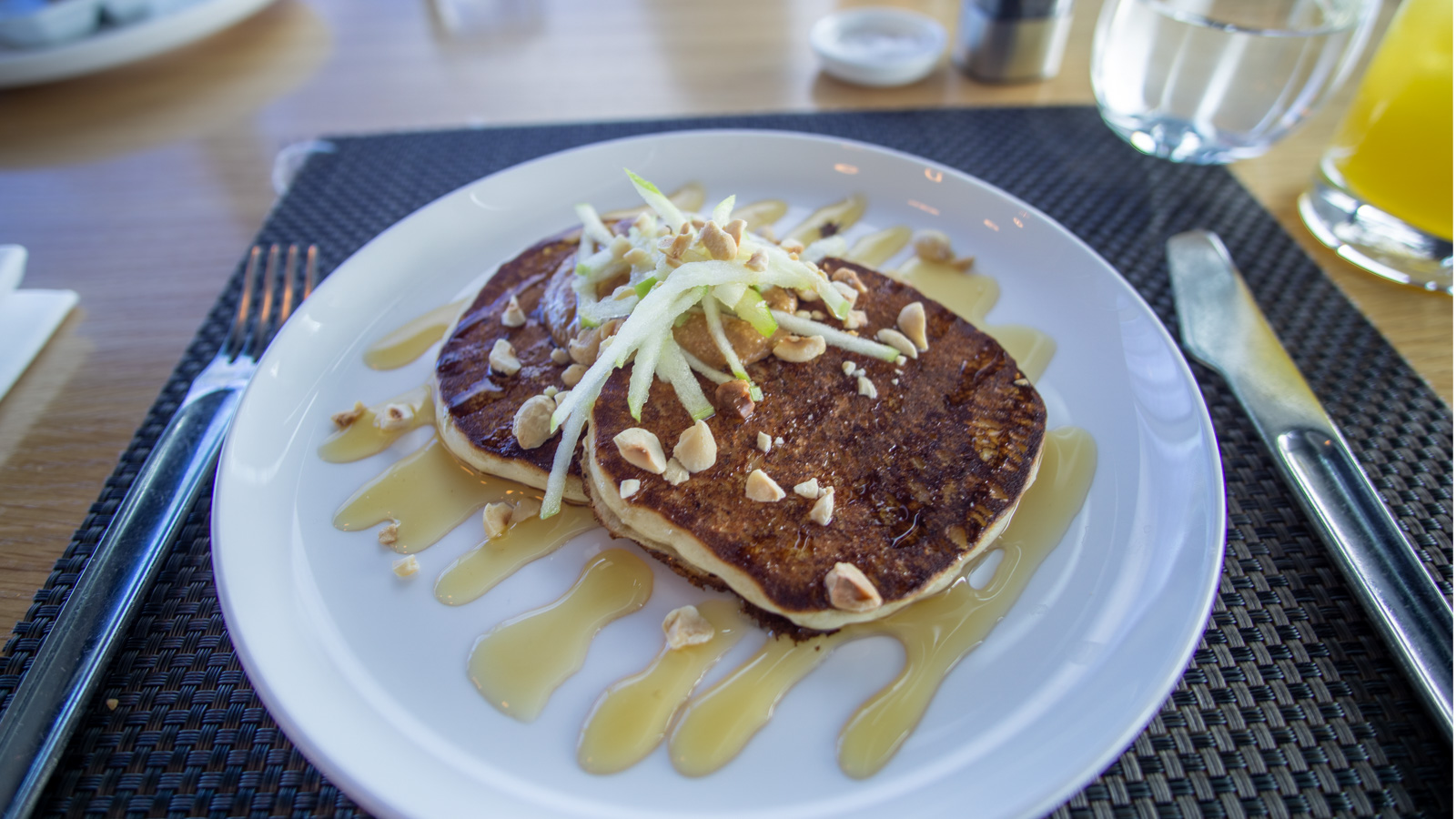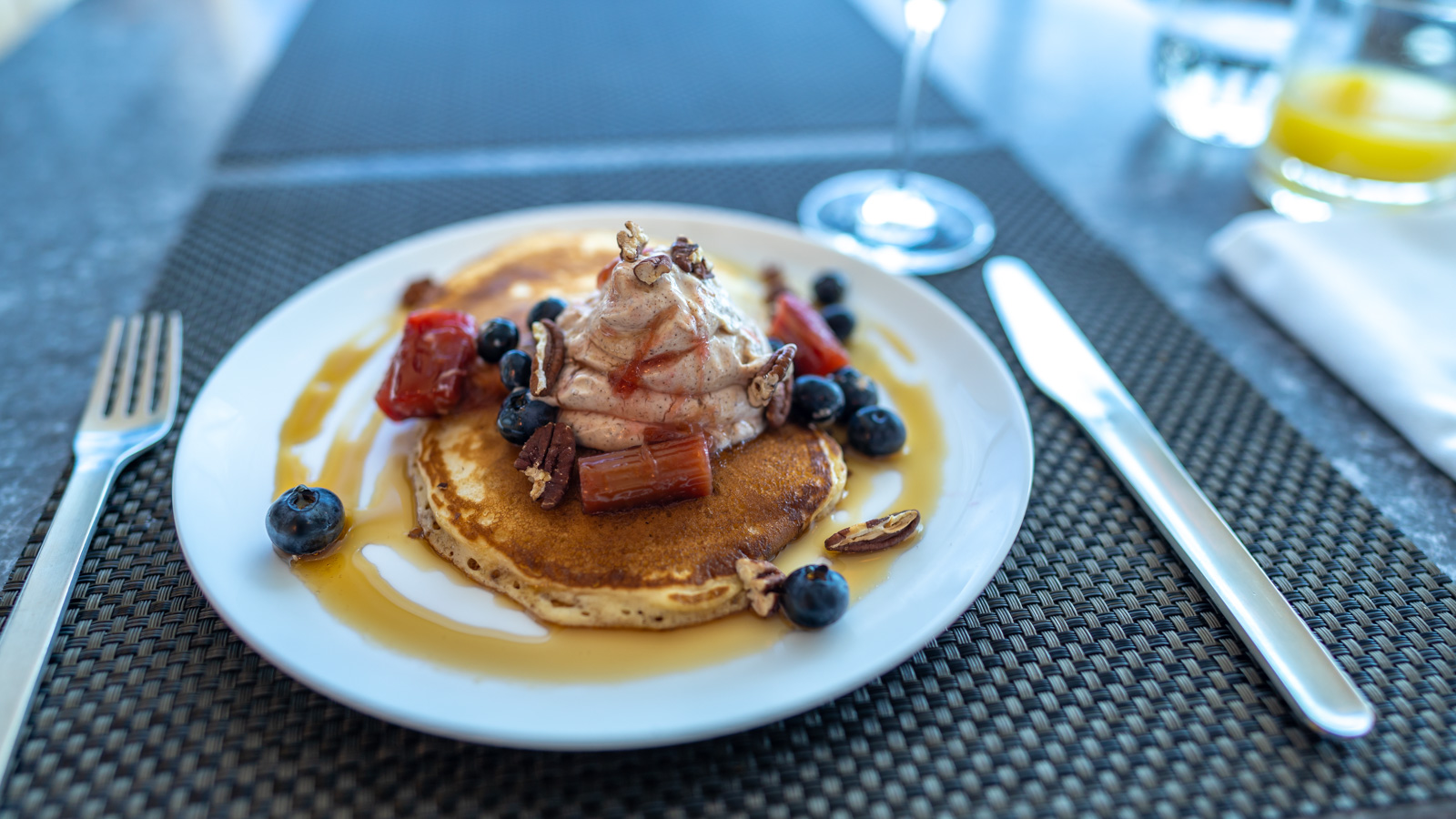 If you're still peckish, there is a small buffet area near the split-flap departures board. But while it's nice to have, I imagine that it's not really a main focus of the lounge.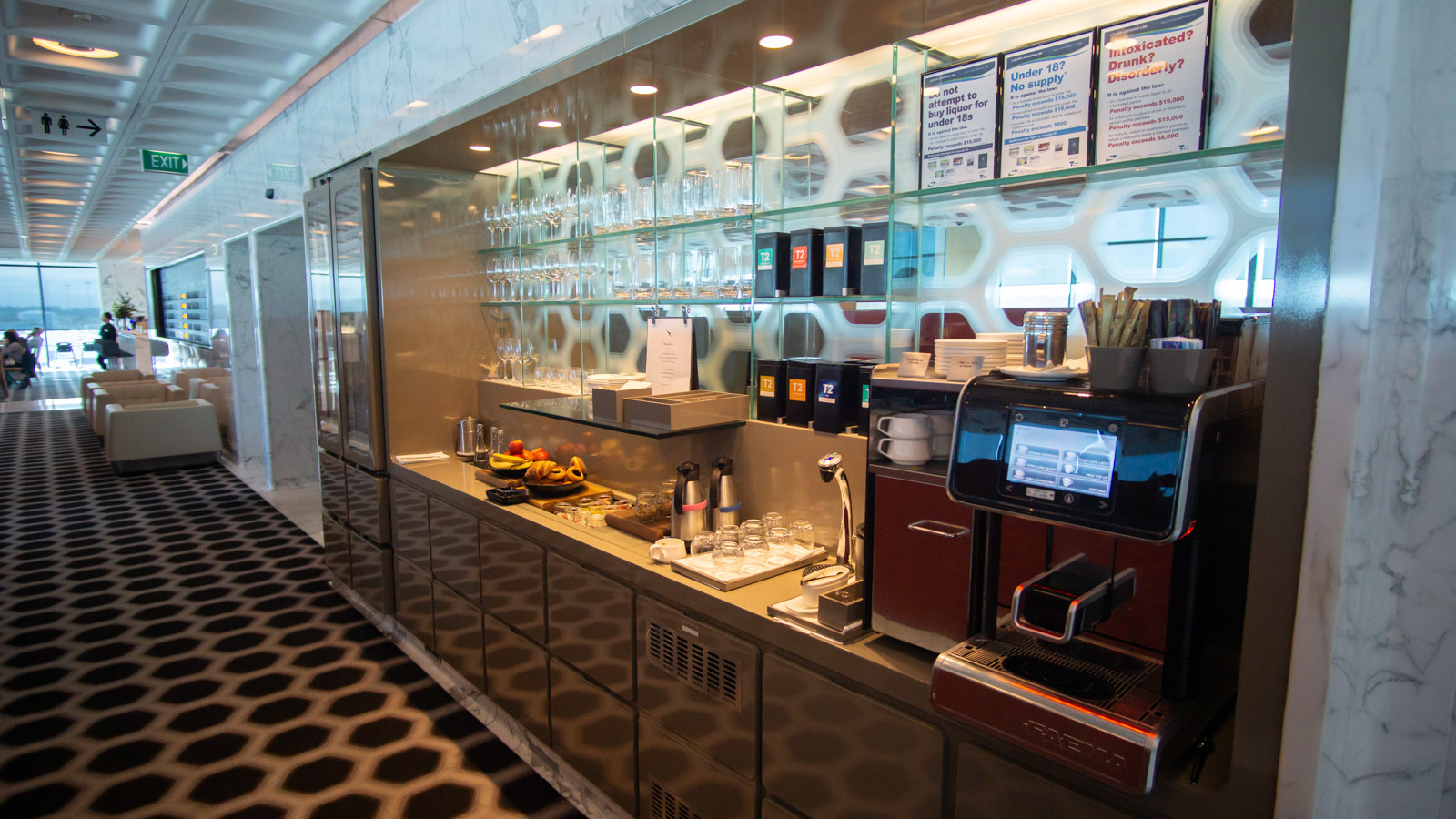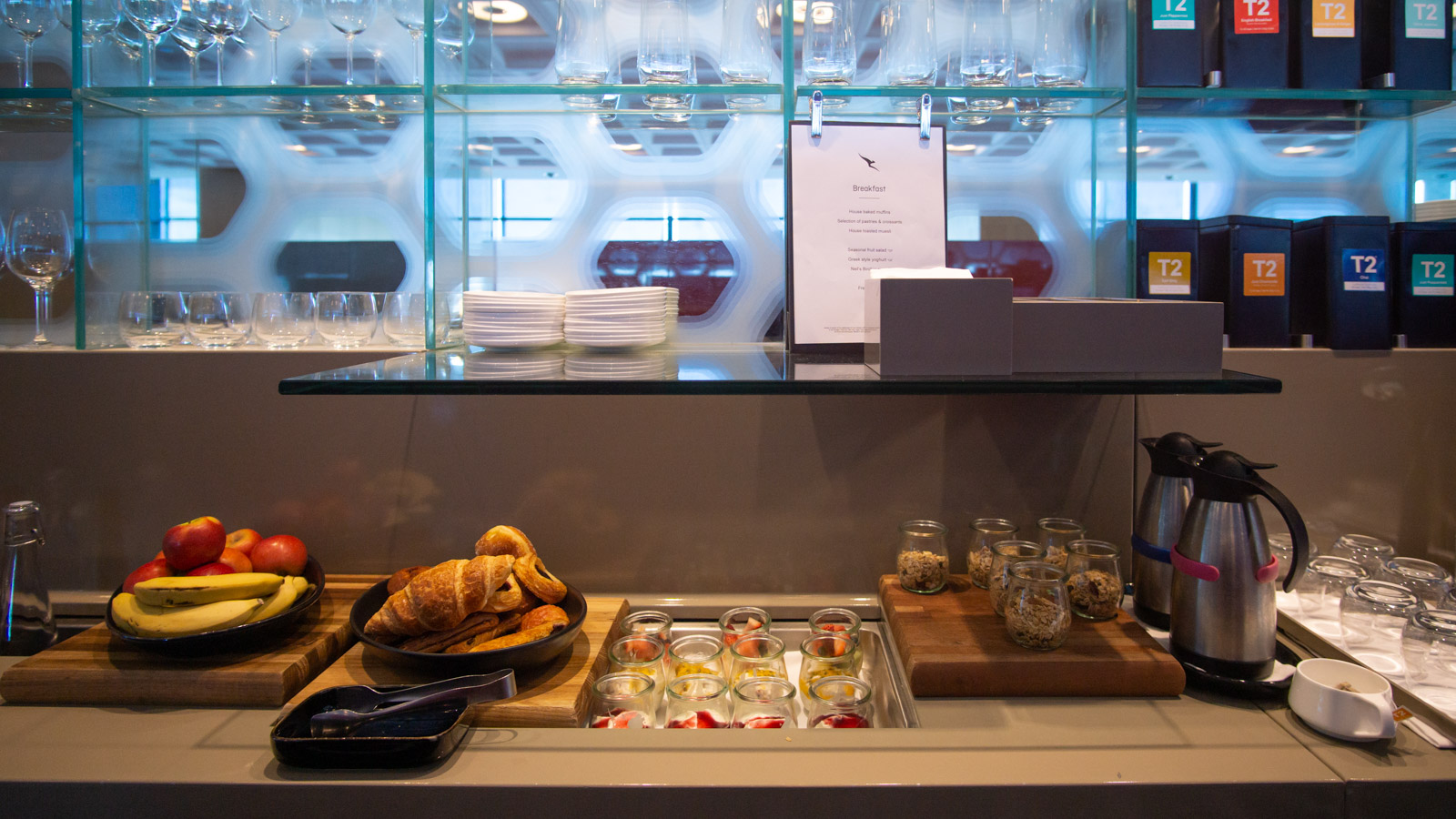 The bar offers cocktails, including the signature Longreach Fizz, featuring Four Pillars Qantas Centenary gin. There are five white and four red wines on offer, along with rosé, dessert wine and beer and cider. You'll also find Piper-Hiedsieck and Taittinger Champagne, though the lounge has now veered away from vintage drops.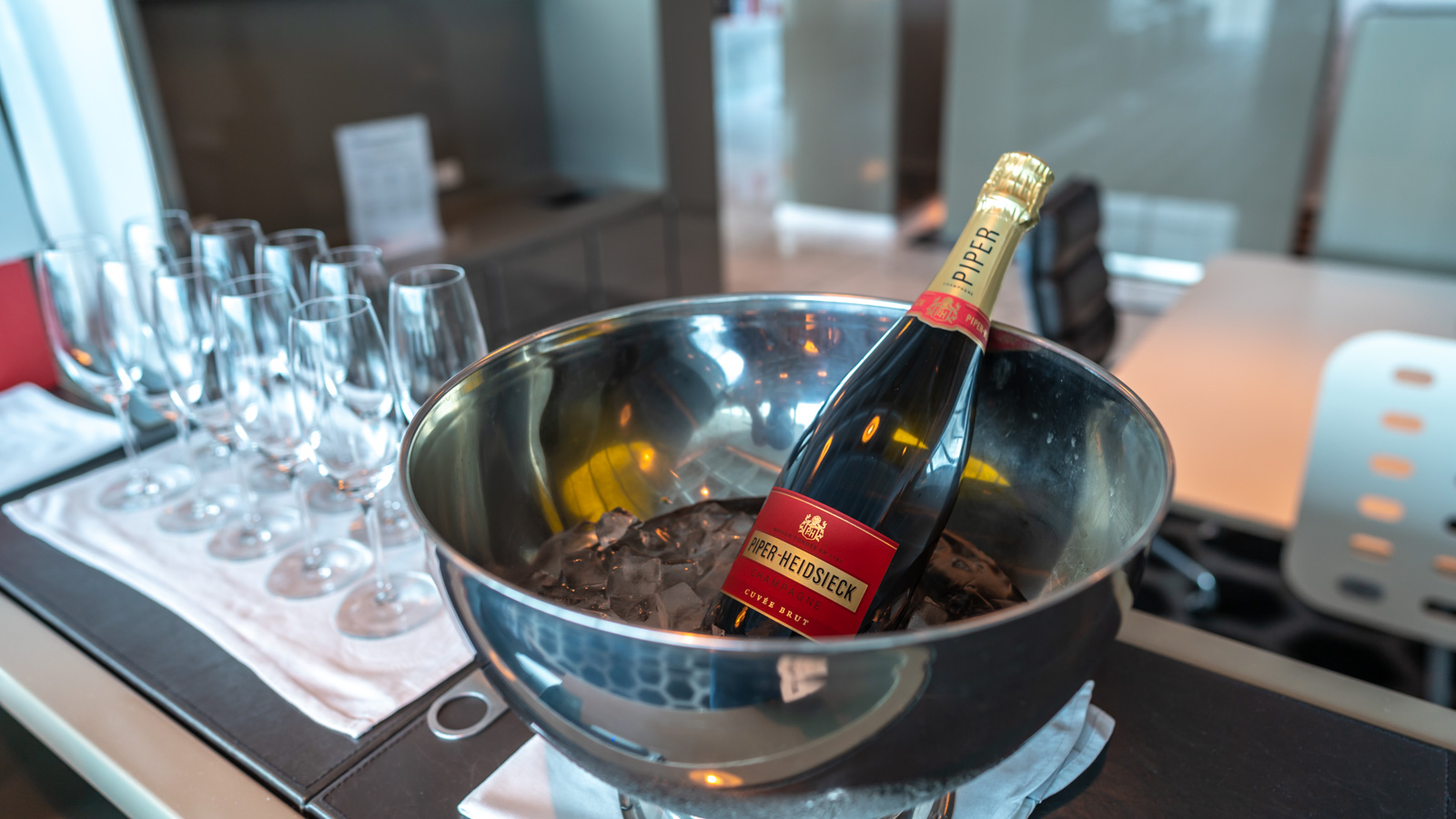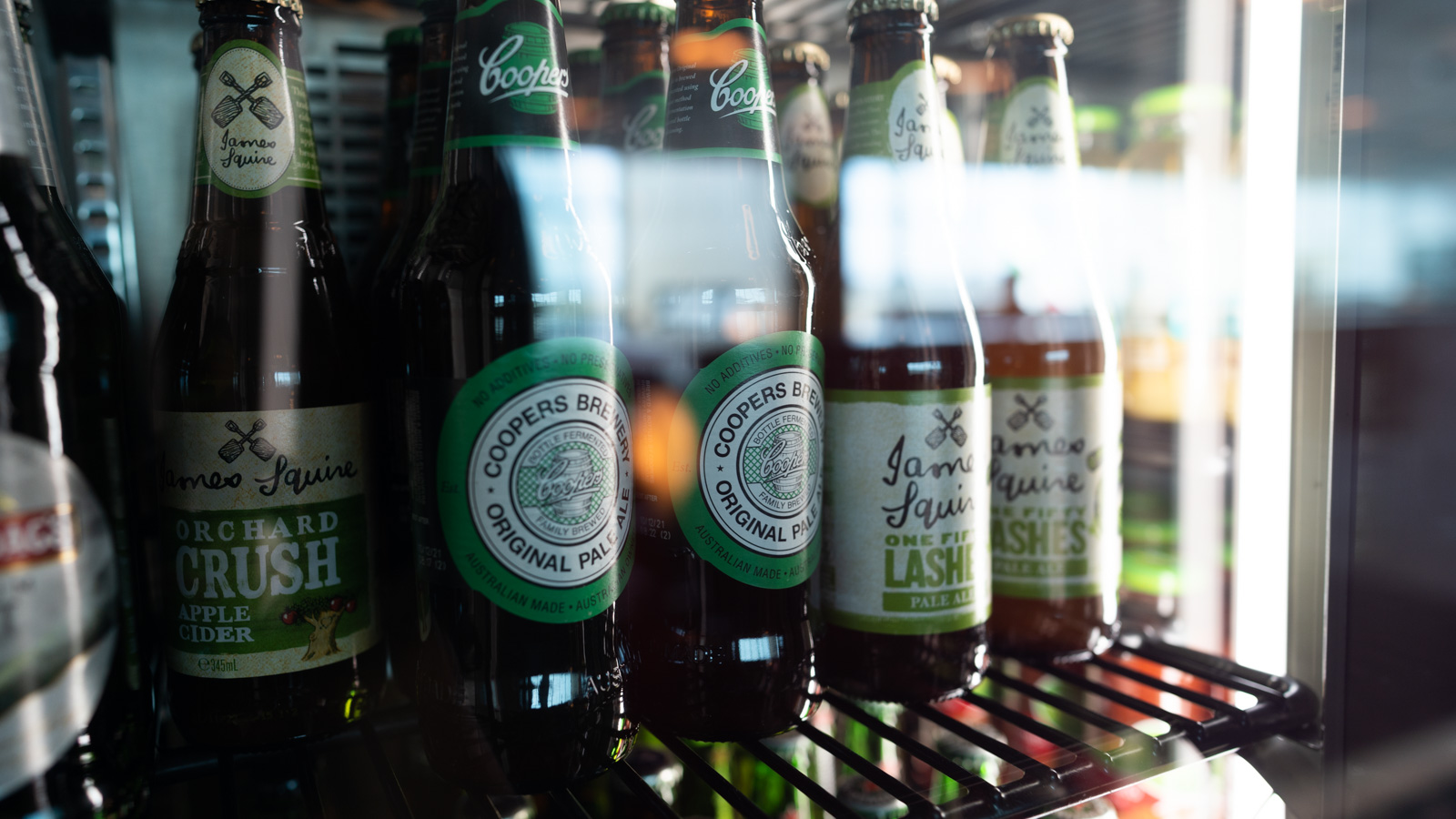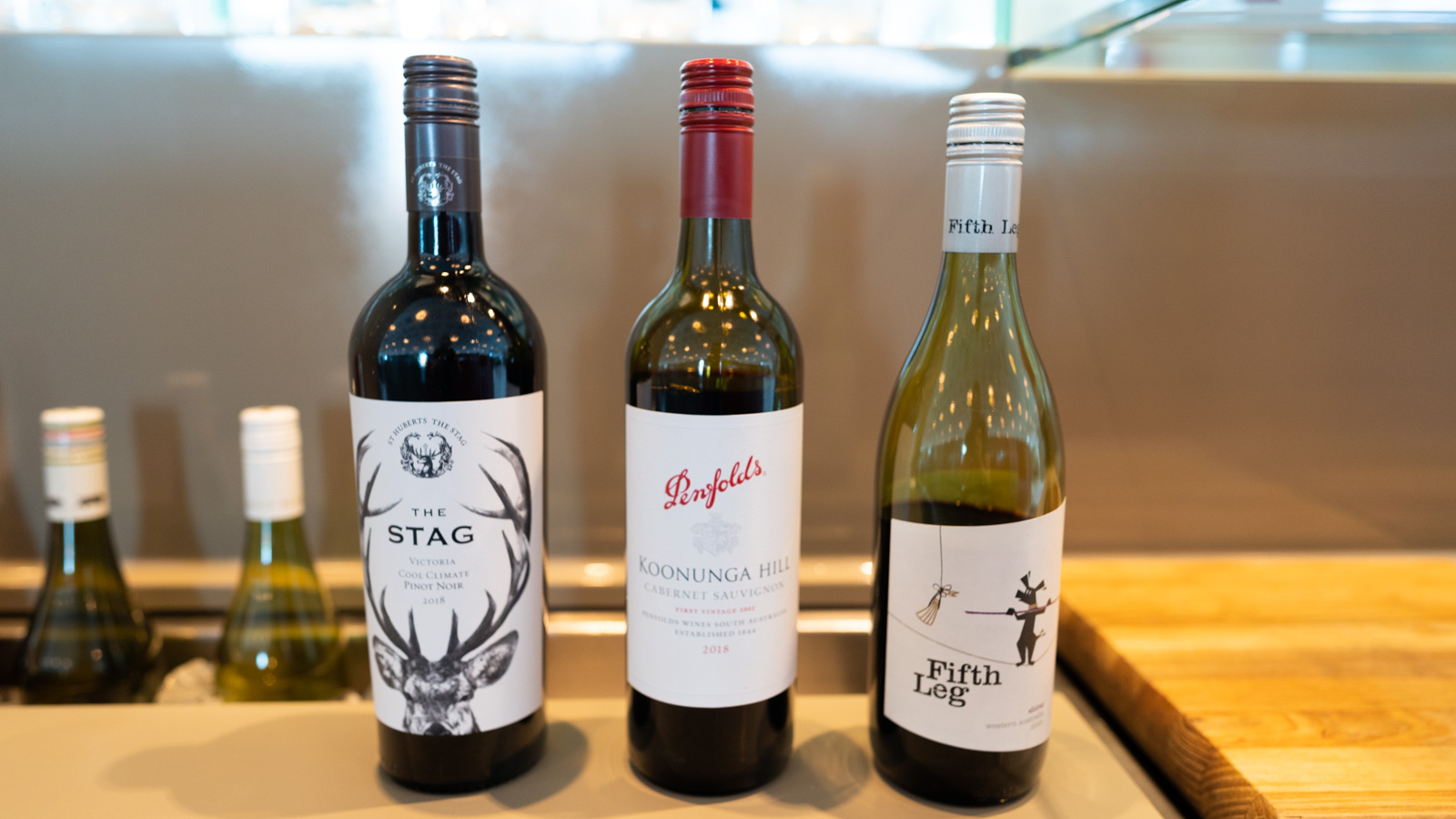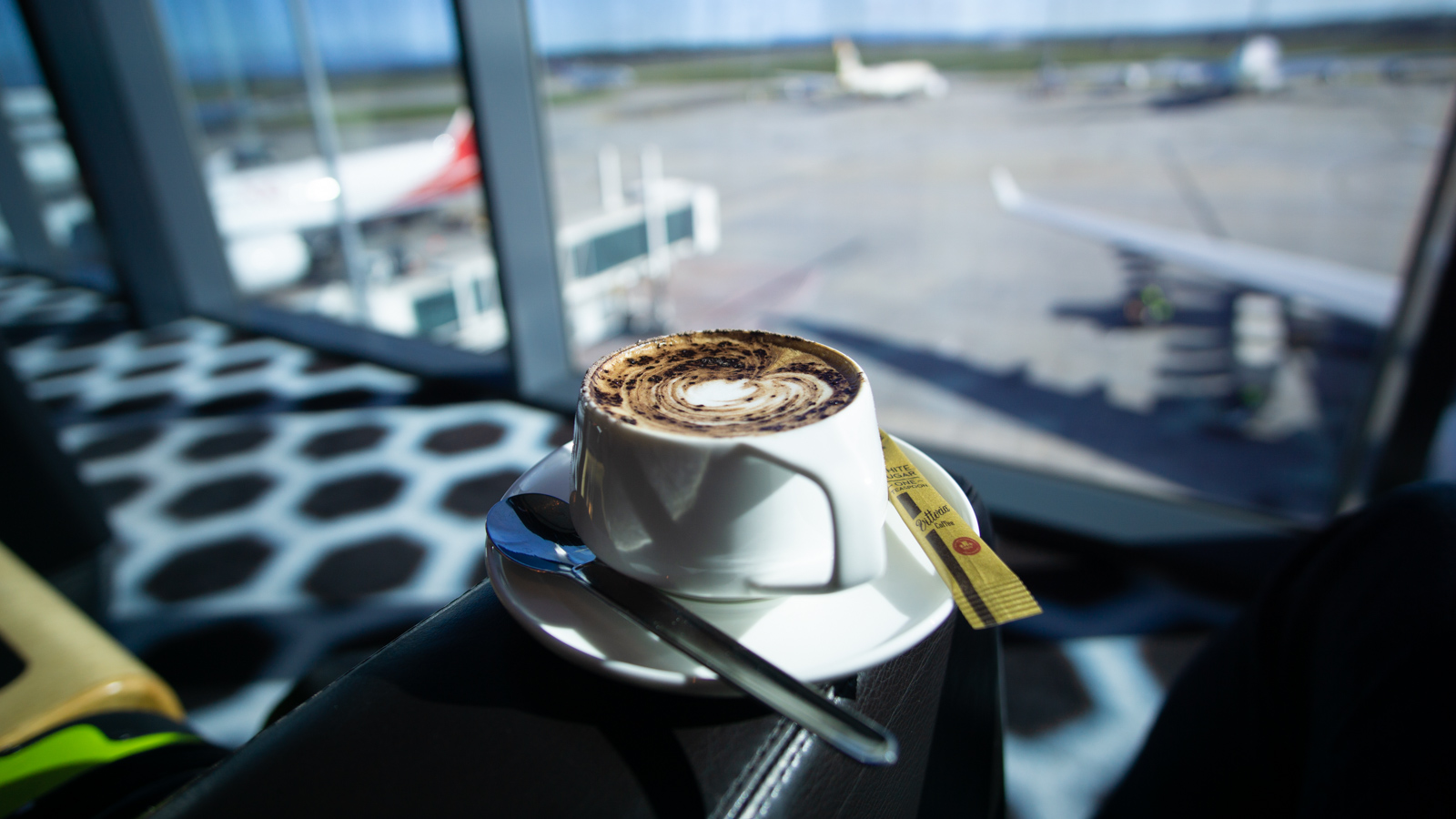 The Qantas International First Lounge menus
Here are the Autumn 2022 breakfast and all-day dining menus. We expect the Winter menus to be released shortly in June 2022. Though these menus have 'Sydney' printed on them, the Melbourne lounge usually has the same offerings. The All-Day menu usually kicks in somewhere around 11 am.
Qantas First Lounge Breakfast Menu
Qantas First Lounge All-Day Menu
Amenities – LaGaia Spa
If restaurant-grade dining isn't enough, wait until you enjoy a 20-minute complimentary massage and spa treatment. It's the only lounge in Melbourne to offer it, with services now provided by LaGaia. Opening hours are still in flux due to the limited lounge hours, so check with reception when you arrive.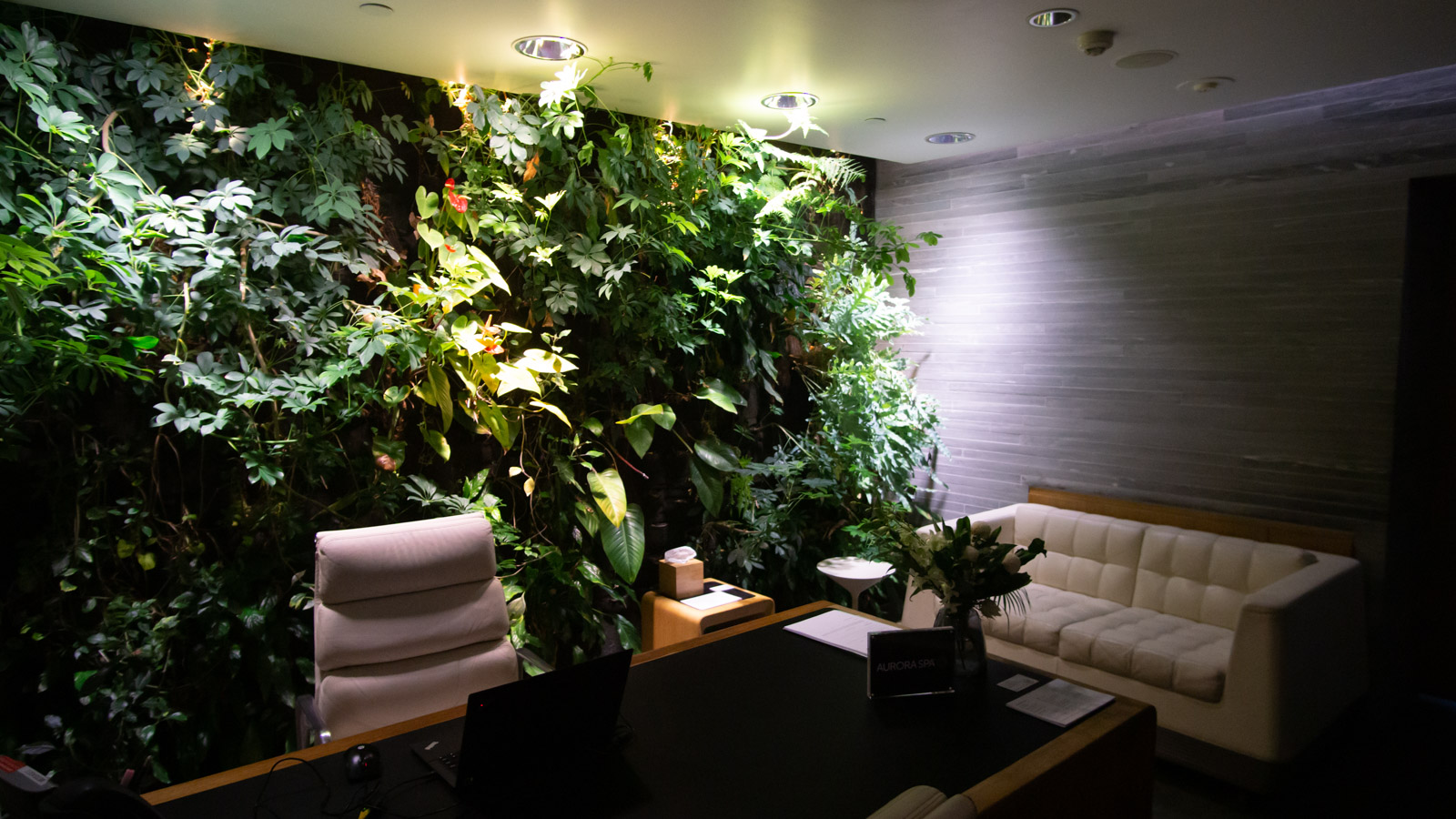 If you're flying Qantas First Class, whether through points or cash, you have first dibs. A lounge manager will call you the day before departure to organise a slot for you. All other passengers can enjoy the spa on a first-come first-serve basis (except for those solely flying QF9 from Melbourne to Perth).
The treatments include a range of facials and massages.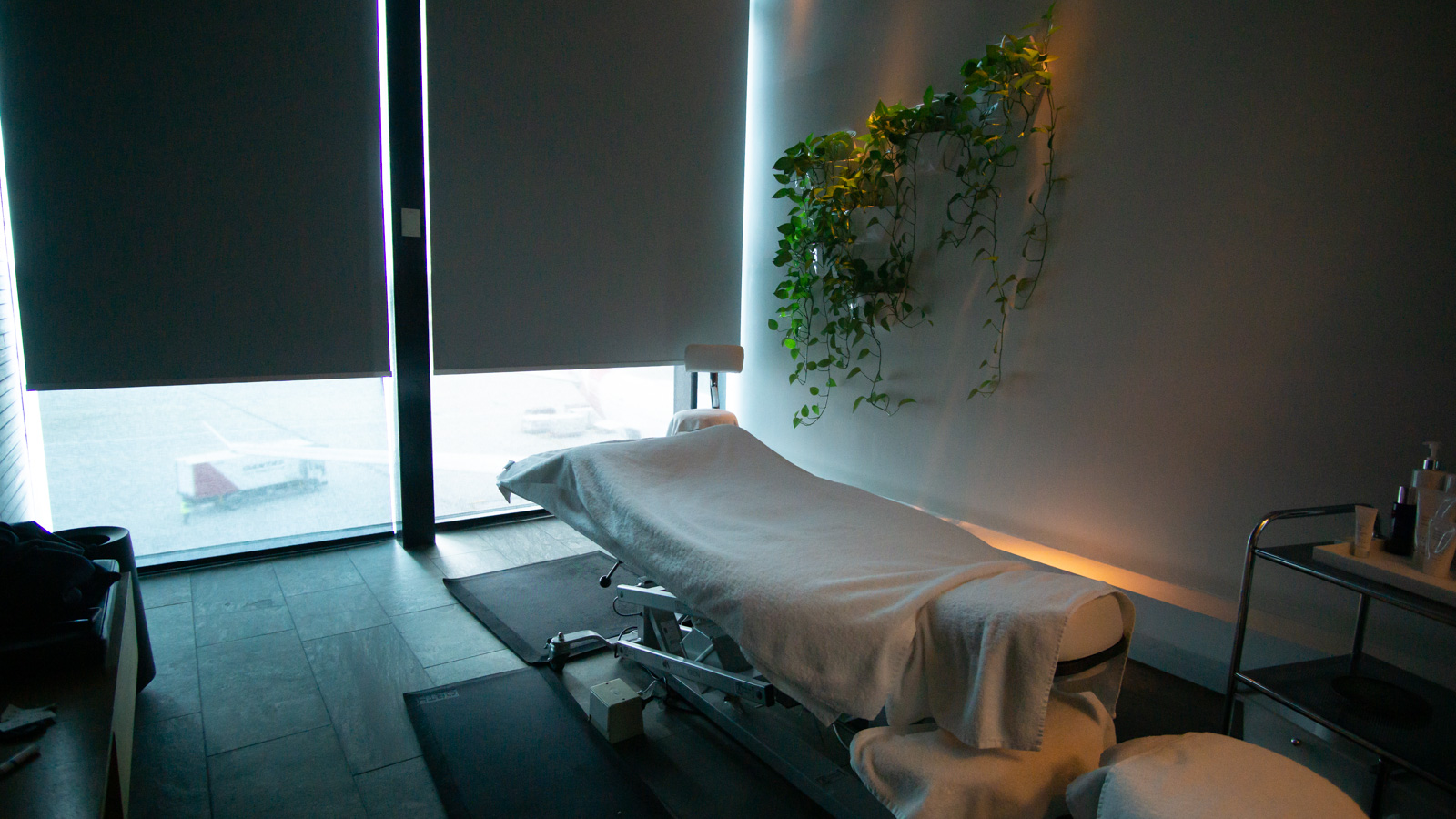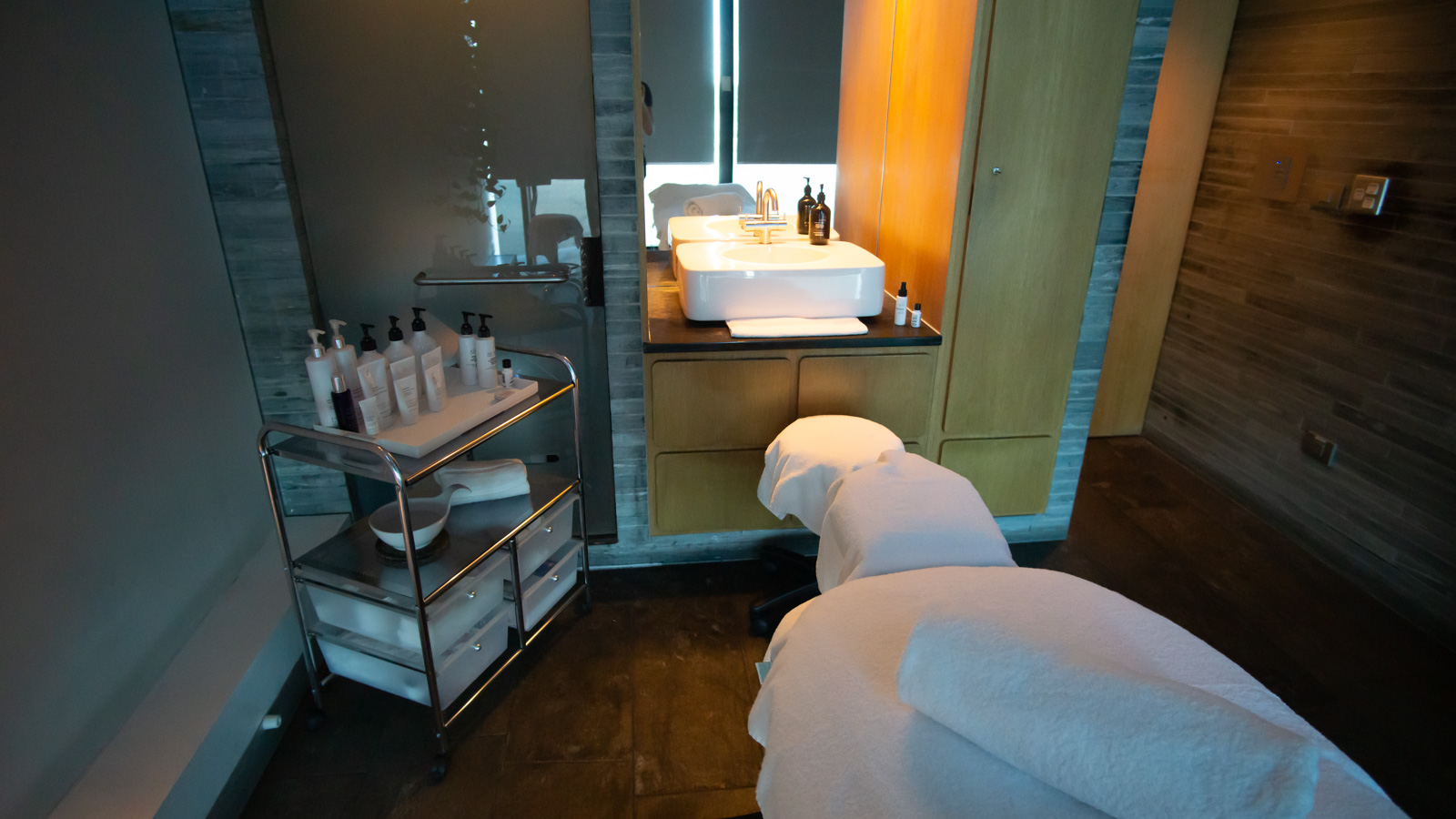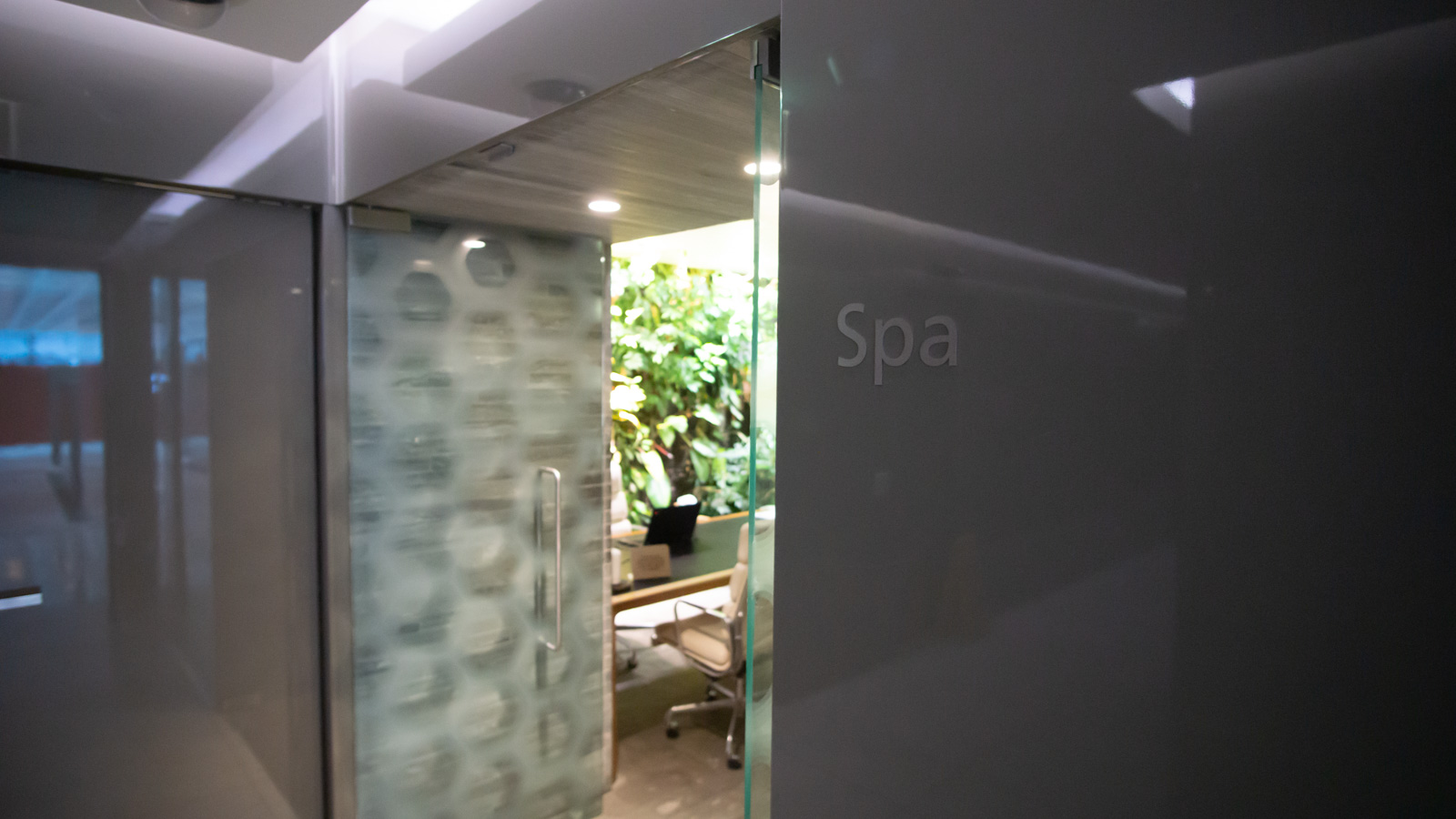 Customer service
The service goes above and beyond for Qantas First Class guests. Firstly, prior to your flight, the lounge agent calls you to organise logistics, including luggage, additional transportation and special assistance at the airport.
The lounge staff are trained by Accor, offering the signature 'Sofitel service'. Through my many visits, I haven't seen any mishaps yet. If you're not sitting at the restaurant, staff will still roam and offer you beverages.
Lounge access options
Remember, this lounge may still have limited opening hours. If you're on an Emirates or oneworld partner flight that is timed close to a Qantas flight, you may have access. Otherwise, you might need to access a different lounge as designated by that airline.
Class of travel: First Class passengers on Qantas, Emirates and oneworld partner airlines.
Airline frequent flyer status: Qantas Platinum and Platinum One members.
Airline partner frequent flyer: Emirates Skywards Platinum members.
Alliance frequent flyer status: oneworld Emerald members departing on a oneworld flight.
Complimentary lounge pass: only with 'Titanium' passes from the Qantas Premier Titanium Card, or with 'P1-Benefit' passes issued to Qantas Platinum One members.
Summing up
Qantas' First Class Lounge in Melbourne is among the world's best, in my opinion. It offers restaurant-style dining, a fully-kitted bar, barista coffee, great views and a complimentary massage or spa treatment.
It is also more intimate than Sydney and, as such, loses some of the immediate wow factor. The interior design is similar to Sydney – almost like a mini-clone. But indeed, I find it more relaxing in the Melbourne lounge overall.
While Melbourne International Airport doesn't offer all-day check-in, I'd still recommend setting some time aside for this lounge, if you have access. It's worth every minute.
Photography by Brandon Loo, who visited the lounge courtesy of his Platinum status. Selected images by Nelson Yap.
Qantas International First Lounge, Melbourne
was last modified:
January 25th, 2023
by